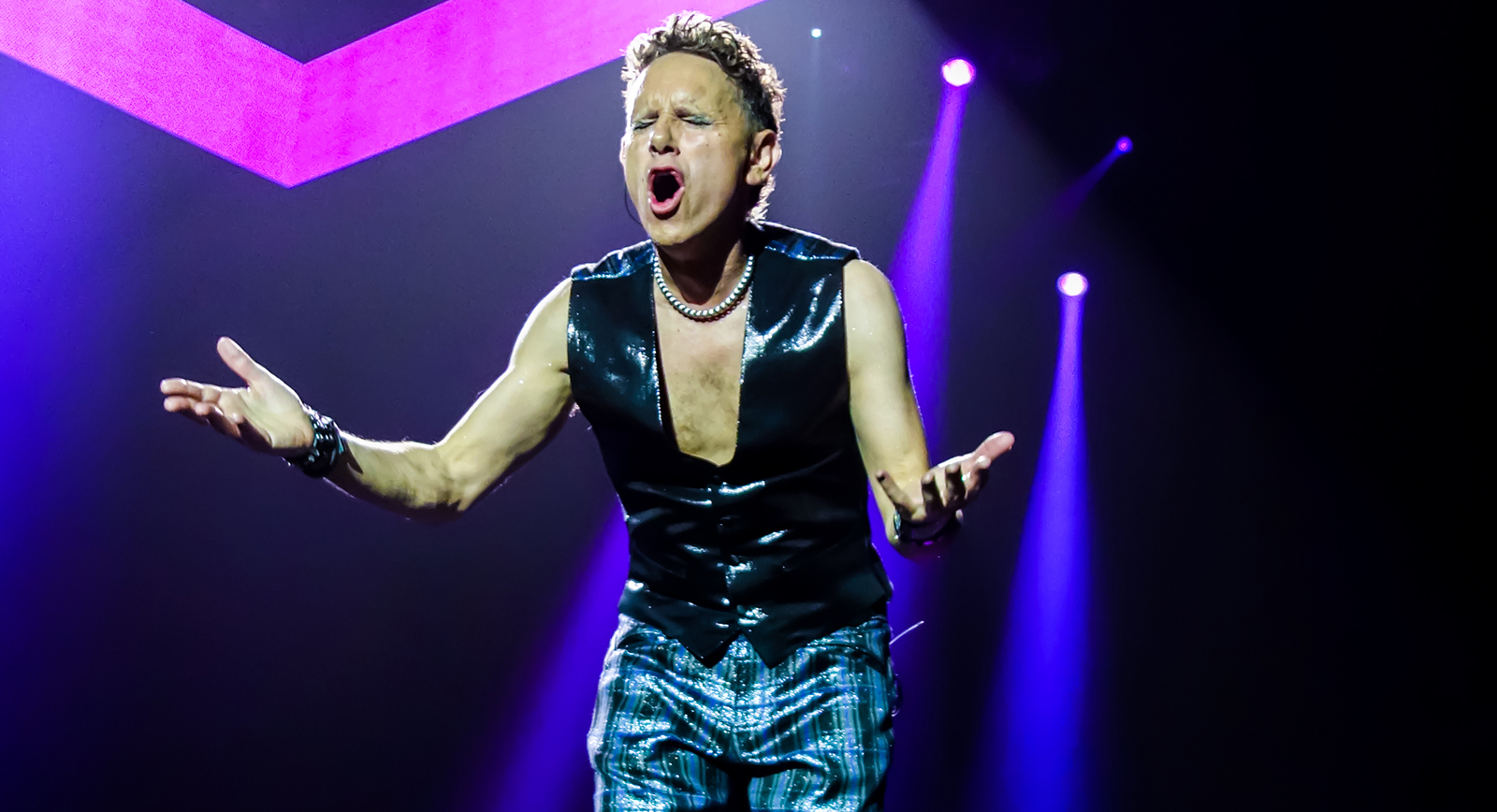 "Welcome To My World" – the song Depeche Mode has been using to kick off each gig for the European leg of their Delta Machine World Tour – took on a whole different meaning for me tonight as I had an opportunity to see Depeche Mode play in their native home country of England.  Playing two shows back-to-back at The O2 Arena in London, this marks my fourth consecutive Depeche Mode show in the past two weeks (having seen them previously at Bratislava, Slovakia's Štadión Pasienky, Zagreb, Croatia's Zagreb Arena and Budapest, Hungary's Puskás Ferenc Stadion.  Surprisingly, though the set list has not changed show to show, the concerts themselves have all been pretty different from one another, and completely different experiences on a personal level to be sure.  One thing I didn't expect with the London shows was that what seemed like a majority of the concert goers (close to stage on the floor at least) were not from England, but other countries, so it was quite a multicultural affair.  I've also made a concerted effort to change my own point of view – literally – with each show, and with this first O2 gig planted myself at the foot of the catwalk that extends out into the audience (and is much shorter in the indoor arenas compared with the outdoor stadiums), and it was really a fantastic experience.  Seeing the expression on Dave Gahan's face as he came out to the end for "Never Let Me Down Again" – close up and in real life – made this relentless two week country-hopping adventure worth it just for that amazing moment (which I managed to catch on video as well).  As I've mentioned over and over in the reviews leading up to this, Depeche Mode has long been my favorite band, and these concerts have been nothing short of epic.

Who: Depeche Mode
Supporting: How To Dress Well
Venue: The O2 Arena
Where: London, England
Promoter: Live Nation UK
When: May 28, 2013
Seating: "Early Entry" General Admission Standing – Front of Ramp/Platform (Against the Rail)

Note: Please also visit the site pertaining to Depeche Mode's charitable efforts here: my.charitywater.org/depechemode
See all of my articles on this Depeche Mode Delta Machine World Tour by clicking the portal below (with coverage of Budapest Hungary, Zagreb Croatia, Bratislava Slovakia, and London England):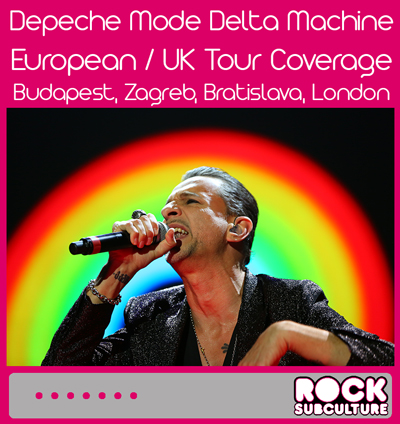 For more background on the band, and my thoughts on Delta Machine, you can check the prior three articles…
London, England Concert Overview
So while the prior three shows involved exploring countries that were completely new to me, that was not the case with London, which I've now visited many times (and even seen shows previously at the O2 Arena – Duran Duran, Coldplay, and Rihanna).
The European shows I attended had "Front of Stage" as a ticket option, in which a section closest to the stage was separated from the rest of the GA floor, to give fans a guarantee of getting somewhat closer to the stage, or right against it depending on when the showed up to stand in line as well as a bit of luck.
VIP Nation Europe instead offered "Early Entry" as an option (either with a ticket or as an add on if someone already purchased a ticket).  I opted for this, which guaranteed purchasers that they would be let into the venue in advance of those that didn't pay the extra money for this feature.
Even still, I know that these things never go as planned (yes, I am jaded after going to hundreds of concerts…), so I showed up at about 11 am.  There was a nice group of fans already waiting at the designated point, and they were organized well enough that they were writing down a number on people's hands as they arrived so as to make things fair as we expected to get moved several times.  I was #22.  Sure enough, we were told we couldn't wait there, and moved to the other end of the area outside of the arena… waited there for a while, and then were told we couldn't wait as a group anywhere.  We were told to go back to the first point at 3:00 to get our tickets and VIP laminates and whatever else we were supposed to receive.  The only people who had their tickets and VIP laminates were some who lived in the UK.  But… we were told not to worry, and that only "30-40" early entry passes were sold in total.
No one from VIP Nation showed up until after 4:00, and there did not seem to be any organization with their set up.  I was told I needed to pick up my ticket and laminate outside of the venue at will call… so I went there, and they told me to go back to the VIP Nation reps.  They were going through boxes trying to sort through what they had…
Long story short, they did not have our tickets.  They did not have our laminates (though, for some reason, they had my laminate for the next day, but not the current show).  They kept telling us to go walk around…  to come back in 30 minutes… and then another 30 minutes.
We tried to explain that some had been at the venue since 9 am because they wanted to get in at the front in order to pick their spot… and the VIP Nation people didn't seem to grasp the concept.  To them, it didn't seem to make any difference – that we were all going to be "close to the stage".  This reinforces my perception of these corporate ticket sellers and promoters…  they don't seem to employ people who have any experience actually going to concerts as fans, so they don't seem to have any understanding of what the fan wants or expects from these "experiences".
Our tickets never did arrive before we were let into the venue, nor did our laminates.  I ended up talking with the security for the venue – who were awesome – and asked if they could interface with the VIP Nation people and match up our names to the manifest so that we could get wristbands and still be let in (sans hard ticket, sans VIP laminate), and they totally got it, and made it happen.  So kudos to the security team for the O2 for at least making sure that we got in (though I know some fans got completely screwed with regards to when the showed up at the venue and the order in which they were actually let onto the floor).  And it was not "30-40" early entry participants, but hundreds.
I've had some bad experiences with VIP Nation in the past, as a fan/customer, and have actually showed incredible restraint in writing about it in my articles (as I try not to be negative in my reviews), but I just really can't wrap my head around this one… these tickets were sold about six months ago, and hours before doors and no one has checked to see if tickets and other collateral have been printed and are ready?  Unbelievable.
And on the subject of promises and promises that were never made good on – just as we were being let into the venue before the show, one of the VIP Nation reps told all of us to come back to the table after the show to pick up our tickets and laminates.  Fast forward to post show, and there was a mod of unhappy customers, standing around the table, with no information forthcoming.  Finally one of them had heard the statement that they "might" have "some" tickets and laminates for those who wait around, but "not enough for everyone".  And this was with the tube station open for less than an hour.
Anyway, none of this affected my enjoyment of the concert, but it's the sort of thing that is professional unacceptable, and once tomorrow comes, no one will have a voice to complain about it, and nothing will come of it, so I felt some responsibility here to make note of it, as I was shocked at how poorly this entire "VIP" experience was executed.
Supporting: How To Dress Well
I really appreciate the fact that Depeche Mode has been rotating their opening artists as this tour unfolds, as it is important to support new and emerging talent.
I was not previously familiar with How To Dress Well, "the stage name of experimental pop producer, singer, and ethereal/R&B artist Tom Krell".
He has a really great voice and interesting music with a distinct sound.  More, I got the sense that his music is actually about things, which seems more and more rare these days.
You can sample his work on his official site here: www.howtodresswell.com
Depeche Mode
First off, I was pretty impressed with the sound at the O2 (it's been a while since seeing a show there), as I found a distinct drop in quality and clarity between the two recent shows I attended in the outdoor stadiums compared with the same show at the arena in Zagreb.  So I guess it illustrates that more attention was paid to sound when creating the O2 compared with the typical sports-oriented arenas.
Overall, this was more or less the same show I've seen three times already in the past two weeks, but it was interesting for me to experience it from the changed point of view – against the end of the catwalk into the audience.
I know some might stumble upon my articles in their planning of attending their own Depeche Mode shows on future dates at other venues, which is why with each I've spent a bit of time discussing that element of these shows.
With Budapest I was in front of the main stage, just to the left of the catwalk (looking at the stage), and found that to be an awesome spot.
In Zagreb, I was there as press, so after shooting the first three songs in front of the stage, I ended up sitting far at the back of the arena.
At Bratislava, I positioned myself on the rail on the right side (again, looking at the stage) of the catwalk, in-between the stage and the end of the catwalk.
Each has their advantages.  Being close to the stage is probably the best bet if you are only going to make one show – you will see everything…  except Depeche Mode's drummer, Christian Eigner, but he is kind of hard to see no matter where you go.
The right side of the catwalk is nice, because your view is pretty unobstructed.
The end of the catwalk…  I thought was awesome.  Dave comes down several times, and the catwalk is lower than the stage, so he's *right there*.  Martin comes down once.  It's a really cool experience, to have them right there, and you can really see the expression on their faces – see how they are taking in the audience.  Pretty priceless experience.
I am running short on time again, so will need to let my photos and videos speak to some of the rest of the story, and will be more substantive with my last Depeche Mode concert for a while, again at the O2 Arena.
Below is the set list for last night's show in London…
Setlist:
Welcome To My World
Angel
Walking In My Shoes
Precious
Black Celebration
Policy Of Truth
Should Be Higher
Barrel Of A Gun
Higher Love (Sung by Martin Gore)
When The Body Speaks (Sung by Martin Gore)
Heaven
Soothe My Soul
A Pain That I'm Used To ('Jacques Lu Cont's Remix' version)
A Question of Time
Secret To The End
Enjoy The Silence
Personal Jesus
Goodbye
Encore:
Home (Acoustic)
Halo ('Goldfrapp Remix' version)
Just Can't Get Enough
I Feel You
Never Let Me Down Again
Below are a few videos to share to give an idea of the sound and atmosphere of this specific show…
"Welcome To My World":
"Soothe My Soul":
"A Pain That I'm Used To (Jacques Lu Cont's version)":
"A Question Of Time":
"Never Let Me Down Again":
Below are photos taken during this event.
All of these photos were taken with a non-pro camera.  Click on any image to open the gallery and for higher resolution versions of the same photo:
Jason DeBord