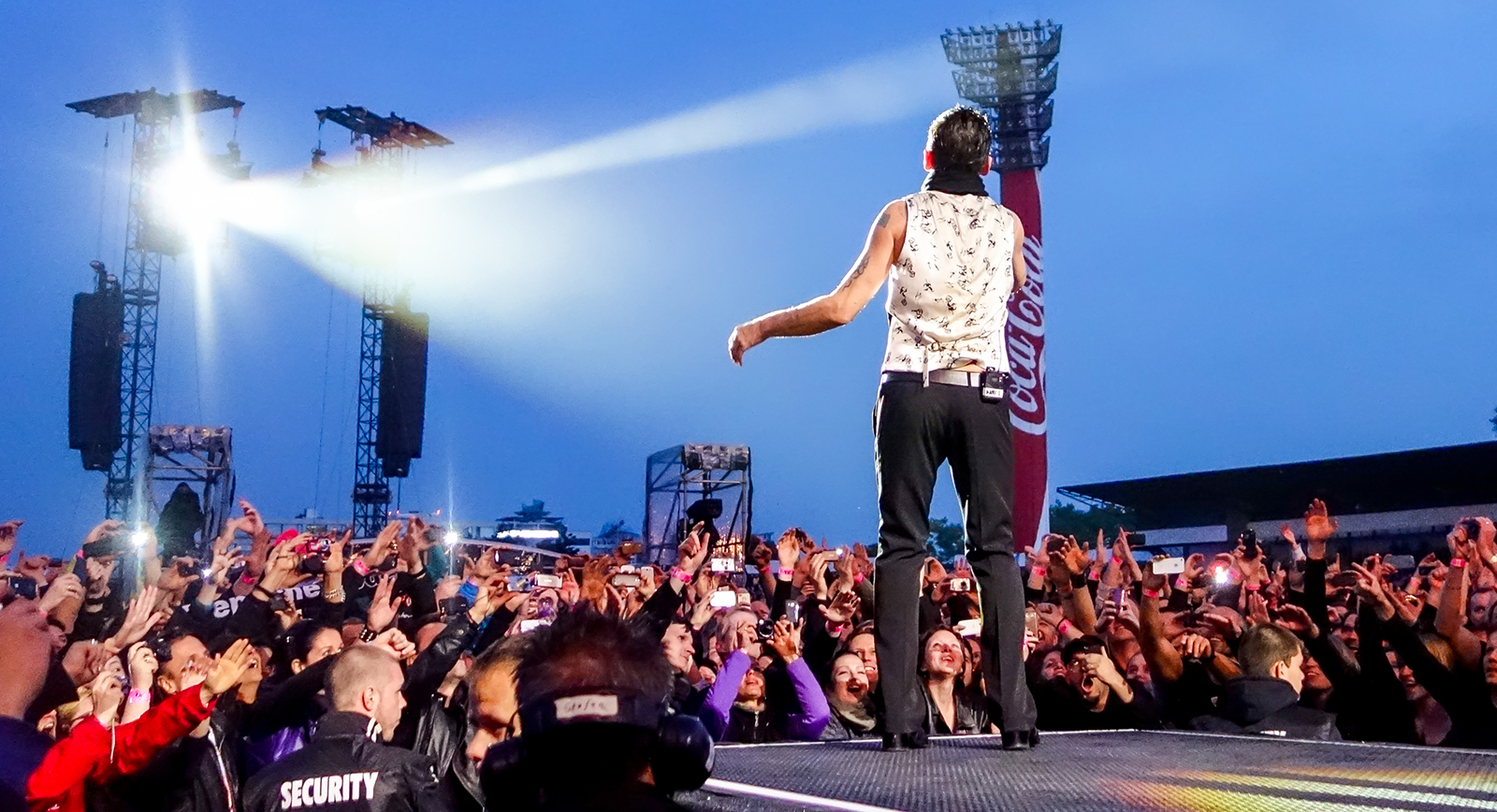 Bratislava, Slovakia's Štadión Pasienky played host to the third consecutive Depeche Mode concert that I am reviewing as part of the European Leg of their worldwide Delta Machine Tour (having covered Budapest, Hungary four days ago, and Zagreb, Croatia two days ago, with the two London shows at the O2 still to come).  Funny enough, each show has been a completely different experience for me, and while all awesome in their own ways, as far as the pure show itself goes, I would have to say the one in Bratislava last night was the best.  The crowd was awesome, there was a certain energy in the air, and everything seemed to be flawless with the show itself.  I've been telling people that the best spot in the "front of stage" area is in the front to the left of the ramp (looking at the stage); I went against my own advice going for the front row on the opposite side of the ramp, and it ended up being awesome.  Halfway down the ramp, you have an unobstructed view of Dave and Martin, and Dave seemed to go down the ramp many more times last night, which was awesome, as he shifted tremendous energy into the massive crowd, who just ate it up.

Who: Depeche Mode
Supporting: Katarína Knechtová
Supporting: Lavagance
Venue: Štadión Pasienky
Where: Bratislava, Slovakia
Promoter: XL Group / XL Promotion
When: May 25, 2013
Seating: "Front of Stage" General Admission Standing – Right Side of Ramp/Platform (Middle, Against the Rail)

Note: Please also visit the site pertaining to Depeche Mode's charitable efforts here: my.charitywater.org/depechemode
See all of my articles on this Depeche Mode Delta Machine World Tour by clicking the portal below (with coverage of Budapest Hungary, Zagreb Croatia, Bratislava Slovakia, and London England):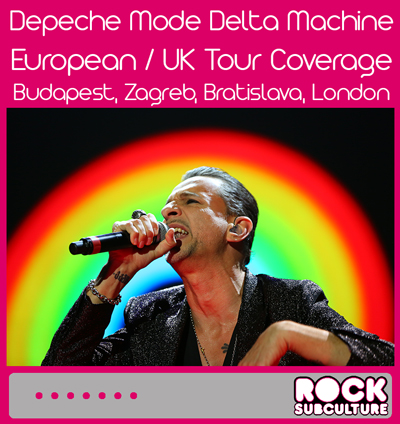 As mentioned in my prior two reviews, Depeche Mode is my all-time favorite band, and a highlight of my doing this site was definitely shooting as approved press at the last show in Zagreb (and kind of fitting since I am 50% Croatian by heritage and had never visited the country – maybe it was meant to be).
Black Celebration is the album that made them my favorite group, and the follow-up, Music for the Masses, is my all-time favorite song (and "Never Let Me Down Again" my favorite song of all artists).
For more background on the band, you can check the prior two articles…
Delta Machine (The Album)
In those articles, I haven't talked too much about the latest album, Delta Machine.  The music industry has changed a lot in the past 20+ years.  I remember the anticipation of Violator…  the singles, the mini-singles, the remixes (DM has always had THE BEST remixes).  There was so much mystery about things pre-Internet, and it's a shame some are too young to have an comprehension of those times and what they were like.
Now we live in a world of pop culture and information overload, and nothing has time to breathe.  And it's hard to sit down with an album the old way and take it for a few spins uninterrupted…  there's no time, and e-mail and Facebook are constantly pinging you.  So I feel like I've been kind of robbed of that process, from a more simpler time.  Not that I'm blaming anyone – it is my own fault for diving into the way things work now, but all the same it is a shame.
As such, it's taken me more time than I'd like to really get into Delta Machine.  It is really a fantastic album.  You just need to make time for it.
Before I get into my review of the concert itself, some quick and random impressions of Delta Machine, which is the reason for this amazing world tour…
Probably the area in which the band has been most consistent over the years (since Vince Clarke left after Speak and Spell) has been with the lyrics and themes behind the music, most of which come from the genius mind of Mr. Martin L. Gore (though more recently Dave Gahan has gotten more involved in this aspect of the band and their work).
"Welcome To My World" is, in my opinion, one of the band's best songs (any album), and is the perfect way to kick off each show on this tour (and hope they keep it in that position in future tours).  It is hooky and poppy like some of the best DM songs, and builds and goes through some awesome changes.  Fantastic song.
"Angel"was the first song were heard as a preview of the sound of the new album last year, as part of their "collage".  Again, I would rate this song among their best.  Some nice riffs, and it seems like it speeds up in sections as it goes along.  I love the constant lyrics from Dave, and the changes.  Of course, the added vocals from Martin make it classic DM.
"Heaven" was the first official single off the album, and I know some didn't care for it (didn't dislike it, just didn't like it), I think because it is slow and more of a ballad.  I love the classic keyboard sound and pacing and really strong vocals from Dave (honestly, his voice seems to get better and better with each album).
"Secret To The End", the opening bit, almost sounds like a throwback to Black Celebration, but as it goes along, it morphs into something that sounds more similar to their last album.  Enjoyable, but I like the first three songs much, much better.  I think the "should have been you" bits are just a bit too… not catchy for me.  Sounds like a companion song to "Wrong" (which was one of my least favorite DM songs and I'm glad it's not present on the setlist on this tour).
"My Little Universe", "The Child Inside", "Alone"…  don't really care for there…
"Slow" I like, though you have to stick with it and give it time to unravel.  Great lyrics.
"Broken", "The Child Inside", "Should Be Higher" I like, but they are the kind of songs you would listen to when listening to an entire album, but maybe aren't songs you'd think of to listen to on their own.
Since "Should Be Higher" is played on the tour, I'm guessing that is an indication that it will be released as a single at some point.
"Soothe My Soul" (like "Welcome To My World", "Angel", and "Heaven") I would rank among the best Depeche Mode songs.  Love everything about it – fantastic.  Love the changes, the sound, the pacing, the chorus… everything about it.  This is their current single.
"Goodbye" is a cool song…  I think it is a bit flawed, but not enough to not really enjoy.  Would be perfect (for me – this is all subjective) if the chorus was tweaked a little bit.
The four songs that comprise the "Deluxe" part of the Deluxe Edition ("Long Time Lie", "Happens All The Time", "Always", and "All That's Mine") I like better than some of the songs that I don't like as much, but none are as good as the four best songs on the album proper.
Overall, I would say that Delta Machine, on the whole, more or less, is equivalent to their other albums released since SOFAD, though not nearly perfect like Black Celebration, Music for the Masses, Violator, and Songs of Faith and Devotion.  It shows that these guys still have the potential to turn out classic songs.
For me, each of those more recent albums have had a number of great songs…  I basically have a 22 song playlist with my favorites from those five albums that I love (Ultra: "Barrel Of A Gun", "Home", "It's No Good", "Useless", "Sister of Night", "Freestate" | Exciter: "Dream On", "The Dead Of Night", "I Feel Loved" | Playing the Angel: "A Pain That I'm Used To", "John The Revelator", "Precious", "I Want It All", "Lilian" | Sounds Of The Universe: "In Chains", "Little Soul", "Corrupt", "Ghost" | Delta Machine: "Welcome To My World", "Angel", "Heaven", "Soothe My Soul").  For me it's like the perfect double album, but the songs are culled from five standard albums.  But collectively, those highlights compiled together are as strong as my favorite official DM albums.
Bratislava, Slovakia Concert Overview
As was the case with the locations of the prior two Depeche Mode concerts, this was my first visit to Slovakia.  I arrived the night before and walked about a bit doing some street photography and exploring…  beautiful city – a lot of charm and character.  I wish I was staying longer, and would definitely return for a real vacation.
I did have a little bit of trouble finding the venue, but remembered generally where it was from a map (the venue didn't show up in my GPS, which was kind of surprising).  I only had to roll down the window once to ask for directions, and was just a few blocks away at that point.
I had to repark two times (once was on the opposite side of the stadium from where they line up pre-show, and another was a two hour limit spot).
Eventually, I made my way to the area for the early arrivals…  as was the case with Budapest, they have multiple gates to stand in front of, so you can be one of maybe a dozen people that are "first in line", as there are a lot of lines.
I picked one with just three people waiting… they had said that they arrived at 10 am, and it was about 1 pm by the time I showed up (the night before I forced myself to have one "normal" night's sleep for the week, with all of the traveling).
Funny enough, the guy in front of the adjacent line was someone I spoke with at the front of the crowd at the Zagreb show the other night (since I was shooting that one professionally, I was on the other side of the GA rail in the photo pit).
We both asked a number of people working the show which way we should go once inside – right or left – as the most direct route to the "Front of Stage" area…  while maybe I should have been surprised, I guess I am pretty jaded about people knowing the basics at these shows, because it always seems to be a problem.  Some said left, some said right, some said that they didn't know…  of course, all one would need to do is walk over and look… with hours of waiting around… but that never happened.
Eventually, they opened the security gates, and again, like Budapest, it was a mad dash for the front of stage…  and as far as the stage was in Budapest, this seemed to be even longer (though it is a smaller stadium).  Having just recovered from weeks of bronchitis leading up to my trip (and just having finished my antibiotics today), I don't think that my lungs appreciated the run… (or being surrounded by smokers the entire show – does everyone on Europe smoke?)
As mentioned before the jump, I have been advising people to get as close to center stage as possible, but this time went against my own advice and thought I'd try grabbing a spot on the rail along the ramp/platform coming off the stage and into the crowd.  I could have been at the very end, or either side.
In a quick judgment, I decided to go on the other side of the ramp (to the right, looking at the stage), as I realized if I was in the middle, my view would be completely unobstructed.  At the Budapest show, some guy in the front row held his cell phone in his hand straight up in the air for the first half of the concert.  No, he wasn't even talking photos – he was scrolling through his contacts.  I stopped trying to understand some people long ago, because I don't think there is anything going on in their heads.
Anyway, from that spot, you have a completely unobstructed view of Dave and Martin, which might be worth giving up some distance.
All settled in, at that point it was a matter of waiting for the two supporting acts, and then Depeche Mode (I still hear the ongoing chant…  "DeePecheMode! DeePecheMode!).
Supporting: Lavagance
I was pleased to see that some different artists were brought in for this show – two relatively local artists.  Diamond Version, who opened the Budapest show, didn't do too much for me in terms of a live performance, with two guys standing in front of two laptops and I guess some other equipment that we couldn't see from the audience.
With this show in Bratislava, there were instruments on stage…  now we are talking!
First up was Lavagance, who are a band from Bratislava.  I was unfamiliar with them previously, but really enjoyed their tight, high energy set.
Fairly traditional, the band is comprised of a bass player (Vincent NY), guitar/keyboard player (Mario Smashing), a front man on lead vocals and guitars (Marke Rakovicky), and another keyboard player (Viliam Bujnovsky) and drummer (Robert Dando).
You can sample their work video their official webpage, which includes some videos of some of their songs at www.lavagance.com – really great stuff.  Photos are in the primary gallery further below.
Supporting: Katarína Knechtová
Katarína Knechtová took the stage just prior to Depeche Mode, and her beauty is as stunning as her voice.  She is also from Slovakia, so it is awesome that the band is giving local artists some exposure playing a big outdoor stadium.  Additionally, her albums were produced by Christian Eigner, Depeche Mode's drummer.
While most of her songs were performed in Slovak (obviously playing to the local fans in attendance), I really loved her music and thought she was fantastic.  She also has an amazing stage presence and is very engaging with the audience.
I was really impressed with her set, and am now interested to learn more about her and her music – definitely worth checking out.  You can stream her new single on her official site at www.katarinaknechtova.com.  Photos are in the primary gallery further below.
Depeche Mode
You would think that after two shows in a row, this third concert might lose some of it's appeal… but it was actually quite the opposite.  Even with the same set list as the prior two shows, I found myself immersed in all things Depeche Mode and just letting it all soak in.
Also, hearing the new material live has made me appreciate it that much more, and it fits well into their existing hits.
Of course, the problem is that Depeche Mode has way too many incredible songs that have now been left on the side of the road… but there's not much that can be done about that, unless the band is ever up to doing eight hour sets… and with the energy that they have been pouring into these existing shows, I don't think anyone would have the endurance to pull that off.  It is what it is.  Maybe they will do a longer show and film it for a Blu-Ray/DVD that we can all enjoy at some point.
In addition to the great new songs – particularly "Welcome To My World", "Angel", "Heaven" and "Soothe My Soul" – the band is playing older songs in different ways.
The Jacques Lu Cont's version (from Remixes 2: 81-11) of "A Pain That I'm Used To" is so, so awesome live – I love it.  Has such a more pop feel, and is cool to see them actually play it live that way – really something else.
"Personal Jesus" is given new life with the way it's been tweaked for the tour, and "Halo" – one of my all-time favorite DM songs – is played via the Goldfrapp version (from Remixes 81-04).
The band gives a bit from each "era" of their body of work…  with one of the closers being the song that kicked it all off for them, "Just Can't Get Enough", which for me has always been more of a Erasure prototype than a "real" Depeche Mode song…  but who doesn't know that song, and associate it with the band?  I'm glad that they are playing it, as this show is very much a journey of where they've been and where they are going, and if you kind of let everything slip away and squint your eyes, you can almost imagine that you are watching the band circa 1981.
One thing that I feel is missing the show…  nothing from A Broken Frame or Construction Time Again or Some Great Reward is represented in the set list.  If I had the power to choose, I would ask them to add "Everything Counts" (with a second choice being "Master And Servant").  I would take either of those over "Walking In My Shoes" or "Policy Of Truth".
Black Celebration only gets love for "Black Celebration", though I would rate "Stripped" as one of their all-time best songs, which is also not getting any play this tour.
Music For The Masses, too, only gets represented by one song (in my opinion their best), "Never Let Me Down Again".
Violator, on the other hand, has four songs included on this tour ("Policy Of Truth", "Halo", "Personal Jesus", and "Enjoy The Silence").  Obviously, the latter two will be on every tour for the life the band, and though it is a favorite of mine, "Halo" is probably considered by many to be a "deep cut".  I like "Policy Of Truth", but I don't rank it anywhere near highly enough to keep on tour after tour – I would rather see it replaced by an older song at some point.  But this is just my opinion.
Songs Of Faith And Devotion has "Walking In My Shoes", "I Feel You", and "Higher Love".  I love the latter, as sung by Martin.  Like "Policy Of Truth", while I like the song, I feel that there are better songs (even on SOFAD) that are better.  "I Feel You" is awesome like, and I totally love what Anton Corbijn has done with the videos on stage for this one.
Ultra has two tracks in play on this tour – "Barrel Of A Gun" and "Home".  I would honestly be surprised if they ever add anything else from this one.  I would swap out "Home" for something Music For The Masses or earlier.
2001's Exciter is represented on this tour by one song, "When The Body Speaks – would love to see "Dream On" fit in instead (that would actually be a great one for a Martin Gore solo). [Note: This line was edited thanks to Tereza pointing out this song – I had originally thought nothing from this album was on the tour – thanks for the correction!]
Playing The Angel is represented by two songs, "A Pain That I'm Used To" and "Precious", and the video done by Anton Corbijn for the latter is a favorite of mine (what can I say – I love dogs). [Note: This line was edited thanks to Martin pointing out that APTIUT was also from PTA – thanks!]
Interestingly, nothing is in play from their last album, Sounds Of The Universe.
As for the show itself, it was mostly the same show I've been reviewing this week, though there were some differences.  Maybe it is my imagination, but it seemed like Dave came down the ramp more, spent more time on it, and was a bit more interactive (giving some high fives to fans on the end).
I was lucky enough to be standing among some really great fans of the band, one of whom showed her enthusiasm with such sincerity that just before the last song, someone from the band came over to her specifically and discreetly handed her a folded up piece of paper, making the "shhhh…" symbol with index finger to lips.  She unfolded it to find it was a set list from the show.  Very cool.  I also saw Dave point to her a few times during the show.  I think he gets a lot of energy to the crowd, and gives it back with little gestures here and there, just to show that he is paying attention too.
Below is a photo of the "discreet" set list:
Below is the set list for last night's show in Bratislava…
Setlist:
Welcome To My World
Angel
Walking In My Shoes
Precious
Black Celebration
Policy Of Truth
Should Be Higher
Barrel Of A Gun
Higher Love (Sung by Martin Gore)
When The Body Speaks (Sung by Martin Gore)
Heaven
Soothe My Soul
A Pain That I'm Used To ('Jacques Lu Cont's Remix' version)
A Question of Time
Secret To The End
Enjoy The Silence
Personal Jesus
Goodbye
Encore:
Home (Acoustic)
Halo ('Goldfrapp Remix' version)
Just Can't Get Enough
I Feel You
Never Let Me Down Again
As was with the Budapest show, the sound in the outdoor arena setting was fantastic.
Again, it is late in the hour for me and I'm leaving in a few hours to get back to Vienna and then London the next day for the next two shows at the O2, so will have to leave it at that for now…
Below are a few videos to share to give an idea of the sound at atmosphere of this specific show…
"Black Celebration":
"Heaven":
"Halo":
"Never Let Me Down Again":
Below are photos taken during this event. All of these photos were taken with a non-pro camera.  Click on any image to open the gallery and for higher resolution versions of the same photo: