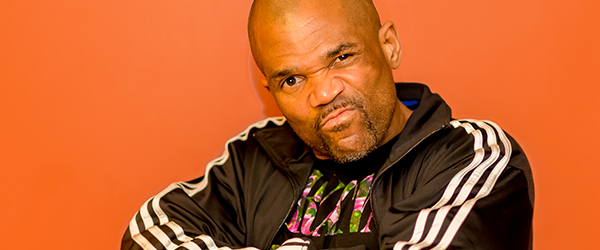 This article features the latest in an ongoing series of "Rock Talk" podcast audio interviews for the Rock Subculture Journal.  Today's guest is Darryl McDaniels, best known as DMC with Run-D.M.C. (he prefers to be called "D").  D was a featured guest at Sac-Con in Sacramento this past weekend, promoting his authentic foray into the comic book publishing world with his new independent publishing company DMC (Darryl Makes Comic) Comics and its first series, DMC, with his collaborator Edgardo Miranda-Rodriguez.  I met up with D at his hotel following the concert to sit down to talk about his latest work, his past, accomplishments, and his thoughts on a variety of topics related to his life, work, and influence on pop culture.
Coincidentally, my first ever experience going to a live concert was Run-D.M.C. with Beastie Boys and Ice T at Cal Expo in 1987 (at age 14).  Some 28 years later, it was quite surreal to have an opportunity to sit down with D just a few miles from where I first saw him perform.  Raising Hell was one of my favorite albums as a teen (and remains one of my all-time favorites), and it was unlike anything I'd ever heard before.
I most recently saw D perform with his surprise appearance at LL Cool J's "Kings of the Mic" tour at the Greek Theatre in Los Angeles in 2013 – I was front row center, and captured it on video (just this week it surpassed 100,000 views on YouTube):
Run-D.M.C. have had one of the biggest impacts on pop culture of any music act to come before or since.  I think this was best appreciated and captured in the NatGeo series The 80s: The Decade That Made Us.  From music to hip hop and rap to fashion to branding to mashing up two opposing styles of music (and breaking down racial barriers), Run-D.M.C. not only shaped much of the 80s, but their influence is still felt today, like ripples from a giant stone thrown into a lake.
It was a real pleasure meeting D and spending a bit of time with him over the weekend, and he is as authentic, genuine, and humble as they come.  He was a real inspiration to me as a kid, and it is gratifying to find that the real man exceeded my expectations of what I imagined he might be like when I was a teen first listening to his amazing music.
One bit of news he shared with me outside of our interview is that he will be appearing with Marky Ramone on That Metal Show on March 10th, 2015.  He is still working on many interesting collaborations in music, with a lot of new singles in the works.
Podcast Audio Interview
The audio interview can be heard in its entirety in the player embedded below, and is also available as a free download from iTunes HERE. Run time is approximately 40 minutes.
Podcast: Play in new window | Download
Subscribe: Apple Podcasts | RSS
Portrait Photos
Below are a few photos I took of D following our interview (click any image to launch virtual lightbox):
You can use the following links to learn more about D, his music, his comic book company, upcoming and other news:
Official Website Run-D.M.C.: www.rundmc.com
DMC Comics: www.dmc-comics.com
Special thanks to D for spending some time with me this weekend and for participating in this interview.
Jason DeBord