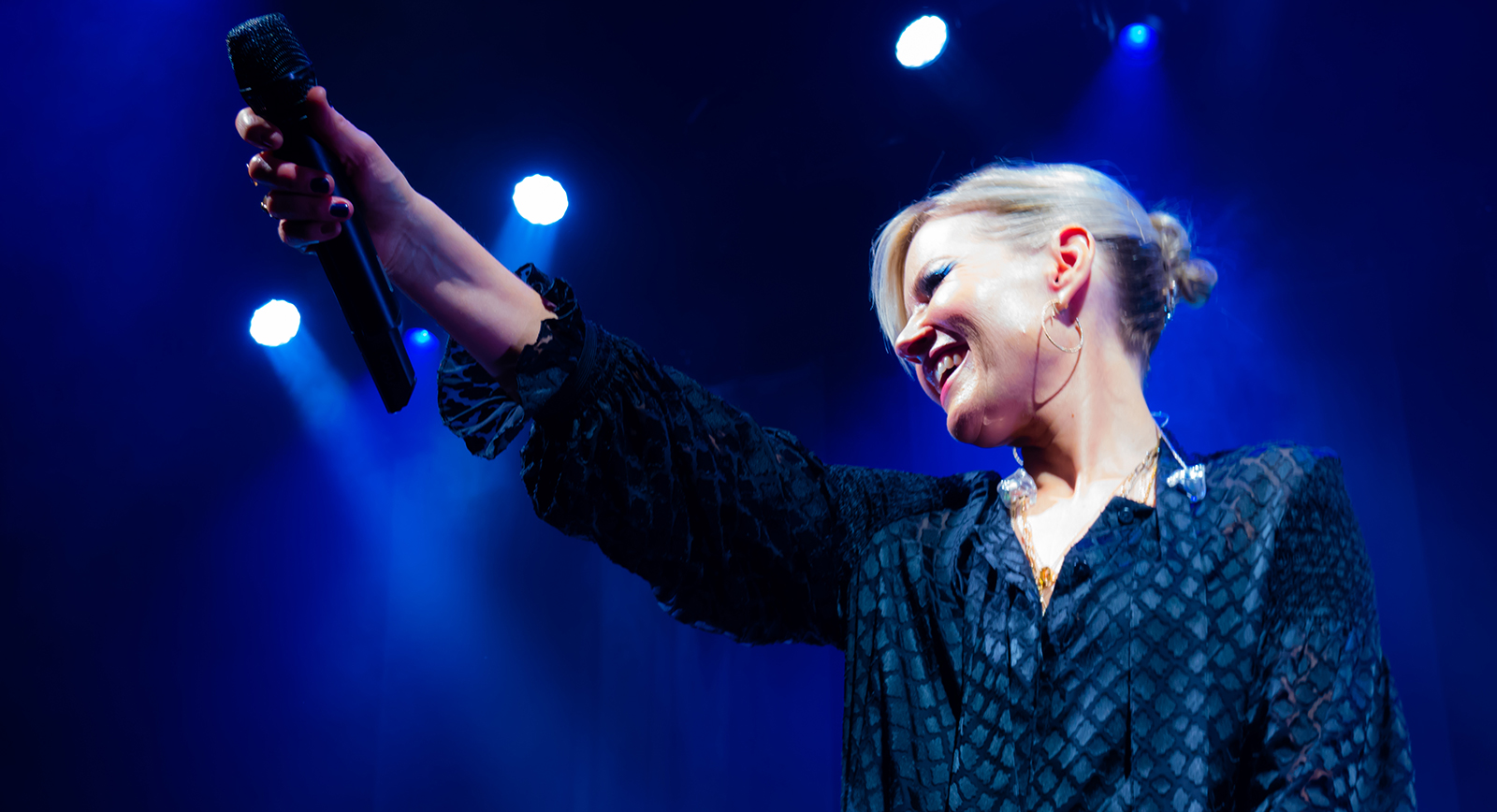 "…one of the reasons it passed so quickly for me was actually – I had a kid.  He's magic.  And I've basically wanted to hang out with him so I'm sorry I disappeared." Dido offering some explanation of why she's not done a world tour for the past 15 years, and as an introduction to one of two encore songs – her very personal "Have To Stay" – in her performance at The Masonic in San Francisco on Wednesday night.  I'm actually one of those people who have waited to see her for the past 15 years, so it was an amazing experience.  Supporting her brilliant new album, Still On My Mind, Dido played many hits and lots of new music, and still left us all wanting more, even with a 20-song set.  This was actually show #1 of 3 for me and Shelley (Mrs. Rock Subculture), as we took time to also catch the subsequent shows in both Portland and Seattle (mini reviews included below) as Dido wrapped up the U.S. leg of her tour in California and the Pacific Northwest.  Hopefully it won't be another 15 years for her to come around again, but it was well worth the wait.
Who: Dido
Supporting: Jack Savoretti
Venue: The Masonic
Where: San Francisco, California
Promoter: Live Nation
When: June 26, 2019
Seating: Floor B, Row 1, Seats 5 & 6 (front row, center section, slightly stage left)

NOTE: Unrelated to this review, in case people have been wondering about the slow down in activity, the first part of the year I was working as a producer on a new docuseries for ABC Studios for Disney+ that will be debuting in the Fall (tentatively titled "Cinema Relics).  And immediately thereafter, I joined Julien's Auctions (who I've been consulting to for many years) as their Director of Marketing, New Media, and Contemporary Pop Culture… so I've just been super, super busy!
The Masonic
I've seen many show at The Masonic in San Francisco over the years.  Sometimes it is configured with GA standing up from and seated up in the balconies, but this show was one of the ones with all seats on the floor as well.  I was actually lucky enough to score front row seats near dead center for face value, so I felt super fortunate.
This is different from my traditional review as all photos are with a pocket camera from my seat (and Sony RX100).  I really wanted to take in the full concert going experience with this concert, so that trumped getting a photo pass.  I did attempt to get a photo pass for one of the two Pacific Northwest shows, but was unsuccessful.
Meet & Greet at The Masonic
With the show at The Masonic, we also availed ourselves of the meet and greet opportunity via the offer on the official Dido website, so that was great fun.  We were treated to an intimate three song soundcheck (which matched the quality of the actual show), and then got to meet Dido and take a photo with her as well.  They also offered fans to have one personal item to be signed, but honestly, I've never been that into autographs, so we just met and we were happy to have a photo taken.  Great fun and she was super sweet, as expected.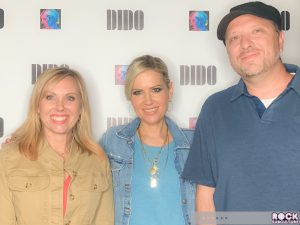 Portland and Seattle Show Mini Reviews
I won't be doing full reviews of the Portland and Seattle shows (we really, again, just took in the experience for fun and enjoyment).  The Masonic show was our favorite, as the first of the three with the prime seating up front and the meet and greet (but Seattle was amazing as well).
Mini Review/Thoughts on The Roseland in Portland, Oregon 06/28/2019
The Roseland Theater in Portland was actually a bit disappointing from the vantage point of the actual venue (not Dido's performance).  I had originally bought GA tickets, but the morning of the show I looked on StubHub and there were some balcony seats, so I bought a set of those in addition for a different perspective.
When we got to the venue, it was a challenge to even get to our seats because it was so oversold, it was a huge issue just to navigate our way through, as they let unlimited people stand all around the seats up there with no real security to keep walkways open, so it was a complete mess.
When we got to our seats, there was a giant pole blocking our view of the stage (exactly where Dido would be standing for most of the performance), as well as a hanging cable to the left of it.  StubHub has no late hours customer service support (they used to!)… we spent all this money on flights and hotels and cars and such to get there, so I thought I would just buy another set of balcony seats… and you don't know the seat numbers until you complete the purchase, and these were even worse.  A complete joke.  All we could see is the side of some speakers. I don't know how a venue can sell seats like this?
I went on customer support chat (with my phone) since they have no customer support via phone during concert hours (they used to!) with StubHub and they were terrible…  they offered no exchange of seats, no refund… only a $30 credit.
We went back to the first seats (with the pole blocking the stage) and then drunk people spilled drinks on us (because it was too crowded to get to their seats – so they had to climb over the back of them and spilled beer all over us) and then some drunk women sitting next to the drunk men started threatening us.  I told security and they wouldn't deal with them, so we asked if we could be moved, and they ended up putting us on the GA floor standing off to the side of the stage.
The sound was fine, but they had I think the worst lighting tech ever…  often, Dido would have a spotlight on her body (but not her head), then blinding her with overpowered lights, or they couldn't find her at all.  It was so bad, she even started commenting on it between songs and joking about it.
Anyway, I'm so glad it wasn't the only show we attended.  I will never go back to that venue – the fire/safety hazard alone is reason to avoid it.  Even an older gentleman sitting next to us in the first set of seats had the same comment.  It's insane that place can pass a fire safety inspection, and I have no idea how they can get away overselling it to the point where you can't walk around.  And then selling fully obstructed seats with no warning is unacceptable.  Terrible venue.  Apologies to be so negative (long time readers of the Rock Subculture know how rare this is), but it was really an awful venue.  I've been to venues all over the world, and this would be near and maybe at the very bottom of the list.
Mini Review/Thoughts on The Showbox SoDo in Seattle, Washington 06/30/2019
This concert was amazing.  This was an all GA standing show, and we had some sightseeing stuff we wanted to do in Seattle, so we figured unless we stood in line for hours we had no chance to get up close…
So doors was at 7:00, and we didn't get there until 8:00.  Ria Mae was just beginning her opening set as we came in.  We walked around a little, expecting to be at the back.  Shelley said "let's go this way", and we literally walked right up to the rail far stage right, and had an amazing view of Dido.  We couldn't see the rest of the band much apart from Pete Rinaldi, but it was our third show in a row, so that was okay.
I would say the crowd for this one was hands down the best crowd.  Tons of energy and everyone we chatted with was very cool.  It was an amazing show.  Dido sounded incredible (which was surprising, because in Portland she said she was beginning to lose her voice).  The sound and lighting at the Showbox SoDo was spot on.  The venue was awesome.  Everyone that worked that was friendly and cool.  It was the last show on the U.S. leg of the tour, so it was quite jubilant for Dido as well.
It also happened to be Seattle Pride this weekend, and Dido commented on this and had some rainbow lighting effects on stage for this show…
Someone in the audience shouted out "this is the best concert ever" toward the end, and it would be difficult to disagree!
Full Review: Dido at The Masonic in San Francisco
Jack Savoretti
Members:
Jack Savoretti (vocals)
Pedro Vito (guitar)
Sam Davies (bass)
Jesper Lind (drums)
Giovanni "Jack" Savoretti is an English solo acoustic singer of Italian descent. He has released six studio albums to date, most recently, Singing to Strangers, released this year.
This was my first time seeing Savoretti and his band, and I really loved his set and the charm he brought to the stage with his stories and a bit of banter with the audience.  He was very earnest and genuine, and I really enjoyed his music – even on first listen, it was very catchy and engaging and they all sounded great live.  I've already picked up his music on iTunes.  One to follow.
Set List:
Home
The Other Side of Love
Better Off Without Me
Singing to Strangers
Candlelight
When We Were Lovers
Below are some photos of Jack Savoretti performing on stage (scroll downward and photos will begin to appear – click any image to open a virtual lightroom with higher resolution versions of each photo):
Dido
Members:
Dido (vocals, guitar)
Pete Rinaldi (guitar)
Adam Falkner (drums)
Jamie Norton (keyboards)
Jodie Linscott (percussion)
Jimmy Sims (bass)
So this was Dido's first world tour in many, many years, supporting her amazing new album, Still On My Mind.  It's been twenty years since Dido's multi-platinum debut in 1999, No Angel (ultimately selling 21 million copies!).
I was always a fan of her work, but it wasn't until I bought the DVD for Live at Brixton Academy that I came to fully appreciate the genius of her music.  Hearing and seeing the live performance of her work via this recording really took it to another level for me, and that became my "go to" DVD that I would always play in the background when working at my home office.  It is just such a joyful work, and always put me in a great mood.
When people have asked me if I could go back in time to see any historic rock 'n' roll live show, what would it be… I always say Dido live at Brixton Academy and people look at me like they have no idea what I'm talking about.  But it is the truth.  She's the one artist I've been so excited to see some day, and it now it's finally happened with this tour!
Of course, Dido (Dido Florian Cloud de Bounevialle O'Malley Armstrong!) rose to fame on the global stage with her 1999 debut album, No Angel, fueled by the hit singles "Here with Me" and "Thank You".  She received a lot of attention when Eminem sampled "Thank You" for his song, "Stan".  2003's Life for Rent achieved similar success with fans and critics alike.
Though she took a break from touring, she released two more albums in the intervening years – Safe Trip Home in 2008 and Girl Who Got Away in 2013.
For me, personally, her latest work, Still on My Mind, is the first that rivals the first two albums, and I absolutely love it.  As of this writing, it is for sure my favorite album of 2019.
With the show on Wednesday night, Dido and her band opening with the powerful, building "Hurricanes", and then it was a journey touching on music across her entire career, old and new.
The one disappointment for me is that she didn't perform "Isobel", which was for sure one of my favorites from the Live at Brixton Academy DVD – it's such a powerful work, especially live.
She has some new artists performing with her on this tour, all of whom were awesome.  But I was thrilled to see percussionist Jodie Linscott join the stage.  Watching her do her thing is mesmerizing!
I think my favorite aspect of the show was actually hearing some of the new songs live, which was a brand new experience (I didn't want to ruin my first reaction by previewing much on YouTube in advance of this show.  Of the new songs, I really loved hearing "Hurricanes", "Hell After This", "Mad Love" and "Friends".  Such amazing songs!
Dido was super fun in-between songs, which I expected.
Obviously, I've been super busy in 2019…  It's the end of June, and I only made it out to three events thus far, so the fact that I then saw Dido three times in a row I think speaks to my enthusiasm about her work and finally seeing her live in concert.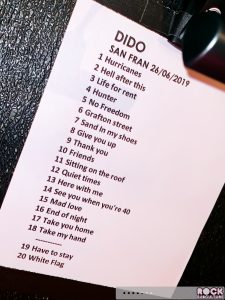 Set List:
Hurricanes
Hell After This
Life for Rent
Hunter
No Freedom
Grafton Street
Sand in My Shoes
Give You Up
Thank You
Friends
Sitting on the Roof of the World
Quiet Times
Here With Me
See You When You're 40
Mad Love
End of Night
Take You Home
Take My Hand
Encore:
Below are some photos of Dido performing on stage (scroll downward and photos will begin to appear – click any image to open a virtual lightroom with higher resolution versions of each photo):
Jason DeBord