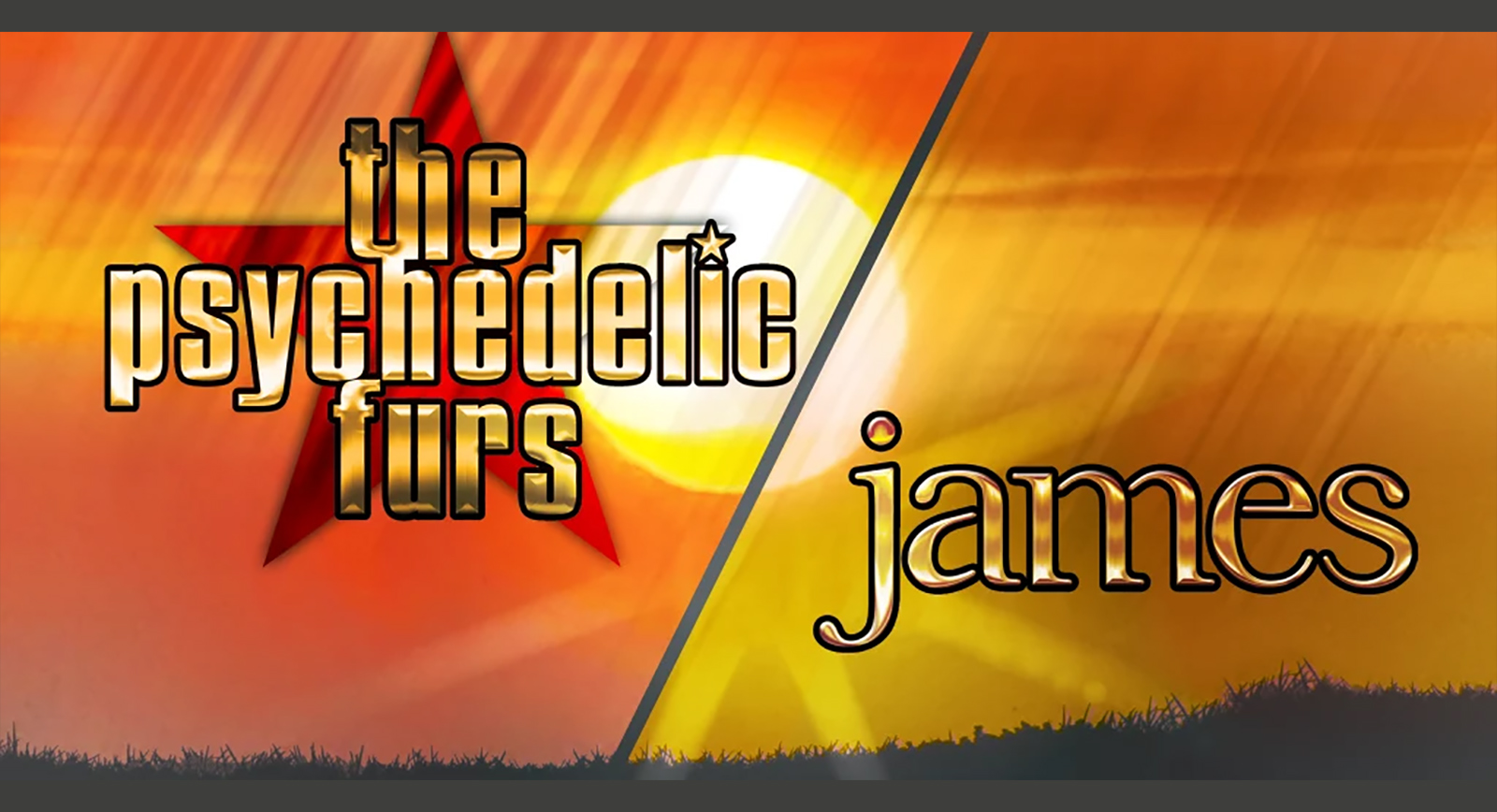 This Summer, The Psychedelic Furs and James will embark on a co-headlining tour across North America from early July through early August.  I've been fortunate enough to see The Furs a number of times in recent years (one of my favorite artists to see live) but I've never had a chance to see James, who have been to the U.S. much less frequently.  Supporting the tour will be L.A.'s Dear Boy.Tickets go on sale on April 5th, and you can learn more details from the respective websites of the two bands…

Tour Dates:
07/05 – Toronto, ON – Rebel Complex
07/06 – London, ON – London Music Hall
07/07 – Ottawa, ON – Ottawa Bluesfest (Festival Appearance)
07/09 – Boston, MA – House Of Blues
07/10 – Asbury Park, NJ – Paramount Theatre
07/12 – New York, NY – The Rooftop at Pier 17
07/13 – Philadelphia, PA – Franklin Music Hall
07/14 – Silver Spring, MD – The Fillmore Silver Spring
07/16 – McKees Rocks, PA – Roxian Theater
07/18 – Buffalo, NY – Canalside
07/19 – Cleveland, OH – Agora Theatre
07/20 – Royal Oak, MI – Royal Oak Music Theatre
07/22 – Milwaukee, WI – The Pabst Theater
07/23 – Chicago, IL – Aragon Ballroom
07/26 – Denver, CO – Ogden Theatre
07/27 – Salt Lake City, UT – The Complex – Rockwell
07/30 – Seattle, WA – Showbox SoDo
07/31 – Vancouver, BC – Orpheum Theatre
08/01 – Portland, OR – Crystal Ballroom
08/03 – Reno, NV – Grand Sierra Resort and Casino – Grand Theatre
08/06 – San Diego, CA – The Observatory North Park
08/07 – Los Angeles, CA – Greek Theatre
About The Psychedelic Furs
Led by vocalist and songwriter Richard Butler, and his bass-wielding brother Tim, the Furs scored major hits with "Love My Way," "Pretty In Pink," "Heaven," "The Ghost In You," and "Heartbreak Beat" in all releasing seven studio albums, spawning several compilations, a boxed set, and a live concert DVD. Born out of the post-punk UK rock scene, the Furs quickly developed as one of the premiere bands on US College and Modern Rock radio scoring a multitude of #1 singles. With the advent of MTV in the early 80's the band took off into the stratosphere, and when John Hughes' approached the band with his film built around the Furs' song "Pretty In Pink", the band's legacy was cemented. After a brief hiatus in the 90's, and a side project called "Love Spit Love", the band regrouped at the dawn of the new millennium. 
 
The Psychedelic Furs touring lineup remains Richard Butler (vocals), Tim Butler (bass), Rich Good (guitar), Mars Williams (saxophone), Amanda Kramer (keyboards), and Paul Garisto (drums).
Official Website | Facebook | Twitter | Instagram | YouTube
About JAMES:
Since first signing to Factory Records in 1982, James have been seen as an institution in the UK. The band released 16 top 40 singles including 'Sit Down' 'Born of Frustration" 'Laid' and 'Sometimes" – a song Brian Eno has described as a musical highlight of his life. Contemporary classics include "Nothing But Love" and "Moving On."  Their uniquely diverse sound spans 15 studio albums released over three decades, achieving both critical and commercial success, selling over 20 million albums worldwide, but it's their seat- of-the-pants live shows that has created a base of dedicated fans across the globe and cementing their status as one of the most iconic live British bands. Their 2016 release – 'Girl at the End of the World' debuted at number 2 in the UK charts. Their 2018 release 'Living in Extraordinary Times' went to number 6, achieved their highest critical acclaim and resulted in the band playing to the biggest audiences of their 37 year young lifespan.
This tour marks the first time James has toured live in North America since their sold out 2012 mini-tour and follows the release of their critically acclaimed 15th studio album 'Living In Extraordinary Times' [Listen HERE], released via Infectious/BMGin 2018. The new album delivers the same vigor and urgency as its predecessors, a fusion of social commentary and personal reflection, covering everything from the current political climate in America in their frustration-charged 'Hank,' to a lonesome Father's Day in the heartfelt 'Coming Home (Pt. 2)' featuring keyboard from long-time collaborator Brian Eno, to the anthemic commentary on the times we live in, and a plea for racial tolerance in 'Many Faces' which has inspired powerful videos such as this: https://youtu.be/ZJtRmGLNJa4
"LIVING IN EXTRAORDINARY TIMES"
Official James Store | Retail | Apple | iTunes | Spotify | Vinyl
Click on the image below for the latest and up to date full Rock Subculture Journal schedule of pop and rock music concerts/tours coming up for review (2019 Rock Subculture Schedule):
Jason DeBord