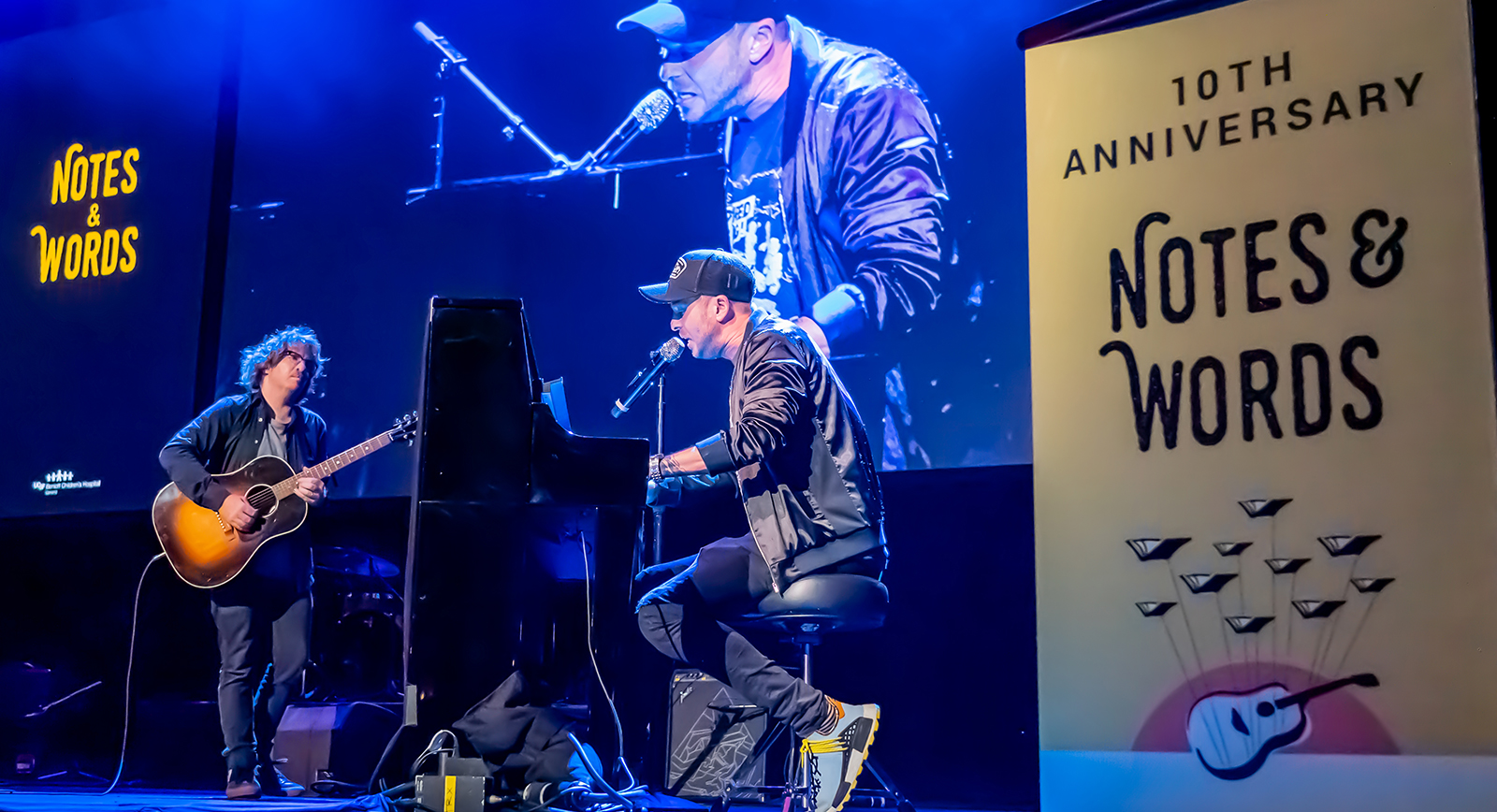 "This next song is the first song that we put out… that anybody really cared about.  Ironically, I was making a joke on MySpace earlier, but this is the song that we put onto MySpace back when it was a thing [laughs/cheers].  Yeah.  Just put the Millennial tag on us right now.  We did break on social media, it is true.  But it can be used for good regardless."  Ryan Tedder, in preface to the hit OneRepublic song, "Apologize".  A highlight of the 10th Anniversary of the annual Notes & Words: Benefit For UCSF Benioff Children's Hospital Oakland event that took place at Fox Theater Oakland on Saturday, April 27th. As per tradition, it featured both writers and musicians on stage, this year with Ryan Tedder & Drew Brown of OneRepublic, Jazz Mafia, Katy Stephan, and the Oakland School for the Arts handling the "notes" side of the show and Oscar winner, Helen Hunt, and Pulitzer Prize winning writer, Andrew Sean Greer, joining the stage with one of the key creative forces behind the event, Kelly Corrigan, taking care of the "words" side of the programming.  Notes & Words is an annual benefit concert created to support the UCSF Benioff Children's Hospital Oakland, which provides the highest quality medical care to children throughout California.  They announced that in the last 9 years, they've raised $12,150,000 with this event!  I have heard that this year's event on Saturday raised more than $3 million dollars.
What: Notes & Words: Benefit For UCSF Benioff Children's Hospital Oakland at Fox Theater
Artist: Ryan Tedder & Drew Brown of OneRepublic
Author: Andrew Sean Greer
Artist: Helen Hunt
Author: Kelly Corrigan
Artist: Oakland School for the Arts
Artist: Jazz Mafia
Artist: Katy Stephan
Venue: Fox Theater
Where: Oakland, California
When: April 27, 2019

You can check out my coverage of past Notes & Words events here:
Notes & Words is an annual benefit concert created to support the UCSF Benioff Children's Hospital Oakland, which provides the highest quality medical care to children throughout California. An intimate show, it shared many personal stories and perspectives by way of the personalities on stage as well as video presentations offering real context by showcasing some of the patients of the Children's Hospital.
About UCSF Benioff Children's Hospital Oakland
:
EXTRAORDINARY CARE FOR ALL KIDS

At UCSF Benioff Children's Hospitals, the world-renowned pediatric specialists at our Oakland and San Francisco campuses deliver hope and healing to children throughout the Bay Area and around the globe.

More than 100 years ago, our Oakland hospital was founded on the belief that all children deserve access to world-class medicine. In addition to outstanding clinical care, we address our patients' developmental and emotional needs through programs like music therapy, art classes, therapy dog visits, massage, and much more. We also help ensure the health of our community, advocating for vulnerable children living in at-risk situations and providing early interventions for kids facing challenges like asthma, obesity, and diabetes.

Because insurance only covers a fraction of all that we do, we depend on philanthropic support to help transform children's lives. Families come to us for compassion, innovation, and hope—and it takes generous partners like you to make that possible.

DID YOU KNOW?

We are committed to providing the highest quality of care to all children, regardless of a family's ability to pay.

UCSF Benioff Children's Hospitals are ranked among the nation's best children's hospitals in nine pediatric specialties.

More than 3,500 doctors, nurses, researchers and other dedicated staff care for over 75,000 patients each year at the Oakland campus.

Our emergency room sees over 50,000 visits each year, with patients rushed in from throughout Northern California and as far as Nevada.

We provide more than $64 million in charity care and community benefit activities each year.
Prior to doors opening at Fox Theater at 7:00 for the main event, there was a VIP pre-party set up in a huge tent on 19th Street.  This year kicked things up a notch with a "circus" style tent with a real flair for food and entertainment inside (which picked up again for the after party).
As per tradition, throughout the event were video presentations with real life stories about how UCSF Benioff Children's Hospital affects people's lives, like Jazz Hardrict.
Note: A lot of the photography that follows was also taken by my wife, Shelley ("Mrs. Rock Subculture"). Her images feature the Pixel Dust logo while mine (Jason's) have the usual Rock Subculture logo.
Because I am shooting this event for UCSF Benioff Children's Hospital and I am pretty focused on photography and running up and back and around the venue, my usual thoughts on the show are very limited.  But it was a fantastic event as always!  So this is more of a photo journal than an in-depth review of the show.
Below are some general images as introduction…
Katy Stephan
Katy Stephan opened the show with a piano and vocals performance accompanied by a video presentation that featured familiar Oakland icons and iconography.  A bit of background on Katy from her website:
Katy Stephan is a pianist, vocalist, and composer. She has composed and performed live original music for theatre (Porchlight Theatre, Word For Word, Upon These Boards, Azeotrope Theatre), dance (Project Agora, Copious Dance, Theatre, Counterpointe, and Requisite Dance), as well as burlesque and circus.
Jazz Mafia
Jazz Mafia is "a Collective of some of the most dangerous and feared musicians on the West Coast, led by Adam Theis, founded in 2000".
The following performers contributed to the set on Saturday night:
Yvette Pylant (vocals)
Joe Bagale (drums and vocals)
Marcus Philips (bass)
George Epps (keyboards)
Jon Monahan (guitar)
Max Miller-Loran (trumpet)
The band played a number of songs, with leading vocals by Tosh Harris Santiago; they put on a fantastic set.
Oakland School for the Arts
Below is the overview of the Oakland School for the Arts from the official Notes & Words site:
By popular demand, we welcome back to the Notes & Words stage our favorite resident performers, the Oakland School for the Arts, for an uplifting evening of music. Since 2002, OSA, a nonprofit public charter school, has empowered youth from across the Bay Area to excel in the arts. The school's award-winning choir has wowed audiences time and again, on our Notes & Words stage and around the country. We're honored to engage these young local talents in supporting their community by joining us to give back to the hospital. Prepare to be amazed!
Kelly Corrigan
Below is the overview of Kelly Corrigan and her accomplishments from the official Notes & Words site:
You know her as the creative force behind Notes & Words and you love her for her clever, insightful best-selling memoirs The Middle Place, Lift, and Glitter and Glue. Her most recent release, an instant New York Times bestseller, Tell Me More: Stories About the 12 Hardest Things I'm Learning to Say, is a story-driven collection of essays on the twelve powerful phrases we use to sustain our relationships. Her books deeply resonate with readers with their delicate weave of humor and heartache. When Kelly isn't traversing the country on book tours, interviewing thought leaders and writers for her KQED radio show, Exactly, or puzzling over the wonders of teenage daughters, you can find her in the neonatal intensive care unit holding preemie infants.
Host and organizer Kelly Corrigan introduced the "Words" element of the event, she did a short reading before bringing Helen Hunt on stage to join her for a shared reading presentation.
Helen Hunt
Below is an introduction of Helen Hunt from the official Notes & Words site:
Helen Hunt has enjoyed a distinguished career not only as an award-winning actress, but as an accomplished writer, director and producer. As an actress, her extensive and diverse body of work includes roles in film, theater, and television.

In 2012 Hunt's performance in the The Sessions earned her an Independent Spirit Award for Best Supporting Female and notations in the same category by the Academy Awards, Golden Globe Awards, SAG Awards, Broadcast Film Critics' Awards and the BAFTA Awards.

Additional credits include Mad About You and the critically acclaimed HBO Miniseries Empire Falls. For her role as Jamie Buchman in Mad About You, Hunt garnered four Emmy Awards, four Golden Globe Awards (three as lead actress and one as Producer for Best Comedy), and a Screen Actors Guild Award. She was also named "Best Actress" for her role in the film As Good As It Gets for which Hunt won a Golden Globe Award, a Screen Actors Guild Award, and an Oscar.
Kelly and Helen were very funny!
Andrew Sean Greer
Below is an introduction of author Andrew Sean Greer from the official Notes & Words site:
Andrew Sean Greer is the Pulitzer Prize winning author of six works of fiction, including the bestsellers The Confessions of Max Tivoli and Less.  Greer grew up, an identical twin, in the suburbs of Washington, DC, the son of scientists. He studied writing at Brown University, where he was the commencement speaker at his own graduation.

After years in New York working as a chauffeur, television extra and unsuccessful writer, he moved to Missoula, Montana, where he received a master of fine arts degree from the University of Montana. He soon moved to Seattle, where he wrote for Nintendo and taught community college, then finally landed in San Francisco where he currently resides.

Greer has taught at a number of universities and is a winner of the California Book Award and the New York Public Library Young Lions Award.  He is the recipient of a NEA grant, a Guggenheim Fellowship, and the 2018 Pulitzer Prize for Fiction. 
Andrew read from his Pulitzer Prize-winning novel, Less.  He was super funny and entertaining, and of all my years covering this event, he is my favorite from the "words" half.  He was amazing.
Ryan Tedder & Drew Brown
Below is the overview of Ryan Tedder from the official Notes & Words site:
OneRepublic's Ryan Tedder is a singer, prolific songwriter, multi-instrumentalist, and record producer. In addition to being the lead vocalist of the pop rock band OneRepublic, he has an independent career as a songwriter and producer for various artists, including Adele, Beyoncé, Ed Sheeran, Maroon 5, One Direction, Paul McCartney, Shawn Mendes, Taylor Swift, and U2.
Drew Brown is the guitarist for OneRepublic and Debate Team, and co-wrote many of OneRepublic's biggest hits.
I've seen OneRepublic in concert before, so I knew this would be a great show.  And Ryan and Drew did not disappoint.
There was a very relaxed atmosphere, and they performed with just acoustic guitars and piano.
Ryan was very chatty and entertaining between songs, telling stories and sharing about the development of some of their songs.
Their music really lends itself to a stripped down, acoustic sound, so their performance was remarkable.
The Oakland School for the Arts joined Ryan and Drew on stage for the end of their set.
Setlist:
Stop and Stare
Apologize
Stay With Me (Sam Smith cover)
Halo (Beyoncé cover)
Counting Stars
Crash (Dave Mathews Band cover)
Rumor Has It (Adele cover with Oakland School for the Arts)
Good Life (with Oakland School for the Arts)
After Party
Following the pre-party and the main event, the organizers held an after party in the tent adjacent to the Fox Theater, with DJs.
Like in past years, those wearing the special headphones could only hear the music – a "silent disco" – so walking in, you see people dancing but hear no music whatsoever! You could change "channels" and switch back and forth between different DJs sets.
As with last year, I really can't recommend enough supporting UCSF Benioff Children's Hospital Oakland. Be sure to check out their website at:
Jason DeBord