Well, it's a challenge for me to be objective on this one, as Depeche Mode is my all-time favorite band.  I will be covering a total of five concerts on this European Leg of their Delta Machine Tour, which officially kicked off in recent weeks.  First on my itinerary last night was their date in Budapest, Hungary at Puskás Ferenc Stadion, which is a massive outdoor stadium.  Depeche Mode is touring to promote their new album, Delta Machine, which I have really enjoyed, and the set list for this tour includes a sampling of tracks from that new album as well as favorites from their huge body of work going back decades (a few reworked quite well).  The band certainly has a loyal fan base in Hungary, as there was a sizable turn out of very dedicated fans (I lost count of the number of tattoos I saw with Depeche Mode-related art).  They sounded incredible, and put on a great show with Dave's typical high energy and beaming stage presence.  Highlights for me included "Halo" (in my opinion one of their very best songs, and not recognized as such to the extent in which it should be) and the show closer, my favorite song of all time (from any band), "Never Let Me Down Again".  A fantastic evening and I'm more than thrilled to follow them around over the next two weeks, going to the shows in Zagreb, Croatia, and Bratislava, Slovakia, and then back to back shows at the O2 in London, England.  In my opinion, this is the tour of the year, but again, I am pretty predisposed to that opinion.

Who: Depeche Mode
Supporting: Diamond Version
Venue: Puskás Ferenc Stadion
Where: Budapest, Hungary
When: May 21, 2013
Seating: Front Of Stage (FOS) Standing General Admission (center mic in front of stage, three rows of people back; two rows of people two the left of the ramp extending into the pit)
Note: Please also visit the site pertaining to Depeche Mode's charitable efforts here:  my.charitywater.org/depechemode
See all of my articles on this Depeche Mode Delta Machine World Tour by clicking the portal below (with coverage of Budapest Hungary, Zagreb Croatia, Bratislava Slovakia, and London England):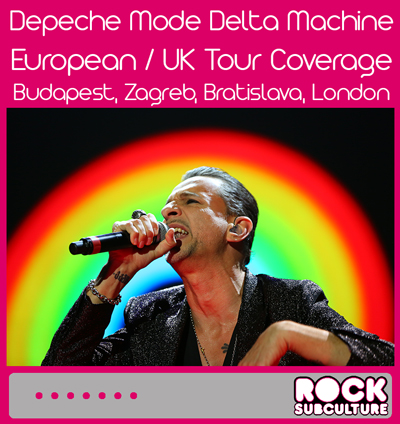 I really have no idea of the turn out for this show, as the stadium did not fill the top level or the sides and back where the views would have been obstructed.  But it is a massive, massive arena.

I don't speak Hungarian at all (not one word), so finding my way around Budapest – a city I've never visited previously – has been a bit challenging, but not too much.
I eventually found the arena, and a line up for other "General Admission" ticketholders.  There was both standard GA and "Front of Stage" GA.  There was a large area adjacent to the stage for the latter, and the former were on the ground level also, but with a fence separating the two.
It seems with the European leg, they are generally offering a "Front of Stage" option, or a GA "Early Entry" option (which is the case with the two O2 shows).  I've purchased one or the other for each show, so thought I would share those experiences a little more in depth for those fans attending shows coming up, to provide a better idea of how it is handled (or at least was handled at this specific date.
The line I was in had a mix of both GA types.  When I arrived, there was a good 50+ people in line (this was at about 2:00 PM).
As I waited, the line in front of my grew exponentially more than people lining up behind me…  much as is the case with concerts in the United States!  One or two people will show up early, and then a lot of their friends will come and cut in line.
The funny thing though, is that we were lined up against a series of gates, and when they did open doors, they opened all of them.  So arriving early, I guess, didn't amount to as much as it might have at this venue.
As we were processed through the security, once scanned in, people literally ran for their lives to get up front at close at the stage – and it was quite a long distance!
So the way the stage is configured for this tour, there is the standard front stage, and Dave's mic is center (with drum kit behind), and Martin is on the left (looking at the stage) and Fletch is on the right).  I happened to be dead center with Dave's mic, about three rows off the rail.  Looking at the stage, to my right, was the ramp walkway that extended from the stage into the "FOS" GA area.  There were about two people to my right, and then the platform.  I found this to be a great spot (and ended up there more by accident than design), as Dave spends the majority of his time in the center mic area.  He used the ramp far less than I expected, and if I remember correctly, Martin used it one time.
There was a supporting band, which seems to be revolving at the tour goes on.  Last night it was Diamond Version.
Diamond Version
Diamond Version is a Mute artist, per the bio on their official site, they are "Constructivist Flourescence", and a collaboration between Alva Noto & Byetone and Atsuhiro Ito.
Like a lot of contemporary electronic artists, you can't really see what they are going on stage.  They are manipulating…  something… on a table, and their are some laptops set up for the pair, but for me, it is a bit of a disconnect from the idea of live music, because you don't have any understanding of how it is being created.
Their sound is made up of a lot of repetitive beats, and no vocals aside from some repeating sampled voices on a few of the songs (though everything kind of just morphs from one thing to the next, more like a DJ set).
Depeche Mode
Since my next four reviews after this one will be for additional Depeche Mode shows, and I need to get on the road in the morning to drive from Budapest to Zagreb, I won't go into the amount of depth on my analysis on this concert as I otherwise would (as a stand alone show).
Depeche Mode were of course founded at the dawn of the New Wave movement, 1980, and a key founding member that left after that first album was Vince Clark (who went on to create Yaz/Yazoo with Allison Moyet and then Erasure with Andy Bell).
That first album – Speak and Spell – sounded much more like Vince Clark than what it evolved into after he left (with Martin Gore taking on the core writing responsibilities and Alan Wilder joining and helping to take the band in a different, darker direction).
I grew up listening to Depeche Mode, and loved their music.  But they didn't really become my favorite band until Black Celebration came out (and this was also around the time that genius photographer Anton Corbin had an instrumental hand in remaking the image of the band with photos and music videos, the first for "A Question of Time").
The next album, Music for the Masses, is my all-time favorite album (from any band), and, as mentioned, the opening track – "Never Let Me Down Again" – remains my favorite song to this day.
This was when Depeche Mode somehow really did break for the masses, funny enough, and truly accomplished more than any New Wave band had.  That famous world tour came to an end in 1988 at the epic concert at the Pasadena Rose Bowl, with more than 60,000 fans in attendance.  This was also part of D.A. Pennebager's 101 film and the double live CD from the show.
The next album, Violator, was an even more popular album (which I would rate as equal with Black Celebration, with Music for the Masses just edging out both).
The biggest turn the band made with there sound, apart from the departure following Speak and Spell, was with Songs of Faith and Devotion, which I think was highly influenced by Nirvana unwittingly putting a knife into the heart of New Wave.  Alan Wilder brought in a "real" drum kit to record the album and take out on tour (funny side note – I actually own one of his two snare drums from that kit, and the last sticks he used playing with DM).  Though, sadly, Alan left the band for other pursuits, they retained the live drum kit on tour and it really does bring their music alive in a more analog way, which really suits their music.
Following Dave Gahan's overdose and recovery, the band has been quite prolific with their output, releasing Ultra, Exciter, Playing the Angel, Sounds of the Universe, and now Delta Machine.
I love all these post-Alan Wilder albums, and each has tracks as great as any of their music, but I don't feel that any one of those albums reach the heights of Black Celebration/Music for the Masses/Violator (I would put Songs of Faith and Devotion above the subsequent work, but not quite as high as the prior three albums – but very, very close, and still my fourth favorite album overall).
I'll share some thoughts about Delta Machine as I have time in future reviews of the pending concerts, but there are some really amazing tracks on it, and it was awesome to hear them live last night (particularly the opener, "Welcome to My World", which has some great changes and building sections in it).
Below is the set list for last night's show in Budapest…
Setlist:
Welcome to My World
Angel
Walking in My Shoes
Precious
Black Celebration
Policy of Truth
Should Be Higher
Barrel of a Gun
Higher Love (Sung by Martin Gore)
When the Body Speaks (Sung by Martin Gore)
Heaven
Soothe My Soul
A Pain That I'm Used To ('Jacques Lu Cont's Remix' version)
A Question of Time
Secret to the End
Enjoy the Silence
Personal Jesus
Goodbye
Encore:
Home (Acoustic)
Halo ('Goldfrapp Remix' version)
Just Can't Get Enough
I Feel You
Never Let Me Down Again
This set doesn't seem to vary to much on these initial shows, but a large part of that is due to the backing images created by Anton Corbijn.
I was (pleasantly) surprised at how they have changed up some of their most famous songs, like "Personal Jesus" being slowed down a bit, and also that it and "Enjoy the Silence" are pre-encore, whereas in the past they've been closers.
And I think the encore kind of affirms my own taste in their music, with "Never Let Me Down Again" serving as the closer, and "Halo" being part of it, even though it was never released as a single (though it had an awesome video) and I never hear others talk about it as a favorite (though it is definitely one of mine).
It was really the perfect Depeche Mode concert.  The sound was spot on (and I'm pretty picky about sound just not working on shows).  The guys all seemed to be in a great mood and spirits.  The new songs sounded awesome.  I love everything Anton Corbijn has done with the band, and he has such a great vision for bringing their music to life in a different way.
Personally, this was an amazing and epic concert for me, as this was the closest I'd ever gotten to the stage.  Dave is an amazing performer, and he is one that intuitively makes those personal (and for the fan, unforgettable) connections with members of the audience who he can lock onto with a look, smile, and last night, even blowing a kiss.
Again, I'll have more thoughts as my mini tour of the larger tour continues on, but I definitely plan to sneak up to some of the nose bleed seats at one of these shows to get a grander perspective.
Below are a few videos shared in an effort to capture the spirit and sounds of this special show…
"Halo":
"Never Let Me Down Again":
Below are some photos of today leading up to the concert with Depeche Mode.  All of these photos were taken with a non-pro camera.  Click on any image to open the gallery and for higher resolution versions of the same photo:
Jason DeBord