So this is the second of five consecutive Depeche Mode concerts that I will be covering as part of the European Leg of their worldwide Delta Machine Tour (having covered Budapest two days ago, with Bratislava and two London shows still to come).  With the last review I gave some background on my own views on Depeche Mode, and a general overview of this tour.  Last night was a totally different experience from the first, so I will compare and contrast and share some thoughts for those who might be looking for some insights to prepare for upcoming shows.  As was the case with Budapest, their appearance in Zagreb was nothing short of amazing, and while I was up front for the first show on my itinerary, for this one (after shooting the first three songs directly below the stage) I headed to the back of the huge indoor arena to get the "distant" experience, the highlight of which was taking in Anton Corbijn's amazing (as expected) video collateral that filled the displays during some of the songs.

Who: Depeche Mode
Supporting: Diamond Version
Venue: Zagreb Arena
Where: Zagreb, Croatia
When: May 23, 2013
Seating: Center Rear of Stadium (photo pass from pit for the first three songs)
Note: Please also visit the site pertaining to Depeche Mode's charitable efforts here: my.charitywater.org/depechemode
See all of my articles on this Depeche Mode Delta Machine World Tour by clicking the portal below (with coverage of Budapest Hungary, Zagreb Croatia, Bratislava Slovakia, and London England):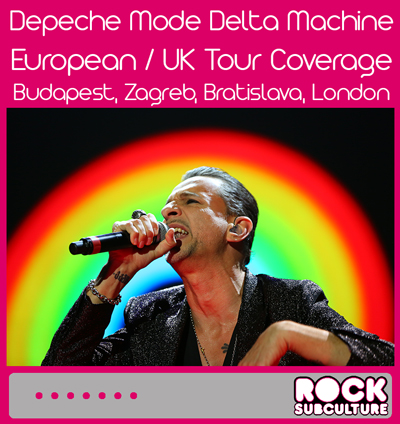 On a personal note, since Depeche Mode is my favorite band, since I started the Rock Subculture Journal, the number one band I've always wanted to photograph professional is, of course, this band.  So I was thrilled to have the opportunity to do just that last night.  I hope readers enjoyed viewing the photos as much as I loved taking them – a real honor.  I will never forget it, and it will stand as a highlight for me in creating content for this site.
I did purchase a "Fan Pit" ticket for this show then they first went on sale, but since I was approved press for this show, I didn't end up using it.  As such, unlike the Budapest show, I can't offer any insights as to how it all worked.  As a matter of fact, I was backstage until just about five minutes or so before Depeche Mode came on stage.  So I have no photos or impressions of the supporting band on this show (though it is my understanding that it was Diamond Version again.
The other funny thing is that in my head I thought that this was an open air venue…  but when I went inside, it was an enclosed sports arena (much like Oracle Arena and HP Pavilion for my Bay Area readers).
In the photo pit we were all in fixed positions, so I did not get too many photos apart from Dave, since I was standing directly in front of his mic (no, I'm not complaining).
There were some differences between Budapest and Zagreb… for one, the crowd was much, much closer to the stage (at the start of the "fan pit").  The photo/security pit (space in-between the crowd barricade and the stage) was much, much more narrow, so it would have been a much closer perspective for the fans up front.
The sound was much, much better at Budapest – I'm guessing because it was outdoor/open air, so it had more of a natural sound, while in Zagreb Arena (like pretty much all sports arenas I've attended), the sound was not optimum (I don't think too many older sports areas were designed with concert acoustics in mine).
As outlined in my Budapest review, Depeche Mode founded at the dawn of the New Wave movement, 1980, and a key founding member that left after that first album was Vince Clark (who went on to create Yaz/Yazoo with Allison Moyet and then Erasure with Andy Bell); he was replaced by Alan Wilder and Martin Gore took over the core of the writing responsibilities (Alan himself left after the Devotional Tour).
Below is the set list for last night's show in Zagreb…
Setlist:
Welcome to My World
Angel
Walking in My Shoes
Precious
Black Celebration
Policy of Truth
Should Be Higher
Barrel of a Gun
Higher Love (Sung by Martin Gore)
When the Body Speaks (Sung by Martin Gore)
Heaven
Soothe My Soul
A Pain That I'm Used To ('Jacques Lu Cont's Remix' version)
A Question of Time
Secret to the End
Enjoy the Silence
Personal Jesus
Goodbye
Encore:
Home (Acoustic)
Halo ('Goldfrapp Remix' version)
Just Can't Get Enough
I Feel You
Never Let Me Down Again
The show was amazing.  It was interesting to compare and contrast the two audiences (Budapest and Zagreb), as they seemed very different to me – different energy, different vibe (though I wouldn't say one was "better" than another – just different).  One funny thing is that the audience in Budapest went crazy carrying on with a sing along on Martin Gore's encore opener, "Home", while those in Zagreb couldn't get it started at all.  Having said that, I saw a significant number of people (in the non-floor spaces) up out of their seats and dancing along to nearly all of the songs.
The place was literally BOUNCING, as you can see in this video footage shot with my pocket camera from the rear of the venue:
I have to say, of the new Delta Machine material, I am totally loving "Welcome To My World", "Angel", and "Soothe My Soul".  Love these songs!
One element of the show I completely missed in Budapest is how clever the backing videos and camera work is…  from the more distance vantage point, the live cameramen filming Dave, with the videos playing behind him – these are then projected on the the side screens on either side of the stage, and since it is then all "flat", it appears like prerecorded videos shot together, when it is obviously a mix of live and recorded (but the staging and directions results in some really interesting and beautiful compositions).
As I am running on almost no sleep for one week running (and leaving Zagreb for Bratislava in the morning), I will keep this review fairly brief in an effort to share some of the photos taken quickly, for fans to find just six or seven hours after the show.  Since I have three more shows coming up in the next week, I will keep building on my feelings and observations on the shows as I go along.
In short, another brilliant show from my favorite band, and I'm loving every second of it – I feel extremely fortunate to have the opportunity to follow them around on this tour for a little while.
Since I was able to employ some of my pro gear on this date, these will almost certainly be the best photos I personally take of the Delta Machine Tour for this go round, so that is a benefit to those in attendance at this specific show.  Click on any image for high resolution copies of the same photo: