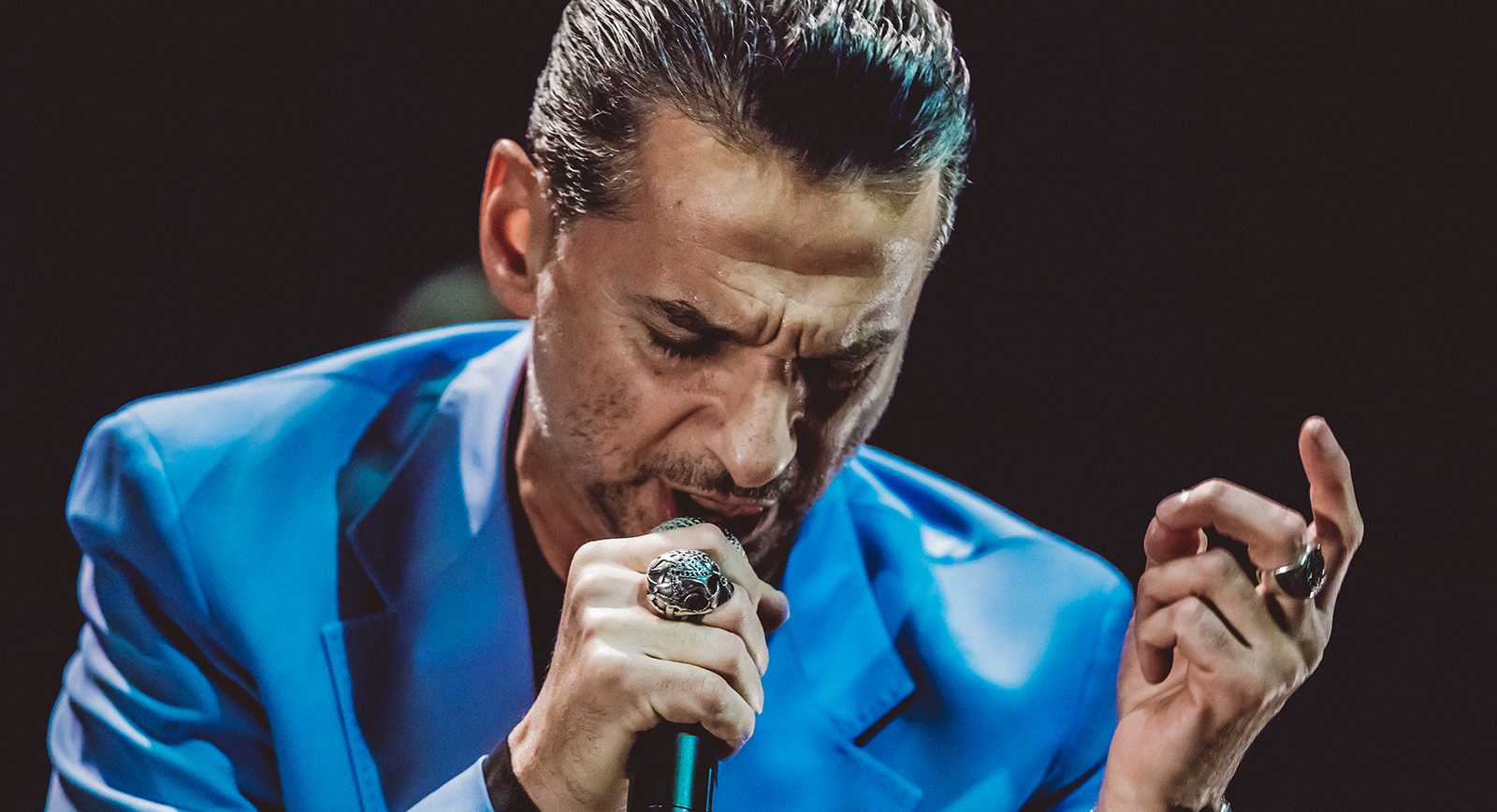 "We're going to play a few songs now that you might know.  You've been very patient; thank you very much.  You also might not know them as well…"  Dave Gahan, bridging the main set of Soulsavers material and their encore, which featured two songs from his first two solo records and two from Depeche Mode's Songs of Faith and Devotion.  Making his debut performance with Soulsavers, they previewed  the newly recorded material from Angels & Ghosts, which will be released on Friday.  Dave Gahan has reunited for a second album as Dave Gahan & Soulsavers, as well as announced a very limited set of concerts with a 10-piece band at very small and intimate venues in the U.S. and Europe, with this first one happening at The Theatre at Ace Hotel in Los Angeles on Monday night. The album, Angels & Ghosts, is his second collaboration with producer Rich Machin and the tour takes them to New York, London, Berlin, Paris, and Milan.  It all creates a framework to showcase Mr. Gahan's ability to transcend the work of Depeche Mode into territory that allows him to reveal his own unique gifts, artistry, and vision.  A peek into the soul of a man who is very complex, as well as a foundation with which to truly hear his voice soar to new heights and lyrics that provide real vulnerability.  Decidedly not "a Depeche Mode show", but a rare experience for fans to see another side of one of the most talented artists of our generation.  Unforgettable.

Who: A Special Evening with Dave Gahan & Soulsavers
Venue: The Theatre at Ace Hotel
Where: Los Angeles, California
Promoter: Live Nation
When: October 19, 2015
Seating: Orchestra Right, Row H, Seat 6 (Gold Circle; also photo pass first two songs)
Being based in Northern California, this was my first experience attending a show at The Theatre at Ace Hotel, and I traveled down just for the show (and also stayed at the hotel next door).
The show was put on by Live Nation, and they also streamed the show live with replays on Yahoo for 24 hours following.
The venue is just gorgeous inside, with theater-style seating on the floor and balcony above.
The Theatre at Ace Hotel, also known as The United Artists Theater, was designed by C. Howard Crane for the United Artists film studio.  It is the first three floors of a thirteen story building and features 1,600 seats.
The show was an instant sell out, and seemed to attract a lot of fans from all over the world.
I arrived in the afternoon, and in taking daytime external photos of the venue, met a big Depeche Mode fan, Sven, who traveled all the way from Germany and was traveling to all of the shows on this tour.  Talking outside the front entrance, we heard the soundcheck start up and bleed through the glass doors, so got a little preview of what we had coming that night, so that really built up the excitement.
This was billed as "an evening with…" style show, so there were no supporting or opening acts, just Dave Gahan with Soulsavers.  It was an 8:00 doors and 9:00 show schedule, and ran maybe an hour and twenty minutes total.
Background
I've shared these general opening thoughts about Depeche Mode in my past reviews of the band during their Delta Machine Tour in 2013 (see my reviews and photography for: Las Vegas Nevada, London England (Night 1 & Night 2), Bratislava Slovakia, Zagreb Croatia, and Budapest Hungry).
Depeche Mode were of course founded at the dawn of the New Wave movement, 1980, and a key founding member that left after that first album was Vince Clarke (who went on to create Yaz/Yazoo with Allison Moyet and then Erasure with Andy Bell).
That first album – Speak and Spell – sounded much more like Vince Clarke than what it evolved into after he left (with Martin Gore taking on the core writing responsibilities and Alan Wilder joining and helping to take the band in a different, darker direction).
Once Yaz came to an end, Vince somehow managed to find Andy Bell, who I believe is the perfect music partner for Vince Clarke, with an equal and completely complementary brilliance.
For whatever reason Vince left Depeche Mode, I've always felt that it somehow resulted in more great (and very different) music than if he had stayed. Alan Wilder later joining Depeche Mode and Martin Gore taking over much of what Vince did originally took them in a completely different (and darker) direction, while Vince's work seems much better suited to the joy and positivity that I presume Andy Bell brought to their own collaboration.
I grew up listening to Depeche Mode, and loved their music. But they didn't really become my favorite band until Black Celebration came out (and this was also around the time that genius photographer Anton Corbin had an instrumental hand in remaking the image of the band with photos and music videos, the first for "A Question of Time").
The next album, Music for the Masses, is my all-time favorite album (from any band), and, as mentioned, the opening track – "Never Let Me Down Again" – remains my favorite song to this day.
This was when Depeche Mode somehow really did break for the masses, funny enough, and truly accomplished more than any New Wave band had. That famous world tour came to an end in 1988 at the epic concert at the Pasadena Rose Bowl, with more than 60,000 fans in attendance. This was also part of D.A. Pennebager's 101 film and the double live CD from the show.
The next album, Violator, was an even more popular album (which I would rate as equal with Black Celebration, with Music for the Masses just edging out both).
The biggest turn the band made with their sound, apart from the departure following Speak and Spell, was with Songs of Faith and Devotion, which I think was highly influenced by Nirvana unwittingly putting a knife into the heart of New Wave. Alan Wilder brought in a "real" drum kit to record the album and take out on tour (funny side note – I actually own one of his two snare drums from that kit, and the last sticks he used playing with DM). Though, sadly, Alan left the band for other pursuits, they retained the live drum kit on tour and it really does bring their music alive in a more analog way, which really suits their music.
At least from a fan perspective, Dave Gahan especially seemed to really embrace the style and sound of Songs of Faith and Devotion, and of all of the work from DM, it most closely resembles the direction he is going today with his collaboration with Soulsavers (and the final two songs in the encore for this show were both from this album).
Following Dave Gahan's overdose and recovery, the band has been quite prolific with their output, releasing Ultra, Exciter, Playing the Angel, Sounds of the Universe, and most recently Delta Machine.
I love all these post-Alan Wilder albums, and each has tracks as great as any of their music, but I don't feel that any one of those albums reach the heights of Black Celebration/Music for the Masses/Violator (I would put Songs of Faith and Devotion above the subsequent work, but not quite as high as the prior three albums – but very, very close, and still my fourth favorite album overall).
Leading up to and then following Delta Machine, Martin Gore and Dave Gahan have both been involved in some really interesting projects.
Dave released his own first solo album (as "Dave Gahan") in 2003 with Paper Monsters, and again with his second in 2007 with Hourglass.
Dave's first album with Soulsavers was the fourth studio album from the duo, and The Light the Dead See was released in 2012.  Dave wrote the lyrics for all of the songs on the album that featured vocals, and the music was all composed by Rich Machin and Ian Glover.
In 2011 and 2012, Martin Gore collaborated with Vince Clarke as techno duo VCMG, releasing the album Ssss and EPs Spock, Single Blip and Aftermaths. The all-instrumental tracks give a taste maybe of what might have been, as well as brings the two back around together after what amounts to several lifetimes of work apart. Awesome, awesome stuff.
Post Delta Machine, Gore has this year released a new solo studio album titled, MG. , so both Dave and Martin have solo works out this year leading into the next Depeche Mode album, which both say will happen.
Dave Gahan with Soulsavers
Members
Dave Gahan
Ian Glover
Rich Machin
With these show, I had media credentials to photograph the first two songs at the start of the concert, so had a chance to move around front a little bit before retreating to my own seat in Row H on the right side of the orchestra area.  Though it was assigned seating, some fans could not contain their excitement and moved up toward the front stage area.
As soon as the background music stopped and the lights dropped, there were a lot of gasps in the audience as anticipation neared a collision course with the reality of the show…  everyone rose from their seats, and I don't think too many ever sat down again for the duration.
The lights turned low and decidedly red, and one by one, members of the ten-piece band strolled out to take their places.  Dave came on the stage last, looking pretty dapper as you might expect (and unlike DM shows, kept his shirt on for the entire show, taking on the role of crooner over Alternative Rock God; I think the only times he touched his mic stand was to pull the mic off and, later, put it back).
That red seemed to be the dominant color of the evening, with a little variation later in the show, and also seemed to match up with the cover art for the new album.
The sound and tones and style coming from the artists on stage really suited the kind of elder statesman in music that Dave has evolved into over the years.  As does the music.  I felt like we were seeing the ultimate future of Dave Gahan as music artist – confident in his vulnerability, risk taking (but not in the ways of his youth, but as an artist), and focusing on that sublime voice and using it to go down some new paths creatively and in terms of his own feelings and experiences in life.  He's really exploring himself and his life with his music, and wanting to become something more.
Like Depeche Mode's Songs of Faith and Devotion, his work with Soulsavers is comprised of more "real" and unplugged sounds and arrangements.  More lo-fi…  more analog…
Unfortunately, I do not have all of the names of the artists who joined him on stage, but I know that it included members of Spiritualized and Porno for Pyros, as well as three backing vocalists, all of whom were incredible! (note: if anyone knows and can share with me, please let me know and I'll make an update – thx!)
Dave seemed to really find his way with bringing this new music to life on stage in a way that really departs from his larger than life stage persona with Depeche Mode.  I think he was really focusing more on finding the emotions to match the lyrics and ideas behind each song, so did not play to the crowd as much as I've seen him with the DM shows.  I'm always fascinated by how some artists look to each person in the audience, locking gazes, whereas others may never look into the crowd as all.  With this show, much of the time I think Dave was looking inward, while looking all around in every direction (though much of that time, with eyes closed).  At other times, he did interact with the crowd, and on a few occasions reached out to grasp a hand or two.  I think the song performed at the time was the deciding factor, and it reflects how much this music means to him, and how differently he relates to this different style of music.  With this material, he seems to draw his energy from the other artists on stage, and, critically, internally.  With Depeche Mode, he absolutely consumes energy from the crowd (see: "Never Let Me Down Again").
One of the interesting things for me throughout the night…  I'm a visual person, and being back eight or so rows and off to one side, I noticed that as Dave would come to the edge of the stage, if the lighting was a certain way, he would cast a black shadow on the far left wall of red (those red lights again).  Early on, Dave too noticed this, and seemed intrigued by it.  I then noticed him playing with this shadow – this "other" figure he was casting that was larger than life, and maybe a bit dark in theme, and he seemed to have some kind of relationship or inner dialogue going on, or maybe it was a projection of what he was feeling through the music.  In any event, it was really interesting to watch, and obviously you would have to have been there to see it as the cameras on the live feed were not pointed in that direction.
For the main set of the show, they played material from the two Soulsavers albums exclusively (2012's The Light The Dead See and the new Angels & Ghosts).  Nearly all of the crowd was really into it, but of course the two gentlemen next to me were waiting for Depeche Mode songs (though they weren't the guy who shouted "Personal Jesus!" between songs.  Funny enough, they left just before the encore, which featured two tracks from Dave's first two solo (non-Soulsavers) albums and two songs from Depeche Mode's Songs of Faith and Devotion.  I was personally so into the Soulsavers stuff, I didn't feel I "needed" any Depeche Mode material performed, but as they were from that album, they mixed in beautifully, and it was cool to hear a different take on them.
Interestingly, while it is an "off" time for live Depeche Mode shows, I also had an opportunity to see Martin Gore live this year, in one of a few special DJ sets.  I attended the Martin Gore DJ set in Santa Barbara at SOhO Restaurant and Music Club back in June, so it's even more fascinating to reflect back on that in relation to the Dave Gahan and Soulsavers show this week.  What a contrast!
As mentioned in that other review, I would characterize Martin Gore's new MG album as more abstract, like a Picaso in sound, rather than pop music. Many of the songs have an emphasis on atmospherics over any kind of familiar pop music song structure, almost like a cinematic soundtrack for a movie that could never quite match up to it's otherworldly foundation. Well, maybe Blade Runner.
With that show and special DJ set, Martin Gore came on stage quietly and got right to work. In contrast with MG, his DJ set was more beat driven, though I could feel the influence of his latest work here and there.
To those hoping for some kind of Depeche Mode content, it never happened (even though there was a microphone laid out on a table stage right, it was never touched – an inadvertent tease).
It was quite fascinating to watch him create his music on stage in real time, since I was literally about five feet away, directly in front of him.
With an Apple laptop set up front and other gadgets and gizmos on either side, I felt a bit like I sneaked into his private studio recording session to watch the magic happen. His gaze was transfixed on his laptop screen and other gadgets the entire time – I would be surprised if he looked at the audience one time, other than coming out and leaving at the end. It was all about bringing the music to life in real time.
For me, it was such a cool experience to see one of my favorite artists create his art in a real and different manner.
So with Martin, there was no engagement with the crowd whatsoever, no set list (being a DJ set, it was one piece of work created in real time), no one on stage, and it was all digital.
With the Dave Gahan and Soulsavers show, it was a 10-piece band of much more analog and highly collaborative work.  Martin was focused on technology, and Dave was reaching deep into his soul, and using his vocals to create his music.
Two completely different approaches to live music.  One is "better" than another, but just very different ways of creating their art.
It really makes me appreciate even more how profoundly different the two men are, yet they have created all of this amazing music together since they were practically children.  And they still have the ability to work together today.  Fascinating.
I think it's awesome that both are exploring their artistry with these independent projects, and I imagine that it makes the work of Depeche Mode that much richer as a result.
Below is the set list from the show…
Setlist:
In the Morning (from The Light the Dead See)
Shine (from Angels & Ghosts)
You Owe Me (from Angels & Ghosts)
Tempted (from Angels & Ghosts)
Tonight (from The Light the Dead See)
All Of This & Nothing (from Angels & Ghosts)
Presence Of God (from The Light the Dead See)
Just Try (from The Light the Dead See)
Don't Cry (from Angels & Ghosts)
The Last Time (from Angels & Ghosts)
Take Me Back Home (from The Light the Dead See)
My Sun (from Angels & Ghosts)
Encore:
Kingdom (from Dave Gahan's Hourglass)
Dirty Sticky Floors (from Dave Gahan's Paper Monsters)
Condemnation (from Depeche Mode's Songs of Faith and Devotion)
Walking in My Shoes (from Depeche Mode's Songs of Faith and Devotion)
All in all, it was a fantastic evening, and I feel grateful to have had an opportunity to witness it.  With Depeche Mode being my all-time favorite band, it gave me some new insights into the band and it's members and especially Dave Gahan as an artist.  Angels & Ghosts is an amazing album (I've streamed it a few times over at NPR) and I'm sure will rank highly in my 2015 end of the year list.
Below are some photos of Dave Gahan with Soulsavers performing on stage (click any image to open a virtual lightroom with higher resolution versions of each photo); apologies I was not able to get photos of all of the artists on stage, but given the limited amount of time, the very dark lighting conditions and the inability to move to a dramatically different angle, I got what I could under those conditions (obviously with a focus on Dave Gahan):
Jason DeBord