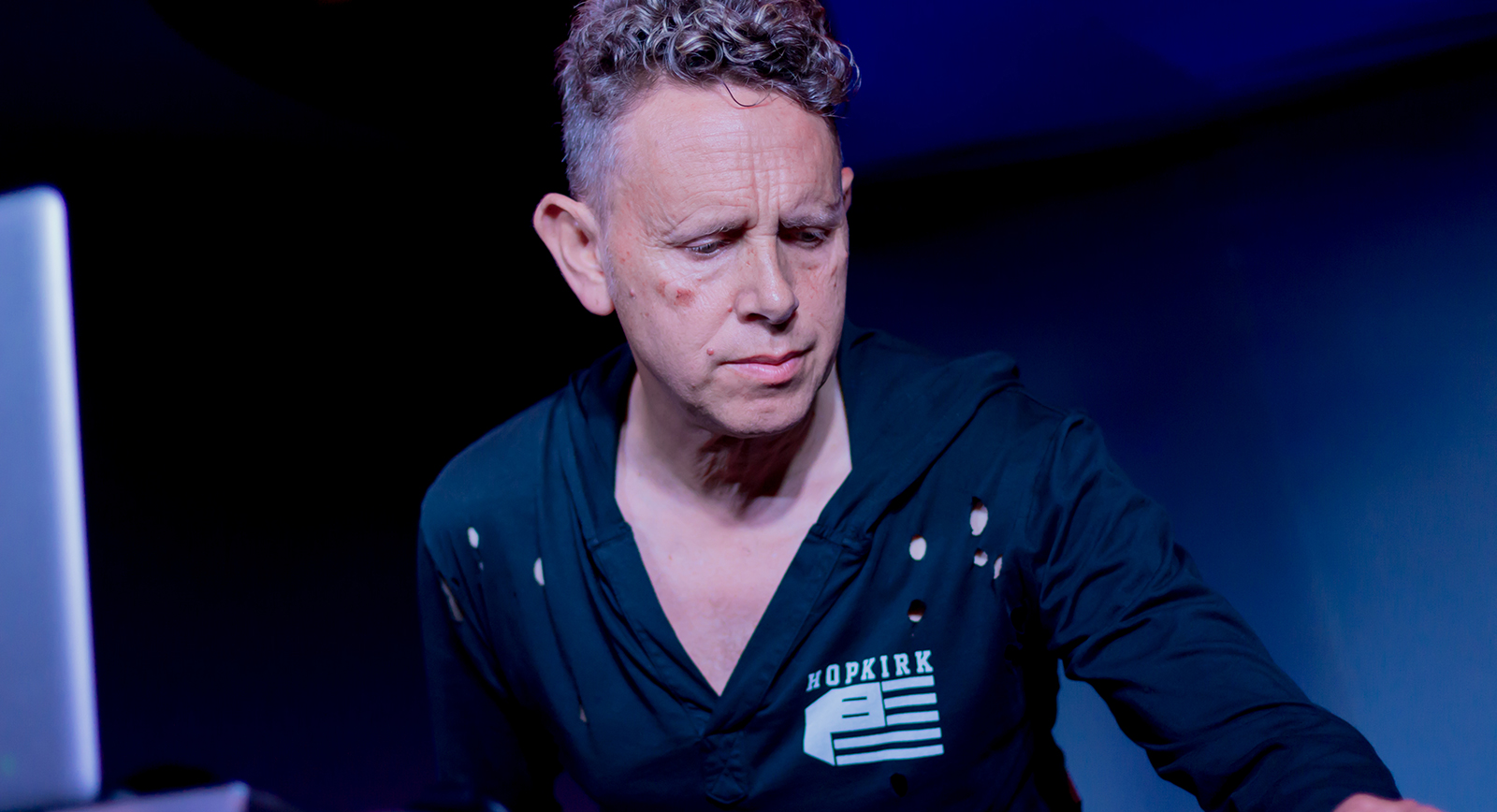 Depeche Mode has been my favorite band since Black Celebration came out, so when I came across the new of this special DJ set show at SOhO Restaurant & Music Club in Santa Barbara, I was excited for an opportunity to see the man behind some of my all-time favorite songs express himself in a completely different setting.  Part of SOhO's 20th Anniversary Fundraising Show Series, it did not disappoint.  Martin Gore played his unique style of live music for around two hours.  It was amazing to see the man at work, and being close enough to see his own facial expressions reacting to his own music.
Who: Martin Gore
Supporting: DJ Headshot
What: SOhO's 20th Anniversary Fundraising Show Series
Venue: SoHO Restaurant & Music Club
Where: Santa Barbara, California
Promoter: SoHO Restaurant & Music Club
When: June 27, 2015
Seating: General Admission Standing; Front Row Center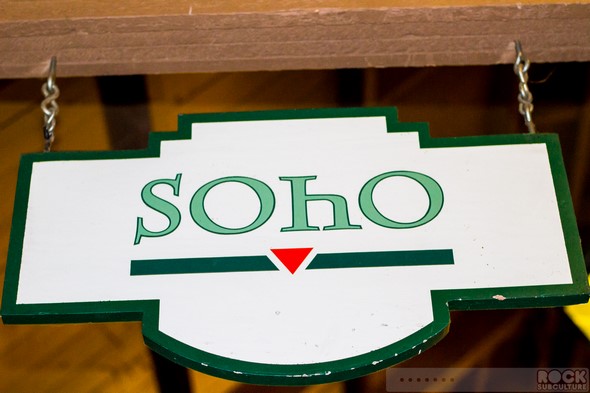 This was, for me, one of those shows with a special element that was gone by the time I'd heard about it.  In this case, it was a special meet and greet opportunity ticket, which seemed to have sold out immediately.  Not one to give up, I kept checking the site many times a day, and at one point, they dropped more tickets, so I did ultimately buy one.
I was in Southern California for other business, so the trip driving into Santa Barbara was not too bad.  A beautiful place, I hadn't visited for years.
After stopping off for dinner, I headed over to the venue.  About a half hour before the 7:00 scheduled doors time, I passed the address on the main road by car and didn't see it…  I parked somewhere behind, and wondered how I would be able to find it, and then noticed a bunch of people wearing all black on a second story balcony, and knew I somehow stumbled upon it.
There was a sizable line out front, even 30 minutes early, and it so happens that I had about half a dozen friends sprinkled throughout the line (some from Northern California, some from Southern California).
Those with the meet and greet package were let into the venue first, greeted with wine and appetizers, as well as an autographed mini poster for the event.
The place is beautiful inside and out, with a large bar and multi-level restaurant set off from the live event side of the venue, as well as a large outdoor balcony extending off from that.
We were brought from the restaurant into the concert side in groups for the meet and greet, told that we could not take any photos or ask for any autographs; essentially it amounted to a quick hello, Martin shook each person's hand, and a group photo with ten other fans (where these photos ended up is anyone's guess!).
In true nerd form, when Mr. Gore extended his hand, I said, "it's an honor to meet you, sir", to which he returned his kind, shy smile.
What else could I say?  His band and their music changed my life.
This event marks just the second time I've had the chance to meet a member of Depeche Mode (I met former and founding member Vince Clarke during Erasure's The Violent Flame Tour last year).
Afterwards, we were led back into the restaurant, and those without the meet and greet were left waiting still outside.
I ended up waiting at the break between the restaurant and the live music area, and once I got the okay to go in, settled in front row center in the standing room only floor area.  I brought in a pocketable Canon (the SL1) camera.  I actually had about $40,000 worth of professional still cameras and glass in the trunk of my car in the parking lot, but figured I would just do what I could with my $300 pocket Canon and $100 "nifty fifty" lens.
The opening DJ – DJ Headshot – performed with his gear stage left of Martin Gore's own set-up at center.
I was super impressed with his set (and wouldn't just say that – I've seen many a terrible DJ set that just wasn't for me).  He had an upbeat sound and style that got the place moving and jumping, and I really enjoyed his on stage persona as he did his thing.  I would definitely go to a venue with him headlining – great stuff.
Martin L. Gore
I've shared these general opening thoughts about Depeche Mode in my past reviews of the band during their Delta Machine Tour in 2013 (see my reviews and photography for: Las Vegas Nevada, London England (Night 1 & Night 2), Bratislava Slovakia, Zagreb Croatia, and Budapest Hungry).
Depeche Mode were of course founded at the dawn of the New Wave movement, 1980, and a key founding member that left after that first album was Vince Clarke (who went on to create Yaz/Yazoo with Allison Moyet and then Erasure with Andy Bell).
That first album – Speak and Spell – sounded much more like Vince Clarke than what it evolved into after he left (with Martin Gore taking on the core writing responsibilities and Alan Wilder joining and helping to take the band in a different, darker direction).
Once Yaz came to an end, Vince somehow managed to find Andy Bell, who I believe is the perfect music partner for Vince Clarke, with an equal and completely complementary brilliance.
For whatever reason Vince left Depeche Mode, I've always felt that it somehow resulted in more great (and very different) music than if he had stayed.  Alan Wilder later joining Depeche Mode and Martin Gore taking over much of what Vince did originally took them in a completely different (and darker) direction, while Vince's work seems much better suited to the joy and positivity that I presume Andy Bell brought to their own collaboration.
I grew up listening to Depeche Mode, and loved their music.  But they didn't really become my favorite band until Black Celebration came out (and this was also around the time that genius photographer Anton Corbin had an instrumental hand in remaking the image of the band with photos and music videos, the first for "A Question of Time").
The next album, Music for the Masses, is my all-time favorite album (from any band), and, as mentioned, the opening track – "Never Let Me Down Again" – remains my favorite song to this day.
This was when Depeche Mode somehow really did break for the masses, funny enough, and truly accomplished more than any New Wave band had.  That famous world tour came to an end in 1988 at the epic concert at the Pasadena Rose Bowl, with more than 60,000 fans in attendance.  This was also part of D.A. Pennebager's 101 film and the double live CD from the show.
The next album, Violator, was an even more popular album (which I would rate as equal with Black Celebration, with Music for the Masses just edging out both).
The biggest turn the band made with their sound, apart from the departure following Speak and Spell, was with Songs of Faith and Devotion, which I think was highly influenced by Nirvana unwittingly putting a knife into the heart of New Wave.  Alan Wilder brought in a "real" drum kit to record the album and take out on tour (funny side note – I actually own one of his two snare drums from that kit, and the last sticks he used playing with DM).  Though, sadly, Alan left the band for other pursuits, they retained the live drum kit on tour and it really does bring their music alive in a more analog way, which really suits their music.
Following Dave Gahan's overdose and recovery, the band has been quite prolific with their output, releasing Ultra, Exciter, Playing the Angel, Sounds of the Universe, and now Delta Machine.
I love all these post-Alan Wilder albums, and each has tracks as great as any of their music, but I don't feel that any one of those albums reach the heights of Black Celebration/Music for the Masses/Violator (I would put Songs of Faith and Devotion above the subsequent work, but not quite as high as the prior three albums – but very, very close, and still my fourth favorite album overall).
Leading up to and then following Delta Machine, Martin Gore has been involved in some really interesting projects.
In 2011 and 2012, Gore collaborated with Vince Clarke as techno duo VCMG, releasing the album Ssss and EPs Spock, Single Blip and Aftermaths.  The all-instrumental tracks give a taste maybe of what might have been, as well as brings the two back around together after what amounts to several lifetimes of work apart.  Awesome, awesome stuff.
Post Delta Machine, Gore has this year released a new solo studio album titled, MG. You can check out the music video for "Europa Hymn" below:
In spite of the fact that it is all electronic instrumental and sans vocals, it all has a different sound and feel from the familiar Depeche Mode sound.
It is definitely an interesting listen, if anything from the standpoint of technology – what Gore has available to him today compared with thirty years ago when he was pioneering within music and technology back at the infancy of the broader art form.
I would characterize MG as more abstract, like a Picaso in sound, than pop music.  Many have an emphasis on atmospherics over any kind of familiar pop music song structure, almost like a cinematic soundtrack for a movie that could never quite match up to it's otherworldly foundation.  Well, maybe Blade Runner.
So getting back to the show and special DJ set, Martin Gore came on stage quietly and got right to work.  In contrast with MG, his DJ set was more beat driven, though I could feel the influence of his latest work here and there.
To those hoping for some kind of Depeche Mode content, it never happened (even though there was a microphone laid out on a table stage right, it was never touched – an inadvertent tease).
It was quite fascinating to watch him create his music on stage in real time, since I was literally about five feet away, directly in front of him.  Below is a photo taken by my friend, Joy, with her phone, showing how close I was to the action: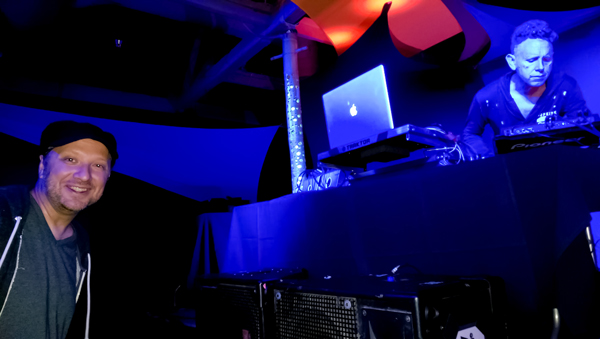 With an Apple laptop set up front and other gadgets and gizmos on either side, I felt a bit like I sneaked into his private studio recording session to watch the magic happen.  His gaze was transfixed on his laptop screen and other gadgets the entire time – I would be surprised if he looked at the audience one time, other than coming out and leaving at the end.  It was all about bringing the music to life in real time.
For me, it was such a cool experience to see one of my favorite artists create his art in a real and different manner.  With a Depeche Mode concert – especially overseas – it is not a very intimate affair, with tens of thousands of screaming fans.  Saturday night, it was just a few hundred and it was all up close and personal, like a private show among friends.
There is another show like this coming up in Los Angeles next month – Sound Check Feat Martin Gore DJ Set at Sonos Studio LA – and I would recommend checking it out if you count Depeche Mode and Martin Gore among your favorites: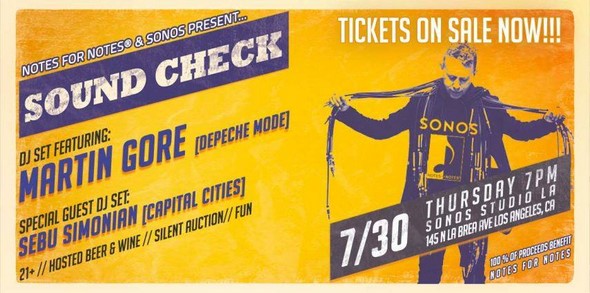 Below are some photos of Martin L. Gore performing on stage (click any image to open a virtual lightroom with higher resolution versions of each photo):
Jason DeBord