When Depeche Mode announced the North American dates and cities for their Delta Machine Tour, I immediately identified the one at Pearl Concert Theater at Palms Casino Resort as the one to go to, since I was familiar with the (relatively) small and intimate venue from past shows, and it was one of just a few in the United States with a general admission standing floor area in front of the stage.  Having seen them five times overseas earlier this year, I had become spoiled with standing right in front of the stage, so that has become a must for me in experiencing my favorite band.  With the show last night, I certainly wasn't disappointed, and I suspect most to all in the crowd felt the same, as Vegas is one of those rare cities that pull fans from not only all over the U.S., but all over the world.  It was quite a celebration for not only the audience, but seemingly the band as well, who were quite jubilant throughout the performance, which clocked in at about two hours (there was no supporting act at this date).  For me, being surrounded by friends who also traveled from California for this show, it was the perfect way to close out an amazing year of live music by the band who have in many ways impacted my life with their art, particularly in my formative years throughout the 80s. 
Who: Depeche Mode
Venue: Pearl Concert Theater at Palms Casino Resort
Where: Las Vegas, Nevada
Promoter: Live Nation
When: October 6, 2013
Seating: VIP "Early Entry" General Admission Standing – Front of Ramp/Platform (Against the Rail, in front of Martin Gore)

Note: Please also visit the site pertaining to Depeche Mode's charitable efforts here: my.charitywater.org/depechemode
See all of my articles on the Depeche Mode Delta Machine World Tour in Europe and the UK by clicking the portal below (with coverage of Budapest Hungary, Zagreb Croatia, Bratislava Slovakia, and the two O2 shows in London England):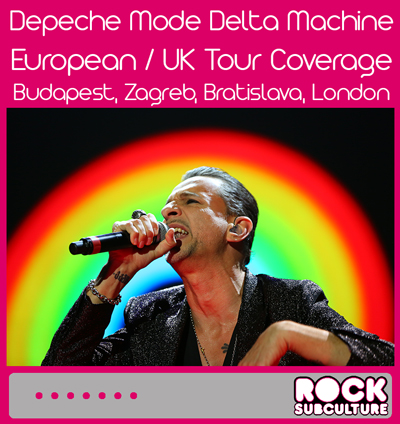 Since I have covered a lot of different areas and topics in my prior concert reviews, this one will serve to kind of encapsulate my overall thoughts on the band, the new album, and this tour, as well as share thoughts on the Las Vegas show itself from last night.  For those who have read my prior articles, I will start with my review of the show at the Pearl Concert Theater, and then move on to other topics.
As mentioned, I was really excited to learn that Depeche Mode would be playing the Pearl Concert Theater at Palms Casino Resort.  I really love the venue, and enjoy seeing shows in Las Vegas, as they feel more like European concerts to me as they often draw a crowd of fans for a given artist from all over the world.  I had an opportunity to see Garbage mark their return to music at the Pearl early last year as they kicked off the North American tour, and then again early this year as they brought that tour to a close.
It is a great theater, with a fairly wide and deep stage that curves out into the floor, and is pretty low to the ground, creating a much more intimate atmosphere.  The standing room floor area is relatively small, so there really isn't a bad place to be; you feel close to the stage no matter where you are.  Beyond, there is theater-style seating stepping up and back.  The sound and acoustics is excellent, and the staff has in my experience always been very nice and professional.
When this show went on sale, there was an option via VIP Nation to purchase "Exclusive VIP Packages", which myself and some of my friends chose to do.  This package included swag, a pre-show party, and things of that nature, but of course the real enticing element was the early entry to the general admission floor.
The VIP Nation element kicked off around 5:00 PM, though myself and others arrived much earlier than that, and it was fun to meet and chat with other Depeche Mode fans.
I had met the VIP Nation host, Helen, at past shows (notably the U.S. Tour kick off for Journey at South Lake Tahoe last year, and then their last show of the year in Honolulu last December) and was thrilled to learn that she would be handling this event, as she has always done a superb job with these (and I participate in a lot of these sorts of events, so have many with which to compare).
There were approximately 100 participants in this VIP Package, so we were checked in and brought up to a banquet room for food and drinks.
In addition, there was a raffle with prizes, all but one was merchandise from the official merch table.  Shockingly, I won the grand prize (and I never win anything), which was a set of guitar strings used by Martin L. Gore on stage performing "Precious".  I couldn't believe that I won, so it really means a lot to me to have such a gift to close out an amazing year of Depeche Mode…  below is a photo of the guitar strings:
Once that was completed, we were brought down to the lobby of the venue, to have a chance to buy items at the merch table prior to doors.
Then we began a slow and deliberate journey down to the floor…  it did take quite a while, going in groups one flight of stairs at a time, but more than that I do appreciate their efforts to get us onto the floor in a safe and fair manner.  A lot of venues and promoters put zero thought into this, so it was obvious that they were trying to do it as productively as possible.
My friends and I ended up on the rail (front row standing against the barricade) right in front of Martin's spot.  This was not planned on our part, but worked out great for me, in that with my other five shows attended this year, I was never in that spot, so I got more photos of Martin this time around, and got to better appreciate his role and demeanor in playing on this tour.
There was no opening act, so it was a pure Depeche Mode show, which was perfect in my opinion.  They began pretty close to the intended 8:00 PM start time, and the show ran about two hours.  Unlike all of the other DM shows I've been to this year, since the Pearl is so small, there was no catwalk/ramp into the audience, so dynamically it was a bit different.  Also, the stage itself was much lower than the big Euro/UK stadium and arena shows I attended.
Of all the shows I've been to this year, the band seemed to have the most fun at this one.  I was wondering if they might be exhausted at this point, having had a heavy tour schedule all year, but they seemed fresh and truly seemed to enjoy performing with one another.  This was likely contagious, as it was an awesome audience as well (before, during, and after the show).  Everyone was super nice and respectful and just into the music (as far as I could tell anyway).
Having been to quite a few shows this year, the only song that was new to me live was "But Not Tonight", which is a favorite of mine, so that was awesome.  I shot a video of this, to share to give an idea of the sound and atmosphere of this specific show…
"But Not Tonight":
Which brings us to the setlist…  which frames the whole show.  Below is a photo of Martin Gore's setlist (which the couple next to me on the rail were able to get):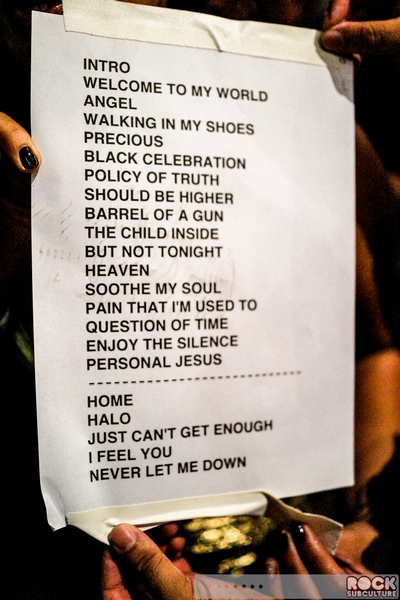 Set List:
Intro
Welcome To My World
Angel
Walking In My Shoes
Precious
Black Celebration
Policy Of Truth
Should Be Higher
Barrel Of A Gun
The Child Inside
But Not Tonight (Sung by Martin Gore)
Heaven
Soothe My Soul
A Pain That I'm Used To ('Jacques Lu Cont's Remix' version)
A Question of Time
Enjoy The Silence
Personal Jesus
Encore:
Home (Acoustic)
Halo ('Goldfrapp Remix' version)
Just Can't Get Enough
I Feel You
Never Let Me Down Again
On a personal level, it was at once a thrill and kind of solemn as the band went through the encore, knowing I would not get to experience this again (this year at least; there are rumors of a new tour coming around in the Spring).  "Never Let Me Down Again" is my all-time favorite song (of any artist, not just Depeche Mode) and Halo is right up there as well, so in terms of just 20 minutes of live music in concert, nothing can really top their encore in my world.
It was really a fantastic show, and a great opportunity for those who turned out to see them at such a special venue.
As noted, I'll close out this review with some of my thoughts culled from my other articles on the European and UK shows…  with photos from the Las Vegas show last night below.
Background on Depeche Mode
Depeche Mode were of course founded at the dawn of the New Wave movement, 1980, and a key founding member that left after that first album was Vince Clarke (who went on to create Yaz/Yazoo with Allison Moyet and then Erasure with Andy Bell).
That first album – Speak and Spell – sounded much more like Vince Clarke than what it evolved into after he left (with Martin Gore taking on the core writing responsibilities and Alan Wilder joining and helping to take the band in a different, darker direction).
As mentioned in my recent review of Regeneration Tour featuring Andy Bell, once Yaz came to an end, Vince somehow managed to find Andy Bell, who I believe is the perfect music partner for Vince Clarke, with an equal and completely complementary brilliance.
For whatever reason Vince left Depeche Mode, I've always felt that it somehow resulted in more great (and very different) music than if he had stayed.  Alan Wilder later joining Depeche Mode and Martin Gore taking over much of what Vince did originally took them in a completely different (and darker) direction, while Vince's work seems much better suited to the joy and positivity that I presume Andy Bell brought to their own collaboration.
I grew up listening to Depeche Mode, and loved their music.  But they didn't really become my favorite band until Black Celebration came out (and this was also around the time that genius photographer Anton Corbin had an instrumental hand in remaking the image of the band with photos and music videos, the first for "A Question of Time").
The next album, Music for the Masses, is my all-time favorite album (from any band), and, as mentioned, the opening track – "Never Let Me Down Again" – remains my favorite song to this day.
This was when Depeche Mode somehow really did break for the masses, funny enough, and truly accomplished more than any New Wave band had.  That famous world tour came to an end in 1988 at the epic concert at the Pasadena Rose Bowl, with more than 60,000 fans in attendance.  This was also part of D.A. Pennebager's 101 film and the double live CD from the show.
The next album, Violator, was an even more popular album (which I would rate as equal with Black Celebration, with Music for the Masses just edging out both).
The biggest turn the band made with there sound, apart from the departure following Speak and Spell, was with Songs of Faith and Devotion, which I think was highly influenced by Nirvana unwittingly putting a knife into the heart of New Wave.  Alan Wilder brought in a "real" drum kit to record the album and take out on tour (funny side note – I actually own one of his two snare drums from that kit, and the last sticks he used playing with DM).  Though, sadly, Alan left the band for other pursuits, they retained the live drum kit on tour and it really does bring their music alive in a more analog way, which really suits their music.
Following Dave Gahan's overdose and recovery, the band has been quite prolific with their output, releasing Ultra, Exciter, Playing the Angel, Sounds of the Universe, and now Delta Machine.
I love all these post-Alan Wilder albums, and each has tracks as great as any of their music, but I don't feel that any one of those albums reach the heights of Black Celebration/Music for the Masses/Violator (I would put Songs of Faith and Devotion above the subsequent work, but not quite as high as the prior three albums – but very, very close, and still my fourth favorite album overall).
Delta Machine (The Album)
The music industry has changed a lot in the past 20+ years.  I remember the anticipation of Violator…  the singles, the mini-singles, the remixes (DM has always had THE BEST remixes).  There was so much mystery about things pre-Internet, and it's a shame some are too young to have an comprehension of those times and what they were like.
Now we live in a world of pop culture and information overload, and nothing has time to breathe.  And it's hard to sit down with an album the old way and take it for a few spins uninterrupted…  there's no time, and e-mail and Facebook are constantly pinging you.  So I feel like I've been kind of robbed of that process, from a more simpler time.  Not that I'm blaming anyone – it is my own fault for diving into the way things work now, but all the same it is a shame.
As such, initially took me more time than I'd like to really get into Delta Machine.  It is really a fantastic album.
Probably the area in which the band has been most consistent over the years (since Vince Clarke left after Speak and Spell) has been with the lyrics and themes behind the music, most of which come from the genius mind of Mr. Martin L. Gore (though more recently Dave Gahan has gotten more involved in this aspect of the band and their work).
"Welcome To My World" is, in my opinion, one of the band's best songs (any album), and is the perfect way to kick off each show on this tour (and hope they keep it in that position in future tours).  It is hooky and poppy like some of the best DM songs, and builds and goes through some awesome changes.  Fantastic song.
"Angel"was the first song were heard as a preview of the sound of the new album last year, as part of their "collage".  Again, I would rate this song among their best.  Some nice riffs, and it seems like it speeds up in sections as it goes along.  I love the constant lyrics from Dave, and the changes.  Of course, the added vocals from Martin make it classic DM.
"Heaven" was the first official single off the album, and I know some didn't care for it (didn't dislike it, just didn't like it), I think because it is slow and more of a ballad.  I love the classic keyboard sound and pacing and really strong vocals from Dave (honestly, his voice seems to get better and better with each album).
"Secret To The End", the opening bit, almost sounds like a throwback to Black Celebration, but as it goes along, it morphs into something that sounds more similar to their last album.  Enjoyable, but I like the first three songs much, much better.  I think the "should have been you" bits are just a bit too… not catchy for me.  Sounds like a companion song to "Wrong" (which was one of my least favorite DM songs and I'm glad it's not present on the setlist on this tour).
"My Little Universe", "The Child Inside", "Alone"…  don't really care for there…
"Slow" I like, though you have to stick with it and give it time to unravel.  Great lyrics.
"Broken", "The Child Inside", "Should Be Higher" I like, but they are the kind of songs you would listen to when listening to an entire album, but maybe aren't songs you'd think of to listen to on their own.
Since "Should Be Higher" is played on the tour, I'm guessing that is an indication that it will be released as a single at some point.
"Soothe My Soul" (like "Welcome To My World", "Angel", and "Heaven") I would rank among the best Depeche Mode songs.  Love everything about it – fantastic.  Love the changes, the sound, the pacing, the chorus… everything about it.  This is their current single.
"Goodbye" is a cool song…  I think it is a bit flawed, but not enough to not really enjoy.  Would be perfect (for me – this is all subjective) if the chorus was tweaked a little bit.
The four songs that comprise the "Deluxe" part of the Deluxe Edition ("Long Time Lie", "Happens All The Time", "Always", and "All That's Mine") I like better than some of the songs that I don't like as much, but none are as good as the four best songs on the album proper.
Overall, I would say that Delta Machine, on the whole, more or less, is equivalent to their other albums released since SOFAD, though not nearly perfect like Black Celebration, Music for the Masses, Violator, and Songs of Faith and Devotion.  It shows that these guys still have the potential to turn out classic songs.
For me, each of those more recent albums have had a number of great songs…  I basically have a 22 song playlist with my favorites from those five albums that I love (Ultra: "Barrel Of A Gun", "Home", "It's No Good", "Useless", "Sister of Night", "Freestate" | Exciter: "Dream On", "The Dead Of Night", "I Feel Loved" | Playing the Angel: "A Pain That I'm Used To", "John The Revelator", "Precious", "I Want It All", "Lilian" | Sounds Of The Universe: "In Chains", "Little Soul", "Corrupt", "Ghost" | Delta Machine: "Welcome To My World", "Angel", "Heaven", "Soothe My Soul").  For me it's like the perfect double album, but the songs are culled from five standard albums.  But collectively, those highlights compiled together are as strong as my favorite official DM albums.
Overall Thoughts On The Delta Machine Set List, Show, and Staging
The band opens with "Welcome To My World", which I feel is the perfect song for the band to kick off each night with… there is an opening bit that starts out with none of the members on stage, which really builds excitement in the audience for what is about to come. The song itself builds and goes into some more -pop-oriented stretches, and Dave of course is the ultimate front man and really works it out.
With guidance from the genius of Anton Corbijn, Depeche Mode has long had a stage set up and accompanying visuals that perfectly compliment their music and identity as a band, and this tour of course is no different, and did not disappoint. Everything has a place, and there is nothing on stage that doesn't need to be there… very industrial and industrious in appearance, with enough space between the keyboard/synth set ups and thumping heart of their instruments, the drum kit, to allow plenty of room for Dave Gahan to move (and at times slither) around the stage with his trademark New Wave rock star moves (vintage and newly conceived).
Having now seen the band many times on this tour, it is amazing to see how they have evolved as a band with their live performances. They make it all look easy, as their completely unique sound is recreated on stage, and they seem to be having as much fun as the audience putting it all together. Dave and Martin seem to really feed off each other with joy, respect and admiration, with Dave frequently coming over to Martin and putting an arm around him, or prompting the audience to cheer for the man behind most of the lyrics and songwriting chores.
Martin seems most alive on stage with a guitar strapped around him (the number of variety of which seems to be bigger than ever).
I was fortunate enough to be close to stage for all of these shows, and there seems to be almost a renewed magic between Martin and Dave… at times you can almost imagine what their relationship might have been like when they started out, relative kids who ended up being true pioneers in pop music, helping to create and nurture an entirely different kind of music which even today sounds more relevant and contemporary than what is being produced by new artists just emerging in the music industry.
It is almost as though there is no pressure – well, no negative pressures – on the band. They love music, they love performing, and they know their fans are true. There is such excitement beaming from the stage, and Dave plays us – the audience – almost like an instrument as well. A musical cue or slight gesture elicits an expected response and reaction from the crowd, at times shifting into revival-like waving of arms or fluttering of hands, depending on the song and the moment in the song. Depeche Mode concerts are an experience, worshiping at the sounds, the energy, the lyrics, and the charisma of Dave and the band.
With this tour, even the at times notoriously all-business Fletch seems comparatively possessed… directing the audience into participation.
Touring member Christian Eigner is really a critical member of the band now in their live shows, as he is an amazing drummer, and the live drum sound introduced by Alan Wilder with Songs of Faith and Devotion dramatically improved DM's live shows, and it was really smart of them to embrace that going forward. The contrast with the drums and Martin's guitar with the more synth-sounding elements of their music is best reflective of how they've evolved since their origins with Vince Clarke on Speak and Spell. Yet, funny enough, the drums work wonderfully with "Just Can't Get Enough", and help to make it sound like a song that could have debuted yesterday, due to the infectious pop sound.
In addition to the great new songs – particularly "Welcome To My World", "Angel", "Heaven" and "Soothe My Soul" – the band is playing older songs in different ways.
The Jacques Lu Cont's version (from Remixes 2: 81-11) of "A Pain That I'm Used To" is so, so awesome live – I love it.  Has such a more pop feel, and is cool to see them actually play it live that way – really something else.
"Personal Jesus" is given new life with the way it's been tweaked for the tour, and "Halo" – one of my all-time favorite DM songs – is played via the Goldfrapp version (from Remixes 81-04).
The band gives a bit from each "era" of their body of work…  with one of the closers being the song that kicked it all off for them, "Just Can't Get Enough", which for me has always been more of a Erasure prototype than a "real" Depeche Mode song…  but who doesn't know that song, and associate it with the band?  I'm glad that they are playing it, as this show is very much a journey of where they've been and where they are going, and if you kind of let everything slip away and squint your eyes, you can almost imagine that you are watching the band circa 1981.
One thing that I feel is missing the show's set/standard set list (they have varied it here and there, like the second O2 show I attended)…  nothing from A Broken Frame or Construction Time Again or Some Great Reward is represented in the set list.  If I had the power to choose, I would ask them to add "Everything Counts" (with a second choice being "Master And Servant").  I would take either of those over "Walking In My Shoes" or "Policy Of Truth".
Black Celebration only gets love for "Black Celebration", though I would rate "Stripped" as one of their all-time best songs, which is also not getting any play this tour.
Music For The Masses, too, only gets represented by one song (in my opinion their best), "Never Let Me Down Again".
Violator, on the other hand, has four songs included on this tour ("Policy Of Truth", "Halo", "Personal Jesus", and "Enjoy The Silence").  Obviously, the latter two will be on every tour for the life the band, and though it is a favorite of mine, "Halo" is probably considered by many to be a "deep cut".  I like "Policy Of Truth", but I don't rank it anywhere near highly enough to keep on tour after tour – I would rather see it replaced by an older song at some point.  But this is just my opinion.
Songs Of Faith And Devotion has "Walking In My Shoes", "I Feel You", and "Higher Love".  I love the latter, as sung by Martin.  Like "Policy Of Truth", while I like the song, I feel that there are better songs (even on SOFAD) that are better.  "I Feel You" is awesome like, and I totally love what Anton Corbijn has done with the videos on stage for this one.
Ultra has two tracks in play on this tour – "Barrel Of A Gun" and "Home".  I would honestly be surprised if they ever add anything else from this one.  I would swap out "Home" for something Music For The Masses or earlier.
2001′s Exciter is represented on this tour by one song, "When The Body Speaks – would love to see "Dream On" fit in instead (that would actually be a great one for a Martin Gore solo).
Playing The Angel is represented by two songs, "A Pain That I'm Used To" and "Precious", and the video done by Anton Corbijn for the latter is a favorite of mine (what can I say – I love dogs).
Interestingly, nothing is in play from their last album, Sounds Of The Universe.
Closing Thoughts…
Delta Machine Tour has definitely been the concert-going highlight of 2013 for me…  which is saying a lot (I'll likely have passed 100 concerts by the end of the year, and with supporting artists, multi-headliners, and festival dates, that is hundreds of artists).
Even with the high expectations set as being my favorite band, Depeche Mode exceeded all of my expectations with this tour.  They've really become better and better with each tour over the years, and have one of the best live shows of all time.  Their relationship with their audience is some mix of symbiotic and religious.  I am hopeful that there is more to come next year, but if there isn't, nothing can take away from the amazing experiences I've had turning out for their shows, and I do hope that some have enjoyed my musing and photos captured along the way.
Below are photos taken during the Depeche Mode show at the Pearl Concert Theater at Palms Casino Resort.  Unfortunately, my view of Fletch was almost completely obscured throughout, and I did not bring a camera with a zoom, so images for this particular show are fairly "Martin-centric"!
All of these photos were taken with a non-pro camera.  Click on any image to open the gallery and for higher resolution versions of the same photo:
Jason DeBord