"Halloween is so brilliant though, isn't it?  'Cause everyone can dress up; be what they want to do…  nobody is like judging you at all for how you look or anything or what you're doing or who you're with, blah, blah, blah …" Andy Bell of Erasure on Halloween at the Pearl Concert Theater at Palms Casino Resort in Las Vegas.  Certainly an interesting combination of band, date, and city to be sure.  As the more extroverted of the duo, Andy came dressed in a sort of skeleton costume with accompanying face paint that has some resemblance to the cover art of their latest album; Vince Clarke, set back from the front of the stage and back to one corner, I don't think said anything all night, and was dressed in more business-style attire (though he had the aforementioned art one his laptop lid.  However the two contrasting personalities found one another for their journey into music that has gone on for nearly three decades, the magic worked in the beginning and continues to do so today.  This was definitely an interesting (in a great way!) night on many levels.  I had an opportunity to meet Vince Clarke and Andy Bell from Erasure via the special tickets made available through their PledgeMusic campaign for that newest latest album, The Violet Flame.  The aptly named Violet Flame Tour included a number of those new songs mixed into the set, as well as a lot of their many, many hits and favorites.  I got the sense that it was a different sort of show for this series of shows, and I'm happy that I got a chance to experience this new music and tour.

Who: Erasure
Supporting: Brian Evans
Venue: Pearl Concert Theater at Palms Casino Resort
Where: Las Vegas, Nevada
Promoter: Palms Casino
When: October 31, 2014
Seating: VIP Package via PledgeMusic, including Meet and Greet; Level: Mezzanine, Section: Box 115, Row B, Seats 2 & 3 (also photo pass first three songs)
I've always been a fan of this venue, the Pearl Concert Theater at the Palms in Vegas.  There is really not a bad seat in the house, it has an awesome sound system, the stage is low and wide (great for those who fill the GA floor) and there are a variety of seating options and types all around.  The staff is also extremely professional but very nice and friendly at the same time.

I would ordinarily have caught this tour at the Fox Theater in Oakland (where they are scheduled to play the very next day, closing out the U.S. leg of this tour), but when the PledgeMusic campaign was announced, that show sold out instantly for the meet and greet tickets.  Being a huge fan of Erasure, Yaz, and Depeche Mode, and having a chance to meet Vince and Andy in person, I immediately looked for other venues where it was still possible, and as soon as I saw Vegas at the Palms… on Halloween no less… I knew this was the show for me, and planned to make a trip of it.
With this event, the meet and greet was a few hours before doors, and it seems as though these were pretty limited (there were maybe two to three dozen in attendance).  It was well organized, relaxed, and fun.  Vince and Andy were super nice, and it seemed like fans were respectful of their time, and at least while my fiance and I were around, it moved at an appropriate pace.
It was incredible to meet the duo, and thank them for all of the wonderful music that they've made.
Below is a photo with Vince Clarke, my fiance Shelley, Andy Bell, and myself:
We bought some merch, and had them autograph the program for the tour: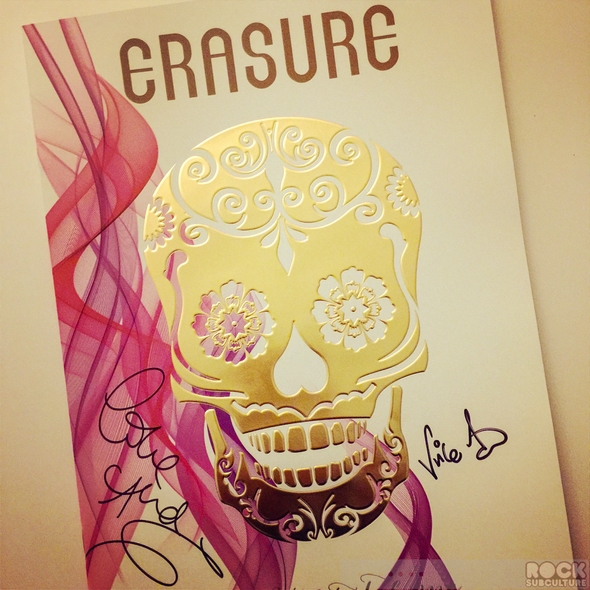 Below are some venue photos and the intro by The Palms: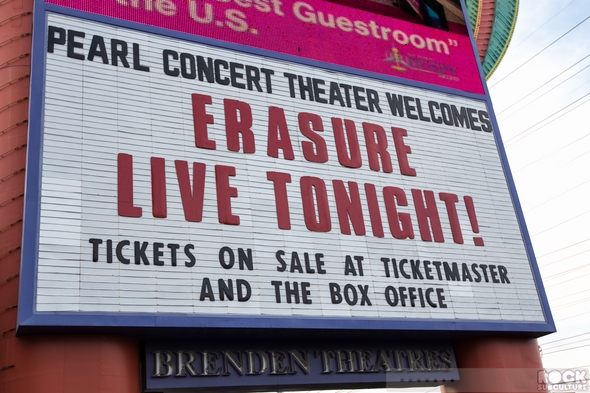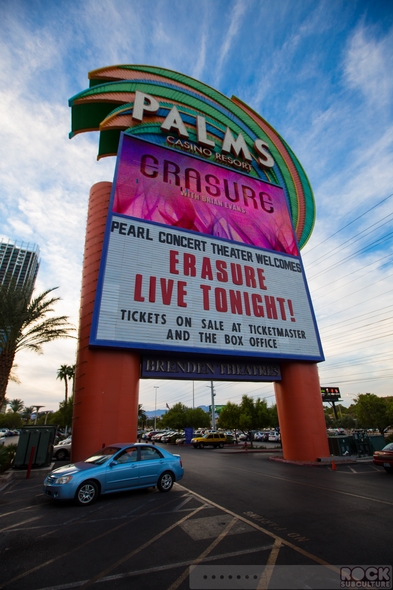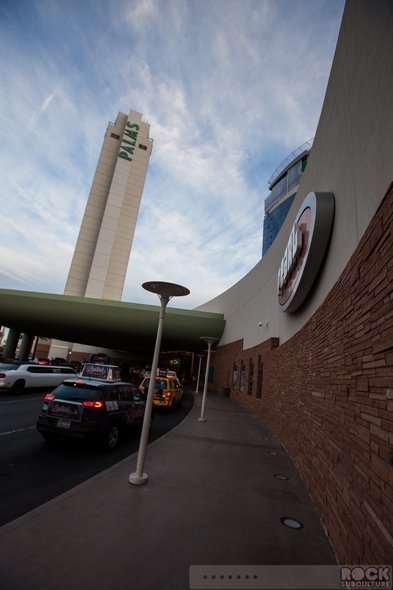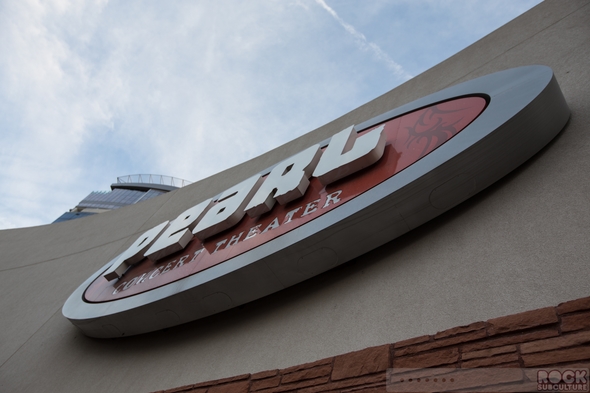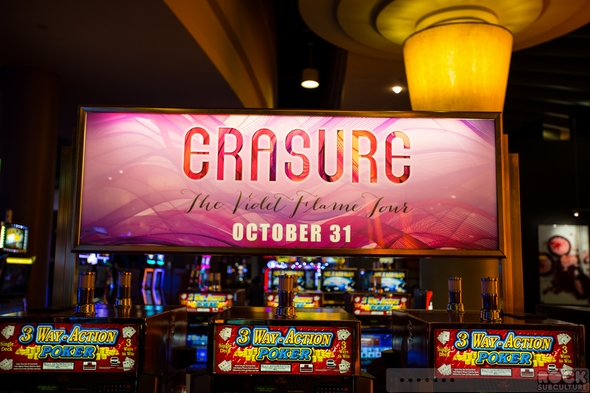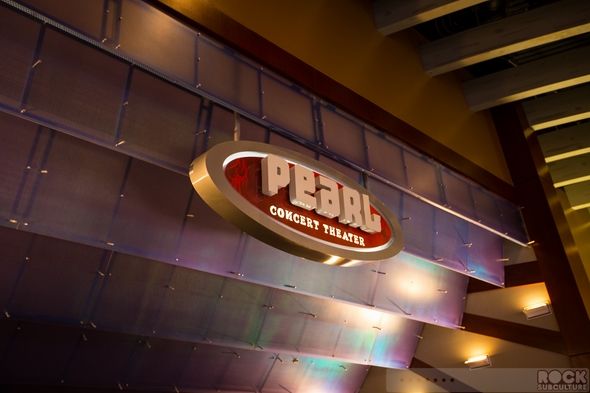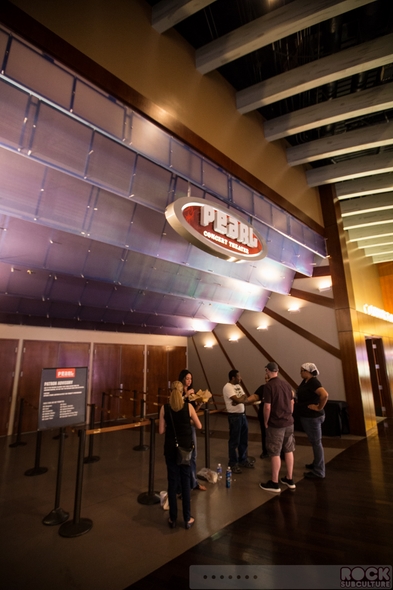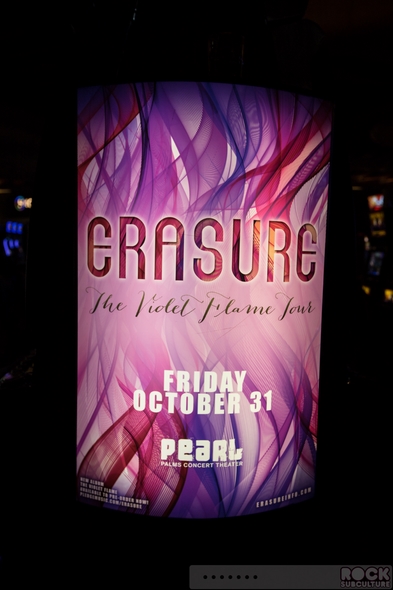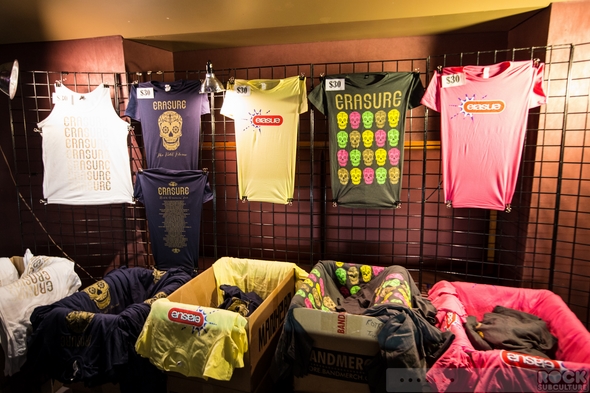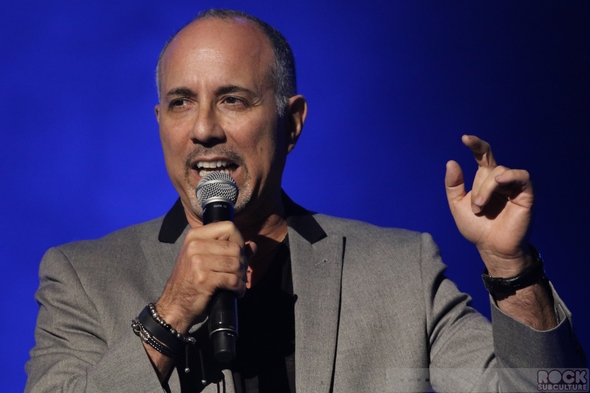 Brian Evans
I would have to say that Brian Evans was maybe the most unlikely of choices of support for Erasure.  Electronic-oriented bands pretty nearly always have DJs or other electronic bands open for them.  So who is this Brian Evans guy?
Before he even took to the stage, there was darkness, and Richard Strauss' "Also Sprach Zarathustra" playing loudly over the powerful sound system within the Pearl.  This kind of built up even more of an expectation that maybe it would break into some kind of pumping DJ set.
But there was none of that…  instead, a man stood alone wearing a tux sans the tie, collar unbuttoned.  After taking in the crowd, he began crooning through big band music as though he was channeling Frank Sinatra.  It was such a beautiful tribute to the city hosting this event, and it was as if he had arrived via time machine from the middle of the last century.  Awesome stuff.
It was such a contrast to what we'd all come to see that it worked beautifully.  More, with such a crowd and expectations, you would expect people to ignore the set and talk over it, but everyone I saw was totally into Brian Evans and his performance, totally digging his classic look and style of music.
I thought it was awesome, and I would definitely turn out for a show that Brian was headlining himself.
After completing his set, Brian could hardly contain himself, exclaiming: "This is my favorite fucking band ever!"
He recently released a new single, "Creature", which can be found on iTunes, and he said that the video will be shot at the Psycho house at Universal Studios.  He also has a new album coming soon, titled, At Fenway. You can check out the title song, which has an appearance by William Shatner no less, over on YouTube.
Not limiting his gifts to music only, he also has published a novel, Horrorscope.
Below are some photos of Brian Evans performing on stage: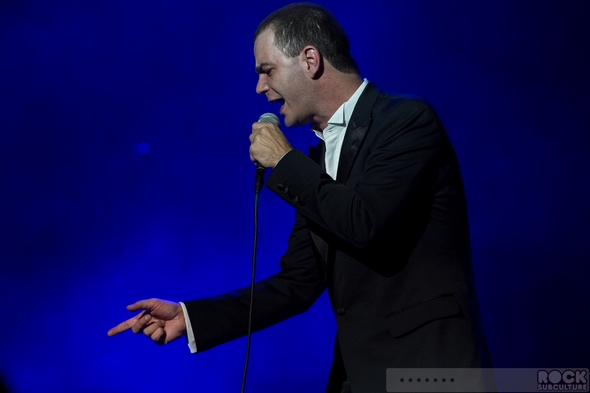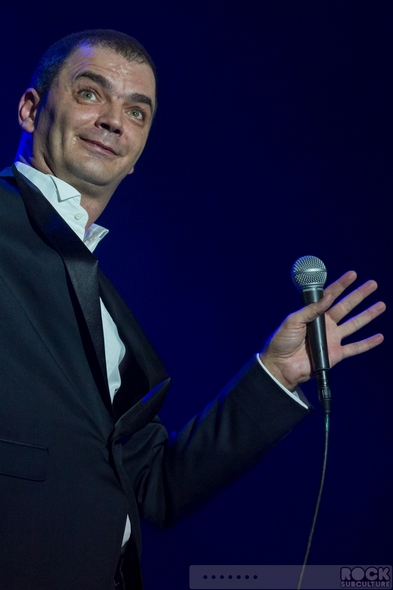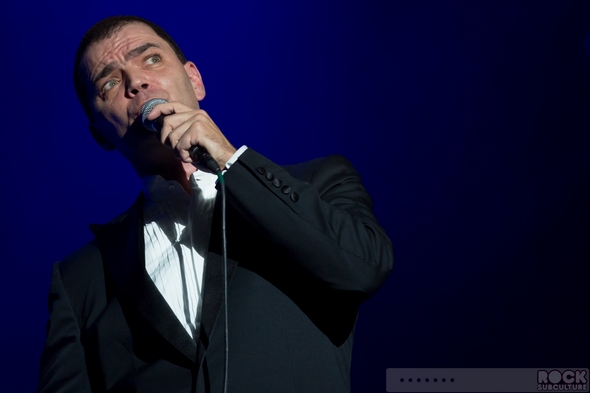 Erasure
Members
Andy Bell
Vince Clarke
"Mrs. Emma"
"Miss Valerie"
Funny enough, the last time I traveled to Vegas for a concert was October of last year, wherein I saw Depeche Mode perform (also at the Pearl Concert Theater), with whom Vince Clarke was a founding member.
Also in 2014, I had a chance to see Andy Bell's solo show as part of Regeneration Tour as well as Allison Moyet for her "The Minutes Tour" (who was the other half of the duo with Vince Clarke and their Yazoo/Yaz).
The last time I saw Erasure proper was in 1996 for their Cowboy tour.  So it's been a while.  I'd even seen Yaz more recently than Erasure, as part of their Reconnected Tour in 2008.
So, obviously, Vince Clarke was fundamental to some of my favorite music going back to my formative years in the early 80s.  In fact, I think Yaz was my first "favorite" band back in the day.
Depeche Mode were of course founded at the dawn of the New Wave movement, 1980, and a key founding member that left after that first album was Vince Clarke.
That first album – Speak and Spell – sounded much more like Vince Clarke than what the band and their sound evolved into after he left (with Martin Gore taking on the core writing responsibilities and Alan Wilder joining and helping to take the band in a different, darker direction).
After making two of my all-time favorite albums with Allison Moyet as Yaz, that came to an end, and Vince somehow managed to find Andy Bell, who I believe is the perfect music partner for Vince Clarke, with an equal and completely complementary brilliance.
For whatever reason Vince left Depeche Mode, I've always felt that it somehow resulted in more great (and very different) music than if he had stayed.  Alan Wilder later joining Depeche Mode and Martin Gore taking over much of what Vince did originally took them in a completely different (and darker) direction, while Vince's work seems much better suited to the joy and positivity that I presume Andy Bell brought to their own collaboration.
So for whatever reason Vince Clarke moved from band to band, I feel it all worked out for the best, and resulted in the best music from each partnership (and in Depeche Mode's case, their shift in styles I think better suited the other principals of the band).
Erasure truly has a catalog of work that is somewhat it's own special brand of New Wave synthpop.  And somehow they have the ability to craft seemingly endless hits after hits.
And these songs are made of such different elements – the synth sounds blended with stunning vocals.  And listening to those vocals makes it very apparent what a brilliant singer Andy Bell is, in that when you strip down some of the songs, much of the hook and melody is found in the vocal delivery.  The man was born to do what he does, and no one else does it quite like him, and he has a unique voice as well.
Erasure was formed in 1985, and they've had a very prolific partnership since, releasing 16 studio albums in that time.  In addition, Andy Bell has released his own solo work, with 2005's Electric Blue and 2010's Non-Stop.
Vince Clarke has always been a prolific artist.  Among his many collaborations, one of the more interesting recent ones was as VCMG with Depeche Mode's Martin Gore.  The first electronic dance album, Ssss, was released in 2012, which was followed by three EPs.
Having seen Andy Bell "solo" last year, it was interesting to have a fresh comparison with Erasure's show last night.  The biggest differences, I think, is that Andy seemed maybe a little more "free", if that makes any sense – maybe because his partner is there on stage to take a little of the pressure off.  With the solo show, I felt like there was a bigger focus on his vocals, with the music backing it being a bit more subdued.  With Erasure, it felt more like a 50/50 proposition, and at times, the music overpowered Andy's vocals (in sound level, not quality).
One of the other things that struck me was the new arrangements on the older songs.  It was like a showcase in 2014 Vince Clarke.  Honestly, I would love to hear studio versions of some of these songs, because Vince was doing some amazing things, especially in the low frequency.
Though Andy came out originally in his skeleton costume, he made a partial costume change further into the show, and as it went on, there was a pile of costume parts at the foot of his mic stand, as his face paint melted away, which I found kind of funny.
Regarding the new music, Andy introduced "Sacred" as his favorite.
During "Breathe", for Andy, it was all about the backing vocalists, as he seemed to be showering them with his attention.
At some point during the show, Andy introduced their two backing vocalists as "Mrs. Emma" and "Miss Valerie".
The one change from their ongoing fixed setlist was the song, "Dead of Night" (in place of "Joan").  Andy said, "We're gonna try out "Dead of Night", which is from The Violet Flame… because of Halloween celebration!  So keep your eye on the words, because we don't know them…"
During "Dead of Night", they played a montage of black and white clips of vintage horror movies.
Below is the set list for the show in Las Vegas:
Setlist
Oh L'Amour
Star
Reason
Breath of Life
You Surround Me
Elevation
I Lose Myself
Drama!
Victim of Love
Ship of Fools
Sacred
Breathe
Dead of Night
Blue Savannah
Chorus
Love to Hate You
A Little Respect
Chains of Love
Encore:
Overall, the Erasure portion of the concert ran about an hour and forty minutes.
One of my favorite moments of the show was Vince Clarke breaking out the acoustic guitar for "A Little Respect".  Also worth noting, with Vince as the only musician playing on stage, one would imagine that a lot is obviously prerecorded.  However, once I got to my seat and had a better angle on Vince's keyboard, I could see that he plays a lot of the music live.  The man is truly the great grandfather of electronic music, and it is incredible that he is still so contemporary with his work.  The rearrangements of the songs were brilliant, and it is so gratifying to see him continuing to pave new paths in music and seeming to enjoy it at the same time.
Below are some photos of Erasure performing on stage (shot from mixing board at back; click any image for higher resolution versions of each photo):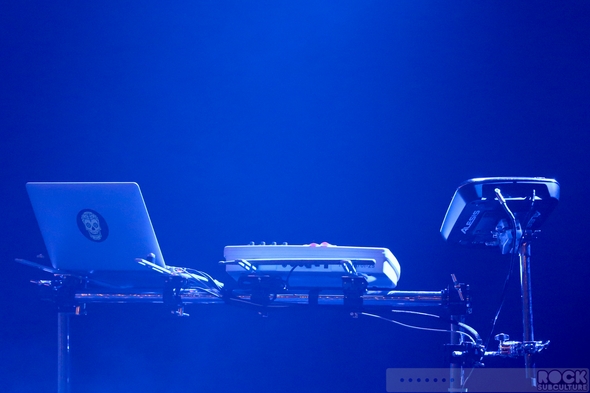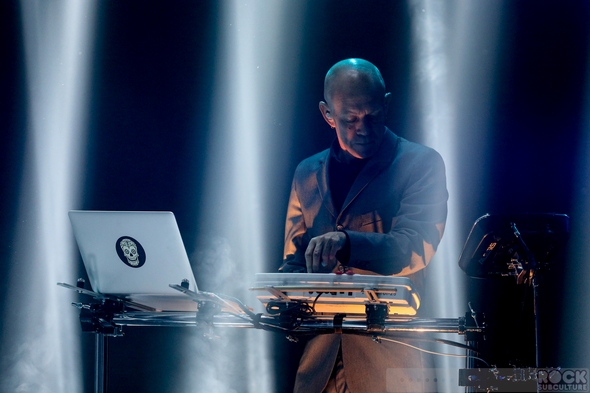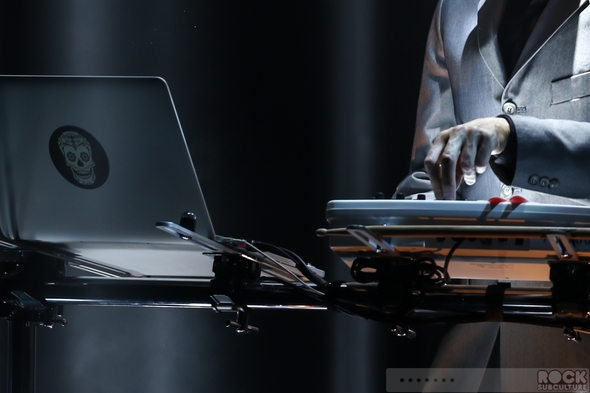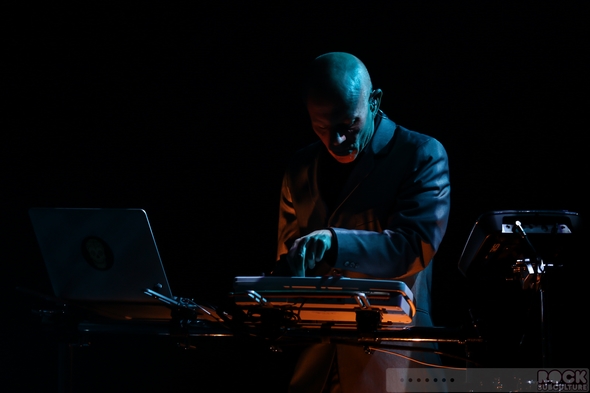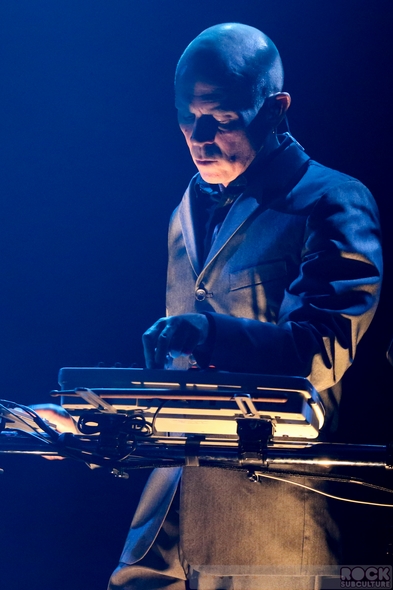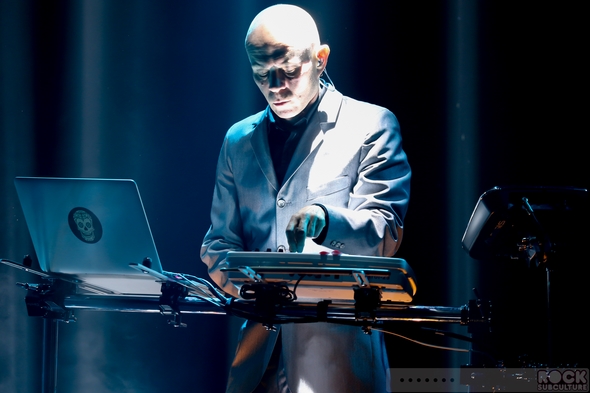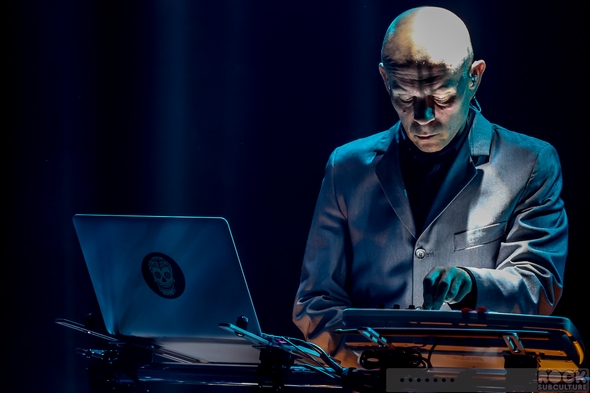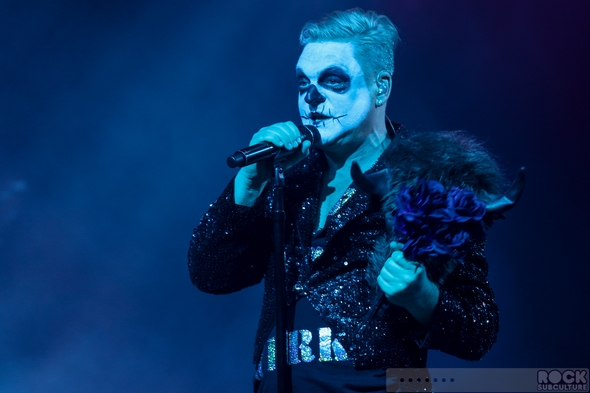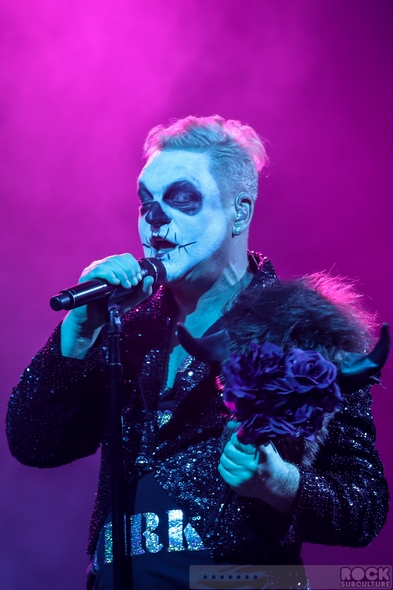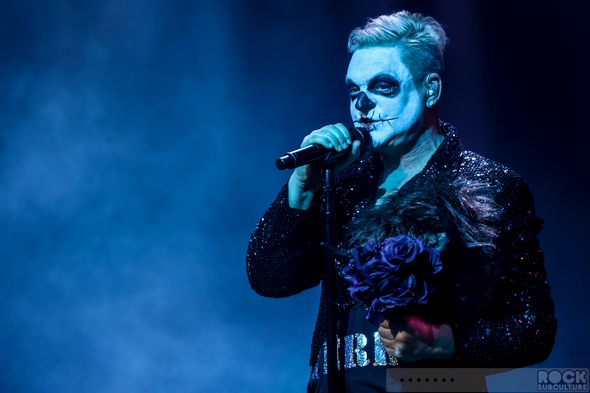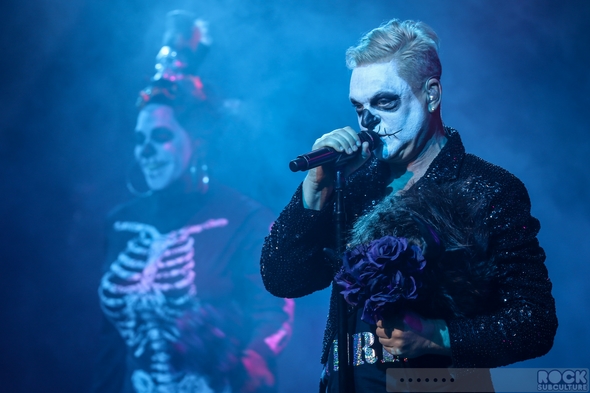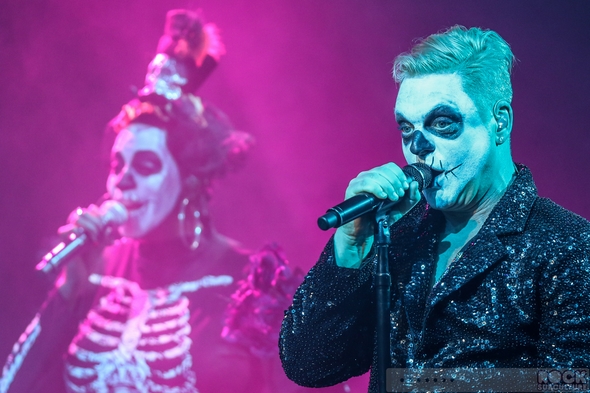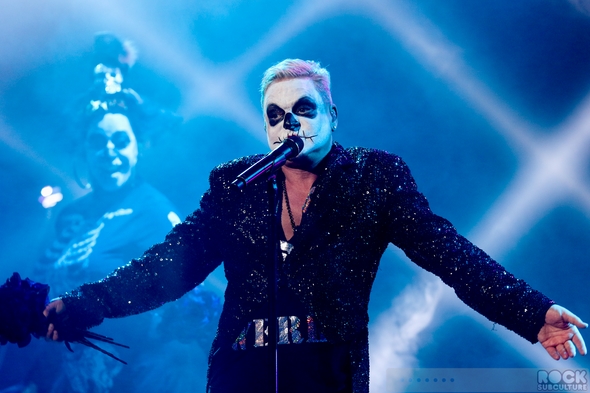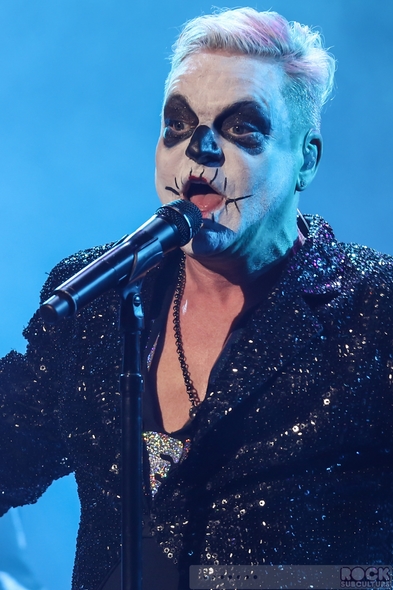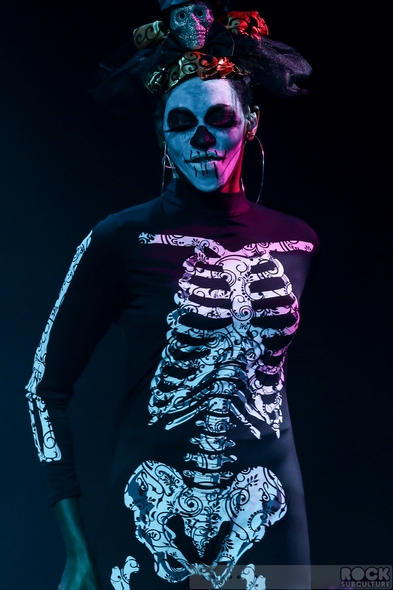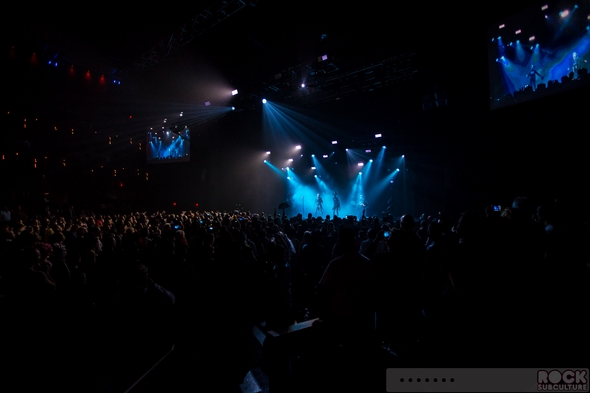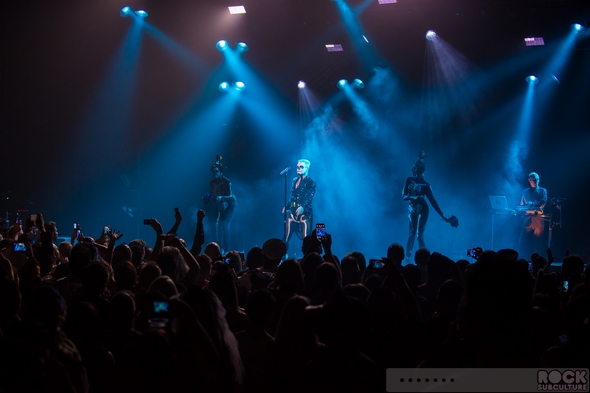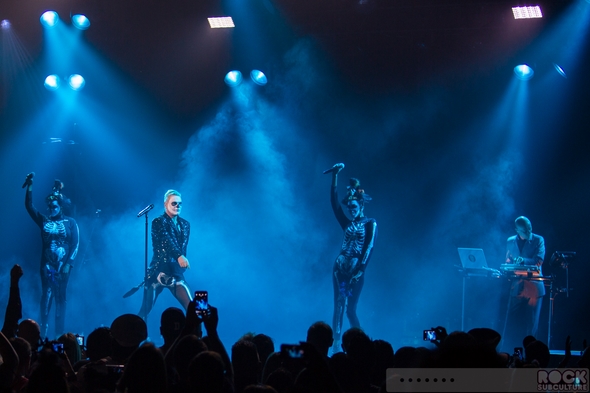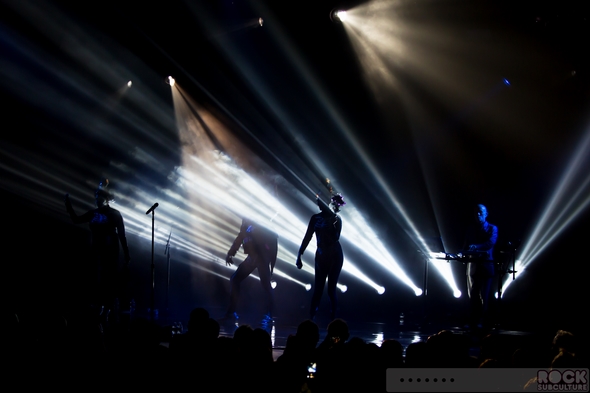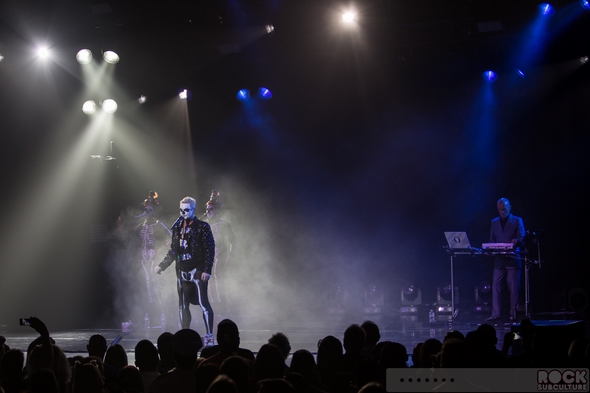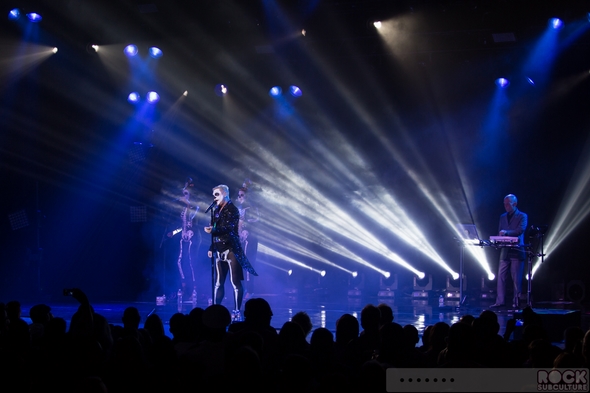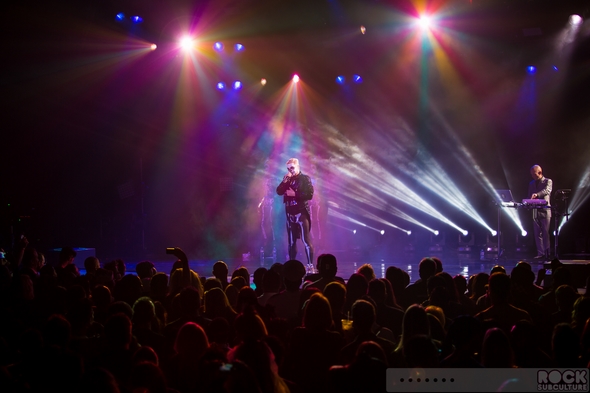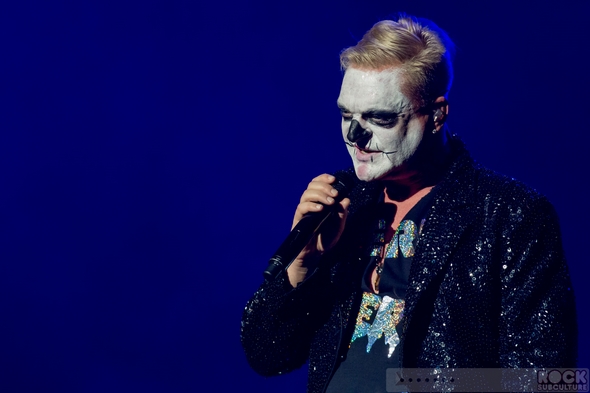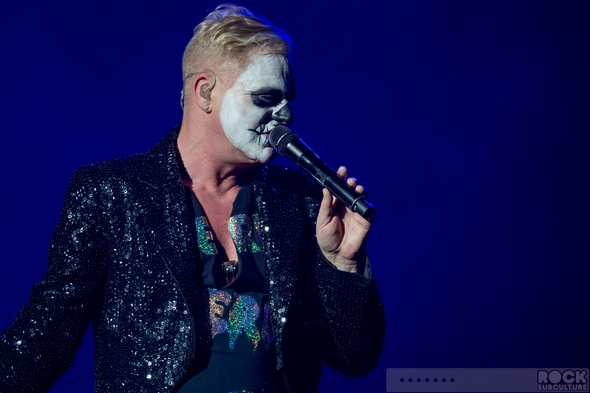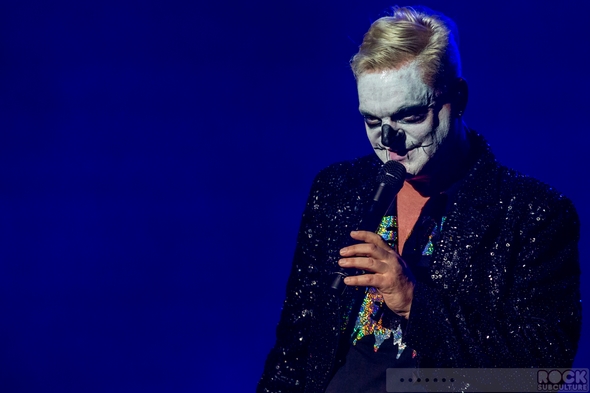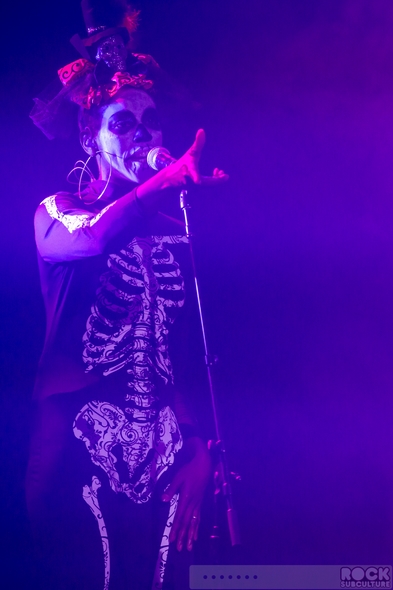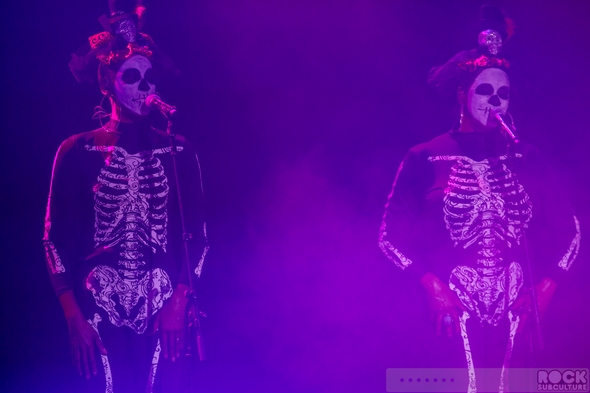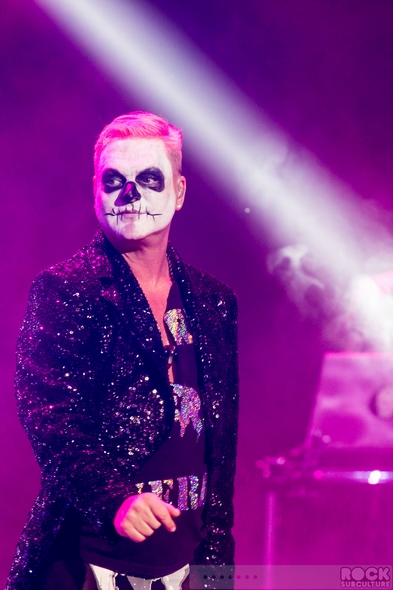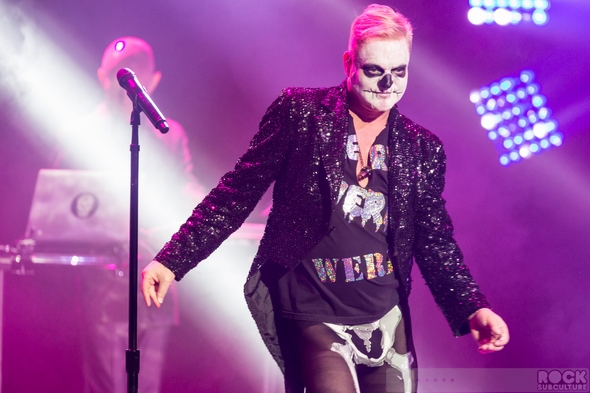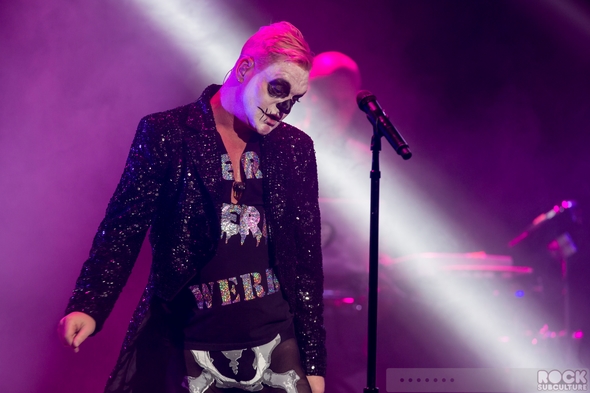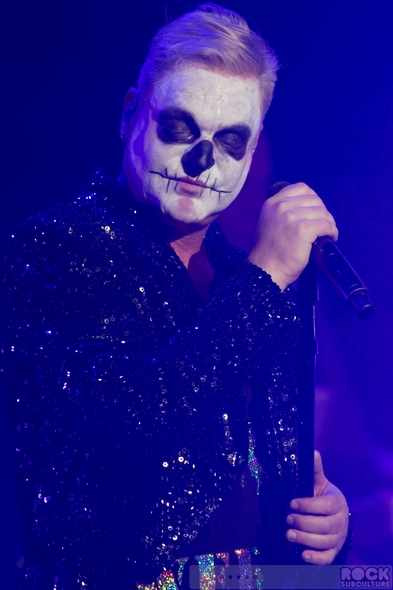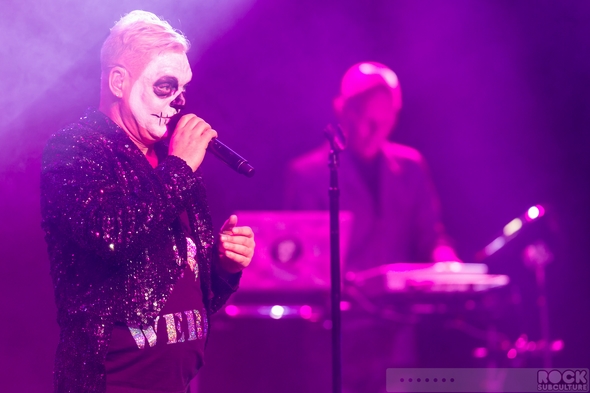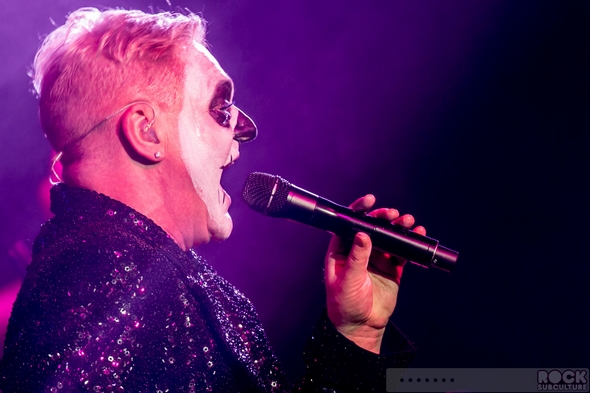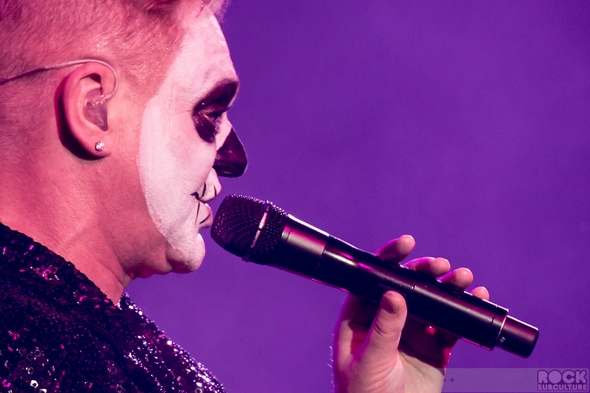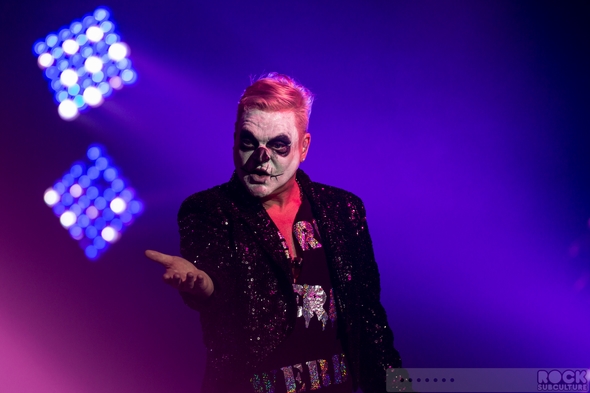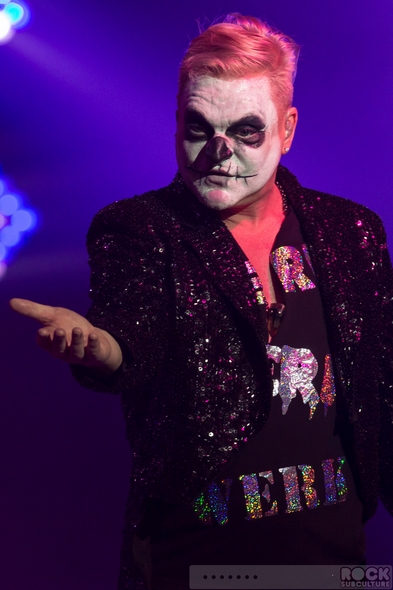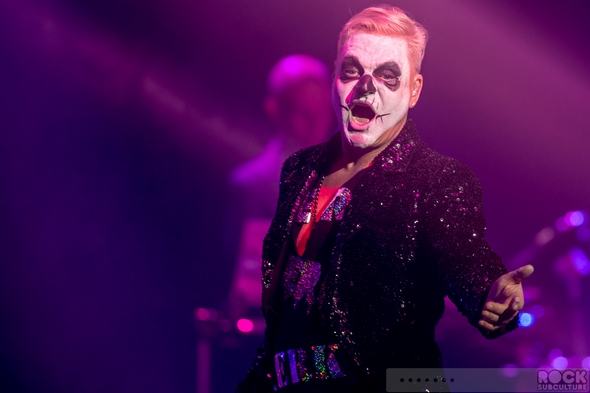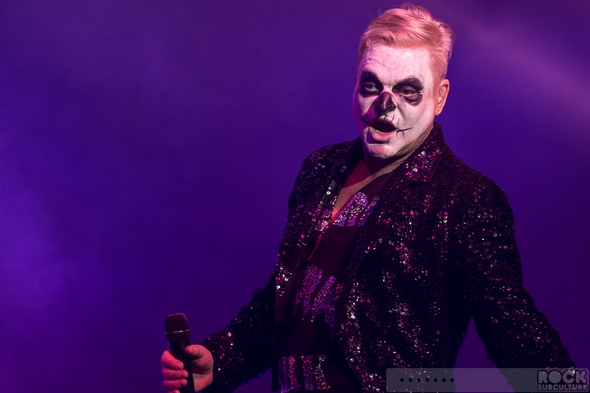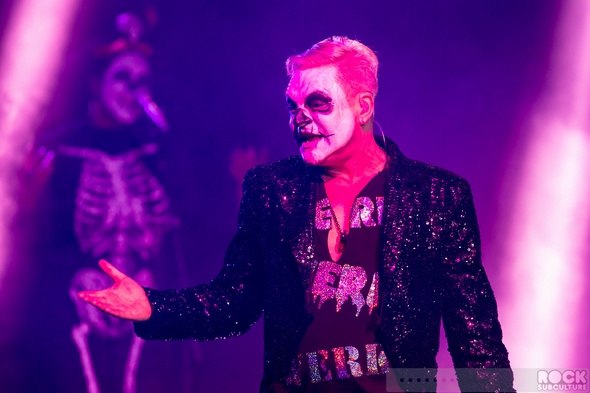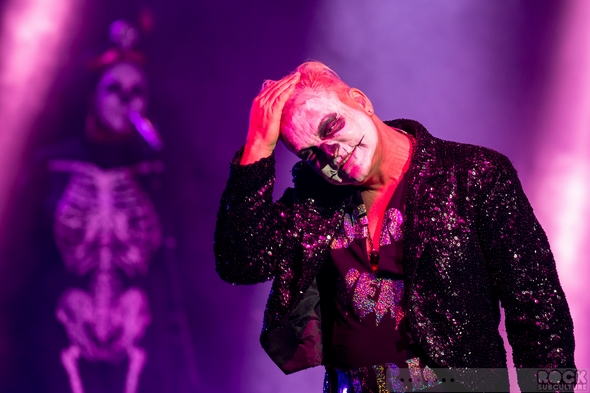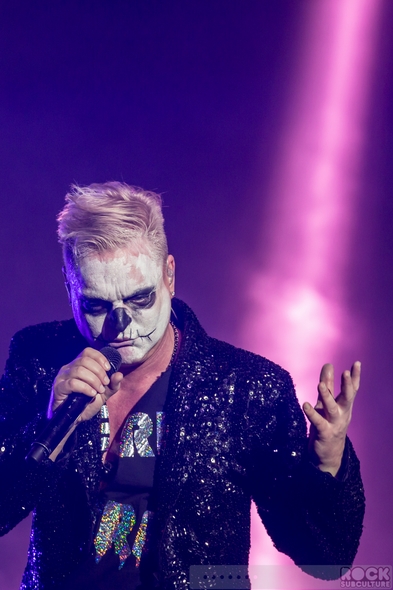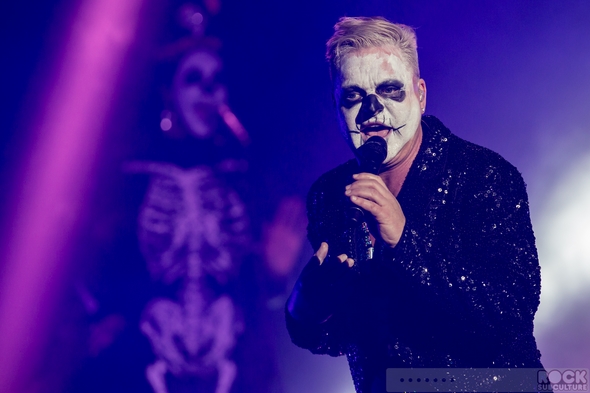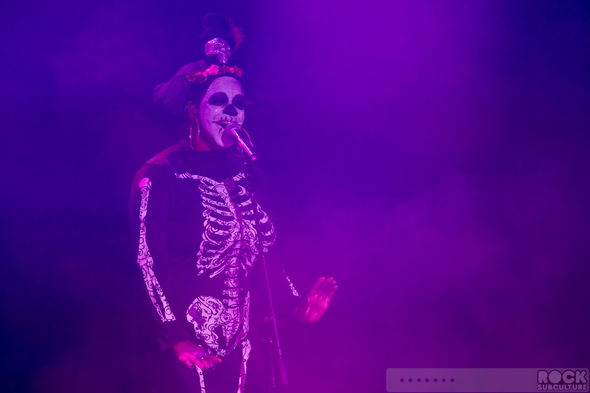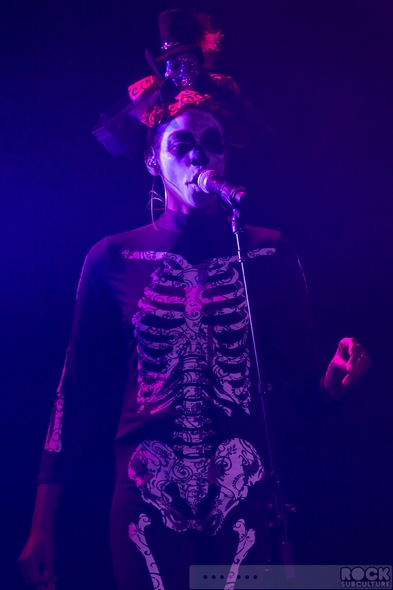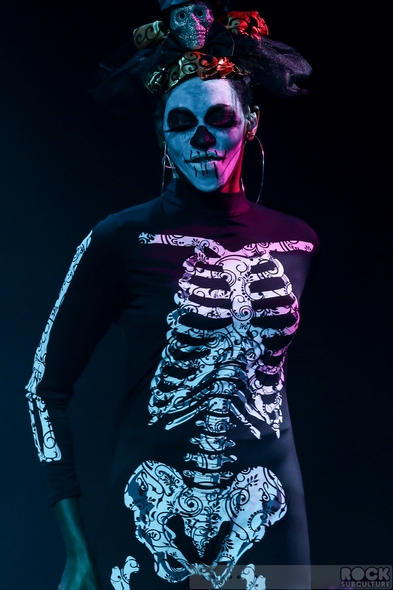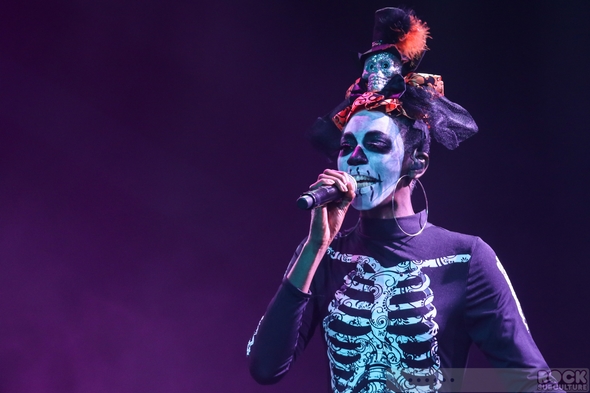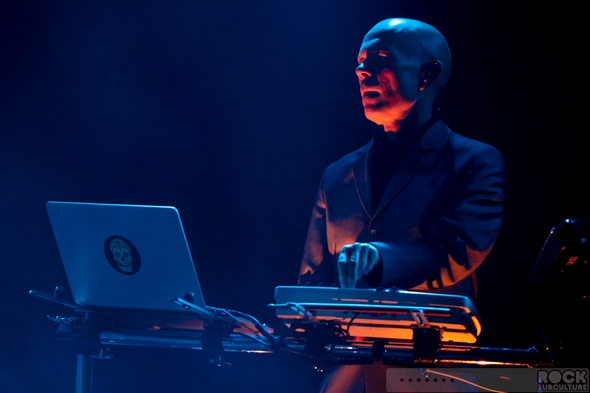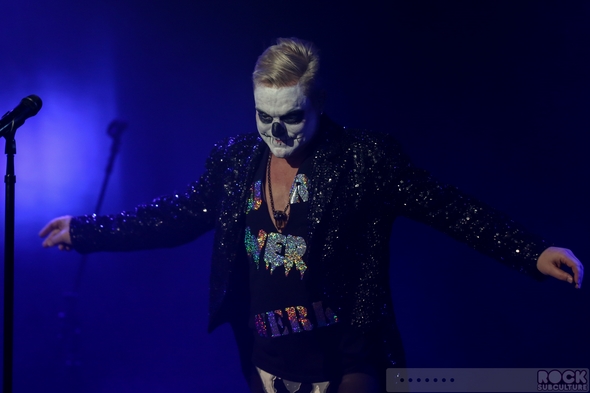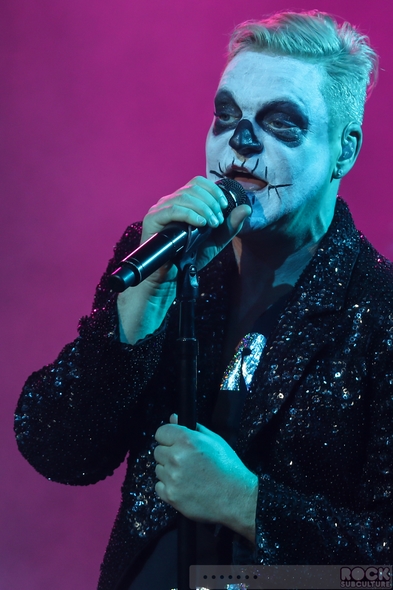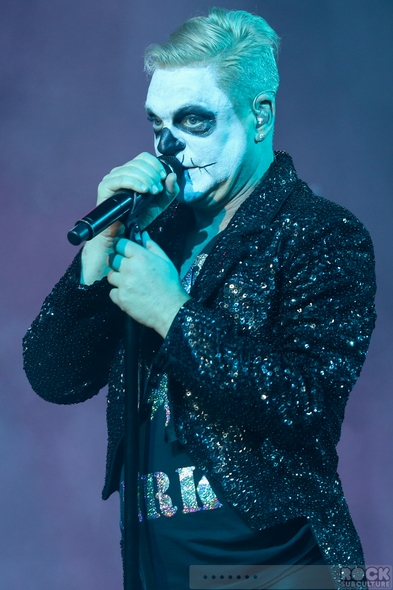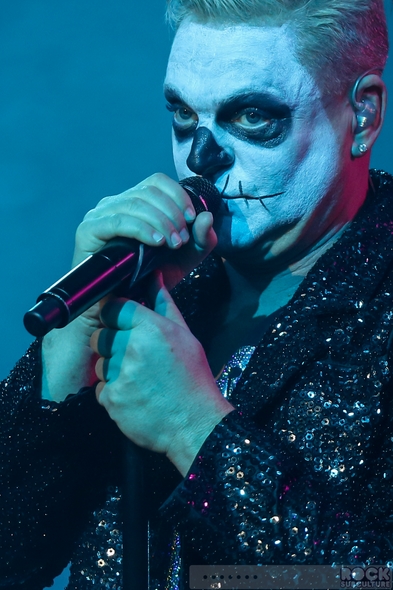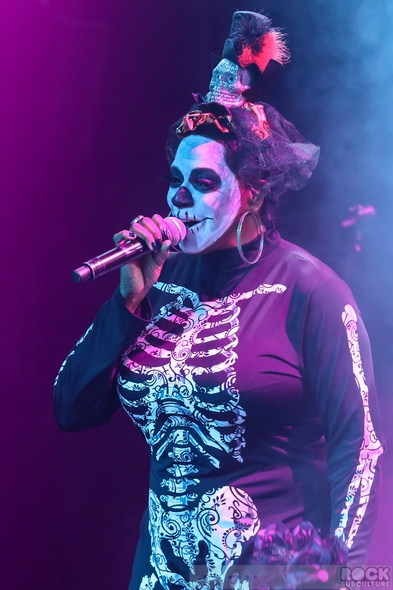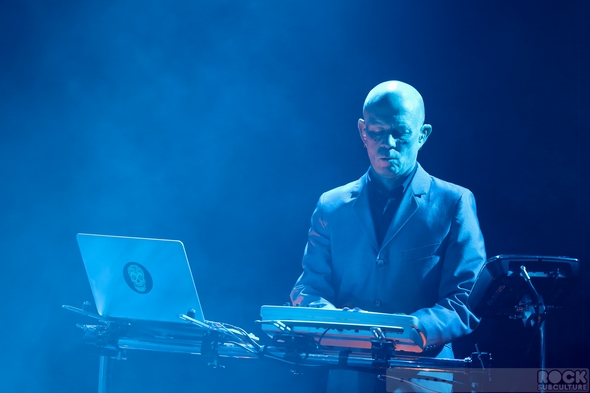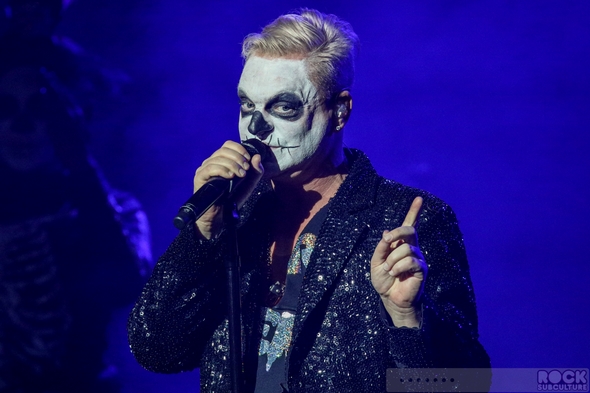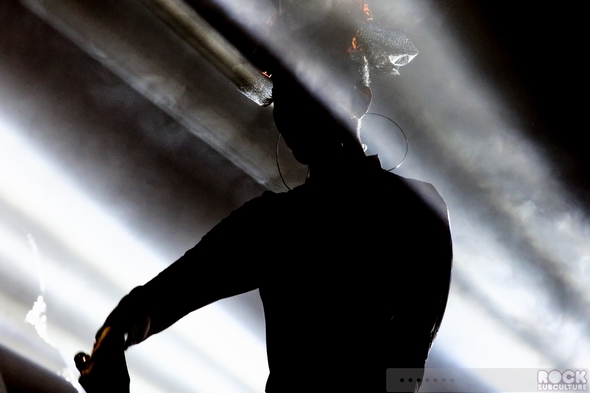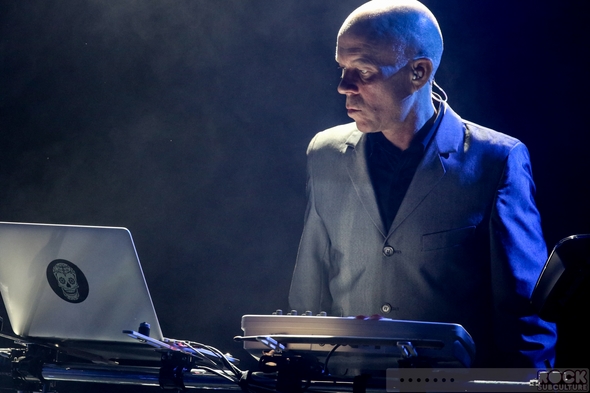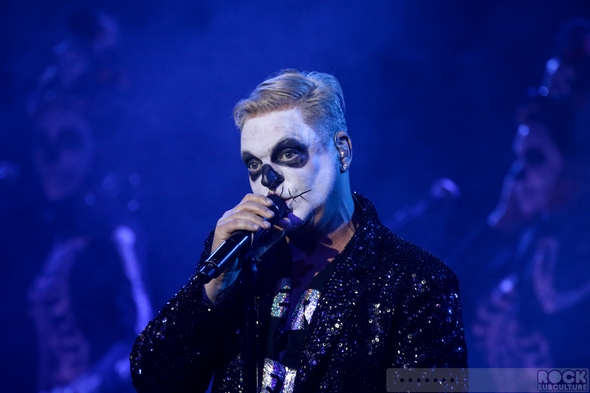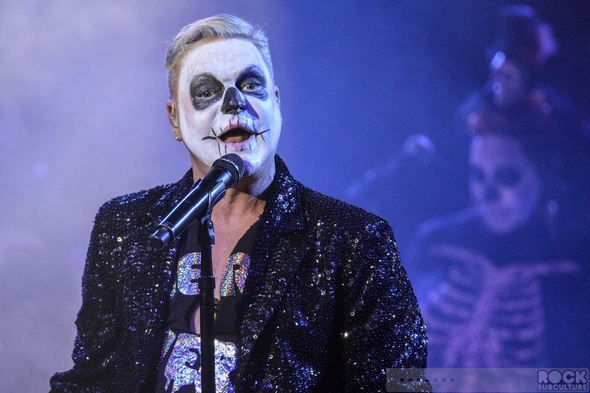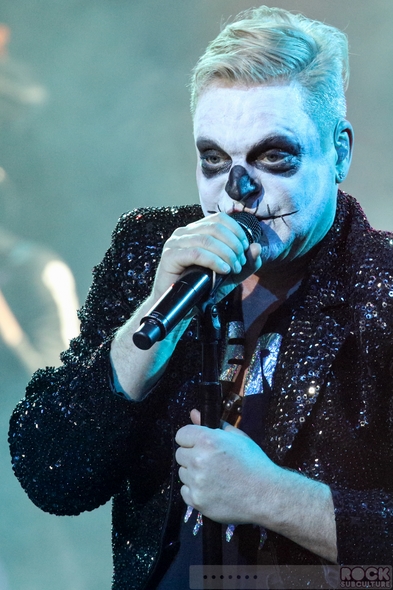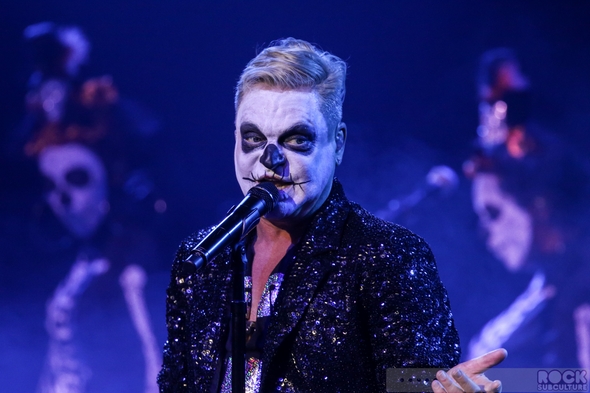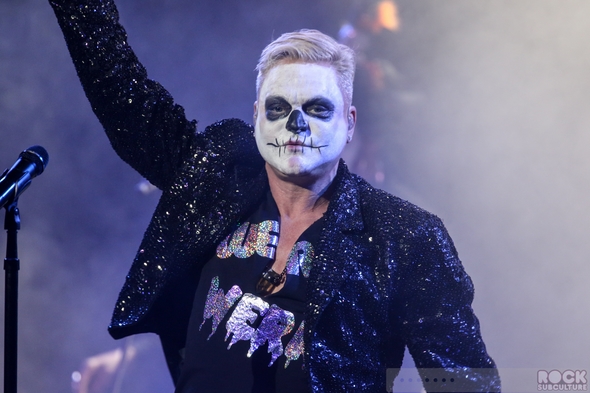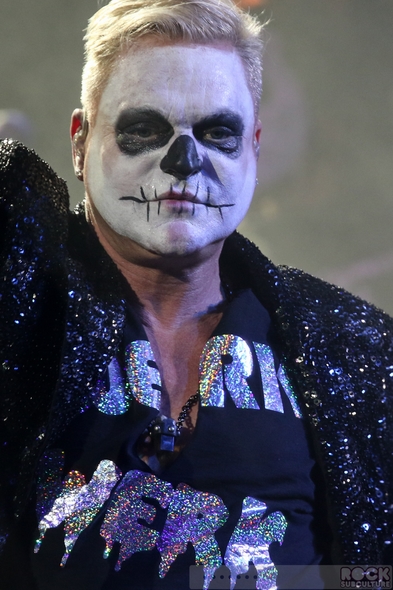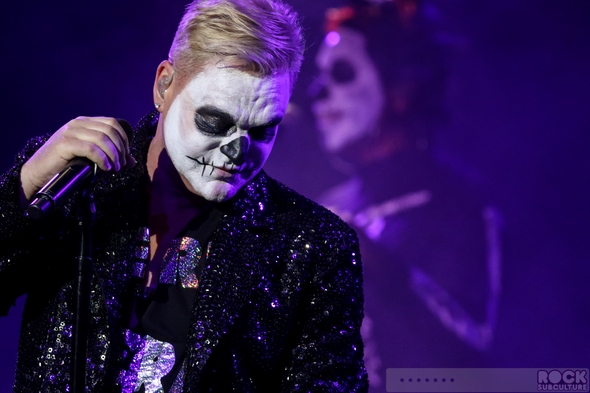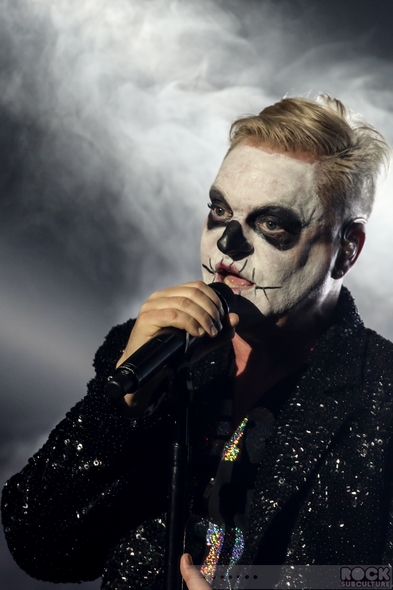 Jason DeBord