Last night was all about old school hip hop legends, with Whodini, Kurtis Blow, and Rob Base each taking the stage during V101's Hip Hop Halloween House Party at Pano Hall inside Thunder Valley Casino Resort in Lincoln.  Pioneers in what has since become a wildly popular genre of music, it was a celebration of the artists who built the foundation of hip hop, with respect paid to many of their peers who were not part of the concert, by way of mention and covers.  It made for an interesting and unpredictable night of music, with legend Kurtis Blow doing his own music, like "The Breaks" (the first gold certified rap song back in 1980) as well as some unexpected works from others that followed many years later, like House of Pain's "Jump Around".  Hip Hop has obviously changed tremendously in the past three decades, but those in attendance last night, I think, appreciate that it was probably at its best in those early years, and it is gratifying to have seen these artists do their thing on stage last night in a relatively intimate atmosphere with a great crowd, some of whom also took to the stage throughout the show.
Who: Whodini
Who: Kurtis Blow
Who: Rob Base
Who: DJ Gino
Venue: Thunder Valley Casino Resort – Pano Hall
Where: Lincoln, California
Promoter: World One Presents & V101 FM The Beat of Sacramento and Maita Honda
When: October 25, 2013
Seating: Photo Pass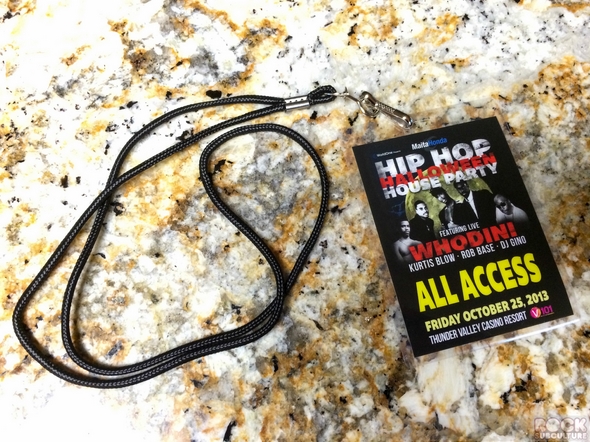 For me personally, this marks one of several concerts this year that celebrate some great music that has not been forgotten, like Freestyle (with the Super Freestyle Explosion) and Old School Rap (with the Kings of the Mic Tour and now this Hip Hop show last night), as well as Funk (at last month's Old School Funk Fest).

As with last month's Funk Fest at Thunder Valley, helping run the Hip Hop Halloween House Party were principals from V101 FM as well as DJ Gino, who seemed to play a much more critical role with last night's show (more on that later).
Unlike last month's Funk Fest, which took place at Thunder Valley's large outdoor amphitheater, last night's Hip Hip show was indoors, inside Pano Hall.  I've seen other show in this venue, but this one had a completely different layout.  Prior shows I've attended were completely seated, while last night it was reconfigured as a completely open and standing space, save for a few roped off VIP tables off to the sides.
There was also a catwalk extending out from the stage, with dance floors on either side, as well as a little touch of Halloween-themed decor.  There were also two platforms in the back with go-go dancers, and a full bar across the back wall.
As there was no security/photo pit, I opted to grab a space on one of the two inside corners were the catwalk extended from the stage into the crowd, knowing I'd miss some end of catwalk photo opportunities, but get some good shots of the artists playing the the crowd from behind.
DJ Gino got the music pumping prior to doors, and Rob Base took to the stage at about 9:30 for a set that lasted less that 30 minutes.
Kurtis Blow came up at 10:15 and ran about 30 minutes as well.
At that point it was 10:45, and after some time, they put on a dance contest for people in the crowd, with the winner promised a pair of tickets to V101's Holiday Jam with The Whispers and The SOS Band on December 28th.  This was actually pretty entertaining, and they ended up awarding two participants (one of whom was more about the laughs).
However, it seemed as though there was a lot of waiting even after that, as Whodini did not come on stage until about an hour after Kurtis Blow, at 11:50, and their set ran about 35 minutes.  The place cleared out quite quickly thereafter, since it was well past midnight.
I was told from two different sources after the show that there was a misunderstanding of some sort, and Whodini were not aware of their being scheduled to play this concert until about 12 hours prior, and that they were out of state, hence the delay in getting to the stage.
All in all, it was a fun, festive night, though I would have personally enjoyed more performance and less dance contests breaking up and interrupting the sets (there was on stage dancing by fans during the first two sets and in-between the second and third sets); but I am a concert-going purist, and don't need food, alcohol, a chair, or other frills, let alone fan-derived entertainment.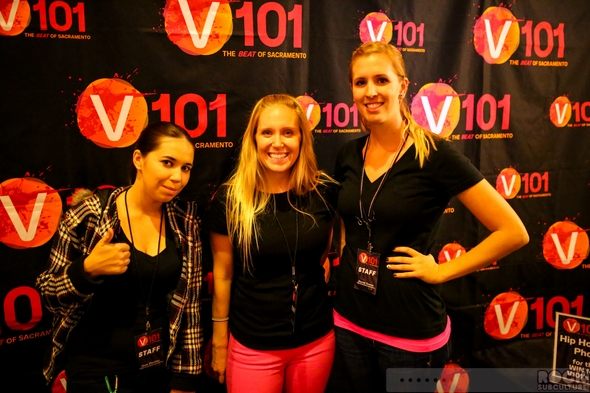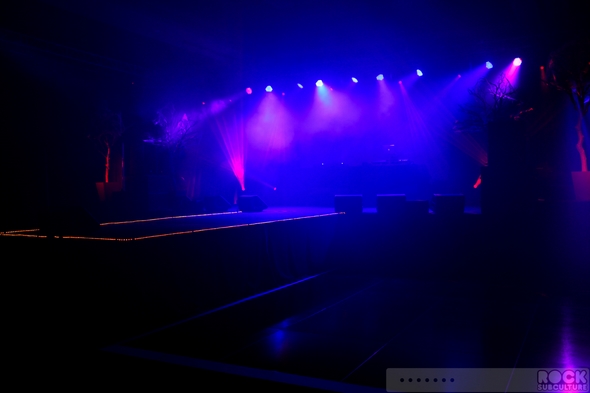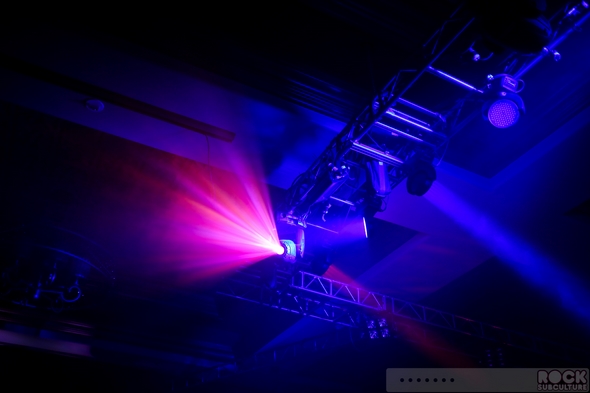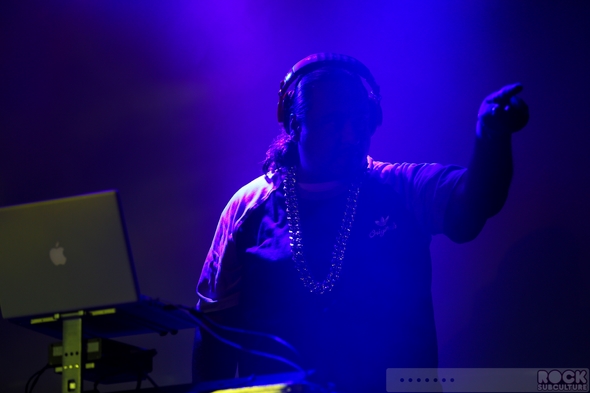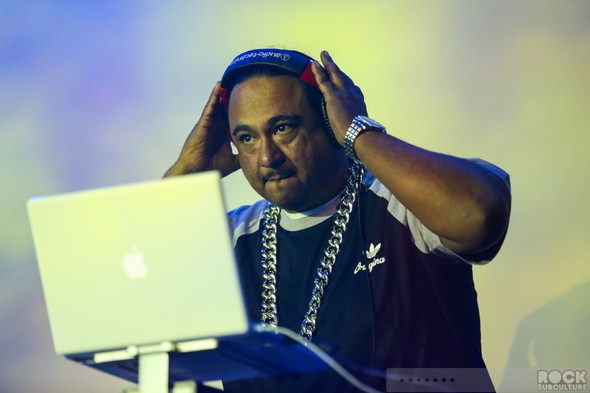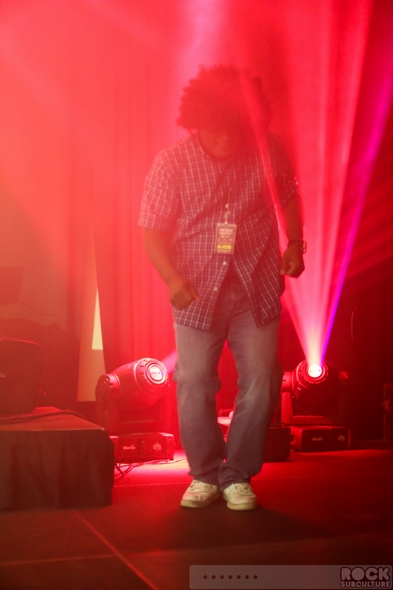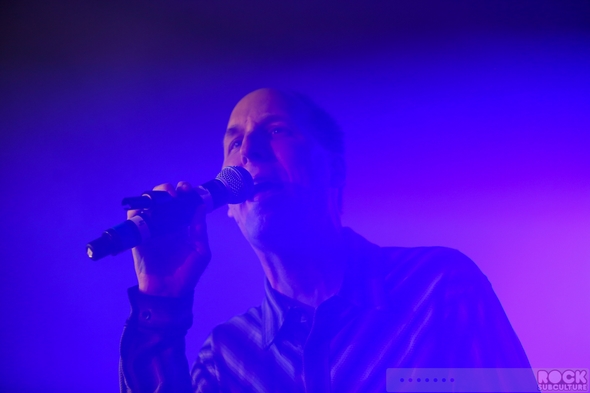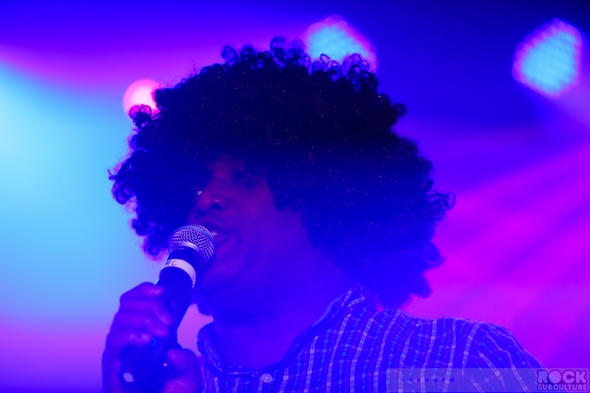 Rob Base with Kyle Rifkin
Rob Base is of course most famous for the 1988 platinum-certified song "It Takes Two" from the debut album by Rob Base and DJ E-Z Rock.  The hit rap song sampled/borrowed heavily from the 1972 song "Think (About It)" by Lyn Collins and James Brown.
I remember their "It Takes Two" being a huge song at the time, and feeling like it was one of the catchiest songs I'd ever heard.  I was a huge fan of Run-D.M.C., Beastie Boys, and LL Cool J, and these artists all had great works hitting in the second half of the 80s.
At the time, I remember buying the cassette tape for the "It Takes Two" album and the 12″ vinyl remix for the other big hit off that record, "Joy and Pain".
The pair split, and Rob Base had a follow-up solo album the next year, The Incredible Base, which didn't find the same success, though it was still certified Gold.
Rob Base and DJ E-Z Rock reunited for one subsequent studio album in 1994, Break of Dawn, though it did not chart.
I'd personally lost track of what Rob Base has been up to for the past 20 years or so, but was really excited to hear about this concert, as I never had a chance to see him perform live.  He is on Twitter, so you can see that he is still out there performing.
With last night's show, they opened with a tease of "It Takes Two", and then went into other songs, and ended up performing the bit hit about midway through the 30 minute set.
Joining him on stage was Kyle Rifkin, who came into the public eye on America's Got Talent, who has a album out with Rob Base called The Roof Top.  Kyle did an excellent job on vocals for "Joy and Pain", which was maybe the highlight of their set for me, primarily due his role in the song.
Though brief, the set was excellent, and certainly left me wanting more.
Below is the one video I shot, to capture the essence of the set, for their performance of "It Takes Two":
Below are photos from the set (click any image for higher resolution versions of each image):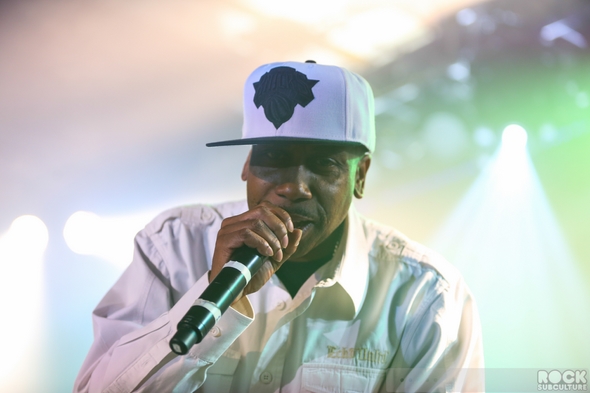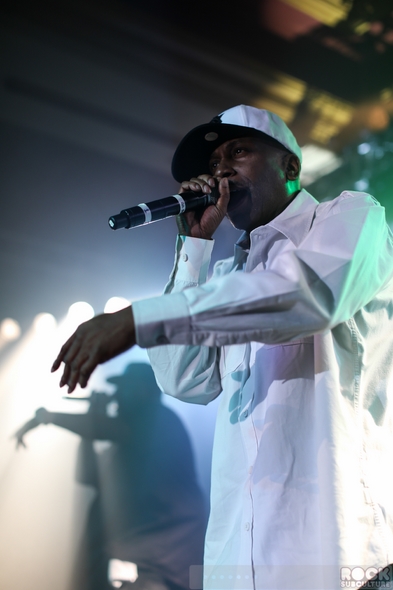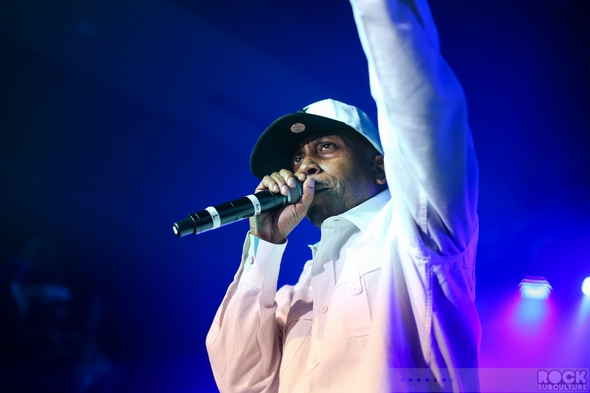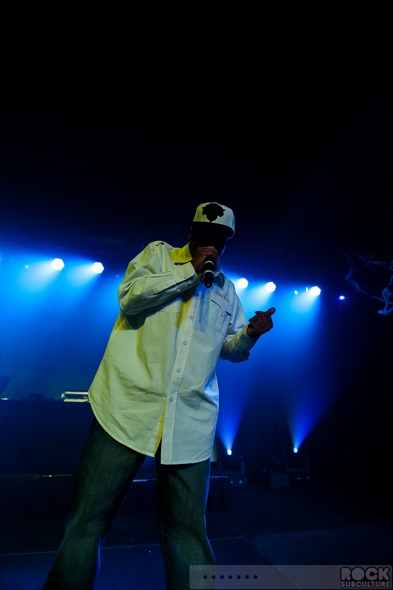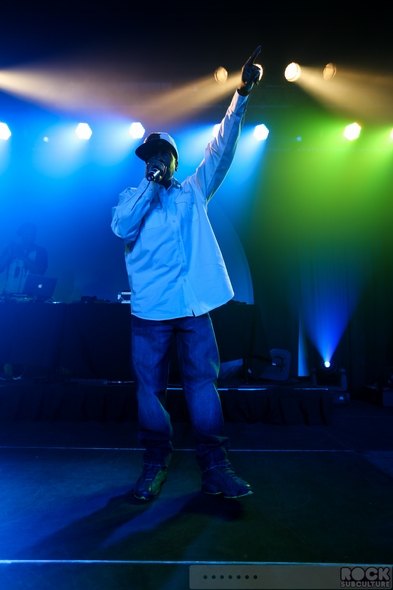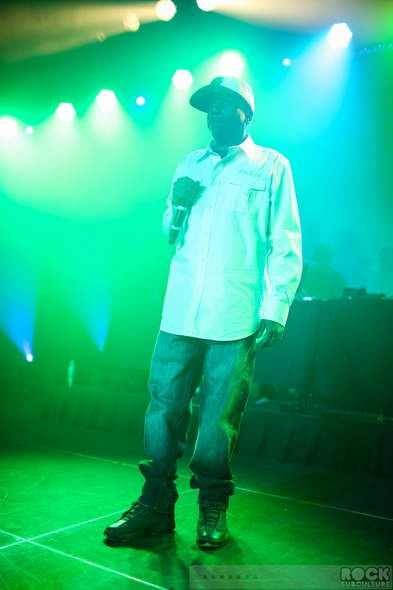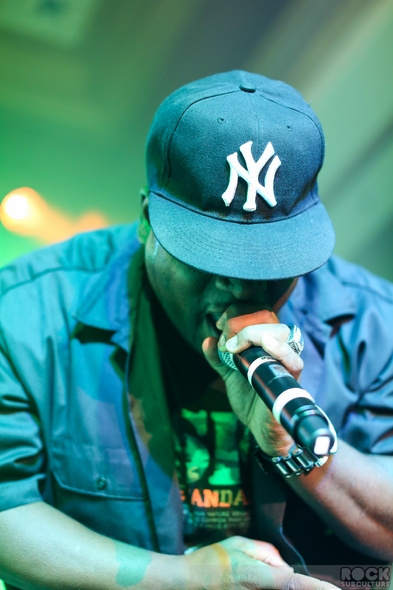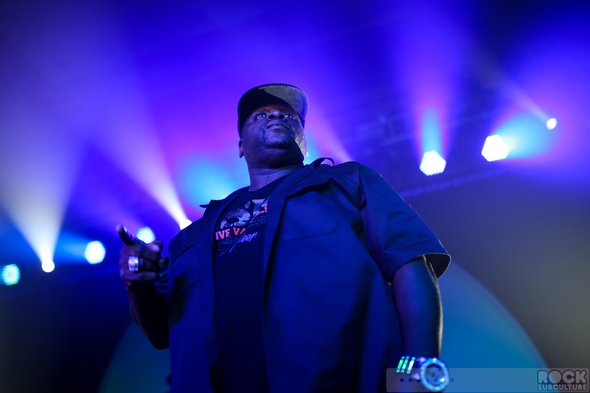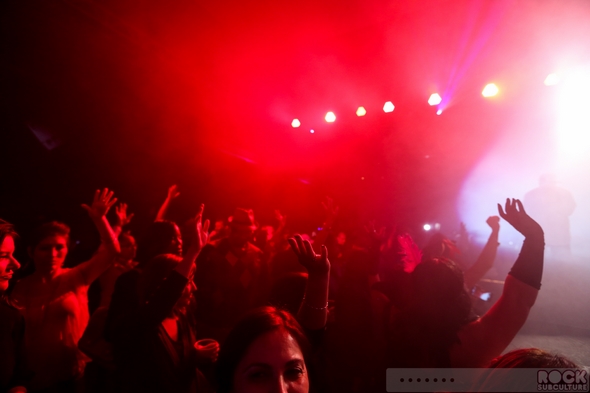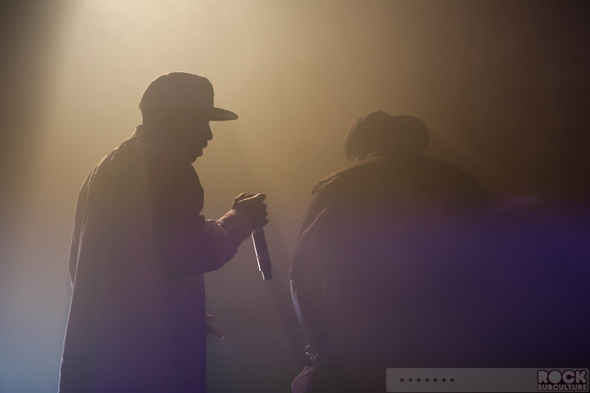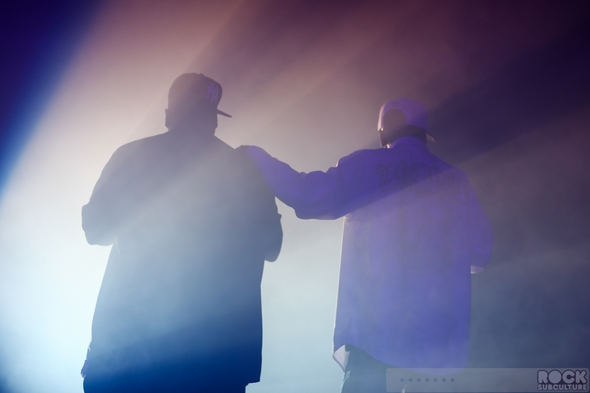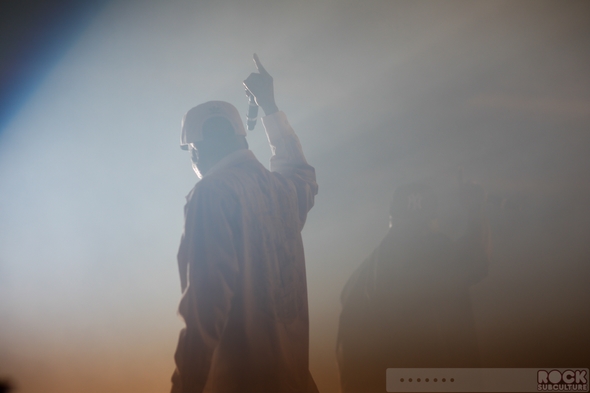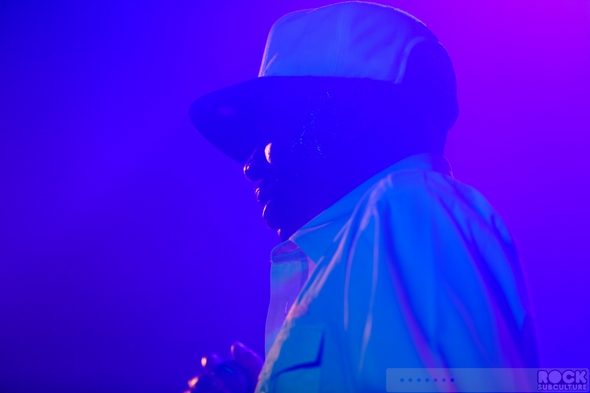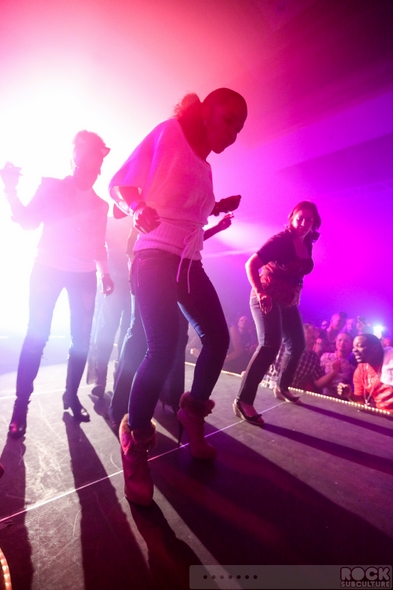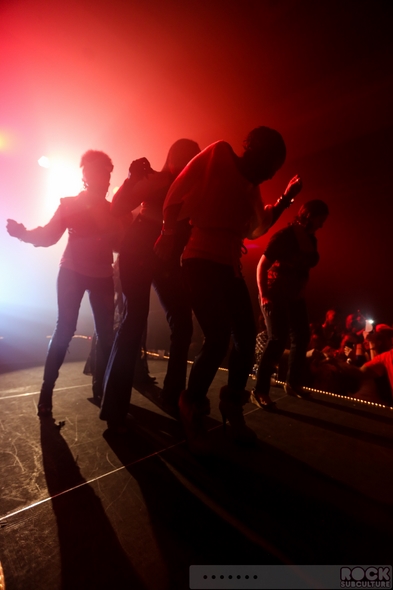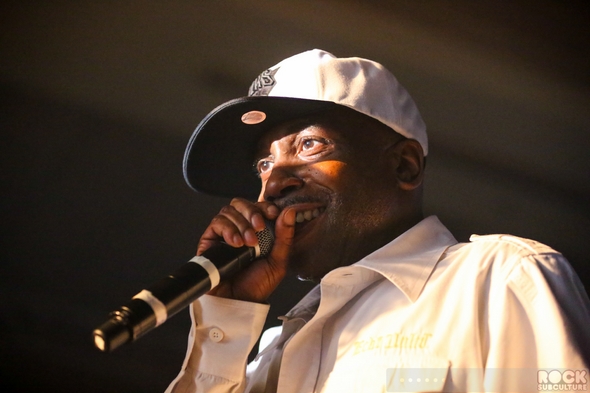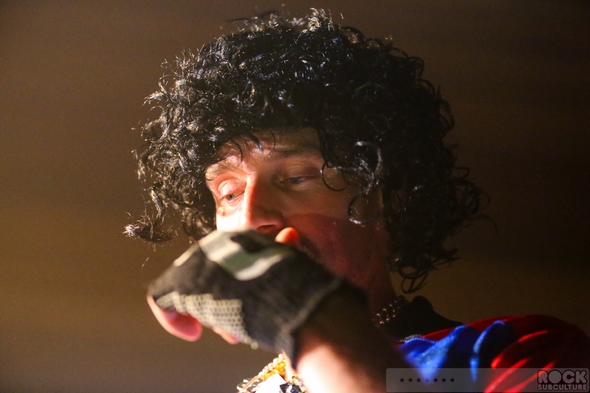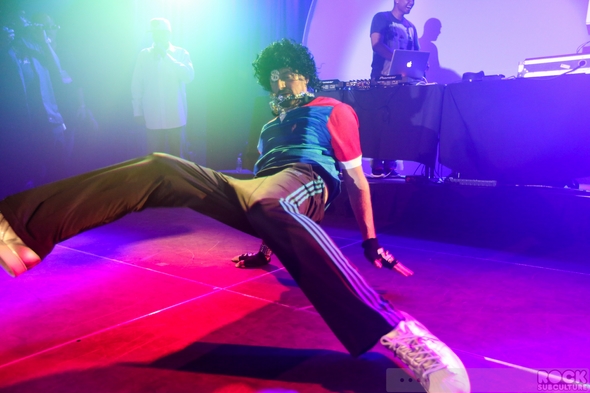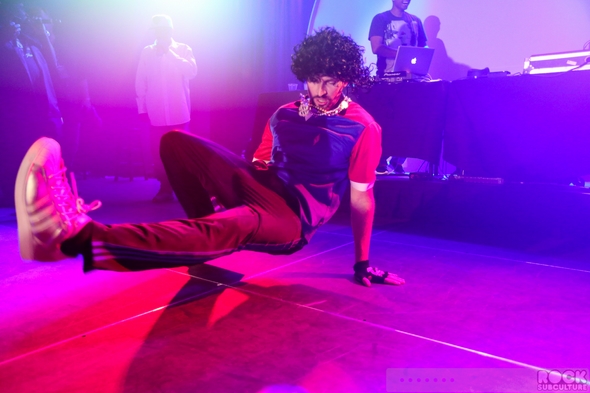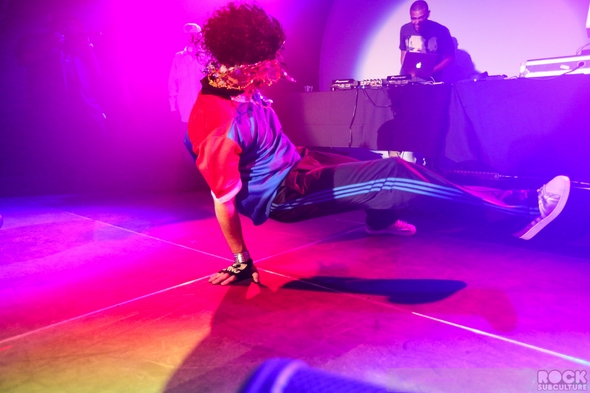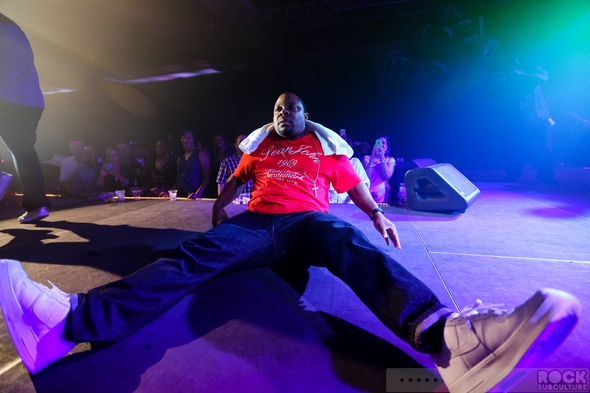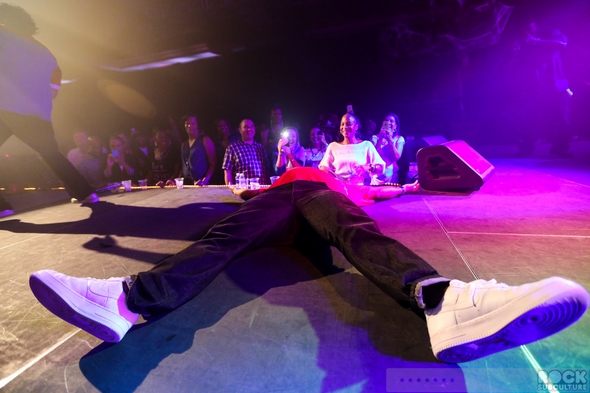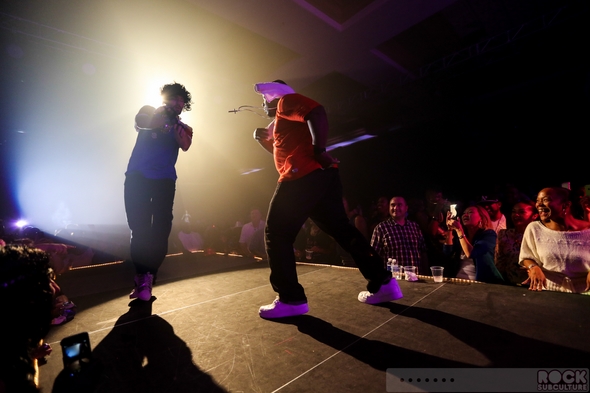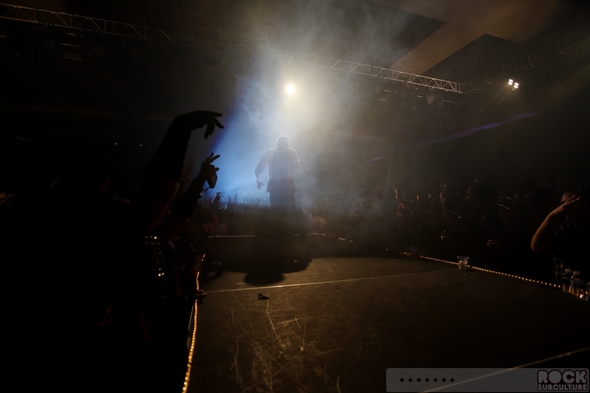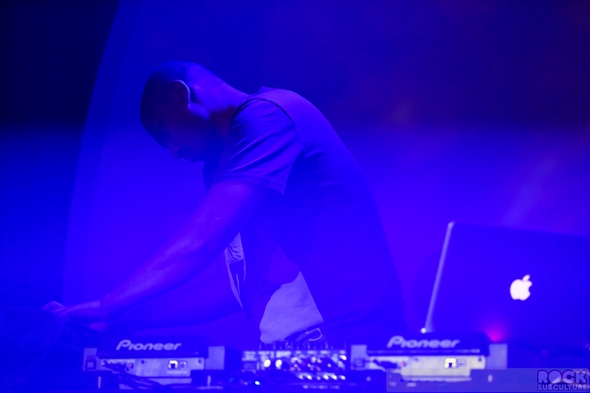 Kurtis Blow
Kurtis Blow as an artist on this bill was the most exciting aspect of it, as he is about as big a legend in Hip Hop as there is…
"The Breaks", the hit song from his 1980 eponymous debut album, was one of the first commercially successful rap/hip hop songs, which is remarkable in its own right, as well as the fact that it clocks in at 7:43.  It also features no samples, and it quite experimental in its structure.
So maybe the most surprising and disappointing part of the set was that less than one minute into performing "The Breaks", Kurtis Blow invited a member of the audience onto the stage to break dance with him, and then the song was quickly abandoned thereafter.
But, on the plus side, he did some amazing covers and tributes to other artists, and even when he didn't know the lyrics, he would just kick into some freestyle, which was incredible.
He was much more nimble and athletic than you might imagine, in his mid-50s, and still has the smooth and effortless dance moves, but was also planting headstands on the catwalk.  He was really quick and on point with his rapping, even covering the works of others.
Most impressively, he came with a message…  taking a literal break in-between songs at one point to talk about principles, and drawing a comparison between the content of his music and the music of others that were part of Old School Hip Hop and some of the content found in rap today, particularly how it views and portrays women.  I understand that he is a minister today, so that is truly consistent with what he does on stage, and the music he chooses to perform.
The most engaging of the three acts, it was also interesting as he quizzed the audience about sports teams and players, which was pretty amusing.
All in all, it definitely left my intrigued about the man, and I would love to see a full set with him as headliner, as I got the impression that he is full of surprises, highly improvisational, and truly a class act and really gifted artist.
Below is one of the videos I shot of the performance, he covers of parts of Sugarhill Gang's "Rapper's Delight" and Grand Master Flash's "The Message":
Below are photos of Kurtis Blow performing on stage (click an image for higher resolution versions of each photo):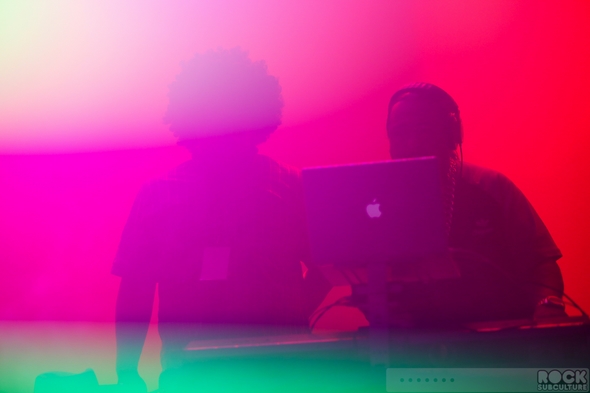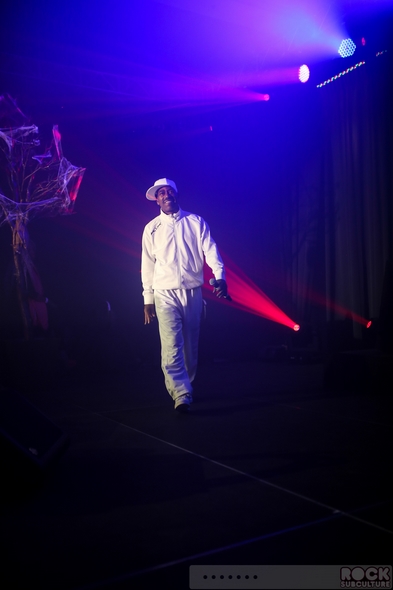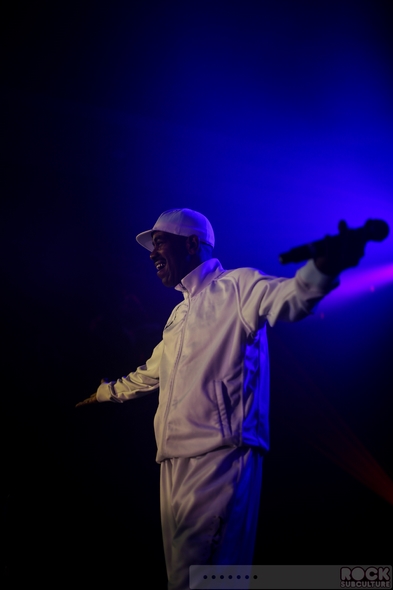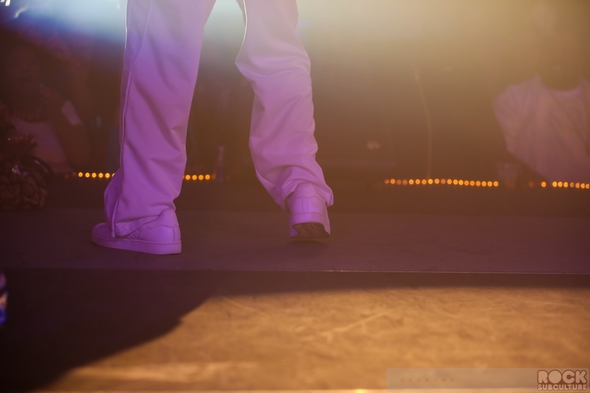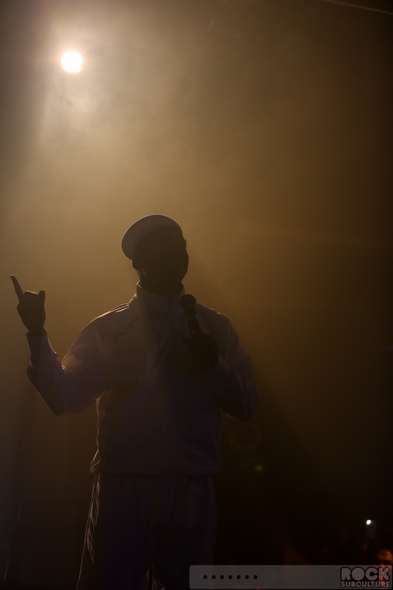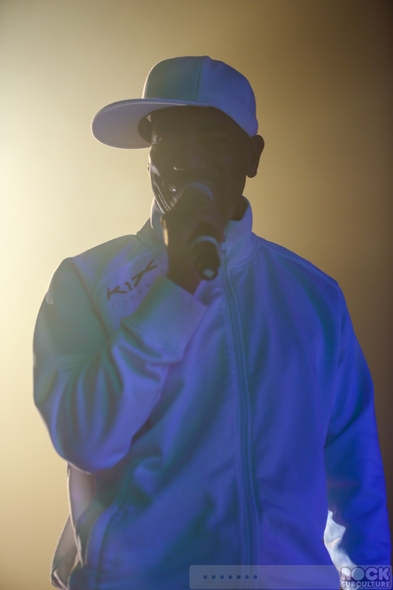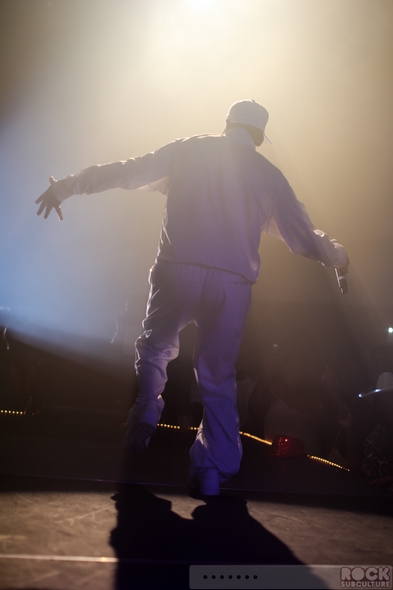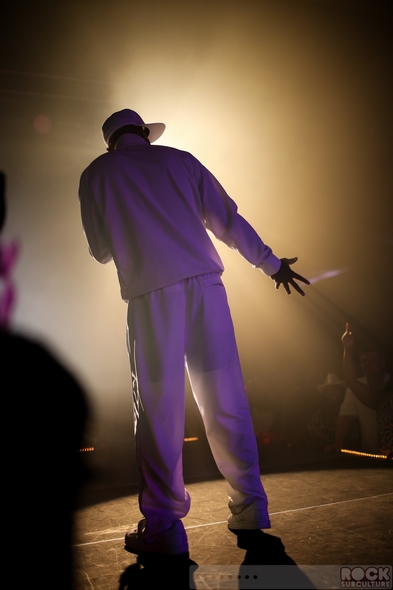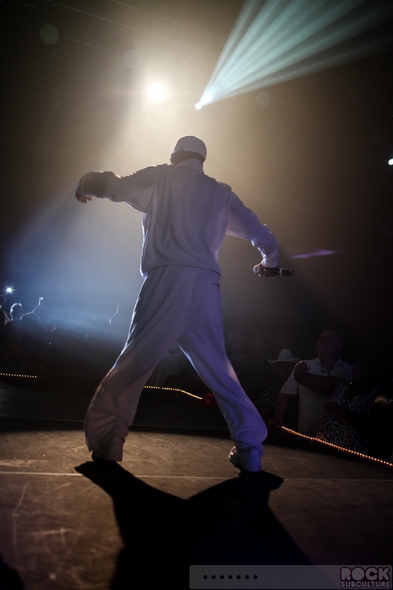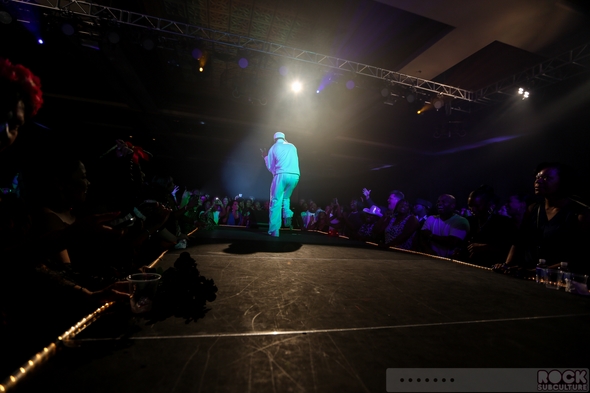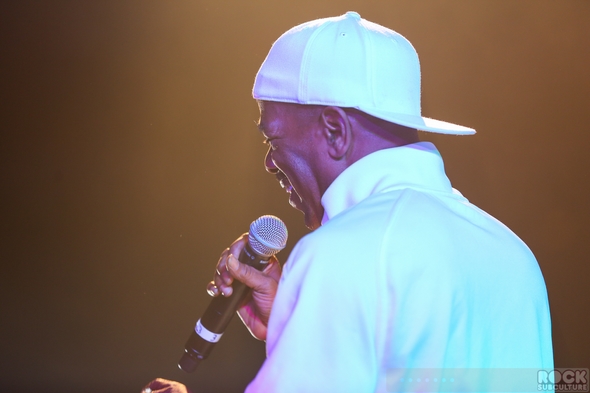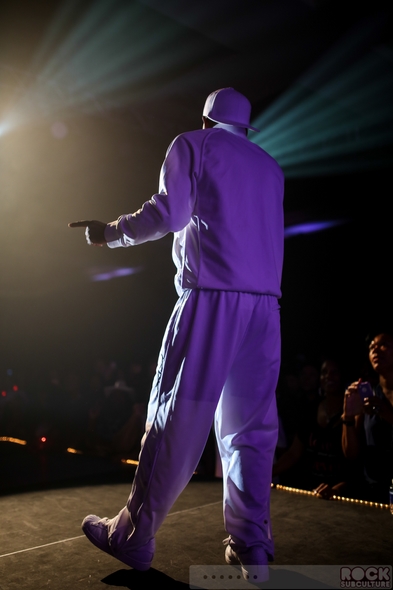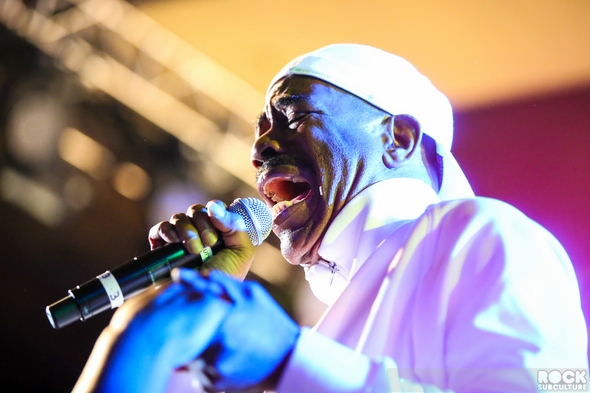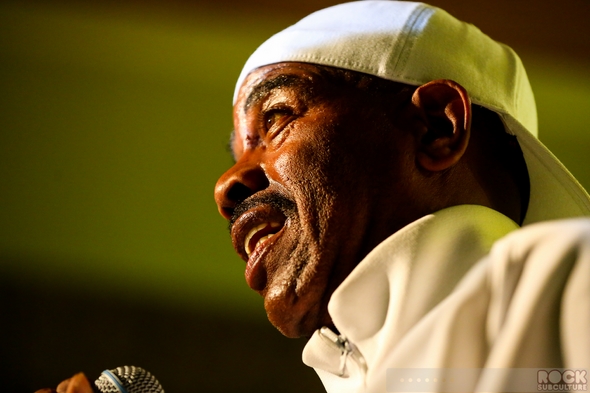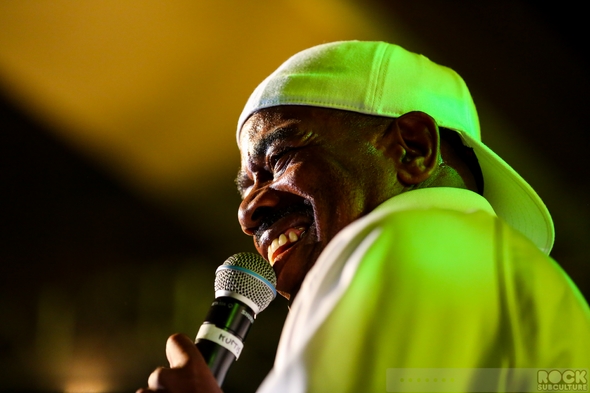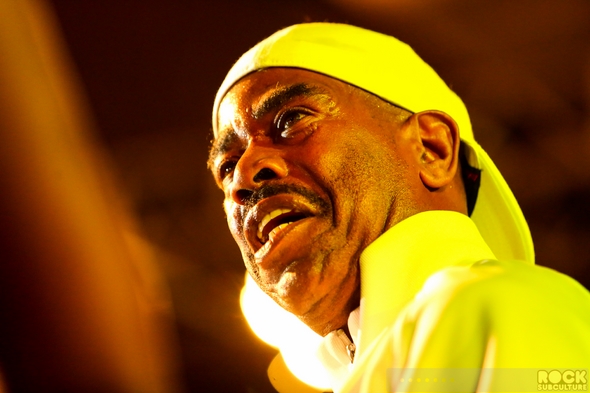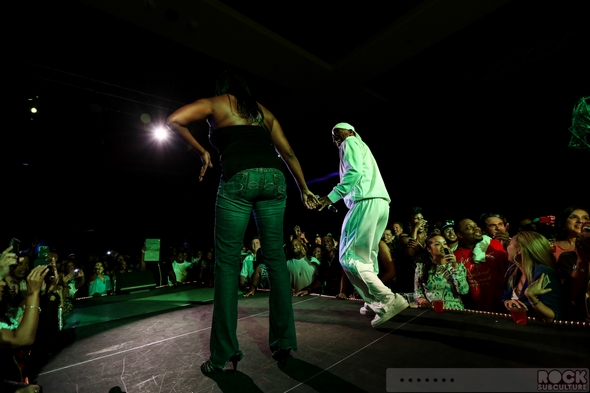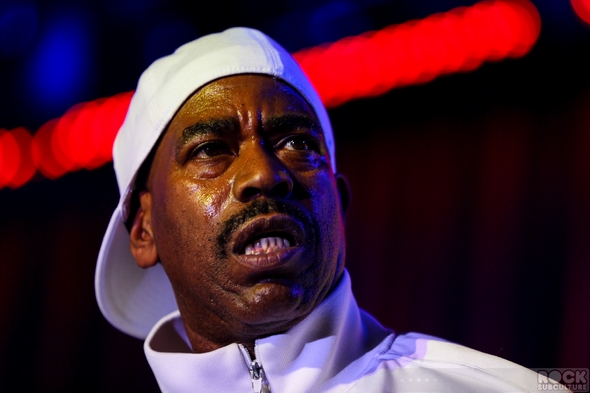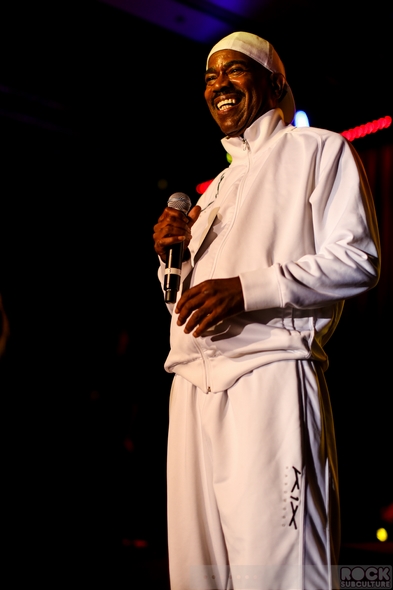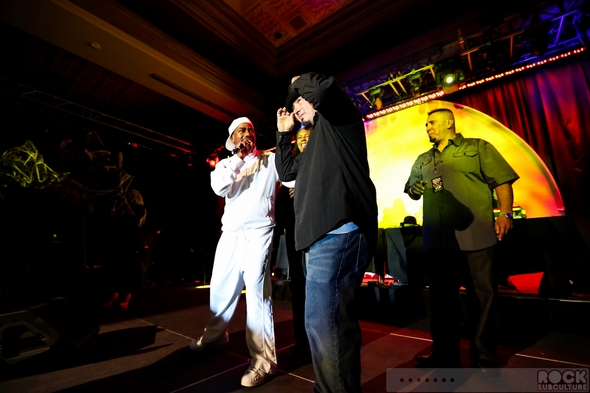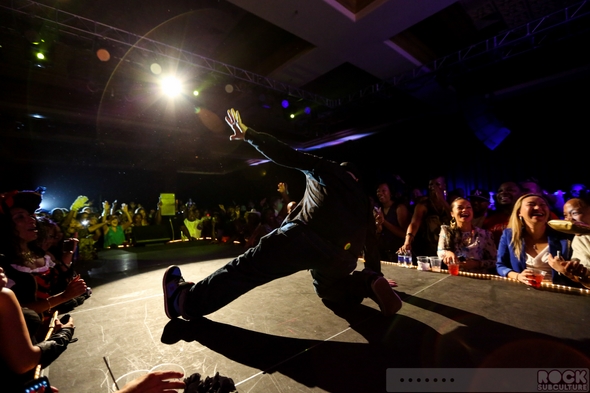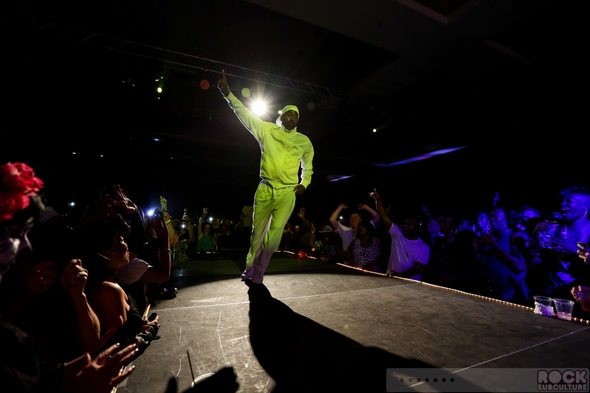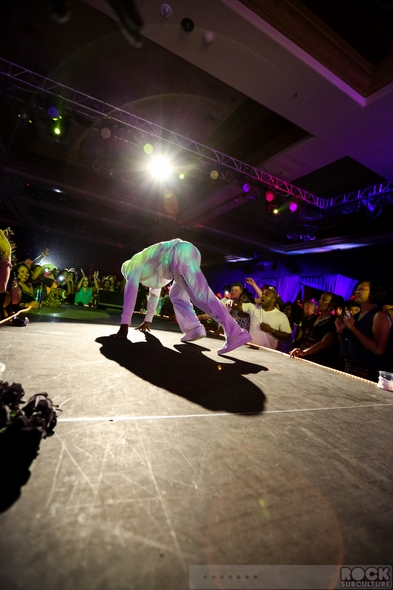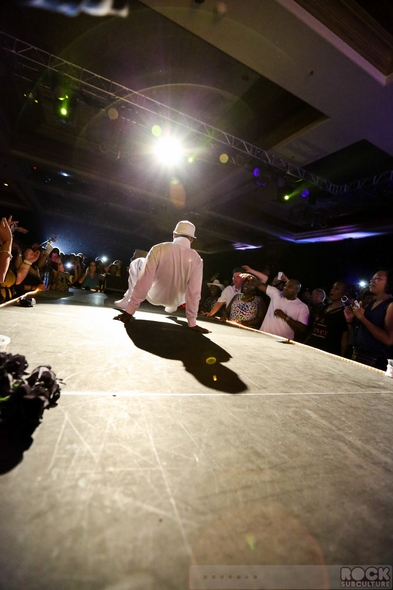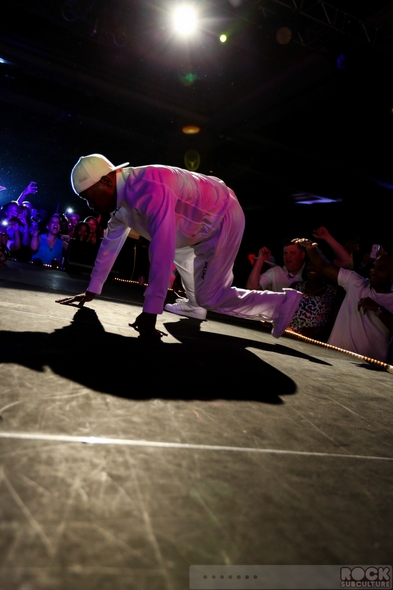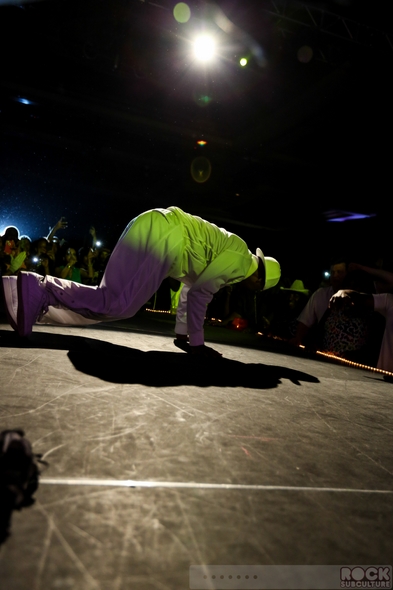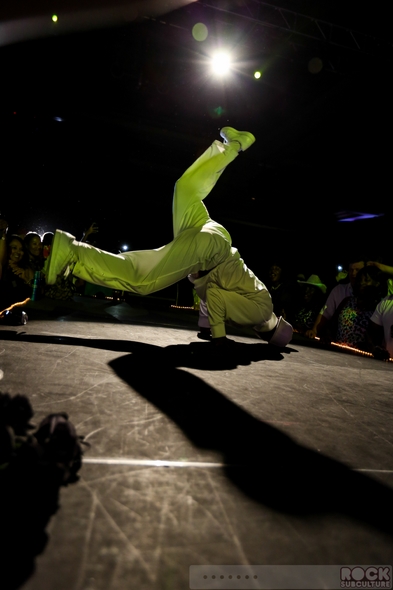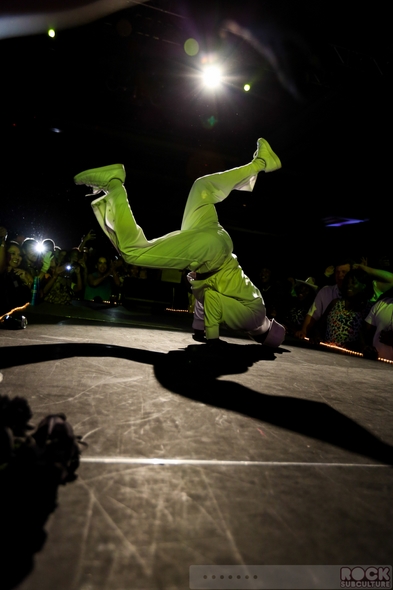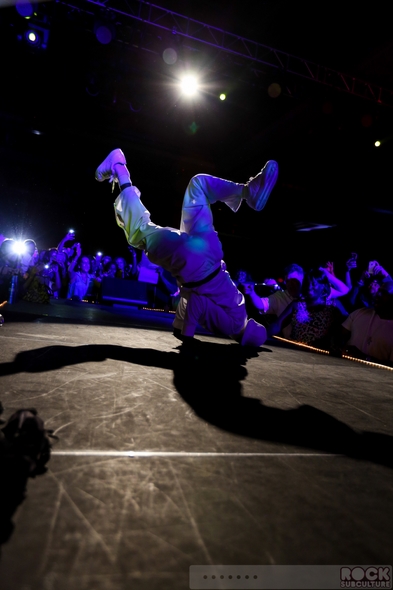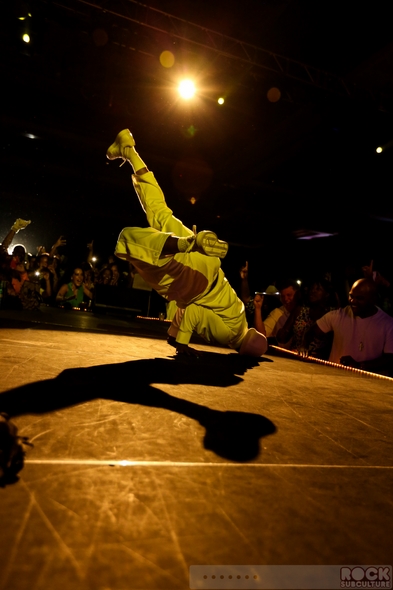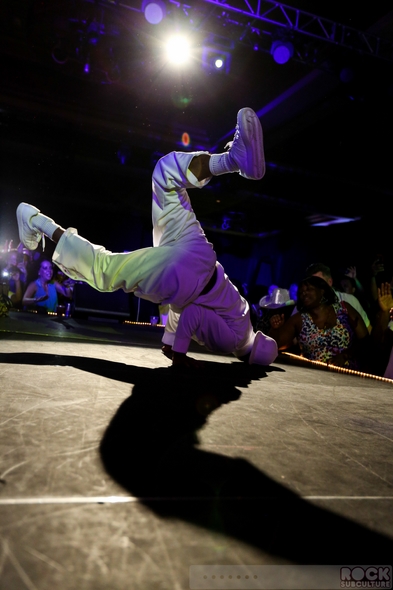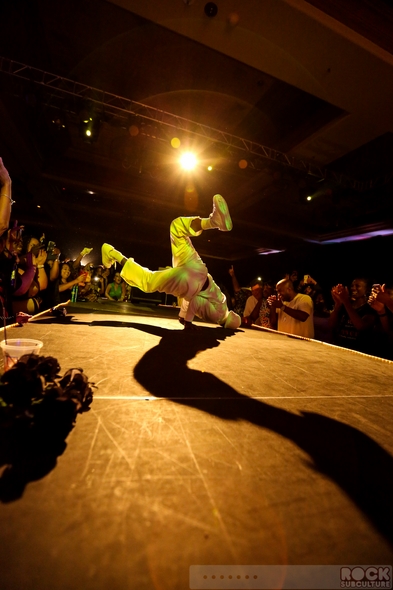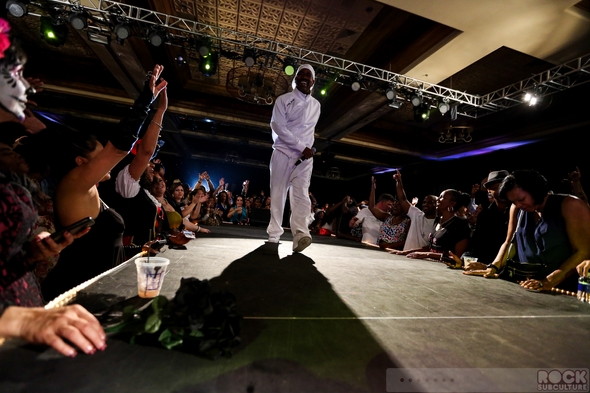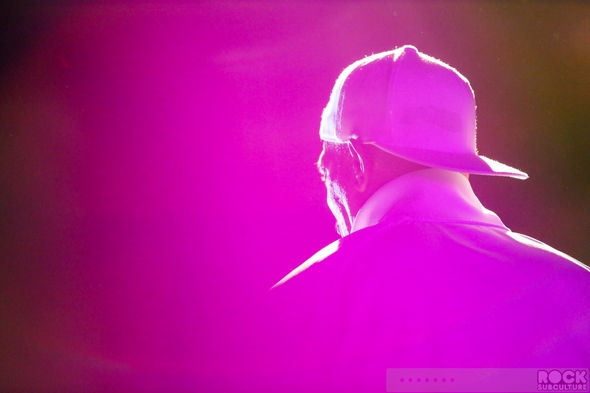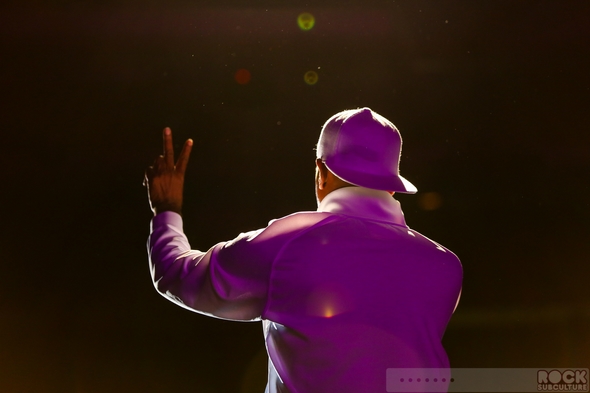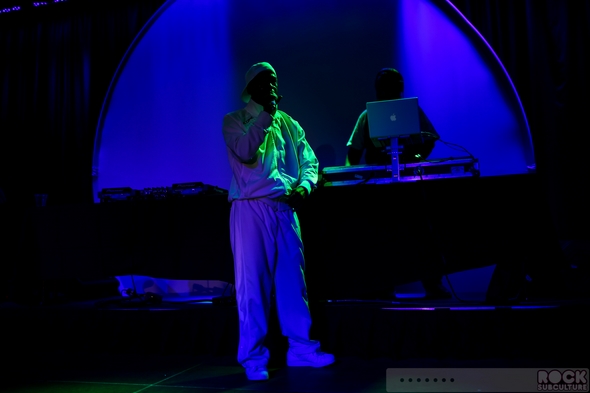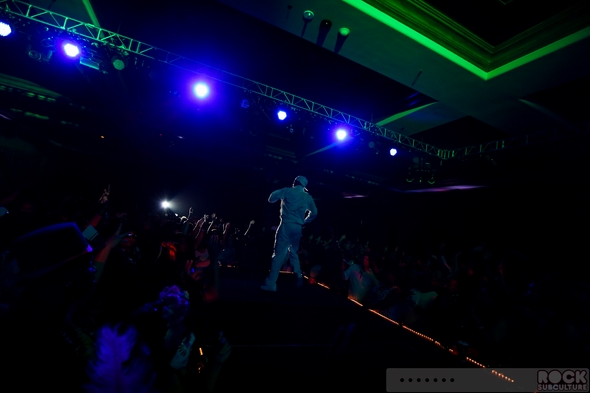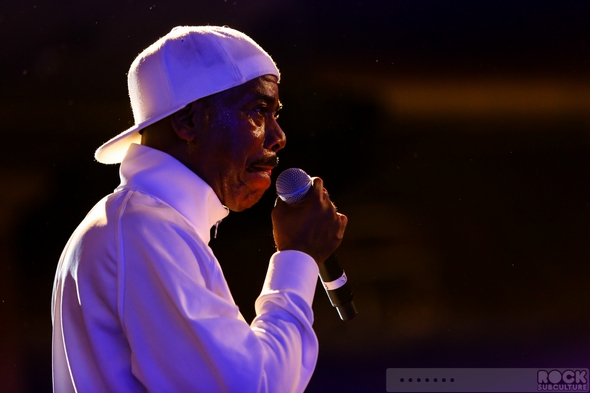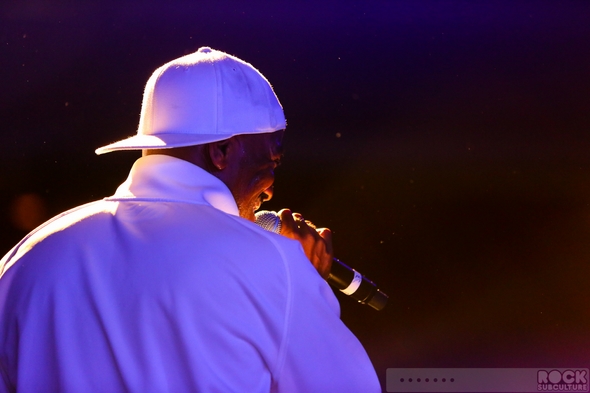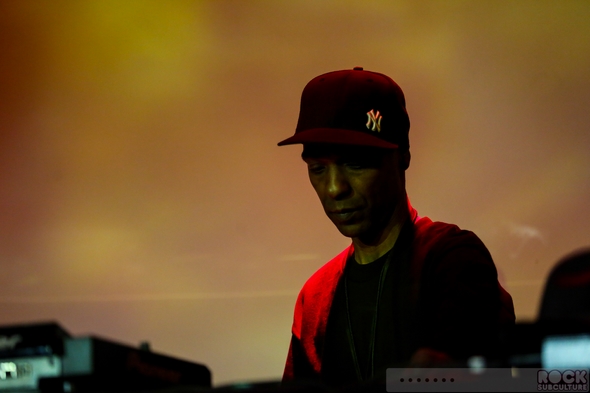 Intermission – Dance Contest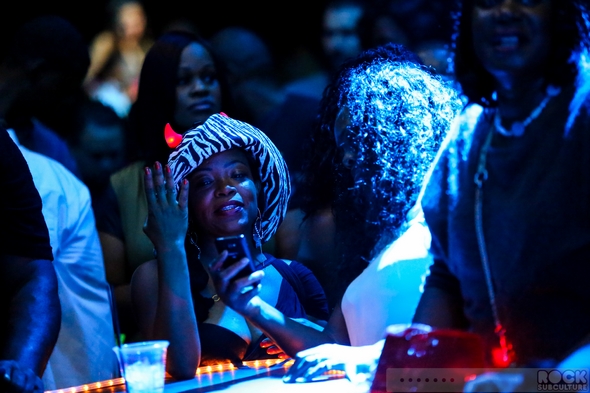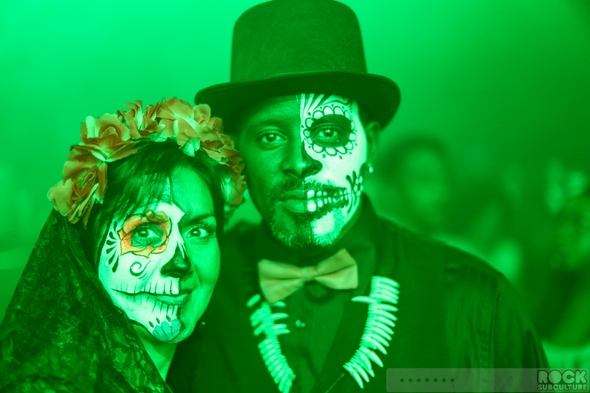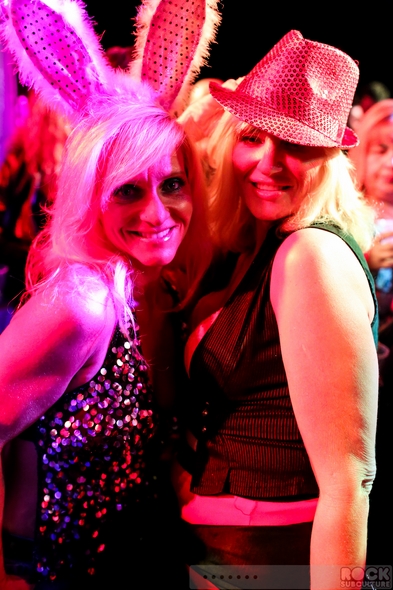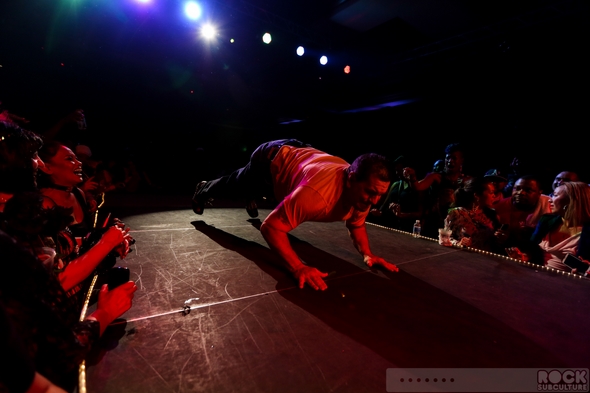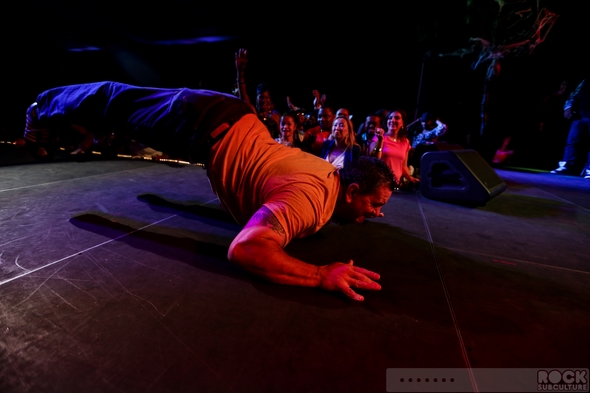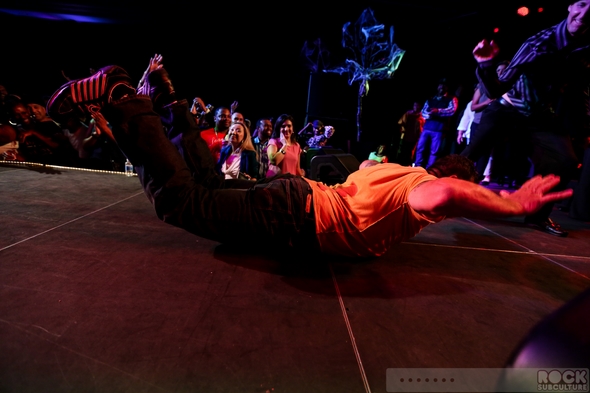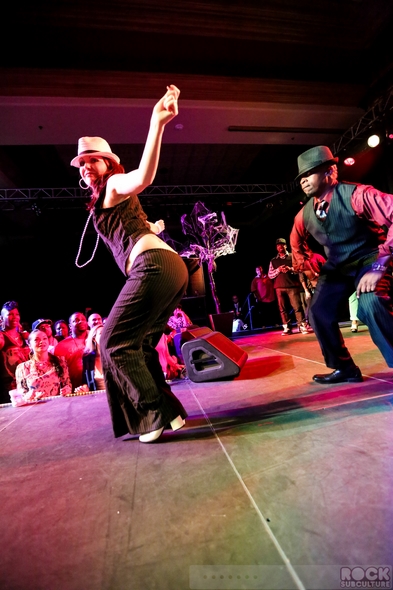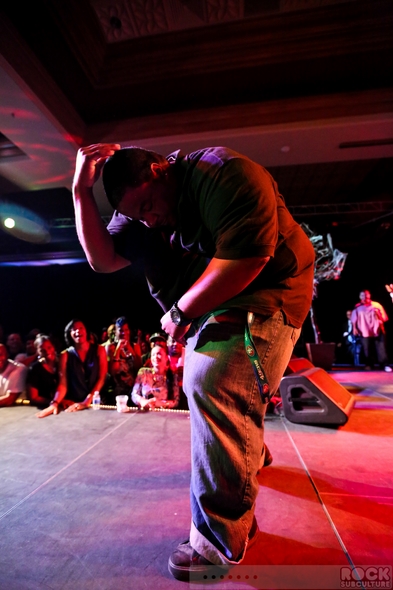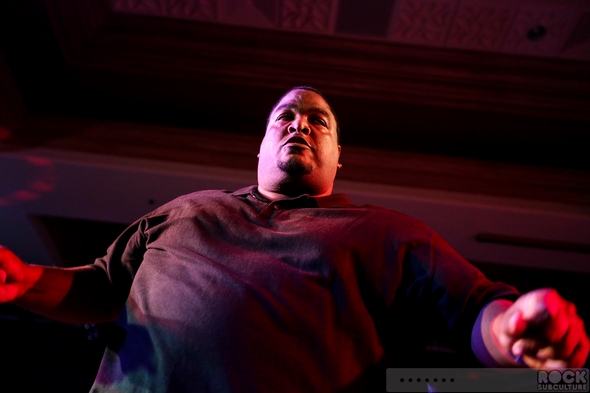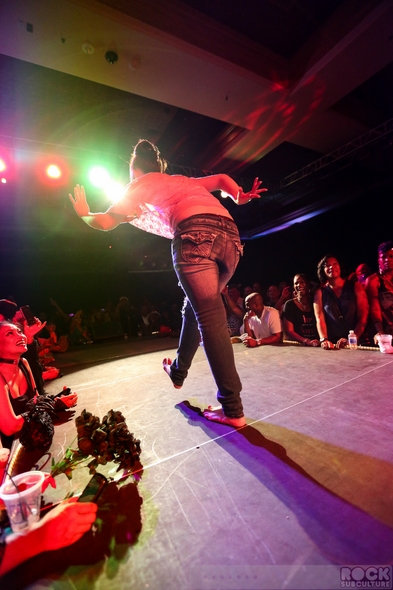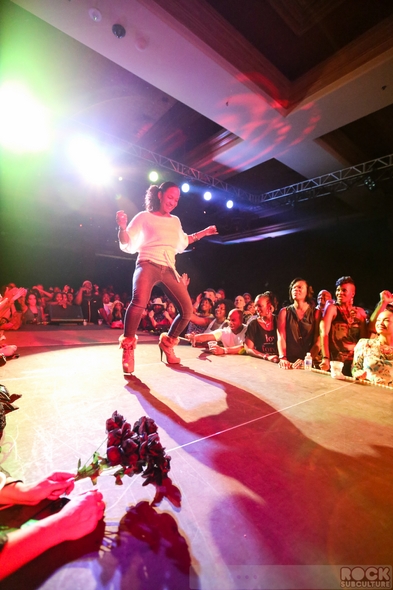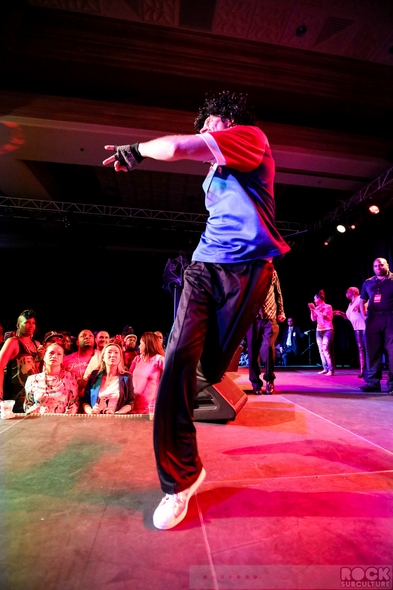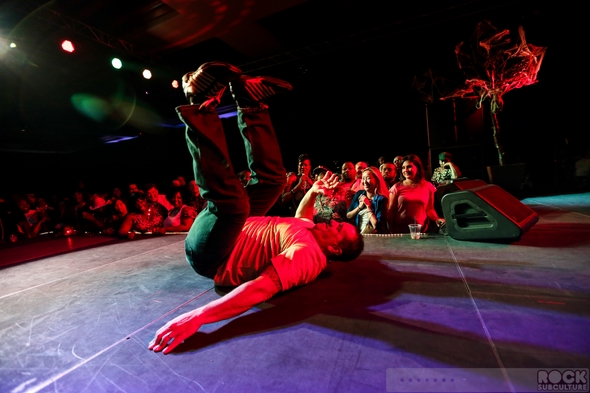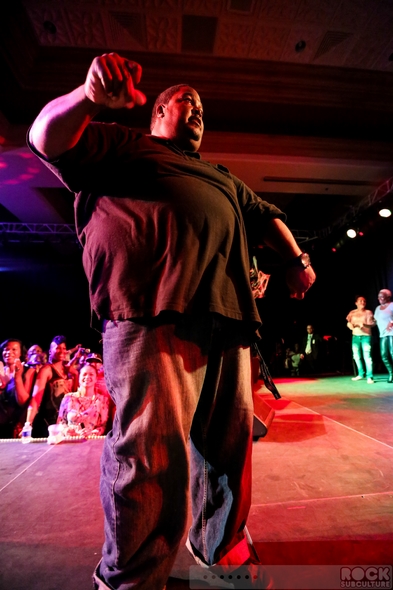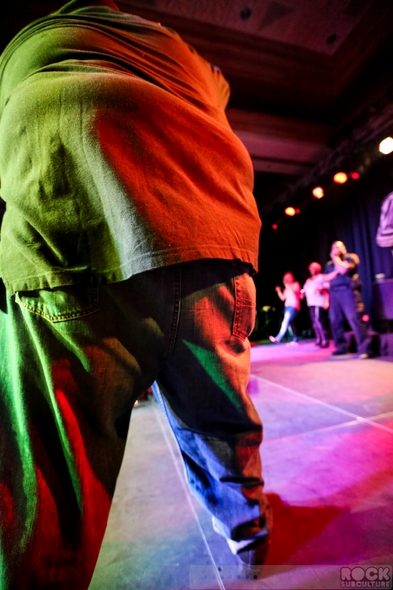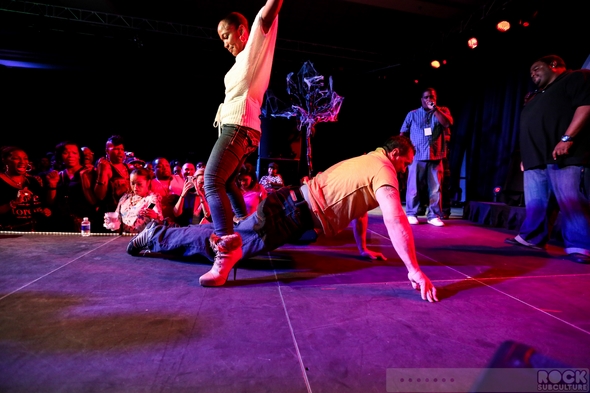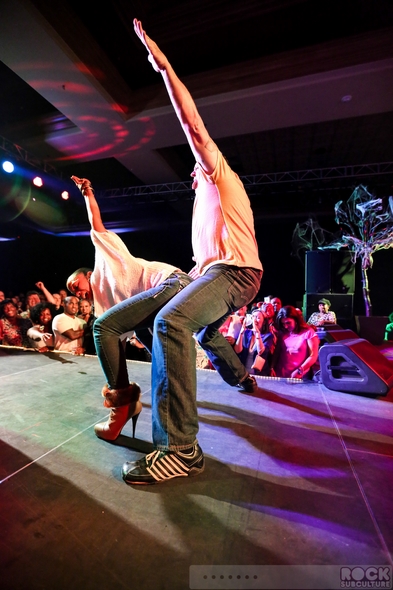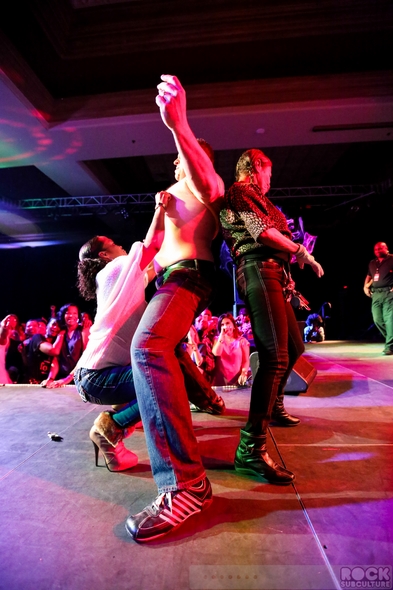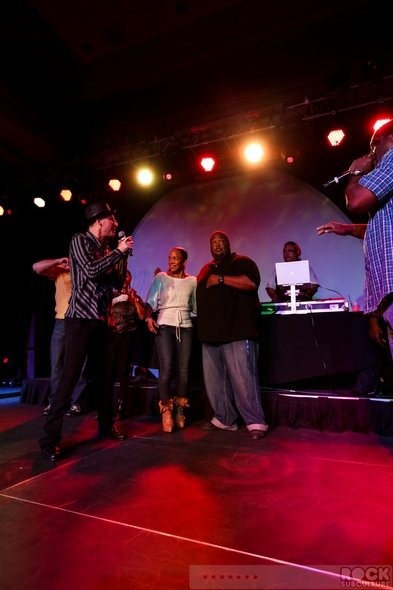 Whodini
Like Kurtis Blow and Rob Base, Whodini hail from New York, and they were formed in 1981 as a trio consisting of vocalist and main lyricist Jalil Hutchins, co-vocalist John Fletcher ("Ecstasy"), and turntable artist DJ Drew Carter ("Grandmaster Dee").
They were originally managed by Russell Simmons (brother of Run from Run-D.M.C.).  They first eponymous studio album was released in 1983 and featured the single "Haunted House of Rock".
Their second album, Escape, was released just a year later and featured the hit songs "The Freaks Come Out at Night" and "Friends".  It was certified Platinum, selling over a million albums at the time, and was the first hip hop album to do so..
Fairly prolific, they released a third studio album, Back in Black, in 1986, and then Open Sesame in 1987.  They went on to release two more albums in the 90s and nothing since.
As mentioned, Whodini was long coming onto the stage after Kurtis Blow, and it seemed (though speculation on my part) that there was not a plan for a DJ, but DJ Gino filled in and performed with them beautifully (at least from my perspective), with some subtle guidance from the band from time to time to prompt the next song.
Joining Jalil, Ecstasy, and Grandmaster Dee on stage was Jalil's brother Carter "Doc Ice"
They had tremendous energy and seemed to project a lot of good will into the audience.  I was impressed also with their coordinated dance moves and routines – they made full use of both the stage and catwalk.
Of course, they played the favorites and closed out the night with a fantastic performance.
Below is the one video I shot during their set, to memorialize and give a sense of what it was like to attend this show; it is of their performance of "The Freaks Come Out At Night":
Below are photos from their set – click on any photo for higher resolution versions of each image: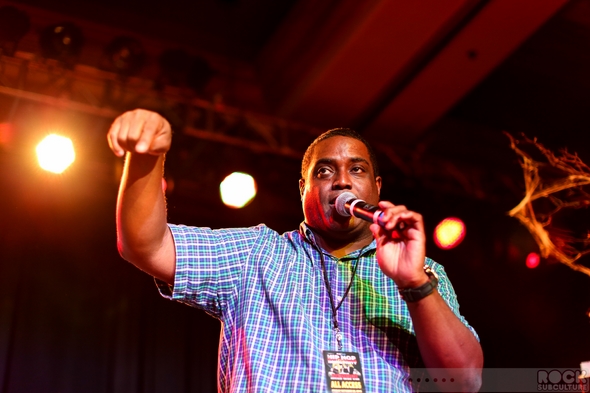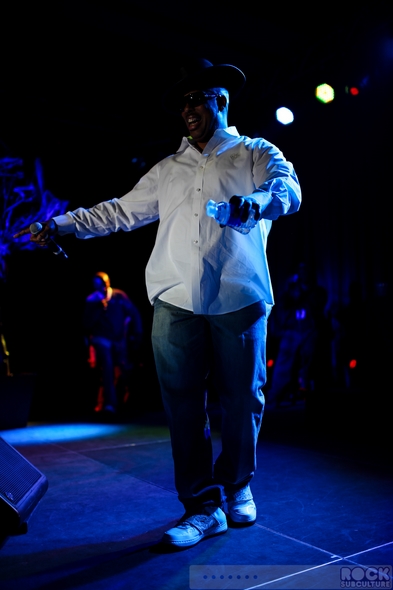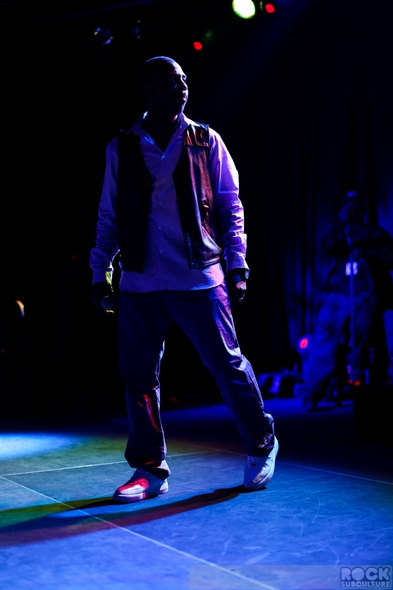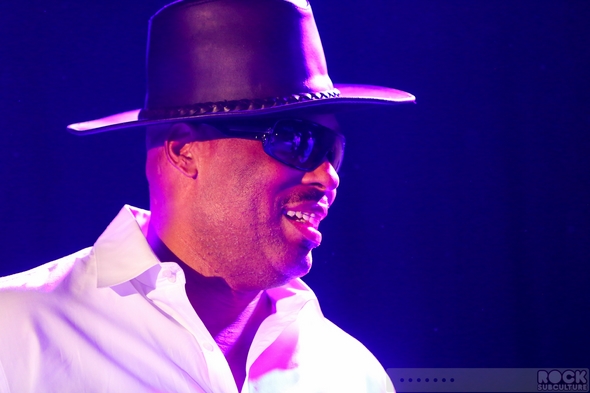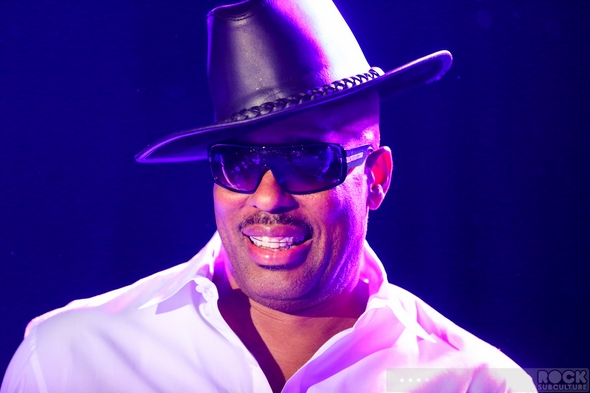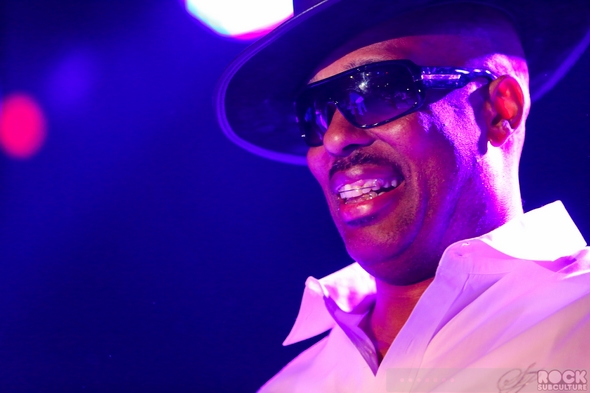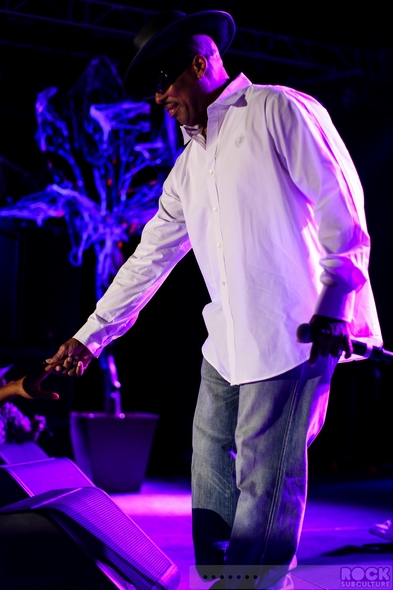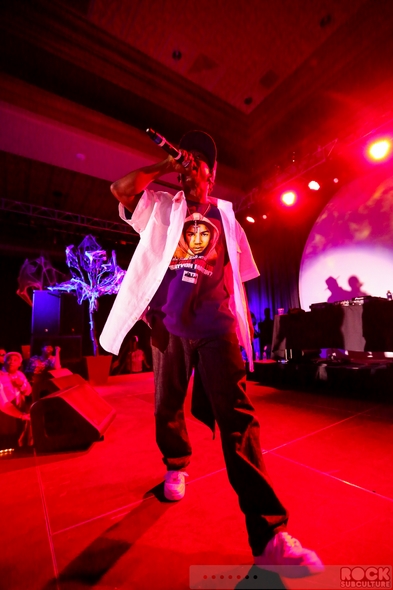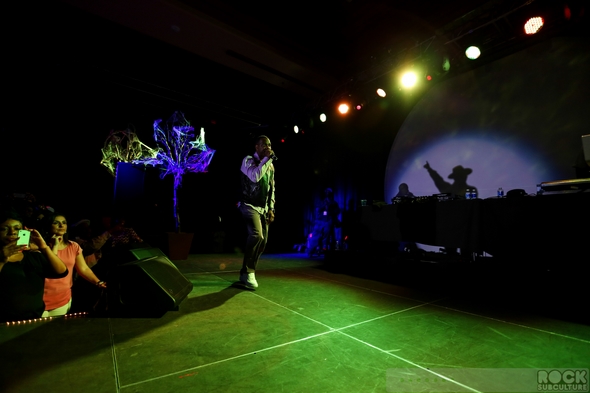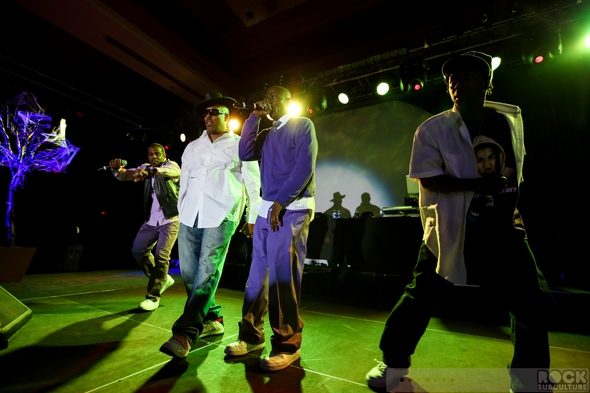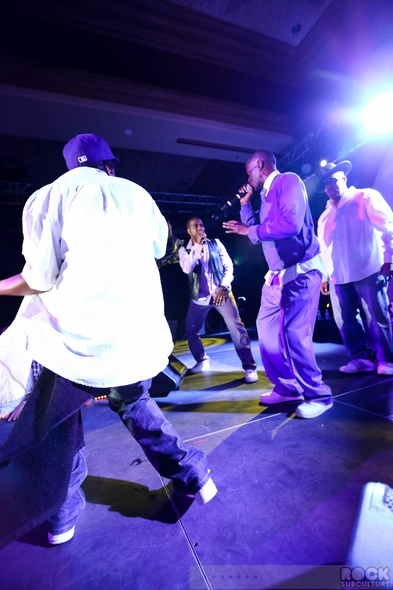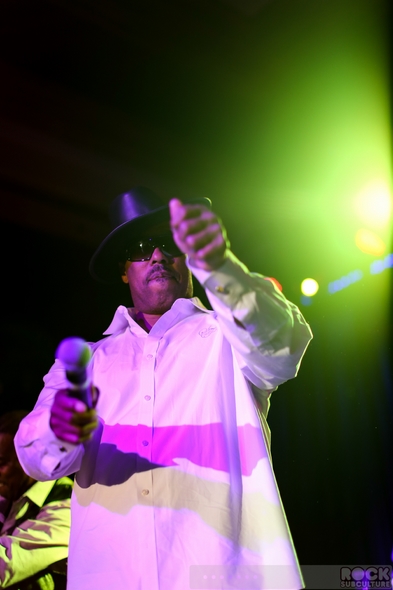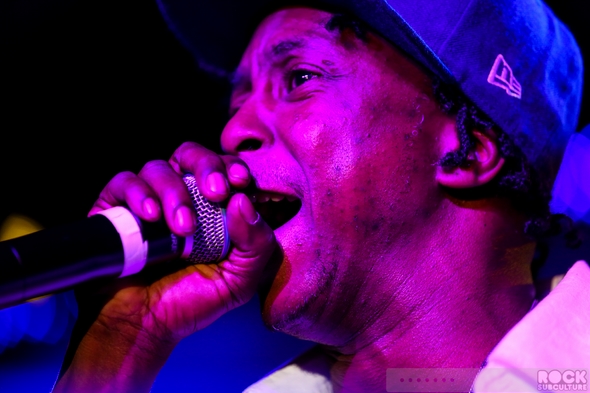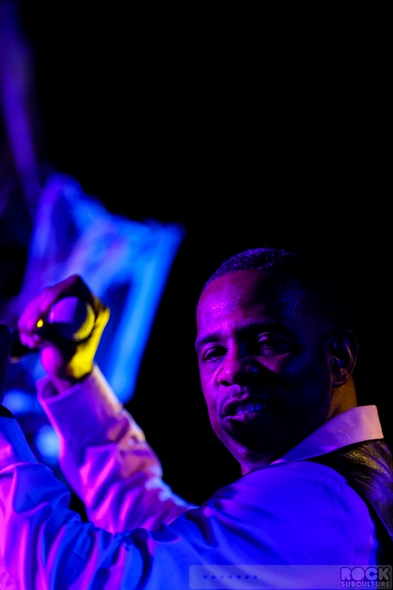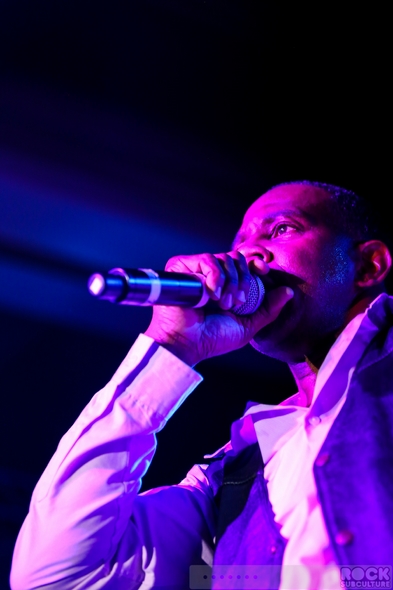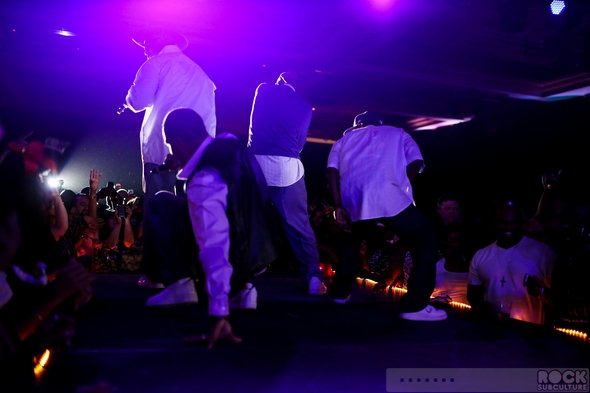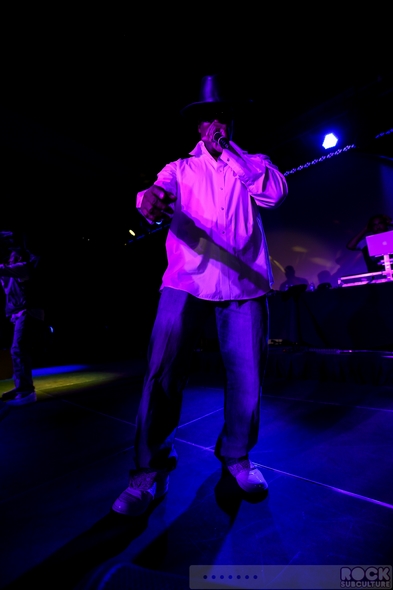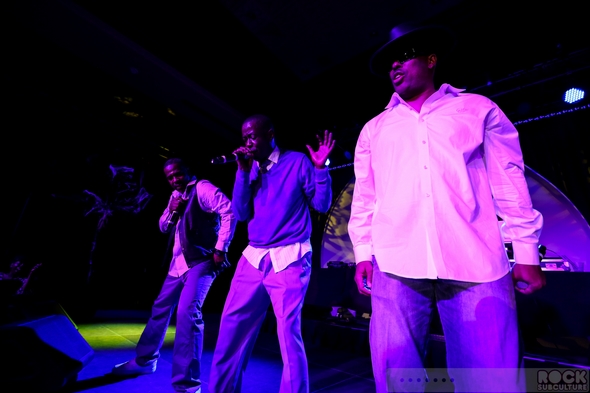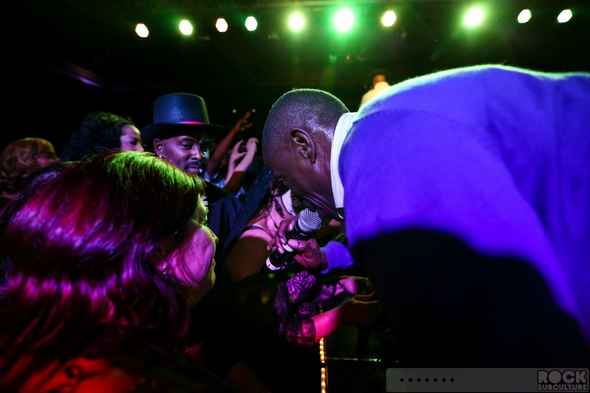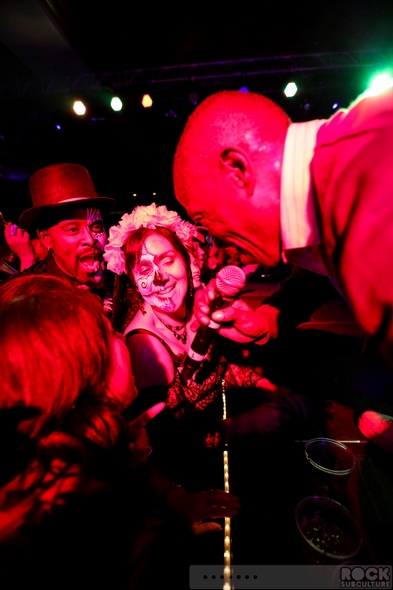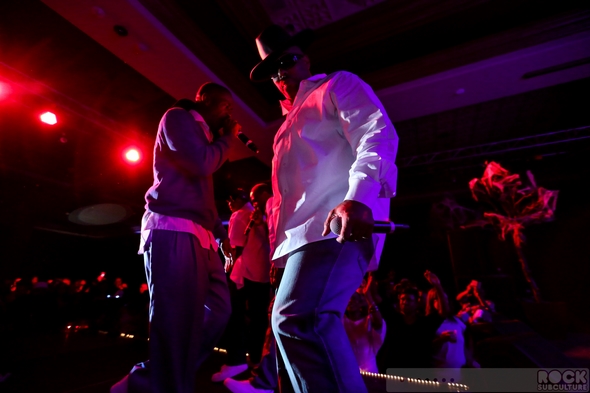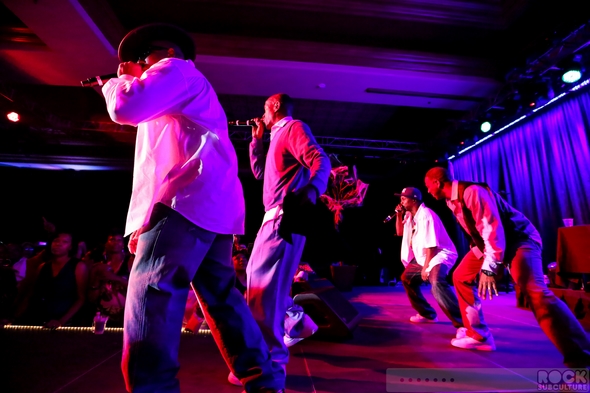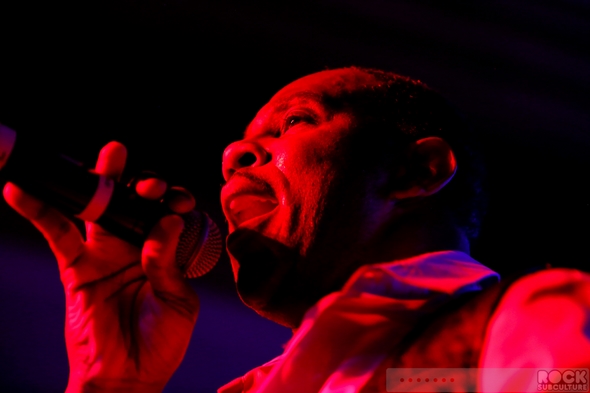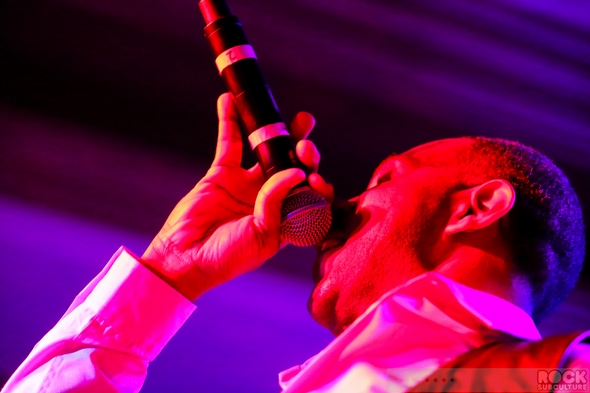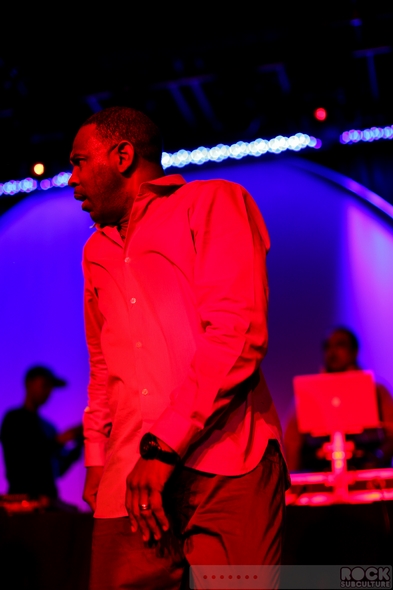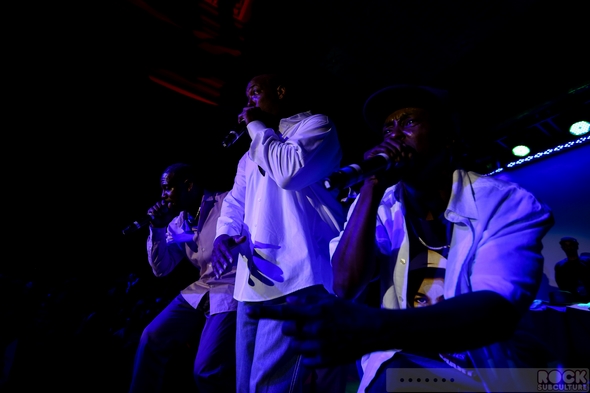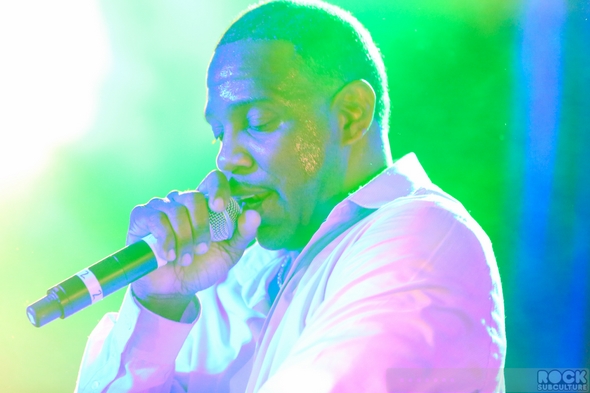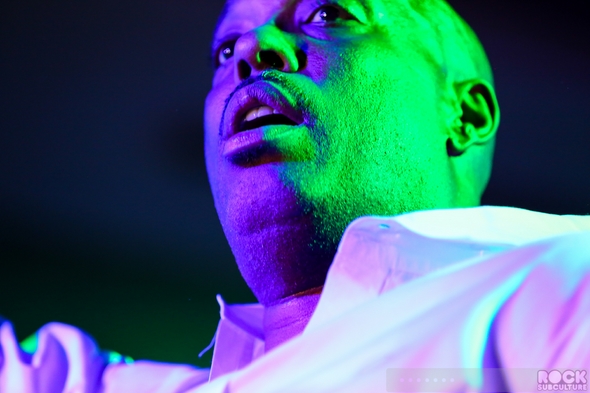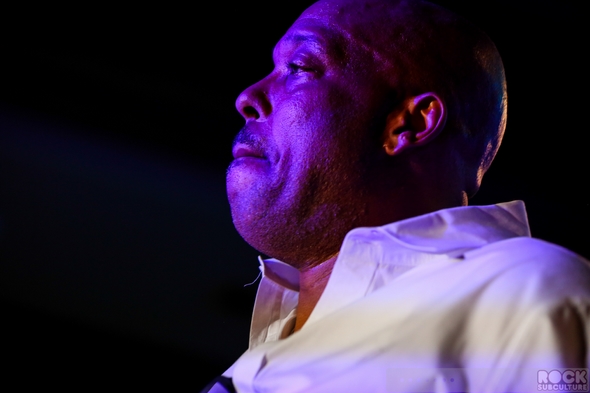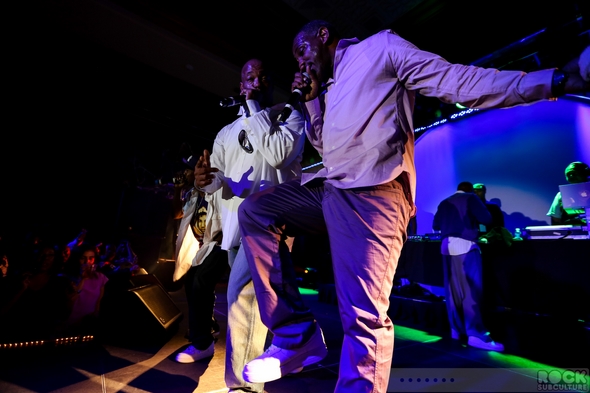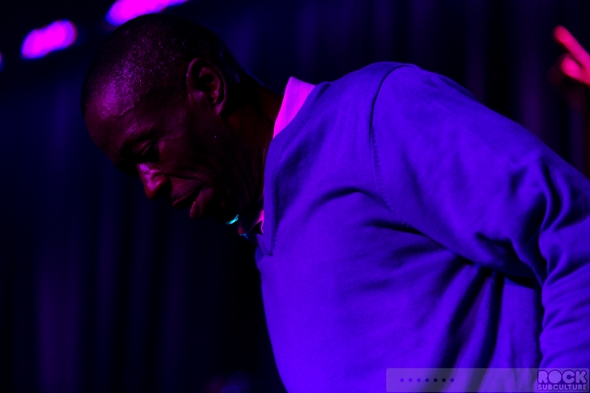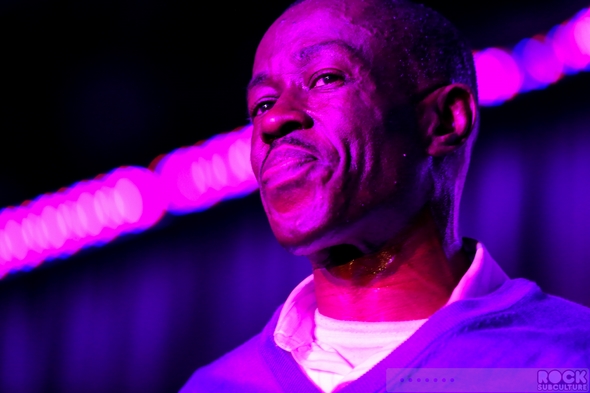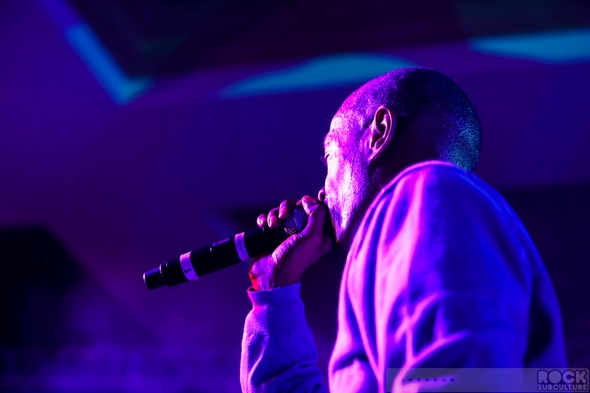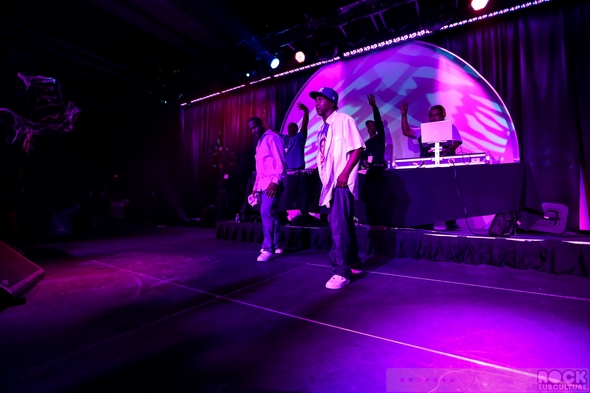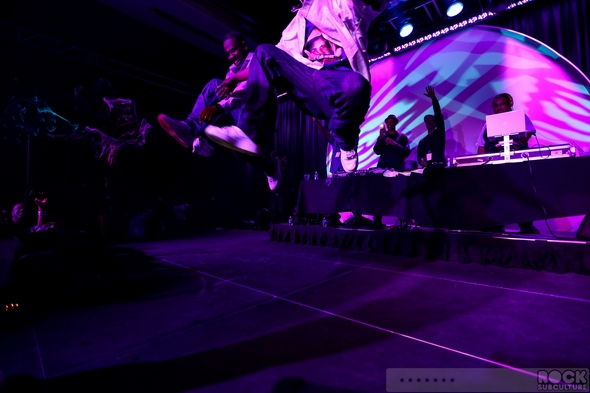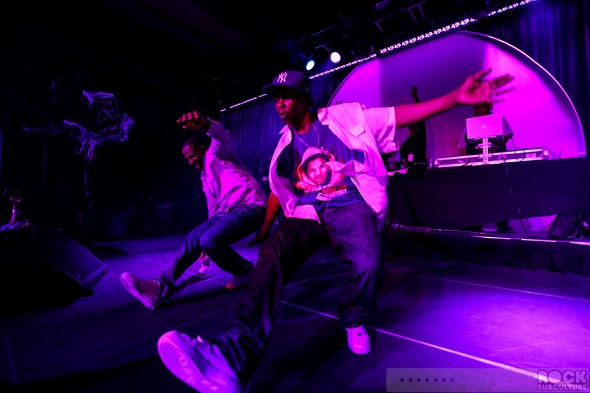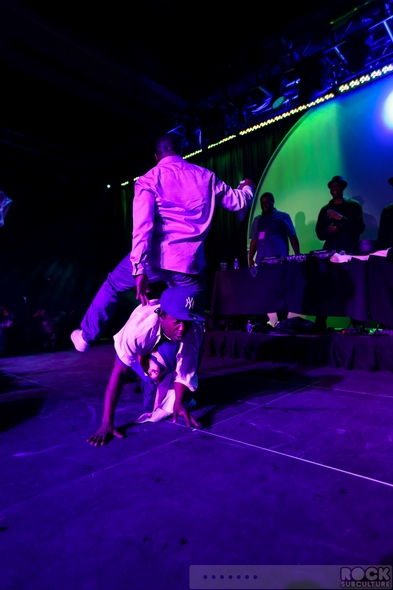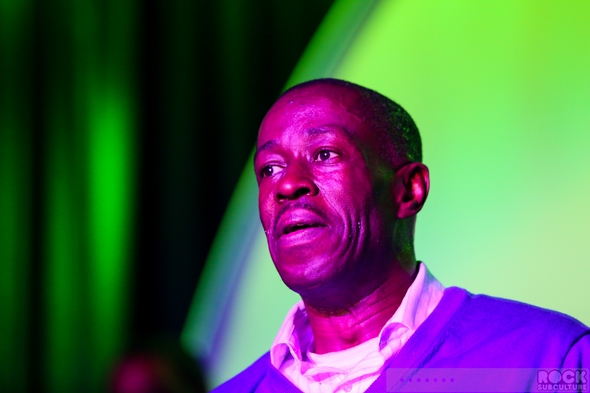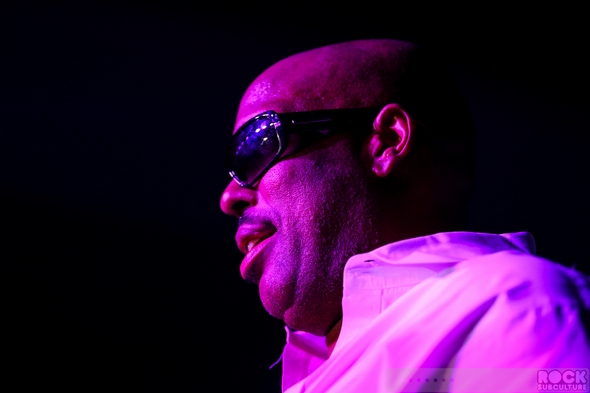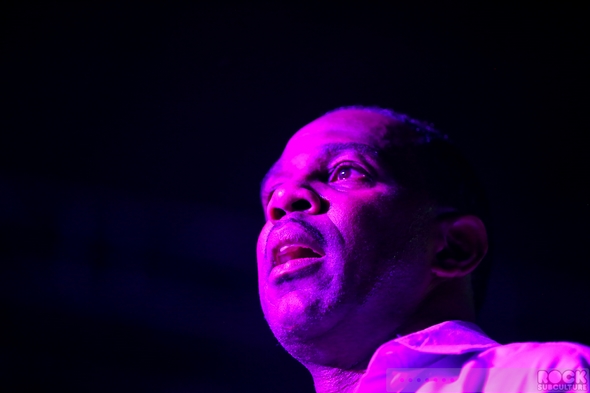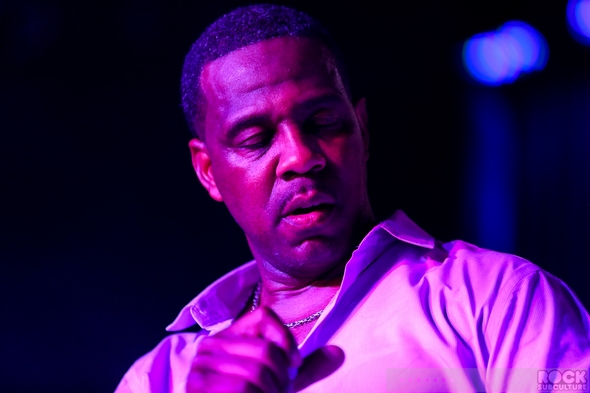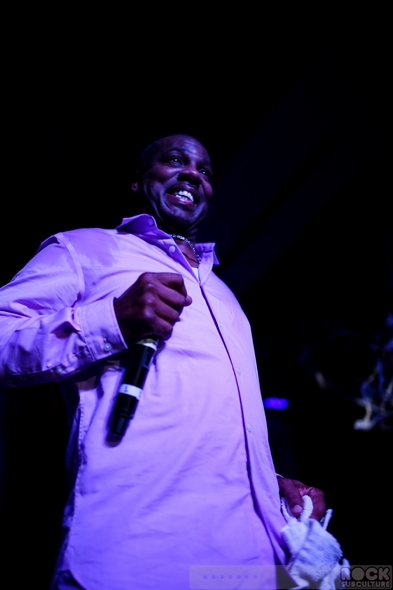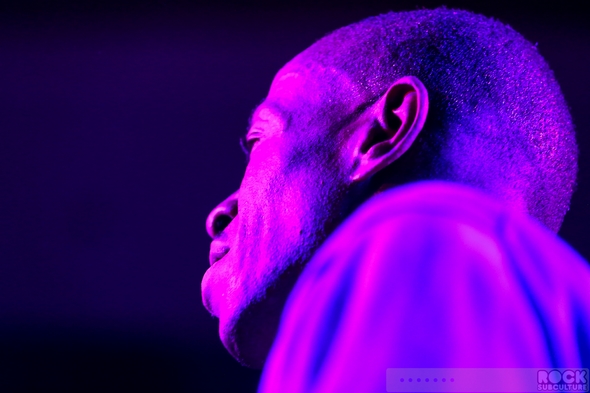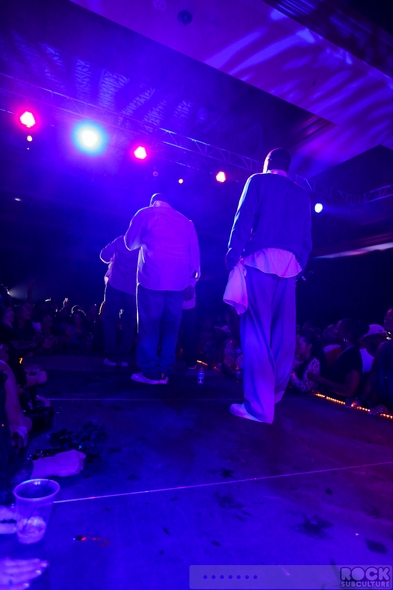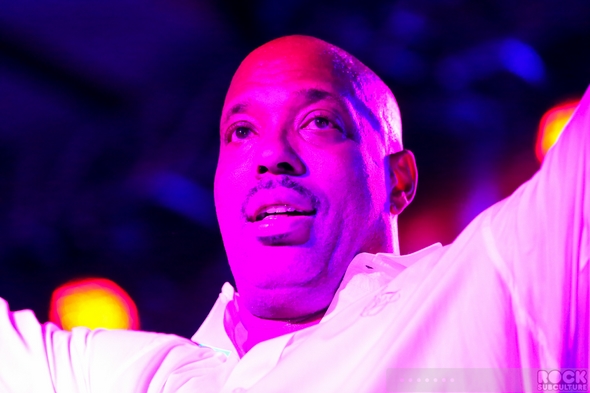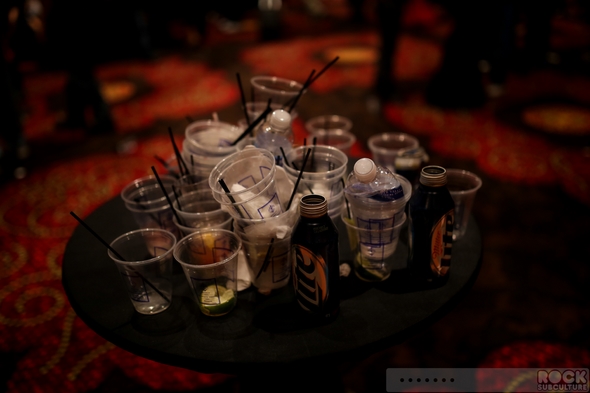 Jason DeBord