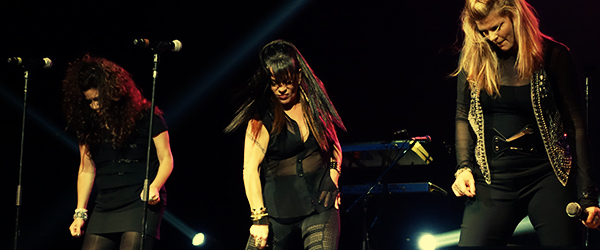 It's not often that you attend a non-festival concert with ten (!) different music artists performing on the same stage in one night, all in the span of about three and a half hours.  It was a pretty special event at the HP Pavilion in San Jose last night, with the Super Freestyle Explosion turning out about 7,000 fans of the predominantly Latin, electronic/synthesizer/samples-centric, and mostly mid-80s era genre of music.  Representing the relatively short-lived but highly influential music scene and style for the evening was Stevie B, Lisa Lisa, Exposé, Debbie Deb, Shannon, Trinere, Johnny O, Nu Shooz, Pretty Poison, and Stacey Q.  Really a remarkable line-up, to the credit of promoter ITP Records/Pacific Concert Group, for pulling together such a vast roster of artists to play through a series of highly recognizable hits to those who grew up with the music or perhaps rediscovered it later.  Of course, pulling off such an event in such a time frame requires some concessions and trade offs, but in my opinion they found a near perfect balance to make for an incredible evening of 80s freestyle nostalgia.

Who: Stevie B
Who: Lisa Lisa
Who: Exposé
Who: Debbie Deb
Who: Shannon
Who: Trinere
Who: Johnny O
Who: Nu Shooz
Who: Pretty Poison
Who: Stacey Q
Venue: HP Pavilion
Where: San Jose, California
Promoter: Pacific Concert Group and ITP Records with 98.1 KISS FM
When: June 29, 2013
Seating: Front Row Center Floor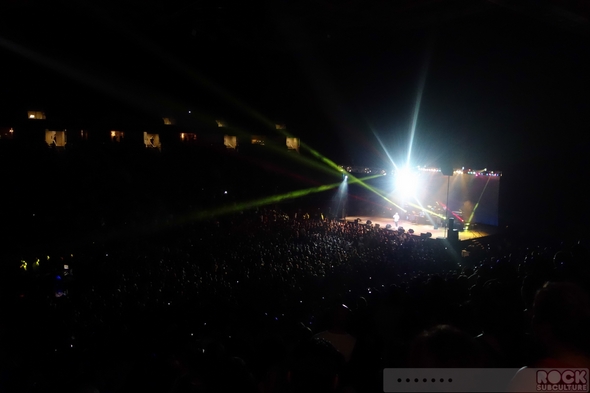 So this is an event that has some history with some different line-ups, but this was the first time I had an opportunity to check it out.

Cal Expo on August 18, 1987…  The second concert I ever attended in my life. at the age of 14, was Lisa Lisa and the Cult Jam with Exposé opening.  So it was surreal to see the same artists in a concert line-up, back to back, more than 25 years later.  Who could have guessed?
And I'm sure I'm not alone in having some history and an especially subjective and nostalgic viewpoint on attending this show.  It kind of transcends "concert", because the format allows them to include artists that you might not have any hope of otherwise seeing, and they are artists with music that formed part of the soundtrack of your life when it was simpler, and perhaps fueled with a bit more optimism.
Some of the artists are known for just one or a handful of hits, from 20 years ago or longer, so cannot go out an tour on their own today, as it's just not feasible.
In that sense, that is the greatest asset of this tour – an opportunity to see some artists that you never expected to be able to see live on stage.
As mentioned, this entails some trade offs.  The most apparent is that, except for Stevie B (with full band) and Nu Shooz (with John Smith on guitar), the artists are not joined on stage by bands, and provide vocals-only.  So it is a bit of a different concert experience, with the music (and in many cases backing vocals) pumped into the speakers and monitors from some unseen force, with the artists providing lead vocals.
In some ways, it is kind of like an artist doing karaoke to their own music.  It works fine, but is definitely a bit different, and the funny thing for me is how some songs ended on a fade, which is a little anti-climatic, depending on the song.
But, any alternative would add significantly to the overall running time of the show…  as it unfolded last night, the break in-between artists as very short…  usually just a few minutes.  If there were bands performing on stage with each artist, they would have to cut down the line-up to probably a total of three or four artists.  The focus with these artists are the vocalists, and really, the pre-recorded music allows for a cleaner sound and their vocals to stand out with decent separation and clarity, so there is more benefit than just time.
And time is everything with this show… to fit in the number of artists, the time allocated to each on stage was fairly brief, as seen in this pre-show schedule:
As far as the overall order of the line-up, I'm sure that there are many factors and variables that impact who plays first, last, and everywhere in-between, but I know I would have put them in a completely different order, as far as my own musical tastes goes, and which artist I might have a stronger affinity for and which songs I might rate higher and lower.
I did try to shoot a video for most of the artists with my pocket camera, to give readers some idea of what the Freestyle Explosion brand of shows are like and why they are worth turning out for, as well as a sense of the performances by the artists.
98.1 KISS FM was taking photos of fans by the merch table, so here is one with me and a few friends…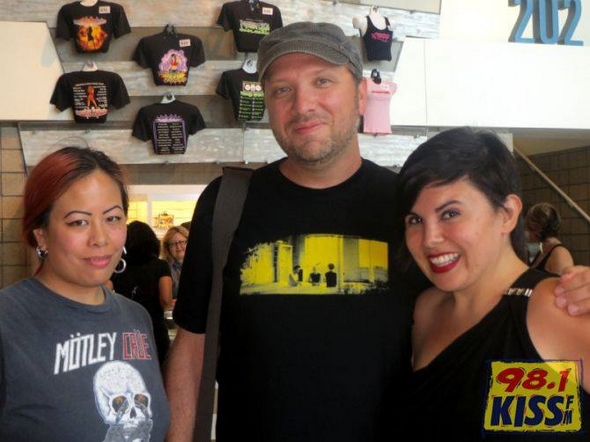 Stacey Q
Stacey Q (born Stacey Lynn Swain) is a dancer and actress in addition to being known by her stage name as a singer.  Best known for her 1986 hit, "Two of Hearts", the native Californian studied ballet for eleven years and even toured with the circus as an elephant rider after graduating high school in 1976.
Her music career began in 1981, with her then boyfriend Jon St. James, who named their synthpop band Q, which produced an EP.  After a line-up change, they renamed the group SSQ due to copyright issues (with the "SS" being short for Stacey Swain), and they released one album in 1983 – Playback.
Stacey Q was then branded as a solo artist, though her SSQ bandmates were all involved in the production of her first album, Better Than Heaven (1986), which included the hit song, "Two of Hearts".  The success of the single led to a tour, television appearances, and a role on sitcom The Facts of Life as Cinnamon.  In addition to performing "Two of Hearts" and "We Connect" on the show, she also acted opposite then unknown George Clooney (and his monstrous, unwieldy eyebrows at the time).
I very much remember the official "Two of Hearts" video being played constantly on MTV at the time (and thinking Stacey Q must have been the most beautiful woman on the planet).
Stacey Q released subsequent albums, though none had hits at the level of "Two of Hearts" with the mainstream.
I would class Stacey Q as more of a New Wave artist than Freestyle, though it fit in well with much of the music played last night and perhaps that is why she was up first, since she is not so much part of the Freestyle genre?
I was actually kind of shocked that she was the first artist on stage last night, as I would rate her toward the very top of the line-up, personally.  She still looks and sounds fantastic, and when I did a bit more research for this article, couldn't believe that she is in her 50s – she looks so much younger.
With about a 12 minute set, it definitely left me wishing we could hear a few more songs.
Below is a video of Stacey Q performing "Two of Hearts":
Below are some photos of Stacey Q performing on stage: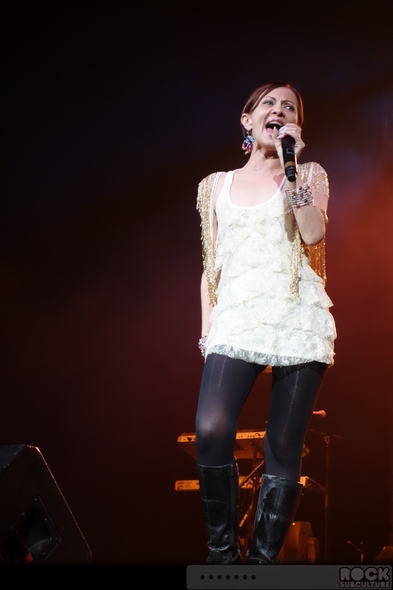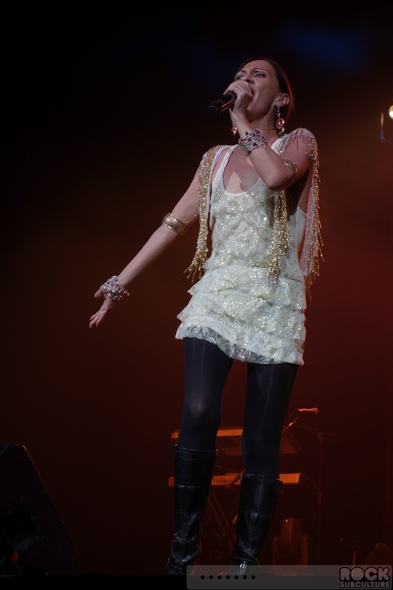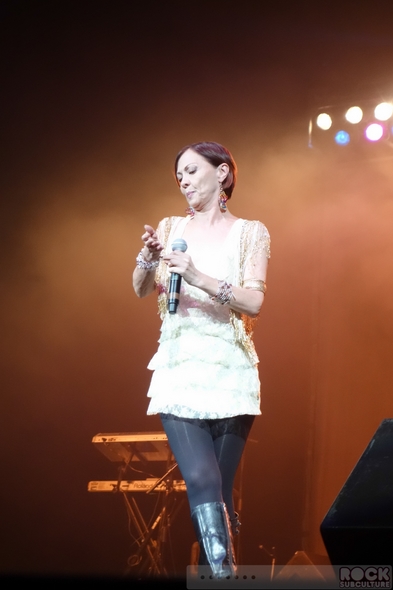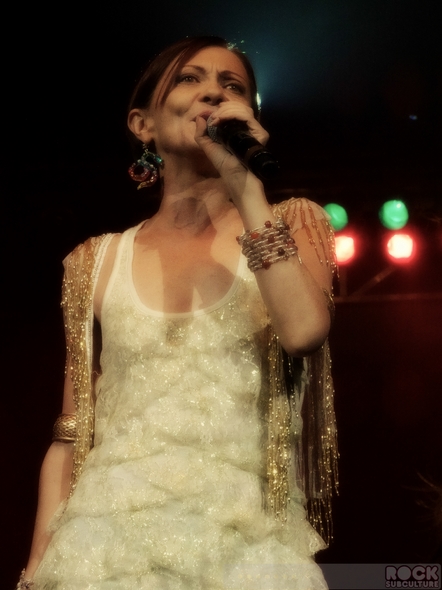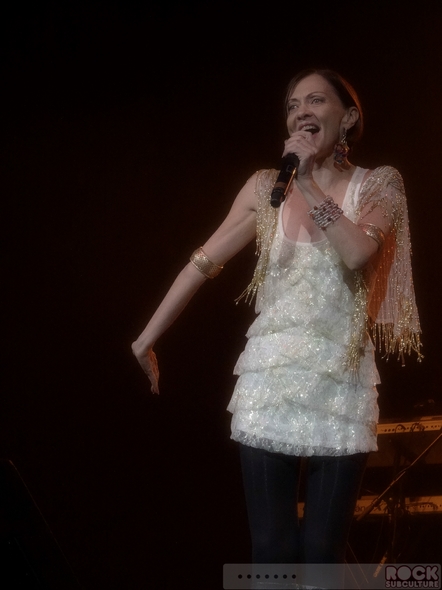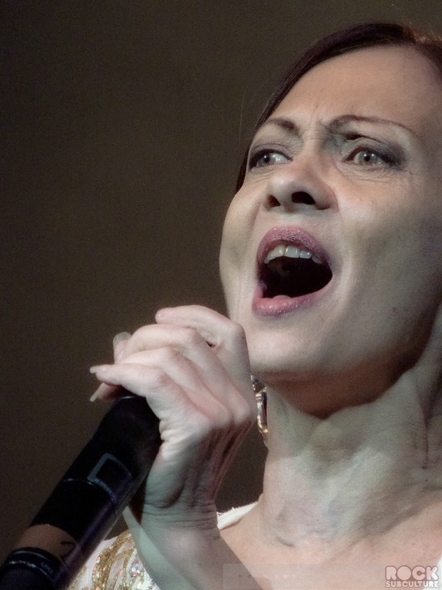 Pretty Poison
Pretty Poison was originally comprised of members Jade Starling, Whey Cooler, Kaya Pryor, Bobby Corea, and Louie Franco, forming in Philadelphia in 1981.  Lead vocalist Jade Starling was born in NYC.
Their biggest hit was "Catch Me (I'm Falling)" in 1987, which was also featured in the movie Hiding Out starring John Cryer.  It broke the Top 10 on Billboard and hit #1 on the dance chart.
Like Stacey Q, I don't know if Pretty Poison totally fits the Freestyle genre, but it is also mid-80s pop.  I did find an interview with Jade in which she said, "[w]e're not really a freestyle act, but some of our mixes lend themselves to that world".
With the performance last night, just primary vocalist Jade Starling was on stage.  I would say she looks better today than ever, and had an awesome stage presence.  Of all of the acts, I would say she looked and performed and sounded more like a contemporary artist than any of the others.  If she arrived on the scene today with the same music, I think she would be viewed as fresh and new.
As with Stacey Q, there was not too much time on stage, but she definitely made the most of it, leaving a lasting impression.  And a question – how did she and Pretty Poison not become bigger back in the 80s?
Below is a video of Pretty Poison performing "Catch Me (I'm Falling)":
Below are some photos of Pretty Poison performing on stage: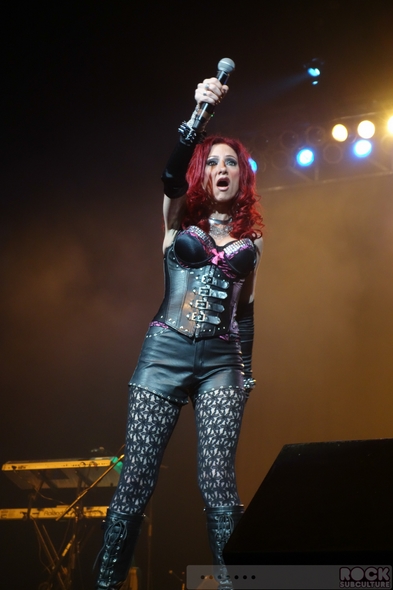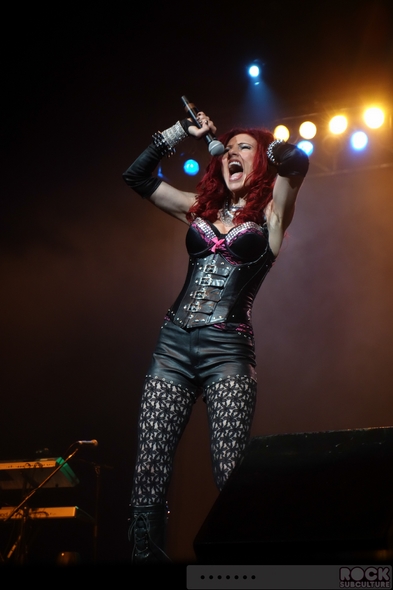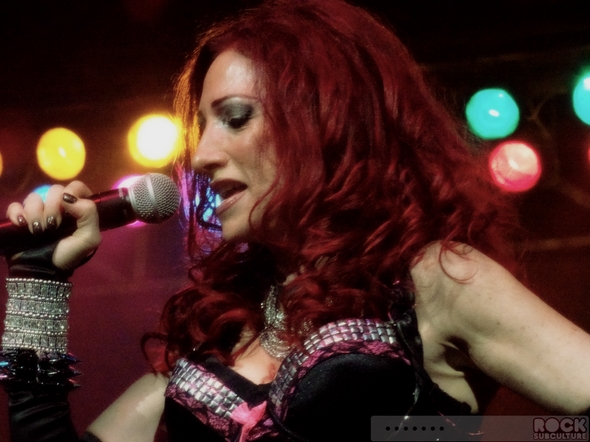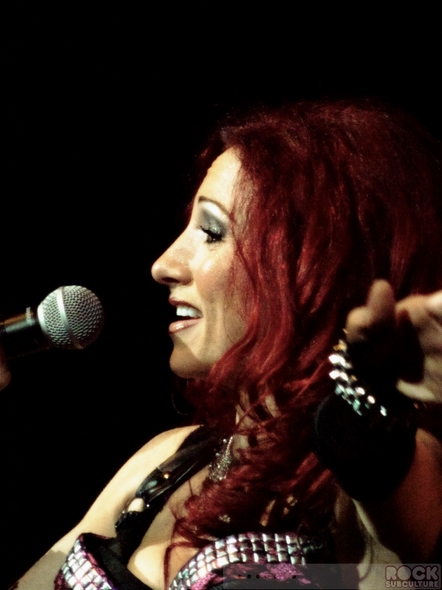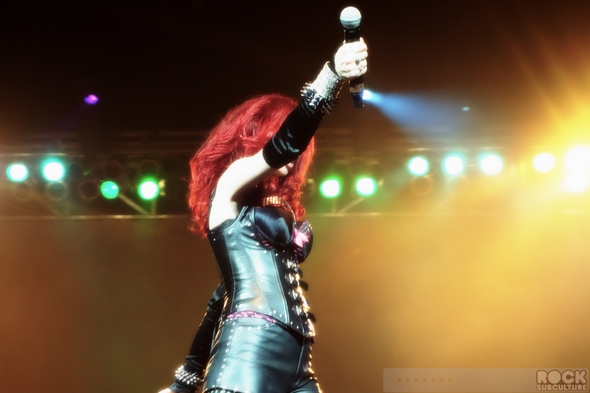 Nu Shooz
So this was a complete and total surprise for me.  I guess Nu Shooz was a late addition, and was not promoted as being part of this show, so I was totally thrilled when I arrived at the venue and saw them listed among the schedule.  I never would have imagined I would ever have a chance to see this group, so it was an awesome (unexpected) bonus.
Forming in 1979 with a dozen members, the Portland, Oregon group did not find mainstream recognition until they released "I Can't Wait" as a single in 1986, off their third studio album, Poolside, which went gold in the U.S. selling half a million copies.
The story of their success with that single is one of those interesting stories that you couldn't make up, actually coming off their second album and getting some play on local radio, but it wasn't until someone in the Netherlands got a hold of it and remixed it that they got a major label willing to sign them.
Nu Shooz, fronted by husband and wife founders John Smith and Valerie Day, were nominated for Best New Artist for the 1987 Grammy Awards.
Funny enough, today you can't even buy Poolside as a download album on either iTunes or Amazon.  I guess that tells you a lot about the music industry.
Like Stacey Q and Pretty Poison, I don't know that Nu Shooz really fits the Freestyle mold, but in Wikipedia they are labeled "Latin freestyle, R&B".  For whatever that is worth.
In any event, their performance was definitely one of the best of the night for sure, and I am so glad to have had a chance to see them.
On stage were Valerie Day on vocals and John Smith on guitar and backing vocals, and I thought that they were phenomenal.  They were just so happy and fun, and honestly, I think they could have killed it with zero backing music/tracks, with her fantastic voice and his funky guitar riffs.
Below is a video of Nu Shooz performing "I Can't Wait":
Below are some photos of Nu Shooz performing on stage: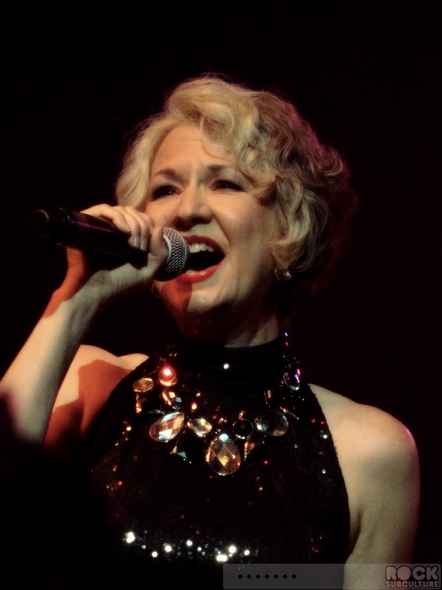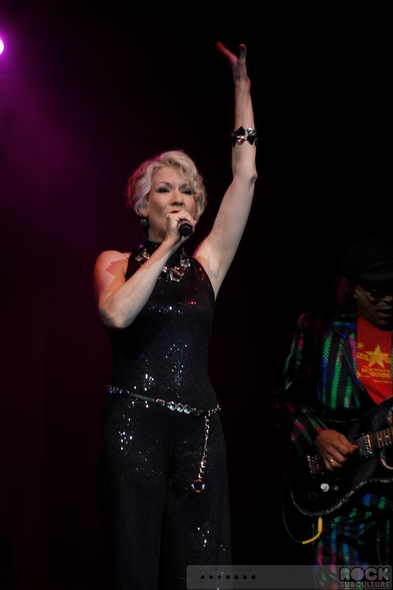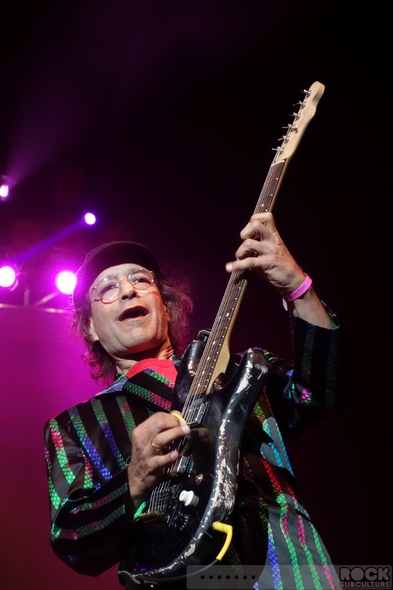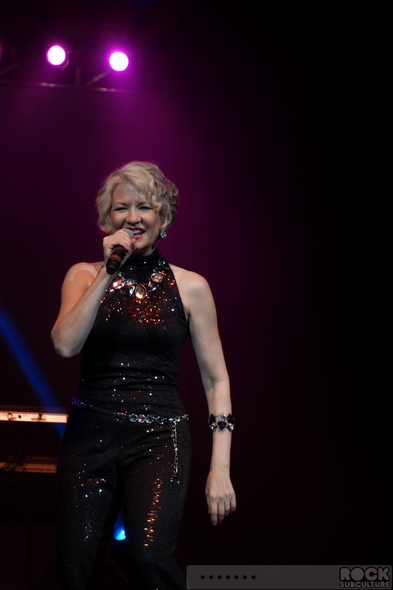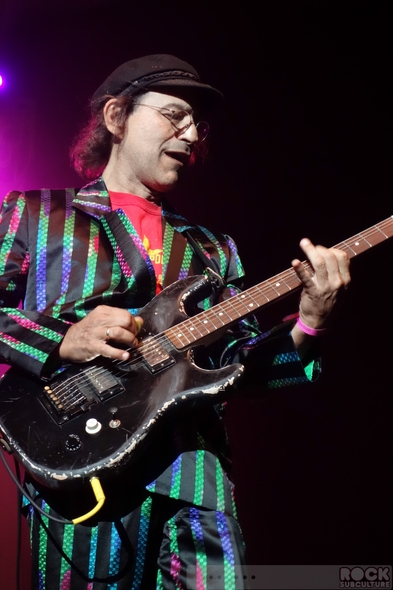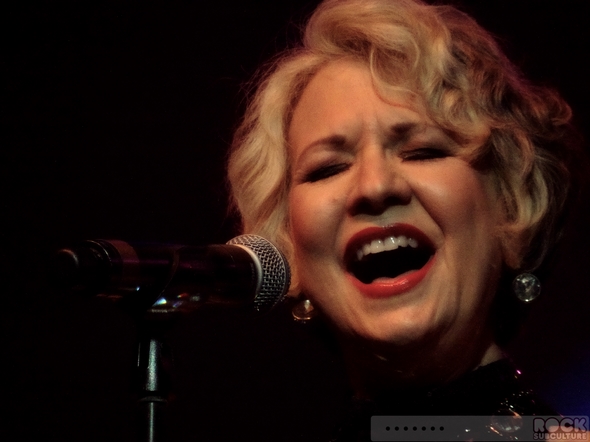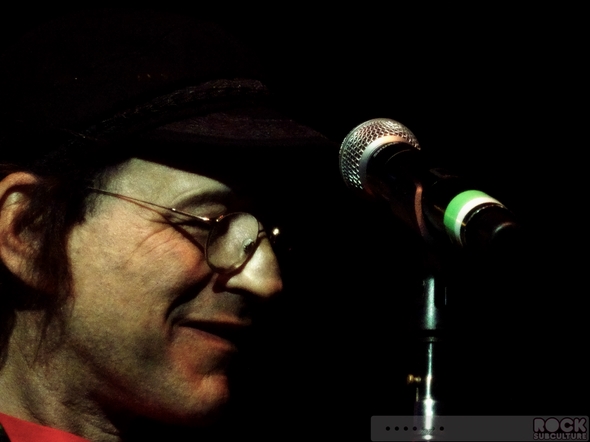 Johnny O
Smack in the middle of the artist roster was Johnny O, who I didn't know at all.  From Latin descent and born in New York (most of the Freestyle music came from New York and Florida), and having sampled his music since the show, he definitely is the first artist that really fits the Freestyle genre.  He also seemed to really get the audience jumping out of their seats, I think in part because he was the first of two male artists on stage (with a decidedly female audience) and his crazy, retro 80s Freestyle dance moves.
His biggest hits came off his self-titled 1988 album, which included "Fantasy Girl".
Below are some photos of Johnny O performing on stage: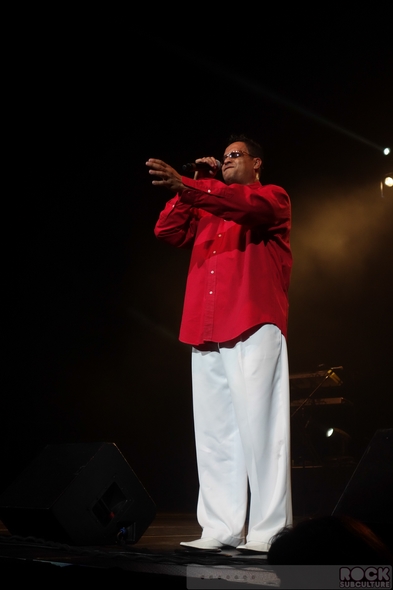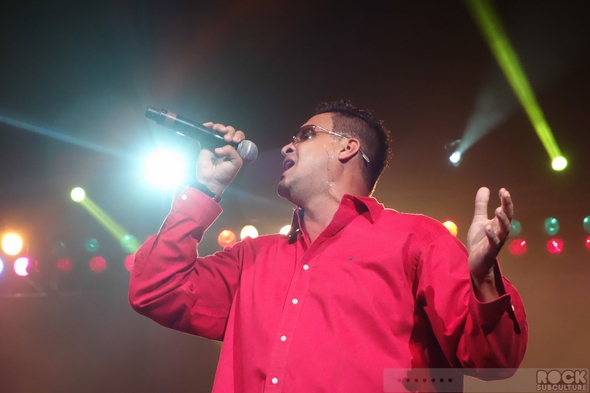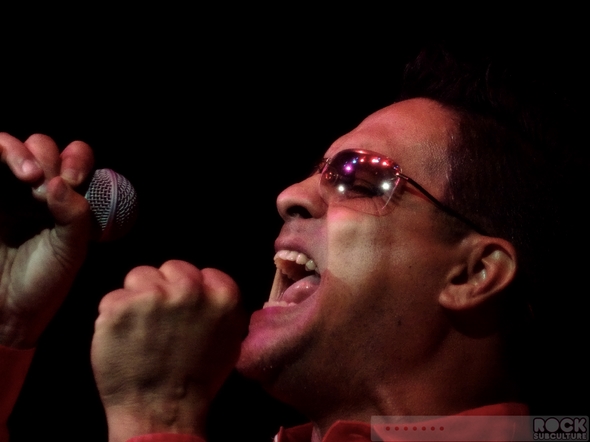 Trinere
Trinere is another pure Freestyle artists, from Miami, and considered by many to be the "Queen of Freestyle".  She met Miami Freestyle producer "Pretty Tony" Bulter in 1985 and he has worked with her as a producer on much of her work.
I was not into her albums back in the day, so only had vague familiarity with her bigger hits.  Her first, self-titled album came out in 1986.
Below are some photos of Trinere performing on stage: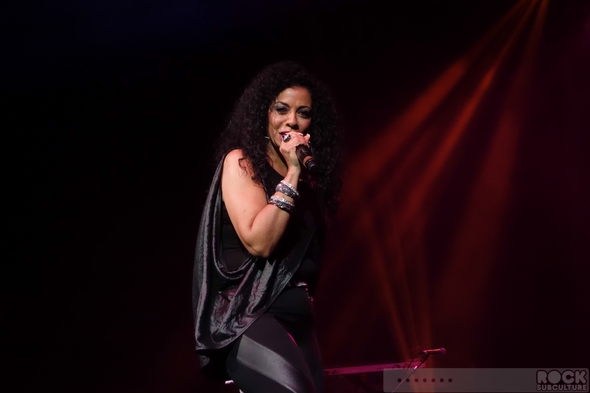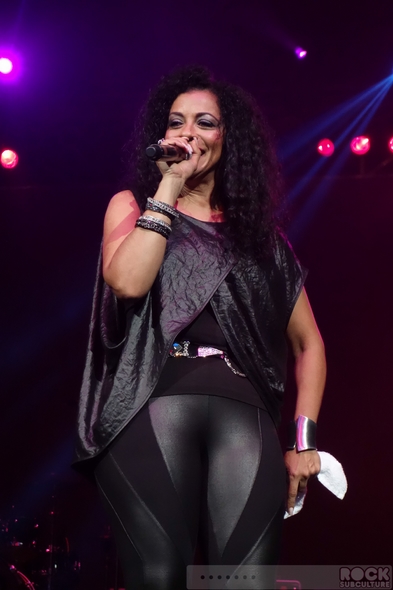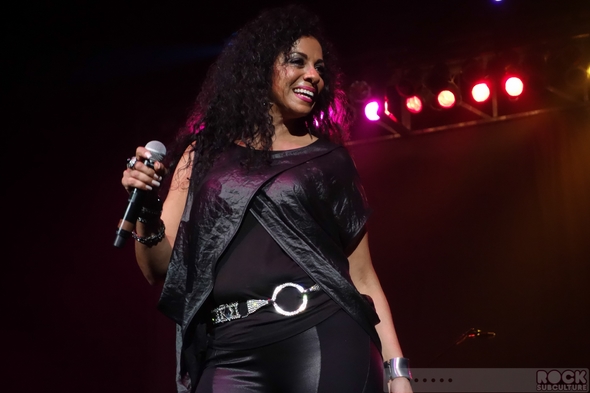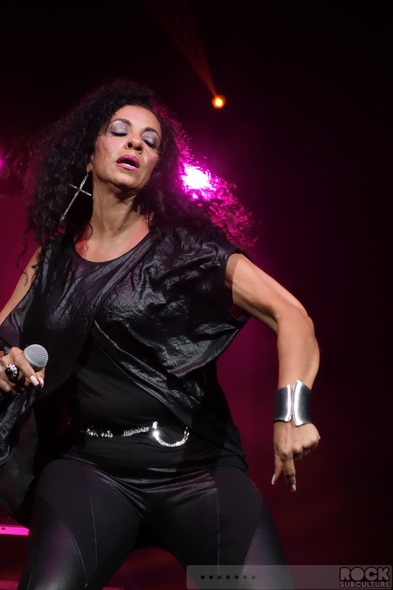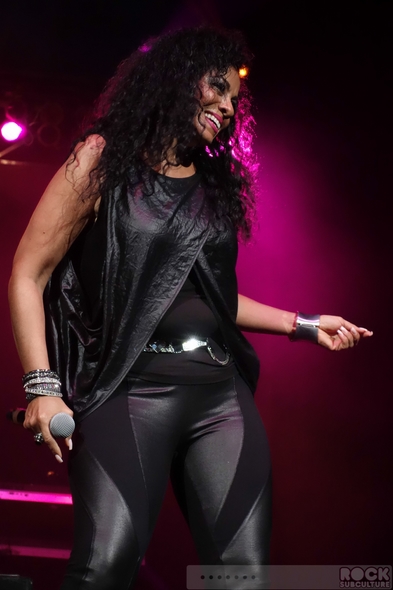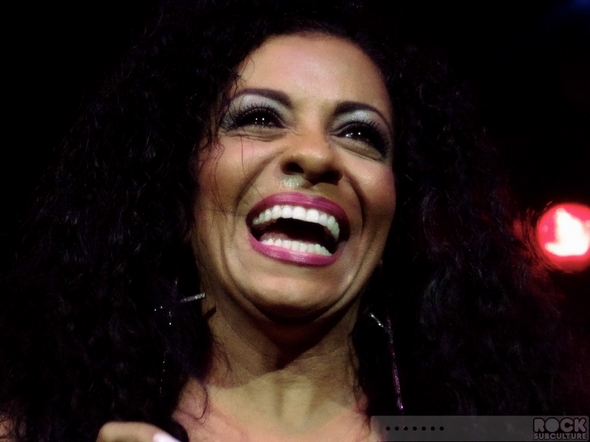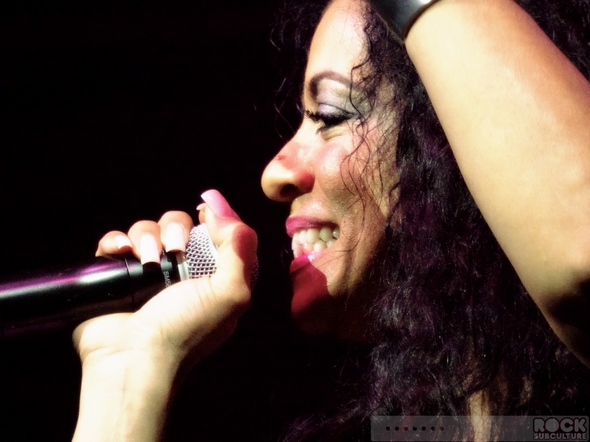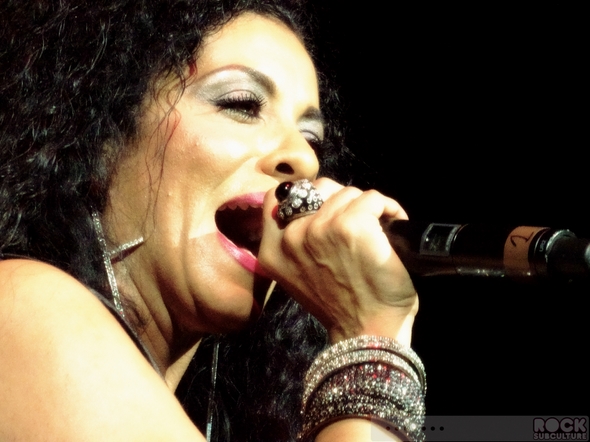 Shannon
Born Shannon Brenda Greene, simply Shannon on stage and as a recording artist, she crosses over a number of related genres, including Freestyle.
The title song from her 1984 album, Let The Music Play, sold millions.  Shannon is credited as fundamental in the origins of Latin Freestyle, with "Let The Music Play" being credited as one of the first real mainstream successes of the genre, which probably didn't peak until around 1987.
Shannon released a total of five studio albums, but no other singles found success on the charts.
She was a force on stage last night, like a tornado of confidence and an obvious love of music and history.  She recorded "Let The Music Play" in 1983 – 30 years ago.  Really one of the best songs of the 80s – any genre.  Really ahead of its time.  As with many of her fellow artists, she still looks fantastic, and her voice is great.
Below is a video of Shannon performing "Let The Music Play":
Below are some photos of Shannon performing on stage: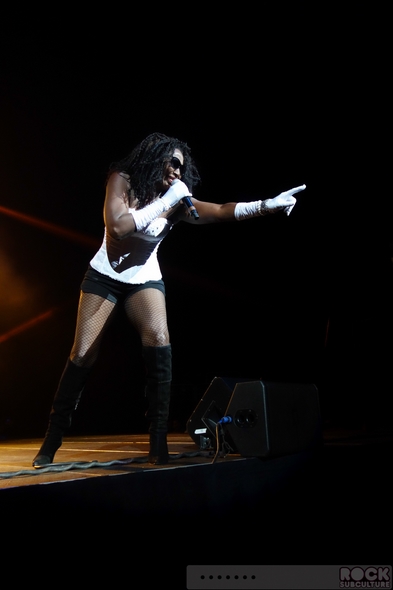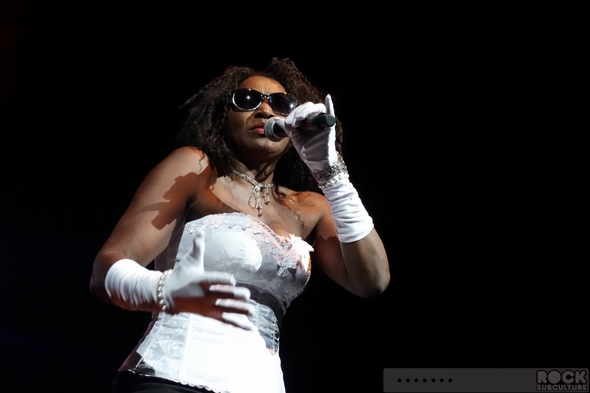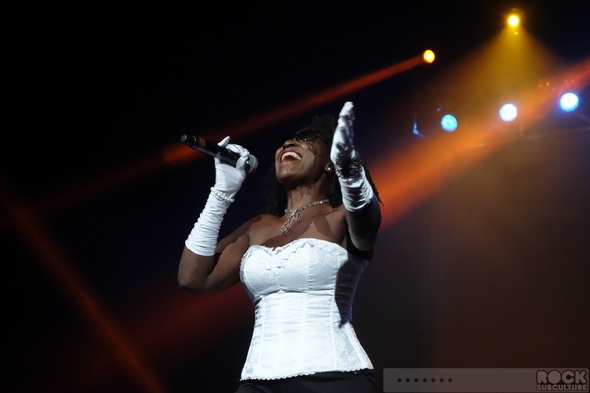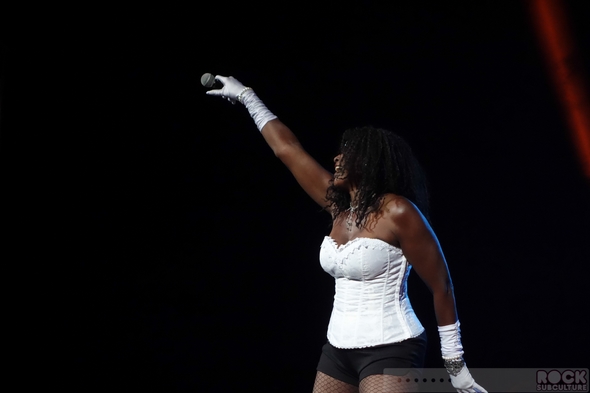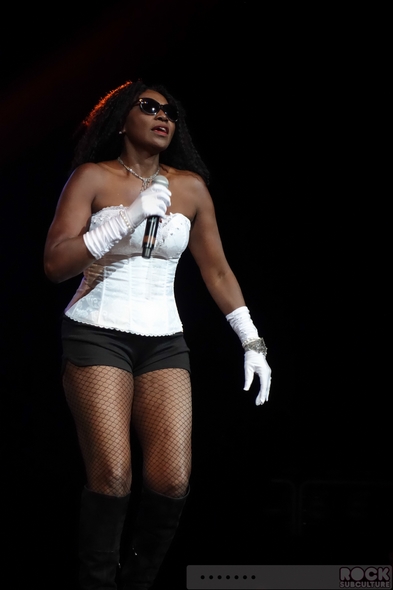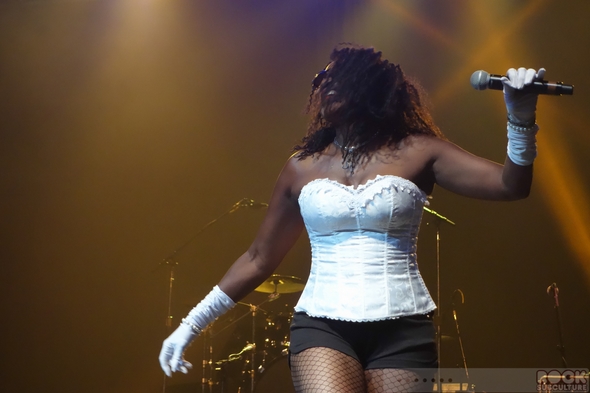 Debbie Deb
Deborah Claire Wesoff-Kowalski, using Debbie Deb as her stage name, was born in New York and raised in Miami, and is another artist on the bill that is pure Freestyle.
In one of the more messed up stories about the music industry, the record company did not want to put her image on the album due to her weight, and had "imposters" perform as Debbie Deb, and also replaced her and had other vocalists record as "Debbie Deb".  Per some accounts in the Internet, she made little money off her recordings.
As with Trinere, "Pretty Tony" Butler produced her earlier work.
She is best known for two songs in particular – "When I Hear Music" and "Lookout Weekend".  I've always been a huge fans of those songs, so it was cool to see them and hear them live.
Below is a video of Debbie Deb performing "Lookout Weeeknd":
Below are some photos of Debbie Deb performing on stage: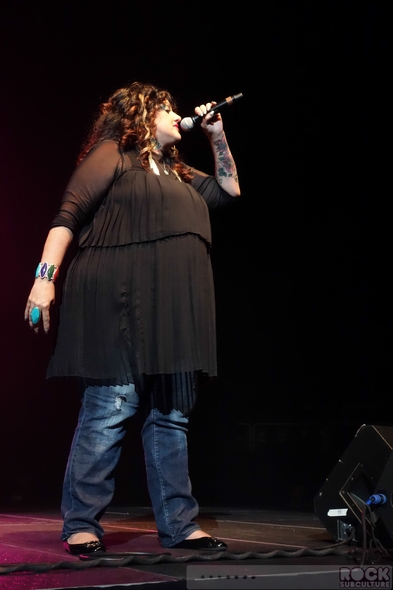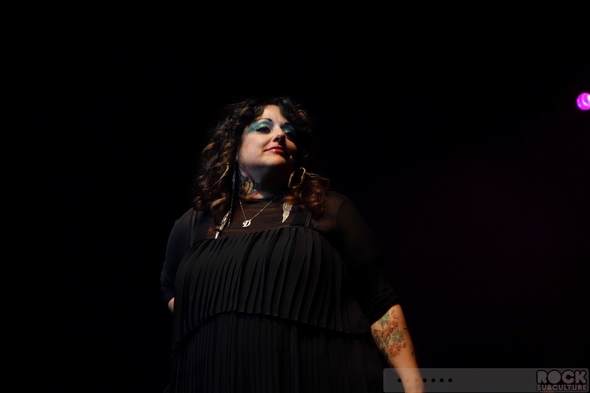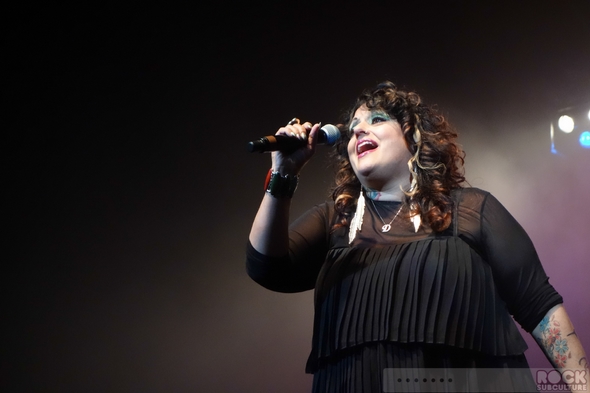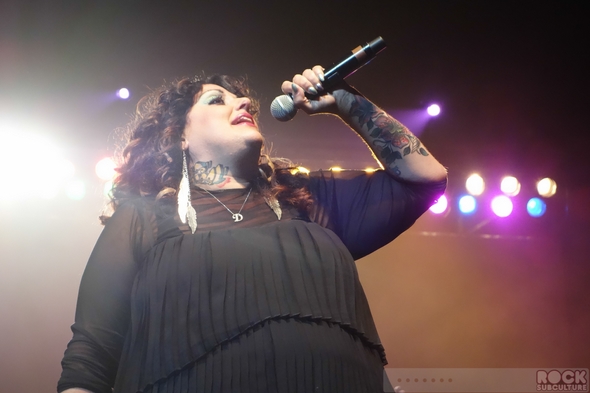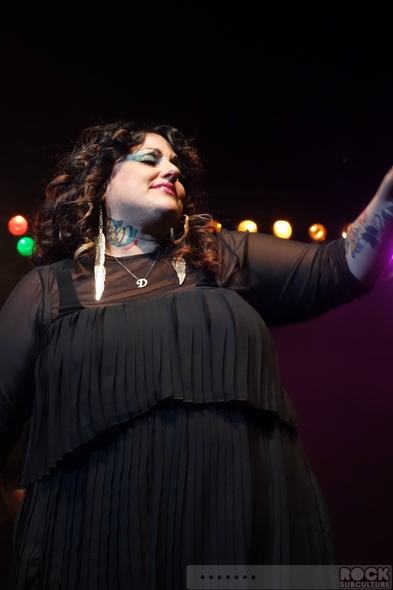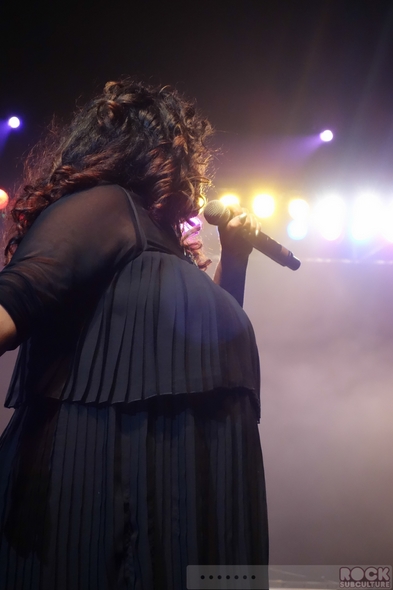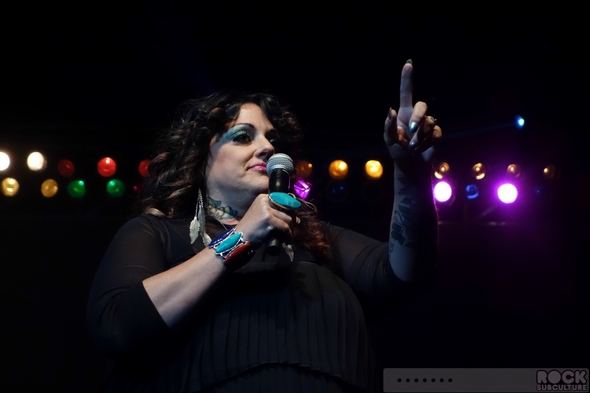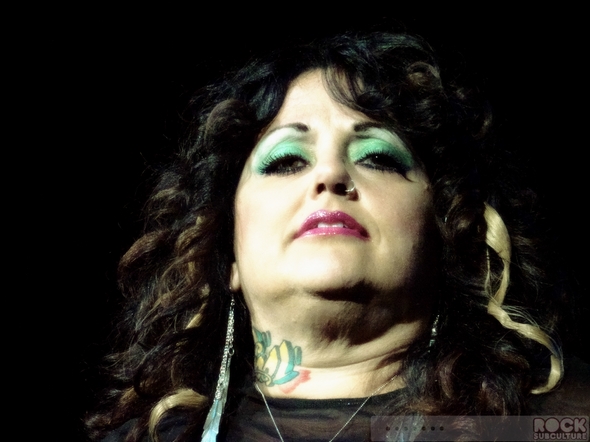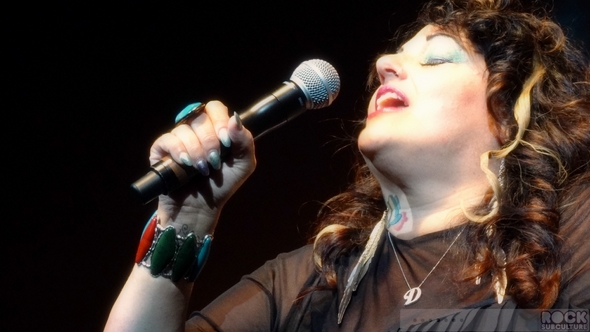 Exposé
So, for me, I would have had Exposé be the headliner for the whole show.  They have the biggest hits, and more hits, and it is entertaining to watch a group with essentially three lead vocalists compared with one.  They are also pure Freestyle (though of the more pop-oriented movement) in sound and other factors (they hail from Miami).
Formed in 1984, the group is also still whole, with all three original vocalists, Ann Curless, Jeanette Jurado, and Gioia Bruno.  Although all three replaced the three original members found by talent scouts who recorded and released "Point of No Return" as a 12-inch single. Though there are various accounts as to the details of their departures, those original three members were replaced by the artists since associated with the group Exposé.
The were the first group to have four top ten hits from their debut album, Exposure (1986), and had incredible crossover appeal to the masses.  "Come Go With Me", "Point of No Return", "Let Me Be The One", and "Seasons Change" were all huge hits for the group.
They had some success with the follow-up, What You Don't Know, and then the self-titled third studio album, but they were not anywhere near as successful in terms of charts as their debut.
The group was disbanded from 1996-2003, and then reformed though not with all three original members until 2006.  They did record a new song "I Believe In Christmas (Like It Used To Be)" in 2011 and then another single in 2012 called, "Shine On", along with re-recorded versions of their four biggest hits.
So it was really surreal for me to see them back in 1987, and now again in 2013.  I've never seen them at any point in-between… so it feels like it was a few lifetimes ago.  But music can be about revisiting past points in our lives, and going to see the same band 25 years ago and then again now can bring back old memories and feelings of nostalgia, etc.
Honestly, it is just awesome to me that they look great and seem to be having a fun time on stage connecting with fans, new and old, and the music is still fantastic.
Below is a video of Exposé performing "Point of No Return":
Below is a video of Exposé performing "Let Me Be The One":
Below are some photos of Exposé performing on stage: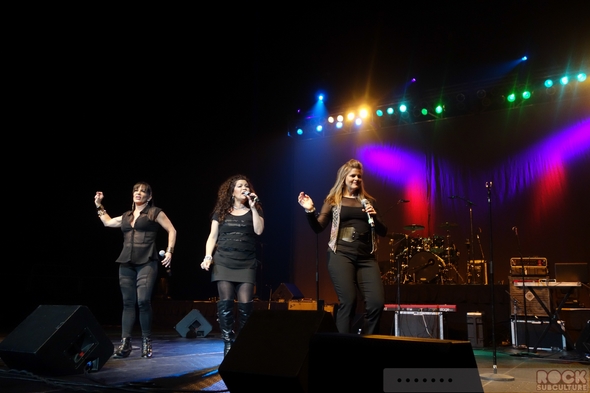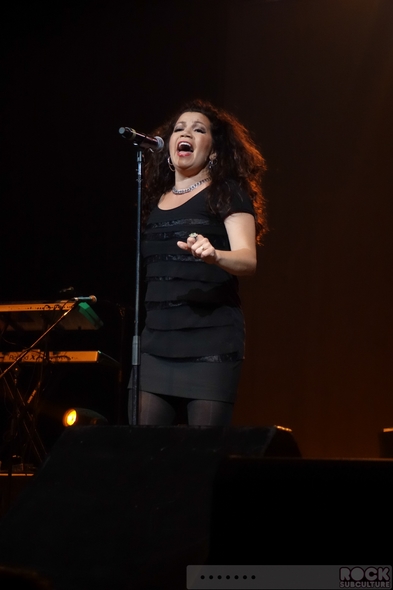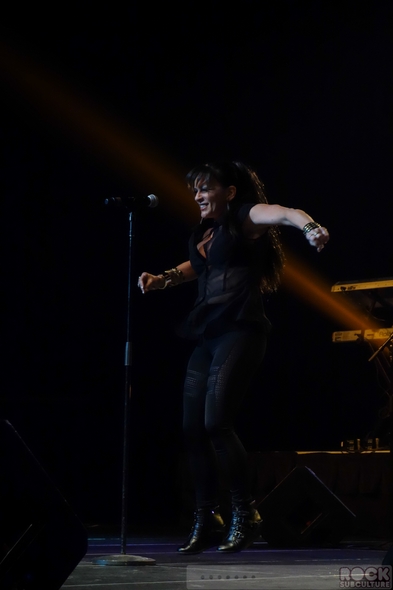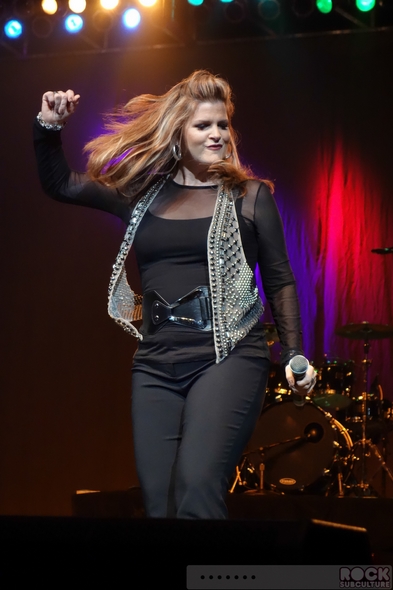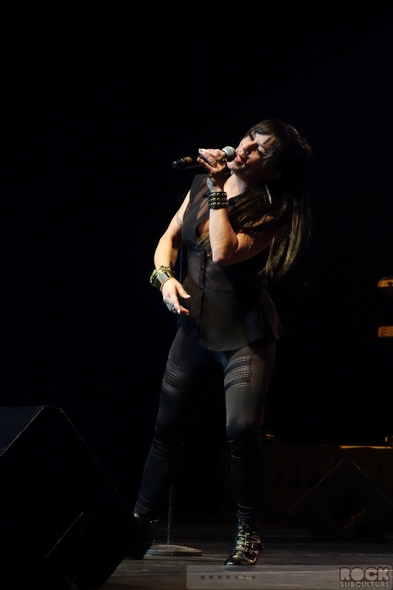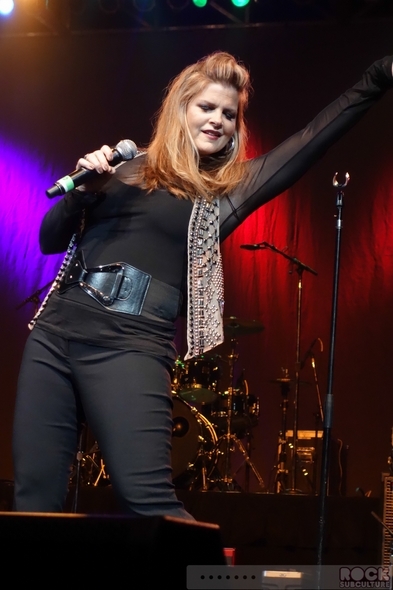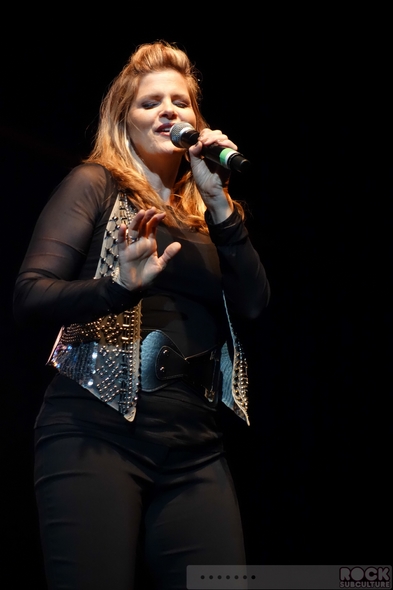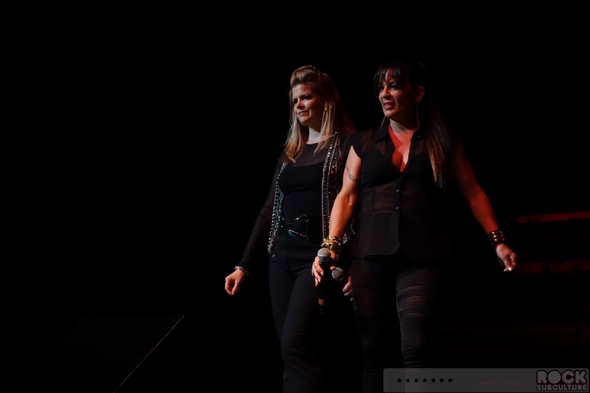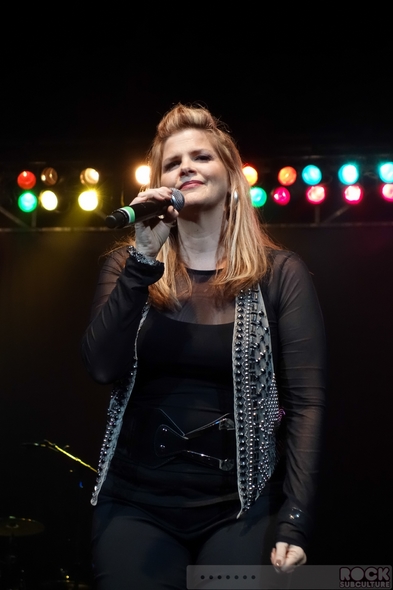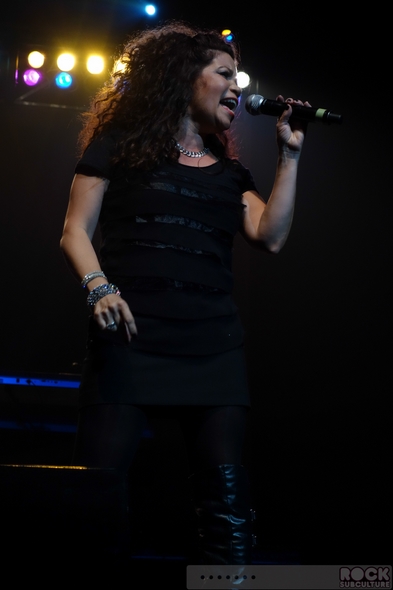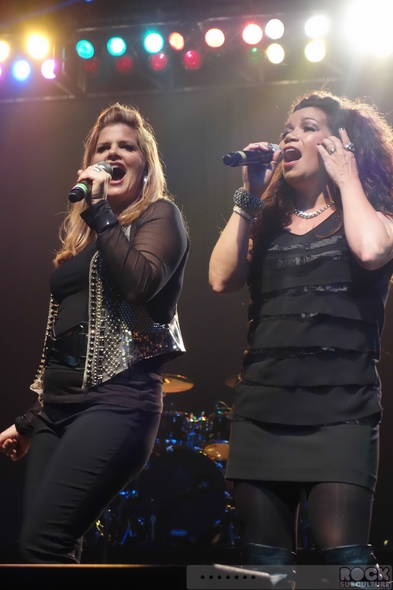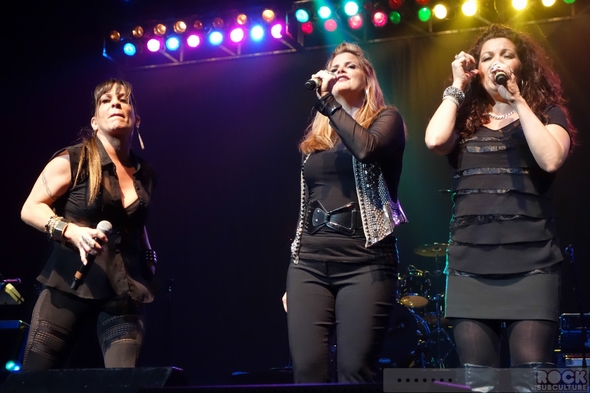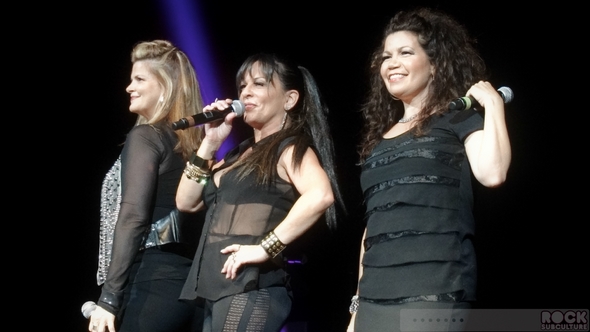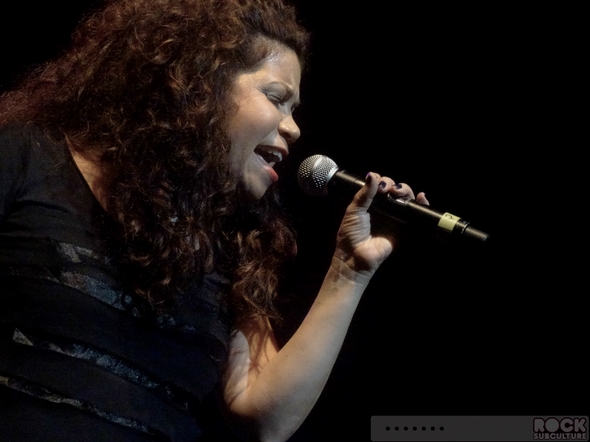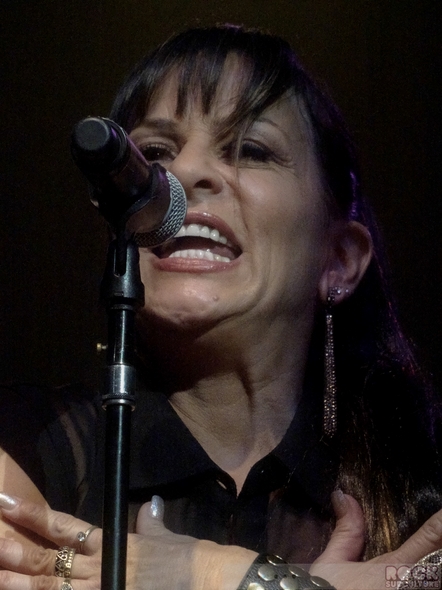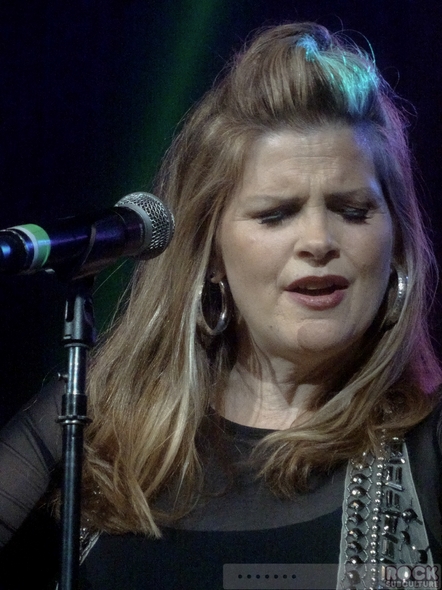 Lisa Lisa
So Lisa Lisa and Cult Jam were the headliner at that Exposé concert many years ago, so of course many of the same thoughts and feelings apply.  Currently Lisa Lisa is performing sans Cult Jam, though she has two phenomenal dancers (one male, one female) join her on stage most of the time, and I can't say enough good things about them – they are amazingly talented, and I was kind of mesmerized watching them perform.
Getting back to Lisa Lisa, she was born Lisa Velez and she is from New York City, and she and her band definitely ticked off all the marks for the Freestyle genre.
Funny enough, her debut single, "I Wonder If I Take You Home", was released as part of a compilation called Breakdancing that was released in Europe, and only after U.S. DJs played it on import did it get attention here in the States.  It went on to become a huge hit in 1985, as did follow-up "Can You Feel The Beat", which was on their debut album, Lisa Lisa & Cult Jam with Full Force.
Their second album, Spanish Fly, had their biggest hits – "Head to Toe" and "Lost in Emotion".  Like a lot of the important songs/works referenced in this article, it was released in 1987.
The most interesting part of her performance was during "All Cried Out", in which she seemed to get extremely emotional at the end, stopping to cry (literally) a few times.  I don't have any idea if this is something she does frequently, but her emotion was certainly genuine (I was standing just a few feet away).
Her voice is still stellar, and she was one of the vocalists last night that sang without the aid of any prerecorded lead vocals as backing (some did for effect, as certain songs have that reverb quality).
Below is a video of Lisa Lisa performing "I Wonder If I Take You Home":
Below is a video of Lisa Lisa performing "Head To Toe" and "Lost In Emotion":
Below are some photos of Lisa Lisa performing on stage: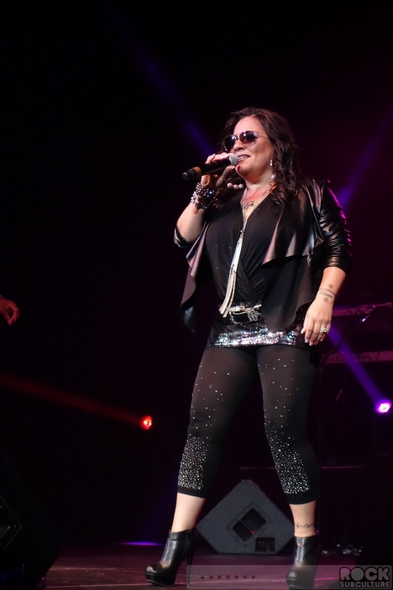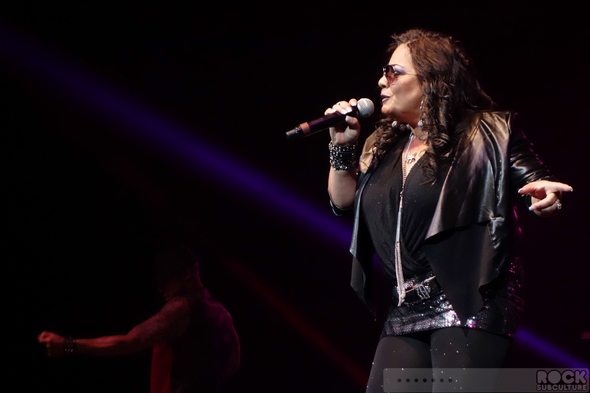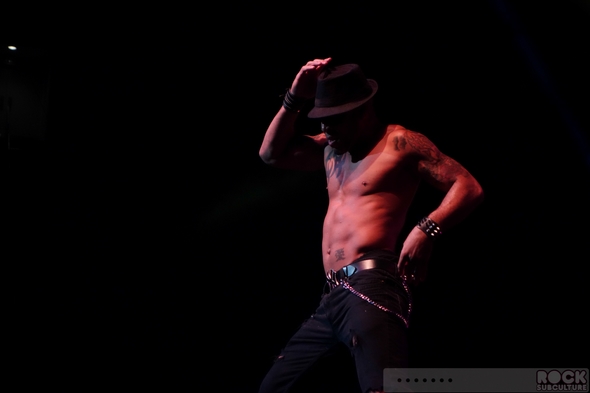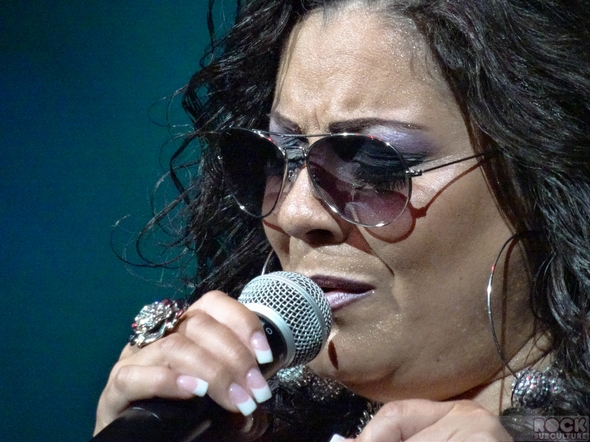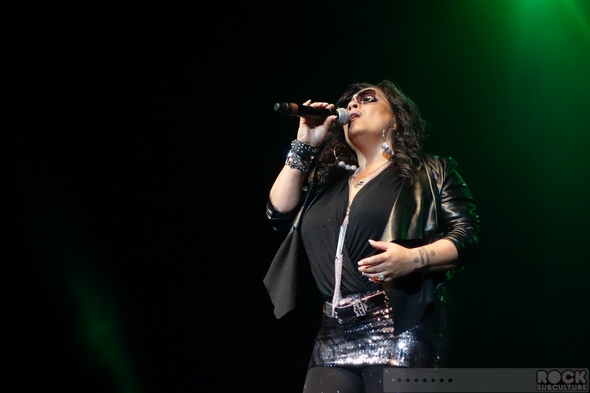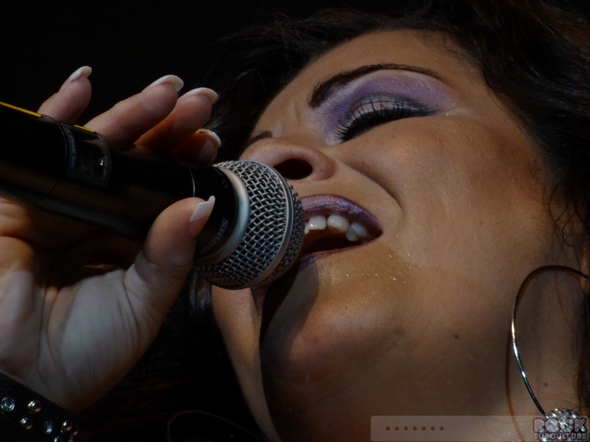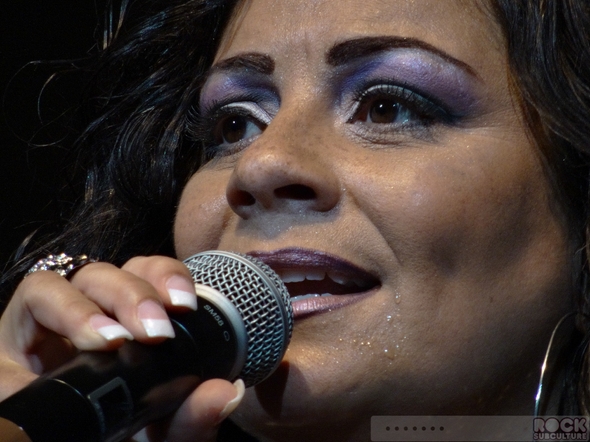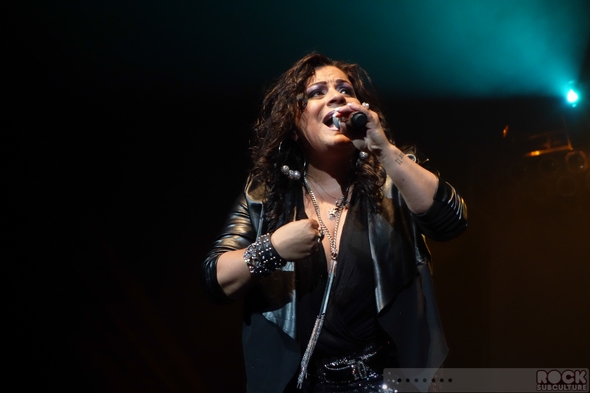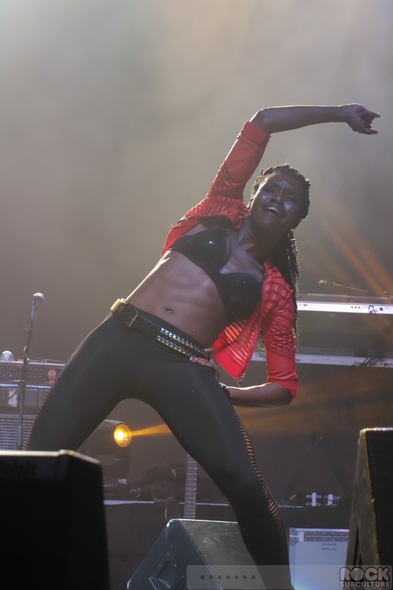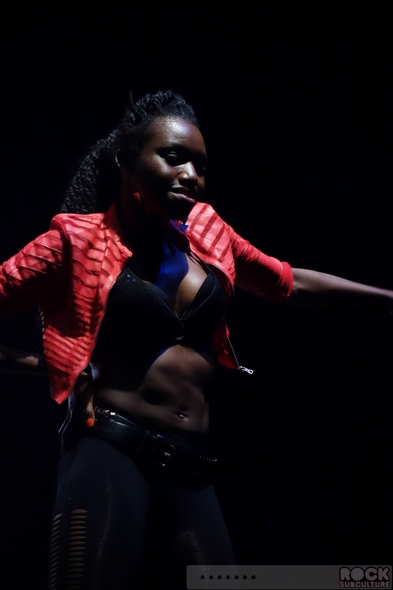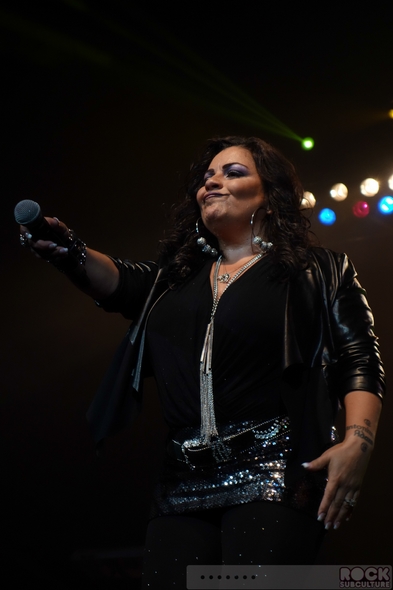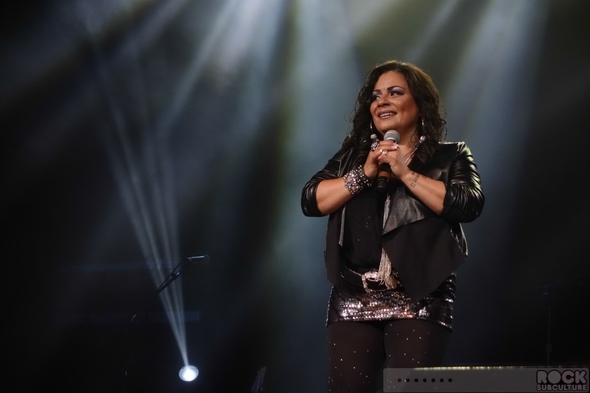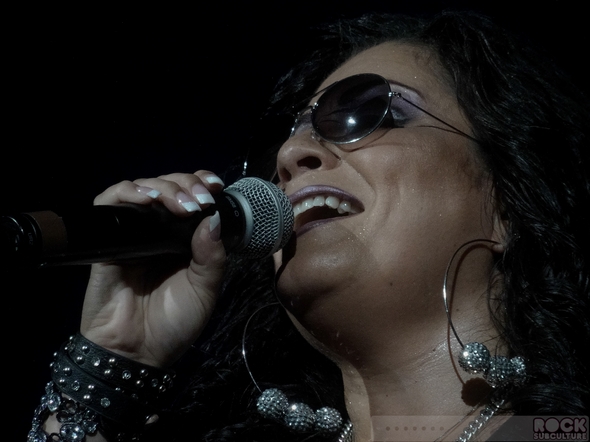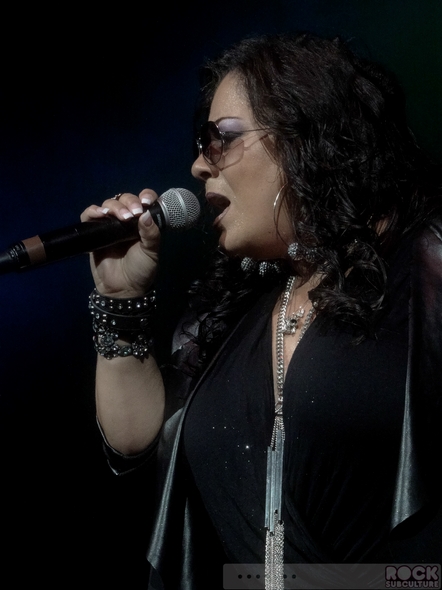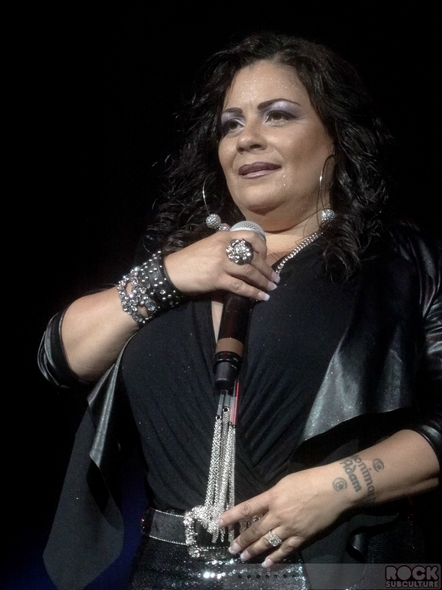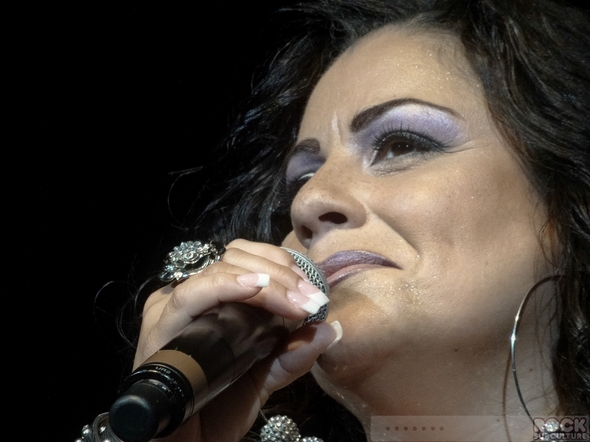 Stevie B
Like Johnny O, I wasn't too familiar with Stevie B apart from "Spring Love", though that can be attributed more to my self imposed pop culture reclusive nature than his accomplishments as an artist (I don't listen to the radio or streaming services, so if I don't buy something, it may as well not exist in my world).
Certainly he is a huge figure in the Latin Freestyle world, and is recognized as the "King of Freestyle", so in that sense it seems fitting that he headline the Super Freestyle Explosion.
Born Steven Bernard Hill, he is from Miami and got started with recording in 1987 – the key year in this genre of music.
The crowd seemed to love his performance, and he offered to autograph his new book after the show, which is something I've never heard of with a 7,000 person crowd.
He recently released "Spring Love 2013" with Pitbull.
Below are some photos of Stevie B performing on stage: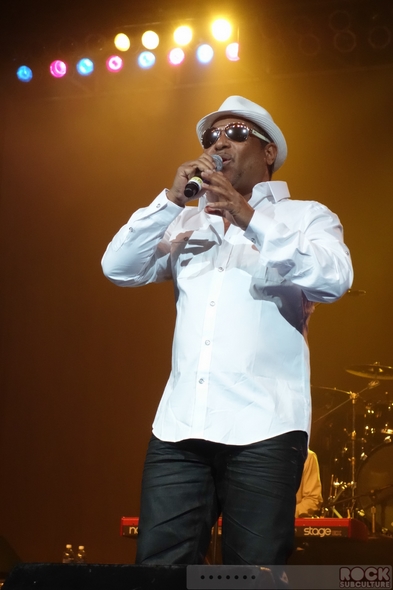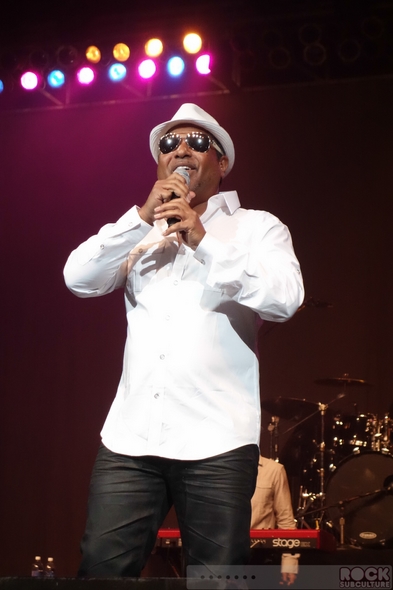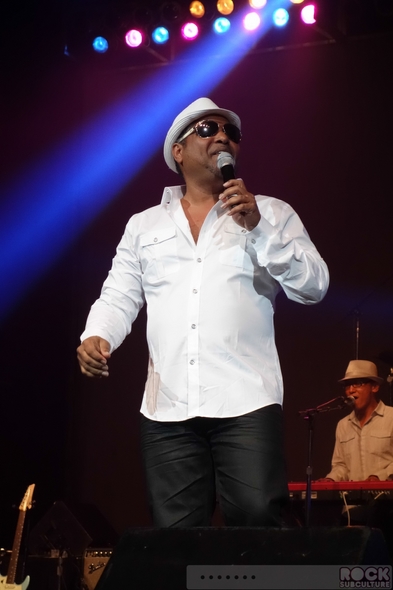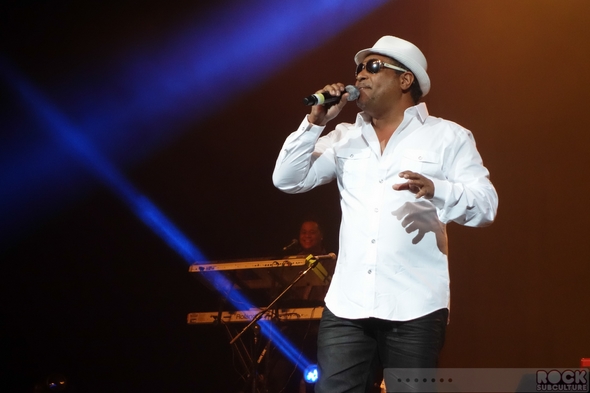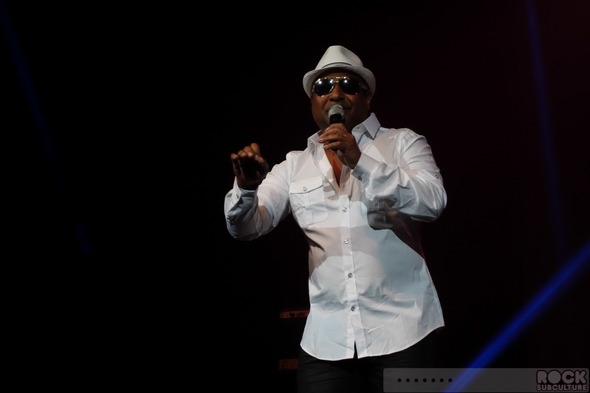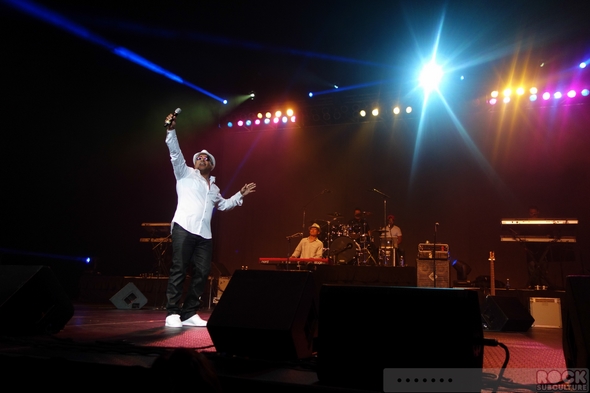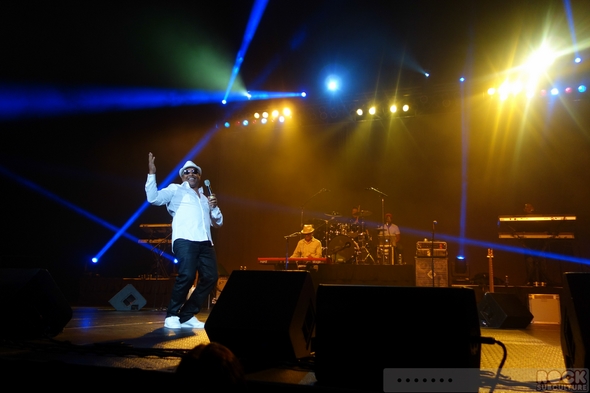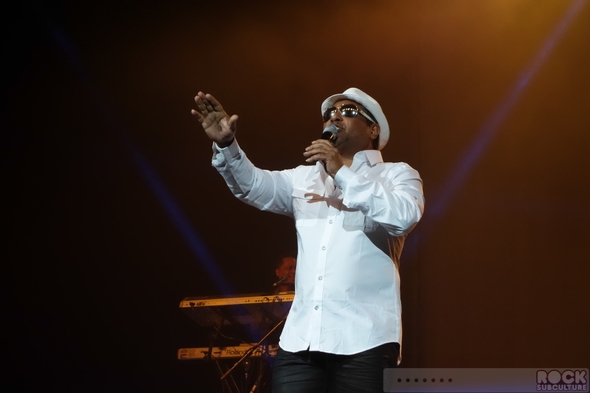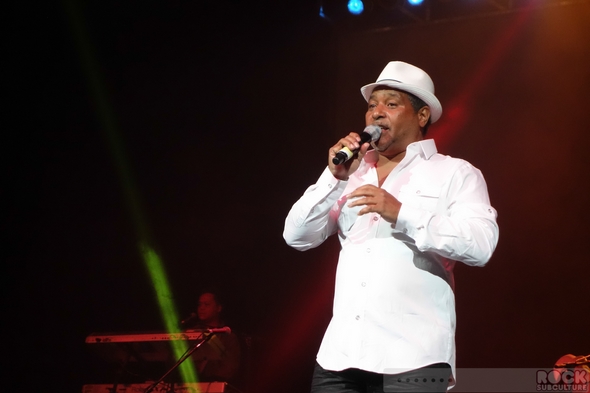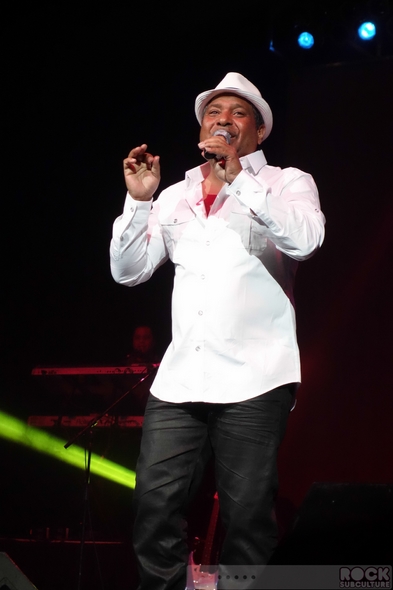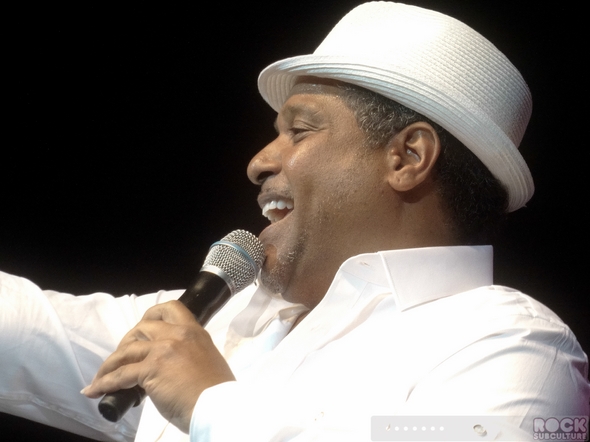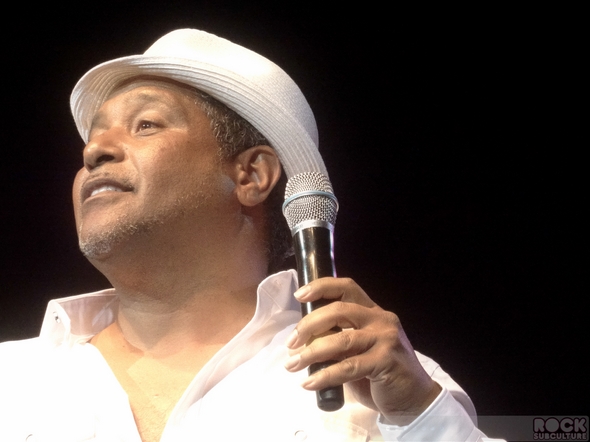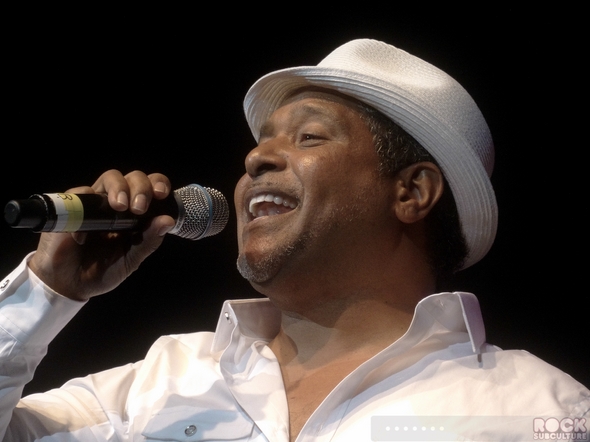 Jason DeBord