I don't go to very many hip hop/rap shows, but loved the artists that got their start (and really got that genre of music into the mainstream) in the 80s.  My first ever concert, at the age of 14, was Run-DMC, Beastie Boys, and Ice-T at Cal Expo in Sacramento in 1987.  So when I heard about this "Kings of the Mic Tour" earlier this year, and that it was headlined by LL Cool J, it was a must see concert for me.  Unfortunately, the Bay Area show conflicted with other travel plans, but a date was added onto the end of the tour in Los Angeles at the Greek Theatre, so I knew that was the one to catch.  I am certainly glad that I did attend that specific show Sunday night, as it seemed to be a special one on all counts (and clocked in at over four hours of nearly non-stop entertainment).  However, the highlight for me took me back to that very first concert experience I ever had, as there was a special surprise guest…  toward the end of the last set, Darryl McDaniels (from Run-DMC) joined LL Cool J on stage, and the two performed "Peter Piper", which was amazing.  Stunning for me, really.  Overall, it was a very impressive and high energy show from start to finish by all artists involved, and it definitely left me feeling that I need to catch more old school hip hop shows, though I think the bar was set very high by this last stop on the Kings of the Mic Tour.
What: Kings of the Mic Tour
Who: LL Cool J featuring DJ Z-Trip
Supporting: Ice Cube
Supporting: Public Enemy
Supporting: De La Soul
Supporting: DJ Chuck Chillout
Venue: The Greek Theatre
Where: Los Angeles, California
Promoter: Promoter
When: July 7, 2013
Seating: General Admission Pit (Early Entry)

Because this is one of those shows featuring a wide array of artists, I thought it would be appropriate to include the show information provided by The Greek Theatre, since they have done an excellent job providing a summary and overview of the artists:

Two-time Grammy®-winning recording artist, LL COOL J featuring DJ Z-Trip, will headline the "Kings Of The Mic" Tour, which will prove to be this summer's ultimate Hip-Hop music experience. Joined by legendary artists Ice Cube, Public Enemy and De La Soul, the Tour will wrap-up in Los Angeles, at The Greek Theatre on July 7, 2013.

This tour underscores what true authentic Hip-Hop music is based on, with these groundbreaking artists bringing their music to fans across generations.

The tour will come on the heels of the release of LL's 14th new studio album, Authentic, on April 30, 2013 on 429 Records/The Savoy Label Group. The multi-platinum artist returned to the studio and kicked the volume up to create a powerful album that came from his true passion for music and would speak to his fans. Celebrating his 30th year in music, Authentic features the iconic rapper in his element. The Album is anchored by LL's expressive attitude where his sensitive side is as present as his slicing lyrical switchblades. Authentic comes to life with crazy club jams, tender tracks, personal tributes, and hard-hitting commentary addressing the current hip-hop climate.

First introduced to the world in 1984 as a Def Jam Records flagship artist, LL is the first rap artist to amass ten consecutive platinum-plus selling albums. The multi-platinum artist and two-time Rock and Roll Hall of Fame nominee is currently tied for third place for most Billboard chart debuts by a rapper. For three decades, LL has continued to influence hip-hop with rap ballads that captivate generations of audiences. Since then, the veteran rapper has evolved his scope of work across entertainment appearing in numerous television and film roles, among many other projects. LL currently stars on one of the consistently highest rated shows on television, the CBS hit primetime drama series, "NCIS: LOS ANGELES." His performance on the show has garnered him a NAACP Image Award for "Outstanding Male Actor in a Drama Series" three years in a row (2011 – 2013).

As much as technology, business and society have changed since the 1980s, one thing has remained constant: Ice Cube has been a premier cultural watchdog, astutely commenting on, examining and detailing the breadth of the American experience in uncompromising terms with an unflinching honesty and a sobering perspective, as well as a deft comedic touch that has endeared him to several generations of fans. After penning the most memorable lyrics on N.W.A's groundbreaking songs, including "Straight Outta Compton," Ice Cube left the group at the peak of its popularity – a move that led him to one of the most successful careers in music history. As a solo recording artist, Ice Cube has sold more than 10 million albums while remaining one of rap's most respected and influential artists. In addition to a successful solo career in music, Ice Cube is also an accomplished as writer, director, actor and producer in cinema who's credits include 'Boyz In The Hood,' the 'Friday,' 'Barbershop' and 'Are We There Yet' franchises, and most recently '21 Jump Street.' Cube is gearing up for several film releases this year as well as his 10th solo album release, 'Everythang's Corrupt.'

In early 2012, Public Enemy kicked off their 25th anniversary by staging a free concert in downtown Los Angeles' notorious Skid Row. Just a few blocks away at the Grammy Museum, a special exhibit was being installed in their honor. No other group could possibly mark a career milestone quite like this. Every bit as compelling as their startling first single, "Public Enemy #1," when it was released in 1987, Public Enemy have never stopped urging to fight the power as their artistry meets with unwavering critical acclaim and legions of worldwide fans. Fans that drove their single, "Harder Than You Think," into the UK's Top 5 last summer and prompted the Rock and Roll Hall of Fame to induct the group in 2013 – their first year of eligibility.

De La Soul is an American hip hop trio best known for their eclectic sampling, quirky lyrics, and their contributions to the evolution of the jazz rap and alternative hip hop subgenres. With its playful wordplay, innovative sampling, and witty skits, the band's debut album, 3 Feet High and Rising, has been called "a hip hop masterpiece." It is the band's biggest commercial success to date, with their subsequent albums selling progressively less, despite receiving high praise from critics. A measure of 3 Feet High and Rising's cross-over appeal was the fact that it was voted Album of the Year by NME, a title better known for its taste in guitar-based music. In 2006, the group won a Grammy for their collaboration with Gorillaz on the single "Feel Good Inc."
The Greek Theater is a nice venue, and while outdoors, it is not anywhere near as vast at the Hollywood Bowl.  All the same, the show was a sell-out, and ever seat appeared to be occupied.
I had a ticket for the general admission pit in front of the stage, and had early entry as part of a VIP Nation package.  Funny enough, though it was marketed as early entry, we were told at the show that it didn't mean early entry into the GA pit… but to the merch table!  Kind of laughable.  In any event, I still managed to get in at the start, and took a spot in the front row on the rail.  The Greek has a very low stage and the barricade between it and the crowd leaves very little room, making for an intimate show if you are up front.
L.A. audiences have a reputation for being lousy concert audiences, but that was not the case at this gig.  Well, I suppose it could have been, but either they were hard code old school hip hop fans, or the artists on stage turned them around 180 degrees (from talking with many others there, I assume it was the former, and the latter built upon that).  It was an awesome crowd totally dialed into the show.  Funny thing is we were quizzed during one of the sets about our ages, and going by audience response, there was a definitely minority of concert goers under 30 for sure (and many more "old school" hip hop fans than "new school").
I was fortunate enough to have a meet and greet with LL Cool J backstage, after the concert, and he was a really nice guy who seemed very genuine and enthusiastic about meeting fans, even after a show like that one.  Below is a photo of me and LL Cool J: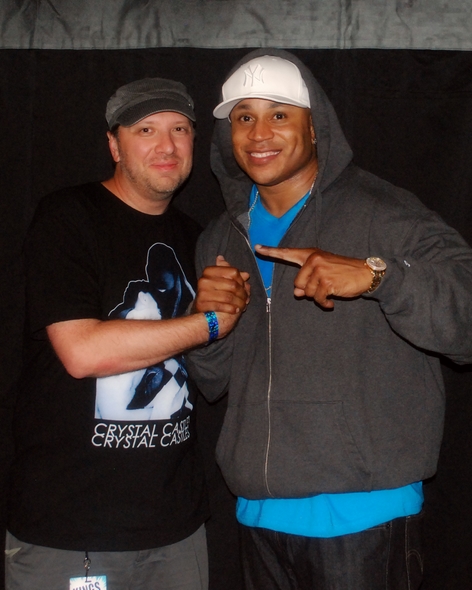 I was a big fan going back to Bigger and Deffer from 1987, but had never seen him in concert before, and as much as I had high expectations, he really blew them out of the water.  He's still got it, and looks like he hasn't aged since the 80s.  Totally surreal moment for me.
DJ Chuck Chillout
DJ Chuck Chillout got things started for the night, which consisted of fairly show sets of 15-30 minutes, with Ice Cube running over at about an hour and LL Cool J going past his scheduled one hour set as well.
DJ Chuck Chillout was an amazing DJ and played all the great hits.  I would definitely show up to an event with him spinning some vinyl – great mixes!
Below are some photos of DJ Chuck Chillout performing on stage: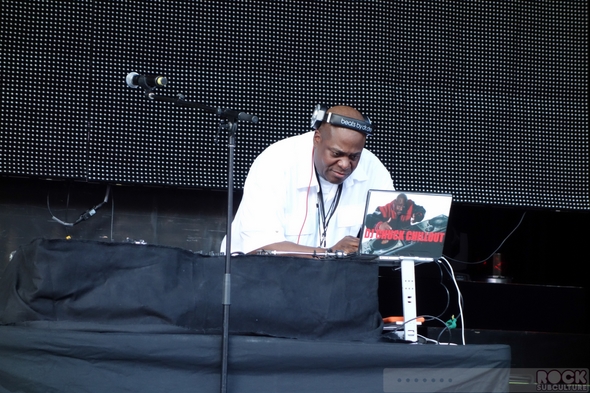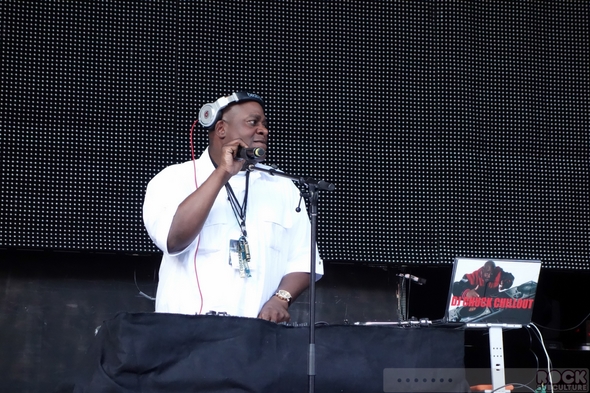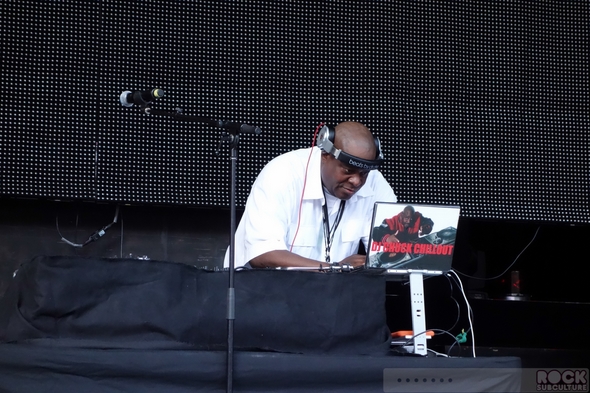 De La Soul
De La Soul came on the scene in the second half of the 80s, but definitely were pioneers in hip hop, with their unique take on music.  Retrospectively, you can see their influence on some real top acts that came after them.
The Grammy Award-winning group are best known for the hit single, "Me, Myself, and I", though I don't think that is best representative of their work overall.
At the gig Sunday night, they definitely brought energy and excitement to the stage that carried through, and with their short left left you wanted more and wondering about whether they might have a bigger place in music down the line, in the future.
Below are some photos of De La Soul performing on stage: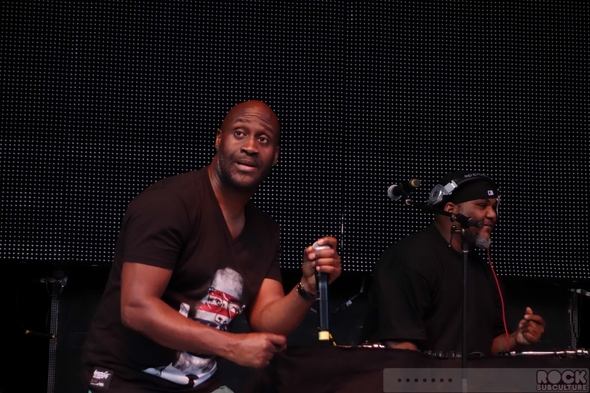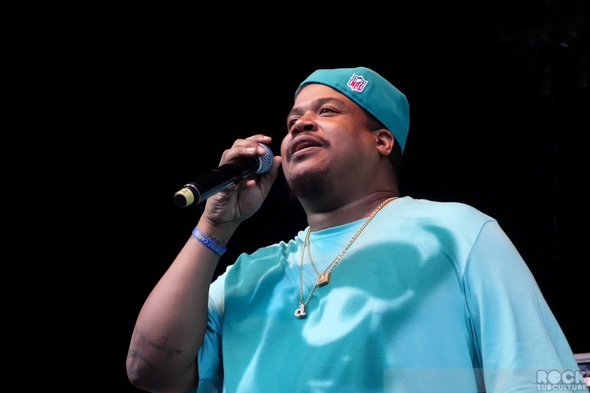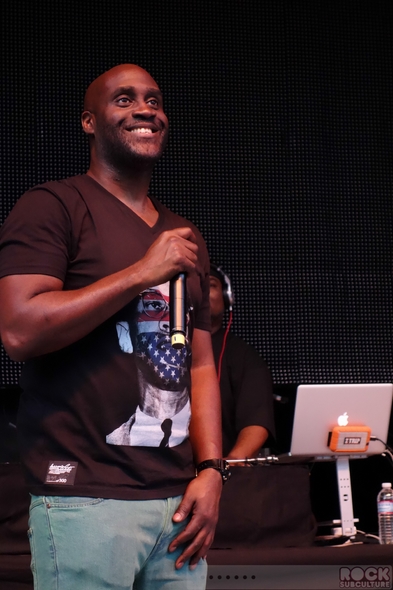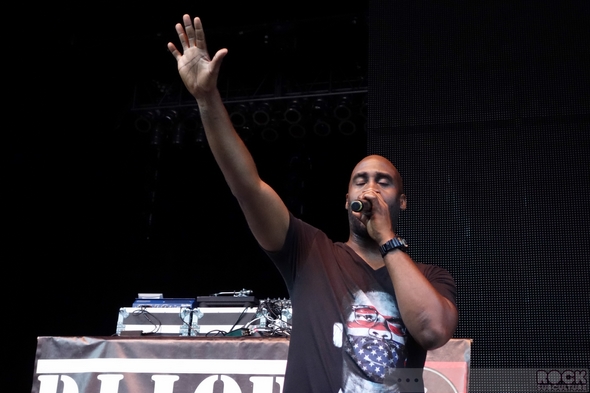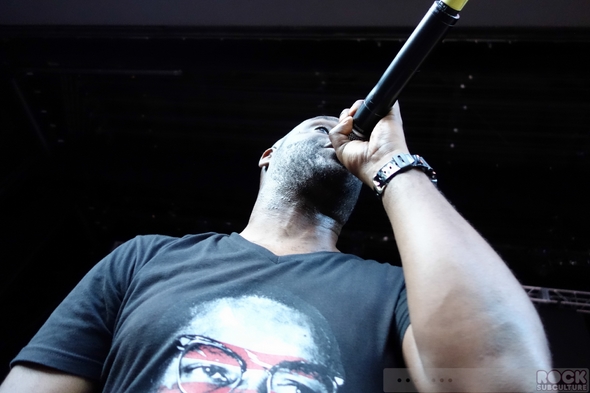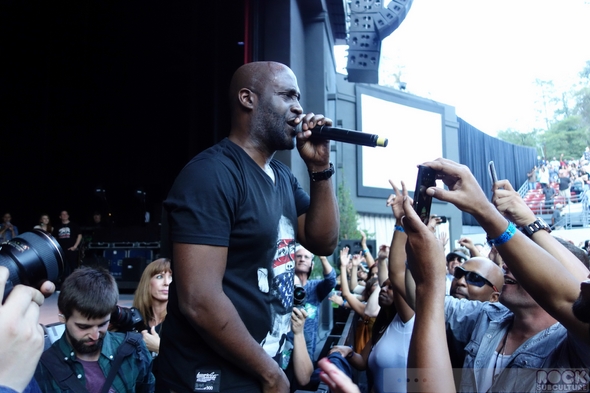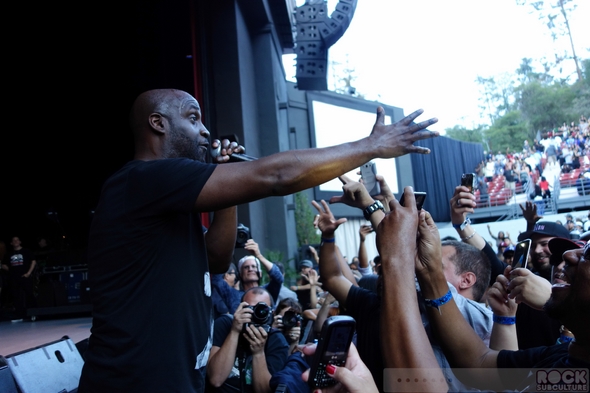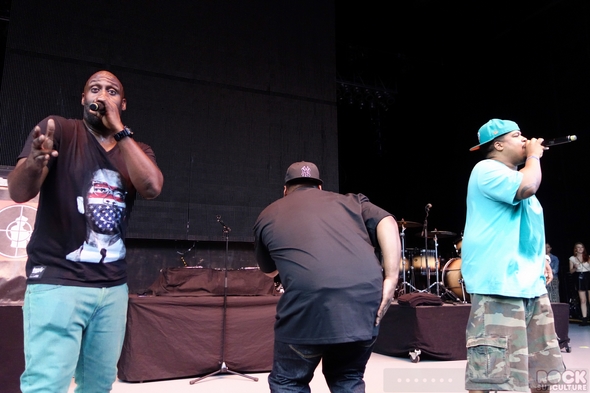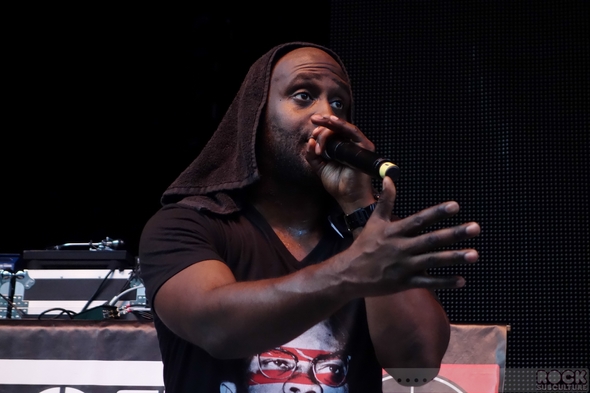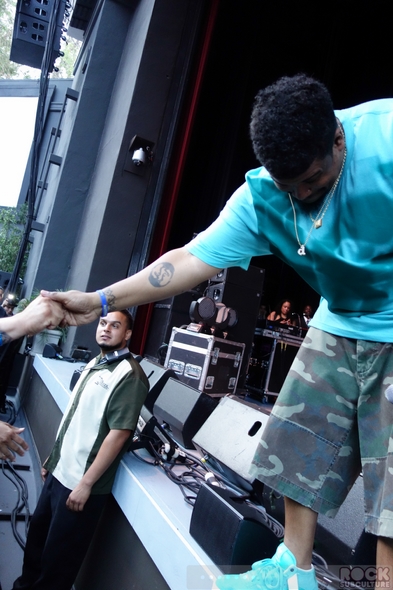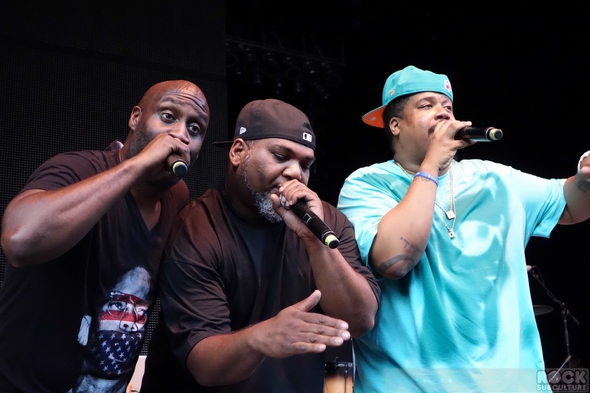 Public Enemy
Public Enemy is of course one of the most famous and renown hip hop groups in history.  Chuck D, Flavor Flav, and DJ Lord do things their way, and have certainly built the identity of their group around their larger than life personalities.   They are one of only four hip hop groups that have been inducted into the Rock and Roll Hall of Fame (just this year), and have used their music to express views on politics and criticize.
An act of obvious headlining stature themselves, the fact that they were smack dab in the middle of a line-up with their set I think speaks to the name of the tour itself – Kings of the Mic – and the quality of the entertainment at this show.
Below are photos of Public Enemy on stage: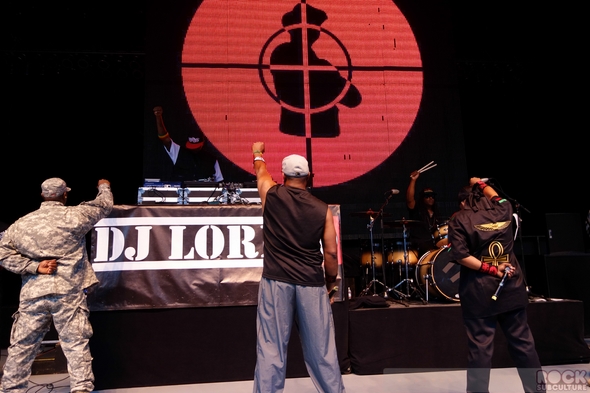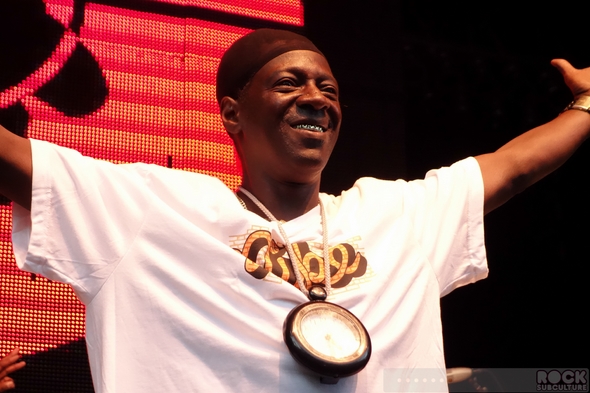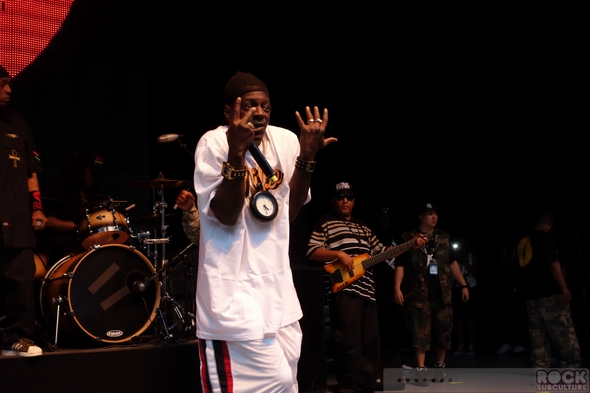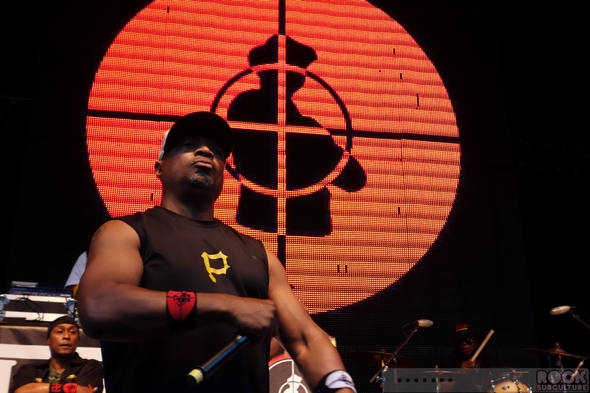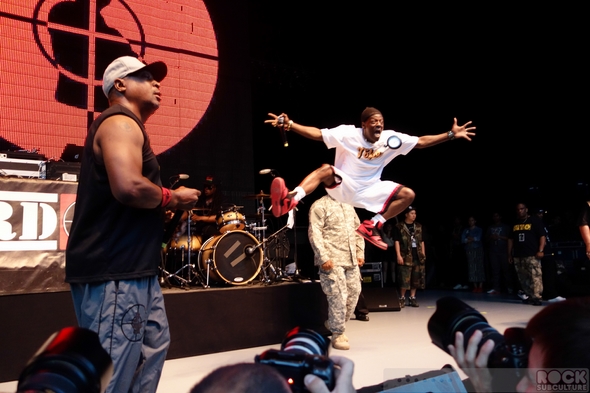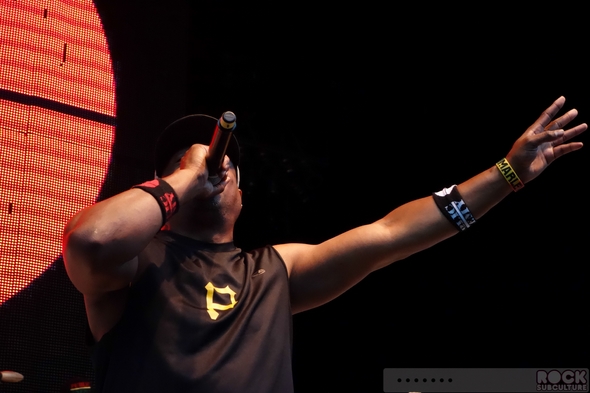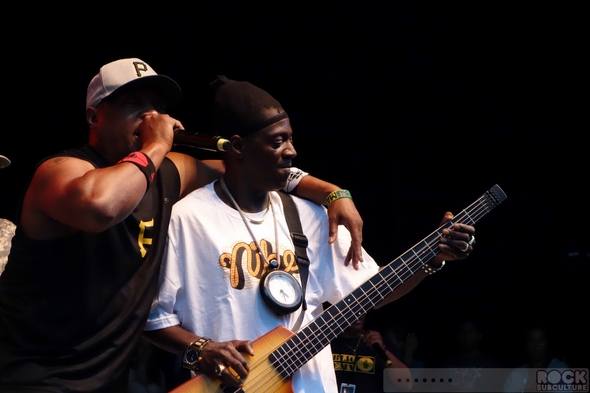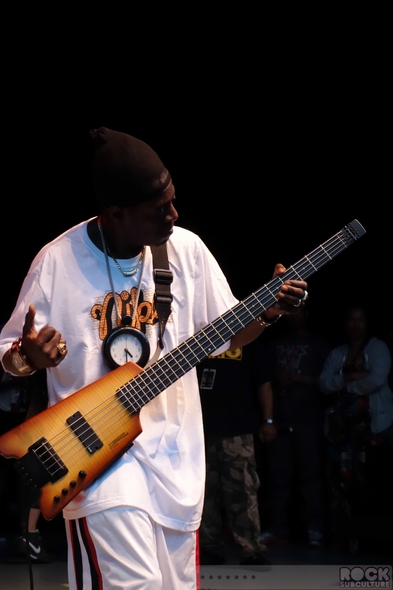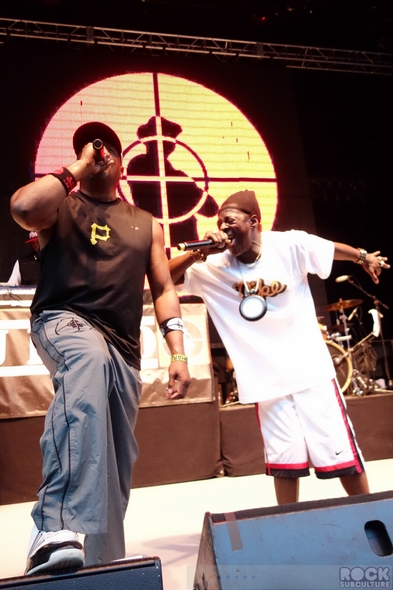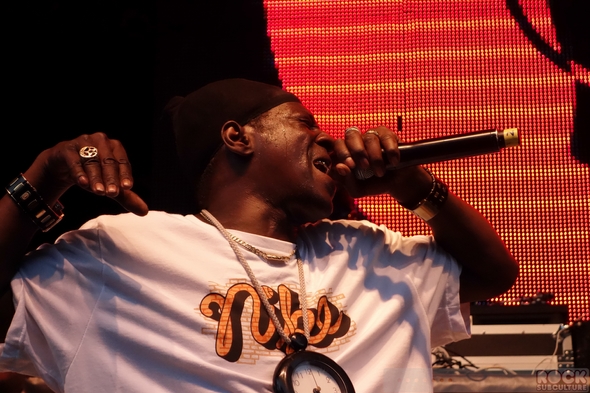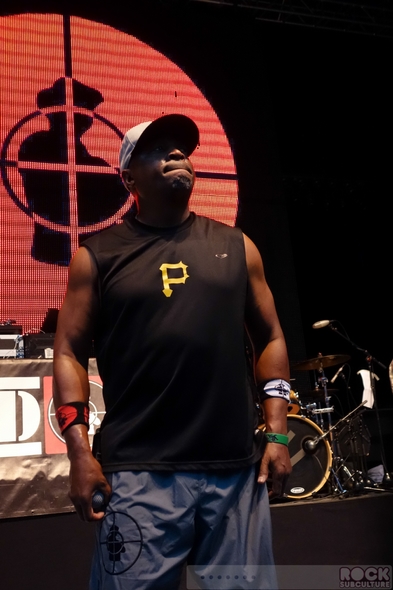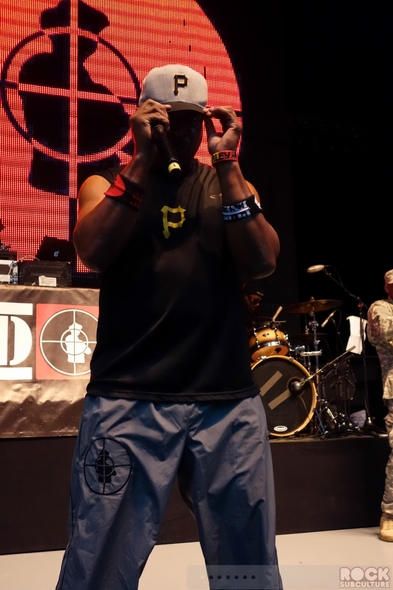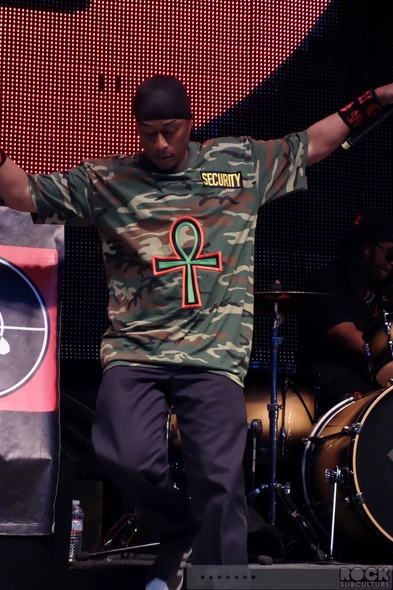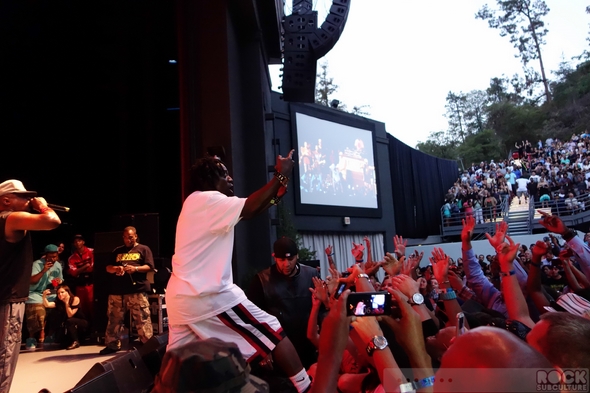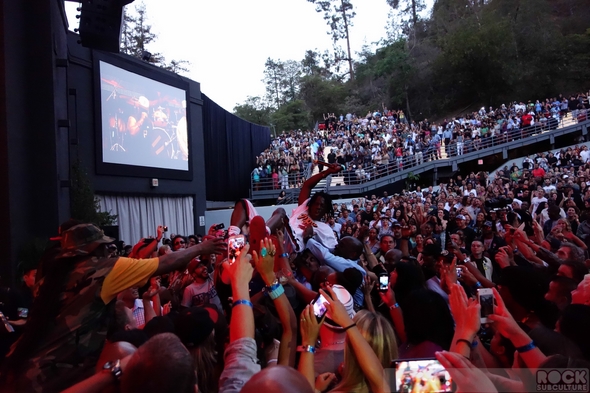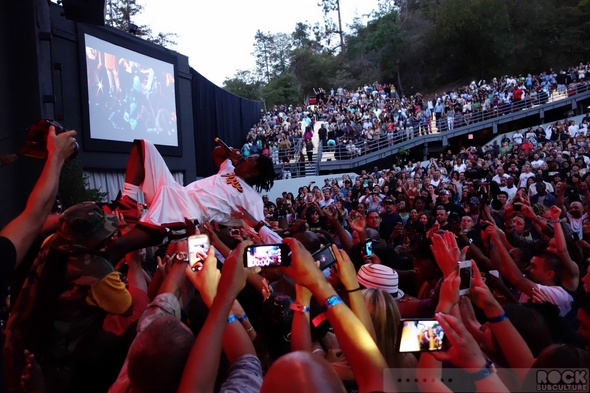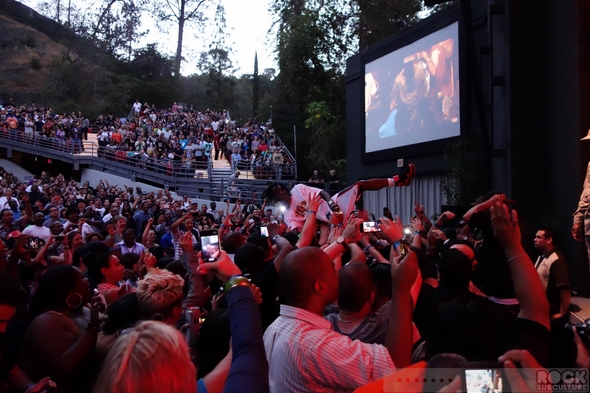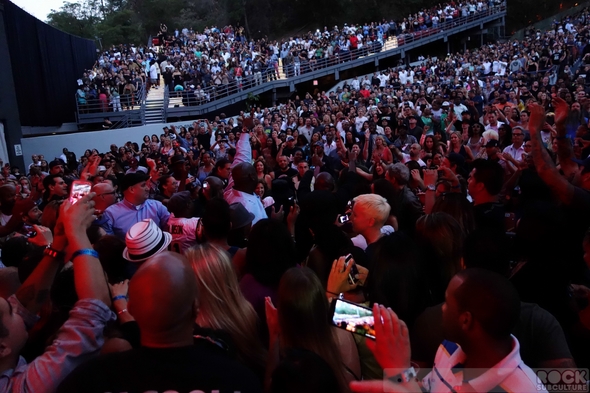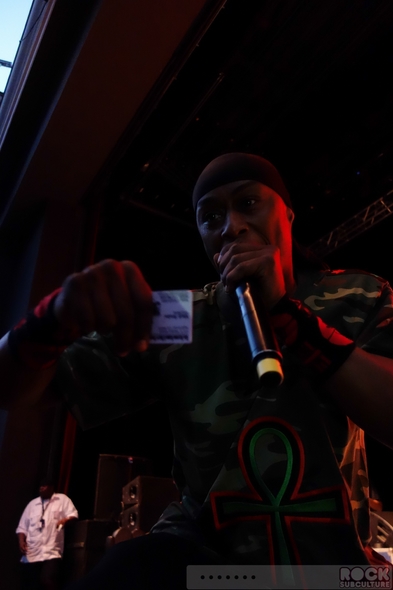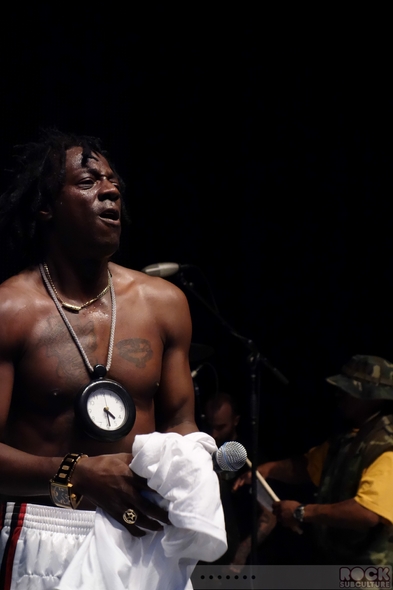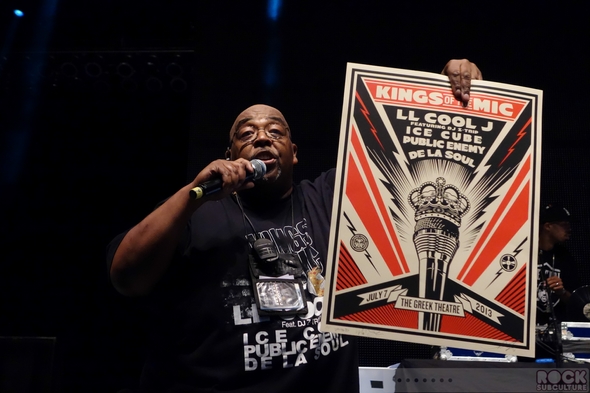 Ice Cube
Ice Cube – even recognizable to those who don't know his music due to his work in film and television – was part of N.W.A. in the late 80s and then went on to do his own music.  Both highly regarded and controversial, the popular MC has also used the medium to explore new territories in music and politics.
What struck me most about his performance was his passion and energy, which seemed boundless.
I know from talking to some in the audience that he was their favorite artist on the bill, so again, it was kind of like a triple headliner show.
Below are photos of the Ice Cube set: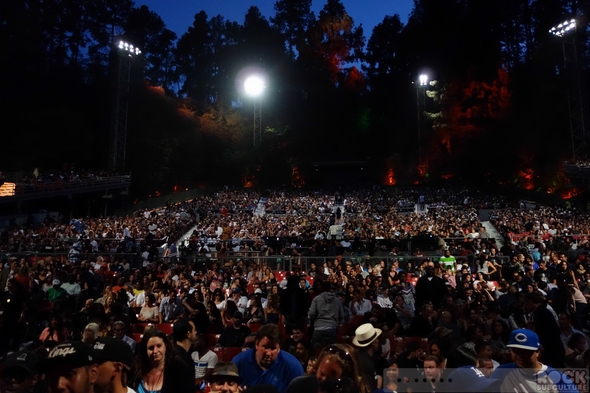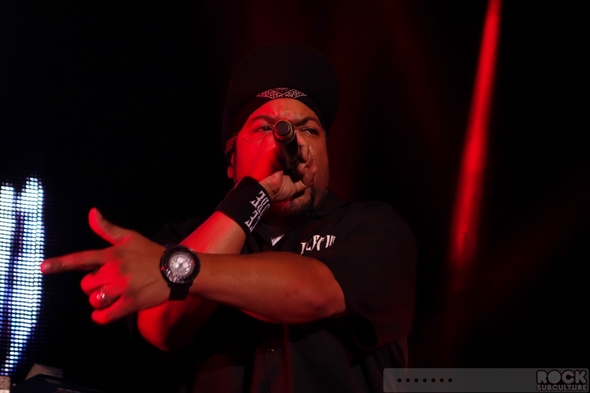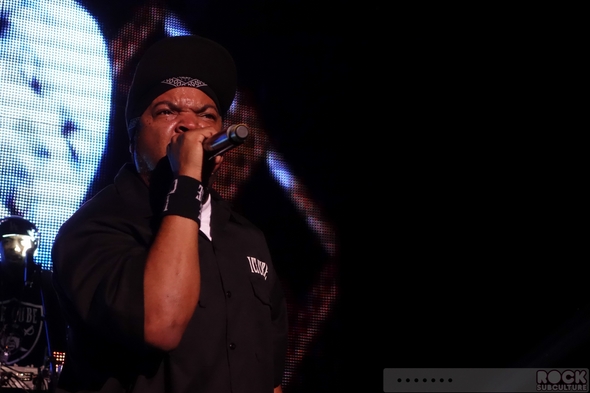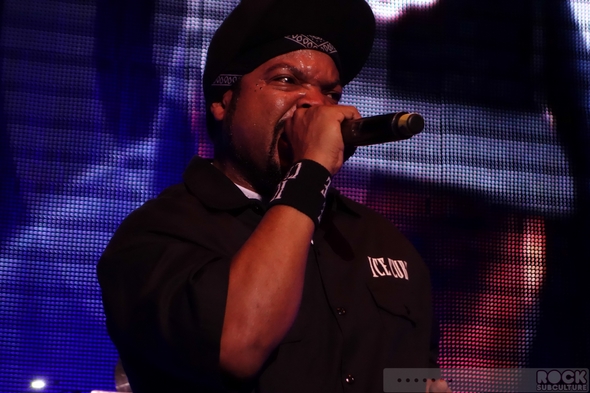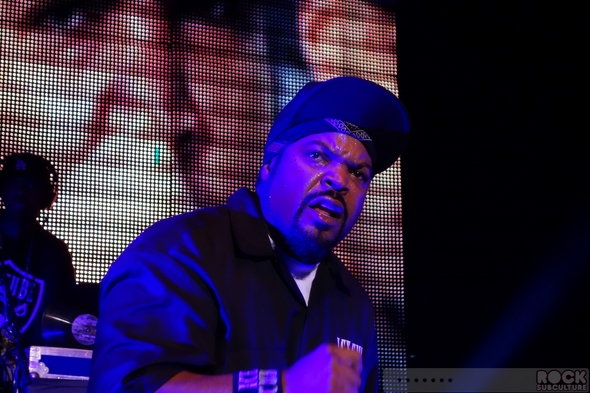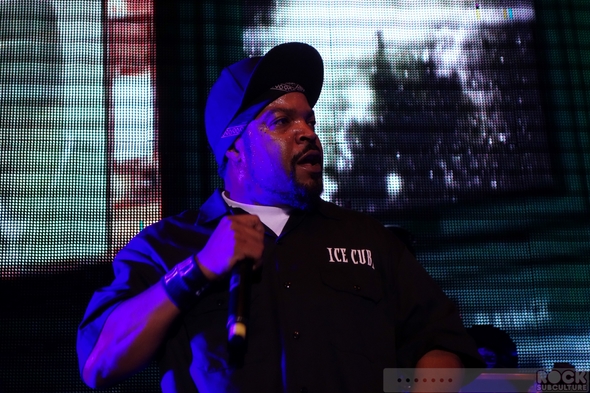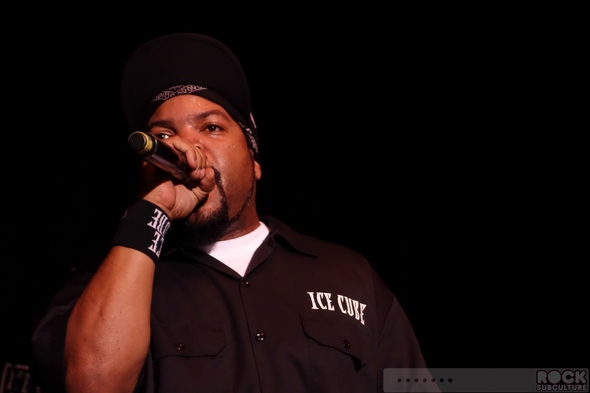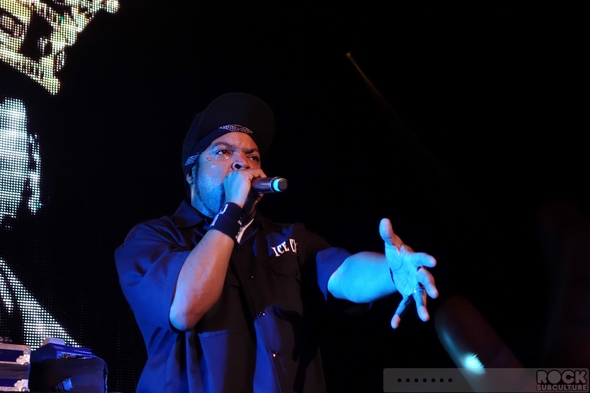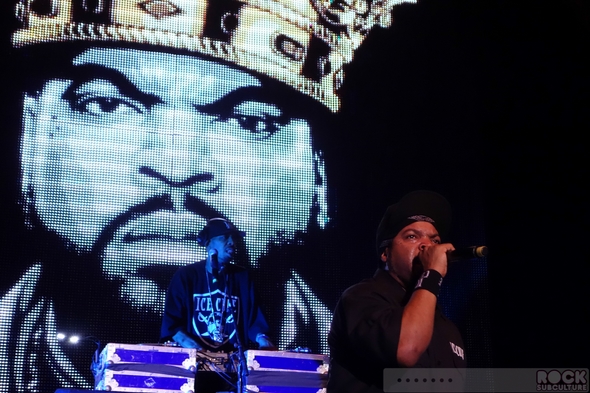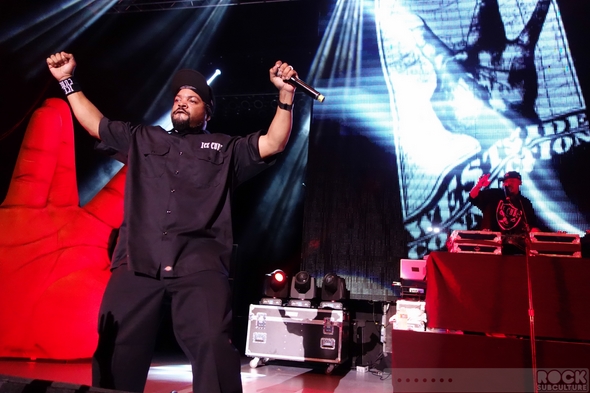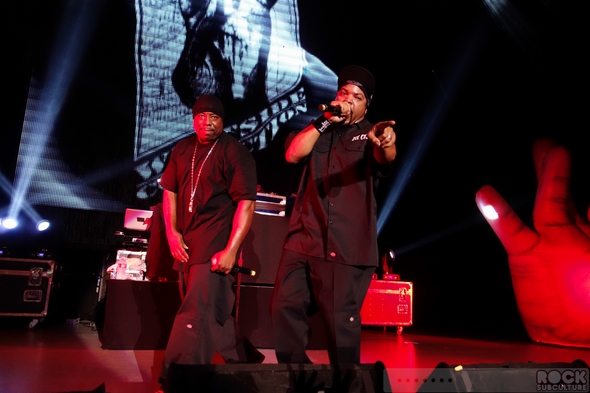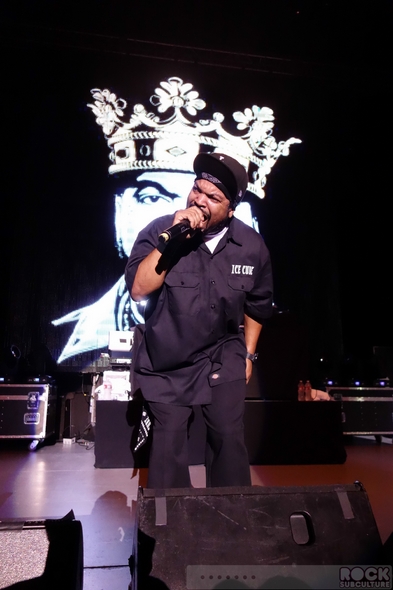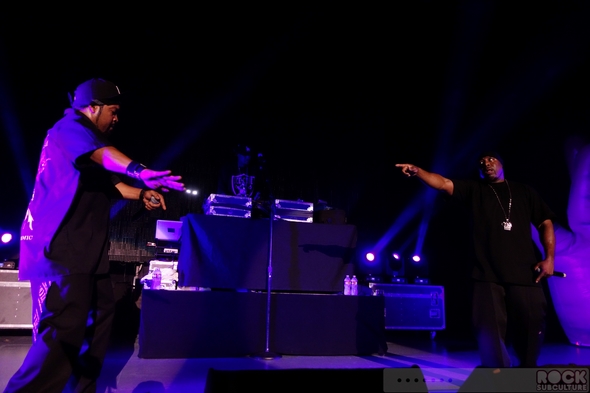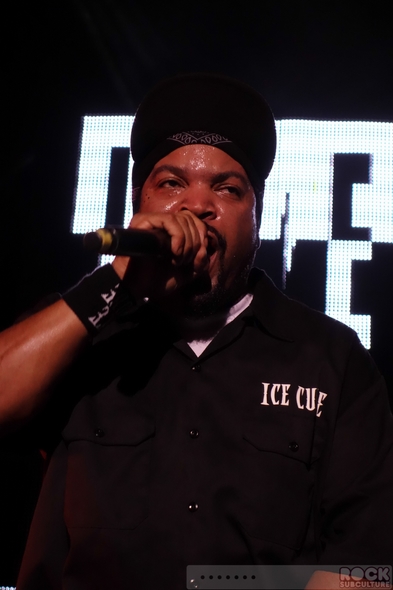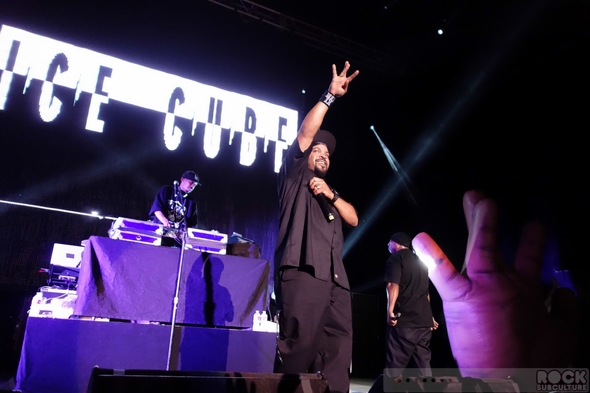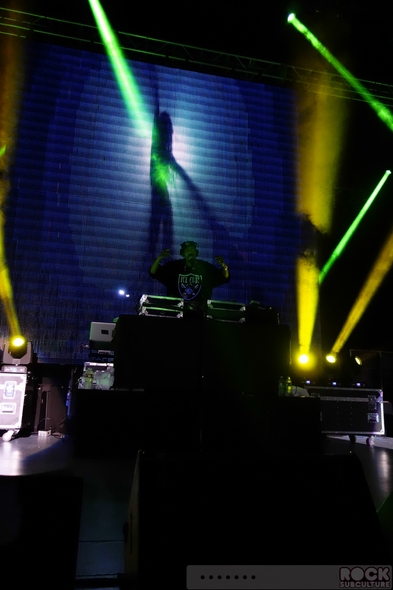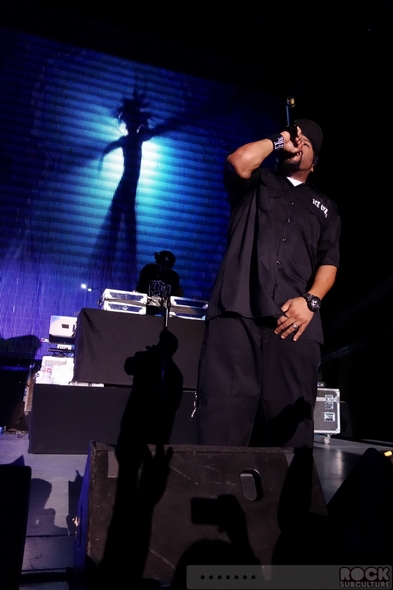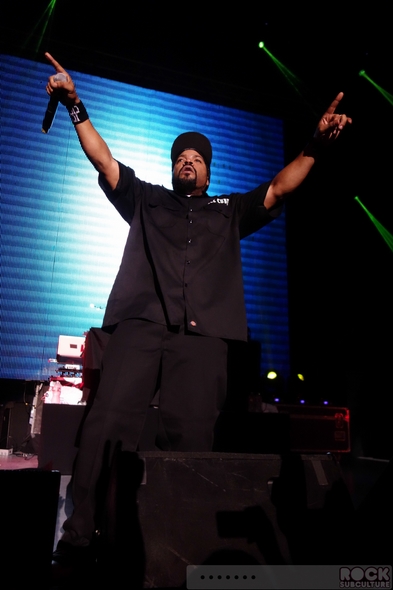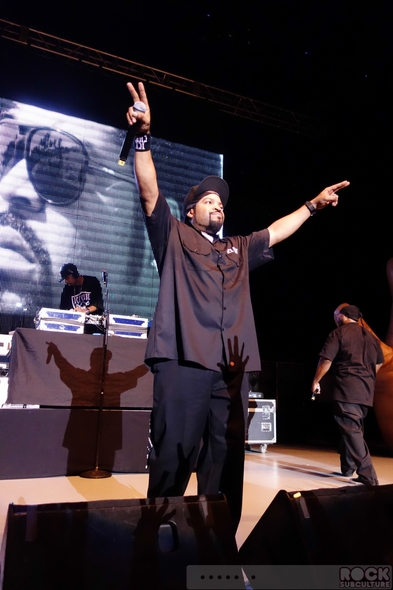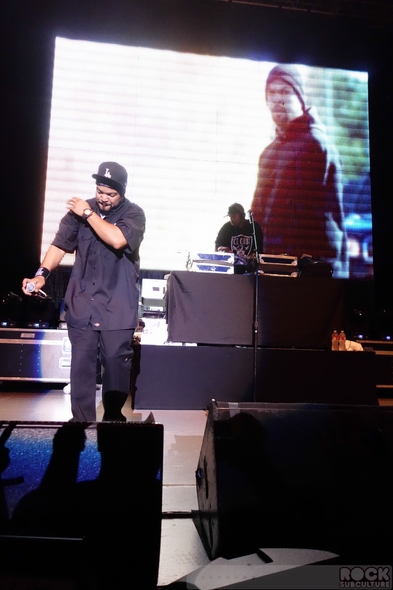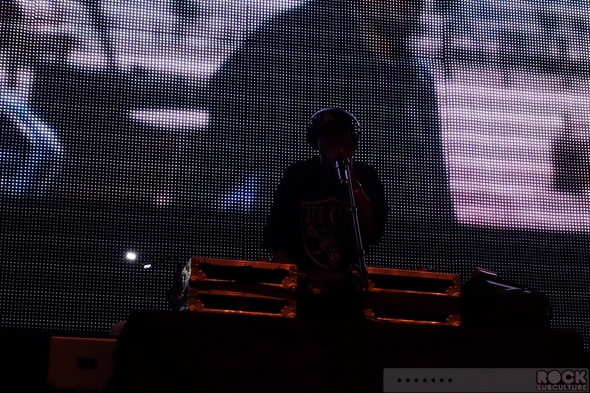 LL Cool J
LL Cool J was probably the third rap artist I got into, after Run-DMC and the Beastie Boys.   It really blows my mind that the man is only five years older than me, and accomplished so much at such a young age, and perhaps more impressively has seemed to lead a life in which he has stayed true to himself, and found even more success in other artistic disciplines.
Even with his work in film and television, and has remained prolific with music, having released 13 studio albums.  Like Run-DMC, he had real success in crossing over into the mainstream, and paved a way for others to follow.
With the show last night, he didn't pull any punches and opened with "Mama Said Knock You Out", following some intro work by DJ Z-Trip.
As the night was a celebration of hip hop, LL took the opportunity of others being on hand to bring them out on stage with him, doing a duo with both Chuck D and Flavor Flav at different points in his set.
Like Ice Cube, LL Cool J seemed to have endless energy, using every inch of the wide and deep stage and running up and down the ledge of the platform to interact with fans up front.  Later in the show, he even brought at least 20 fans on stage to dance with him.
The most touching moment of the night was when LL brought one of his former dancers on stage in a wheelchair to show her some love and tribute.
The entire show was like one long party with friends, and a celebration of music among innovators in that genre.
Below is a video of the highlight of the night for me – LL Cool J and DMC doing "Peter Piper", with LL following with "Going Back To Cali":
Below are some photos of LL Cool J performing on stage (click any image for higher resolution image):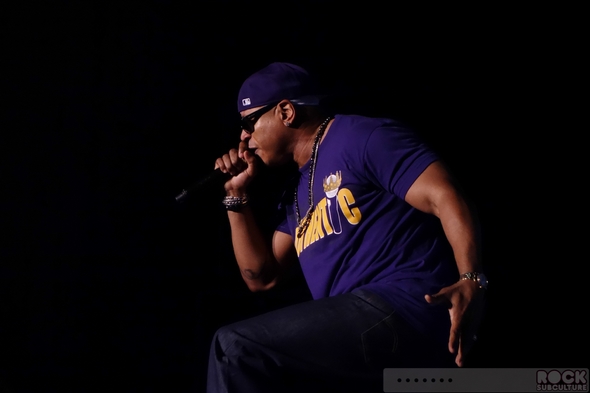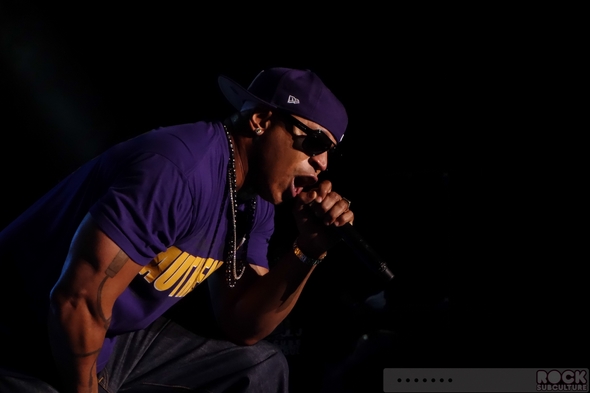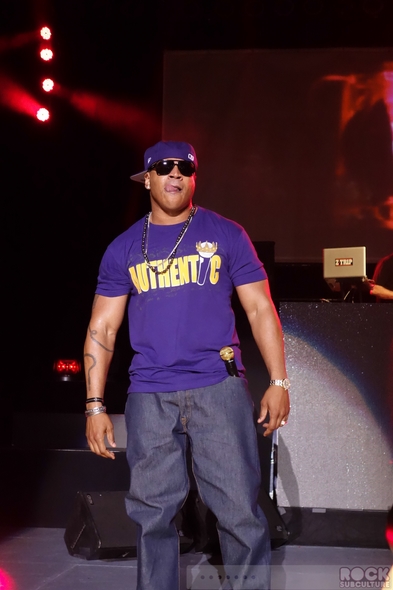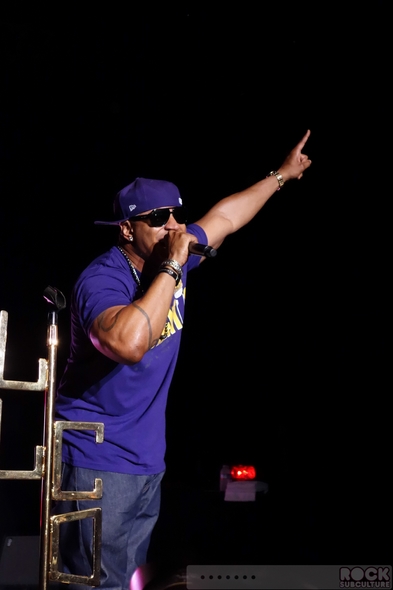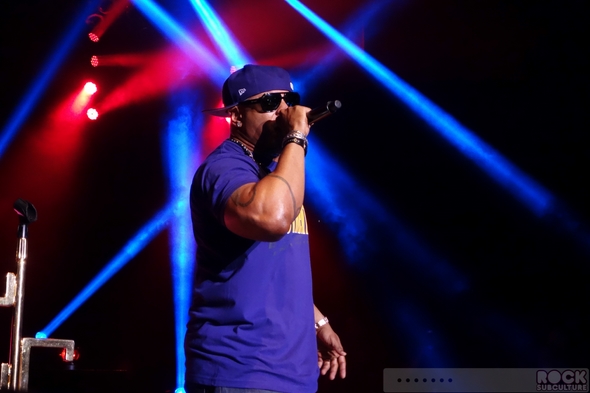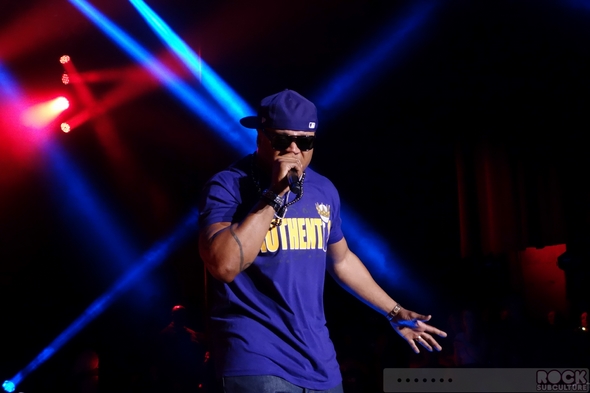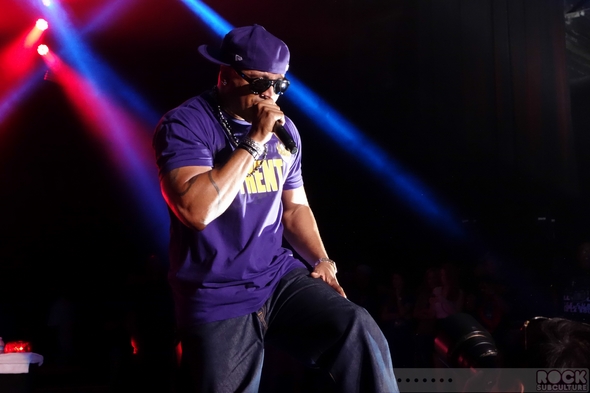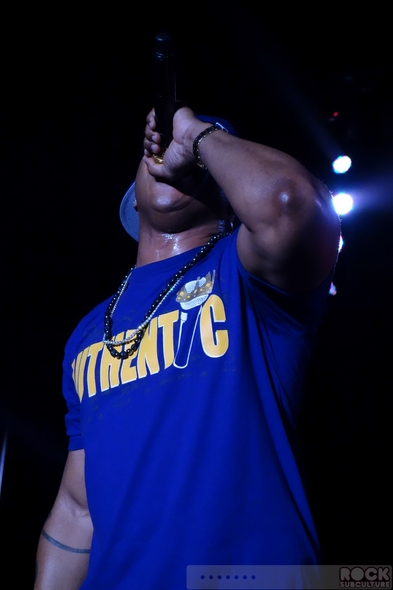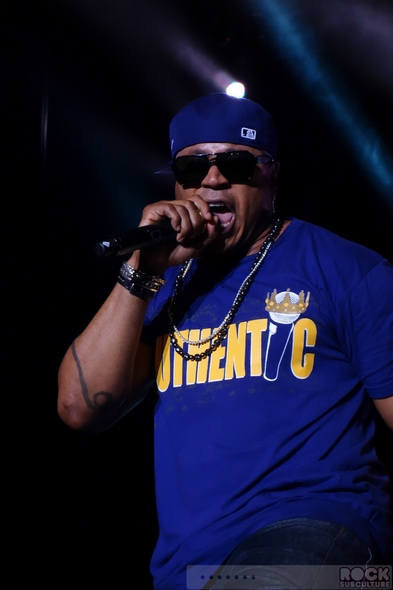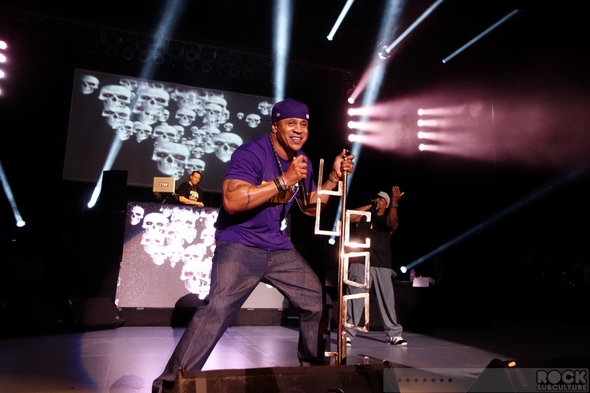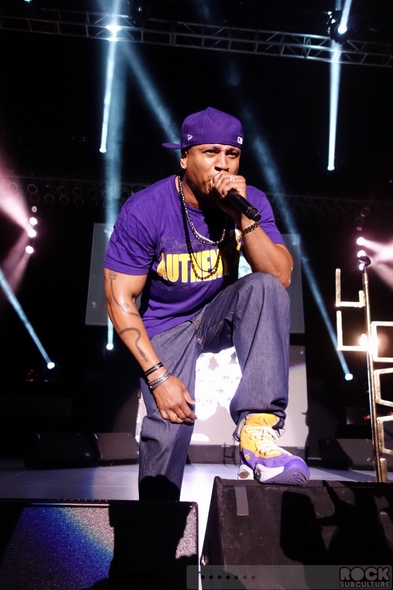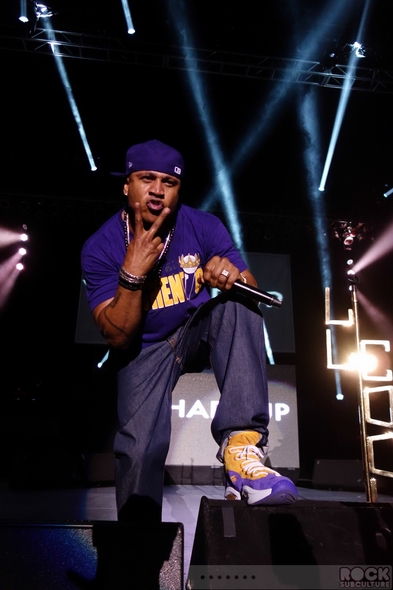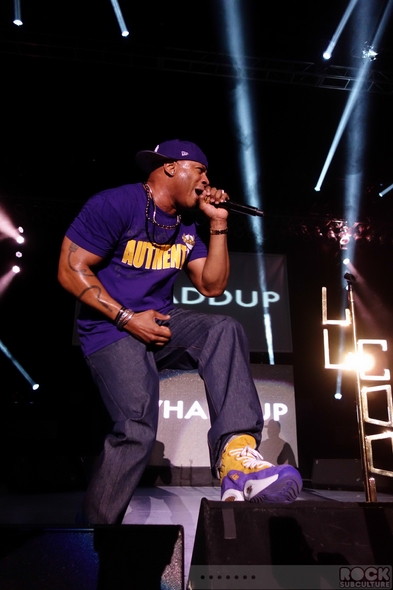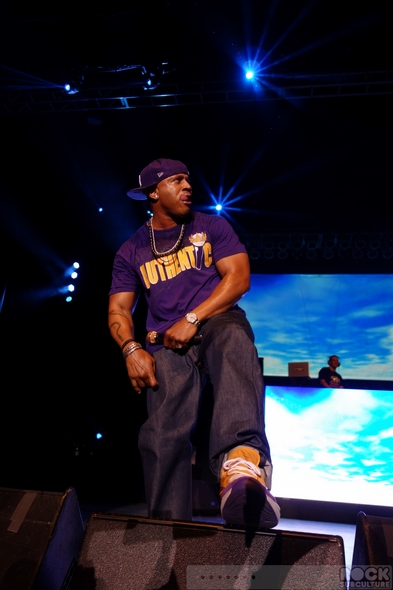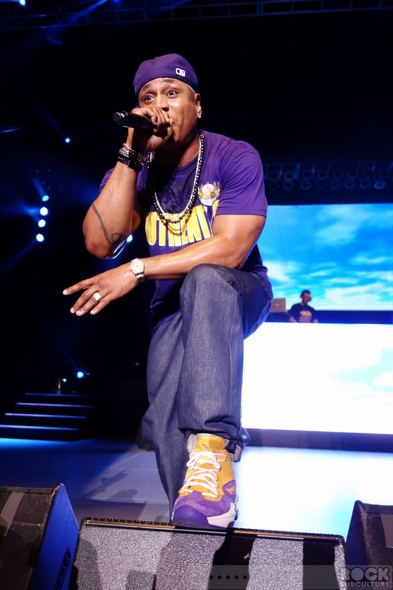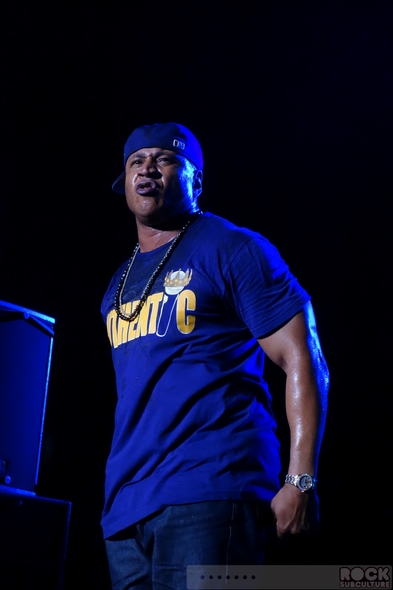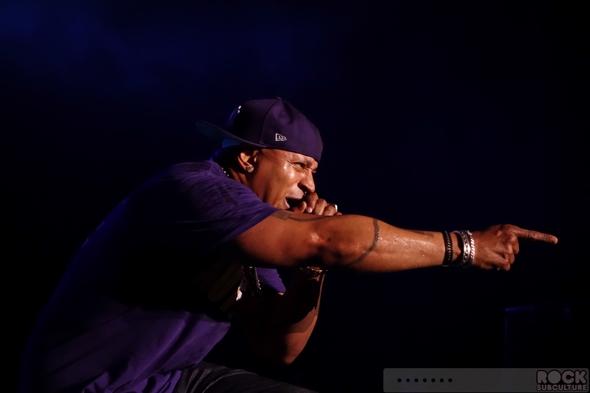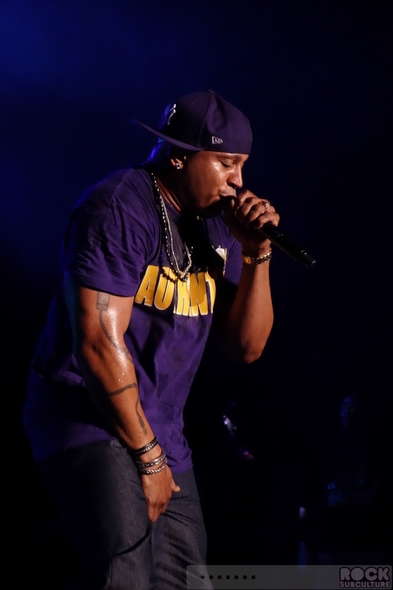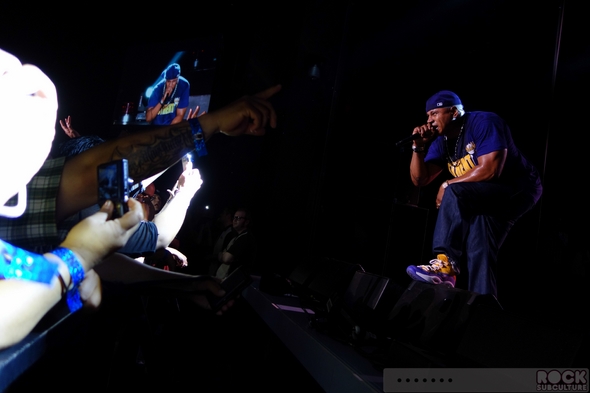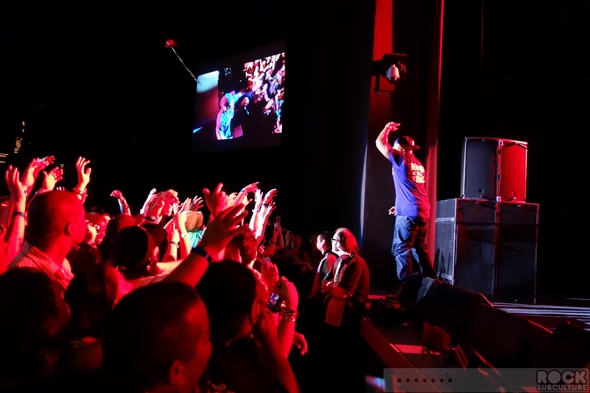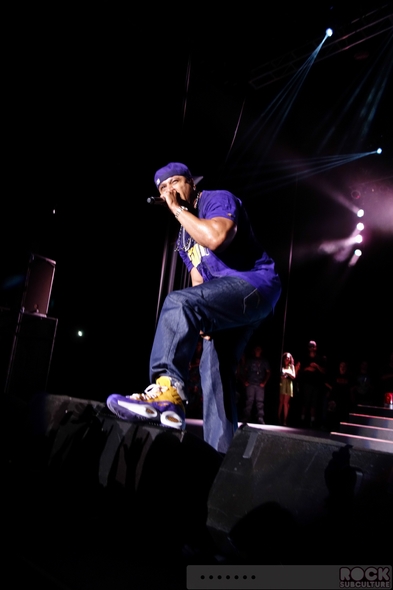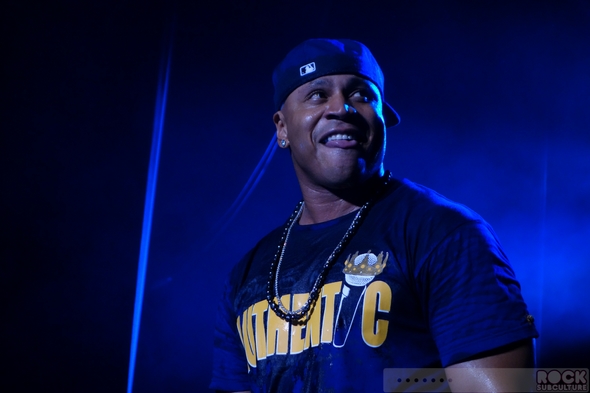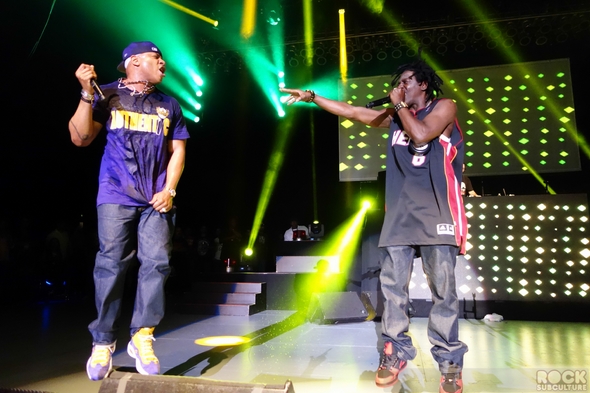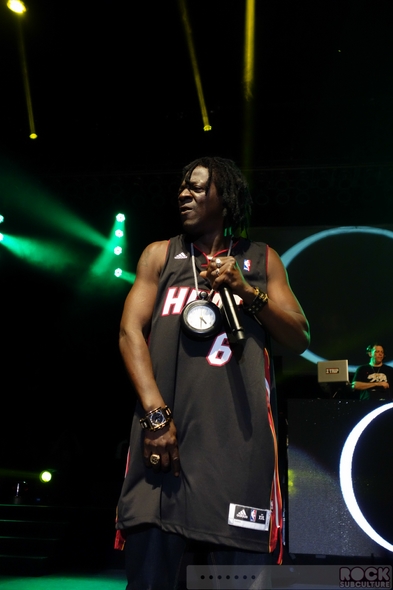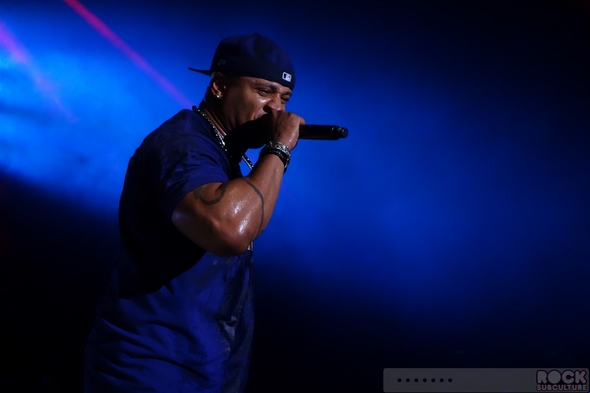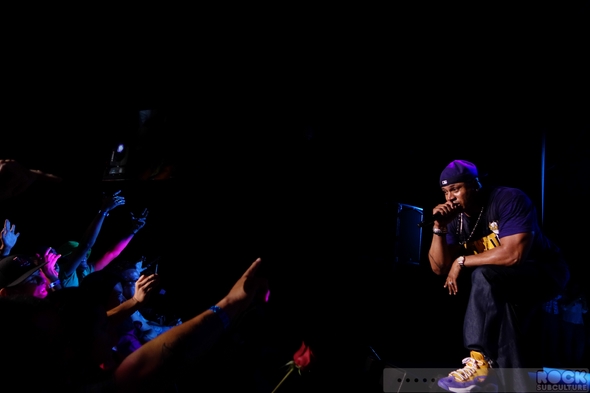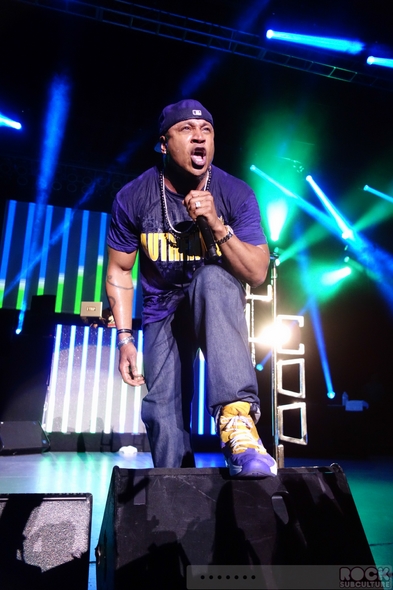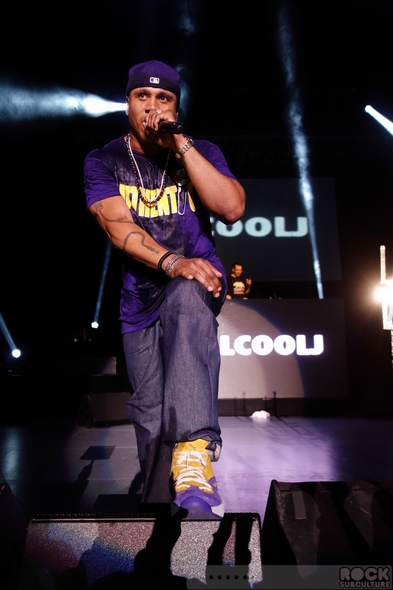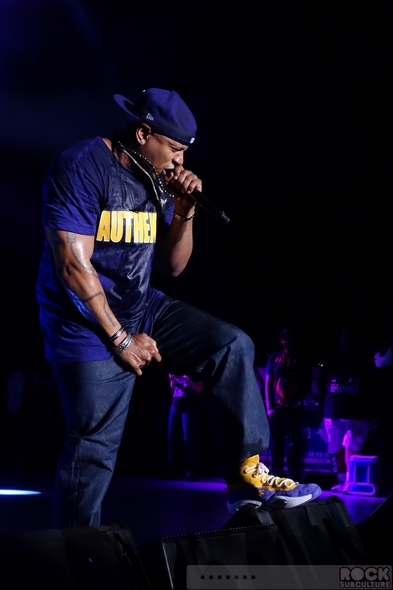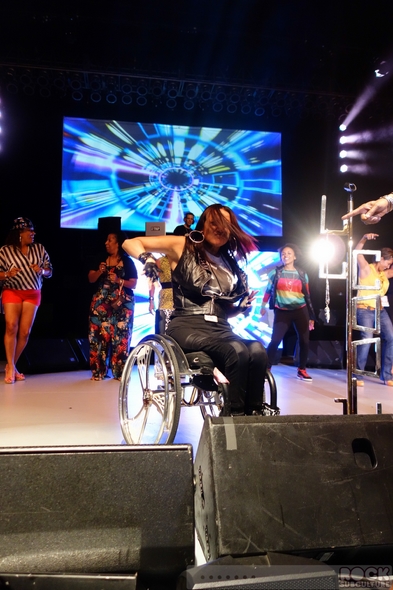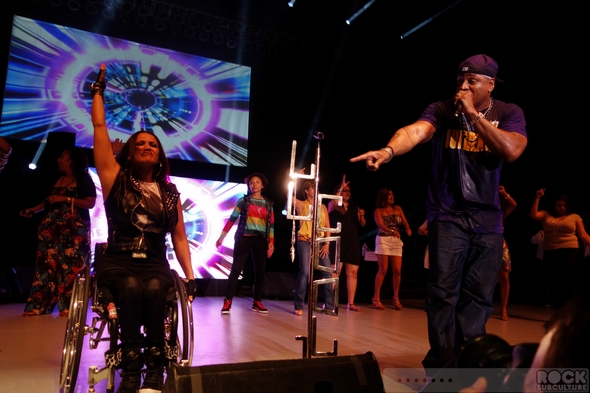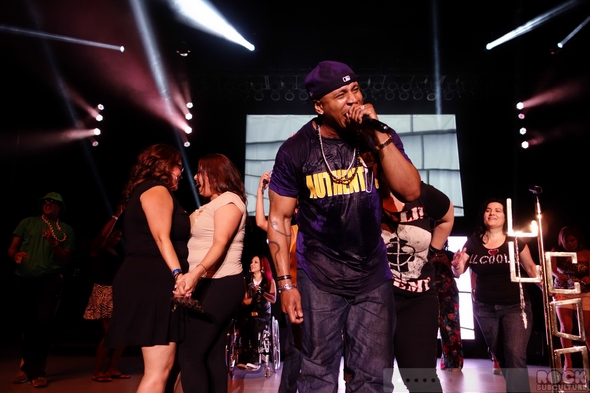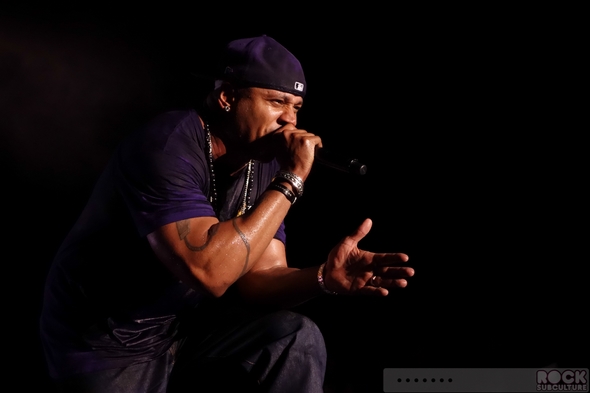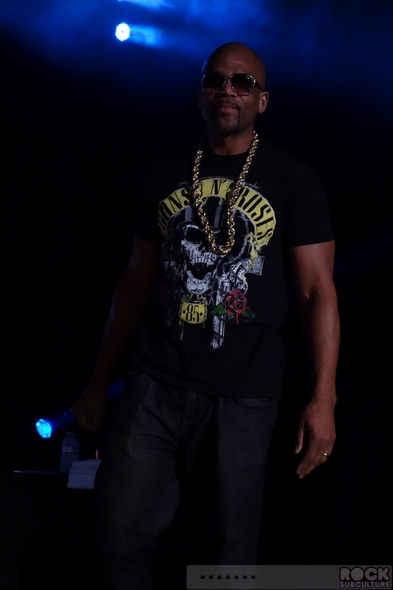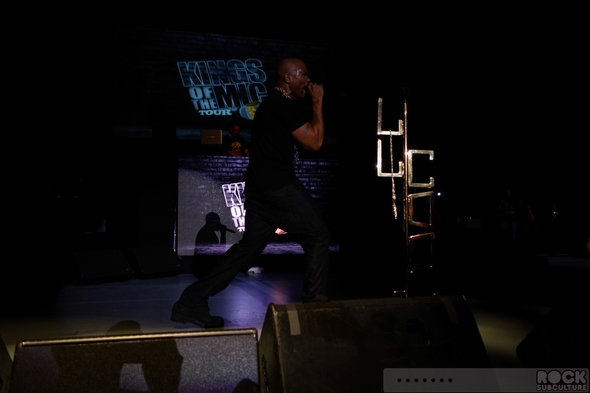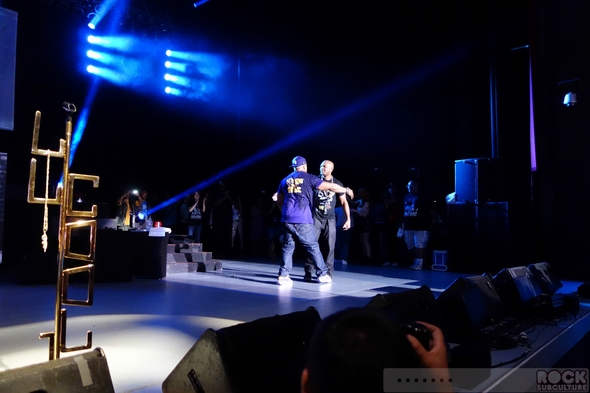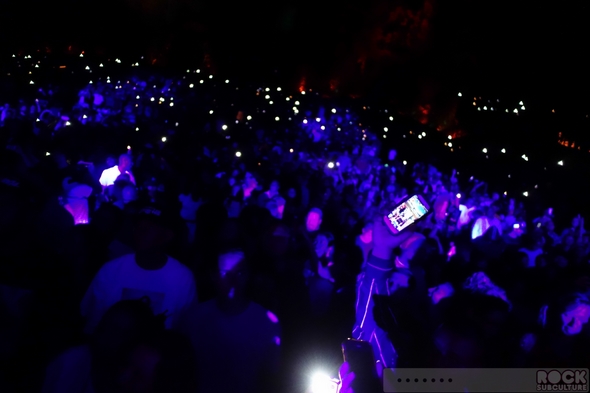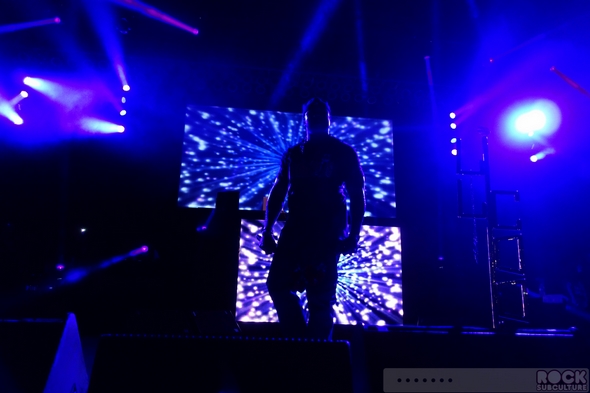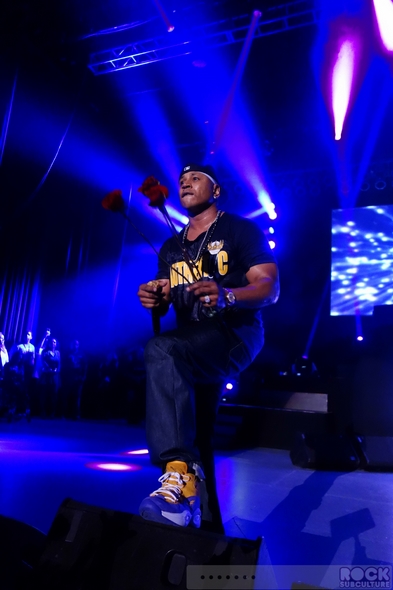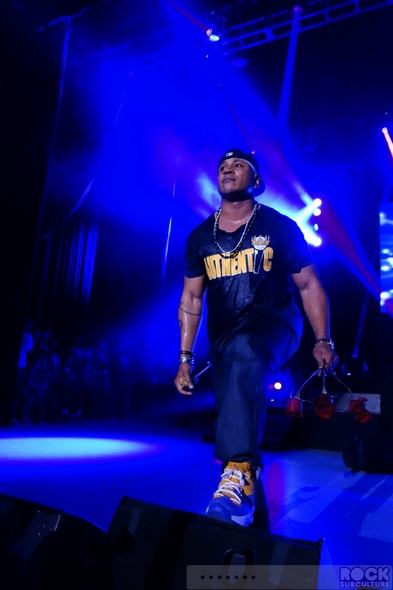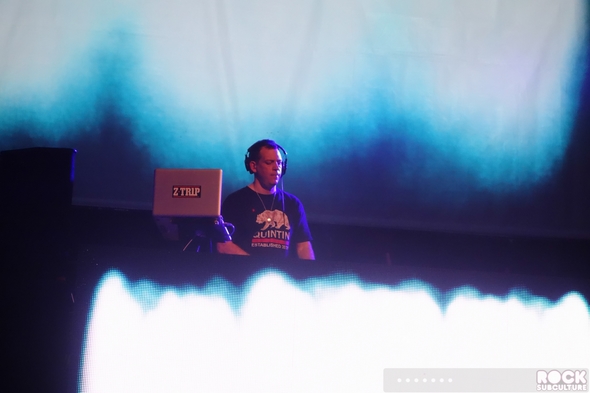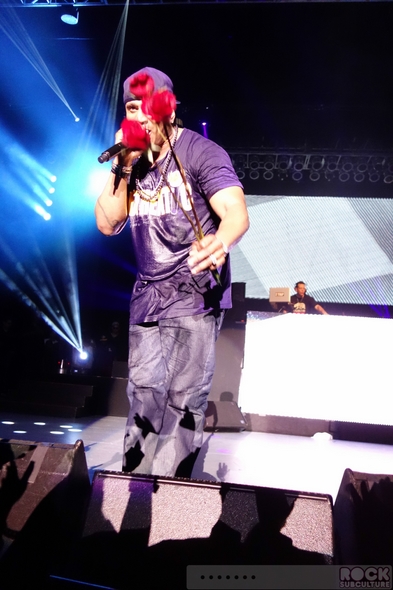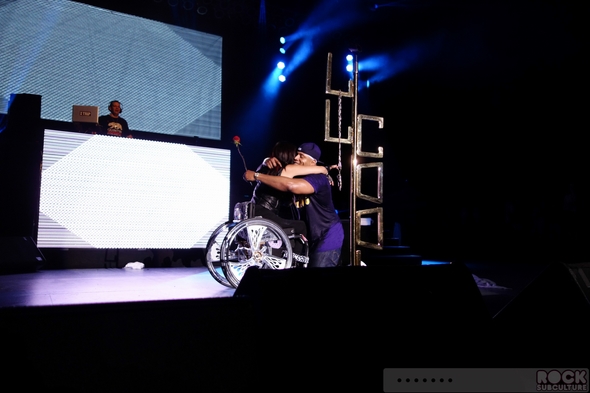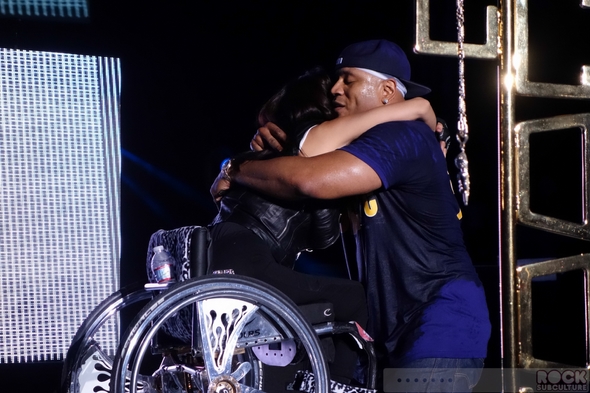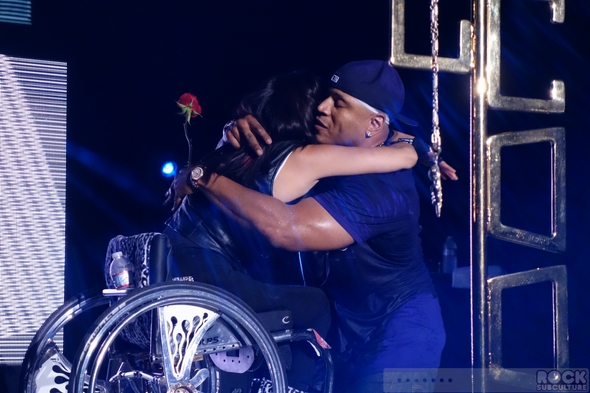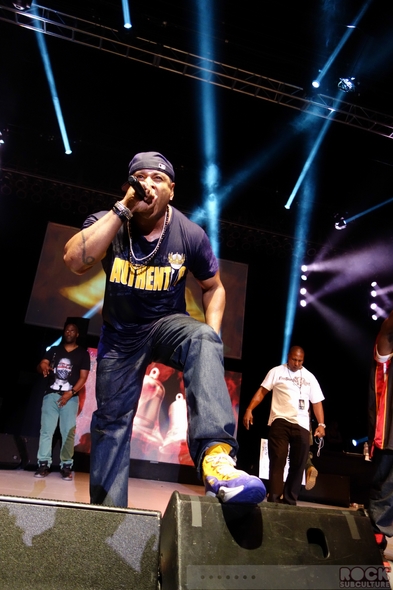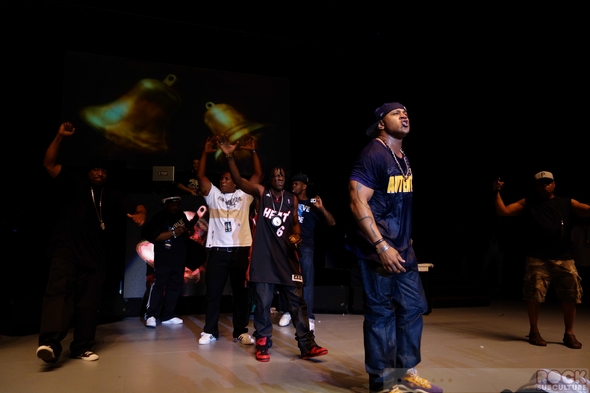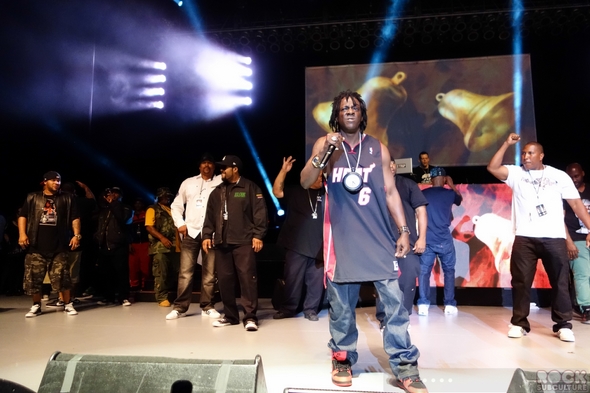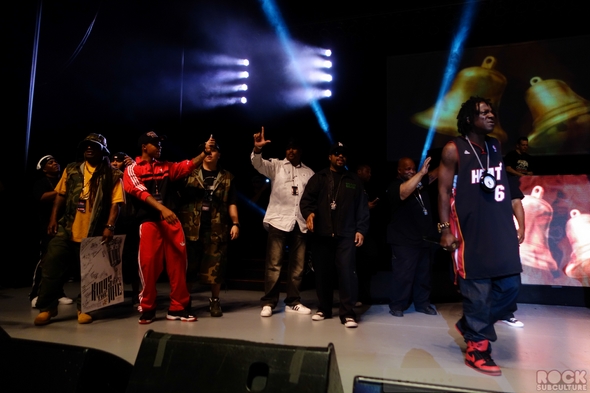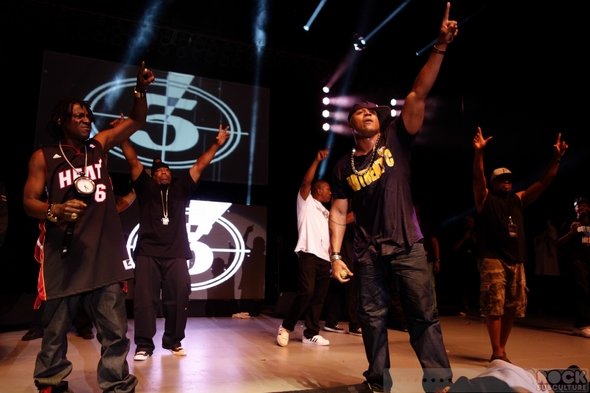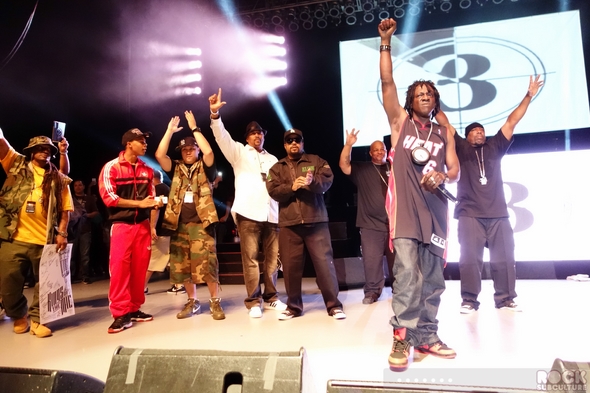 Jason DeBord