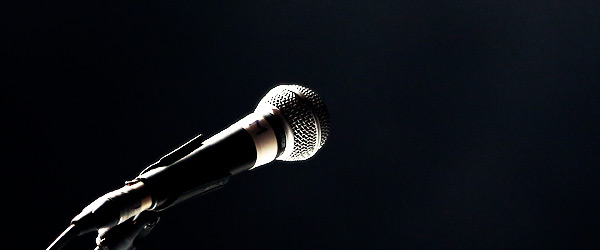 As noted yesterday, Not So Silent Night (NSSN) is Live 105's "Annual Holiday Rock Show", with 2012 being the first year it spans two consecutive nights.  This second night featured headliner The Killers, along with M83, Passion Pit, Tegan and Sara, GROUPLOVE, and Imagine Dragons.  Again, I was very, very impressed at how extremely well managed this multi-artist event was on both nights.  Oracle Arena again served as host to six amazing acts in about seven hours time, with very brief breaks in-between.  I found the two night show to be such a great event to attend, to have an opportunity to see so many great bands back to back, with a stellar closing set by The Killers.

Headliner: The Killers
Supporting: M83
Supporting: Passion Pit
Supporting: Tegan and Sara
Supporting: GROUPLOVE
Supporting: Imagine Dragons
Venue: Oracle Arena
Promoter/Sponsors: Live 105 and Live Nation
Where: Oakland, California
When: December 8, 2012
Seating: Press Pass (first three songs of each artist from pit; watching rest of show side stage. The Killers did not allow professional photography, so watched from floor, audience side)

I wanted to again extend sincere thanks to all those who put this show together, and the people who worked so hard behind the scene to make it all happen.  I can't stress enough how impressed I was with the crews who seamlessly swapped out sets and equipment between each acts – both nights everything seemed to go perfectly.
Live 105 and Live Nation did a great job promoting this show, as the vast Oracle Arena appeared to be completely sold out.  One interesting thing about this show, at least up front near the stage, is how young the crowd was overall.  It was a great crowd filled with enthusiasm – I got the sense that the fans were very appreciative of the opportunity to see all of these great bands, and were very familiar with the artists and their work.
Below are my thoughts on each of the artists along with photos from their respective sets (sans The Killers, who did not permit professional photography).
CLICK ON ANY IMAGE FOR HIGHER RESOLUTION OF EACH PHOTO
Imagine Dragons
Members:
Dan Reynolds (lead vocals, drums)
Ben McKee (bass guitar, vocals)
Wayne Sermon (guitar, vocals)
Dan Platzman (drums, vocals)
Set List:
Round And Round
Radioactive
It's Time
Nothing Left To Say
As has been the case with about half of the bands performing over the two nights, I was not too familiar with Imagine Dragons prior to this event.  Like headliner The Killers, the band hails from Las Vegas, and they have been active since 2008.
They signed about a year ago, and have already had many impressive accomplishments, performing on three of the major late night shows, having their video for "It's Time" being nominated as "Best Rock Video" for MTV, and being recognized by Billboard Magazine as one of "2012's Brightest New Stars".
Their first album, Night Visions was released this year.  I purchased it in advance of this show and was very, very impressed – excellent album.  Every track is a winner, so I was excited to see how it would translate to a live performance on stage.
The funny thing is, my first thought when these guys took to the stage and started playing was "who would want to follow these guys?"  Not only do they sound great, they put on a dynamic and exciting show as well.  Front man Dan Reynolds has tremendous charisma and presence, and his drumming while he's singing makes for a very unique live set.
While it took a while for the crowd in the prior night to fully come alive, Imagine Dragons had everyone dancing and moving immediately with their catchy, hooky rock music and spectacular live performance.
I was as impressed with the live show as I was with the debut album, and look forward to seeing them live again, and what the future holds for this up and coming band.
Below are some photos of Imagine Dragons performing on stage: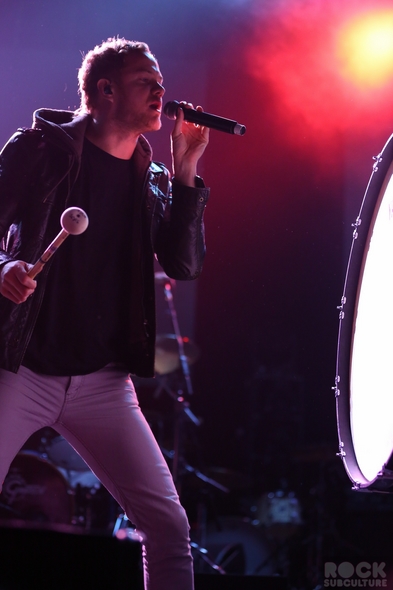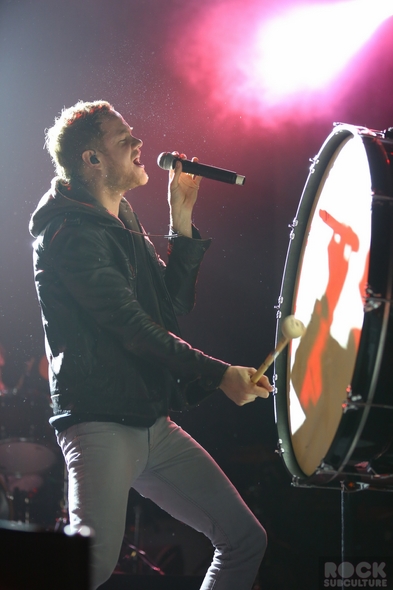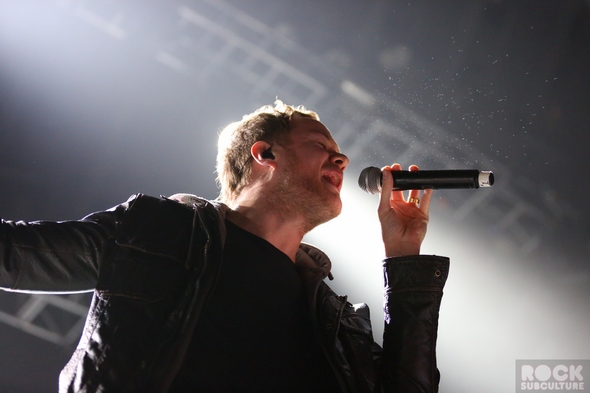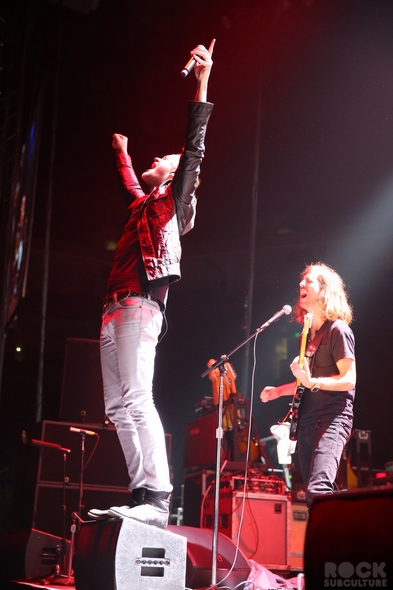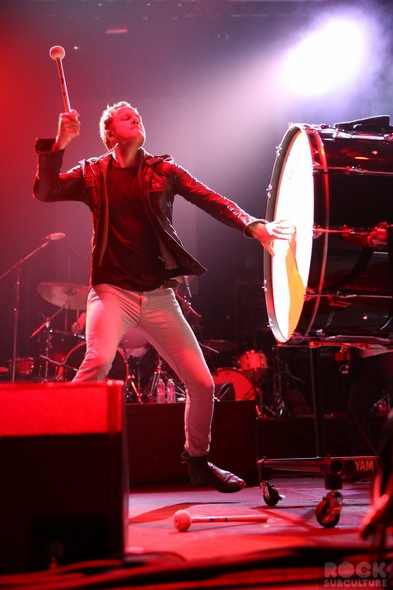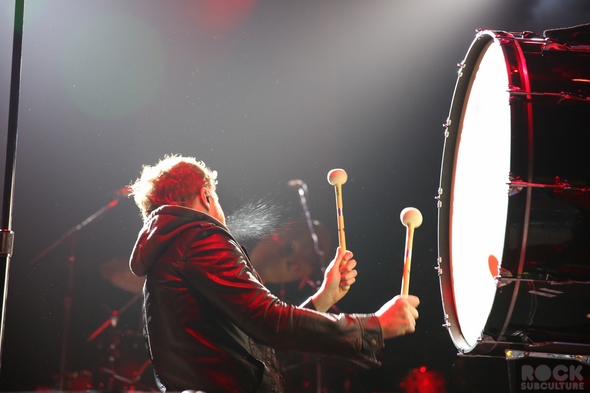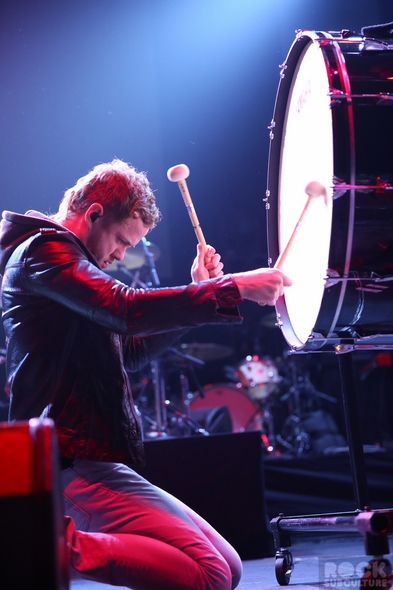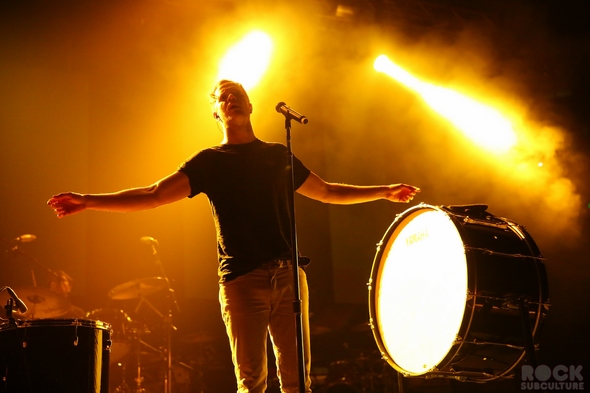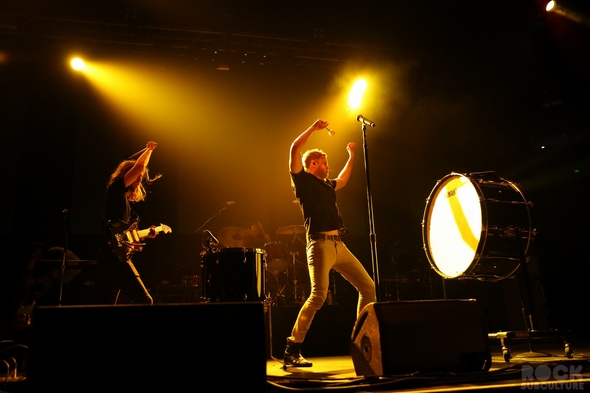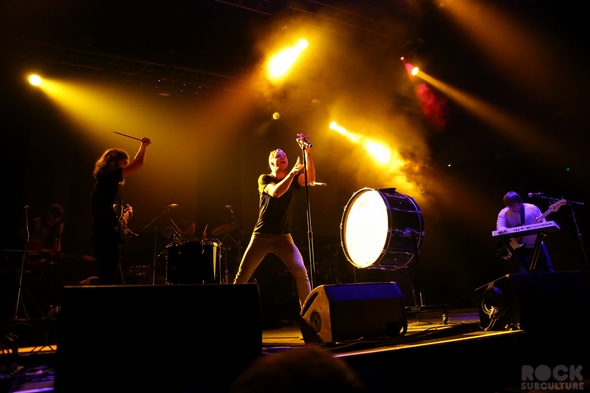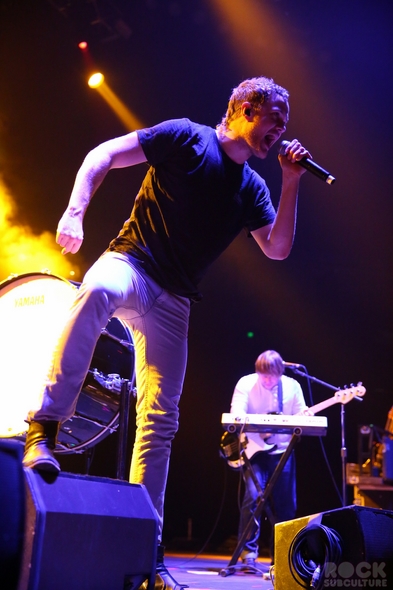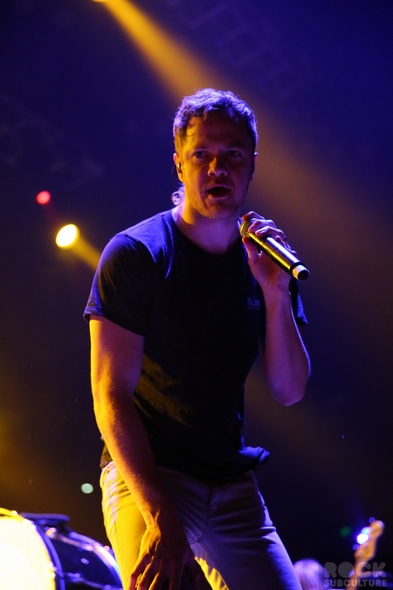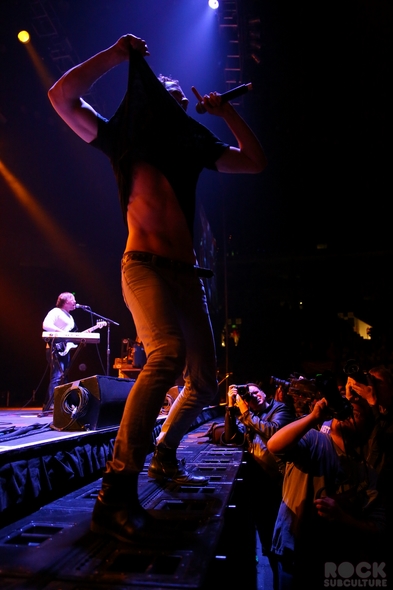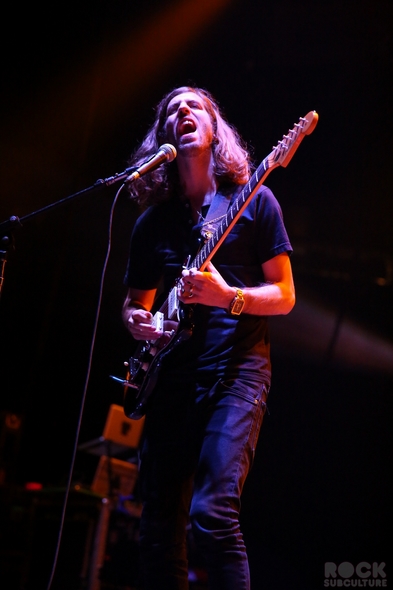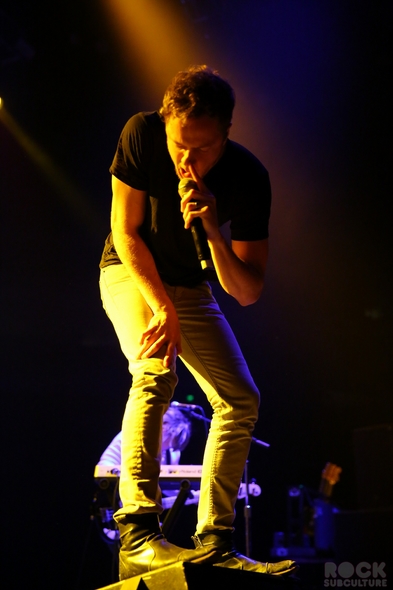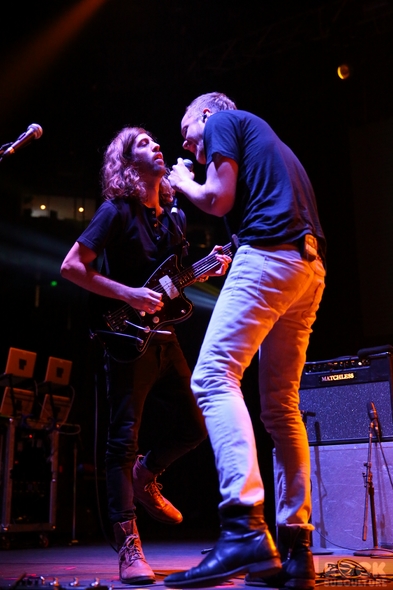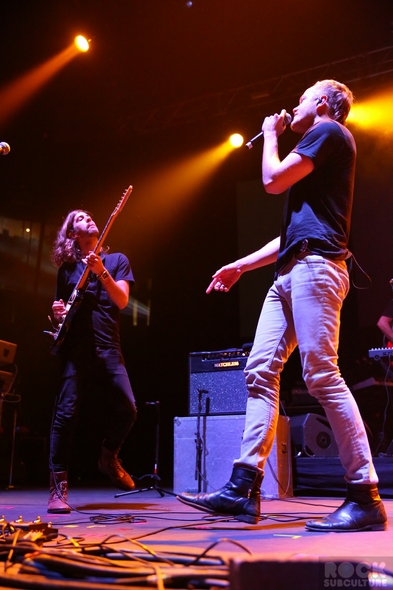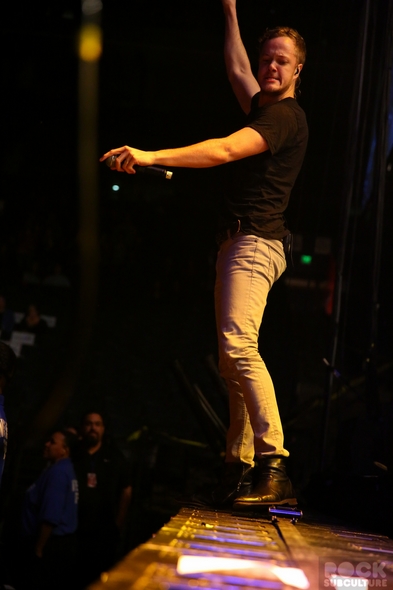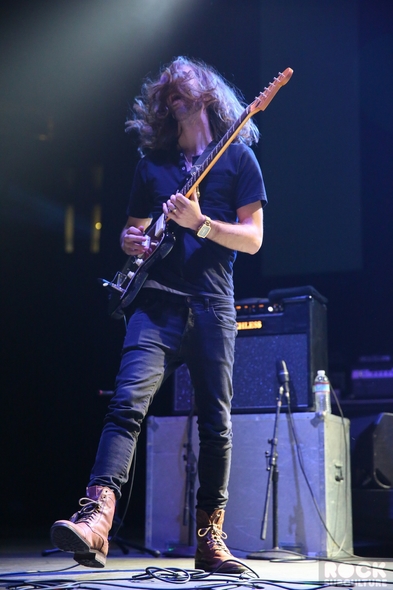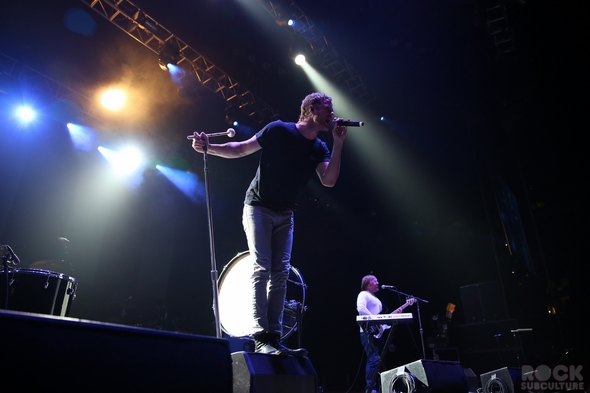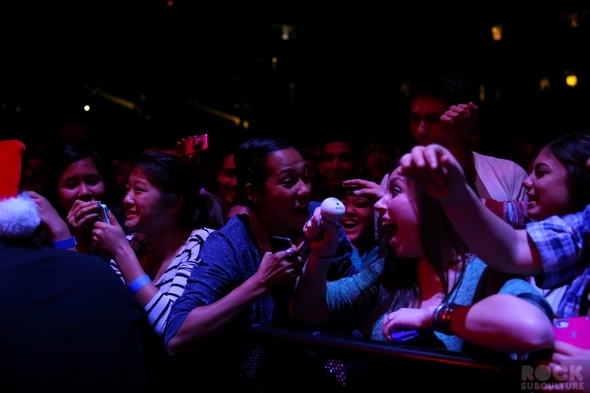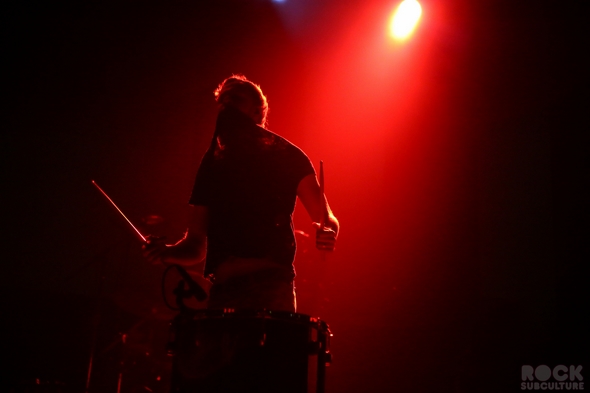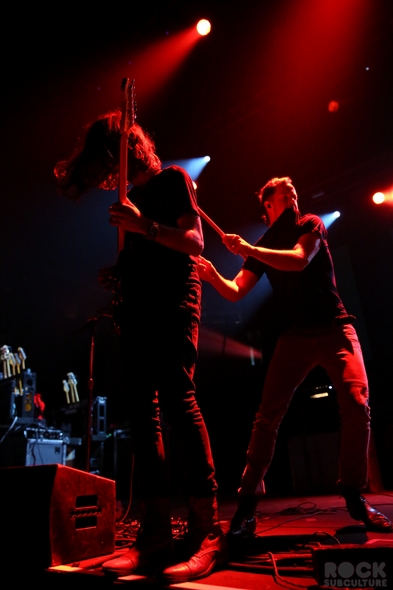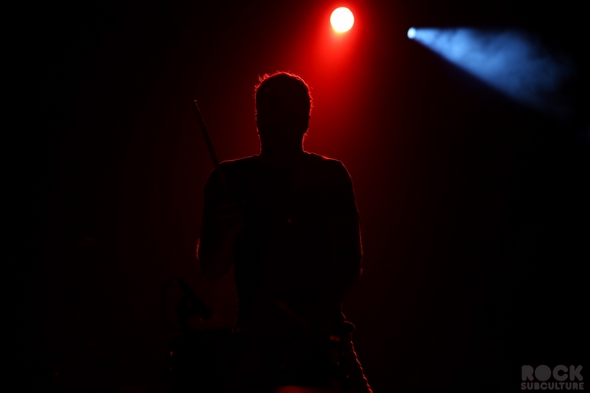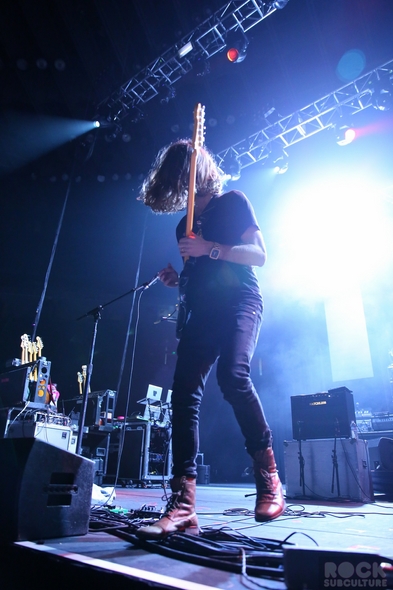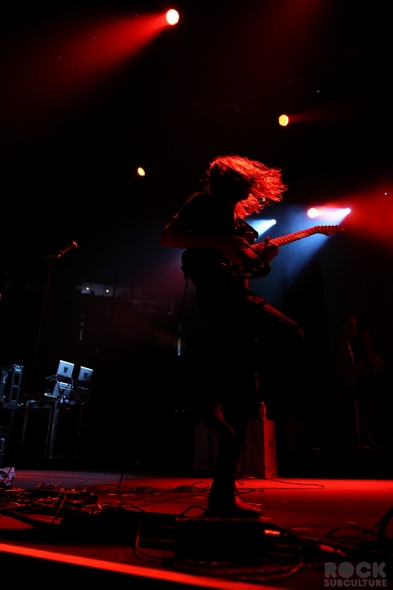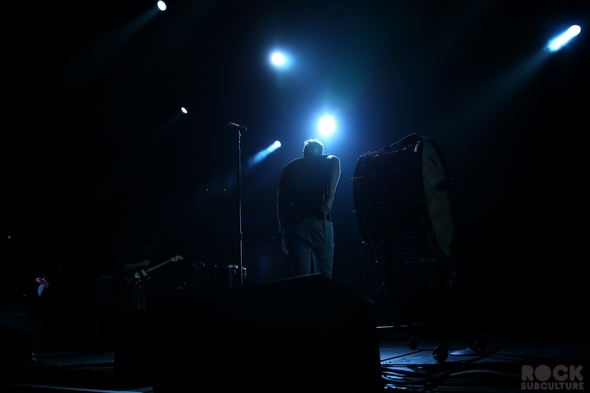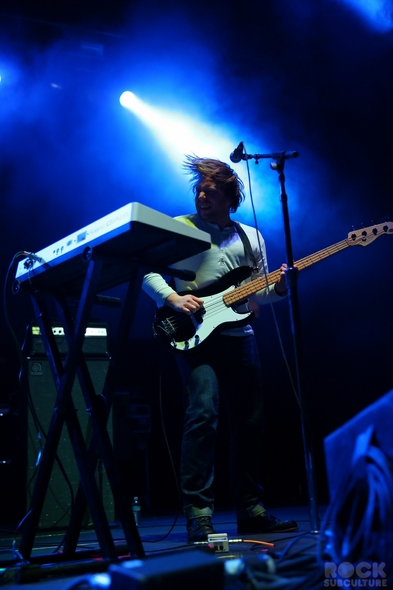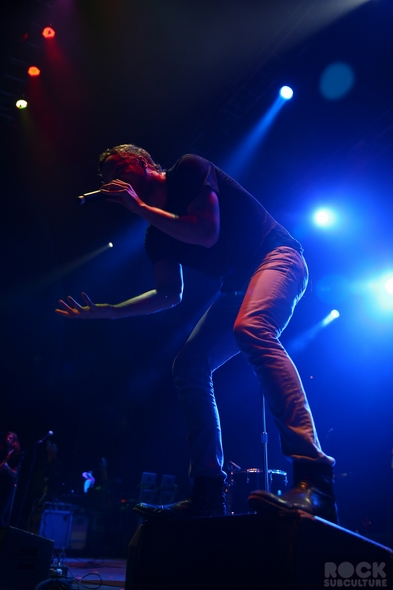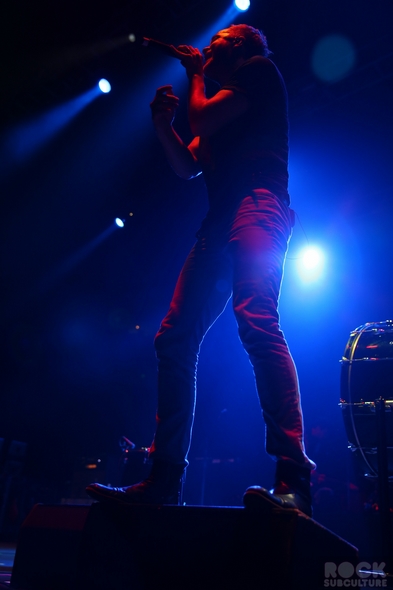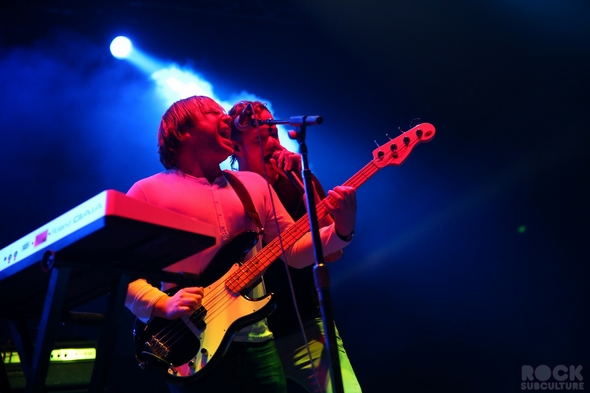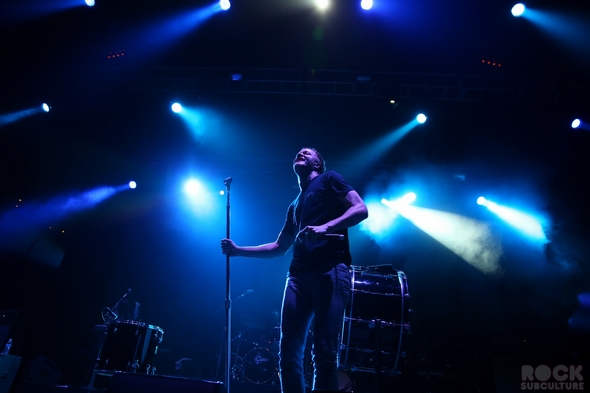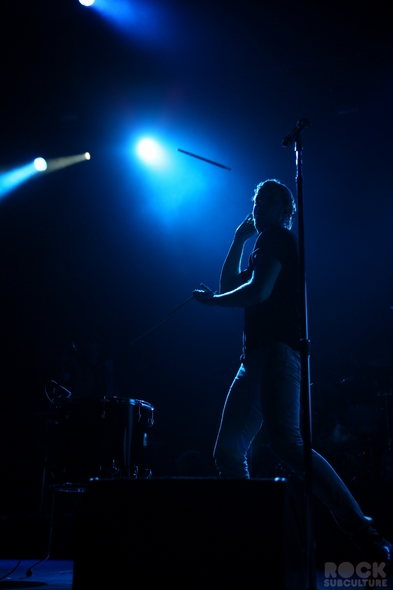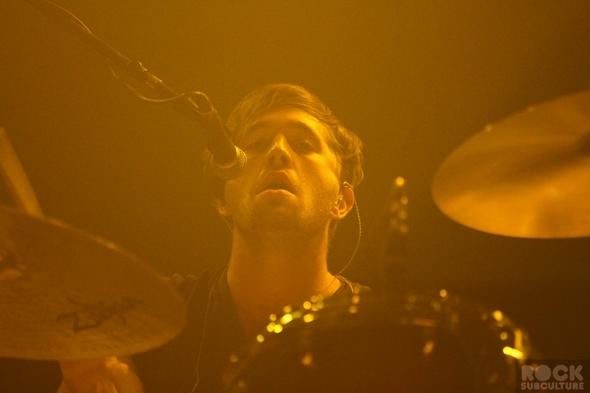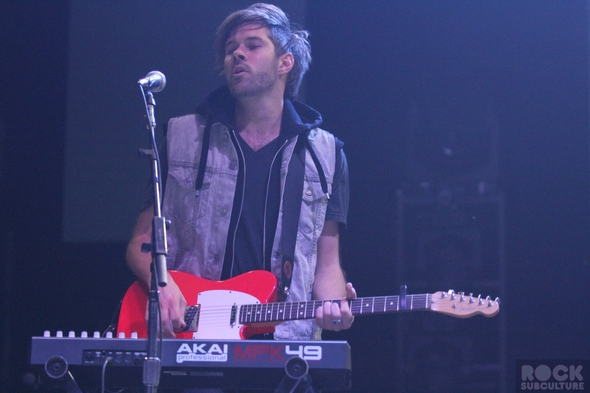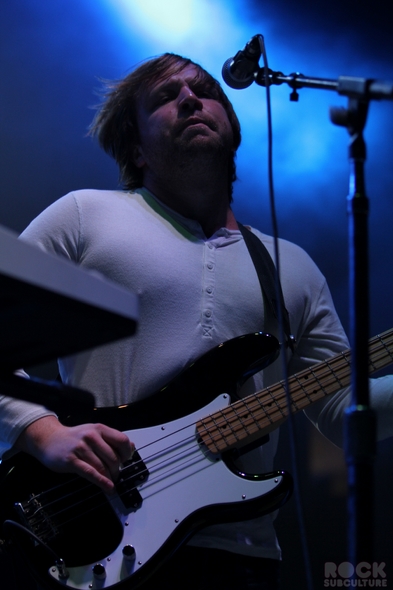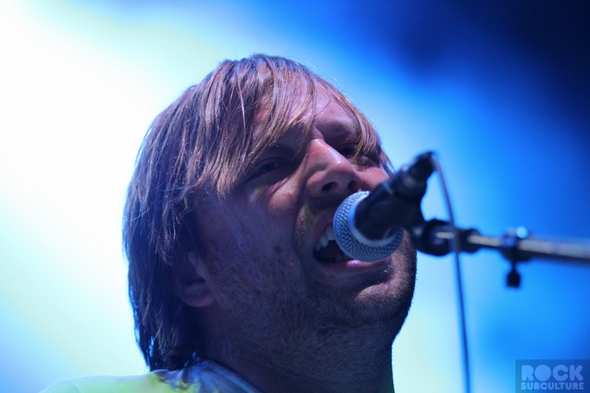 GROUPLOVE
Members:
Christian Zucconi (vocals, guitar)
Hannah Hooper (vocals, keyboards)
Andrew Wessen (vocals, guitar)
Sean Gadd (vocals, bass)
Ryan Rabin (drums)
Set List:
Itchin' On A Photograph
Borderlines And Aliens
Spun
Slow
Tongue Tied + I Want To Dance With Somebody
Colours
I've become a huge GROUPLOVE fan over the past year.  In fact, I traveled to Las Vegas in October to cover one of their own headlining shows at The Cosmopolitan (see "GROUPLOVE at The Boulevard Pool at The Cosmopolitan | Las Vegas, Nevada | 10/4/2012").  As such, some of this review will incorporate thoughts about the band from my prior article.
GROUPLOVE is one of those bands that, I think, will take a bit of hindsight to figure out… maybe a decade from now, in that their talent, earnestness, and originality seems boundless.  They are definitely doing their own thing, and in these somewhat darker times with people facing a lot of struggles and challenges, their unique and incredibly upbeat music is truly a breath of fresh, sweet air.
The band's first album, Never Trust a Happy Song, came out about a year ago (following their eponymous EP).  For a debut album, they've already found much success with several songs, most notably "Colours", "Tongue Tied", and "Itchin' on a Photograph".
The most striking thing for me is that GROUPLOVE is one of those rare bands that release a first album that is just a masterpiece (much like headliner The Killers did with Hot Fuss).  The band definitely has an artistic understanding of what makes catchy, engaging, music – the kinds of songs with which, after the first listen, you want to hear them again and again.  Most bands are lucky to get one of these on an album, maybe two.  Never Trust a Happy Song is, front to back, song after song, just magnificent.  And while there is a consistent sound and style overall, it is not repetitive with what works.  The is such a diversity in the work…  this a a group of musicians with many ideas and they obviously want to work them out – not simply come up with one good song and throw together an album around it.  It is so great, it makes me anxious to see what they come up with in future albums, as I expect that they are the kind of band that will grow and evolve and have tremendous potential for growth in this industry.
As with the show I saw in Vegas, the band really has the ability to come out and bring the party, change the atmosphere, and make people forget about the day to day and other concerns and just enjoy their music and kind of follow them on a journey to a happier, simpler place.
The Oracle Arena seemed to be a bigger venue than maybe they are accustomed to, and I got the sense that energized them even more, as they seemed to be beaming with excitement, and fairly interactive with the audience.
One funny personal moment for me was when Hannah picked up an inflatable Christmas tree from the stage and attempted to kick it into the audience, whereby in ended on on my head instead, as I was taking photos between the audience and the stage.  She made kind of a funny gesture to keep pushing it over into the crowd…
As with The Metric set the night before (who I saw headlining their own show a few months ago on the same trip to Vegas in which I saw GROUPLOVE), the GROUPLOVE set was definitely a highlight of the two night event for me personally.
A cool "behind the scenes" moment that I just loved, which I'll share here…  since I was standing side stage to watch the rest of the set after shooting the first three songs, as I was walking back at the end of their set, the band was walking backstage at the same time.  As they turned the corner, the were high fiving each other in celebration of their performance.  I just thought that was so cool, as it confirms my view of them as genuine, earnest, and thoroughly enthusiastic about their work as artists and musicians, and bringing their music to fans to enjoy.  Brilliant.
Below are some photos of GROUPLOVE performing on stage: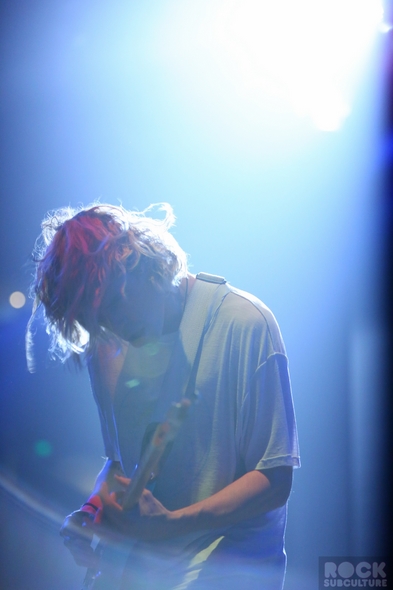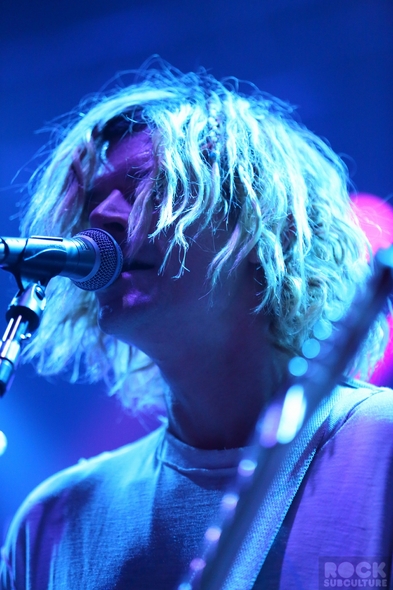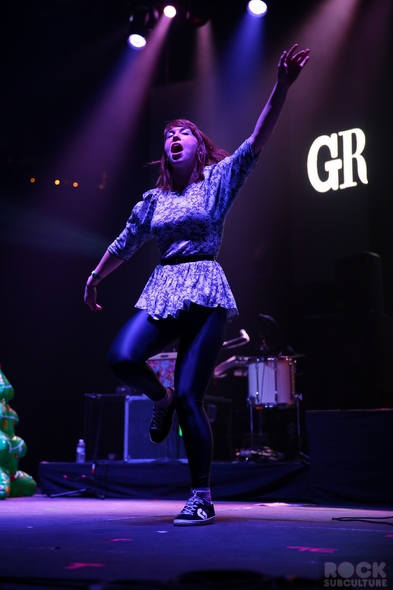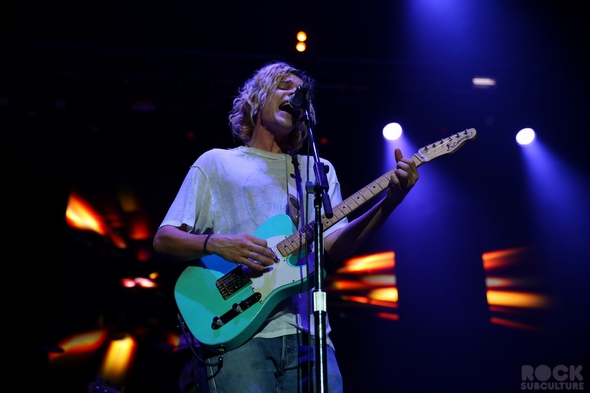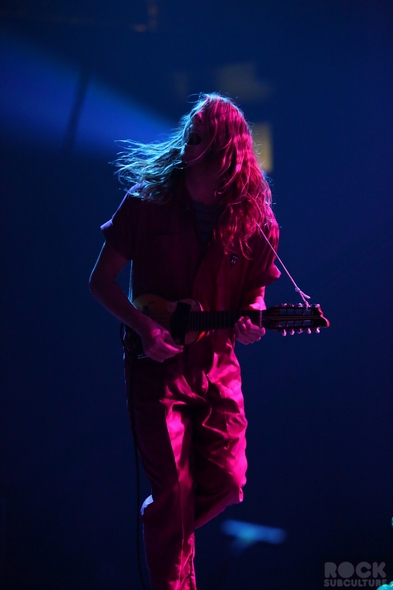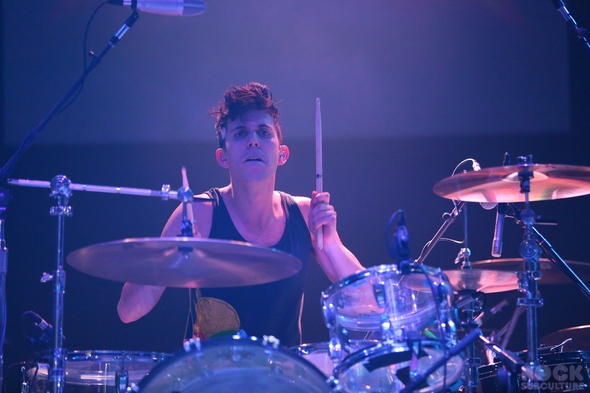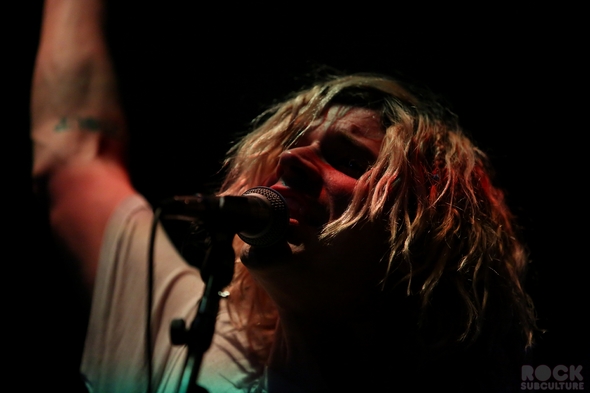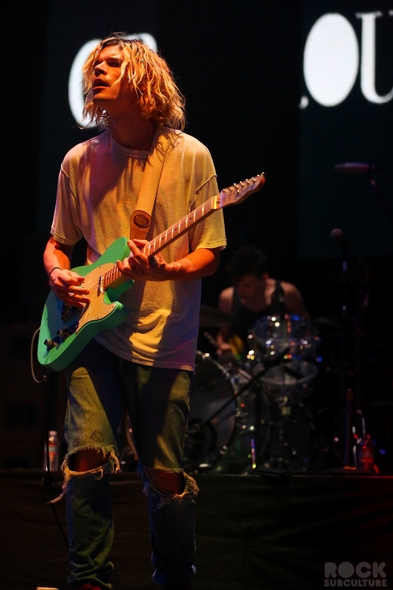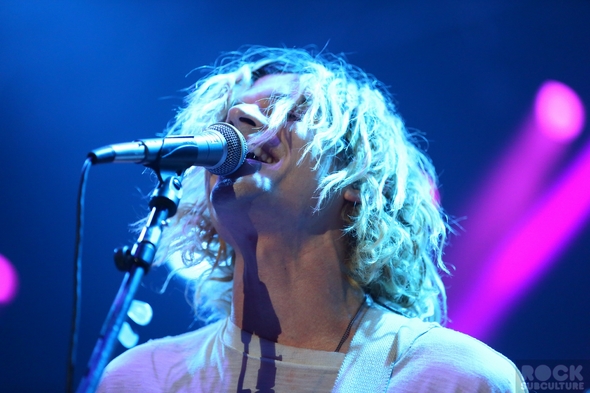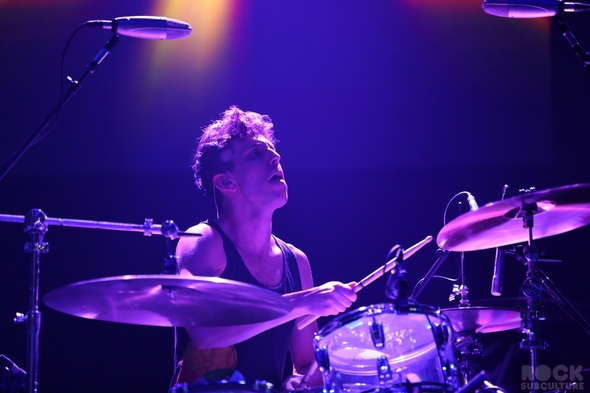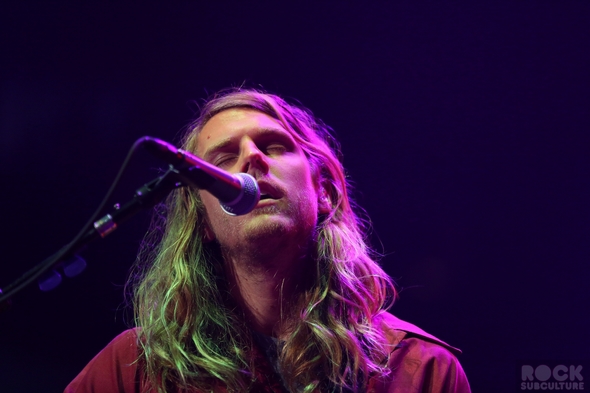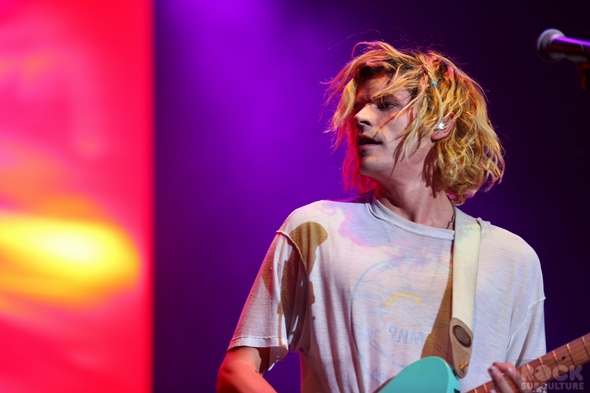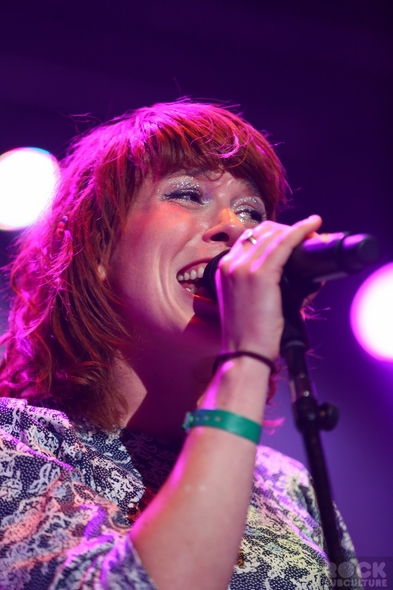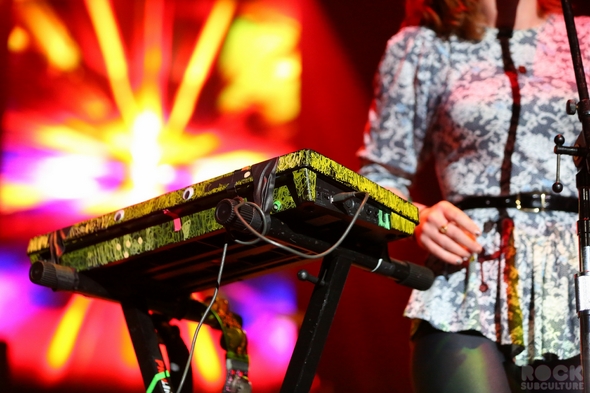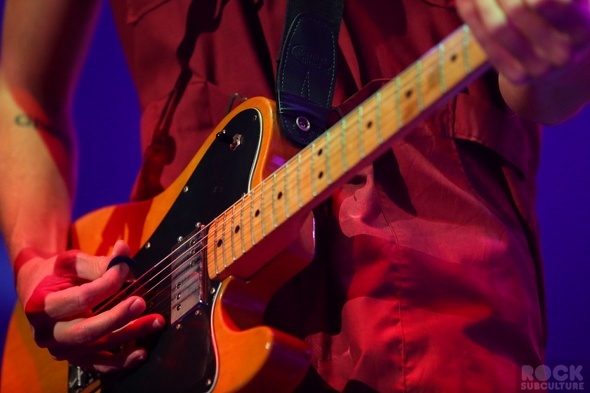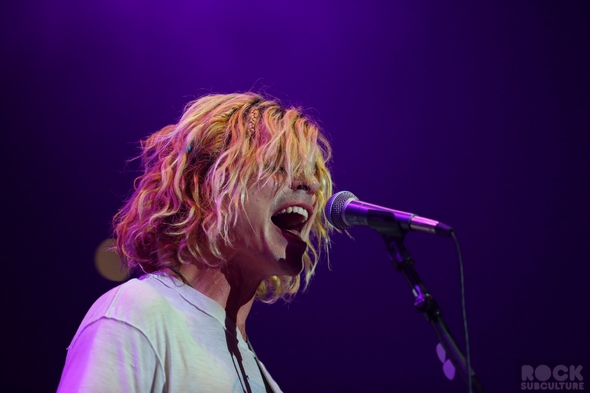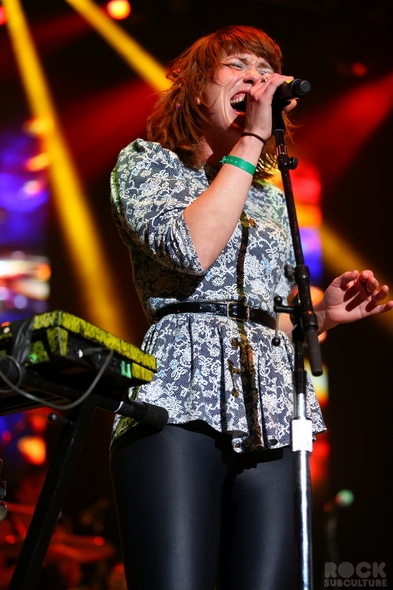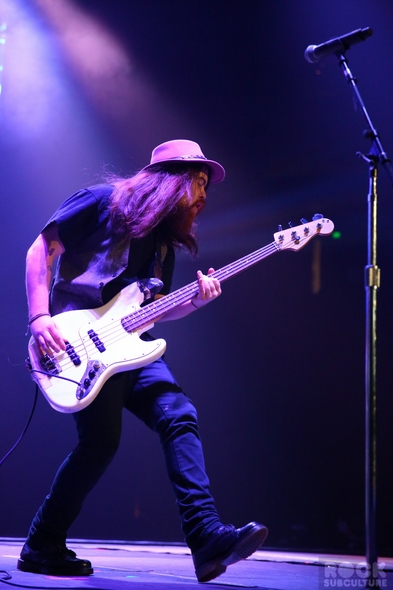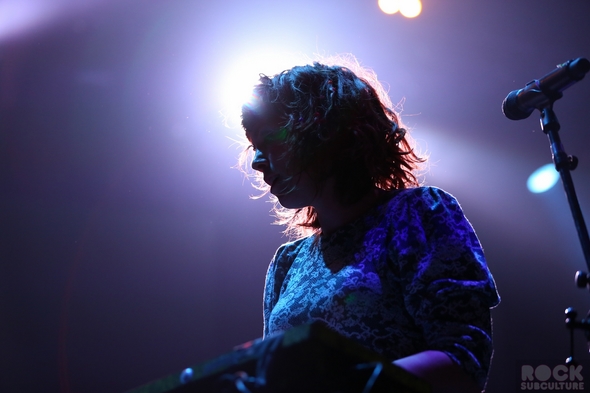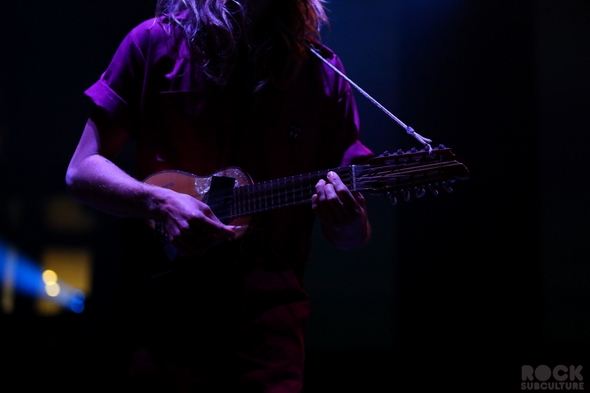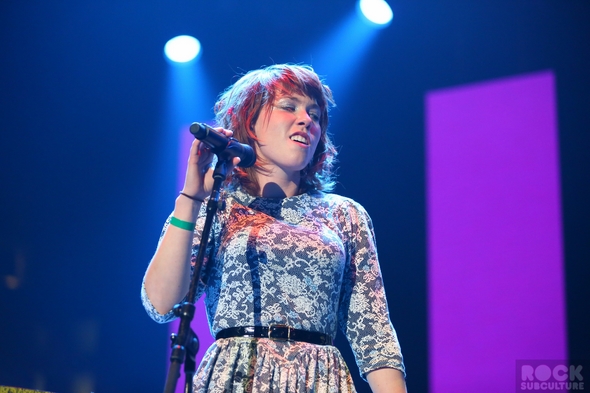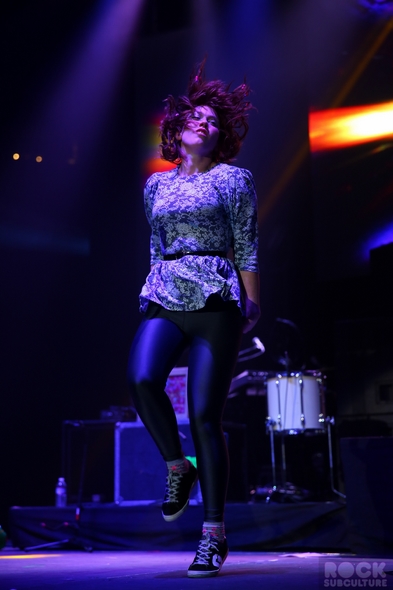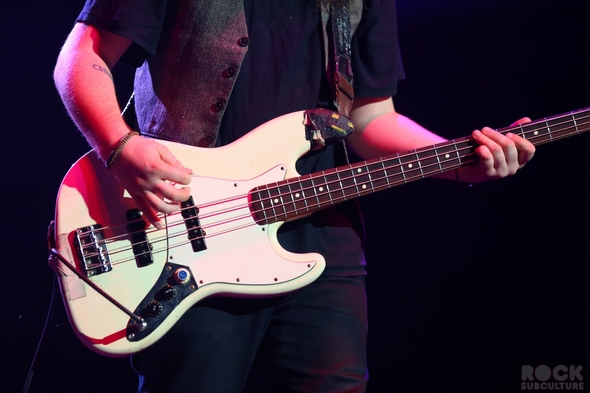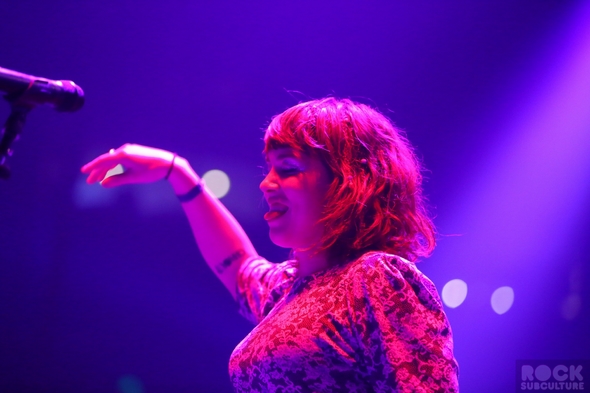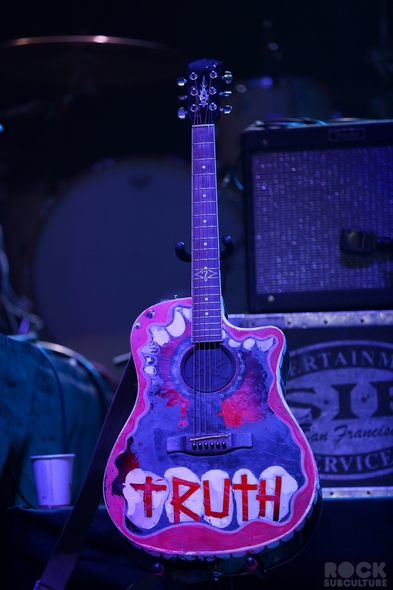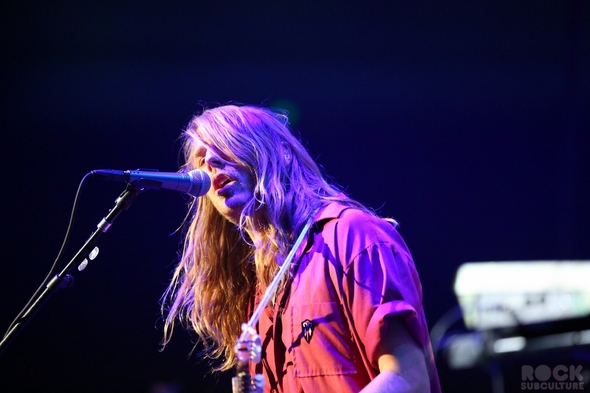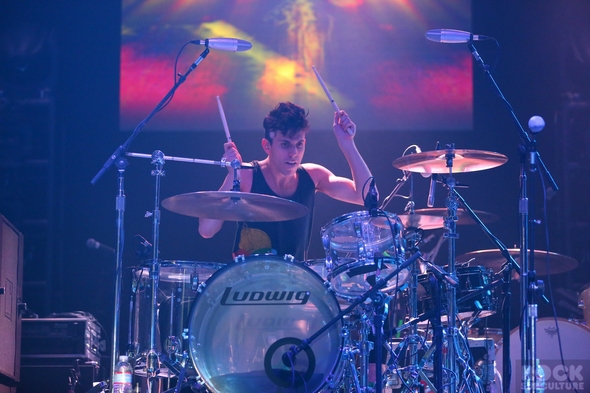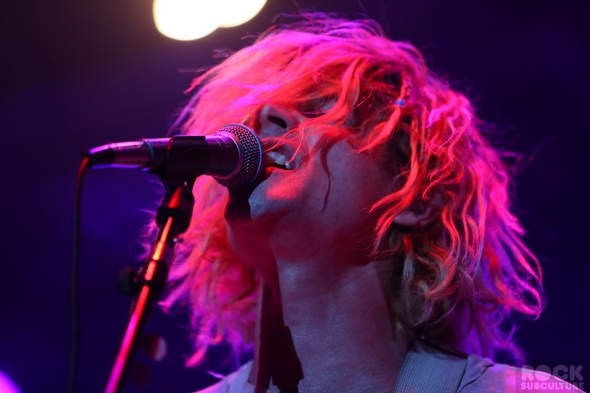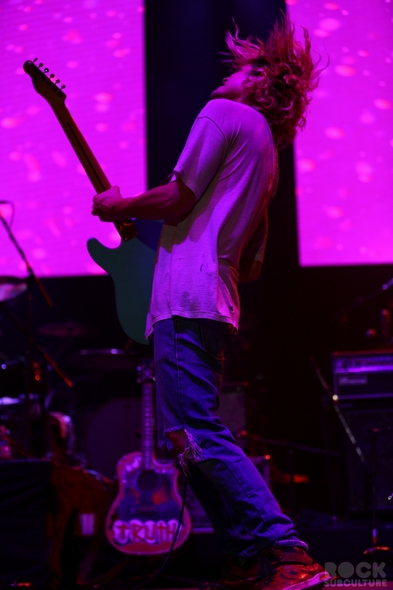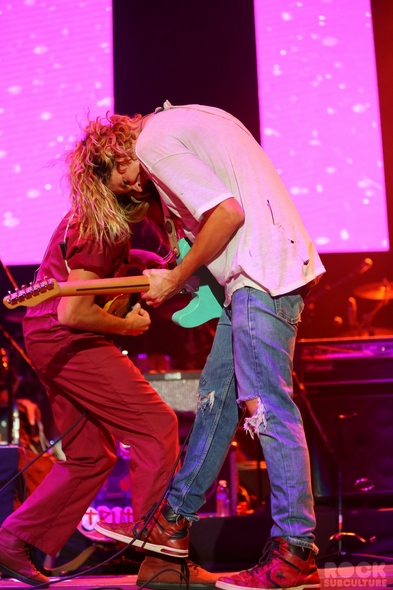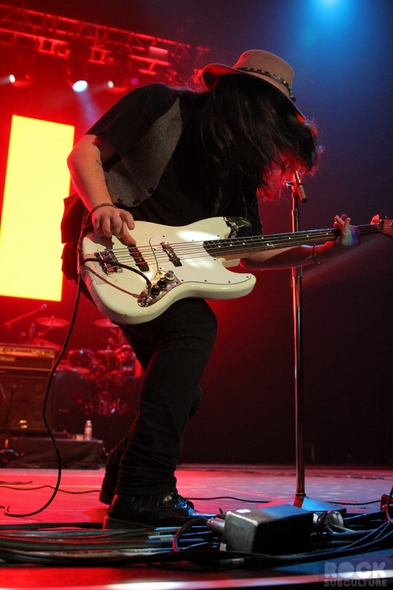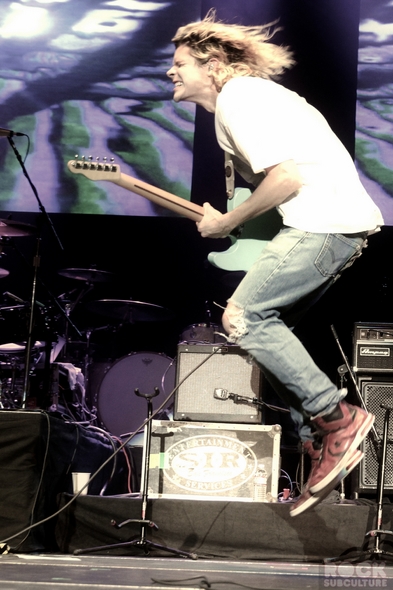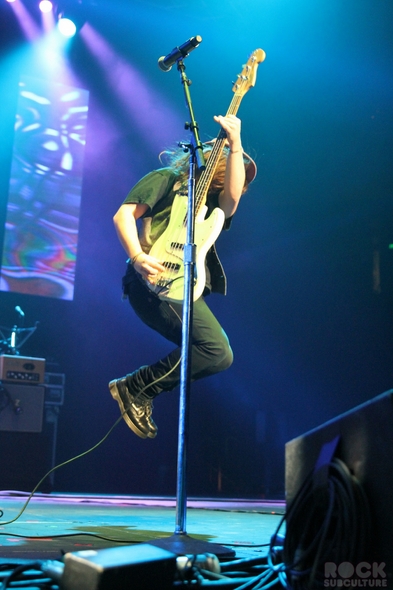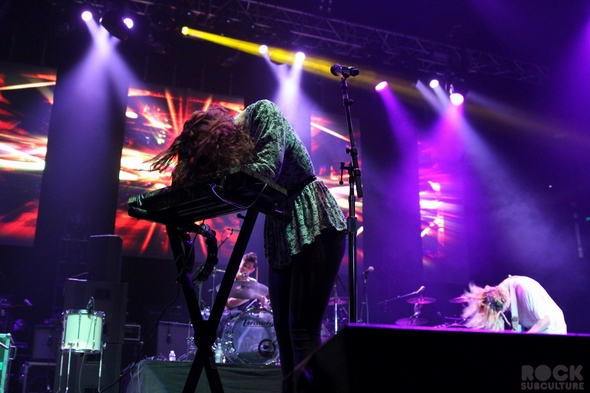 Tegan and Sara
Members:
Tegan Quin (vocals, guitar)
Sara Quin (vocals, guitar)
Ted Gowans (guitar)
Jasper Leak (bass guitar)
John Spence (keyboards)
Jason McGerr (drums)
Set List:
Back In Your Head
Walking With A Ghost
Hell
Living Room
Messed Up
Feel It In My Bones
Closer
I've been a fan of Tegan and Sara since the release of their fourth album, So Jealous, in 2004, though they have been active since 1995.  I remember the first song of theirs that I heard was "Walking with a Ghost", which was coincidentally covered by the headliner of the first evening of NSSN, Jack White, as The White Stripes.
Twin sisters from Calgary, the Grammy Award-nominated artists have been making music since they were teenagers.  They've been extremely prolific over the years, and will their seventh studio album, Heartthrob, at the end of January (which is available as a pre-order in iTunes).
Funny enough, I have not previously seen them live in concert, so I was really looking forward to it, and not disappointed.
I have such an impression of them from listening to their music over the years, I was taken aback a bit at how small they are, as their music is so powerful, so it struck quite a contrast.
They have great stage presence and chemistry, and it was a real joy to have their music come alive on stage.
Below are some photos of Tegan and Sara performing on stage: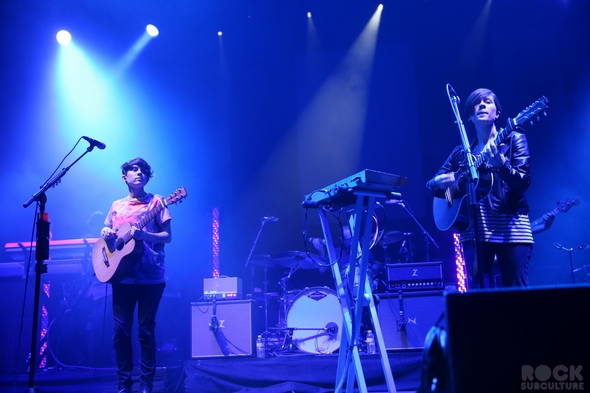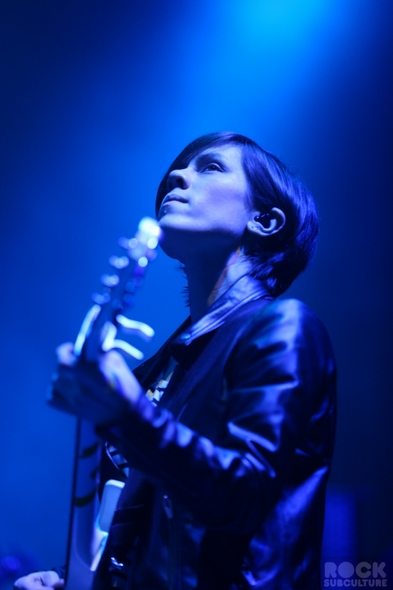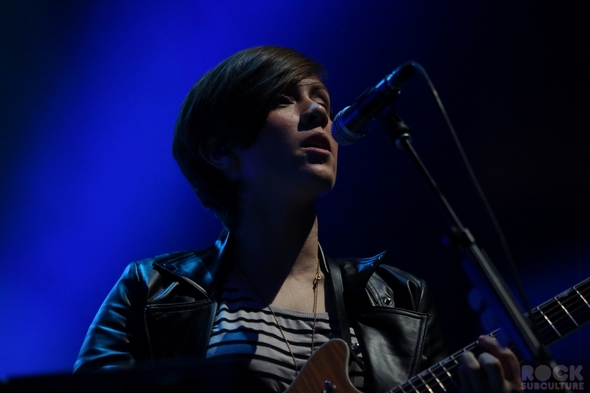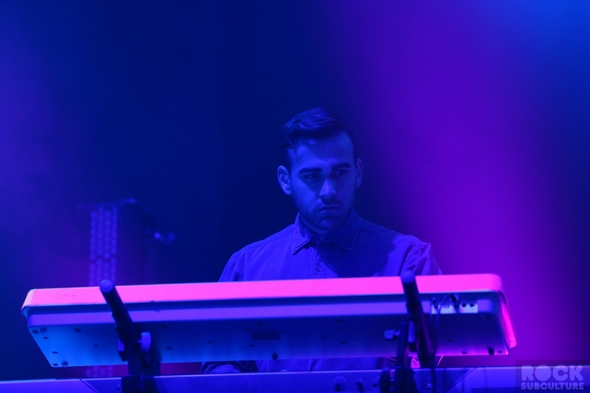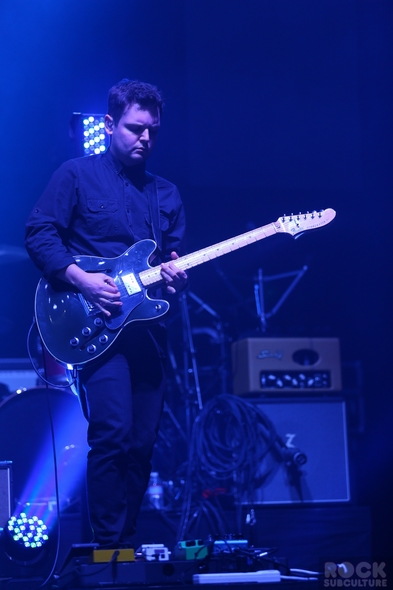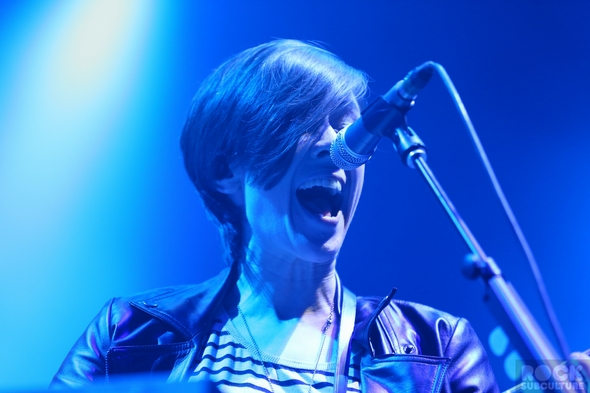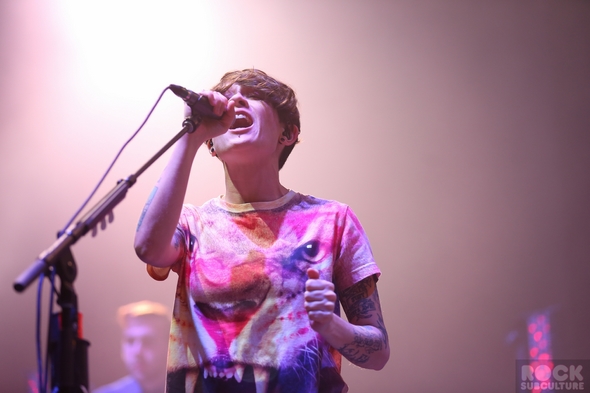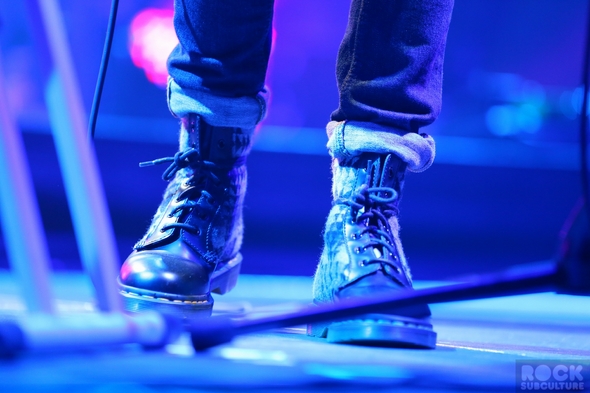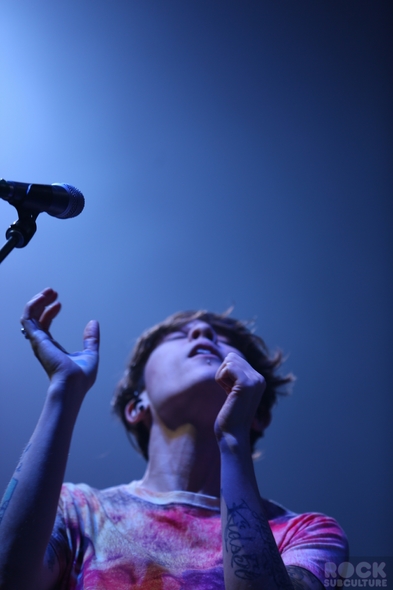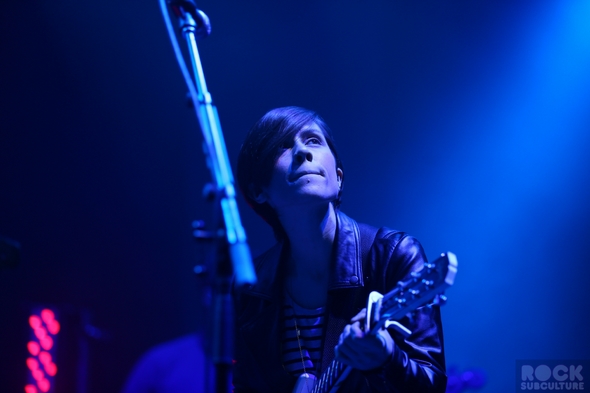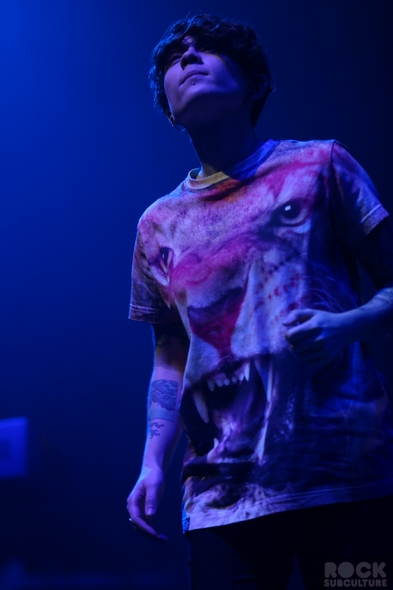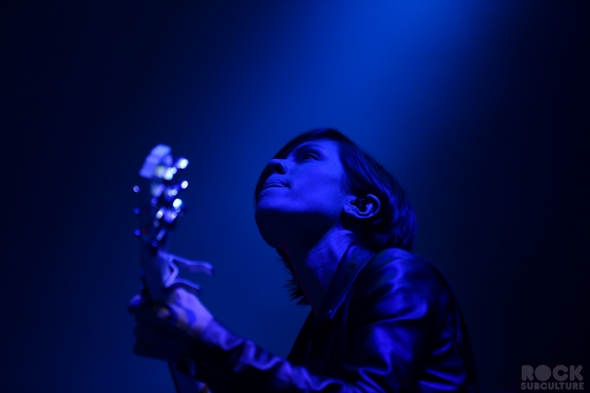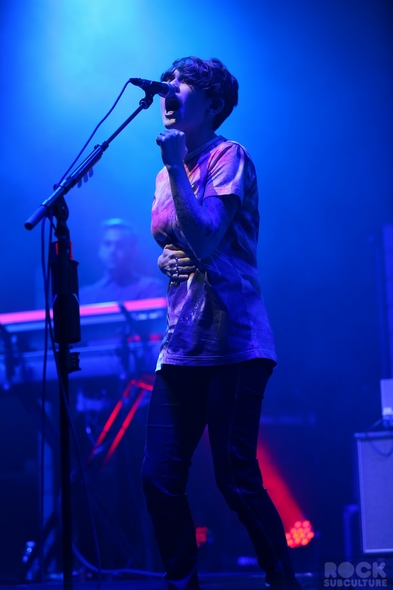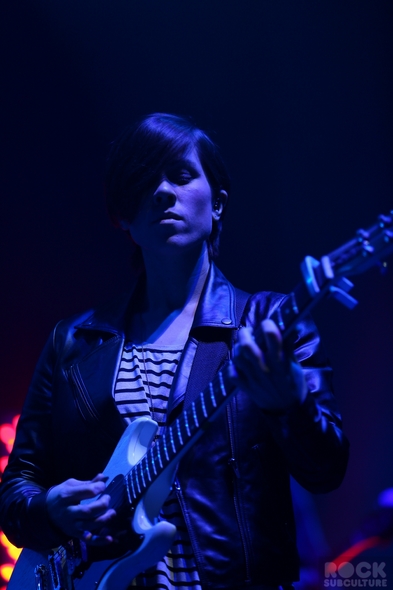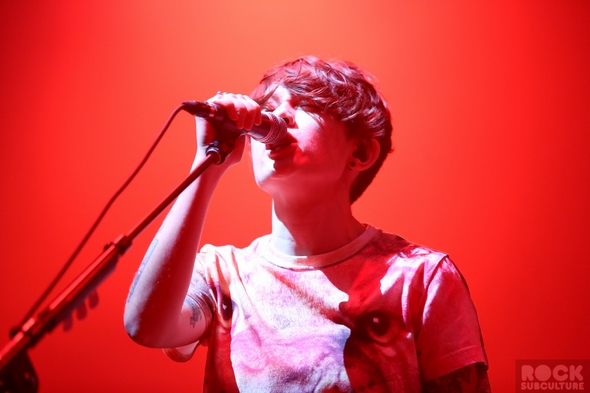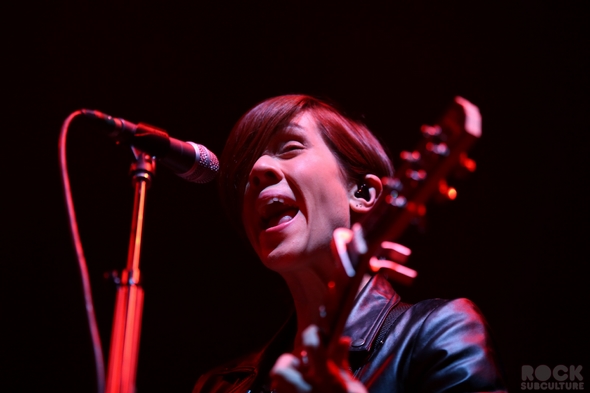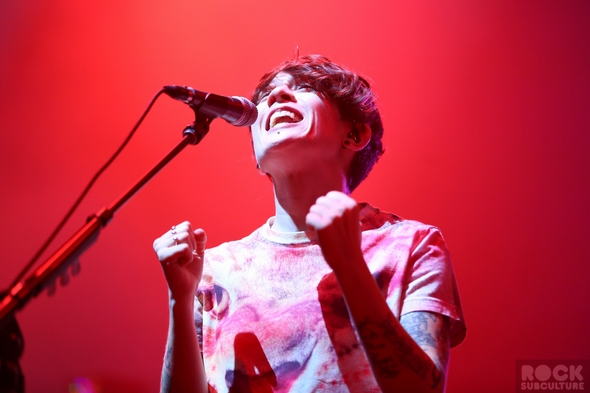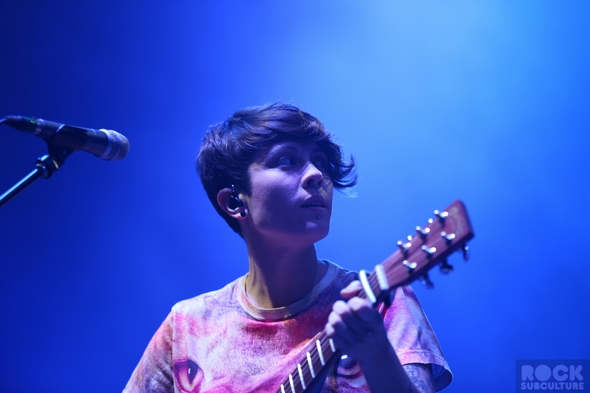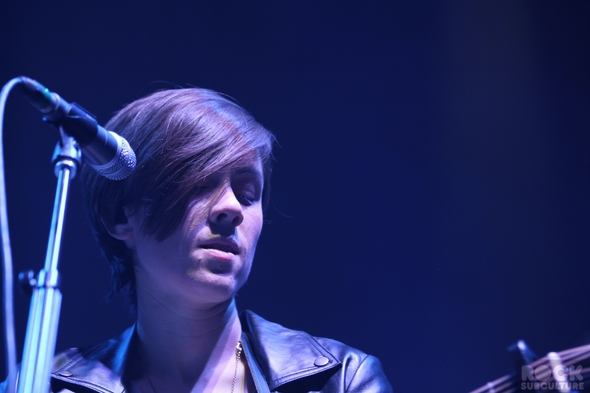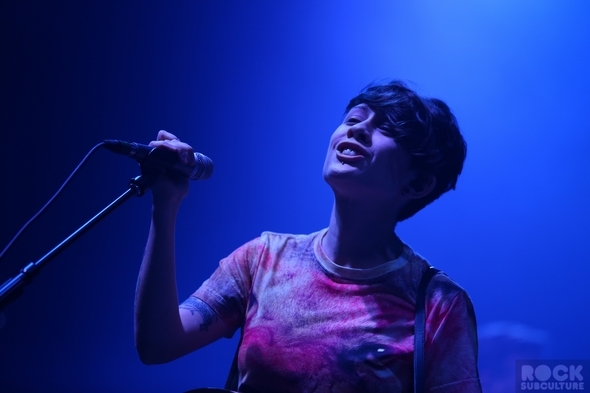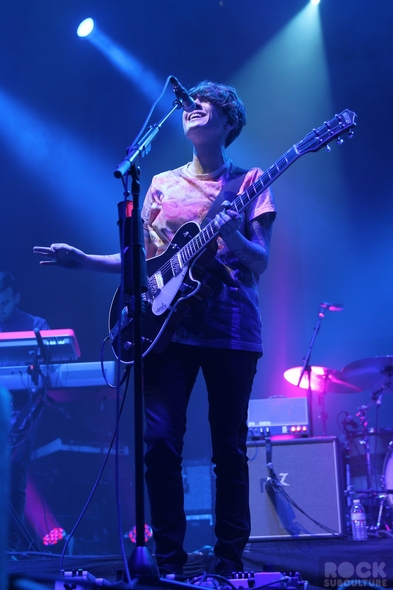 Passion Pit
Members:
Michael Angelakos (lead vocals, keyboards)
Ian Hultquist (keyboards, guitar)
Jeff Apruzzese (bass guitar)
Nate Donmoyer (drums)
Xander Singh (synthesizer)
Set List:
Take A Walk
The Reeling
Carried Away
Constant Conversations
I'll Be Alright
Sleepyhead
Little Secrets
Passion Pit was another of the bands I was not too familiar with, so leading up to the event I purchased their second studio album, Gossamer, which was released this summer.  It is a really interesting album, in that it is an indie rock/pop style but with a unique blend of keyboards and synths that results in a very different sound that I imagine would have some significant crossover appeal.  They are definitely doing something different from everyone else, and it works musically to be sure.
Listening to their work, I get the sense that they themselves listen to all styles of music, and incorporate some of it into their own work in unconventional ways (like "Constant Conversations" on their latest album, which is a strange sort of electro/R&B throwback that sounds kind of like it's been put in a Portishead blender, if that makes any sense!).
Formed in Massachusetts in 2007, all but one of the band members attended the same school – Berklee College of Music – which is interesting, because their music sounds like it is produced by a group with a formal understanding of music and how to tweak it to achieve awesome results.
The band was really fun to watch live, with front man Michael Angelakos pacing the stage in a way that reminded me of animals kept in a zoo and having decided that they don't really belong their anymore.  Like he has all this nervous energy inside that he can't quite expel through singing alone.
The crowd loved it and the band brought really unique music and delivery to the stage that continued to build the excitement in the large arena.
I've really enjoyed the band's latest, and how it translated in more raw form on stage, and look forward to following them and seeing what they come up with next.
Below are some photos of Passion Pit performing on stage: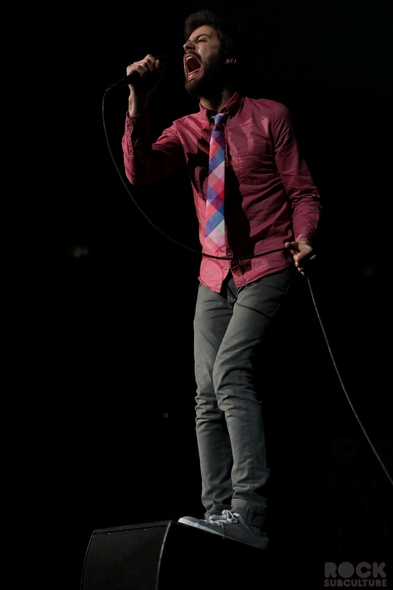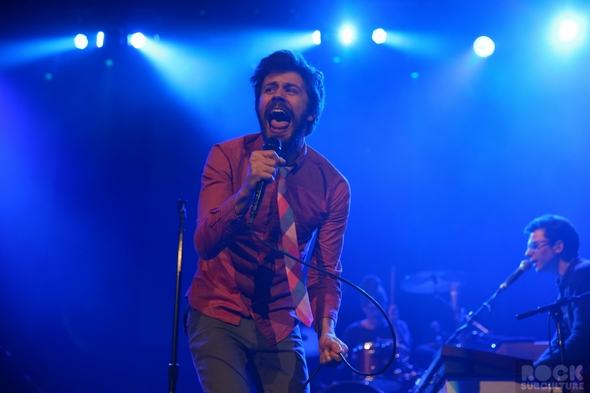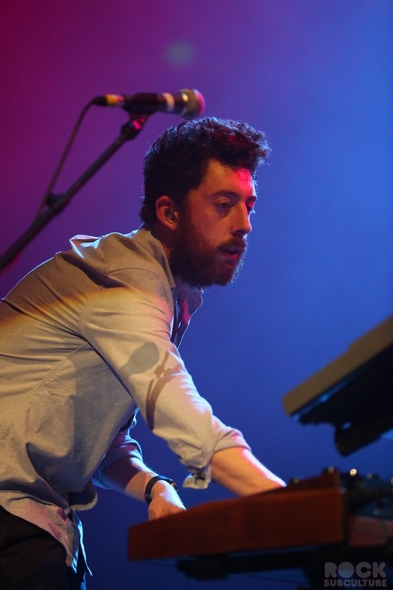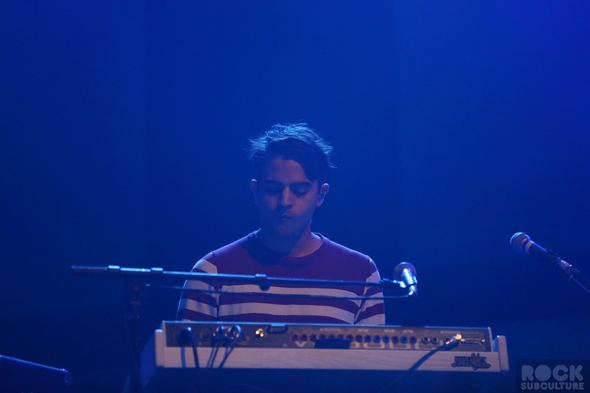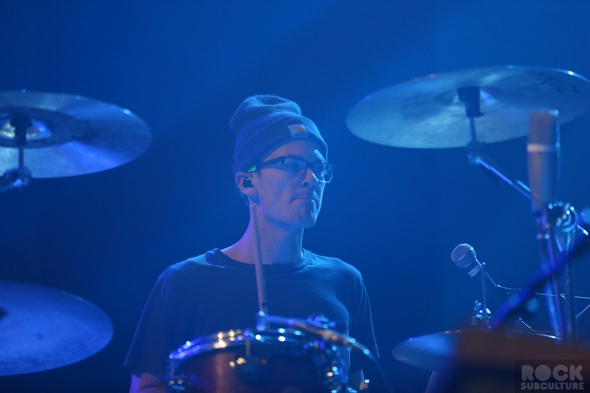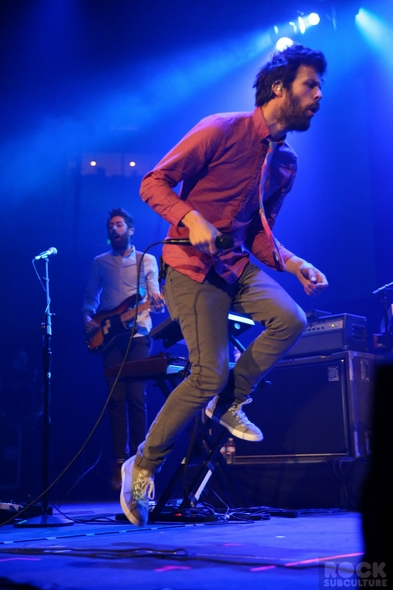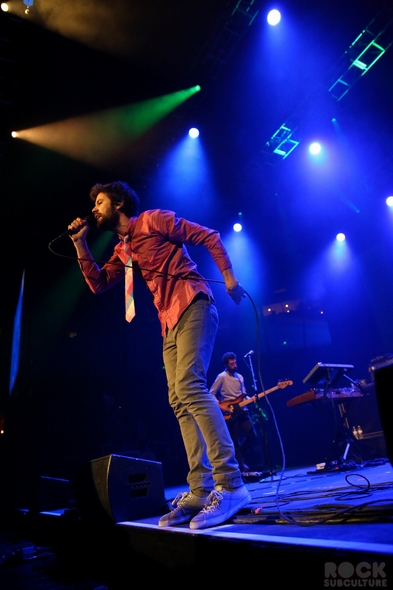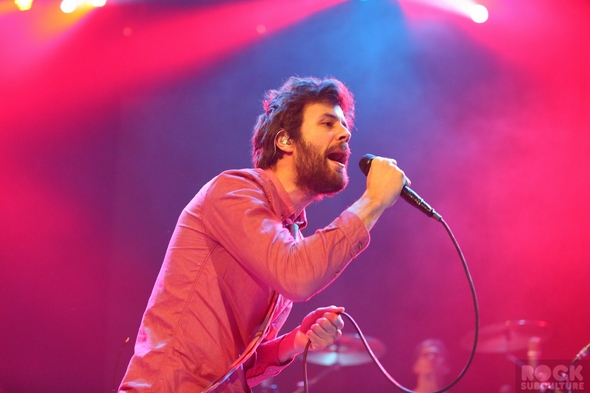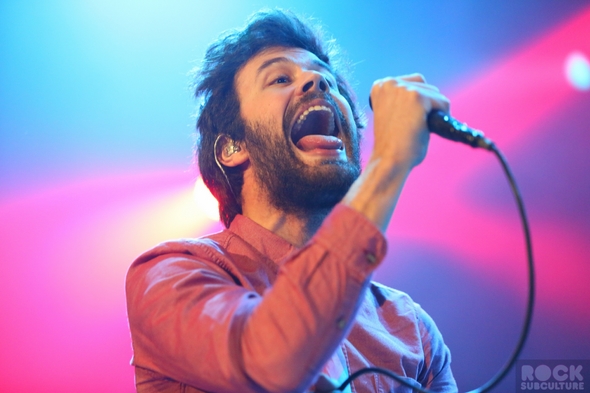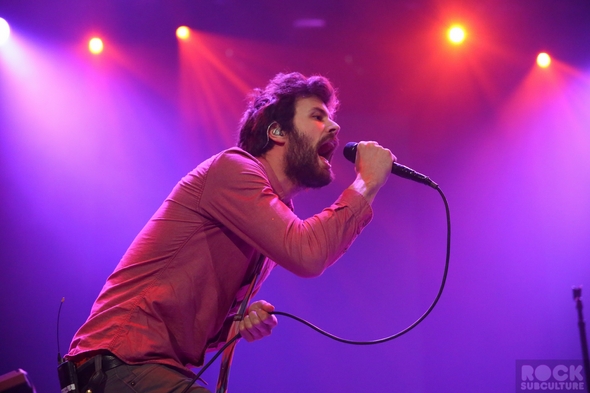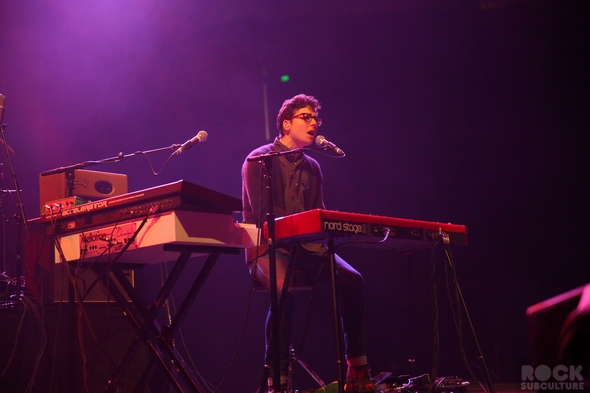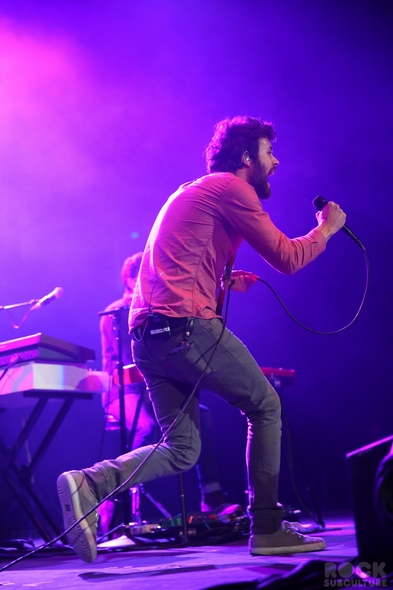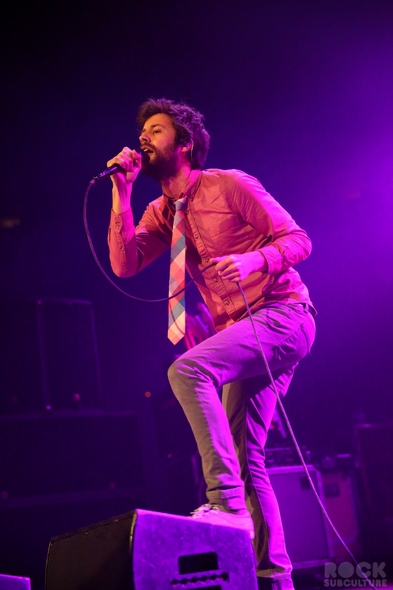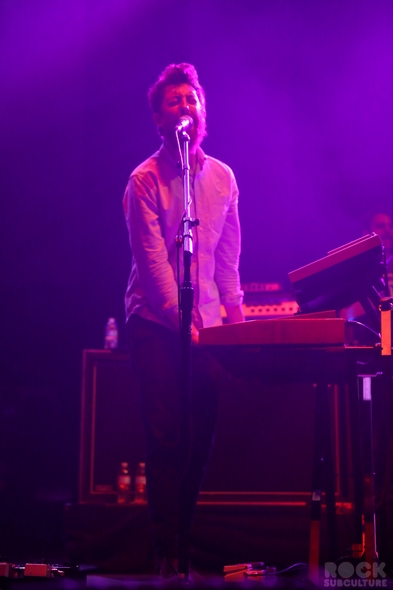 M83
Members:
Anthony Gonzalez
Yann Gonzalez
Morgan Kibby
Loïc Maurin
Jordan Lawlor
Ian Young
Phillip Kern
Set List:
Intro
Teen Angst
Sitting
Reunion
We Own The Sky
Steve McQueen
Midnight City
Couleurs
I didn't personally start listening to M83 until last year, based on a remix they did of "Suffer Well" from Depeche Mode's Remixes 2 album.  Their most recent album, Hurry Up, We're Dreaming, was released shortly thereafter, late last year.
The French band was formed in 2001 by Anthony Gonzalez, and the music falls into a wide variety of categories, from electronic to synthpop to ambient to post rock to New Wave to shoegaze…  and really, within their own albums, song stylings vary track to track.
This is another band I'd not seen live before this event, so I was really looking forward to seeing them.  I was really blown away – they were just fantastic – and I'm left feeling that they are just begging to have a live DVD/Blu-Ray done, as they are just magnificent live.
Their music has, not unsurprisingly, been featured in an extraordinary number of film, television, videogame, and other media productions (the full list of which is available on their Wikipedia listing).
For those unfamiliar with the band, a good introduction to their music that I would recommend is "Midnight City" off of their last album (the official video of which can be viewed on YouTube on their official channel, which has additional content).
As can hopefully be found in my photos of the live set further below, the vibe and class and atmosphere of the music found on M83's albums is found on stage as well, with superb lighting and the artists behind the music bringing it alive in style in a concert setting.  Seriously, what a cool band.  This show just makes me want to go see one of their own headlining shows soon, as I can't recommend it enough.  Similarly, the audience could not seem to get enough either.  Really, one of the highlights over the past two days was seeing this band perform their awesome music.  Epic.
Below are some photos of M83 performing on stage: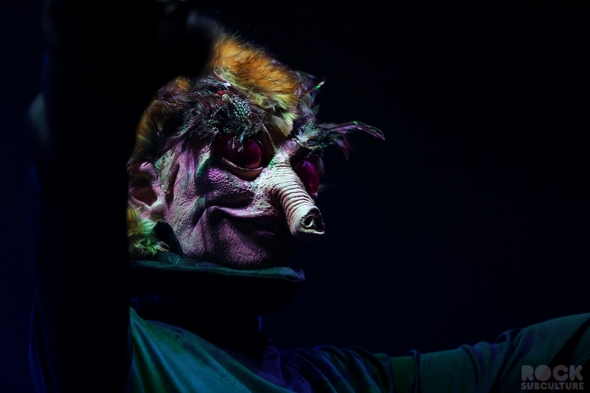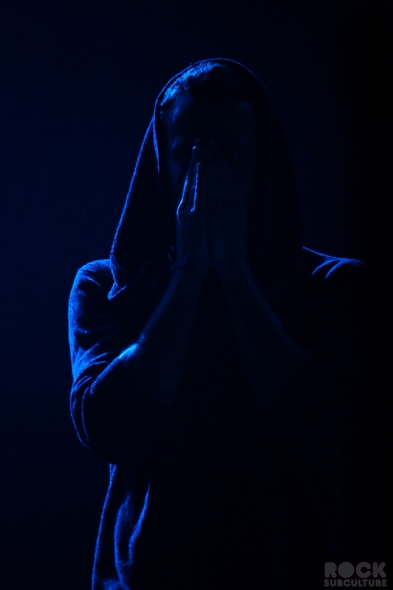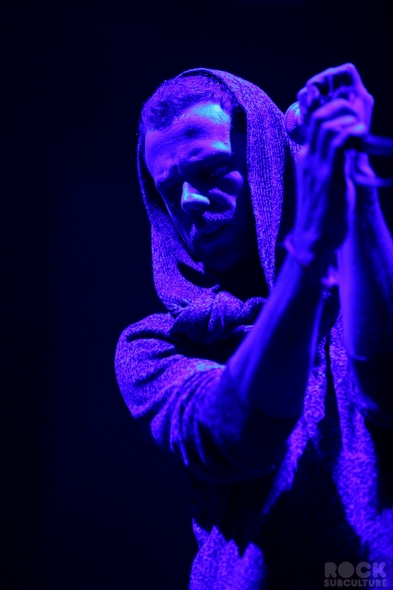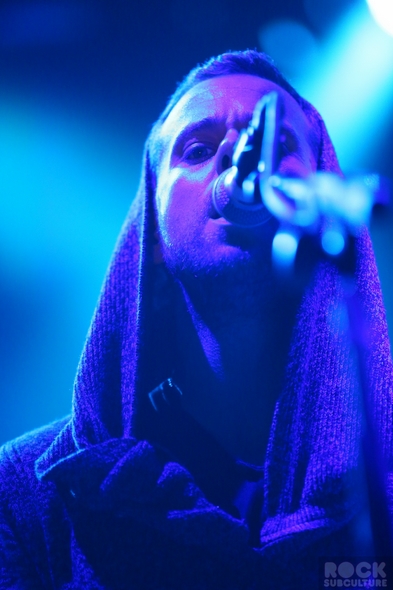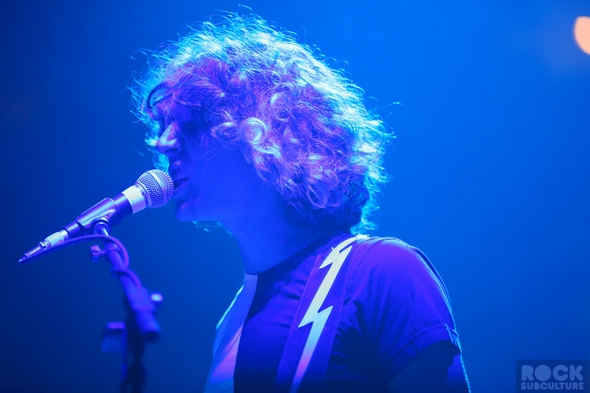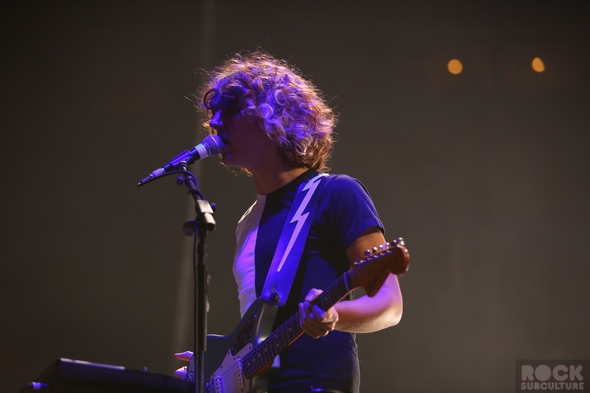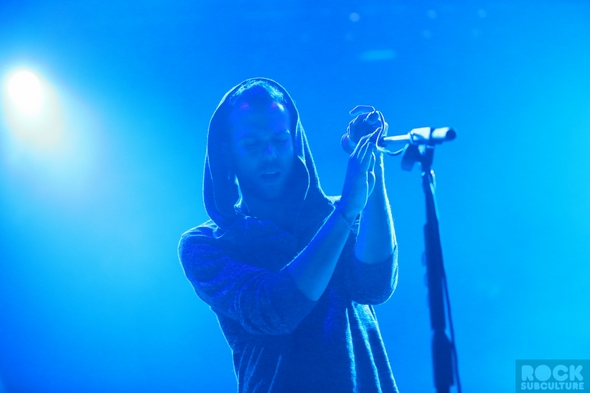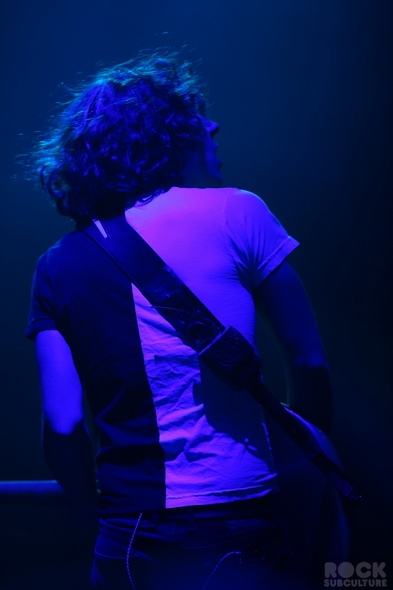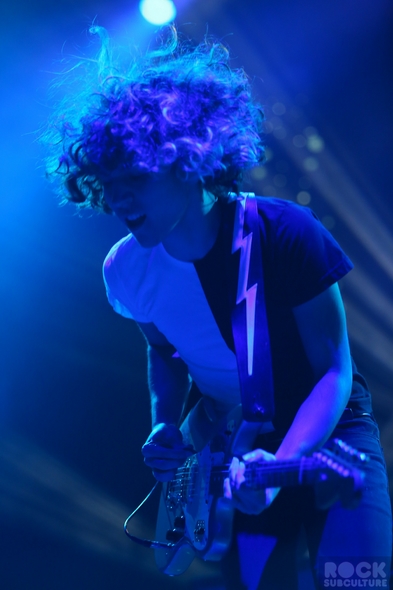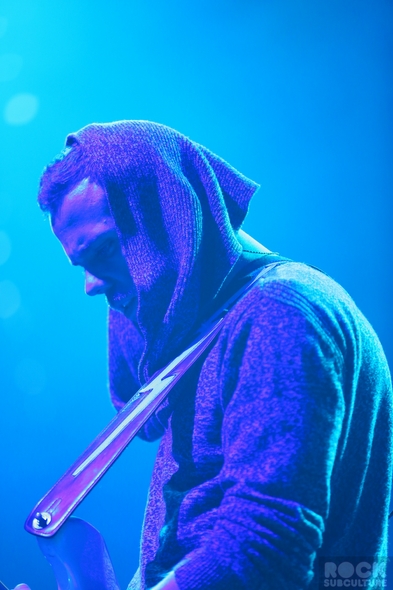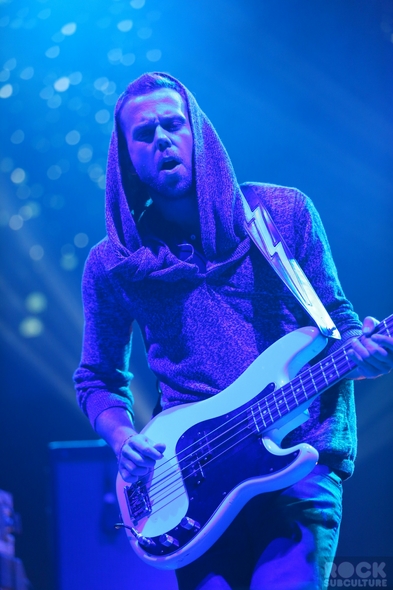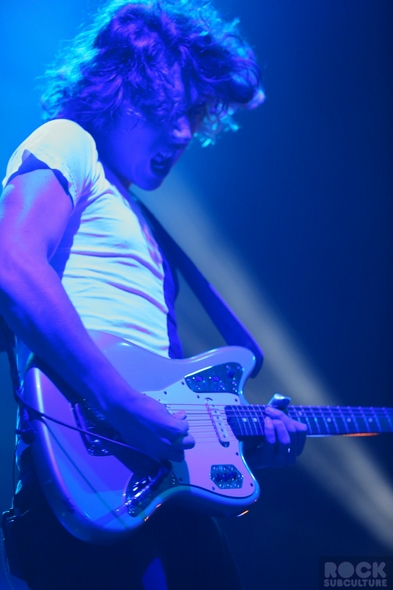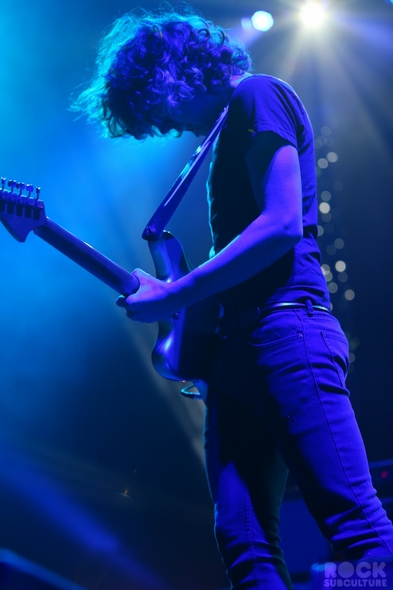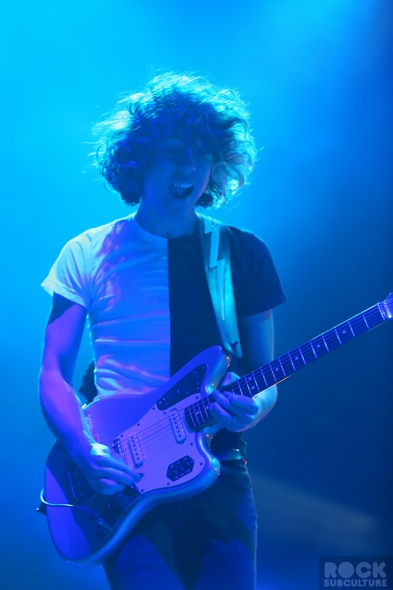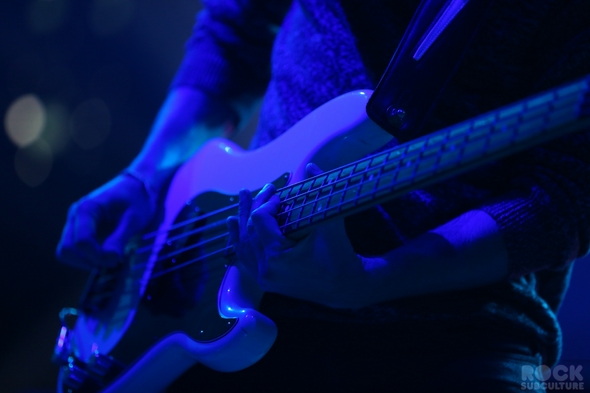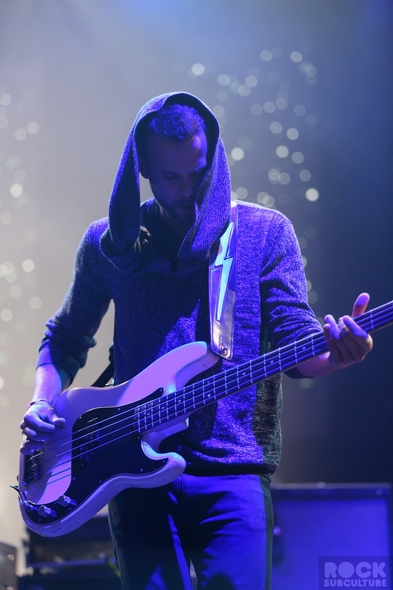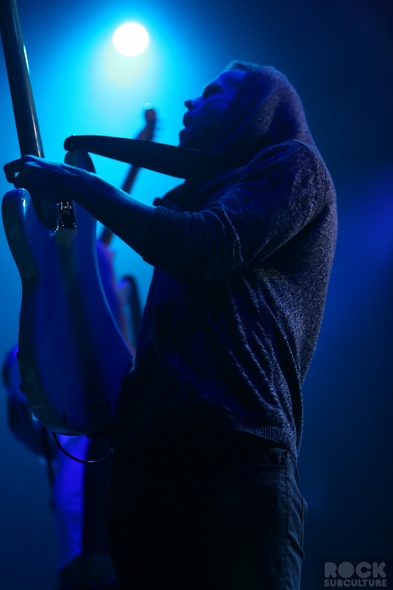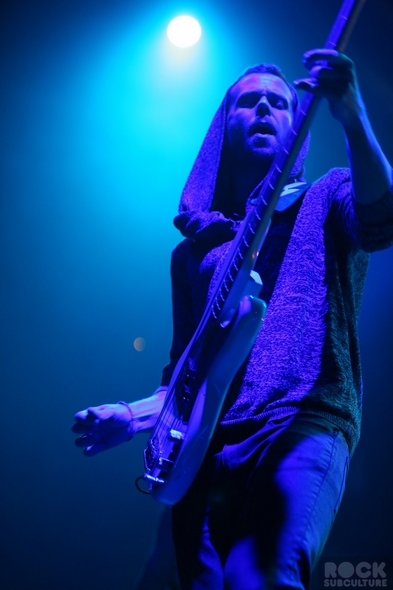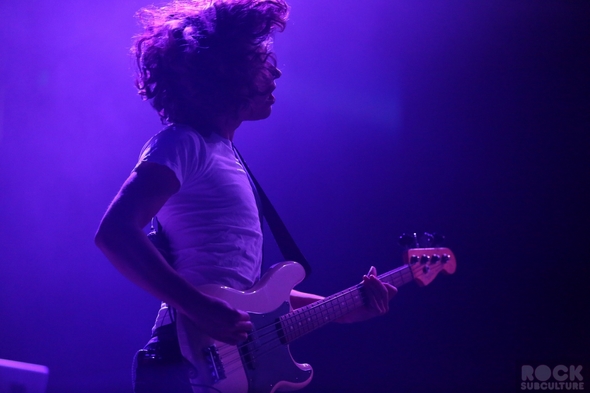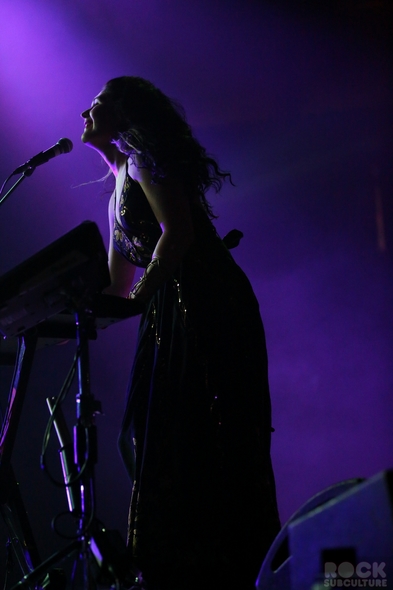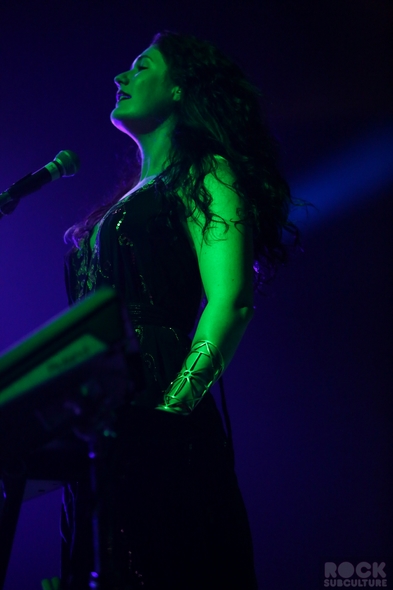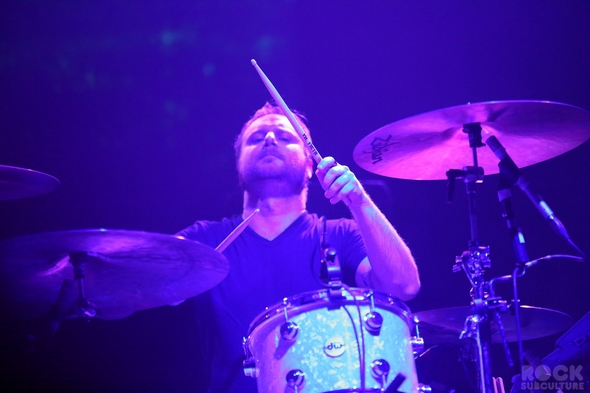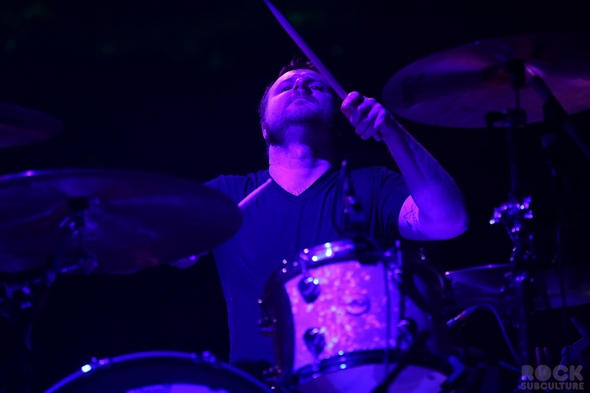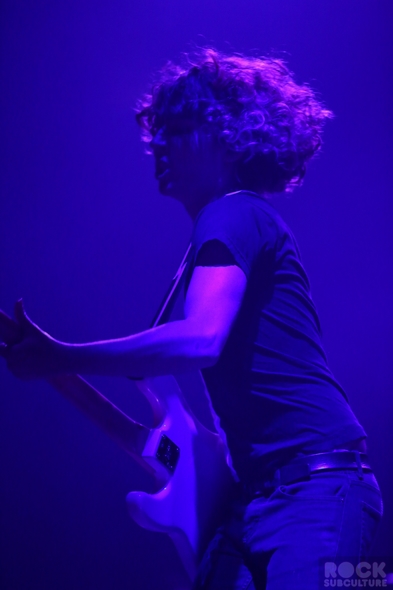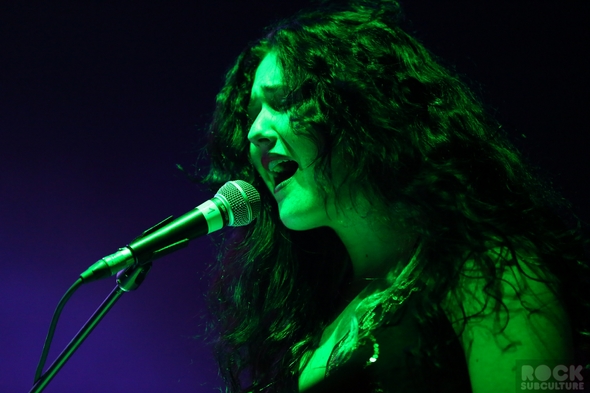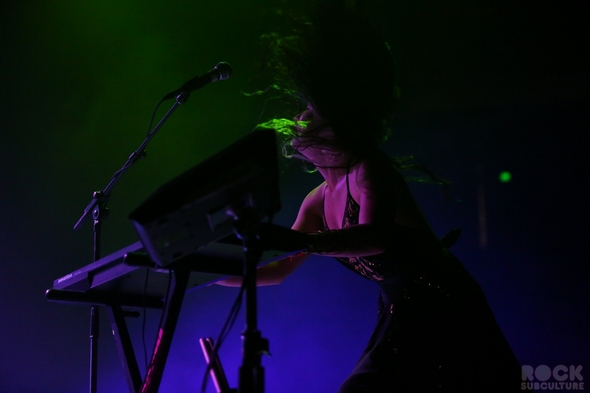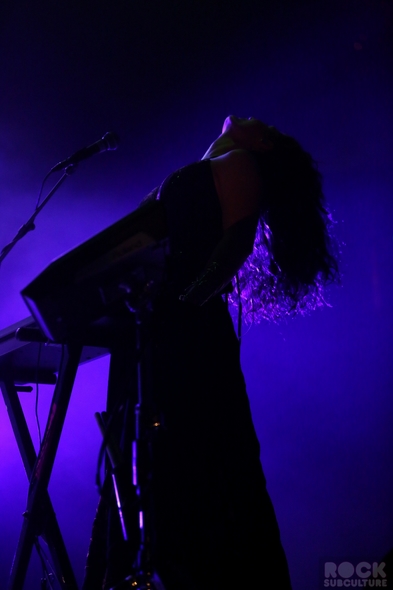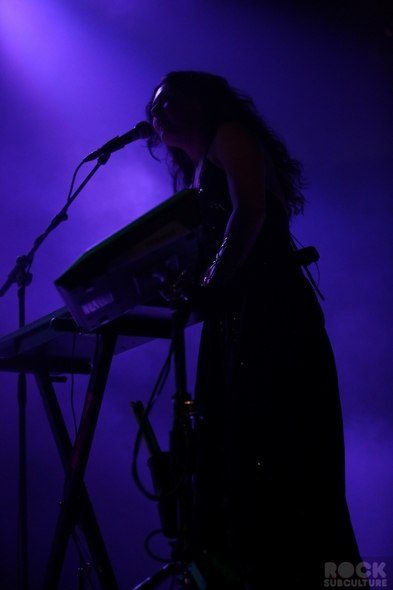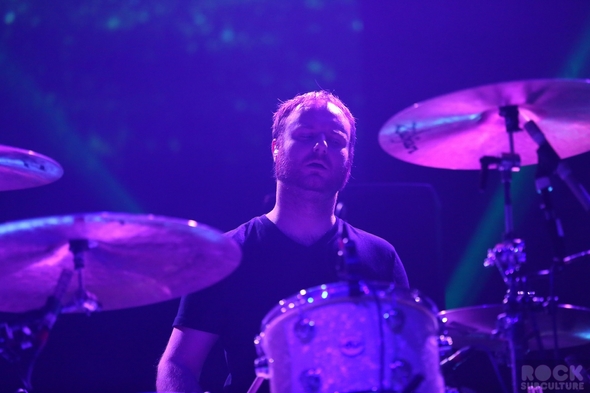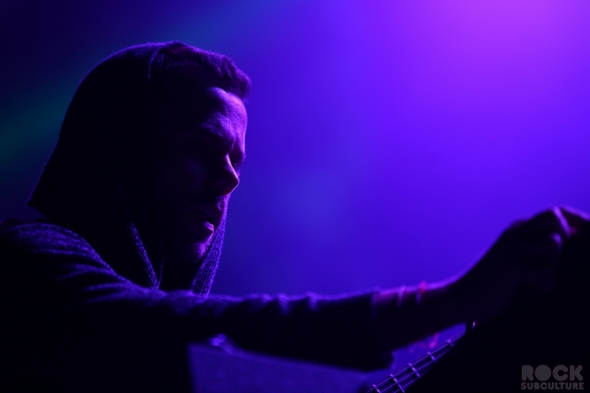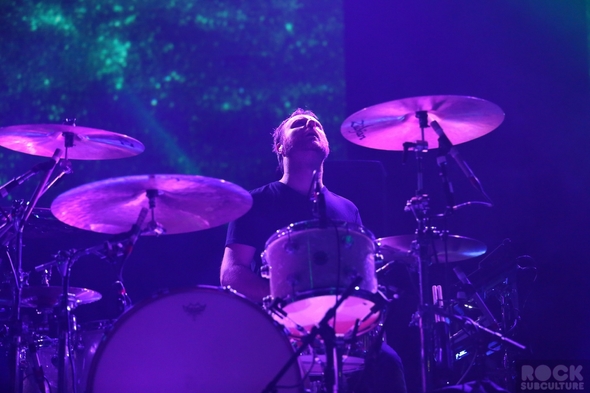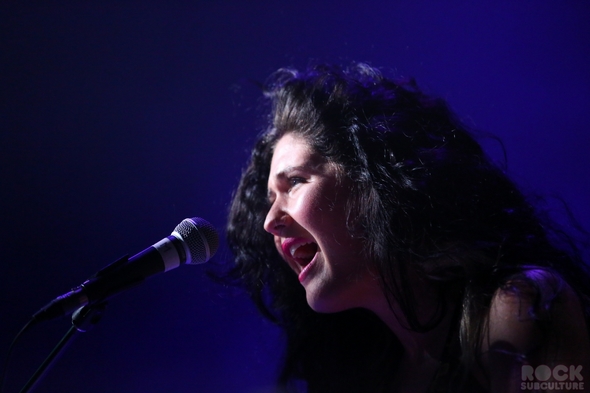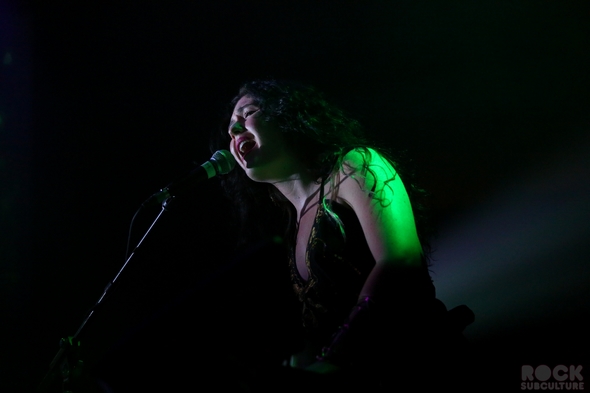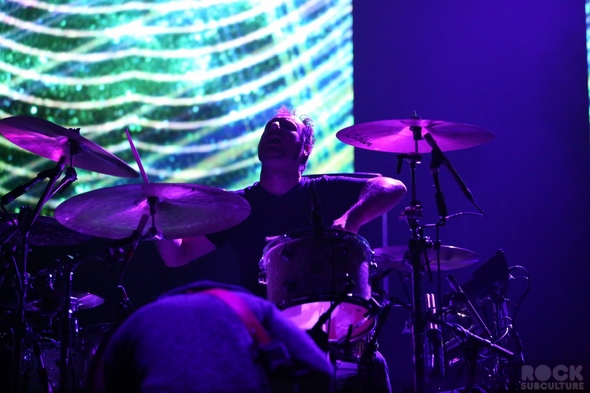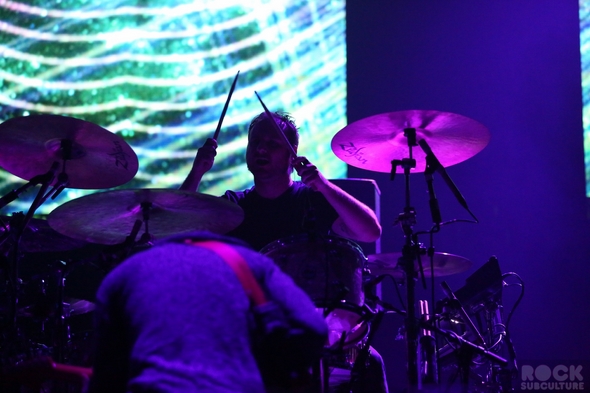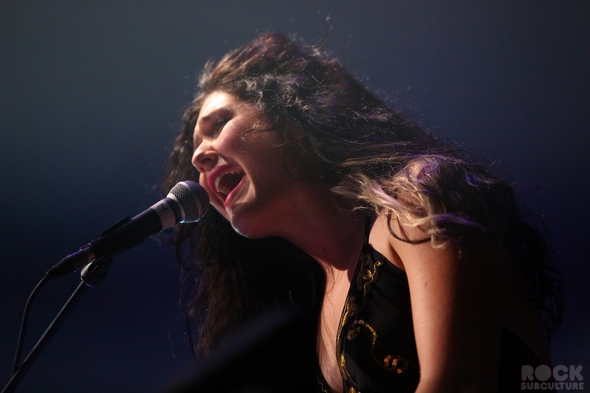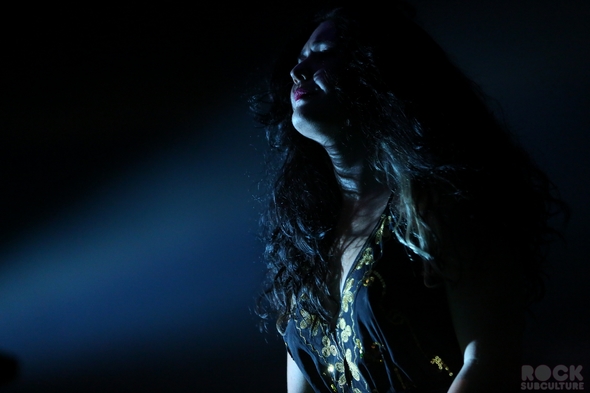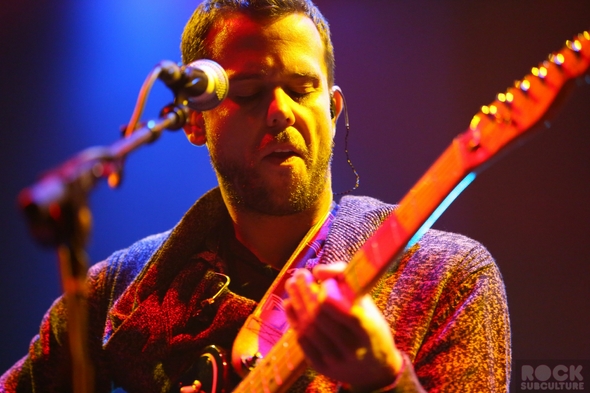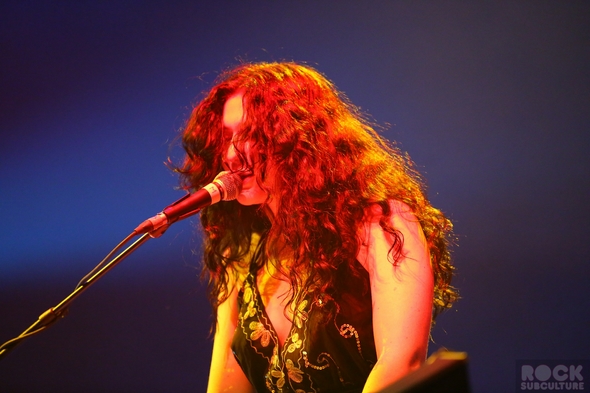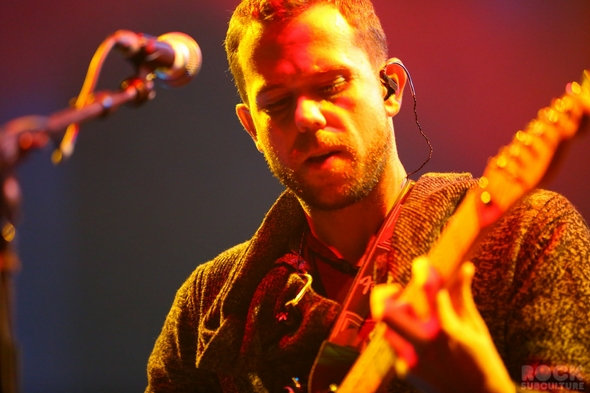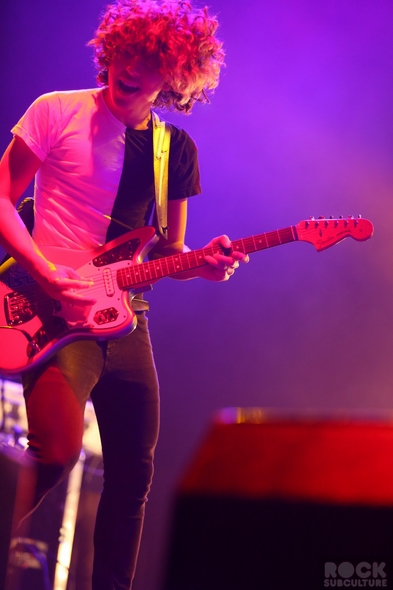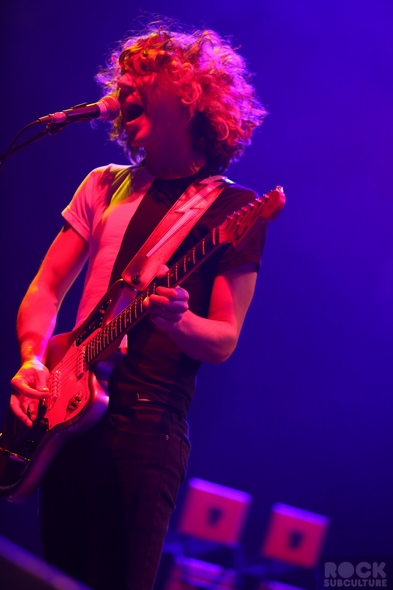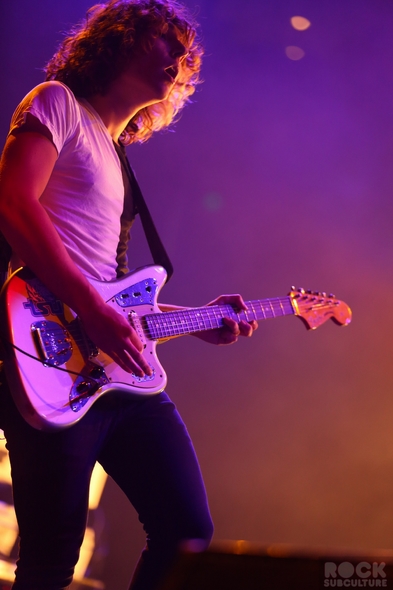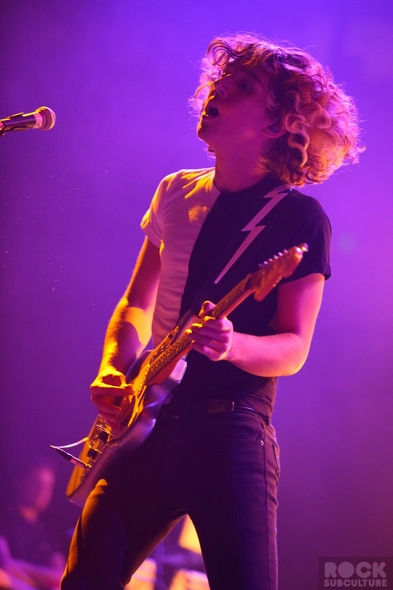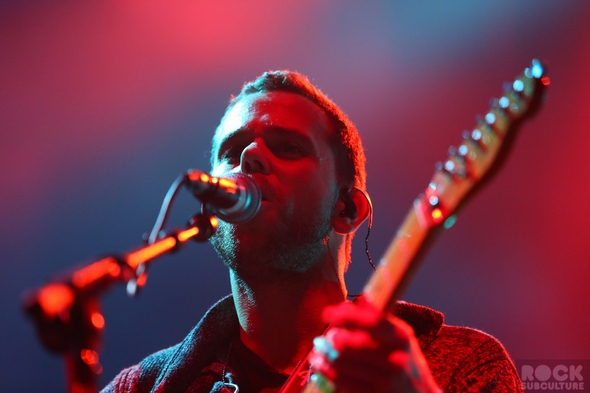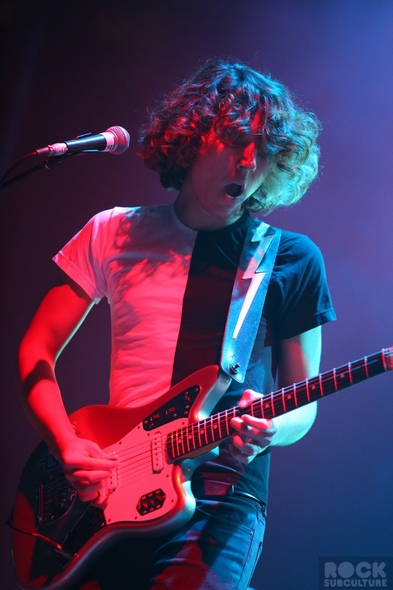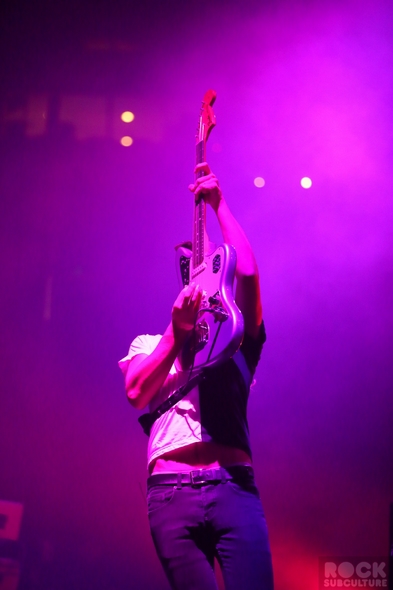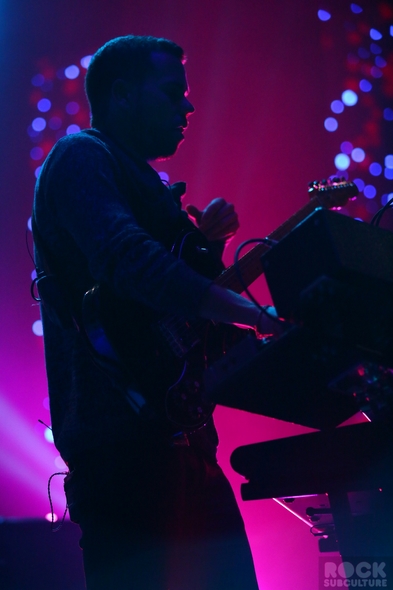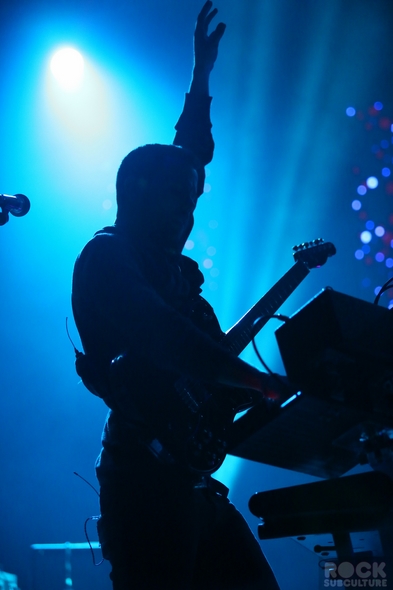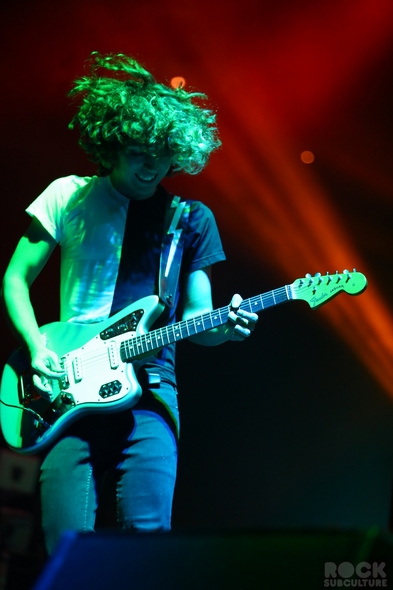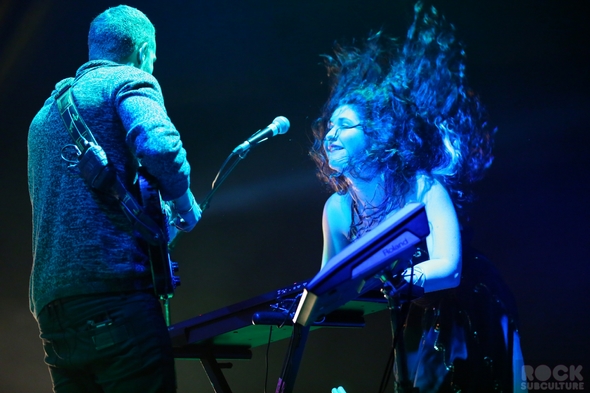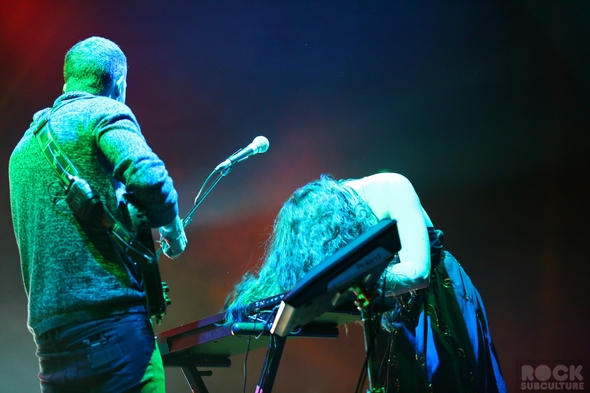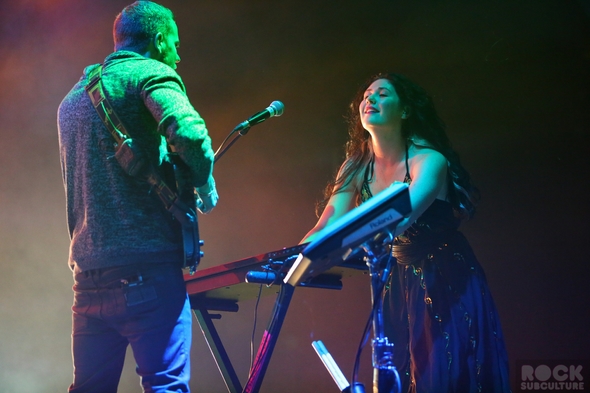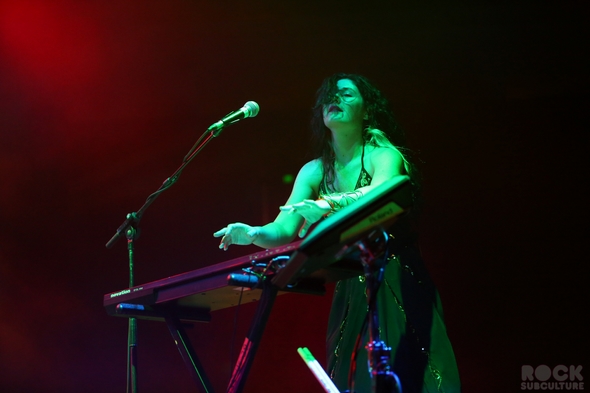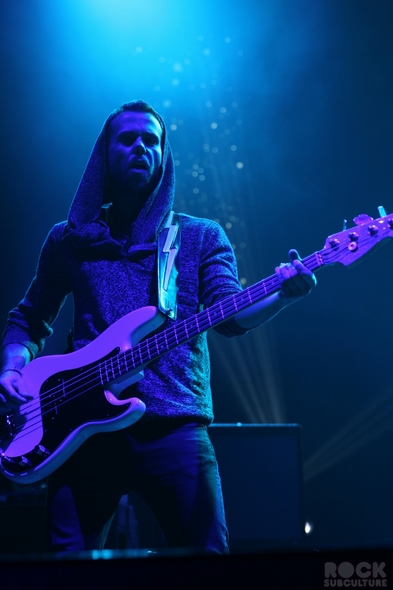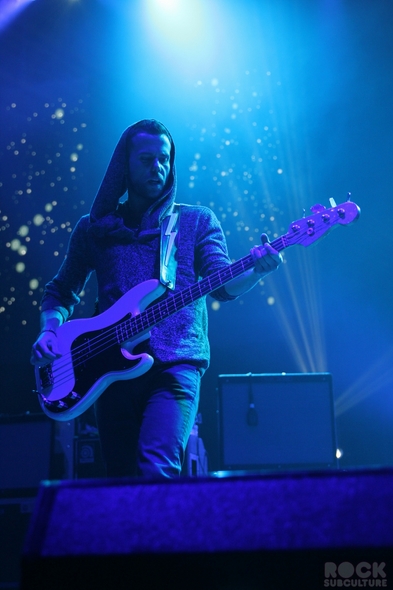 The Killers
Members:
Brandon Flowers (lead vocals, keyboards)
Dave Keuning (guitar, vocals)
Mark Stoermer (bass, vocals)
Ronnie Vannucci, Jr. (drums, percussion)
Set List:
Mr. Brightside
Smile Like You Mean It
Spaceman
Miss Atomic Bomb
Human
Somebody Told Me
Here With Me
For Reasons Unknown
From Here On Out
Read My Mind
Runaways
When You Were Young
Encore:
Jenny Was A Friend Of Mine
All These Things That I've Done
Battle Born
The Killers are a Las Vegas band that formed in 2001.  Their first hit album, Hot Fuss (released in 2004), was a contemporary take on 80s-style sound, and was popular with people in my generation who grew up following New Wave and Modern Rock artists.
The band has been fairly prolific, with four studio albums, including the latest released this year, Battle Born.  Front man Brandon Flowers also released and toured his own material with 2010's Flamingo.
I was a huge fan of the first album and count "All These Things That I've Done" among my all-time favorite songs.  Brilliant.
One of my concert regrets is that I had tickets to a show (at The Boardwalk in Orangevale, California in 2004) that was relatively early in the band's career, before that album broke really big, and got sick at the time and had to miss it.
For me personally, nothing that has come after Hot Fuss, as a whole, has matched that debut album.
Prior to its release, Brandon Flowers had predicted that their follow-up, Sam's Town, would be "one of the best albums of the past twenty years", but I only personally found "When You Were Young" to be on par with the tracks on the first album.
Their next album, Day & Age, I really didn't connect with either, and though it is a popular song, I found the key lyrics from "Human" to be irreverent to the point of being ridiculous and self-indulgent.
The latest, Battle Born, is my favorite album after Hut Fuss.  "Runaways" is a great song.  Overall, it is a much more enjoyable, pop-oriented and consistent work, rather than I think the more "art" approach that I took away from the two middle albums.  So I'd really recommend fans of the first album checking out the latest one if you haven't already.  You can learn more about the album on their special sister site, battleborn.fm.
So while my thoughts above might sound a bit critical, I'm truly a fan of the band.  In fact, before Not So Silent Night was announced, I'd already bought tickets to see them at the end of the month in Las Vegas at the Cosmopolitan, so I'll be publishing another review of that show in just a few short weeks (and am quite excited to have an opportunity to see them twice this month).
As mentioned earlier in this article, the audience at Oracle Arena last night skewed very young (more so than Night #1)…  I'm not sure how much that is attributed to The Killers, or the line-up overall.
While I shot all of the other twelve bands for Not So Silent Night professionally for these reviews, The Killers had a no pro photography policy for this show.  As such, I had an opportunity to watch from the audience, as a fan, but consequently, no quality photos as with the other bands in these two articles.
As I made my way through the floor crowd trying to catch up with a friend in the front (I never made it all the way there), I did ask some of those in attendance which band they came out for, and most said they came out to see all of the bands.
I ultimately made it about ten rows off from the front on the GA floor area, and it was completely packed.  Once The Killers hit the stage, the place just erupted, and the band came out to please, opening with "Mr. Brightside" and then "Smile Like You Mean It".  The only downside was that the sound was bass heavy and a bit distorted, and I always imagine The Killers with really crisp, clean sound.  Unfortunately, this was never corrected during the show.
After the third song or so, I made my way to the back of the floor, near the mixing board, and enjoyed thing from that vantage point as well, as I was able to take in the full stage and crowd (and Oracle Arena was completely packed).  Whether or not anyone came for The Killers, it appeared that everyone stayed for them through the end.
While the audience was quite animated at the front end, when the set moved to some lesser known material, some of the crowd seemed to noticeably disengage (though a few brief pyrotechnics and a phone-light-along song helped to recapture some attention of the 'hits only' crowd).
They closed out with "When You Were Young", and the encore featured "Jenny Was a Friend of Mine", "All These Things That I've Done", and finally the title track to the latest album.
All in all, a great performance, and the band looked awesome commanding the stage.  I look forward to catching them again in their hometown, in a much smaller venue, in a couple of weeks.
As noted, it was a no pro photography set, so below is one iconic flight case shot from backstage earlier in the day, and a few photos using my pocket camera from the crowd during the show… (including the audience participation with the cell phone lights)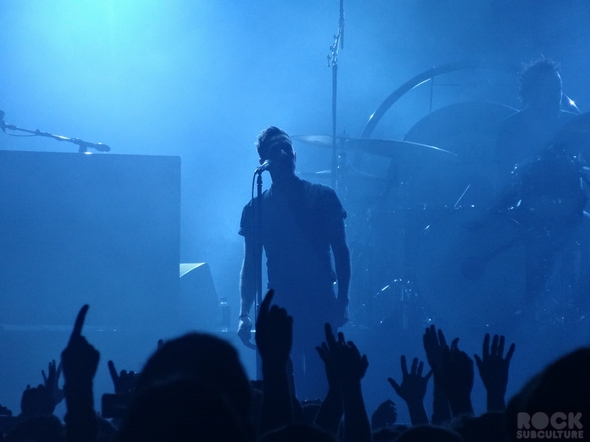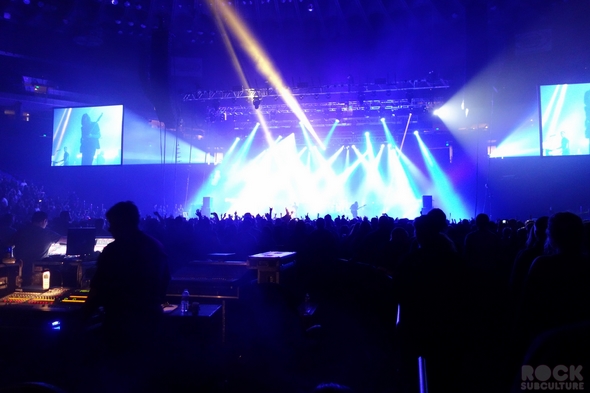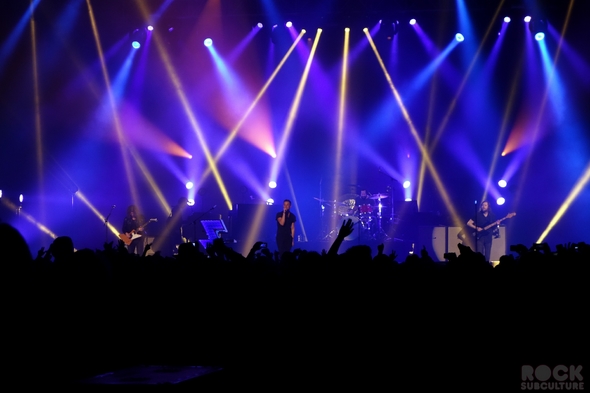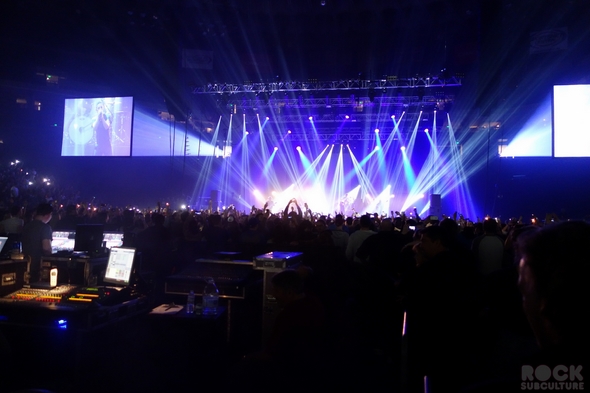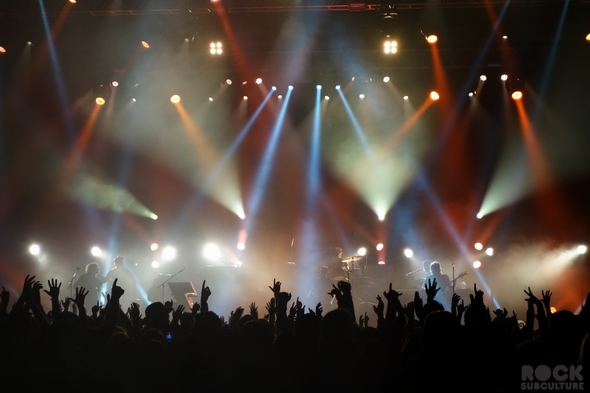 The Show At Large…
As with Night #1 yesterday, below are some additional images from the show and some of the introductions and activities in-between sets, and some shots of the audience…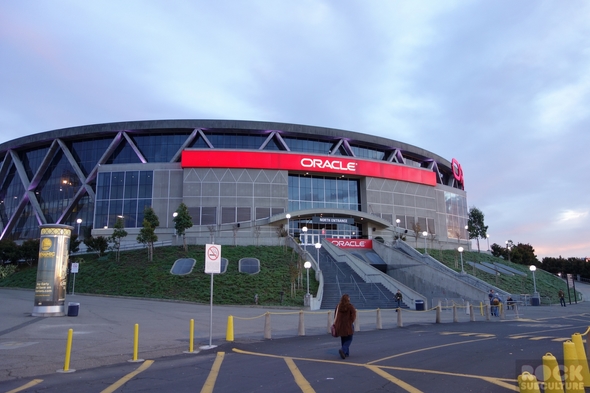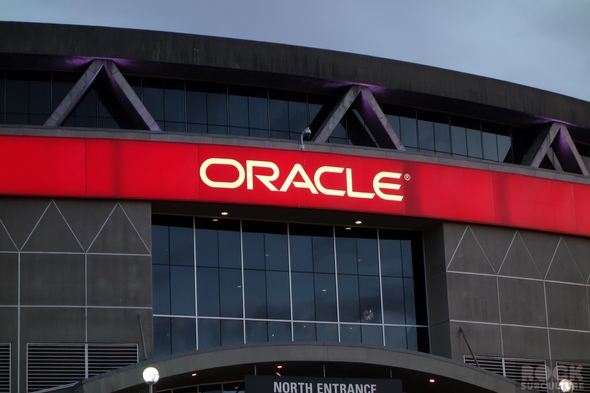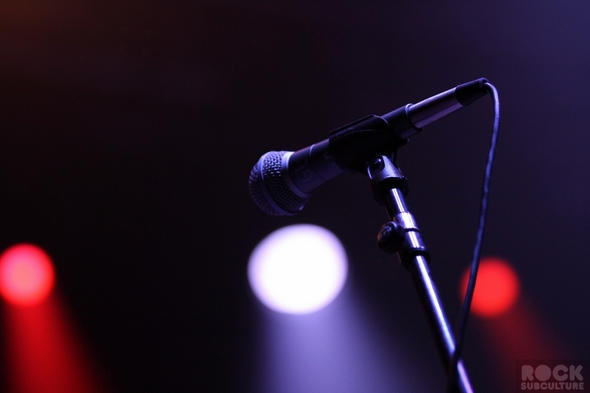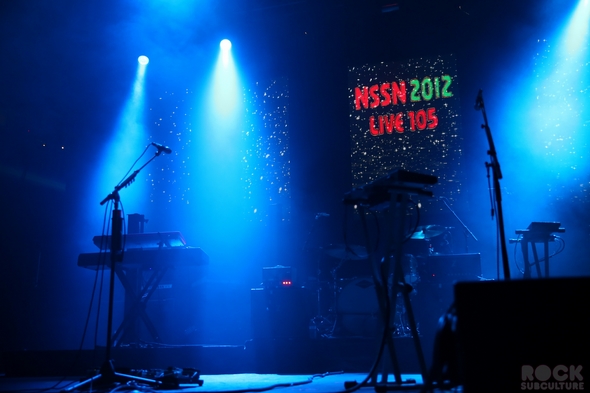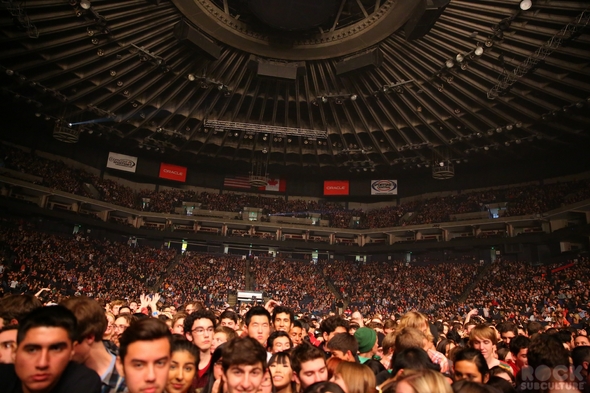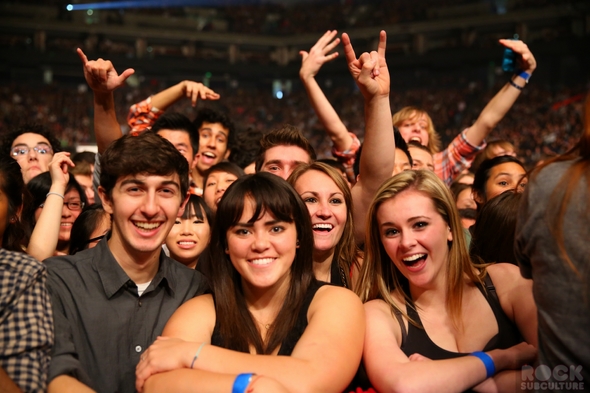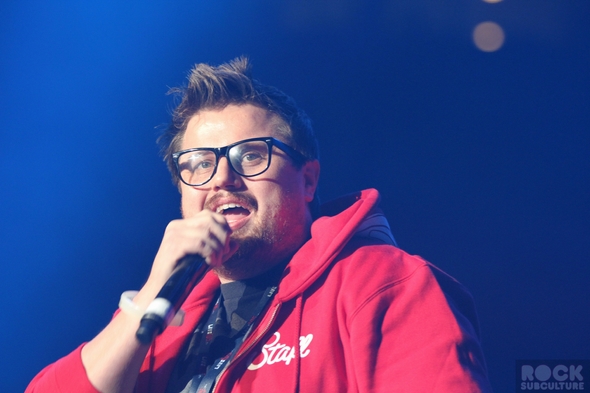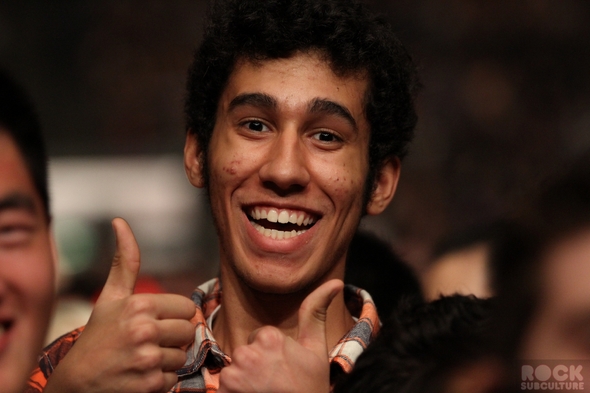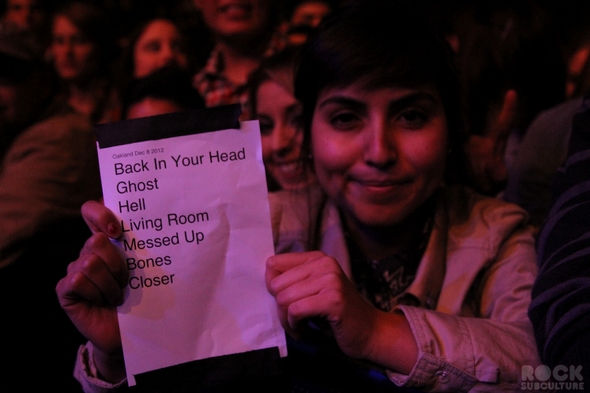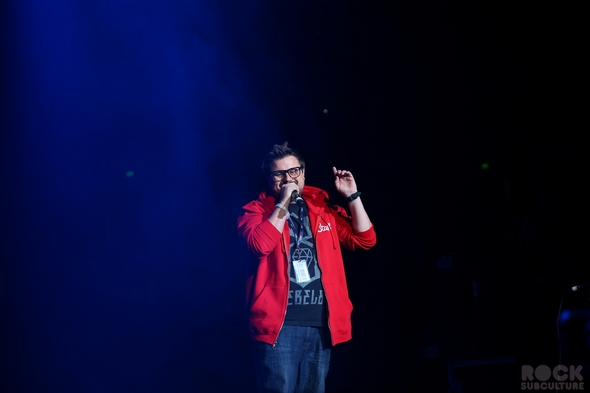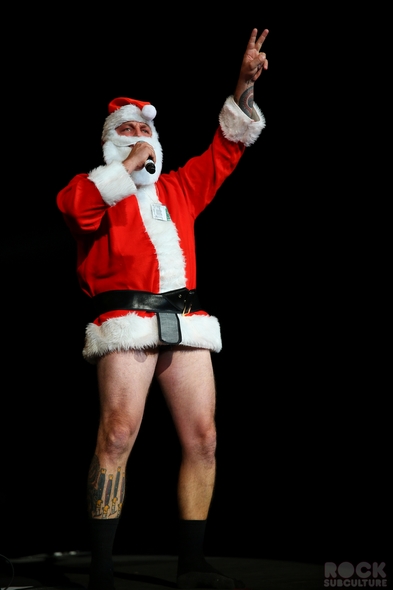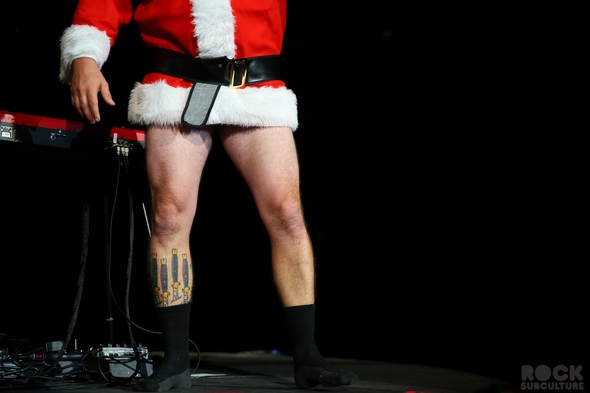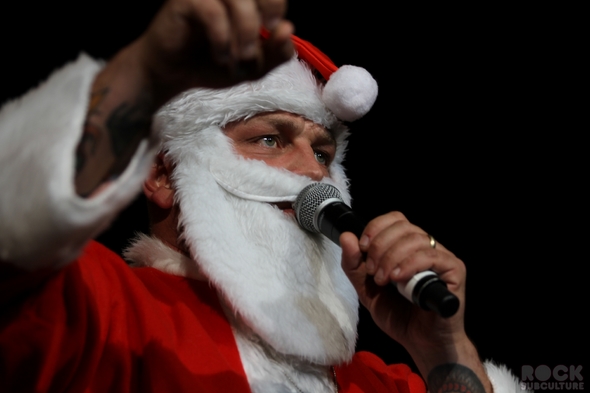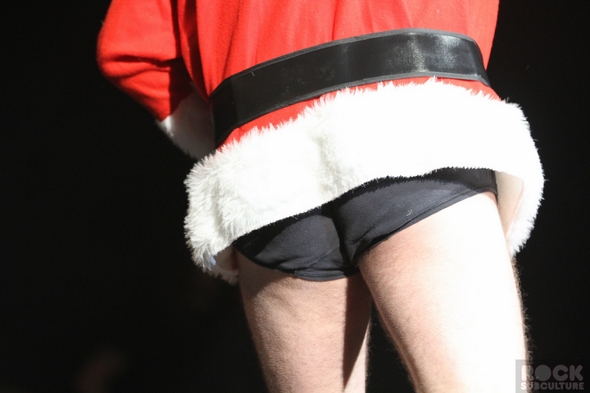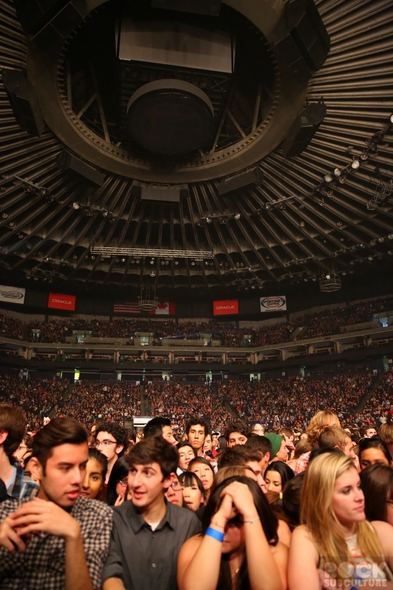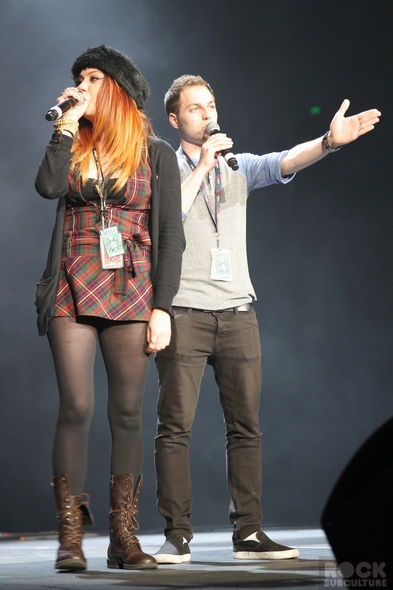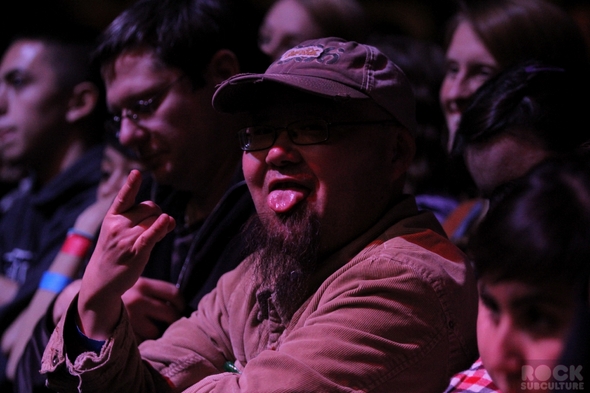 Jason DeBord