Not So Silent Night (NSSN) is Live 105's "Annual Holiday Rock Show", with 2012 being the first year it spans two consecutive nights.  This first night featured headliner Jack White, along with The Shins, Metric, Of Monsters and Men, The Gaslight Anthem, Two Door Cinema Club, and Our Vinyl Vows.  I've never been a fan of traditional, outdoor festivals (for a variety of reasons), but this was an extremely well organized multi-artist event that can serve as a model for how to do them right, and comprised an excellent line-up of artists.  The packed Oracle Arena was treated to seven great acts in under seven hours.  It was a really fantastic evening celebrating the work of some really great bands, with Jack White closing things out with a really amazing performance.

Headliner: Jack White
Supporting: The Shins
Supporting: Metric
Supporting: Of Monsters and Men
Supporting: The Gaslight Anthem
Supporting: Two Door Cinema Club
Supporting: Our Vinyl Vows
Venue: Oracle Arena
Promoters/Sponsors/Presented By: Live 105 and Live Nation
Where: Oakland, California
When: December 7, 2012
Seating: Press/Photo Pass (first three songs of each artist from pit; watching rest of show side stage)

Special kudos to all those who put this show together, and the people who worked so hard behind the scene to make it all happen.  I was particularly impressed with the crews who seamlessly swapped out sets and equipment between each acts – amazing everything seemed to flow so well and everything was on time down to the minute, per the advance schedule.  Amazing.
Petaluma-based Our Vinyl Vows won a contest to open the night. 
I just recently started listening to Two Door Cinema Club, and was impressed with their set as I was with their latest album, Beacon. 
The Gaslight Anthem seemed to have a pretty good showing of fans who counted them as their favorite up front.
I would credit Of Monsters and Men as the band that really brought the audience to life in full force, as the energy level kicked up several notches once they took the stage and engaged the audience with their unique brand of music.
My personal highlight was a very special acoustic set from Metric, not planned but due to unforeseen circumstances which resulted in a unique and fantastic performance from Emily Haines and James Shaw.  More on that later.
Indie rock staple The Shins brought it as well, and were a great lead in to the closing performance by Jack White, who put on an amazing show.
CLICK ON ANY IMAGE FOR HIGHER RESOLUTION OF EACH PHOTO

Our Vinyl Vows
Members
Brandon Hall (vocals)
Nick Kopan (guitar)
Colin Goheen (bass guitar)
Derek Goheen (drums)
Mat Fleisch (keyboards, sax)
Eric Peters II (brass, vocals)
This Petaluma, California band was formed in 2009.  They earned their place on the bill last night by winning their spot in a contest put on by sponsor/promoter Live 105.  Going by their performance, they loved every minute of it, and really had one of the more high energy stage performances of the night.  If I hadn't known about the contest element of it, I never would have known that their entry into the event was anything different from the rest of the line-up – they seemed to compliment the overall vibe of the night and various participants perfectly.
Below are some photos of Our Vinyl Vows performing on stage: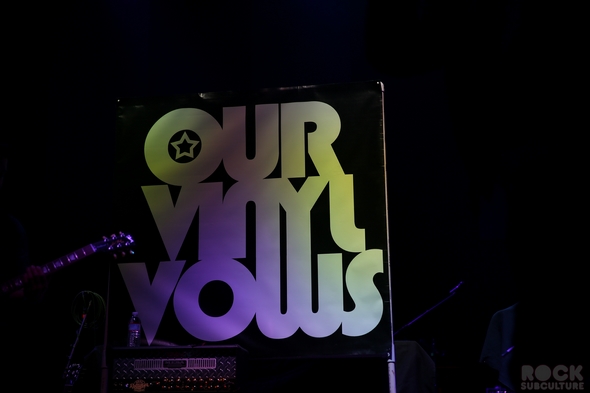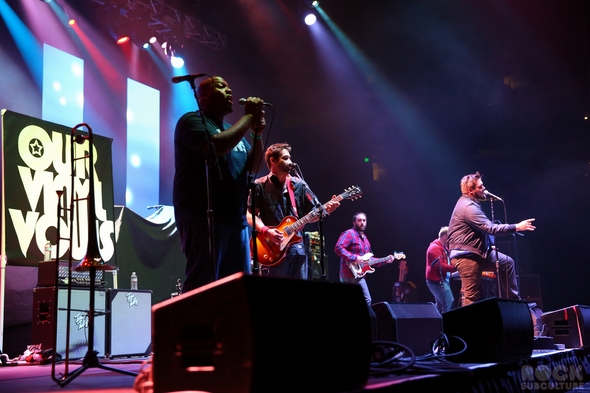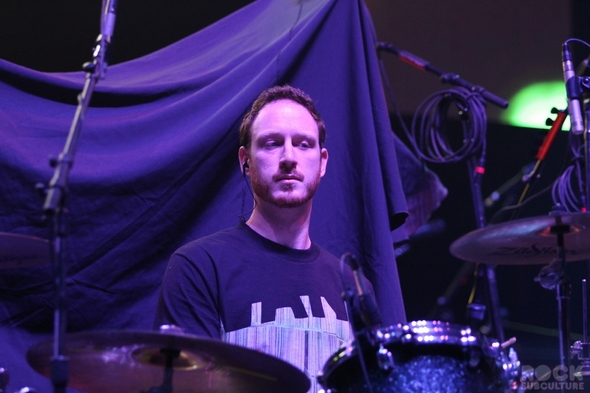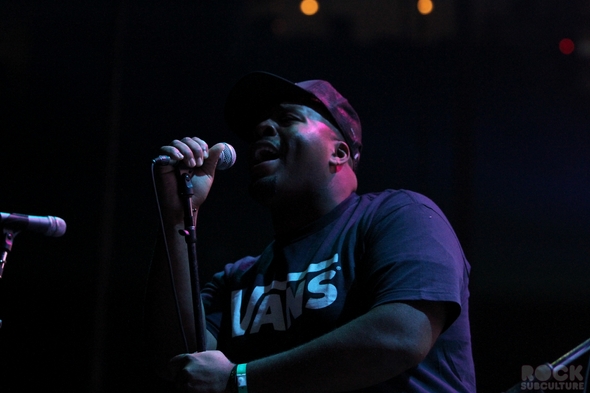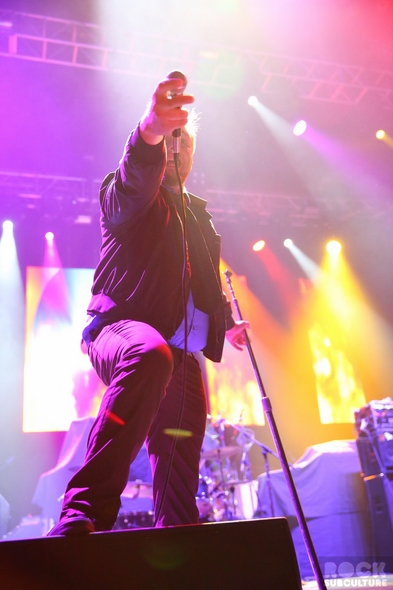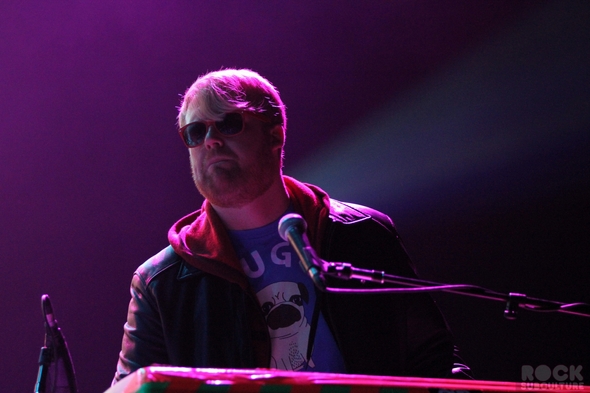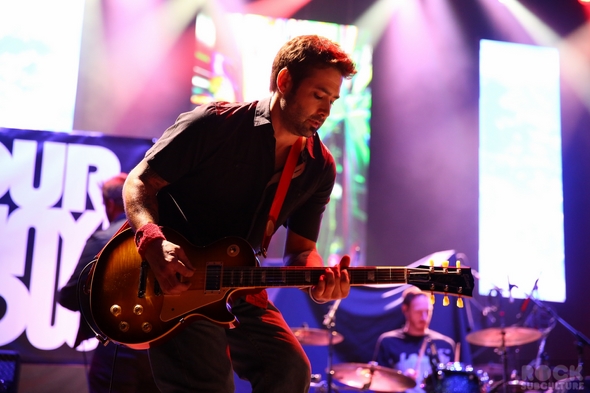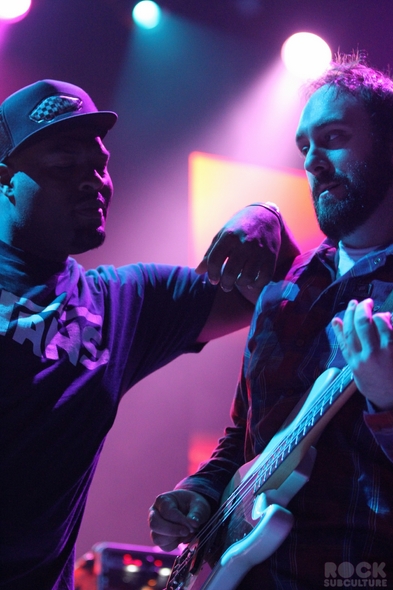 Two Door Cinema Club
Members:
Alex Trimble (vocals, rhythm guitar)
Kevin Baird (bass guitar, backing vocals)
Sam Halliday (lead guitar, backing vocals)
Two Door Cinema Club is a Northern Irish band, formed in 2007.
Their work has been featured in film soundtracks, television commercials, and video games.
I just started listening to their work a week or so in advance of this show, and their latest, Beacon, is a really great album.  The studio work sounds a little more polished/produced than the live counterparts of the same songs, but in a way in which it's really cool to listen to both versions, and the deluxe version of the album includes a full live concert (from a show at Brixton Academy), which is a great idea, in that you can hear both styles.
I really appreciate guitarist Sam Halliday's work, as he gets some really unique sounds out of his instrument that helps give the band a really different identity with their sound.  I was interested to especially watch him work live, and I'd really recommend checking out this band.  I hope to have a chance to see them headline their own show someday to get a longer session with their music.
Below are some photos of Two Door Cinema Club performing on stage: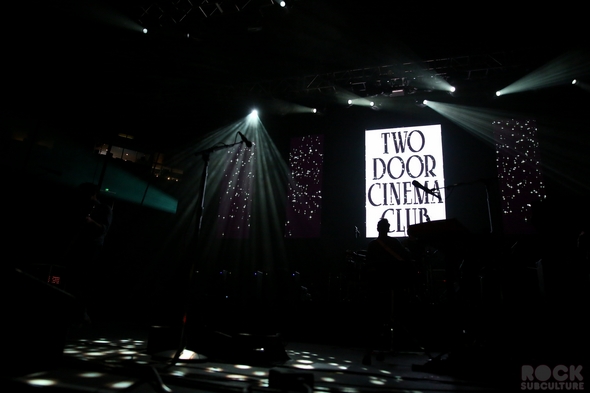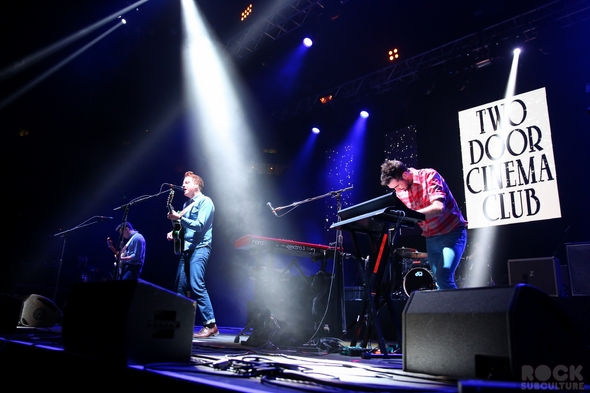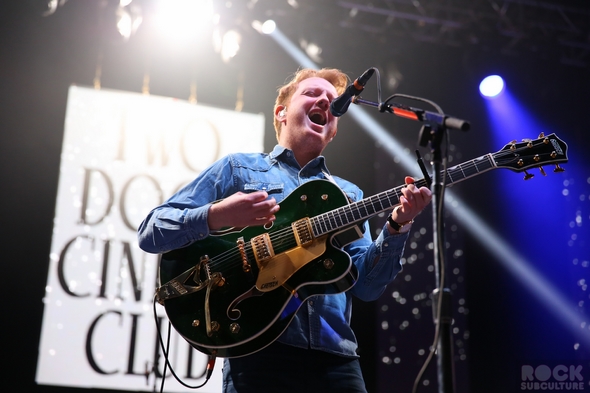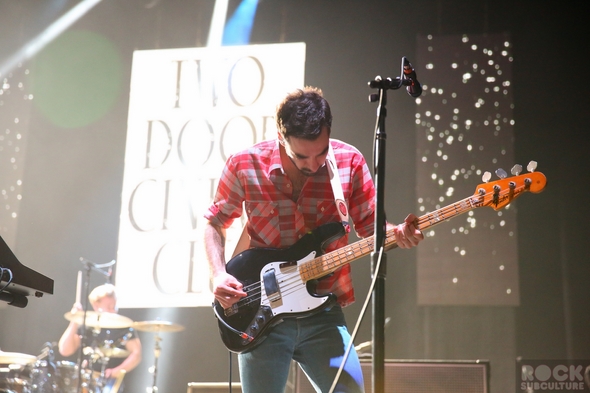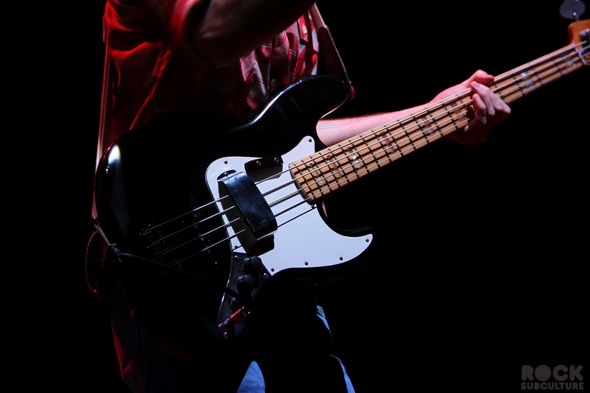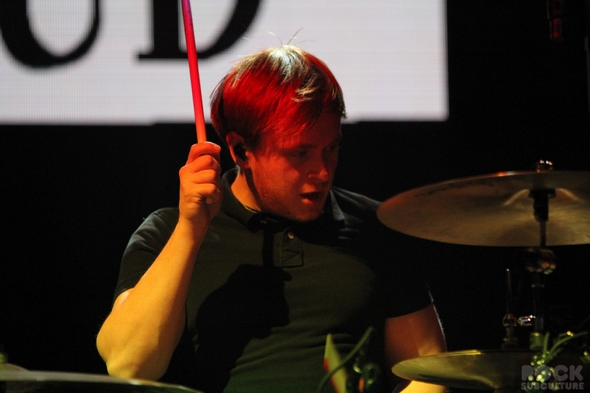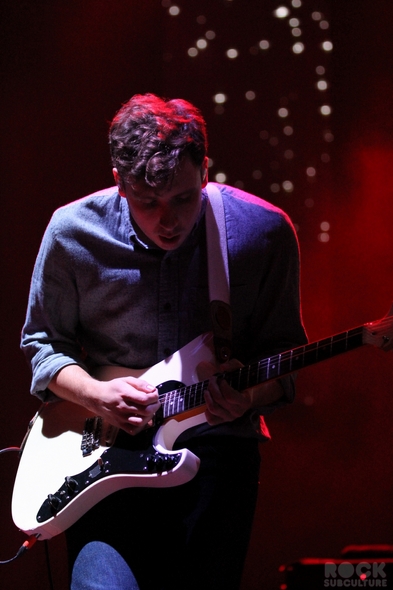 The Gaslight Anthem
Members:
Brian Fallon (lead vocals, guitar)
Alex Rosamilla (guitar, backing vocals)
Alex Levine (bass guitar, backing vocals)
Benny Horowitz (drums, percussion)
Set List:
Mae
45
Handwritten
The '59 Sound
Here Comes My Man
American Slang
Mulholland Drive
The Backseat
The Gaslight Anthem is from New Brunswick, New Jersey, formed in 2006.  They, too, released a new album this year, Handwritten, which I've also listened to leading up to this event, as I was previously not familiar with the band.  Compared with Two Door Cinema's more polished indie sound, The Gaslight Anthem brought a bit more punk influenced rock to the stage last night.
I've also really enjoyed catching up on their studio work leading up to this show, and they put on a great performance last night as well.
Below are some photos of The Gaslight Anthem performing on stage: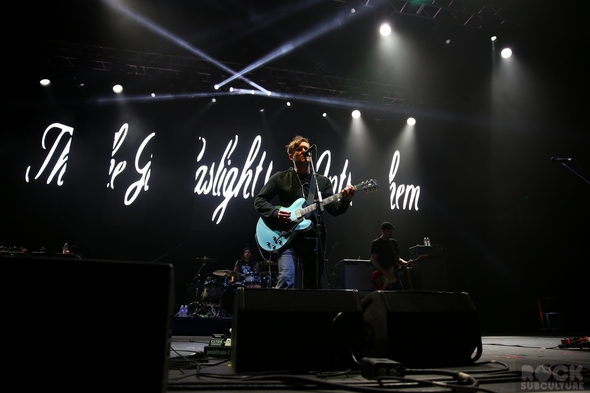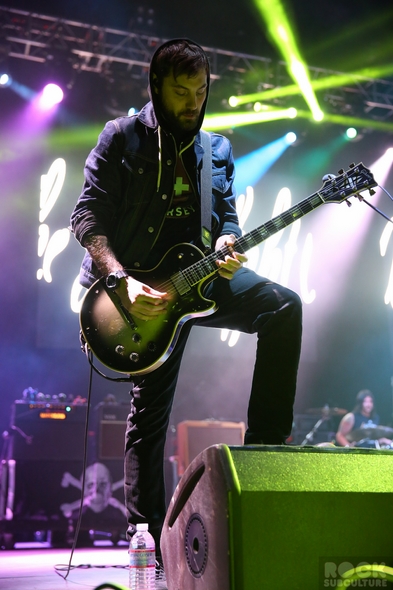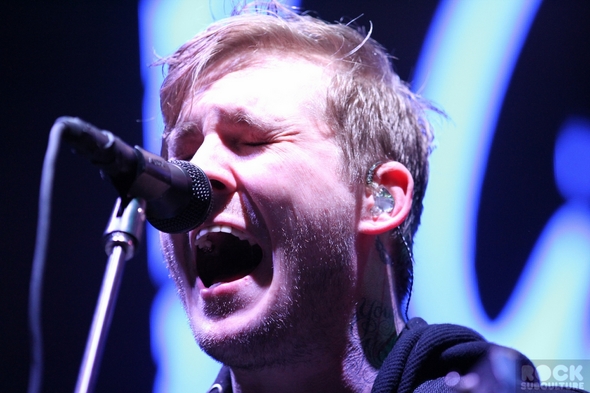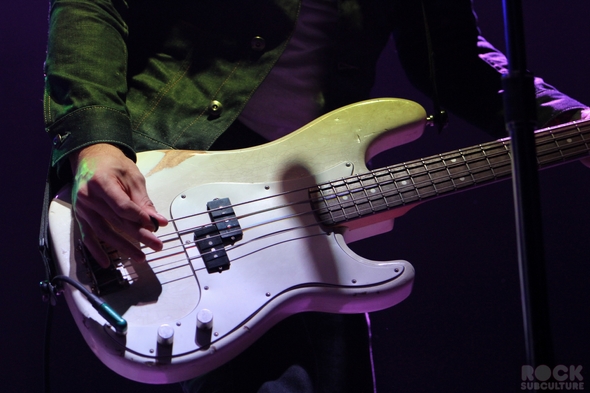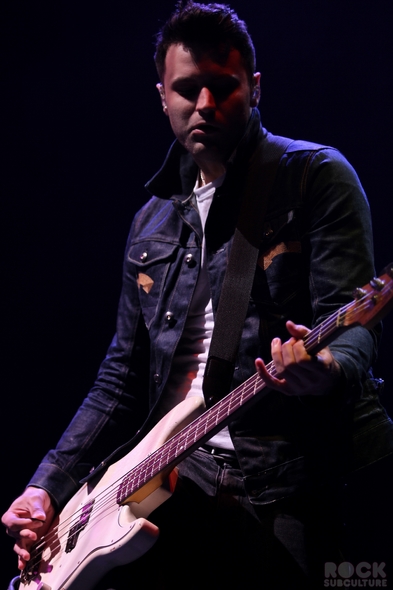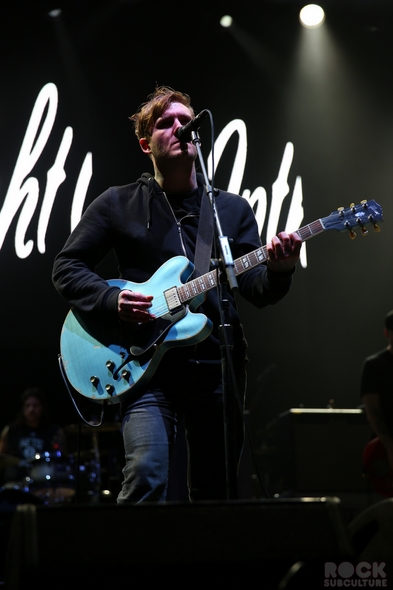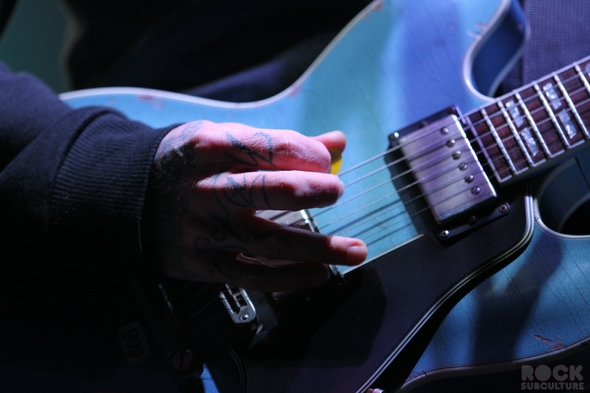 Of Monsters And Men
Members:
Nanna Bryndís Hilmarsdóttir (vocals, guitar)
Ragnar Þórhallsson (vocals, guitar)
Brynjar Leifsson (guitar)
Arnar Rósenkranz Hilmarsson (drums)
Kristján Páll Kristjánsson (bass guitar)
Set List:
Dirty Paws
Mountain Sound
King And Lionheart
Lakehouse
Little Talks
Six Weeks
Of Monsters and Men is a band from Garður, Iceland that was formed in 2010.  This was another band I was not previously familiar with, and one of the reasons I've really happy that Live 105 put this show together – to give exposure to some awesome up and coming bands.  For me, this was an undiscovered gem.  Love them.  Fantastic band.  Totally unique sound, if I had to pick one band that they remind me of in at least some way, it would have to be GROUPLOVE (who will be performing in tonight's "Night #2" of Not So Silent Night).  Really engaging music that goes right to your heart and brings you along on a sonic journey.  And the band feels very democratic, in that each member is an important component of their sound, as well as the live experience.
Of Monsters and Men is just one of those rare bands that really make you feel that you are part of a huge, celebratory experience in a live show.  Up to this point in the evening, I found that the audience was, overall, quite mellow.  That changed markedly once this band took the stage – I credit them with really bringing this audience alive.  Which is quite a feat, given that with these kinds of shows, oftentimes people come because they are a fan of one or two acts, and maybe aren't into the others as well.  Given that this show was comprised with a good range of music sub genres, it is something to see one band kind of pull everyone together and make the concert their own.
The five piece indie/pop band obviously has quite a folk influence that I assume is further unique in that they are from Iceland, so for me, being American, I hear things in their music that is unlike anything I've heard before (all in a very positive way).  Their music is extremely melodic and catchy, but in such a genuine and earnest way.  And live, they just build and build, and their song selection and order really took the night in a very uplifting direction.
Personally, I can't wait to see them again, hopefully headlining their own show, and really look forward to what the future holds for this amazing band.
Below are some photos of Of Monsters And Men performing on stage: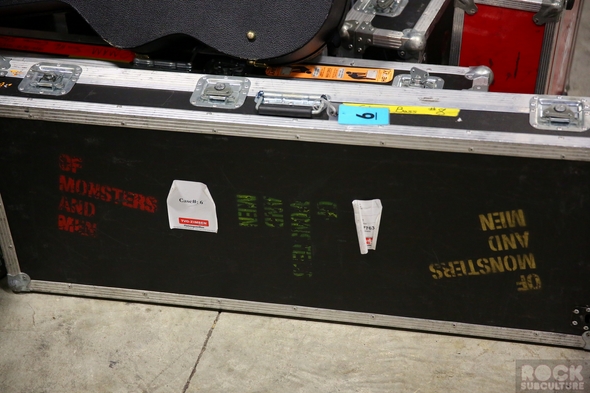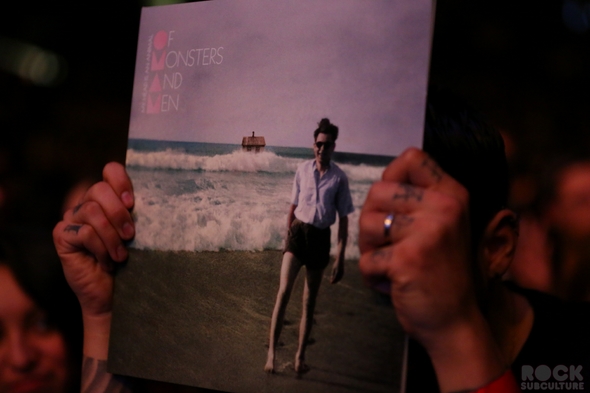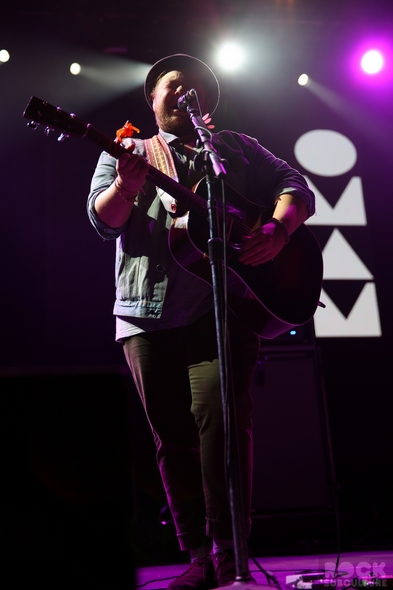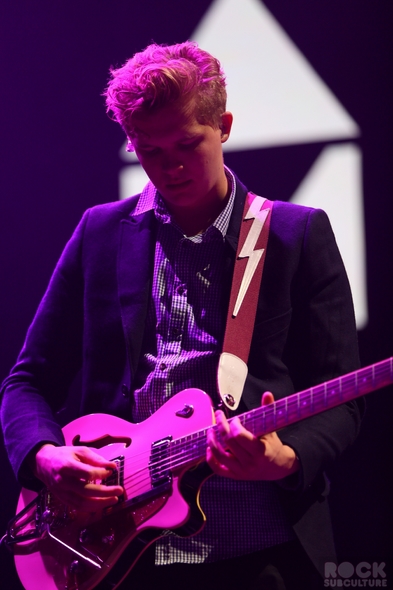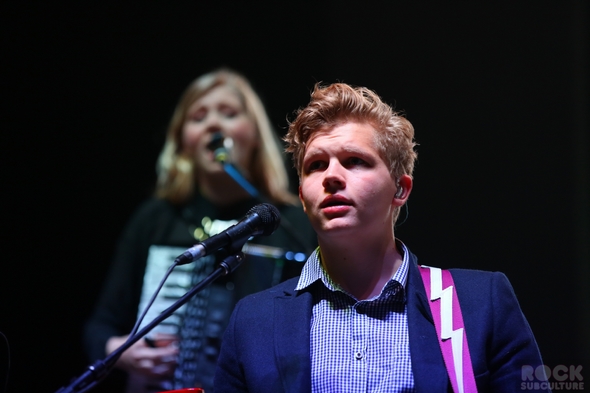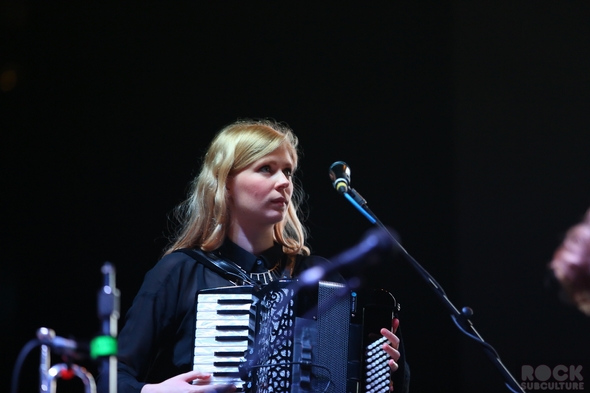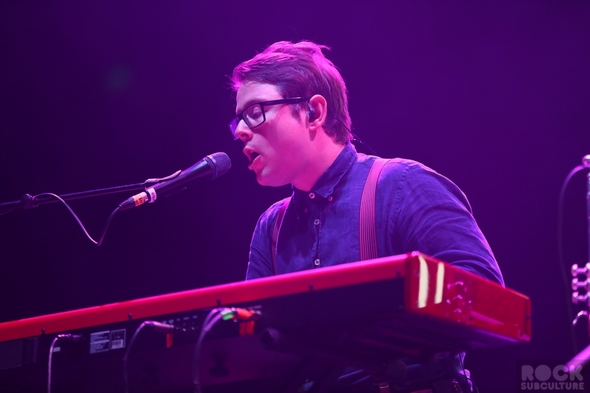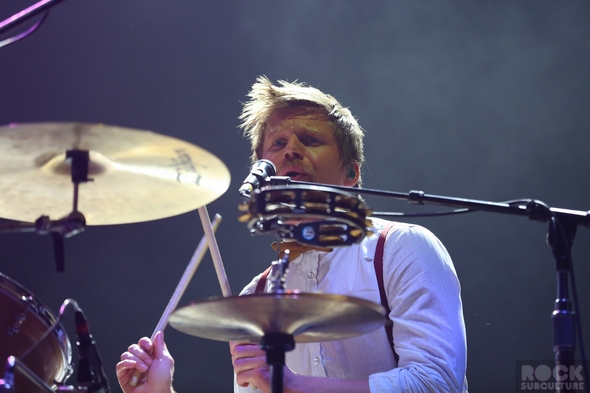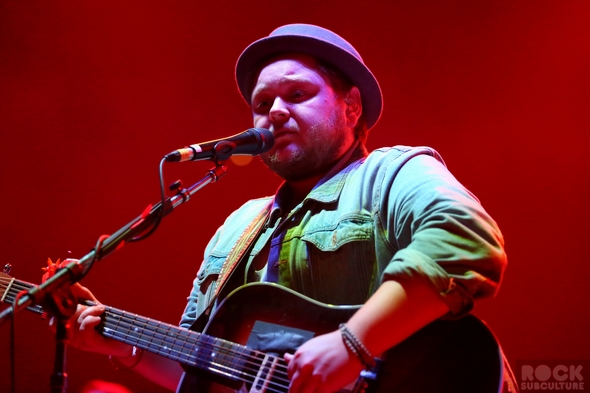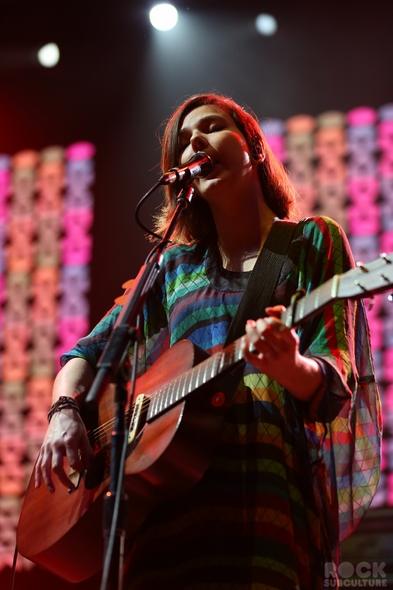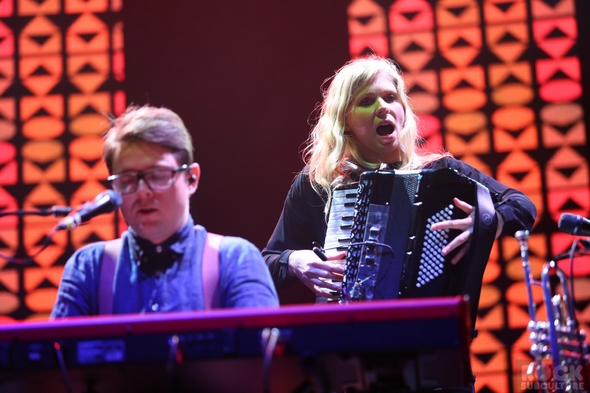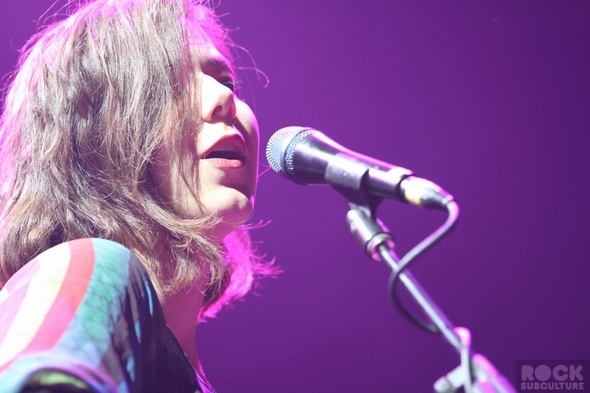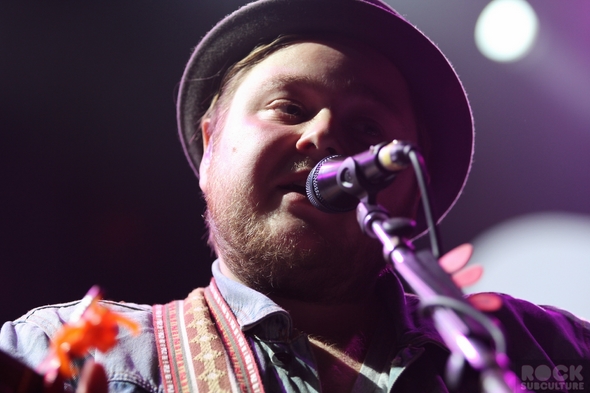 Metric
Members:
Emily Haines (lead vocals, keyboard, percussion)
James Shaw (guitar)
Set List:
Help I'm Alive
Synthetica
Don't Think Twice, It's Alright
Breathing Underwater
Youth Without Youth
Gimme Sympathy
The band was founded in Toronto in 1998. I reviewed a show that they headlined a few months ago in Las Vegas (see "Metric at The House of Blues Las Vegas | Las Vegas, Nevada | 10/6/2012").
Of all the bands performing last nights, far and away I was most excited about seeing Metric again – I love this band.
Leading up to their set, one of the other members of the other bands had mentioned them, and that Metric had some kind of problem today, and that they respected them for still coming on to play, so I was concerned about what this might be, but left wondering as it was mentioned in a vague sort of way…
When going into the pit to shoot their set, I noticed that their usual equipment was not on stage.  There was a grand piano in place of more modern keyboards/synthesizer, and no drum set.
One of the Live 105 personalities came out to explain that the band's gear did not make it to Oakland.  Given that, the band still wanted to play the show.  So the radio station, last minute, got them the piano and guitar for Emily Haines and James Shaw to be able to perform "Christmas campfire style".
The funny thing is, in preparation for my long drive into Oakland for the show (nearly three hours), I had created a new setlist on my iPod of all the bands performing last night, which I played back on shuffle, and about halfway through my journey, an interview with Emily and James from their iTunes Sessions started playing, which I'd never actually listened to before.  While I was in the mood for music, not talking, I found it incredibly engaging from the start.  These are brilliant, thoughtful artists.  They aren't just making music, they are making art, and it was fascinating listening to them, learning more of their background, and hearing their candid thoughts on what goes into their writing and creative processes.  I mention all of this, because in this interview, they talked about a concept that they employed in the making of Fantasies, under the guidance of producer Gavin, in which he said that if a song can't be played on an acoustic instrument, that there is probably something wrong with the song.  I found this to be really interesting, and obviously it in some way lead to their Plug In, Plug Out EP.  But in the interview, James talked about how their songs had to pass "the campfire test".
So it was really surreal to have all this in mind, going into this show, and then see this magic happen on stage – and not as something planned, but as a result of events out of the band's control.
I have such respect and admiration for this band and how they approach music, and to see them take a problem that would have resulted in most bands skipping out on the performance, they instead brought an incredible showcase performance to this huge arena, with a real stripped down and vulnerable performance that I will never forget.
They opened with Emily on piano and James on acoustic guitar with their awesome song, "Help, I'm Alive".  This is definitely one of my favorite Metric songs, and it was incredible to see this special stripped version.  Then they transitioned to just Emily on vocals only, and did the title track from their latest album, Synthetica (one of my very favorite albums of the year).  They followed this with a cover of Bob Dylan's "Don't Think Twice It's Alright", in which James joined in on vocals.  This was followed by "Breathing Underwater (also from Synthetica).  They then added a modest drum machine recording into the mix for "Youth Without Youth" (one of my favorite new songs of 2012).  Especially awesome was Emily recreating the electronic voice "youth without youth" bit via harmonica.  They closed out with "Gimme Sympathy", which is the only thing similar to the electronic, high energy show I saw in Vegas.
It all could have ended there, and it would have been an unforgettable Metric show for me to be sure…
So after they finished, since I was standing side stage for my review, and all my camera equipment was stowed backstage with the other photogs, I headed back…  and as I headed out, Emily and James were walking down the ramp from the back of the stage.  There was big black vinyl drapes hanging down from the ceiling, so I held one of those open for them to help guide them from the blackness of the behind the stage area to the main backstage area…  I couldn't *not* say something complimentary, and since I got the sense that they were in uncharted territory doing this stripped down show for such a huge audience, I told them that their set was epic (a heartfelt sentiment on my part); they were extremely nice and friendly, so I mentioned that I was a fan, and had seen their show in Vegas in October, and they both thanked me and extended their hands to shake hands, and went on their way.  Just a very brief encounter, but I feel very lucky to have had a chance to thank them for the amazing performance last night.
Below are some photos of Metric performing on stage: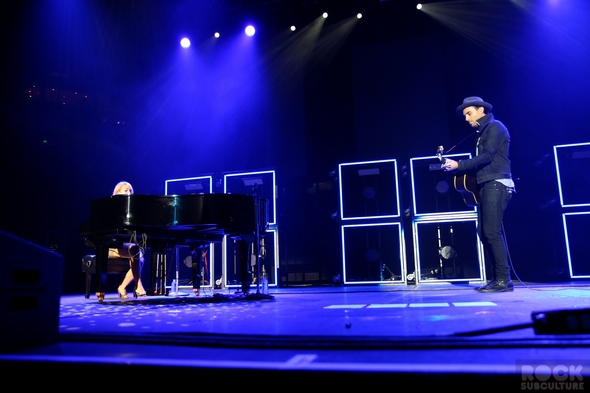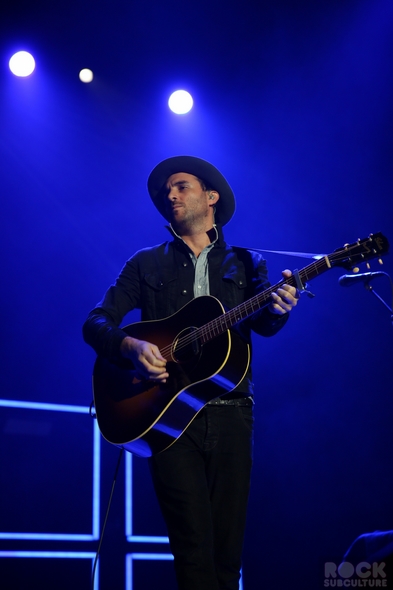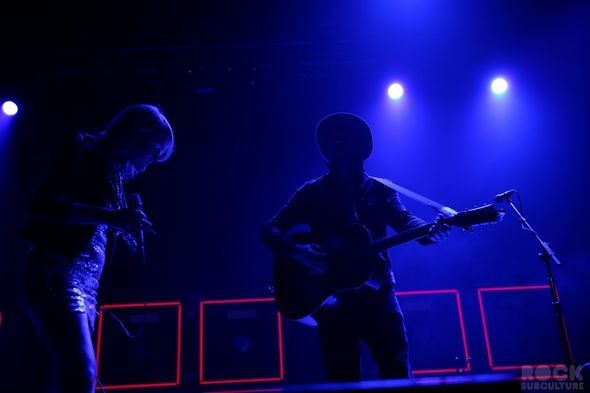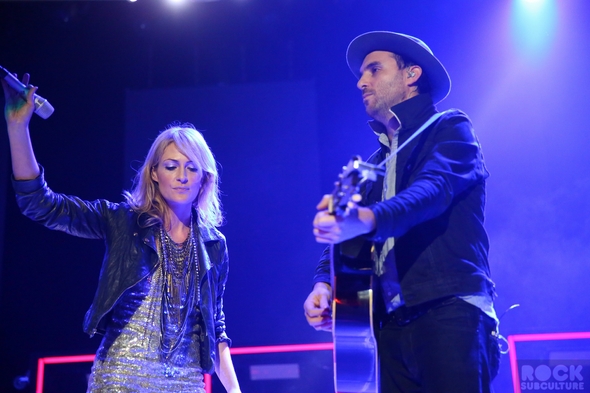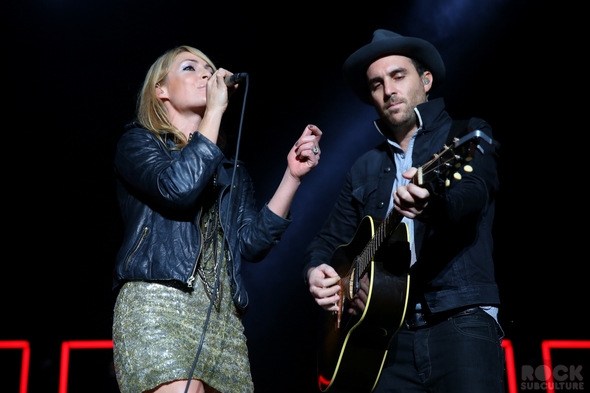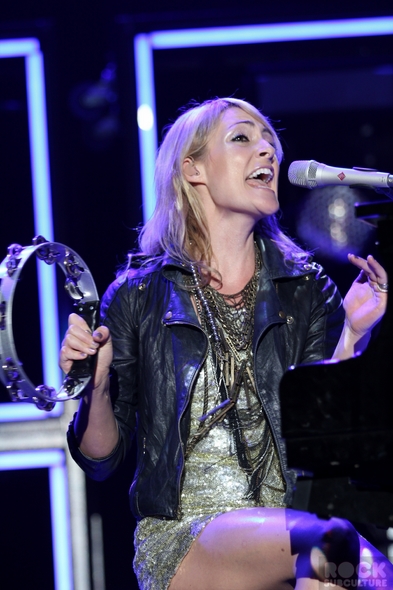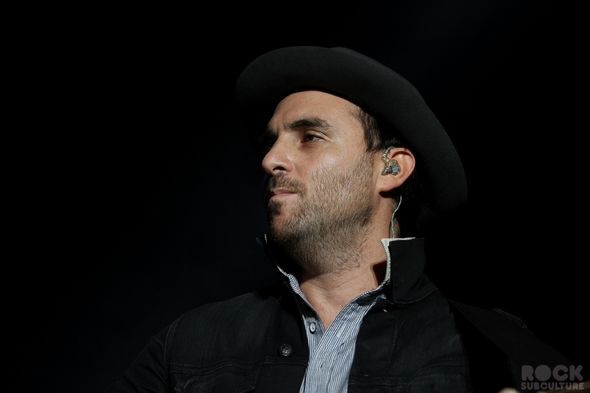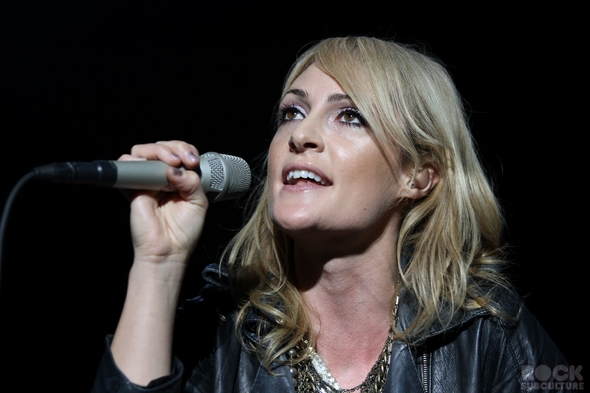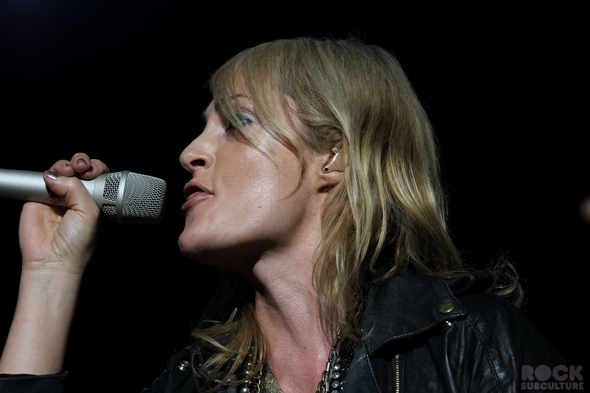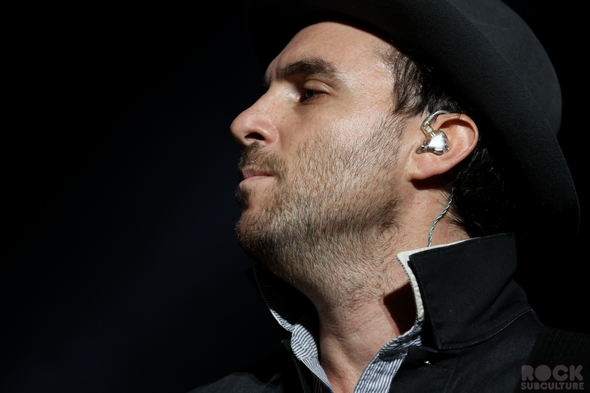 The Shins
Members:
James Mercer (vocals, guitar)
Yuuki Matthews (bass guitar, keyboards, backing vocals)
Jessica Dobson (guitar)
Joe Plummer (drums)
Richard Swift (keyboards)
Set List:
The Rifle's Spiral
Caring Is Creepy
Australia
Simple Song
Bait And Switch
No Way Down
Port Of Morrow
New Slang
Sleeping Lessons
The Shins are an Albuquerque, New Mexico band that formed in 1996.  They are a very popular indie band, and they too put out a new album this year, Port of Morrow.  I know a lot of the fans in the audience came just to see this band, and they definitely did not disappoint.
Below are some photos of The Shins performing on stage: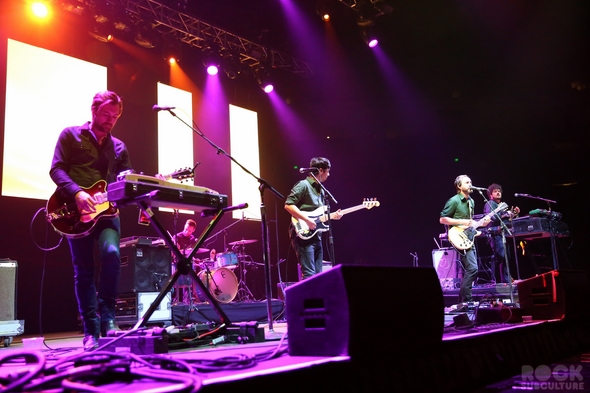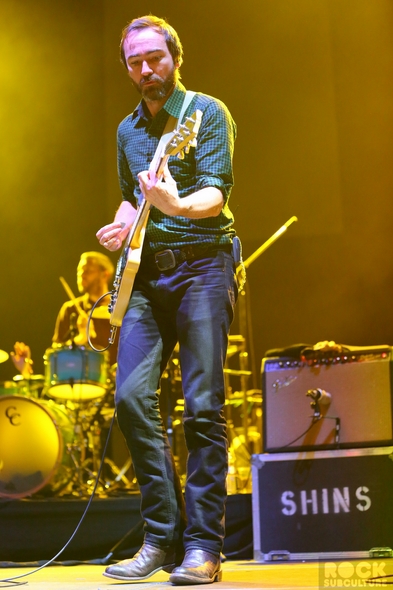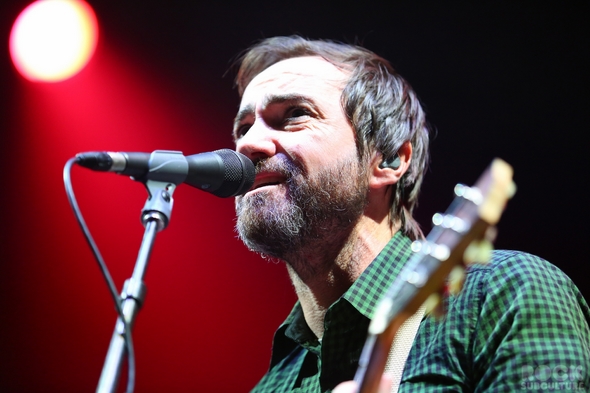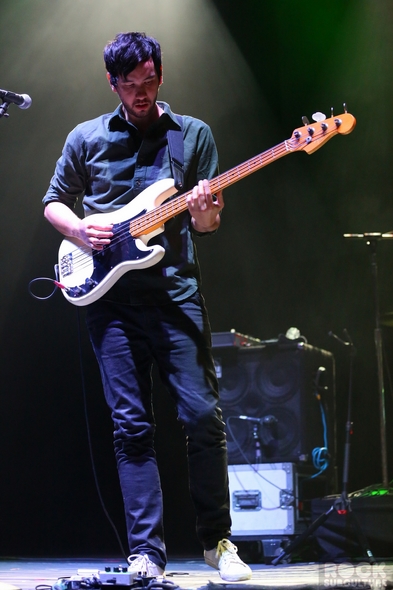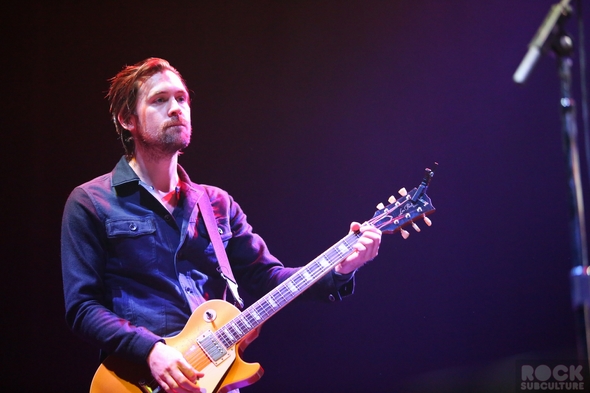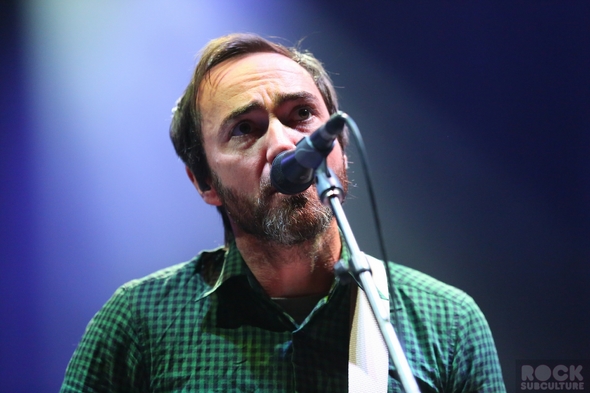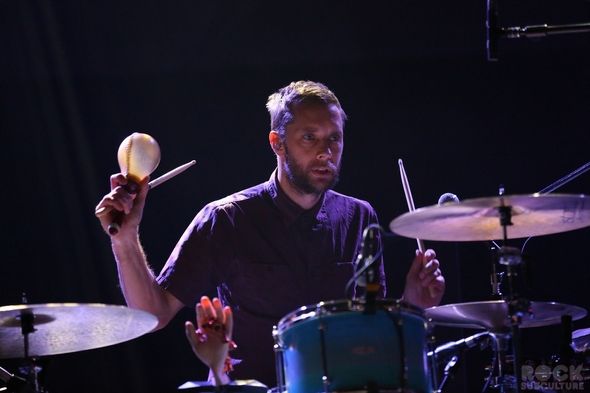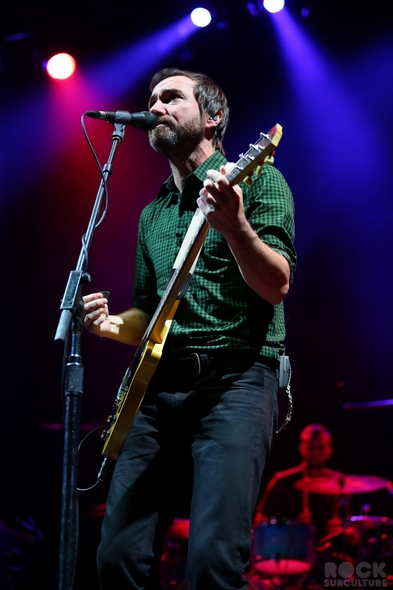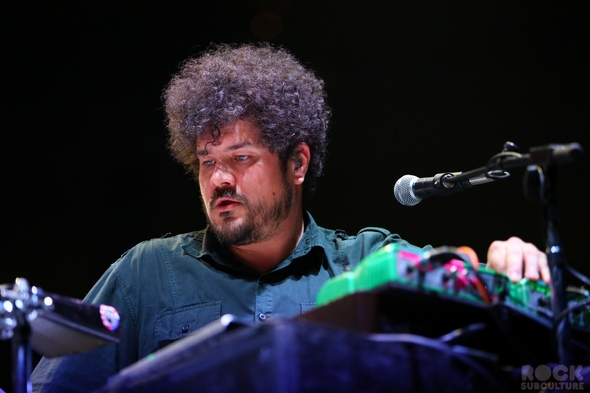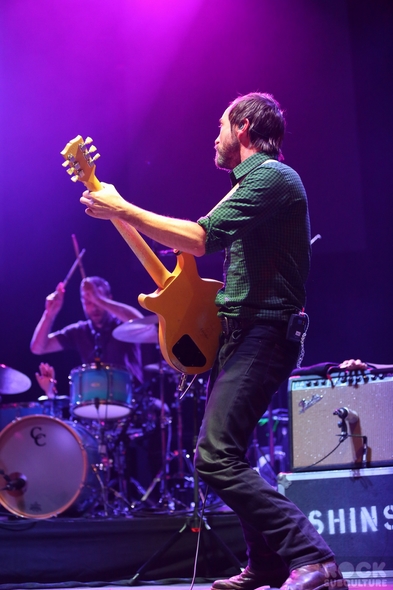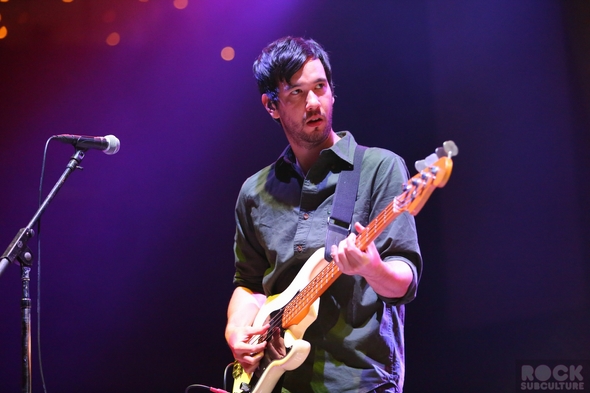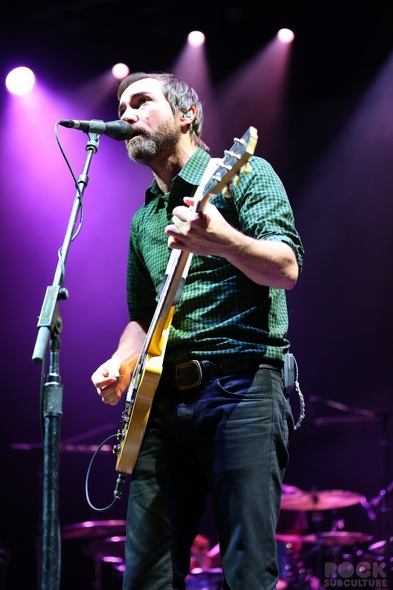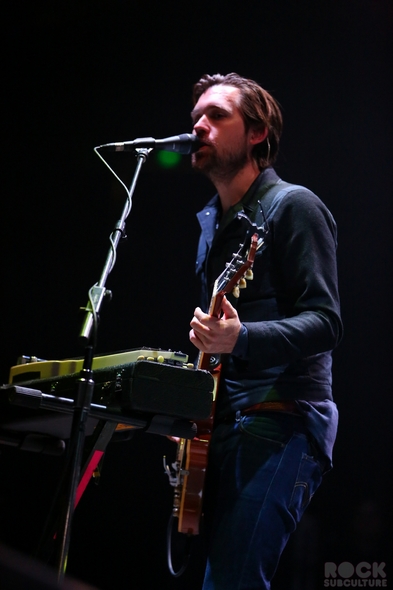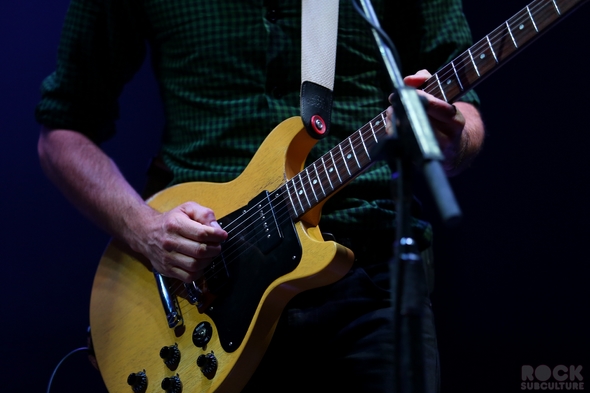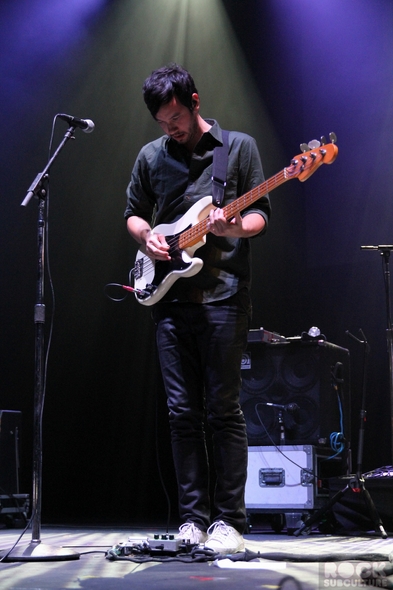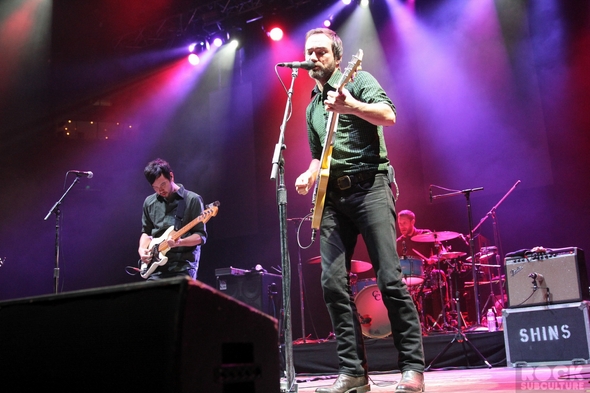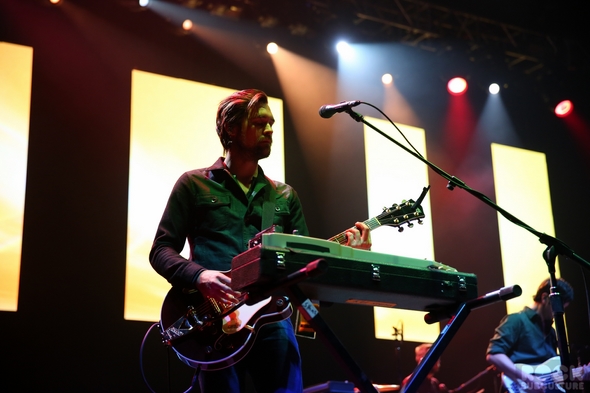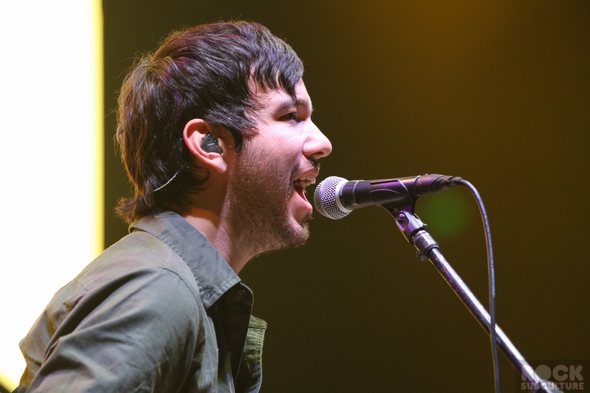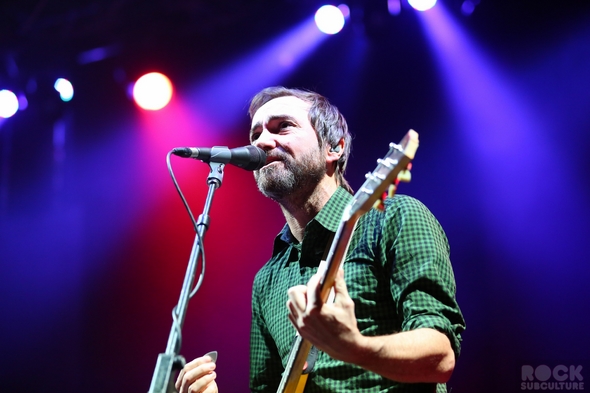 Jack White
Set List:
Freedom At 21
Dead Leaves And The Dirty Ground (White Stripes)
Missing Pieces
Love Interruption
Hotel Yorba (White Stripes)
Weep Themselves To Sleep
Cannon / Sixteen Saltines
Top Yourself (Raconteurs)
Two Against One (Danger Mouse)
Steady As She Goes (Raconteurs)
I'm Slowly Turning Into You (White Stripes)
Encore:
The Hardest Button To Button (White Stripes)
Screwdriver (White Stripes)
Blue Blood Blues (Dead Weather)
Ball And Biscuit (White Stripes)
Seven Nation Army (White Stripes)
Jack White served as headliner of this first night of NSSN, and he really does not require an extensive introduction.  In my personal opinion, the man is just a genius – and not just musically.  He's brilliant, brilliant musician, an inventive visualist, a savvy businessman, and a real philosopher.   He's definitely one of the most interesting figures in this generation of music.
As an aside, Jack White was in the news this week, as the mainstream media tried to exploit him and drag him into invented controversy by taking a comment he made about Lady Gaga completely out of context.  Kudos to Jack White for completely calling them out on it in a very classy way.
I was very happy to have another chance to see Jack White this year, as I had tickets to see him in London and it was one of those shows where something came up and I just couldn't make it.
Jack White, for me, strikes me as someone who was maybe born in the wrong era or something.  He seems to have the music soul of the real pioneers of rock and roll…  like he was somehow meant to be around in the 50's or 60s, but we are lucky enough to have him here, in this time, creating this awesome fusion of "real" rock and blues with garage and punk, making music that is just brilliant.
Somehow though, his gifts and talents don't begin and end with the finished product, like most artists (who tend to be lacking in other basic ways, or otherwise troubled and/or demonized).  Jack White just has a class about him, and does everything in his unique, Jack White III branded way, from the staging and accompanying musicians to his roadies dressed in a manner that makes them appear as if they walked off set for a period film about simpler times.
Of course, Jack White is a stellar performer, and he put on an excellent show last night to close things out.  I really can't recommend enough checking out his work and seeing him live if you ever have the chance.  Truly one of the great and true naturally gifted artists of our time, and he is young enough that I am excited to continue to watch his career and follow his music.
Below are some photos of Jack White performing on stage: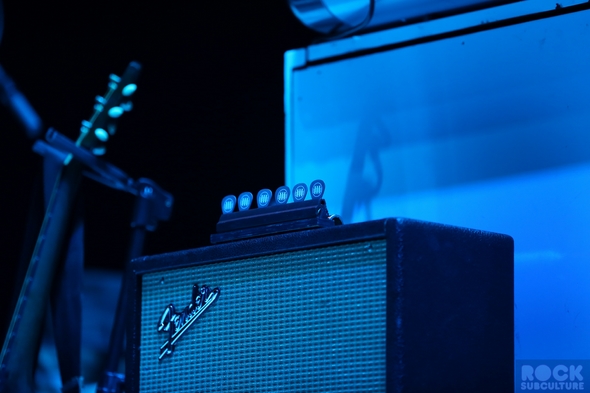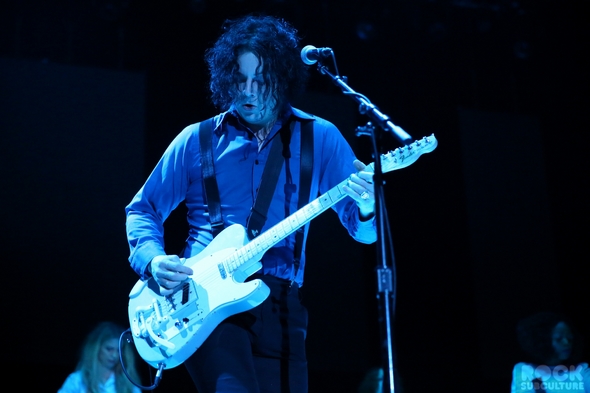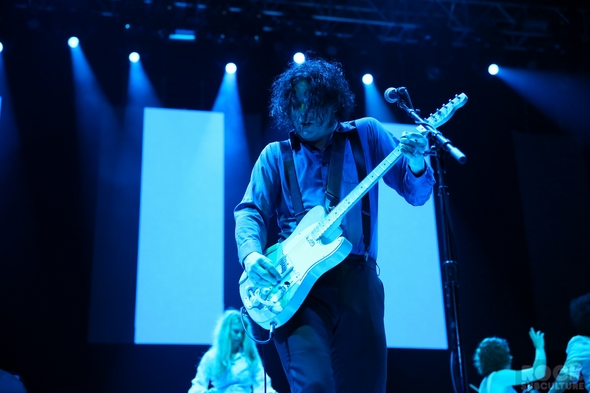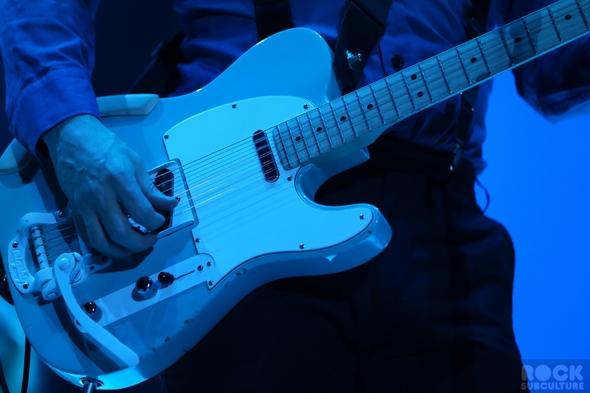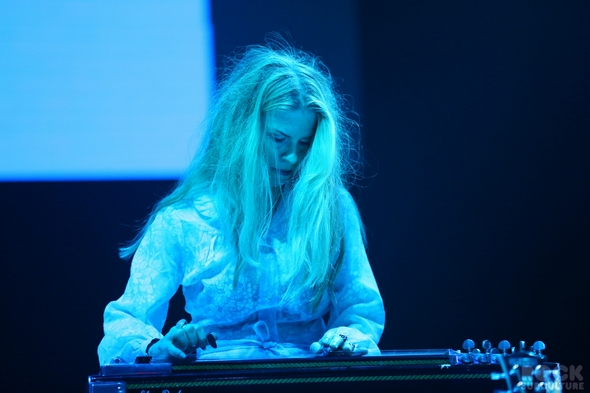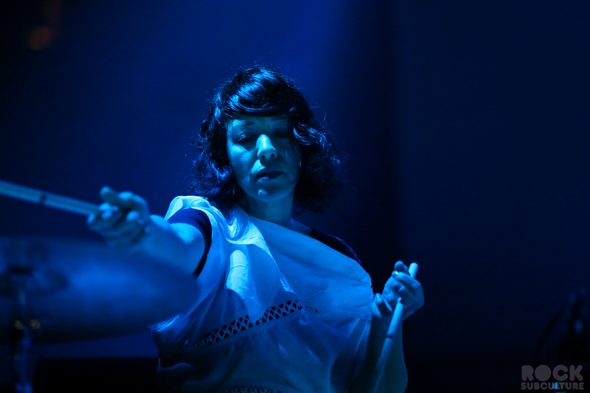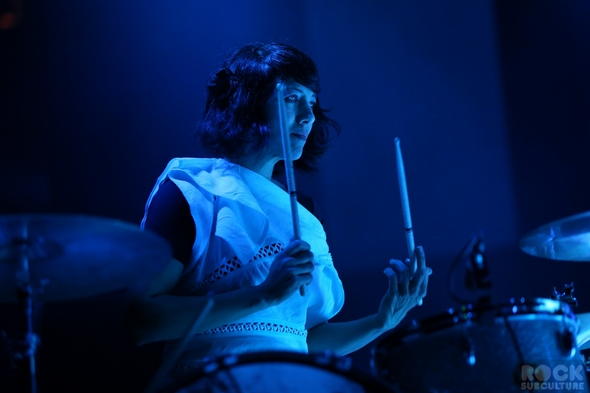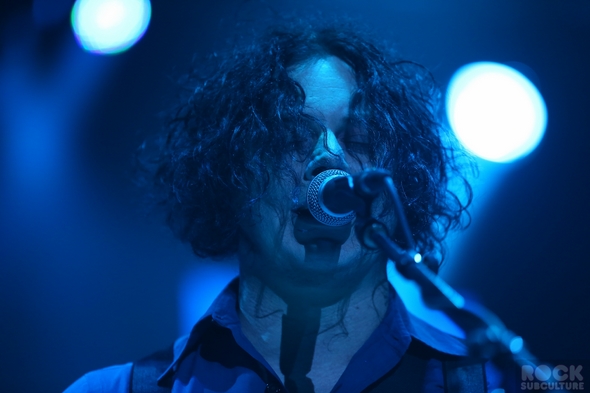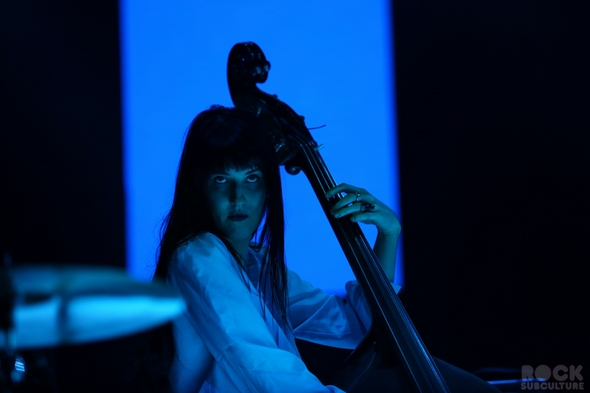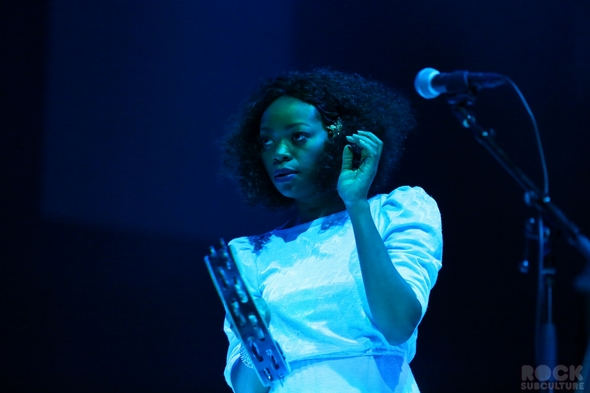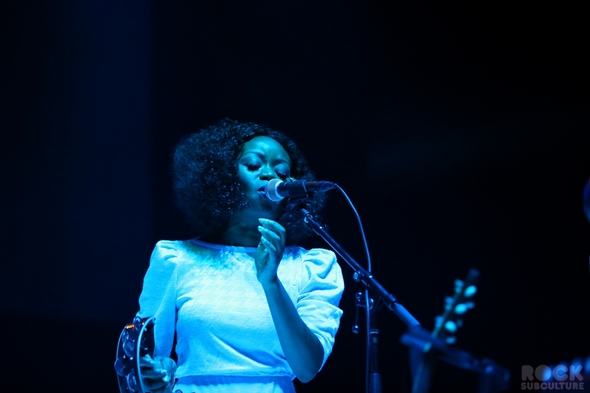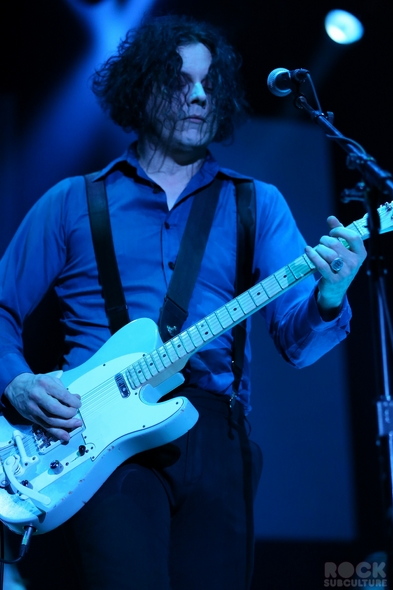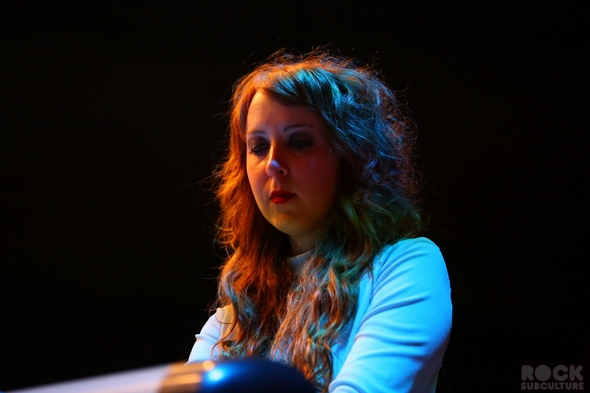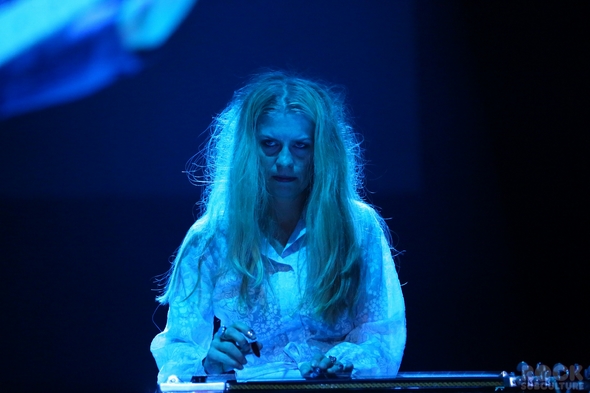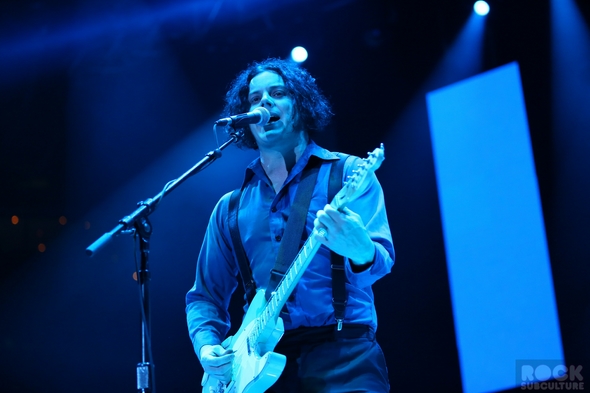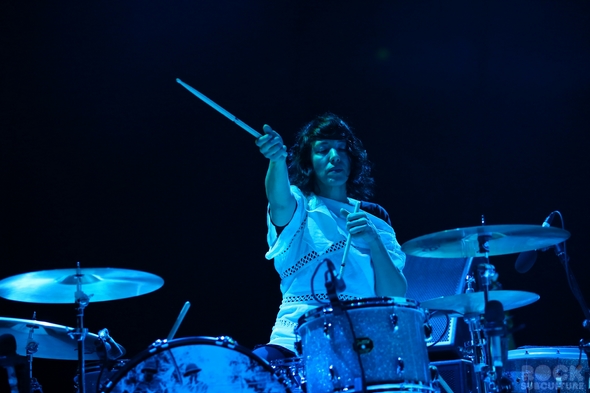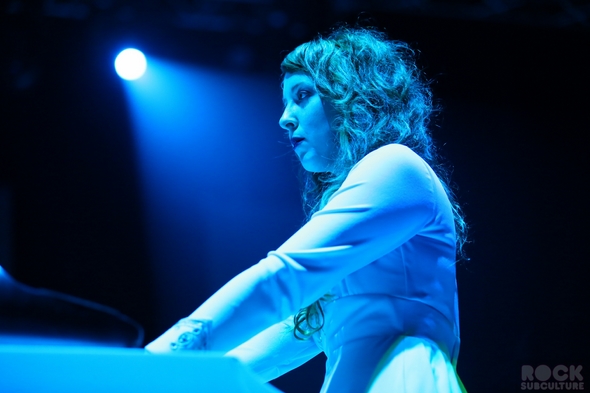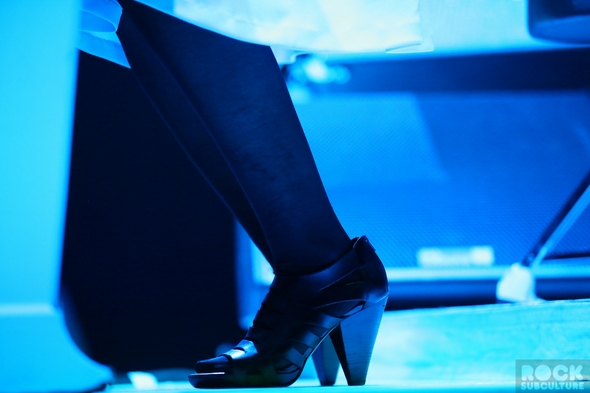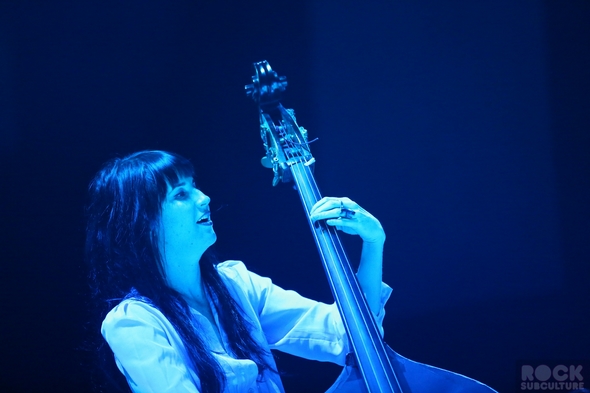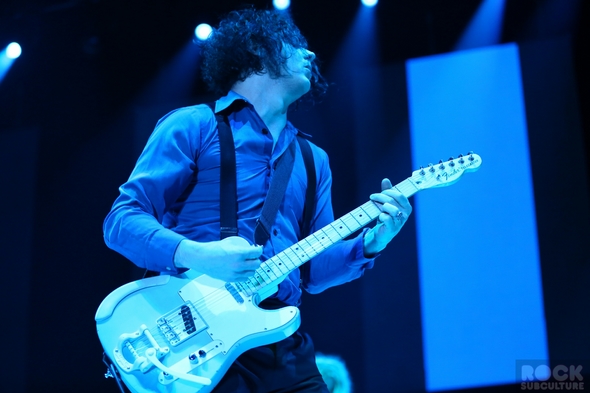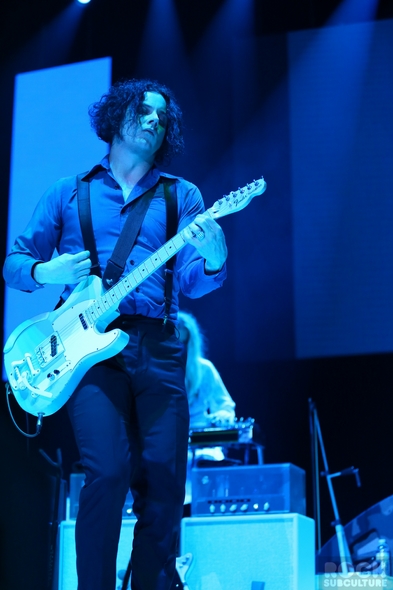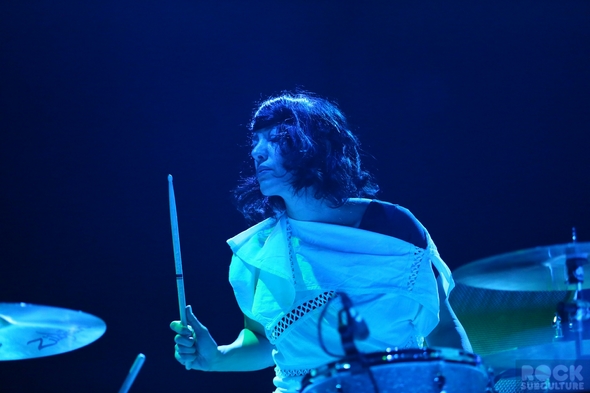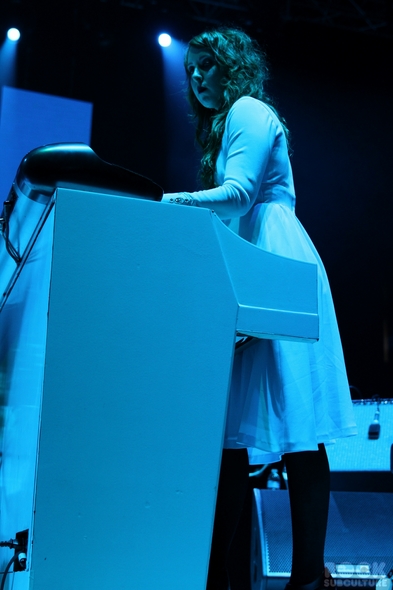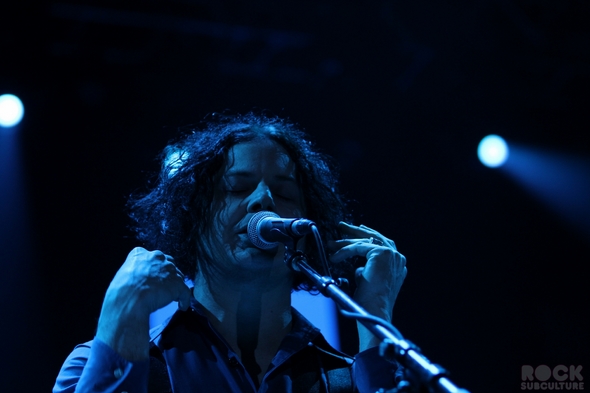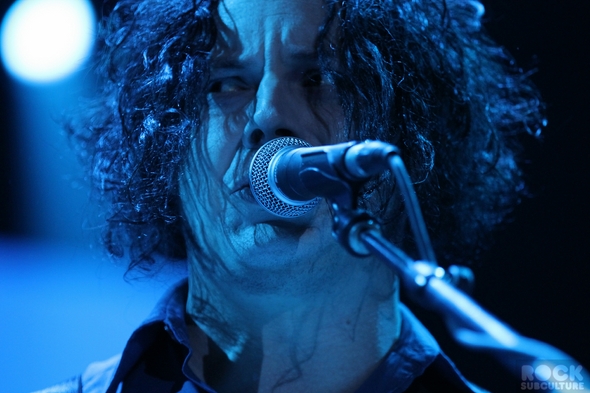 The Show At Large…
Below are some additional images from the show and some of the introductions and activities in-between sets, and some shots of the audience…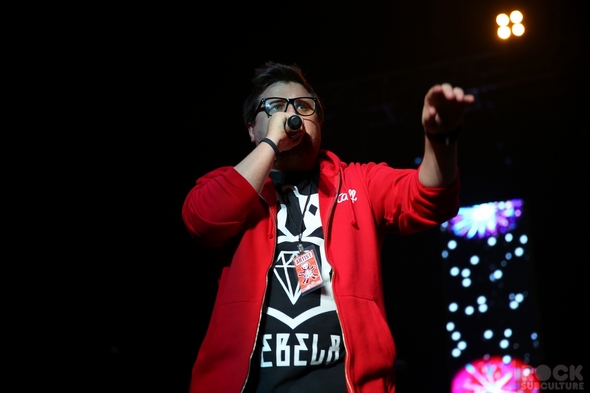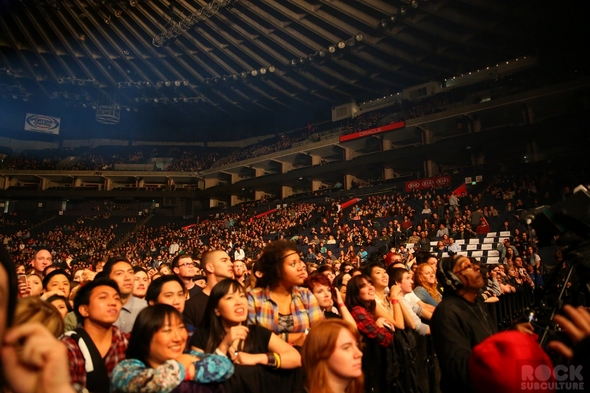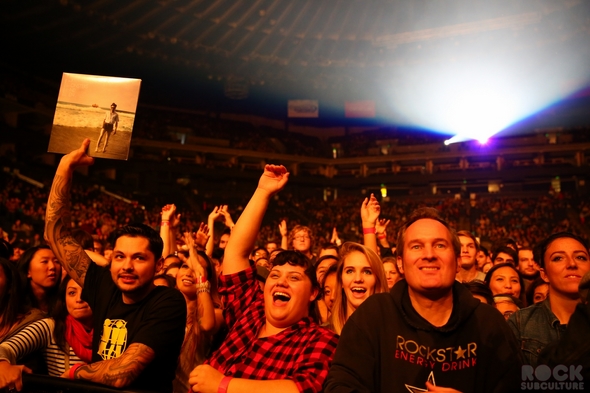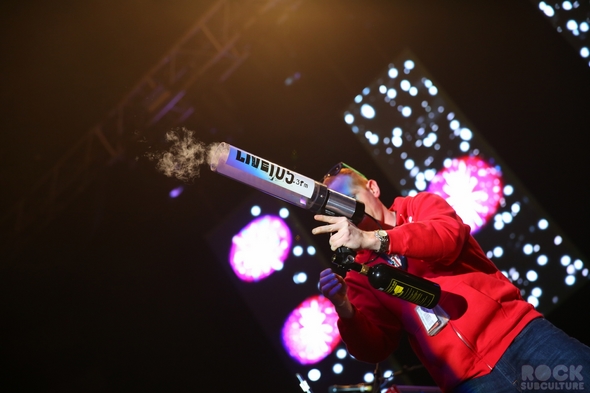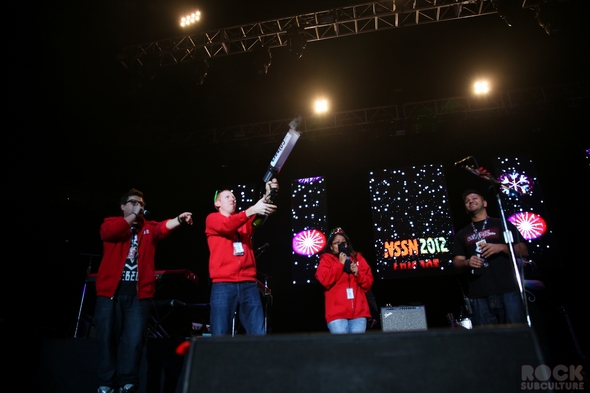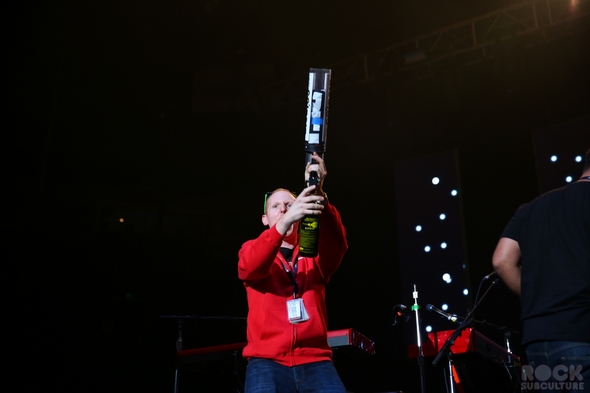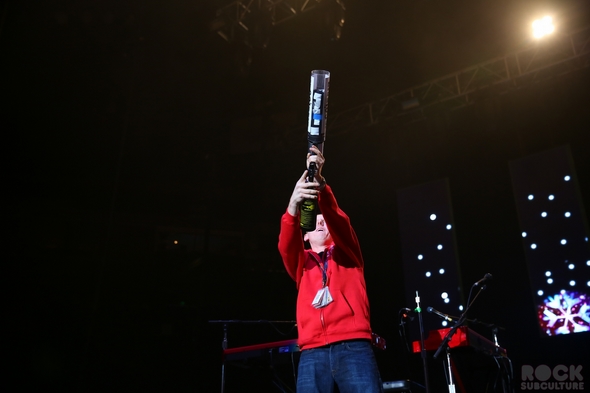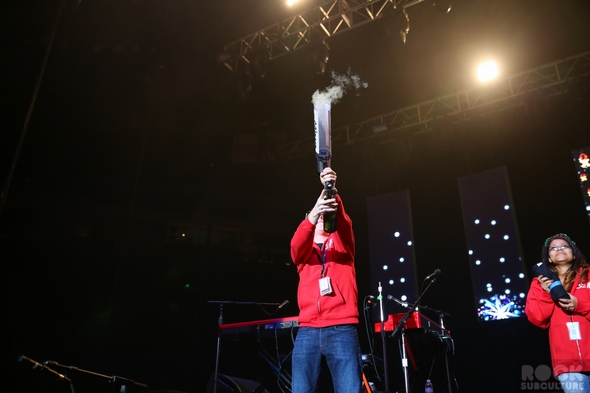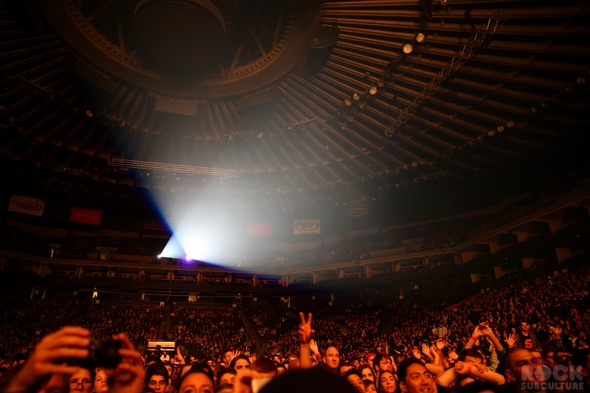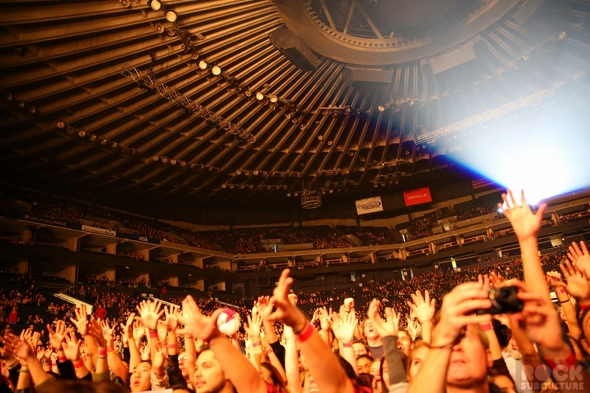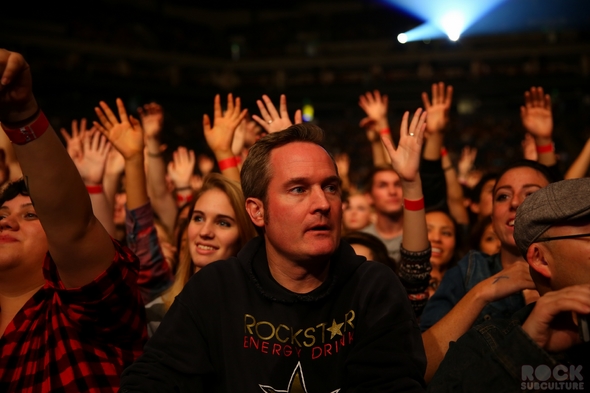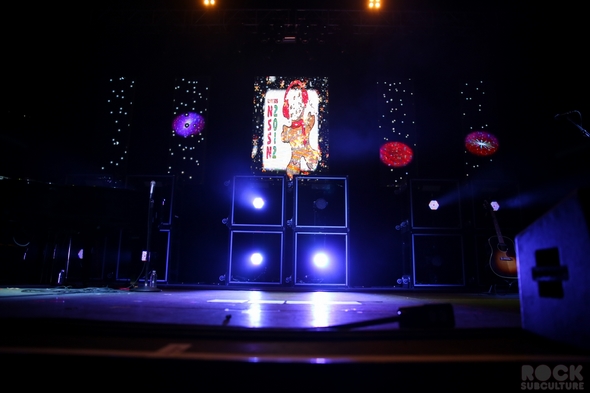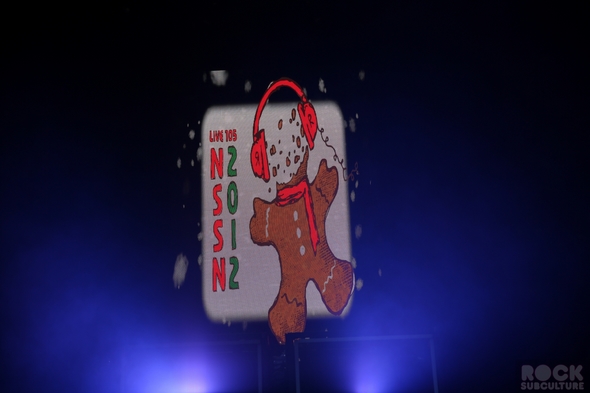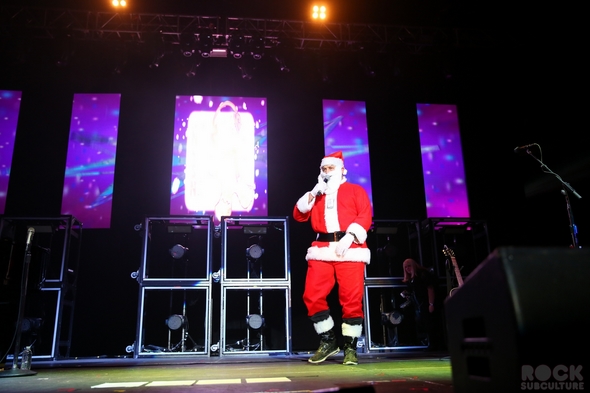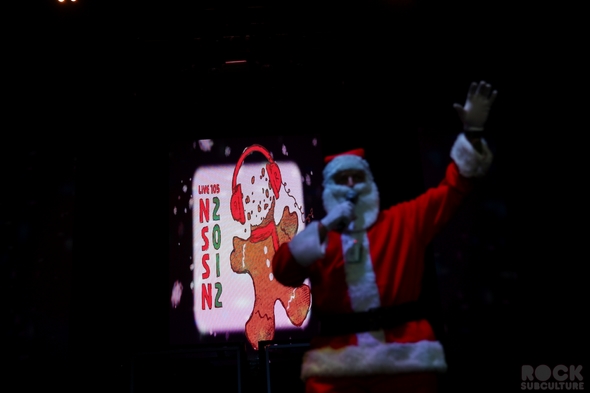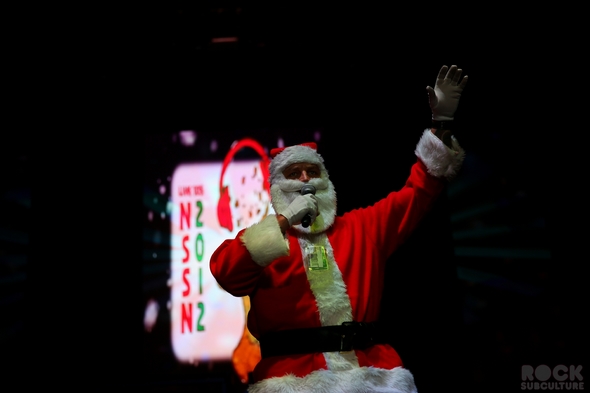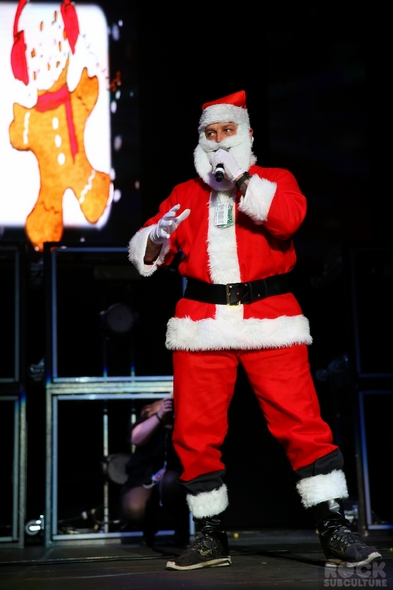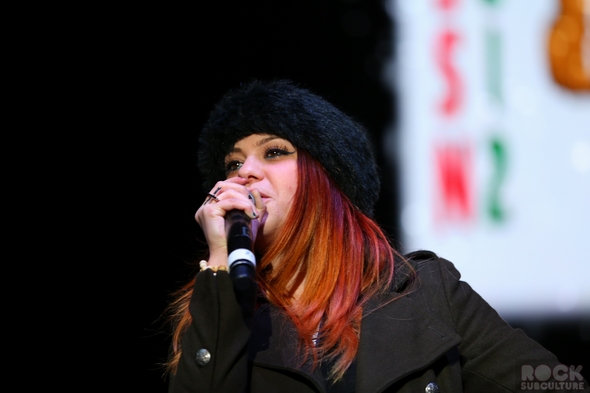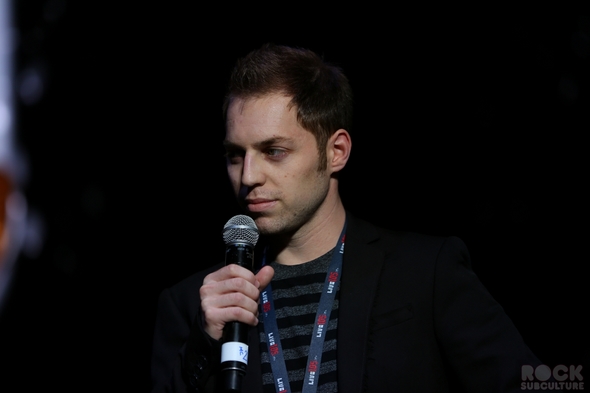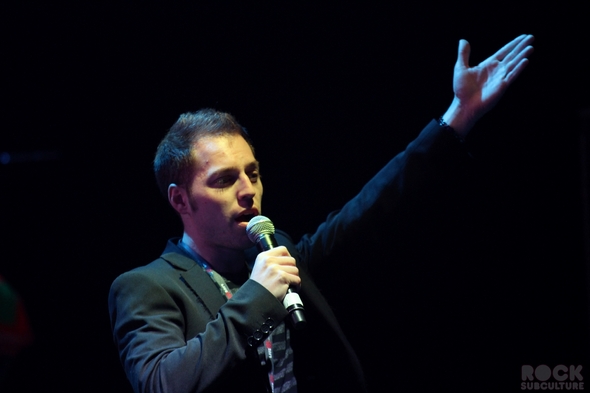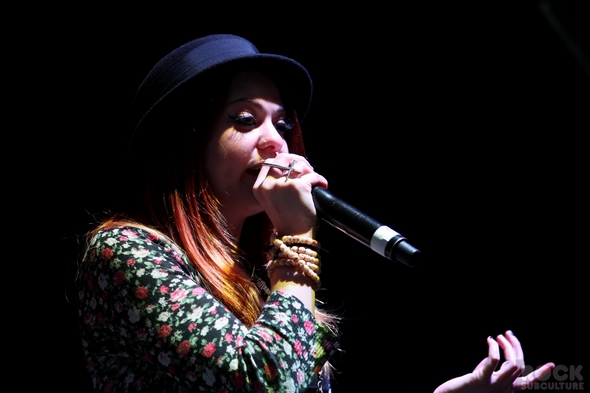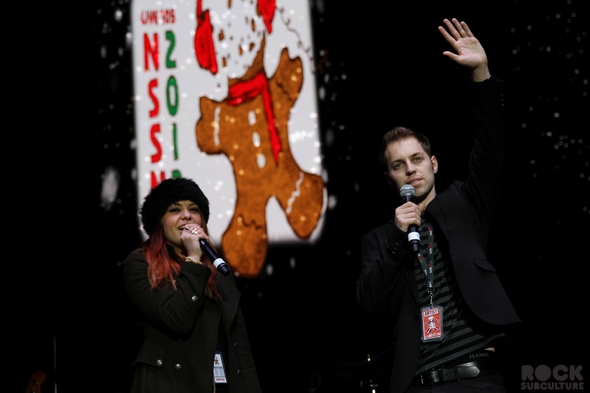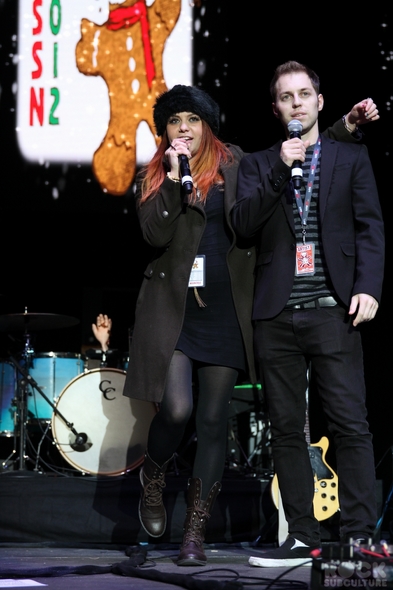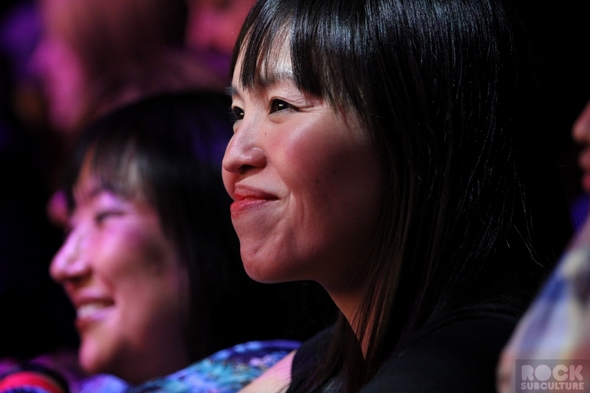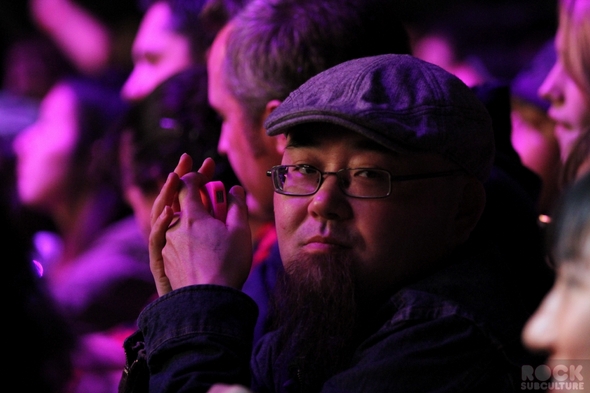 Jason DeBord