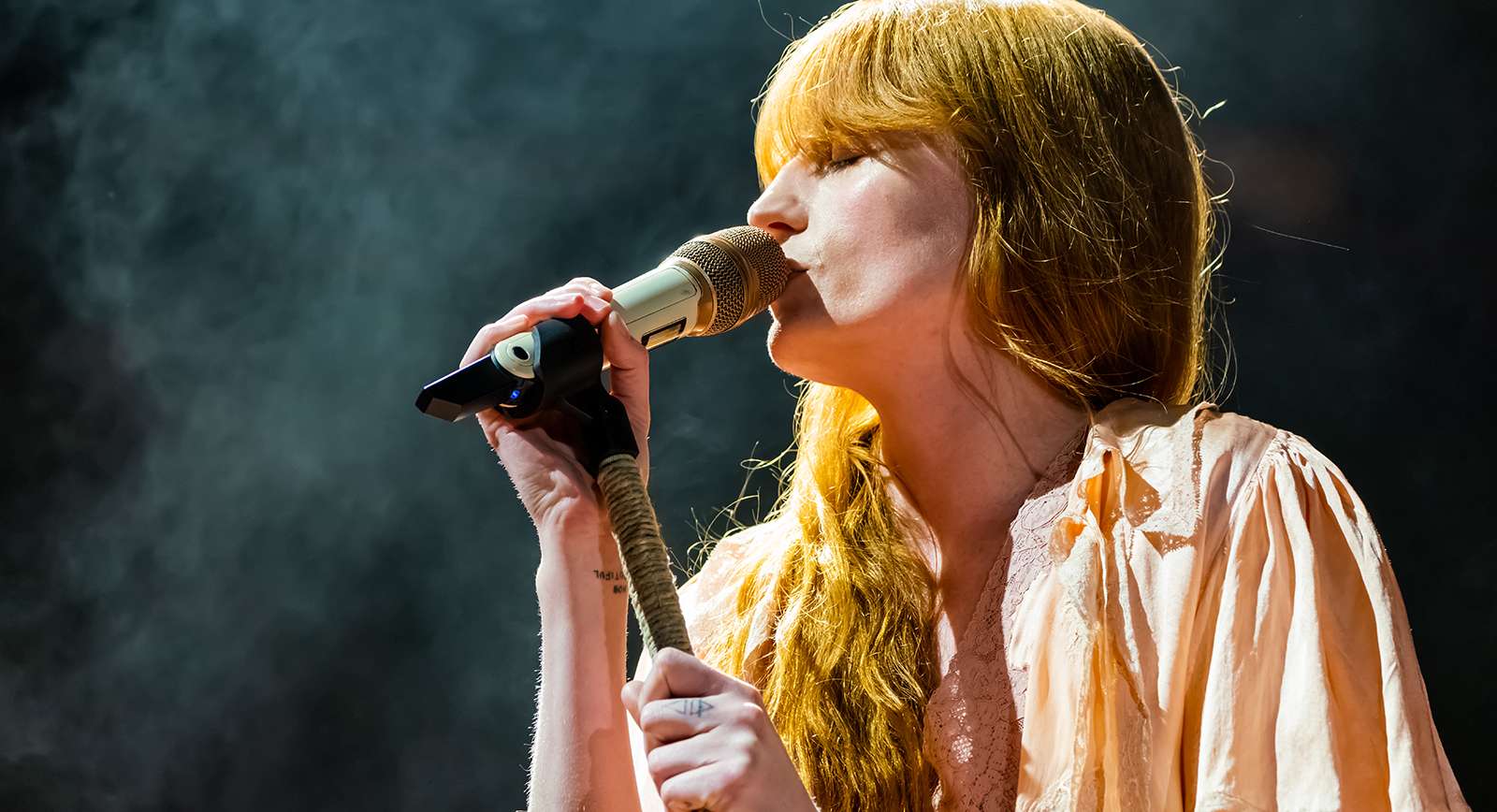 "Thank you so much for having us back; this is the first night of the "High As Hope Tour".  This next song is from… oh you guys flustered me!  This next song is from High As Hope and I wrote it about the place that I was born which is south London, which has a lot less trees than this…"  Florence Welch of Florence + the Machine at Harvey's Outdoor Arena in South Lake Tahoe on Thursday night, kicking off her latest tour in support of her amazing new album.  "I'm with you…  I'm with you like… at the moment my heart, it hurts a lot of the time and I just want to say I want you all to hold hands because I really believe in you and I believe in the power of change.  And I believe in love and I want you to hold hands for this song because if we connect, I really think amazing things can happen".  A lot of performing artists say things about connecting with their audience, and say those things from the stage, and the audience watch from below as they perform.  With Florence, it is not just words.  Toward the end of her set, into the song "Delilah", Florence came off of the stage and ran deep into the audience while she sang, literally connecting with fans in the crowd.  Then she actually came running across (barefoot of course) the seat in the row I was in, and I got to witness first hand something unlike anything I'd ever seen at a concert.  Florence was engaging with fans one at a time, one on one.  In many instances she was grabbing their faces and pressing her forehead against theirs, as if she was forming a mystical bond with them.  She was right in front of me for a good length of time, and it was kind of surreal to hear her voice singing directly from her, not just through the sound system.  It's actually been years since I uploaded concert footage to my YouTube channel, but it was such an incredible experience, I thought this would be the best reason ever to share a snippet of this amazing concert moment (iPhone quality, unedited): LINK  Really, it takes a lot to put me at a loss for words, but this concert really transcended what anyone might expect from a live show.  For some fans, I think it was a near religious experience.  Currently tied for my favorite concert of the year.  Definitely the best tour of 2018 I am guessing.  And since this was the first show on this tour, everyone has time to try to get out to make one of the upcoming dates.
Who: Florence + the Machine
What: High As Hope Tour
Supporting: Wet
Venue: Lake Tahoe Outdoor Arena at Harvey's
Where: Stateline, Nevada (South Lake Tahoe)
Promoter: Another Planet Entertainment
When: August 9, 2018
Seating: Section 5, Row 2, Seats 29 & 30 (center floor section, second row; plus photo pass from pit, first three songs)
I absolutely love this venue.  It's been a while since I've been out to Lake Tahoe Outdoor Arena at Harvey's, mostly because I am the house photographer at Ironstone Amphitheatre in Murphys and 1) there is always some overlap of artists for their respective Summer concert series and 2) if not that, there is often conflicts in shows being on the same dates.
But I love this venue!  Parking is plentiful and easy.  Lake Tahoe is one of the most beautiful places on Earth.  Everyone who works at the venue could not be nicer and more friendly.  The sound and lighting is excellent.  They bring in great talent.
So it felt really good to be back at all… but for this show… wow.  I honestly don't know if there could have been a better venue for this one – it really was a beautiful setting (apart from the general overcast look due to all of the wildfires in California currently).
Wet
Wet is an indie band formed in Brooklyn, New York, originally a trio and now a duo comprised of Kelly Zutrau and Joe Valle.
They have a softer, low dub kind of sound that is vocal and beats driven.
Their second album, Still Run, is due out soon.  They've put out three singles thus far in 2018: "There's a Reason", "Softens", and "Lately".
You can find all sorts of links to check out their music on their official website at: www.wet.band
Below are some photos of Wet performing on stage (scroll downward and photos will begin to appear – click any image to open a virtual lightroom with higher resolution versions of each photo):
Florence + the Machine
Members of the band include:
Florence Welch (lead vocals)
Isabella Summers/Isa Machine (keyboard, backing vocals)
Robert Ackroyd (guitar)
Christopher Lloyd Hayden (drums, percussion, backing vocals)
Tom Monger (harp)
Mark Saunders (bass, backing vocals)
Rusty Bradshaw (keyboard, rhythm guitar, backing vocals)
As mentioned in the opening, Florence + the Machine is all about connecting with and engaging the audience on a real, genuine level, and creating a unique and shared experience.  And Florence is all about positivity.  In a climate where it seems like everyone is angry and complaining about all sorts of things, it was refreshing just to have someone stand before a large crowd that is about coming together and enjoying life.  This was such an awesome concert.
This was my fourth time seeing Florence + the Machine.  The first was at Mondavi Center at U.C. Davis.  I was lucky enough to have a front row center seat at the venue which was so well suited for the performance (since they play host to orchestras and what not, the acoustics were sublime).  Shortly thereafter, I saw them again at Hollywood Bowl, also front row, and it was such a different (though equally cool experience).  Really a contrast of styles to suit the venue, and it was then that I realized how much versatility the band had, even comparing their own live shows.
With the tour in support of the album before this one, How Big, How Blue, How Beautiful, I saw both shows at The Masonic in San Francisco back to back (LINK), but from quite a distance from the stage.  Awesome shows, but not the same "up close" experience of the first two.  Also, that was my wife Shelley's first Florence show.  I told her at the time that in the future I will share that "other" experience with her and we'll see them up closer.
So that was my goal with this tour, and I picked up some second row center seats on StubHub after Ticketmaster failed on me in trying to get tickets the traditional (and much less expensive) way.  In any event, it was well worth it, as this is my all-time favorite Florence concert ever, which is saying a lot.
But a little general background first…
As mentioned in past reviews, I first learned of Florence + the Machine via Q Magazine, who seemed to be strong supporters of the group from the very beginning. I remember buying the first album, Lungs, right when it came out and loving their unique sound, concepts, lyrics, and vibe. They didn't sound like anyone else, and their music from the outset was so consistently their own. There was not a track on the first album that sounded as though it was devised to be a hit pop song on the radio. And yet there is so much talent with this band, and the voice, persona, and maturity of Florence Welch.
With my first time listening to Lungs, the two songs I was most immediately drawn to were "Dog Days Are Over" and "Rabbit Heart (Raise It Up)", which were later released in the U.S. as the second and third singles respectively, and were probably their best known songs to the general public in the U.S. at the time.
The follow-up, Ceremonials, was even more amazing than their debut, and really cemented the band as an innovative and powerful force in music, forging their own artistic path.
The band has been nominated for and won many industry awards, which is awesome on many levels, as it recognizes their efforts and great works, and it shows that there is room in the music industry for artists with different and even comparatively experimental approaches to and philosophies about music to find a huge audience and success.
So my first live exposure to the band was with the amazing show at Mondavi Center at U.C. Davis in 2012 (see review), and I was struck by the incredible sound with the band, and the orchestral and even cinematic quality to the show, in sound and presentation. Florence Welch has such a focus and it is so apparent how deeply she feels her music as she performs – she has such a captivating presence on stage, it is really hard to take your eyes off of her, and really watching them perform live truly adds to the music and, in a way, gives it more context to understanding the strong emotions pouring out of these songs.
Later in 2012, I had a chance to see them again at the historic (and massive) Hollywood Bowl (see review), again from the front row.  Compared with the relatively smaller, formal, and more intimate Mondavi show (with 1,800 capacity), the one at the Hollywood Bowl at a a huge outdoor amphitheater (the largest in the United States, with a capacity of nearly 18,000), along with a huge stage…  was entirely different.  While at Davis she wore more of a formal white gown with her hair tied back, last night she came onto the stage in an all-black sheer (quite alluring) outfit with her red hair wild and flowing, and it seems like the different costume choices and appearances were consistent with her on stage performance. In Hollywood, she was much more active on the stage, and interactive with the audience, and also spent time running out into the audience quite a bit as well. High energy isn't enough to describe it, and the audience loved every minute of it. Once the show started, people were up out of their seats dancing, and never looked back.
With the two Masonic shows (see review) I found it to be a mix of both intense and formal, though definitely more of the latter, though there was a steady vibe of joyousness throughout.
This year saw the release of High as Hope, which is their fourth studio album.  I love this album.  I will for sure be on my Top Ten favorite albums of 2018.  And it really showcases how much Florence and the band have grown and matured.
My three favorite songs from the new release are "Hunger", "Patrica" and "100 Years".  The latter being my favorite of all.  All three were performed live at this show in Lake Tahoe on Thursday night.  As always, the stage production, lighting, sound…  all top notch.
In terms of the technical production all around, I would have to say that the sound was the most impressive aspect overall.  It was just perfect, especially the low frequencies.  It's rare that a band can pump out beats and bass without any distortion… but man, it was just on point with this show.
That aforementioned song, "100 Years", it was just a killer rendition with those amazing drum beats.
And there was a lot of new music to be heard, which illustrates their confidence in the new material, and expectations that it's what fans want to hear.  Of the 16-song set, they played a whopping 7 new songs.  And it was the first time they ever played "The End of Love" live in concert.
With four studio albums out to date, and countless hit songs and fan favorites, they've evolved to the point where they could play a different set every night for a week and probably keep people happy.
Of course, it helps that Florence has "that voice" and boundless energy.  I have no idea how she does it.  Song to song, she hits every note and has such emotion and nuance.
And she is not one of those singers that just looks over the heads of the fans below her.  She engages people one on one with her eyes…  I've mentioned before, they only other artists I've personally seen perform live that do this as intensely is Prince and Lindsey Buckingham.  They feed off of the audience (in a great way).  That magic connection, pushing and pulling back and forth.
As mentioned, one of my favorite songs off of the new album is "Patricia", and Florence dedicated it to Patti Smith before performing the song, saying:  "She said to me recently that the next time I sang it, I should know that she was with me, which means that she is here with us tonight.  She is here in spirit, and so Patti we are with you; you are with us.  We love you so much".
Lastly, with the encore closer "Shake It Out", we were adjacent to this really cool group of megafans all night who were so fun to watch and even live through them vicariously as they were almost in their own little private concert bubble with Florence…  One of them had a big rainbow-style banner with a peace symbol on it, and halfway through the song, Florence gestured to him to toss it to her and she danced all over the stage with it.  The fans were beside themselves with joy over it, and I could tell Florence was moved by it all too… so much so, rather then tossing it back, she decided to bring it back stage with her, as I think it all meant just as much to her as it did the megafans.  How cool is that?
Set List:
June
Hunger
Between Two Lungs
Only If for a Night
Queen of Peace
South London Forever
Patricia
Dog Days Are Over
100 Years
Ship to Wreck
The End of Love (Premiere: First time ever)
Cosmic Love
Delilah
What Kind of Man
Encore:
Below are some photos of Florence + the Machine performing on stage (scroll downward and photos will begin to appear – click any image to open a virtual lightroom with higher resolution versions of each photo):
Jason DeBord