"It's so wonderful to be back in San Francisco.  It's wonderful to be back in America, because actually the title of the record – How Big How Blue How Beautiful – was inspired by the American sky.  It was actually, in a text message…  I sent – I don't want to break the mystery of it – but I sent to someone I really cared about a lot.  And this song was written about that time.   And about just how everything seemed endless, and beautiful, and that the world was a magical place.  And then if you hear the rest of the record, you may be able to tell that things got a bit… muh… but still, I feel like you come back to this feeling, always."  Florence Welch of Florence + The Machine, providing an introduction to the title song of the upcoming album due out in June.  Playing two back-to-back shows at The Masonic in San Francisco, it was not only a set of concerts with new music, but seemingly a Florence with a bit of a different feeling.  I was lucky enough to catch two of their shows in 2012 (at the Mondavi Center in Davis and at the Hollywood Bowl), and the Florence I saw performing this week encompassed what I came to expect (an intense and phenomenal performer), but with flourishes of more joy than I've seen previously.  It made for even more captivating shows, as her and her incredible group of artists truly put on a masterful performance, with a mix of familiar and new.  I obviously attend a lot of concerts every year, but Florence + The Machine is one of the very few that can give me that adrenaline rush and tingle down my spine throughout – a real feat.  Being fortunate enough to attend both shows this week, while the set list was the same, the shows each had there own character, energy, and vibe.  With the preview of the new album, and the quality of the songs, it would appear that the band hasn't hit any ceilings yet in terms of their gifts, talents and abilities, and I expect them to continue to soar in that big blue sky that Ms. Welch is so fond of…  in studio or on stage, they remain one of the top musical artists active today.
Who: Florence + the Machine
Venue: The Masonic (formerly Nob Hill Masonic Auditorium)
Presented By: Live Nation
Where: San Francisco, California
When: April 8th & April 9th, 2015 (Two Night Engagement)
Seating: Night #1:  Balcony 8, Row 1, Seats 3 & 4 // Night #2: Photo Pass First Three Songs from Soundboard, Standing GA Floor Thereafter

This was my first visit back to The Masonic (formerly the Nob Hill Masonic Auditorium) since it was renovated last year.  Although I actually enjoyed the old layout (a rounded low stage with floor seating that escalated as you went back, with extensive balcony above), it actually has a much more contemporary design now, with all GA standing on the floor (front and back) with the upper balconies unchanged.  The large and deep stage is now flat across the front and raised up.  The sound and lighting was superb.  Definitely worth checking out if you like any of the artists Live Nation brings out.
The two-night engagement by Florence + The Machine Wednesday and Thursday was only just announced a week ago, so this was more or less a "surprise" set of shows.
With the upcoming new album, How Big How Blue How Beautiful – due June 2nd in the U.S. – these two (relatively) small shows in San Francisco precede their upcoming appearance at Coachella, and served as a platform to introduce some of the new music to fans of Florence + The Machine.
I am personally a huge fan, so I actually turned out for both shows this week… the first one on Wednesday, the 8th, I brought my fiancee and we had seats in the front row of the balcony above the soundboard.  The second one on Thursday, the 9th, I went solo and brought my camera gear, shooting the first three songs from the soundboard area, just behind the main floor crowd.  As such, while I will discuss both shows, the photos that appear are from the second show only.
This was "an evening with…" style of show, so no supporting artists.  Each night, doors were 7:00 with an 8:30ish start time, and each show ran about an hour and fifteen minutes or so.  The setlist was the same both nights.
Florence + The Machine
Members of the band include:
Florence Welch (lead vocals)
Isabella Summers/Isa Machine (keyboard, backing vocals)
Robert Ackroyd (guitar)
Christopher Lloyd Hayden (drums, percussion, backing vocals)
Tom Monger (harp)
Mark Saunders (bass, backing vocals)
Rusty Bradshaw (keyboard, rhythm guitar, backing vocals)
As mentioned in past reviews, I first learned of Florence + the Machine via Q Magazine, who seemed to be strong supporters of the group from the very beginning. I remember buying the first album, Lungs, right when it came out and loving their unique sound, concepts, lyrics, and vibe. They don't sound like anyone else, and their music from the outset was so consistently their own. There was not a track on the first album that sounds as though it was devised to be a hit pop song on the radio. And yet there is so much talent with this band, and the voice, persona, and maturity of the member out in front, Florence Welch.
With my first time listening to Lungs, the two songs I was most immediately drawn to were "Dog Days Are Over" and "Rabbit Heart (Raise It Up)", which were later released in the U.S. as the second and third singles respectively, and were probably their best known songs to the general public in the U.S. at the time.
The follow-up, Ceremonials, was even more amazing than their debut, and really cemented the band as an innovative and powerful force in music, forging their own artistic path.
The band has been nominated for and won many industry awards, which is awesome on many levels, as it recognizes their efforts and great works, and it shows that there is room in the music industry for artists with different and even comparatively experimental approaches to and philosophies about music to find a huge audience and success.
So my first live exposure to the band was with the amazing show at Mondavi Center at U.C. Davis in 2012 (see review), and I was struck by the incredible sound with the band, and the orchestral and even cinematic quality to the show, in sound and presentation. Florence Welch has such a focus and it is so apparent how deeply she feels her music as she performs – she has such a captivating presence on stage, it is really hard to take your eyes off of her, and really watching them perform live truly adds to the music and, in a way, gives it more context to understanding the strong emotions pouring out of these songs.  I was lucky enough to have a front row center seat at that show, and being enveloped in it all was just astounding.
Later in 2012, I had a chance to see them again at the historic (and massive) Hollywood Bowl (see review), again from the front row.
Compared with the relatively smaller, formal, and more intimate Mondavi show (with 1,800 capacity), the one at the Hollywood Bowl at a a huge outdoor amphitheater (the largest in the United States, with a capacity of nearly 18,000), along with a huge stage…  was entirely different.  While at Davis she wore more of a formal white gown with her hair tied back, last night she came onto the stage in an all-black sheer (quite alluring) outfit with her red hair wild and flowing, and it seems like the different costume choices and appearances were consistent with her on stage performance. In Hollywood, she was much more active on the stage, and interactive with the audience, and also spent time running out into the audience quite a bit as well. High energy isn't enough to describe it, and the audience loved every minute of it. Once the show started, people were up out of their seats dancing, and never looked back.
This week at The Masonic, I went in wondering which style of show we might be in for…  more intense and formal, or intense and wild!  I would say it was a mix of both, though definitely more of the latter, though there was a steady vibe of joyousness throughout.
To frame my thoughts about these two shows at The Masonic this week, here is the setlist from the stage (photo credit: my friend Hamza who was up front)… this is from the first night:
Set List:
What the Water Gave Me
What Kind of Man [from forthcoming How Big How Blue How Beautiful]
Spectrum
Sweet Nothing (Calvin Harris cover)
How Big How Blue How Beautiful [from forthcoming How Big How Blue How Beautiful]
Swimming [impromptu partial, Night #2 only]
All This and Heaven Too [from forthcoming How Big How Blue How Beautiful]
Drumming Song
Happy Birthday [impromptu for Mark Saunder's birthday, Night #2 only]
Ship to Wreck [from forthcoming How Big How Blue How Beautiful]
Shake It Out
Dog Days Are Over
Encore:
St Jude [from forthcoming How Big How Blue How Beautiful]
Third Eye [from forthcoming How Big How Blue How Beautiful]
No Light, No Light
Obviously, there was definitely a solid introduction to some of the new material.  I pre-ordered the new album on iTunes, which has to date released three of the songs: "Ship To Wreck", "What Kind of Man" and "St Jude", so I was familiar with those going in.  The Deluxe edition on iTunes shows a total of 11 songs plus two original bonus tracks and three demo bonus tracks.
I absolutely love "Ship To Wreck".  It doesn't sound anything at all like their past work, and bits and flourishes remind me of different things (the rhythm guitar a bit Johnny Marr's work on Electronic and some of the overall vibe makes me think of classic 10,000 Maniacs and a bit of the Cranberries and the Pretenders and Carly Simon, if that makes any sense).  I love the flow, the vocals, the changes, and the vocal delivery.  So different from their other work, but already I place it among my favorites.
"What Kind of Man" generated a lot of discussion with its music video…  I would for sure place the song itself among my top Florence + The Machine track.  Just love everything about it – tons of changes, the hooky riff, the intensity and emotion.  I feel like it is fueled by the heart of the very best of the Eurythmics.  Definitely a contender for Song of the Year for me.  Absolutely love it.  Brilliant.
"St Jude", compared with the other two, doesn't connect with me as strongly.  For me personally, it will fill out the album when listening front to back, but as a stand alone track, it is not as powerful for me.
Florence + The Machine have always had some of the best concert lighting I've seen, and that tradition continued at The Masonic this week.  The technicians responsible should really be applauded, as many take it for granted when it's great, but being a photographer, I especially appreciate it and take notice, as it adds so much to the experience.
With both concerts, the moody lighting at the start of the show really (and literally) set the stage for what was to come, as each of the musicians came out to the growing cheers from the crowd.
The sound engineering was also incredible.  And I'd been to shows at the previous incarnation of The Masonic which sounded way to low frequency and distorted and overpowered… with the two Florence + The Machine shows, everything was dialed in perfectly – I don't think it could have been better.  The only need for earplugs was due to the screaming fans in-between (and at times, during) the songs.
One of the other things I love about Florence + The Machine is the staging.  Of course, Florence is front and center, flanked by guitar and bass with drums behind, but drummer Christopher Lloyd Hayden is raised high above, which is appropriate given how beat-driven the music is, making him literally and figuratively the foundation of the show.
Florence of course has one of the best voices in music today, but she has no less than five female backing vocalists on stage (with three doubling as a horn section), as well as other artists proving backing vocals as well.
You would think that a band with the complex and varied, clean sound like Florence + The Machine would be a mess in a live set up, but it's quite the opposite, feeling more like a mini orchestra.
The only quibble I have is that harpist Tom Monger is a bit hidden in the back corner, and I'm personally fascinated by that aspect of the music, in that how many rock and roll shows do you go to that includes a harp?  So with the second night, I made a point of standing extreme stage right on the floor to watch him work (once I was done with photograph).
Opening with "What The Water Gave Me", starting kind of quiet as it does, it set the pace for the opening three songs with extreme high energy and changes.  It was paired beautifully with the new "What Kind of Man", which is even more rocking.  With the latter, at both shows Florence reach out into the crowd and grasped a hand as she really channeled what the song is all about for her.  The crowd was super receptive to this song and it will obviously be a staple for them at concerts going forward well beyond this upcoming new album.
Unrelenting, "Spectrum" of course kept the crowd bouncing on its feet.  A song masterfully reworked by Calvin Harris in a remix, the fact that he was interested in doing his own take on the song shows how strong it is as a song that moves an audience.  Speaking of Calvin Harris, they immediately moved into a cover of his "Sweet Nothing" (which Florence provided vocals for on his 18 Months).
So the shows opened with four high power, high energy songs – obviously a peak that could not possibly be maintained for a full show.
It was at that point that Florence spoke to the audience about How Big How Blue How Beautiful, and they proceeded to play that aptly titled song.
The two shows were different though…  With the first show Wednesday night, Florence seemed especially engaged with the audience on a physical level, much more so that I'd seen in the past.  While there was a barricade up between the floor crowd and the stage, there was very little distance, so she was reaching out to touch fans throughout.  Funny enough, several times she picked up cameras/camera phones from the crowd and took photos herself, even posing for a selfie in one.
With the second show Thursday night, there was not as much of this, though she seemed maybe more relax and at ease.
I got the sense with the first show, performing the new material, she was seeking out response and reactions, to gauge how it was playing as it unfolded.  The second night, maybe not as much of this.
Maybe more than any other artist, she reminds me very much of both Prince and Lindsey Buckingham, who feed and feed on audiences unlike anyone else.  She constantly seeks out each fan up close to the stage to capture their gaze and create magic.  This is what concertgoing should be all about.  That magic connection.  Florence seems to be all about it.  And since I'm comparing her to legends, I have to say she has some Jagger moves too.  And she has such an intensity, she'll even pound away on a tambourine that no one can even hear.  I love it.
Another difference between the two shows, following the performance of the title track off the new album, on the second night, she did perform (improptu, a capella), "Swimming".  Florence explained that they really like the song, but they can't play it live without traveling with a full string section.
"How Big How Blue How Beautiful" and "All This And Heaven Too", both new songs, are really beautiful and contrasted the rocking opening with something softer that really showcased Florence's remarkable voice.
"The Drumming Song" was of course another classic, though the second night only Florence took a moment to wish bass player Mark Saunders a happy birthday, recruiting the crowd to sing along.
They closed out the main set strong, with the new "Ship To Wreck" (which I've already fawned over here) and classics "Shake It Out" and "Dog Days Are Over".
"Dog Days Are Over", of course, usually ends with Florence training the crowd to jump up and down.  She talked about with this tour wanting to do something different, saying "I think I want you all to embrace each other…  get introduced… you love each other… kiss each other…"  She even encouraged people to remove some clothing (which, on the first night, resulted in a bra being thrown on stage).  Funny stuff.
After a short break off stage, they returned to do the encore with two new songs, "St Jude" and "Third Eye".  Florence mentioned with "Third Eye" that it was one of those songs she intended to write for the benefit of someone else, but ended up being for her.
Closing out with "No Light, No Light" bookended the opening, with the dramatic display of sound, lights, music, and those drums.
I always like to check out the crowd, to see if a given artist has a certain fan "profile".  Florence + The Machine is an artist that does not… they seem to attract all, with no particular age set or other variable really dramatically standing out.
A surprise gift was handed out to attendees at the end of the show – commemorative posters (different each night), as seen in my photo below: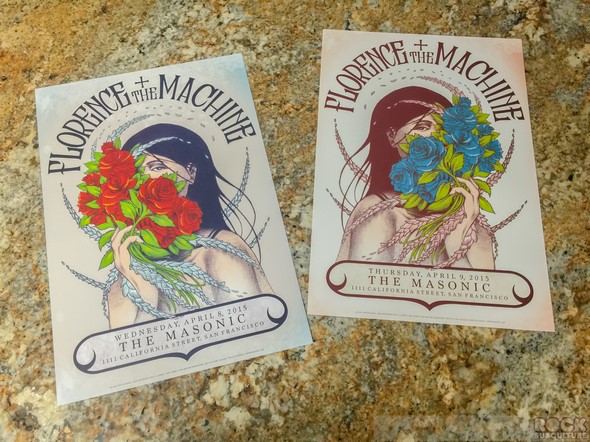 All in all, a brilliant set of surprise shows that I'm very grateful to have had an opportunity to attend.  I can't wait to hear the rest of the new album, and of course see Florence + The Machine perform again soon.
Below are photos from the second night only of Florence + The Machine at The Masonic (click any image to open a virtual lightroom and higher resolutions):
Jason DeBord