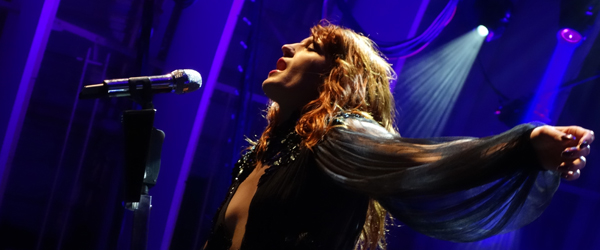 Having seen Florence + The Machine at the Mondavi Center back in April – which still remains as one of the best (of many, many) concerts I've been to this year, I was committed as I walked out of that venue that I would see them again soon, hopefully before the close of the year.  That dream became a reality last night at the historic Hollywood Bowl in Los Angeles.  It was one of those circumstances in which you feel that you've already seen the best possible concert for a particular artist, and wonder if it is a good idea to see them again when it would be impossible to measure up to the experience that you already had.  Somehow, Florence + The Machine defied all of my expectations and put on a somewhat different show, but one that at least measured up to the first experience I had seeing them months ago.  They are an unbelievable band, and the most fascinating thing is that listening to the studio albums, you couldn't know how amazing that it all translates into live music.  I already gave them my highest recommendation in my first review.  Whatever you might think of their music, whatever preconceived notions you may have about the live experience, I can't imagine someone seeing this band live and not being blown away.  Even one of the venue staffers I was talking with before the show was won over by them with their first of two performances at the Hollywood Bowl the night before – and let's just say he's not someone you would guess is a Florence + The Machine fan by any stretch of the imagination – and even he thought that they were one of the best bands he's ever seen, and he's in the business of working tons of shows every year.  They are that fantastic, and in my opinion, one of the very top acts touring today.
Who: Florence + the Machine
Supporting: The Maccabees
Supporting: The Weeknd
Venue: Hollywood Bowl
Presented By: Andrew Hewitt & Bill Silva Entertainment, KROQ
Where: Los Angeles, California
When: October 8, 2012
Seating: Section Pool C, Row 1, Seat 1 (front row stage right – seated area in front of stage)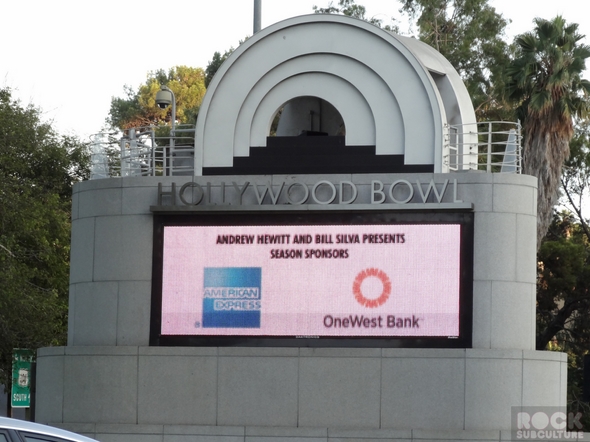 I was not familiar with either of the two opening bands, The Maccabees and The Weeknd.  Blood Orange opened the show I saw earlier this year – and I'm a huge fan of his anyway – so this was a different pre-show entirely.
The Maccabees are a UK indie rock band and I really enjoyed their high energy set.  Much to the surprise of the audience, Florence + The Machine actually came out and joined them onstage to play their last song, which was awesome (and obviously those that didn't come in to support the opening bands completely missed out).
Below are some photos from The Maccabees set…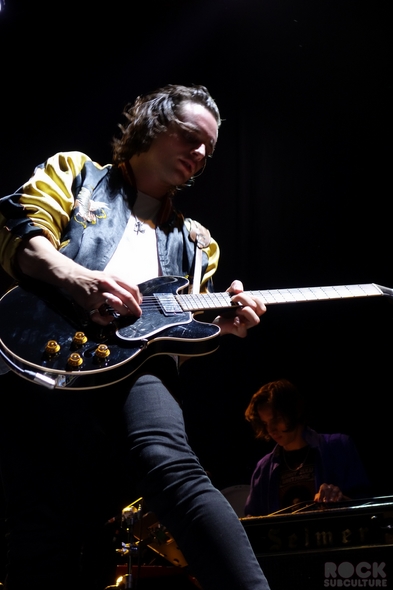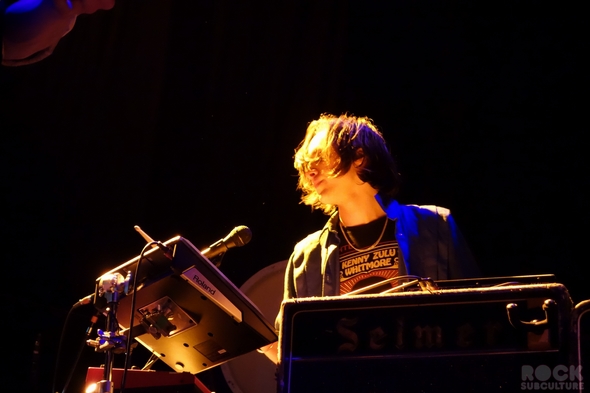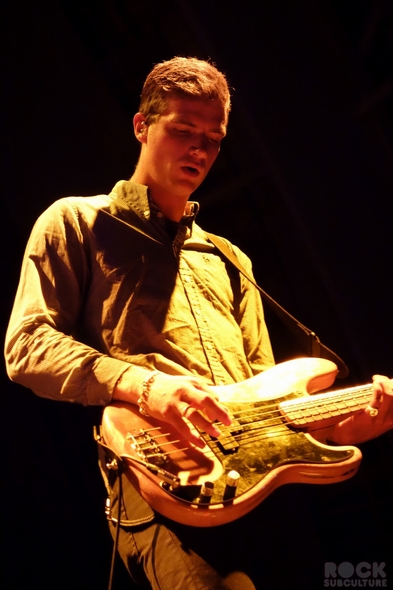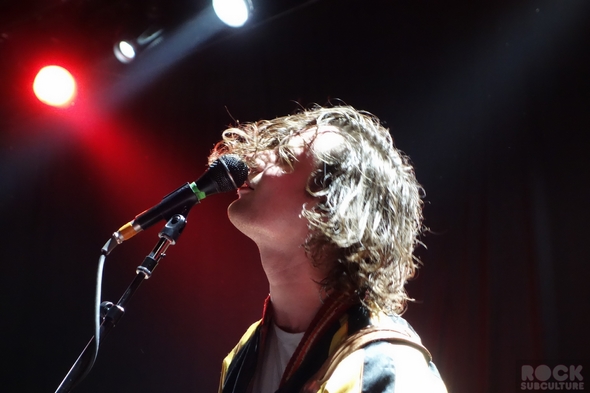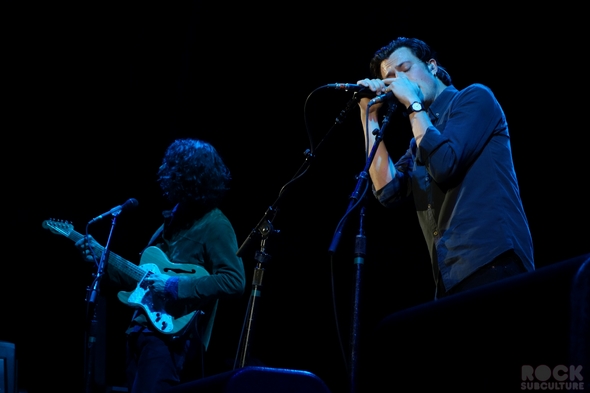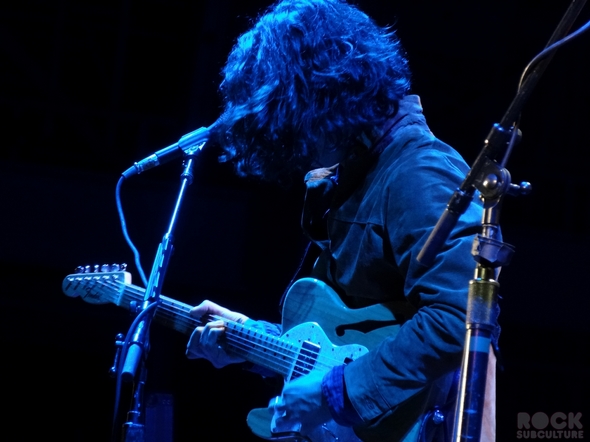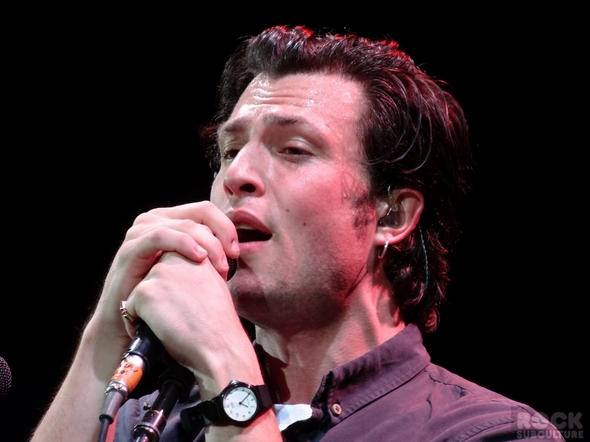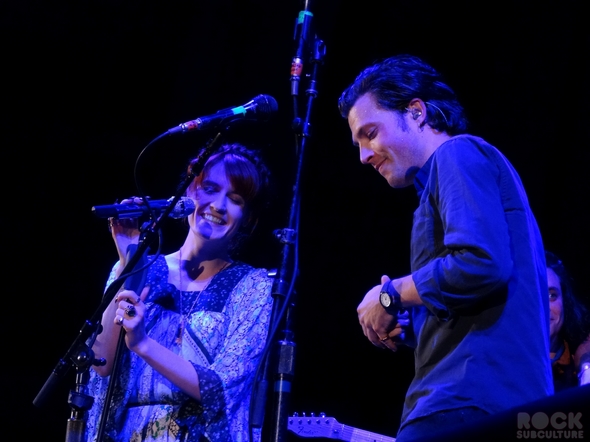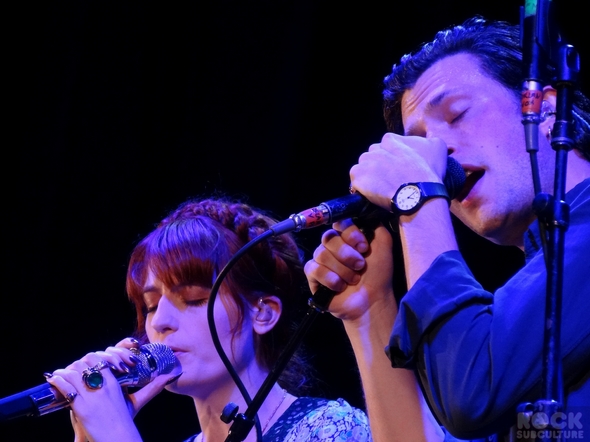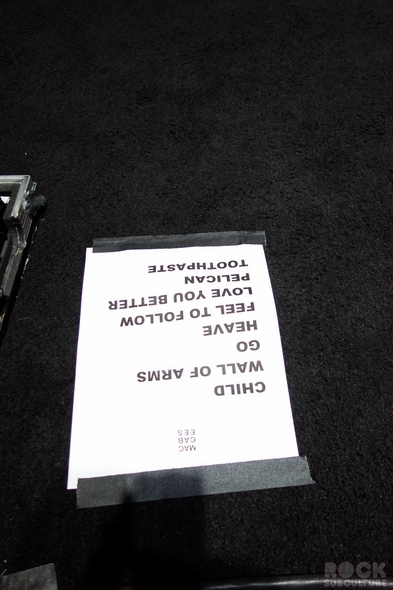 The Weeknd is more of a pop/R&B act, and they did a great job building on getting the audience excited for Florence + The Machine.
Below are some photos from The Weeknd set…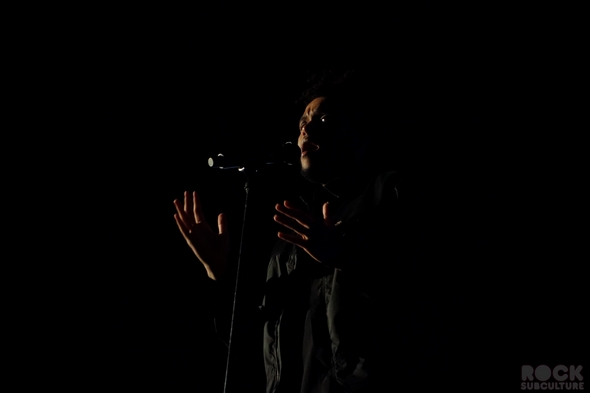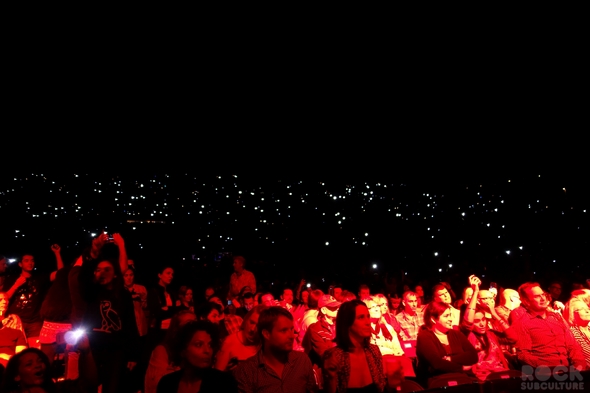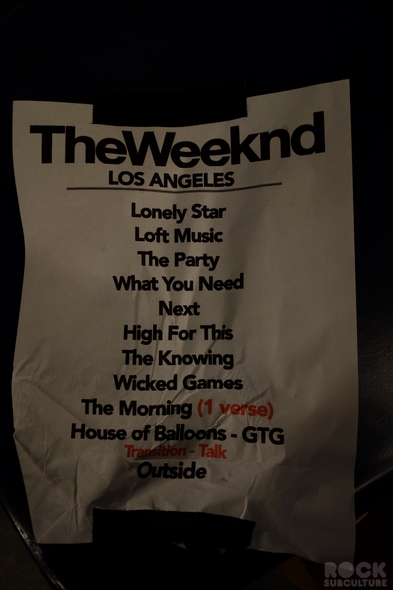 Florence + The Machine
As mentioned in my original review of the show earlier this year, I first learned of Florence + the Machine via Q Magazine, who seemed to be strong supporters of the group from the very beginning.  I remember buying the first album, Lungs, right when it came out and loving their unique sound, concepts, lyrics, and vibe.  They don't sound like anyone else, and their music from the outset was so consistently their own.  There was not a track on the first album that sounds as though it was devised to be a hit pop song on the radio.  And yet there is so much talent with this band, and the voice, persona, and maturity of their front woman, Florence Welch.  And watching her tonight, I was stunned by her vocal ability.  The title of their first song makes complete sense.
With my first time listening to Lungs, the two songs I was most immediately drawn to were "Dog Days Are Over" and "Rabbit Heart (Raise It Up)", which were later released in the U.S. as the second and third singles respectively, and are probably their best known songs to the general public.  Fascinatingly, a lot of their music has been featured in various TV shows and films.  Rather than adopting their sound to mainstream pop, pop culture has embraced this band and made their unique sound a part of this time.
While the first album, Lungs, was released in the UK in mid-2009, the follow-up, Ceremonials, came out late last year.  The sophomore effort is just as amazing as their debut, and shows that they have this wonderful identity as a band with a building, fantastic catalog.
The band has been nominated for and won many industry awards, which is awesome on many levels, as it recognizes their efforts and great works, and it shows that there is room in the music industry for bands with different and even comparatively experimental approaches to and philosophies about music.
Members of the band include:
Florence Welch
Robert Ackroyd
Christopher Lloyd Hayden
Isabella Summers
Tom Monger
Mark Saunders
Rusty Bradshaw
So my first live exposure to the band was with the amazing show at Mondavi Center at U.C. Davis, and I was struck by the incredible sound with the band, and the orchestral and even cinematic quality to the show, in sound and presentation.  Florence Welch has such a focus and it is so apparent how deeply she feels her music as she performs – she has such a captivating presence on stage, it is really hard to take your eyes off of her, and really watching them perform live truly adds to the music and, in a way, gives it more context to understanding the strong emotions pouring out of these songs.
As I mentioned in my opening to this article, the notion of seeing the band again… it was one of those situations where I had such an incredible experience the first time, I absolutely wanted to see them again as soon as possible.  But at the same time, I felt it would be impossible to repeat the greatness of that show – how could anything come close to matching it?  Well, I decided to see them again regardless, and I am so glad that I did, as this experience, while different, was just as spectacular.
Also interesting to me was how the shows were very different – not that one was better than the other, but it offered an alternate experience.
With the Mondavi Center show, the setting was smaller and more intimate (with 1,800 capacity), and that venue is quite formal (often hosting more orchestra shows than rock and roll concerts).  Intentionally or not, the show put on by Florence + The Machine there was more formal as well, and even her on stage clothing reflected this… and it all worked perfectly.
At the Hollywood Bowl last night, which is a huge outdoor amphitheater (the largest in the United States, with a capacity of nearly 18,000), along with a huge stage… it provided the foundation for an epic show.  And being in Los Angeles, Florence's stage outfit was very different to the one she wore at the U.C. Davis show.  While at Davis she wore more of a formal white gown with her hair tied back, last night she came onto the stage in an all-black sheer (quite alluring) outfit with her red hair wild and flowing, and it seems like the different costume choices and appearances were consistent with her on stage performance.  Last night, she was much more active on the stage, and interactive with the audience, and also spent time running out into the audience quite a bit as well.  High energy isn't enough to describe it, and the audience loved every minute of it.  Once the show started, people were up out of their seats dancing, and never looked back.
Truly, this is one of the best bands I've ever seen live, and they are still so young and have this incredible ability and talent, I really am excited at the prospect of them flourishing and continuing to make incredible music and touring new albums.  I'm certain that they will be recognized and appreciated one of the best artists of our time, and I really encourage people to check out their albums and by all means, if you can see them live, they are among the very best bands touring today.
The band released their MTV Unplugged album as a Blu-Ray disc a little earlier this year (available as a CD/DVD combo as well), and I can't recommend it enough – a great way to "see" the band live if you are unable to make one of their remaining concert dates, and as a CD, it is well worth listening to outside of the video experience.  I just love their live sound, so obviously it doesn't get better than this.
Below is the set list from last night's show:
Set List:
Only If For A Night
What The Water Gave Me
Drumming Song
Cosmic Love
All This And Heaven Too
Rabbit Heart (Raise It Up)
Spectrum (Say My Name)
Heartlines
Leave My Body
Seven Devils
Shake It Out
No Light, No Light
Encore:
Love To Lover
Dog Days Are Over
Direct Performance Comparison – "No Light, No Light" at The Hollywood Bowl and at The Mondavi Center
I think comparing to the video I shot of the same song at the Mondavi Center earlier this year, you can see how much versatility Florence and the band have with presentation, tone, energy, etc. The same song but very different presentations in totally different types of venues.  If you lead out the Mondavi Center video 13 seconds ahead of the Hollywood Bowl video, you can watch them side by side, synced up, and compare the two performances – both spectacular but very different!
Below is a video of Florence + The Machine performing "No Light, No Light" at The Hollywood Bowl:
Below is a video of Florence + The Machine performing "No Light, No Light" at The Mondavi Center:
Photos and Videos – Hollywood Bowl
Florence + The Machine "Shake It Out":
Florence + The Machine "Dog Days Are Over":
Below are some photos of the Florence + The Machine concert:
NOTE: CLICK ANY IMAGE BELOW FOR HIGHER RESOLUTION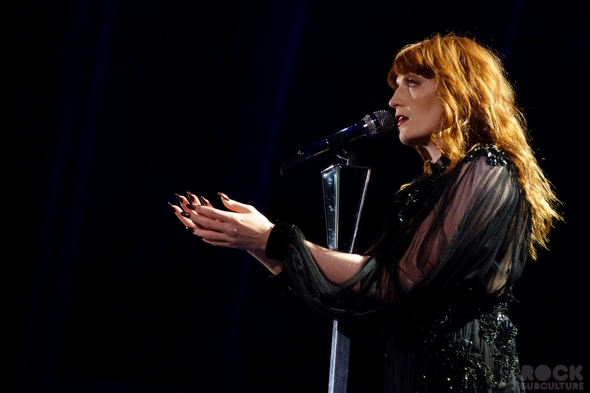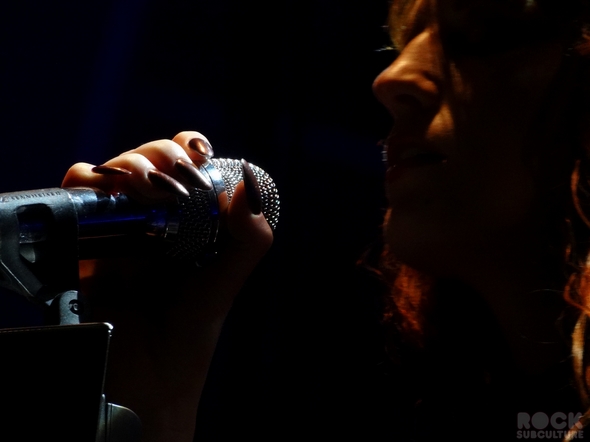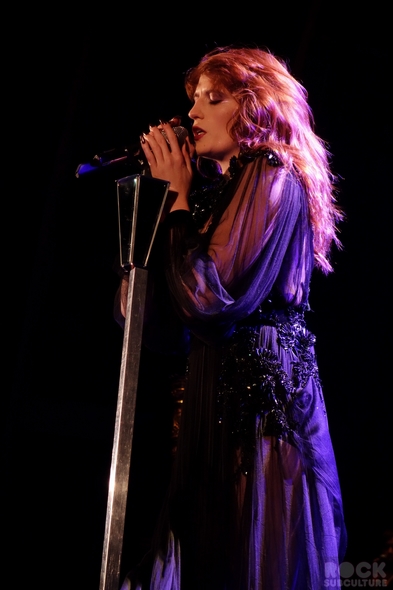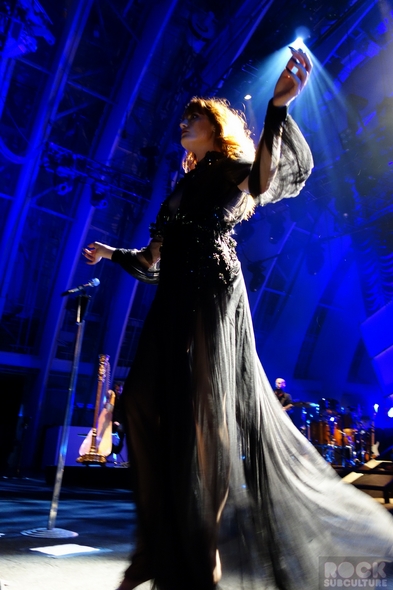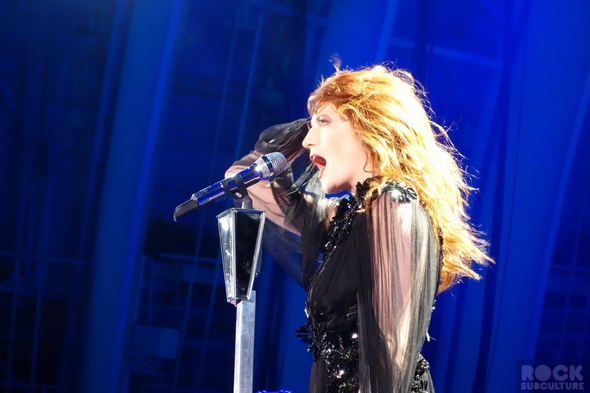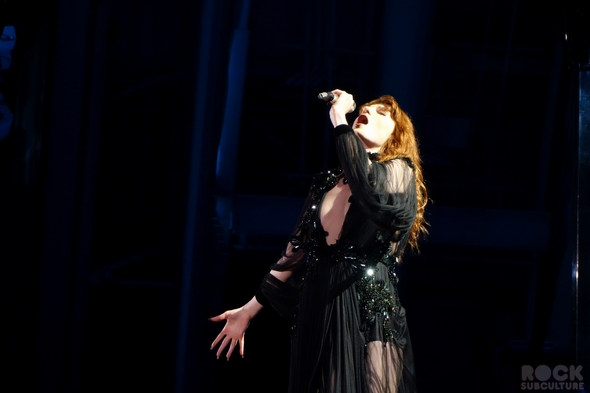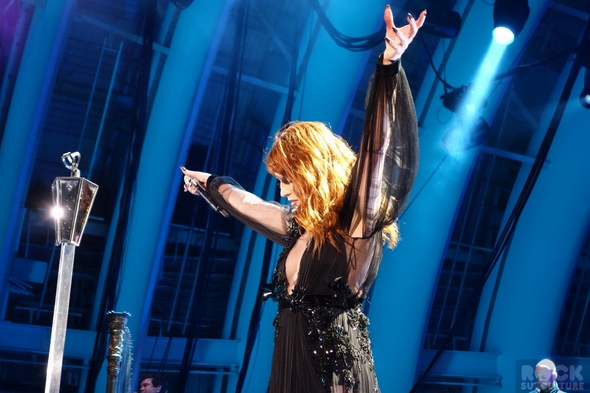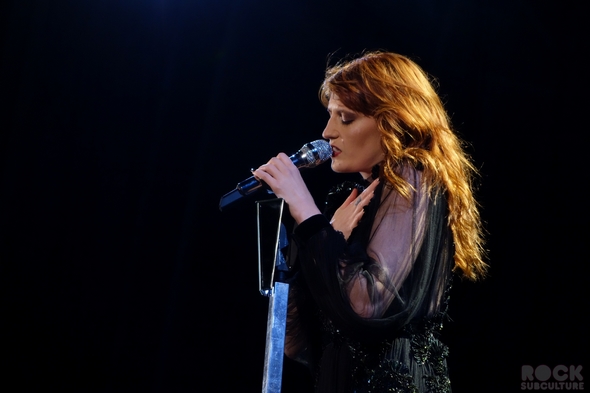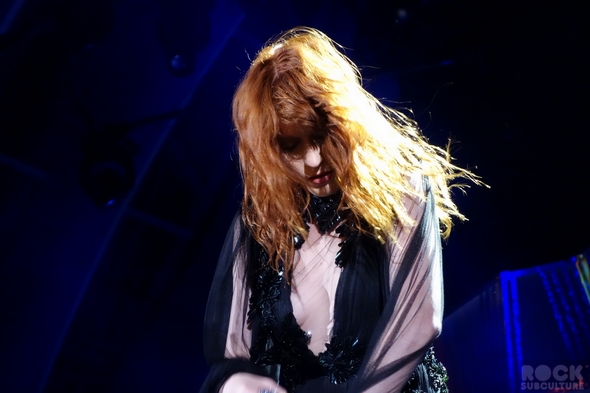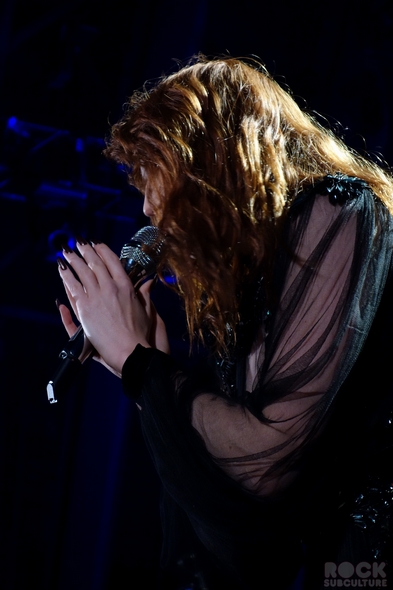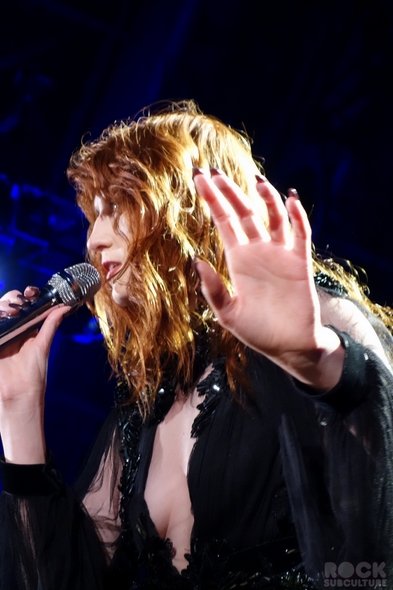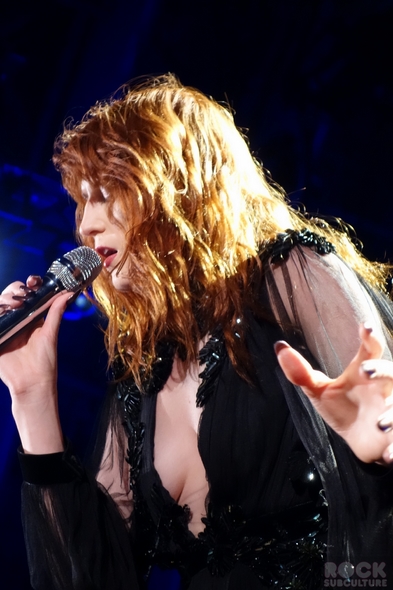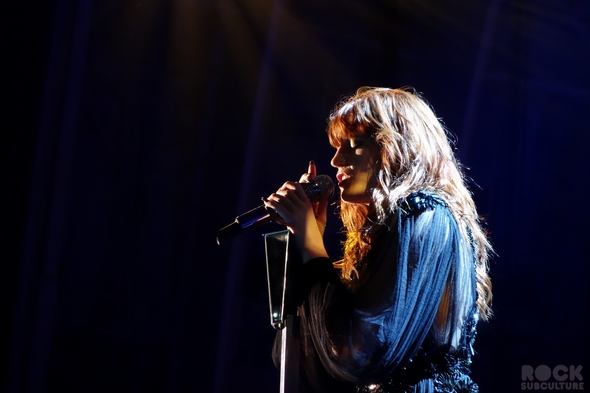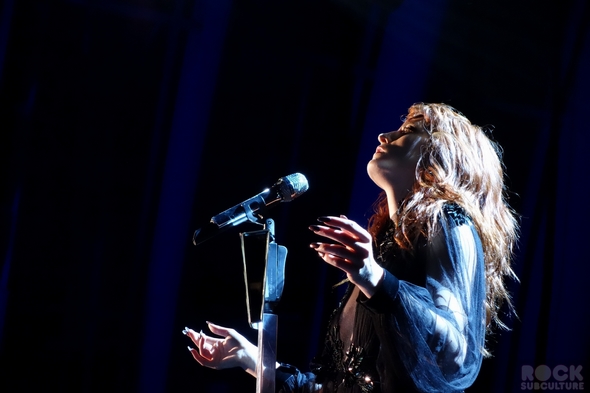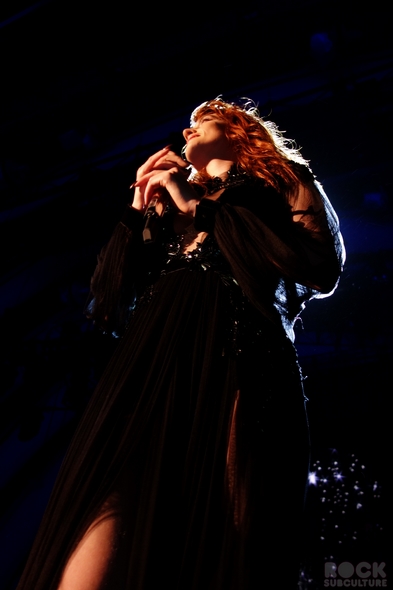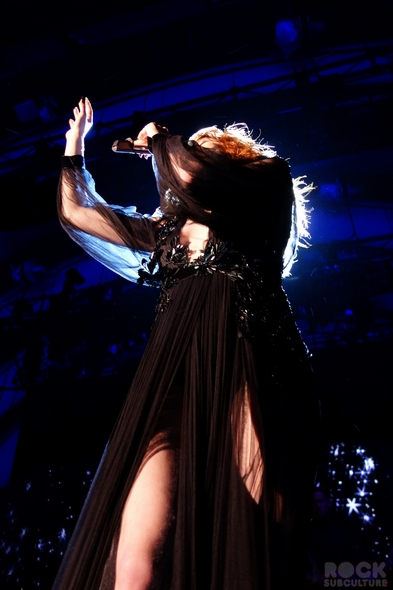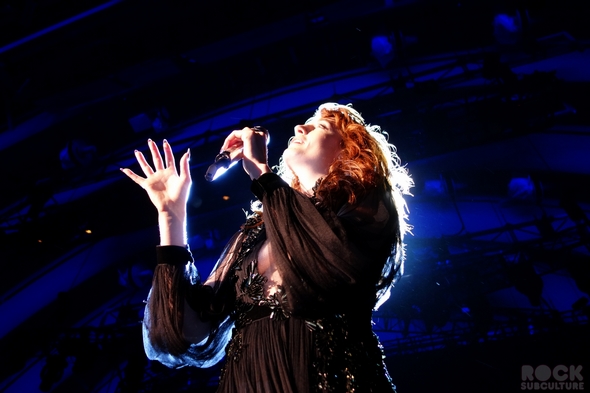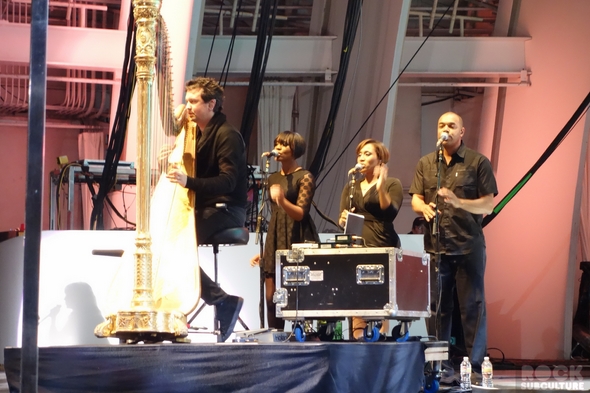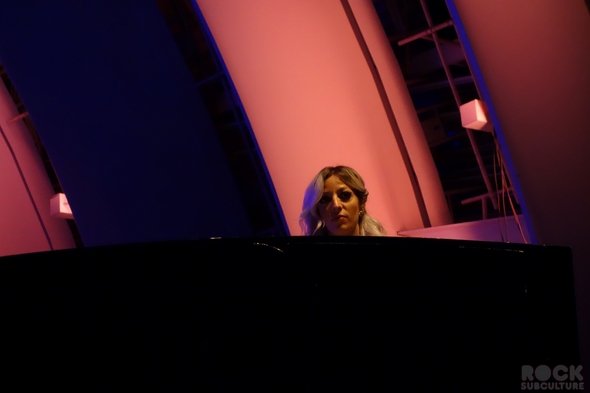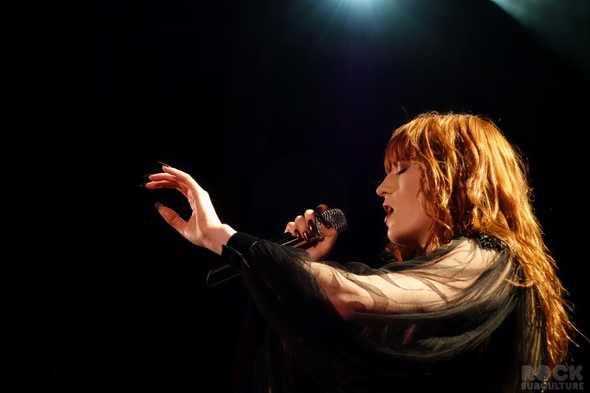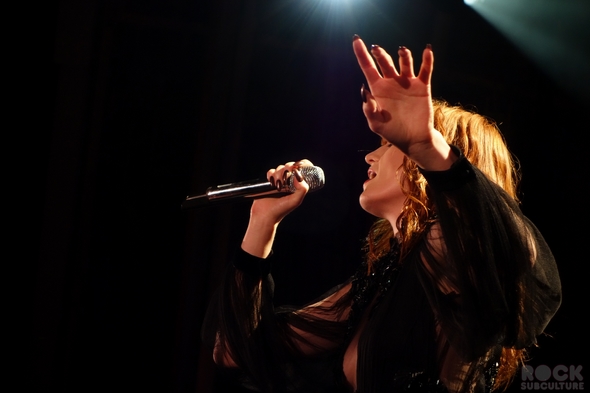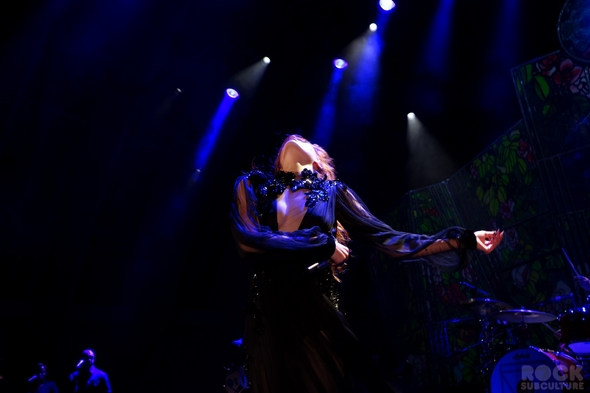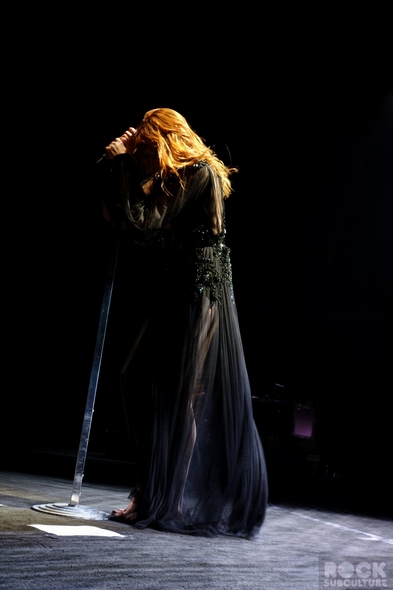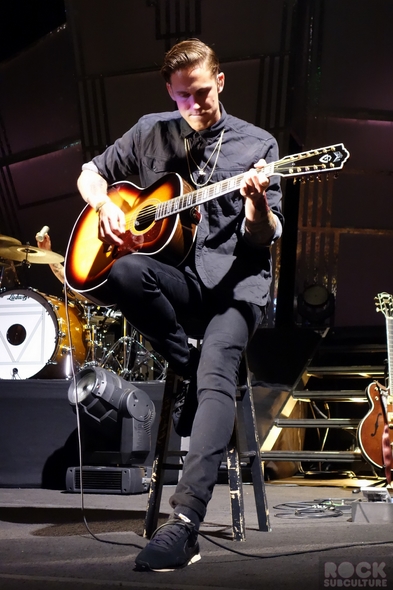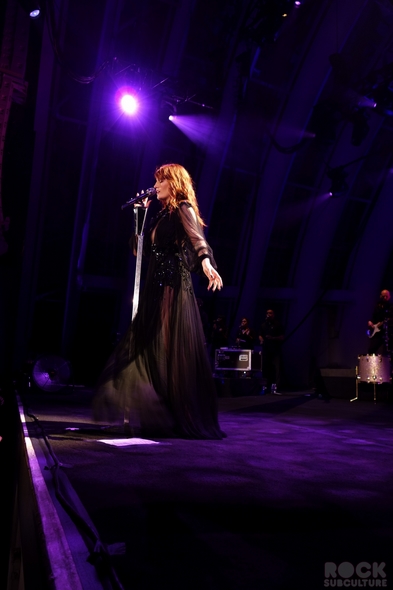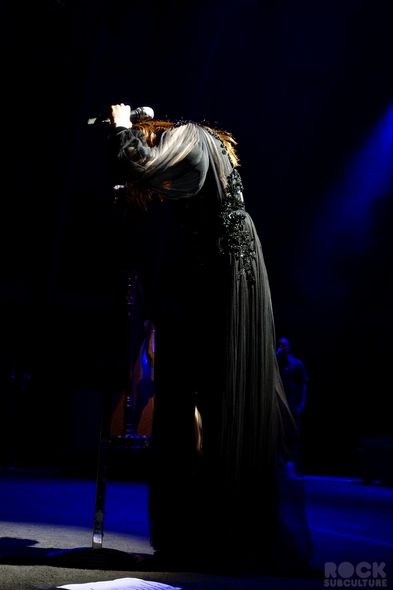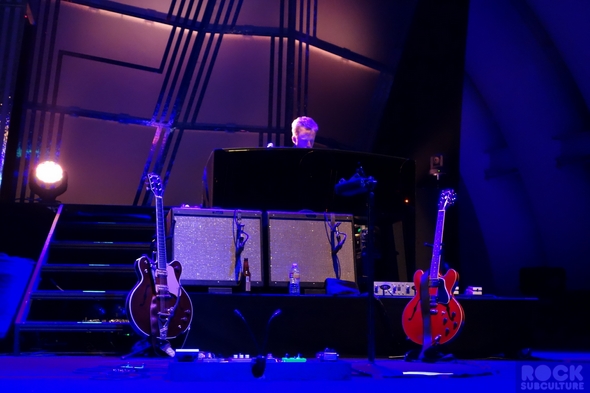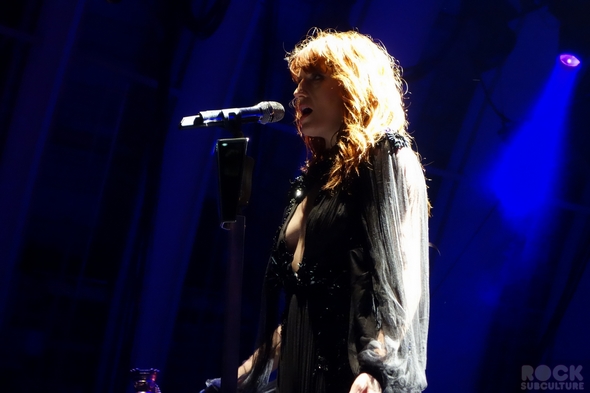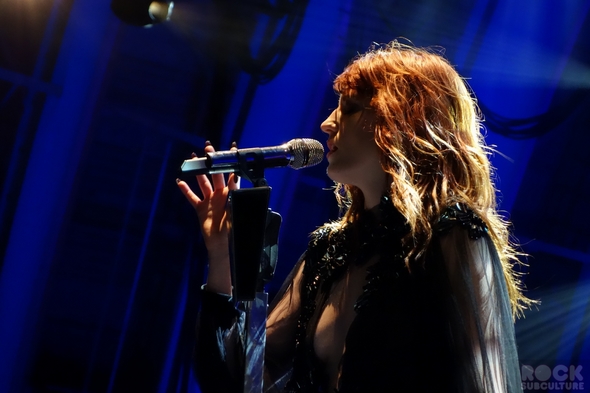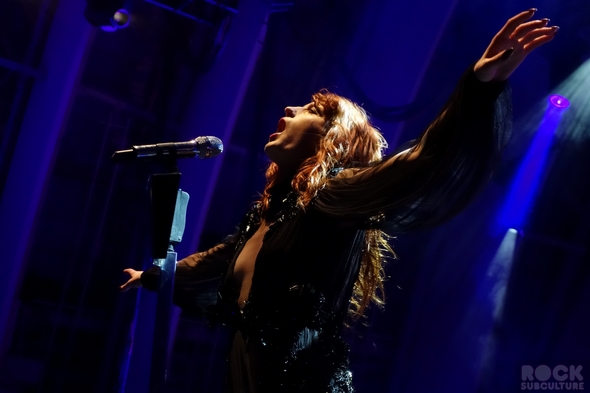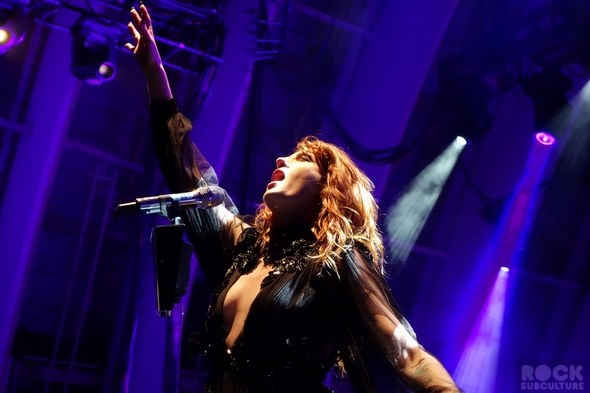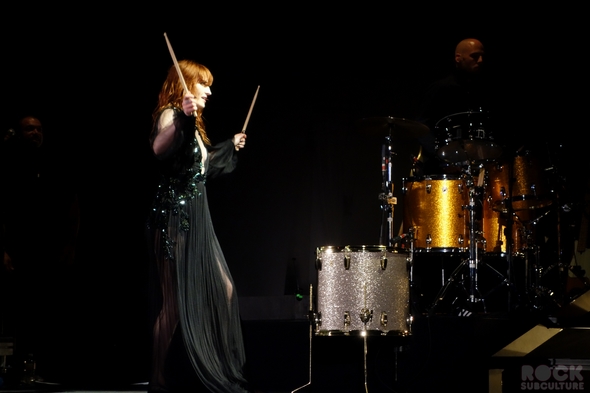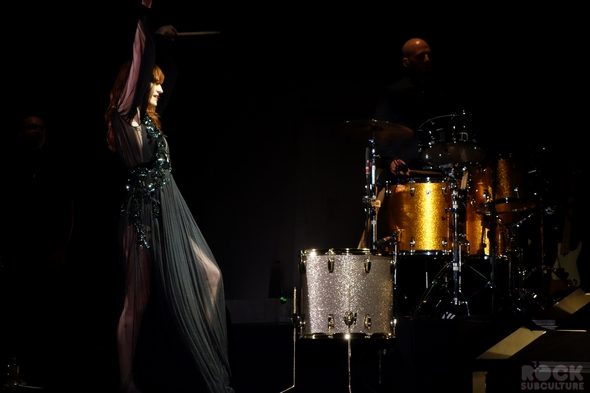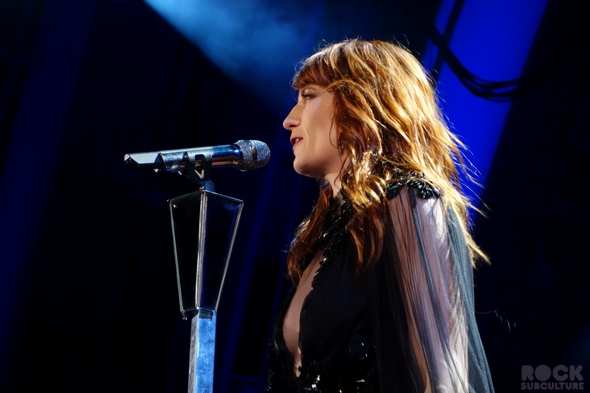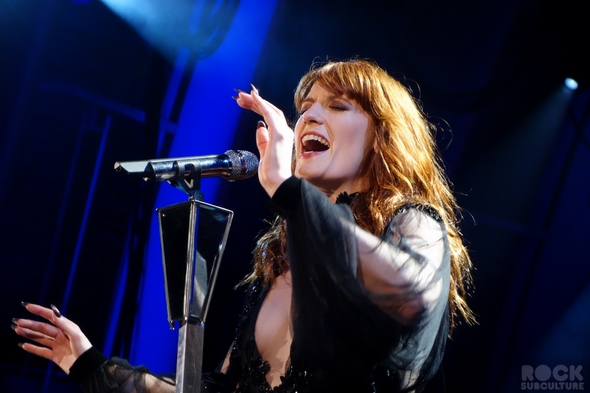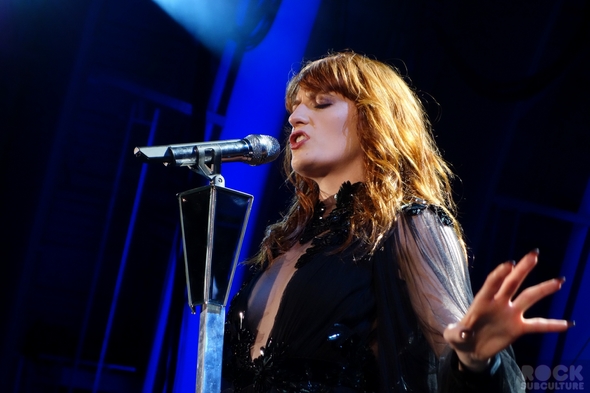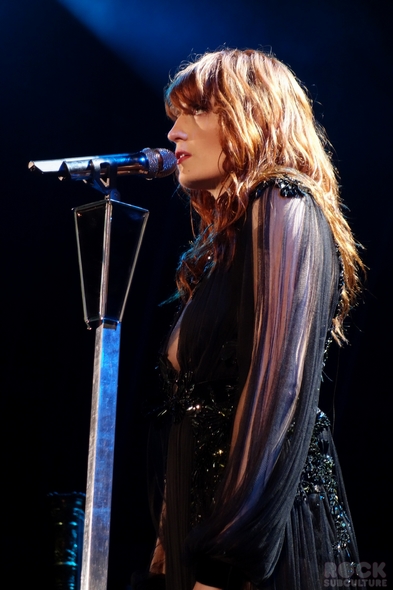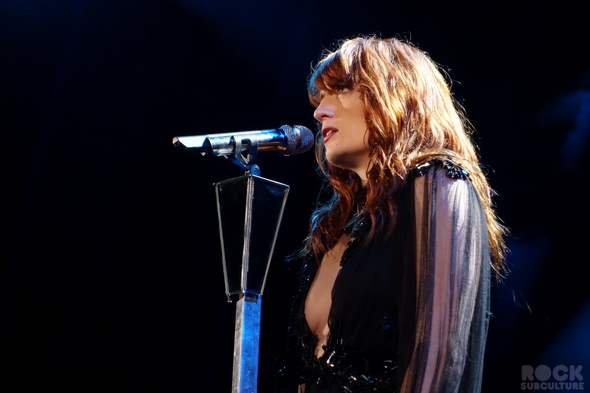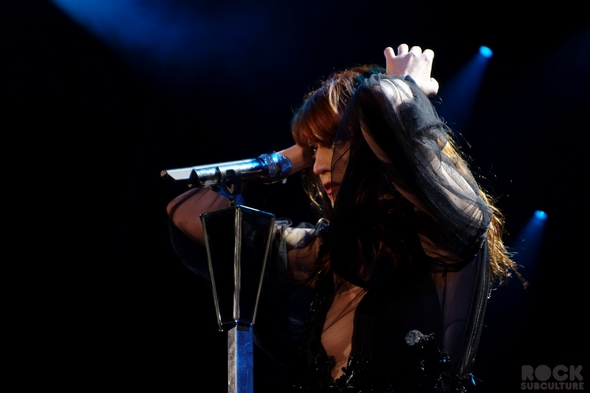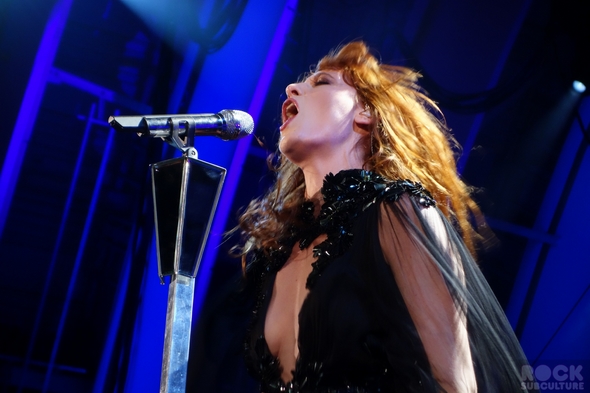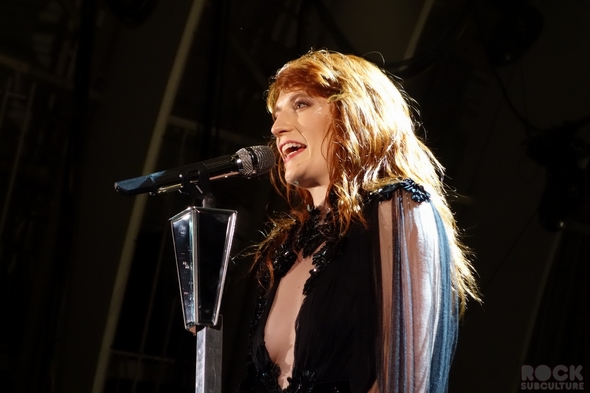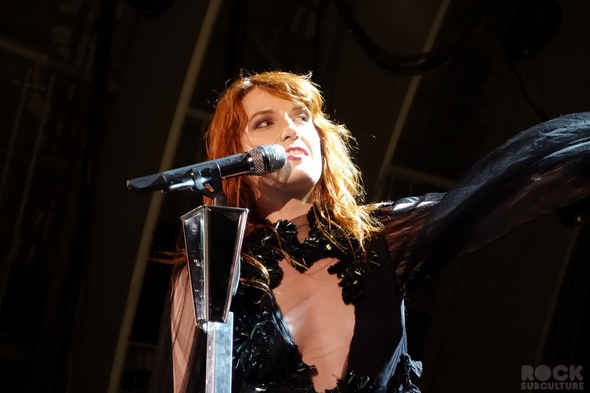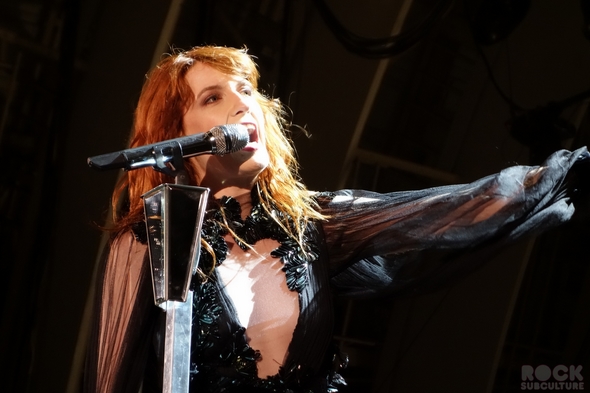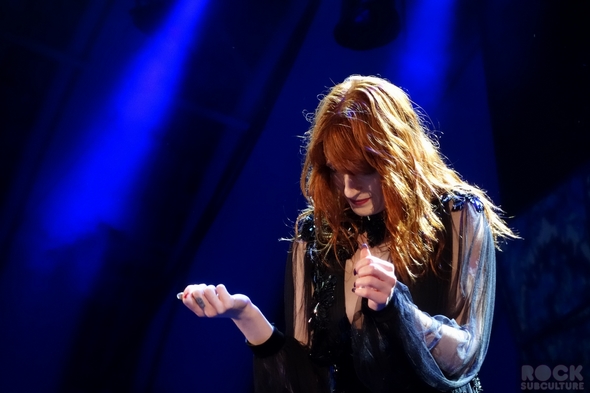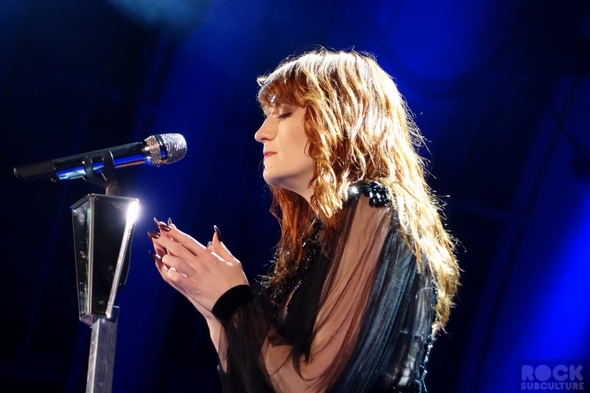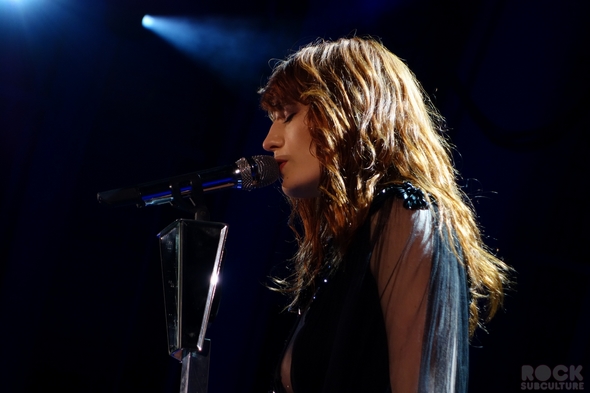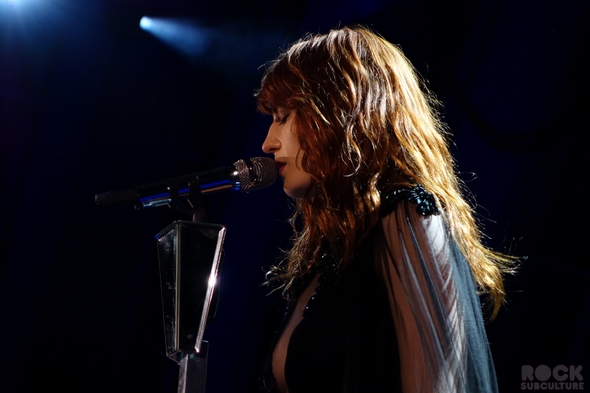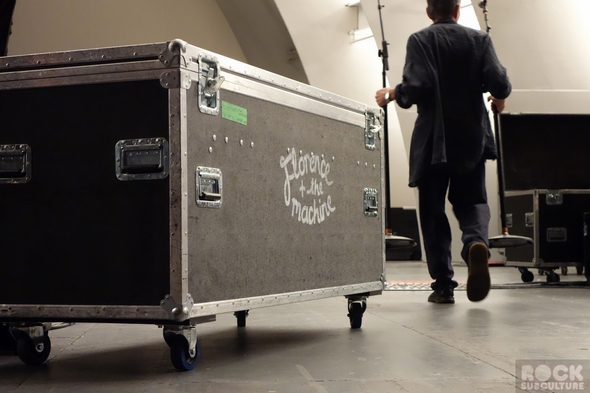 Jason DeBord