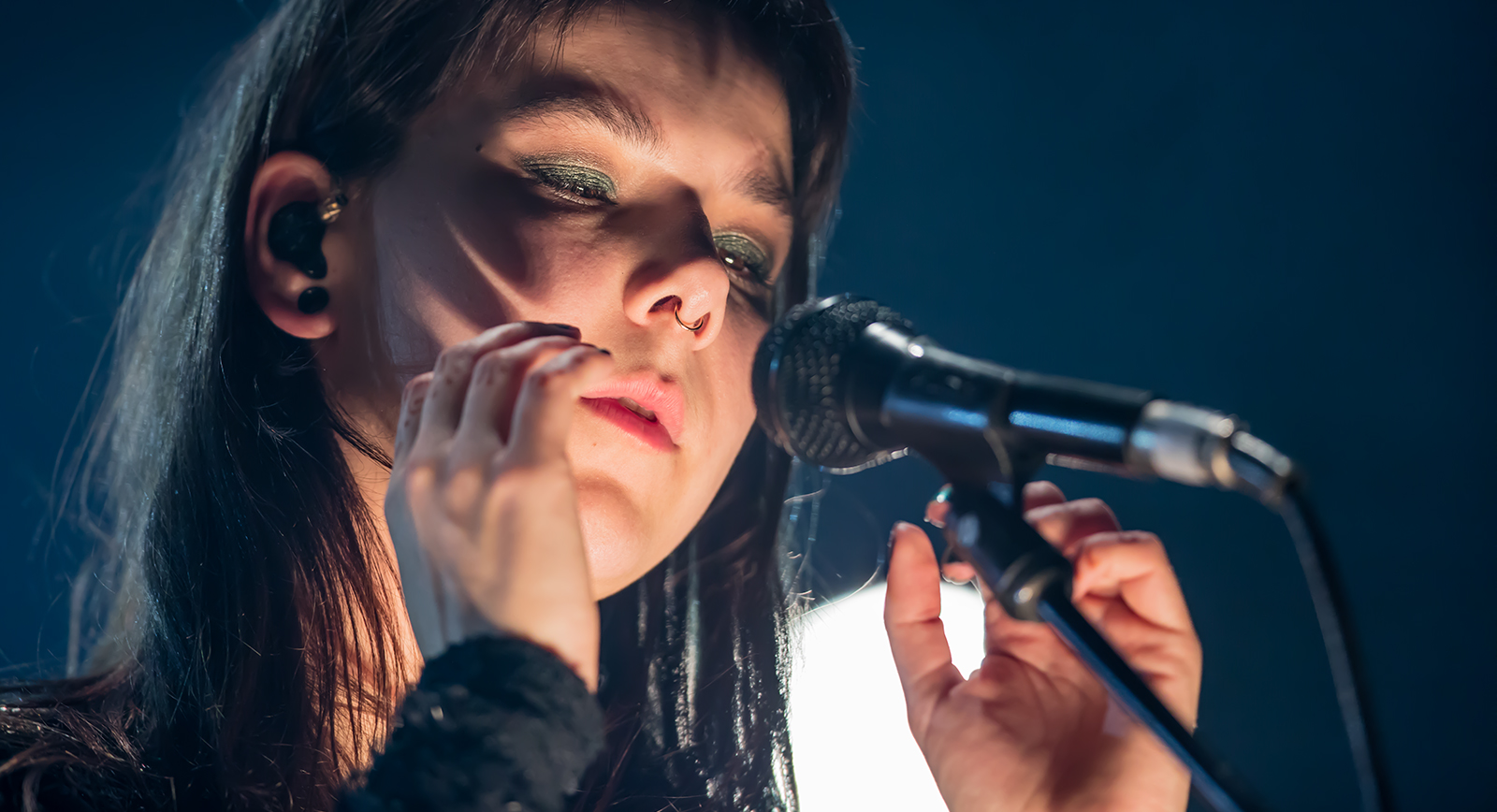 "This is our first stop in America in a while…"  Ragnar Þórhallsson, in preface to the final song of the night, "Yellow Light".  Ragnar performed beside Nanna Bryndís Hilmarsdóttir, who he shares lead vocals with in their Icelandic indie folk/pop band Of Monsters And Men, playing before what appeared to be a sold out crowd at the Grand Theatre at Grand Sierra Resort & Casino in Reno.  This was a special show in advance of their Coachella appearance next week, and kicked off their larger world tour currently booked out through July.  The word "electric" comes to mind to describe the show, but so much of their sound is of the "unplugged" variety.  Yet they seem to create a whirlwind of energy that touched each fan in the crowd, bringing something otherworldly to the stage.  They have such a unique yet consistent sound it's almost as though they have created their own genre of music, in sound and themes.  They definitely bring something unique and uniquely beautiful to the music world at large, and create an experience with both their studio recordings and live shows that is, for lack of a better word, magical and timeless.  Definitely one of the best tours to check out this year if you get the opportunity.
Who: Of Monsters And Men
Supporting: Muna
Venue: Grand Theatre at Grand Sierra Resort & Casino
Where: Reno, Nevada
Promoter: Another Planet Entertainment
When: April 14, 2016
Seating: General Admission (with photo pass)
This was my third visit to the newly renovated concert space at Grand Sierra Resort and Casino in Reno, having covered the inaugural relaunch of it with the Billy Idol concert last year and then the Duran Duran concert that followed.
The venue boasts a one acre large stage (one of the largest in the world) that from 1978 to 1987 was host to MGM's "Hello Hollywood Hello".  The entire venue has been redesigned by John Sergio Fisher & Associates.  With a standing room-only GA floor space in front of the very wide and deep stage, the theater also features theater-style seating going up to the back of the venue.
Both inside and outside of Grand Sierra Resort, there is a huge PR push for their music-related attractions.  They have a giant high resolution vertical electronic billboard running the length of the main tower as well as a high tech sign along the street, as well as similar efforts inside the property.
The layout of the venue is awesome, with the GA standing floor with a stage that is relatively low considering how vast it is…  quite long as well, it offers a lot of opportunity for being right up front and gives the artists a nice platform with which to move around and engage the audience (even Of Monsters And Men couldn't resist this toward the end of their set Thursday night).
There is assigned seating that goes up and back, above the main general admission floor, and there is honestly not a bad seat in the house.  With some venues, you feel "too far back" or decidedly on one side or the other – at Grand Theatre, everything feels centered and sounds great.  You feel like you are getting much more than your money's worth as it all "feels new" and your senses can tell you where money has been invested into it to make a richer experience… from the sound system to the lighting to the new LCD screens behind the stage, it's all quite state-of-the-art.
As with my past experiences, the staff at Grand Sierra Resort impress.  I attend a lot of concerts, and the staff at the GSR are consistently very friendly and professional.  I give the venue my highest recommendations!
Muna
Members:
Katie Gavin (lead vocals, production)
Josette Maskin (lead guitar)
Naomi McPherson (production, rhythm guitar, synths)
This was my first look at Muna – I was completely unfamiliar with them going into the show and had never heard their music before.  I really loved both the music and the set.  Really talented group with great songs and a wonderful live energy.  Even on first listen, their music draws you in and has enough of a pop element to be catchy.
Their debut work, The Loudspeaker EP, is coming next month, so it's worth checking out.
Below is a photo of the setlist from their show: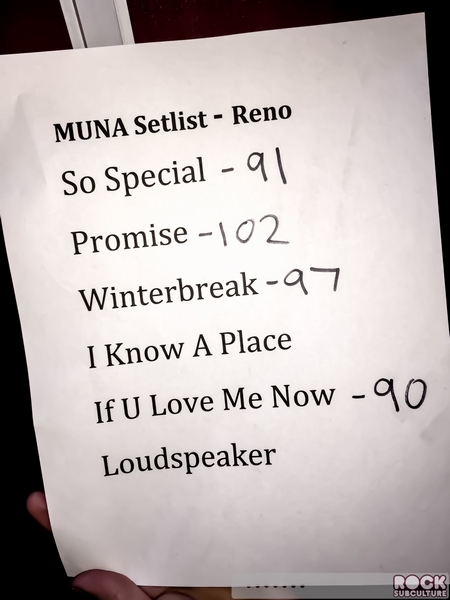 Below are some photos of Muna performing on stage (click any image to open a virtual lightroom with higher resolution versions of each photo):
Of Monsters And Men
Members
Nanna Bryndís Hilmarsdóttir (lead vocals, acoustic guitar, piano, drums)
Ragnar Þórhallsson (lead vocals, acoustic guitar, melodica, glockenspiel)
Brynjar Leifsson (lead guitar, baritone guitar, acoustic guitar, 12-string acoustic guitar, melodica, tambourine, backing vocals)
Kristján Páll Kristjánsson (bass guitar, acoustic bass guitar, egg shaker, backing vocals)
Arnar Rósenkranz Hilmarsson (drums, percussion, melodica, glockenspiel, accordion, keyboard, piano, acoustic guitar, backing vocals)
Touring Members:
Ragnhildur Gunnarsdóttir (trumpet, accordion, keyboards, piano, floor tom-tom drum, backing vocals)
Steingrimur Karl Teague (piano, keyboards, accordion, backing vocals)
Bjarni Þór Jensson (guitar, percussion, keyboards)
Sigrún Kristbjörg Jónsdóttir (trombone, percussion, accordion)
I first saw Of Monsters And Men live back in 2012 as part of the line-up for Live 105's "Not So Silent Night" back-to-back shows in Oakland.  My assessment of them in my opening remarks at the time (having been completely unfamiliar with them) were:
"I would credit Of Monsters and Men as the band that really brought the audience to life in full force, as the energy level kicked up several notches once they took the stage and engaged the audience with their unique brand of music."
At that time, they were touring the release of their majestic first album, My Head Is an Animal, which was released in North America in that same year, 2012.
I also caught their appearance at Live 105's BFD festival in San Francisco last year, and I was amazed at how far they've come in such a short time.  It was also in 2015 that saw the release of their second album, Beneath the Skin.  With BFD, they were the second to last act of the night for a full day of sets by dozens of stellar artists, so it shows how much they've broken through with mainstream popularity in just a few short years.
Like their music, the themes of their songs are very organic.  I can imagine versions of their songs done 50 years ago, 100 years ago… 1,000 years ago… sounding much the same.
Their music conjures up universal concepts based in mythology, which transcends all cultures and regions and religions.  It is all universal.  If I were to name this first of its kind genre of modern music, I'd call it Myth Pop.
The wilderness… mountains, oceans, the sky… wolves and bees and dragonflies…  kings and crowns and gold and silver…  struggles and weakness and fragility… love and loss and celebration…  These are all recurring themes in their music.
All are like sing-along style poems, set against loosely constructed waves of atmospheric sound, driven by those sublime vocals (and back to myth, split male and female) but also driven by the brilliant, tribal, pounding beats and chant-along choruses.  There is a reason Arnar's drum kit is placed high on their live set stage, with his Zeus-like presence felt (literally) throughout and with those determined expressions across his face as he pushes everything in a constant forward momentum, as well as taking time to engage the crowd, encouraging them to participate when called for by the tempo and spirit of the song.
The beats in their songs are like the beating heart of this creature, Of Monsters And Men.  The songs talk about body parts being animals, and the band itself is like some complicated, beautiful creature with these magical powers of feelings and emotions and music.  At times, the main drum kit is not enough to fuel these gifts as Nanna and Ragnhildur take to floor tom tom drum kits (even sharing one at one point).  That magical, complicated heartbeat of the band…
And their music is very democratic, with each player on the stage contributing something of meaning…  there is no fluff.  And as the music in some ways feels stripped down and primal, there is nothing sloppy about how they faithfully recreate each studio recording in a live setting in front of an audience, as the band members play very specific instruments to create very unique sounds.  They are all very gifted artists with unique talents.  The music is full and dynamic, and this was captured beautifully at Grand Theatre with their stellar sound system and acoustics.
If the drums are the heartbeat of this beast, the soul and voice manifest in the vocal talents and acoustic guitar work of Nanna and Ragnar.  When I first started listening to the band years ago, my only Icelandic point of reference in music was The Sugarcubes, and there is something that's just so endearing about the vulnerability and quality of that accent and tone that is shared across the vocals on both bands (of course Björk famously went on to a very successful solo career, for those maybe too young to know who The Sugarcubes are).
Speaking of age, it was interesting to see how the crowd demographics for the show Thursday night developed…  Pre-show, there was a decidedly young (i.e. mostly teenage) crowd lined up waiting to fill the GA space of the venue.  As show time approached, the incoming crowd skewed older and older, and by the time the show started, the crowd was made of a very wide-ranging group of all ages, though maybe tilted toward women overall.
Getting back to the band, with Ragnar and Nanna side-by-side up front and center (though not too close to the edge of the stage) and Arnar on his raised drum kit back and to the left, beside Ragnar was Brynjar on lead guitar and beside Nanna was Kristján on bass guitar.  Filling the back of the stage were the players responsible for maybe some of the less traditional sounds giving the band so much more character… Ragnhildur on many instruments but especially trumpet and accordion with Sigrún on trombone beside her, Steingrimur on piano, and Bjarni on guitar, percussion, and keyboards.
The crowd was fully amped by the show, reacting as you might expect a crowd watching the Rolling Stones or similar.
I thought the song choice and set list was really a perfect representation of their two amazing albums…
Setlist:
Thousand Eyes
Empire
King and Lionheart
Black Water
Mountain Sound
Silhouettes
Human
I Of The Storm
Love Love Love
Crystals
Hunger
Wolves Without Teeth
Lakehouse
Little Talks
Six Weeks
Encore:
Organs
Dirty Paws
Yellow Light
Below is a photo of Nanna's setlist (Audrey & Dawson Heck brought them flowers before the show, and the song "Lake House" was dedicated to them):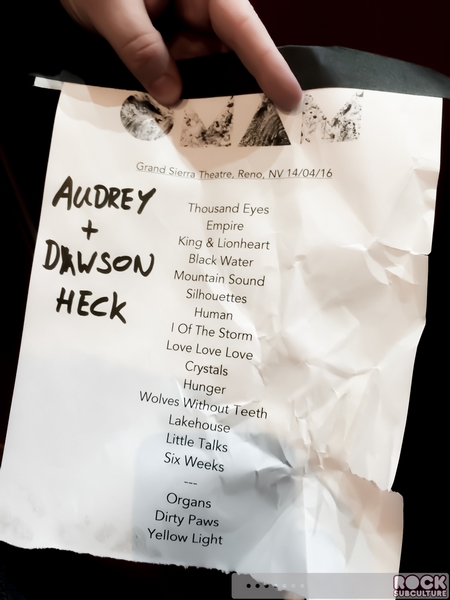 All in all, a fantastic night.  What an amazing band.  They are so different, it's impossible to know what the future holds for them, but I imagine it is very bright.
Below are some photos of Of Monsters And Men performing on stage (click any image to open a virtual lightroom with higher resolution versions of each photo):
Jason DeBord