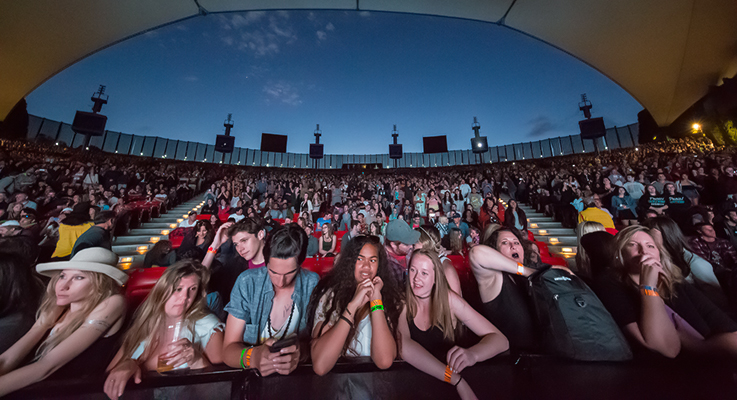 Live 105's BFD 2015 festival at Shoreline Amphitheatre in Mountainview, California marked the 21st time that the annual event has been held.  Live 105, "The Bay Area's Alternative", had a well curated line-up of known and emerging acts, covering a wide range of musical genres that all fall under the "alternative" banner, including 15 local acts.  All of this resulted in a quick sell out for the entire show.  With a vast line-up, they managed to squeeze it all into one day, with two "Festival Stages" that alternated back and forth throughout the day (to mitigate any downtime – it was literally non-stop music) as well as a "Subsonic Tent" and "Soundcheck Local Band Stage", which ran concurrently.  It all lead up to the "Main Stage" acts within the Shoreline Amphitheatre itself, which ran back to back through the night.  A fantastic show that seemed to come off without a hitch, playing to over 20,000 fans.  This article features my PART TWO coverage, which focuses on the nighttime "Main Stage" artists and performances.

What: BFD 2015
Main Stage Artists:
Modest Mouse
Of Monsters And Men
Panic! at the Disco
Cold War Kids
Atlas Genius
Venue: Shoreline Amphitheatre
Where: Mountainview, California
Promoter: Live 105 & Live Nation
When: June 6, 2015
Seating: Press/Photo Pass
See the PART ONE BFD 2015 feature for photos of the Festival Stage artists: Twenty One Pilots, Death from Above 1979, Best Coast, The Kooks, Yelawolf, Sheppard, The Orwells, Cathedrals, MisterWives, Meg Myers, WATERS, and In The Valley Below.

I'm honestly not much of a festival goer, but this one appealed to me because of the line-up and the fact that it was only one day.  The biggest selling point for me was that Of Monsters And Men were on the bill, and I've been waiting for years to have a chance to see them live again.
Because I shot and watched sixteen different artists, it is not practical for me to do in-depth reviews of each; instead, I will share a few short thoughts and some links to the latest music for each artist.
Below is the official breakdown of artists, stages, and set times: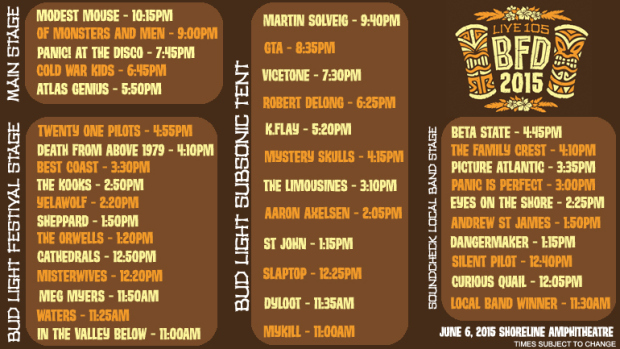 Below are some photos of the Live 105 staff and crowd shots during the night, within the Shoreline Amphitheatre Main Stage…
Atlas Genius
Atlas Genius are an Australian band formed in 2009.  Their only studio album to date, When It Was Now, was released in 2013 and was very successful.  Their follow-up, Inanimate Objects, is due this fall, with the first single "Molecules" due out this month.
You can check out their music via their official YouTube channel here: LINK
Below are some photos of Atlas Genius performing on stage (click any image to open a virtual lightroom to view images at higher resolutions):
Cold War Kids
Cold War Kids is another band I've always wanted to see, but never have before this show.  Which is one great thing about music festivals – you get a good sampling of artists and can decide whether it is worthwhile to seek out an artist again for their own headlining show.
The Long Beach indie band have been around for about a decade, with five studio albums released to date, Hold My Home is the most recent.
You can check out their latest music video, "Hotel Anywhere", on YouTube:  LINK
Below are some photos of Cold War Kids performing on stage (click any image to open a virtual lightroom to view images at higher resolutions):
Panic! at the Disco
Like several other bands taking part in BFD, Panic! at the Disco were formed in 2004.
The prolific band has gone through some serious line-up changes over the year, and their last album was Too Weird to Live, Too Rare to Die! came out in 2013.
Their latest single, "Hallelujah", came out this year – see music video on YouTube here:  LINK
I was not familiar at all with Panic! at the Disco leading up to the show.  Of course I've heard of them, but as one who only listens to what I buy, they were not in my catalog.
In spite of all this, their live set at BFD made me a fan – I loved their show!  I would say if anyone stole the day, it was them.  Fantastic set, and the highlight for me was their cover of "Bohemian Rhapsody", which was amazing.
Below are some photos of Panic! At The Disco performing on stage (click any image to open a virtual lightroom to view images at higher resolutions):
Of Monsters And Men
As already mentioned, Of Monsters And Men being part of the line-up is what clinched me showing up for the event.  I first saw them at a different Live 105 event in 2012… playing Not So Silent Night (see photos and review).
I was immediately struck by their highly unique sound with a lot of character and incredibly catchy tunes.  I was instantly a fan of them and loved their genuine nature on stage.
Flash forward to today, and what has changed?  Well, for one, they have incredible popularity.  The crowd went crazy for their performance, standing up and bouncing around with great enthusiasm.  They also have just released their second album this week, Beneath The Skin.
You can check out their latest music video for "Crystals" here:  LINK
Below are some photos of Of Monsters And Men performing on stage (click any image to open a virtual lightroom to view images at higher resolutions):