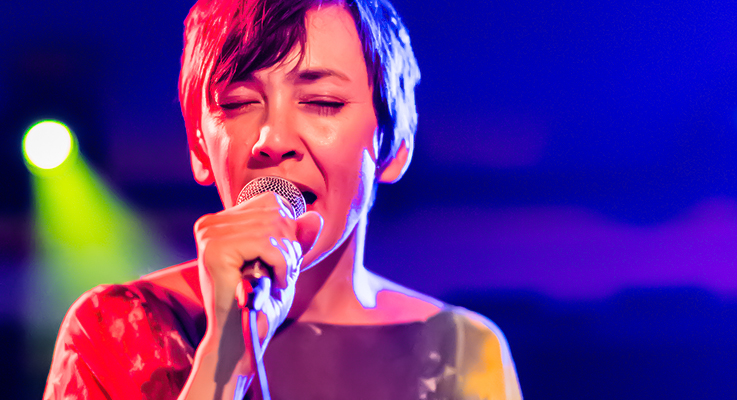 "Fuck you, Greg!  Just kidding!"  What the audience playfully shouted at Inara George of The Bird And The Bee (on cue and at her direction) as she recorded video of the crowd with a borrowed phone, to share with the other half of their duo who is not joining her on this short, rare tour hitting just four cities in the U.S. (Pasadena, San Francisco, Chicago, and Minneapolis).  Supporting their first all-original album since 2009 with the newly released Recreational Love, that crowd has certainly been waiting with great anticipation to see the act, in whole or part, for the better part of five years (in which time just a handful of dates have been played).  The packed collection of fans at Social Hall SF in San Francisco (just below and part of Goldenvoice's Regency Ballroom) was not disappointed, as Inara George and her band played through The Bird And The Bee favorites, old and new.  Going by the quality and energy of the show, you wouldn't know that live shows are not something that they do continuously, as it was a brilliant concert and the unique studio sound was recreated faithfully and, of course, at the heart of it all were Inara's unique vocals.  Definitely worth turning out for one of these rare shows, and short of that, checking out the new album, which takes them in a new direction while retaining that unique distinct, singular, signature sound.
Who: The Bird And The Bee
Supporting: Alex Lilly
Venue: Social Hall SF
Where: San Francisco, California
Promoter: Goldenvoice
When: October 28, 2015
Seating: General Admission (with photo pass)

This was my first show at the Social Hall SF, which opened just last month.  I was impressed with the 600 capacity venue, which has an open, squarish floor and low stage.  The staff were all super cool and it filled up quickly leading up to the show.
I had a little chat with Inara prior to doors, and she was very kind and down to Earth, which was refreshing.  I had read that one of the few shows she's played in the past five years was a charity concert with Judd Apatow, so I asked what her connection was, and learned that she is married to Jake Kasdan, which I'm sure is common knowledge for fans of The Bird And The Bee, but I had no idea.  Coincidentally, I had just watched the Freaks and Geeks / Undeclared reunion at Paley Center from 2011 on Amazon Prime the night prior (Freaks and Geeks is one of my all-time favorite television shows), so that was a really strange coincidence (and those who follow my sister site the Original Prop Blog know that the original Star Wars Trilogy are my favorite films, and of course Jake's father was co-writer on Empire Strikes Back and Return of the Jedi), so I found that connection to be quite interesting.
I actually discovered The Bird and The Bee via their Hall & Oates covers album, 2010's Interpreting the Masters Volume 1: A Tribute to Daryl Hall and John Oates, as I'm a huge fan of Hall & Oates (as well a fan of the practice of great artists covering their peers)… Hall & Oates are one of my favorite live bands, and I try to see them in concert every year (see reviews from 2015, 2014, 2012, 2011…).  So I had to ask Inara about the possibility of appearing on Live from Daryl's House and she said that they've not been asked yet.  Probably the two artists I'd most love to see guest on that show would be The Bird And The Bee (for obvious reasons) and The Zombies (which I've mentioned in past reviews of their shows), and funny enough (another coincidence) the latter were playing their own show down the street at The Fillmore the night before.
Alex Lilly
Members
Alex Lilly
Wendy Wang
Barbara Gruska
Inga Roberts
Now recording and performing under her own name, Alex Lilly has also been part of Colorforms, Obi Best and Touché (see YouTube playlist).  You can check out her new song, "Paranoid Times" on ReverbNation (LINK).
With her live show, I found her music and style different from The Bird And the Bee, but certainly complimentary and an excellent choice to getting the night started.  Excellent set.
In addition to playing live as part of The Bird And The Bee, Alex and Inara also collaborate as The Living Sisters.
Below are some photos of Alex Lilly performing on stage (click any image to open a virtual lightroom with higher resolution versions of each photo):
The Bird And The Bee
Touring Members
Inara George
Alex Lilly
Wendy Wang
Barbara Gruska
Inga Roberts
"This does not mean we can't have a fucking good time.  Greg's here in spirit… he's thinking of all of us.  He might be watching.  He's fine.  He's just a curmudgeon.  No, he's not really.  He's making hits!"
While Greg was not on stage, his presence was felt by way of the layers of lo-fi electronic sound that laid the foundation for Inara's voice to soar to great heights with her unique vocal quality, tones, range, and delivery.  Her ability to construct her lyrics around those electronic sounds reminds me of some of the other amazing male-female duos of the past few decades, going back to Yazoo and as recently as MS MR.  There's something about the masculine half using technology and electronics to create music and unique feminine vocals working with and against those colder sounds.
The Bird And The Bee are a duo from Los Angeles, comprised of Inara George (vocals) and Greg Kurstin (producer and keyboardist).  Greg has worked with a long list of top artists (Red Hot Chili Peppers, P!nk, Beck, Lily Allen, Charli XCX, The Flaming Lips, Kylie Minogue, Kelly Clarkson, Little Boots, Barenaked Ladies, etc.) and the pair released their first EP, Again and Again and Again and Again in 2006 and eponymous debut studio album the following year.  Their second studio album, Ray Guns Are Not Just the Future, came out in 2009, and, as mentioned earlier, it was followed by the Hall & Oates tribute album and this summer's Recreational Love.  The latter's lead single, "Will You Dance", debuted in May.
Mixing jazz influenced instrumentals that sound like they've been processed through a Sega Genesis with those warm, floaty vocals has made their music instantly recognizable, as no one else sounds anything like them.  A contrast of machine-made and soulful, the colliding worlds create something quite special.
It was a very friendly sort of show, with Inara keeping things light in-between songs… talking about being in her 40s, messing up some lyrics, and making some self-deprecating jokes ("It's always surprising… when people come…" as she lookedto the massive number of fans in the audience).  Those up front were especially into all of it, and seemed to know the lyrics of every song themselves.
Inara spent some of the time behind the microphone with her guitar, as well as using up the stage and interacting with fans.  There were some high energy stretches and the colorful lights reflected the generally happy, poppy music.  There were certainly a lot of good vibes exchanged between the artist and the fans.
The show was excellent and it really converted me from being a casual fan to a real fan, and I look forward to seeing them again.  The new album is fantastic and well worth checking out.  Greg obviously has had tremendous success working with other artists, and being a part of The Bird And The Bee officially I would imagine he puts everything into their work, and it shows.  Really innovative stuff from two very gifted artists.
Below is a photo of the set list: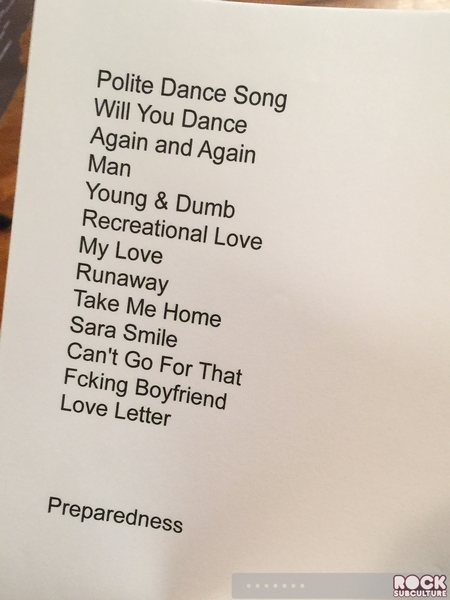 Setlist:
Polite Dance Song
Will You Dance?
Again & Again
Man
Young and Dumb
Recreational Love
My Love
Runaway
Please Take Me Home
Sara Smile (Hall & Oates cover)
I Can't Go For That (No Can Do) (Hall & Oates cover)
F-cking Boyfriend
Love Letter To Japan
Encore:
Below are some photos of The Bird And The Bee performing on stage (click any image to open a virtual lightroom with higher resolution versions of each photo):
Jason DeBord