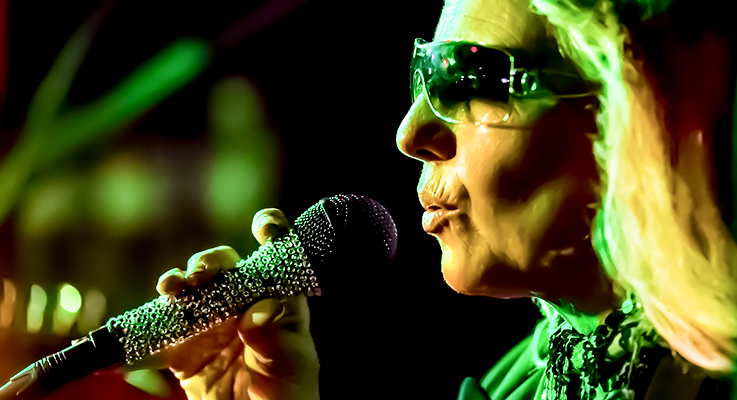 Music from the 1980s continues to permeate pop culture today – it seems like every commercial break cycle includes a familiar New Wave hit song repurposed for selling something or other.  In addition – and on the positive end of the spectrum – we sometimes have the opportunity to catch a multi-artist live concert with a few or a variety of 80s artists perform at the same event.  One such event was held at The Karman Bar in Orange County, providing a double headlining show with Dale Bozzio from Missing Persons and Clive Farrington from When In Rome.  Taking a step back, one of the most interesting things about this show is how the two principals from the two very different 80s bands collectively covered the decade in music, with Missing Persons originally together from 1980 to 1986 and When In Rome being active from 1987 to 1990.  So listening to their music at this event, there was also a contrast in sound from the beginnings of that decade (with it's more traditional rock and roll emphasis of vocals, guitar, bass and drums) to that at the end (with vocals and keyboards/synth and electronic beats at the forefront).  In any event, it is of course awesome to see two key players from the era keeping their music alive and turning out fans to celebrate it.

Who: Dale Bozzio, Missing Persons
Supporting: Clive Farrington, Original Lead Vocalist for When In Rome
Supporting: Ascent
Supporting: The Schitz
Venue: The Karman Bar
Where: Laguna Niguel, California
Promoter: Sellout Productions
When: July 18, 2015
Seating: General Admission (also photo pass)
This was my first show at The Karman Bar, and I came away impressed.  Located in more commercial/industrial-looking space, it's really much, much bigger inside that I imagined walking up to up.  It feels very "new" inside and the place has a modern, clean look, with a large bar area, seating for lounging and eating, and another area with pool tables.  The stage and standing/dancing floor in front of it is relatively large.  The sound was quite good for a "bar" sort of venue and the lighting was interesting/stylish.  I'd definitely go back there for another show if I happened to be in Southern California at the time.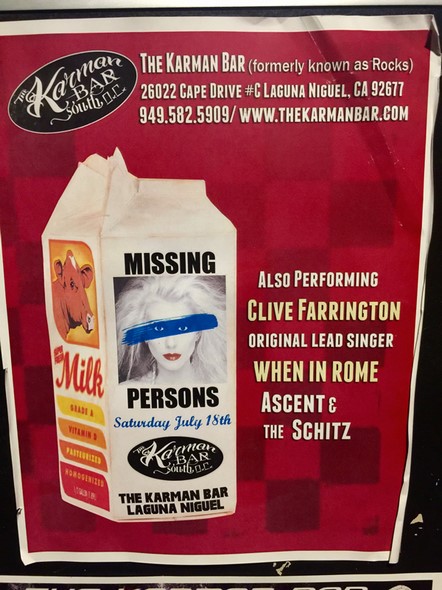 The Schitz
The Schitz are a novelty sort of modern era punk band that kicked things off for this event.  Most of their songs have a sarcastic sense of humor revolving around the band's name.
Below are some photos of The Schitz performing on stage (click any image to open a virtual lightroom with higher resolution versions of each photo):
Ascent
Ascent was next up, comprised of a husband and wife duo with Bruce Baldwin serving as a multi-instrumentalist and Christina Baldwin on vocals.
Below are some photos of Ascent performing on stage (click any image to open a virtual lightroom with higher resolution versions of each photo):
Clive Farrington, Original Lead Vocalist from When in Rome
Members
Clive Farrington (vocals)
Pancho Burgos (MD, keyboards, vox)
Danny Dean (guitar, vox)
Dave Casad (keyboards)
Gino Di Leva (drums, vox)
I've long been a huge fan of When in Rome, and fortunate enough to get to know Clive Farrington (the original lead vocalist) a bit over the past few years.  Funny enough, I was in the Orange County area to shoot a wedding (Clive was a guest of honor and performed there as well), and this show was the same day.
I had an opportunity to check out Clive's new band last December, so I was really looking forward to seeing them again, as I think that they do a fantastic job bringing the music to life.  This show had one change in the line-up, with Gino Di Leva now on drums.
I first met Clive Farrington back in 2012 as he toured and performed as part of Lost 80s Live! with a number of other 80s era artists.
The band When in Rome originally formed in 1987, and had broken up by 1990.   In that time, they had released just the one eponymous album, which included the huge pop hit, "The Promise", which has proven to be one of the most enduring and decade-defining songs of the 80s.
When in Rome's original keyboardist, Michael Floreale, maintains an alternate Texas-based version of the band while Clive Farrington tours with other artists, and, at times, original co-vocalist Andrew Mann.
I also interviewed Clive as part of my podcast program back in 2012, which can be found here:  LINK
With the show at The Karman Bar, they sounded as excellent as ever, and I remain impressed at how well the group plays with one another.
It wasn't really a "When In Rome" concert, but showed the full range of work from Clive Farrington, including "American Beat from his earlier band, Beau Leisure, as well as music from 2013 solo album, Independence.  And I especially love their poppy cover of XTC's "Statue of Liberty".
They also really got the crowd going, especially with the closer, "The Promise".
Below is a photo of the set list: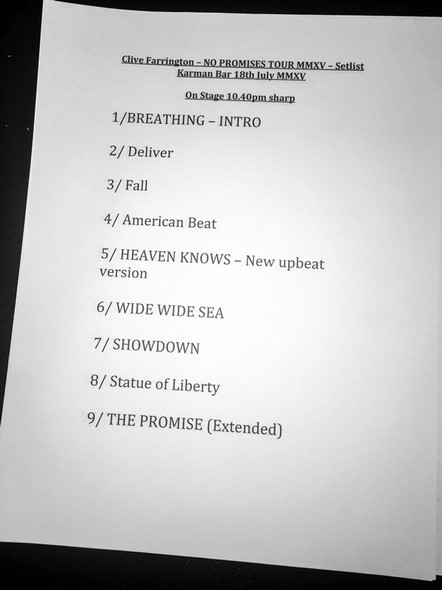 Setlist:
Breathing (Clive Farrington)
Deliver (Clive Farrington)
Fall (Clive Farrington)
American Beat (Beau Leisure)
Heaven Knows (When In Rome)
Wide, Wide Sea (When In Rome)
Showdown (Clive Farrington)
Statue of Liberty (XTC Cover)
The Promise (When In Rome)
Below are some photos of Clive Farrington and his band performing on stage (click any image to open a virtual lightroom with higher resolution versions of each photo):
Dale Bozzio, Missing Persons
Members:
Dale Bozzio (vocals)
Patrick O'Hearn (guitar)
Prescott Niles (bass)
The American band, Missing Persons, is of course legendary.  As one of the real pioneers of New Wave as well as MTV, they made a huge impact on pop culture in the early 80s.
Originally made up of Dale Bozzio on vocals, Terry Bozzio on drums, and Warren Cuccurullo on guitars, they were founded on exceptional talent and creativity.
Retrospectively, Dale Bozzio is now credited as a big influence on music and fashion that continues today, most obviously with Lady Gaga.
Dale and Terry – who met while working with Frank Zappa – were married in 1979, before forming the band a year later at the dawn of the 80s.
"Mental Hopscotch" was their first local hit, following promotion on KROQ.  Their most popular hits came a few years later with "Words", "Walking in L.A.", and "Destination Unknown".
Terry and Dale broke up, as did the band, in 1986.
Warren Cuccurullo went on to have a long and successful run with Duran Duran while Dale Bozzio went solo and Terry Bozzio collaborated with Mick Jagger, Jeff Beck, The Knack, Korn, and others.
Warren and Dale still perform together on occasion, but the show at The Karman Bar featured another line-up of musicians.
This was my first time seeing Dale Bozzio and any incarnation of Missing Persons, and I enjoyed their raw and authentic live set.
As much as she has received acclaim, I feel like Dale still hasn't received the recognition that she deserves, as she was really way ahead of the times with her look, sound and attitude, which she carries with her today.
The set was comprised almost entirely of Missing Persons material, aside from one of the solo songs and a Doors cover.
Below is a photo of the set list: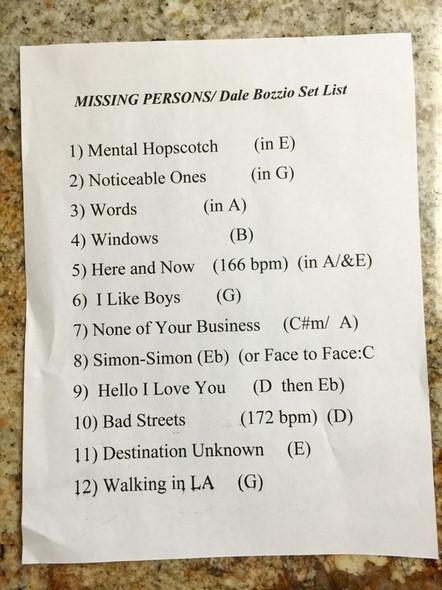 Setlist:
Mental Hopscotch (Missing Persons)
Noticeable One (Missing Persons)
Words (Missing Persons)
Windows (Missing Persons)
Here and Now (Missing Persons)
I Like Boys (Missing Persons)
It Ain't None of Your Business (Missing Persons)
Simon-Simon (Dale Bozzio)
Hello I Love You (Doors cover)
Bad Streets (Missing Persons)
Destination Unknown (Missing Persons)
Walking in L.A. (Missing Persons)
Below are some photos of Dale Bozzio and her band performing on stage (click any image to open a virtual lightroom with higher resolution versions of each photo):