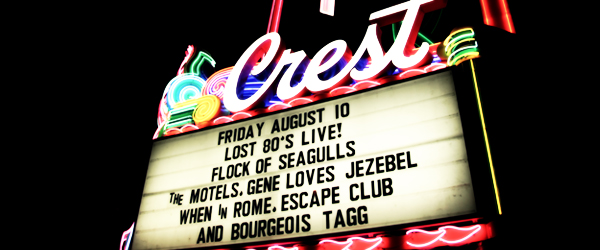 Last night was quite an amazing concert event for fans of 80s music.  Under the banner of "Lost 80's Live", the one night show at the Crest Theatre in Sacramento featured performances by A Flock of Seagulls, When In Rome, The Motels, Bourgeois Tagg, The Escape Club, and Gene Loves Jezebel.  In addition to the incredible line up, the event was hosted and DJ'd by the legendary Richard Blade.  There was also a meet and greet opportunity made available for those who bought VIP tickets, which I participated in, and it was of course a thrill to meet the artists behind the music.  Essential, the show was a sextuple header.
Who: A Flock of Seagulls, When In Rome UK, Martha Davis and The Motels, Bourgeois Tagg, The Escape Club, Gene Loves Jezebel
Host: Richard Blade
Venue: The Crest Theatre
Where: Sacramento, California
When: August 10, 2012
Seating: Floor Row D,  Seat 106 [center floor section, third row center | moved up to empty front row seat for fourth and fifth sets | moved up to stage for sixth set
Photography Note:  Unfortunately, the Crest Theatre is one of my least favorite places to shoot, strictly from a photography standpoint, as the lighting throughout is very pink/red in hue, which makes it very difficult to achieve sharp focus.  As such, based on the lighting conditions for each set, I have more photos of some artists over others depending on the lighting conditions specific to their time on stage.

The Show Overall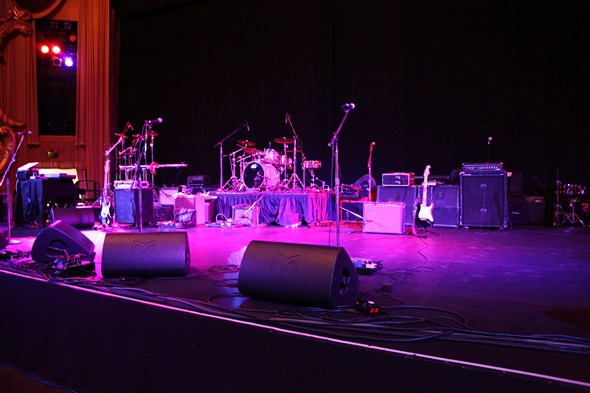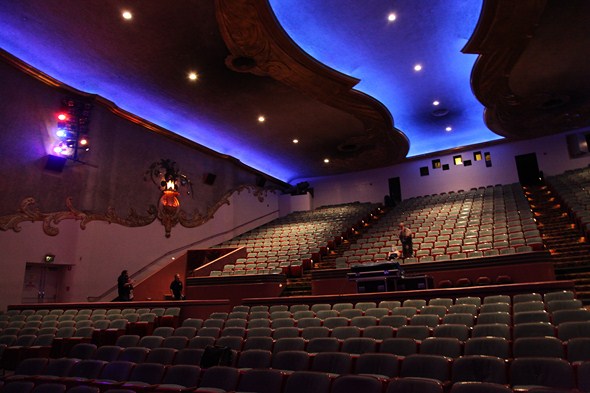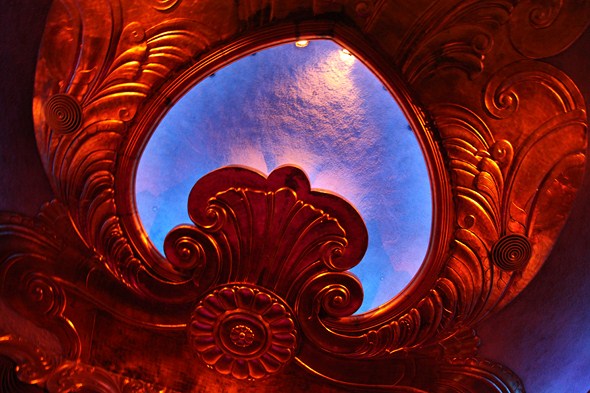 This show was put together by Onward Promotions, and to be honest, I was actually surprised such a unique and impressive roster of bands were playing an event in my home town of Sacramento, which isn't exactly the concert capital of the world (I am usually driving to the Bay Area or flying somewhere to catch shows).  This same show is also being held at the Visalia Fox Theater in Visalia, California tonight.  There are also a few shows with slightly different line-ups planned for some House of Blues venues soon (with Animotion and Boys Don't Cry).
I was curious to see how well a show could flow with all six artists performing on the same stage back to back to back, and was really impressed with the speed with which equipment was switched out between artists, with the only real delay occurring for the set-up with Flock of Seagulls at the end, due to a technical issue.  Overall, it was remarkable how quickly the show transitioned from artist to artist.
The crowd was very enthusiastic, and quite obviously really big fans of 80s music, as the demographic seemed to range from around my age and older, with a large segment of the audience, I would speculate, being in their 40s.
It was a really friendly, cool atmosphere though, and it felt a bit like a private party or gig with a lot of great bands.
Meet & Greet
When I had learned of this show, just before the tickets when on sale, I had read about the VIP tickets that included some opportunity to meet the bands, and for me, that was a no brainer.  Not only was I a big fan of the work of most of these artists, I thought it would be a dream to get a chance to meet some of them, so bought these tickets as soon as they went on sale.
Those of us with meet and greet tickets met at the venue at around 6:00 for early access.  Everything moved along quickly all things considered, and I would guess that there were maybe about three dozen or so participants.
Principals from most of the bands on the roster were seated at a row of tables, and we were given event specific posters to obtain signatures on in the event we didn't bring anything special; there was also a merchandising booth with additional items to buy to get signed.
It was cool to spend a little time chatting with these artists, and all were very friendly and engaging, and it definitely added a cool element to the concert, having a chance to make a personal connection with these bands before they went on to perform later.
As noted, it truly added to the cool atmosphere for the night, and after the signing, we had some opportunity to chat further and take our own photos with some of the artists.
Below is the poster I had autographed during the signing: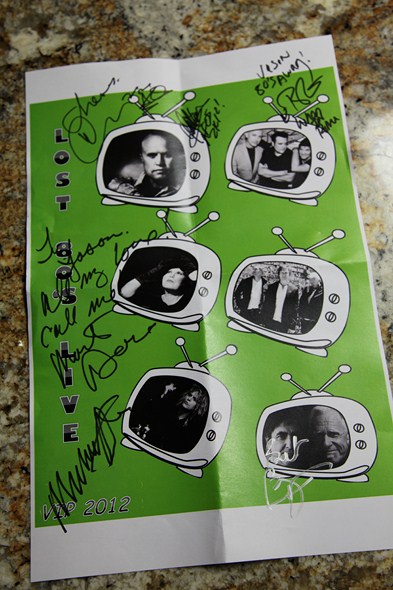 Below are some images of the meet and greet: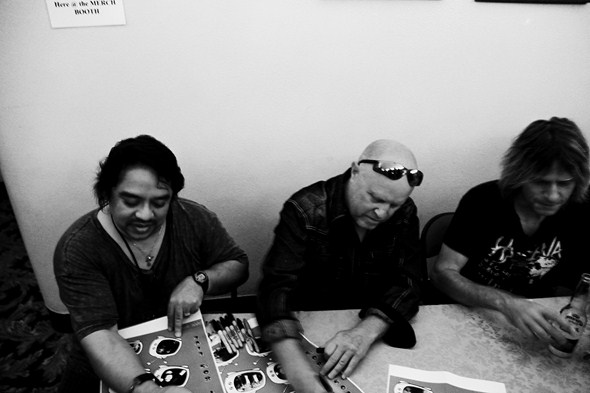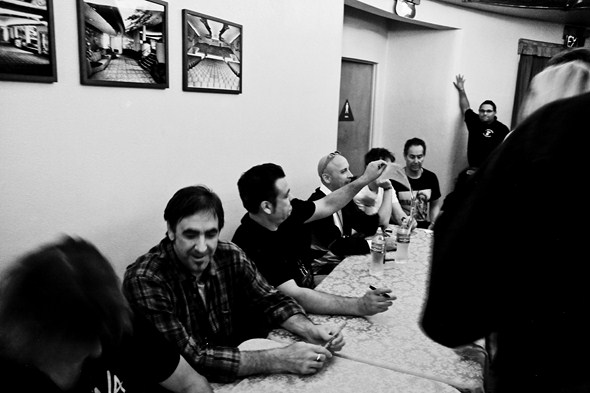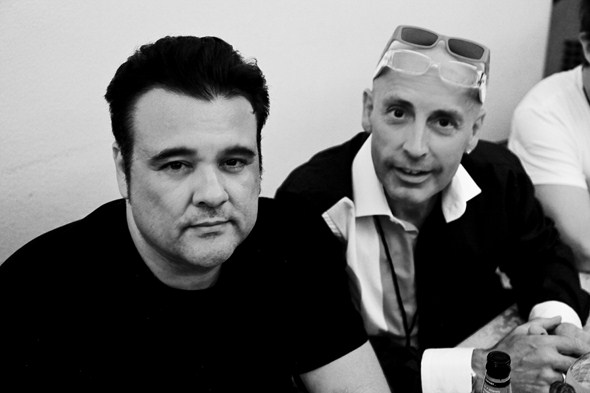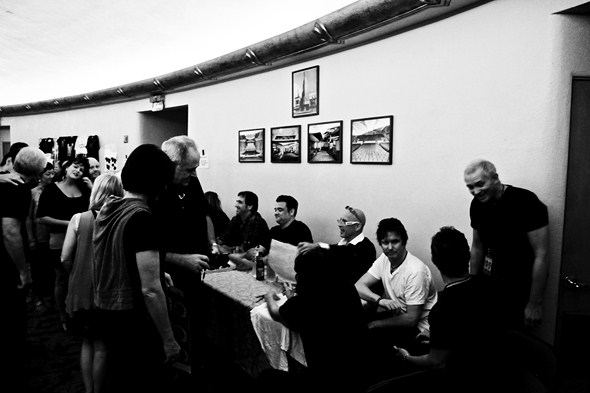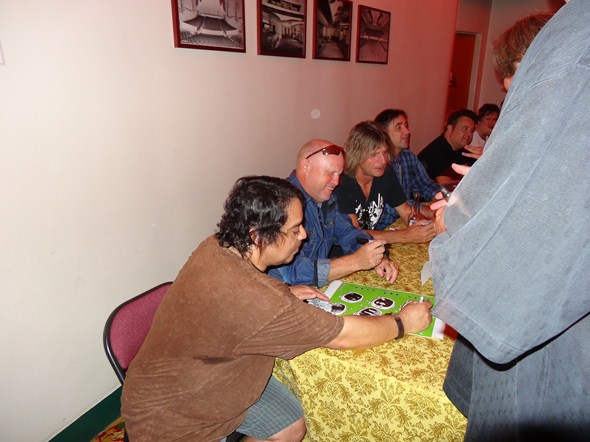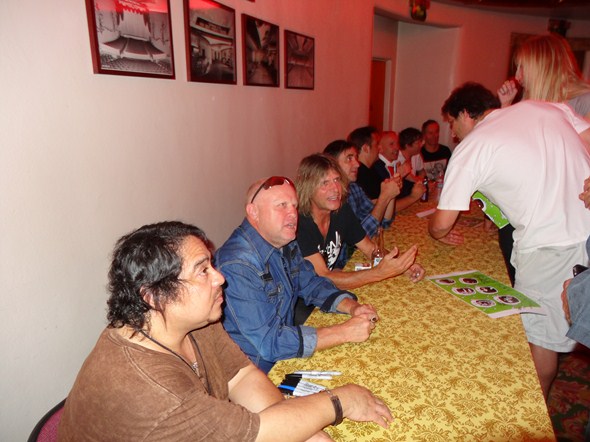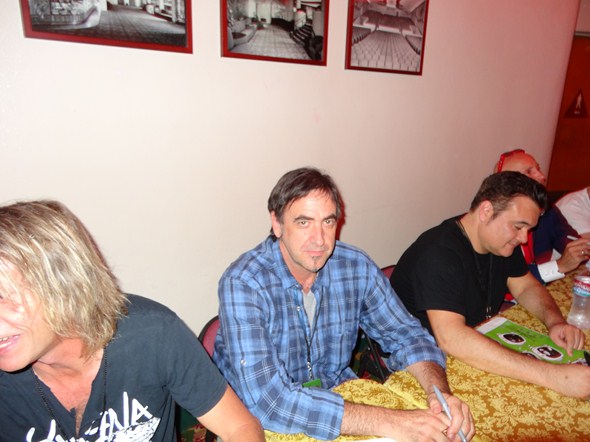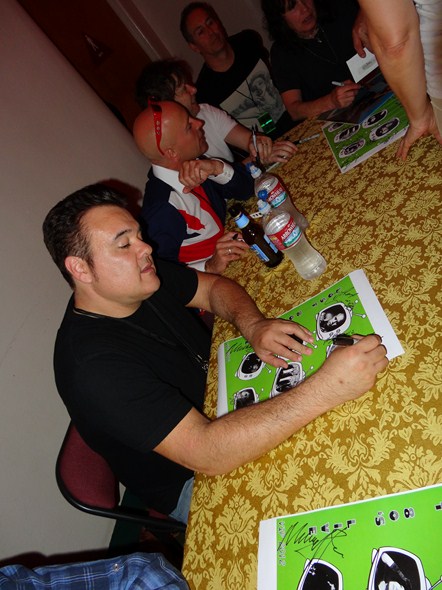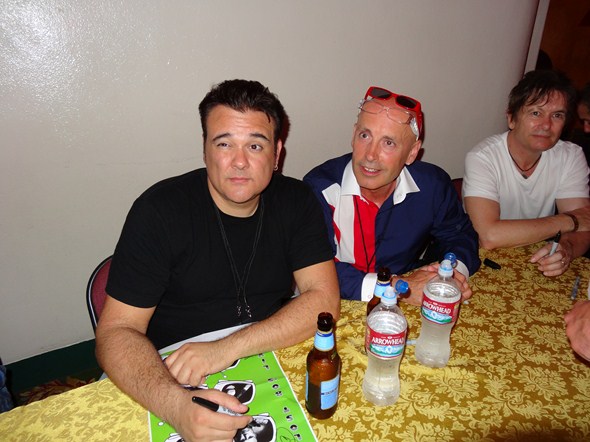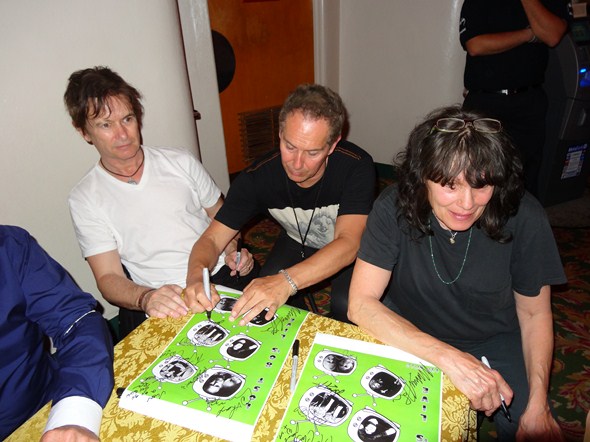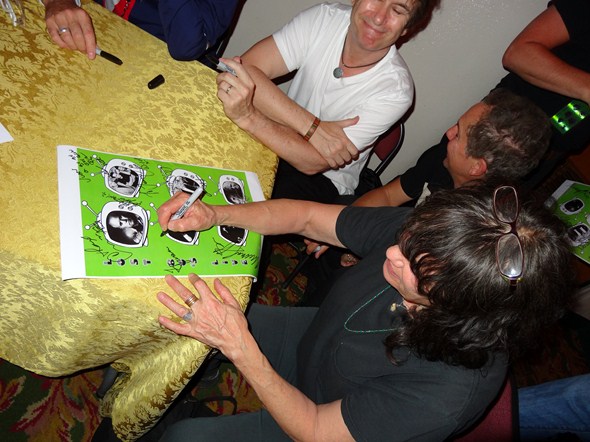 Richard Blade
Richard Blade is a legend in the music industry, having worked as a radio and television host in the Los Angeles area going back to the early 80s.  He has worked for the World Famous KROQ and currently does a show for SiriusXM.
Richard is a very warm and engaging person, and was the perfect host for this show, meeting with fans, introducing the bands, and playing a great mix of music between sets.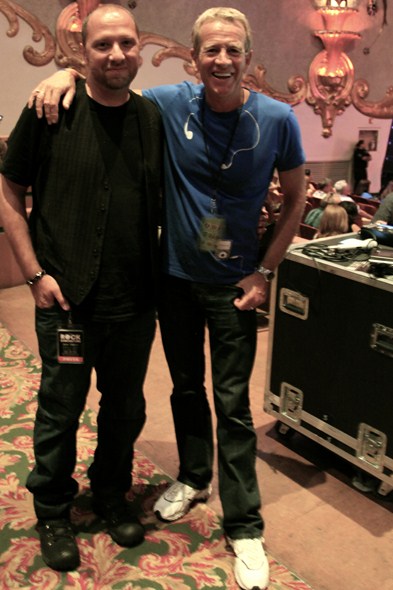 Gene Loves Jezebel
Gene Loves Jezebel (see official site and Facebook, Twitter, and YouTube accounts) kicked up the live music for the night with a high energy show.
Gene Loves Jezebel was a British gothic rock band formed in the early 80s by twins Michael Aston and Jay Aston.  The band was quite prolific, though the brothers eventually had disagreements about the music, and Michael Aston left the band, who continued recording under the name Gene Loves Jezebel.  There have been many legal disputes over the band and band's name over the years, and currently each of the two brothers record and/or tour via their own versions of the band, which obviously causes some confusion among fans (click here for more Jay Aston's Gene Loves Jezebel).
Some of the more well known songs, like "Desire", do not feature Michael Aston on vocals.
I am more a casual fan of their work, and I really enjoyed the opening set.  Michael is a great front man, and the set was a showcase of their material.
Below is the video I shot for "Desire":
Below are some photos I took of Gene Loves Jezebel during their performance: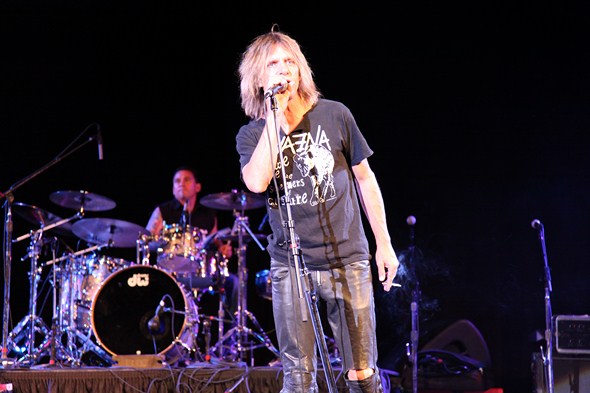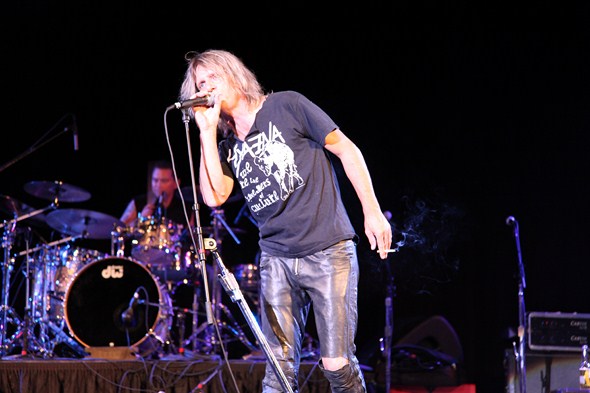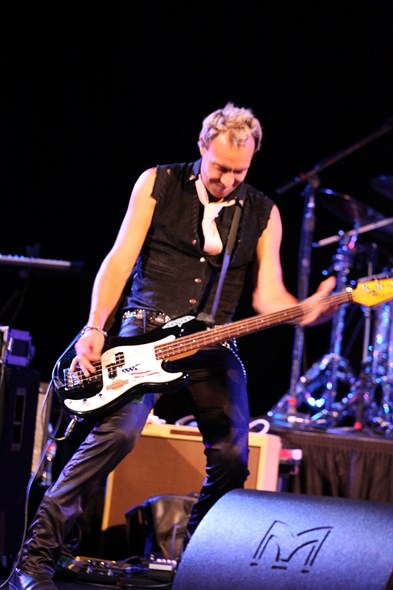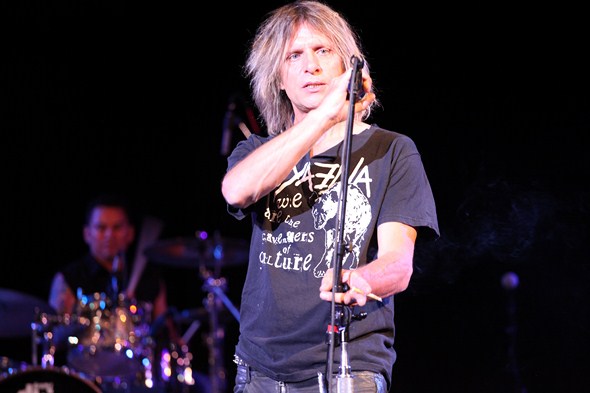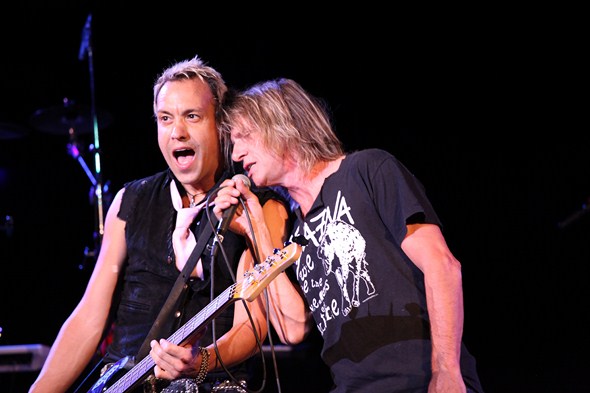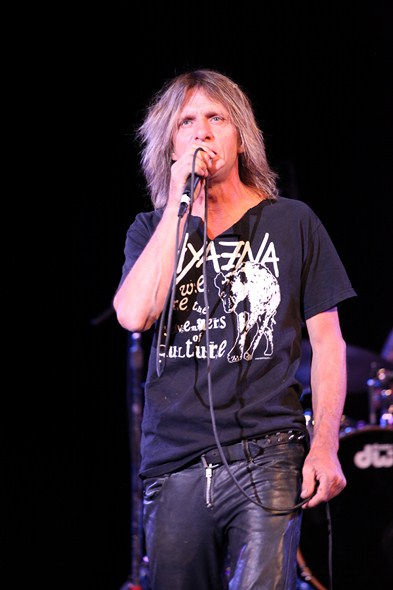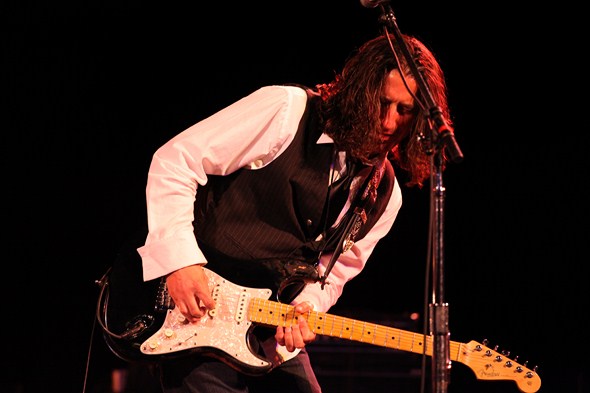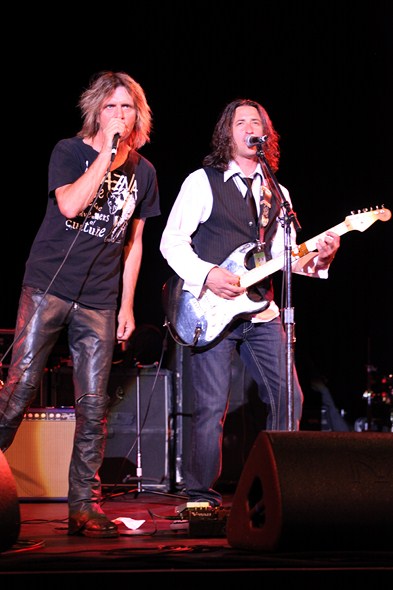 The Escape Club
The Escape Club was next on the bill, (see official site and Facebook, Twitter, and YouTube accounts), and they are another English group, more in the alternative pop rock genre.
They were formed in 1983, though they really broke into the mainstream with the title track off of their second album, "Wild, Wild West", which was released in 1988 and peaked on the charts at #1 in the U.S.  The video for that song, which was played quite regularly on MTV, was strangely banned in the UK for being "sexist and offensive" (which obviously illustrates how much things have changed in the past few decades).
I had picked up that album at the time, and found the whole thing to be a really cool set of songs, and I also picked up what proved to be their final album a couple of years later, which included the popular single "I'll Be There".
The band reunited in 2009 with original members Trevor Steel (lead singer, rhythm guitarist) and John Holliday (lead guitar) along with Red Broad to produce a new album, Celebrity, which came out earlier this year.
I was a real fan of the band in the late 80s/early 90s, but had never seen them live (and given that they only recently reformed, never expected to have a chance to); they put on a great show, and definitely left with me wanting to hear more of their material.
Below is the video I shot for "Wild, Wild West":
Below are some photos I took of The Escape Club during their performance: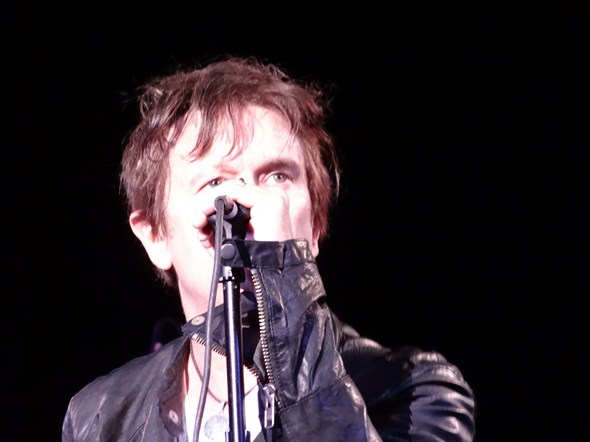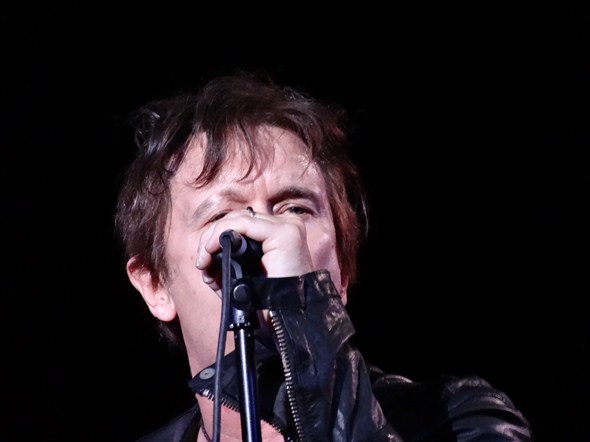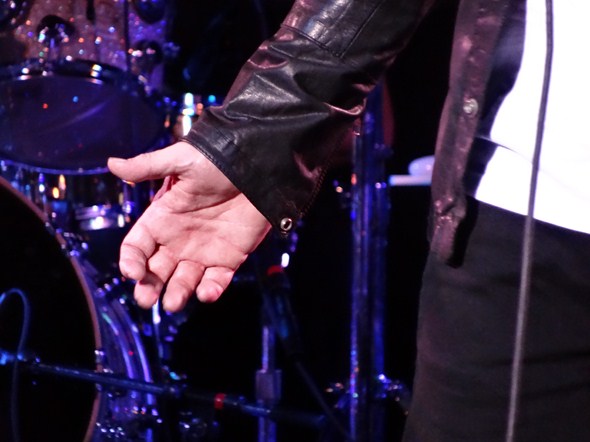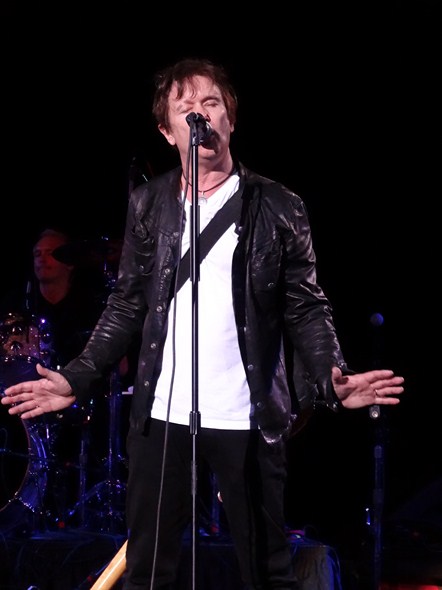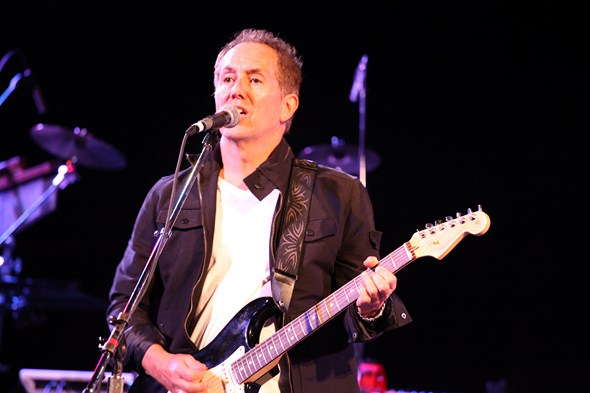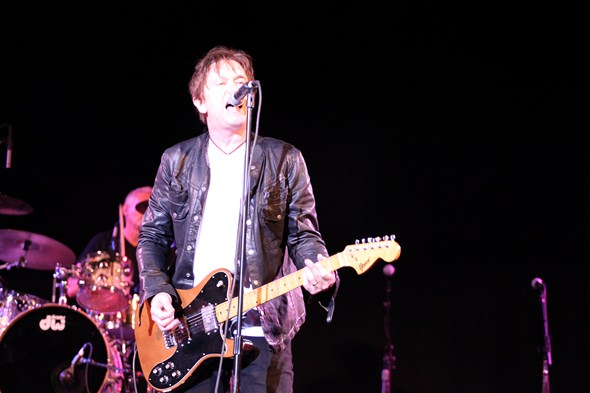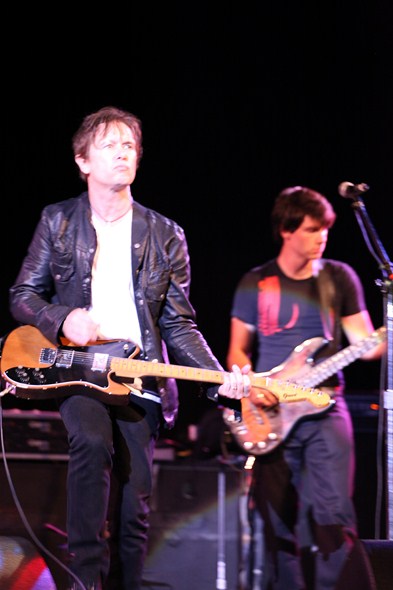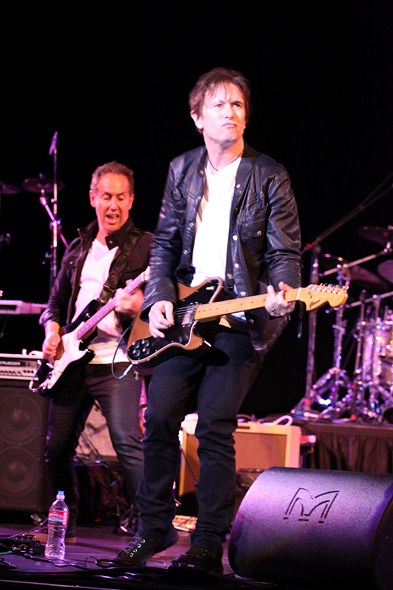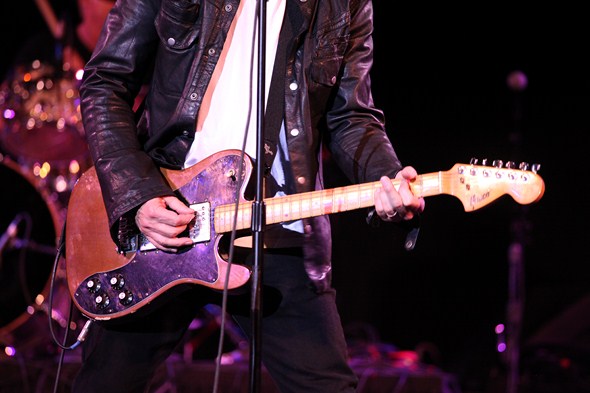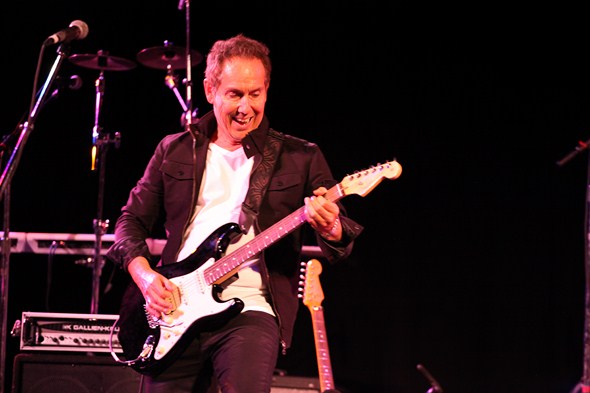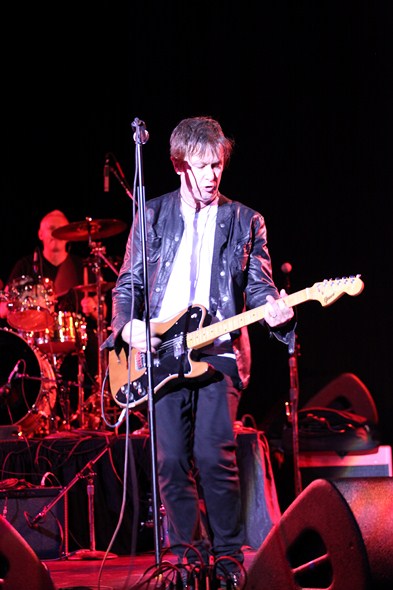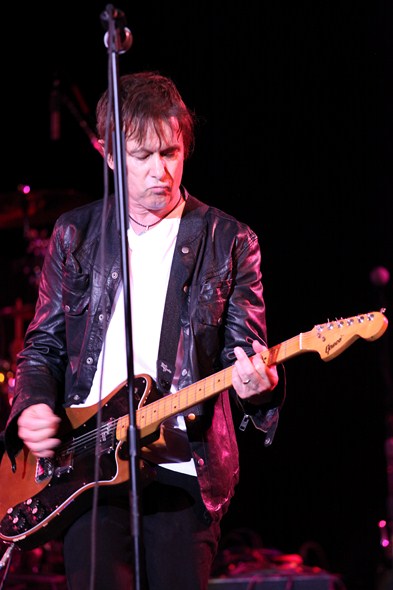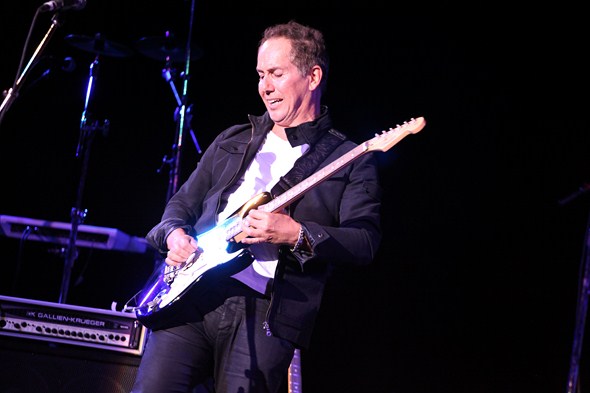 Bourgeois Tagg
Next up was Bourgeois Tagg (see official site and Facebook, Twitter, and YouTube accounts), which is actually considered a Sacramento band.  At the heart of the band is Brent Bourgeois and Larry Tagg.
I honestly never really followed the band during their active years in the 80s, in which they produced two albums (Bourgeois Tagg and Yoyo), apart from knowing their hit single "I Don't Mind At All", which to me sounds kind of like a Beatles cover, though it is not a Beatles song and is their own original work – it just sounds very much like a Beatles tune (which is a good thing).
The band appeared to have a lot of really big fans in the audience, and they put on a show that seemed to please them.
Below is the video I shot for "I Don't Mind At All":
Below are some photos I took of Bourgeois Tagg during their performance: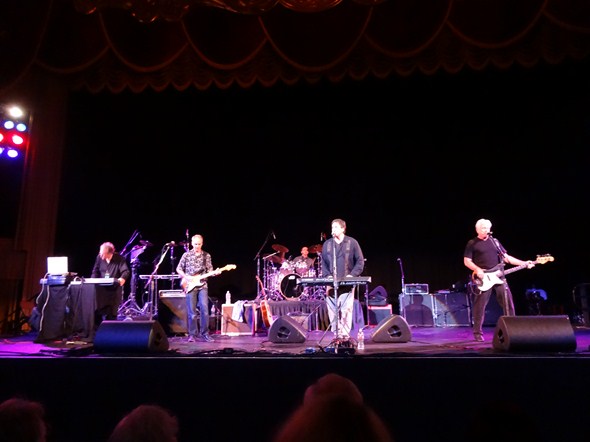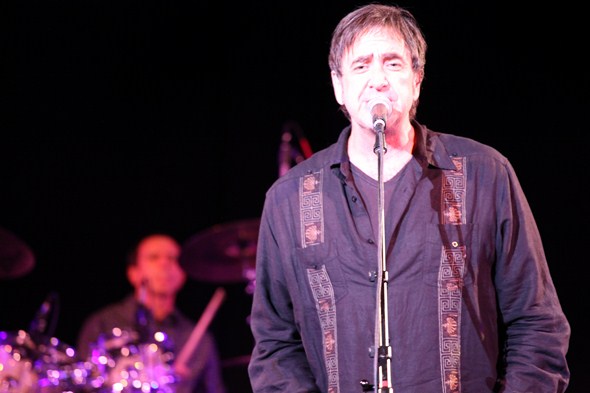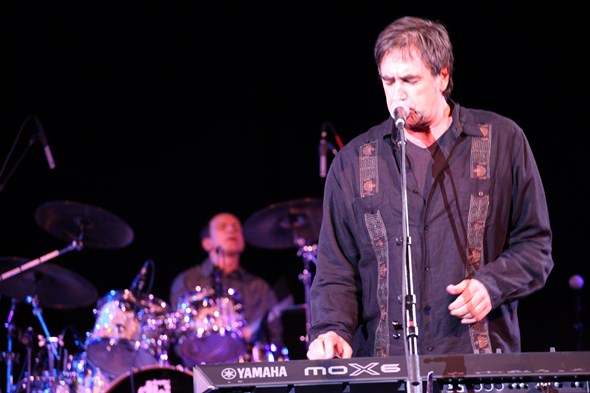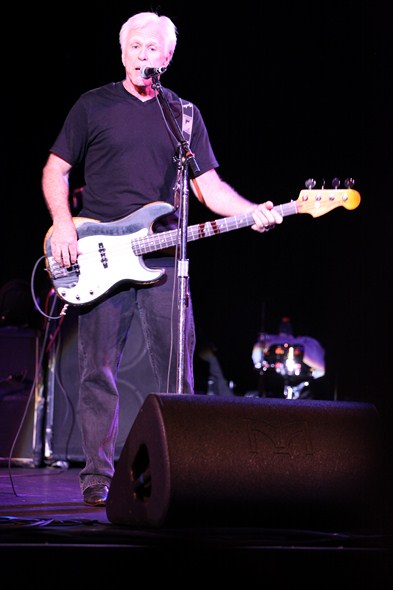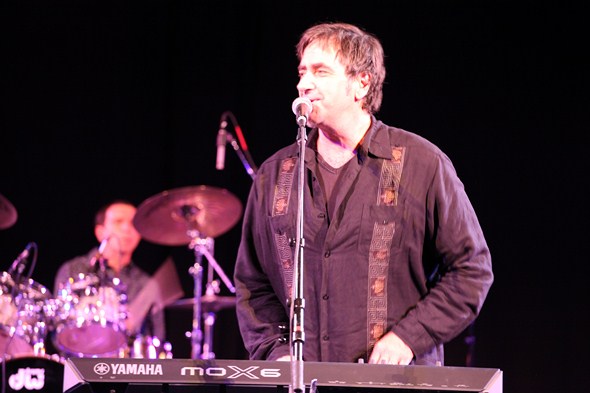 Martha Davis and The Motels
I was very excited that Martha Davis and The Motels (see official site and Facebook, and Twitter, accounts) were part of this event, as I'm a huge fan of her work and her incredible voice.
The Motels have a really interesting history, which is well documented on Wikipedia, though in their second incarnation were formed as a New Wave band in Los Angeles.  Their first single off of their 1982 album All Four One was "Only The Lonely", which is arguably their most known song, which charted to #9 and #6 on the Billboard Hot 100 and Top Tracks lists at the time.  This also lead to a music video on MTV which received heavy rotation.
In 1983, their next album, Little Robbers, included "Suddenly Last Summer" as its first single, and that was a huge hit as well.
Obviously, Martha Davis featured on vocals on both popular songs, and though more work was done through The Motels, she also produced some solo work as well, and then lead a third incarnation of The Motels as The Motels featuring Martha Davis.
I had a chance to meet Ms. Davis before the show, and she was absolutely amazing to chat with and she was kind enough to take a photo with me as well: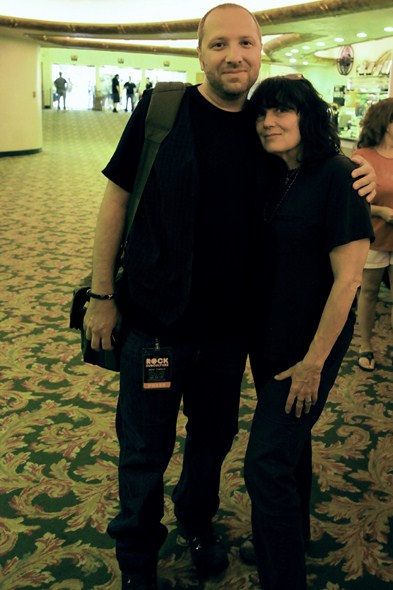 I'd never had an opportunity to see her perform live, and she blew me away – just loved her entire set, her stage presence, and "Only The Lonely" has always been one of my favorite songs of the 80s, so it was amazing to see it performed live.  As there were two empty seats in the front row for the first three sets, I moved down to one of them for The Motels (and the remaining bands), so it was awesome to have such a great vantage point in such an intimate setting.  For me personally, the full set by Martha Davis was the highlight of the night – just love her and her music.
Below is the video I shot for "Suddenly Last Summer":
Below is the video I shot for "Only The Lonely":
Below are some photos I took of Martha Davis and The Motels during their performance: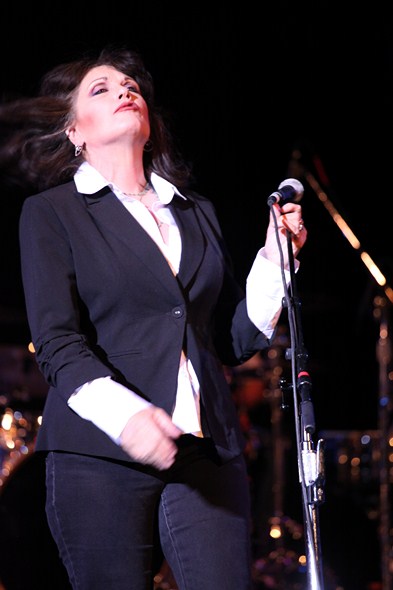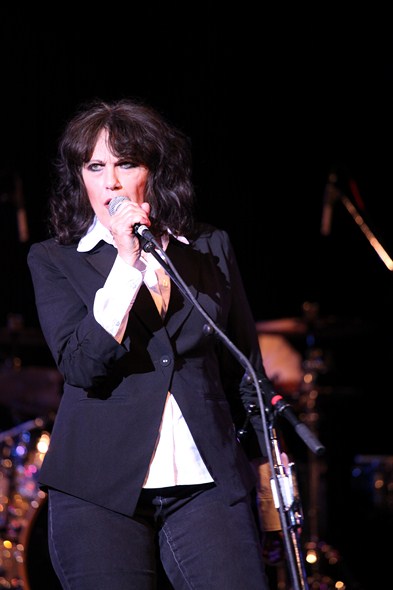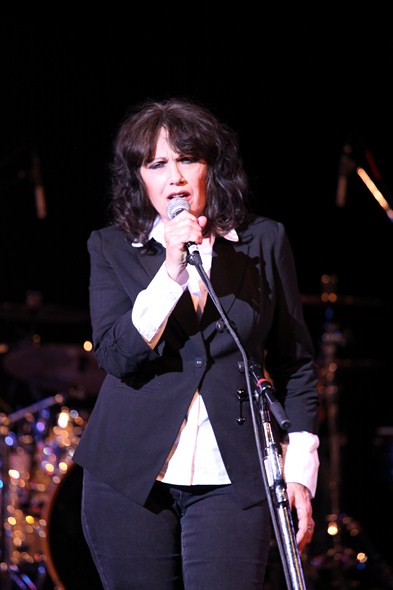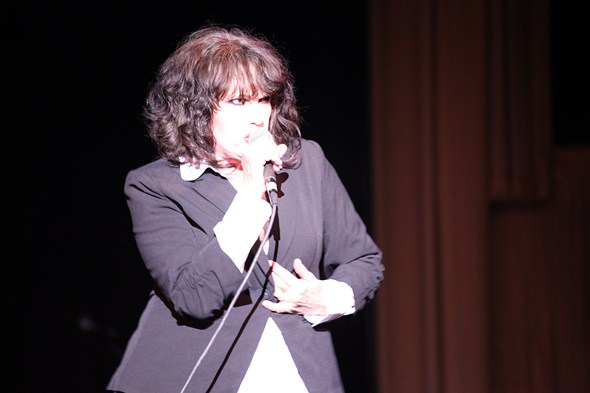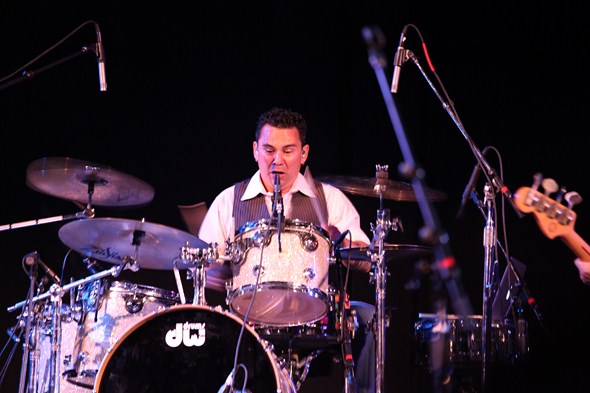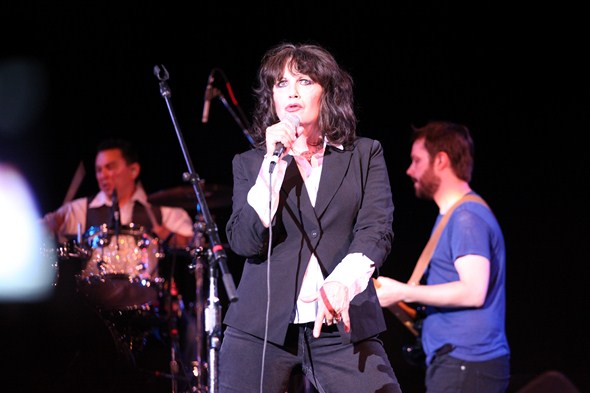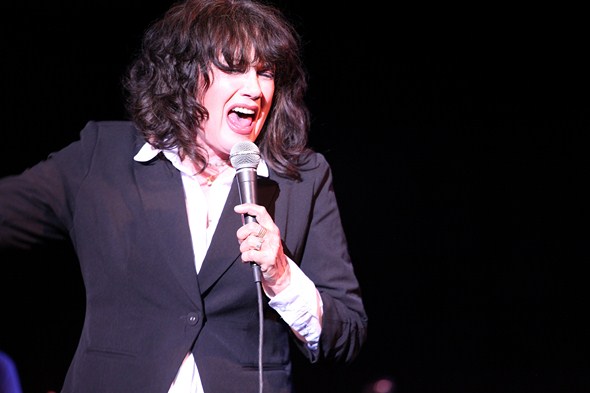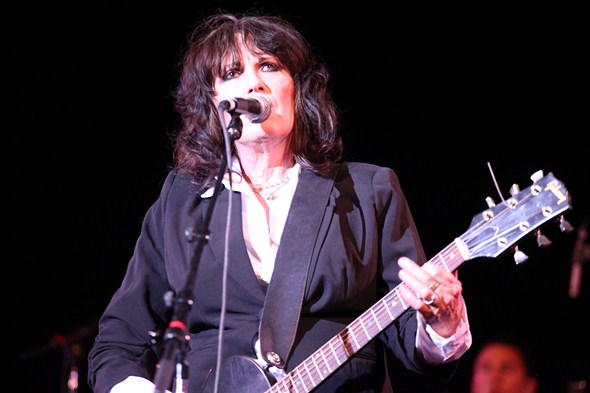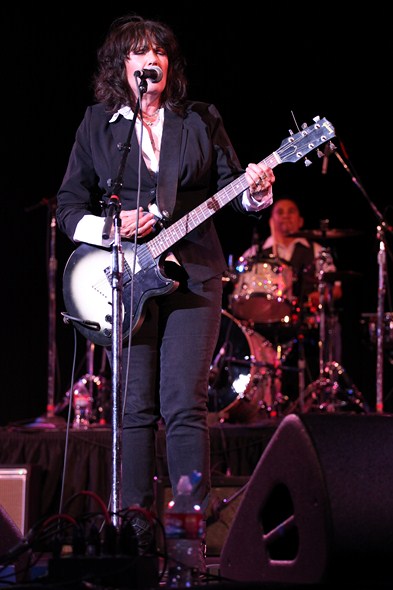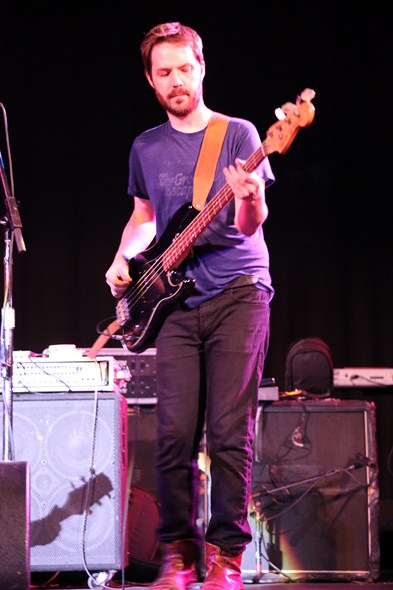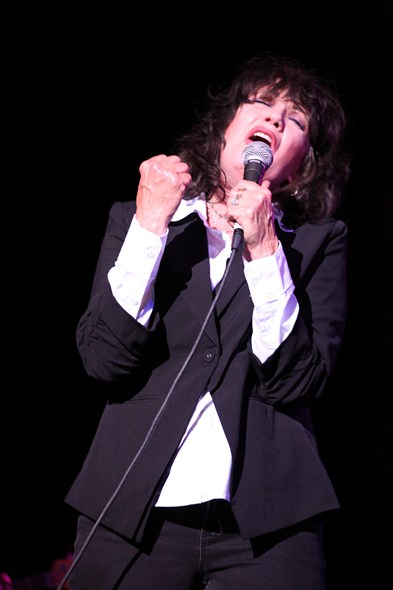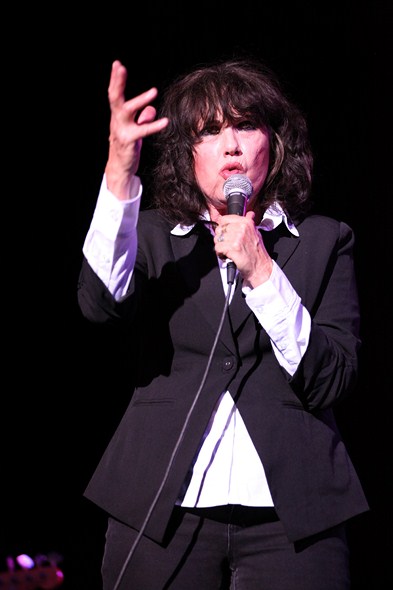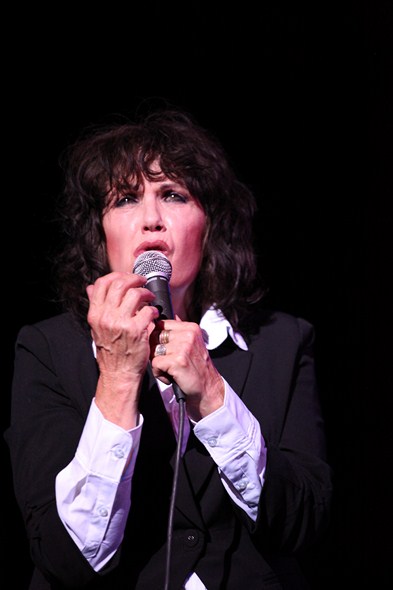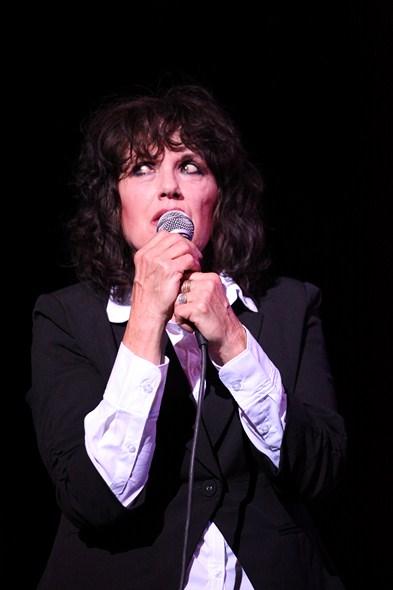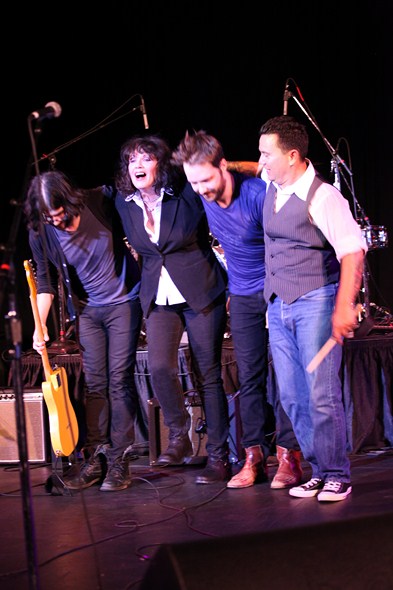 When In Rome UK
When in Rome UK (see official site and Twitter account) were next to perform.  As is the case with Gene Loves Jezebel, there are actually two formations of the band at the moment – a U.S. version with original keyboardist Michael Floreale and a UK version with original vocalists Clive Farrington and Andrew Mann (with the latter incarnation performing at this event).
The band originally formed in 1987, and had broken up by 1990.   In that time, they had released just the one eponymous album, which included the huge pop hit, "The Promise".  Funny enough, the band showed just that – tremendous promise – and I was always left wondering what might have been had they stayed together way back when, as their first album was outstanding, and "The Promise" was just a genius piece of work – one of my favorite songs from the 80s.
As was the case with Martha Davis, I had a moment to chat with Clive Farrington and Rob Juarez during the meet and greet – truly awesome guys – and they were kind enough to take a photo with me: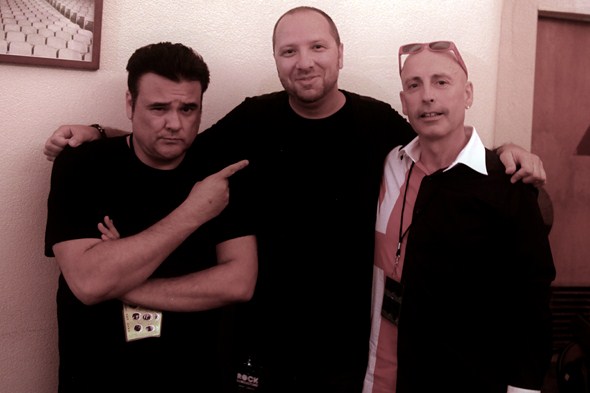 They had a really impressive stage set up, with Rob Juarez on electronic drums and percussion as well as backing vocals, Clive Farrington on lead vocals and keyboards, and Danny Phillips on guitar, with additional performers on cello and violin.
I loved their set and hope that they make some new music in studio, as they definitely have a unique sound and a great deal of talent.  Can't wait to see what they produce in the future, and would love to see them live again with a longer set.  They brought great music to the stage with a lot of style as well.
Below is the video I shot for "The Promise":
Below are some photos I took of When in Rome UK during their performance: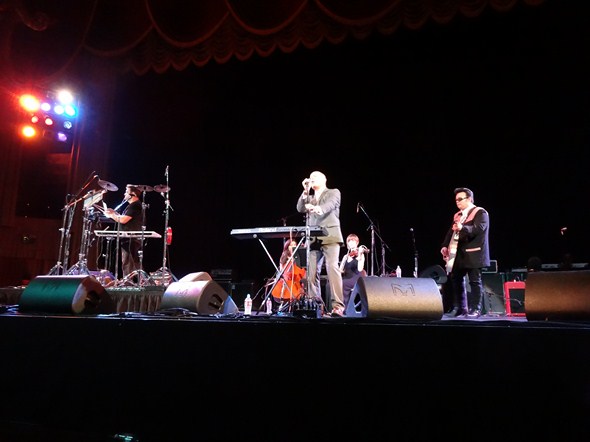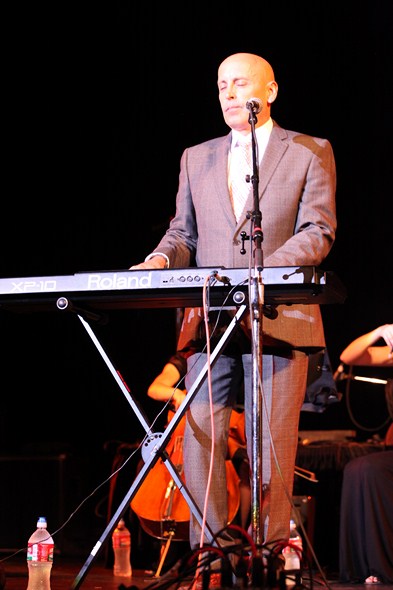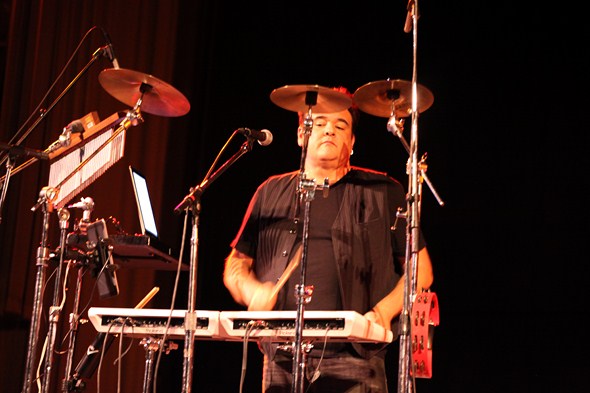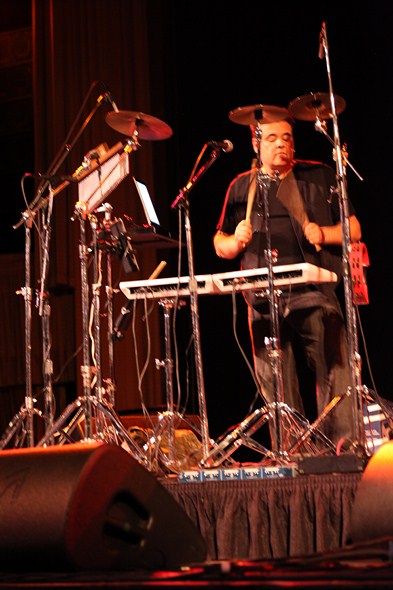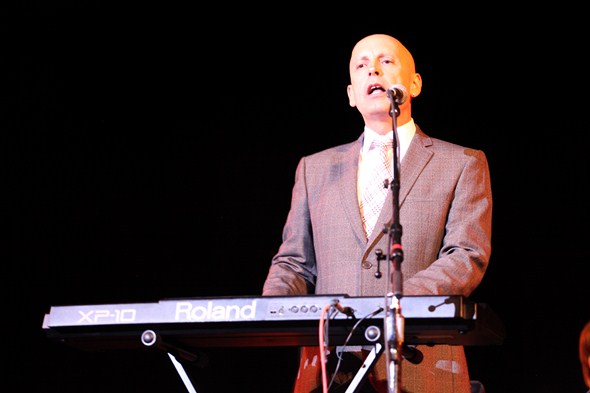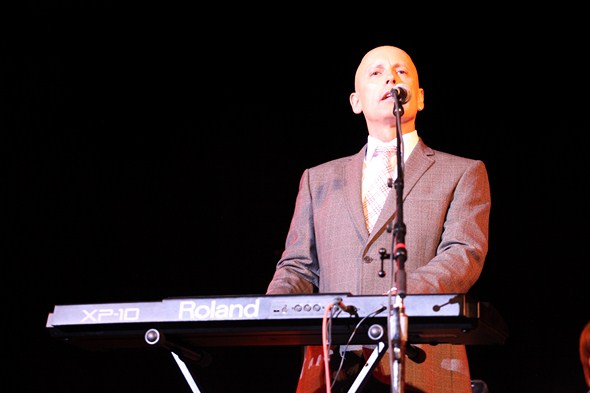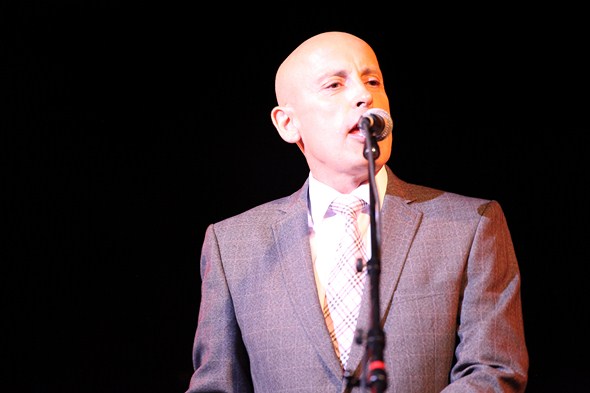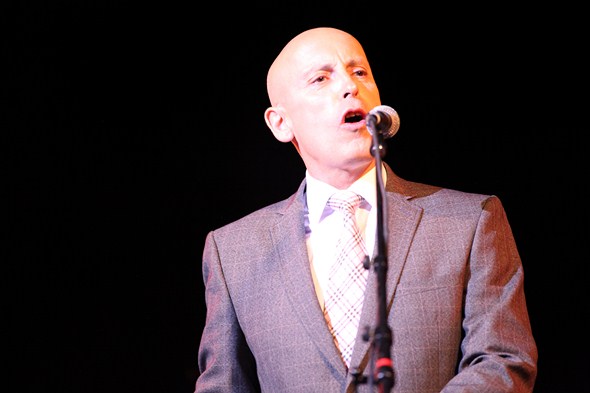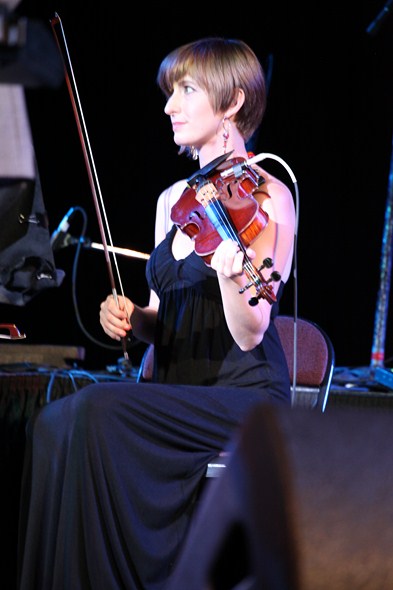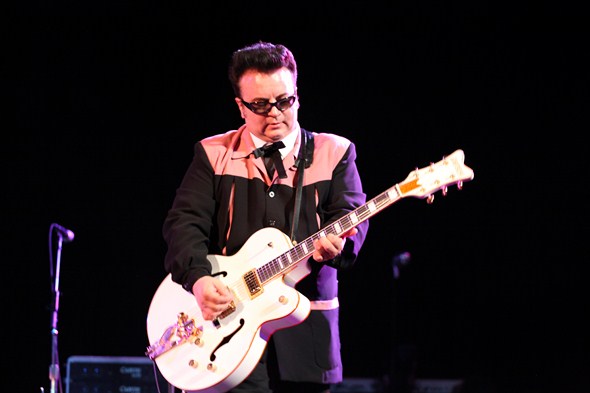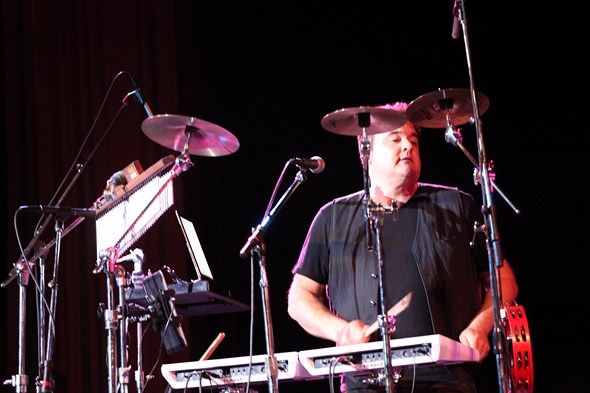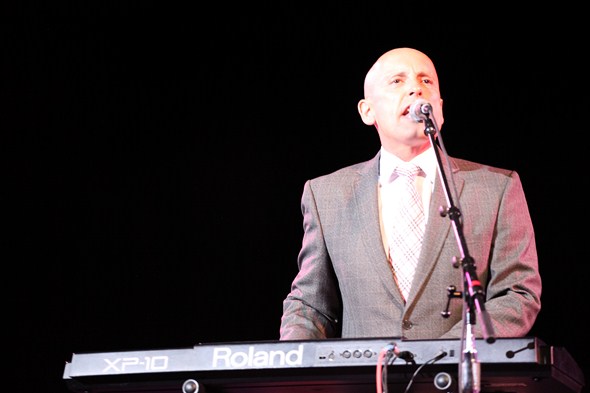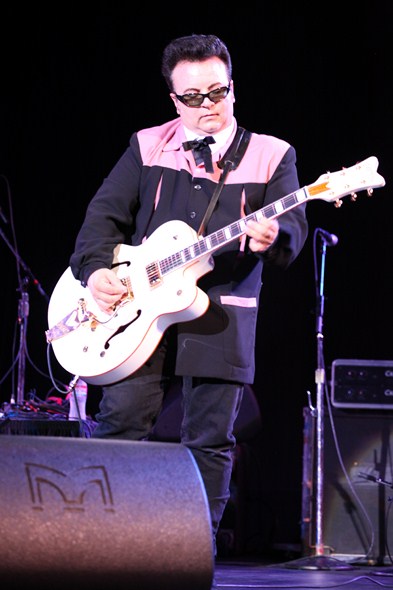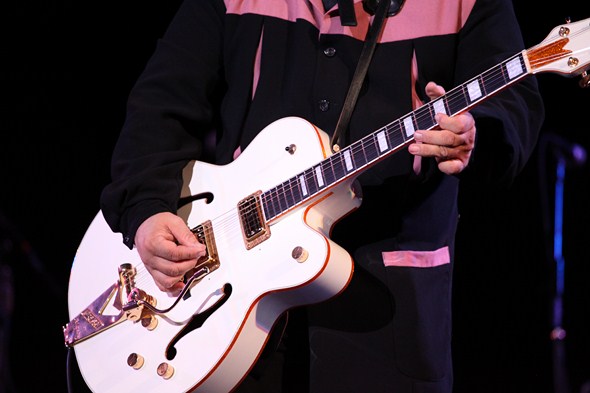 A Flock of Seagulls
Headlining the show was A Flock of Seagulls (see official MySpace site), truly one of the best known bands of the 80s from their hit, "I Ran (So Far Away)".
The New Wave band was formed in Liverpool, England in 1979 by brother Mike Score (vocals, keyboards, guitar) and Ali Score (drums).  After filling out the band, they found their greatest success with two singles off of their eponymous album released in 1982 with the aforementioned "I Ran" and "Space Age Love Song".
The video had tremendous rotation on MTV, and the unique style and irreverent presentation, along with the distinct style (and now infamous "Flock of Seagulls" hairstyle) launched them into the pop culture lexicon on many fronts.  The band, the sound, and the images were synonymous with the 80s.
The band was really cutting edge from the start, and maybe more than people appreciated until many years later, and obviously was a huge influence on many bands that followed.  In a short time, they had a huge impact on the music scene and direction of music in the 80s.
It was really awesome to have an opportunity to chat a little with Mike Score during the meet and greet before the show, and have a few laughs about an element of the "I Ran" video that I always thought was a brilliant commentary on music in the early 80s – when he is holding down one key on the keyboard with one finger, then deftly switches to a finger on his other hand.
Mike Score and guitarist Joe Rodriguez were kind enough to take a photo with me prior to the show: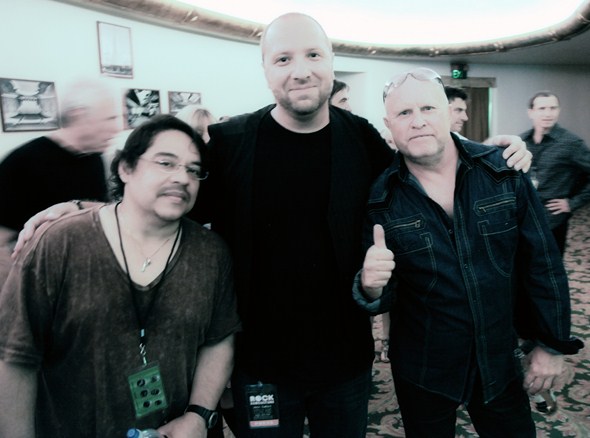 It was incredible to see them play live, and for their set, the audience was allowed to leave their seats and have an impromptu GA pit in front of the stage, which was all the more cool to experience their awesome music.
Below is the video I shot for "Space Age Love Song":
Below is the video I shot for "I Ran (So Far Away)":
Below are some photos I took of A Flock of Seagulls during their performance: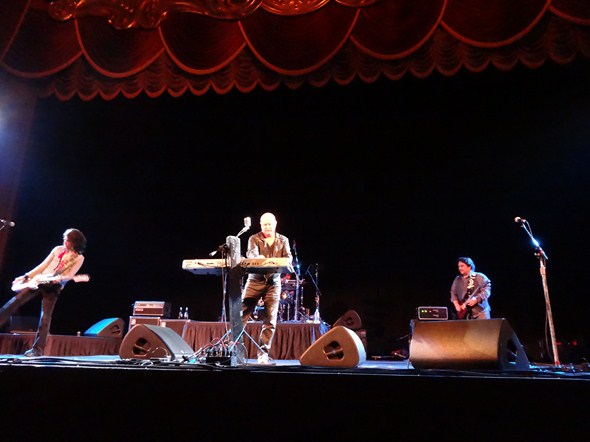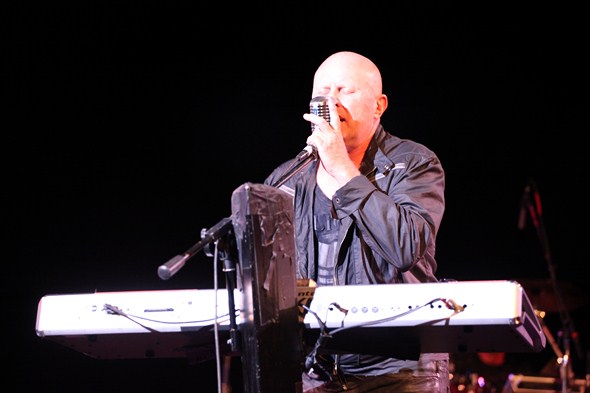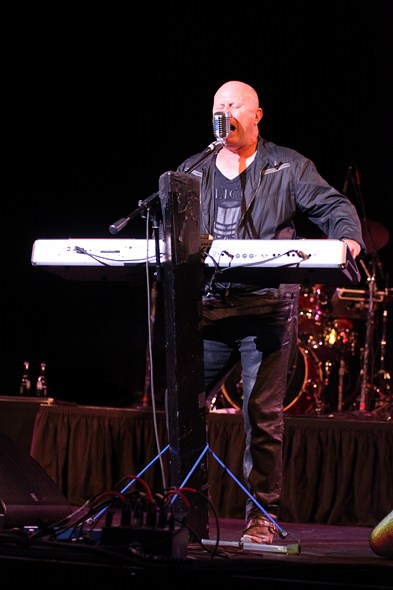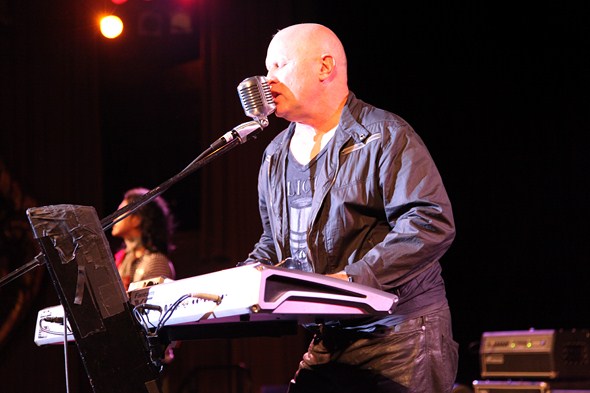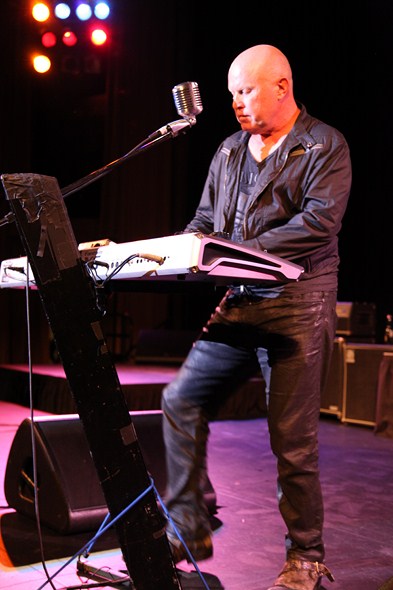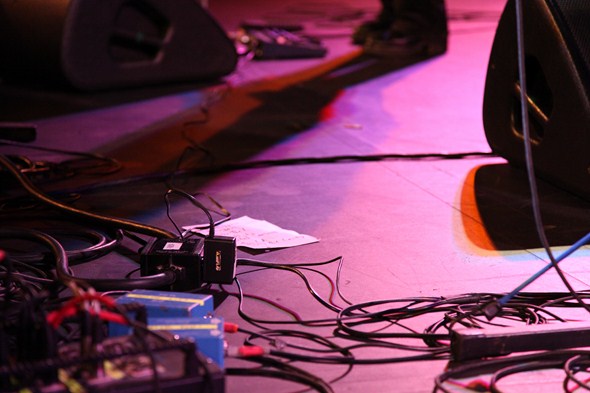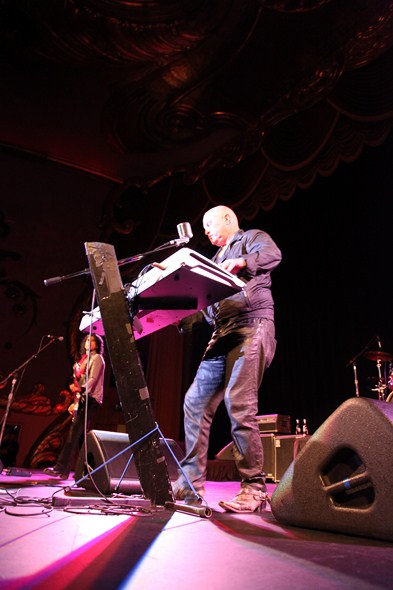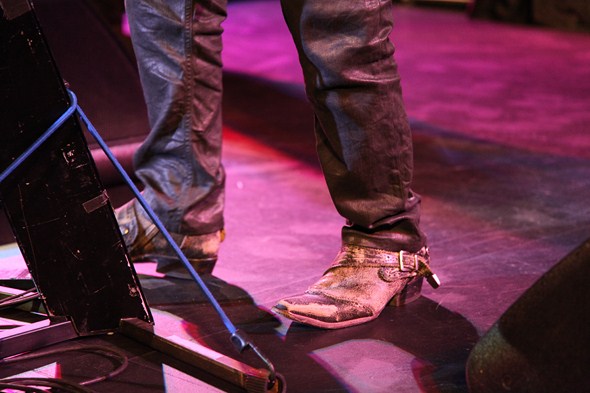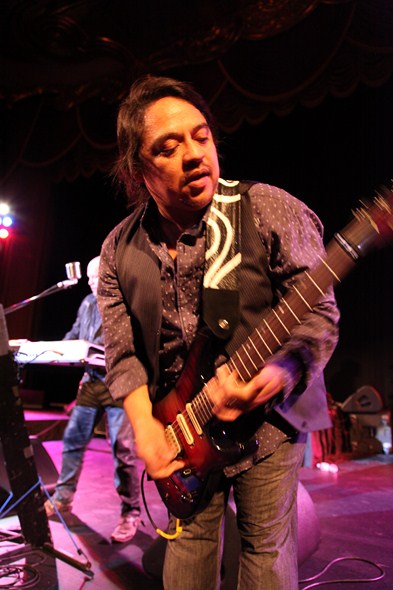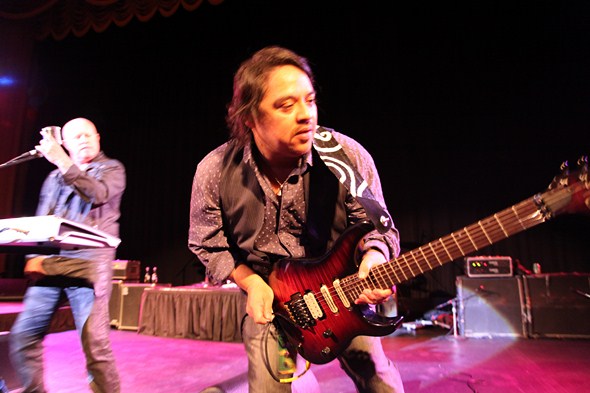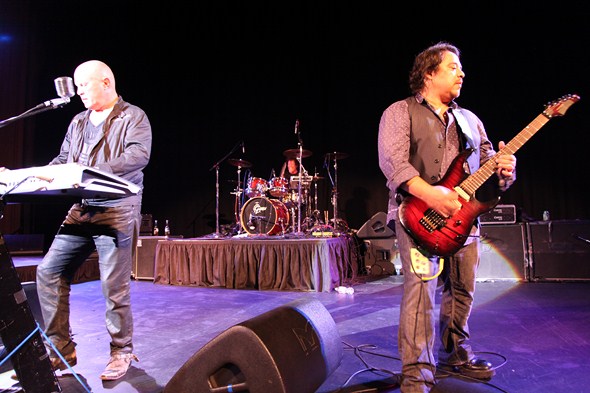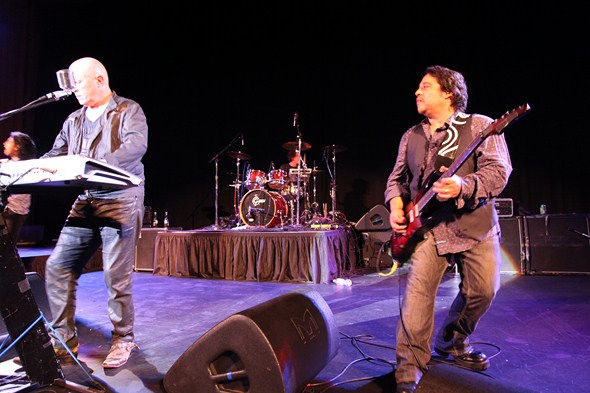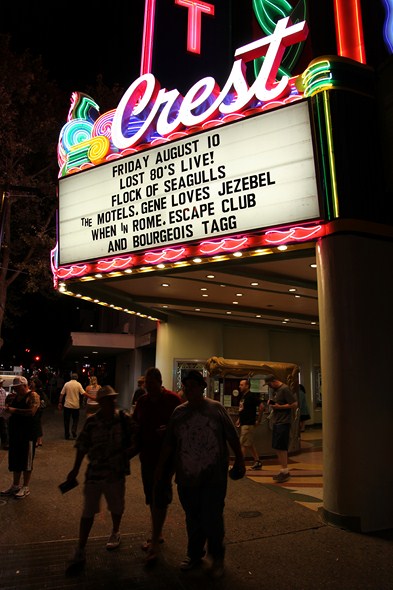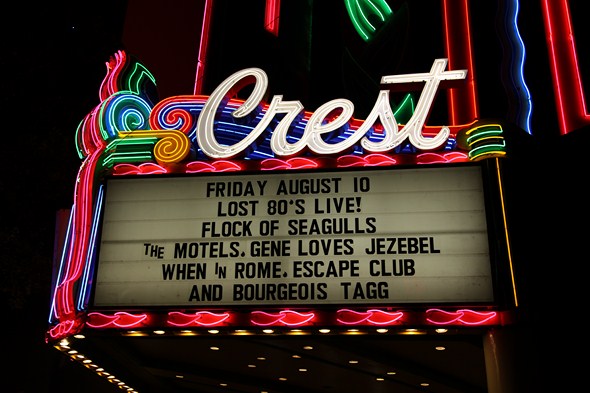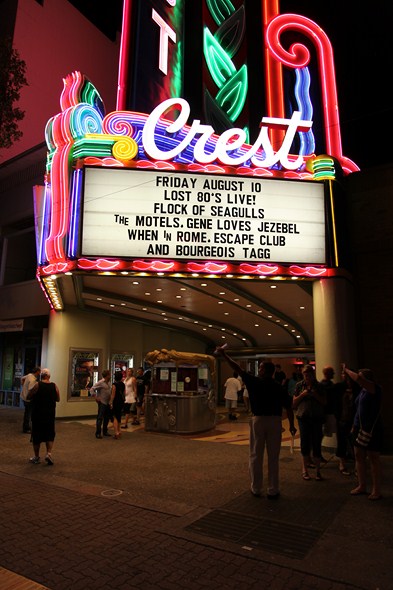 Jason DeBord