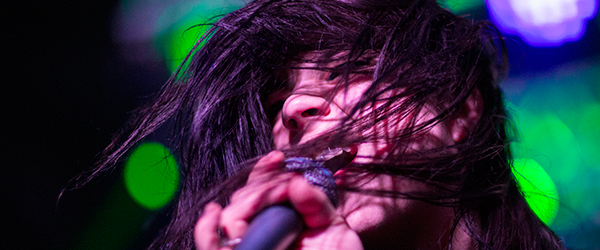 "I wanted to give a shout out to the other bands that played tonight; weren't they all so hot?  I was like, 'damn, I got some work to do tonight – those bitches were hot!'"  Kitten's Chloe Chaidez giving props to the other two amazing bands sharing the stage with her at Cargo at the Whitney Peak Hotel Thursday night, which also featured Jessica Hernandez & The Deltas and Bomba Estéreo.  Kind of a triple headliner show, each act put on incredible sets with tons of energy, with the awesome lighting and sound at the Cargo giving them a lot to work with to showcase their unique approaches to their music.  As this was all filmed by PBS member station's KNPB, each set will be an episode of the upcoming television series, Cargo Live at Whitney Peak Hotel, due to start airing early next year.

Who: Kitten
Who: Jessica Hernandez & The Deltas
Who: Bomba Estéreo
Venue: Cargo at the Whitney Peak Hotel
Where: Reno, Nevada
In Association With: KNPB
When: September 4, 2014
Seating: General Admission (I had a photo pass but spent most of the show standing in the front row)
This event took place at Cargo, the new concert venue at the newly renovated Whitney Peak Hotel in Downtown Reno, Nevada.
Whitney Peak Hotel is Reno's only full-service, non-gaming and non-smoking hotel, and within is Cargo, their state-of-the-art concert venue, which has a 1,000 person capacity.  Previously, the property was Fitzgeralds Hotel Casino & Hotel.  It is in a prime location in downtown Reno, right next to the famous "Biggest Little City in the World" sign.  Whitney Peak Hotel opened in May of this year.
This concert was taped by Northern Nevada/Northeaster California PBS Member Station KNPB for their upcoming television series "Cargo Live at the Whitney Peak Hotel".  The series will feature 13 artists, and each will have their own 30-minute episode.  It is expected that this will begin airing early next year.  It will also be available via their website, KNPB.org.
I go to a lot of concert venues all over the world, and I was extremely impressed with Cargo.  It is beautiful, with a modern-industrial decor and everything about it is quality – they didn't cut corners anywhere.  It is very inviting with its open layout and fantastic lighting all around and comfortable seating, with a mix of casual open seating and standing for the concerts.
I arrived early and was waiting inside during the soundcheck, and I was impressed with the attention to quality and cleanliness employed by the bar staff.  There seemed to be a lot of pride in the work done by everyone inside, from sound to staging and everything in-between – everyone was super friendly and professional.
The stage was wide, deep, and low, giving a great experience for the fans.  The sound system was top notch – probably the best sound I've ever heard in a venue of this size and scale.
Dan Bishop with Cargo did an awesome job managing the show as well as introducing the bands onto the stage.
Overall, it reminded me a bit of two other venues – The Depot in Salt Lake City and SoDo in Seattle.
Most definitely my favorite new concert venue of 2014, and I will look for any excuse to come back for future concerts.  People should definitely check it out; you will not be disappointed.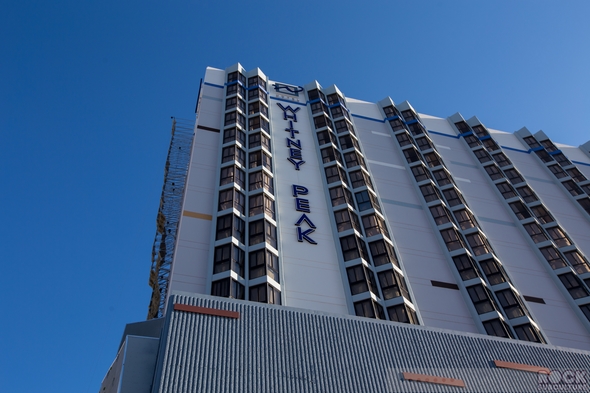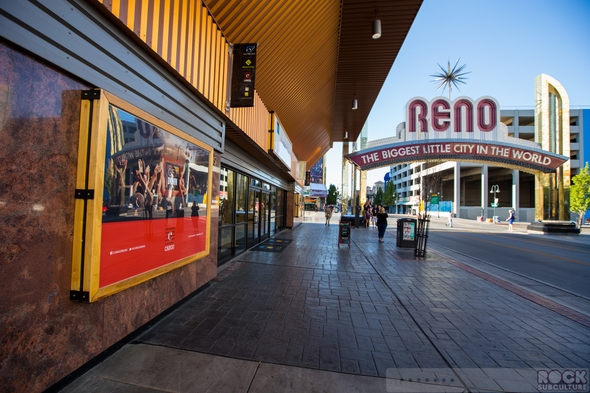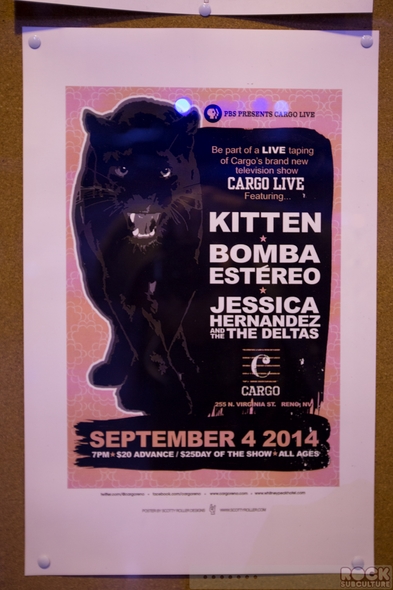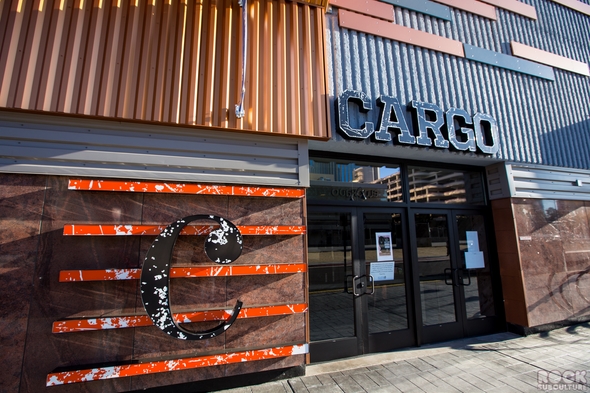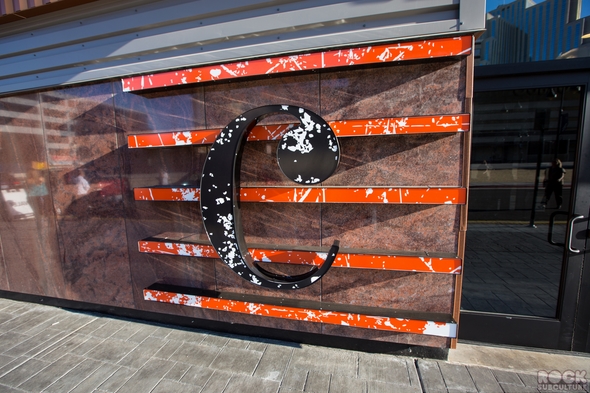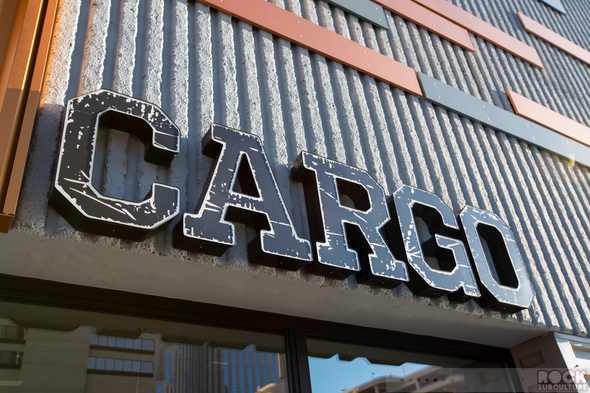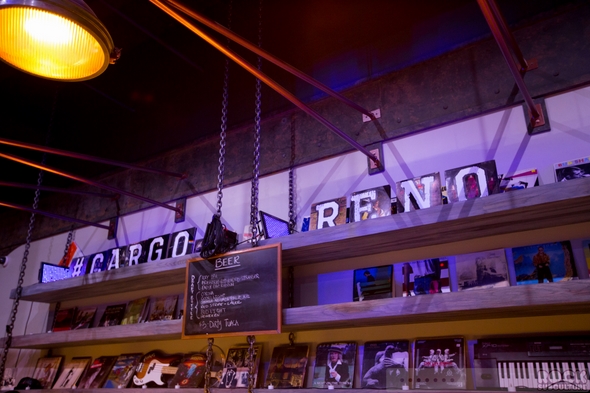 Bomba Estéreo
Members
Liliana Saumet (vocals)
Simón Mejía (bass & synth)
Kike Egurrola (drums)
Julián Salazar (guitar & machines)
Bomba Estéreo are from Bogota, Columbia.  I'd never heard of them before this show, and I was inside for the sound check, and was feeling like I didn't quite get or connect with their music.  But…  once they came out to perform on stage, I realized the sound check was literally just that, and didn't reveal much about their actual music, which left me very impressed and intrigued.  Quite the awesome band, and each member contributes much to their sound.
I found a quote from the band's bass and synth player that their named (which translates into English as "stereo bomb") is a Colombian term for "a really cool, awesome, bad ass party".  And I think that pretty much sums it up.
They formed in 2005, and have released a number of studio albums in that time.  Their latest, Elegancia Tropical, came out in 2012.
It's interesting listening to pop music in another language, because it frees up your mind to really focus on the music and not the lyrics and meaning of the lyrics, and is much more of a focus on how it affects you without any filters.  I really loved what they put out and found it catchy and instantly accessible.
They really mix together Latin, electronic, and rock together beautifully – a real soundscape of textures and rhythm.
The band certainly sold me on what they are doing, and I purchased everything that they currently have out on iTunes.
You can sample one of their live performances on YouTube via "Live on KEXP" – LINK
I have to particularly highlight drummer Kike Egurrola – the man is amazing.  One of the most impressive drummers I've seen.  And I think the first time I've seen a drummer keep the beat by blinking!
In any event – truly awesome band and one that I'm into now that I've seen them play.
Below are photos of Bomba Estéreo (click any image for higher resolution versions of each photo):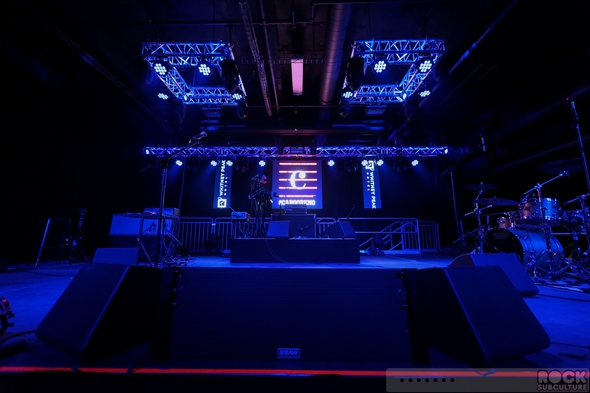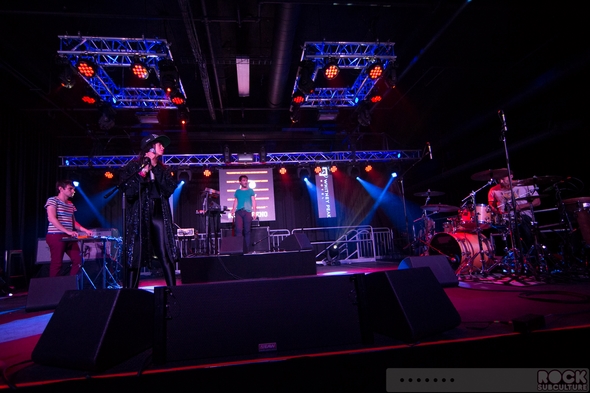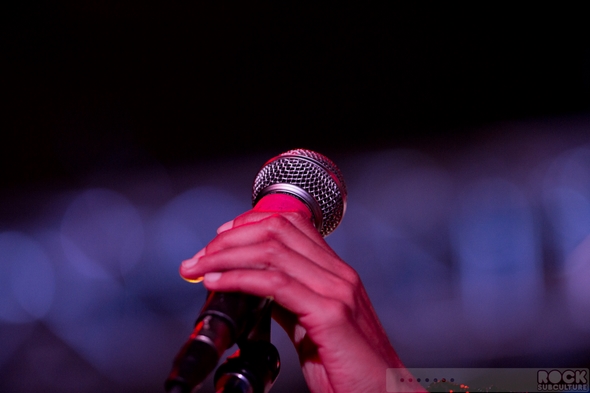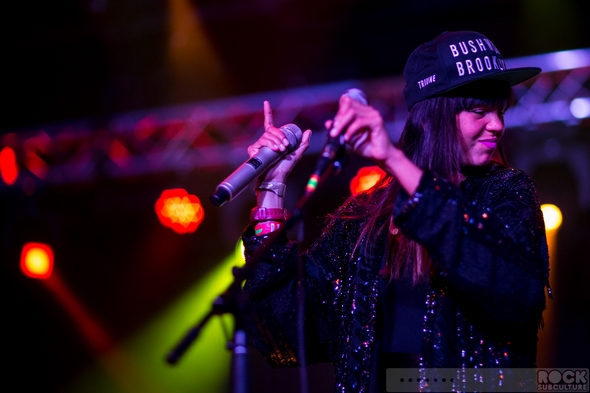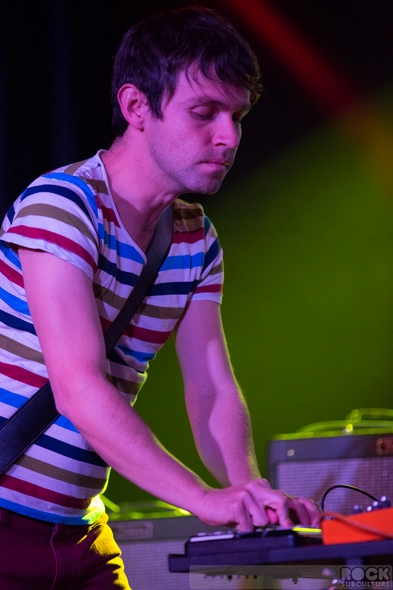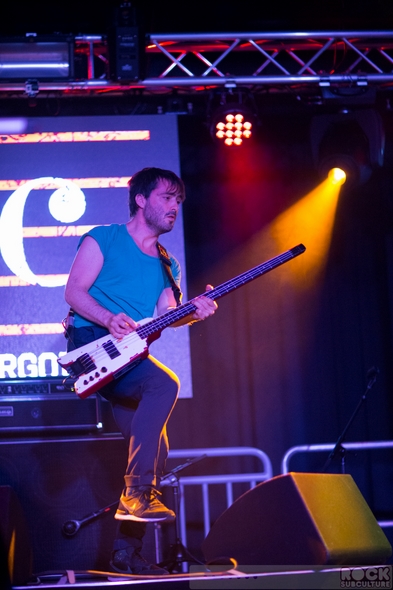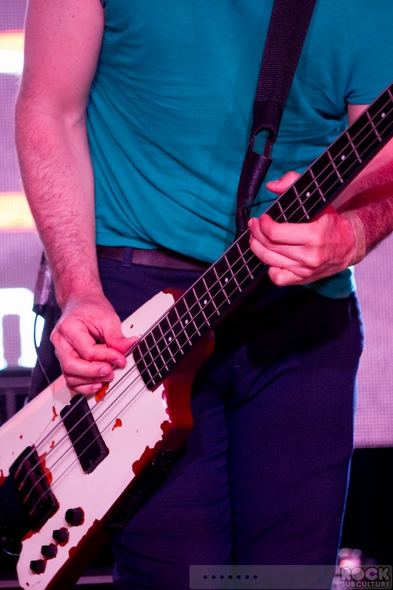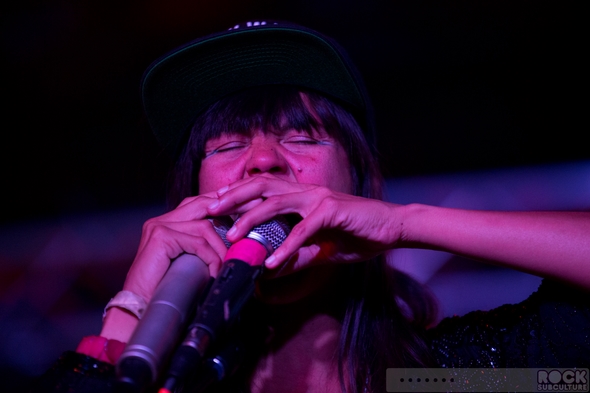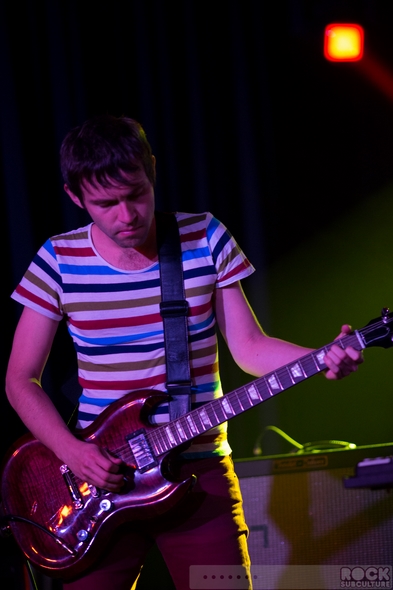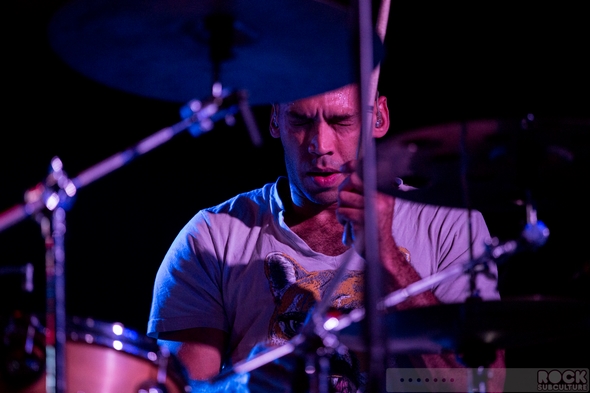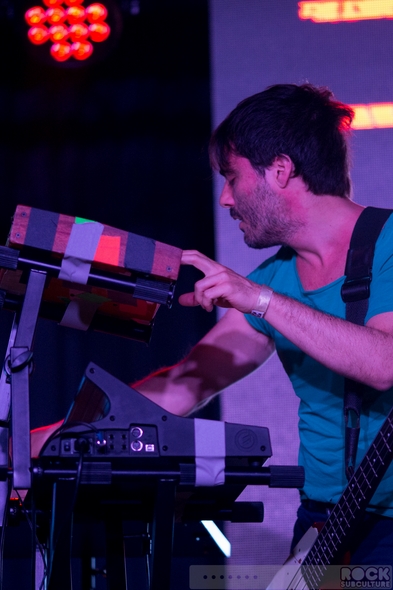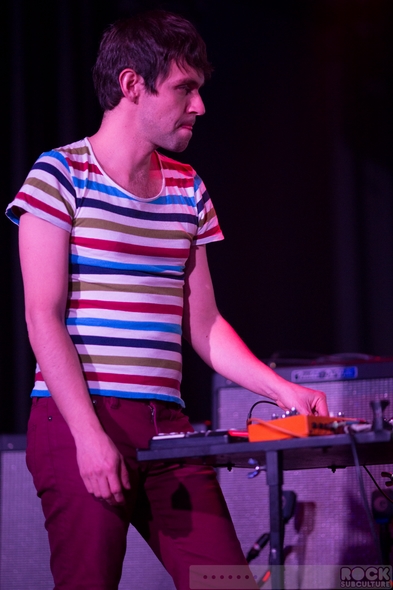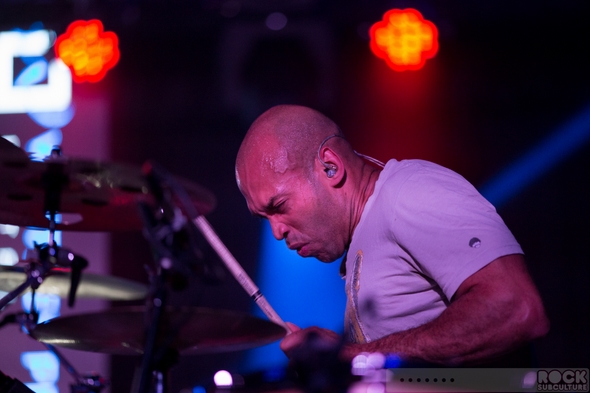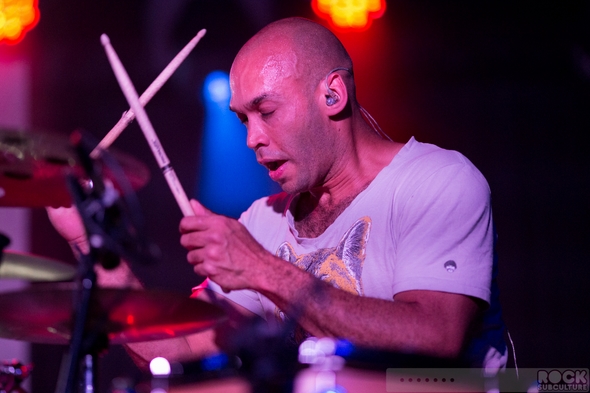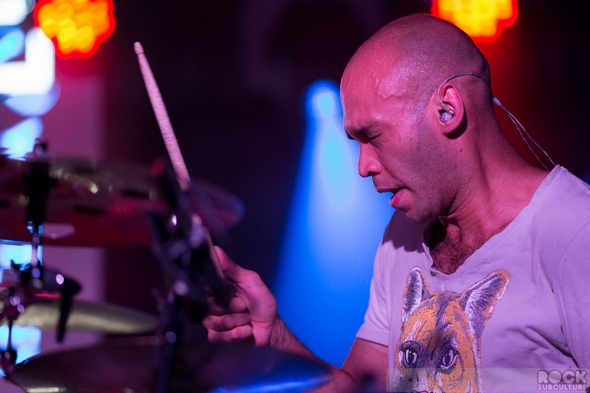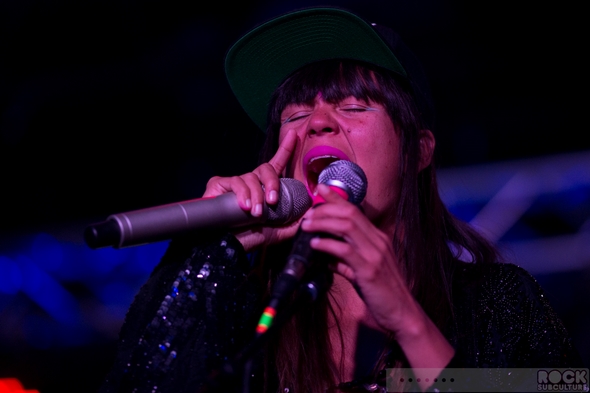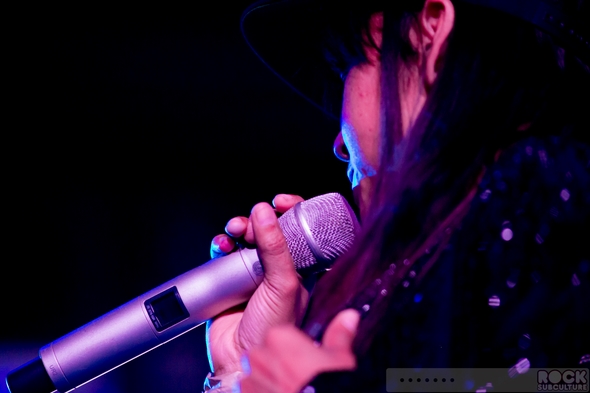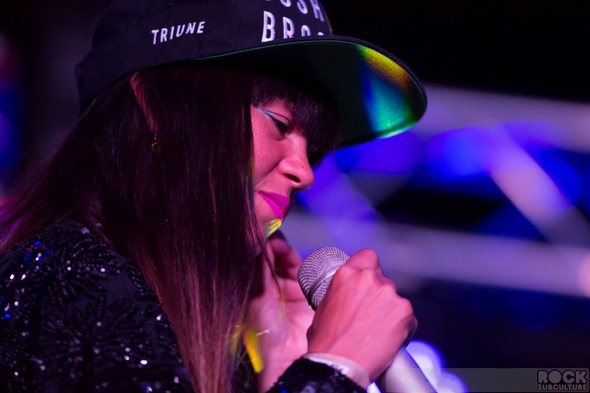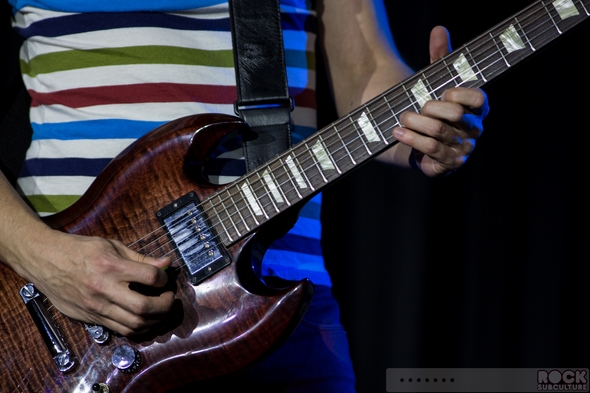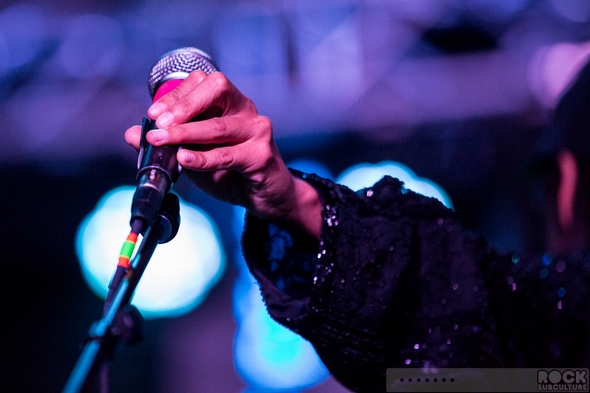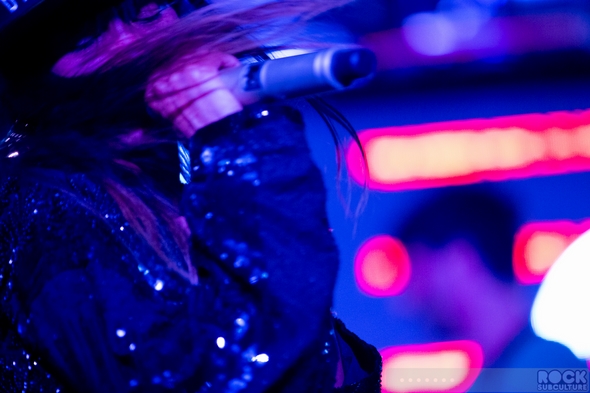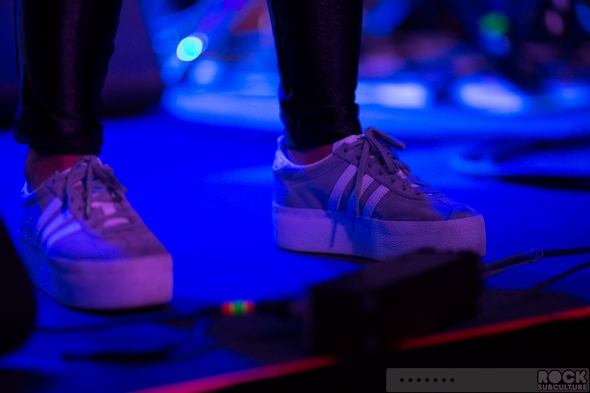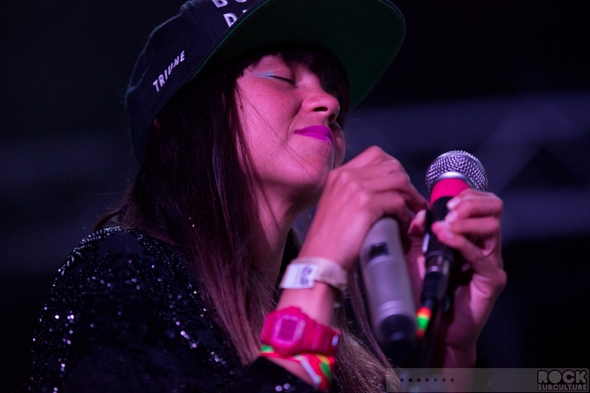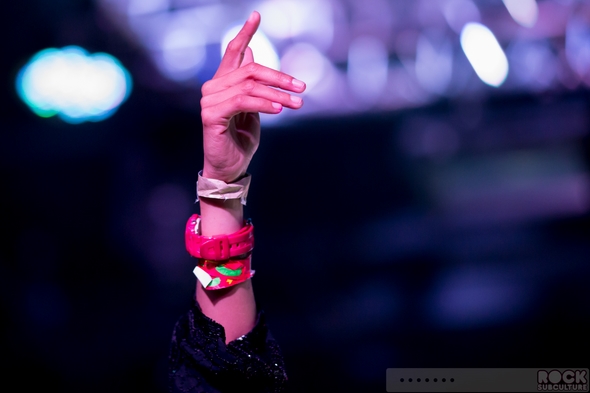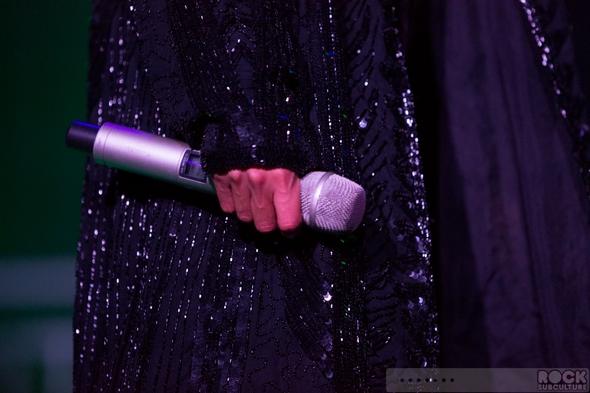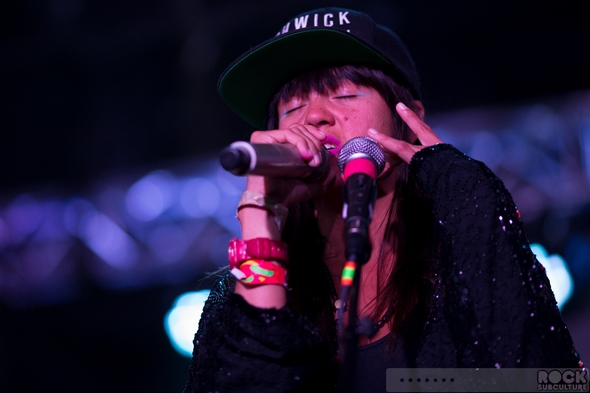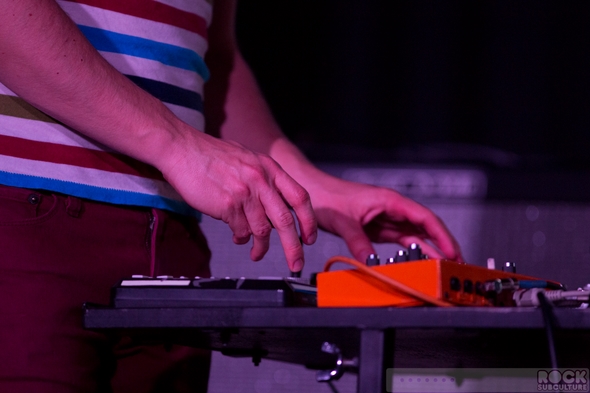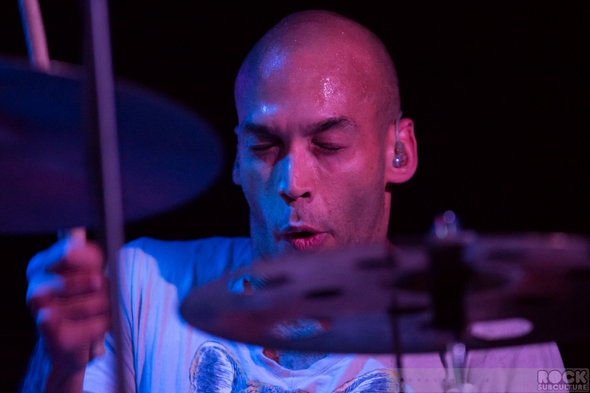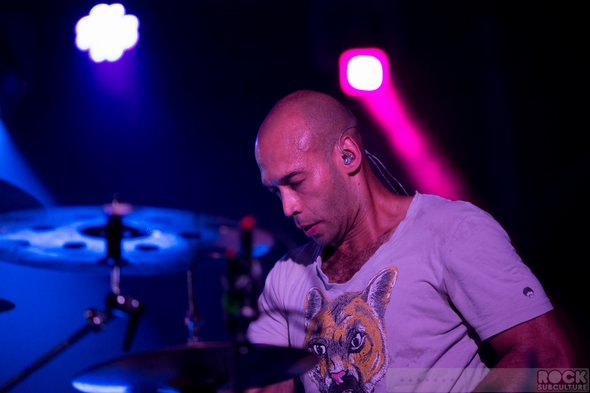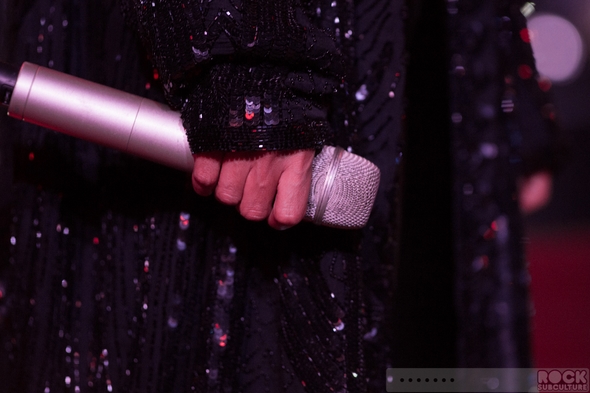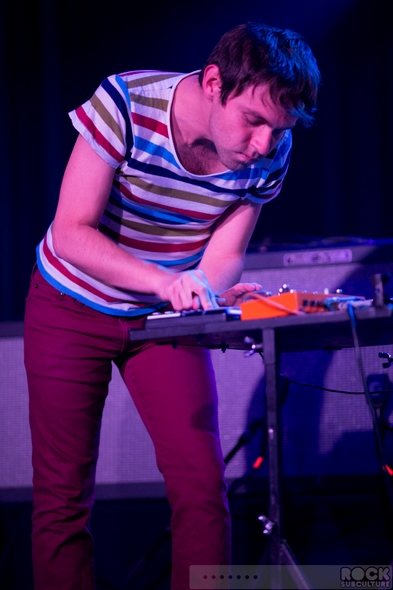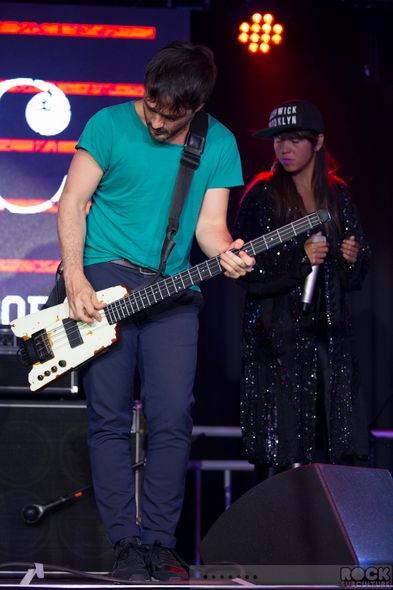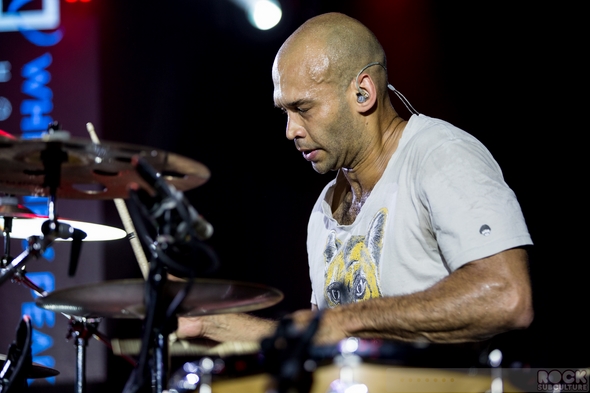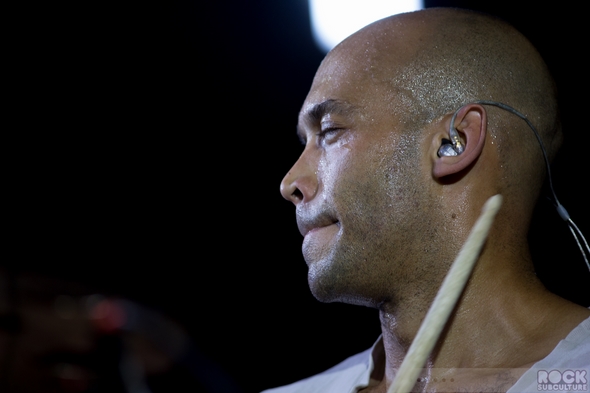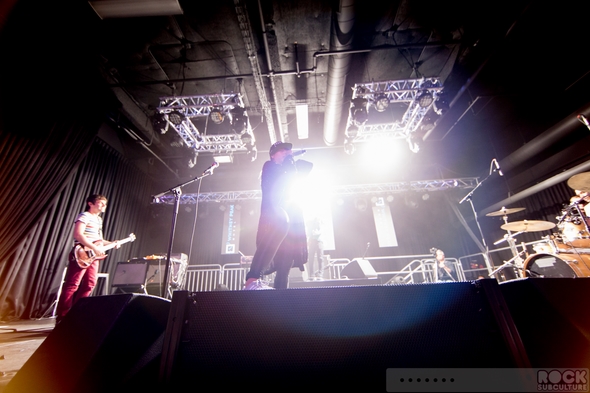 Jessica Hernandez & The Deltas
Members
Jessica Hernandez (vocals, guitar, keys, percussion)
Michael Krygier (guitar and vocals)
Steve Lehane (bass and vocals)
Taylor Pierson (keys, accordion and vocals)
John Raleeh (trombone)
Stephen Stetson (drums)
I'd never heard of Jessica Hernandez & The Deltas prior to hearing about this concert event last week, and did not have the time to preview their music leading up to the concert.  I ended up sitting in on the sound check, and was absolutely blown away by their music.  I was so excited about hearing their full set thereafter, and they certainly did not disappoint.
The Detroit-based band just released their first LP, Secret Evil, a couple of weeks ago.  I purchased it on iTunes today, and can't wait to give it a full listen.  If it is anything like their live set, I expect it to be one of my favorites this year.
The band has a very "full" sound, with a full band including trombone (I always feel that horns add so much character to popular music).
All of this is rooted in Jessica's incredible, incredible voice.  I can't overemphasize how impressed I am by her vocals – she has that combination of power, range, character, and quality, and she knows how to deliver this gift in a unique and intoxicating manner.
They have such a different sound too…  a distinct Motown influence, but definitely some classic rock and roll, R&B, and pop, all blended in a a way that works beautifully.
On stage, Jessica has a lot of fashion sense and style (kind of reminded me of a young Gwen Steffani) and is a natural performer.
I really loved this band and their set, and will definitely be delving deep into their music, and plan to catch them live again the next chance I get.  Definitely a band worth checking out, as I expect that they will find much success going forward.  They are one of those bands that are so good and talented, and their music so immediately catchy and accessible, I think it is just about exposure, as I know I will be telling my friends about them, and I'm sure that's a typical impulse for anyone exposed to their sound.
Below is a photo of one of the set lists on the stage: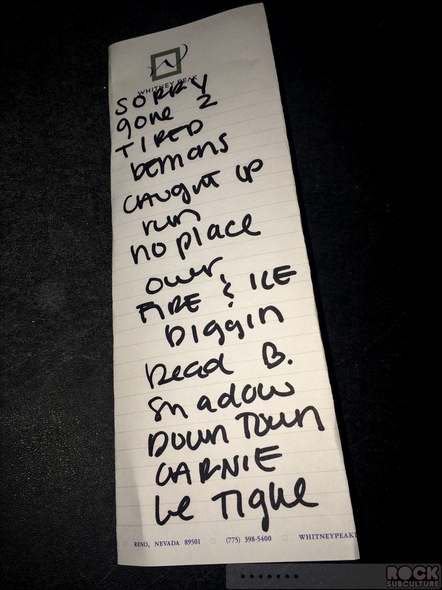 Below is the set list from their performance:
Sorry I Stole Your Man
Gone in Two Seconds
Tired Oak
Demons
Caught Up
Run Run Run
No Place Left To Hide
Over
Fire & Ice
Big Town
Dead Brains
Shadow Boy
Downtown Man
Picture Me With You (Carnie Threesome)
Deceptacon (Le Tigre cover)
Below are photos of Jessica Hernandez & The Deltas (click any image for higher resolution versions of each photo):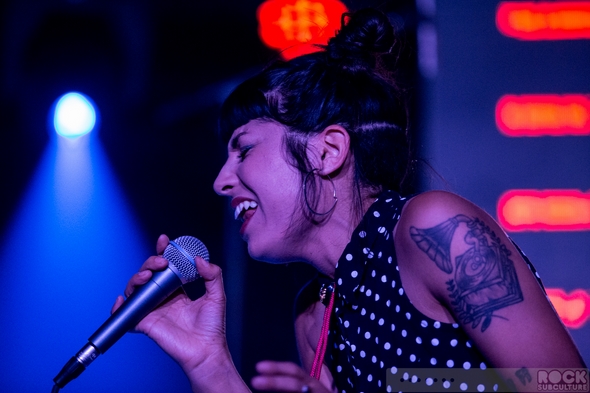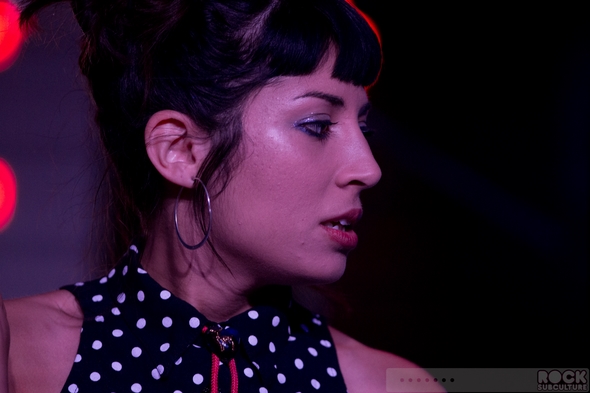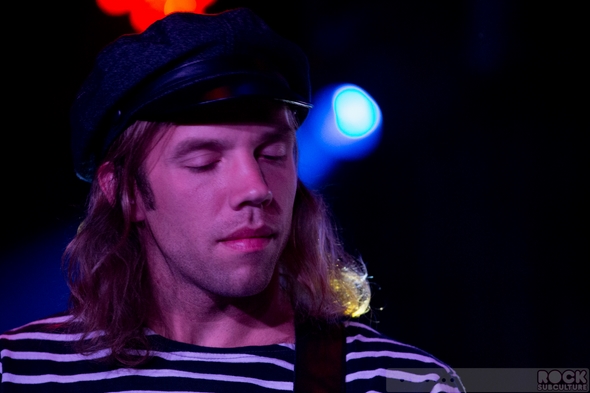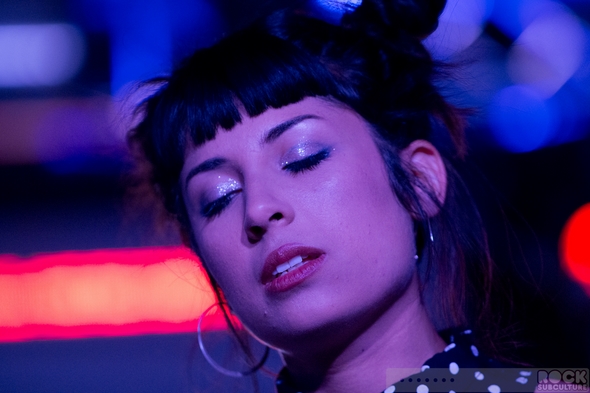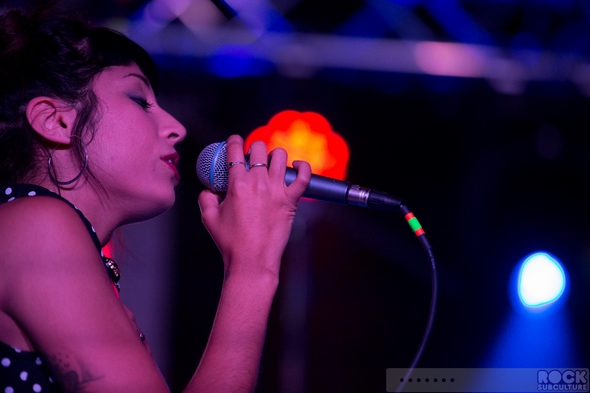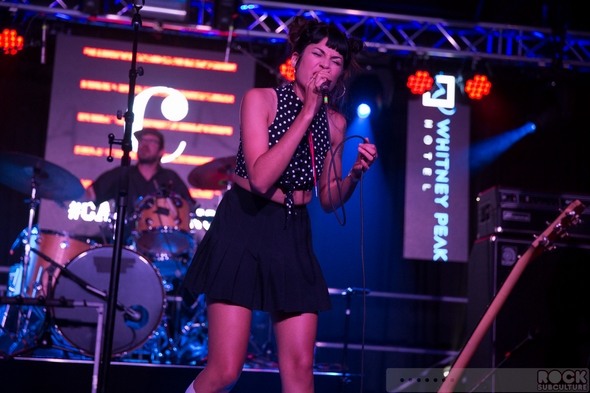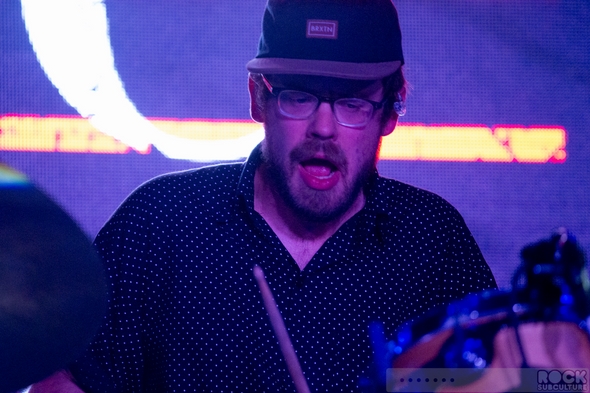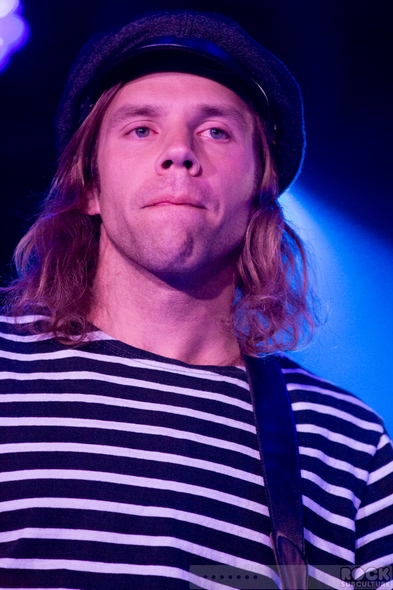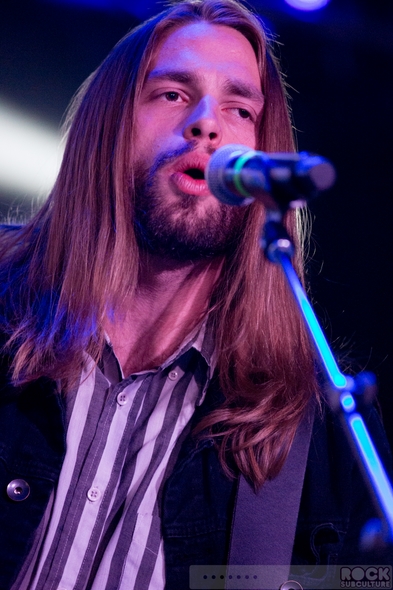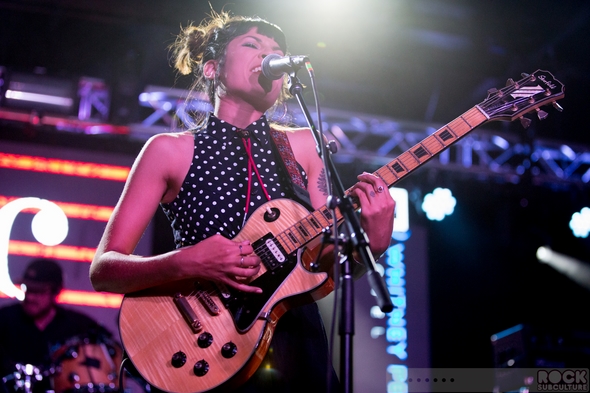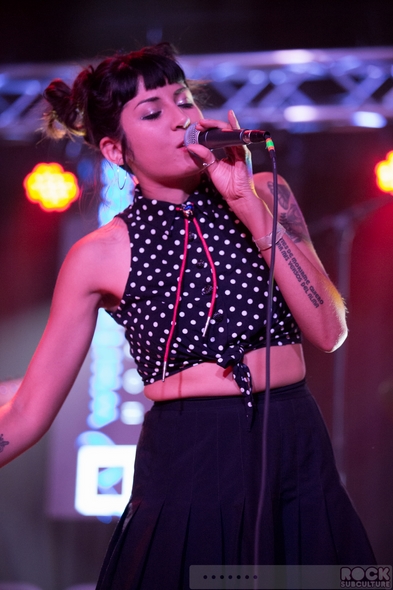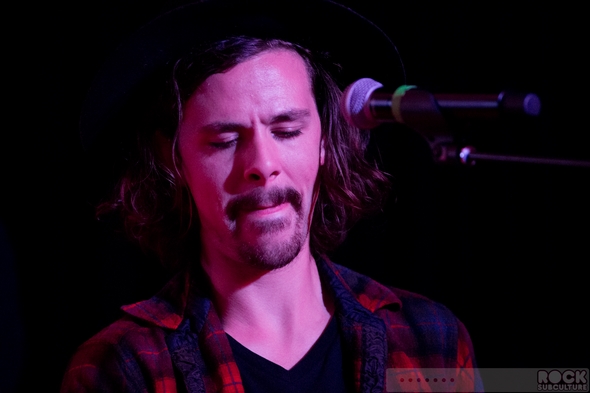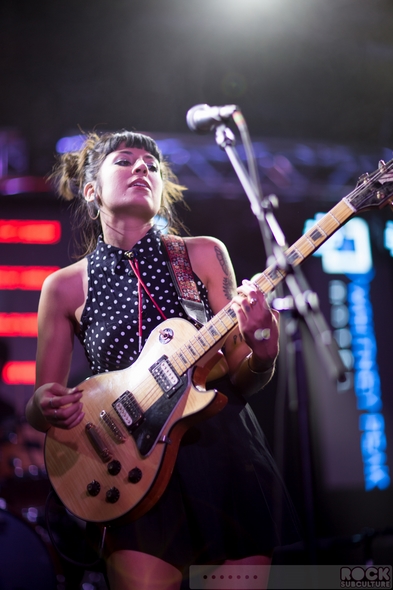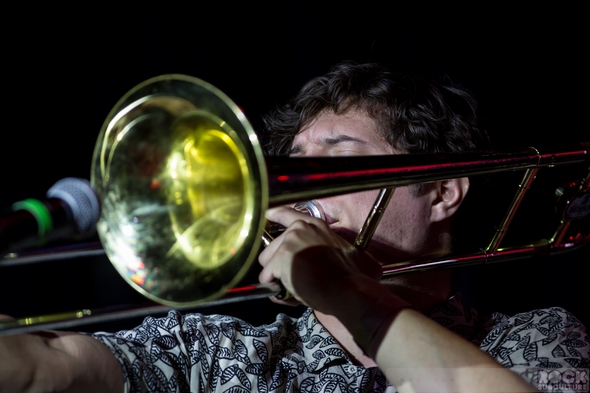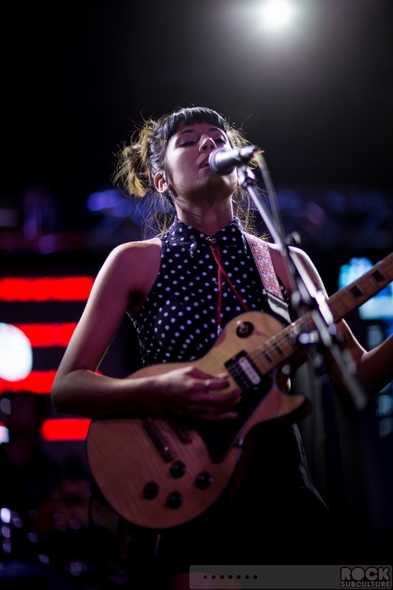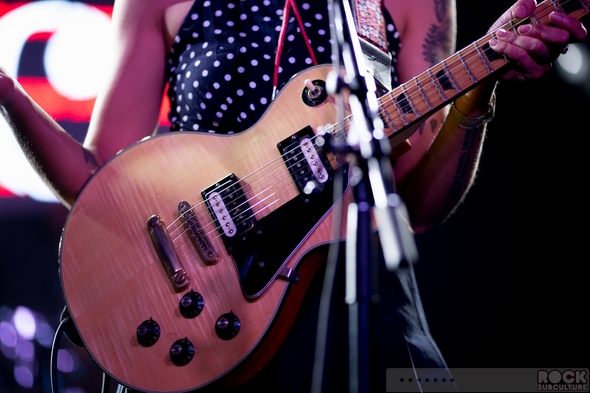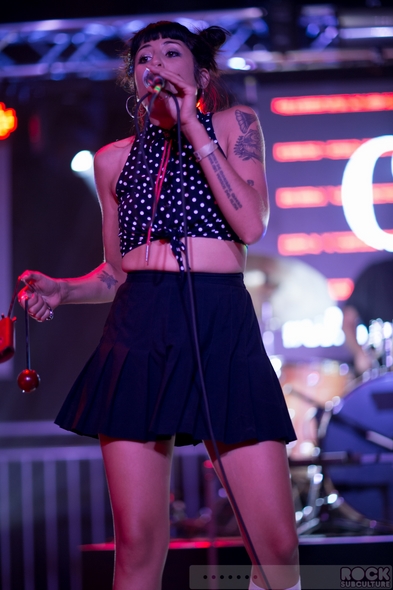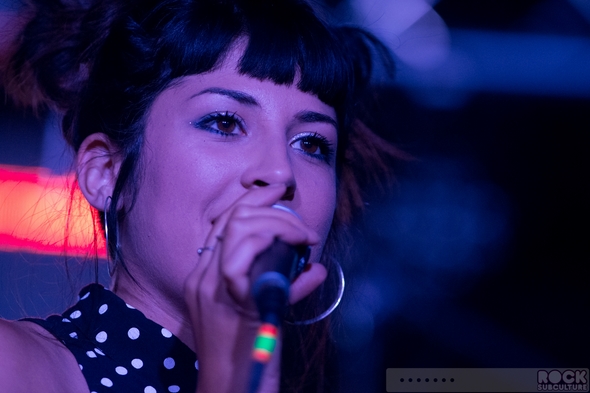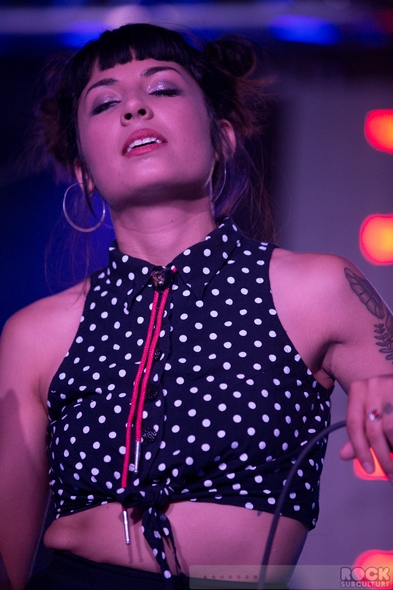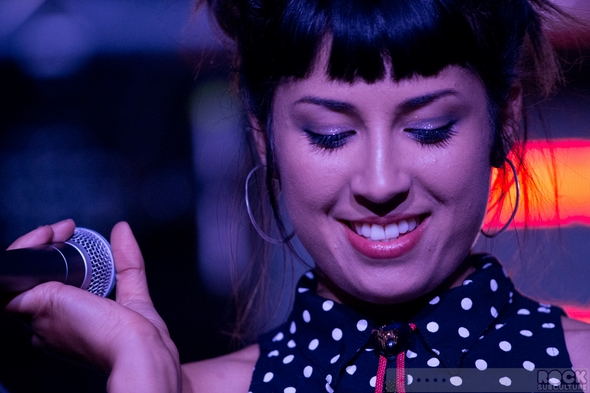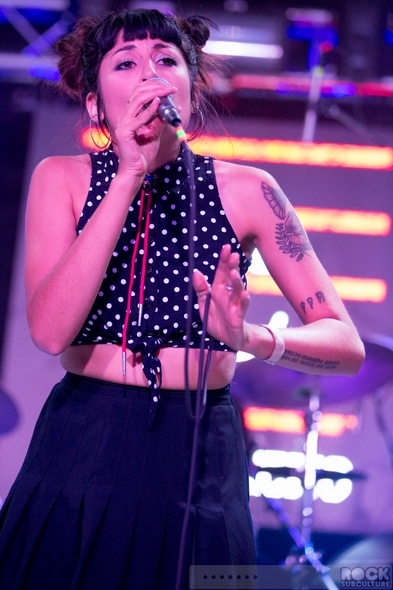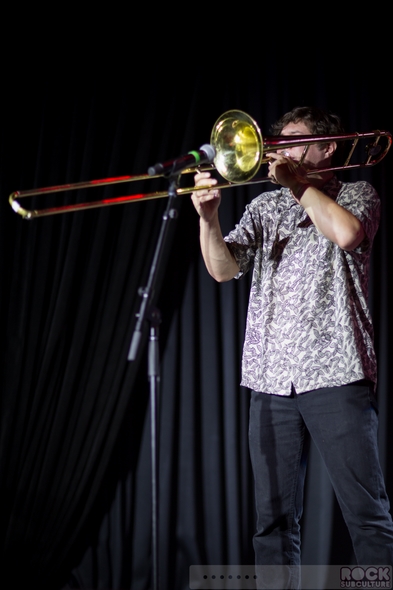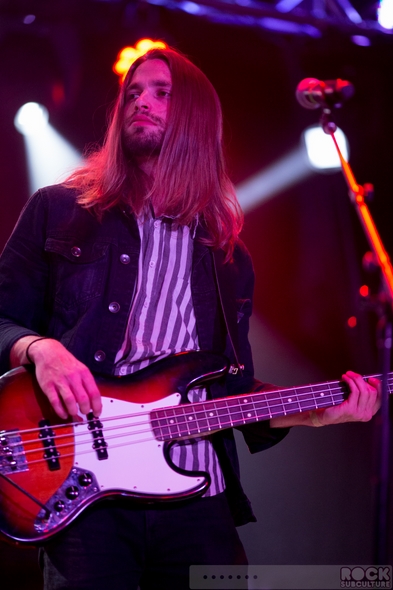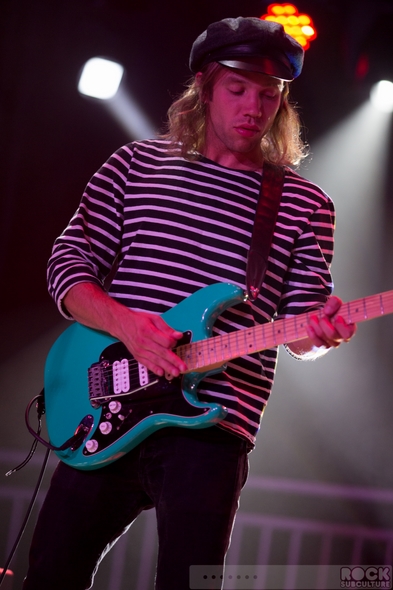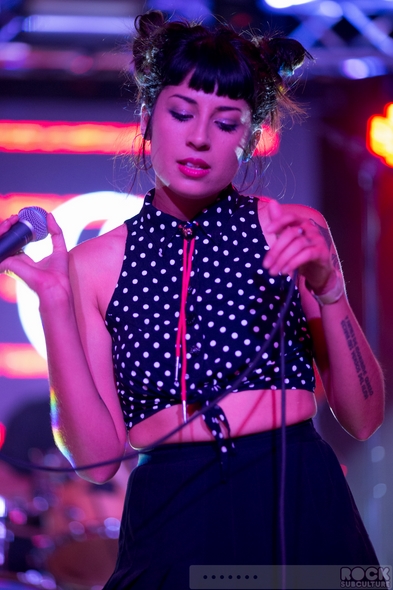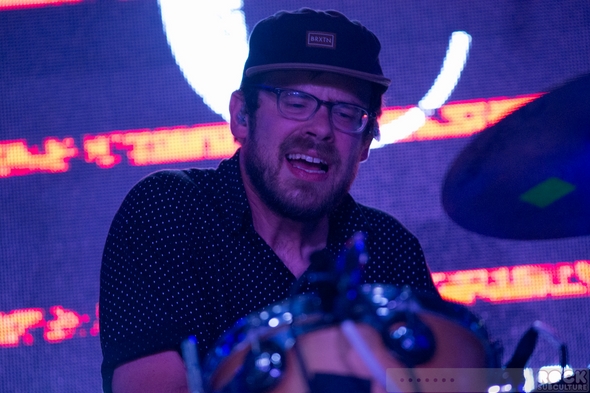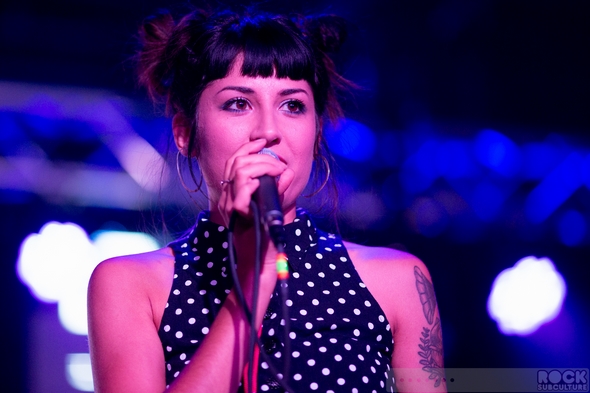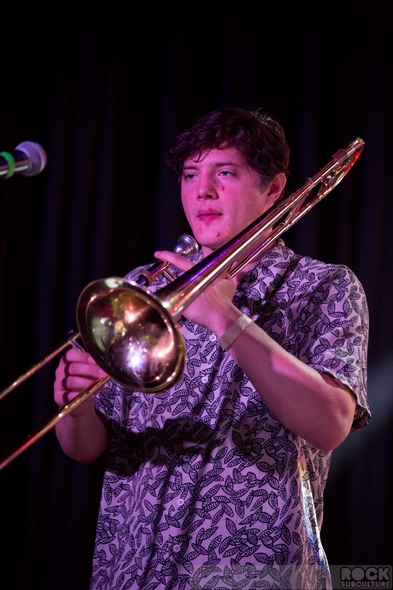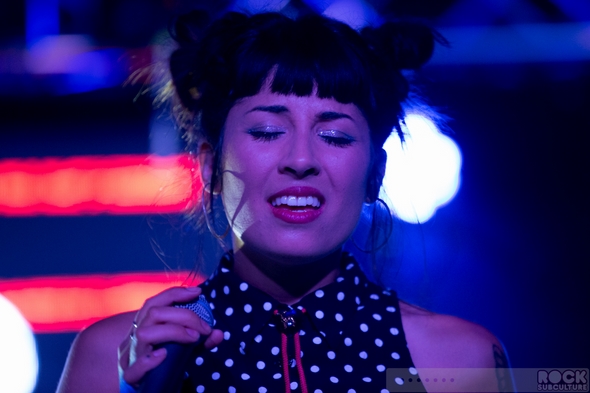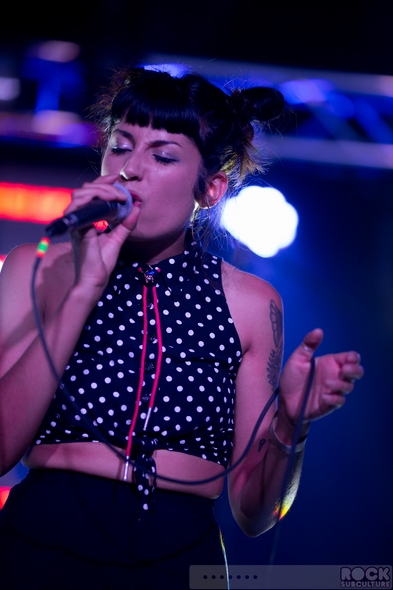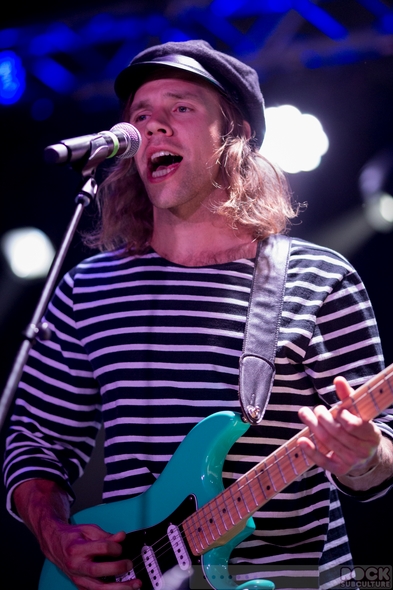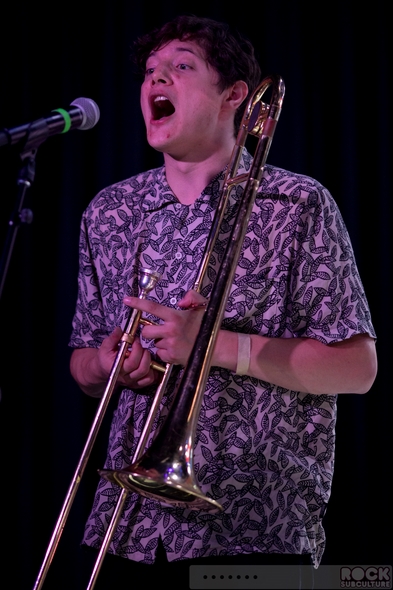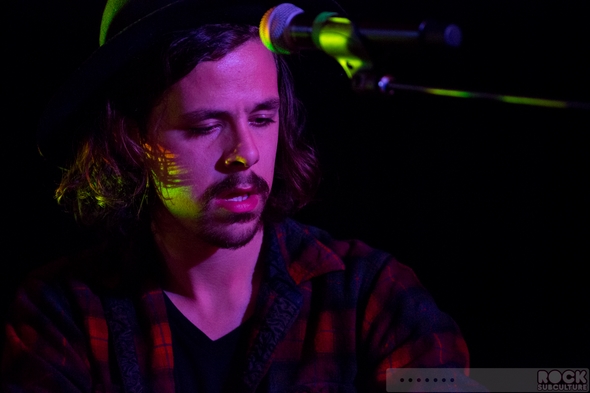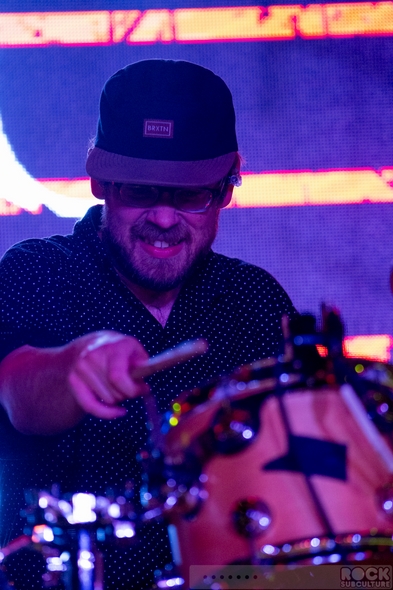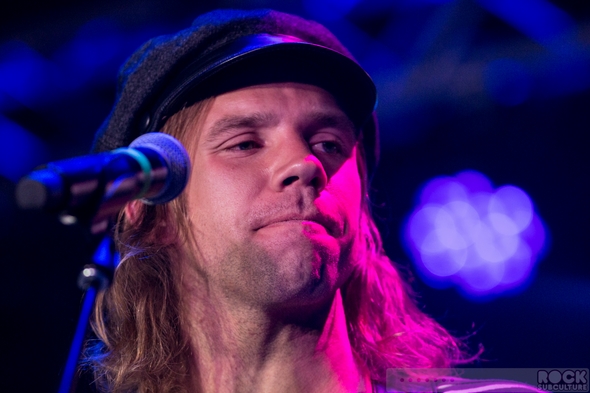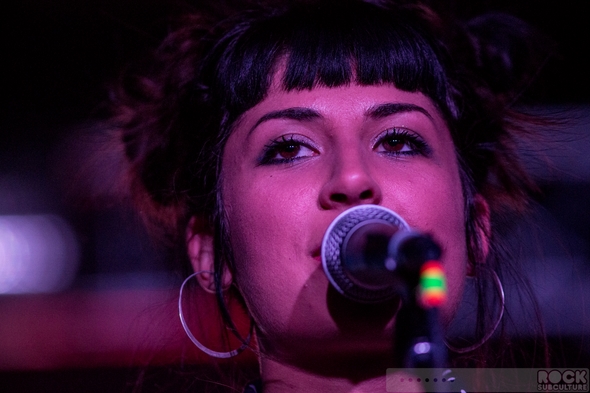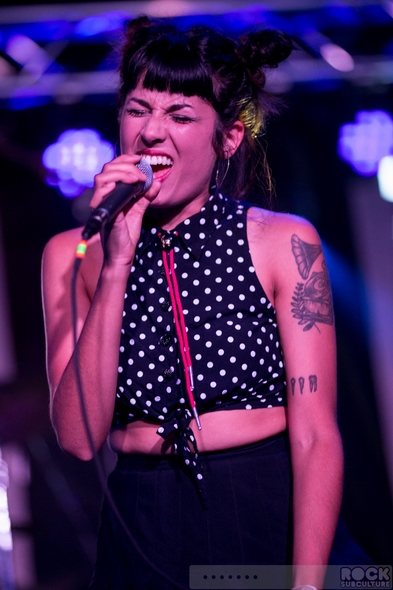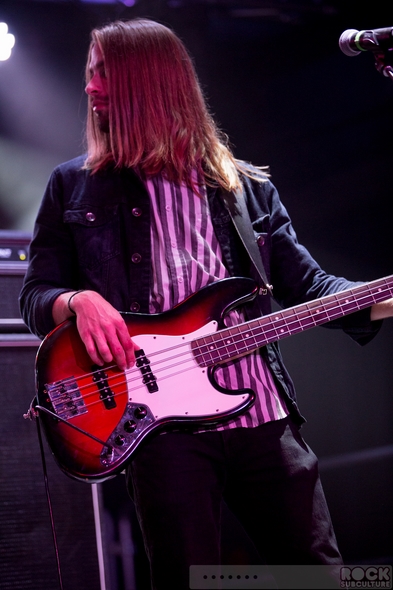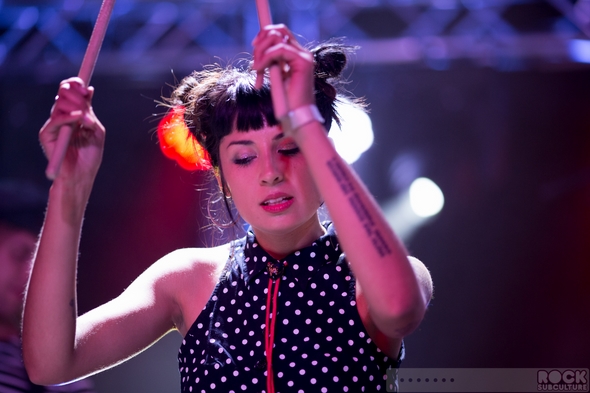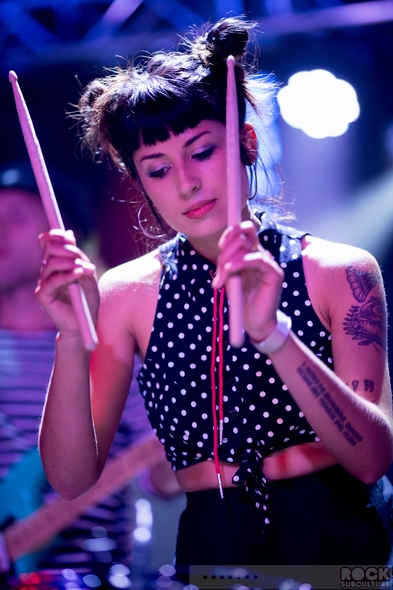 Kitten
Members
Chloe Chaidez (vocals)
Waylon Rector (guitars)
Lukas Frank (drums)
Zach Bilson (bass)
I've seen Kitten in concert three times prior to Thursday night… opening for No Doubt in Hollywood in 2012, supporting Garbage in Las Vegas last year, and touring with Charli XCX in San Francisco in late 2013.  I also did an interview with Chloe for my podcast.
As mentioned in the past, one's first impression of the band is always being a bit awestruck at Chloe's insanely high energy level.  I actually named Kitten as one of my top three favorite supporting acts in my Best of 2013 article.
Unsurprisingly, Kitten is now headlining their own events, following the release of their first studio album, Kitten, which came out over the Summer.
They have a really unique sound, which in their studio recordings is very clean/expertly produced, for lack of a better word, as well as polished. On stage, live, it's something quite different – much more raw and loud. There are flourishes and bits and pieces and vibes here and there that make me think of other bands, but as a complete package, they aren't really like anyone.
The new album is definitely on my short list for album of the year for 2014 (and it has been a great year for new music).
The lead track, "Like A Stranger" (and a few of the other songs on Kitten), was released on the Like A Stranger EP about a year ago, and shows a lot of growth with Chloe as an artist.  Rooted in its New Wave influences, it is at the same time contemporary in its arrangement and layering of sounds.
"Sensible" has more of a modern day eletronic sound (almost like Crystal Castles), with some distorted vocals mixed in that reminded me a little of My Life With The Thrill Kill Kult, but apart from those flourishes, it is a very accessible pop song with a great, relentless beat.
"Sex Drive" has a very funk vibe throughout, with more emphasis on keyboards and synth over guitars – to me it sounds like something that Prince could have collaborated on.
"I'll Be Your Girl" and "Cathedral" are definitely signature Kitten songs, with careful mix of traditional instruments and some keyboards/synth with slight 80s influence, but more than anything they are a showcase for her vocals (which have a bit of a Siouxsie Sioux quality at times in this album).
"G#" was also on the Like A Stranger EP, and I love this song…  vocally, it reminds me a bit of The Primitives and a bit of Cocteau Twins.  Just one of those perfect songs that hits on all cylinders – there's not a "good part" in the song – the whole thing beginning to end is just pure bliss.  Maybe their most anthemic song.
They slow things down a bit with "Why I Wait", and it has pacing and tone that reminds me of their older song, "Christina".
"Devotion" shows yet more versatility for them, and to me it sounds like something that could have been on the soundtrack for Beverly Hills Cop or some other 80s action film.  A very throw back sound yet modern.
Deep into the album, every song remains a gem, including "Doubt", which reminded me of Duran Duran.  Love this song – great arrangement, keyboards, and vocals.  It's like finding some long lost unreleased 80s hit…
"Cut It Out" is another very Kitten-sounding track, with lots of changes and perfect melding of melody and disparate sounds all coming together perfecting, with the beat driving it all forward.
The album overall has been thoughtfully put together, with good pacing and such song to song.  "Kill The Light" is definitely a song to build to, and has some of that unexpected optimism mixed into it in the same way that can be found in songs of similar caliber by The Cure.  That infectious positivity mixed into an array of feelings.
"Apples and Cigarettes" is the perfect song to close it all out.  Vocally, it also reminds me a bit of "Christina", but the stripped down arrangement really showcases Chloe's ability to make everything catchy by how she delivers her lyrics.  Beautiful stuff.
With such an amazing album to work from matched up with her singular live shows, I see only great things for Chole and Kitten in the future.
She really does remind me, strictly in terms of her live sets, as a young Kurt Cobain.  But what she accomplishes in the studio is something else entirely.  Usually, an artist is lucky to have the gifts to excel at one or the other, but she does it all.  A real, authentic rock star.
As anyone who has seen Kitten live will tell you, expect the unexpected.  She never stops moving and you wonder what kind of motor is powering the on stage energy and antics.  And with the show at Cargo Thursday night, she was in top form.  At one point toward the end of the set, she jumped onto the barricade railing in front of me, took off my hat, and began playing my head like a drum kit (photos with a strange 14mm camera angle further below!).
Kitten usually does a cover or two… with this appearance, it was Berlin's "Take My Breath Away" and then they closed out with a stripped down singalong of Crowded House's "Don't Dream It's Over".
Kitten is definitely part of a wave of newer, younger artists today that are doing exciting things and making incredible music – I would put her in company with Broods, Phantogram, MØ, MS MR, Meg Myers, Reignwolf, Charli XCX, and a few others.
Below is a photo of the set list: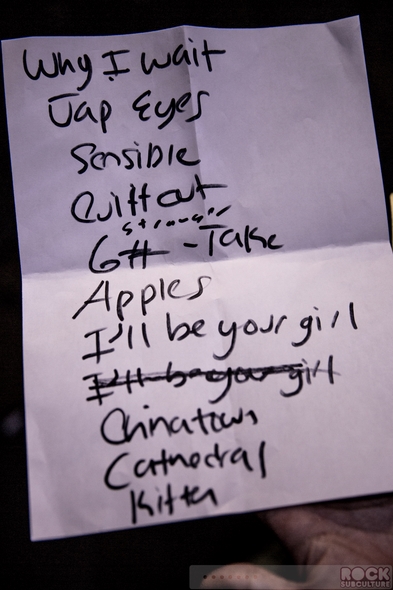 Below are the songs played during this show:
Setlist:
Why I Wait
Japanese Eyes
Sensible
Cut it Out
Like A Stranger
G#
Take My Breath Away (Berlin cover)
Apples and Cigarettes
I'll Be Your Girl
Chinatown
Cathedral
Kitten With A Whip
Encore:
Don't Dream It's Over (Crowded House cover)
Below are some photos of Kitten performing on stage (click any image for higher resolution versions of each photo):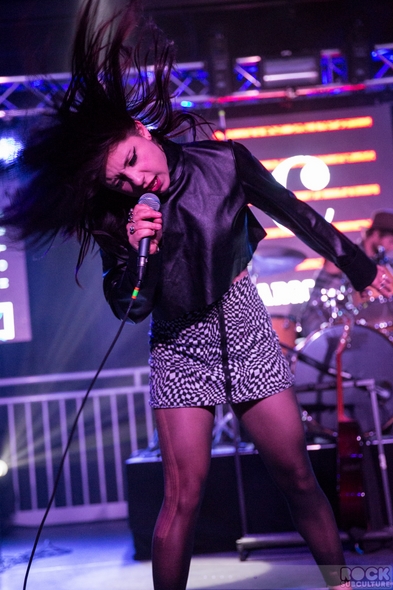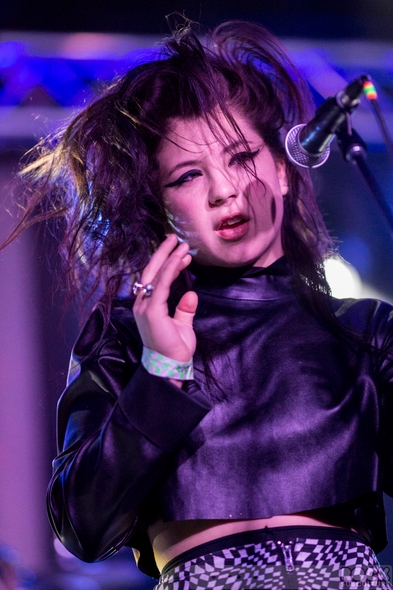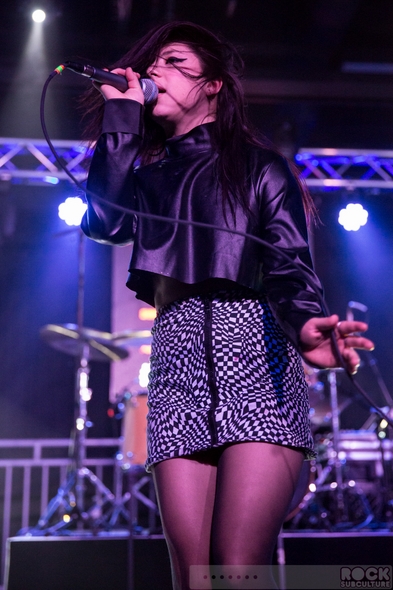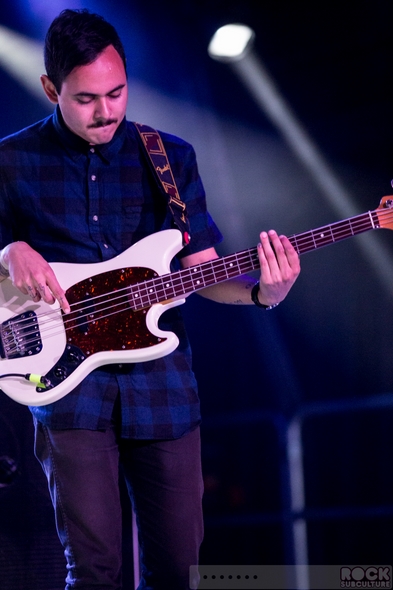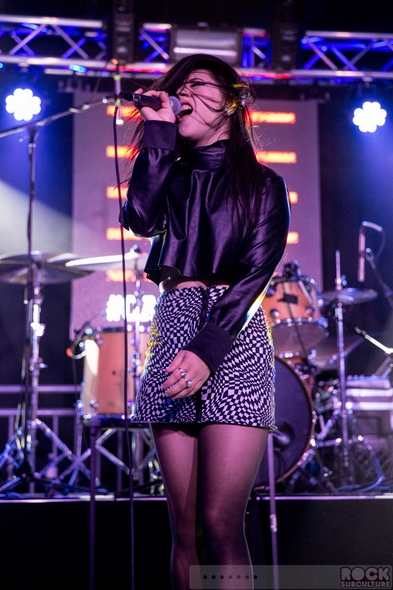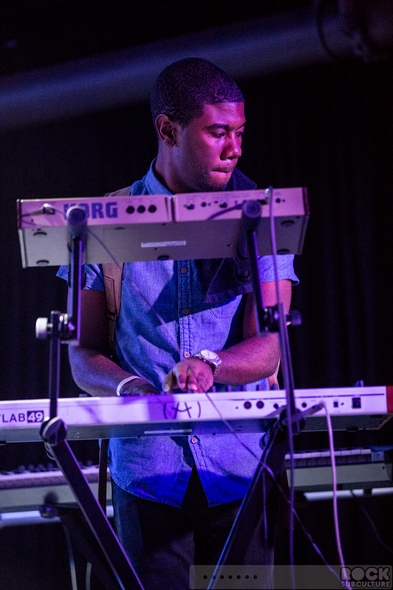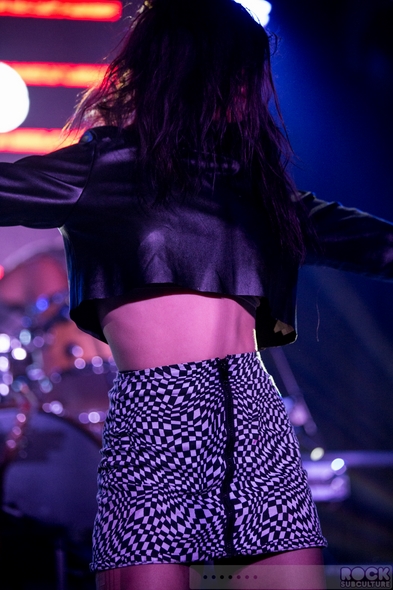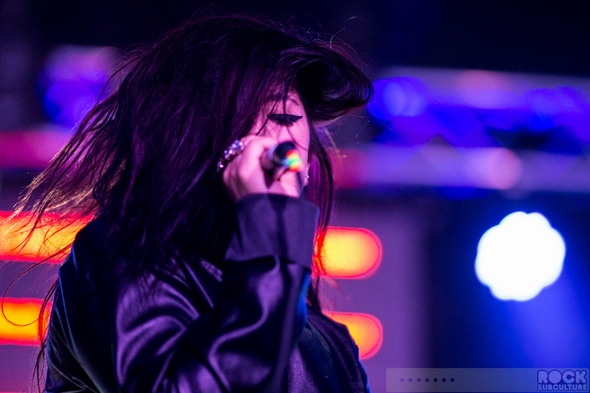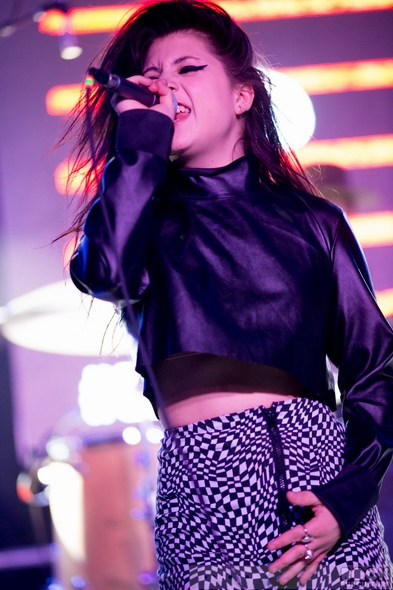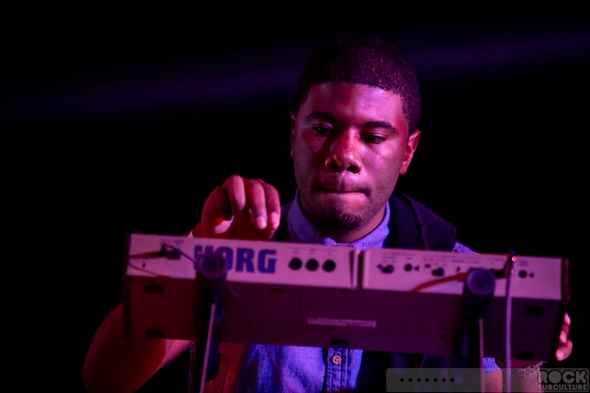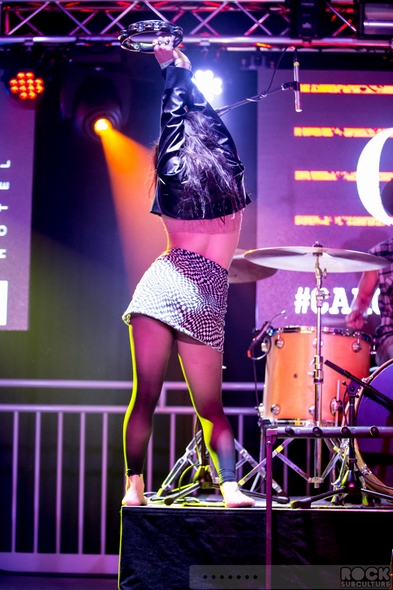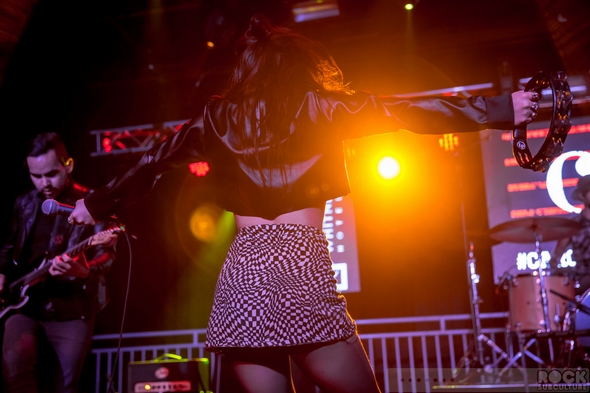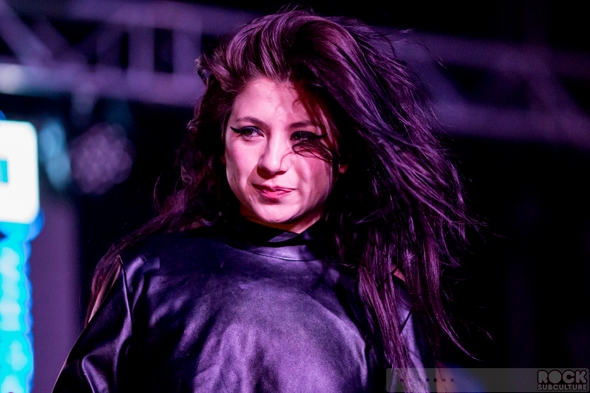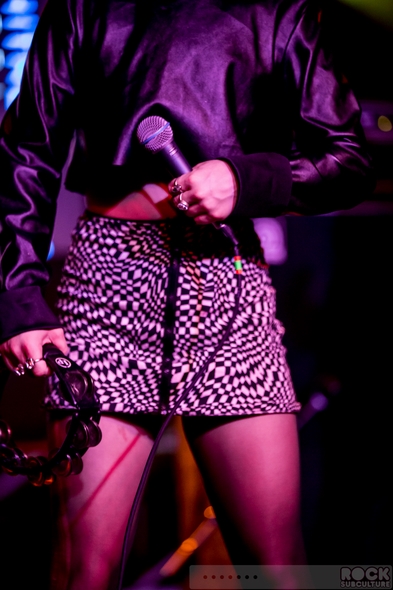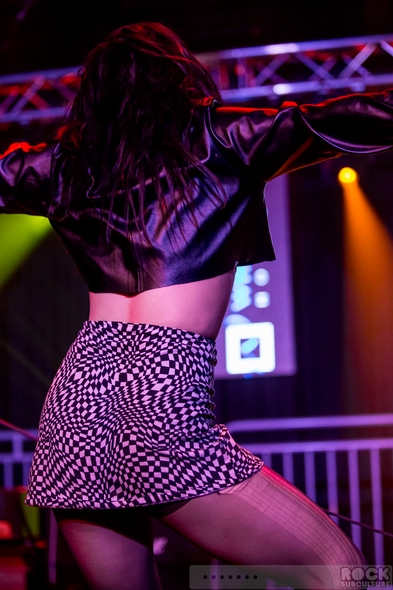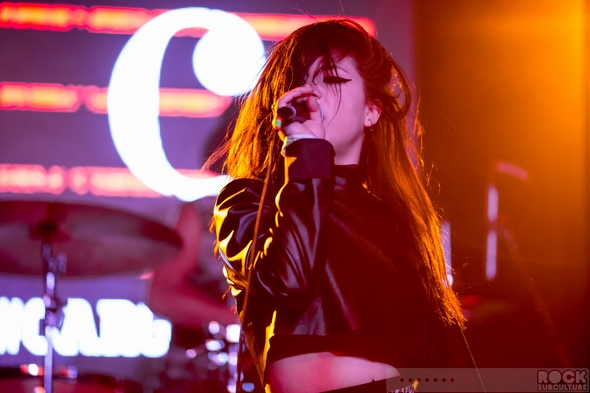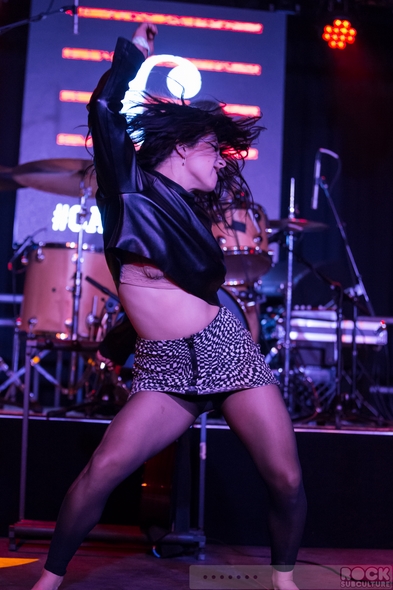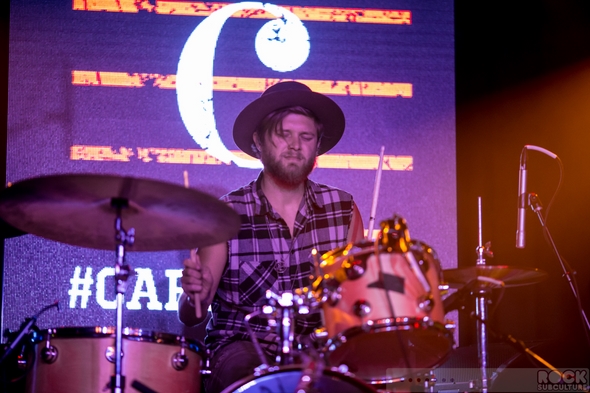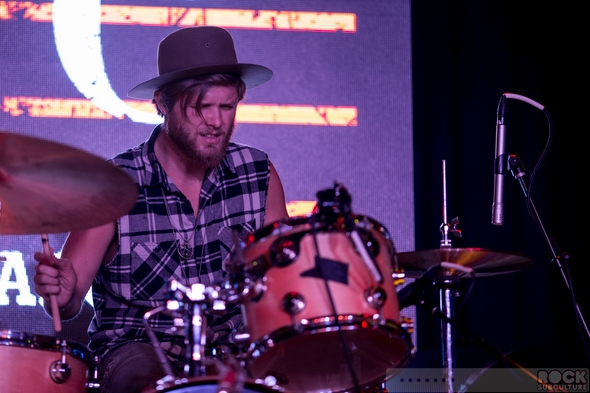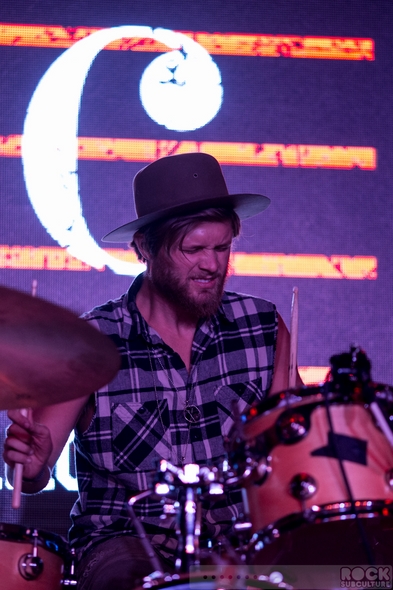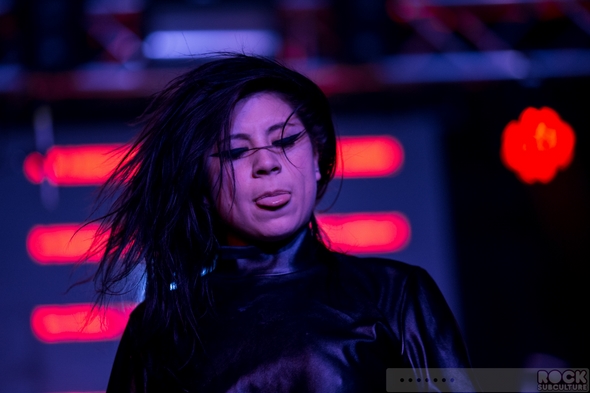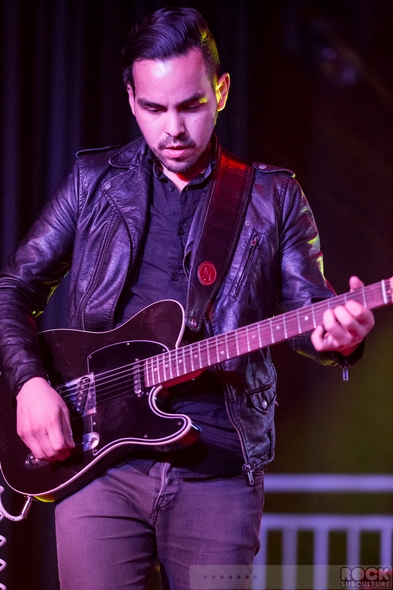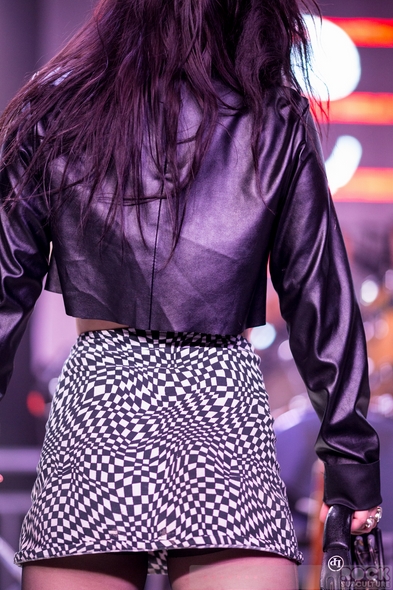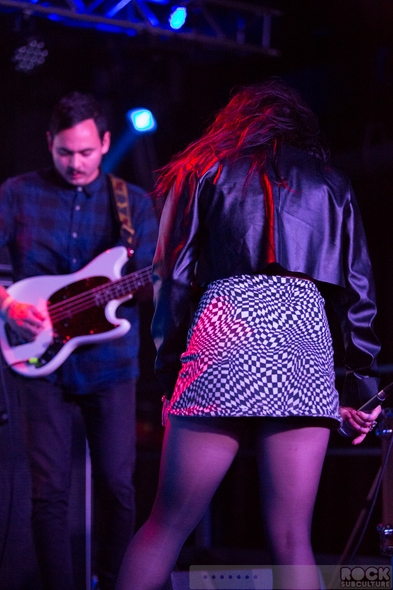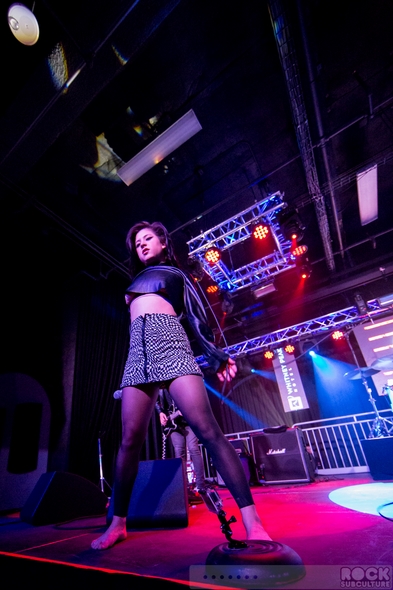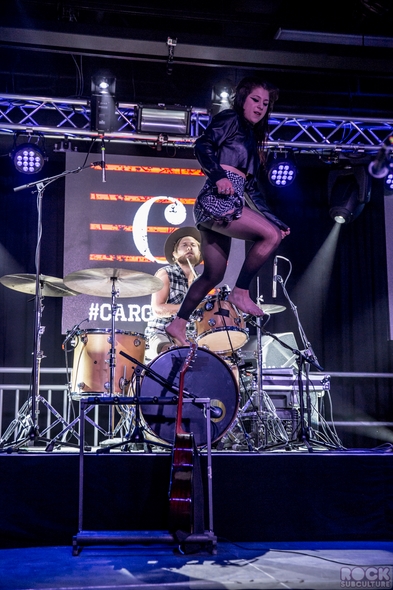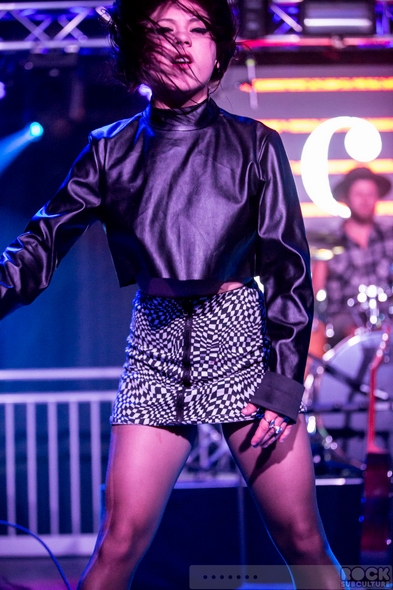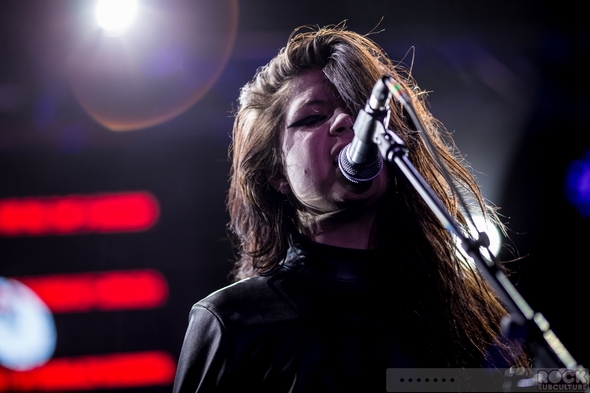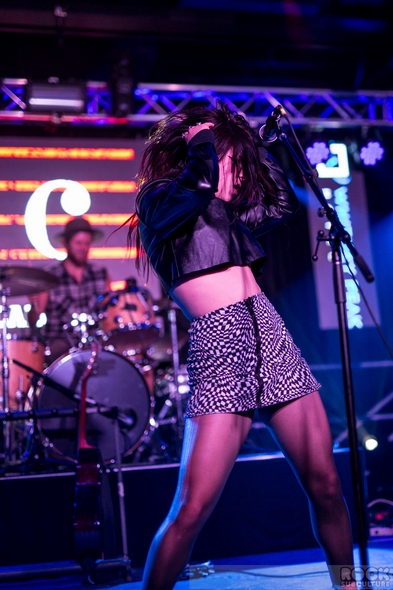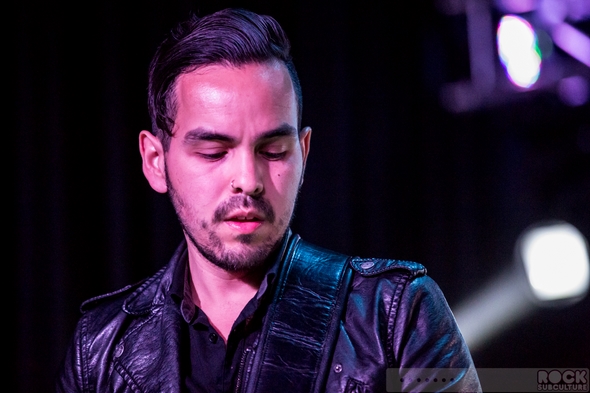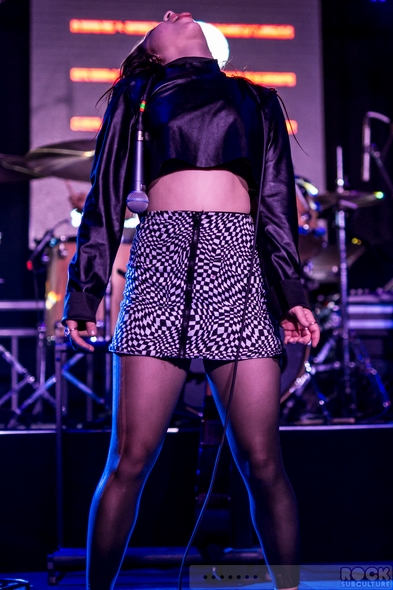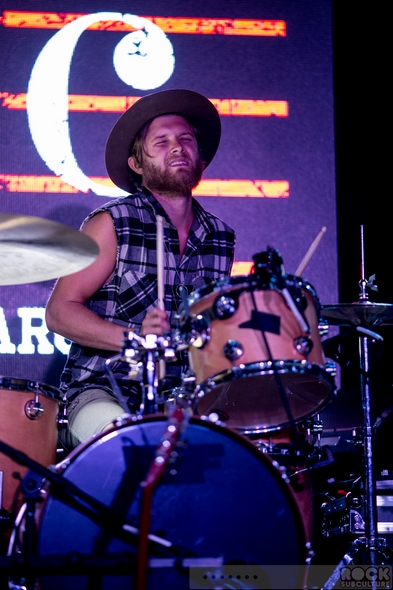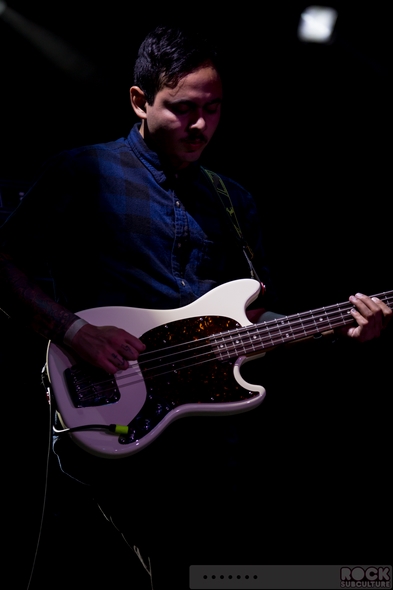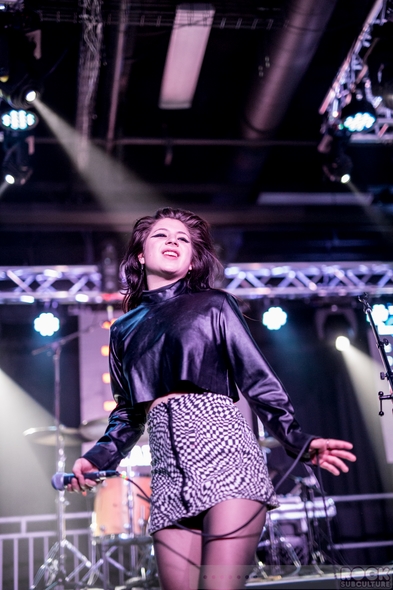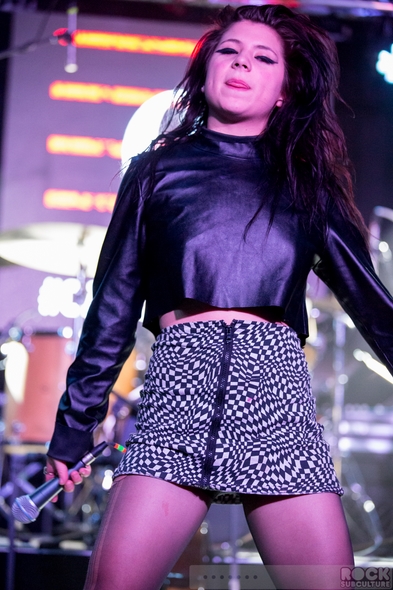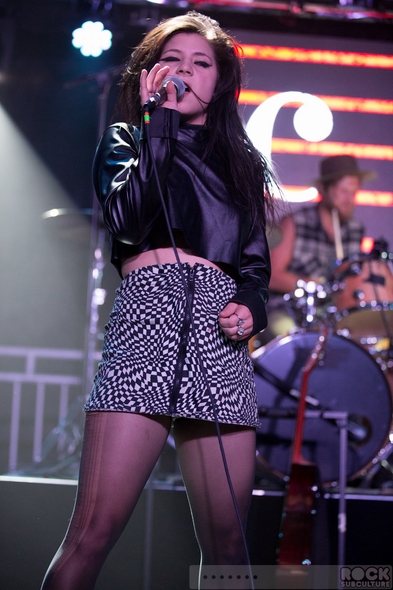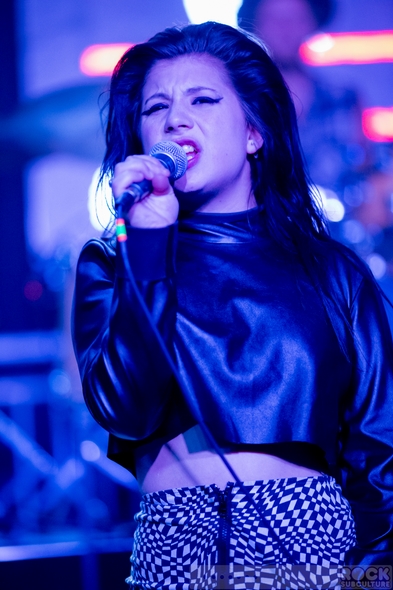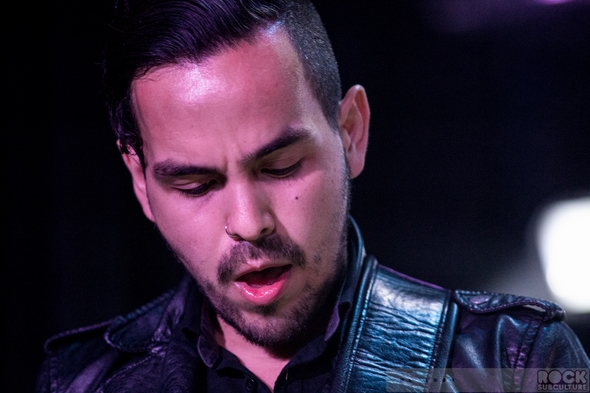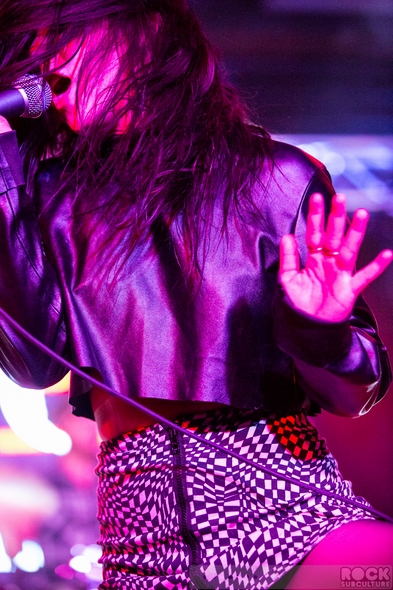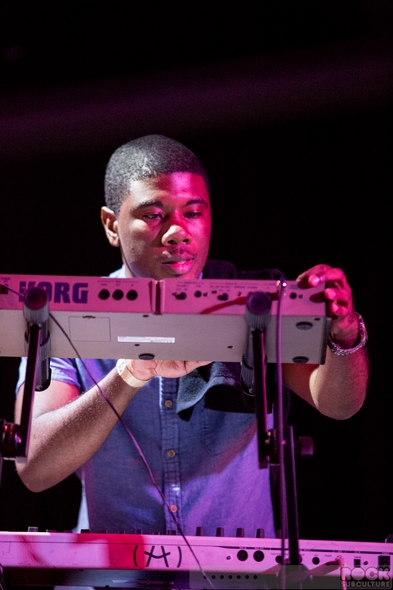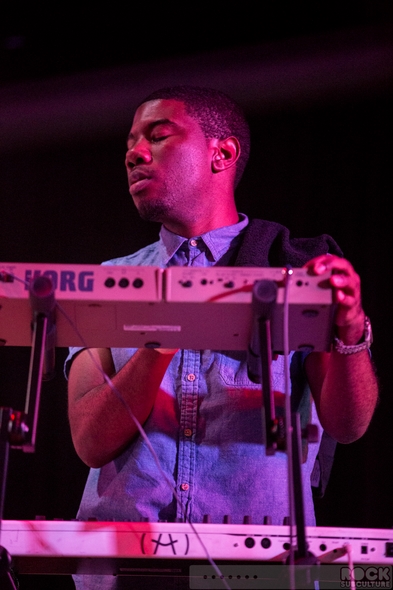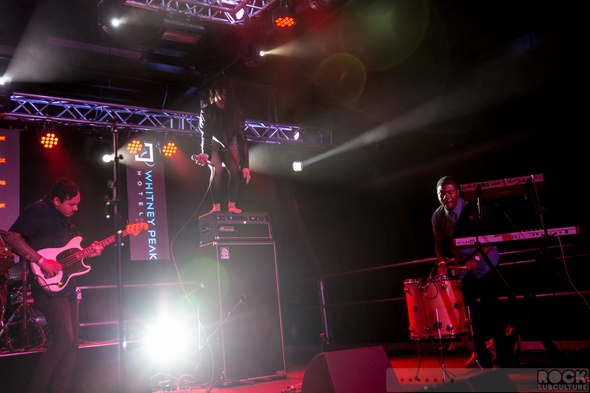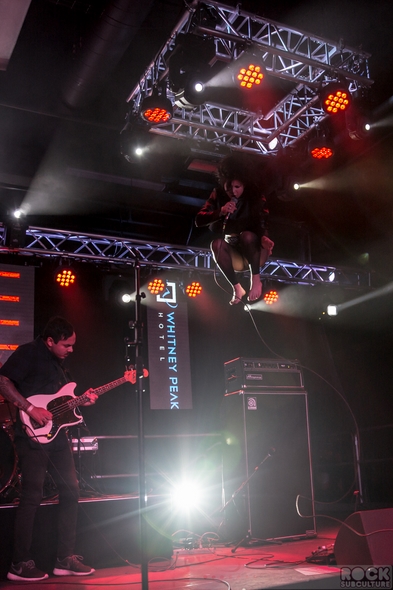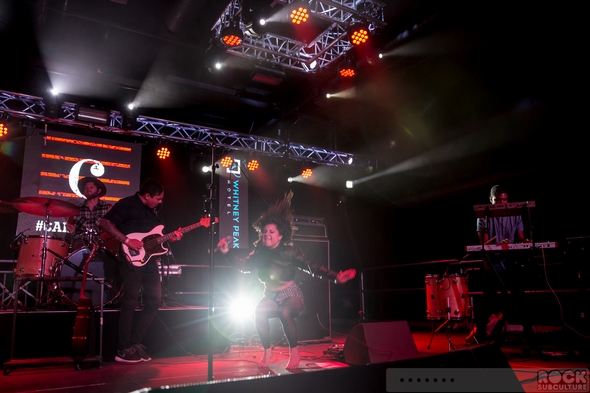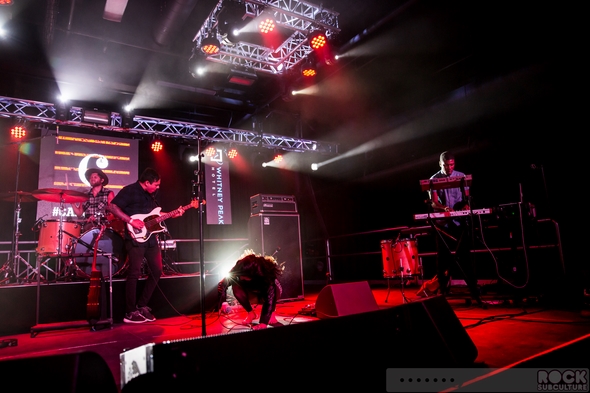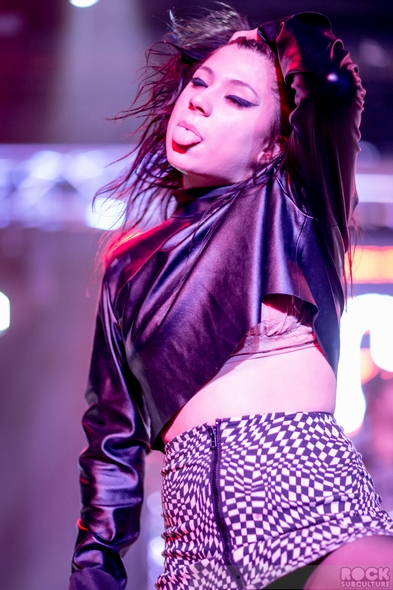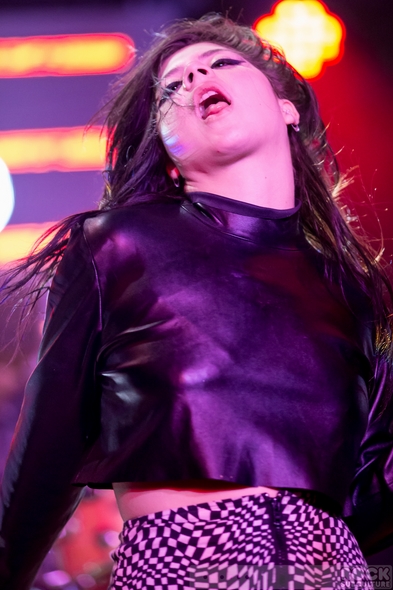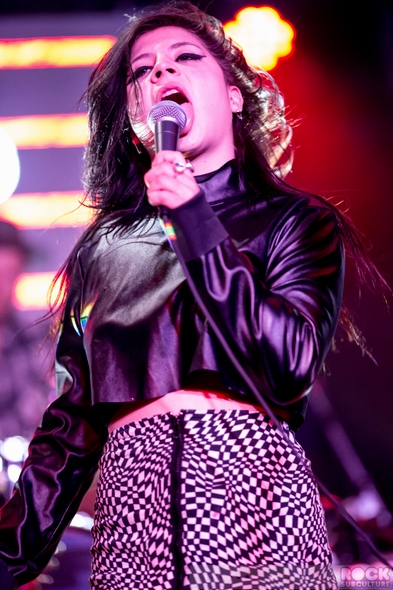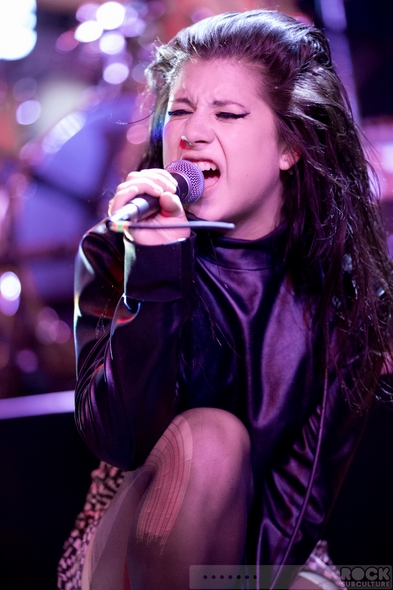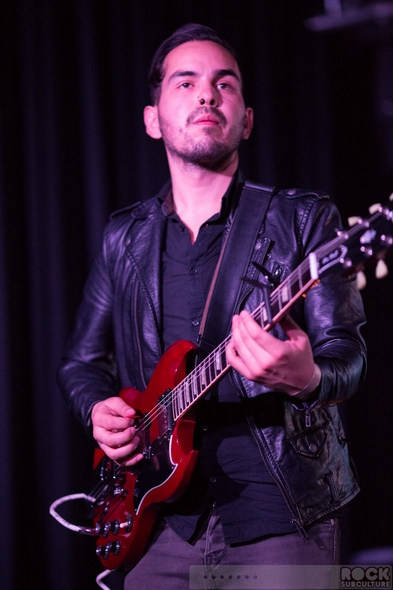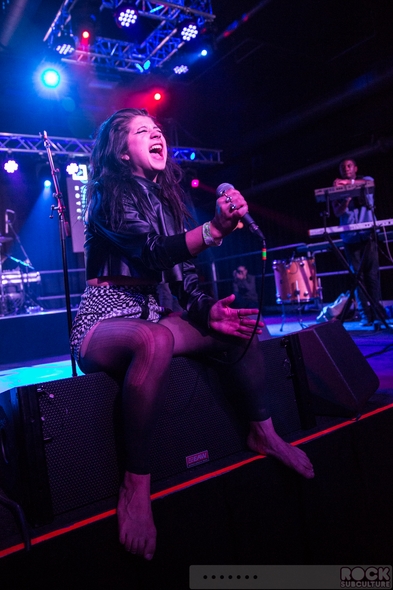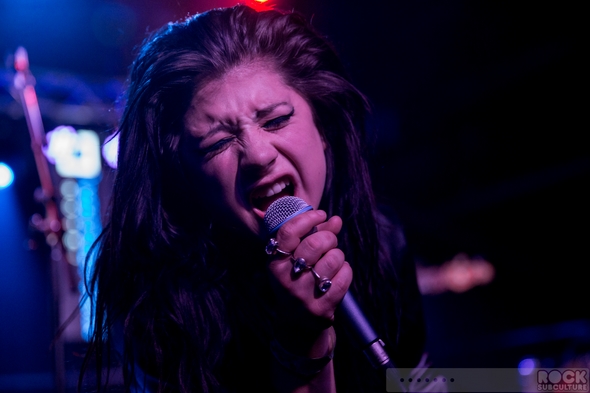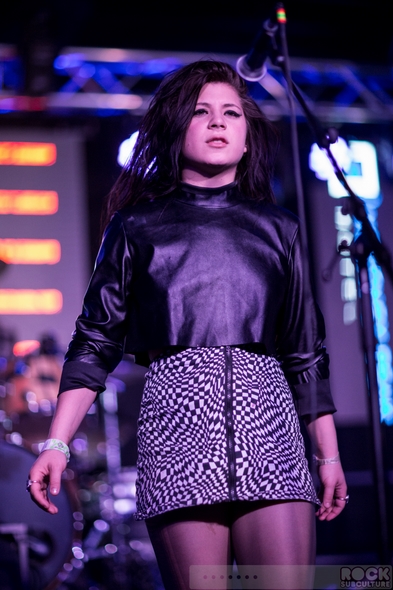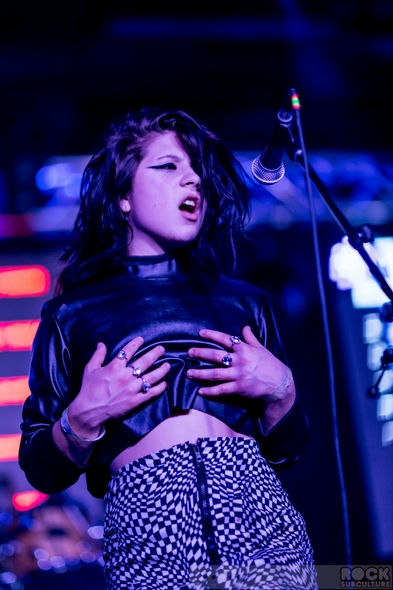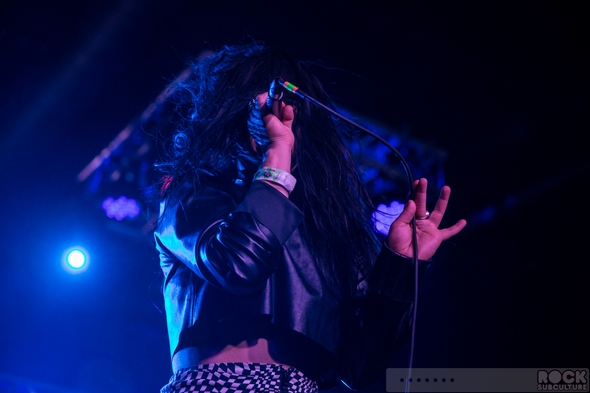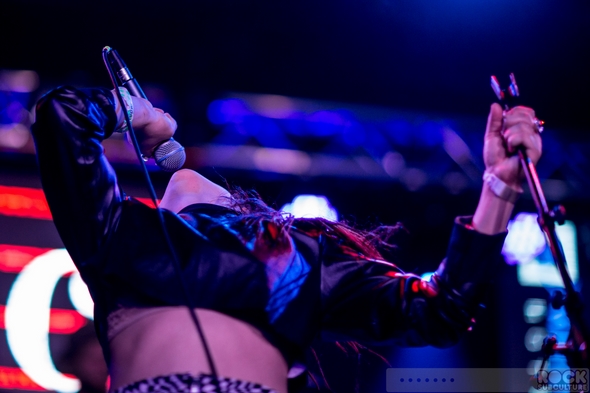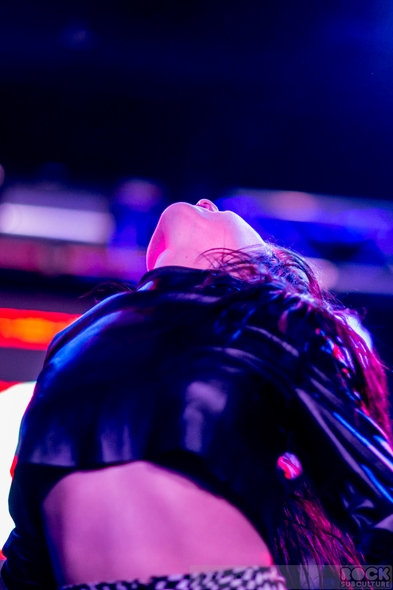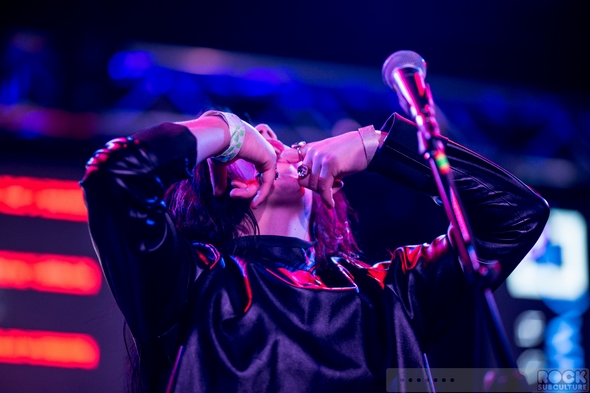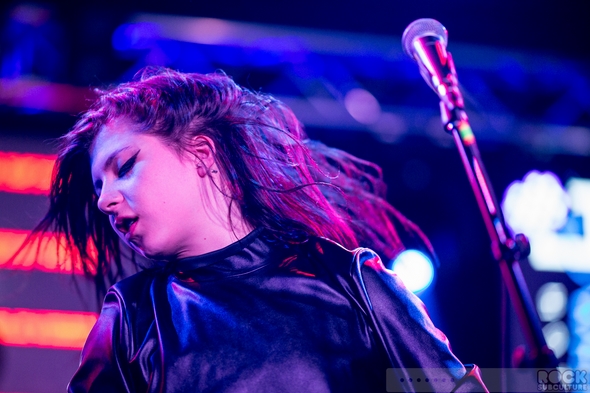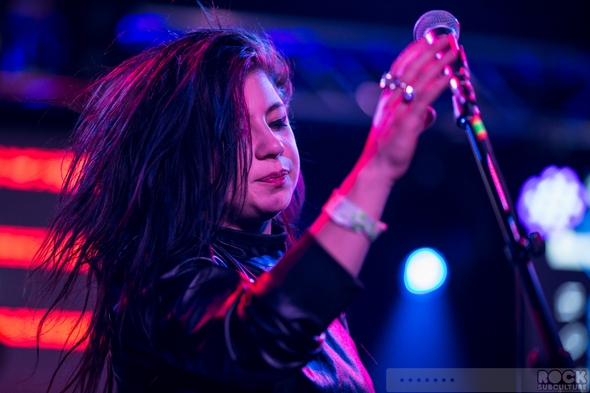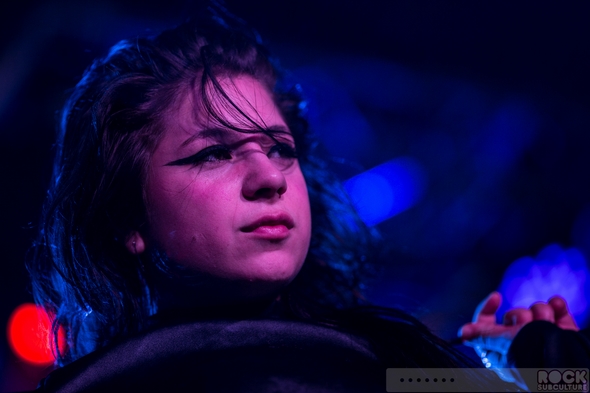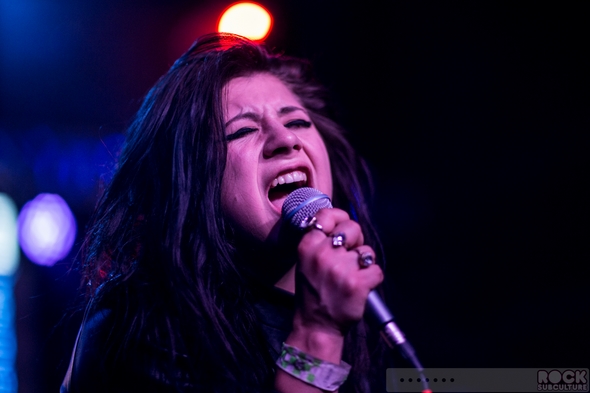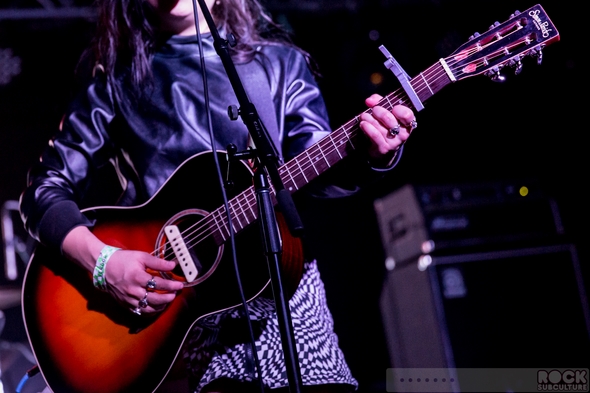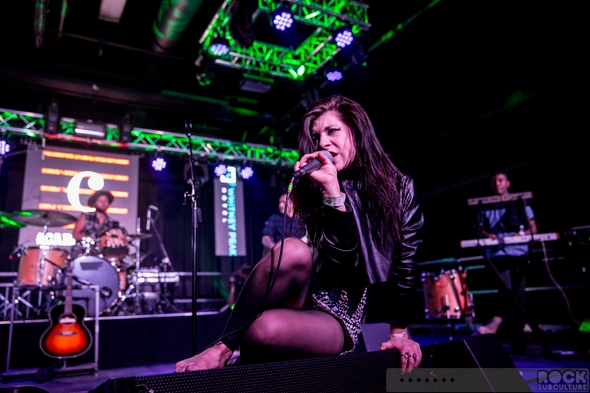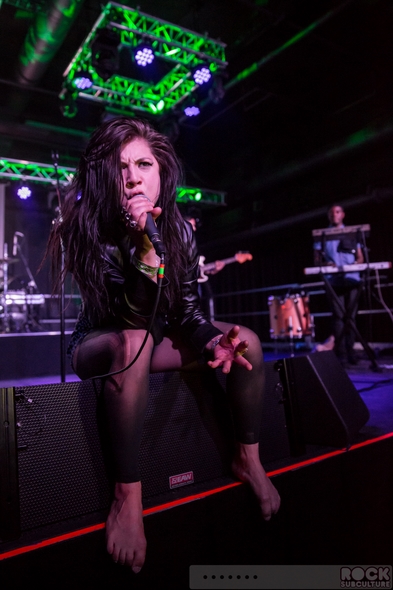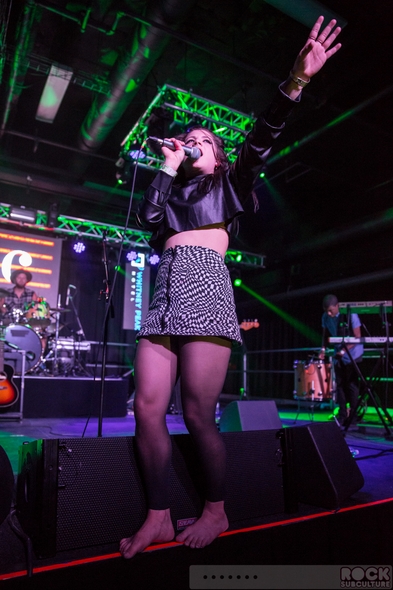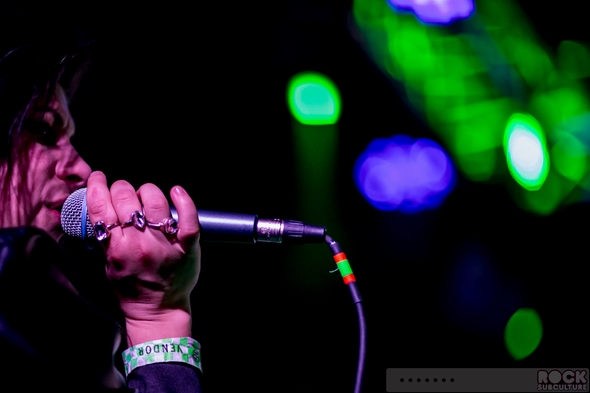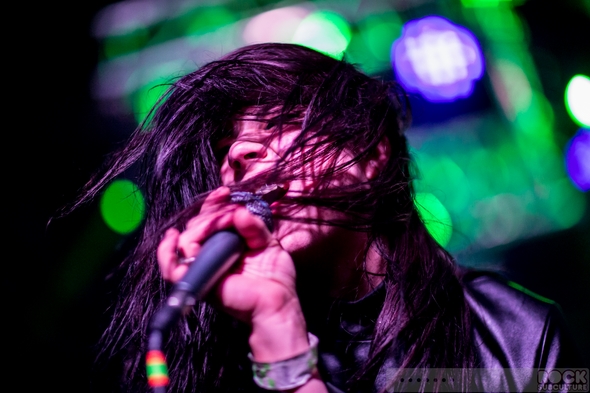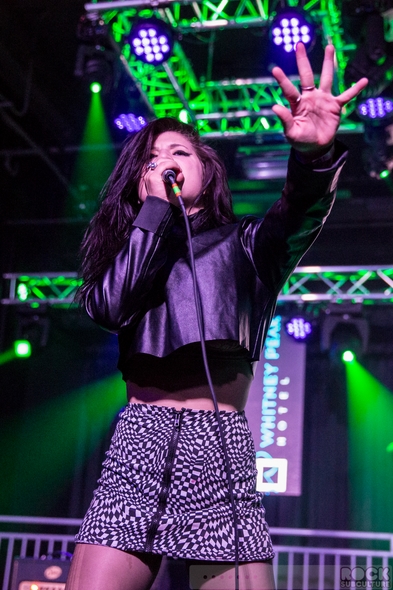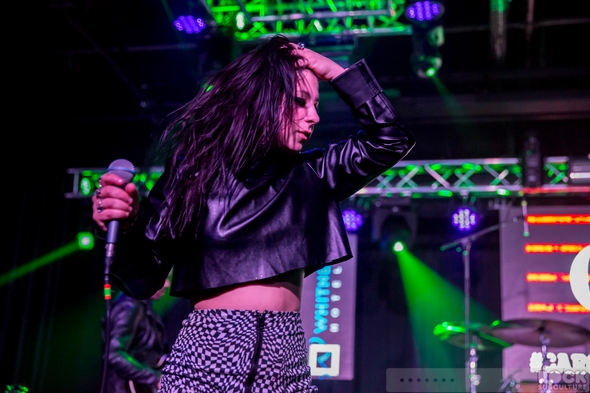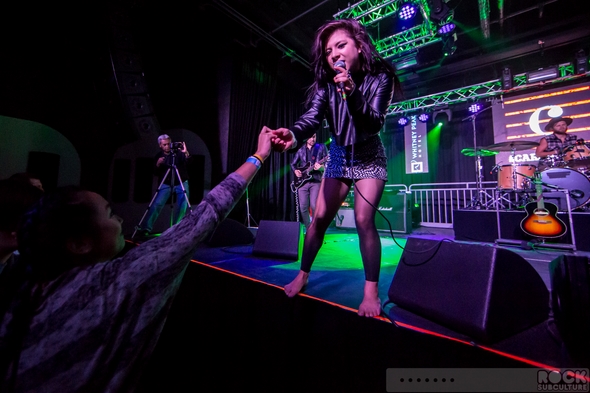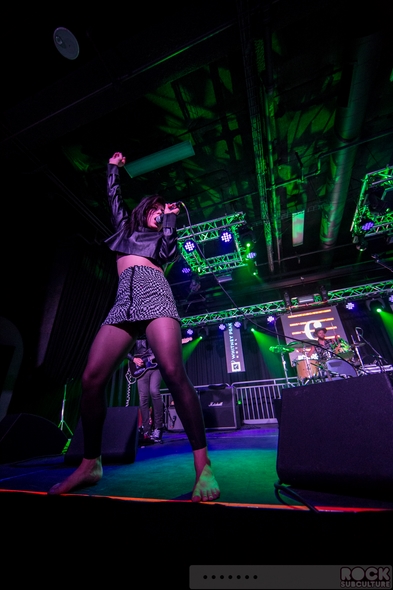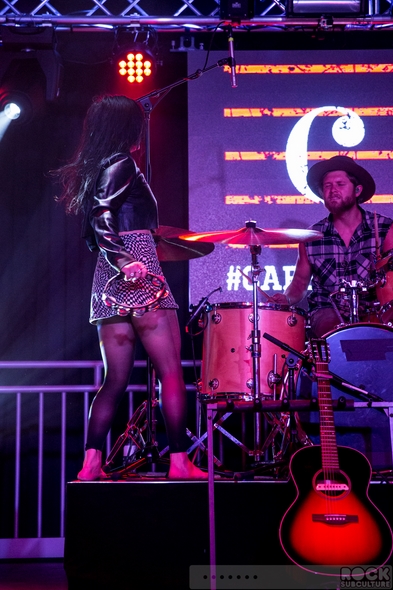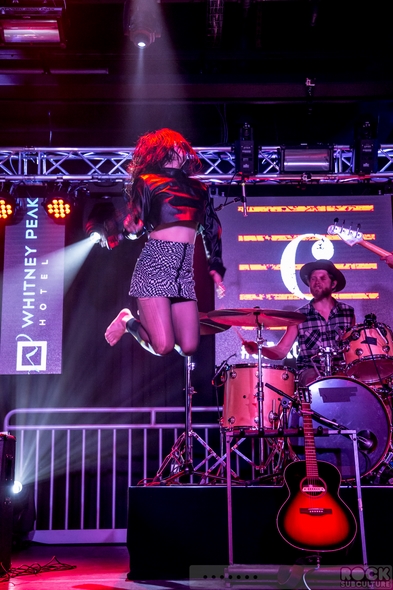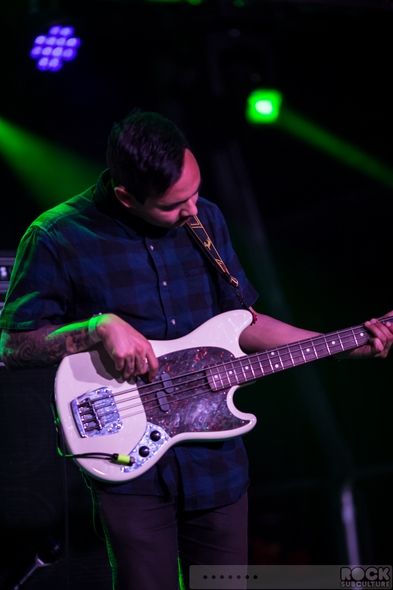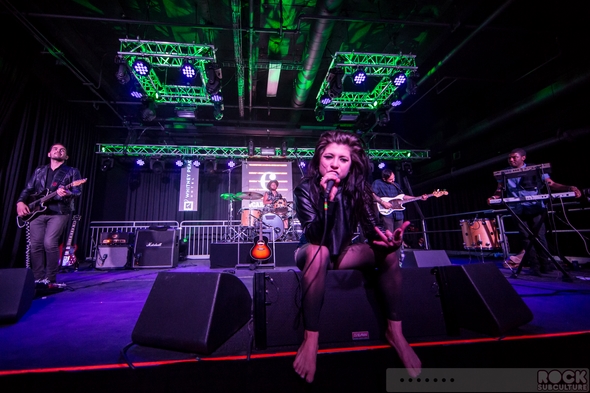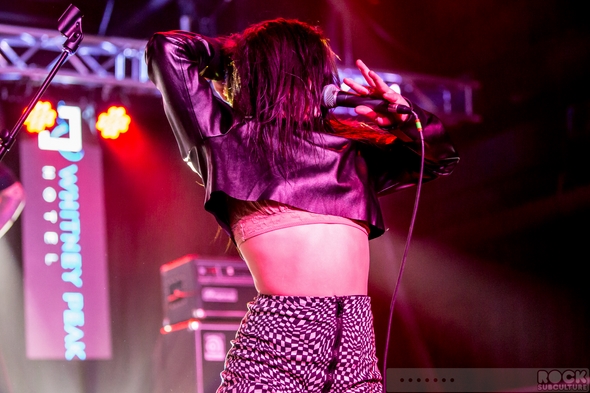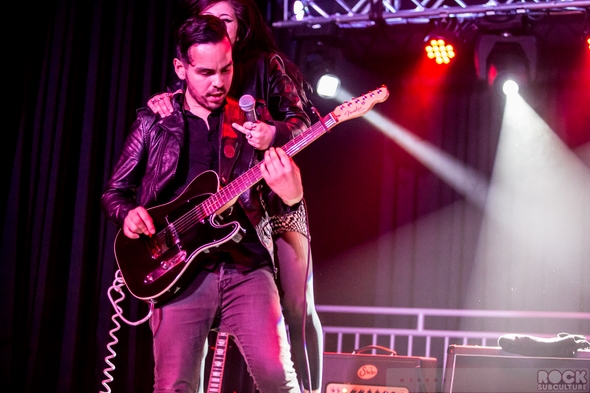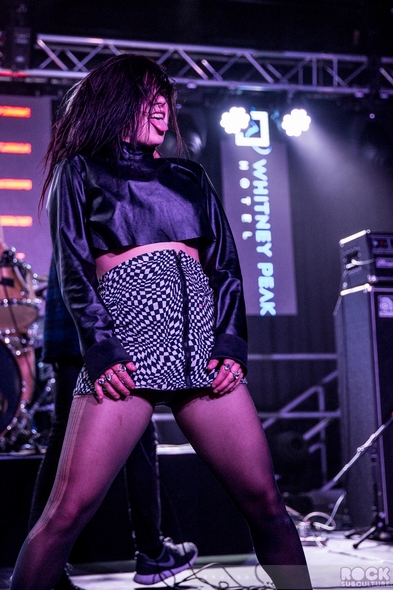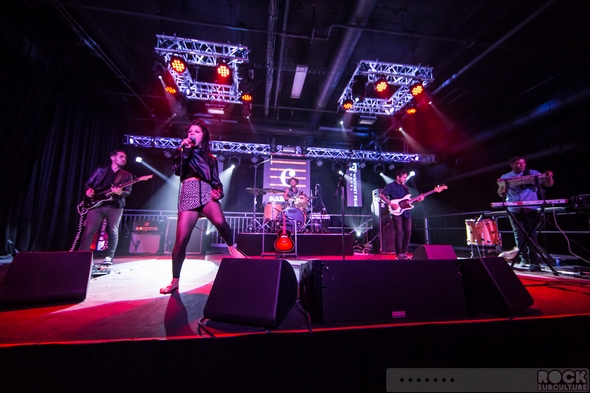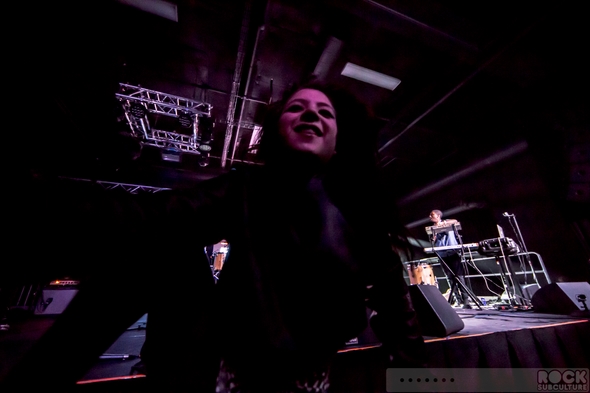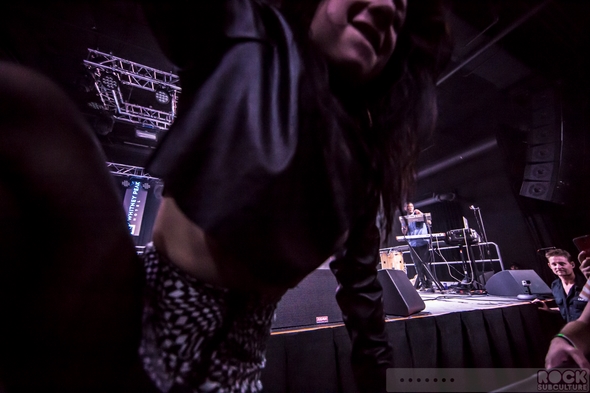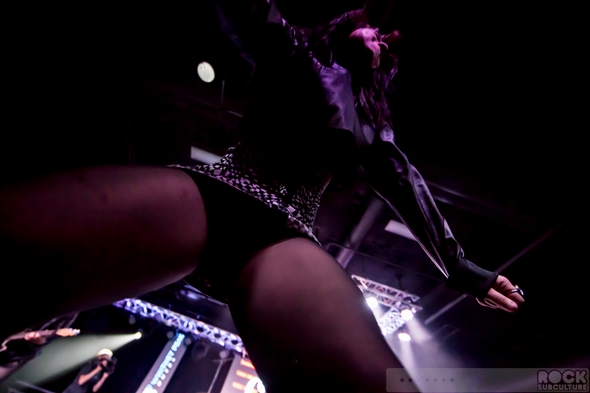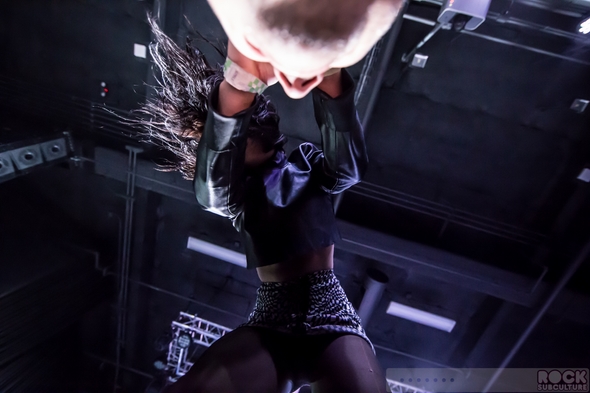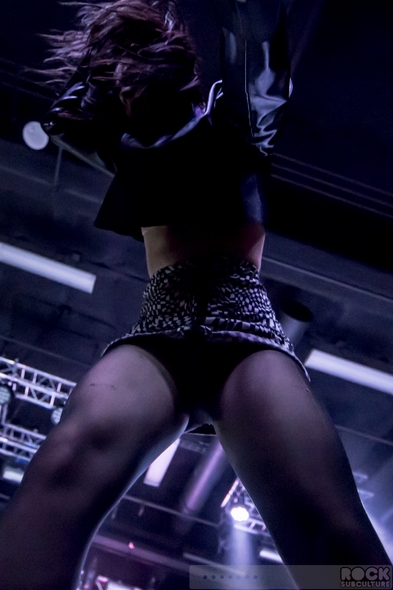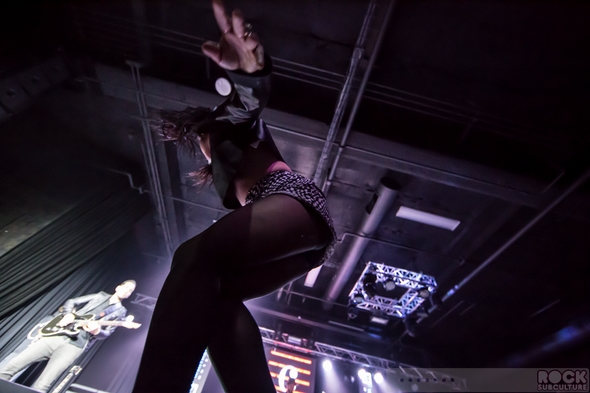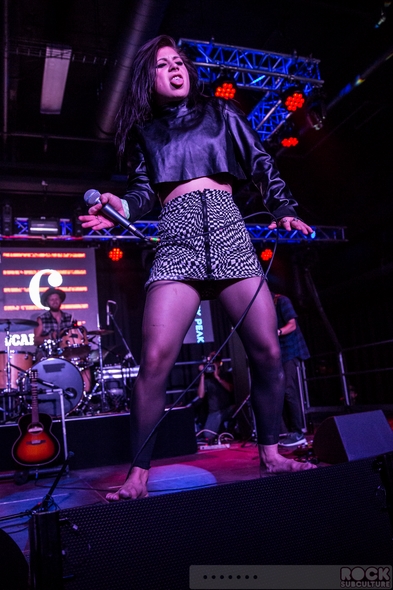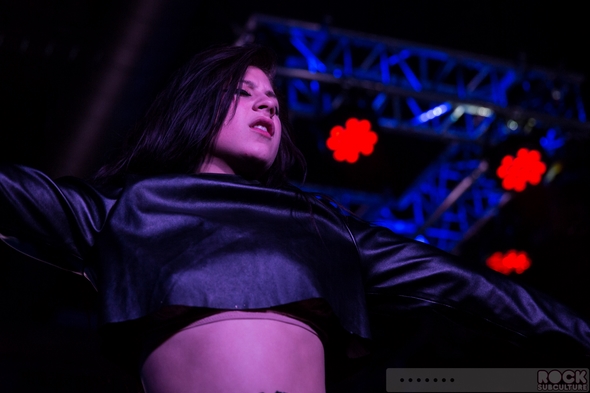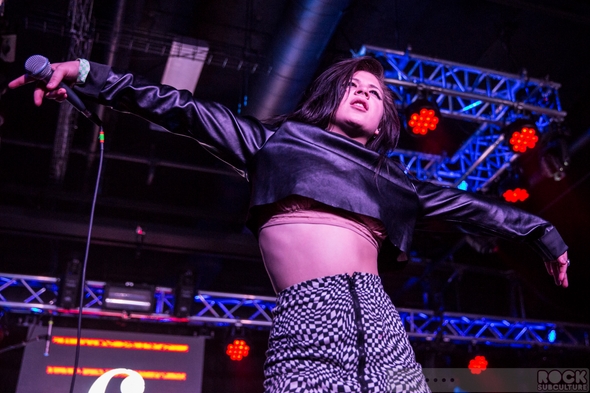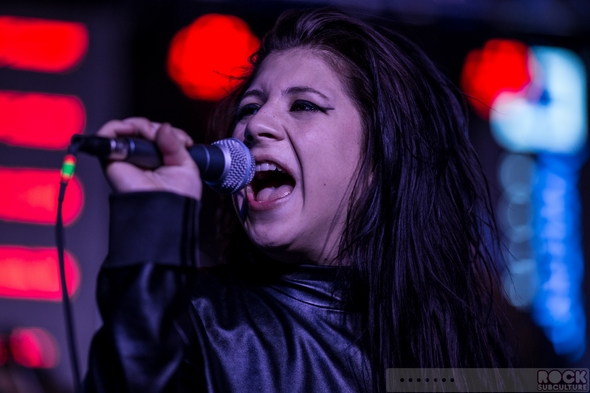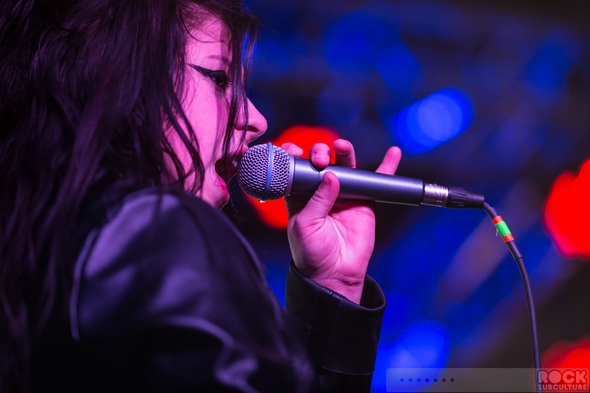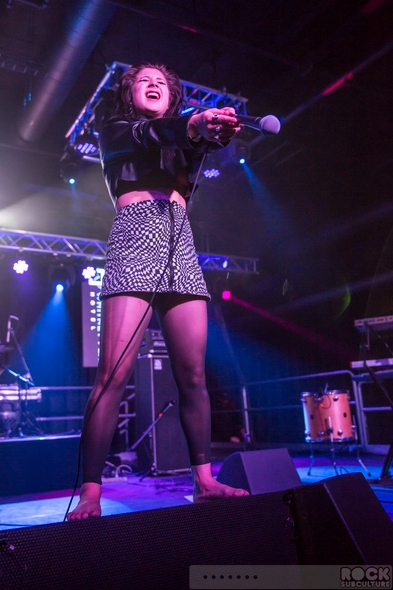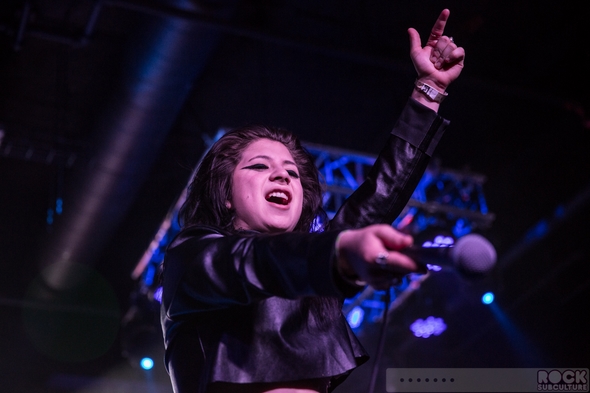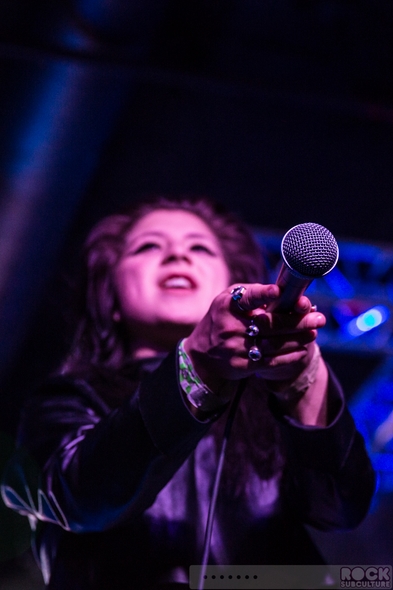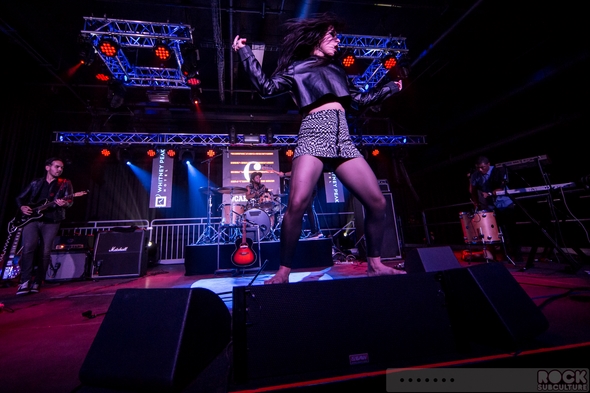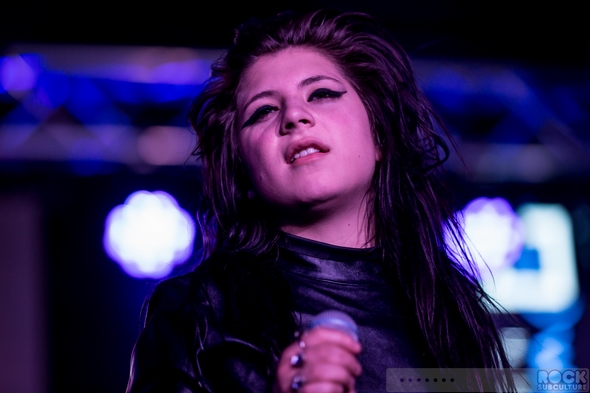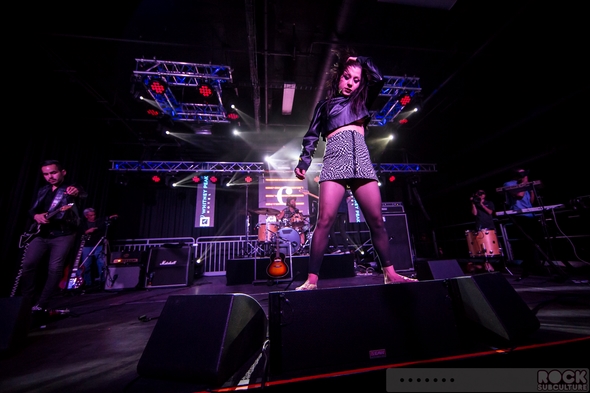 Jason DeBord