This is probably the first and last concert in which I will have seen and heard two of my three all-time favorite songs performed live at the same show – New Order's "Blue Monday", and "How Soon Is Now?" by original guitarist and co-songwriter for The Smiths, Johnny Marr.  If only Depeche Mode were on hand to play "Never Let Me Down Again", I would have had all three.  Obviously, the rare combination of Johnny Marr and New Order playing on the same bill made for an incredible night of music at The Boulevard Pool at The Cosmopolitan in Las Vegas.  Though they never shared the stage at the same time, it was a show that celebrated some of the most significant and influential players in music in the past three decades.  Johnny Marr's first solo record, The Messenger, came out earlier this year to great critical reception, and his set included a mix of the new work as well as a few songs from The Smiths, Electronic number, and one cover.  New Order changed things up a bit since their tour last year, playing "World (The Price of Love)" live for the first time and closed out with an encore of three Joy Division songs.

Who: New Order
Who: Johnny Marr
Venue: The Boulevard Pool at The Cosmopolitan of Las Vegas
Where: Las Vegas, Nevada
When: April 11, 2013
Seating: General Admission Standing

This show in Las Vegas was the first of just two dates in which Johnny Marr and New Order share the bill; the other will be in Santa Barbara on April 18th.  Both will be heading out to play Coachella this month as well.

The Boulevard Pool at The Cosmopolitan in Las Vegas is a concert venue unlike any other, and well worth experiencing if you ever get the opportunity.  The sprawling, multilevel outdoor pool area on the third floor of the resort and casino overlooks the Vegas Strip, and a stage is erected at one end, with live video of the show fed onto their giant screen above.  Really, anyone down on the Strip can full enjoy the sights and sounds.
Being that we are fully into warmer weather (though it is pretty close here in Las Vegas already), the configuration for the show last night allowed for a larger audience, as forms were placed in the pool (in lieu of filling it completely with water), making for a much larger GA floor space in front of the stage than when I saw GROUPLOVE at the same venue last year.
I arrived at least 30 minute prior to door (which was 8:00), and one of the halls outside of the pool area was completely packed with fans lined up, waiting to get in…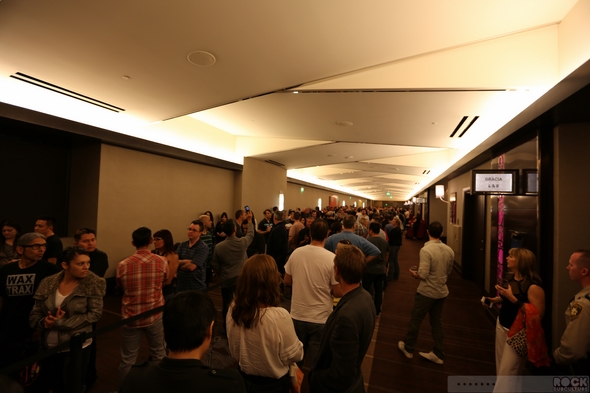 It was a pretty incredible sight, as you never quite know what to expect at Las Vegas shows, as there is so much entertainment competition, and bands must really turn out a lot of visitors.
Throughout the night, I asked fans in attendance where they lived, and could not find one person who actually lived in Las Vegas – everyone I spoke with traveled to the show (some from out of the country).
This was one of the shows that offered an "Early Entry Pass", so there were two lines of people waiting to get in, and those who had the Early Entry Pass quickly made their way to the space directly in front of the stage.
I ended up with a nice group of fans just left of center mic, maybe four rows back.  I had approval to shoot New Order's first three songs with professional gear from the rear upper level following Johnny Marr's set, so my plan was to enjoy him up close and then regroup with the other photogs to shoot New Order's first three songs from the upper vantage point.  I didn't think it would be possible to make my way back toward the front afterwards, but thought I would give it a try.
Johnny Marr
Johnny Marr is a true musical genius, and I'd probably count him as my favorite guitarist of all-time.  Co-founder of The Smiths as just 18 years old, his partnership with Morrissey, Andy Rourke, and Mike Joyce turned out not only some of the best music during the early 80s but some of the best albums of the past 30 years.  What they accomplished in such a short period is unparalleled in music, and in an environment in which really remarkable music was being made, The Smiths really bested all of them with a genre of music that was all of their own making.  The foundation of this music was Johnny Marr's stunning guitar work and Morrissey's lyrics, themes, and delivery (I was lucky enough to see Morrissey in concert just a month ago as well).
While The Smiths were only together from '82-'87 and people often suggest reunions and the like, I personally believe it is best to leave it as a remarkable legacy.  It was the perfect band and their works are among the best, so in my opinion it should just be celebrated as such.
In any event, post-The Smiths, Johnny Marr has been an extremely collaborative artist, working with The The, Modest Mouse, Paul McCartney, The Pretenders, Pet Shop Boys, Beck, Talking Heads, Happy Mondays, Billy Bragg and more.  He fronted Johnny Marr and the Healers as well.
My favorite collaboration was with New Order singer/guitarist Bernard Sumner and their band, Electronic.  They put out three incredible albums, which I felt were superior to the New Order albums that followed Technique, so I was a huge fan of the work that they did together.  I was really hopeful that Johnny Marr and Bernard Sumner would take the stage together to do one or a few Electronic songs, but sadly it did not happen.  However, Johnny Marr and his band did cover "Getting Away With It", Electronic's debut single, which was awesome.
Last night, Johnny Marr and his band took to the stage at 8:00, following an hour long DJ set.  There were so many people that turned out for this show, I heard it took the full hour between doors at 7:00 to show at 8:00 to get everyone checked it.  The place was absolutely packed.
Johnny Marr and his band took to the stage and opened with the first track off The Messenger, "The Right Thing Right", and it came out brilliantly.  This was my first time seeing him play live, and I was close enough to see his guitar work using the zoom on my pocket camera as binoculars of sorts.  A real genius at work.
Johnny was dressed very sharp, as I kind of expected, and he really has quite a British 60s rock star kind of aura, in an understated way, if that makes sense.  He is the real deal.
Next up was the first of three cover songs from The Smiths with "Stop Me If You Think You've Heard This One Before".  Honestly, it was at first really unusual for me to hear a Smiths song with vocals that aren't Morrissey's, but his delivery was truly his own and very earnest and heartfelt, so that is not meant as a criticism, it just had to kind of sink in for me and the context of it all kind of washed over me.  It was actually quite amazing to have him up there on guitar and vocals giving his own interpretation of the song, rather than mimicking what we hear in our minds from decades of playing the familiar studio version.
The setlist was really well thought out, as he then played more tracks from his new album, "Lockdown","The Messenger", and "Generate! Generate!".
Next up was one of the all-time favorite Smiths songs (one of my all-time favorite songs in general, really), "There Is A Light That Never Goes Out".  Beautiful cover.  Then two more of the new songs – "Word Starts Attack" and "New Town Velocity".
He closed out the set with three covers "I Fought The Law", the aforementioned Electronic cover, "Getting Away With It", and one of my all-time favorite songs, "How Soon Is Now?"
It was really an awesome set, though I wonder what his solo headlining dates might hold in terms of additional songs, as this set only lasted an hour, and I imagine his future dates (sans New Order) will be longer.  I know when he was touring overseas, there was a fuller set, which also included "Bigmouth Strikes Again" and "The Queen Is Dead", two incredible Smiths songs that Morrissey doesn't seem to do, so I think it is worth turning out for those upcoming gigs just for more of the greatness that is Johnny Marr.
Below is the set list for Johnny Marr's concert at The Cosmopolitan last night:
The Right Thing Right
Stop Me If You Think You've Heard This One Before (The Smiths cover)
Lockdown
The Messenger
Generate! Generate!
There Is A Light That Never Goes Out (The Smiths cover)
Word Starts Attack
New Town Velocity
I Fought the Law (The Crickets cover)
Getting Away With It (Electronic cover)
How Soon Is Now? (The Smiths cover)
I did not have a photo pass for Johnny Marr's set, so limited my photograph to shots with my pocket camera (click any image for higher resolution):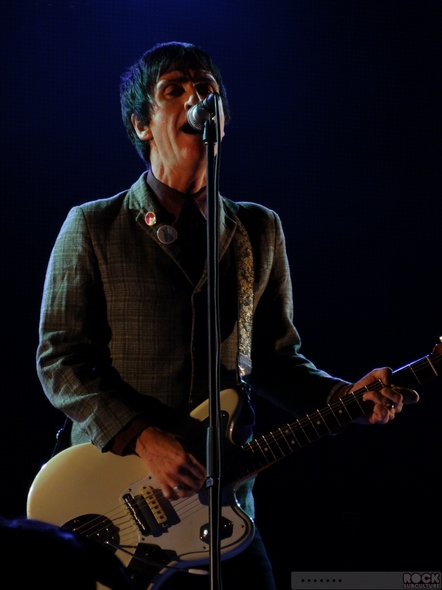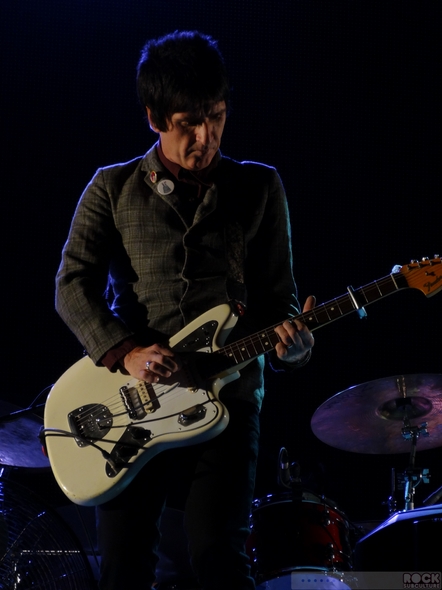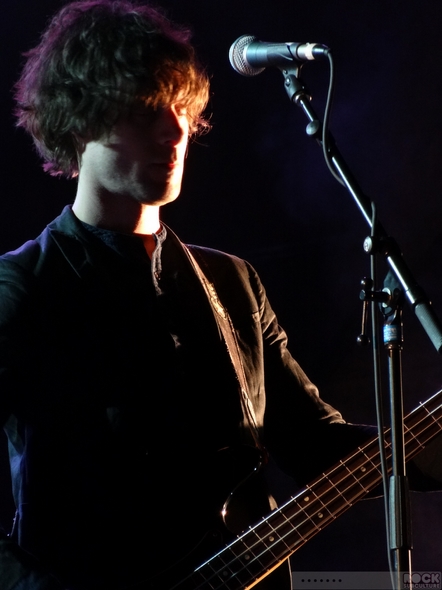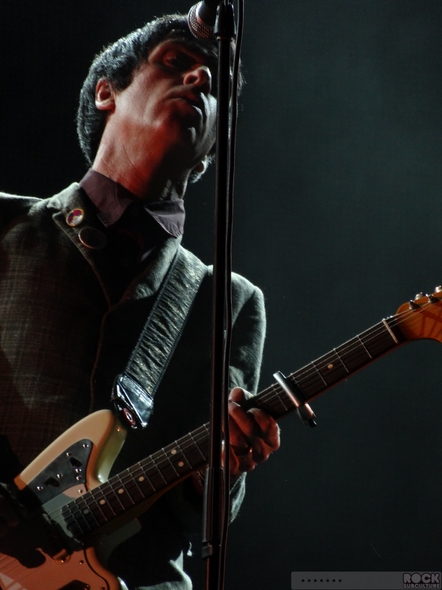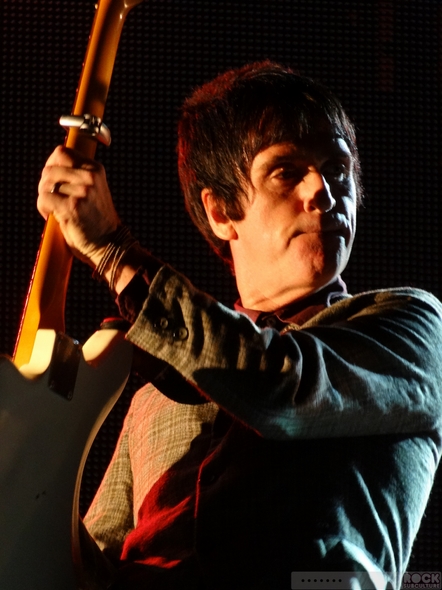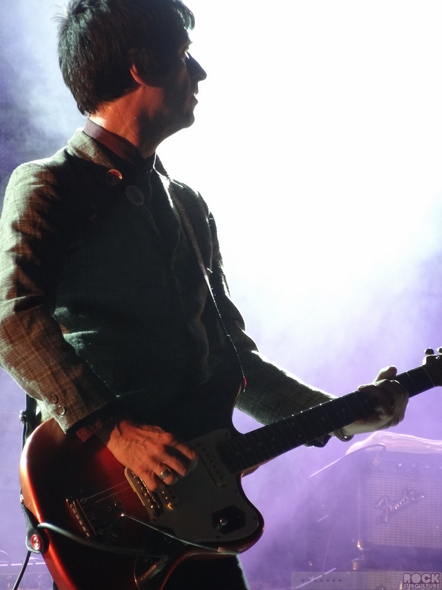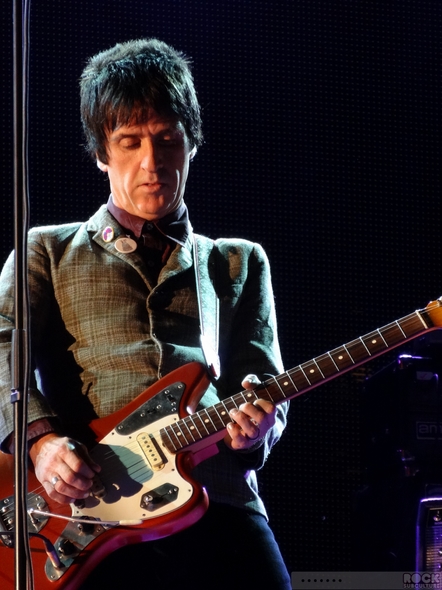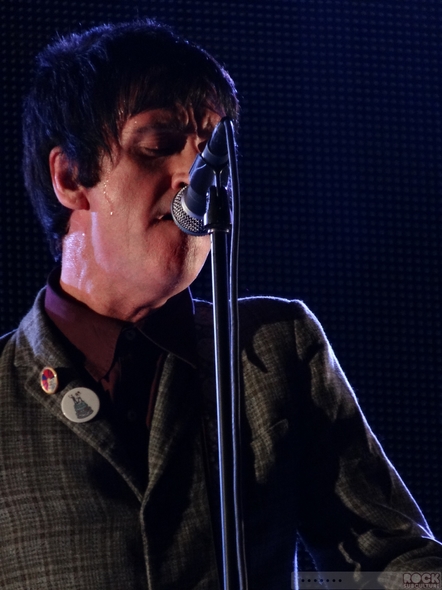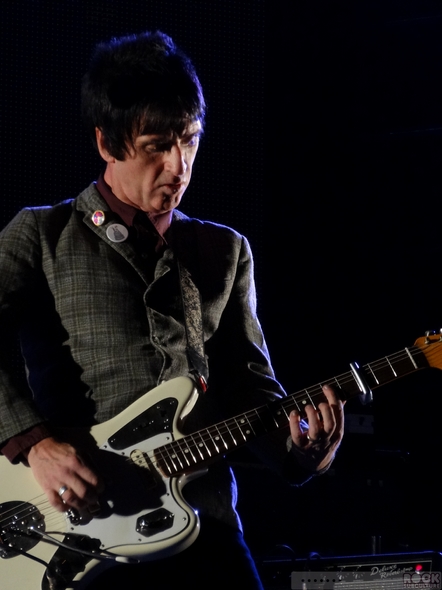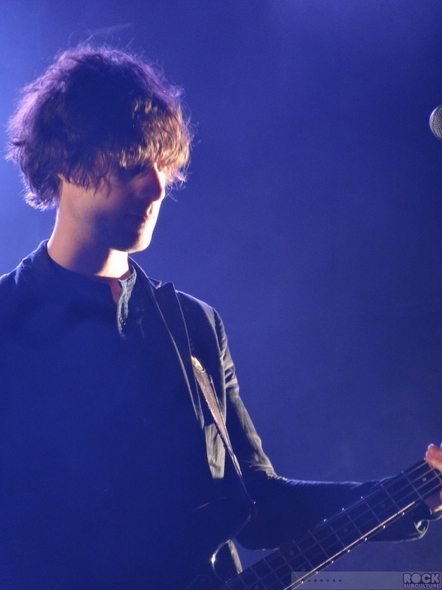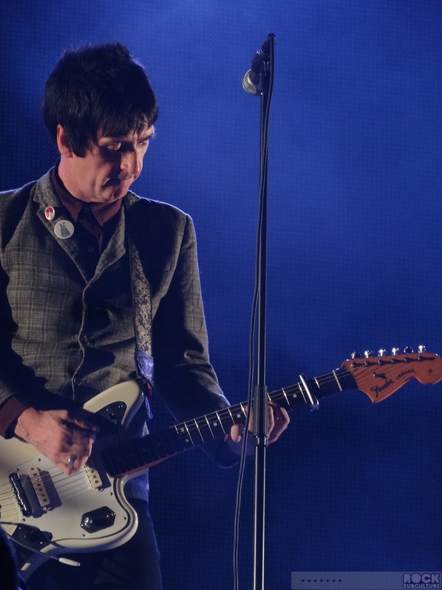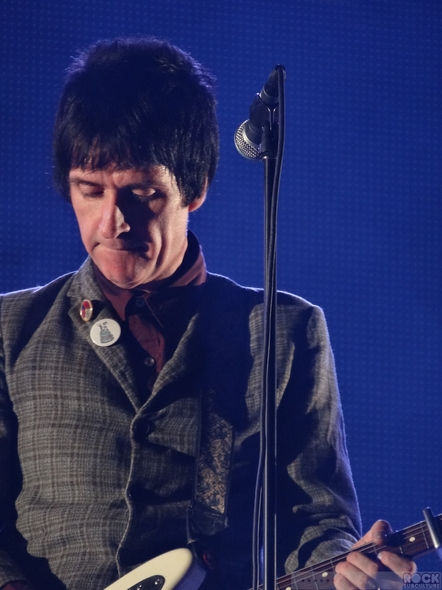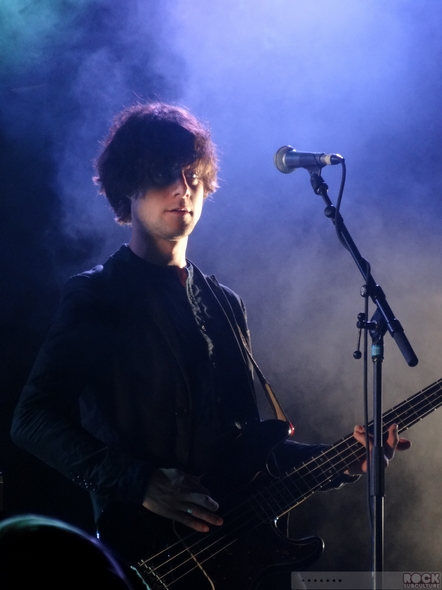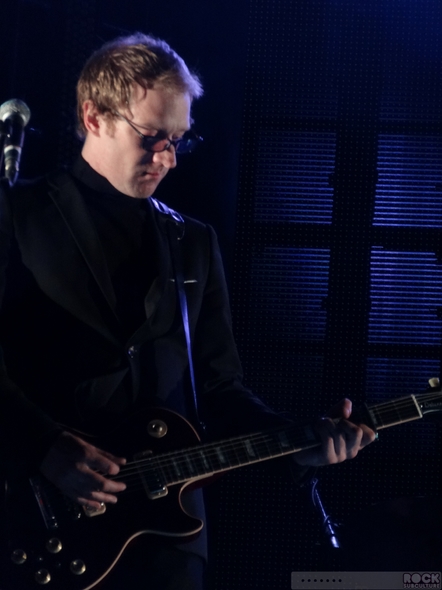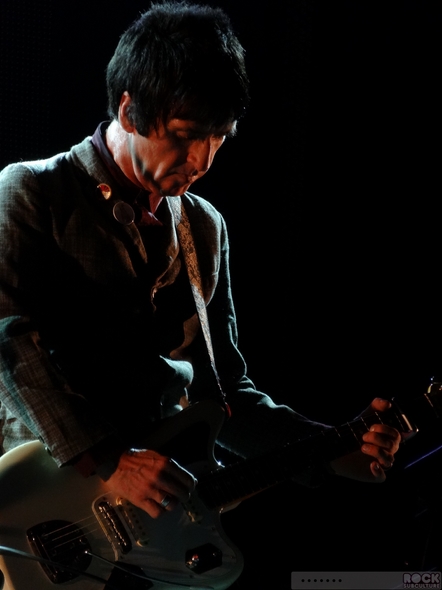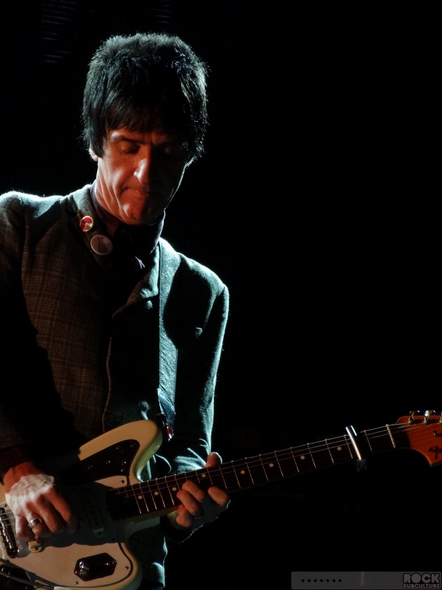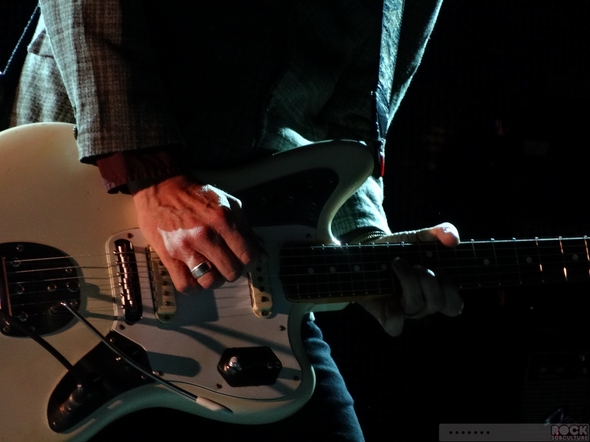 New Order
Members
Bernard Sumner
Stephen Morris
Gillian Gilbert
Phil Cunningham
Tom Chapman
I've already written much about this amazing band, as this will now be the third year running in which I've turned out for their show and published a review and photos, having seen them at the historic Greek Theatre in Los Angeles in 2012 and their monumental performance at The Troxy in London in 2011.
Many of the fans I spoke with at the show last night had never seen New Order live, or had not seen them since the tour circa Republic in the early 90s.  So the excitement and energy mixed with the post-modern setting of an open air venue on the Vegas Strip made for a really cool atmosphere.  Fans were just beaming with excitement.
As explained in past reviews, I have been a huge New Order fan going back to the early 80s. For those unfamiliar with the band, they were formed by the surviving members of Joy Division after the 1980 suicide of their lead singer, Ian Curtis. Bernard Sumner took over vocals, Stephen Morris and Peter ("Hooky") Hook continued with bass an other instruments, and Gillian Gilbert joined the reformed band, which had a strong electronic pop change in direction from Joy Division's post punk sound.
Being a British band and breaking up a few times over the years, many had never had an opportunity to see them perform live, and the last break-up, with a division between Peter Hook and the other members of the band, left most fans suspecting that they may never see the band play together again. The last time I saw them in concert prior to the new incarnation of the band was at Shoreline Amphitheater in 1993.  The show at the Troxy was their first gig in England in five years.
That 2011 reunion began with two concerts (one in Paris, one in Brussels) to benefit their friend and filmmaker Michael Shamberg. The reunion was not without controversy, with founding member Peter Hook, no longer involved in the band, being publicly vocal about his disagreement with the new line-up.  Peter Hook (who is actually my all-time favorite bass player) has been touring extensively in recent years with his own band, playing a lot of Joy Division material.
With the current incarnation of New Order, it is comprised of original members Bernard Sumner, Stephen Morris, and Gillian Gilbert have been joined by Tom Chapman on bass guitar and Phil Cunningham as an additional guitarist. All of them, save Gilbert, are also involved in the Bad Lieutenant, a band formed following the last break up of New Order.
With last night's show, they updated a lot of their video graphics playing on the screen behind the band since I saw them last year.  They have definitely developed a unique stage presentation that adds some energy to their set that matches the music quite well.  Most of their music is pop and high energy, though they have more somber visuals accompanying that which is not so happy, like the Joy Division songs.
New Order have an incredible catalog of work – for me, each album up through Technique were absolute masterpieces (though I love what followed, I felt that their work was at its pinnacle with Technique, though individual songs on subsequent albums I still count among my favorites).  And in addition, "Blue Monday", I feel, is one of the best songs and most innovative songs released in the 80s.  Experiencing it live should be on the bucket list of anyone who loves music from that era.
My dream is to someday hear them play "Fine Time", "Round and Round", and "Mr. Disco".  I hold out hope that someday they will do something akin to what the Pixies did last year (with Doolittle) and tour one or two full albums, end to end, along with some hits.
Overall, the setlist was not too different from the show I attended at the Greek last year, with just a few changes (see image from that review to compare):
Below is the set list from the New Order show in Las Vegas last night…
Setlist:
Elegia
Crystal
Regret
Ceremony
Age of Consent
Isolation (Joy Division cover)
Love Vigilantes
Krafty
Your Silent Face
World
Bizarre Love Triangle
5 8 6
True Faith
The Perfect Kiss
Blue Monday
Temptation
Encore:
Atmosphere (Joy Division cover)
Transmission (Joy Division cover)
Love Will Tear Us Apart (Joy Division cover)
So as I mentioned, I had an opportunity to shoot the band with my pro gear from the upper balcony at the venue, but it was from quite a distance.  Afterwords, I was able to make my way through the crowd back up to the front to enjoy the rest of the show.
Personally, I can't get enough of seeing this band live.  I love their music, and the live experience is truly something else.  From what I've read, it sounds as though this group is quite happy working together and touring together, so hopefully they will do a lot more shows in the future and provide fans around the world an opportunity to experience their music in a live show.
Below are some photos of New Order performing on stage – first three songs pro gear from balcony; the balance with pocket Sony HX20V from floor (click any image for higher resolution photos):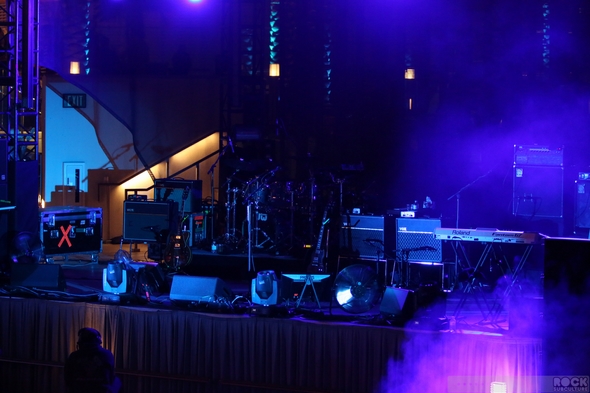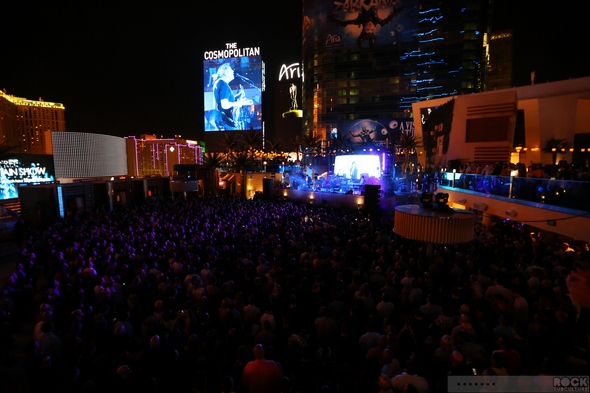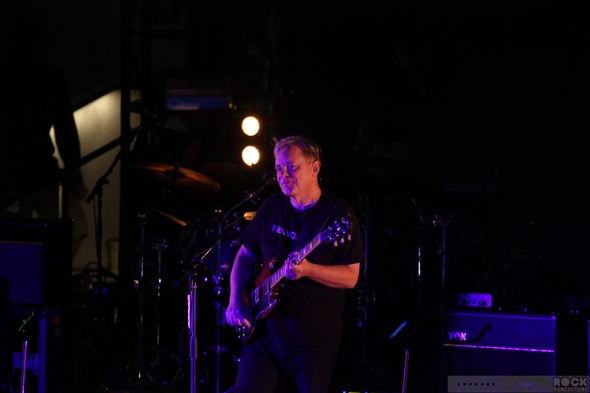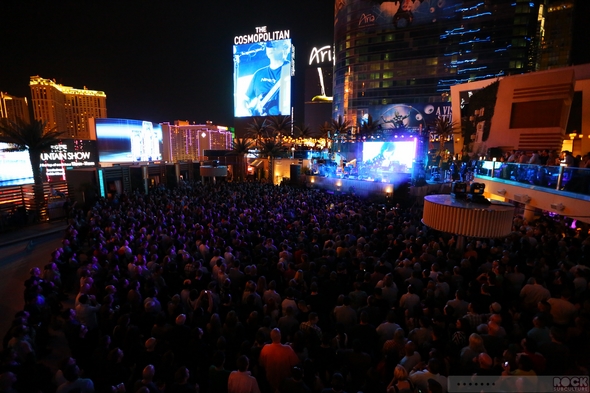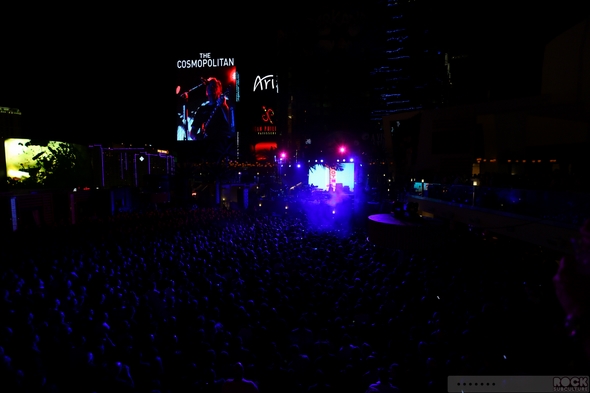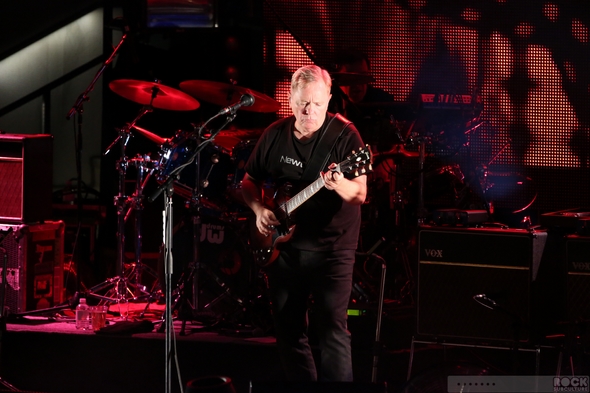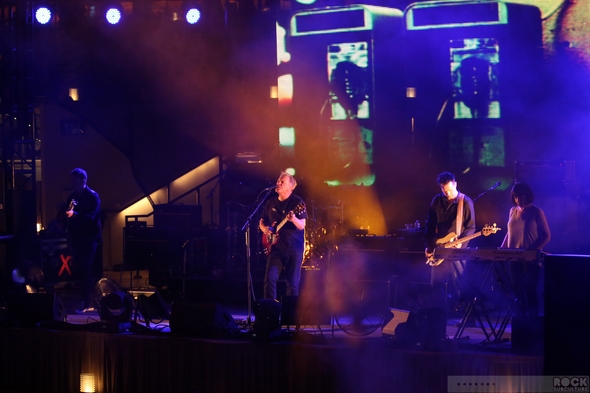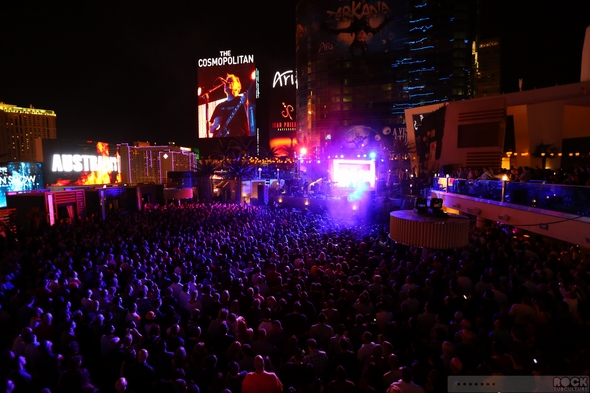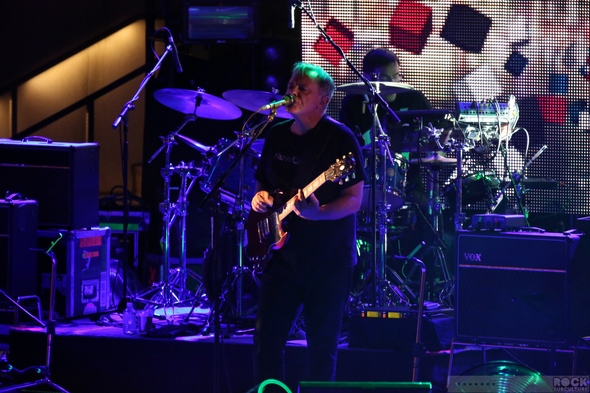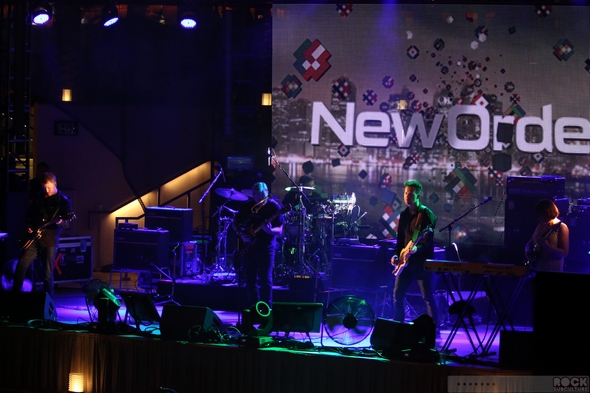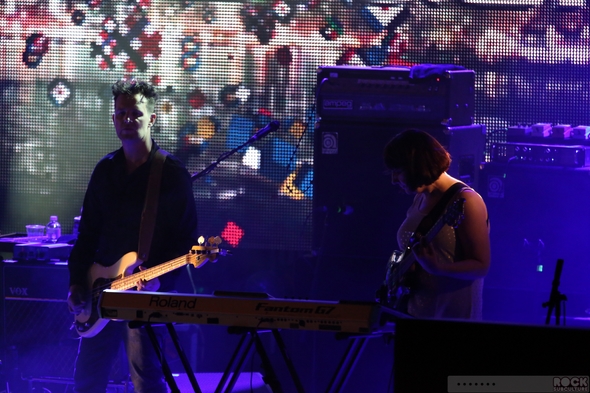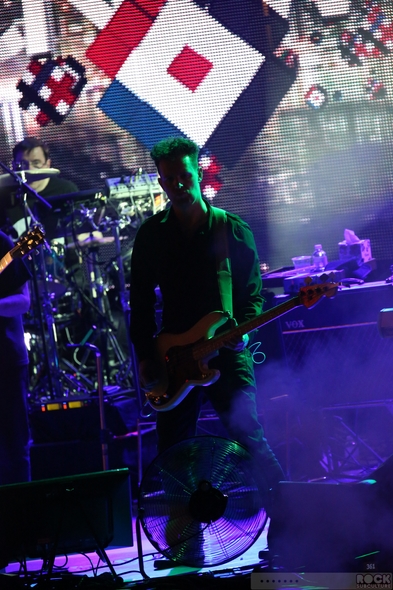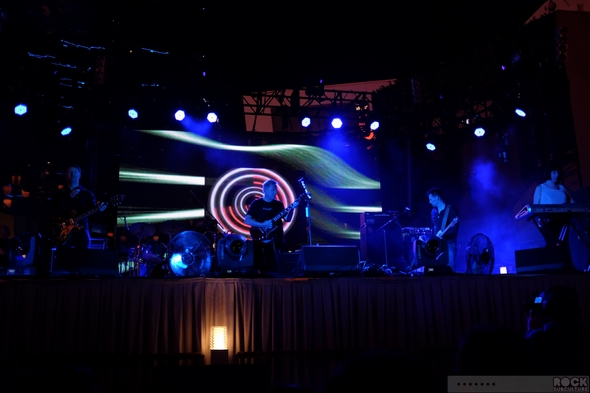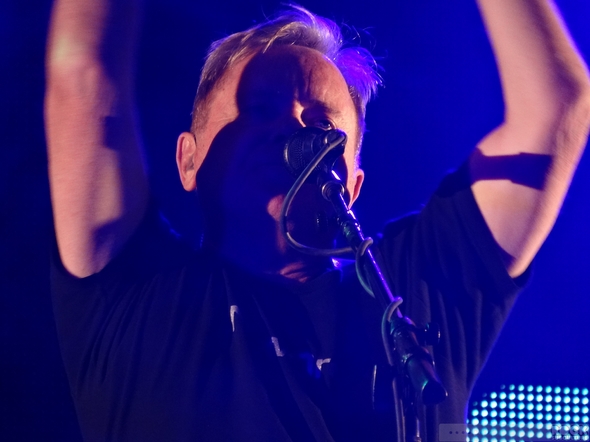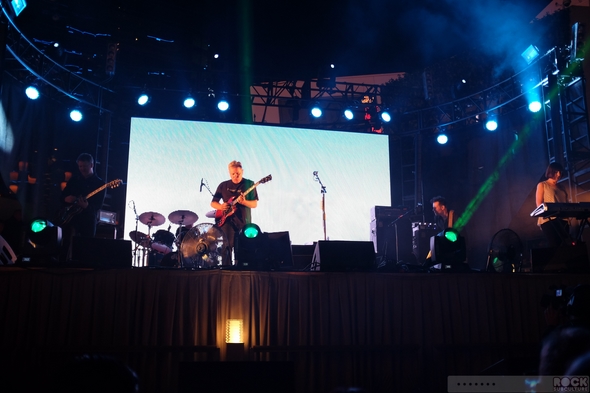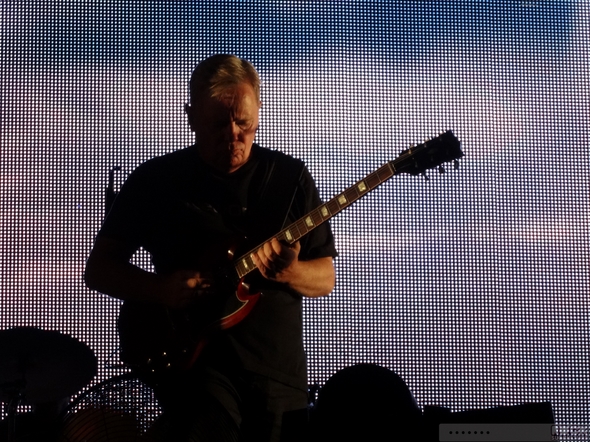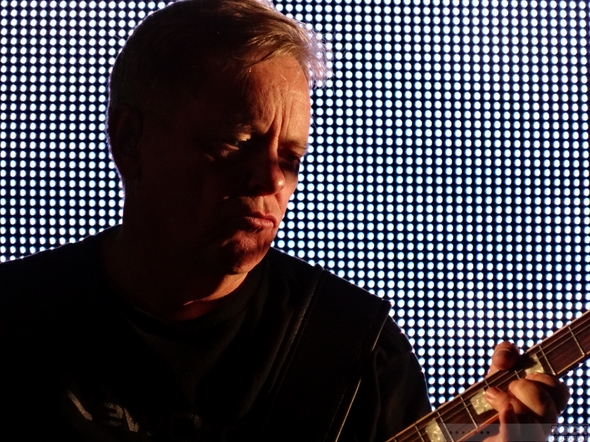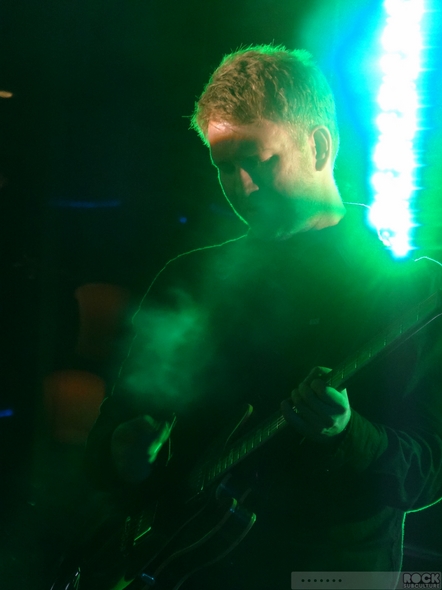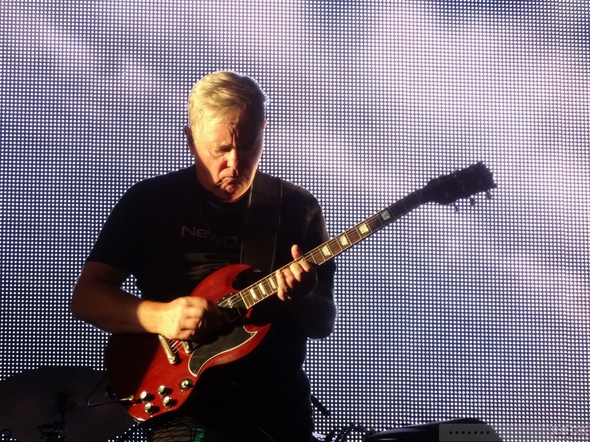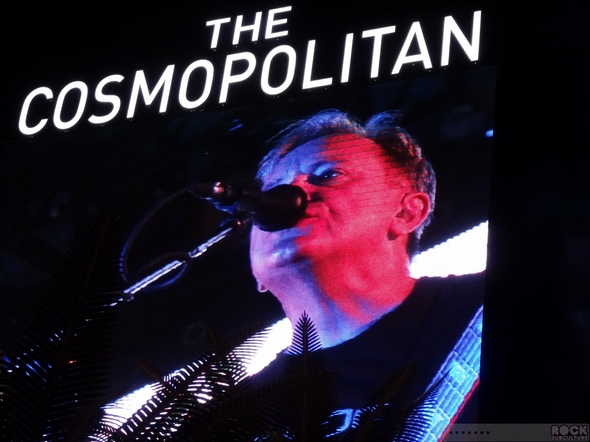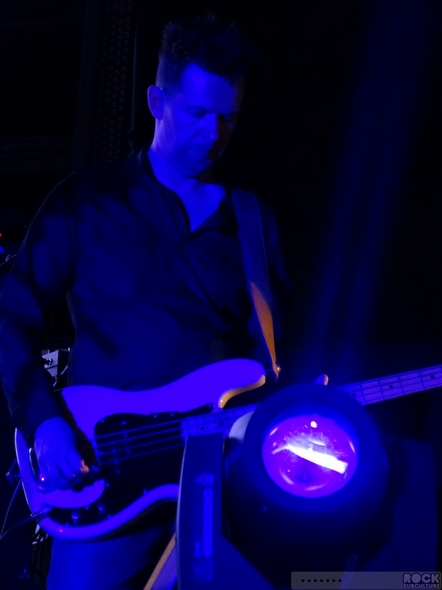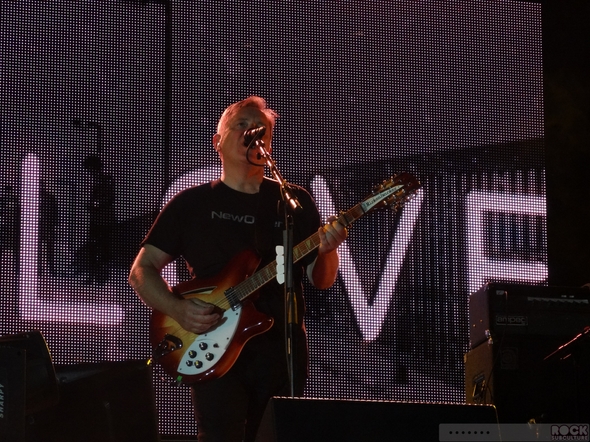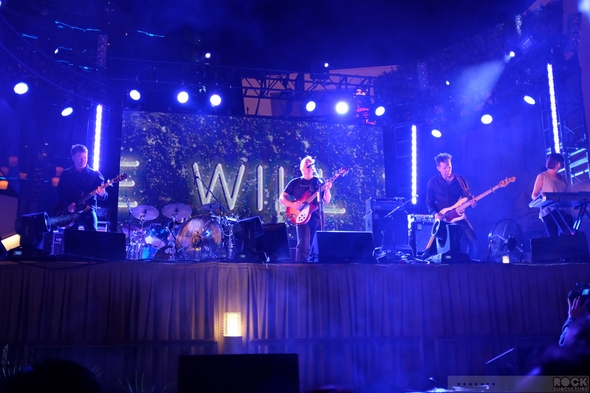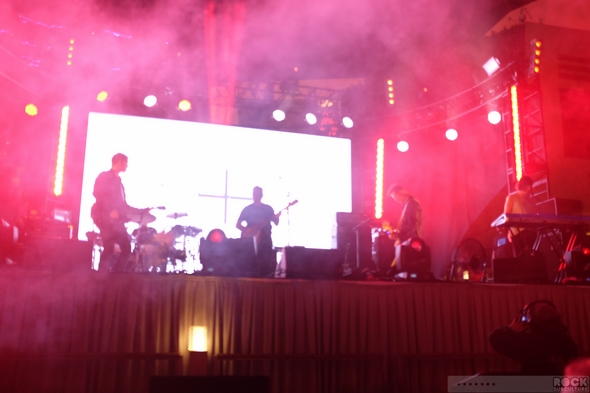 Jason DeBord