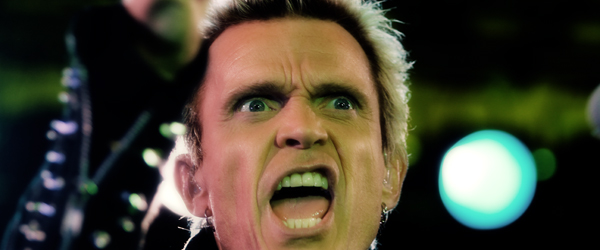 The world needs Billy Idol.  The world needs cool, and it needs a bit of a rebel yell.  But it also needs dreamers.  And, sometimes, a crazy, impossible, outlandish dream can lead to great things.  And all of this was proven on an epic night in Seattle, as a young man with hope, ambition, persistence, and ingenuity leveraged the Internet in a way that lead to rock music legend and icon Billy Idol playing his 26th birthday party at the Showbox SoDo in Seattle last night.  I've seen Billy Idol many, many times over the years, but I can say without a doubt that last night's special show featured the best audience I've ever been a part of at one of his concerts.  And in these challenging times we live in, it felt like everyone left their struggles and frustrations and all other negativity at the door, and embraced the awesome music and amazing live performance of Billy Idol and his band, as the put on a scorching show.  As just the second (by my count) U.S. date this year (with a third in Eugene tomorrow night), I believe it serves as evidence of the significant demand for fans to see Billy Idol play live.  He is one of my all-time favorite artist, has such a fantastic catalog of songs, and is one of the best live acts performing today accompanied by a peerless band and the incomparable Steve Stevens on lead guitar.  Cheers to Michael Henrichsen for having a dream and putting such effort into something that brings joy not just to himself, but everyone who loves Billy Idol who came to take part in it.  Michael certainly knows how to party, and he brought it to Seattle last night, in the form of the legendary Billy Idol.

Who: Billy Idol
Supporting: Nite Wave
Venue: Shobox SoDo
Promoter: Showbox Presents and AEG Live
Catalyst: www.PlayMyBirthdayBillyIdol.com
Where: Seattle, Washington
When: October 26, 2012
Seating: General Admission (also front of stage photo pass first three songs)
This event has garnered significant mainstream press in the lead up, and it all began with a crazy idea and a website.  It is the perfect example of how the world has changed with the advent of the Internet, and it is possible to reach out to people – literally anyone – in a unique way, as well as to be the catalyst of something that becomes bigger than yourself.

It all started with Michael's website, www.playmybirthdaybillyidol.com.
Even with his own charity concert events prior to tonight, Michael raised well over $10,000 for the Northwest Harvest Food Bank and the American Red Cross.
Two years running, imagine Michael's shock when Billy Idol published his official response:
Below are some links to just a few of the mainstream media outlets that caught on to this story.

Below is an ABC News video about the event last night (you can actually see me taking photos of Michael's band, Nite Wave, at 1:32-1:35, and just below Billy Idol taking photos of him at 1:51-1:55):
Nite Wave
In addition to having Billy Idol headline this amazing one off concert, Michael Henrichsen got to kick things off by performing with his 80s cover band, Nite Wave, in front of the eager 2,000 fans packed into the sold out Showbox SoDo.  In fact, I would say that Michael and his band were one of the best cover bands I've seen – they were amazing, and I know from talking with Michael after the show that it was like a dream come true.
Below is a photo of their set list from their opening gig (obviously they have great taste in music!):
Below are some photos of Nite Wave performing on stage (click on any image for higher resolution):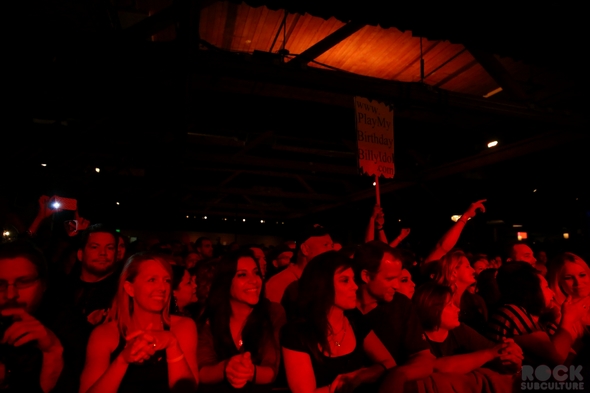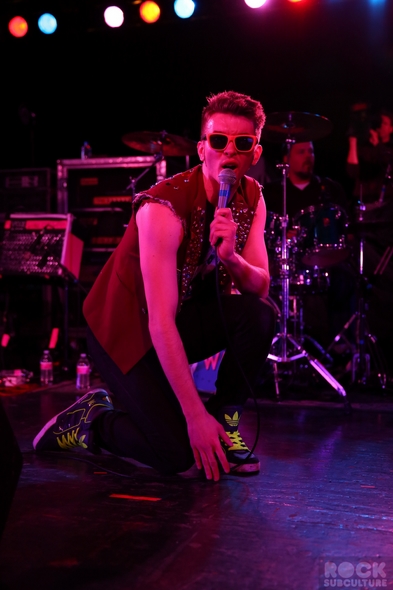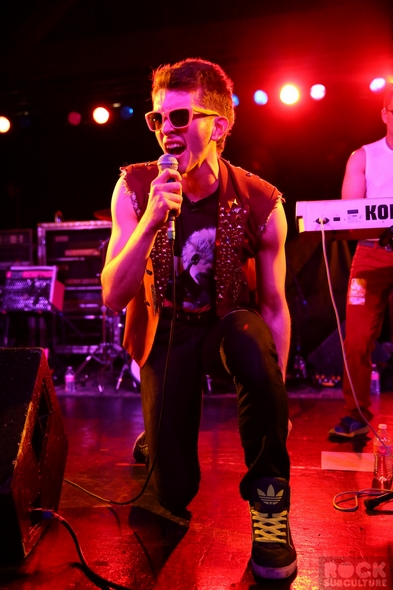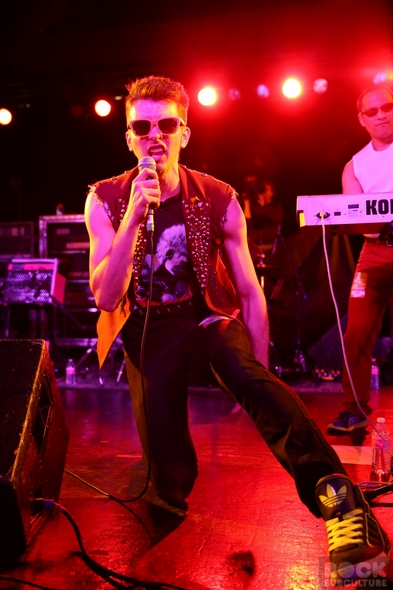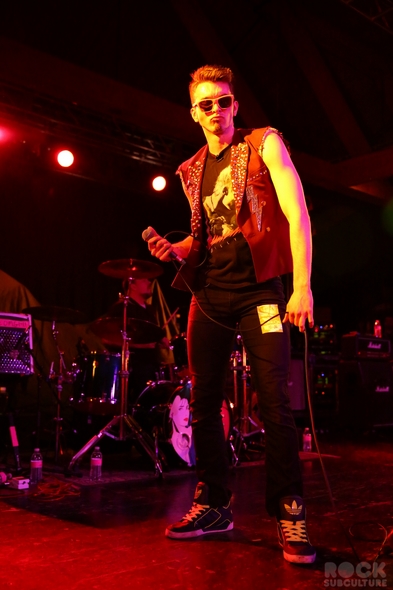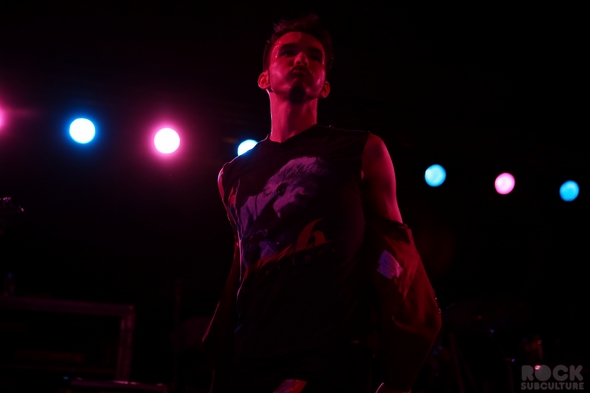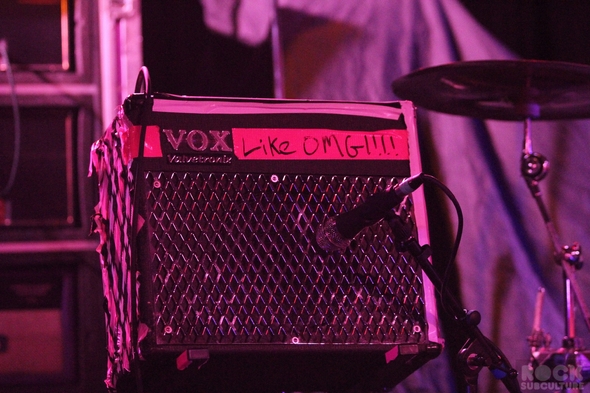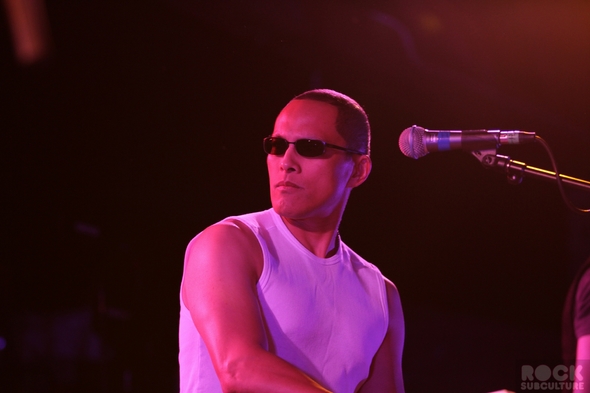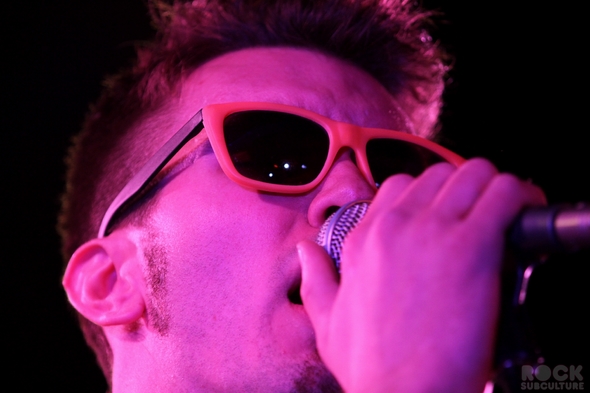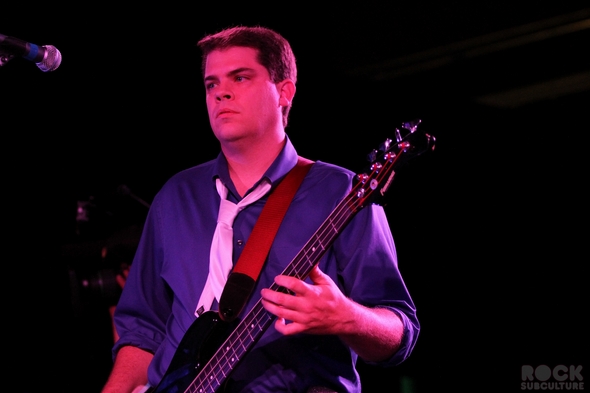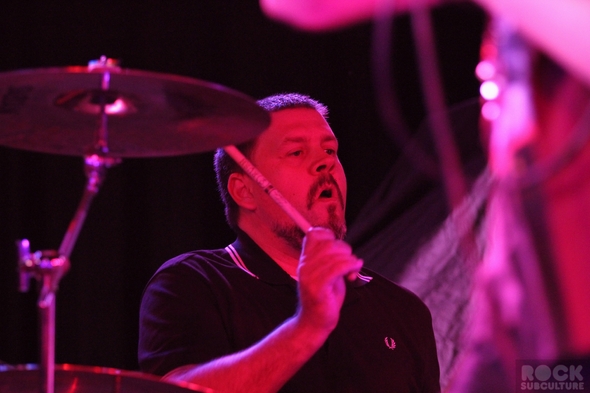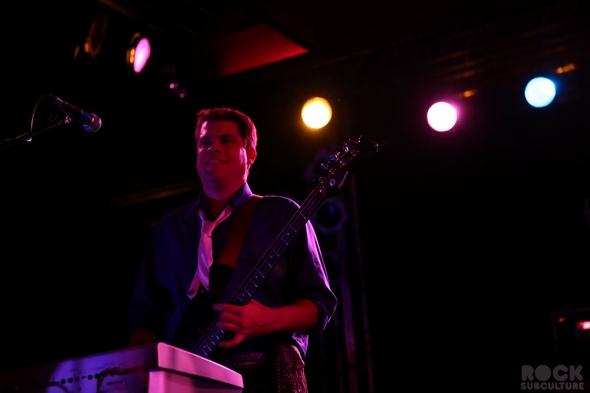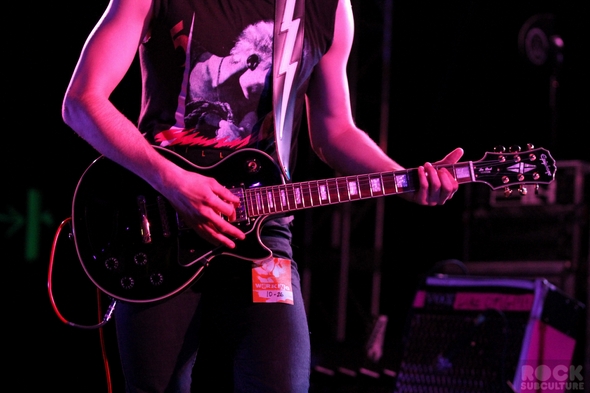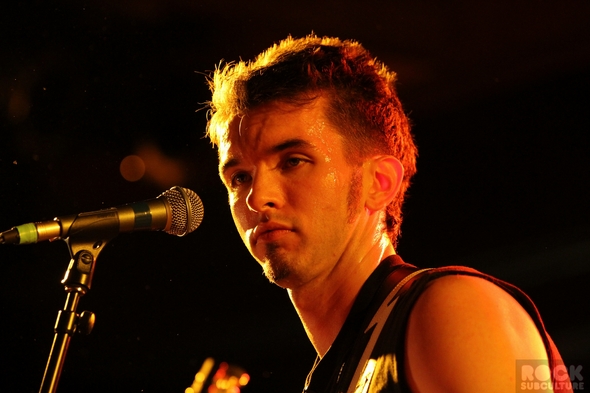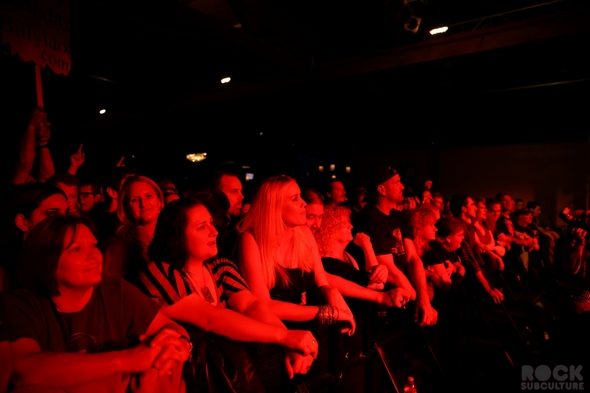 Billy Idol
Members
Billy Idol
Steve Stevens (lead guitar)
Stephen McGrath (bass guitar)
Billy Morrison (rhythm guitar)
Erik Eldenius (drums)
As explained in past articles, Billy Idol is one of my all-time favorite artists… a true and real Rock Star.  I have been a fan since I was a kid in the very early 80s, and he was one of the first artists I became familiar with on MTV, along with other greats of that era like Michael Jackson, Madonna, Prince, Cyndi Lauper, and Duran Duran.  These acts defined music and pop culture at that time, so they remain, for me, larger than life figures.  Hearing their music also has a nostalgic aspect in transporting me back to simpler times.
I have a tradition of seeing Billy Idol perform every year at Mountain Winery in Saratoga, only this year he did not take part in their Summer concert series, as the band was touring overseas at that time.  There was just one U.S. appearance as part of the Grammy Foundation's MusiCares event in Los Angeles in June, so I attended that show just to be able to see Billy Idol and his band perform a three song set as part of a large, multi-artist event.
Born in England as William Michael Albert Broad, Billy Idol was a fan of the Sex Pistols in the mid 70s, and was actually a member of an early version of Siouxsie and the Banshees and then another group called Chelsea after that, but it was co-founding and fronting Generation X that lead to real recognition and fame, and where he found his voice, swagger, style, and trademark lip curl.  In 1981 he relocated to New York and started his career as a solo artist, and found an incredible partner in the amazing guitarist Steve Stevens.
Billy Idol adopted hit "Dancing With Myself" from his prior band, and though he published original hit after hit, it seemed as though his cover of the Tommy James and the Shondells' song "Mony Mony" is where he truly broke through to the mainstream with his signature pop infused punk sound.
His second album, Rebel Yell, is truly an 80s classic, and one of the all-time great albums of the entire decade.  It showcased his ability to create really unique but instantly catchy and hooky tracks, and included the title song and "Flesh for Fantasy", as well as "Eyes Without a Face", which showed a different side of his singing and songwriting.
More classics were included on Whiplash Smile, released in 1986, such as "Sweet Sixteen" and "To Be A Lover".
Billy Idol has continued to record and release new material and tour throughout the years.  As one who obviously goes to many, many concerts, I can say on a personal level that for me, Billy Idol is right at the top of my all-time favorite acts, and make every attempt to see his shows whenever it is feasible.  So when I first heard about this event in Seattle, I knew that I had to do everything I could to be a part of it.
The show took place at the Showbox SoDo, where I saw Crystal Castles the night before.  As noted in that review, the Showbox SoDo is a really cool venue – it is what appears to be converted warehouse space; while utilitarian, the size offers an intimate experience with excellent views of the stage from pretty much anywhere inside, and the sound was quite good as well (loud enough but not overpowering as I find in many similarly sized venues).  They did a nice job with their interior design, with a modern and clean look, and all of the staff were very organized, friendly, and professional.  As with the night before, I congratulate all involved in creating and managing a great event.
With last night's show, since it was cold and wet outside, I waited in the bar inside the venue prior to doors, which was packed with people (to the point where they closed off that option for those still arriving, resulting in a huge line outside).  This was from the start quite obviously going to be an awesome crowd, and I enjoyed chatting with people as we waited for doors to open into the concert side of the venue at 8:00.  Seattle has long had a vibrant music scene, and I enjoyed talking with a guy about an Elvis show he'd been to, and a woman I chatted with cited a 1973 Elton John show as her all-time favorite live gig.  We had an opportunity to hear Michael and his Nite Wave rehearse and sound check, and with that, I knew we were in for a nice bonus performance prior to Billy Idol taking the stage.
Just before 8:00, Michael came into the bar to greet us and have fun with the crowd, with cameras following.  That was a sign of things to come, as their was more media for this event than I'd seen covering a rock concert in some time.
I didn't get a chance to talk to Michael on a personal level at that point, but it was obvious seeing him interact with others that the guy is very genuine, sincere, kind, and was having the night of his life, and more, he wanted to bring everyone on this journey with him.  Very cool guy.
Finally doors opened, and we all flooded onto the GA floor and made our way to the front of the stage.  Since I was going to be shooting this show with credentials, I didn't need to grab a spot as I would ordinarily, but had two friends who had come on a road trip from Idaho waiting in the line outside, so I held a spot for them close to the stage until they could make their way in a bit later.
Ultimately, Michael and his Nite Wave took the stage, and put on an awesome show, and the crowd just loved it – from their reaction, if you had just stumbled into the venue from the outside, you would believe that they were a headlining band.
I was truly fortunate to have been on the approved media list for this show to be able to take photos up front below the stage for the first three songs in the Billy Idol set, so was right up against the stage, which is of course a thrill for me as a fan of him and his band.  There was great energy from the moment it started, and it was obvious from the vibe in the air and the enthusiasm from the crowd that this was going to be a very special show.  One of the greatest natural performers in music, Billy Idol delivered.
I've often made note of how amazing it is to attend shows like this, and how music artists differ from many other celebrities, like in the world of film and television.  A famous actor plays a part, plays a role, plays a character.  Billy Idol is Billy Idol.  He is the "character".  And I've always had the sense that Billy Idol lives his life – on stage and off – the same…  He is who he is: confident, brash, uncensored, happy… and is a living rock and roll legend.
And shows such as this – well, this show is so unique, it really doesn't compare to anything – these very special events are rare experiences, and for those in attendance last night, unforgettable.  It is such an opportunity to be a part of experiencing live music in such a way  It's really the reason I started this website, writing these reviews – to encourage fans of music to get out and find out when artists that they love are going to play a concert, and, if possible, to go see, hear, and experience it.  And a show like the one last night, I know from talking with others, that I was certainly not the only one who traveled to see it, and not the one who traveled the furthest.  But I can't express enough how much it is worth it.
The venue last night was sold out, and it was packed throughout the venue, shoulder to shoulder.  Once I shot the first three songs, I literally had no where to go, but ultimately waded my way back to a spot near the mixing booth in the center of the venue.  It was awesome to take in the crowd from that spot, pumping their fists in the air and beyond jubilant.
Below is a short video showing Billy Idol singing happy birthday to Michael, plus a bit of "White Wedding" afterwards, and, as you'll see, the crowd going wild, especially in the bridge between the acoustic and electric version of the latter:
After a very long set – I think Billy Idol was on stage for over an hour and a half, and finished around 11:30 or 11:45 – I met up with my friends outside, and we had a chance to chat with Erik Eldenius, Billy Idol's drummer, for a little while.  Really nice guy, and even went back into the venue and retrieved his drumsticks for my friend, Andrea, as a souvenir.
Eventually, Michael Henrichsen came out, and took a lot of time to talk with those of us still there…  such a nice guy. I got my photo taken with him outside of the venue: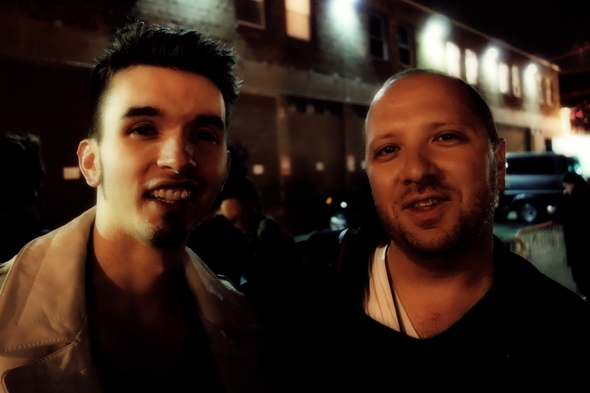 As much as he has created this special event and used some real ingenuity and passion to make it all happen, the one thing that struck me about him is that he is a sincere, genuine, and very nice and kind young man, and I think that is what will take him far in life in realizing his dreams.  Because as much as he has garnered some really impressive mainstream media attention with this event, having met him and talked with him, he strikes me as the kind of guy where all of this wasn't about him – there is nothing at all ego-driven about him, from my assessment.  For him, it was about sharing and celebrating with others, and I would speculate that as he finds his role and purpose in life, whatever it might be, it will be grounded in connecting with and sharing with other people.  And I'd just like to thank him for creating this awesome event out of nothing but a crazy dream, and that is something that can be inspirational to anyone.
Billy Idol will be playing another special show in Eugene, Oregon tomorrow night at The Hult Center for Performing Arts, presented by The Shedd Institute, which I will also be reviewing.
Below are some photos of Billy Idol and his band performing on stage and additional photos from the night (click on any image for higher resolution):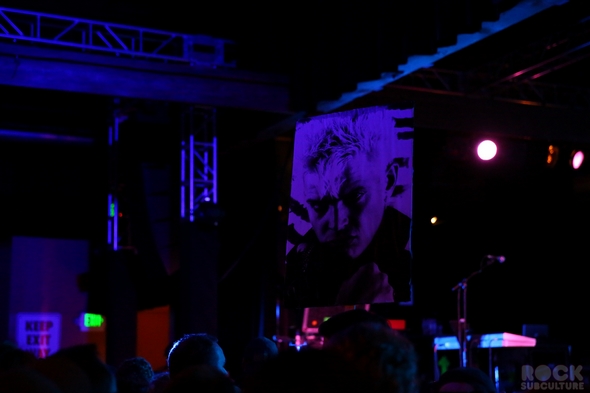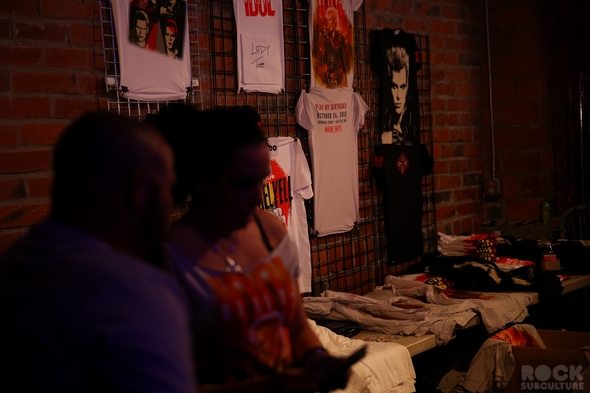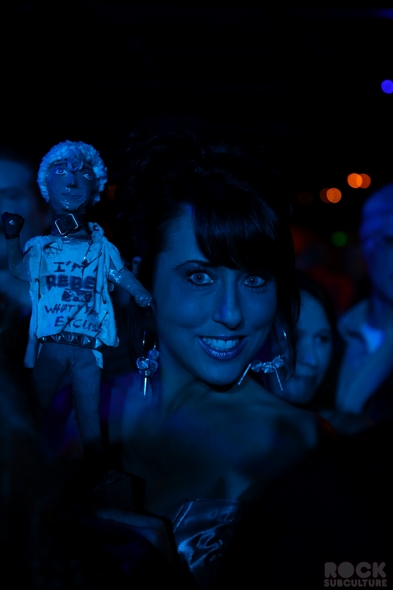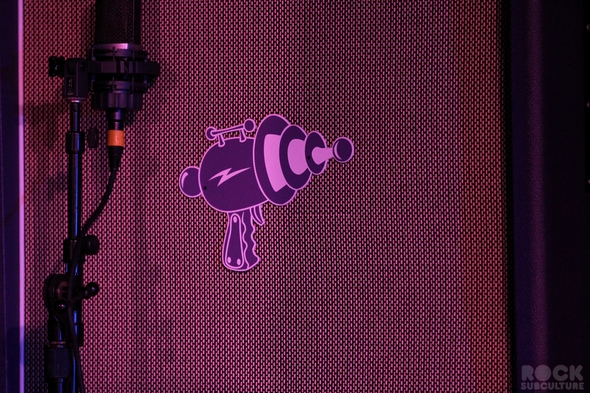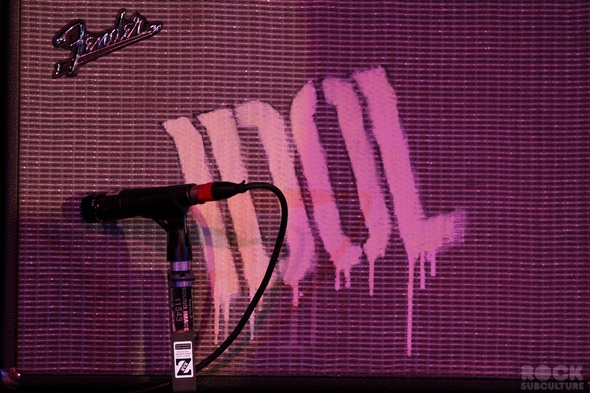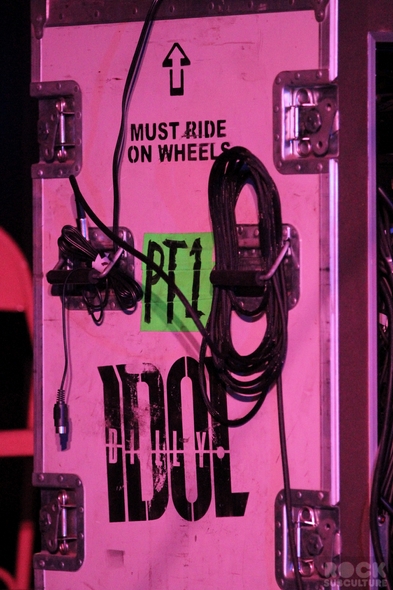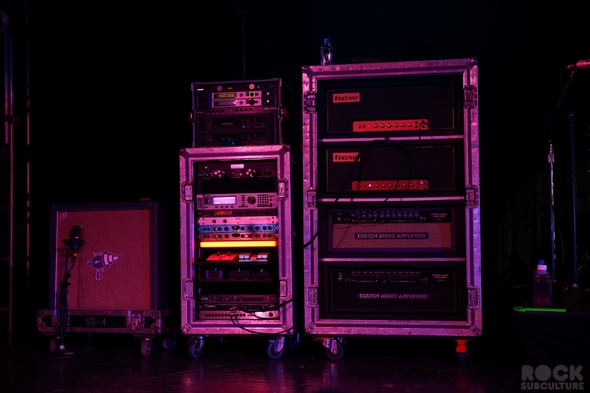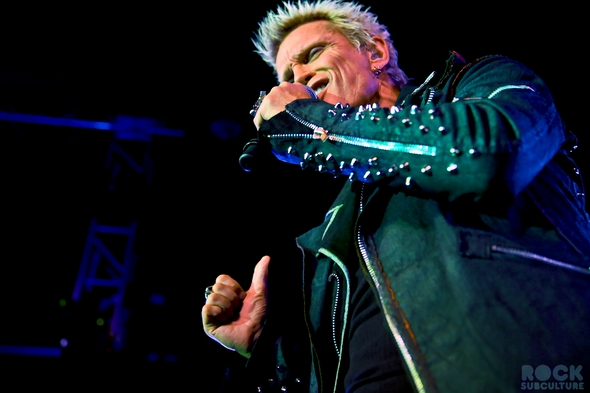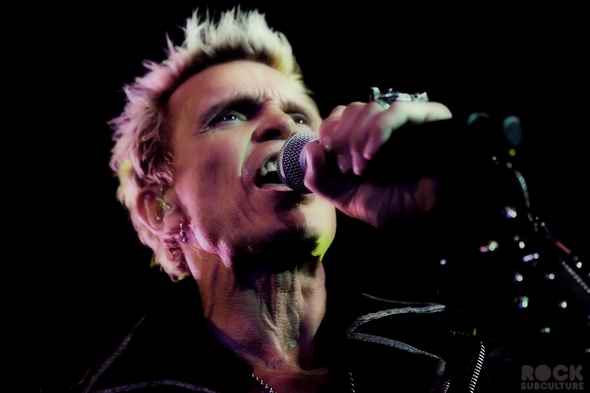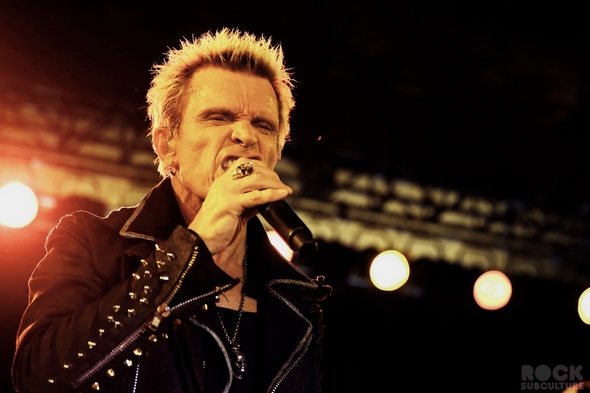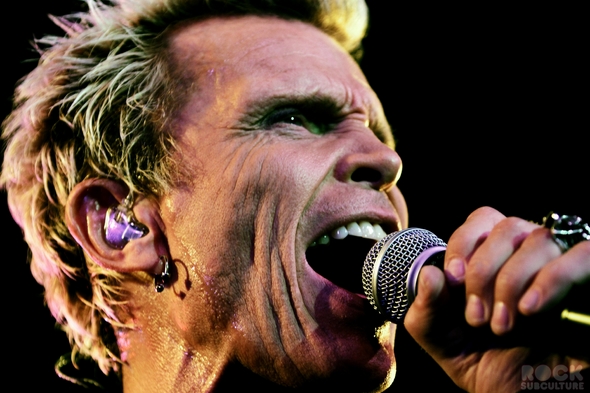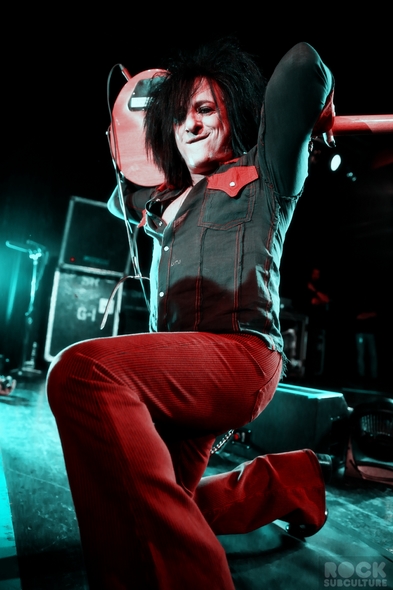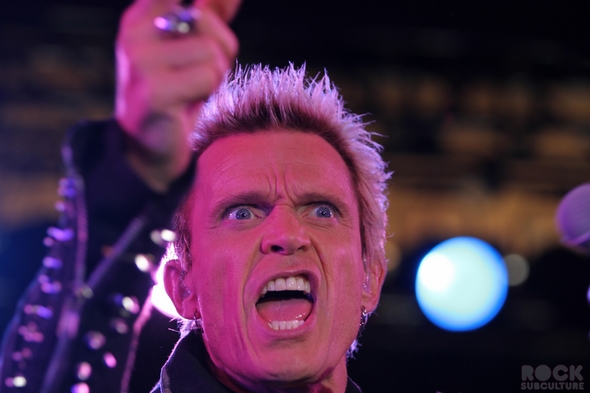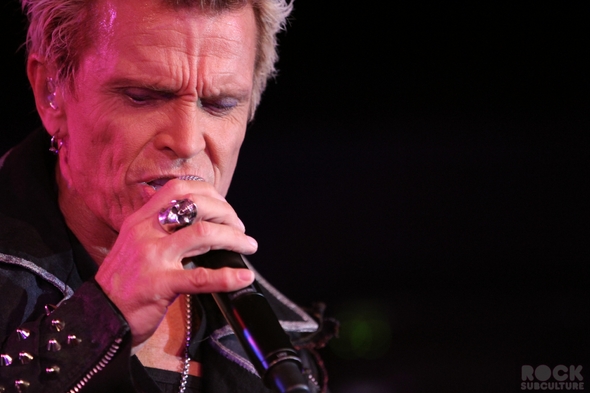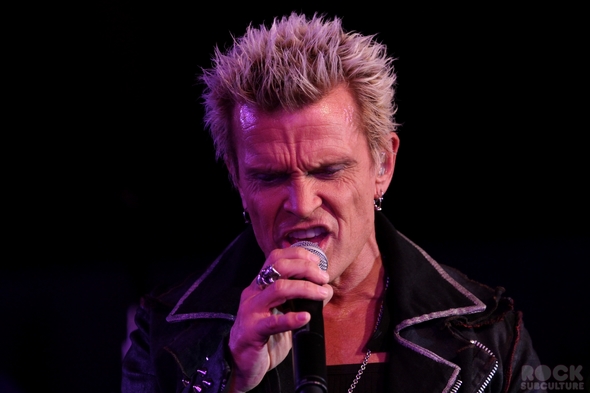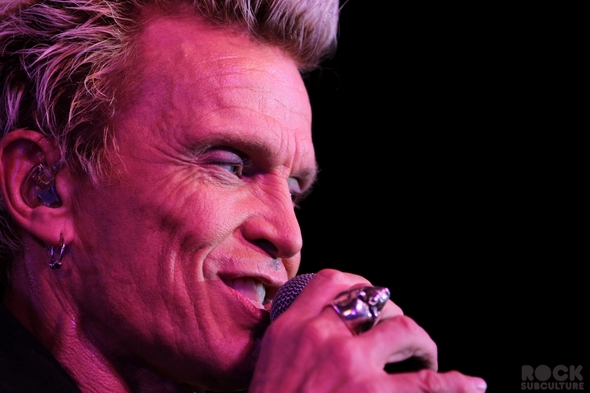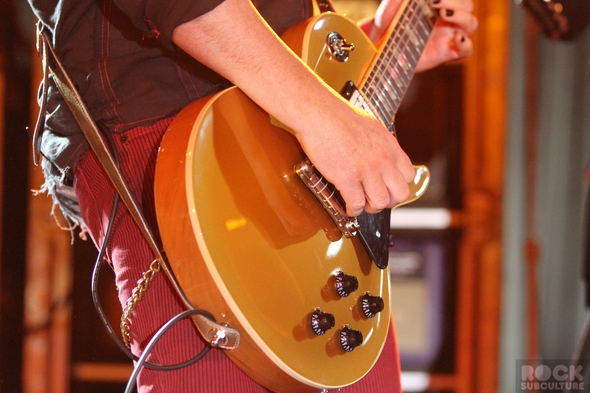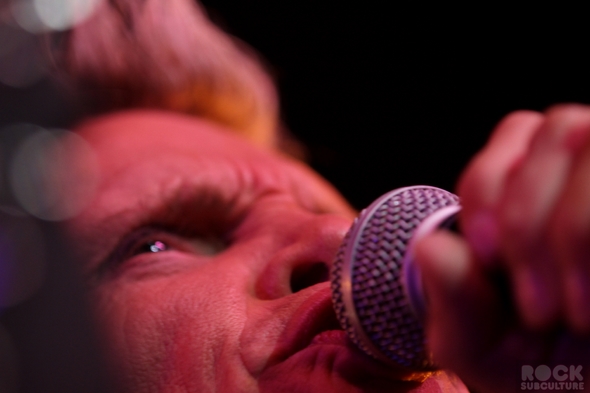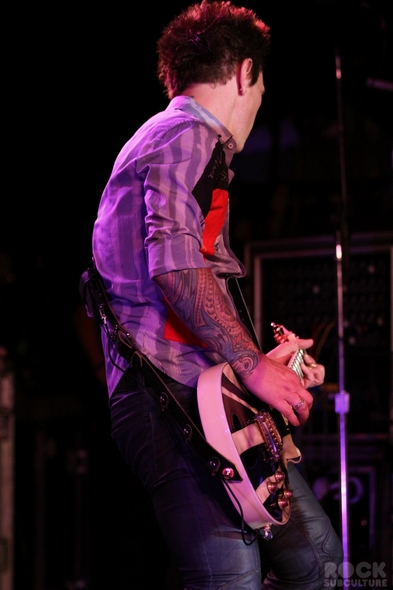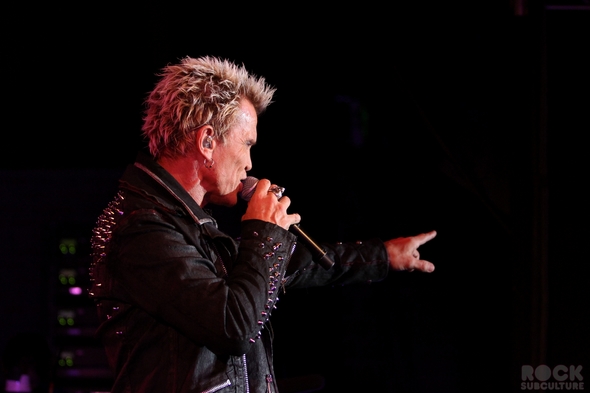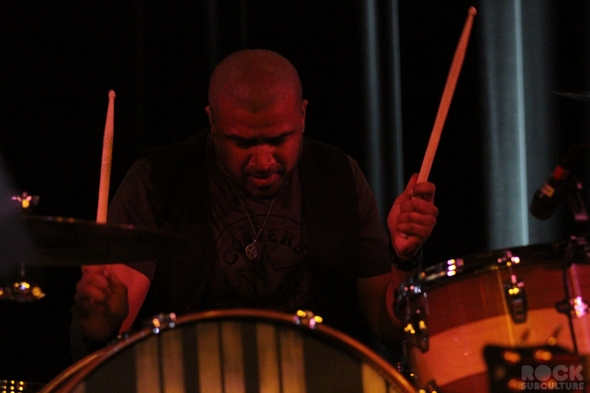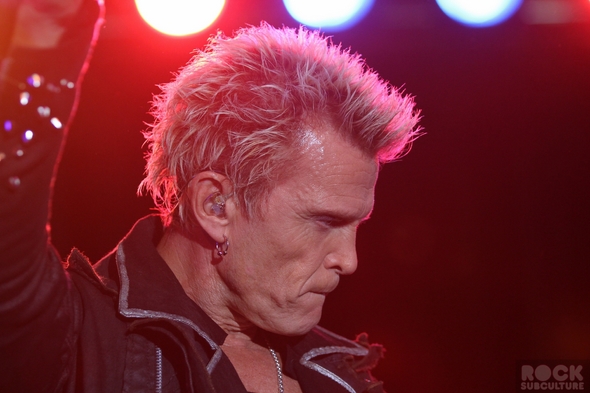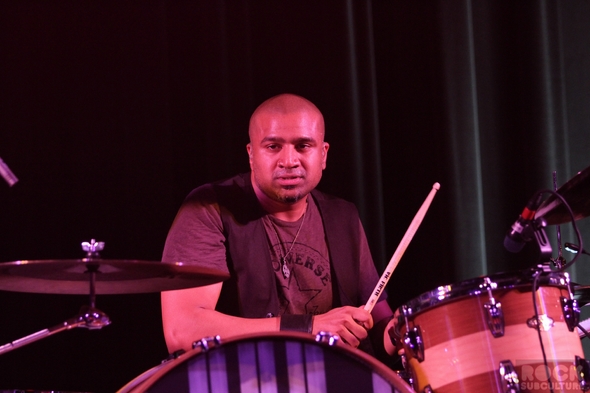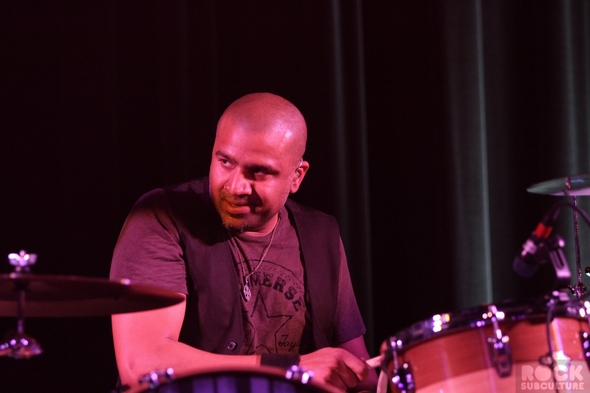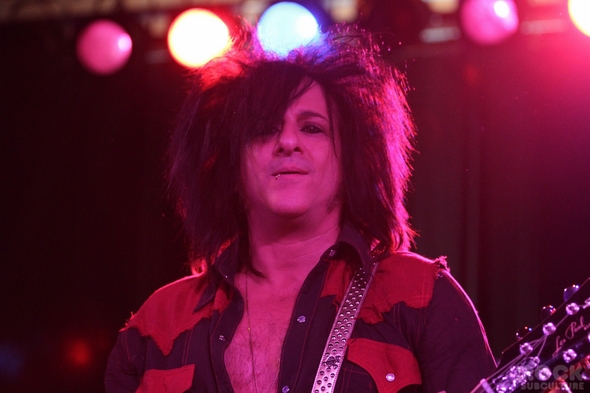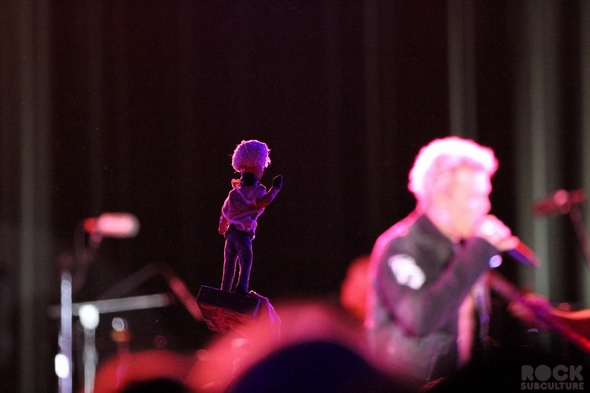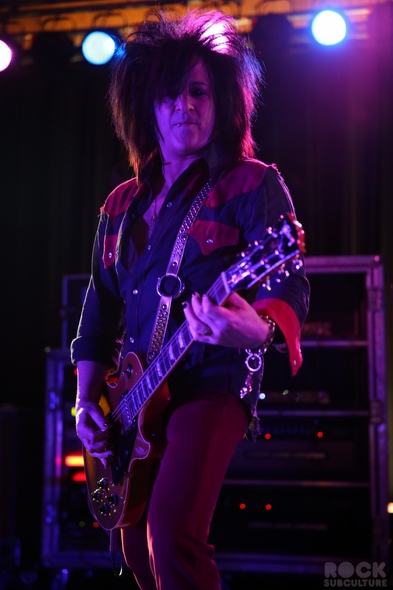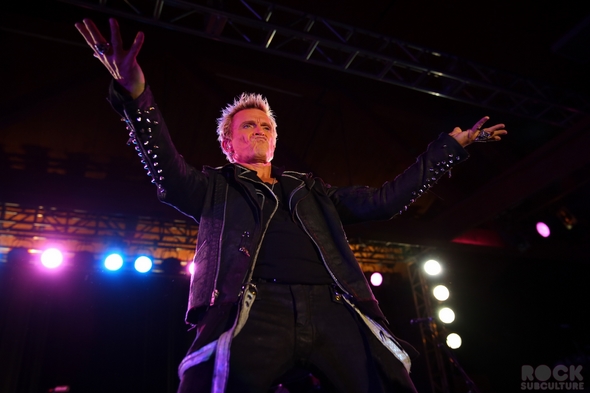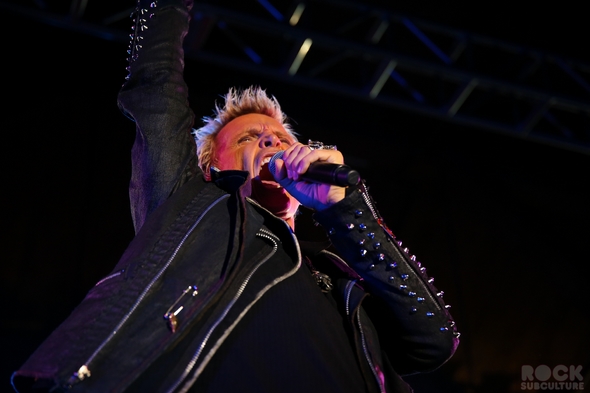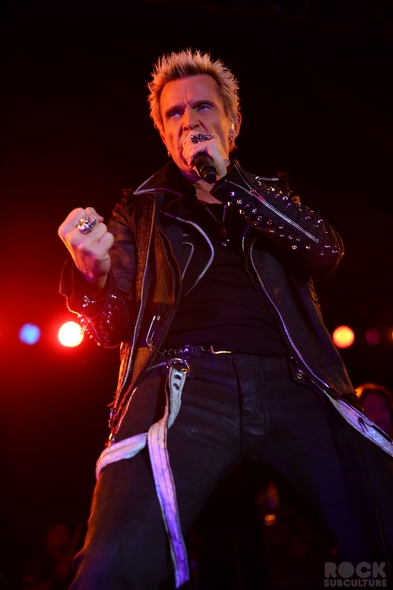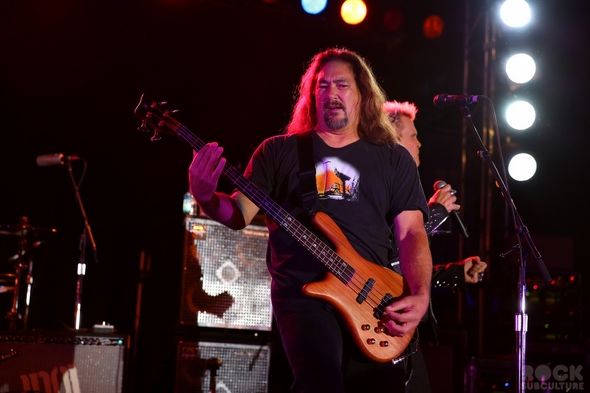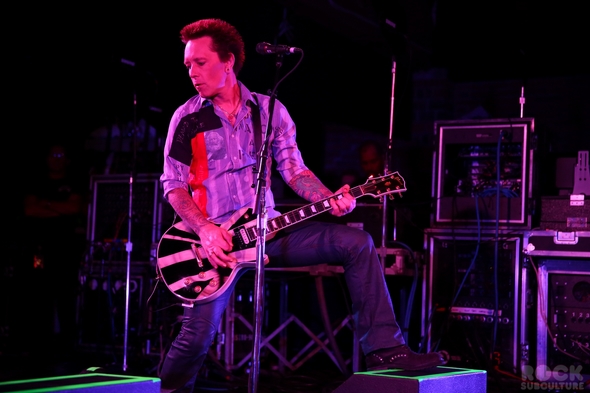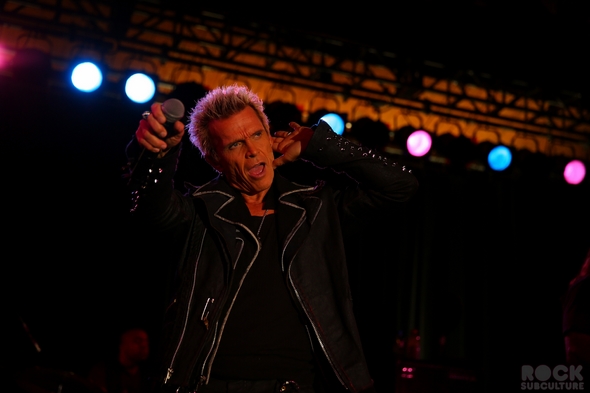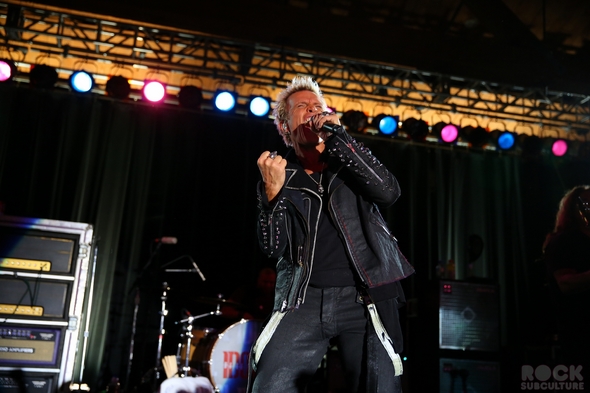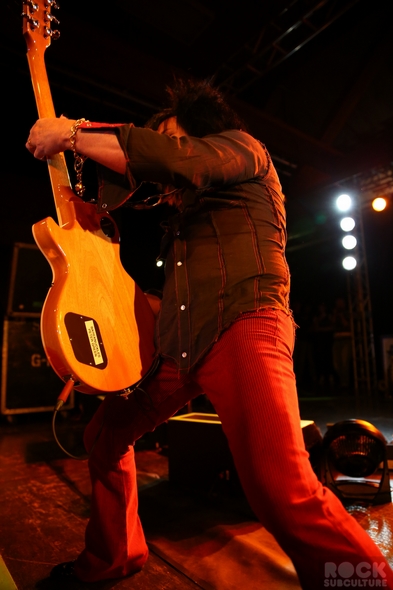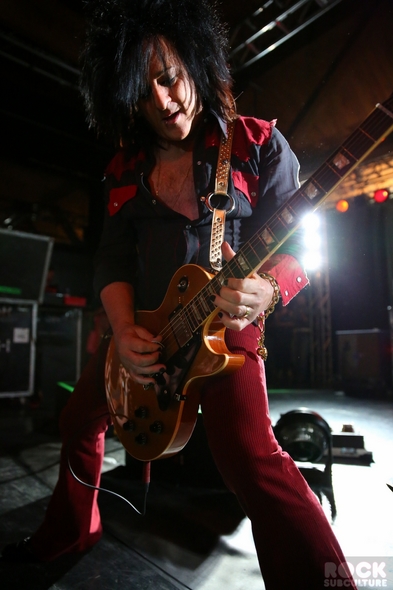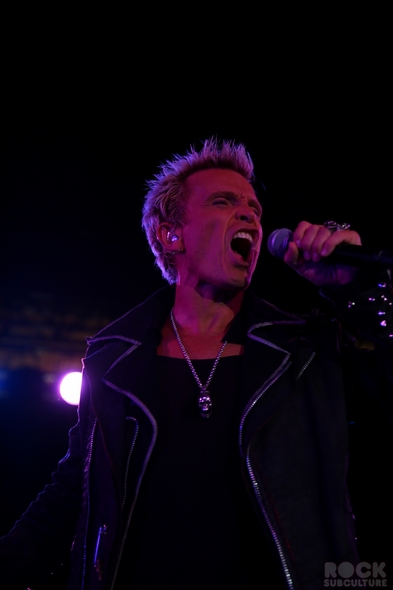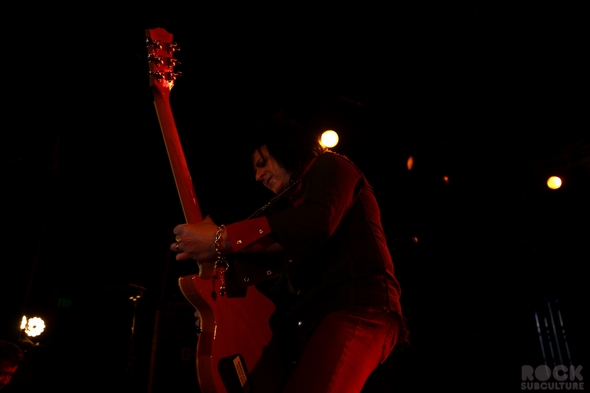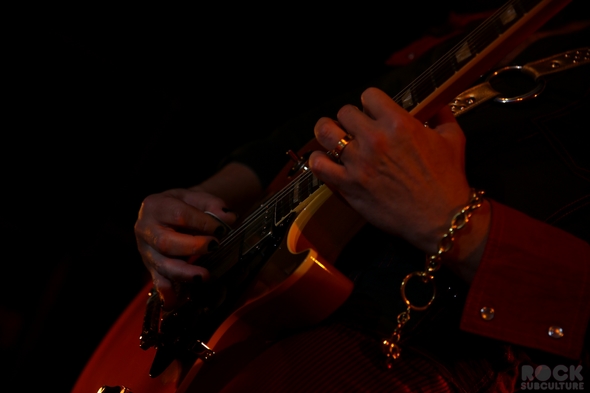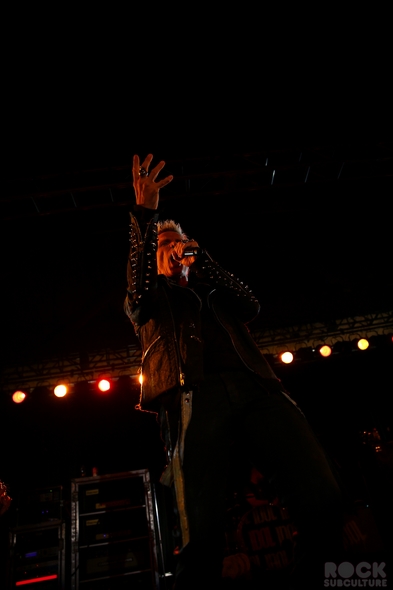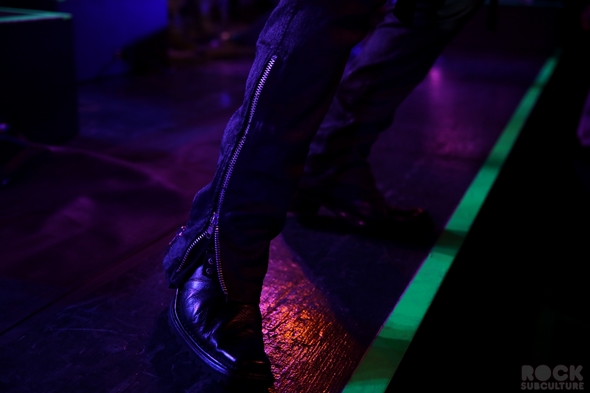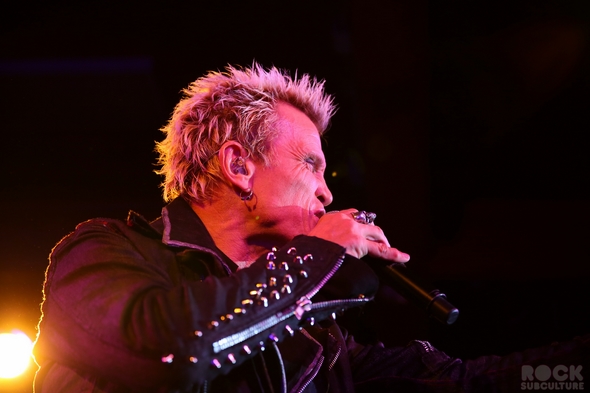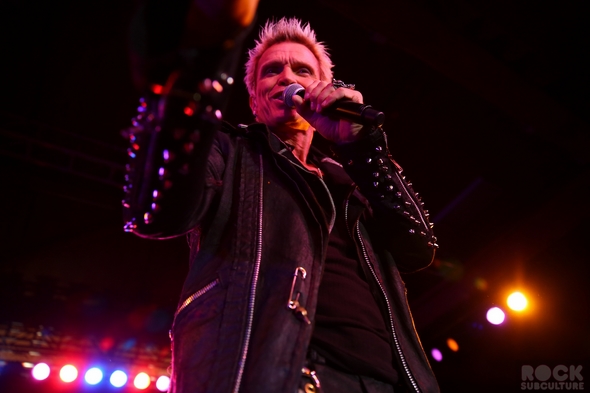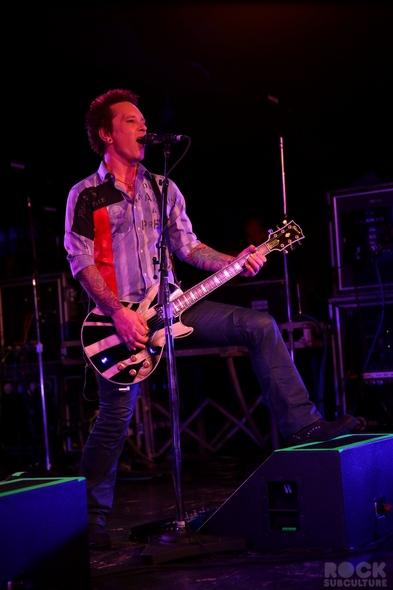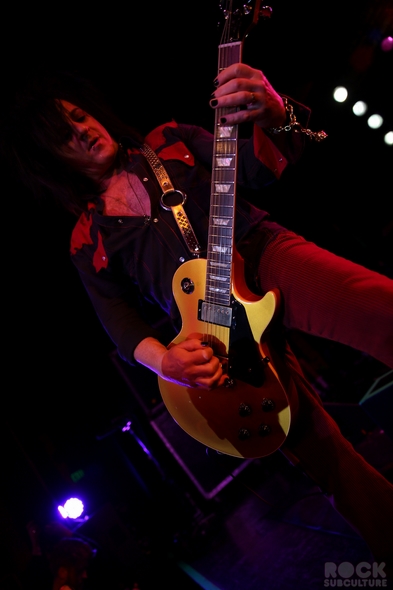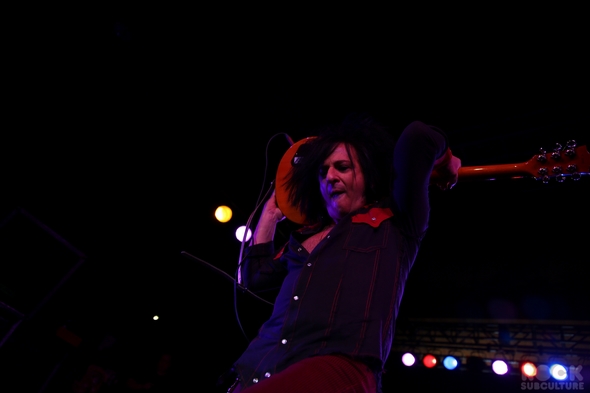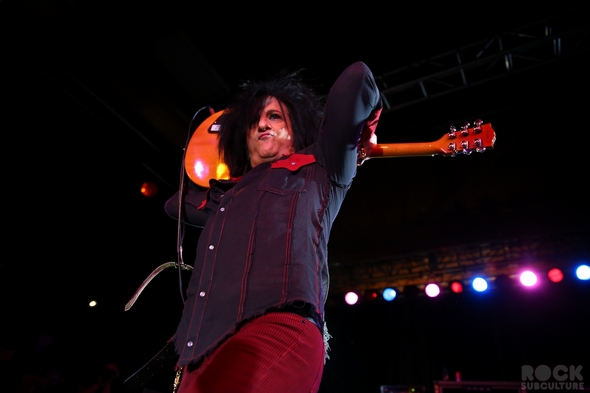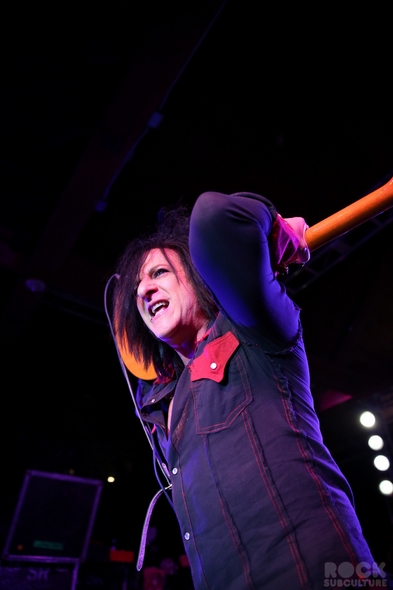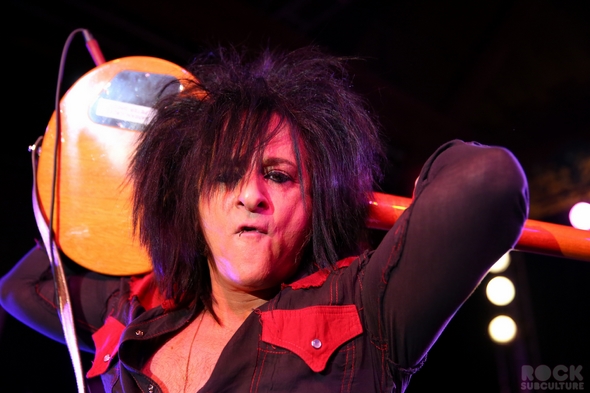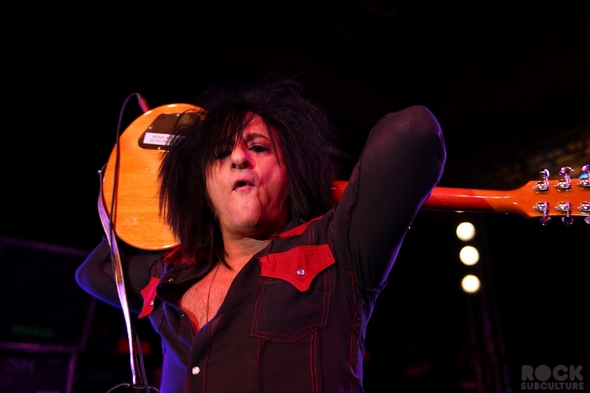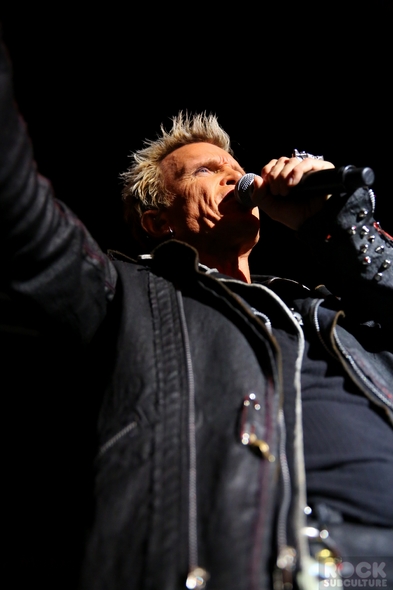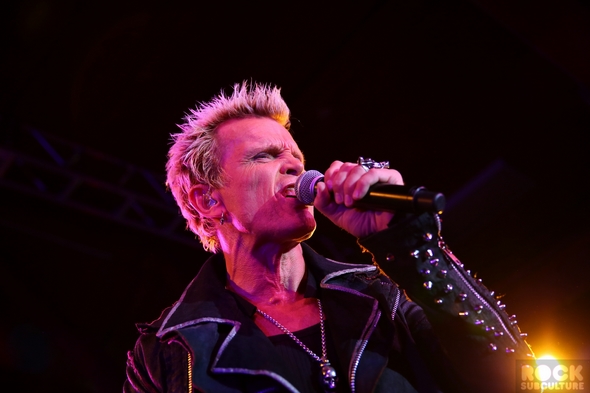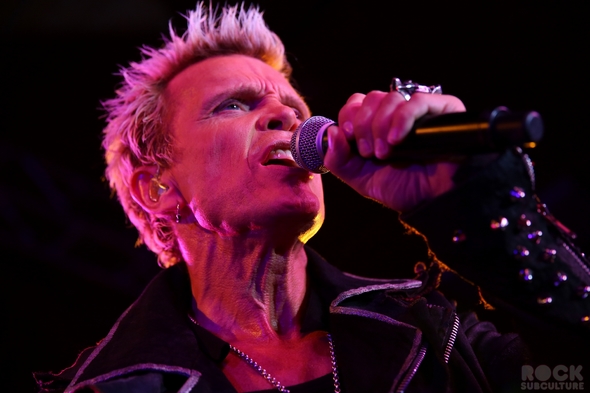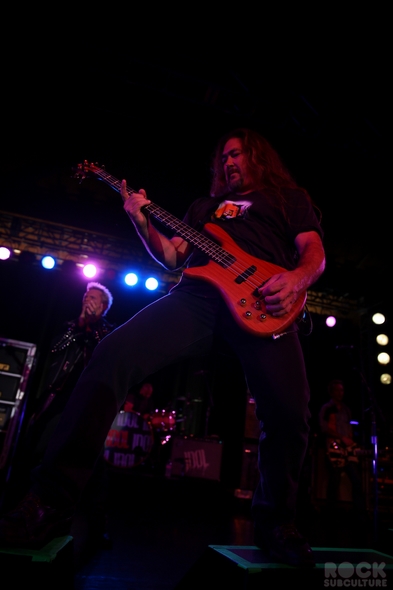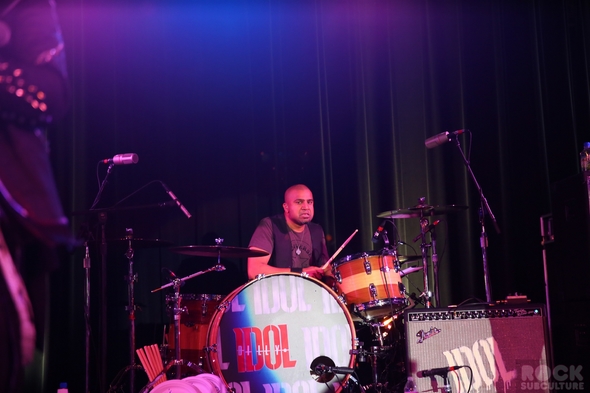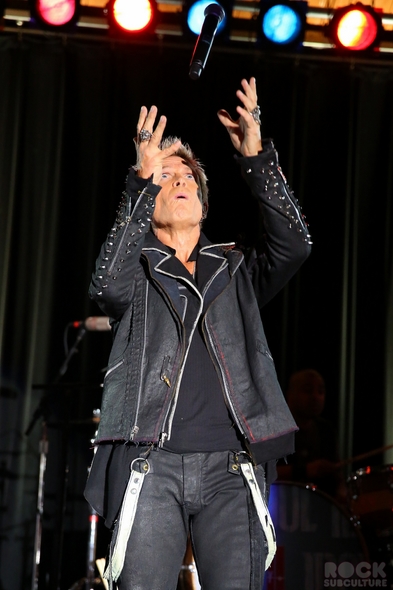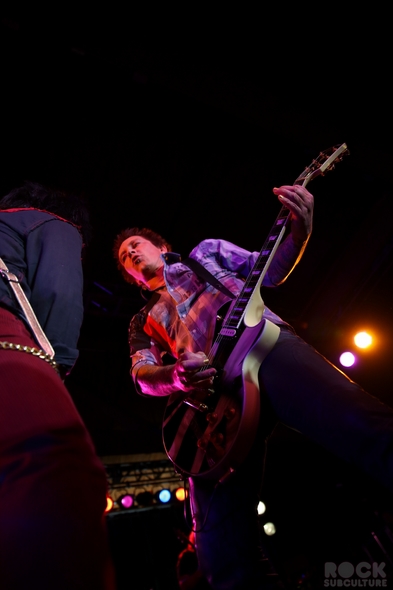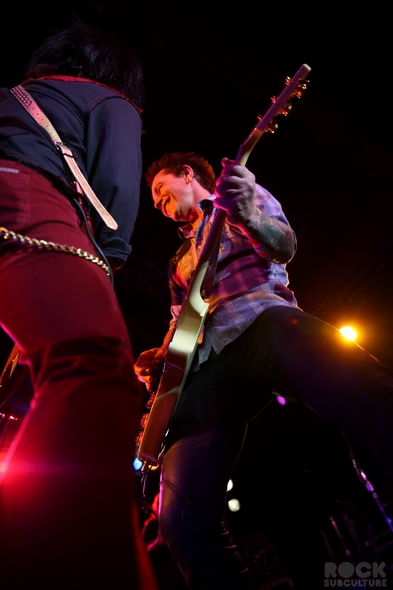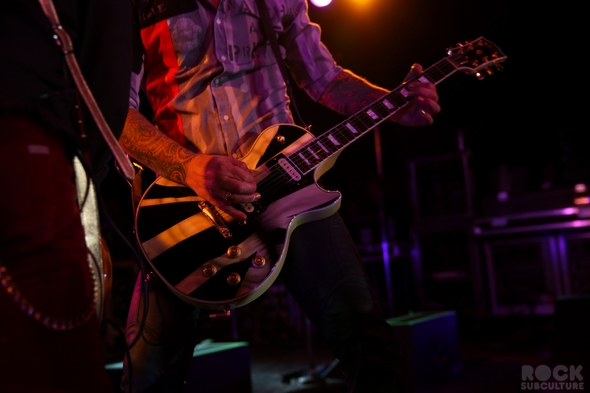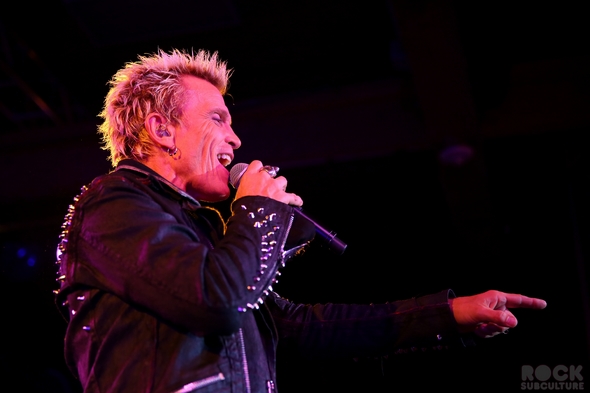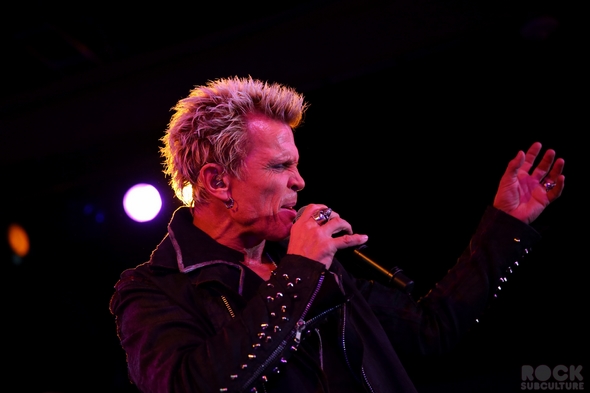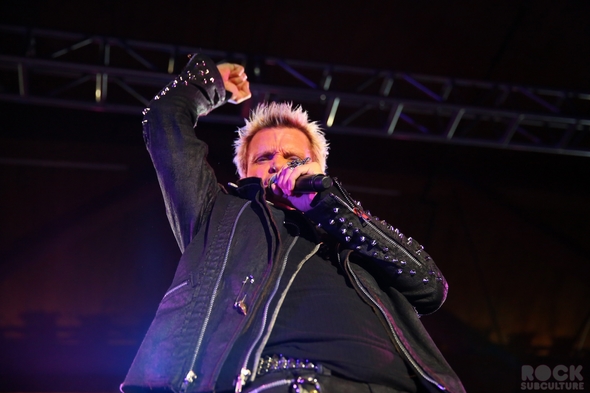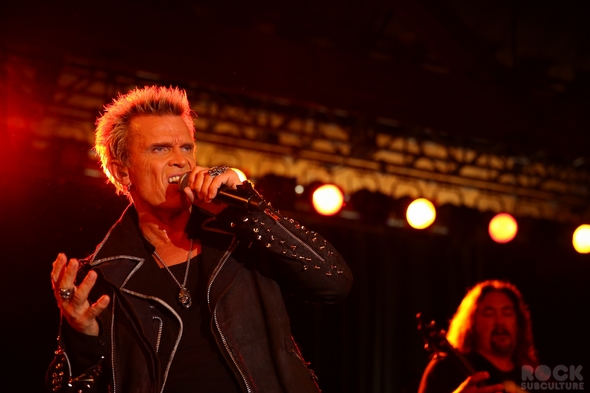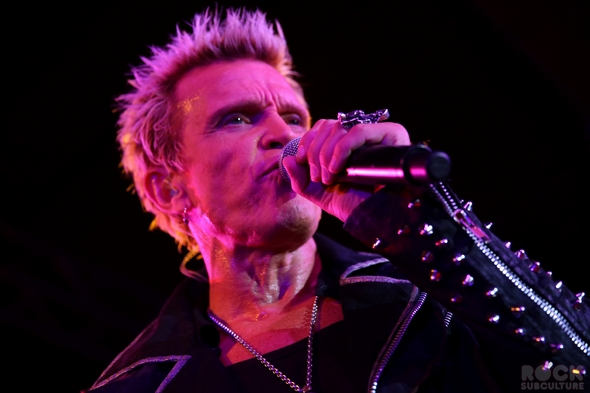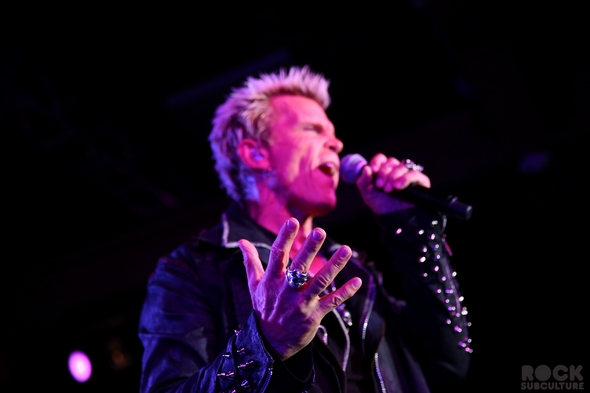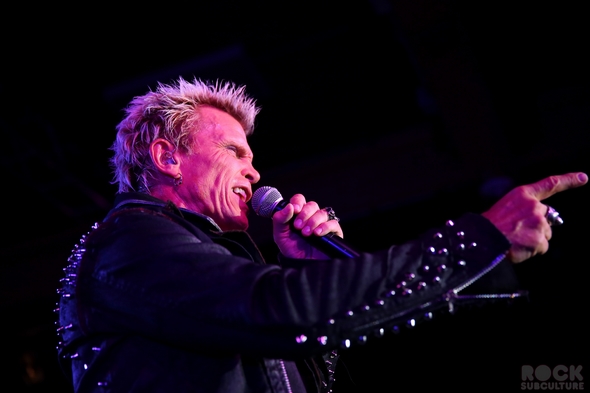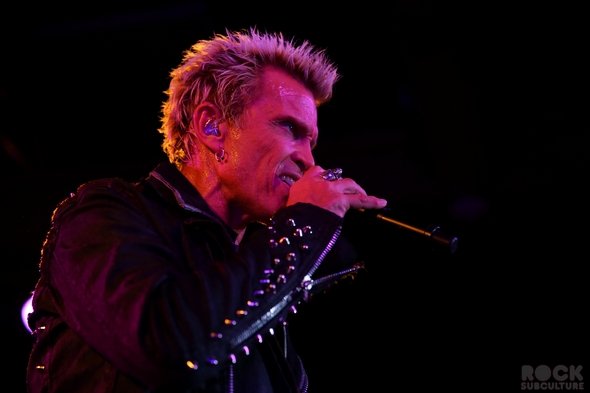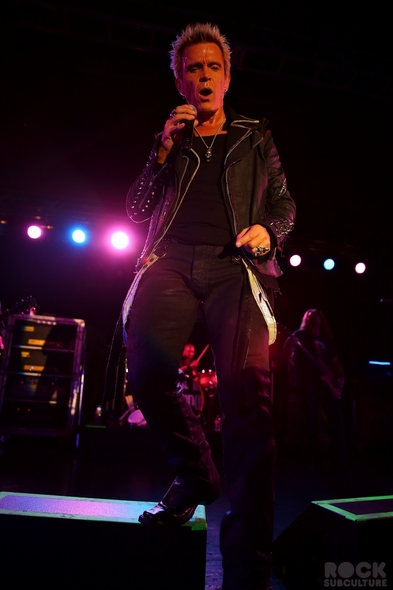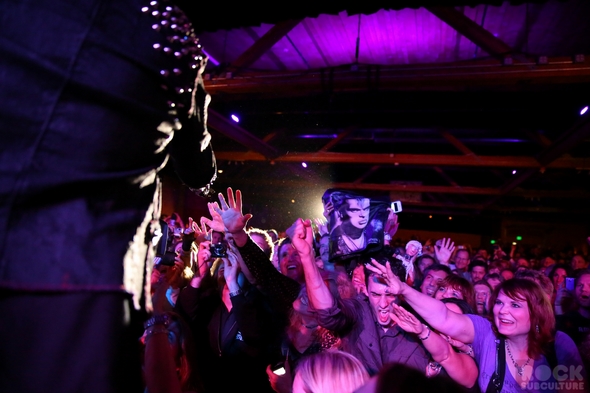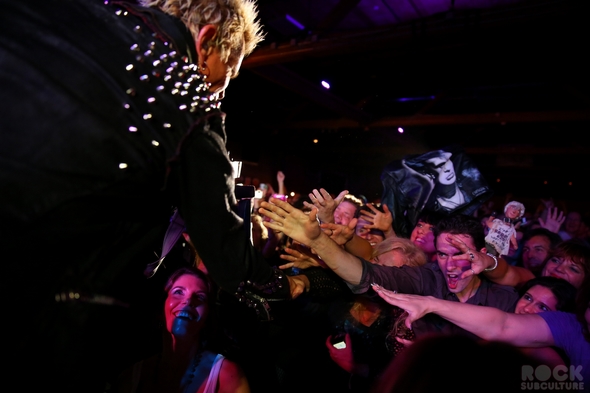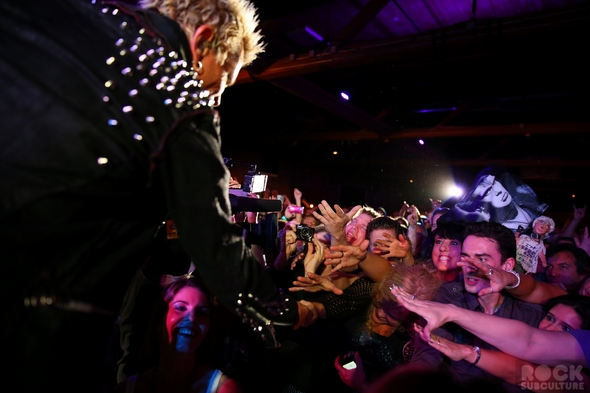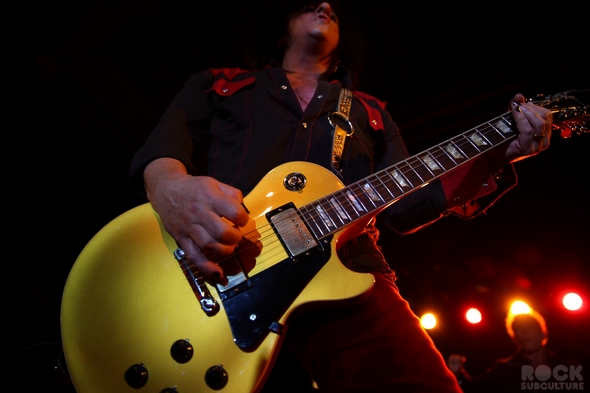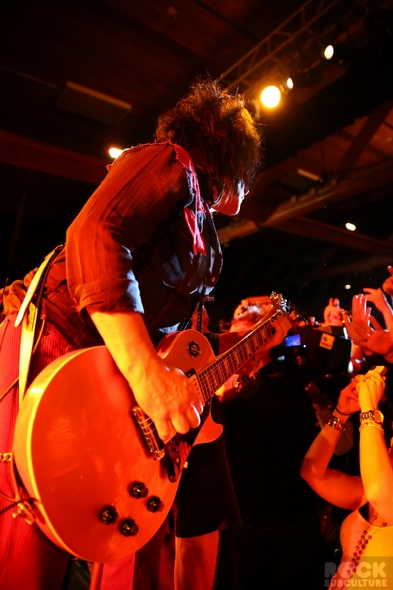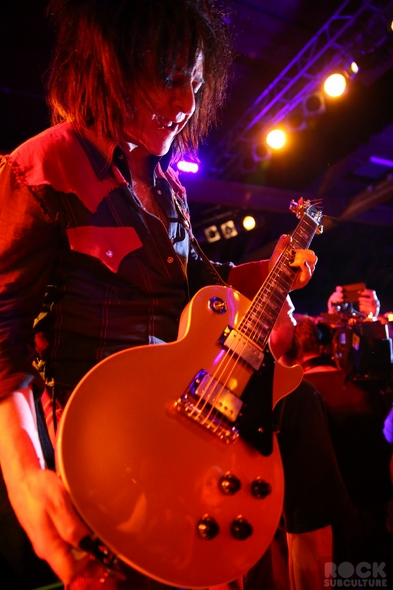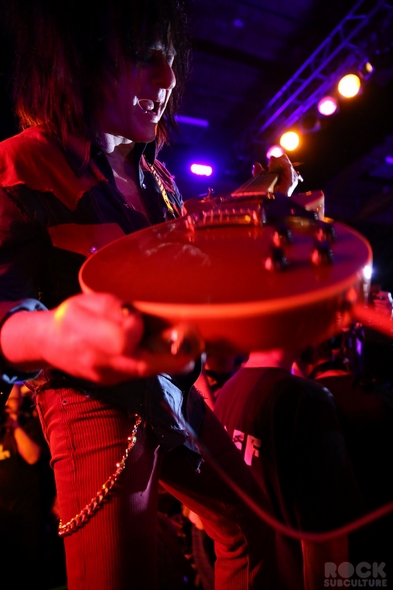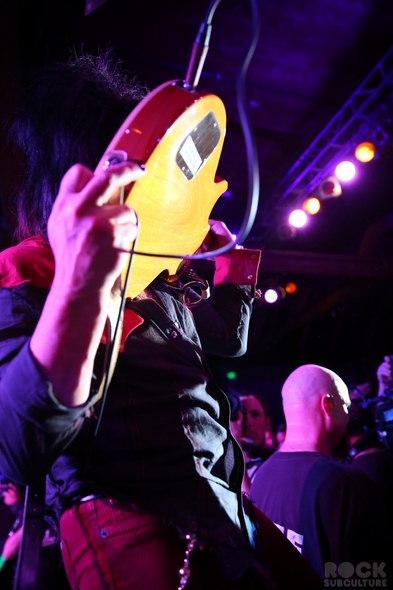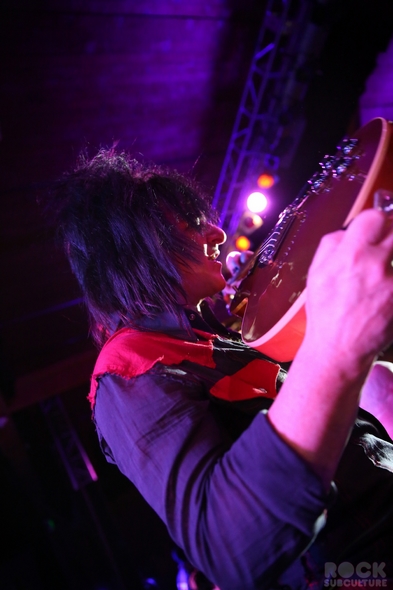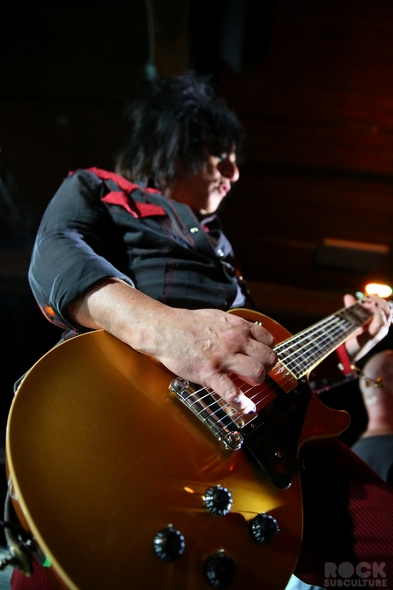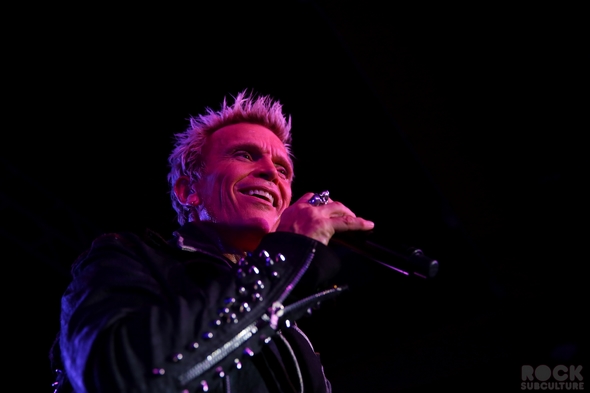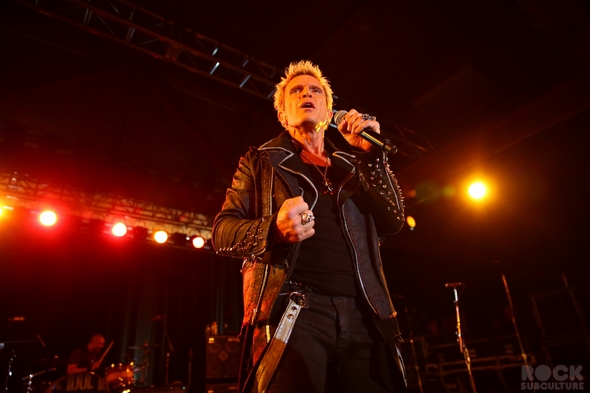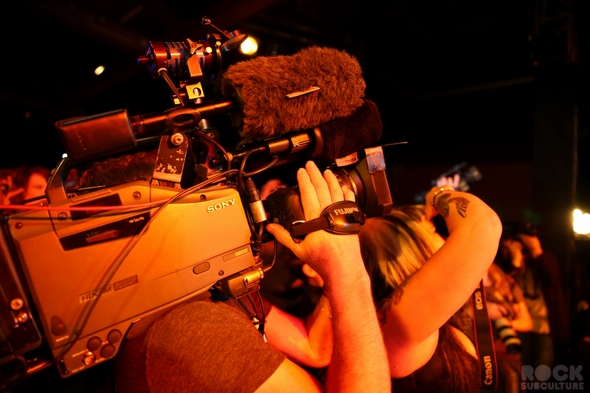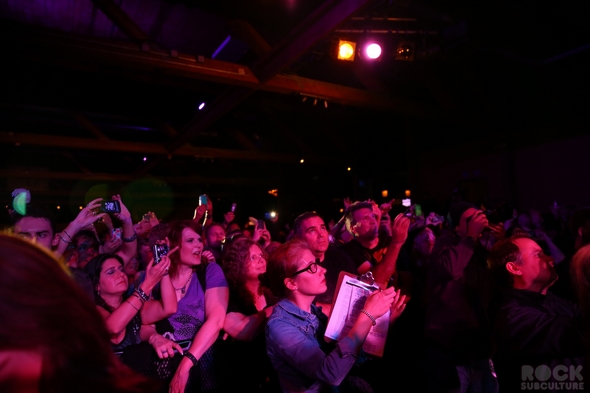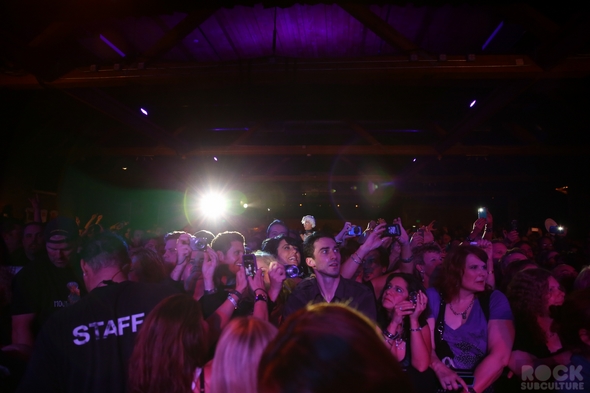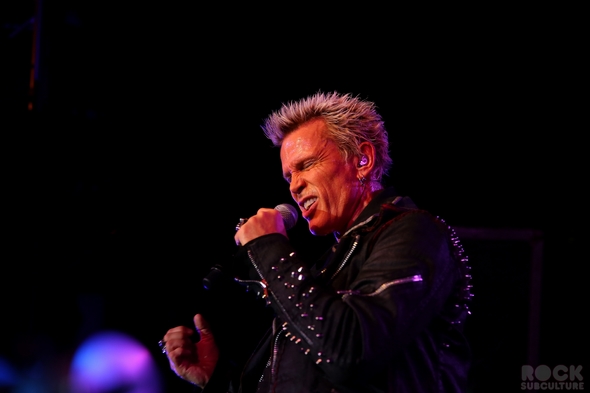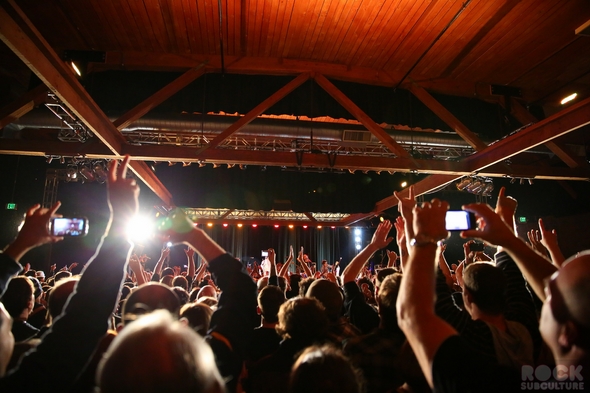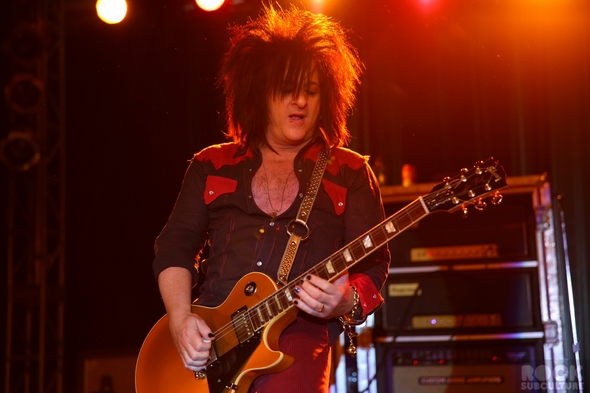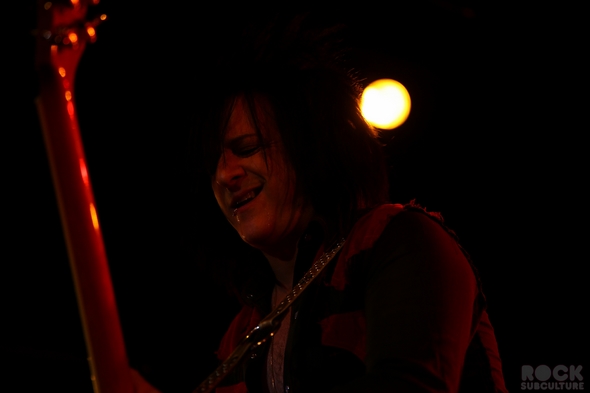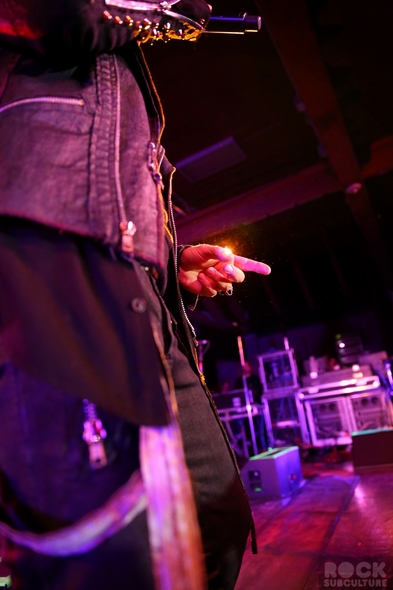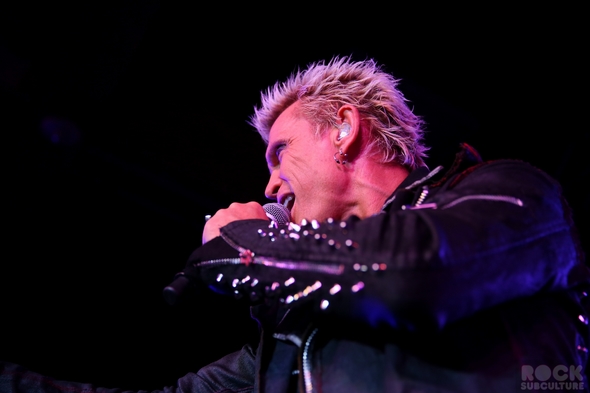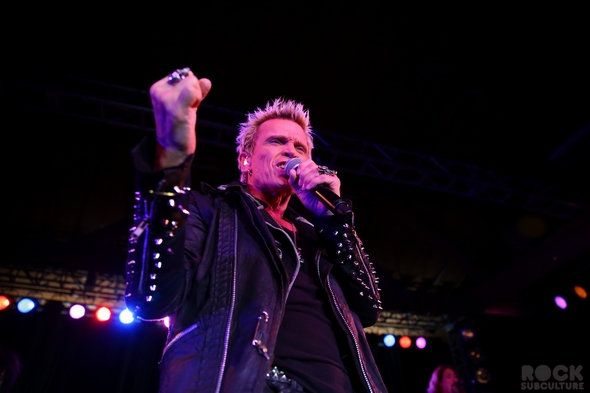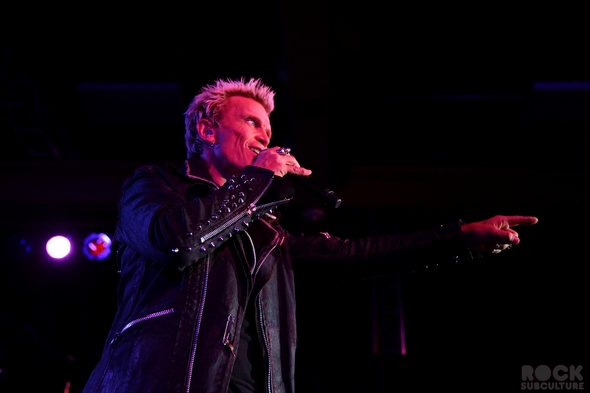 Jason DeBord