So I was having dinner with a friend last night, telling her about Saturday's Coldplay concert in San Jose (see "Coldplay at the HP Pavilion | San Jose, CA | 4/28/2012").  I had mentioned that after the show, I met Jason Regler, the inventor of the "xylobands", the wrist bands handed out to concert goers to wear during the performance, which are activated over RF signal to light up (and light up with different flashing patterns) for different songs, at different times during the concert.  These were first introduced for the "American Express Unstaged" concert in Madrid, which was directed by Anton Corbijn (see "Coldplay "Unstaged" at Plaza de Toros | Madrid, Spain | 10/26/2011").  In any event, since my friend has never seen Coldplay in concert, I thought I'd send her a link to one of the videos I shot during one of those sequences, so she could see just how awesome these are when employed during a show.  That's when a very strange thing happened, which I thought I'd share with the readers of the Rock Subculture Journal…
So I was going through my videos, trying to decide which one best conveys the experience of standing in a sea of multi-colored glowing wristbands, surrounded by 20,000 people…  so I was watching back a video I shot at the O2 arena in London this past December (see "Coldplay at the O2 Arena | London, England | 12/09/2011"), and, sitting on my couch watching the video on my laptop, one of the older xylobands from a concert months ago let out a quick red flash.  I have a number of them from a variety of shows in the past six months, but just the one (older one) flashed.  Funny enough, it did flash (barely), a couple of times when I came home from the San Jose show Saturday night (but, since it was a three hour drive, I actually arrived home at 3 am early Sunday morning).  But it was just a few brief flashes over maybe 10 seconds in total.  Today, playing back the "Hurts Like Heaven" opening song on video, it completely reactivated.
I thought that was odd, and maybe it had something to do with the pink new addition to the groupings of xylobands (which have evolved a bit since the original ones were produced for Madrid, which look kind of clunky compared with the new ones), but it was definitely triggered by the video (well, more likely the audio portion of the video).
Anyway, so I'm sitting here today, watching this video, and this one xylonband starts flashing…  the funny thing being it did so in sequence with how they activated during the concert ("Hurts Like Heaven" is their opening song, wherein, they first activate the xylobands, following the snippet of music from Back to the Future).
Below is the video that I was playing/watching when the xyloband came back to life:
Surprised by this, I set my laptop near it, grabbed my iPhone, restarted the video on my laptop, and videotaped the xyloband reacting to the concert performance…  below you can see the single xyloband flashing again (after many months)…
After I stopped the video, it stopped flashing.  Now it is not flashing at all, and sits dormant like the others.
So obviously I'm completely puzzled by this…
Why did it flash (faintly, just a few times) the night of the San Jose Coldplay concert (3 hours away by car)?
Did bringing home a new (pink and attractive) xyloband have anything to do with it?
Did my video of the London O2 performance record radio/RF waves???
Does the xyloband miss the excitement of Coldplay concerts, and sit dissatisfied in retirement?
Should I bring it with me to the next Coldplay concert I go to, out of sympathy for it longing to be part of the action again?
LOL  I have no idea, but I thought it was pretty cool, and videotaped it as I thought others might get a kick out of it.
If anyone has their own experiences with xylobands coming back to life, let me know.
I've now ascribed a personality to this one, and I'll feel bad when it shorts out – who knows how much life it has left in it, or if something else might excite it and set it off again?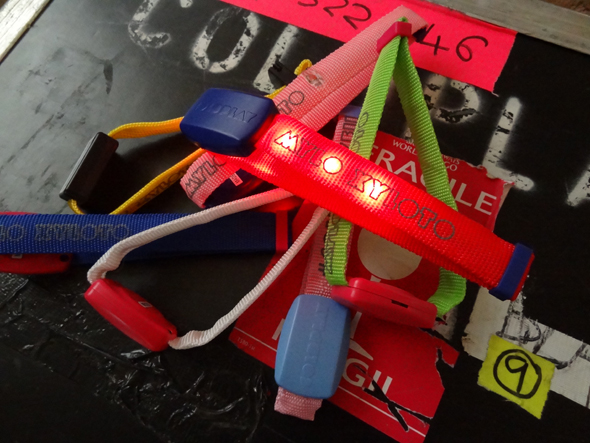 I don't want to follow Death and all of his friends

And, in the end, we lie awake, and we dream of making our escape
Jason DeBord