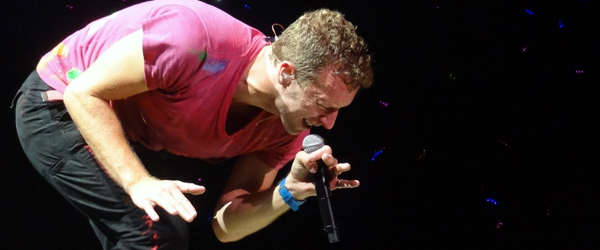 Last night, April 28th, was the second in two back-to-back performances by Coldplay at the HP Pavilion in San Jose, CA – part of their official Mylo Xyloto world tour. This was the sixth time I've seen Coldplay in the past six months (having seen their AMEX Unstaged show in Madrid, Spain in October, some of the special European tour dates at the O2 in London and the Palais Omnisports de Paris Bercy in December, and the special iHeartRadio charity gig at Club Nokia and the Jimmy Kimmel Live! block party in Los Angeles in February.  As such, I don't think I'm in a position to do a "normal" sort of review at this point, as I tend to subjectively compare to all of the other shows I've attended in the past year and beyond… but as I've come to expect, with last night's gig, Coldplay put on a high energy show with a great mix of hits and new material.  Watching many in the crowd seeing the show with "fresh eyes", it was certain that the nearly 18,000 in attendance came away having shared an awesome experience with this fantastic concert.
Who: Coldplay
Show Title: Mylo Xyloto Tour
Venue: The HP Pavilion
Where: San Jose, California
When: April 28, 2012
Seating: Floor 3 (front floor section to left of "X" runway), Row 4, Seat 11
As I have reviewed a lot of Coldplay performances in the past (and adding on the three hour drive home, with a 3 am arrival time), I'll keep this review a bit more brief than usual.
I had originally expected more shows/fill in shows in this first leg of the North American show (which began in Canada and is currently working its way down the left coast of the U.S.), but San Jose was ultimately the closest to my home, and sold out long ago.  Resale prices for tickets on this show (on the secondary market) have been extremely high, so I actually anticipated not seeing them this go round.  However, a pair of tickets popped up on StubHub last week for 4th row floor, so I decided to buy them.  My friend Dianne, who lives in Los Angeles and has attended many Coldplay concerts (I think we've been at three of the same ones) actually drove up from Southern California to meet me in San Jose for this show and to use the second ticket.  We met up with another fan for dinner, and ultimately missed both opening acts (Metronomy and The Pierces), so I cannot include any thoughts or photos from their performances.
I have never seen a concert at the HP Pavilion in San Jose before – it is a typical sports-oriented indoor stadium that can seat a large crowd.  As we came fairly late (doors opened at 7:00 and we arrived at about 8:45, with Coldplay scheduled to hit the stage at or a little after 9:00), the "xylobands" had all been handed out.  These are the custom wristbands designed to light up and blink at various points in the concert.  These were first introduced at the AMEX Unstaged concert in Madrid.  Though once we got in someone was nice enough to hook us up (thank you!).
We eventually made our way to the seats, and I have to say I feel a bit spoiled by one of the last times I saw Coldplay, at Club Nokia from the front row, as the fourth row in a big stadium feels so far away by comparison!
In any event, adversely, it was cool to see the giant stage with "X" runway, which gives Chris Martin a lot more room to run around and perform.  So that stage is absolutely massive compared to the small space in Club Nokia; in fact, the foot print of the entire stage may be around the same size as the footprint of the entire venue at Club Nokia, so it's just a totally different type of concert, with last night's obviously being on a much more grand scale.
Having seen the band so much lately, there weren't too many surprises with the show, as the other gigs, extensive festival run in 2011, and pre-Tour dates in Europe at the end of last year really served to build their formal Xylo Myloto Tour which is now in full swing.  In addition to the cool light-up wristbands, there are some other elements which make the entire concert much more interactive – the bursts of endless confetti and giant bouncing balls, as well as performances on the "X" stage (at the end of the runway protruding out into the floor seating) and the "C" stage, which is something that started with the Viva tour and makes a reappearance here, wherein Coldplay leave the stage and play a song in a somewhat random area at the back of the venue, amidst the crowd.  It was actually fun for me to look around and see other fans of the band experiencing all of this for the first time.  There were also a good number of kids and younger fans in attendance, and given the number of years its been since the Viva la Vida Tour, it is certain this was the first time seeing the band perform live for many of them.  As a performing group, Coldplay have not only a huge library of catchy and anthemic music, but understand how to provide entertainment and a unique experience on a number of levels.  Once they take the stage, they really captivate the audience and create a memorable event.
The set list hasn't varied too much from what has been in rotation for the past year – the notable additions being a reappearance by "Lovers in Japan" from Viva la Vida, and the addition of "Princess of China" from the new album (with Rihanna appearing on video screens, as she provides vocals on the studio version of the song), "Warning Sign" from A Rush of Blood to the Head, and "Don't Let It Break Your Heart" from Mylo Xyloto.  I expect some of the non-MX songs will vary and change throughout the tour.  Below is a photo of a set list from the sound/mixing area: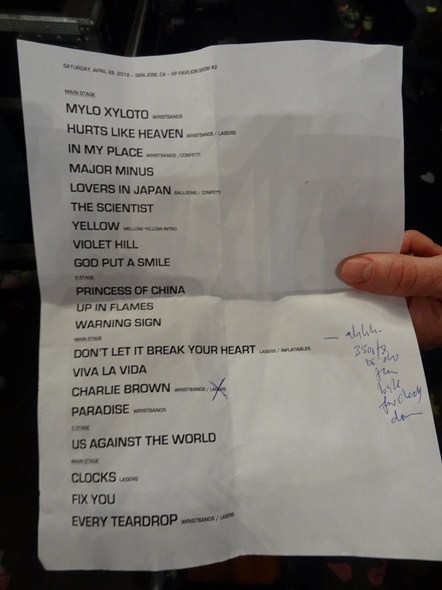 It was a very enjoyable concert, and I'm sure fans will love the experience as it makes its way around the world.
After the show, funny enough, out of nearly 18,000 people in attendance, I start talking to another fan after wading through the crowd to the sound mixing area, and we look at each other and laugh, because we had actually been the first to show up at The Ting Ting's concert in San Francisco last month, and both ended up front center stage in the GA venue… and we just happened to run into each other again here at this show.  I've found it's a small world with people who go to lots of shows.
Shortly after that, via my friend Dianne, I had a chance to meet and talk with Jason Regler, who is the inventor of the xylobands.  There is a great interview with him on Coldplay.com that talks about his story and how he came to create these devices for Coldplay.  Funny enough, as was the case with my friend Amanda, he had tickets for the special Crisis "Hidden Gig" in Newcastle, England with a meet and greet with the band and never made it due to the harsh weather conditions.  You can read his interview for the rest of the story…  in any event, below is a photo of Jason (left) with Kim (right) – funny side note, I spoke with Kim, who also works for Coldplay, at the L.A. shows in February, and he remembered me as the guy who kind of looks like Johnny Buckland (even without the hat! LOL):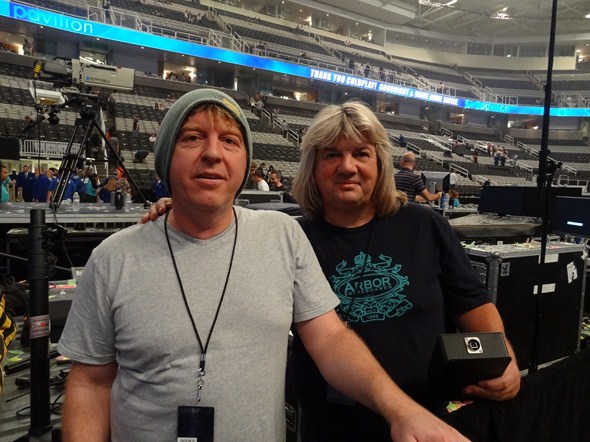 You can learn more at www.xylobands.com and follow Jason on Twitter at @Jayreg1969
Below are some videos I shot during the concert…
"Lovers in Japan":
"Yellow":
"God Put A Smile Upon Your Face":
"Violet Hill"
"Princess of China":
"Don't Let It Break Your Heart":
Below are some photos I took during the concert: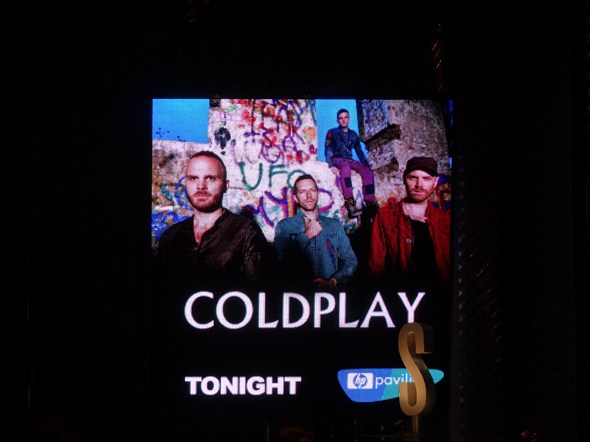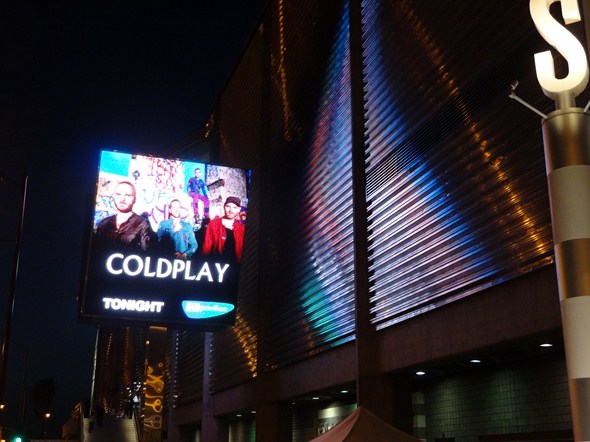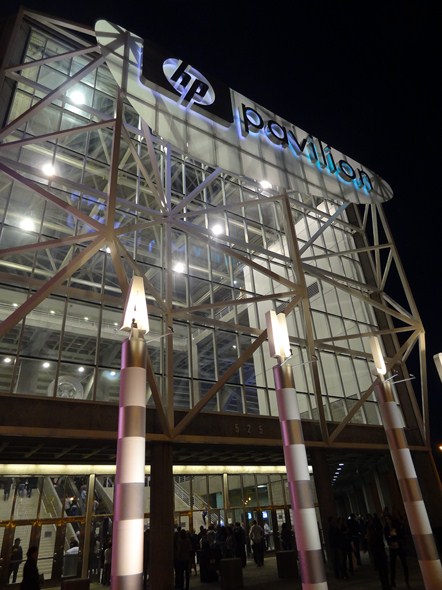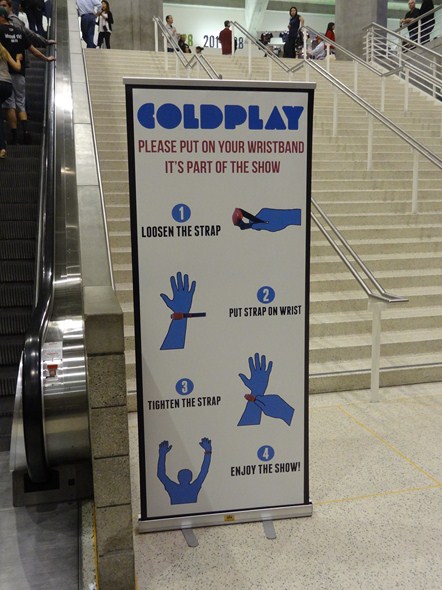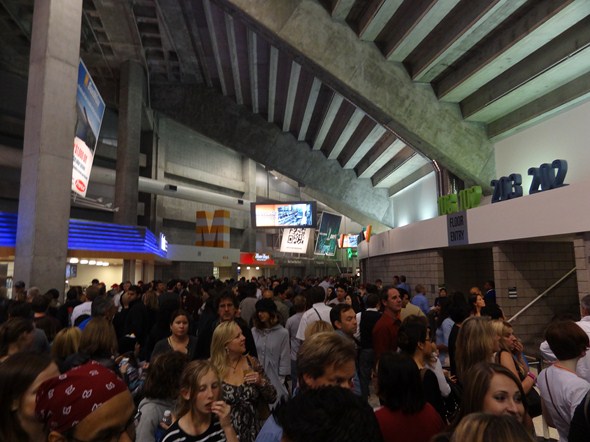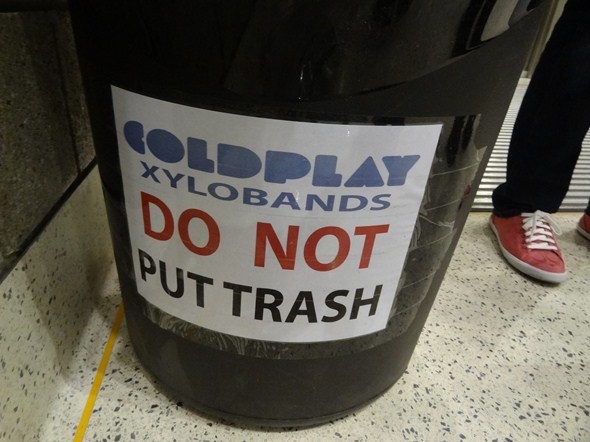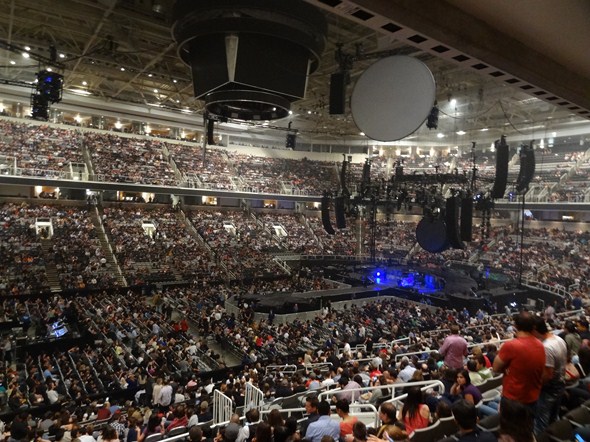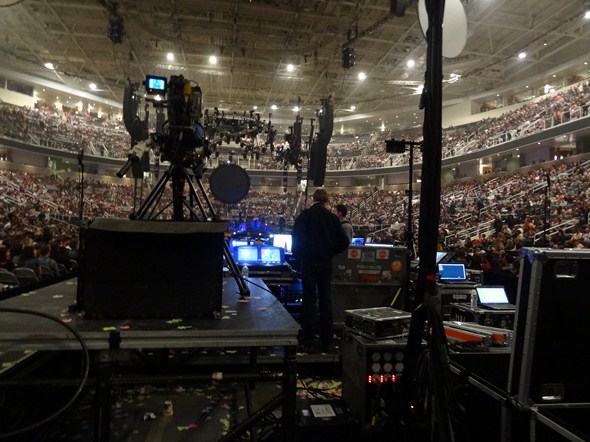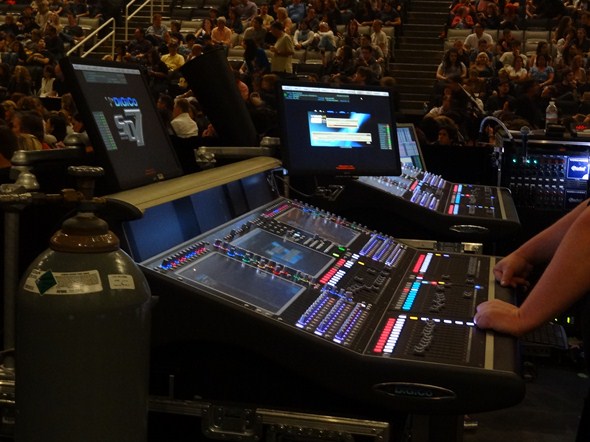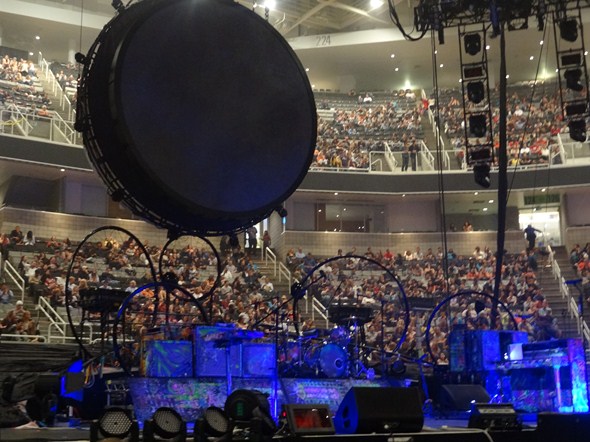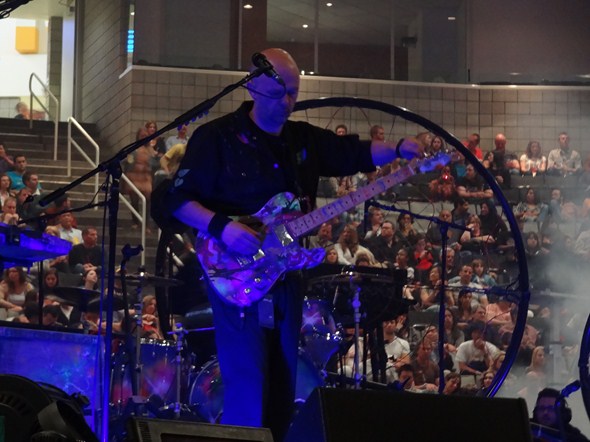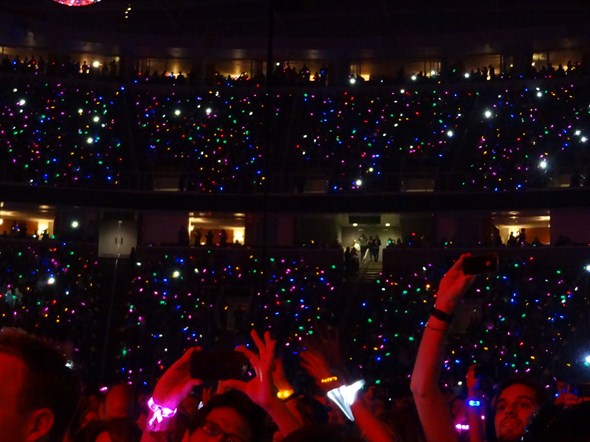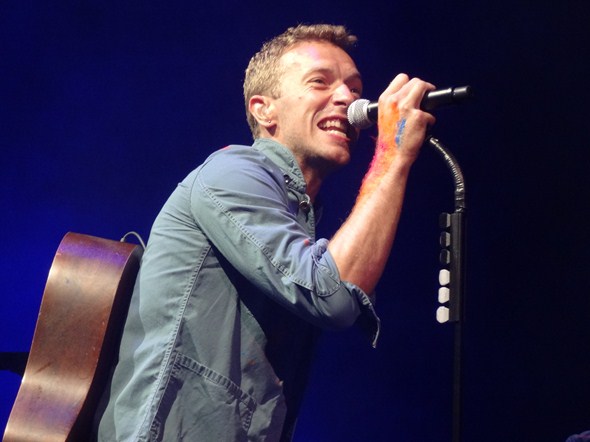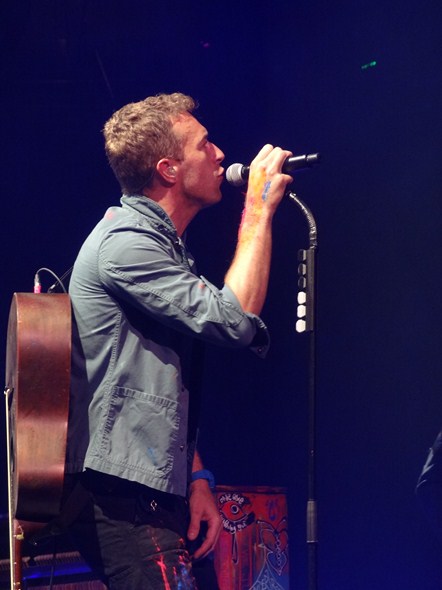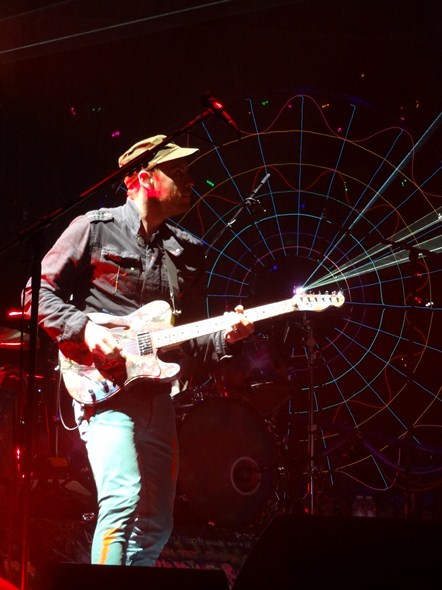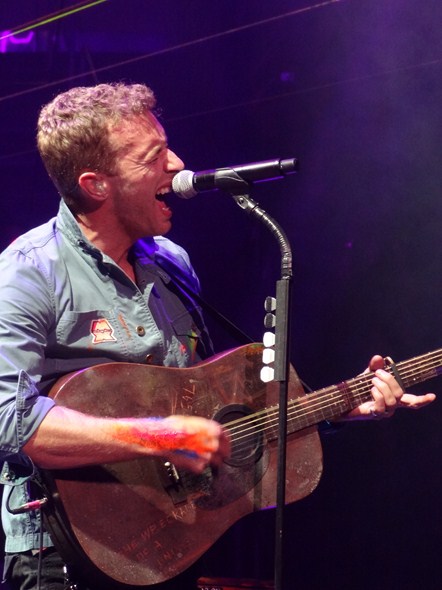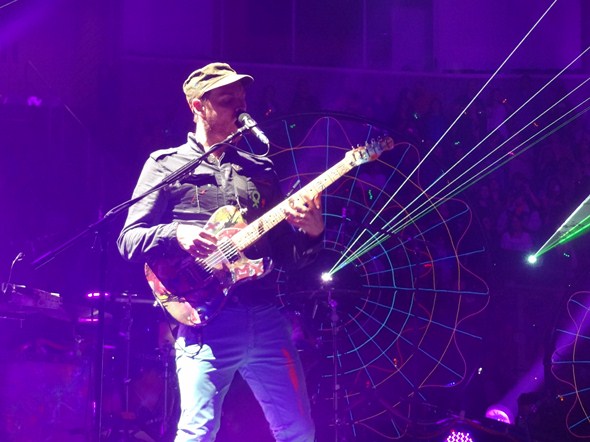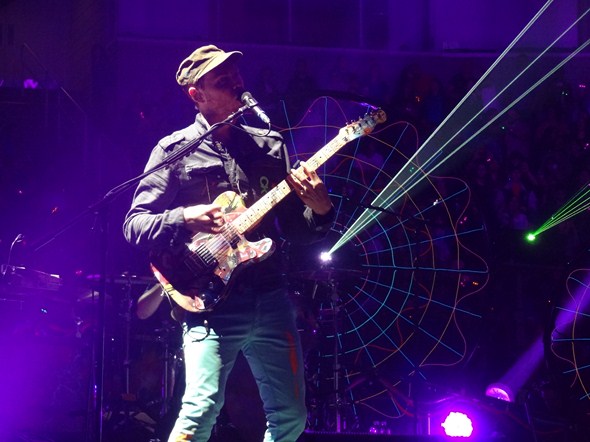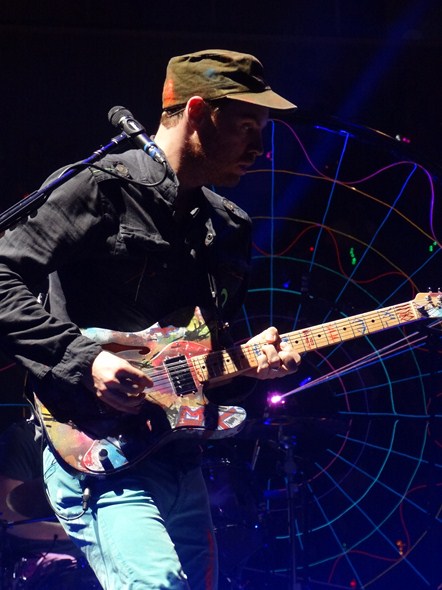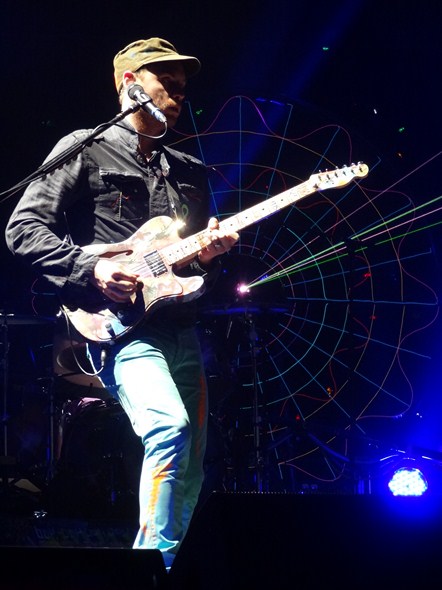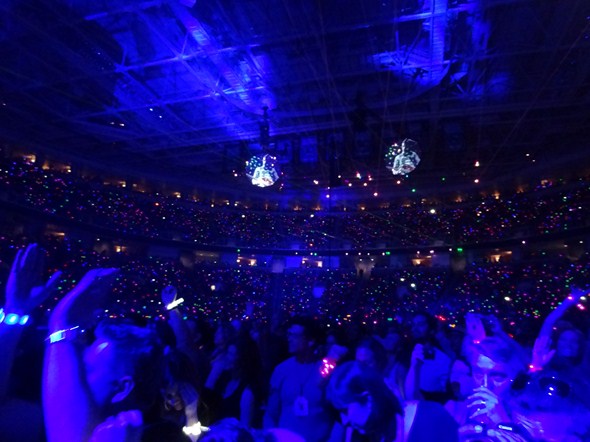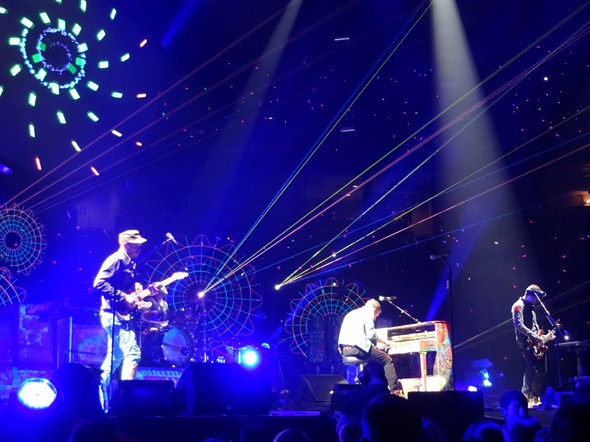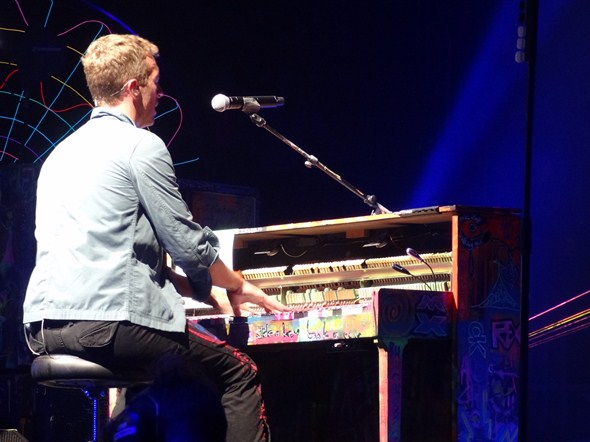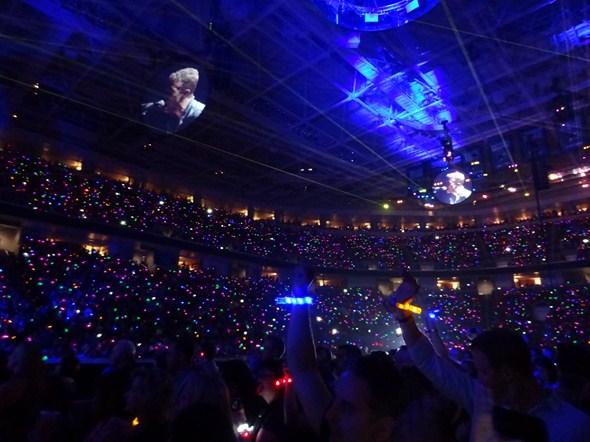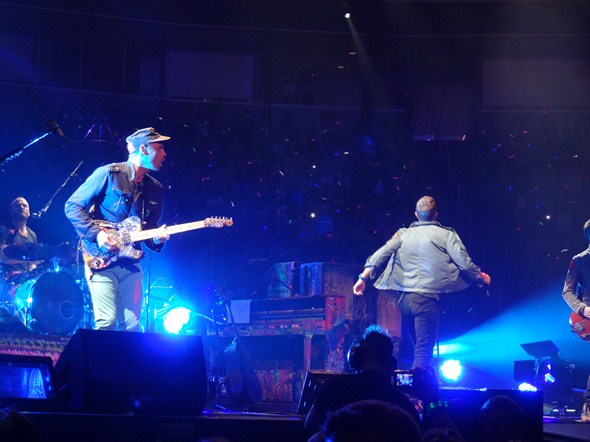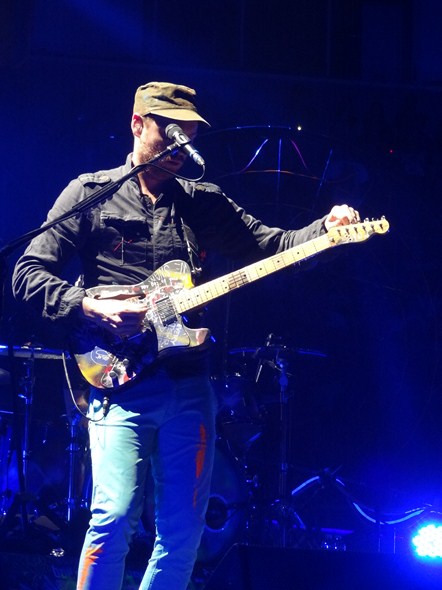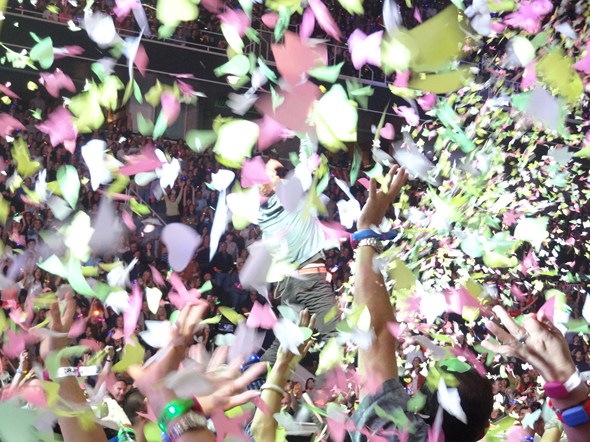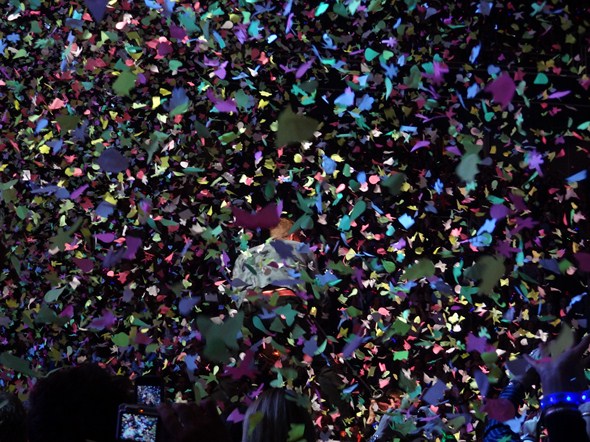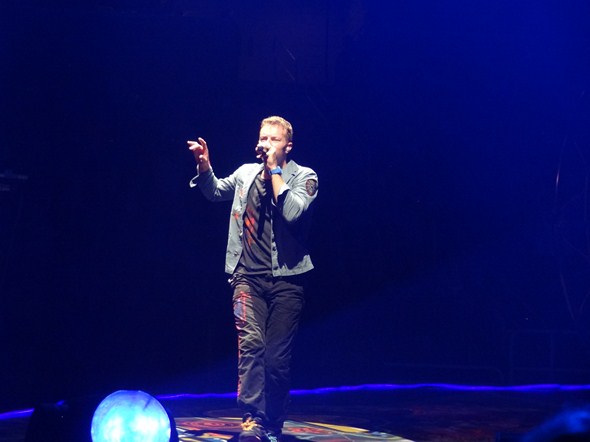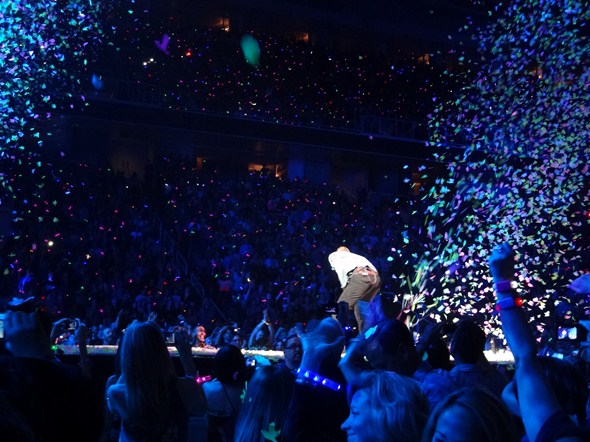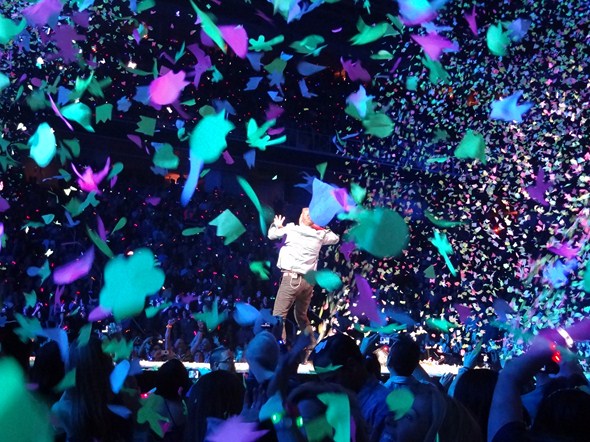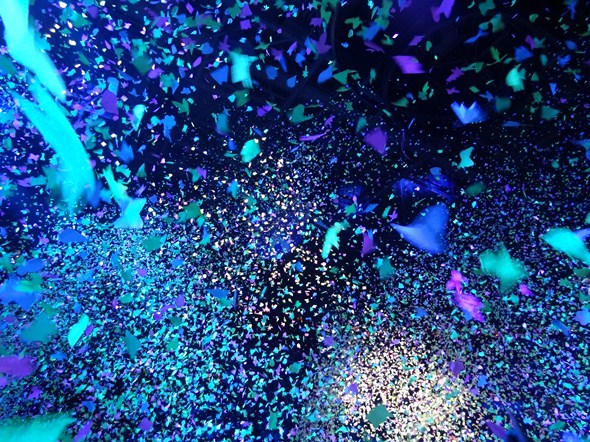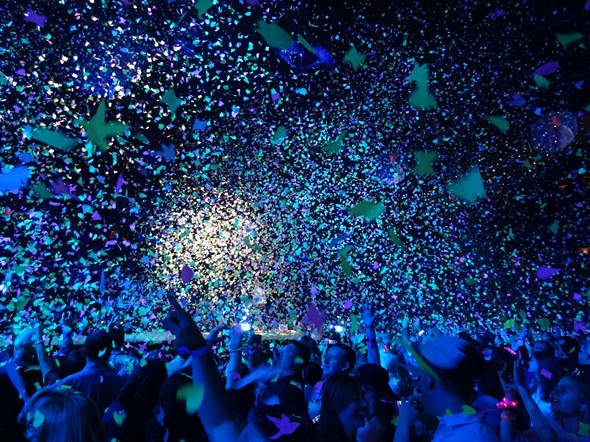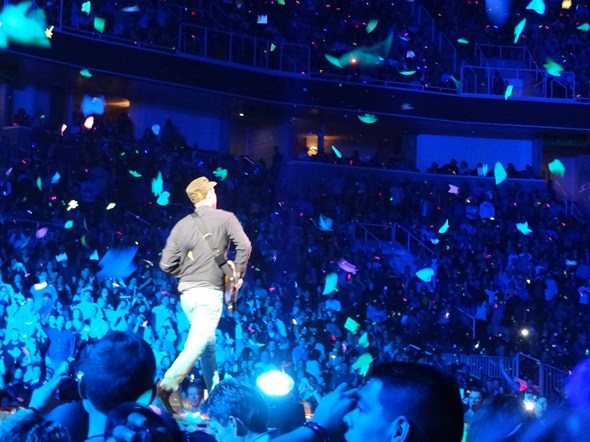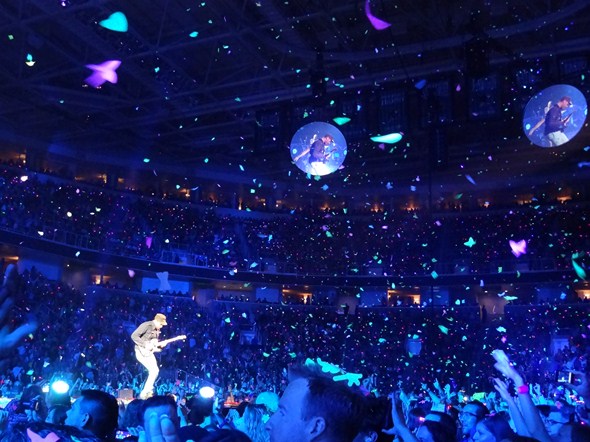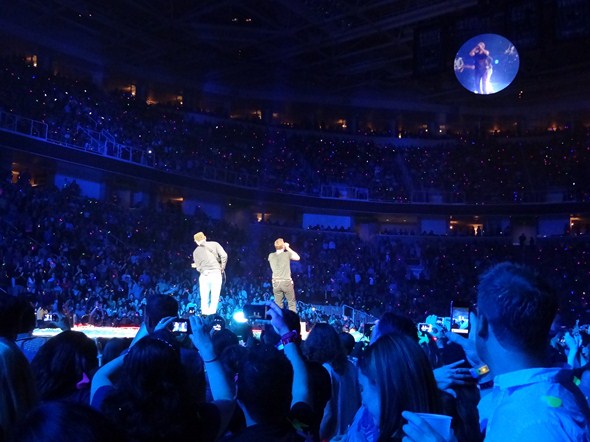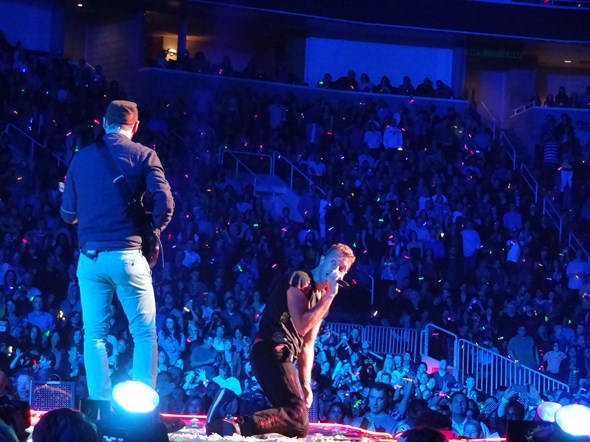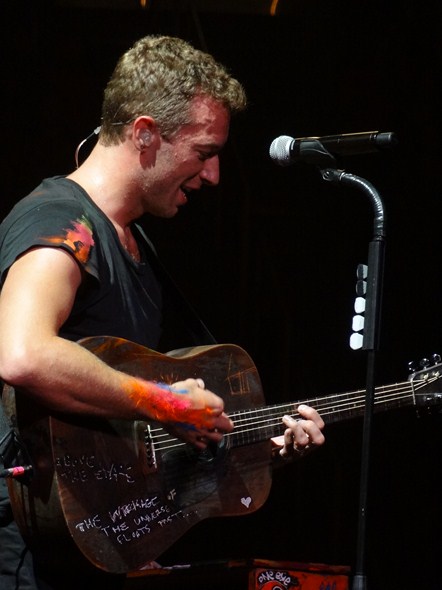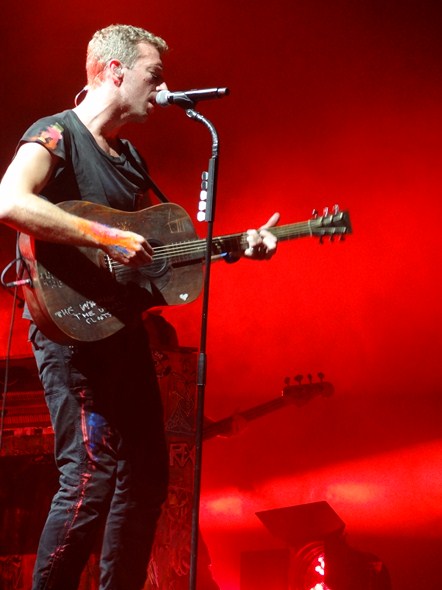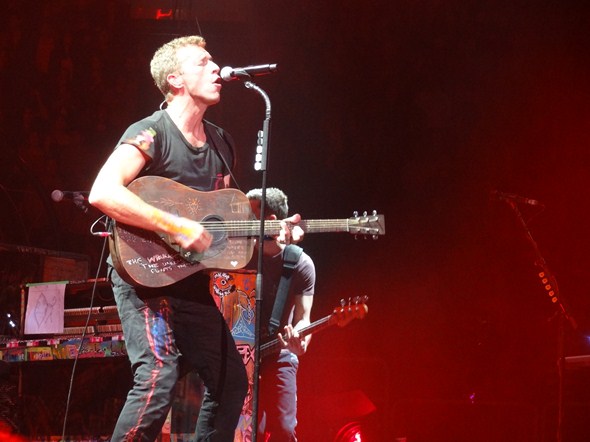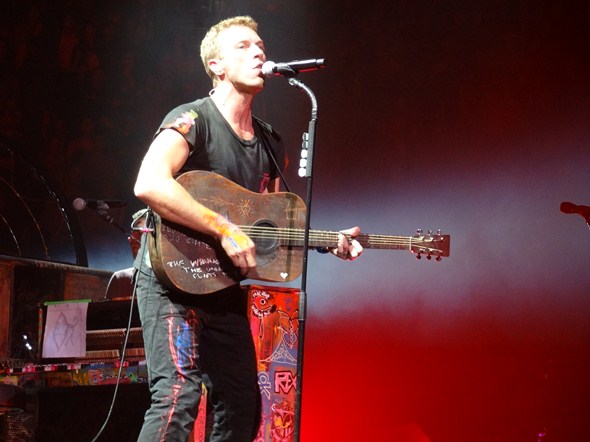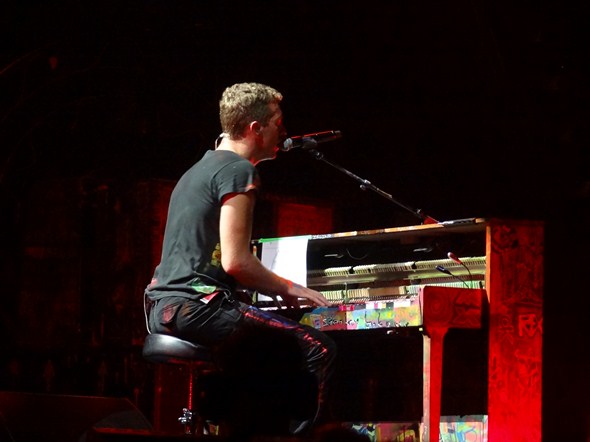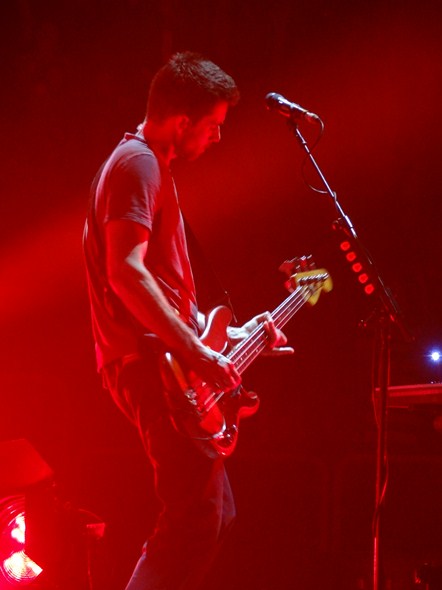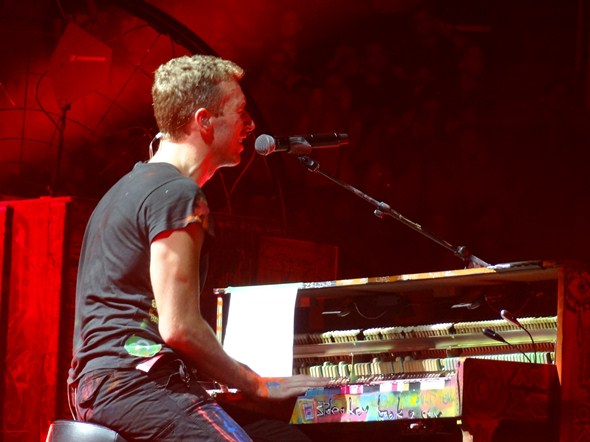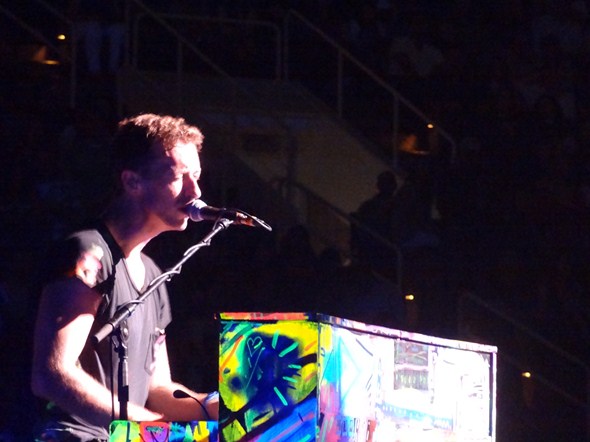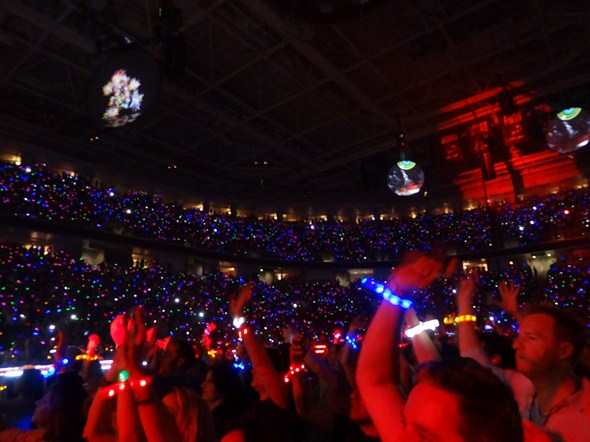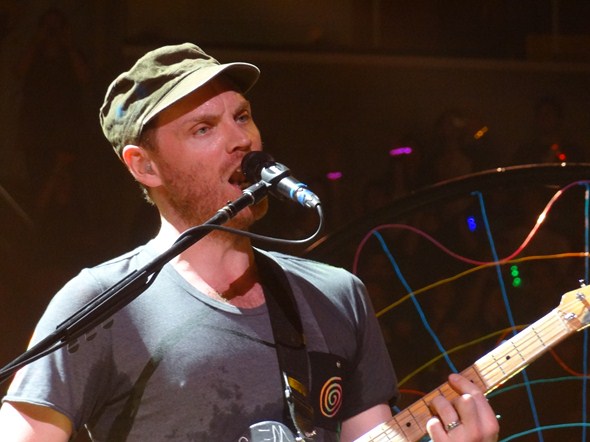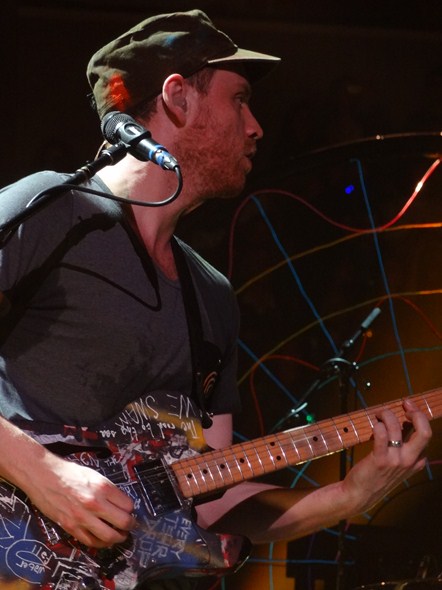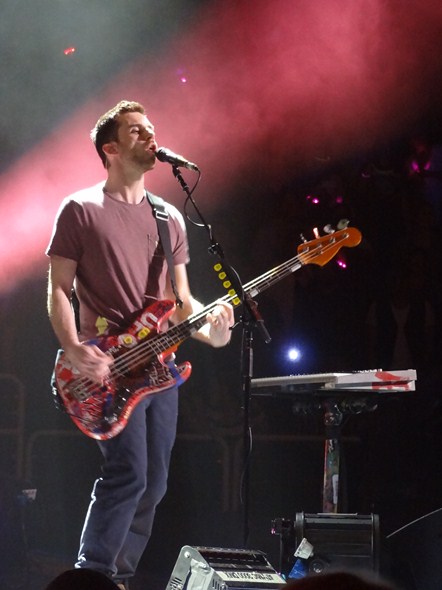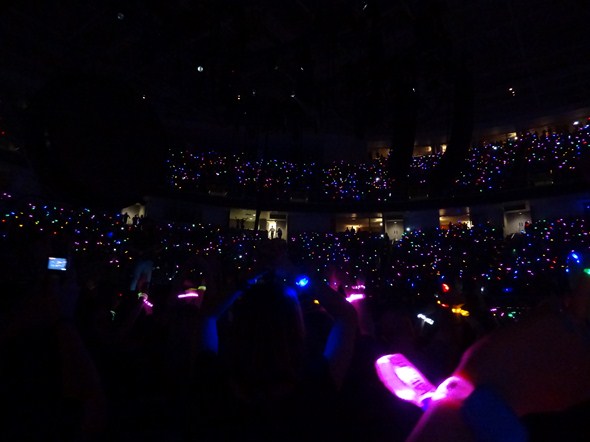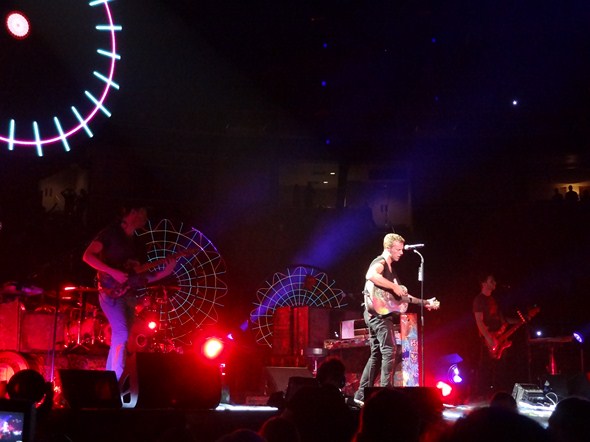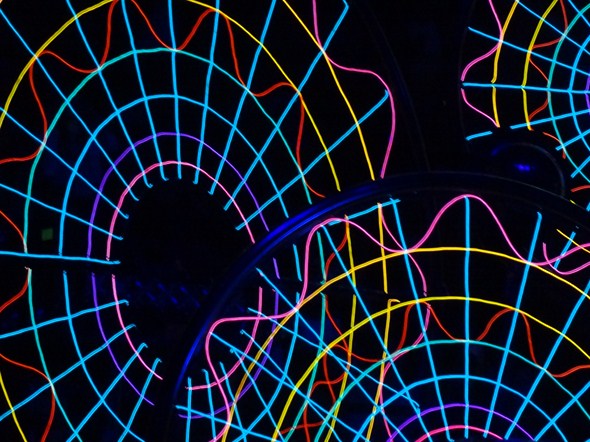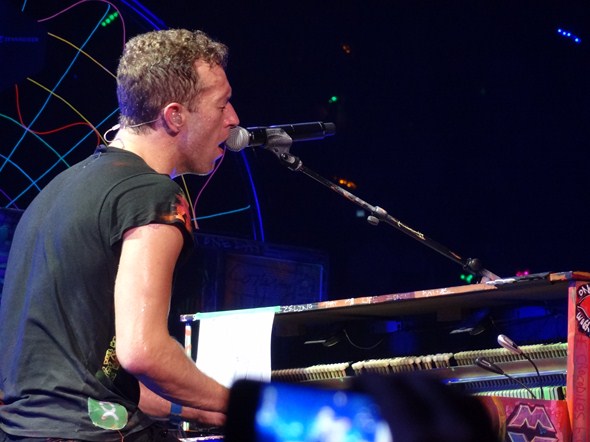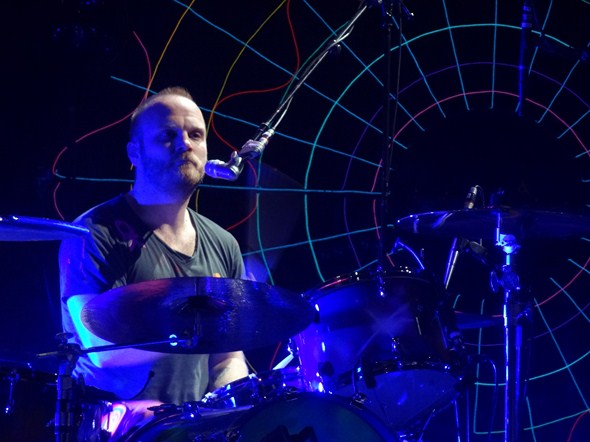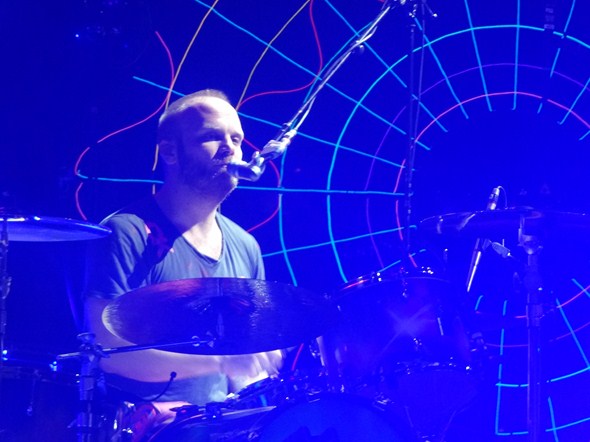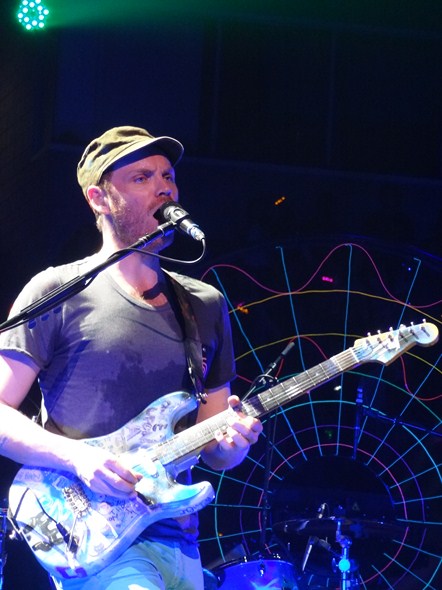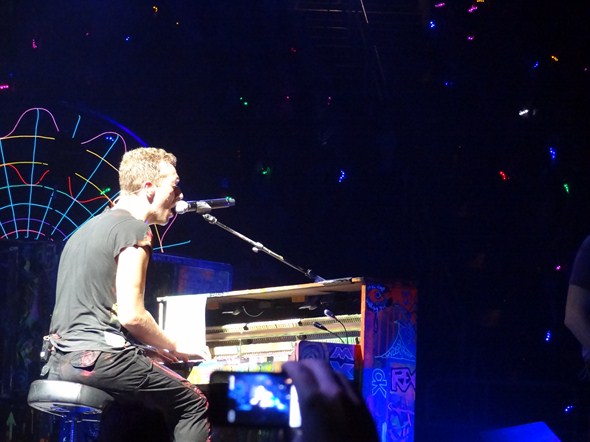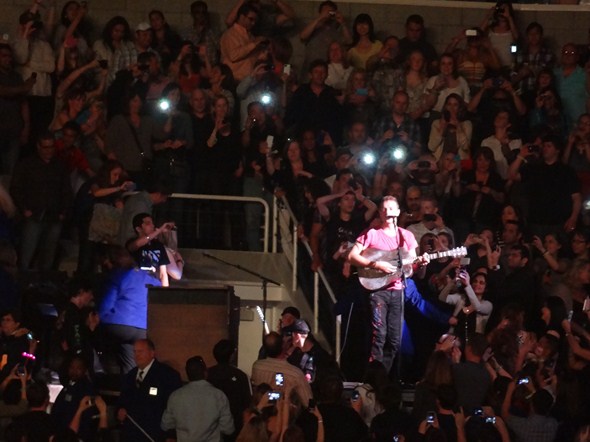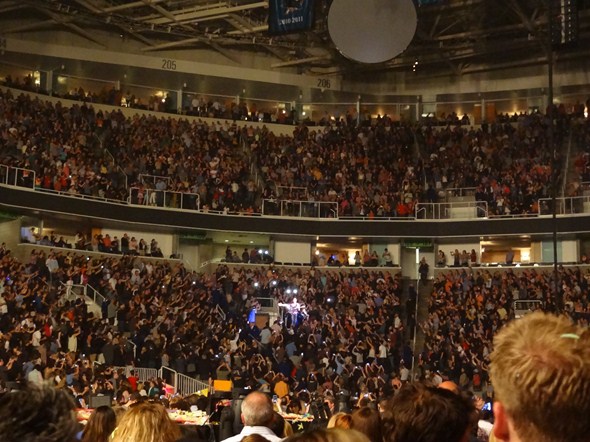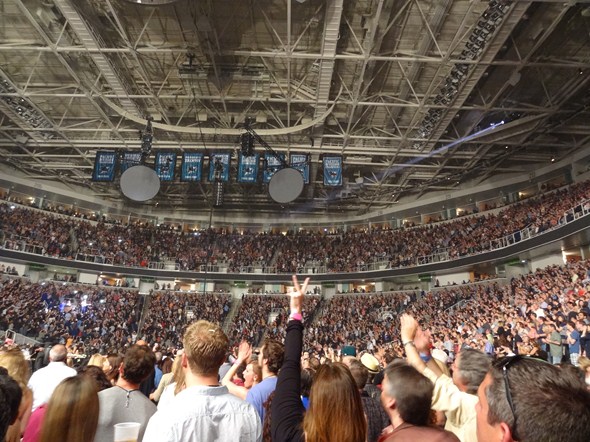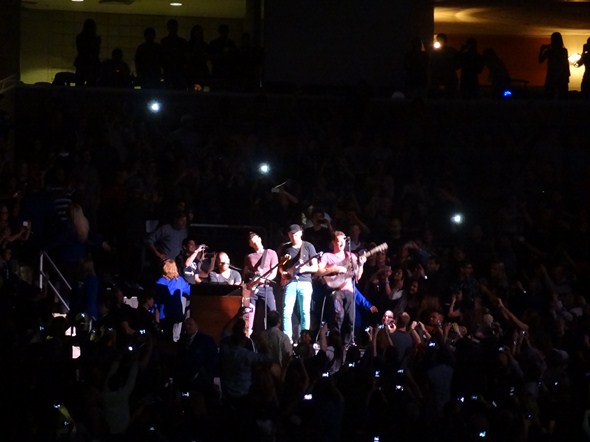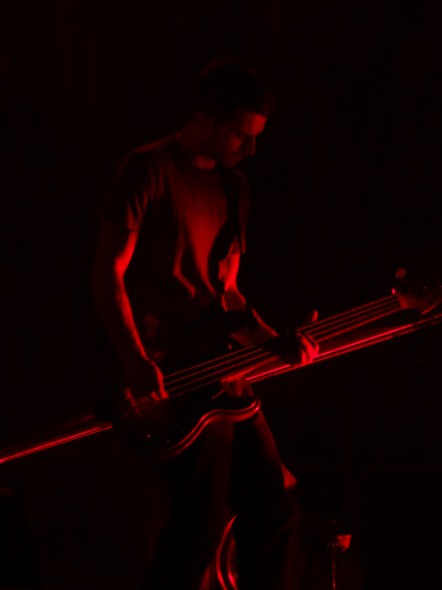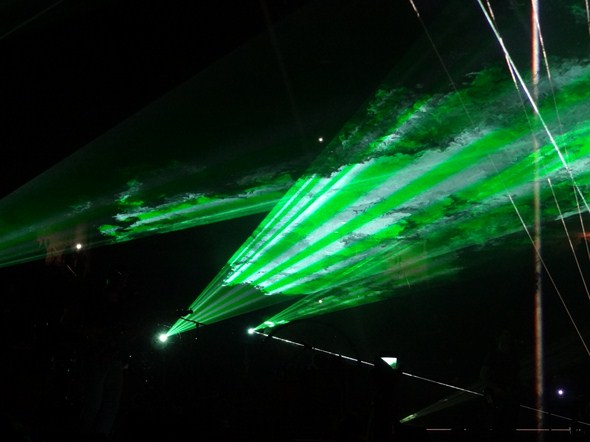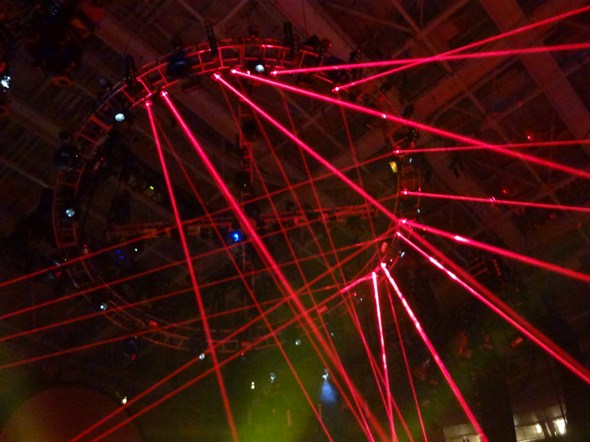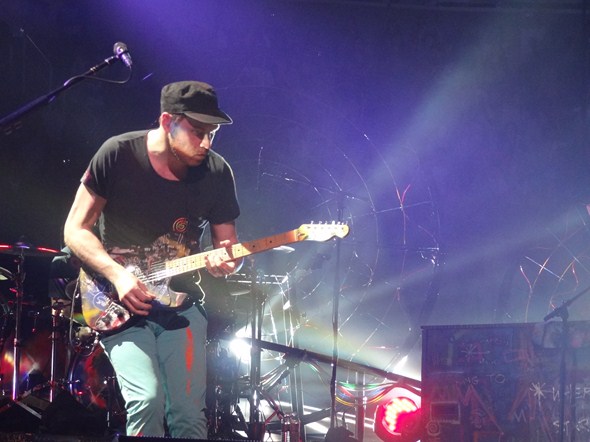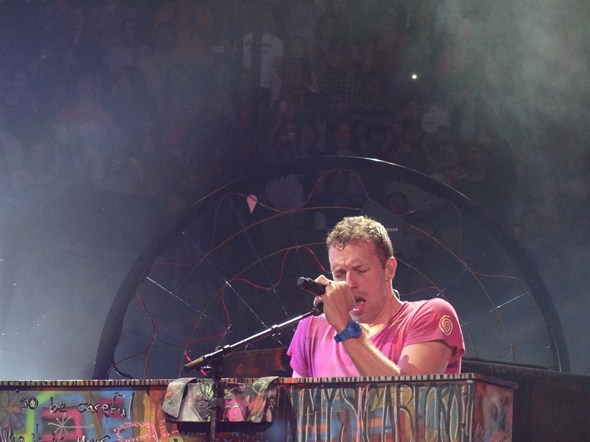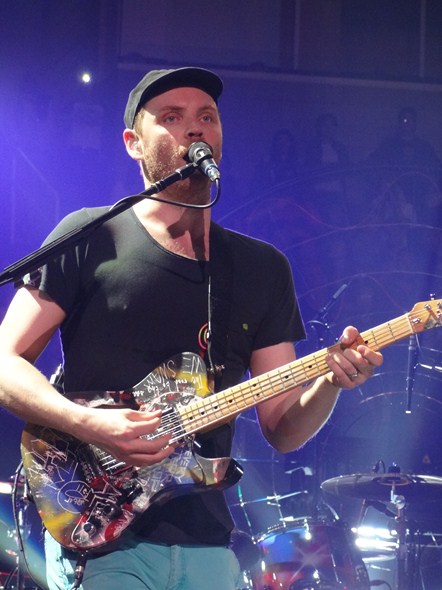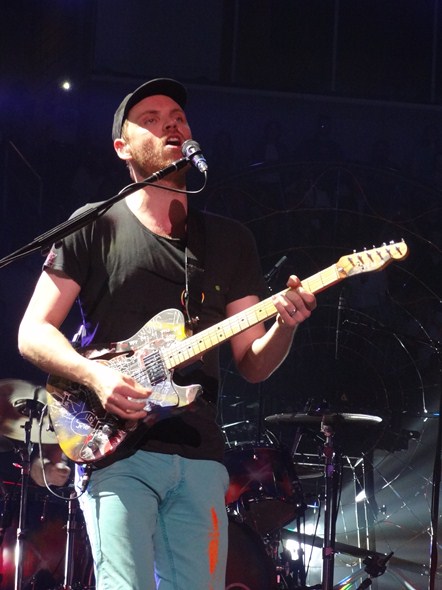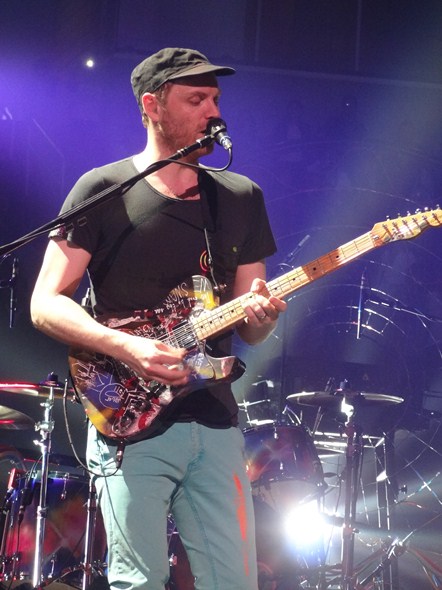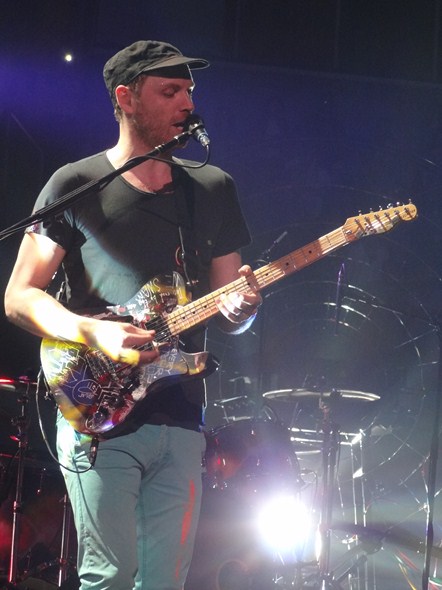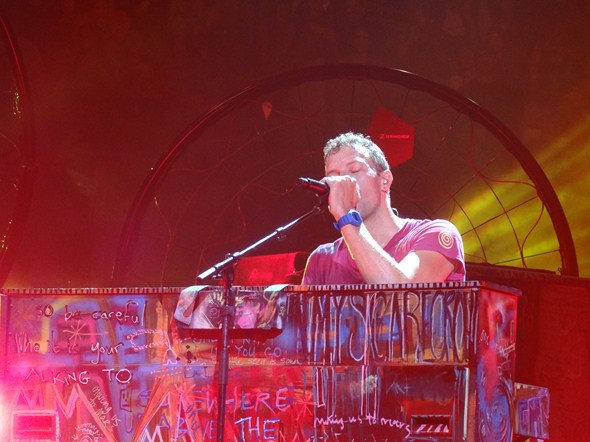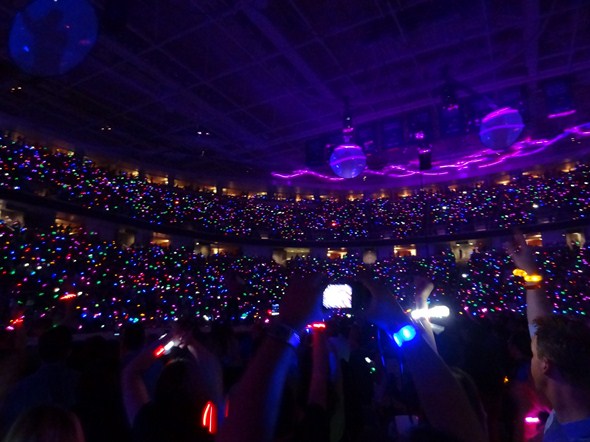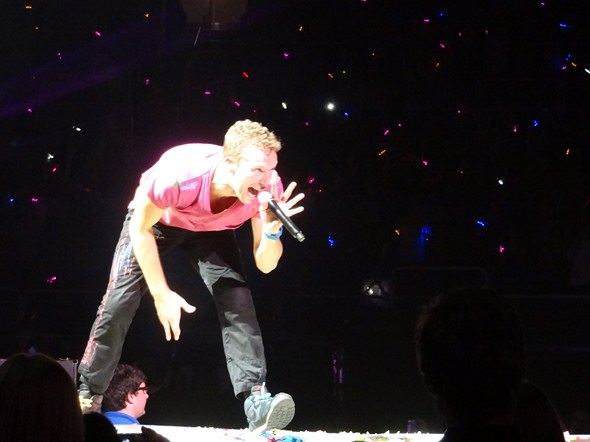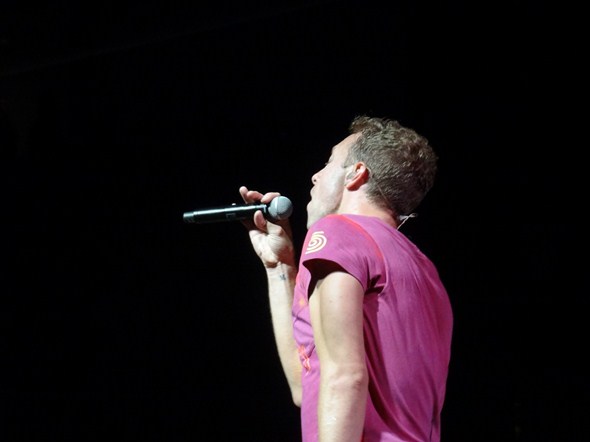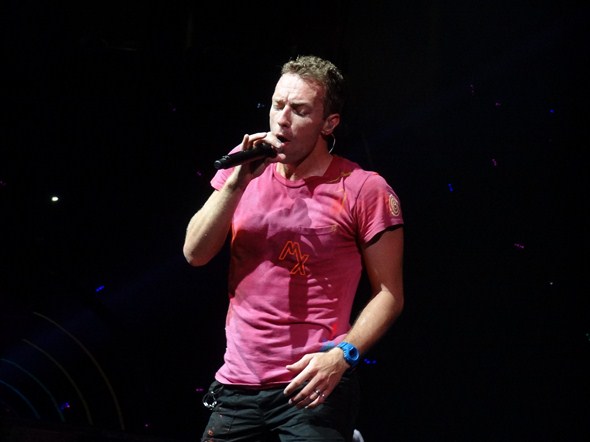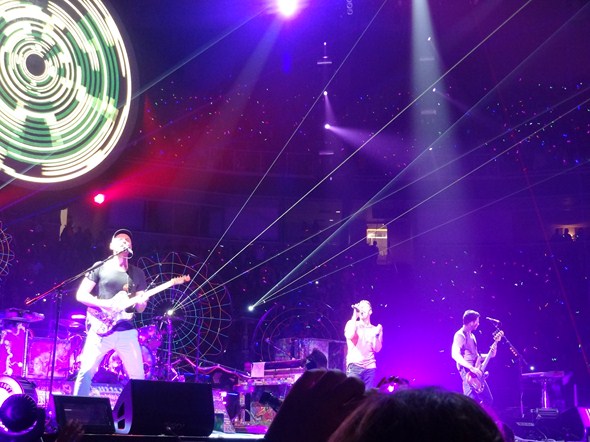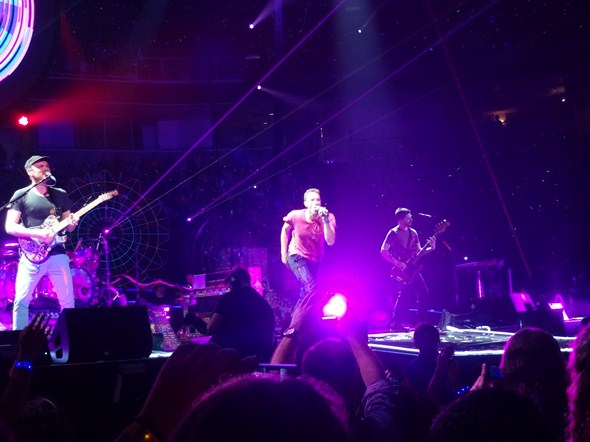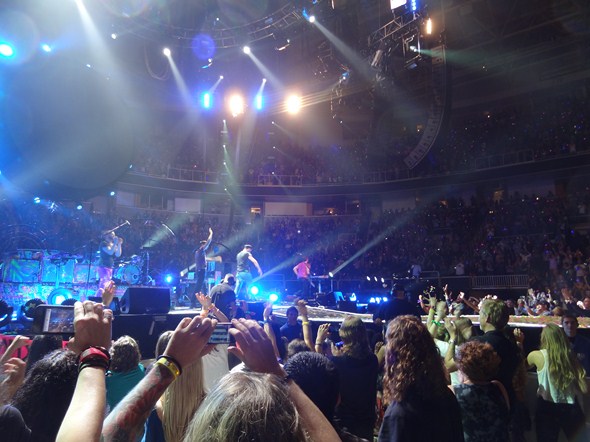 Below are some additional photos taken by my friend Dianne (she has the exact same model camera too):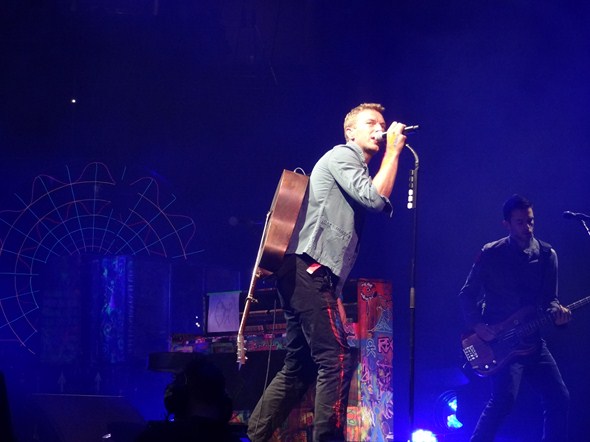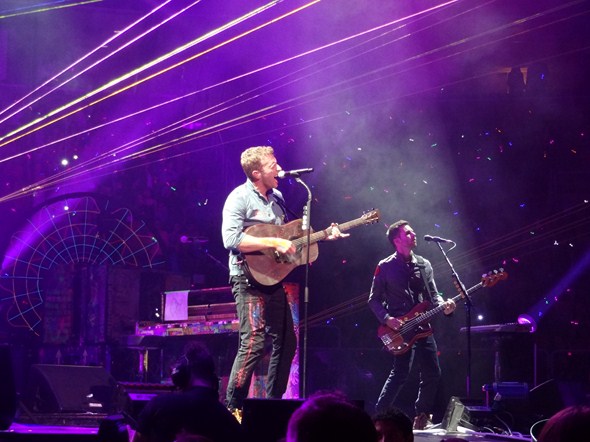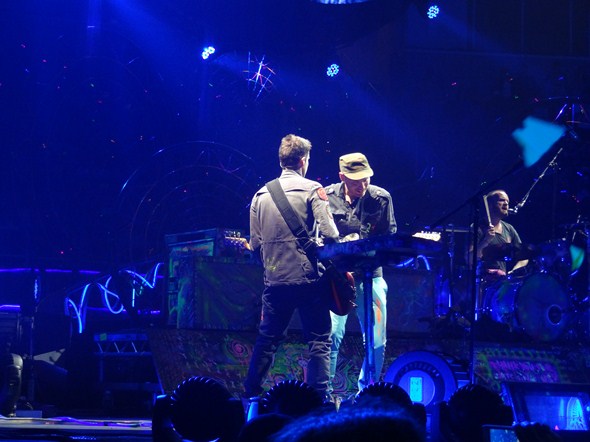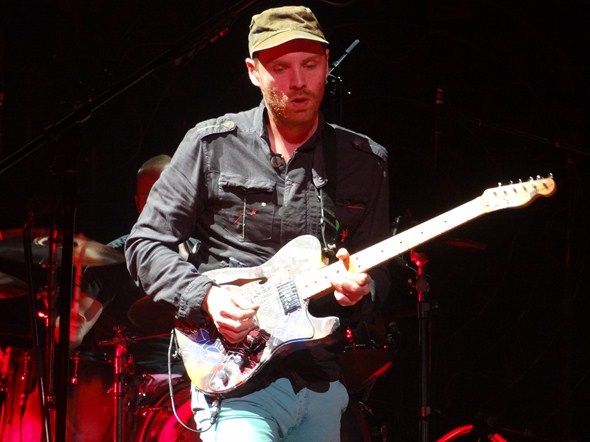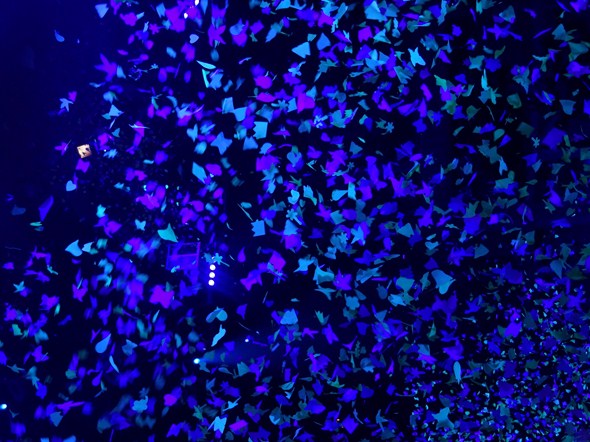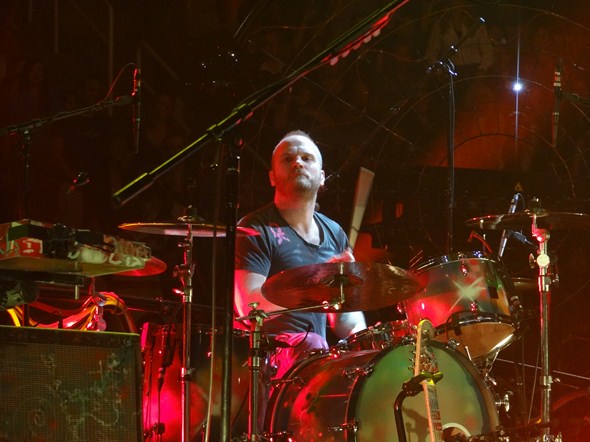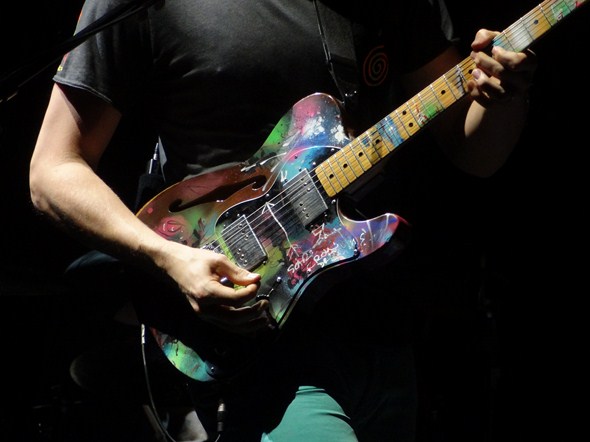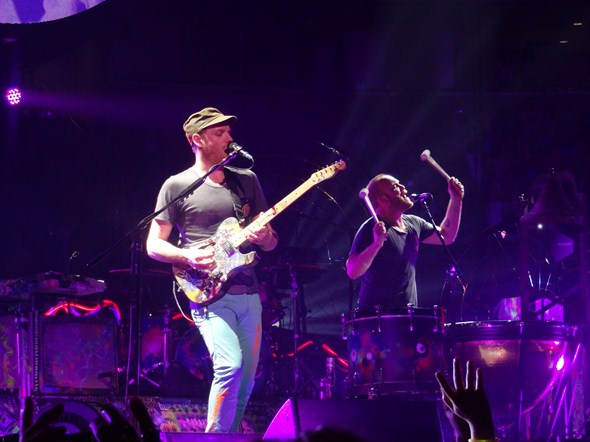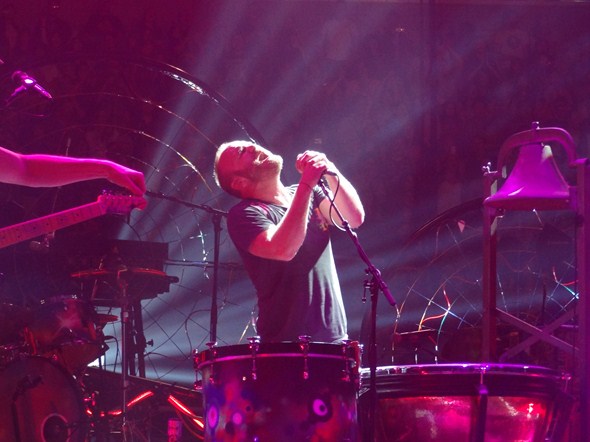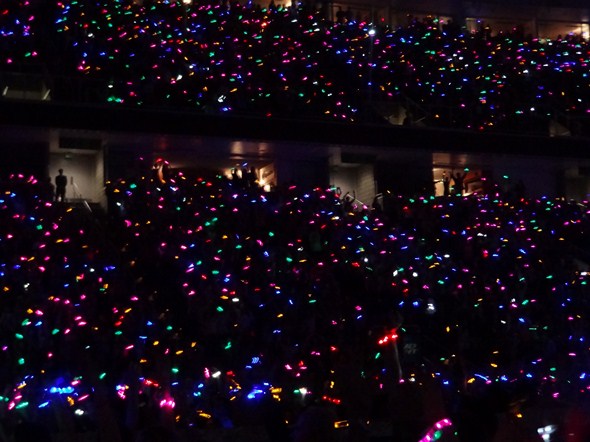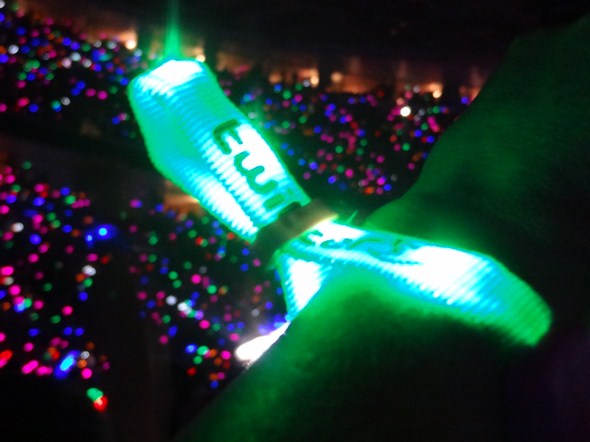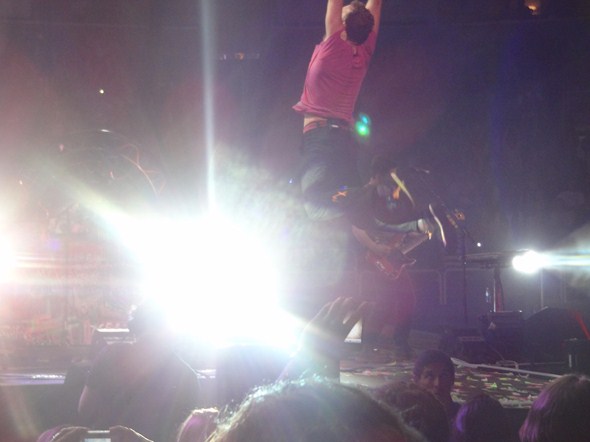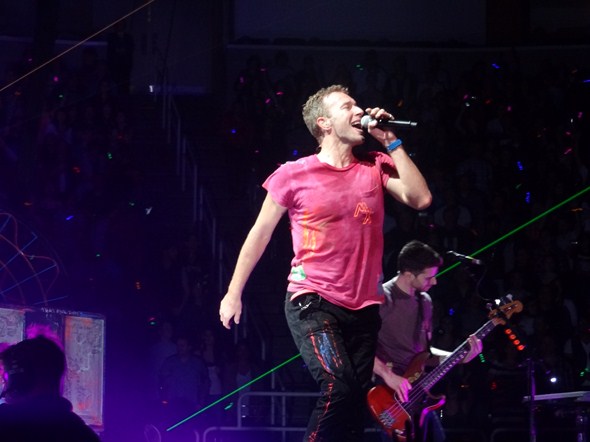 Jason DeBord