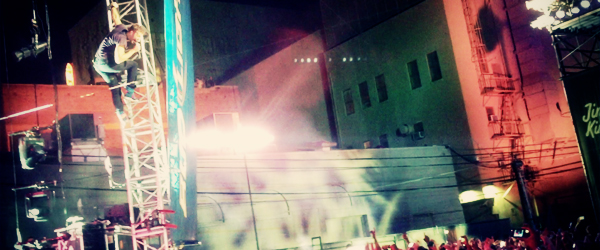 Following last night's Coldplay iHeartRadio benefit concert at Club Nokia, I was lucky enough to share a pair of tickets with another Coldplay fan who won them from The World Famous KROQ for a special Jimmy Kimmel Live! outdoor mini-concert / block party (or "bloq" party) behind the El Capitan Theater, where the regular show is shot in studio. Some of the songs performed at this concert will be broadcast on a special post Academy Award special of the JKL! show, following the Oscars telecast. This concert was originally scheduled for February 7, 2012, and rescheduled for tonight, February 9th.
Who: Coldplay
Show Title: Jimmy Kimmel Live! Block Party with KROQ
Venue: Behind El Capitan Theater
Where: Hollywood, California
When: February 9, 2012
Seating: General Admission (early entry KROQ contest winner)
Broadcast: Jimmy Kimmel Live!

Read articles about both this event and the iHeartRadio charity event at Club Nokia by clicking the link below: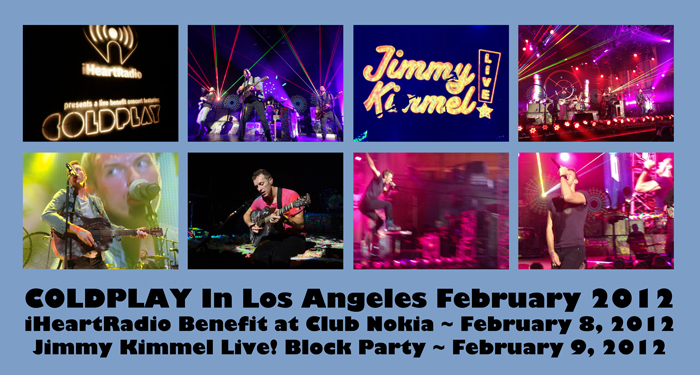 As per my review of last night's show, which was in many ways (thought not all) the best Coldplay concert that I have ever attended, I did not expect this show to compare, and in nearly every way it did not, and really never could, but… I viewed it more as a bonus experience in addition to the other event, and with that perspective, it capped off a great week meeting with other fans and sharing in our experiences attending these fantastic shows.
Overall, this concert and how it was put together is definitely unlike any other show I've been to, as it was 1) free (special thanks to all involved – Coldplay, Jimmy Kimmel, KROQ, 1iota, etc – for that!) and 2) designed to bring in fans to fill up an audience for live performances that will be broadcast on the television show. Radio station KROQ held a contest and gave away many tickets (400 if I remember correctly from my discussions with one of their representatives today), and the bulk of the remaining two thousand or so were given away by 1iota.com on their website, who provide and manage studio audiences for Jimmy Kimmel Live! and other shows. As a result, the audience in attendance was both typical (i.e. fairly dedicated fans) and not typical of Coldplay audiences (including people who like to attend concerts in general, and some who try to make Jimmy Kimmel events such as this one – not merely speculation but also based on my chats with others waiting in line throughout the day).
While it appeared to be extremely well organized on the front end, with three distinct lines (KROQ winner/friends and family, "Priority" 1iota ticketholders, and "General" 1iota ticketholders who are not guaranteed entry), this took a bad turn late into the process. After spending hours lined up in a very precise manner, what was originally explained to us (small groups escorted into the concert area one at a time) was for some reason completely abandoned in favor of a mass simultaneous march of a mix of lines, ordered to stop at various vague intervals, under threat of removal off site if anyone ran ahead to the stage. One friend and I were actually at the front of the KROQ/Friends and Family line, and got pushed back further and further the closer we got to the stage, and another two friends behind ended up pushed out of the way as well.
Making it all a bit more counter productive, we were all ordered to stop behind yellow caution tape maybe 20 feet from the stage, with a crowd of people behind pushing us regardless. Once that was moved and we were again allowed to move forward, it was pretty much pandemonium and any sense of control was complete out the window. The stopping and starting leading up to this seemed to just both frustrate and motivate people more and more to be pretty rude and pushy in trying to grab the top of the barricade in front of the stage, and within a few seconds those of us in front were pretty well smashed against it and packed in so tight our arms were effectively locked against our sides. The security that orchestrated it essentially washed their hands of it at that point, and it was a question of whether people wanted to stay where they were and deal with it or try to make their way out. Having said all that, there is really not an easy way to move thousands of people into a makeshift venue such as this, so it is what it is, and there was obviously excitement all around.
I had read some reviews online leading up to this event to try to understand how it all worked, and read similar accounts, suspecting at the time that they were probably a bit exaggerated. Apparently they were not. Once in place, we watched the live taping of the full Jimmy Kimmel Show (one that aired tonight, that did not relate to Coldplay as guests at all), which was a bit uncomfortable given the position of having an ever increasing crowd continue to fill in behind and push toward the stage. I was one person behind the front barricade, on the "Jonny" side of the stage. But it was also interesting to be part of how all of this is put together, and a very fun and exciting experience.
Following the studio taping, which we watched on a large monitor behind the stage, Jimmy Kimmel's warm up guy came out to get the crowd going, and he was actually pretty funny and entertaining, so that helped to change the mood and remind us that we were actually there for a Coldplay concert and to have fun, not to watch interviews whilst standing in a sweaty crown of irritated strangers!
As is typical with television production, we participated in some of the bits set up for the eventual television program, which I will not spoil here as it will not even air until February 26th.
Though it sounds as though only two songs or so will air (likely Charlie Brown and Paradise) on the Jimmy Kimmel Live! special, Coldplay performed several more in an effort to put on a great show for the fans in attendance:
Charlie Brown
Paradise
Mylo Xyloto
Hurts Like Heaven
Viva la Vida
The Scientist
Every Teardrop is a Waterfall
There were very strict rules about what could not be brought into the venue – no cameras – though cell phones with camera functions were permitted. As such, the quality of the photos included in this review are of a lesser quality than as seen in previous articles, as I was limited to my iPhone 4s. The zoom on the 4s is horrible, so all photos included herein are with no zoom whatsoever.
With back-to-back Coldplay concerts, it is interesting to compare the size of the stage – while the Jimmy Kimmel show provided a stage that is smaller than Coldplay's current touring stage (with no catwalk, etc.), it is gigantic compared to the one employed in last night's special concert at Club Nokia. Chris Martin is an amazing performer, and he made great use of the stage here, running and jumping all over, as per usual.
What was quite surprising, however, was when Chris Martin began to literally climb the scaffolding on the side of the stage, as he sang the show closer, Every Teardrop is a Waterfall. I did capture this on video, which is embedded below:
I suspect that Chris Martin always wants to give their fans all he has, and perhaps was making up for the lack of some of the interactive "extras" that fans have become accustomed to of late – the avalanche of "MX" confetti shot into the audience, the huge bouncing balloons, and the amazing Xylobands (the wristbands given out to concert goers that flash based on remote trigger during certain songs), all of which likely were not practical for a relatively small one off television appearance such as this.
Overall, as noted already, taken as a unique live Coldplay experience with friends it was a fantastic evening. As a "Coldplay concert", it was very unusual overall (with the mechanics of it all given the nature of television, a bit like being herded cattle), but the performances by the band, as always, were very fun and enjoyable. I was also extremely fortunate to have seen the band play back to back gigs, front center for the epic Club Nokia show last night and one person off the rails and to one side for tonight's Jimmy Kimmel Live! block party, which was a lot of fun. Both very unique shows in their own right and I feel very fortunate to have had an opportunity to attend them, and really quite surprised I was able to make may way to the front for both, which is a really special experience.
It's also always fun to see Coldplay interact with Jimmy Kimmel, as they have great rapport and seem to have a genuine friendship. I was watching Jimmy Kimmel watching from side stage, and he very obviously has a love for the band and their music. And it seems that Coldplay always put out a lot of effort to put on a great show for him when they do these kinds of special events, as I had a chance to watch some of this at UCLA last year.
All in all, it was another incredible Coldplay event, and I feel so very fortunate to have a chance to see them in special one off shows such as this one and the peerless Club Nokia gig last night.
I do want to thank all of my friends, old and new, that I had a chance to meet up with at these events this week, and hope to repeat with new events in the future.
Below is a video a shot of Coldplay performing Viva La Vida:
Below are photos from tonight's event: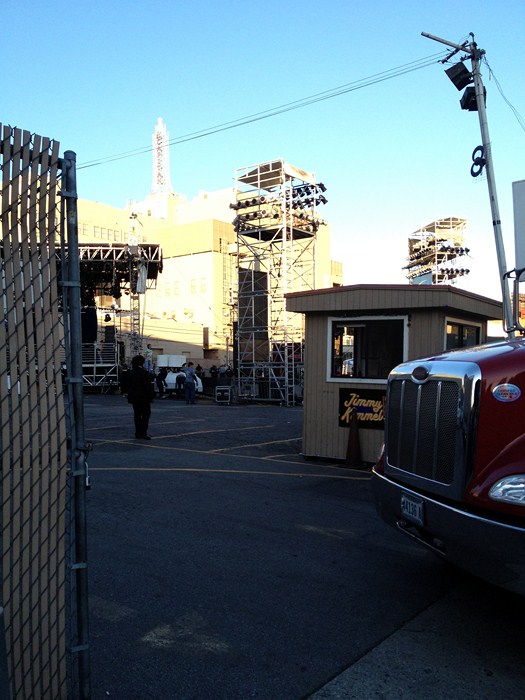 Waiting at the front of the line outside of the concert area…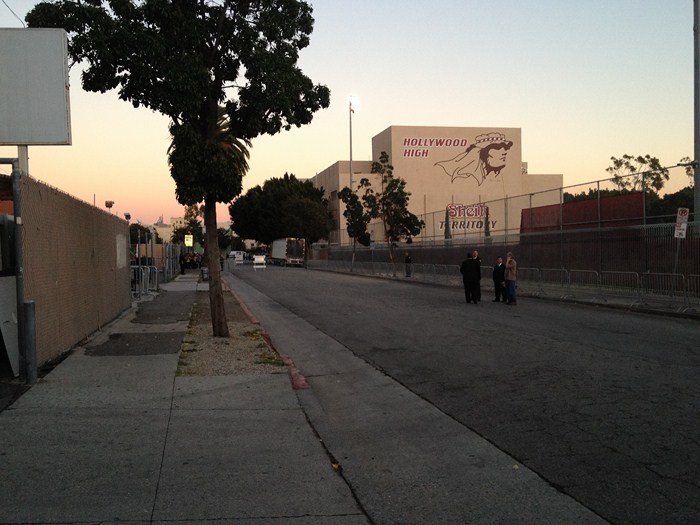 Blocked off street…
Friends and Family and Priority lines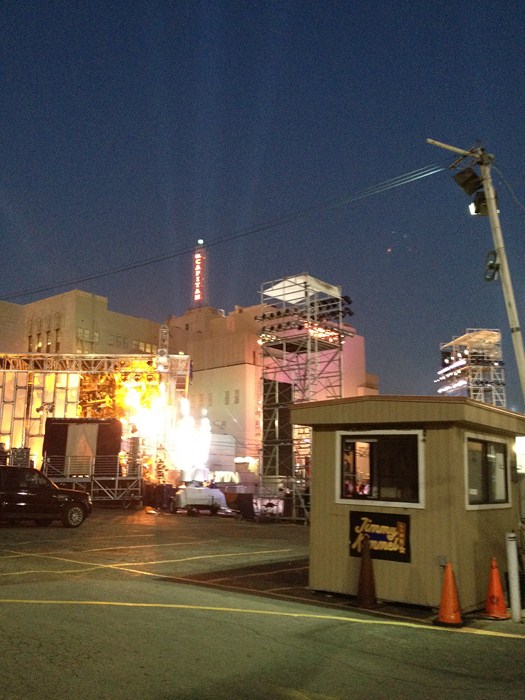 Watching sound check from outside the venue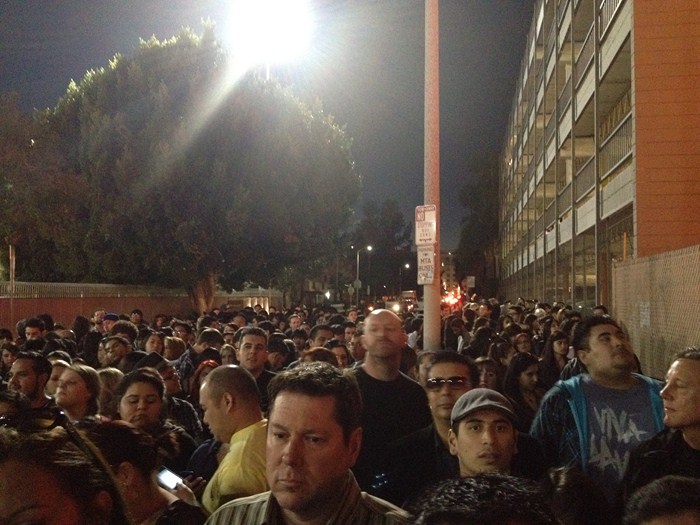 Line for entrance fills half of one city block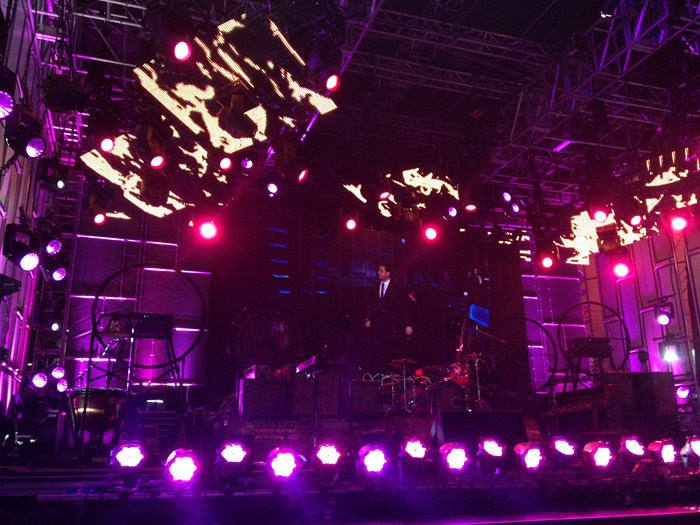 Watching Jimmy Kimmel Live! on stage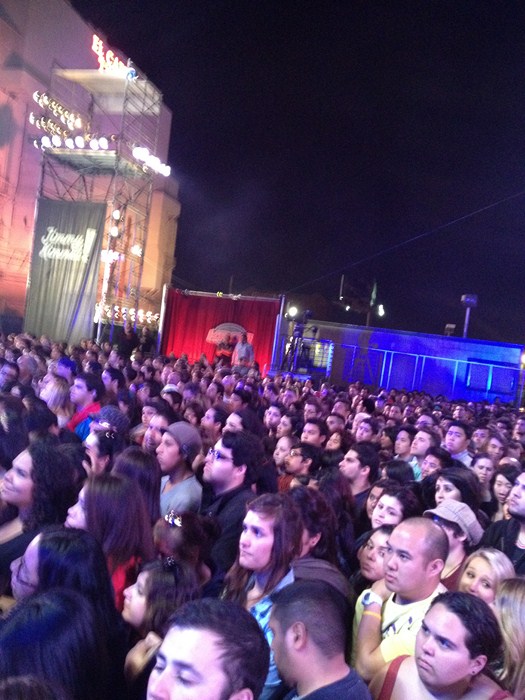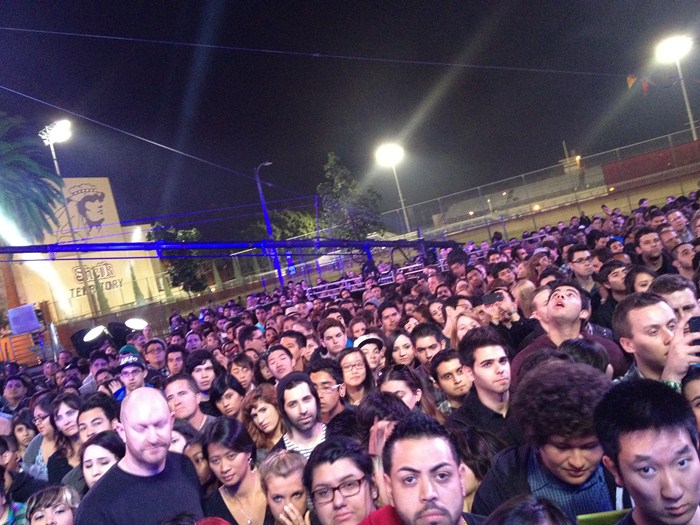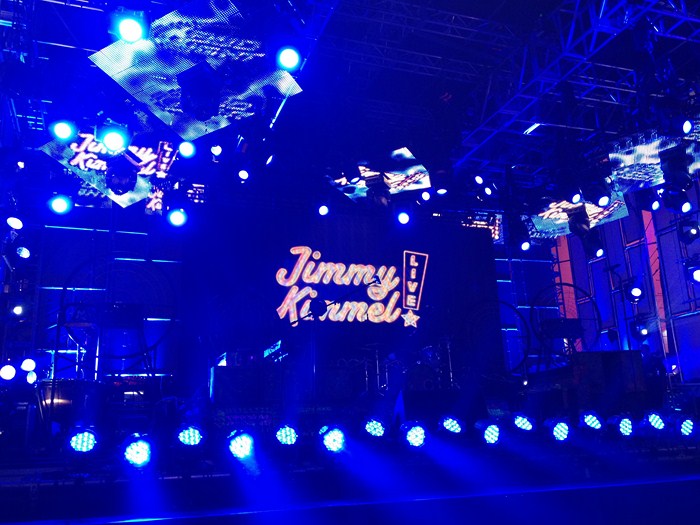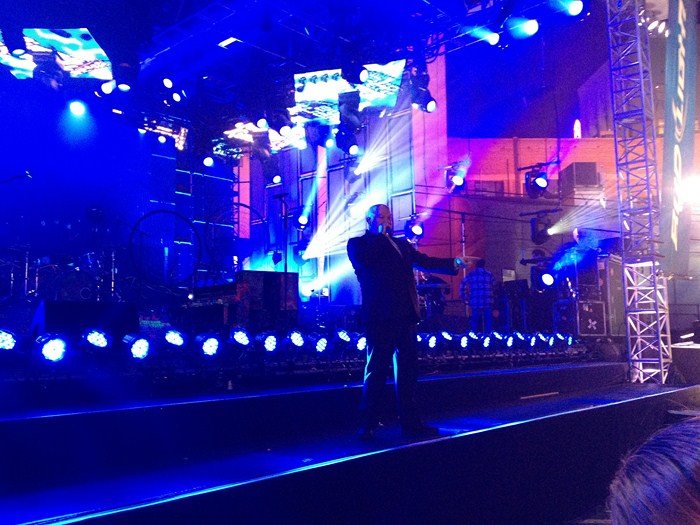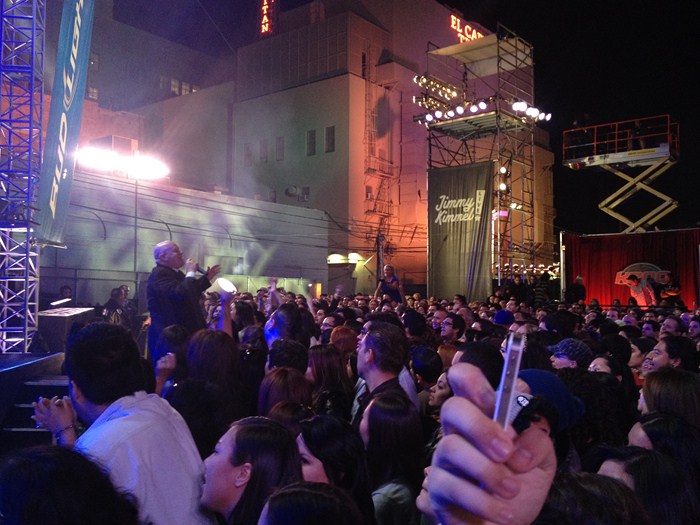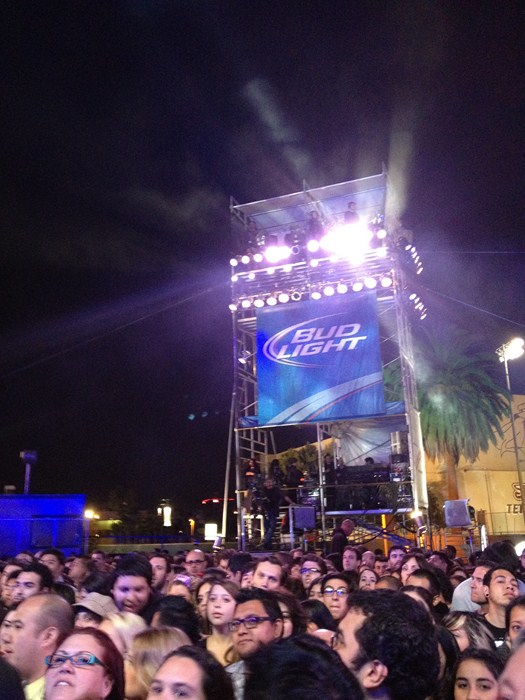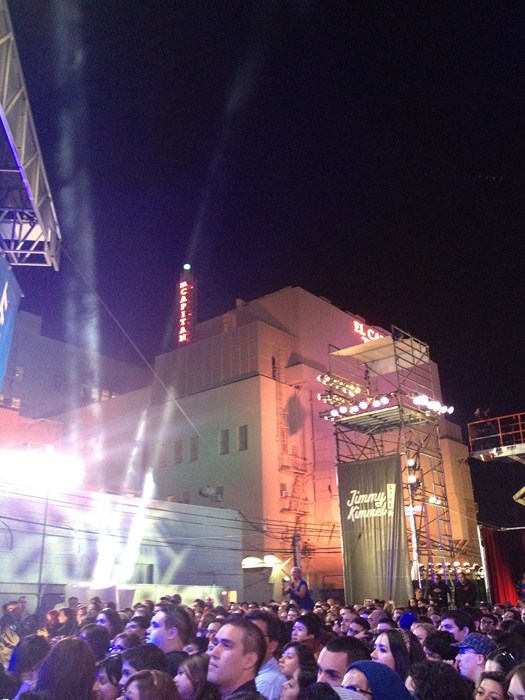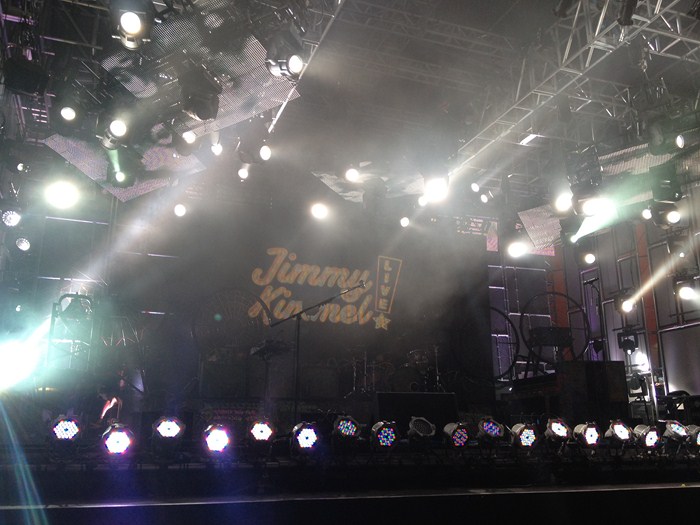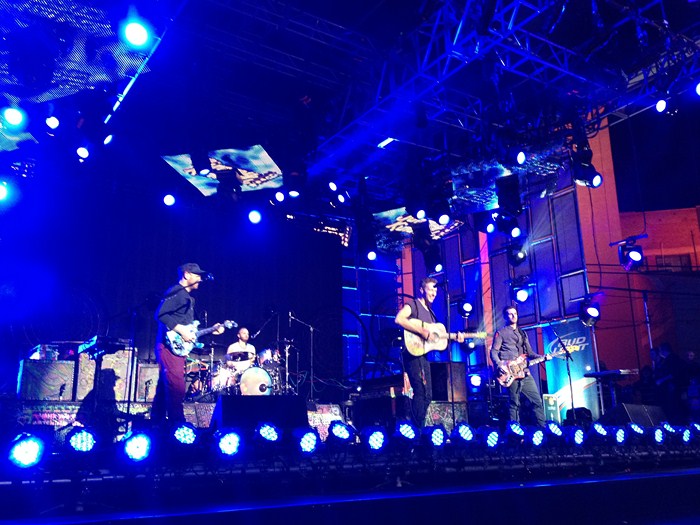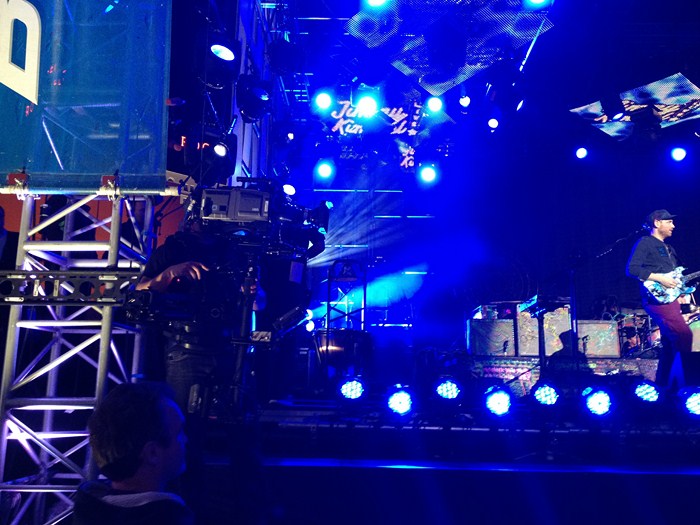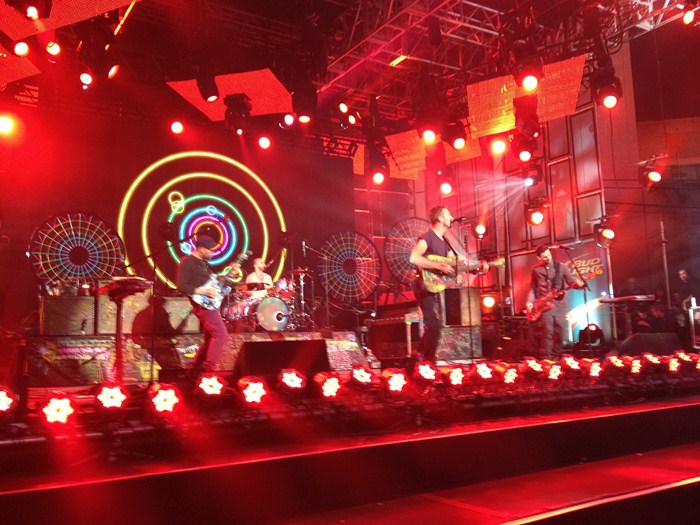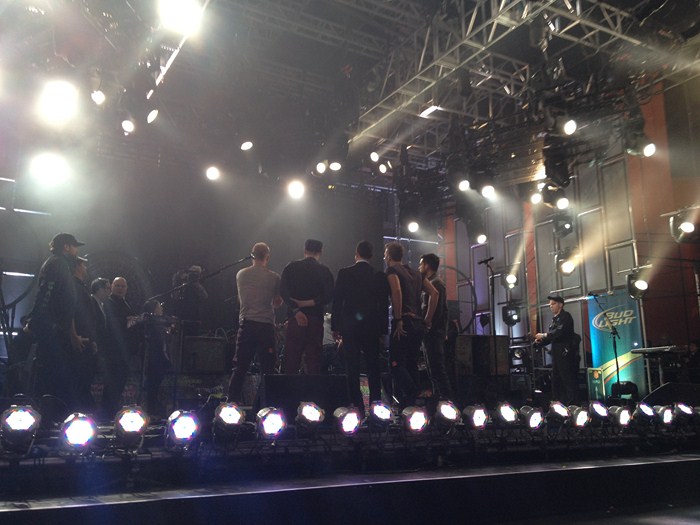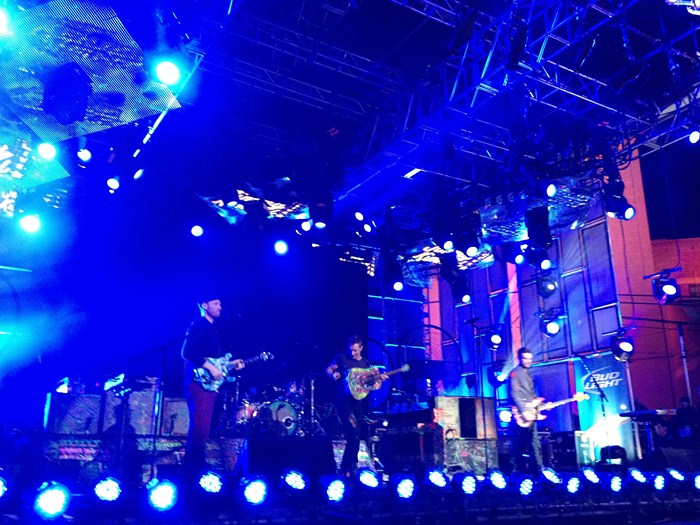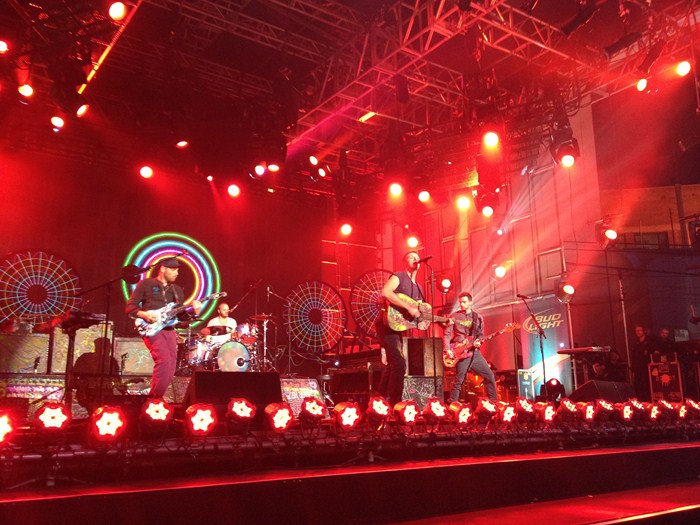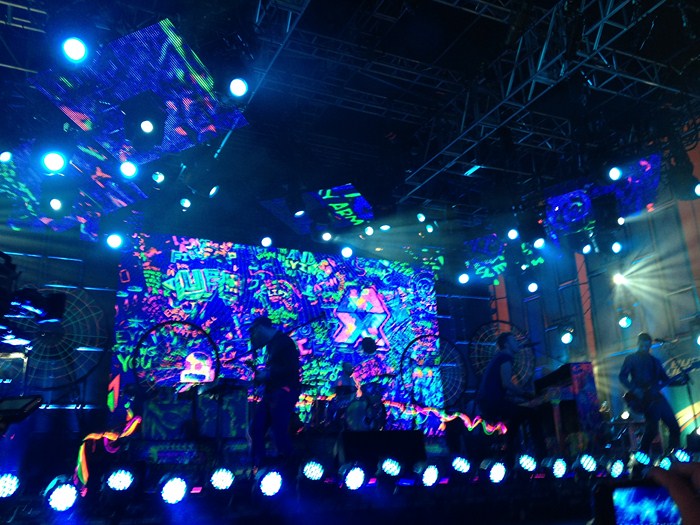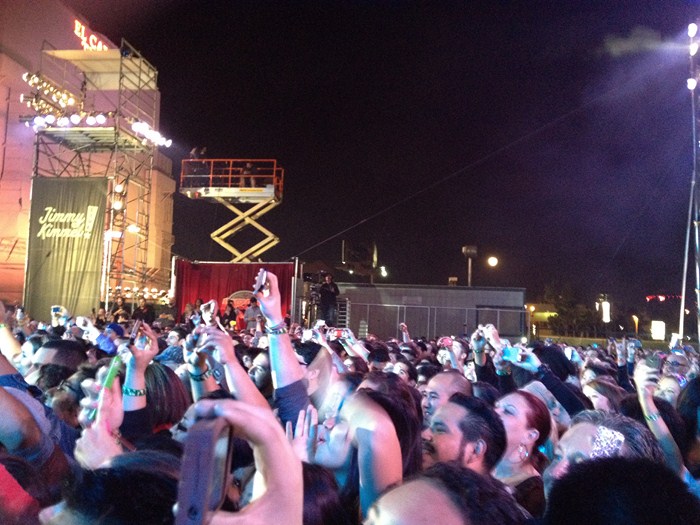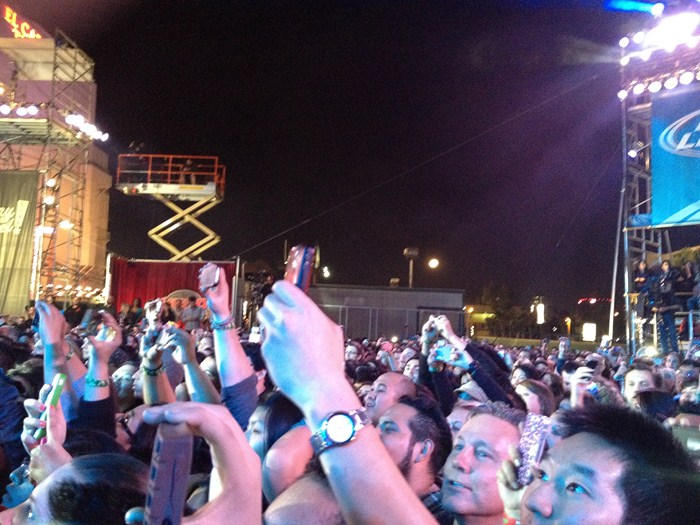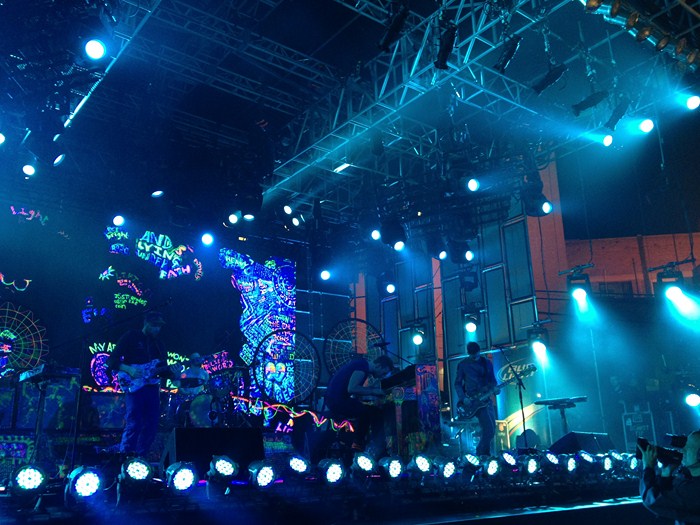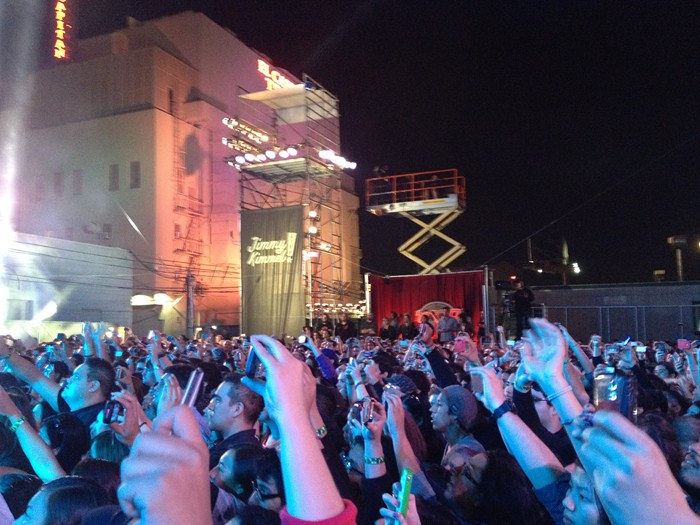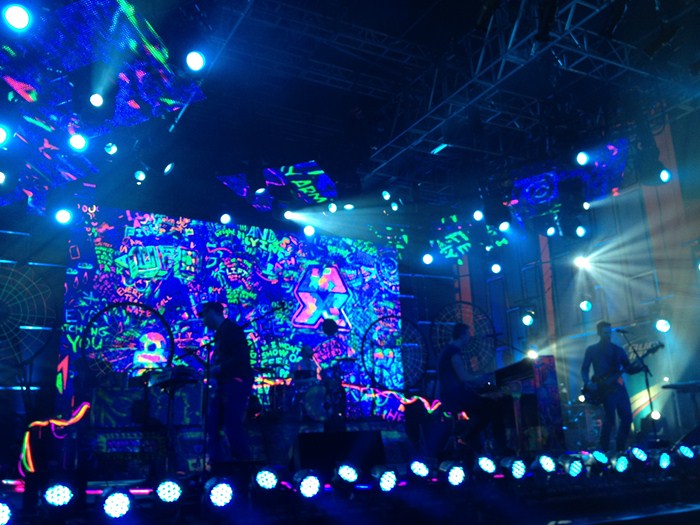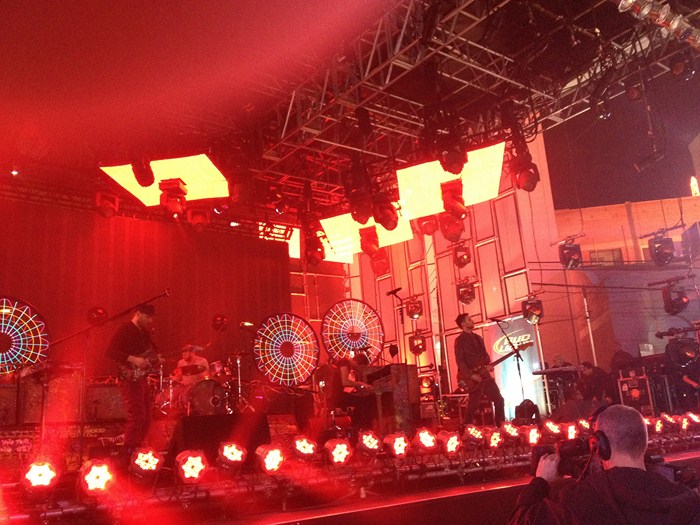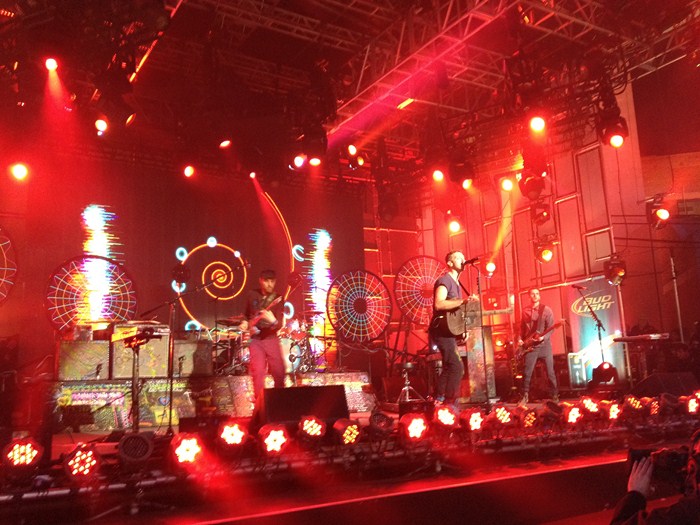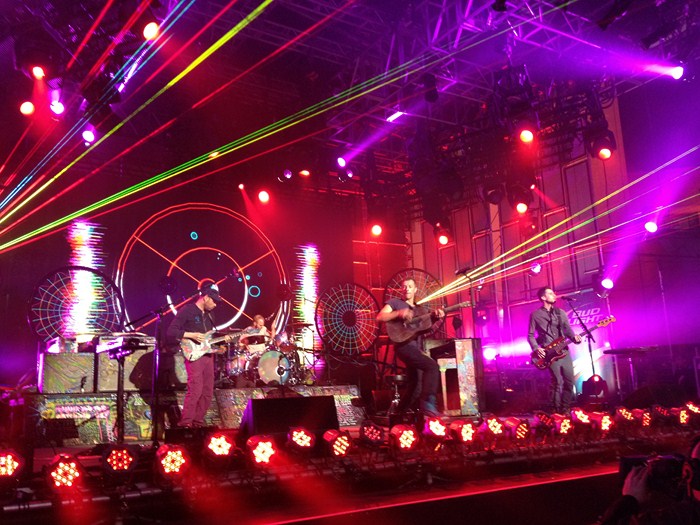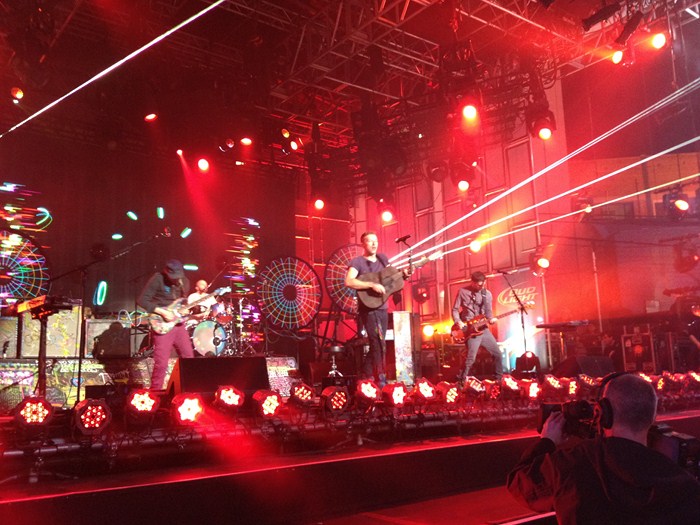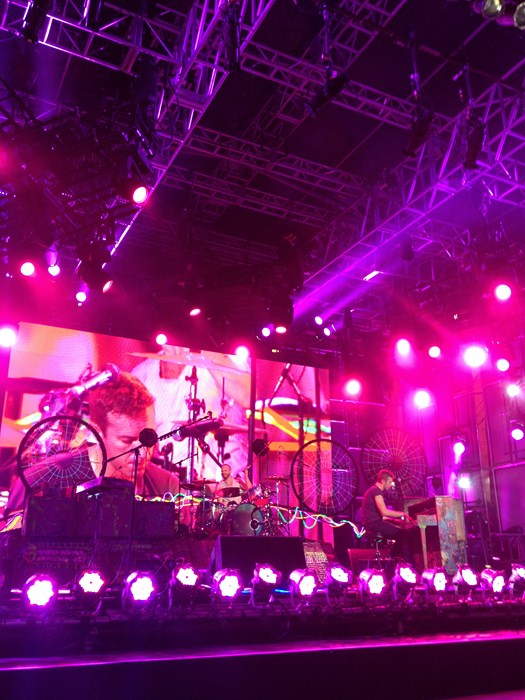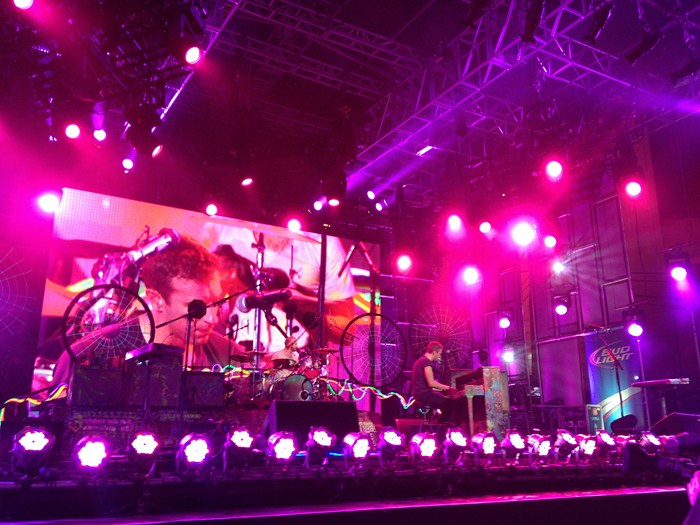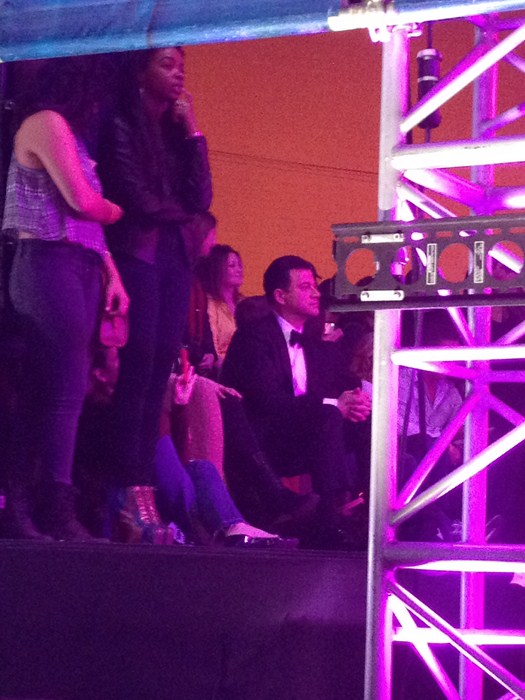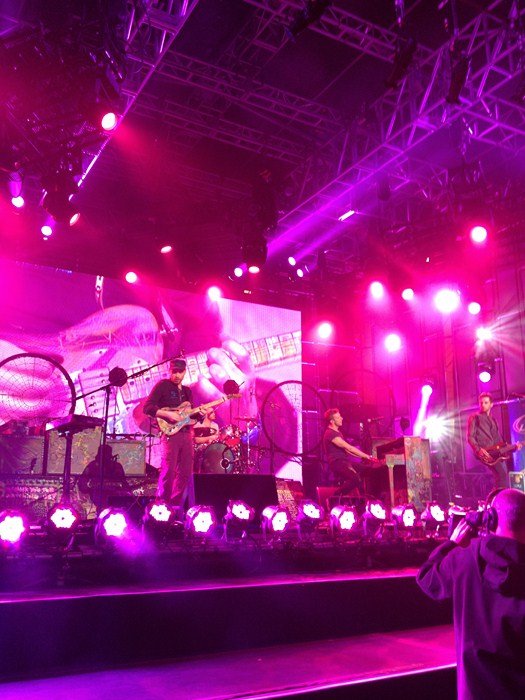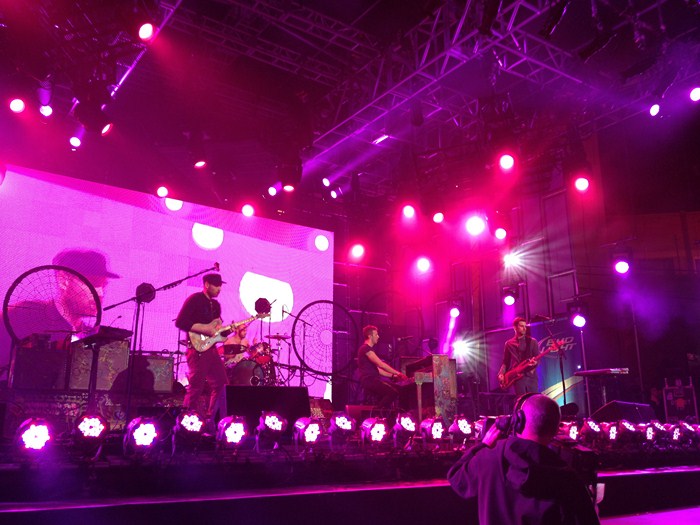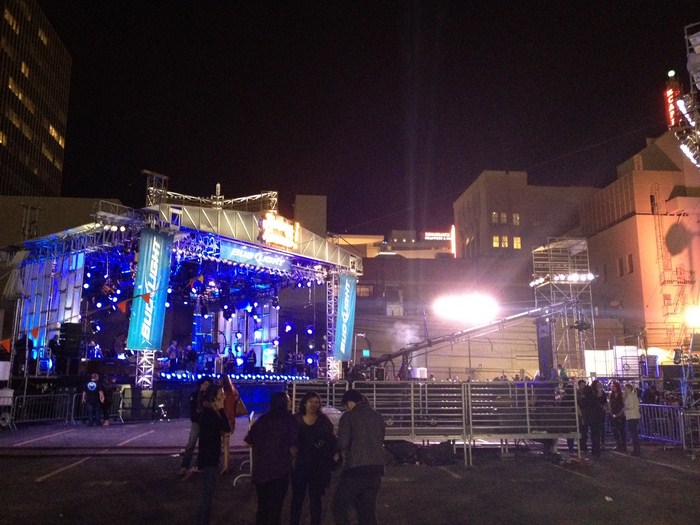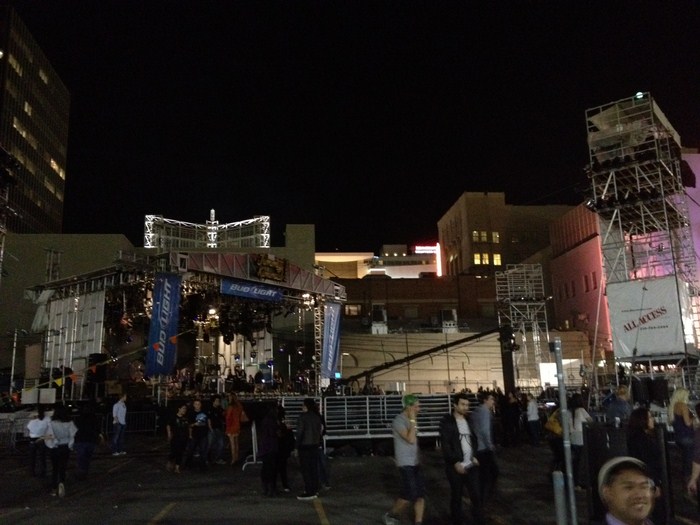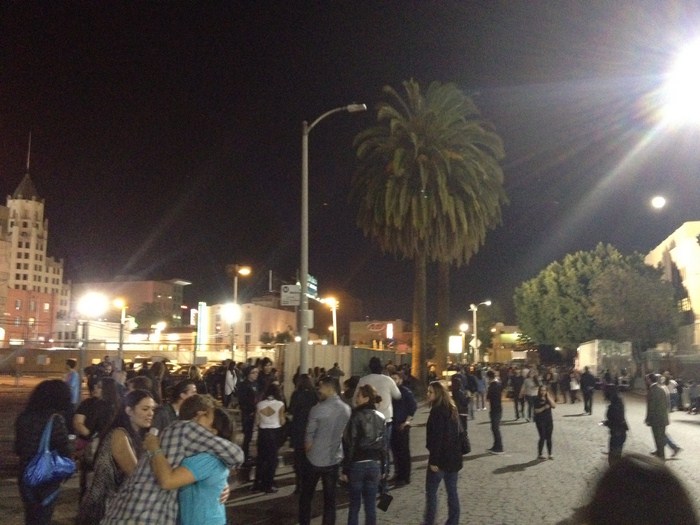 Update 2/11/12:
Below are some photos taken by my friend Dianne, who was standing next to me, also shooting iPhone 4S – these were all from when I was shooting video at the time…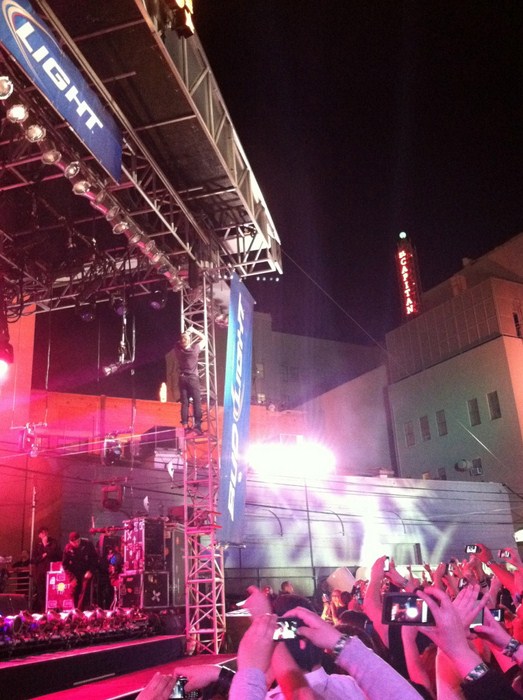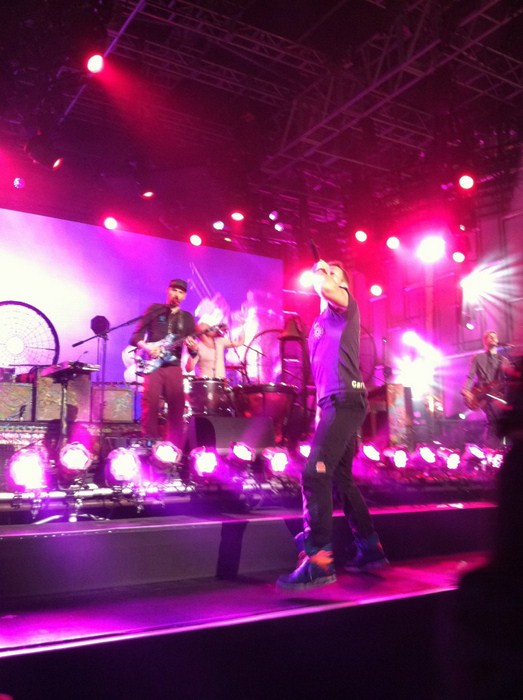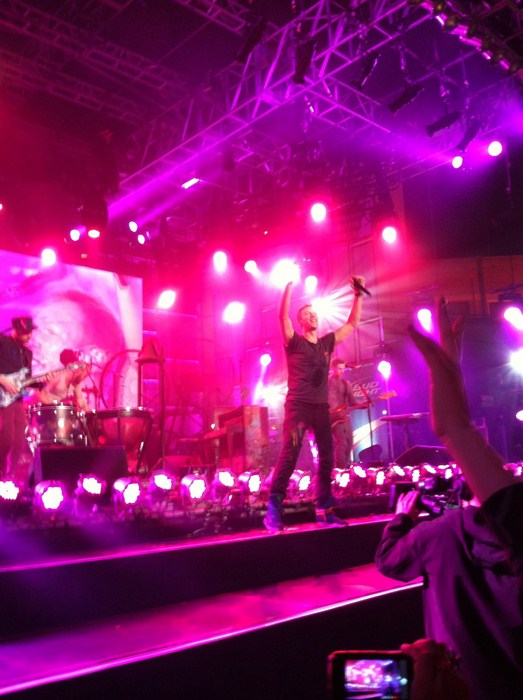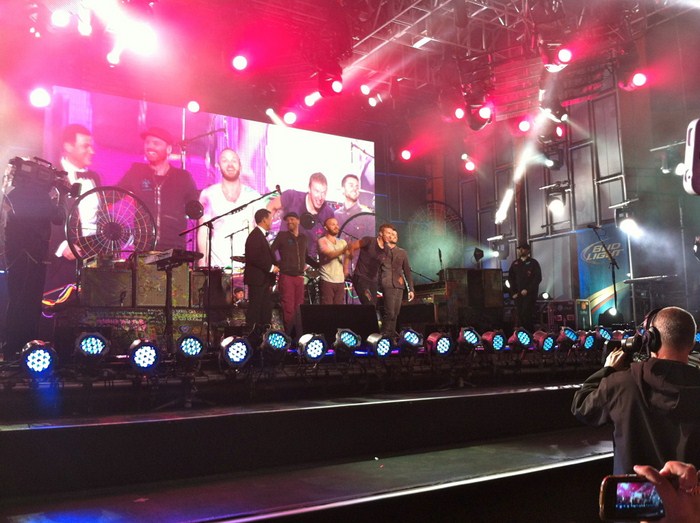 Below is a screencap from the broadcast on Jimmy Kimmel Live! on February 26th – can see me and friends behind him to right…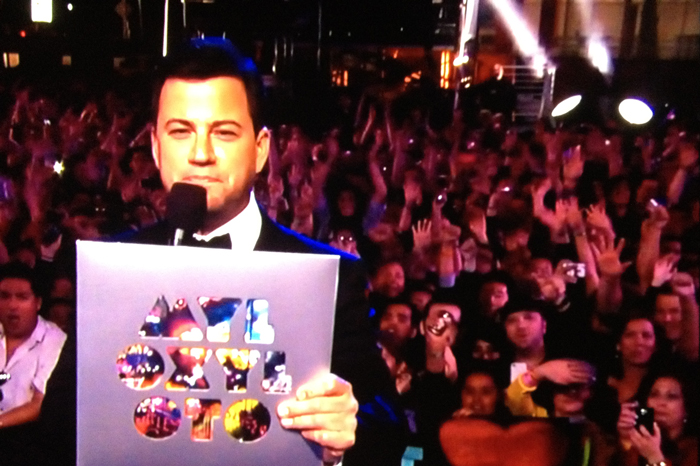 Below are the two videos produced from the concert by Jimmy Kimmel Live!:
Jason DeBord