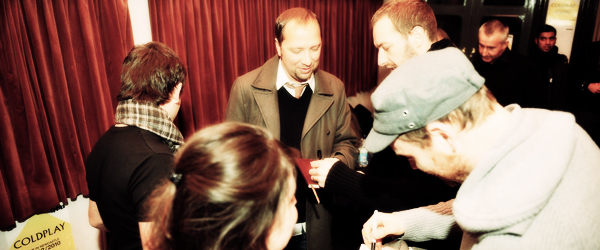 England Journal: Day Five. So today was the big day. After the thrilling night of the first concert in Liverpool at the Royal Court Theater, we needed to make our way to Newcastle Upon Tyne for the second and last show of the Crisis charity concert series, announced as held at the Journal Tyne Theater.
Who: Coldplay
Show Title: Crisis "Hidden Gigs"
Benefit/Charity: Crisis
Venue: Journal Tyne Theatre
Where: Newcastle Upon Tyne, England
When: December 20, 2010
Seating: Grand, Row C, Seat 16 (moved to Row A)

PLEASE NOTE:  This article first appeared in different form on the Original Prop Blog (click here for original), and has been copied to the Rock Subculture Journal after the fact.
Given the unusually poor weather conditions, England has been hit hard with transportation issues affecting all travel – car/taxi/bus, train, and air. This was of particular concern in that Oz, Carrie, and I had won VIP tickets for the second show, which included a "meet and greet" with the members of Coldplay. So getting to Newcastle in time for the concert event was our number one priority for the entire journey to England.
And the fourth member of our group, stuck in the U.S. due to all of the travel-related problems, had already missed the first show in Liverpool. We were hopeful that a new flight she had arranged would arrive into Newcastle about the same time we expect to arrive by rail.
We got going quite early, meeting in our hotel lobby a little after 5 am (after a late night due to the first concert). As we made our way to the train station via taxi, I later confided to Oz and Carrie that I came fairly close to asking the driver how many people he had struck with his car this year, but decided against it… (bad/aggressive driving – he seemed to speed up for pedestrians!)
Thankfully, our train into Newcastle was still on, though it never did seem to appear on the departures board.
As we made our way into Newcastle, I finally received word from Amanda, the fourth member of our party, though it was the news I did not want to hear – though she hopped from airport to airport booking various routes to get to England, she ultimately was never able to make it, and would not be able to attend the concert. Knowing her love for the band, the cost of the tickets, and her efforts to make it in spite of the challenges (spending several days in airports in different cities), I really feel terrible that circumstances out of her control prohibited her from being able to come and enjoy the experience.
The three of us did make it to the new hotel and were able to pick up our tickets at the box office. Given all that was stacked against us, I felt extremely fortunate that we finally made it. On Day Two, when we were at Prop Store with Mario and Stephen and that snow storm hit, Oz and I had at that time actually contemplated foregoing our paid hotel for that night and trying to get to Newcastle via rail (skipping the first concert in Liverpool entirely) just to ensure that, if anything else, we made the show for which we had the VIP tickets. So in the end, it all worked out as optimally as we might have hoped, having made both shows.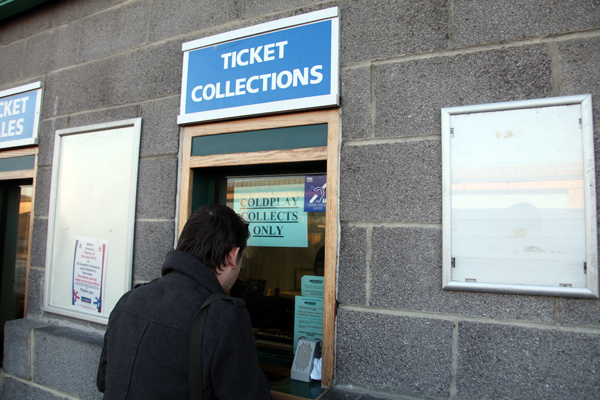 Oz picking up VIP tix
Tickets in hand, we were finally able to get a little rest before the show. Since arriving in England, I had only been getting anywhere from one to four hours of sleep each night, but had been having such an amazing time, I was running on pure adrenaline. The notion of sleeping seemed like such a complete waste of time…
For context and background for what contributed to my being inspired to travel to England to meet Coldplay in person, see the immediately preceding article: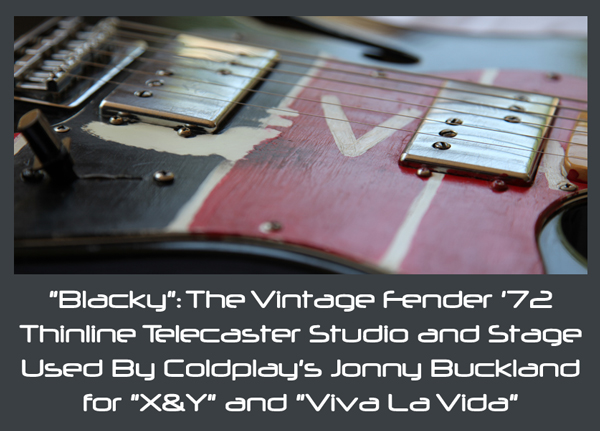 The second venue was the Journal Tyne Theater, and VIP ticket holders were to arrive at a special entrance at 6:30. We got there early, about 6:00, and waited outside and got acquainted with some of the other auction winners.
We were eventually greeted by members of Crisis and brought into a room, then brought into another room upstairs for a champagne reception. In the mix, I was able to meet Holly from Crisis, who was absolutely wonderful to work with in the planning leading up to the event.
We eventually adjourned as a group to two open areas separated by a short flight of stairs. It was explained to us that we would form two "U" shapes in each room and the band would work their way through each line. There were 30 VIP tickets made available, but in addition to our friend missing the event, it seems a few others did as well, so it was a very small group.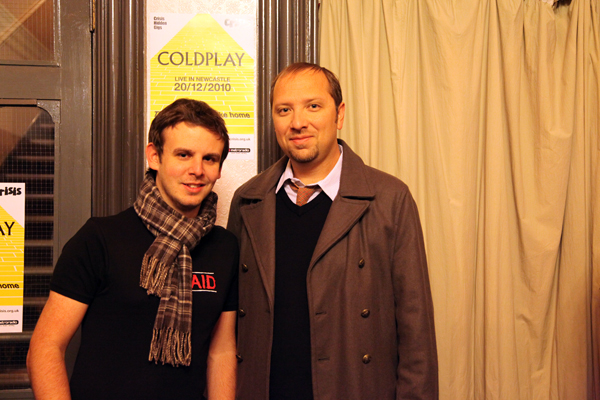 Oz and Jason
We got acquainted with some of the other fans, and I also spent some time talking with Nick, the official photographer for Crisis, as well as some of the people working for Crisis – all really great people.
At one point, as we were waiting, Matt McGinn walked in looking for someone, and Carrie recognized him immediately. This year Matt published his book, "Roadie: My Life on the Road with Coldplay", and he is responsible for all of Jonny Buckland's guitars (see excerpts in "Blacky" article).

I approached him, ticket in hand, and asked if I could have his autograph. Surprised, he asked why I would want his autograph, and I told him I was a fan of his book, and that I was the one who had won Jonny's "Viva" guitar at auction, "Blacky".
Matt was stunned!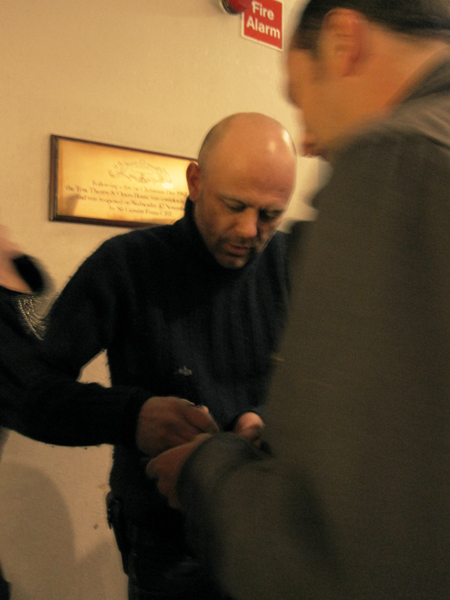 Matt McGinn
He gave me his autograph, and I had my photo taken with him.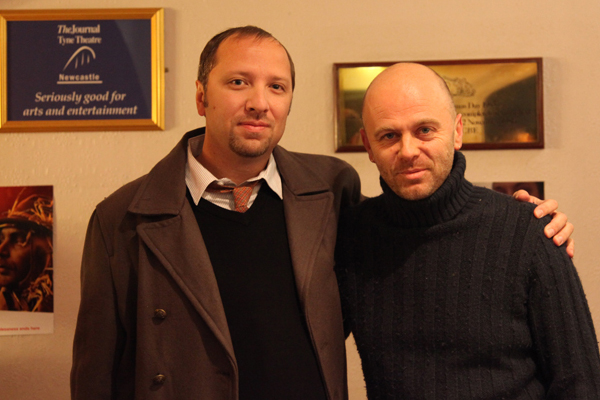 Jason with Matt McGinn
I asked him if he recalled which studio tracks might have been recorded with the guitar, and he said a lot of them, but that Jonny would better remember. I showed him a photo of the guitar on my iPhone, and he pointed out the really worn out spot on the pickguard where it was white again, and said he loved that.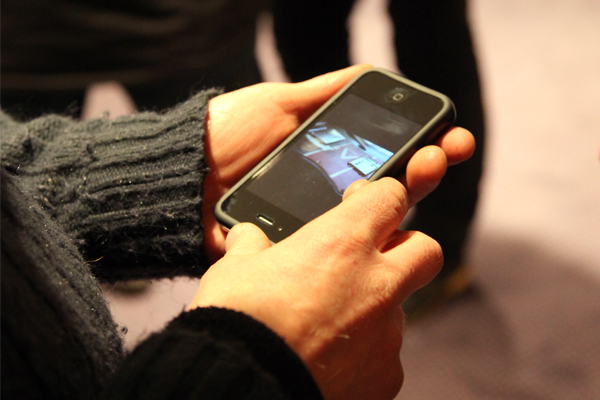 Matt McGinn looking at a photo of Johnny's Vintage Fender '72 Thinline Telecaster
I explained that when I take really high resolution photos of that and the metal areas, you can see countless scratches and wear that you can't see at all with the naked eye. Carrie captured a snippet of this on video with her camera.
He made a comment about how he at first didn't like the idea of painting (with "VIVA") such a "beautiful" guitar, but really liked how it turned out.
Eventually, Matt had to leave to finish preparing Jonny's guitars for the performance that was to follow. Oz, Carrie, and I waited in anticipation.
Quietly, the band appeared and began talking with some of the other VIP fans in the room. It was surreal to be standing in a room, hanging out with the band.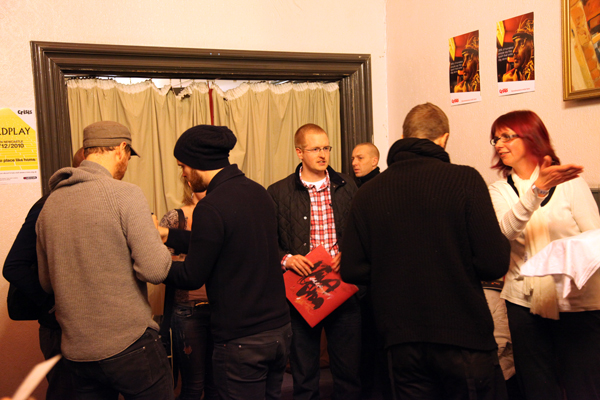 Guy Berryman, Coldplay's bass player, came over to us first, and introduced himself. Oz showed him some original flyers he had found in a guitar case that he won at auction for one of Chris Martin's first guitars – flyers from one of their first gigs back in 1998. Guy was surprised and asked where he found them, and called over Will Champion, Coldplay's drummer so that he could see.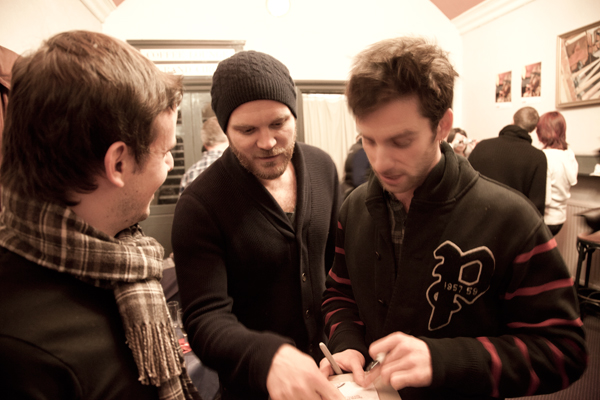 Oz with Will Champion and Guy Berryman
We talked with them for a little while, got their autographs, and they moved onto the second grouping.
Shortly thereafter, Johnny made his way over, talking with another fan first.
Jonny then came to talk to us, we made introductions, and I told him that I was the one who won "Blacky". As with Matt, he was surprised and pleased.
I got his autograph and asked if I could have my photo taken with him.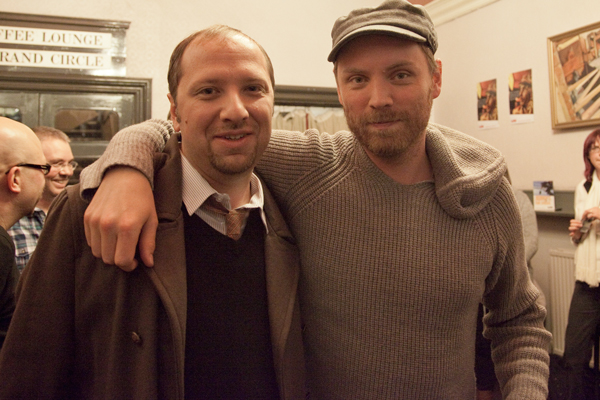 Jason with Jonny Buckland
I asked him if he remembered when he got it, and what he might have recorded in studio with it. I did not know until after the show. but Carrie actually video recorded a snippet of our conversation, in which Jonny explains that he remembered buying the guitar in Los Angeles toward the end of recording the X&Y album, and that he used it extensively in studio in recording Viva la Vida.
I thanked him for putting the piece in the auction, and pulled out two hats. I told him that I wanted to give him something in return, since I have his guitar, but that I didn't know what size hat he wore so he could choose – he said, "whichever one is bigger" and thanked me.
Jonny then called Chris Martin over and said, "this is the guy who won the black and white". Then Chris Martin came over and introduced himself to us and welcomed us. Chris thanked us for participating in the "End of the Decade" charity auction in late 2009, and told us that the proceeds given to Kids Company really helped their organization.
Chris actually spent quite a lot of time talking with us and Jonny. He asked where I was from and was surprised I came all the way from California. I told him it was my first trip to England, and the two concerts brought me here and he seemed very flattered. He asked what I do for a living, and I told him that I was a real estate agent and that I have a not for profit website with news and information about collecting original pop culture memorabilia. He immediately said, "collect Lady Gaga – you should really collect Lady Gaga memorabilia". We all laughed and exchanged some funny comments.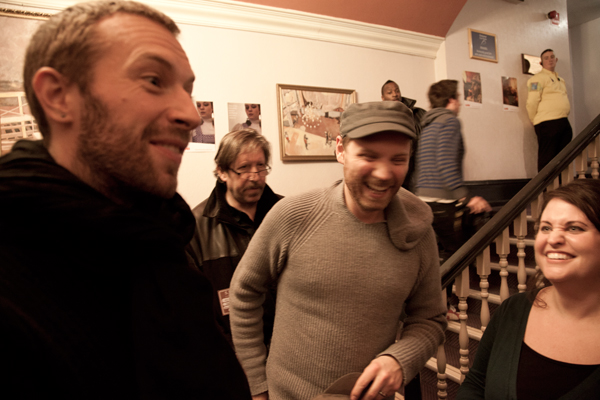 Chris Martin, Jonny Buckland, and Carrie
Oz showed him the old concert flyers, and Chris, too, was really surprised to see them. Oz explained where he found them, and Chris remarked on how rare they are. He again thanked us for supporting the two charities – Kids Company for the auctions last year and now Crisis with the two concerts and VIP experience.
We were all able to have photos taken with Chris Martin and get his autograph.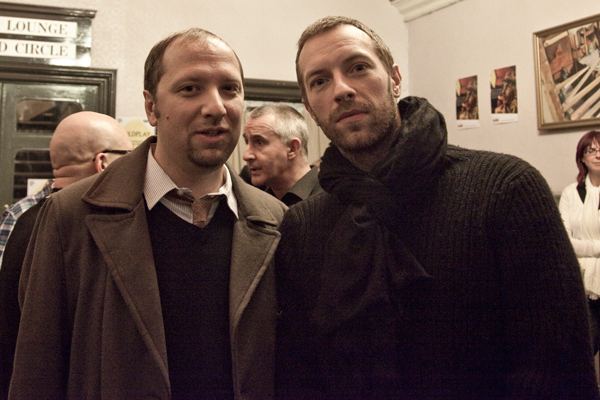 Jason with Chris Martin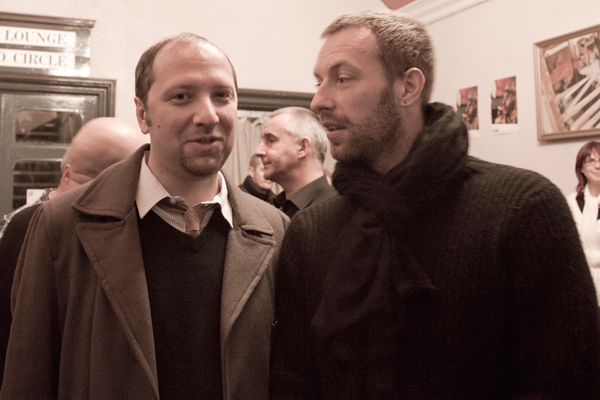 Jason with Chris Martin
I expressed my appreciation for their music, and remarked that I respect the fact that they do good charity work and are good role models – Chris laughed regarding the latter and sarcastically said, "well, you don't know us that well".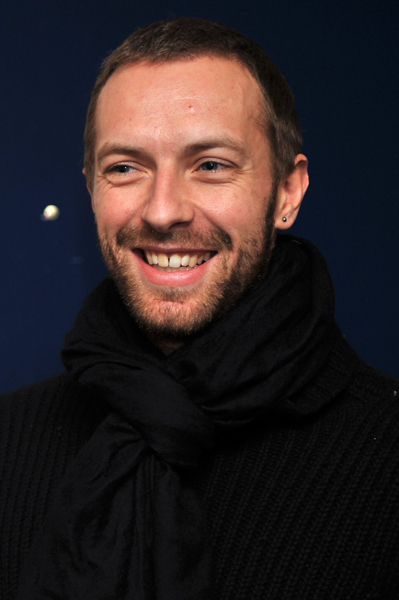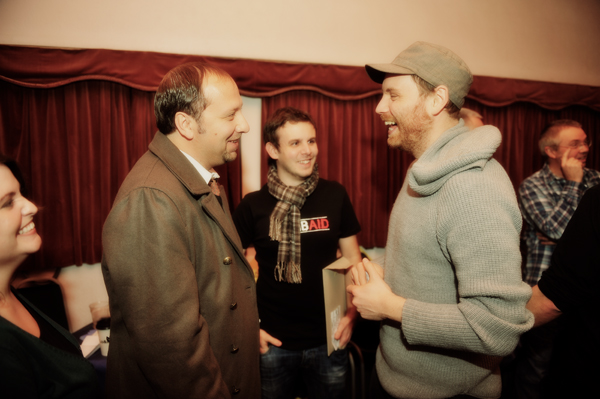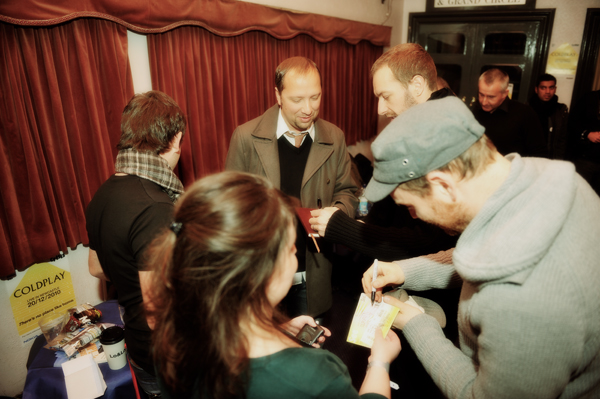 It was an absolutely amazing, amazing experience.
Coming off of that high, we then went on to watch the second of the two concert performances. We had front row seats in the middle balcony, and the venue and presentation differed from the Liverpool experience.
The concert itself was brilliant.
You can actually spot us in the audience, in the front row of the middle balcony, in this video produced by Coldplay (I'm taking photos).
Below is some video shot by Carrie – one of my favorite Coldplay songs, "God Put A Smile Upon Your Face":
With just a few songs left, Chris stopped the concert and brought out a young man, introducing him as Simon. He said he had something to say, but wasn't sure what. Simon talked a little about Coldplay, and that they are the "greatest band in the world". Then he brought out his girlfriend onto the stage, and ultimately proposed to her. It was really touching (with a few funny moments – someone in the audience shouting "play LOST! next"). Chris started the next song, "The Scientist", and said in an aside it might not be the most appropriate.
They closed the concert with their newly released song, "Christmas Lights". As I stood there, I reflected back on my experience in England, the two amazing concerts, meeting the band, my luck with my travels in adverse weather, and was just very moved by it all.
I spoke a bit with some of the other fans, and one woman I was talking with was the sister of Simon, the guy who proposed. I asked if she knew he was going to do that – she said no. I asked her significant other if he knew – he said yes. I said, "you're in trouble!"
Some of my photos from the show…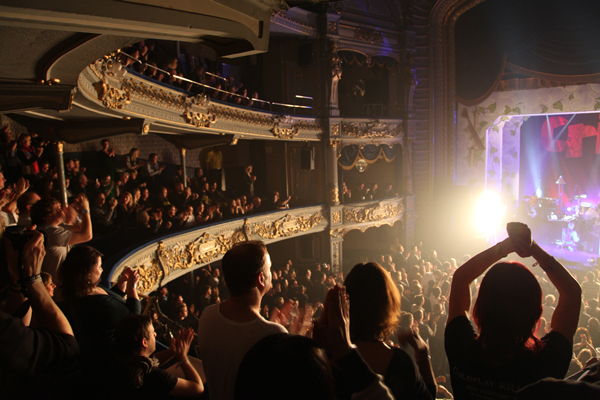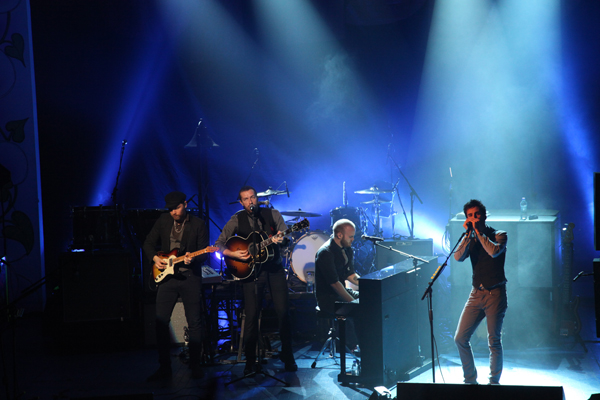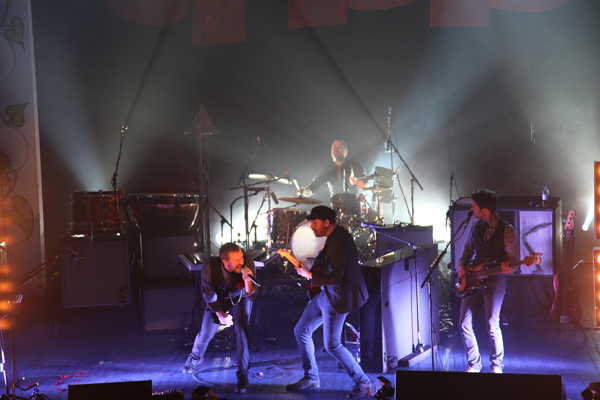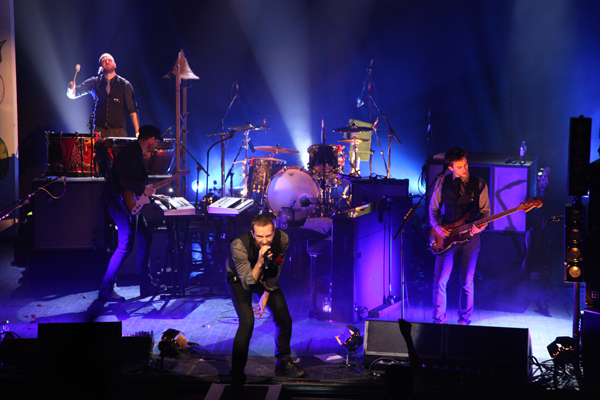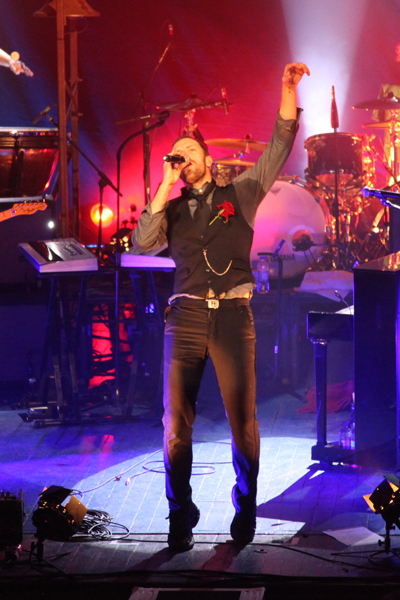 Oz asked me to watch his things as he went down from the balcony to the floor. As the area cleared out, I noticed something under one of the chairs in the row behind me. I pulled it out – two programs from the last two Coldplay tours – all signed by the band. I was fairly certain it belonged to the couple I was just speaking with. I tried to catch up with them but did not see them, so asked a few of the other concert goers to see if they could find them downstairs – that I would wait at the balcony with their programs and to send them back up.
After waiting for quite a while, they never returned. Then I thought that if they had autographs, they must have been part of the VIP experience, so I went looking for Holly with Crisis, since she would have their information.
I asked around to no avail, and finally someone introduced me to another woman involved with Crisis. I explained the situation and she said that she believed that Simon and his new fiance were in the "after party room". I'd seen people wearing official "after party" patches, but that was not part of the VIP experience, as far as I knew. We went to the door where the security was, and they asked to see our passes. The woman from Crisis had the same wristband that I did, she showed it to him, and he let her in. I did the same and was granted access.
We found Simon and I showed him the signed programs, and he recognized them right away. I congratulated him on his engagement, and made my way out to find Oz and Carrie.
Once I found them, I explained what had happened, and we decided to go into the after party…
I was already completely, overly thrilled with my experience in the VIP room, so I told them I was happy to get a drink and find a table and simply let it all sink in and enjoy the moment. Carrie regretted not telling the band about her win at the auction – the globe seen on the "Parachutes" album cover, that was also put on display on Chris Martin's piano during their early days.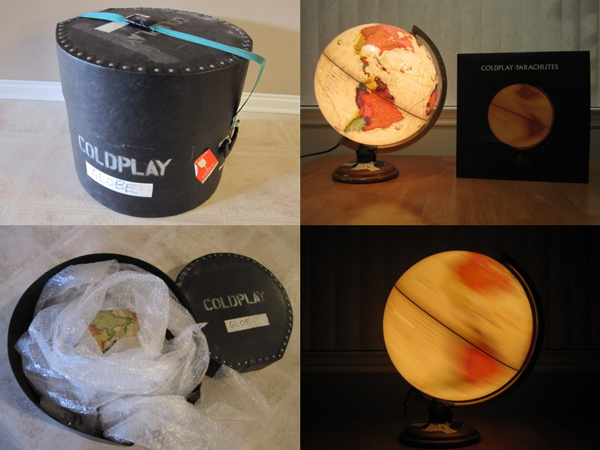 Eventually, Jonny Buckland arrived and was having conversations with various people. Carrie was ultimately able to engage him and have a nice chat about her globe.
At some point, I saw Will pop in and out.
I had a nice conversation with someone who works for Coldplay in security, and he could not say enough nice (and inherently earnest) things to say about the band, and how kind and generous they are – it was a nice moment.
After a while, Carrie and Oz rejoined me at the table, and we discussed the concert and our experiences.
At some point, we had a nice short chat with Phil ("the fifth member of the band"), as he had found us and spoken with us a few times over the course of the two days.
In the end, Jonny made his was out of the room. He saw me sitting at the table, and came over to exchange some good-byes. I told him how much I loved the two performances and thanked him for his time at the VIP and wished him a Merry Christmas. We shook hands and he was on his way.
The experiences I had traveling to England, spending time with friends, exploring the country, not only seeing Coldplay perform for these special events but meeting them and talking with them, was simply amazing, and I really can't put it into words. But it's definitely the best vacation I've ever been on. A real adventure.
We returned to our hotel, and while I am staying for another couple of days, Oz and Carrie both fly out tomorrow. We spent some more time reflecting back on things in the lobby, as they made arrangements for their travel back to London via train. We also made an exchange of various photos and video from the event. We made our good-byes and I returned to my room with the idea of getting a halfway decent night's sleep, but ended up posting a bunch of photos to Facebook instead…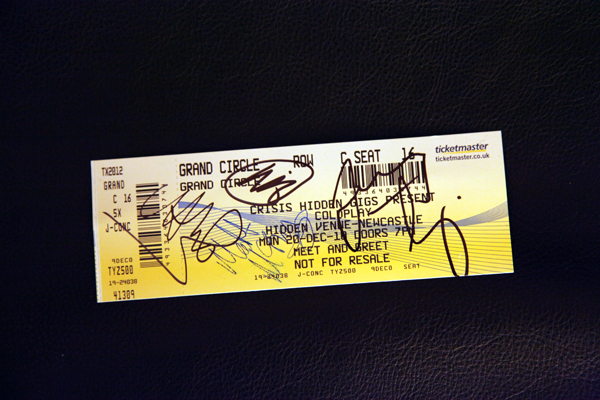 All articles in this series can be found via the link below: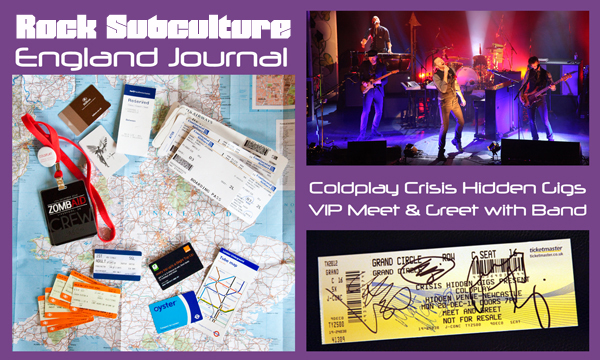 Jason DeBord