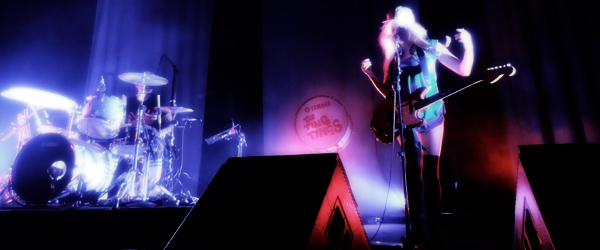 Tonight I had the opportunity to see The Ting Tings in concert at The Fillmore in San Francisco. This is my first time seeing the band, and they were absolutely fantastic, which is all the more astonishing given that Katie White (vocals, guitar, bass drum, keyboards, and even cow bell) had an emergency appendectomy last Friday. The way she performed and danced all over the stage, and even into the audience (more on that later), you would never imagine that she had surgery just about a week ago. Jule de Martino is the other half of the band, on drums, guitar, bass guitar, vocals, and keyboards.
Who: The Ting Tings
Supporting: MNDR
Venue: The Fillmore
Where: San Francisco, California
When: March 25, 2012
Seating: General Admission (front row center stage)
As an aside, I haven't listened to the radio for over 20 years, so I only listen to bands and follow them if I come across them some other way (though I am a subscriber to Q Magazine). My first exposure to The Ting Tings was watching them perform live at Glastonbury in 2009 in a broadcast on Palladia, performing their hits "Shut Up And Let Me Go' and 'That's Not My Name', and I had three thoughts -1) I love them, 2) I need to collect all their music, and 3), I need to see them live. Obviously, the third point took me some time, but it was so very worth it.
The duo are a two piece band from England, and the aforementioned hits came off their debut album, We Started Nothing. Last month, they released their second album, Sounds from Nowheresville. I really liked their debut, but the new album is, in my opinion, an incredible work, and for me, hands down the best album of the year thus far. I know for me, it will be a classic in my music collection, as it's one of those rare albums where every single song is a gem.
One of the great things about The Ting Tings is that their sound really crosses over many genres and styles of music, from indie/alternative to punk to dance/electronic, with a mosaic of bits of pieces from a number of disparate influences (from what feels to me like disco riffs to pacific islander beats). The other great thing is that no one else sounds like them, nor do they really sound like anyone else.
In any event, I would very highly recommend picking up their new album, as there are such different sounds and styles of music packed in, sampling it really doesn't do it justice or provide the full experience (or ride) intended. They have also done a few different versions of some of the same songs, and even with that, the results from one to the next can be impressively varied (as with the non-album acoustic version of "Day to Day" released in video form on the Vevo channel on YouTube).
The new album is in fact so good (in my opinion) that there are outstanding tracks ("Soul Killing", "One By One", "Day to Day", "Help", "In Your Life") that did not make it to the concert tonight.
So as noted, Katie had an emergency appendectomy about a week ago, which caused them to miss SXSW and a few gigs, though she rebounded very quickly, and they played shows in Los Angeles and San Diego before heading up to San Francisco for tonight's show.
The concert took place at The Fillmore, which is actually just down the street from Yoshi's, where I saw Peter Murphy last week. The Fillmore is all general admission, however, so the only way to get close to the stage is to arrive and wait in line some time before doors open. I live about 3 hours from the Bay Area, and funny enough, I was there on business Friday, drove back home late Saturday night, then back into SF for this gig and back home again after, so a lot of driving for one weekend. Thankfully, the heavy rain of Saturday cleared up today, so waiting in line outside the venue was not too bad. I was about the forth or fifth person to arrive, and by the time the doors opened, was lucky enough to find myself right up against the barricade in front of the stage, right below Katie's front mic stand.
MNDR opened for The Ting Tings. I was unfamiliar with her work, and came away very impressed. She is a one person show, with techno/dance music supporting her vocals.
I did a little research into The Ting Tings last set of gigs to have some idea of the set list, and knew that they'd be opening with "Silence" off of their new album. Love this song, and it's really tailor-made to open an outstanding concert, which is exactly what it did. Nice ethereal vibe with electronic underpinnings, only to build into an incredible drumming set piece. And really this opening underscores two of the wonderful things about The Ting Tings. One, how much power drums can add to music. I think with a lot of rock bands, the drummer provides the beat and some flair, but not much else. With The Ting Tings, drums are equal parts to all else, and really bring the music so much more alive. Two, they are a two piece band, and just the two of them make it all happen on stage (with a lot of work and some creativity).
The live versions of the songs are also unique in what they bring to the experience as well, and fans of the studio recordings will right away note the differences (especially with a song like "Hands").
The set list (photo further below – I was lucky enough to get one off stage) included a mix of old and new, moving to "Great DJ" off the debut album, then to their second single off the new – "Hang It Up" – and other new tracks "Give It Back", "Guggenheim", "Hit Me Down Sonny"…
As noted, I'm a huge fan of the new material, and wanted to be sure to videotape "Hit Me Down Sonny", so funny enough, as I was recording the song, after Katie introduced Mick, a local San Francisco guitar player (who I think came via Tweet request) on stage to jam, she herself jumped off the stage, and jumped up onto the barricade right next to me and continued her performance. It does not quite show up on the video (since I was the one recording it), but I was able to give her a little hug just before she jumped off.
Below is the video I shot of "Hit Me Down Sonny":
Afterwards, they went back into the catalog and performed "We Walk", "Fruit Machine", and "Shut Up and Let Me Go", all from We Started Nothing.
Below is the video I shot of "Shut Up and Let Me Go":
One of my favorite songs on the new album came next – "Hands" – though the live version is very different from the studio/album version; this closed out the first set. The studio version was mixed by Calvin Harris (who opened for Rihanna on the London O2 show I went to, and worked with her on her song, "We Found Love").
The duo came back for a two song encore – "Keep Your Head" and their most famous song, "That's Not My Name", both off the first album.
Below is the video I shot of "That's Not My Name":
Overall, it was an incredible show, and I was somewhat spoiled by my spot in the audience, in that if not for the audience, it would have been like a private show!
After it finished, one of the workers on the stage gave me one of the set lists, and another one gave me the top of a drumstick that had broken off during the gig (not sure if it was used by Jules or Katie).

One other cool thing that the band does is they sell autographed Vinyl LPs and CDs along with t-shirts, so I bought an autographed LP.

Additionally, The Fillmore gives out free posters as we exited the venue – they provide free custom posters for shows that sell out.

I left wanting to see them again, and will definitely not miss them if they pass through Northern California again – a must see act. They still have a little over half a dozen dates left as they make there way north and then across the U.S. (see Ticketmaster). Highest recommendation to check them out.
Below are photos I took during the show (click images for higher resolution):




































































































Jason DeBord