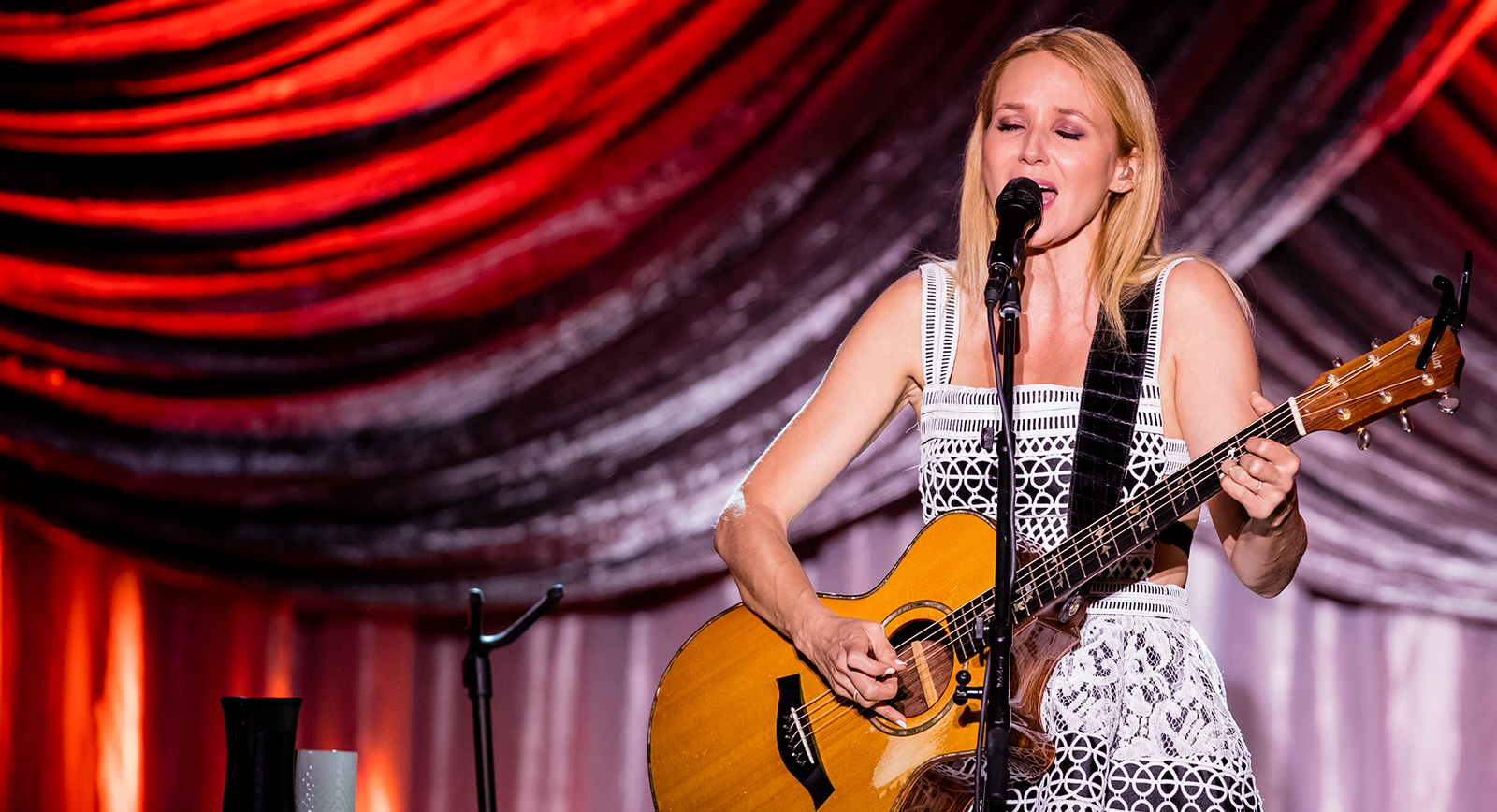 "…I learned so much that year, about the difference between dreaming and pretending.  Dreaming is so important for all of us and helps us live our aspirations… but pretending is really just fooling yourself, lying to yourself so you don't see the truth.  So here's to truth, and here's to growing up."  Jewel, the folk/pop/country signer-songwriter, producer, poet, novelist and actress… sharing one of many life lessons she has discovered in her remarkable journey, wherein the deeply personal has at times collided with her career and success.  Creating an intimate atmosphere to a sold out crowd in Grass Valley, in the unique way only Jewel can, she had everyone captivated with not only her musical gifts but her insights based on a lifetime of experiences and challenges.  It was a remarkable show, and she always seems to drive each performance as though it might be her last…  Not only one of our most original songwriters, but one of our most talented and gifted vocalists, performing unique renditions of her songs, new and old, that at times left the crowd stunned.  Jewel put on a showcase of storytelling in the personal and captivating way in which she has built her reputation over decades now.  Those timeless songs and stories and poetry readings…  Jewel lives her life authentically, one moment out loud and the next softly… but real in all it's various forms and emotions.
Who: Jewel
What: "Picking Up The Pieces" Tour
Supporting: Griffin House
Venue:  Veterans Memorial Auditorium
Where: Grass Valley, California
Promoter: The Center for The Arts
When: May 15, 2016
Seating: Section Left, Row C, Seats 11 & 13 (with photo pass)
This event was rescheduled from a set of shows that was canceled back in 2014.   The new make-up dates this year – dubbed the "Picking Up The Pieces" tour (named after last year's new album from Jewel) – have expanded to include stops throughout California in particular, as well as additional concerts in North America at large.
This was my first visit to Veterans Memorial Auditorium, though I've attended a number of live concerts at The Center for The Arts at their 300-seat Main Stage Theater a few blocks away.  Jewel easily sold out the larger, 1,000 capacity seat show Saturday night.  The layout, with flat seating on the floor and tiered stadium seating at the back, was a great arrangement for concerts.  I was really impressed with both the sound system and lighting (which was amplified with Jewel's own lighting gear).  I definitely look forward to attending more shows at this venue (as an added benefit, I'm only about a 45-minute drive from Grass Valley).  Highly recommended and wonderful people that put on these shows year after year.
Griffin House
This was my first time seeing Griffin House, and I really loved his performance.  I understand why Jewel selected him to support some of her shows, as he has a very authentic way about him as well and he really set the mood for the night with excellent music and some funny and entertaining stories of his own.
Griffin has released a number of studio albums, most recently this year's So On and So Fourth, which you can preview on his official site.
Below are some photos of Griffin House performing on stage (click any image to open a virtual lightroom with higher resolution versions of each photo):
Jewel
As noted, this was a tour to make up for 2014's canceled tour, and Jewel has been busy in the meantime, with last year's release of her first memoir, Never Broken – Songs Are Only Half the Story, which has charted as a New York Times Bestseller, as well as the release of her twelfth studio album, Picking Up The Pieces.
I last saw Jewel live for her "Greatest Hits Tour" in 2013 at Ovations Live in Arizona, and I have since gotten married and really wanted my wife, Shelley, to have a chance to see one of the most remarkable singer-songwriter live performers of our generation.  She did not come away disappointed… she told me it was one of the best concerts she's been to in her life, so she emerged from the experience as an even bigger fan of Jewel.
Funny enough, the first time I saw Jewel live in concert was way back in 1995, opening for Peter Murphy at a show in Los Angeles.  A strange pairing at the time, it seems even more curious looking back today.  This was just as Jewel was breaking out with her debut album, Pieces of You.
Over the course of her career, Jewel has written and performed songs in a number of genres, from folk to pop to country, and while some have questioned this wide-ranging approach to music, I think it is more reflective of the fact that she understands how to craft catchy, hooky songs, but in a way in which her voice and approach is kind of a genre of its own, unique to her.  I've always found with her movement into differing genres, Jewel's music always sounds uniquely her, regardless of the larger constructs.  And taking in live acoustic performances of her work affirms this, as you wouldn't know that the original studio recordings were born of different traditional genres if you were previously unfamiliar with the songs.
It's difficult to listen to Jewel's music without coming away with some sense of her personality, her history, and her views on life.  All of her work is autobiographical…  first and foremost, she is a storyteller and, really, a philosopher.  There is deep thought behind her words (whether it is in the form of songs, poems, or books), and these substantive musings are further informed and shaped by her highly developed emotional intelligence and intuition, as well as keen self awareness.
And if you've ever attended one of her live shows, it is akin to getting to know her as a person; as a friend.  She is very warm and welcoming and open by her very nature, and experiencing one of her concerts really underscores how there are real differences between men and women… Jewel's style and approach is very "female" (different from "feminine").  There is confidence, but zero ego.  She doesn't put up any walls, but opens her heart to perfect strangers.  What she shares is based on a foundation of honesty and vulnerability that is as disarming as it is genuine.  She offers trust with no attachments or conditions.
Throughout the show, in-between the songs there is talk about her past and experiences, delivered in a way in which you might talk to close friends.  And like her music, she talks about her past… her childhood, her heritage, her childhood, and the history of her family and how they came to live on a homestead in Alaska.  As well as her present life, her child, divorce, and her real feelings as she continues to navigate life, which is full of gifts as well as challenges and disappointments and loss.
At the core of her stories is the fact that life is full of adventures and experiences, choices, and good and bad and everything in-between.  But Jewel seems to be grounded and instead of letting the negatives in life weigh her down, she tries to sort things out, learn from these life lessons, and share them in the various forms of art she has developed.  It would seem nothing slows her down for long, and she comes away a stronger, wiser person as a result.
Born Jewel Kilcher, the Grammy Award nominated artist has sold more than 27 million albums, and her debut was one of the best-selling debut albums of all time.
Jewel grew up in Alaska, raised by her father in a home that lacked indoor plumbing and other luxuries most Americans take for granted.  Her father and grandmother and other relatives helped to teach her music and songwriting, a gift for which she seems eternally grateful.
With an apparent streak of independence, Jewel embarked on her own adventures early in life, and spent some time living in her car though somehow was discovered via her music.  She was savvy enough to school herself on the perils of the music industry, and combined with faith in her music and doing things in a way that was true to herself, she was able to navigate music deals in a way to ensure that she benefited from the success of her own labors.
Since, she has been quite prolific in creating compelling works that are well received from her fans and critics.
Back in 2011, Jewel was the host and one of the judges on the Bravo reality contest series, Platinum Hit.  I absolutely loved this show, and found it to be much more interesting than American Idol, which was by comparison a karoke singing competition.  Platinum Hit had a format in which young and aspiring artists competed in contests that tested their originality and creativity.  So rather than performing songs created by others, they had to create new songs themselves.  It was really impressive how these young artists created original works under specific guidelines and with limited time.  I was really disappointed that it never came back for subsequent seasons.
With her show in Grass Valley on Saturday night, the format of her own live shows has evolved since the last time I saw her perform.  With this tour, she has framed her show with readings of her poems, with a mix of songs and stories throughout the night.  With this show, it ran close to two hours, which was amazing.
As she first came onto the stage bathed in shadows, Jewel opened with an excerpt from her memoir, Never Broken: Songs Are Only Half The Story, and this set the framework for how she interweaved her stories and storytelling via several different art forms, all of which she delivers on with excellence.  Before we could catch our breath and shower her with ample applause, she broke into song… not one of her own, but the timeless and universal "Over the Rainbow".  I found this interesting, because it is one of the most covered songs in existence, which means that the bar is set high to impress.  It's all about the vocals and talent and delivery… and her rendition was moving and served as a showcase for her voice and vocals, which somehow get only better and more beautiful year after year.
Then she began to disarm with her modest and funny nature…  She then went into her biography about her family and Alaska.  Storytelling, storytelling, storytelling…
Ultimately, she came around to her song "Hands" and its connection with the events of 9/11…
As the first of her own songs played for the night, this is when the audience began to understand how complex she is as an artist.  Live in concert, her songs are somehow superior to the familiar studio recordings.  There is more depth, more authenticity, more vocal range, and somehow it all feels more real and organic.  It is really something to experience her at work, recreating and reweaving these songs…  As a maybe unintentional side benefit, her delivery of it all is changed to such a degree that it makes it impossible for those concertgoers who typically try to sing along and sing over the artist to sit quiet and in amazement, which makes for a more enjoyable (distraction-free) experience for the rest of us who come out to hear the artist, not the fans (unless called for by the artist!).
The night followed this format of songs intermixed with readings and poetry and free form stories…
Setlist:
My New Shape (reading from novel, Never Broken)
Over the Rainbow (Harold Arlen cover)
[monologue]
Hands
Little Sister
[monologue]
Plain Jane
[monologue]
My Father's Daughter
Angel Standing By
Good Day
Leave Yourself At The Door [poetry reading]
Here When Gone
Standing Still
[monologue]
Intuition
[monologue, call for requests]
Been Down So Long
[monologue]
You Were Meant For Me
Foolish Games
[monologue]
Goodbye Alice in Wonderland
Listen (poetry reading)
[monologue]
Mercy
[monologue]
Who Will Save Your Soul
Encore:
Per la Gloria d'adorarvi (opera)
Chime Bells (yodel)
I am glad that she continues to perform "Intuition" (I loved that song and accompanying album) and had to laugh when she referred to Charlie Sheen as the gift that keeps on giving – pretty prescient choice on her part back when she wrote the song.
It was interesting to hear Jewel talk about Steve Poltz, who co-wrote "You Were Meant For Me" and had some interesting adventures with Jewel (and actually was on tour with her when I last saw her perform back in 2013, as was her brother at the time).
Maybe my favorite song of the night was her incredible version of "Who Will Save Your Soul".  Amazing.
But that encore… oh my God.  Just stunning.  What a way to leave a crowd speechless.
A beautiful night.  Jewel is a must-see concert whenever on tour.  A true experience.
Below are some photos of Jewel performing on stage (click any image to open a virtual lightroom with higher resolution versions of each photo):
Jason DeBord