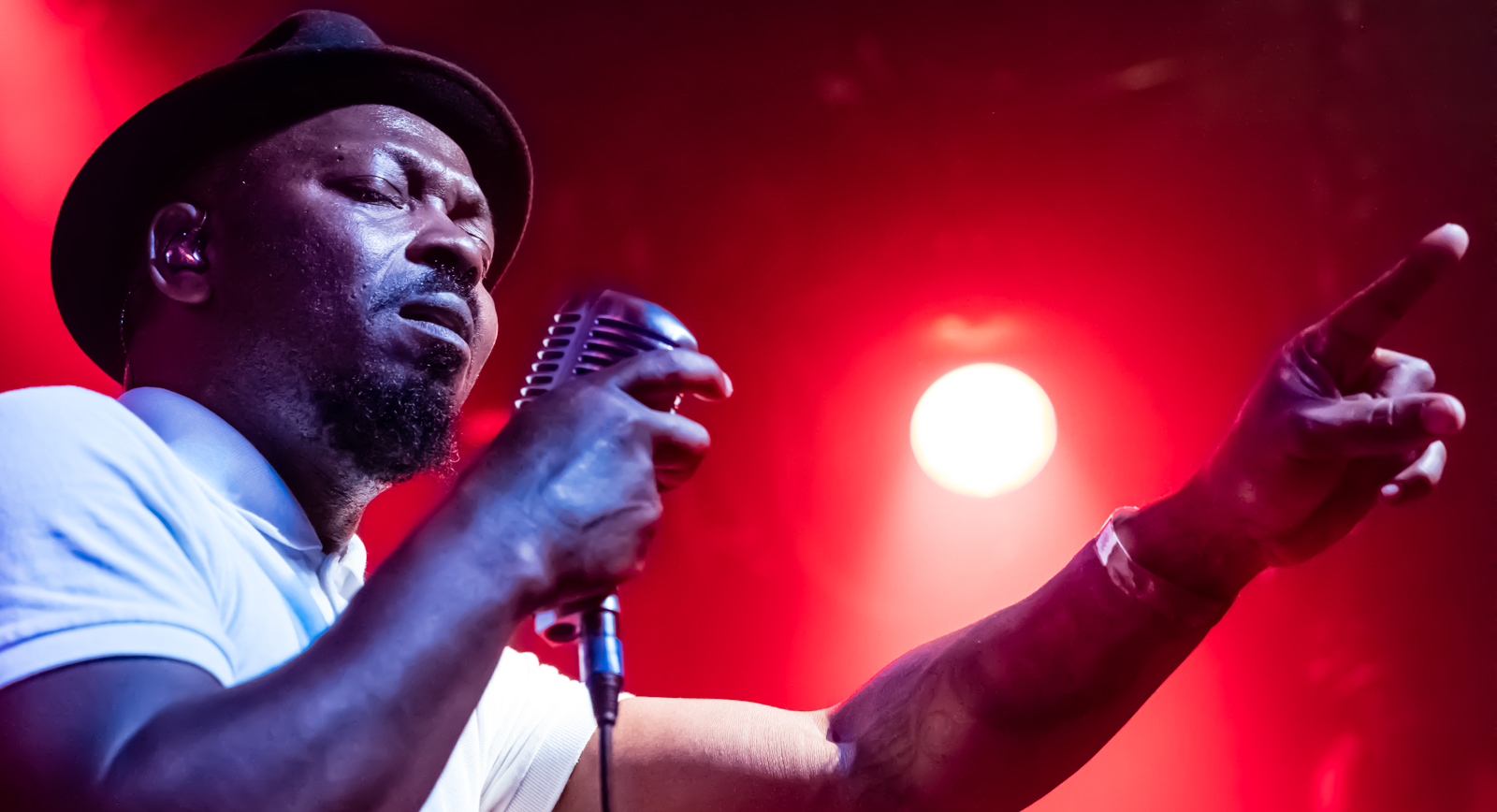 "Seriously.  Seriously?  Seriously?  Shiiiiit…  You guys are sounding so good tonight.  Everything that you joined in with tonight was fucking insane. We wish that we could take you everywhere we went!"  Kelvin Swaby of The Heavy, bringing the sold out crowd at The Independent in San Francisco into a frenzy, leading them into a sing along of "What Makes a Good Man?" – the first of their two punch encore close out, which ended with "How You Like Me Now?".  I started the show up front and center, with Kelvin just inches away most of the show as he strutted back and forth along the edge of the stage, feeding off of the fans.  It felt more like what you might expect at a Rolling Stones or Aerosmith sports arena show, going by the jumping energy throughout their hour and a half set.  Part retro blues/funk, infused with a garage band sound, the band is led by their crazy charismatic front man and vocalist… they are like a band born to play live to give fans an unforgettable experience.  Fueled by four albums, including Hurt & the Merciless released this month, it was like a concentrated rock and roll vortex was set loose in the venue and none of us quite understood what hit us until it was all over and the house lights came up.  Really one of the best live bands touring today.  A must see.  No, a must experience.
Who: The Heavy
Supporting: Jesse Jo Stark
Venue: The Independent
Where: San Francisco, California
Promoter: Another Planet Entertainment
When: April 26, 2016
Seating: General Admission (with photo pass)
This show had long been sold out and it seemed fans came from far and wide to participate in the show.  There was a long line outside the venue prior to doors and the general feeling seemed to be excitement to see this English band that doesn't come around all too often.
Jesse Jo Stark
This was my first exposure to Jesse Jo Stark, and her and her band put on a great set.  I wasn't familiar with the music, but it had a retro sort of vibe and meshed well with The Heavy, so a great choice as an opener.
Below are some photos of Jesse Jo Stark performing on stage (click any image to open a virtual lightroom with higher resolution versions of each photo):
The Heavy
Members
Kelvin Swaby (vocals)
Dan Taylor (guitar)
Spencer Page (bass guitar)
Chris Ellul (drums)
The Heavy are a band from Bath, England that truly defies the music genres we are most familiar with… At the heart of their music is authentic soul and energy.  High, high energy that could not be more apparent in their live shows.  Funk, blues, rock, soul…  it's all there and more.
In addition, their studio sound has a garage band vibe, like the recordings have been roughed up with sandpaper or something.  In fact, I'd say their live sound is even a little more clean and refined, when it is usually the other way around.
Their music has been used extensively in film and television, including Quentin Tarantino's Hateful Eight movie trailer, so their exposure to the mainstream has been growing and growing in recent years.
I first covered The Heavy at Caprices Festival in Switzerland in 2013 and I also had an opportunity to interview the band backstage.  So it's pretty cool to check back in with their live show and latest album (it is awesome!) now three years later.  Being familiar with them and with the venue, I wondered how that stage could contain their energy and specifically Kelvin, who is like a tornado in motion.  So it made sense that their equipment was set up toward the back of the stage with more room up front left open, like a blank canvass.
Kelvin's high energy stage presence (which is in a bit of contrast to his more soft spoken and modest off stage vibe) is just something that needs to be experienced in person. He is truly gifted at emoting raw energy and musical brilliance. And he is one of those artists with a real connection with his audience – he feeds them energy and they feed it right back, and you can feel the momentum building and building all the way through to the encore at the end.  The man was born to do what he is doing, and he's one of the most exciting front men in music today.
I love Chris Ellul's work on drums – he adds so much character to their music, with pounding beats as well as little changes that add even more flavor to the songs and at other times a throw back style that makes you feel like you were sent back half a century to a different era of music.  At times, he had the place jumping like a puppeteer.
Dan Taylor on guitar weaves together those hooky and hard hitting riffs that give their music bad intentions and helps to capture the imagination and bring you along, while Spencer Page and his bass lines evokes the spirit of funk and soul.
The band opened the show with "The Apology" from their new album, Hurt & Merciless, and the show included many other hits from the new work, including "Not The One", "Miss California", "Salve to Your Love", "Nobody's Hero", "Since You Been Gone", "Last Confession", "Turn Up", and "What Happened to the Love?"…  It's cool to see a band have such faith in their new material…
Below is a photo of the setlist from the show at The Independent in San Francisco…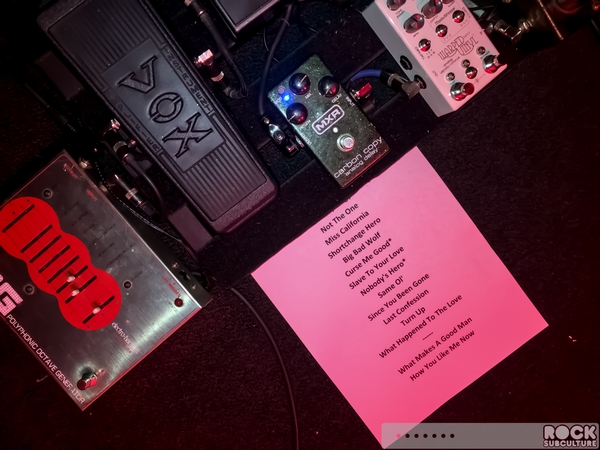 Set List
The Apology
Not The One
Miss California
Short Change Hero
Big Bad Wolf
Curse Me Good
Salve to Your Love
Nobody's Hero
Same 'Ol
Since You Been Gone
Last Confession
Turn Up
What Happened to the Love?
Encore:
What Makes a Good Man?
How You Like Me Now?
It's really difficult to explain just how awesome this band is live…  the entire place was singing along to the chorus of old and new song alike.  With some bands, this can be annoying, but with The Heavy, it totally works, because they have so many of those "shout along" style songs that it just amplifies and gives it so much more power.
I can't recommend enough going to check them out – stellar band with a huge future still in front of them.
Below are some photos of The Heavy performing on stage (click any image to open a virtual lightroom with higher resolution versions of each photo):
Jason DeBord