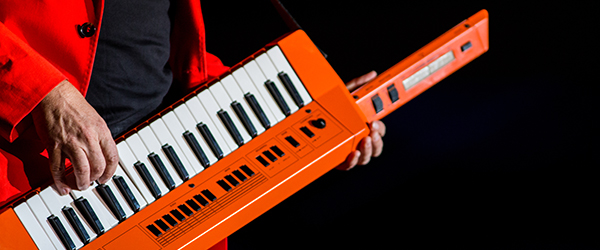 The show at Thunder Valley Casino Resort's Outdoor Amphitheater Sunday night was continuing on in WorldOne Presents' tradition of their annual "80s Rewind Festival Music Fest", and arrived in Lincoln, California with it's own unique line-up and variation on the newly christened Retro Futura Tour 2014 (formerly Regeneration Tour).  With this event, the same co-headliners – Thompson Twins' Tom Bailey and Howard Jones – shared the bill, as did Katrina Leskanich (formerly of Katrina and The Waves.  But in place of Midge Ure and China Crisis was the incredible English Beat featuring Dave Wakeling.  As usual, the show took on a character all it's own, playing out to a large and enthusiastic crowd.  I think the Katrina/English Beat/Howard Jones/Tom Bailey line-up featured artists that all have one thing in common: authentic optimism driving their music.  Of course, the modern day '10s are not the classic '80s, and though the music played came from the past, it could also serve as a beacon of hope for the future.  And, as with the show at Mountain Winery the night before, there seemed to be quite a reception for Tom Bailey, who stopped touring and performing live as Thompson Twins way back in 1987.  It was another exceptional performance by all of the artists, and both shows are certainly on the short list for top concerts of the year for me personally.
What: 80s Rewind Music Fest / Retro Futura Tour 2014
Who: Thompson Twins' Tom Bailey
Who: Howard Jones
Who: The English Beat
Who: Katrina (Ex Katrina and The Waves)
Venue: Thunder Valley Casino Resort – Outdoor Amphitheater
Where: Lincoln, California
Promoter: World One Presents & 93.7 Jack FM with Maita Auto Group
When: August 31, 2014
Seating: Section VIP, Row A, Seat 19 and 20 (first row middle section; also photo pass)
ALSO SEE REVIEW AT MOUNTAIN WINERY IN SARATOGA ON AUGUST 30:  LINK
Doors at the special space created outside at Thunder Valley for its summer concert series opened at 5:30 for the show with a 6:00 start time.
As mentioned, this was a special stop by the rebranded/renamed edition of the long-running Regeneration Tour (which I covered last year), as there was an issue with the use of the name; thus going forward it is now the Retro Futura tour.  But since WorldOne Presents is doing it's own version, it is called the 80s Rewind Music Fest.
This year, as with last, Howard Jones remains as a co-headliner. The rest of the line-up is all changed, with of course the inclusion of Tom Bailey from Thompson Twins being the most exciting development on the concert circuit for New Wave fans since… well, I can't think of anything that really compares.
The full ongoing tour has included China Crisis, but they and Ultravox's Midge Ure were not on the bill at Sunday night's show (though Katrina Leskanich, formerly of Katrina and The Waves, was included with both shows).  I am a huge, huge fan of The English Beat (and General Public), so for me it was like having a third headliner at Thunder Valley – they are one of my favorite live acts hands down, and the crowd seemed to love them as well.  Katrina and The English Beat each played about 30 minutes, then Howard Jones and Tom Bailey each performed 45 minute sets.
Heather, the winner of a charity fundraiser held by 93.7 Jack FM, came out with those representatives to introduce the bands.
Much later in the show, before Tom Bailey came out, Jim Hanzalik from WorldOne Presents came on stage to talk about his partnerships with this tour, including Maita Auto Group, as well as their efforts in giving back to the community.  With this concert event, proceeds from ticket sales went to Easter Seals.  They talked about a recent interview with Tom Bailey and quoted him as saying, "the best part of the 80s is bringing back the optimism".
WorldOne Presents' Jim Hanzalik took this to heart, and he and his partner presented Gary Novak of Easter Seals Sacramento with a check for over $3,000.
Gary said that they've been operating in Sacramento for 93 years, and that 90% of the funds raised go directly to programs and services, and that "with your support, we will continue to see children take first their steps, adults live more independent lives, and seniors live out life with dignity."
Lastly, they announced that the "Secret Show" by Jay Siegen Presents at Mezzanine on Monday night, which was a last minute show and a one off gig featuring Tom Bailey and Howard Jones…
I was lucky enough to do a meet and greet backstage after the show to meet Tom Bailey, Howard Jones, and Dave Wakeling, which was amazing.
First three meet and greet photos below (me, my fiancé, then my sister) photo credit Randy Miramontez…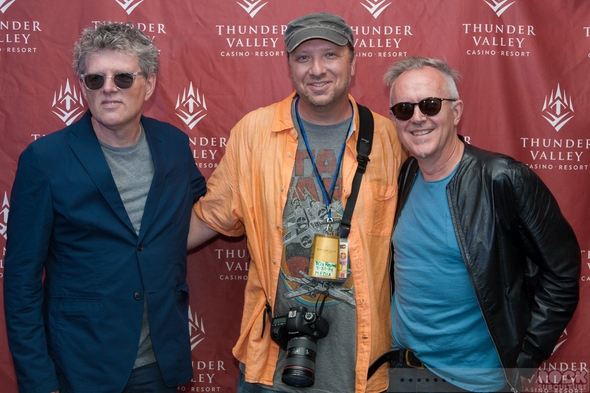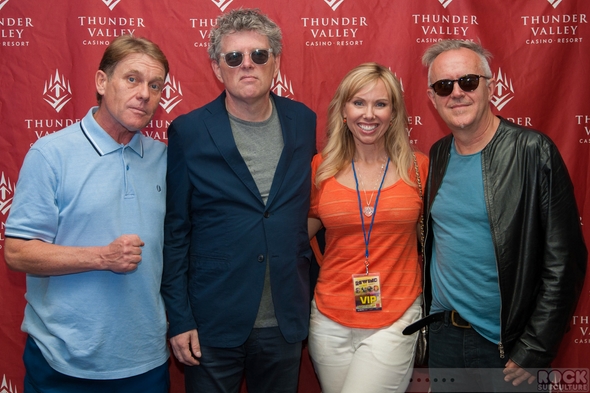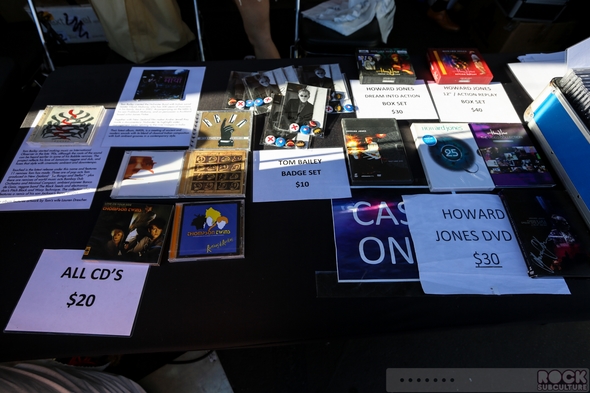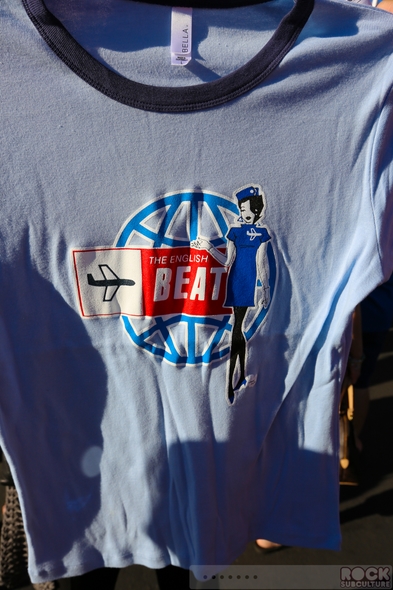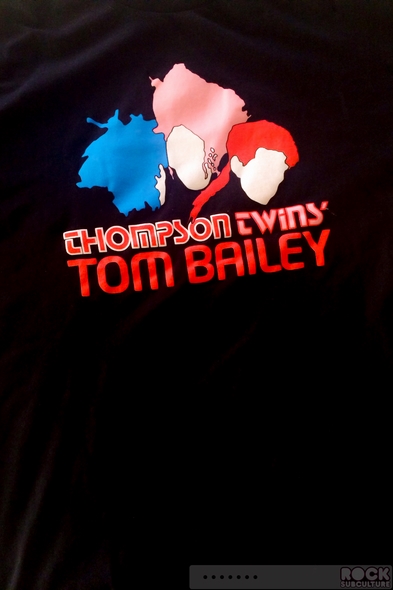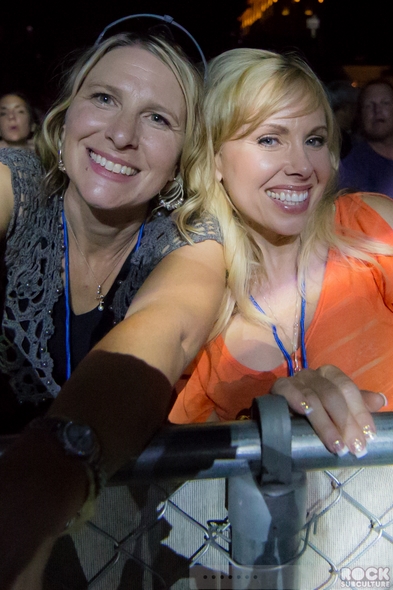 (treated my sister and my fiancé to front row seats)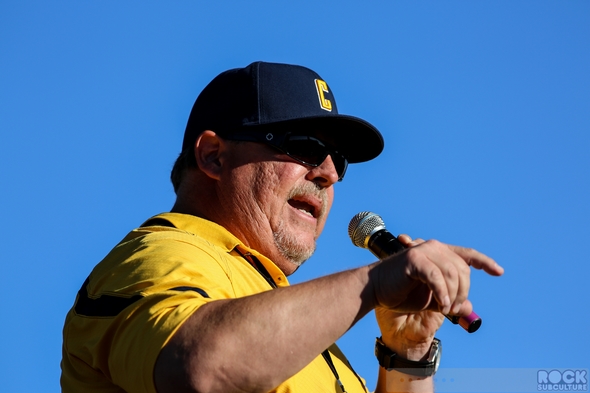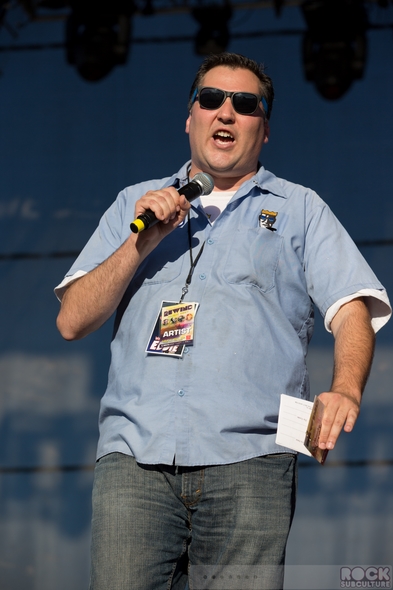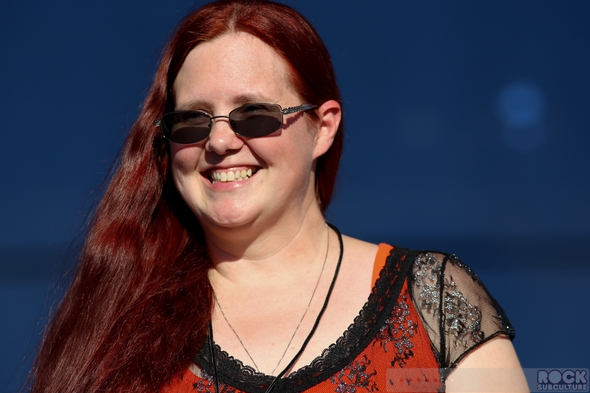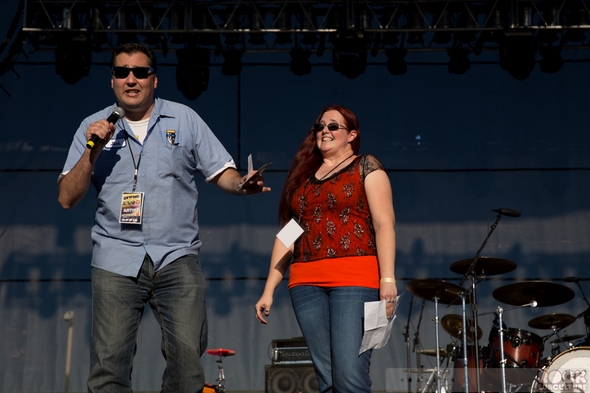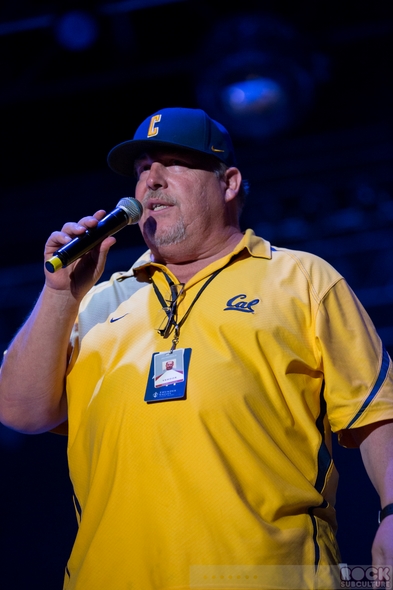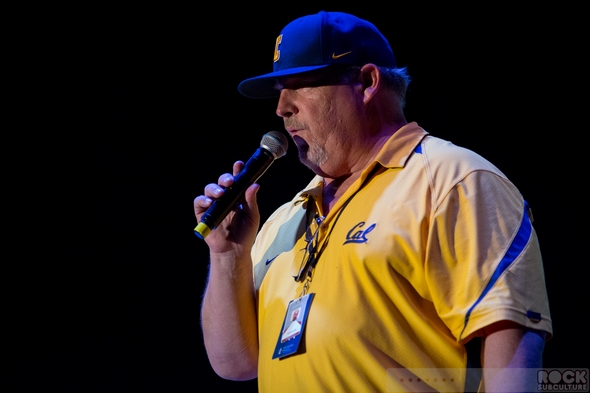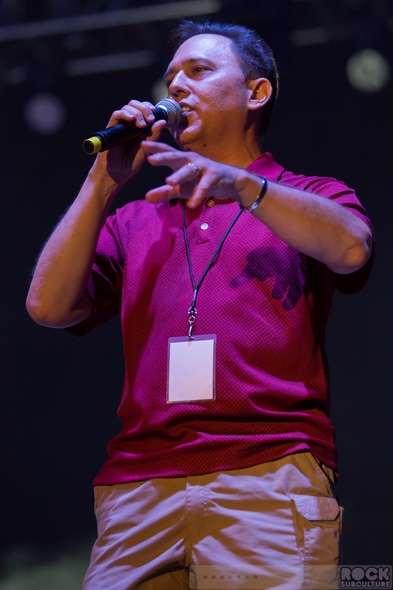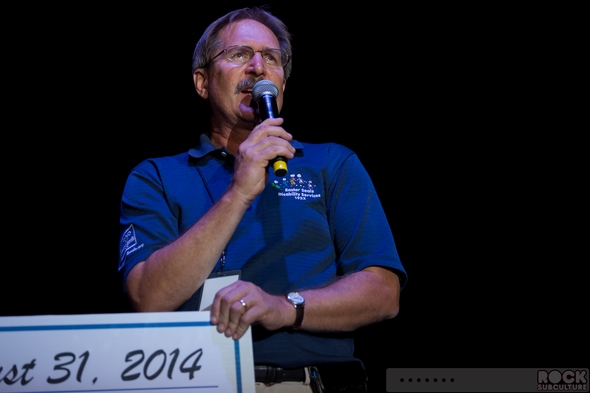 Katrina Leskanich (Ex Katrina and The Waves)
"A big round of applause for 80s hairspray…"  Katrina used some humor (and dark sunglasses) to combat the unrelenting sunshine right in front of the stage during her performance, and at one point remarked on how she was able to keep things together with hairspray applied pre-stage.
Katrina Leskanich was the singer for the English pop band, Katrina and The Waves. Their song, "Walking on Sunshine", was a huge hit in 1985.  Touching on the optimism theme, I don't know if it gets more optimistic than that.
I really did not know anything about her prior to this tour, apart from the one song (which is fantastic – can't think of a song that is quite like it in its joyousness).
When she came on stage, I was a bit surprised by her accent (which was born in Kansas, though lived in the UK since 1976, as her father was in the U.S. Air Force).
I enjoyed her set a lot, as she gave some context to her work, and I had no idea that the Bangles song, "Going Down To Liverpool" was a cover… that it was written by Kimberly Rew for Katrina and The Waves. I absolutely love that song.
This tour is the first she has played in the U.S. since the 80s.
Below are the songs played during her set:
Rock n Roll Girl
Red Wine and Whisky
Do You Want Crying
Going down to Liverpool
Walking On Sunshine
Below are some photos of Katrina performing on stage (click any image for higher resolution versions of each photo):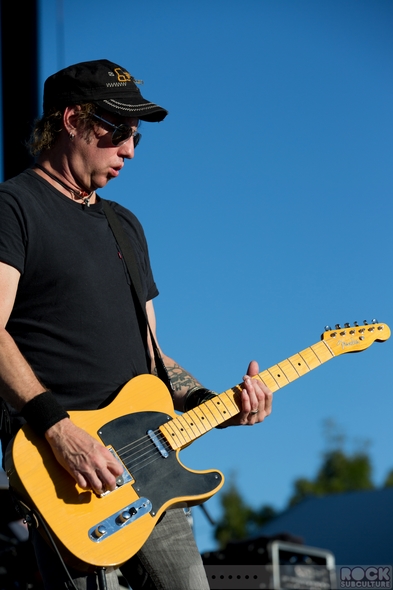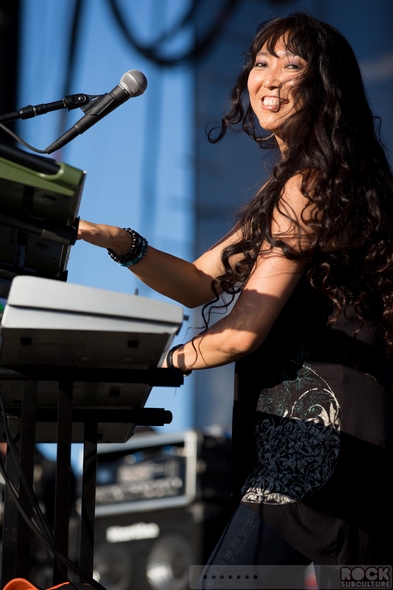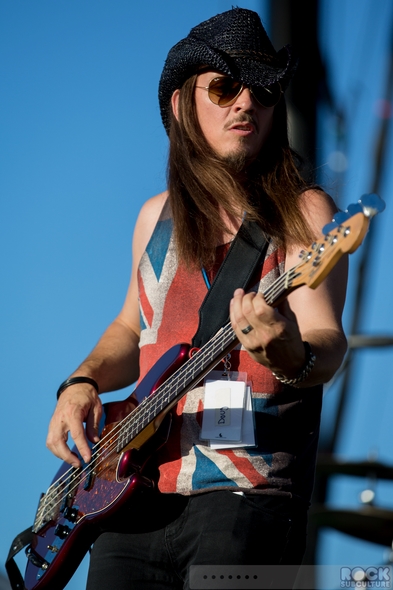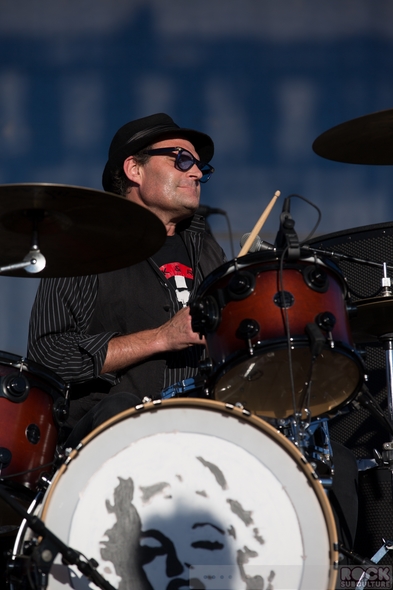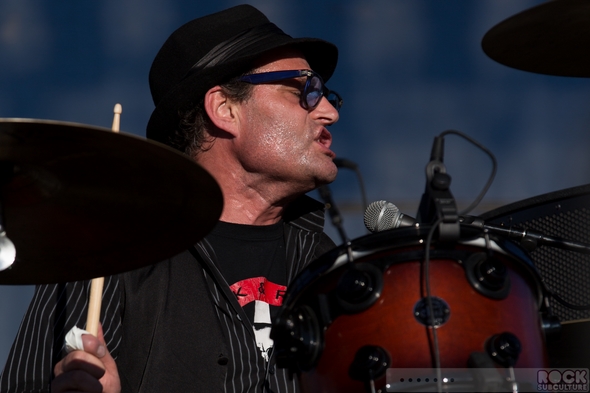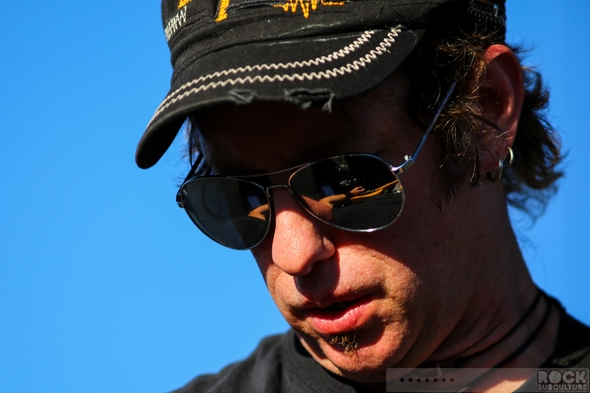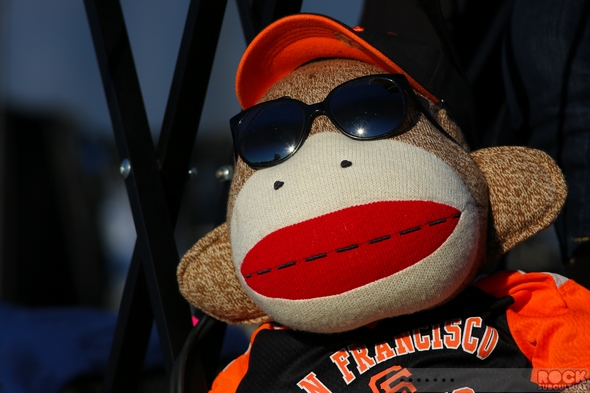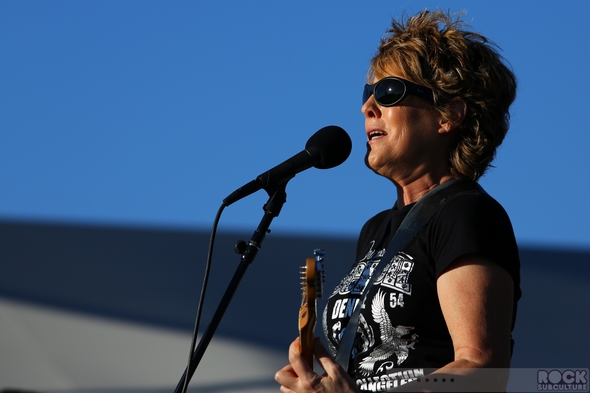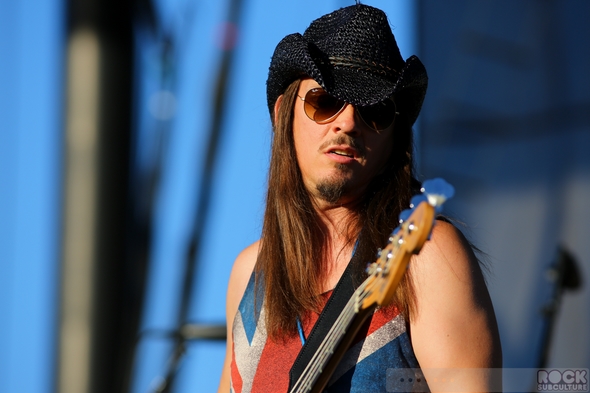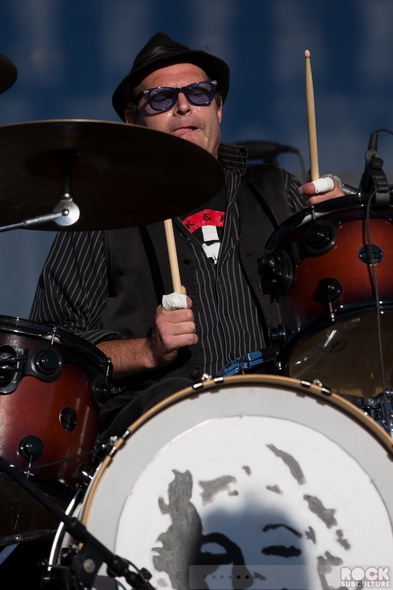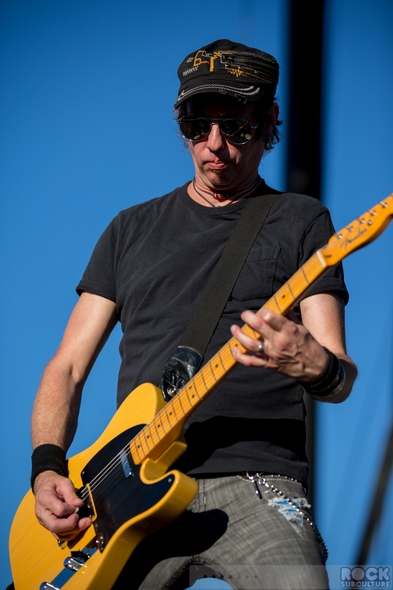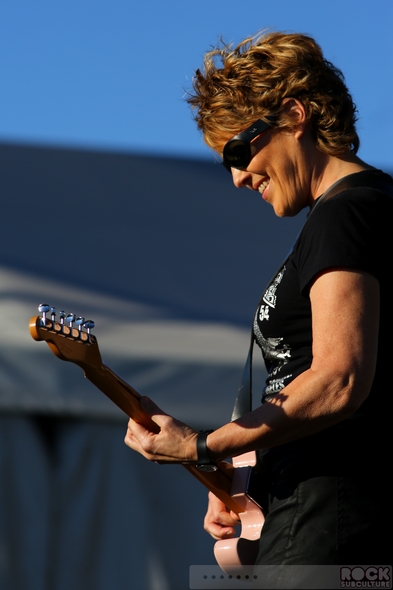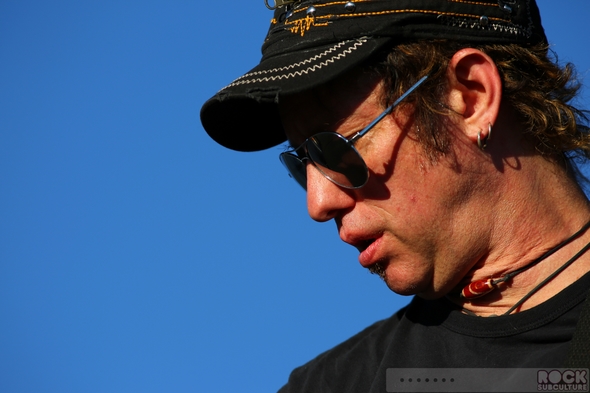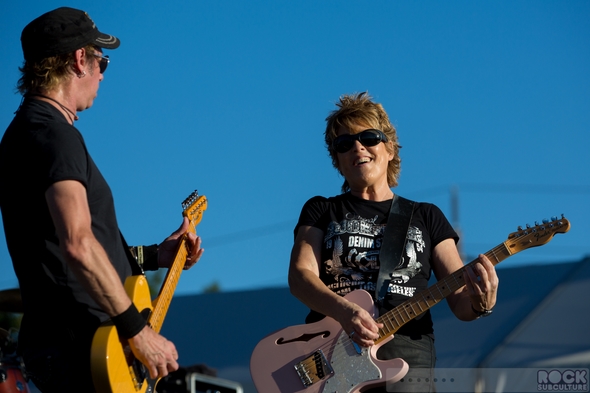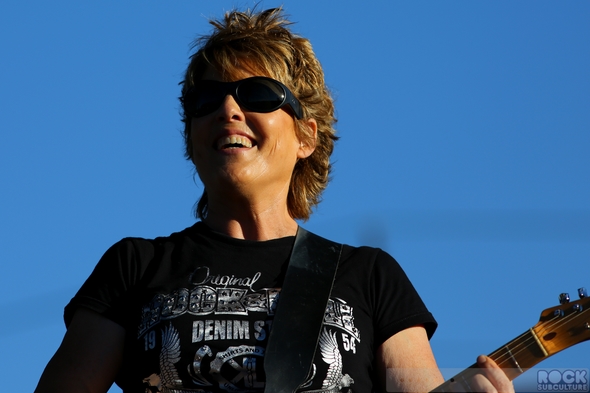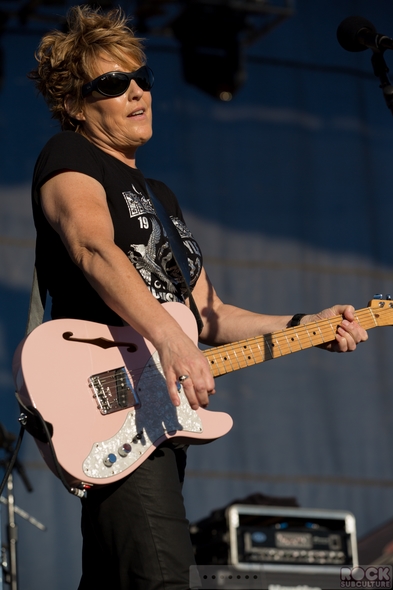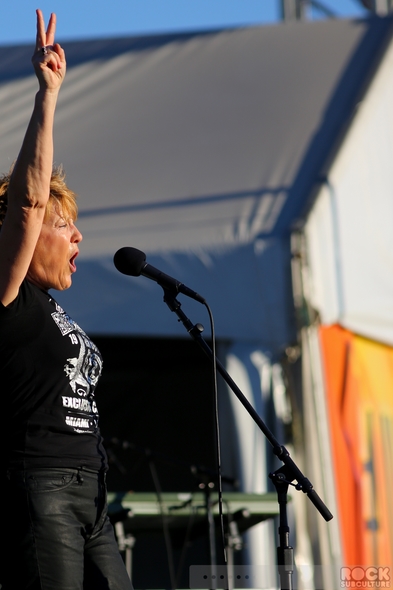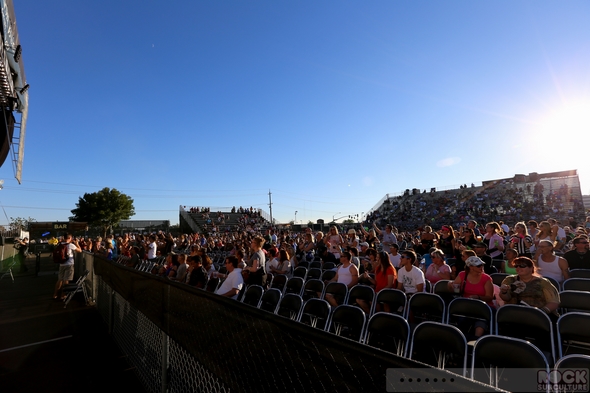 The English Beat
I had seen The English Beat a few times in the past couple of years, and they never disappoint, and always surprise.  Dave Wakeling has such a unique and wonderful energy about him that sort of makes you forget all your worries and life is just better hearing his music.  And that contagious smile while he performs.  You hear the music and then see him play live for the first time, and it all makes sense – the music mirrors his personality.
As mentioned in past reviews, I can say that I've been a huge fan of The English Beat since childhood, and of course the related work by General Public and Ranking Roger. They put out an amazing catalog of work and really inspired and influenced a lot of great bands that followed.
I would also recommend checking out Dave Wakeling's biography on the official website, which can be found here, to learn a bit more about him and his journey in music… Excerpt:
Hailing from working-class Birmingham, England, Dave and The English Beat entered the music scene in the 1979. When The English Beat rushed on to the music scene in 1979, it was a time of social, political and musical upheaval. Into this storm came they came, trying to calm the waters with their simple message of love and unity set to a great dance Beat.

The six member band consisted of singer/songwriter Dave Wakeling (vocals & guitar), Andy Cox (guitar), David Steele (bass), Everett Morton (drums), Saxa (saxophone) and Ranking Roger (toasting). The band managed to fuse all of their respective musical influences – soul, reggae, pop and punk – into a unique sound that was highly danceable. Along with contemporaries such as The Specials, The Selecter and Madness, The English Beat became one of the most popular and influential bands of the British Ska movement.
After The English Beat broke up, and Dave Wakeling then formed General Public, which is further described in his own bio:
It was at this point that Dave Wakeling and Ranking Roger recruited Stoker (drums) and Mickey Billingham (keyboards) of Dexy's Midnight Runners, Horace Panter (bass) of The Specials, and former Clash guitarist Mick Jones to form General Public. Their first album, "…All The Rage", met with fantastic success, charting high in the U.S., U.K. and even winning the band a coveted Juno award in Canada for Best New Artist in 1984.

After the fantastic success of "…All The Rage", the band spent two years writing and recording their follow-up, "Hand to Mouth". Like "Whappen" before it, this sophomore effort was more introspective and than their first album, taking fans along with him in Dave's continual exploration of the light and dark side of human emotion. The album was a critical and fan favorite, and spawned two hit singles, "Too Much or Nothing" and "Come Again".
Currently, two versions of The Beat play today – the US version fronted by Dave Wakeling (who lives in California) and the UK version fronted by Ranking Roger.
The line-up Sunday night did not include anyone in the role of toasting, but I felt like Dave sort of compensated with his energy – they put on a fantastic show.
Operating on two continents, Dave Wakeling is the only original member of the U.S. version of the band, but all on stage are fantastic musicians that are keeping the music alive, and each played their various part spectacularly. They do still tour quite a bit, and it comes across with their apparent comfort on stage and ease with which they work together as a band. They genuinely appear to have a great deal of fun, which is of course contagious with the crowd.
As far as The English Beat goes, Dave Wakeling's voice is the lead vocal one would most recognize from their collective body of work, and he still sounds awesome today, being indistinguishable from the studio recordings going back 30 years. He has an immediately recognizable voice
With their three albums, they had many hits, a lot of them played Sunday night: "Tenderness", "Save It For Later", "Tears of a Clown", and my favorite, "Mirror in the Bathroom".
As per his reputation and fans who attend his live shows will attest to, Dave's personality was very much on stage Sunday night, and his warm and genuine earnestness and love of music and people was very evident. He had a way of making the event very unique and memorable, and is definitely not the kind of artist to "phone it in" – he was there loving his music and feeding off the audience, which as noted, appeared to be full of many true and ardent fans.
Like Katrina, when he got on stage the sun was unrelenting at first, but around the halfway point of their set, Dave finally defeated it as it retreated behind the Thunder Valley Resort Casino itself.
Below are the songs played by The English Beat Sunday night:
The Tears of a Clown (Smokey Robinson & The Miracles cover)
Never You Done That (General Public cover)
I Confess
I'll Take You There (The Staple Singers cover)
Full Ranking Stop
Mirror in the Bathroom
Tenderness (General Public cover)
Save It for Later
I had a chance to chat with Dave a few times backstage after the concert, and he had me laughing (and proud) that he noticed my fiancé in the front row during his set, remarking that she was the only one that danced through their entire set, and that I was her Kevin Costner!  Not sure what that means, exactly, but it makes me laugh.
The English Beat recently completed a successful pledge on PledgeMusic for their efforts toward a new album, so I recommend checking that out.  The new album in the works is called For Crying Out Loud.
Below are some photos of The English Beat performing on stage (click any image for higher resolution versions of each photo):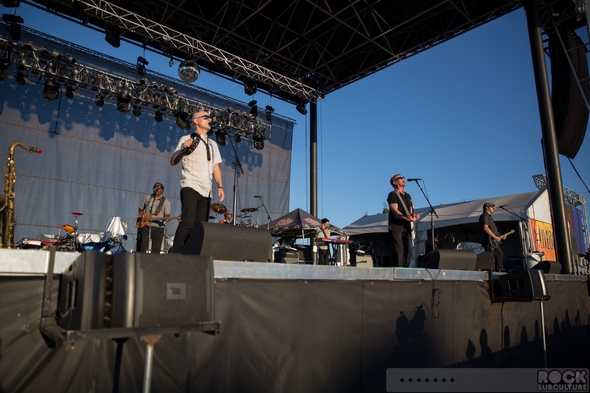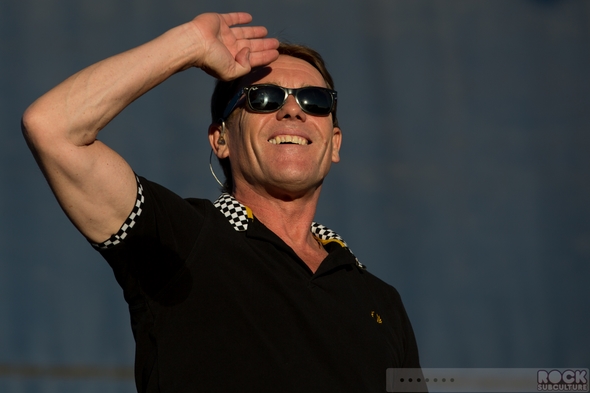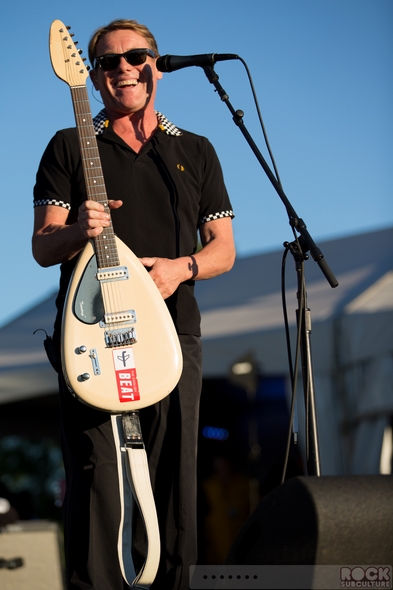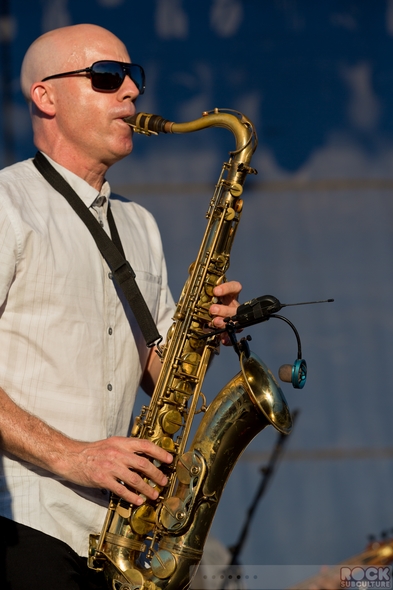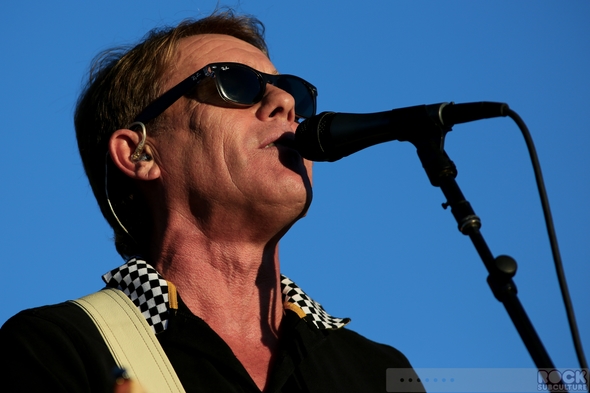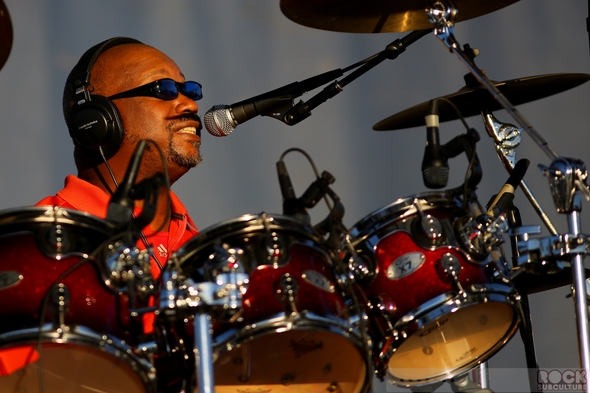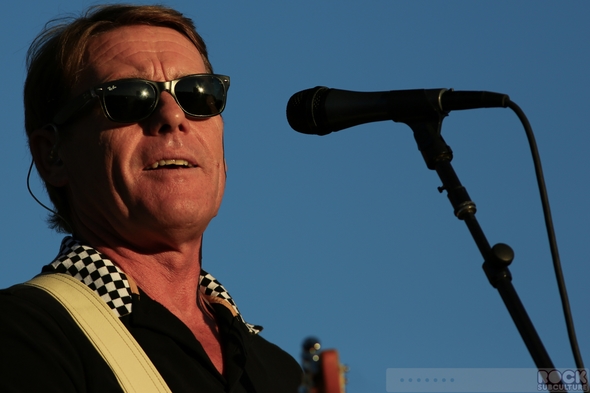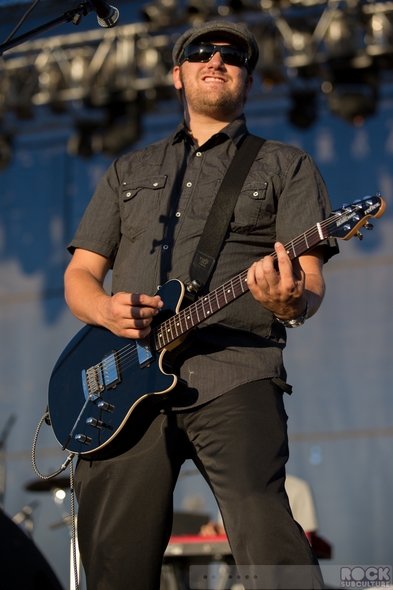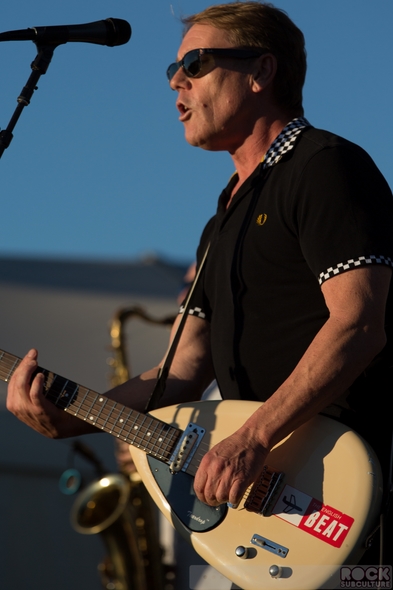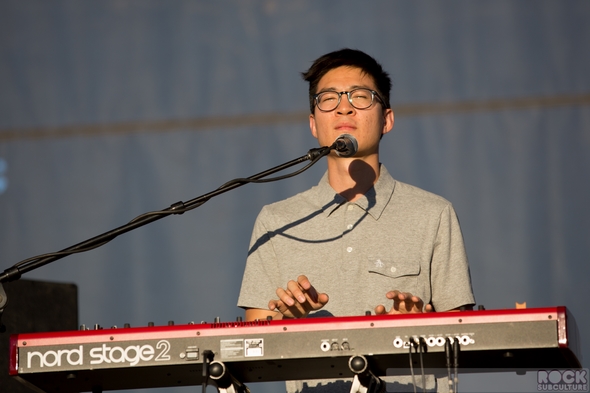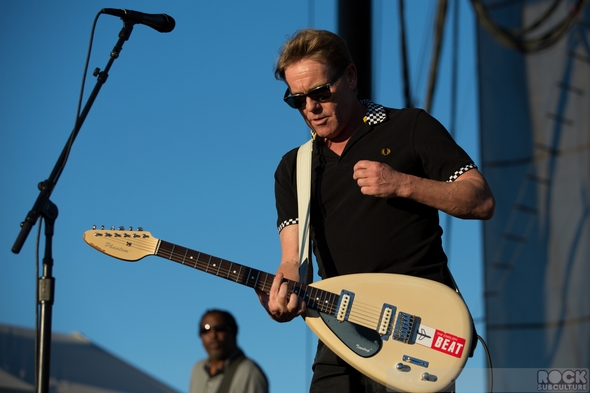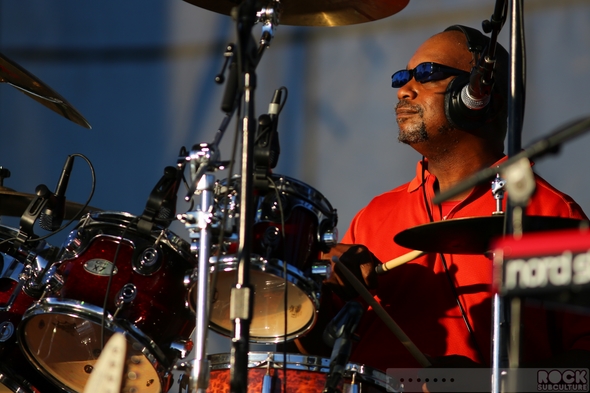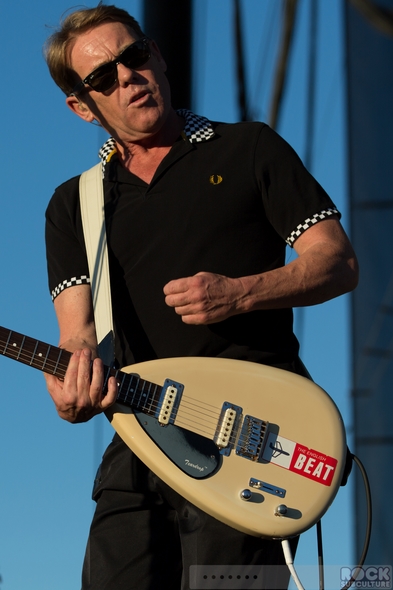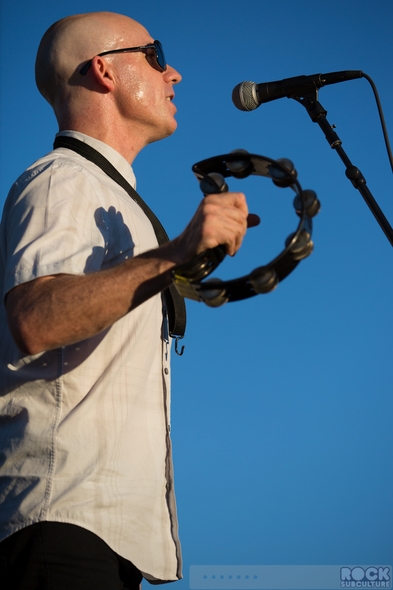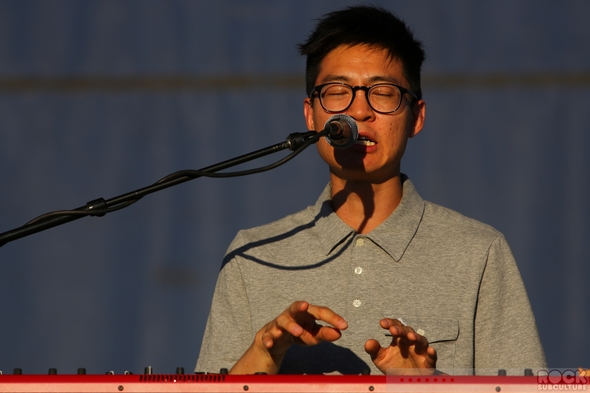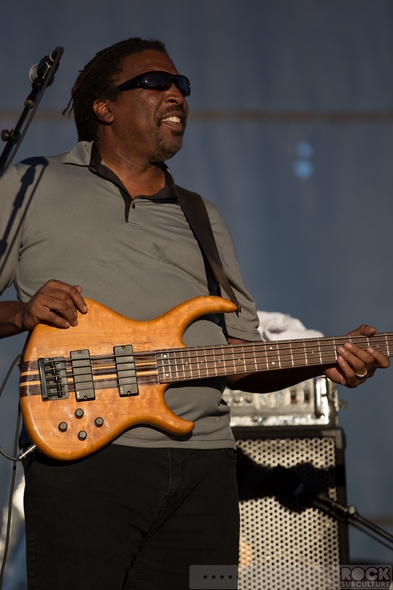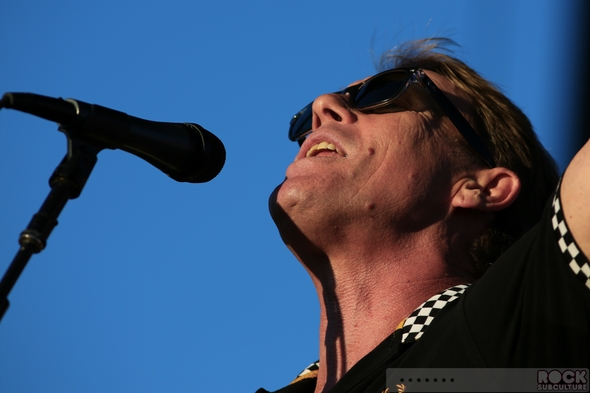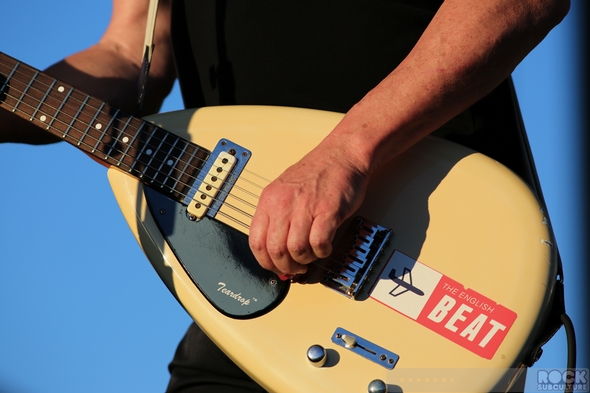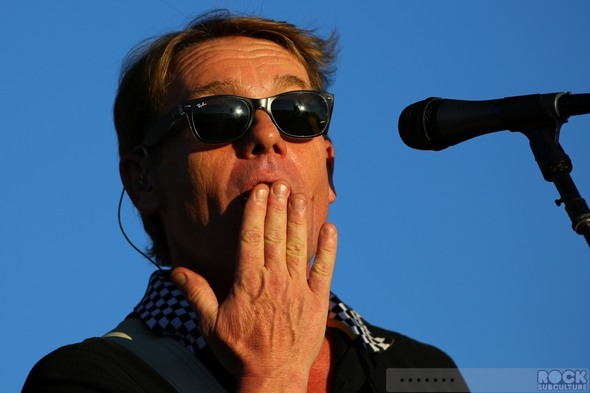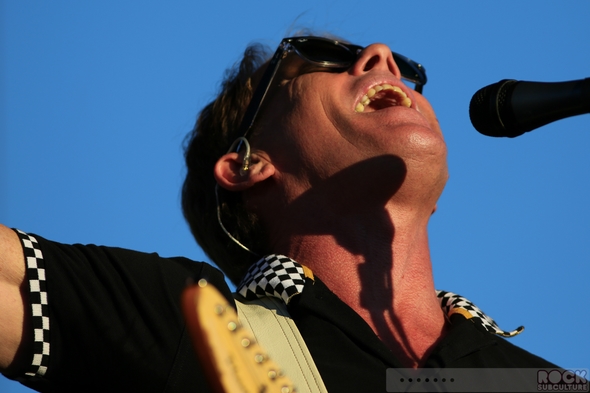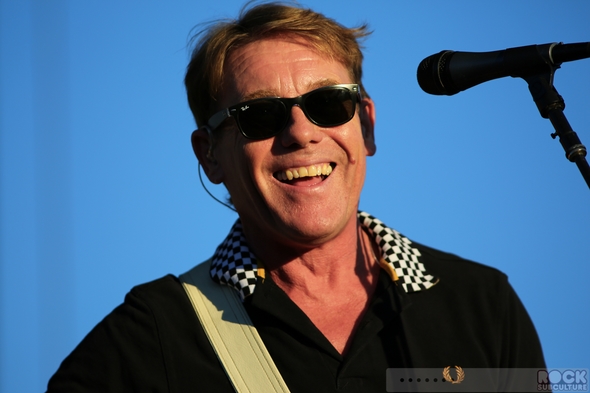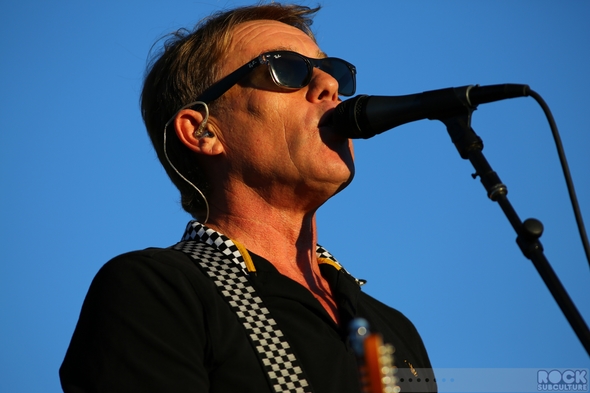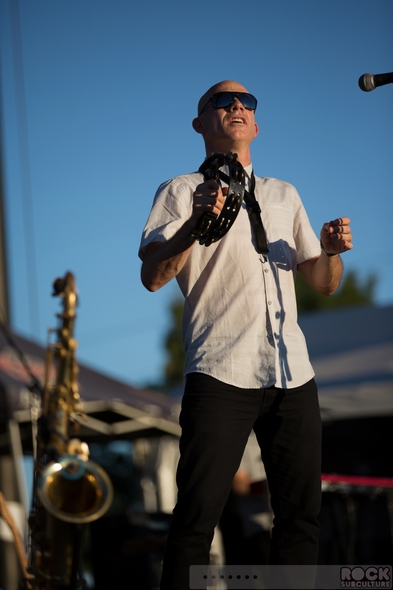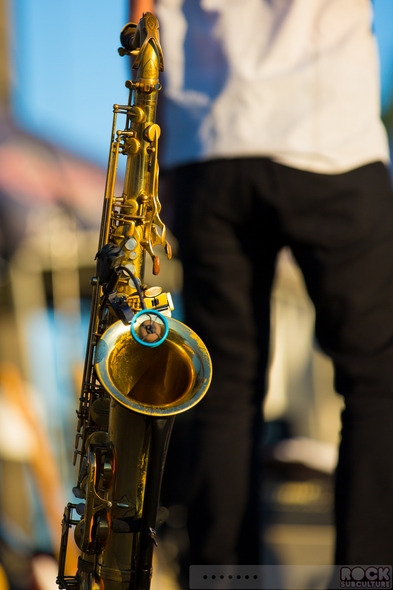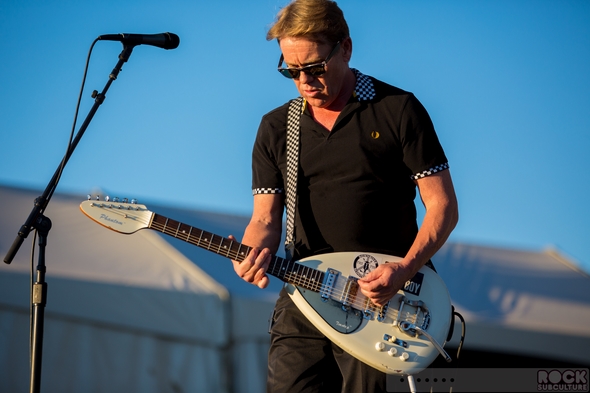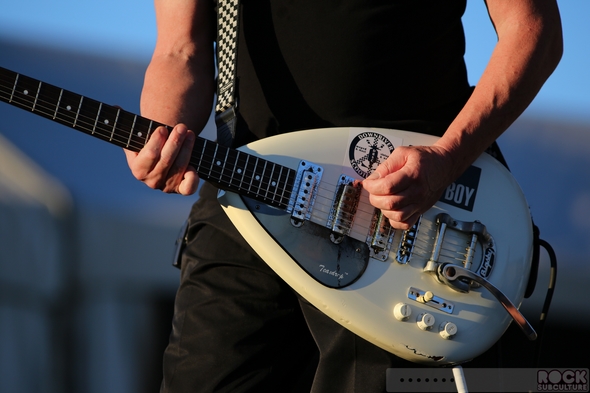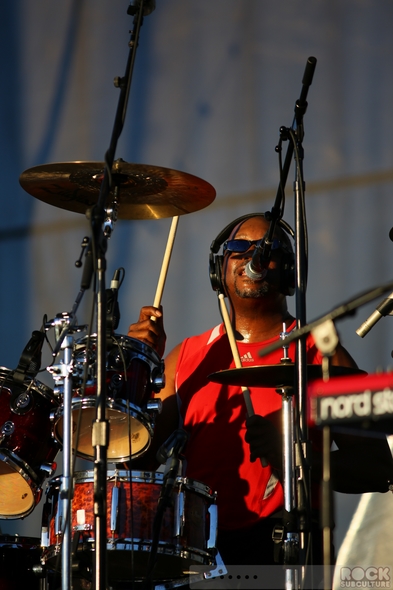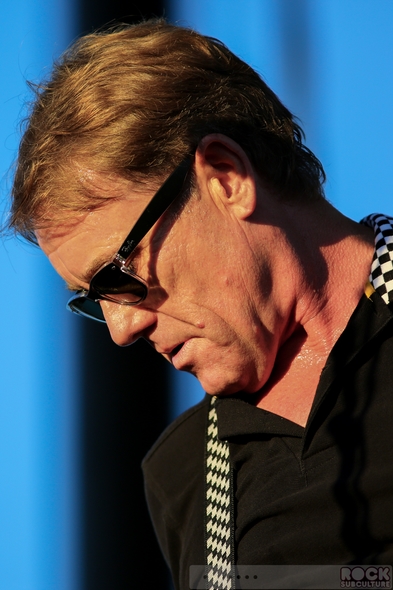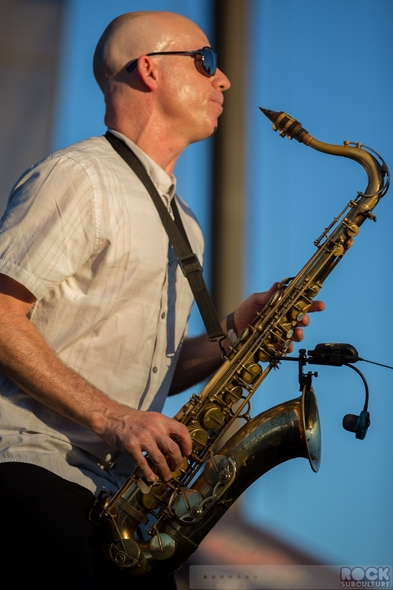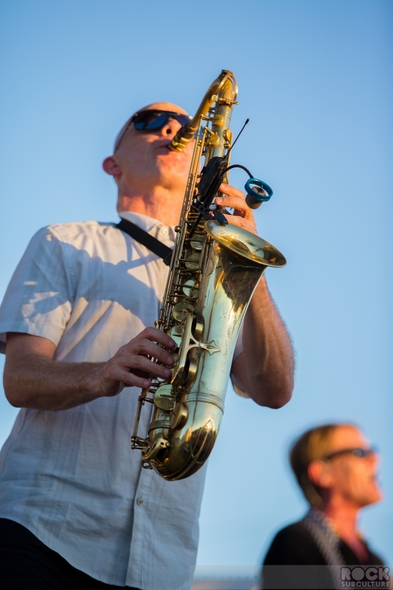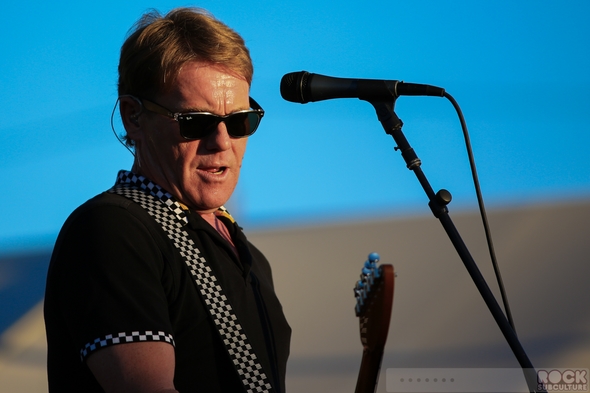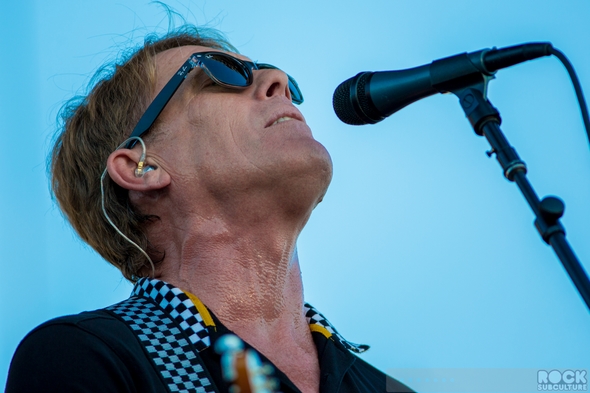 Howard Jones
"I like to sing this song to myself, and remind myself when it goes wrong, you can always turn it around – you can always turn it around; you can always have a positive outcome if you keep believing in yourself…  I think to myself, 'things can only get better'…"
I was lucky enough to see Howard Jones on the Regeneration Tour last year, and was totally floored by how awesome he was…
This time around, a year later (nearly to the day), my surprise was at how he has improved on what he put together last year. Everything just seemed amped up that much more. The gear looks that much more high tech and retro at the same time, and classy. And in terms of his performance, it was just so natural and sublime I didn't want it to end.
He has all new rigs and claims to have his "Mobile Keyboard Device" (MKD) employed to much greater effect.  He seemed to be roaming a lot more on his portable keyboard than last year, and he is one of those rare electronic-oriented musicians who has figured out how to translate that into a compelling live show.
This year Howard Jones published an invitation video to his fans, talking about wearing orange to the show as well as a special new dance move…
At Mountain Winery the night before, he entered from the far back of the venue, within the crowd (to everyone's surprise), though that was not feasible at Thunder Valley with its high stage and barricade and what not.
As mentioned in my review last year, Howard Jones is really an interesting figure (and legend really) in New Wave music, as he somehow came to fill a singular role in all of music. If you think of the 80s, there are hundreds of artists that came to the scene in that special decade, and in that many who were classified as "New Wave".
With that, somehow Howard Jones and his classic songs truly played a huge role in literally defining what New Wave actually was.
Really, everything about him just screams New Wave… his vocal style, delivery, unapologetic synth-heavy songs, the themes found in his music, even the fact that he's English… he is like the embodiment of New Wave.
But aside from all that, it needs to come down to the songs, and he has some of the most iconic 80s songs that were written and recorded.
He also came on the scene and got mainstream attention in 1983, which was early enough to really be a part of shaping it all.
If music is the soundtrack to our lives, anyone remotely into New Wave who was over 13 and under 30 at any time from 1983-1987 would have a Howard Jones song on their personal set list for life.
He wrote songs with words that had thought and meaning in them, not just words that rhyme. A thinker of the times, reflecting an age that in retrospect looks more and more preferable every day (at least for nostalgic souls like myself).
Like with last year's show, he has arrange a new and extended version of "Things Can Only Get Better", which transitions into a more modern-sounding techno version following the traditional song we all know, contrasting classic and contemporary.
All that preface out of the way, how was is actual performance?
Stunning.  Even better than last year.
He even did a little riff on the Game of Thrones theme.
Below are the songs he played at Thunder Valley Sunday night:
The Human Touch
Like to Get to Know You Well
Everlasting Love
No One Is to Blame
The Prisoner
What Is Love?
Things Can Only Get Better
Things Can Only Get Better (Techno version)
New Song
His voice sounds exactly the same, and completely studio quality. He also seems to be loving every second on stage, celebrating this music… these hits that have been long ingrained into our minds like the grooves on the vinyl that they were originally recorded on.
Howard Jones has also somehow aged really well, so I would imagine from the third row on back, anyone could imagine that they were transported back to 1985 or so, as the experience would have had to have been pretty much the same (well, better now, I imagine!).
Below are some photos of Howard Jones performing on stage (click any image for higher resolution versions of each photo):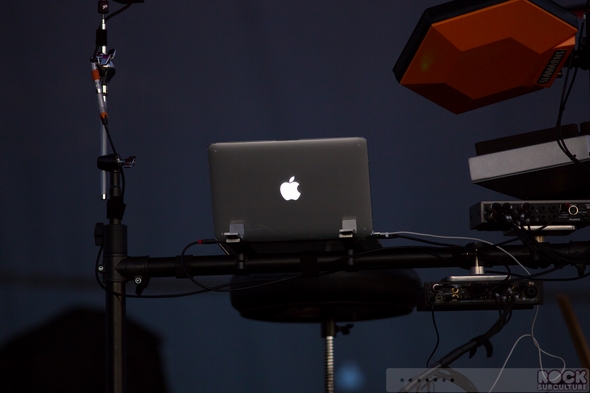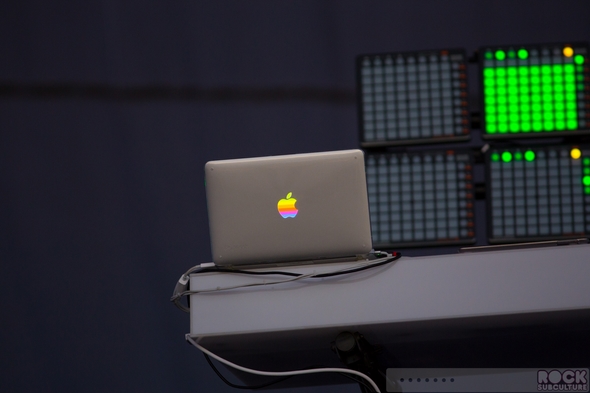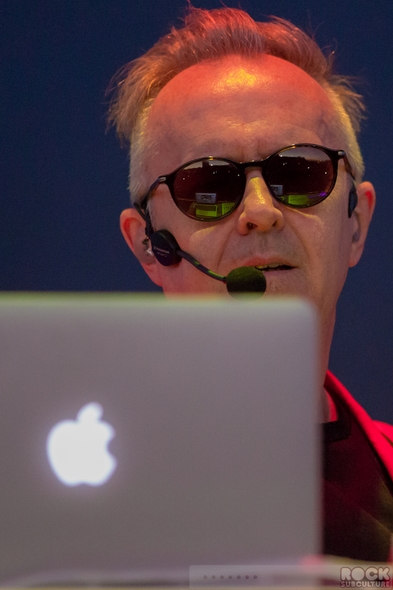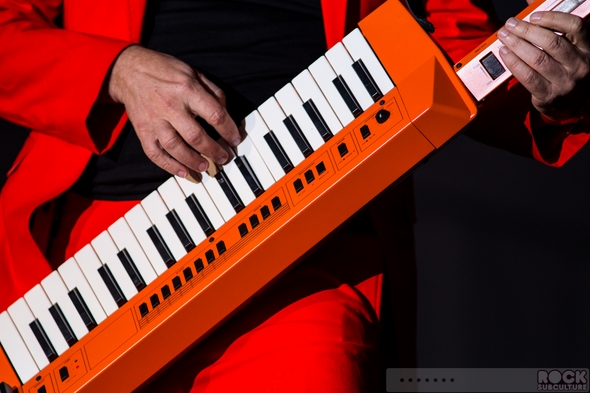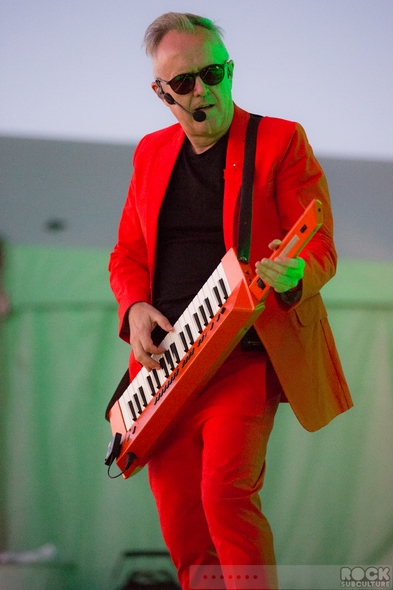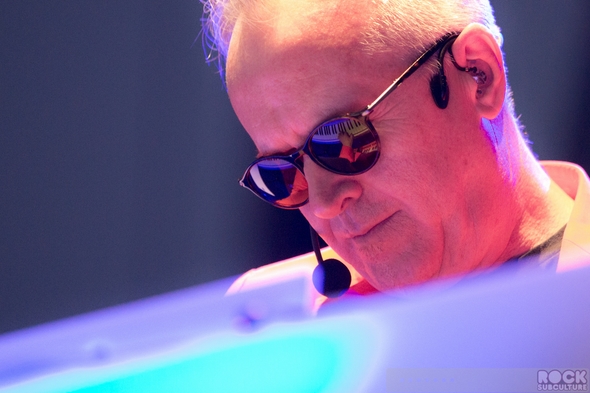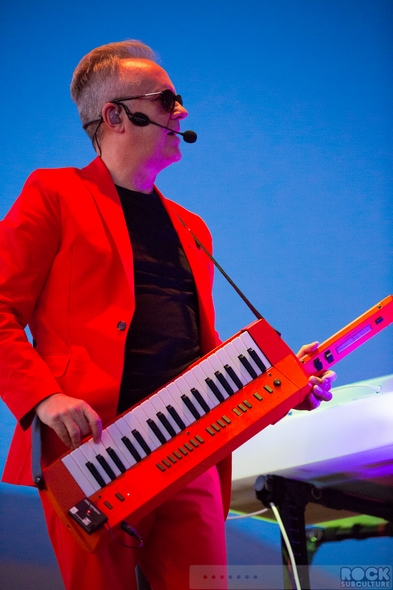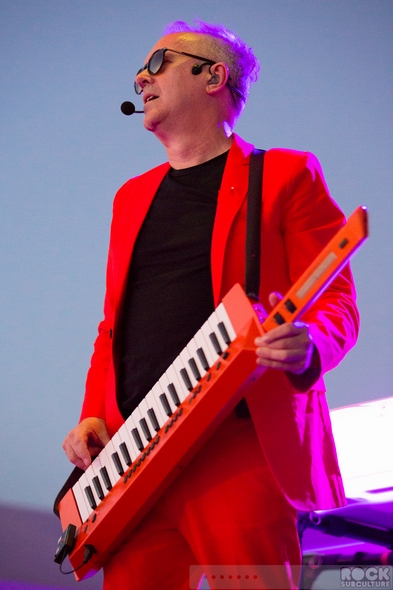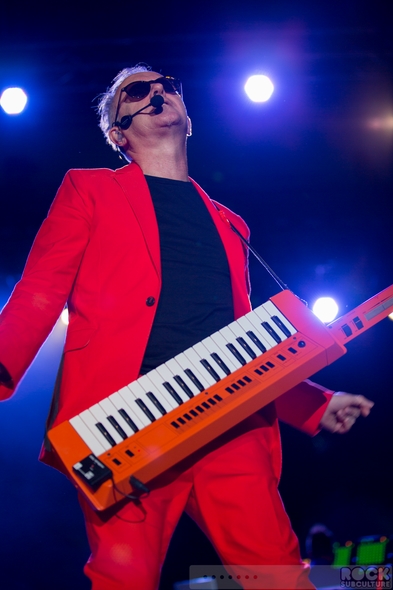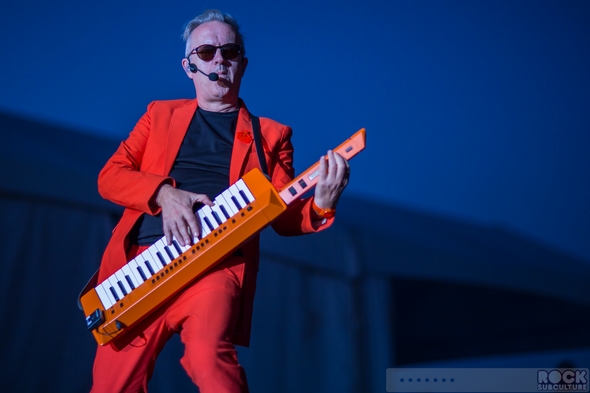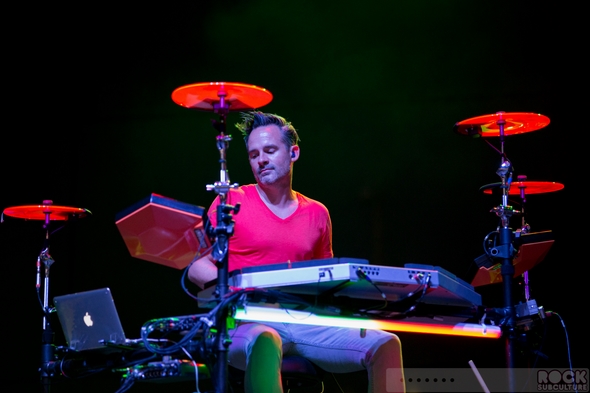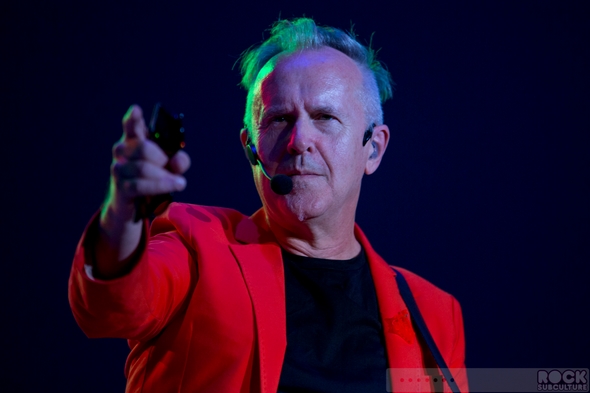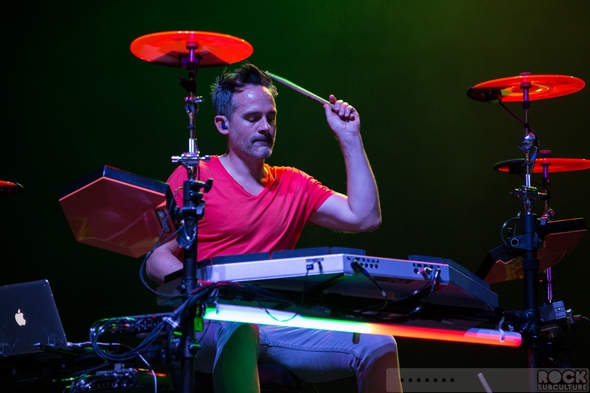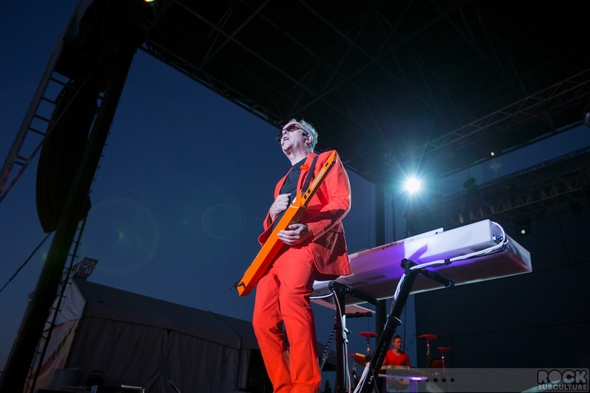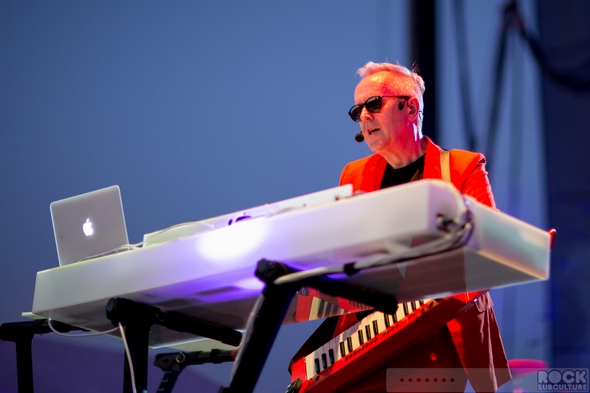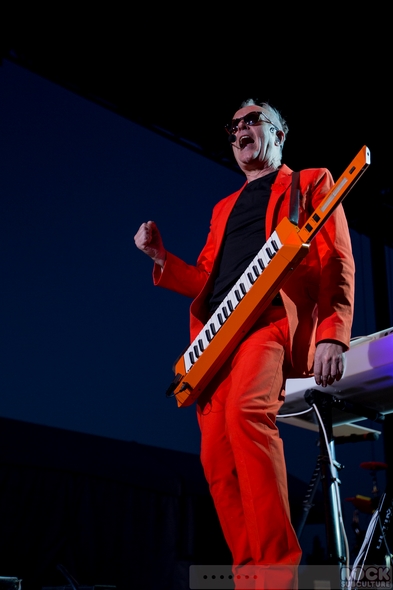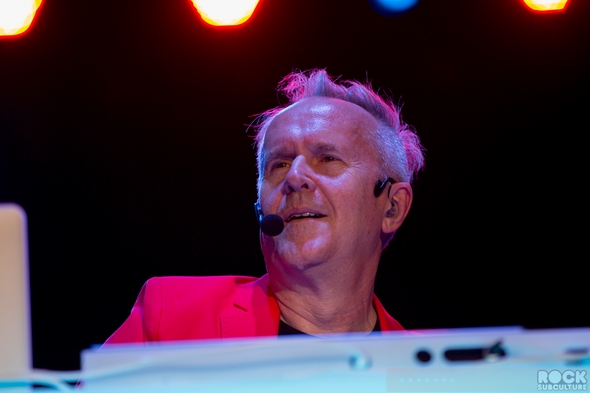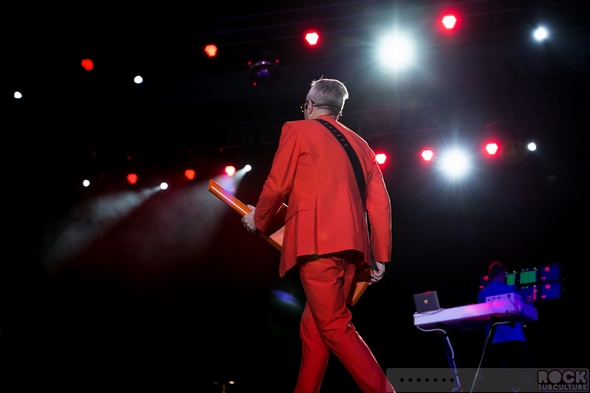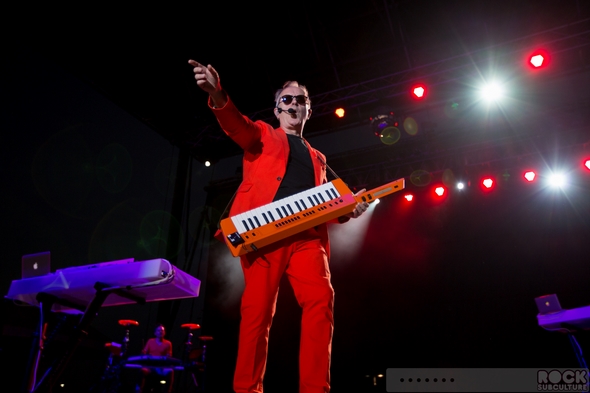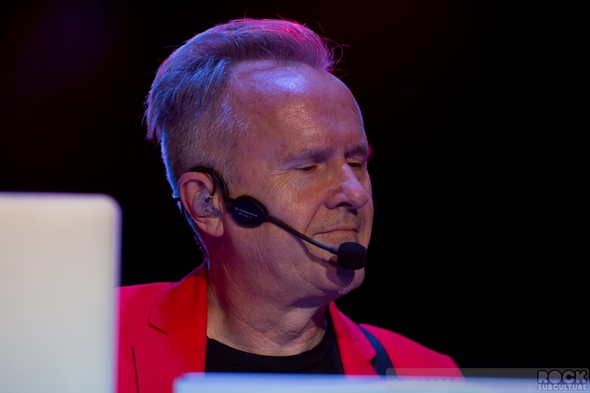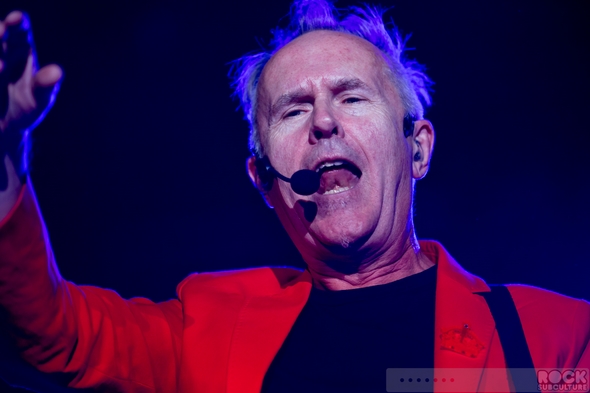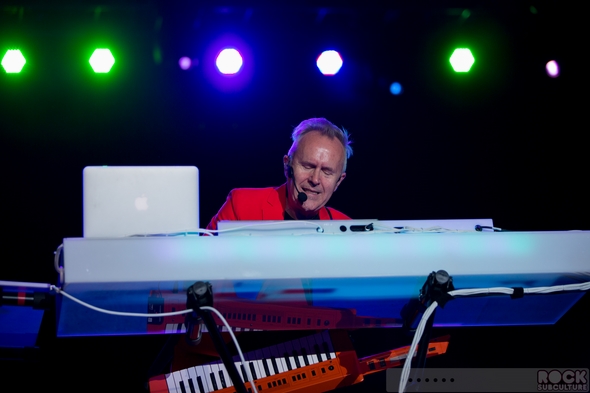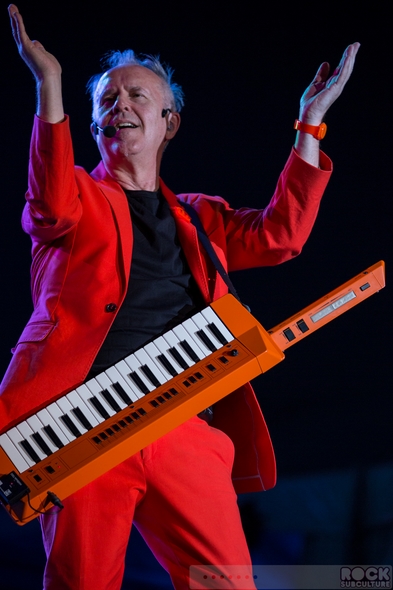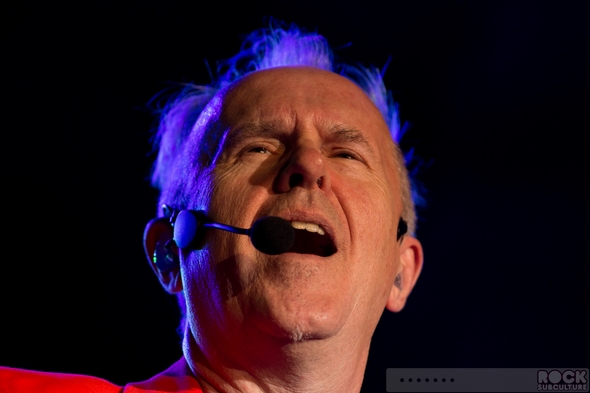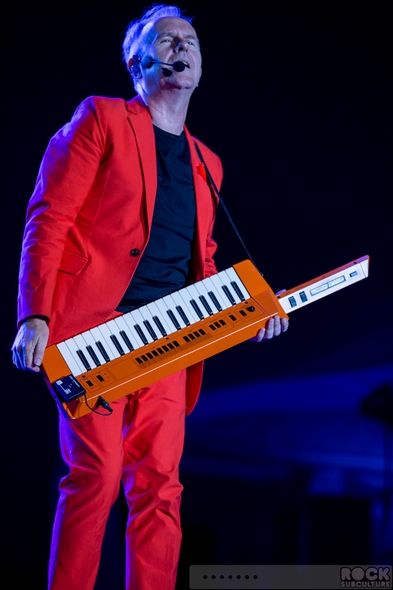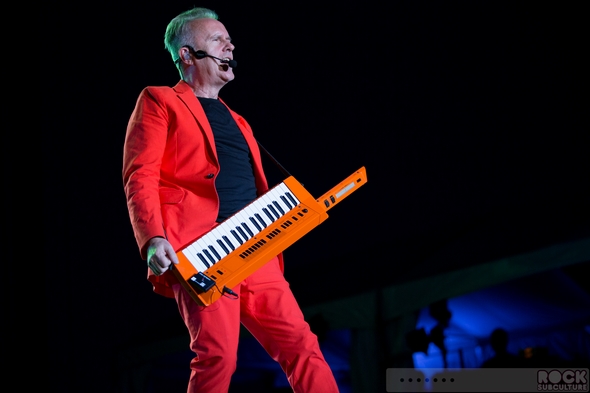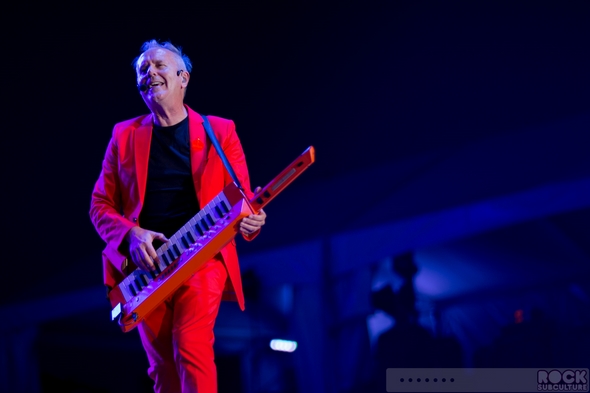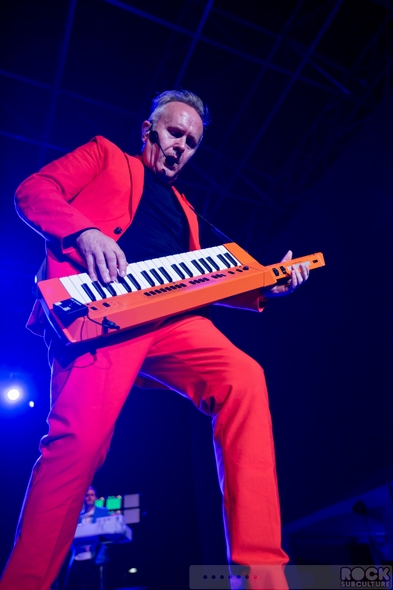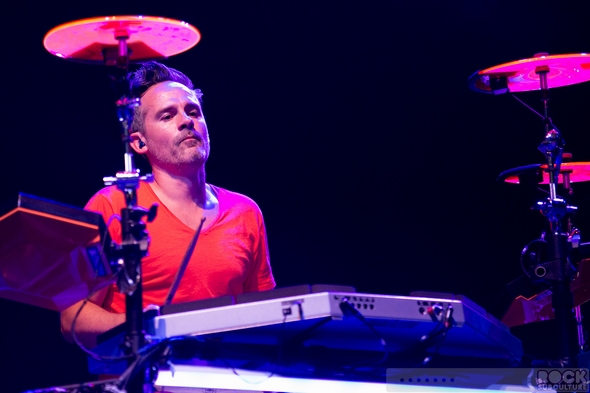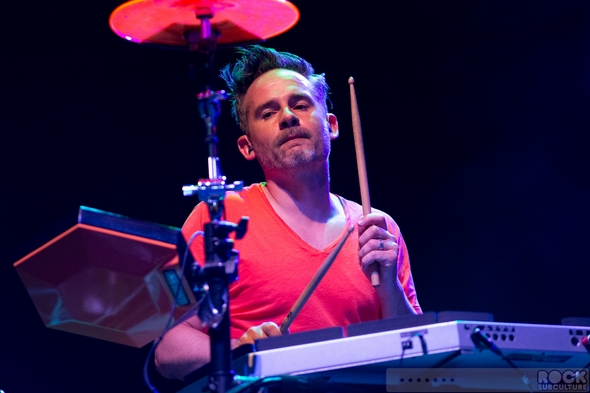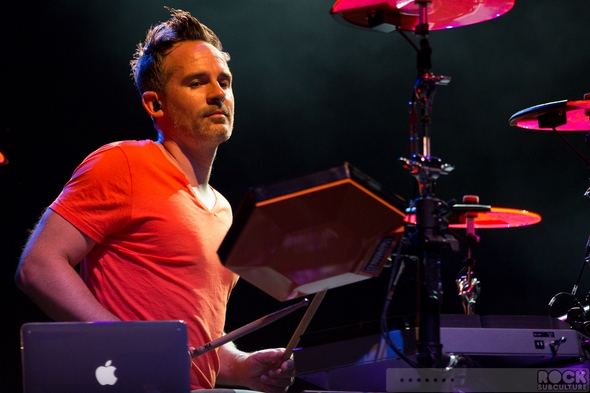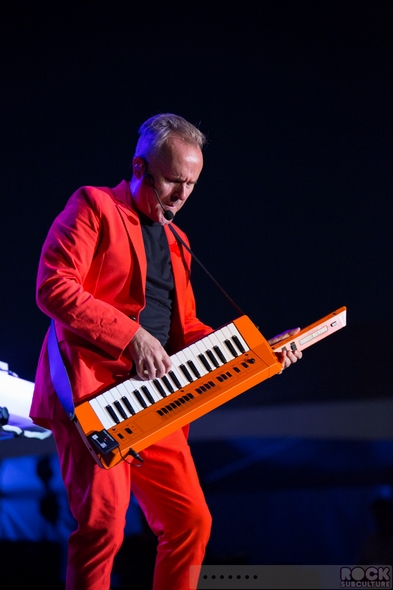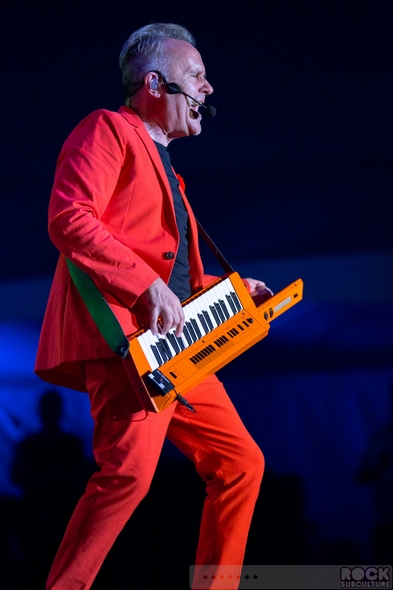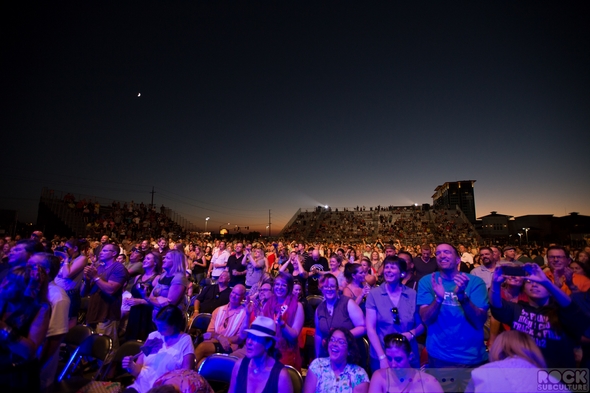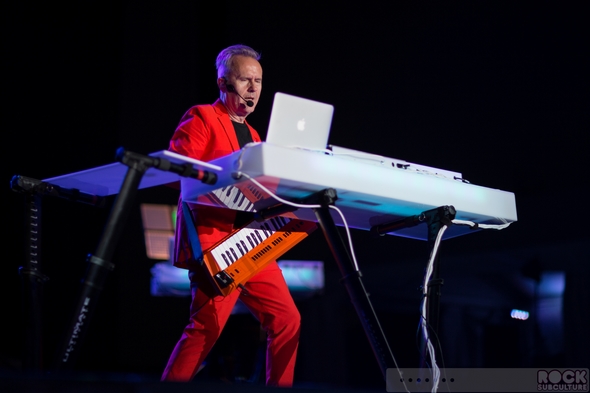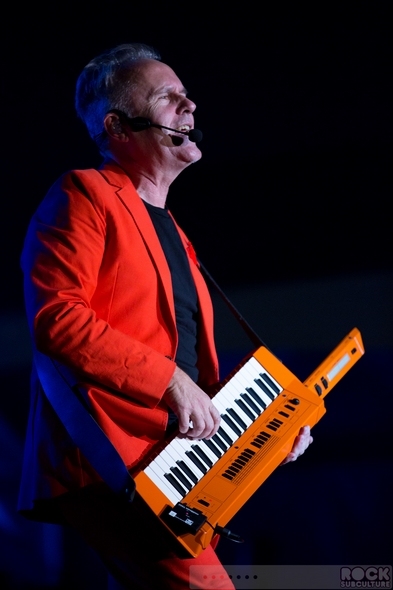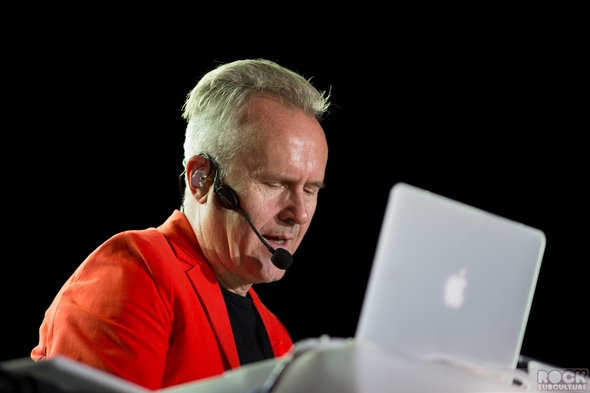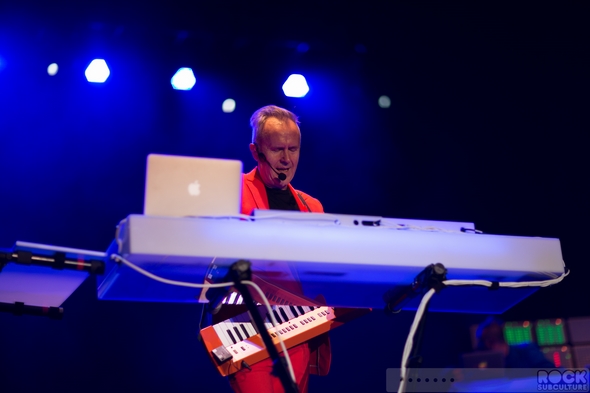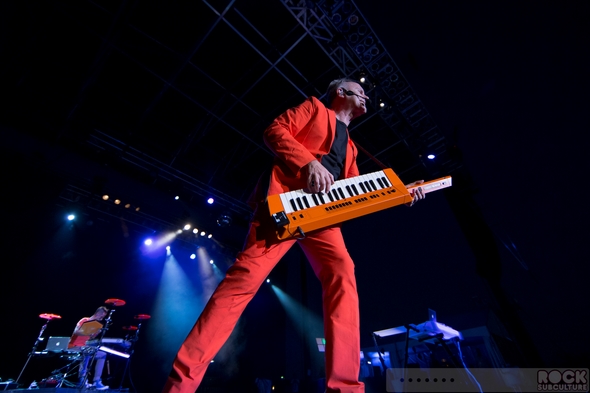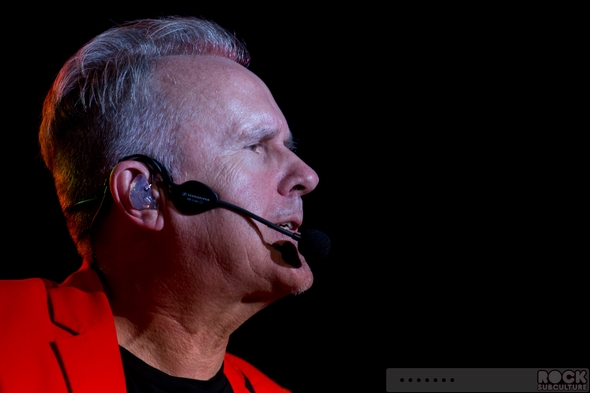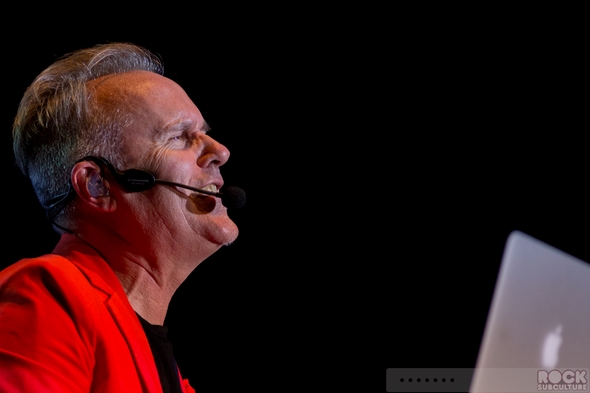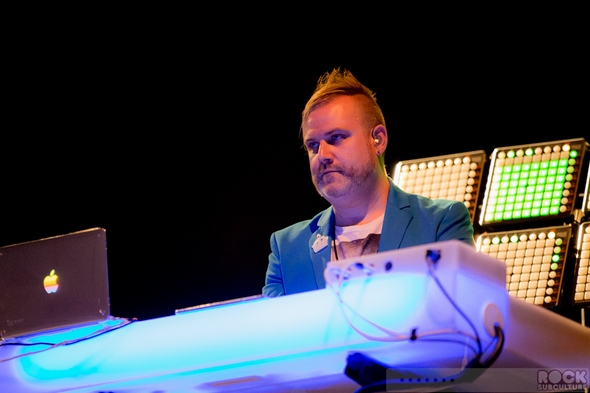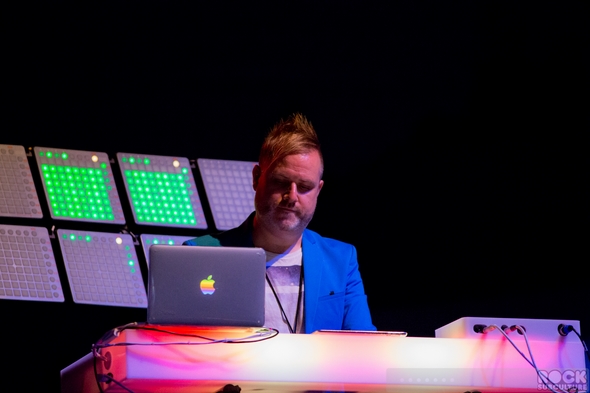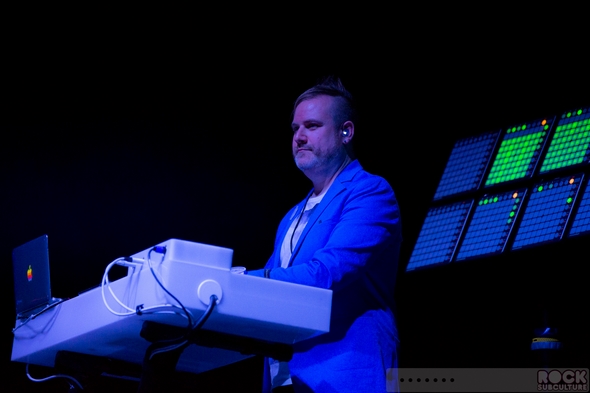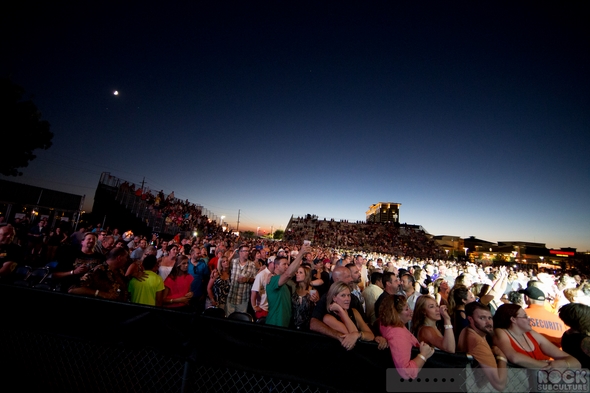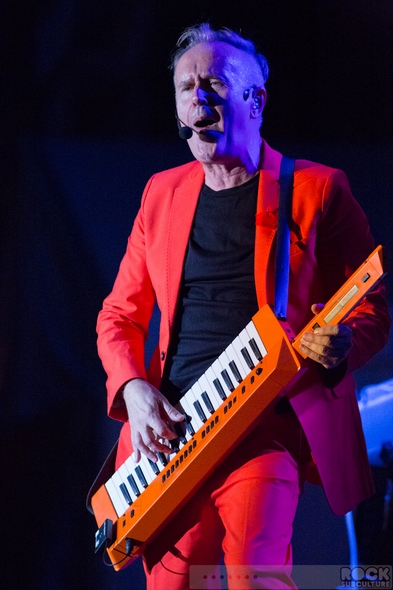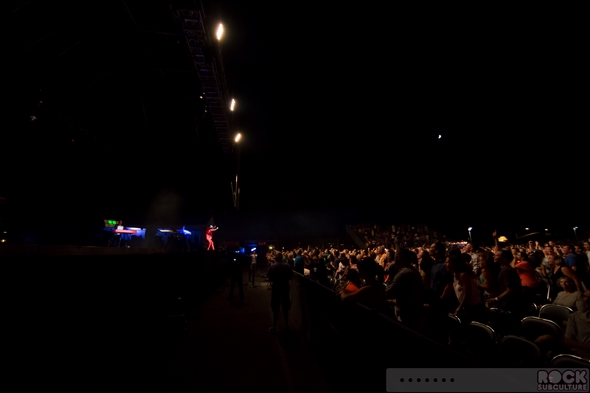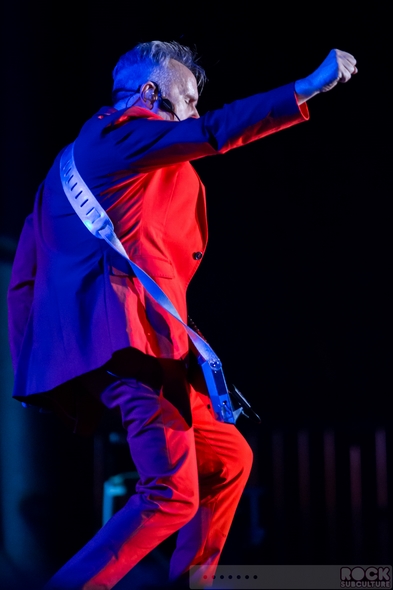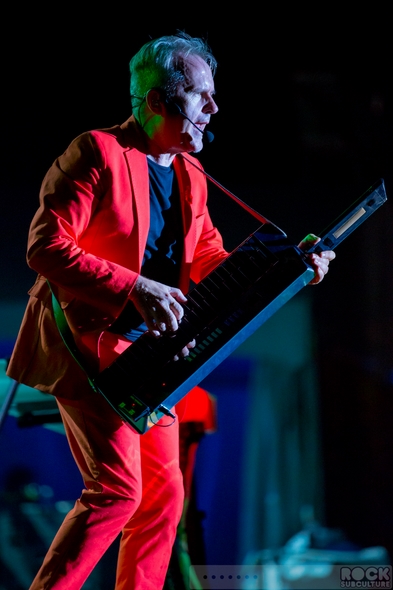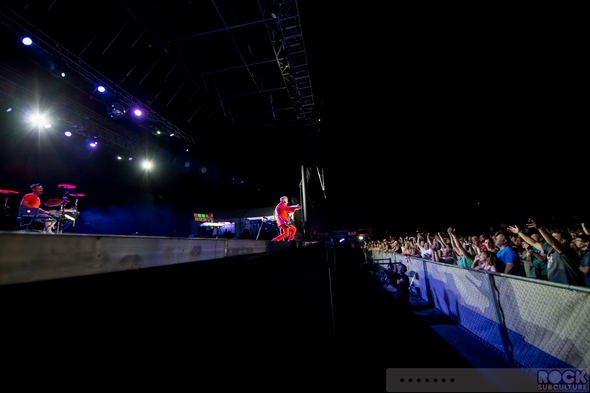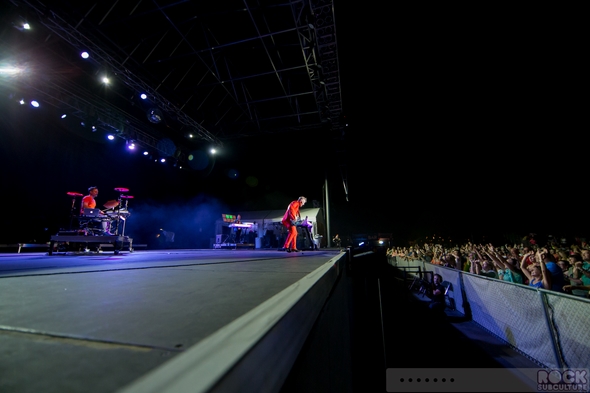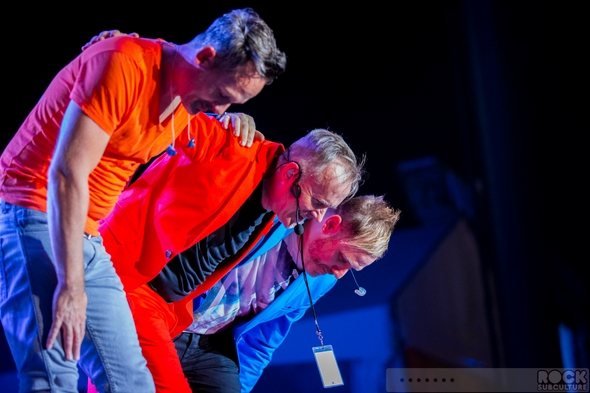 Thompson Twins' Tom Bailey
I really can't enphasize enough how much I loved the Thompson Twins and their music growing up.
As far as New Wave went (my personal favorite era of music), leading the movement for me (as true icons) were Duran Duran, Cyndi Lauper, Billy Idol, Howard Jones, Tears for Fears, as well as others, but most certainly Thompson Twins.
Thompson Twins originally formed in 1977 in the UK. Many probably wonder about the name (I remember it was puzzling to people back in the 80s) – they were named after two detectives named Thompson and Thompson in the comic, The Adventures of Tintin.
Predominantly known as a trio, which is how they were in their most popular era between 1982 through 1986, there were other members that were involved at different times (at one point as many as seven)
Tom Bailey was of course there in the very beginning, as a founding member on vocals and bass guitar. Alannah Currie became involved with the band early on, but wasn't a full member until after the first album, A Produce of… (Participation). Joe Leeway (a former roadie) became involved in playing in the band circa 1981 as well.
Eventually, the band signed to Arista Records and fascinatingly, Thomas Dolby contributed to the album, Set, which included the hit single, "In the Name of Love", which was a number one dance club hit in the U.S.
Originally, Bailey, Currie, and Leeway wanted to do a side project (to be called The Bermuda Triangle) to pursue music more in line with "In the Name of Love, and ultimately decided to reduce Thompson Twins down to just the three of them and other former members of the band were let go in 1982.
In 1983 and 1984 in particular, they broke huge internationally with a number of songs that are now staples of the 80s, including "How Me Now". The 2984 album, Into the Gap, is really one of the most important albums to come out in the '80s, as it really had such a unique sound that really defined what New Wave was all about. The follow-up, Here's To Future Days was also excellent, but did not do as well commercially.
While that music and those hits ("Doctor, Doctor", "King for a Day", "Lay Your Hands on Me", etc.) are what the band are most known for, I personally LOVED their later work (i.e. Queer). More dance-oriented, it was just as brilliant (though different) and I still listen to all of that music regularly to this day.
Eventually, Tom Bailey and Alannah Currie became involved with one another as a family and had children, moving to her home country of New Zealand.
After the Babble project, Currie retired from music to pursue other interests. Joe Leeway works in hypnotherapy.
Tom Bailey has been involved with some music projects over the years, but nothing on the scale of Thompson Twins. This tour marks his first time playing as Thompson Twins in 27 years.
It's really hard to describe what it was like seeing him perform Saturday and then Sunday night. Into The Gap in particular was such a key component of the soundtrack of my life growing up in the 80s.
I think the best way I can describe it is this (in some context that people might be able to wrap their heads around)…
Imagine if you were a huge fan of Michael Jackson circa Thriller. And, following Thriller and maybe Bad, Michael Jackson was whisked away into obscurity, never to be heard from again (no more music, no plastic surgery, no controversies, no weirdness, no death). And then, this year, he came out of no where with a new band and toured and played music from Thriller. And imagine he looked great and sounded and performed fucking amazing. That is what Tom Bailey coming back now is like for me.
When he first came out onto the stage, he looked very 80s retro (even wearing just one stylish glove) and arrived in darkness with a flashlight, which he shined out into the crowd.  As if he was finding us.
He was so natural in his performance, you could never imagine he'd been away from Thompson Twins for more than a quarter of a century.
He seems to in some small way possess the spirit of Ferris Bueller… the happy, harmless, joyful rebel.  Almost as if he is slipping into character.
He has recruited three touring members to bring his music to life – Amanda Kramer, Angie Pollock, and Emily Dolan Davies.  Each did a magnificent job.
Tom never stood still for very long, with vocals throughout as well as playing keyboards/sythesizer, drum pads, and guitar.  Like Howard Jones, he used a hands-free wireless mic and monitor to allow him to roam around.
The music was very faithfully recreated – with real precision throughout – even little flourishes that we remember from the original studio tracks.  With the final song, "Hold Me Now", the grooves etched into my mind decades ago longed for those backing vocals at the end of the song, and having brought the chorus out of the audience, he altered his voice to do those backing vocals himself.
As mentioned in my review of the Mountain Winery show the night before, Tom sort of willed the audience into finishing that last encore song, trailing out with the chorus as he brought his bandmates to the edge of the stage to bid us farewell.  Hopefully we will all have a chance to experience him in concert again in the future.
I go to a lot of concerts and watch a lot of artists perform, but maybe more than any other, this one really moved me.  I really started doing this (writing about shows and photographing them) in an effort to capture and archive what I believe are meaningful experiences between artists and fans, and with Tom on stage and taking photos of him with this comeback (or maybe "return" is a word better suited?), I felt as though I was in some small way fulfilling this obligation I've taken on in a way that feels like it has more meaning and importance than the typical show.
In any event, I loved every second he was on stage, and he has such unique energy and character it was a real joy to experience it all first hand.
Below is the set list from the show Sunday night…
Setlist:
Intro (We Are Detective)
In the Name of Love
Lies
Sister of Mercy
You Take Me Up
If You Were Here
Love on Your Side
Doctor! Doctor!
Encore:
King For A Day
Hold Me Now
Below are some photos of Tom Bailey with his new band as Thompson Twins performing on stage (click any image for higher resolution versions of each photo):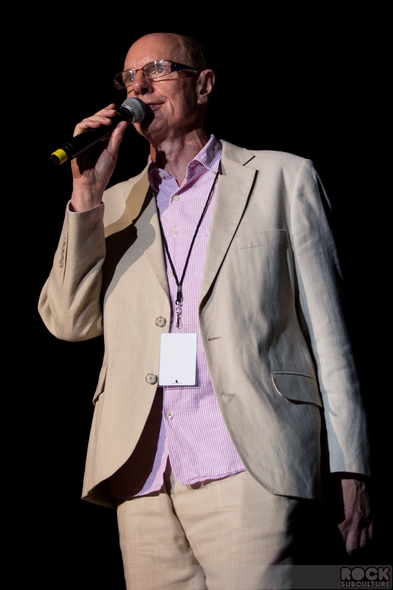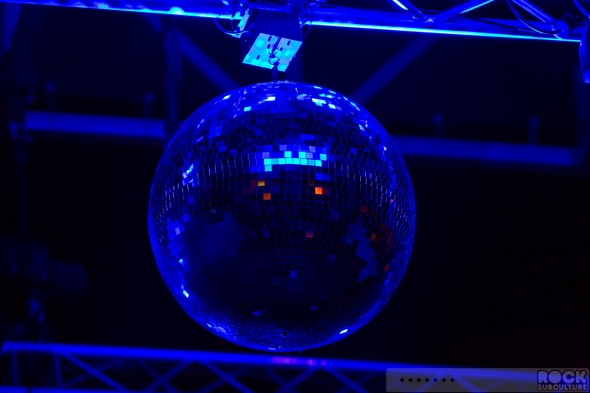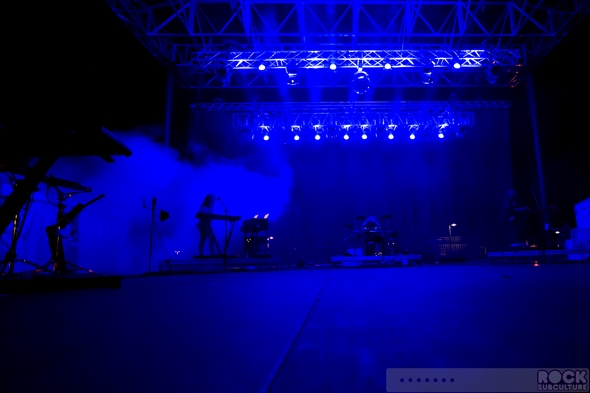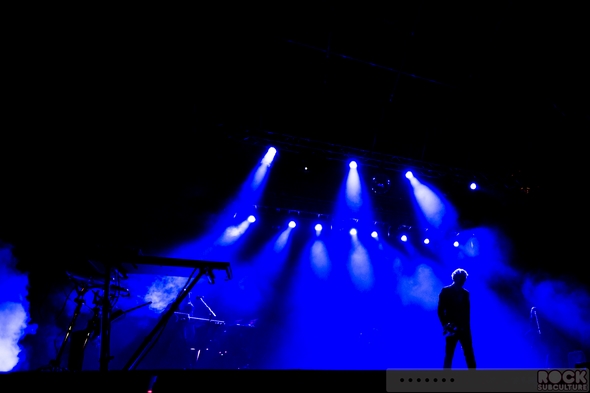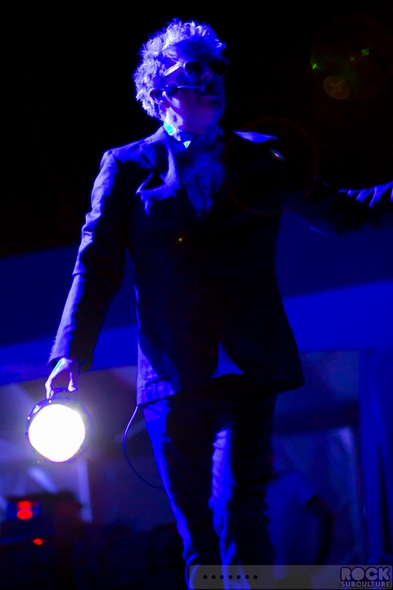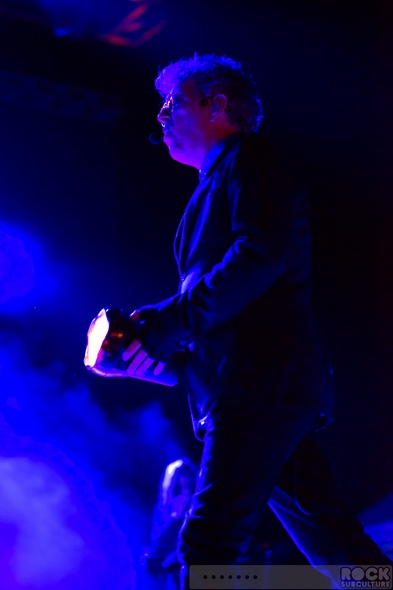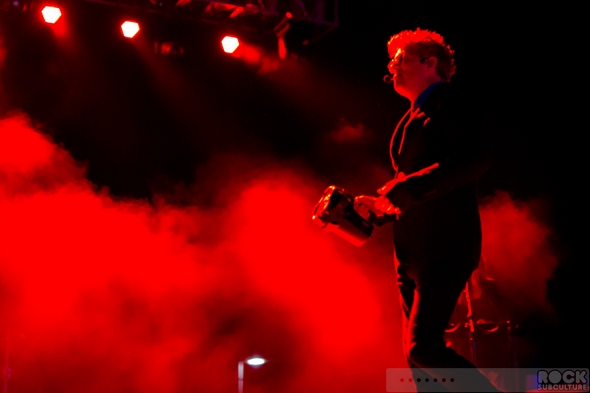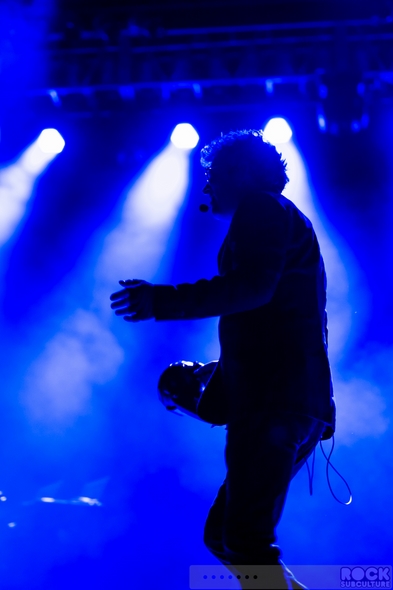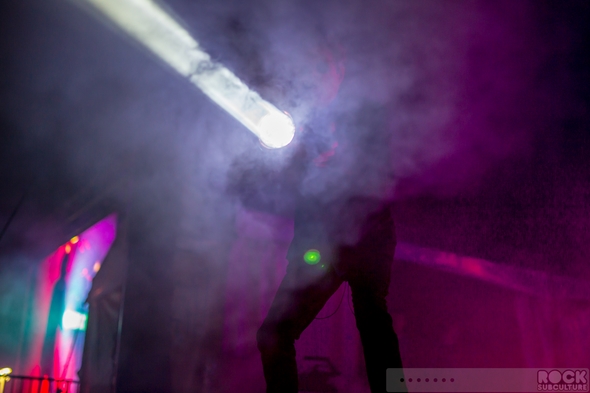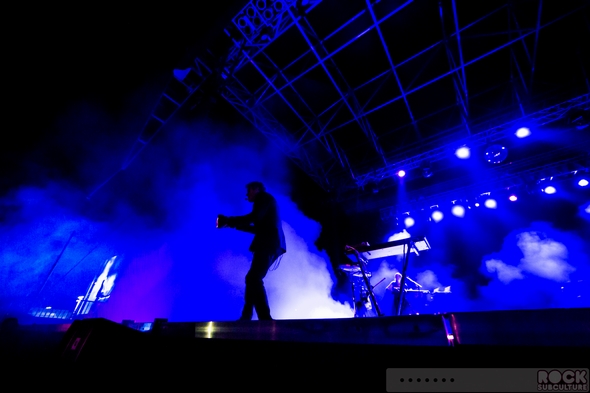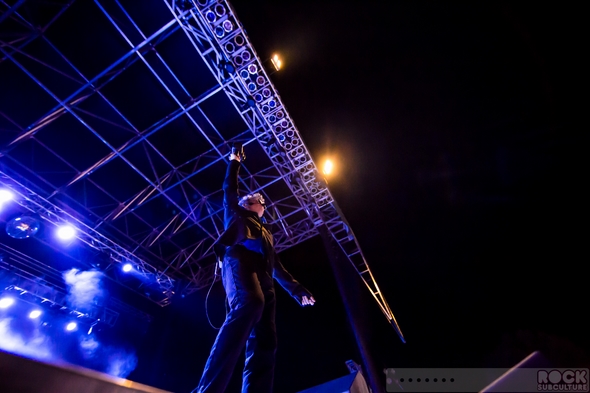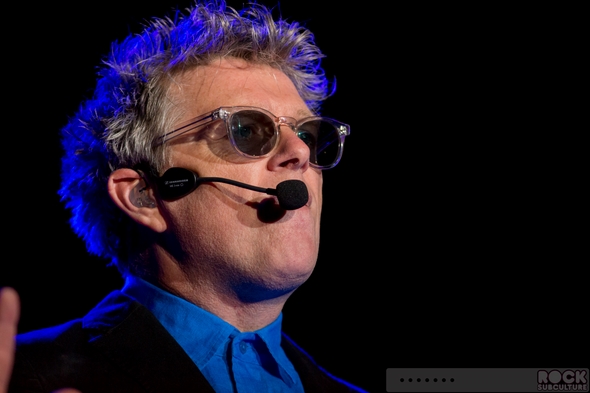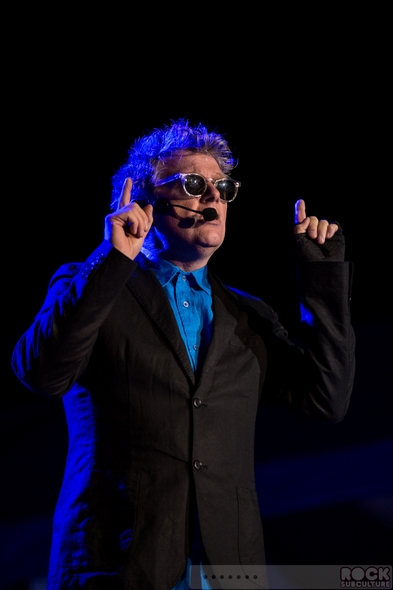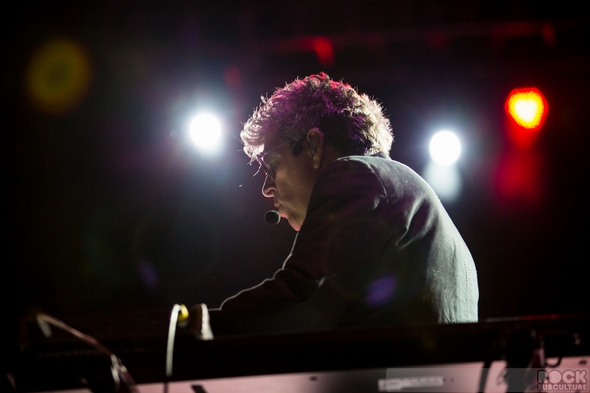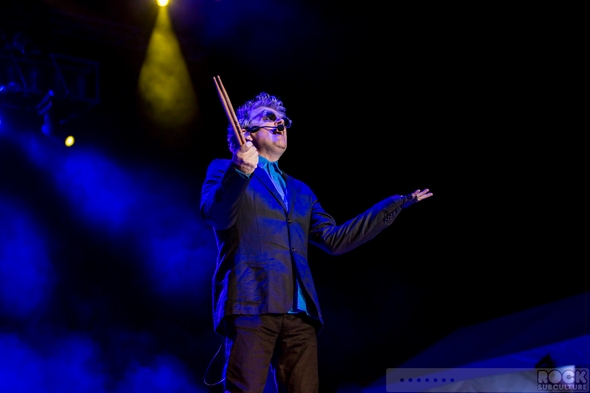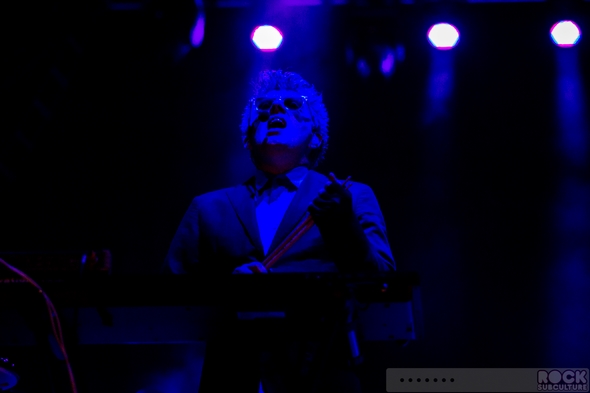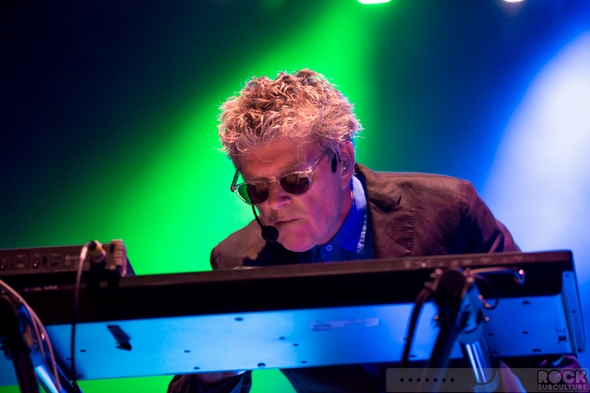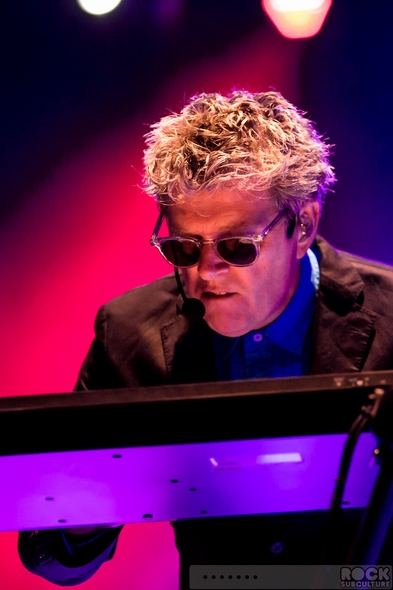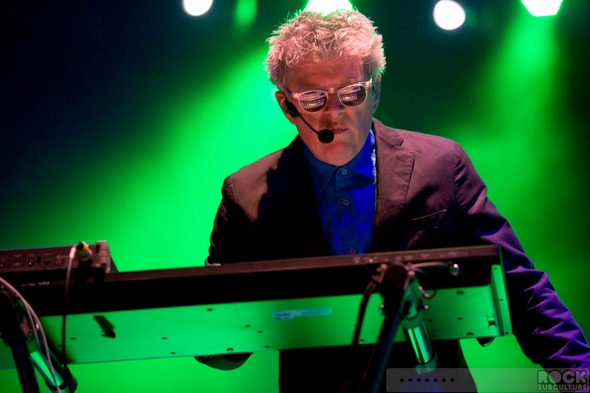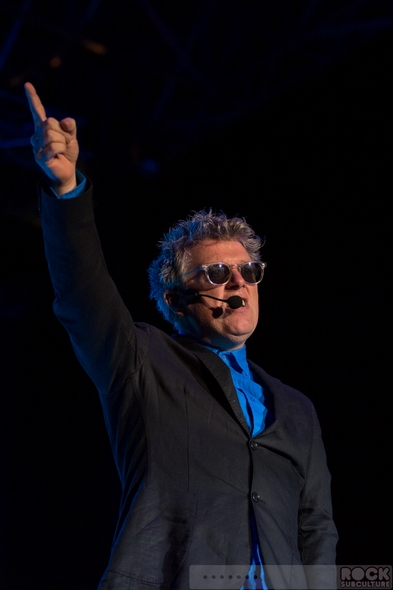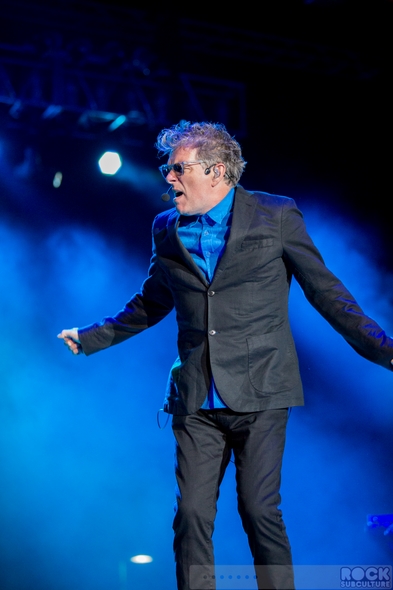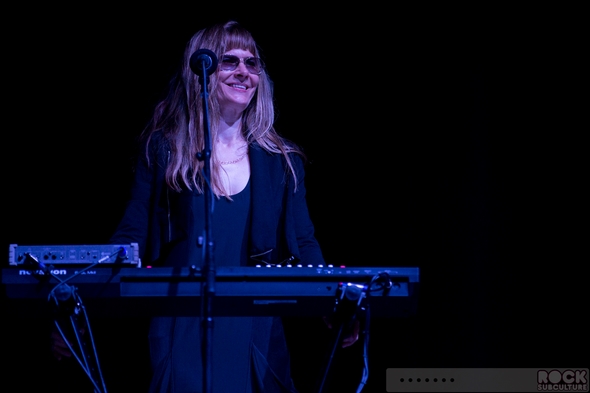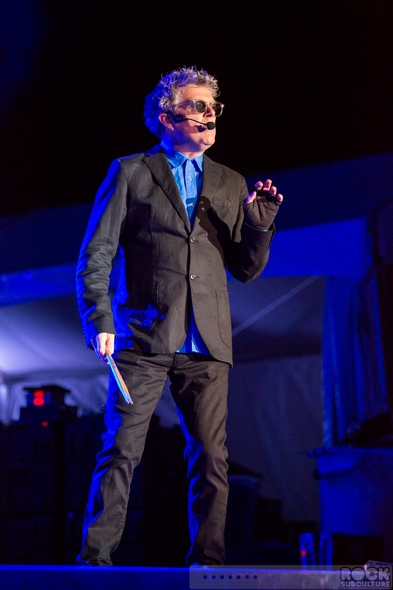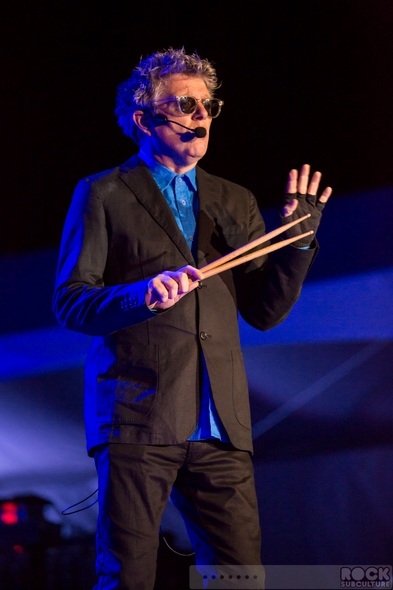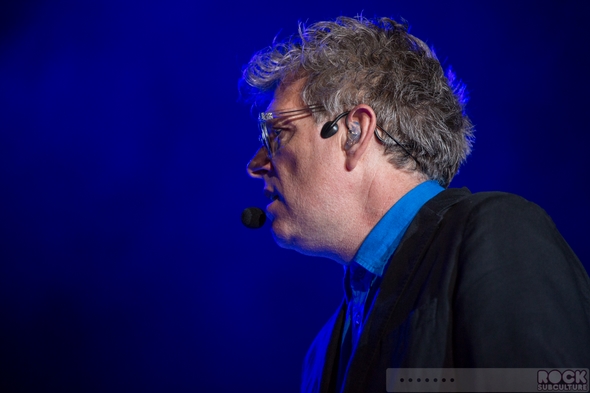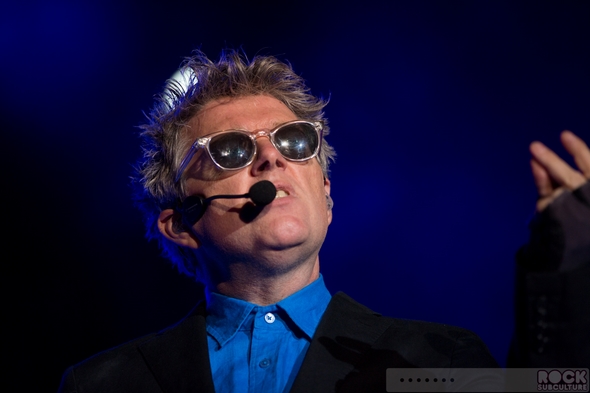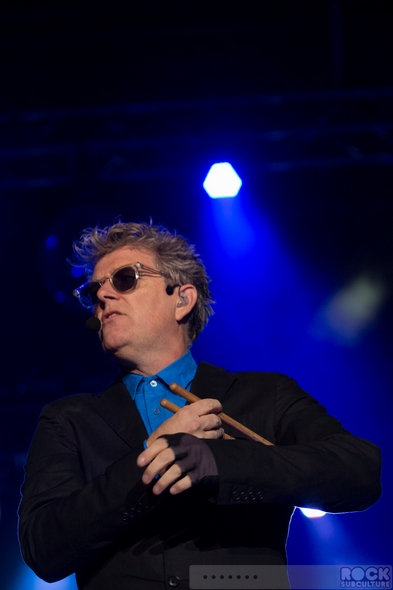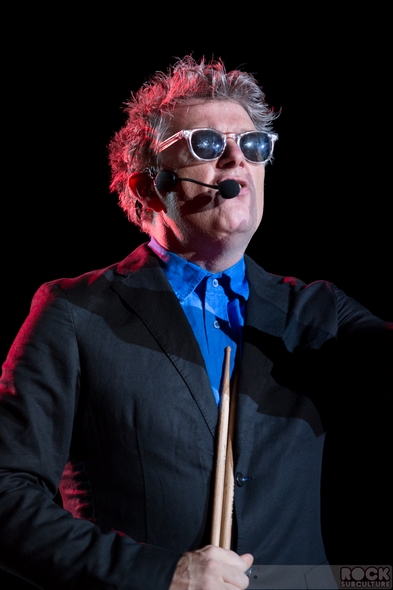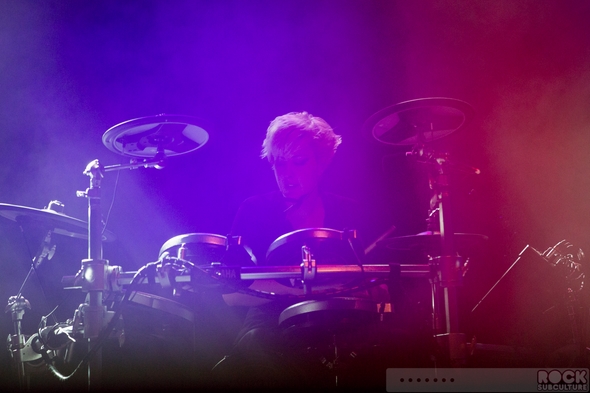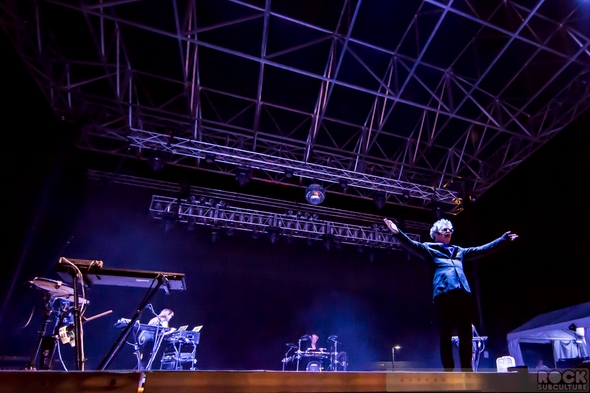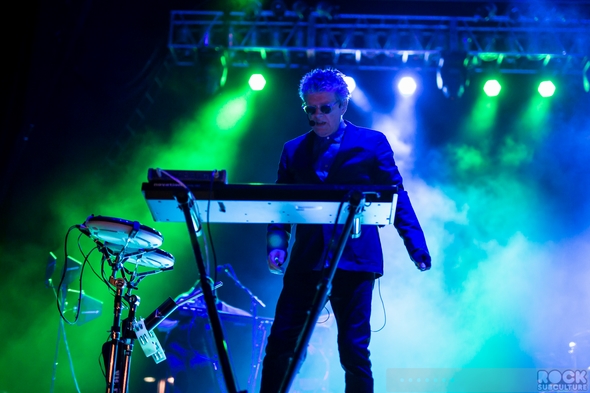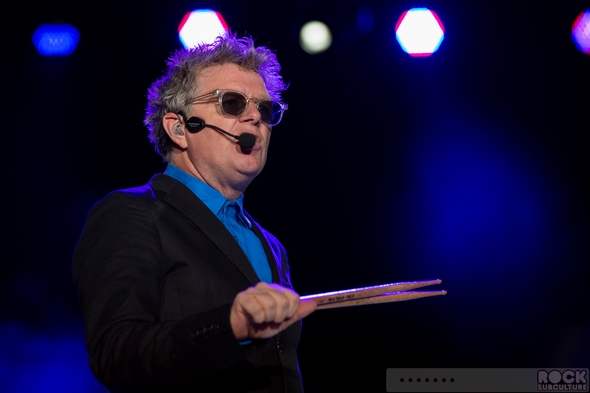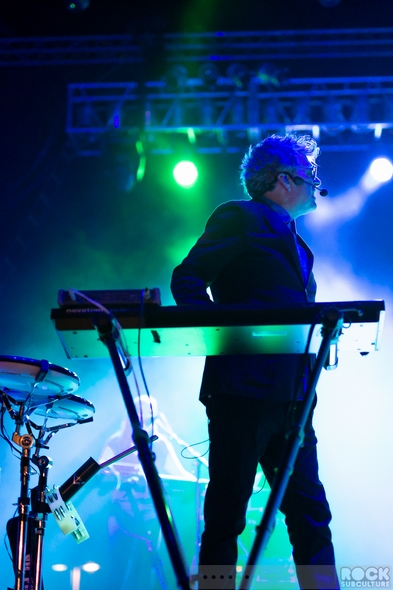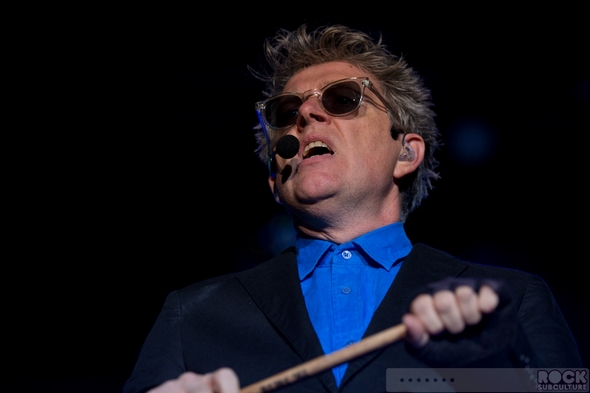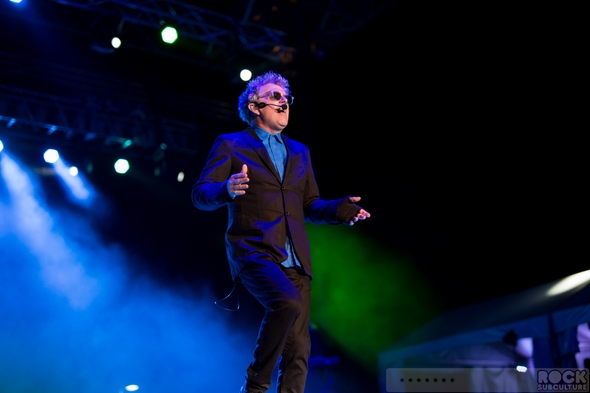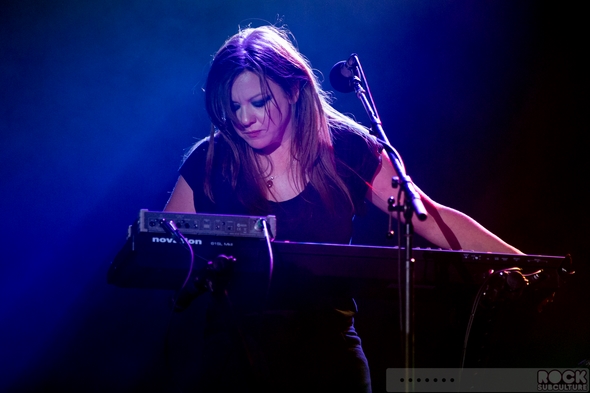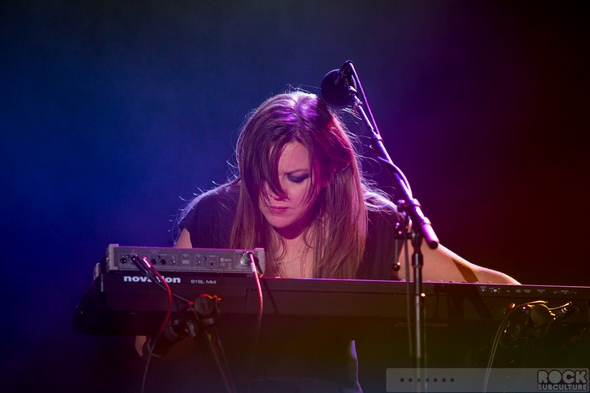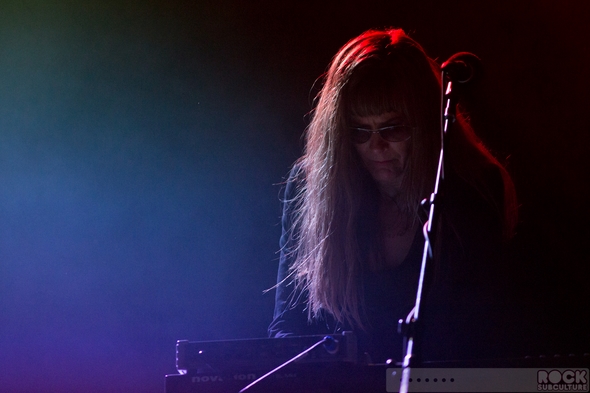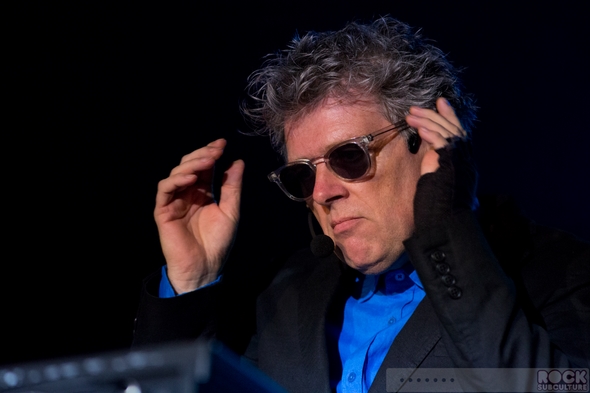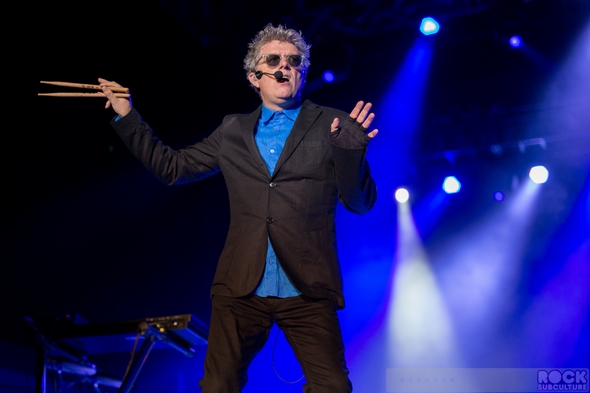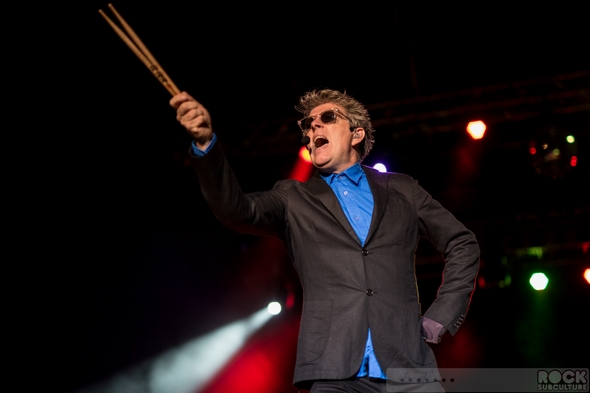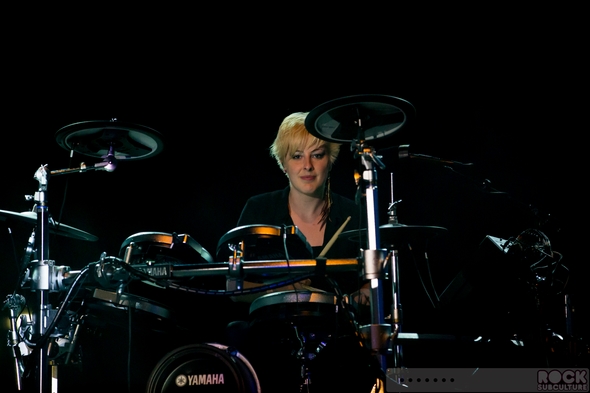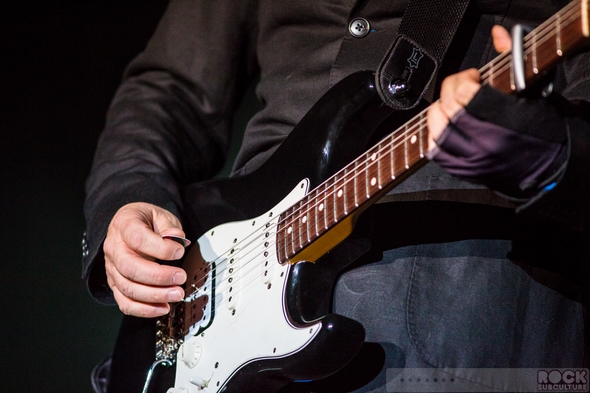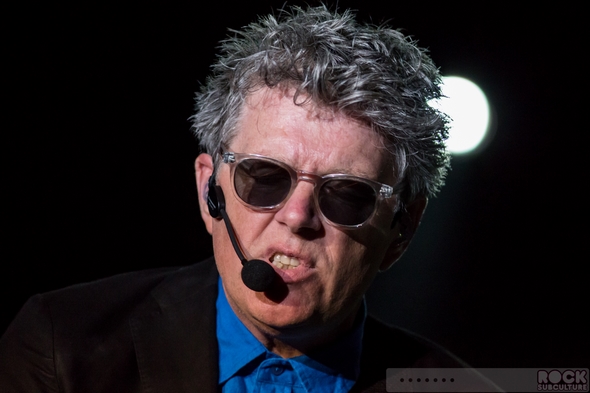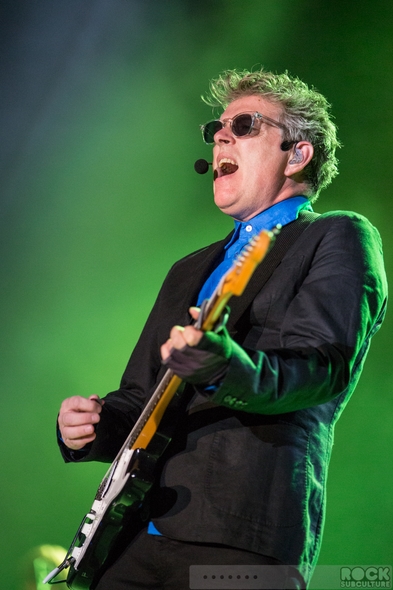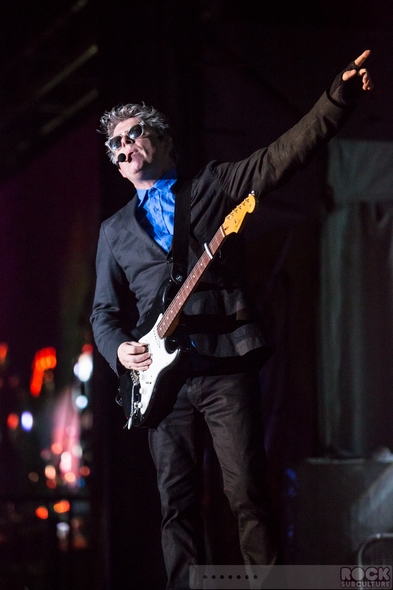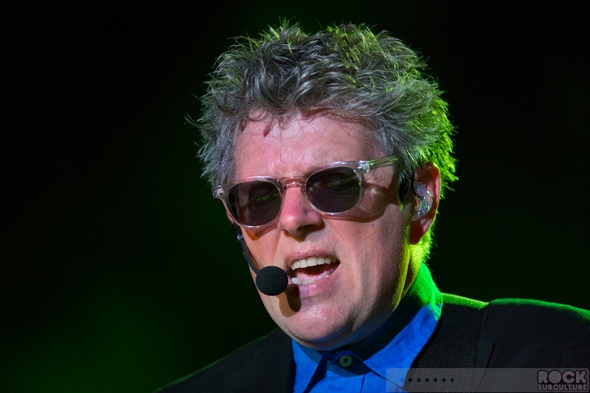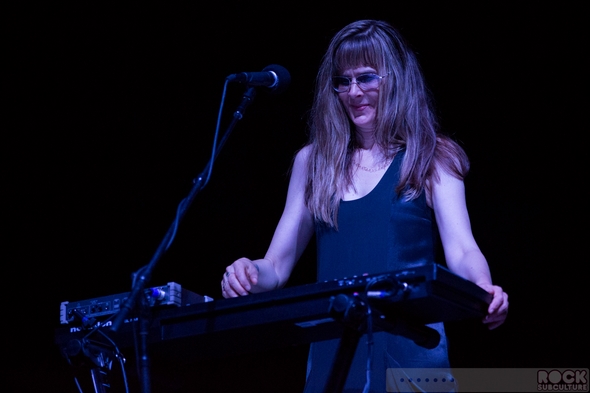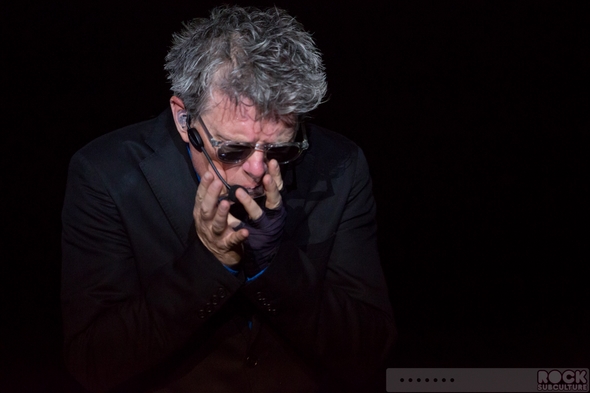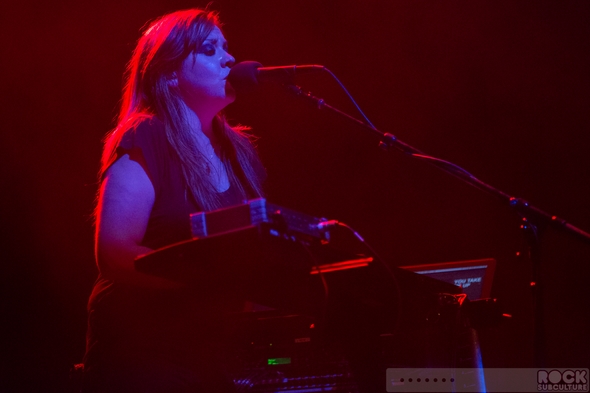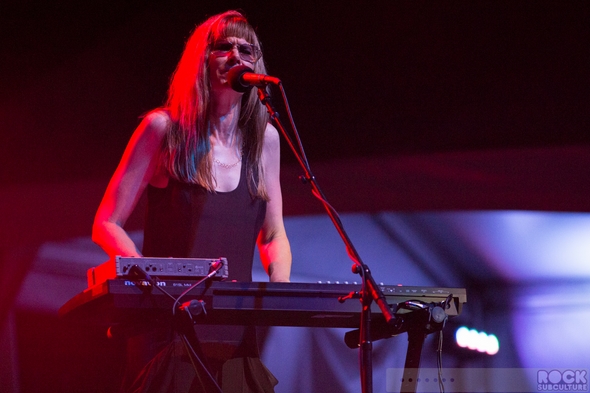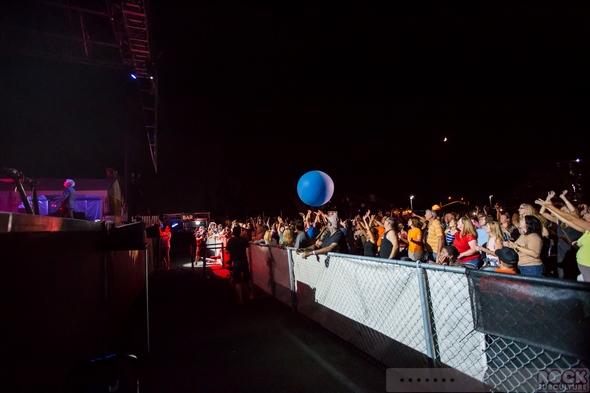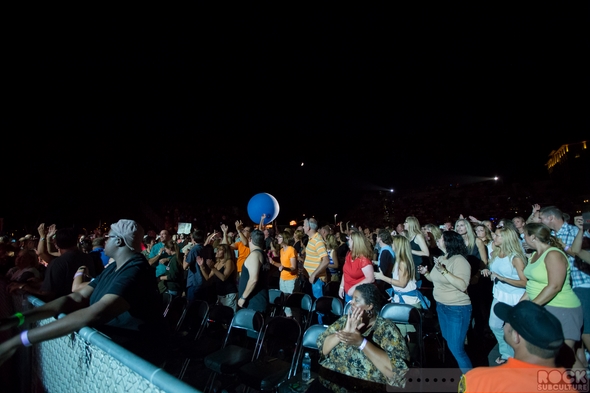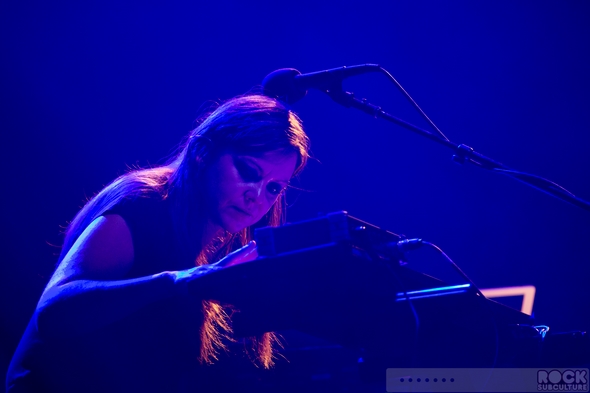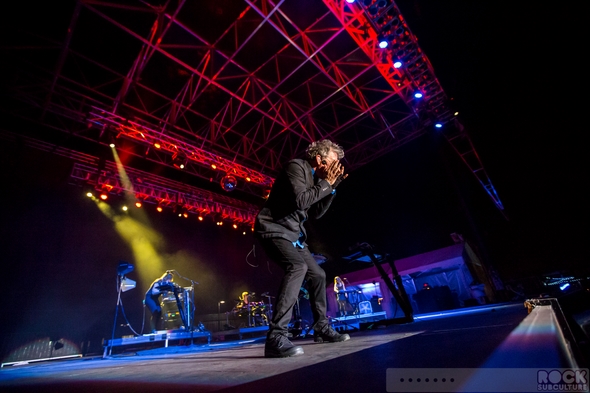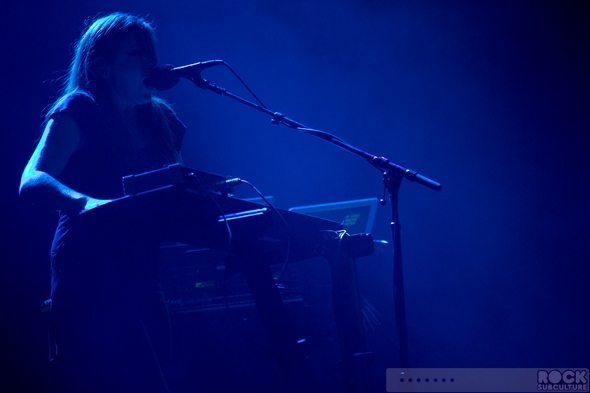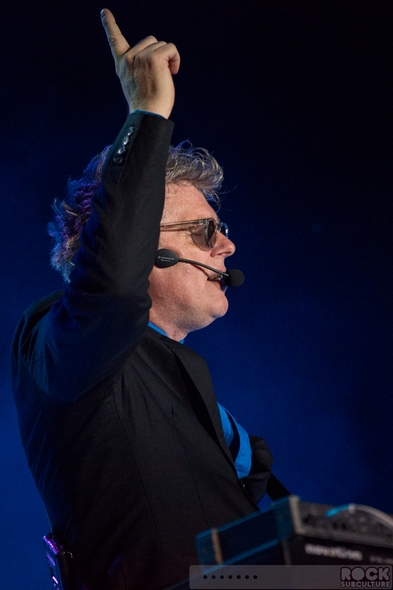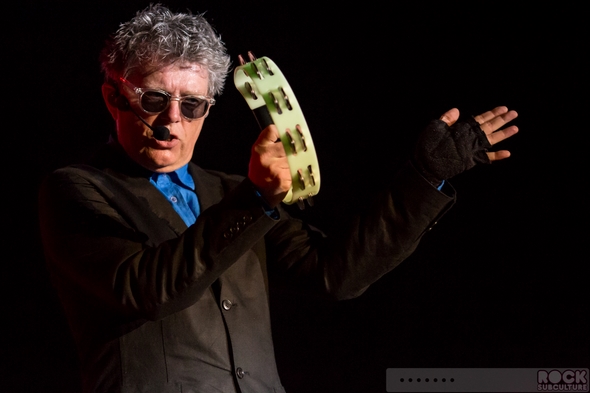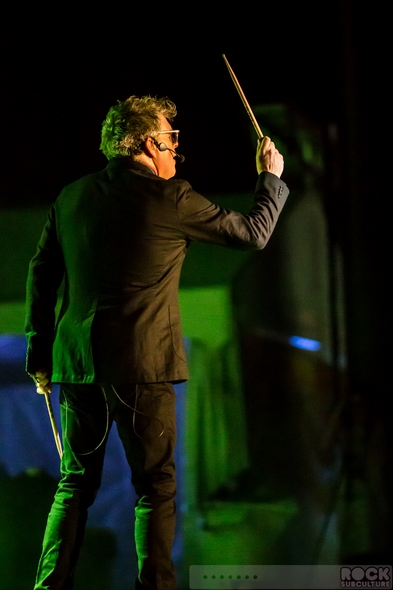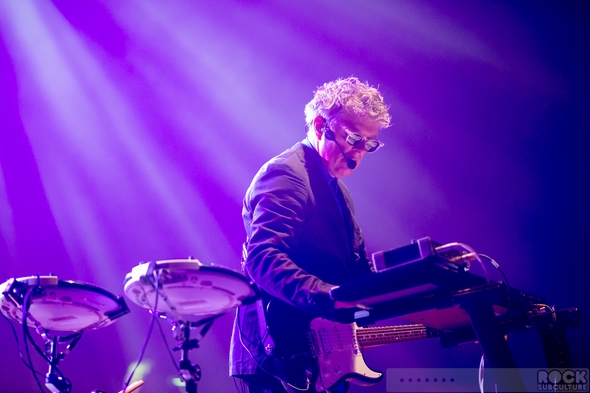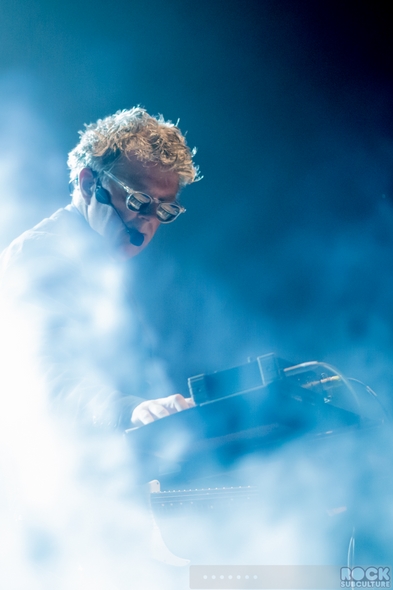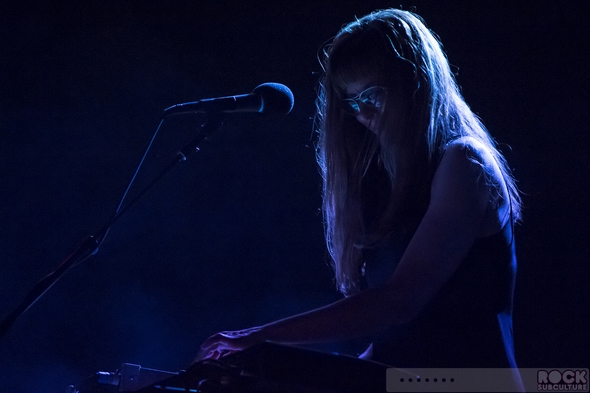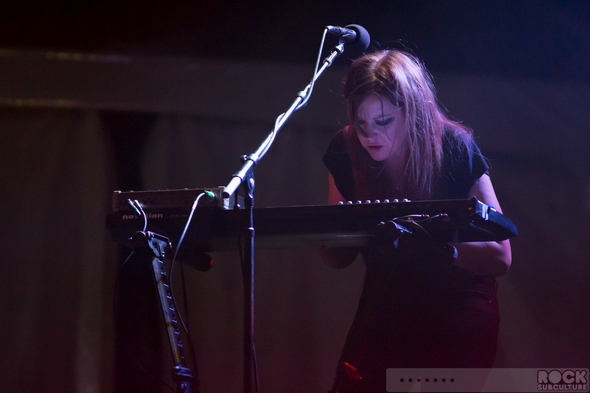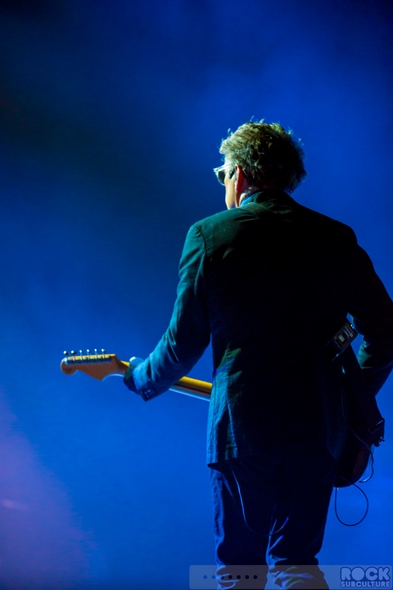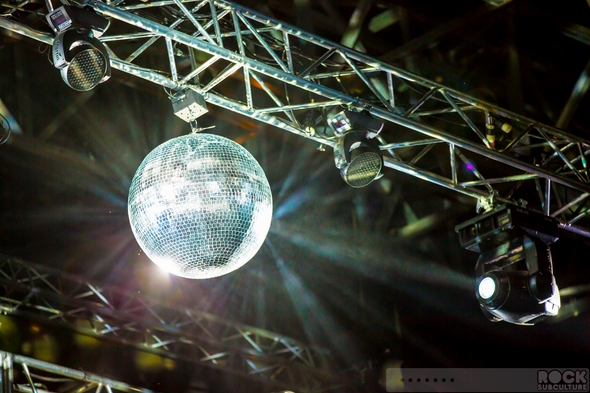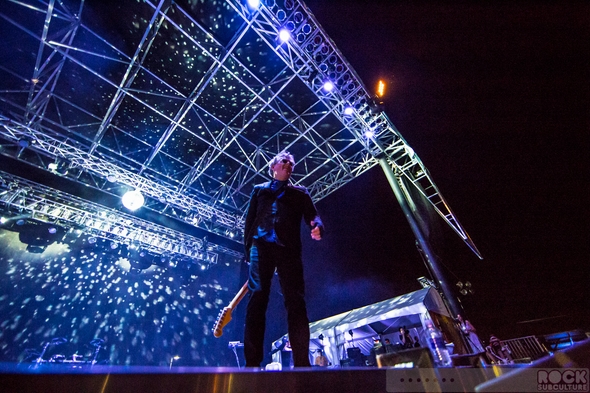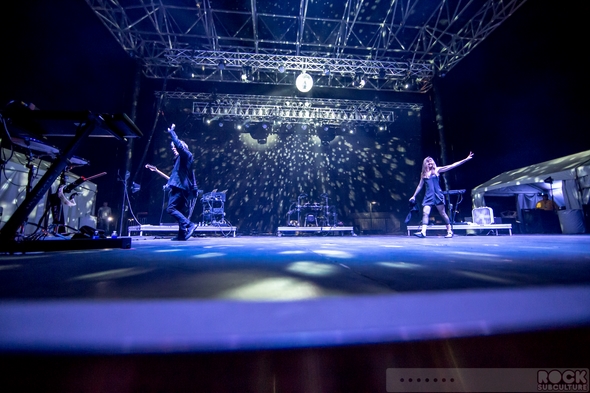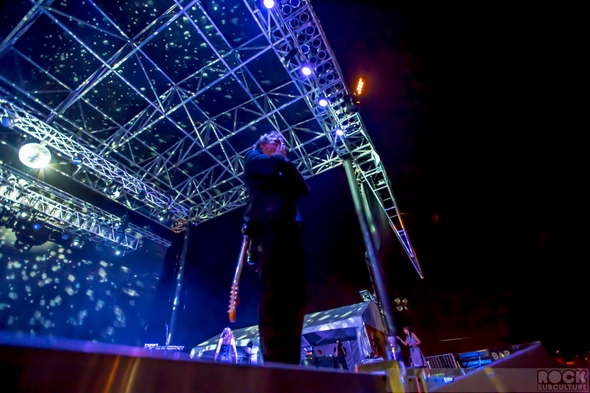 Jason DeBord