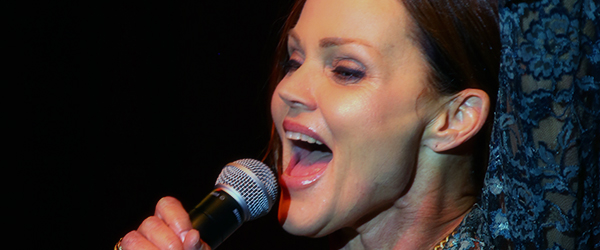 "Hey Gina, did you play your brother's 78s?"  The Go-Go's bass player Jane Wiedlin giving their drummer a hard time as Gina tried to give a preface to their stellar cover of the Rolling Stone's hit "Paint it Black" by talking about how when you were a kid you would borrow your older brother or sister's "records or CDs or whatever".  Like co-headliner The B-52s, both bands brought a combination of rock and good fun on stage at Mountain Winery in Saratoga last night, and even shared the stage for one song, contributing to the intimate, party-like atmosphere.  I've seen both bands in the past 12 months, but it was something special to be treated to their respective New Wave sound on the same night.  It was also kind of neat to see members of each band watching each others' sets from side stage (like Belinda Carlisle fully immersed in The B-52s show and Kate Pierson taking in The Go-Go's performance).  Maybe the combination gave special energy all around, as each put on the best show I've seen from either band, so it was a pretty amazing night celebrating some of the best songs from my personal favorite era of music.

Who: The Go-Go's
Who: The B-52s
Venue: Mountain Winery
Where: Saratoga, California
Promoter: Mountain Winery & AEG Live/Axs, Presented By Silicon Valley Bank
When: July 9, 2013
Seating: Section 1, Row B, Seat 16 (second row center floor section; also photo pass first three songs)
Both of these classic bands are currently touring both separate and together over the Summer, and those who come out for the Mountain Winery Summer Concert Series were the lucky recipients of one of those co-headlining shows last night.

I turned out for two B-52s shows last year (one in South Lake Tahoe in September and one in Chandler, Arizona last June) and also saw The Go-Go's for their show at Mountain Winery last September.  As such, I will borrow some general thoughts about each band in this review, by way of background and my own personal perspective growing up with their music.
As mentioned in past reviews, Mountain Winery is one of my own favorite venues, offering an amazing yet intimate outdoor amphitheater overlooking Silicon Valley, along with many dining options and of course excellent wine.
Since it was a double headliner show, there was no opening band, and both groups were slated to perform for about one hour a piece.  It was either a completely sold out show or close to it, as I checked the official AXS site and reseller sites and there wasn't much to be had apart from a few single seats.
I was lucky enough to score a floor center section seat in the second row during one of the pre-sales for the show, and also shot some photography for the first three songs of each set before enjoy the rest of the show from my seat on the floor.
The B-52s
The band on tour currently consists of:
Fred Schneider – Vocals
Kate Pierson – Vocals
Cindy Wilson – Vocals
Greg Suran – Guitar
Tracy Wormworth – Bass Guitar
Sterling Campbell – Drums
Paul Gordon – Organs, Synth/Keyboards/Piano
I have been a fan of the B-52s going back nearly 30 years, finding their music when I was a kid, and being really moved and inspired by their unique and always catchy sound. As articulated previously, the B-52s are all about celebrating life and doing so in the most positive manner we know how – through great music. And the B-52s continue to deliver after all these years.
I was first introduced to the B-52s in 1983, when I was 10 years old. My older sister's friend gave me a mix tape that had several songs from Whammy! on it, and I soon after found their two other albums, the debut eponymous record and the follow-up, Wild Planet. I remember being kind of fascinated by Kate and Cindy's hair, never having seen anything like it before. And, of course, no other band before or after sounds anything like them at all.
There were so many songs I fell in love with in the early 80s era of their music… "Planet Claire", "52 Girls", "Dance This Mess Around", "Rock Lobster", "Lava", "Party Out Of Bounds", "Give Me Back My Man", "Private Idaho", "Mesopotamia", "Legal Tender", "Whammy Kiss", "Trism", "Queen of Las Vegas"…
The 80s is known for having a disproportionate number of one and two hit wonders… yet somehow the B-52s beat the odds and consistently deliver new material with many hits on each "front to back" album. They found a winning formula and made it work, without being repetitive or derivative, and they always seem to evolve a bit with the times (in sound and ideas)
The band was extremely prolific in the early 80s era, releasing albums (and one EP) in 79, 80, 82, 83, and 86.
What to me always felt like their biggest mainstream album was 1989's Cosmic Thing, which featured a more mature and I think universally accessible sound, with hits like "Love Shack" and "Roam". I don't think I've been at a wedding in the past 20 years in which "Love Shack" was not played. And I think that really speaks to the heart of their music. At it's core, it's happy, uplifting, and catchy/hooky. With a foundation of the mind-blowing vocals from Kate and Cindy, contrasted against Fred's really unique voice and unparalleled delivery, and some of the coolest guitar riffs ever, and usually an urgent beat and bassline, I've always found myself immediately hooked into their work.
People love to hear it, and it gets them up out of their chairs, and can reset people's attention and perspective. Powerful stuff.
And the band has been consistent over the years, releasing music that is evolutionary – staying true to their unique sound, but changing to and reflecting the times.
Many bands work for years and years, and may get lucky to find that magic formula of creating a real hit record that captures the imagination of the masses, and that becomes a staple of our pop culture.  Usually when I speak with people in the industry, this is one of the things that I ask them about, as I'm always curious about getting real perspectives from people who make their living in music, especially those artists who have had hits.
Somehow, the B-52s have amassed this vast catalog of songs – consistently and throughout their career, up to and including their last studio album – and these songs really feature all of the elements that make great songs.  They produce work that is just so catchy and hooky – immediately so – that you just want to listen to it over and over, without tiring of it.  If it was the soundtrack of your life, you would have a really wonderful one, I imagine.
But these songs…  I started thinking back to who I can most directly compare them to – as I see and hear them – regardless of genre and era.  Some people may think I'm crazy, but to me the most comparable band is The Beatles.
The Beatles seemed incapable of creating music that was not a hit.  It was all immediately catchy.  Simple, yet not really.  Simple in a way that it really had no excess – it was like music that just was perfect for what it was.  Great, simple lyrics.  Even if you are a terrible singer, you can't help but to sing along (at least when no one is around – driving in your car is always good).  Generally uncomplicated but instantly hooky guitar riffs.  Awesome drum beats – really providing the direction and tempo of the song.  For me, there are tremendous parallels, just listening to the music, how it works, and how it completely and totally makes me covet it.
Maybe not everyone can see, or hear, or appreciate what I do in the music of the B-52s, but I really mean it as the greatest of compliments.  And I have to wonder, if in some alternate universe, had the B-52s been around a few decades earlier, if they might be better appreciated and regarded and heralded for the genius that is their rock music.  But I feel lucky in that I at least recognize it, and enjoy it, and nothing can take that away.
In any event, on to last night's concert…
Of course, the big change since seeing the band last year was the departure of guitarist Keith Strickland, who announced that he would no longer be touring with the band.
At the end of the year in 2012, he released the following statement:
Dear friends,

I wanted to let you know that I will no longer be touring with the band. This has not been an easy decision for me to make, but it is the path I know in my heart I must follow.

I will continue to be in The B-52s… I will just not tour.

My barnstorming days have come to an end, but I wholeheartedly support Cindy, Fred and Kate's decision to continue.

It has been an amazing journey and I'm amazed at all that we have accomplished as a band over the past thirty-five years. I'm grateful for the music Ricky, Cindy, Fred, Kate and myself have created together. I'm thankful for the many opportunities I've had to perform, and I'm filled with gratitude for your continued presence, love and support – together we made something wonderful happen.

Even though I will miss performing with the band and for you, I am looking forward to this new adventure.

Follow your bliss,

Keith
So of course my question was, how will the band sound and perform without Keith?
They've always had an excellent touring band, with Sterling Campbell on drums, Tracy Wormworth on bass, and Paul Gordon on keyboards and some guitar, and now they have added Greg Suran, who has also played with the Goo Goo Dolls.
Of course, The B-52s are a very vocals driven band, but with Keith on guitar, he was always akin to the fourth leg of a table, and perhaps his playing was even more important in that the guitar riffs were balance to all the wonderful vocals and harmonies.
As such, I was somewhat braced for it not quite feeling "right", but was actually surprised by how the show came off (in a good way).  While I hear a difference (Keith's playing felt "fuller" and more organic), Greg Suran did a wonderful job on guitar.  I think his best moment for sure was "Rock Lobster", where I got completely lost in the song and probably wouldn't have noticed any difference if i was just hearing the music out of context, without seeing the players.
But, as I mentioned in my opener, somehow even with the change, I felt like this was the strongest performance I've gotten from the band.  They were really on fire, and seemed to be enjoying it all as much as the audience.
The one thing I found myself missing though was some of the newer music off of Funplex…  the title song, "Eyes Wide Open", "Love in the Year 3000" (I love "Juliet of Spirits" too, but not sure if they ever play that live).  I think this was likely the trade-off due to the co-headining and shortened set time.
Also I think due to time, following Fred's backstage break mid-set, he came out with a piece of paper which was shown only to the band as he passed them…  but I was close enough I could read it in reverse with light bleeding through, which read "NO ONE LEAVE STAGE", I guess for break between encore, so likely it was a time constraint (and a good call – I'll take the extra song!).
Anyway, it was a really great show put on my a band I get very nostalgic for, as I love their music, and they are partly responsible for my being carried along in the New Wave music and scene.  I had one of those surreal moments during their performance, thinking back to being a kid at a record store holding the Whammy! album and sort of just staring at the LP cover art, like this vinyl disc could transport me to a different place.  And there they were, on stage, standing right in front of me, singing Whammy! 30 years later.  Who could have guessed?
Below is an image of the original set list (as modeled by my good friend Amy, who also scored the drumsticks!):
Below are the songs actually performed (they started a little late so some songs were scratched from the original list):
Planet Claire
Mesopotamia
Private Idaho
Lava
Dance This Mess Around
Girl From Ipanema Goes To Greenland
Roam
Legal Tender
Is That You, Mo-Dean?
6060 842
Whammy
Love Shack
Rock Lobster
Below are some photos of The B-52s performing on stage (click any image for higher resolution photos):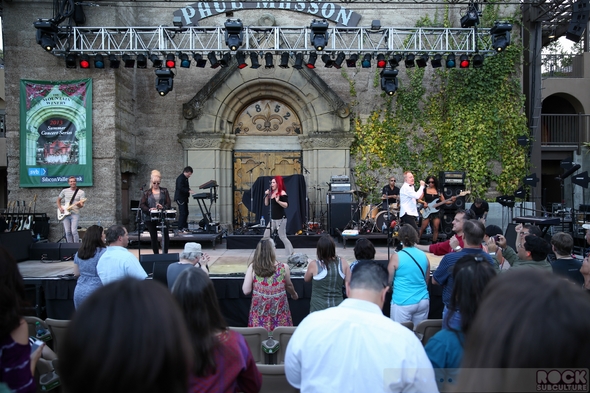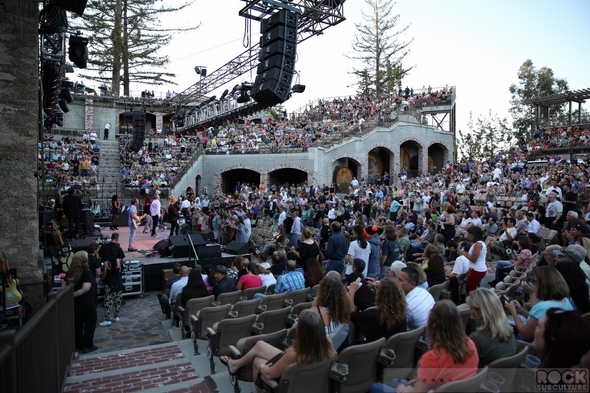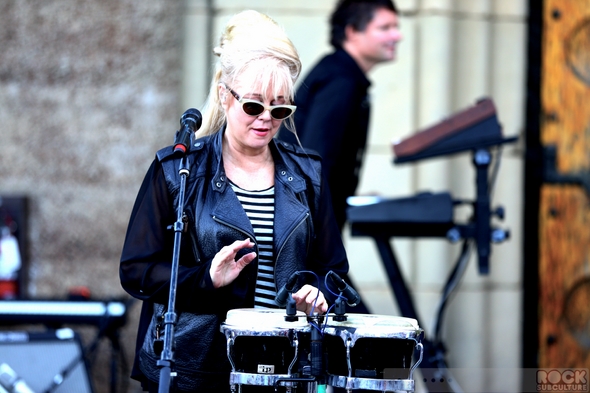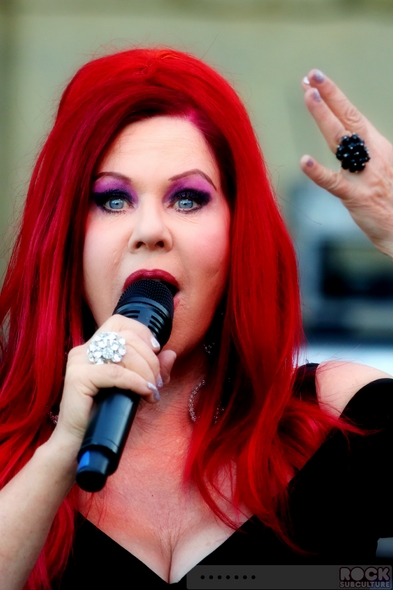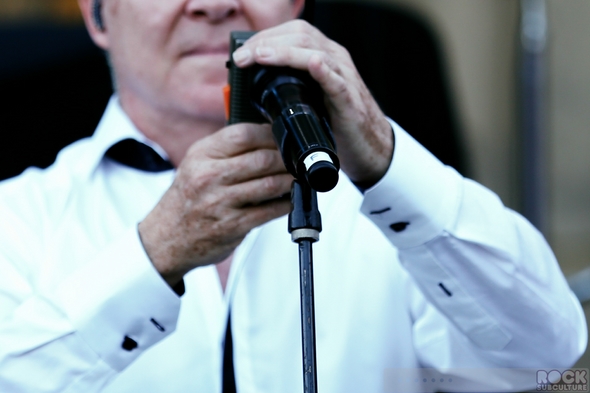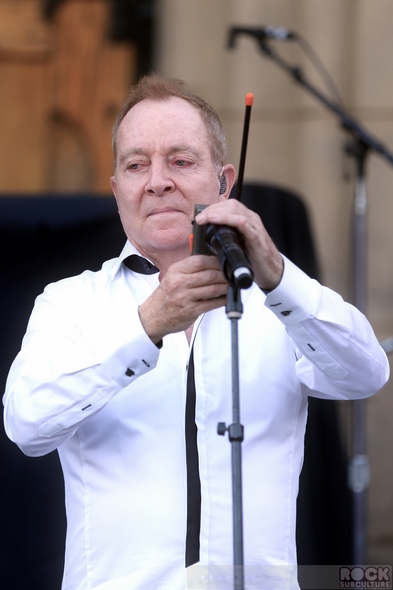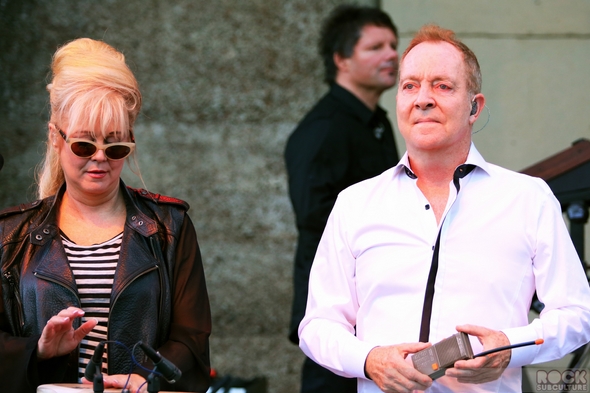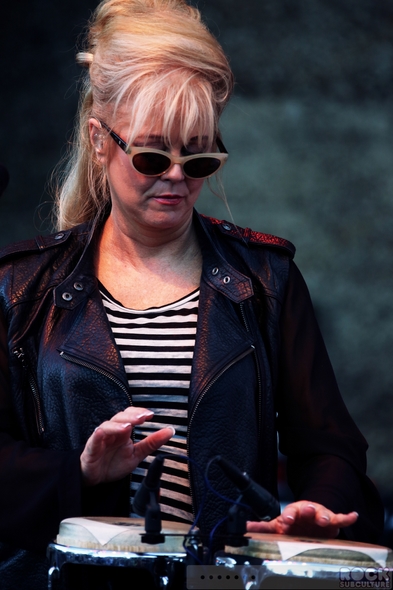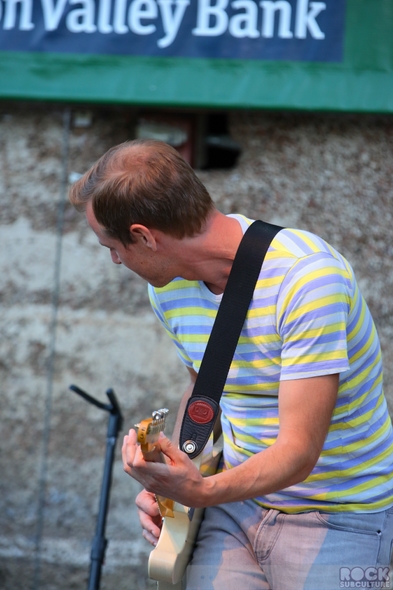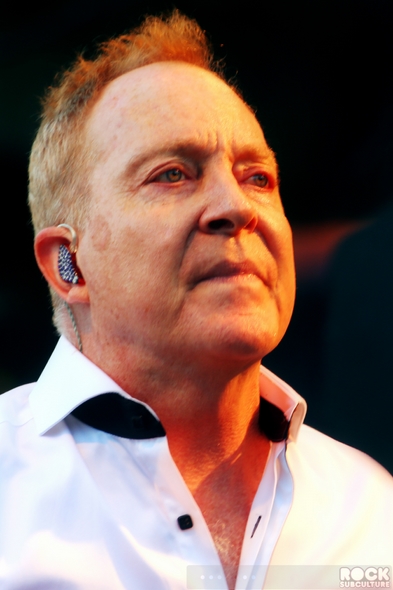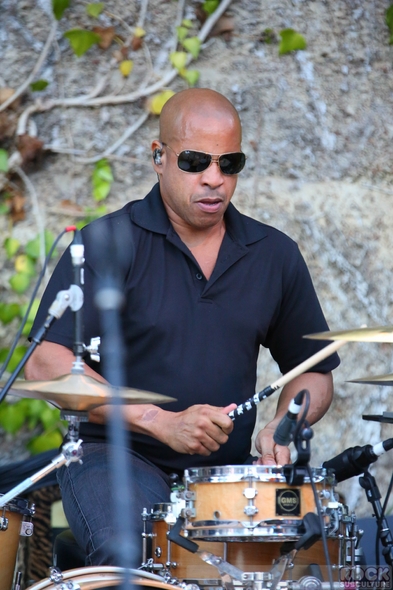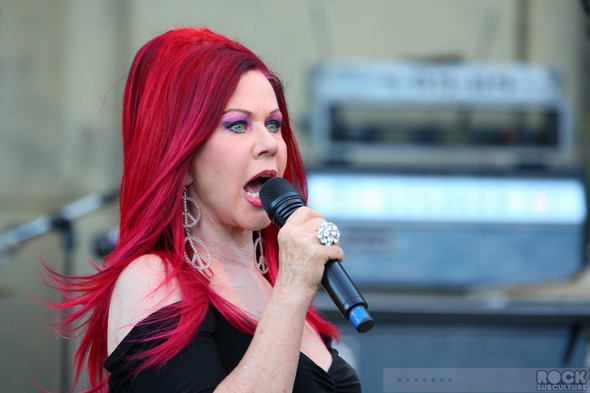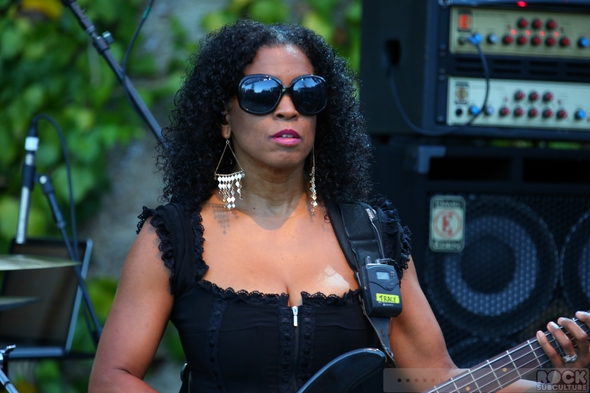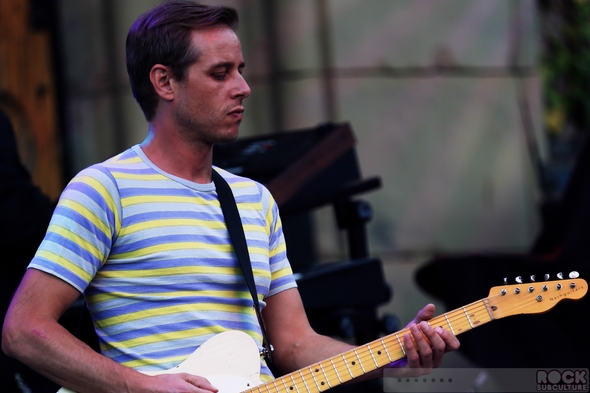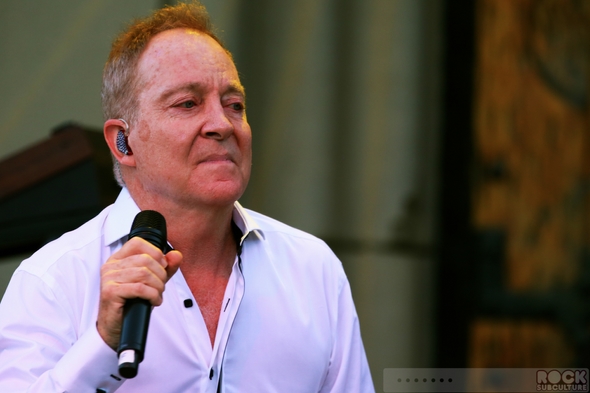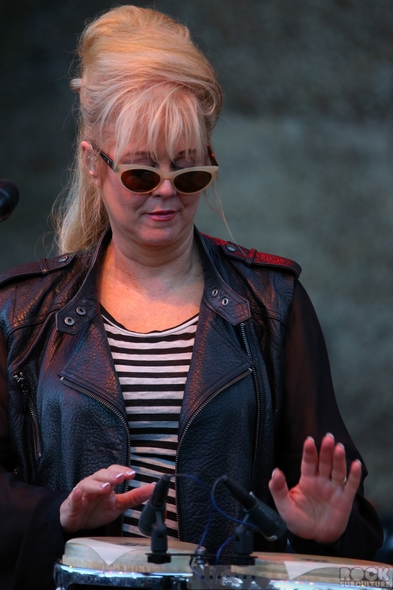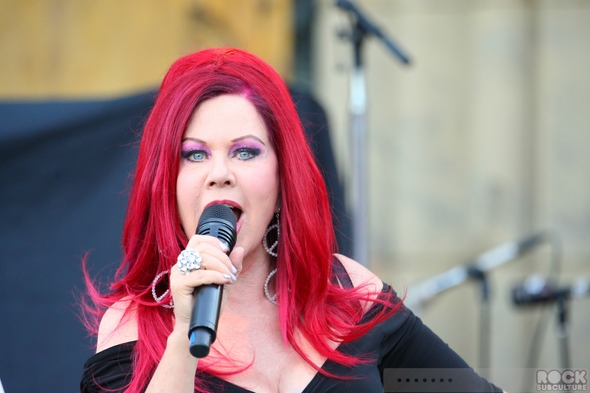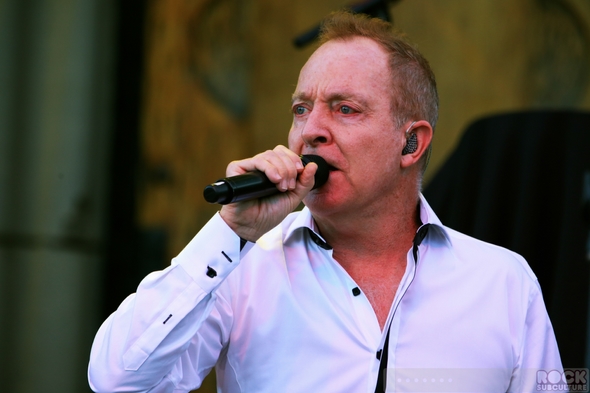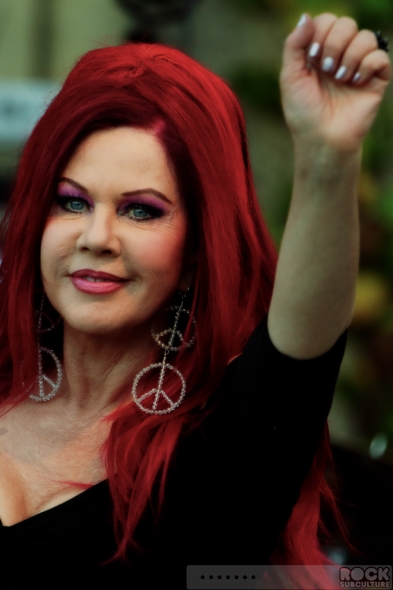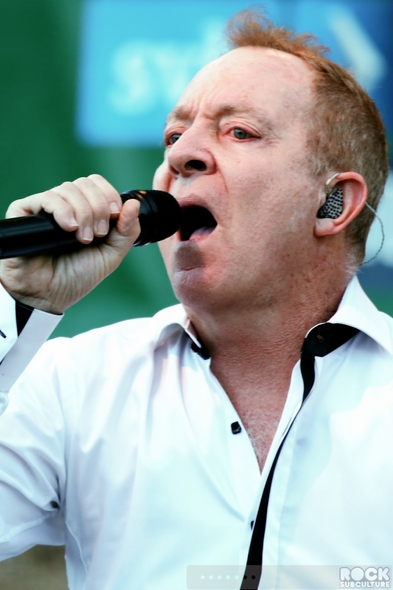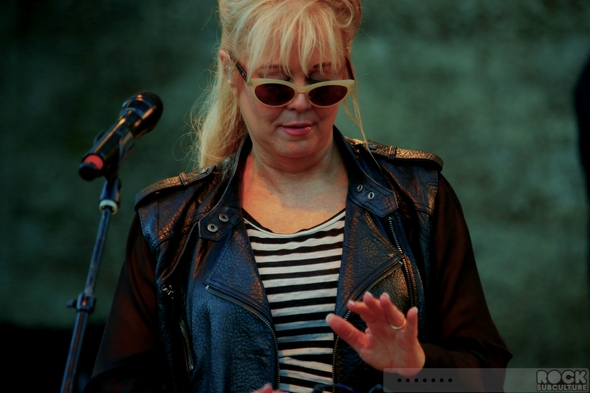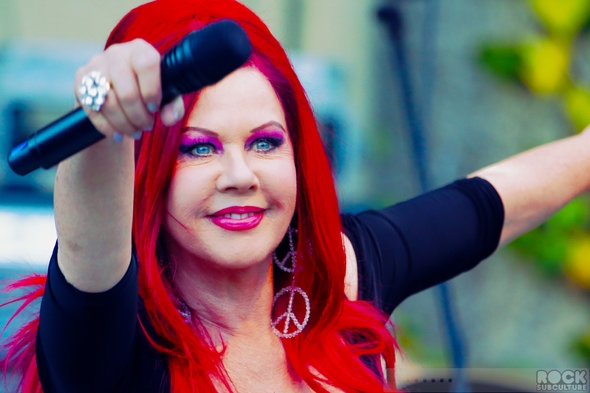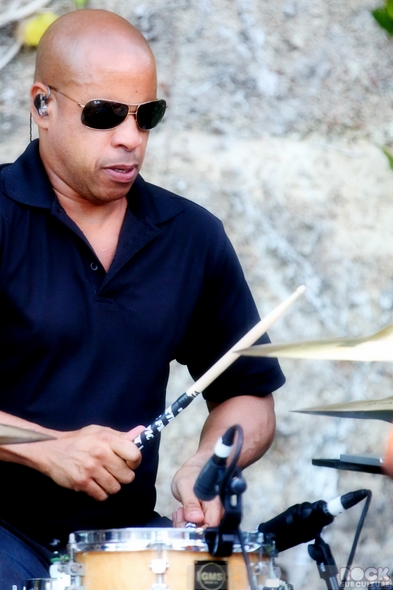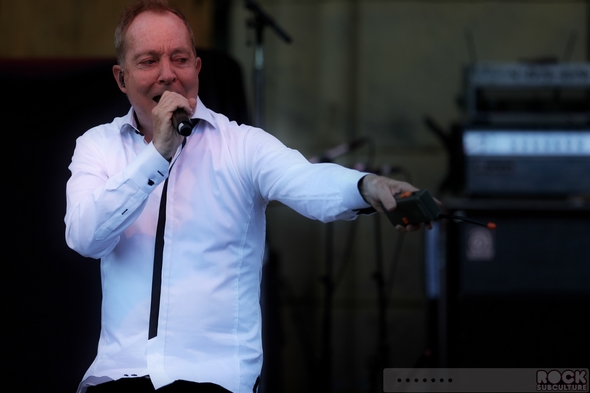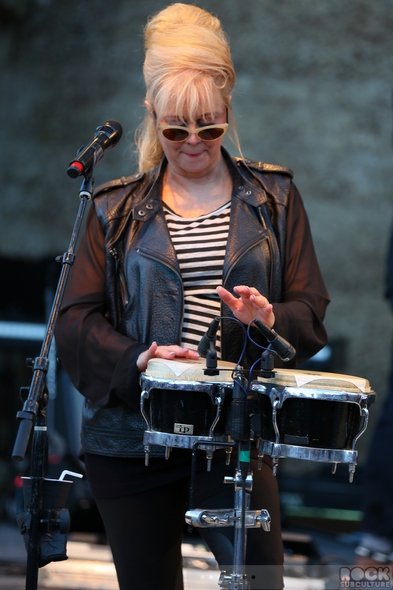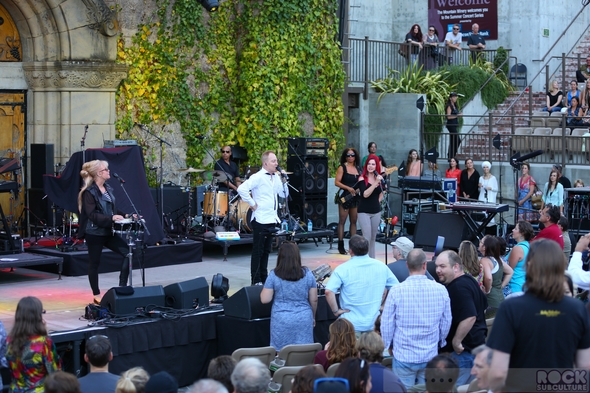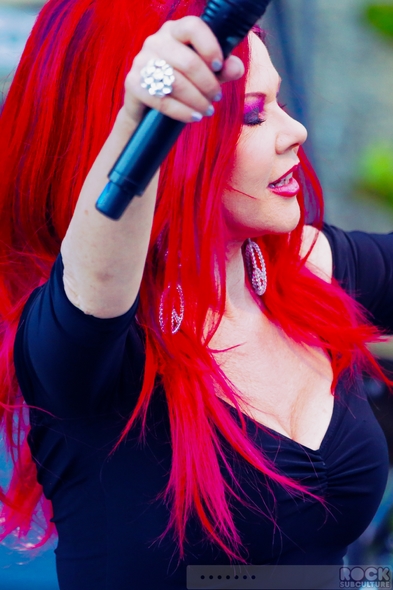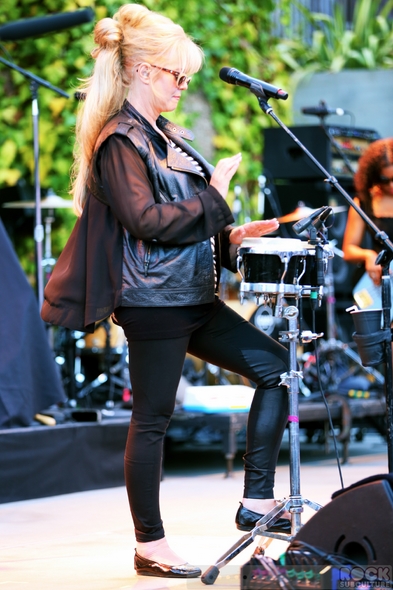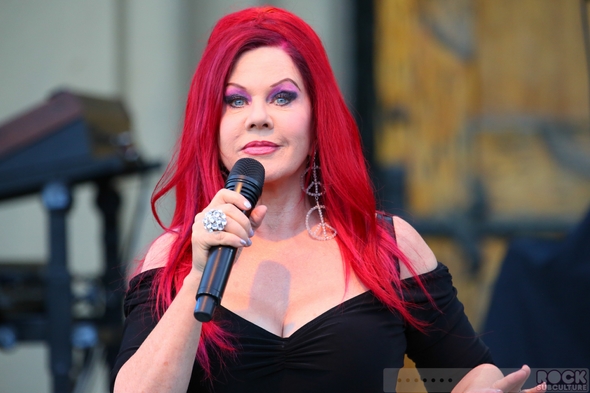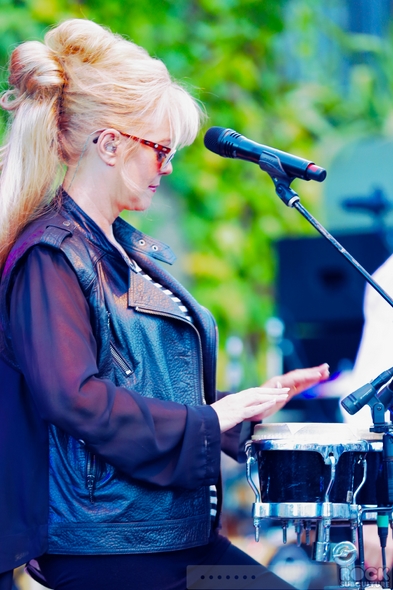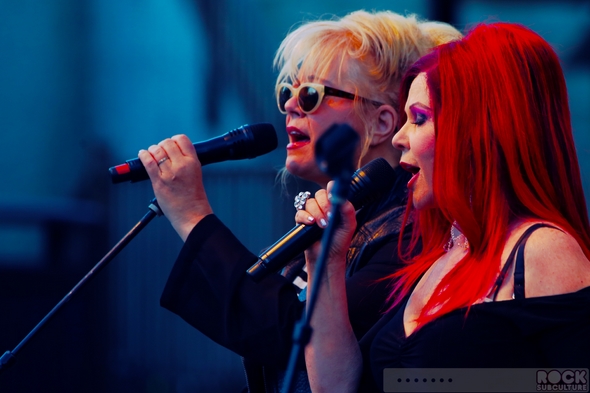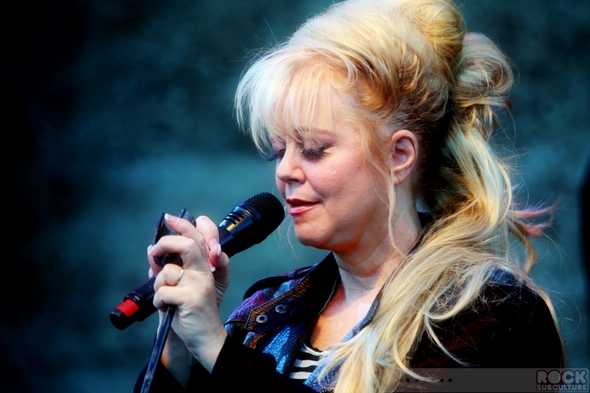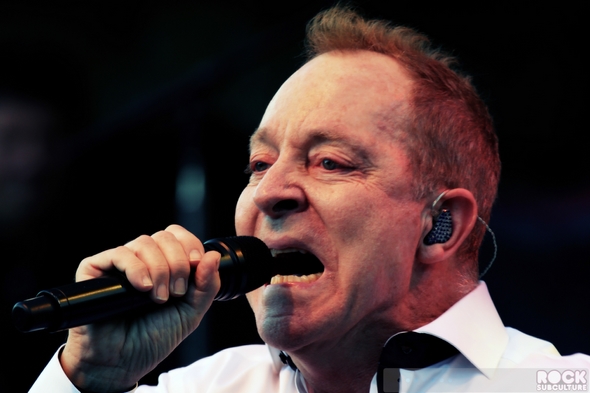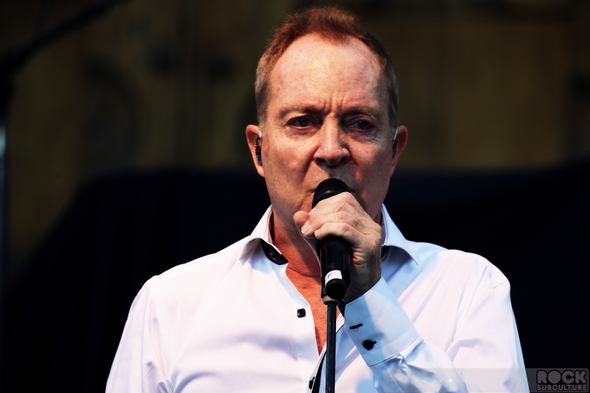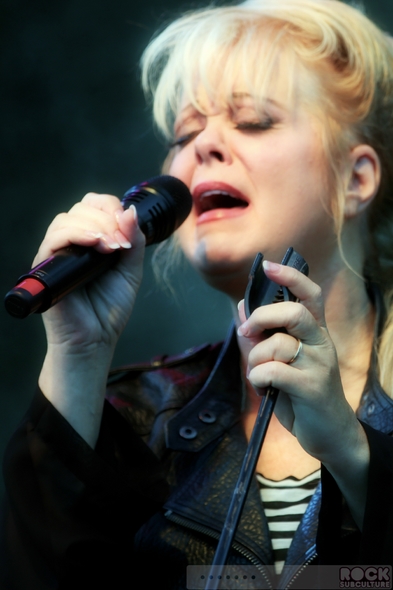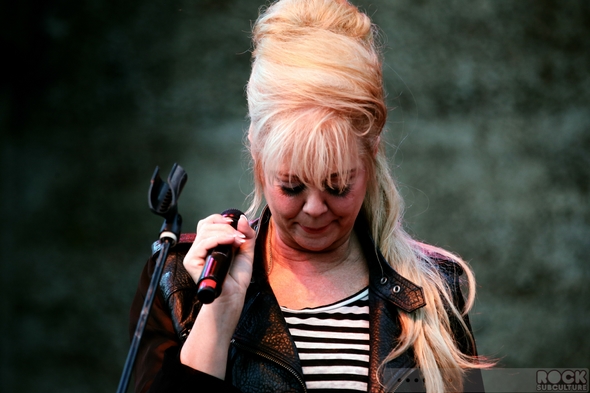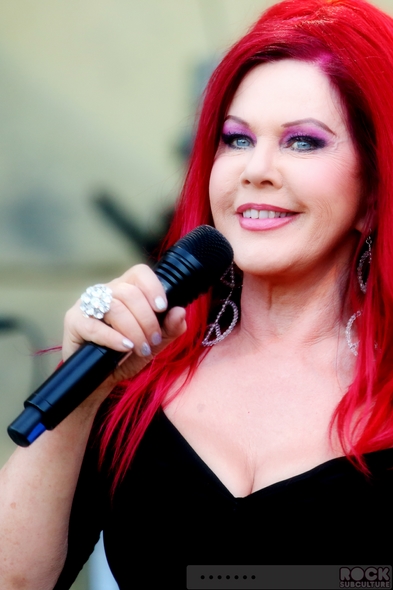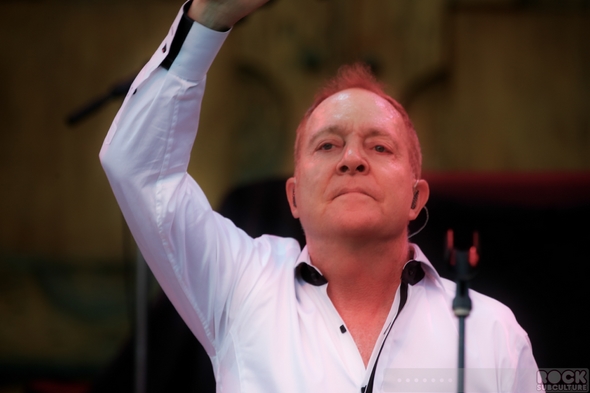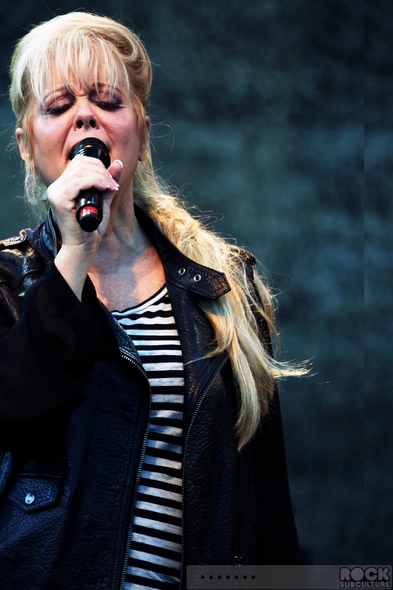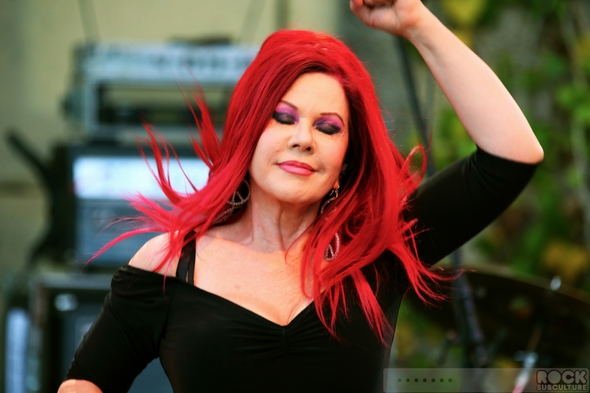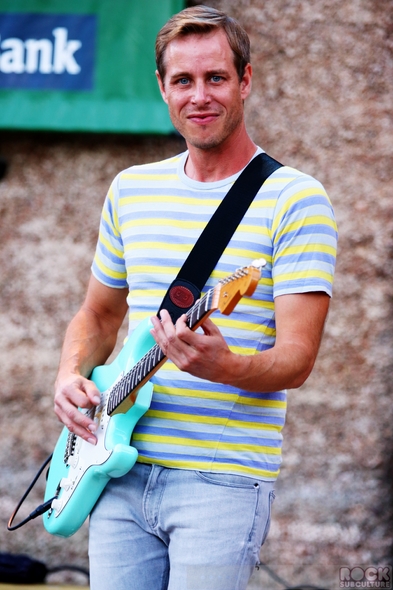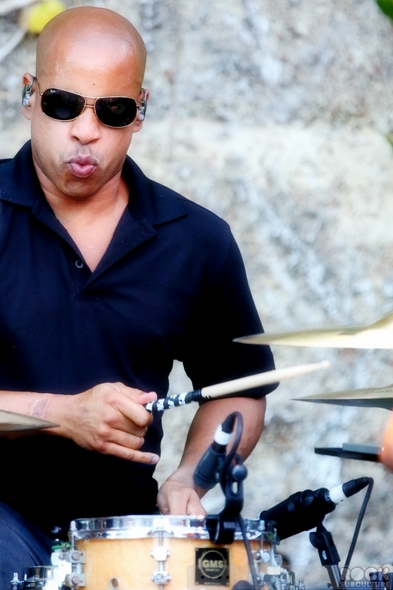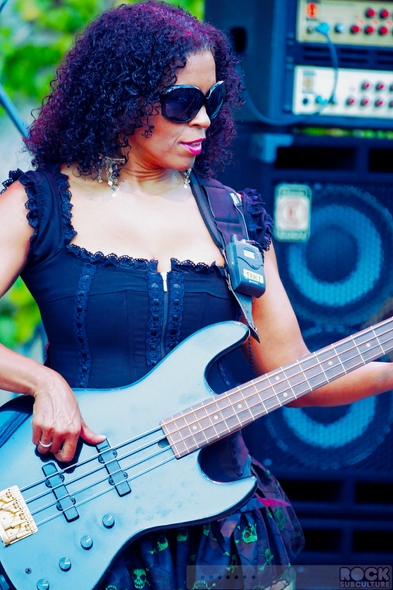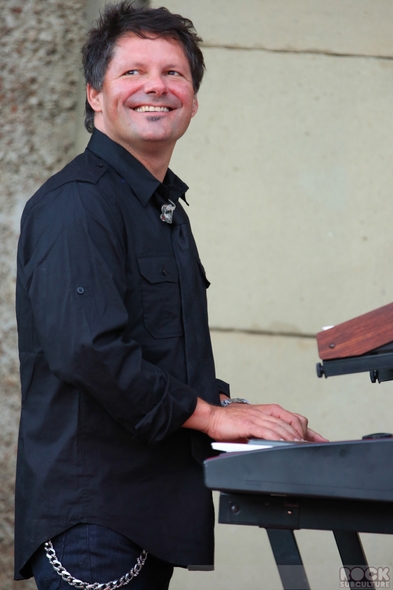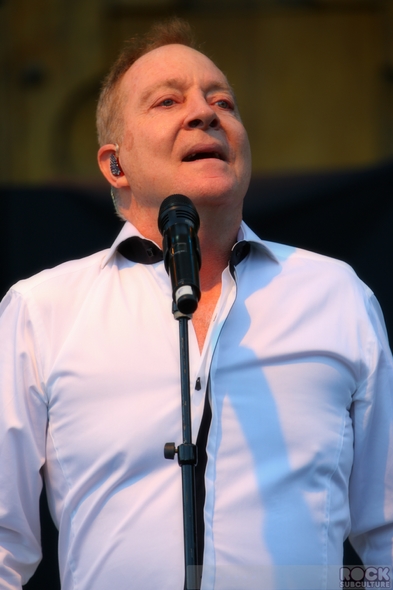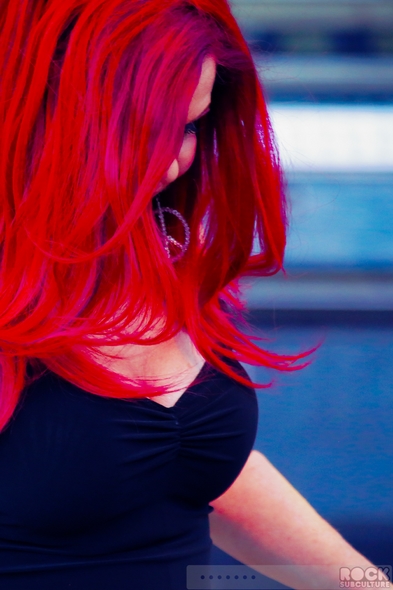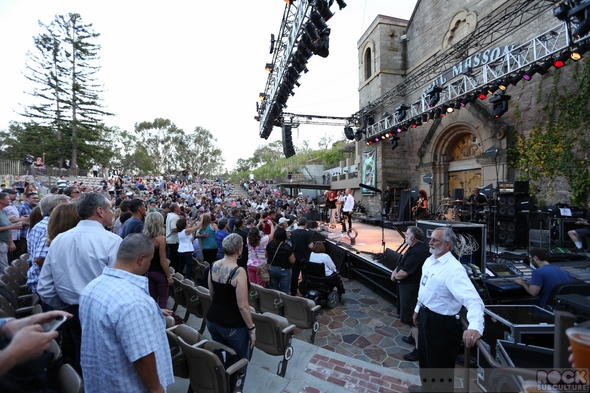 The Go-Go's
Members
Belinda Carlisle
Jane Wiedlin
Charlotte Caffey
Kathy Valentine (out for injury – Abby Travis filling in)
Gina Schock
The Go-Go's are one of the most popular all-female bands of the 80s, though they formed in Los Angeles 1978.  As such, they were trailblazers on many fronts, in that they were the first band comprised only of females who were songwriters, played their own instruments, and topped the Billboard charts, with their first album, Beauty and the Beat, holding at #1 for six consecutive weeks and selling three million copies, as well as ranking in Rolling Stone magazine's 500 Greatest Albums of All Time.
Funny enough, for a New Wave band that sounded very pop-oriented, with some "beach" or party music vibes, they actually formed as a punk band, and early on toured with Madness.
Their debut album was a huge hit, and while the subsequent two had hits, they did not match the success of the first.  Ultimately, for a variety of reasons, the band broke up in 1985.
Front woman and lead vocalist Belinda Carlisle went on to cultivate a hugely successful solo career with a series of hits, and other band members have also had a variety of solo projects and collaborations.  The band did have a reunion for a benefit concert in 1990, which resulted in more collaboration in and out of the studio, touring frequently since 1999.
When I saw The Go-Go's last year, Kathy Valentine was not touring with them as she had reportedly broken her wrist and Abby Travis was filling on for her on bass guitar.
So as the band came on stage last night, I noticed right away Abby was still touring, so wasn't sure what happened to Kathy, the founding bass player.  In preparing my article, I looked into this and found that The Go-Go's made an announcement back in March that she was no longer part of the band:
The Go-Go's have parted ways with bassist Kathy Valentine, citing irreconcilable differences. The rest of the lineup, original since 1979 (Belinda Carlisle, Charlotte Caffey, Gina Schock and Jane Wiedlin) remains intact. The band looks forward to another fun and exciting tour this summer.
I also found that a few months later a lawsuit was filed by Kathy Valentine against her former band and bandmates.
Of course, that is really unfortunate, and hopefully all can be resolved to the satisfaction of all involved.
As far as the concert goes, the chemistry between all involved seemed fun and genuine as it did last year, with some funny monologues and banter between the players.  Everyone played and sounded awesome.  Belinda's voice is still out of this world, sounding as phenomenal as ever.  We got to hear about Jane's fling with a penguin at the Portland Zoo.  Fun was had by all.  The only thing that was missing was the completely bizarre "Hulkmania guy" from the show at the same venue last year.
The B-52s came out to dance on stage during "Vacation", which was a lot of fun seeing them all interact on stage, and later in the show the band brought out family members and selected concert goers to dance on stage, so it was like one big party with no dividing lines.
A great show and definitely a tour worth turning out for year after year.  They did change things up for this tour with the new covers, like the amazing "Paint it Black" (one of my all-time favorite songs) and a special mix of their hit "We Got The Beat" with the Kiss classic "Rock and Roll All Nite".  I think my favorite of theirs though is "This Town", which has the perfect mix and tone that transports me back to a simpler and cooler time.
Below is a photo of the pre-show setlist:
Below is the setlist as changed during the show and performed…
Setlist:
Get Up and Go
Vacation
Tonite
This Town
How Much More
Mad About You
Automatic
Fading Fast
Paint It Black (Rolling Stones cover)
Cool Places (Sparks cover)
Cool Jerk (The Capitols cover)
Unforgiven
Skidmarks on My Heart
Our Lips Are Sealed
We Got the Beat mixed with Rock and Roll All Nite (Kiss cover)
Encore:
Below are some photos of The Go-Go's performing on stage (click any image for higher resolution photos):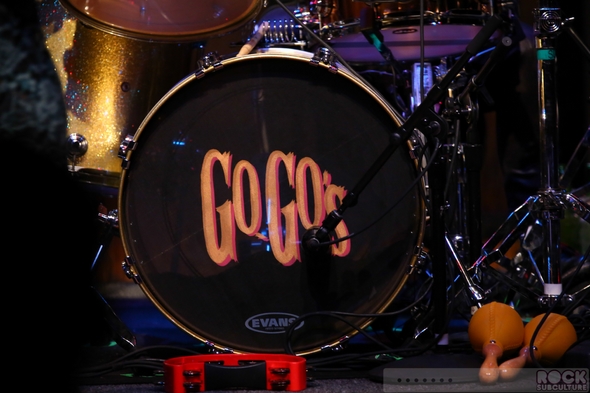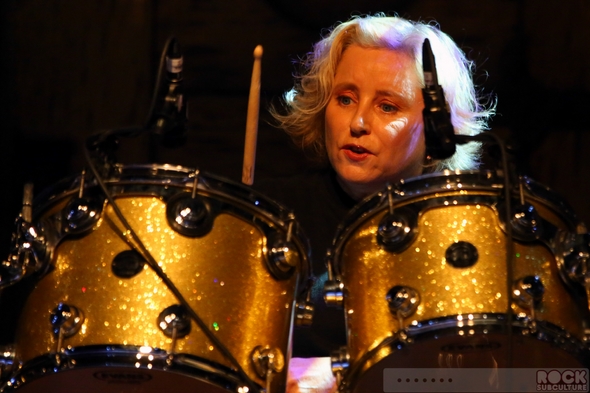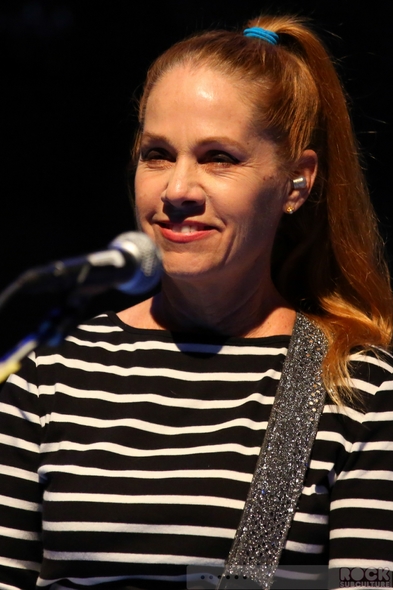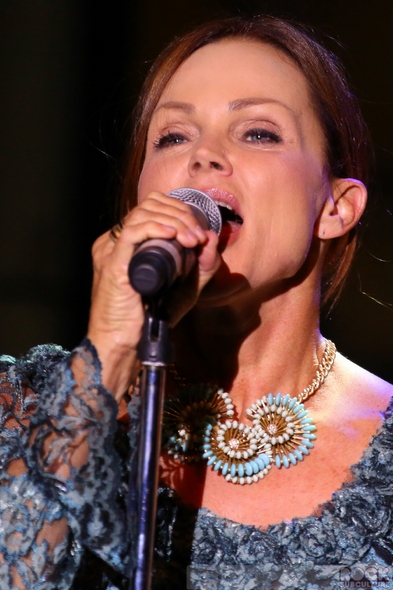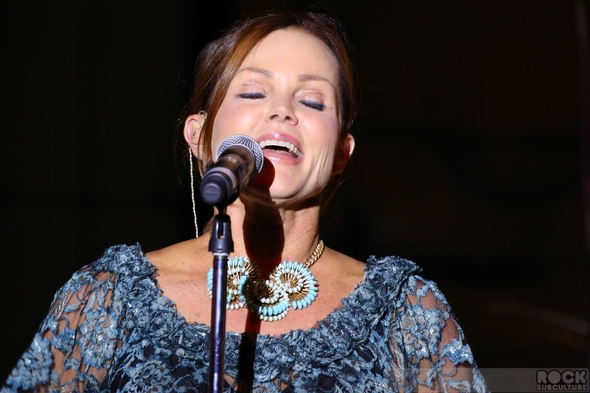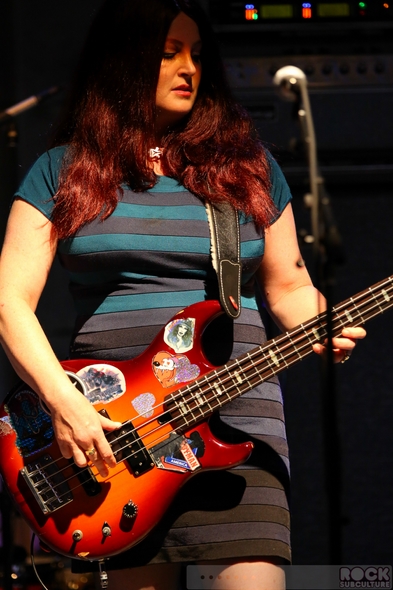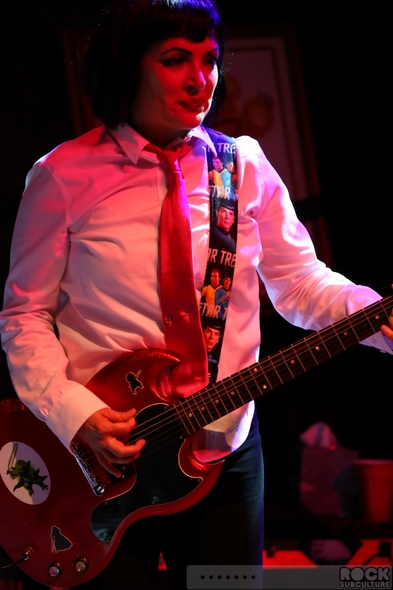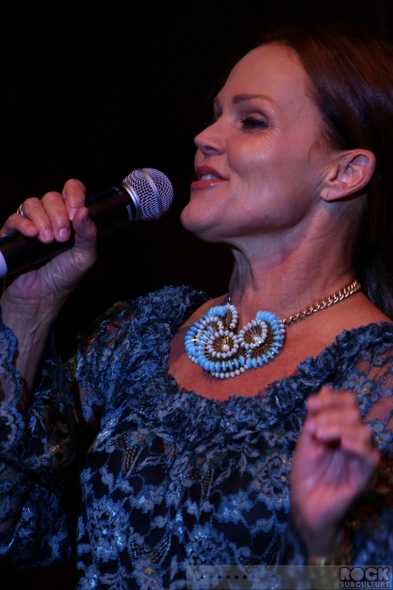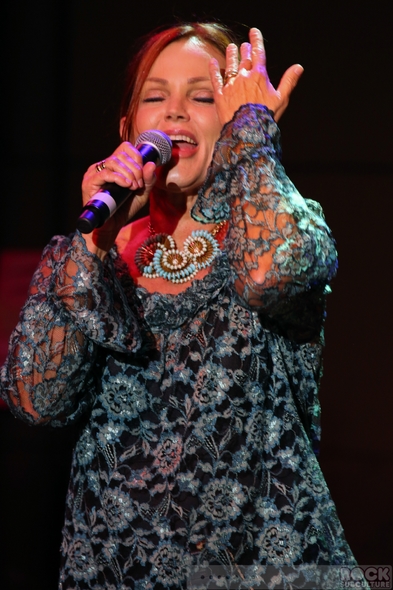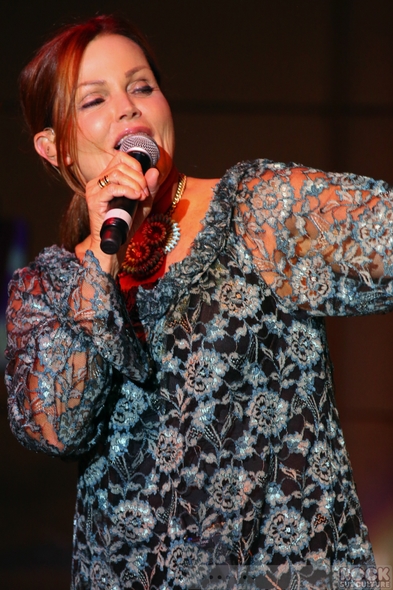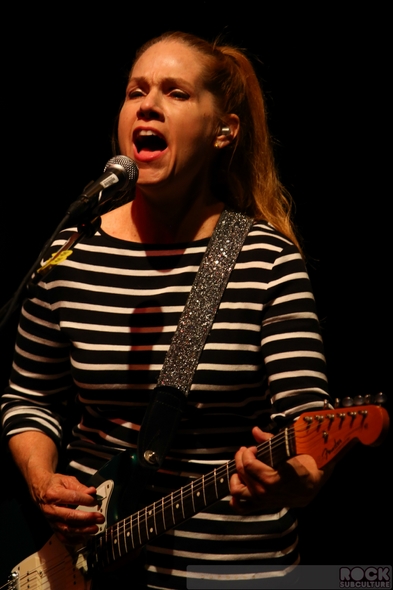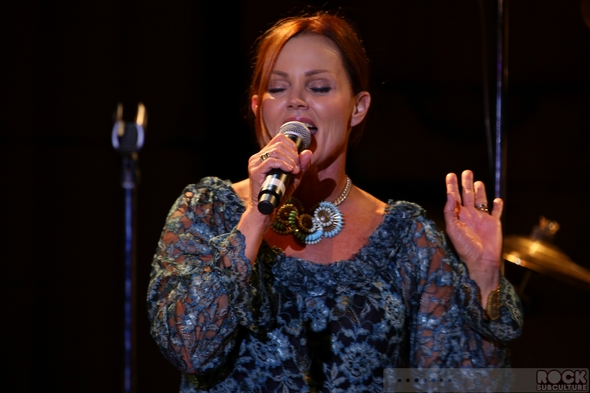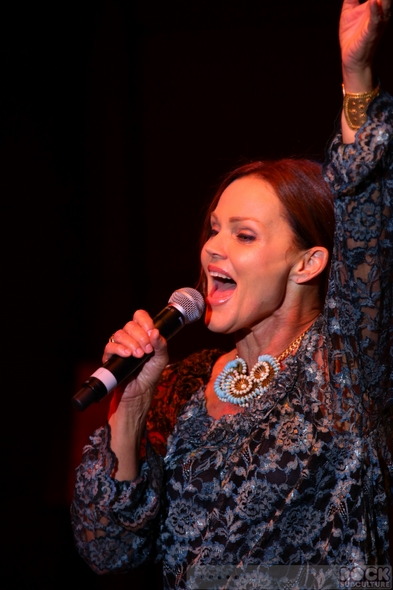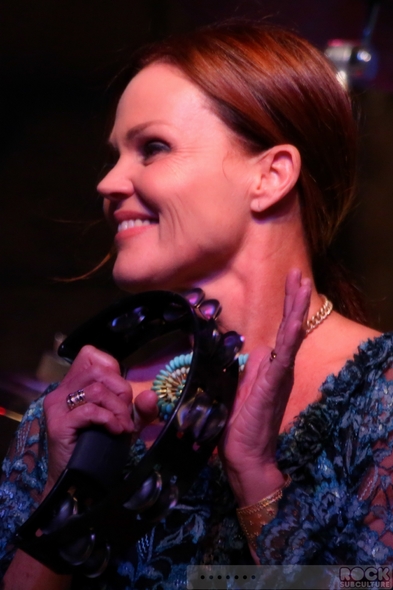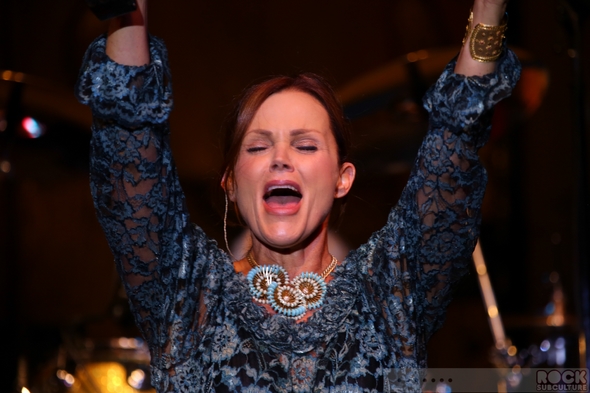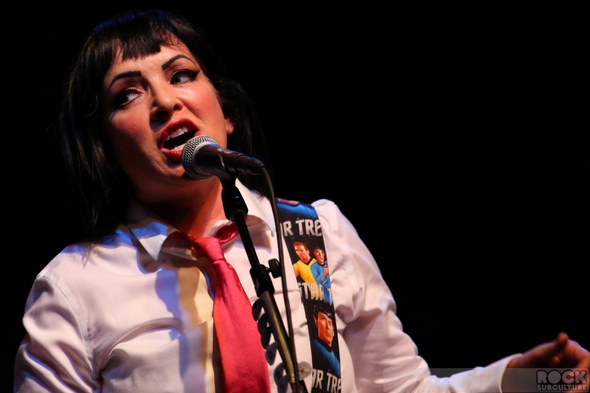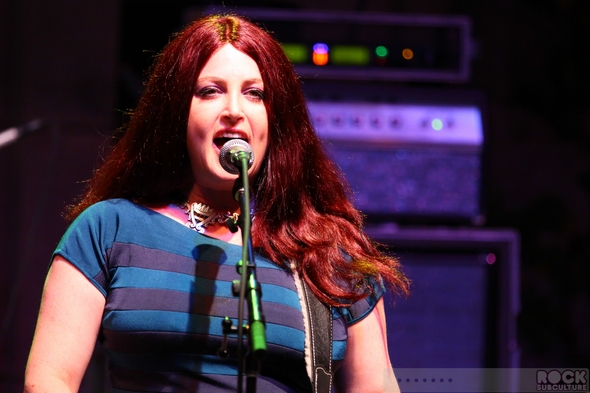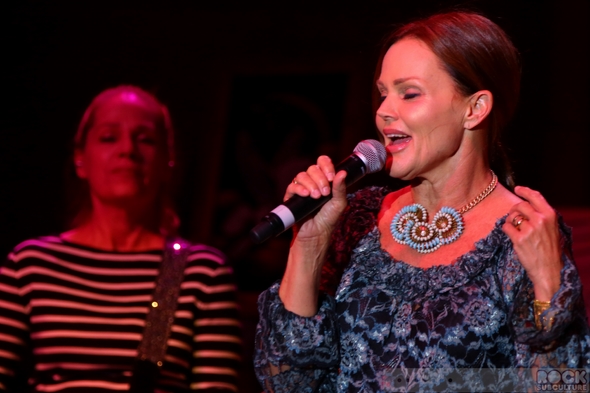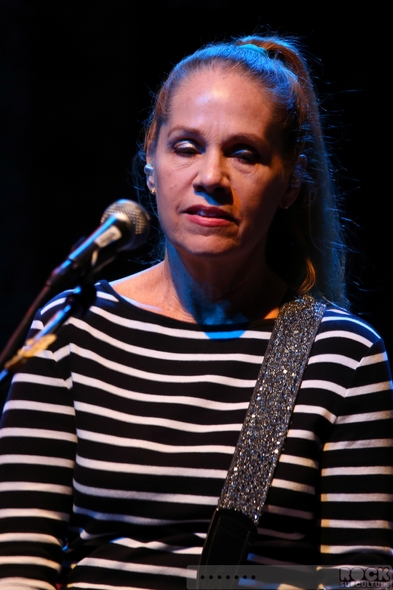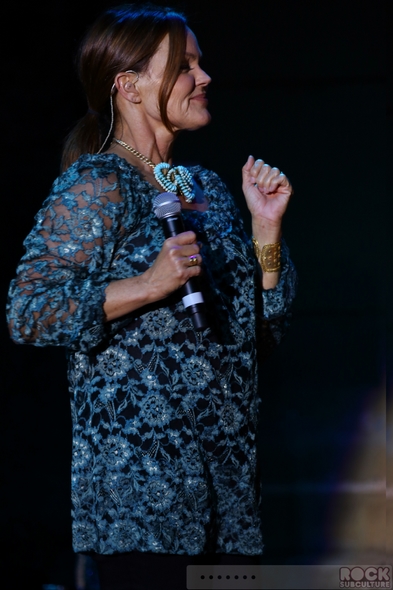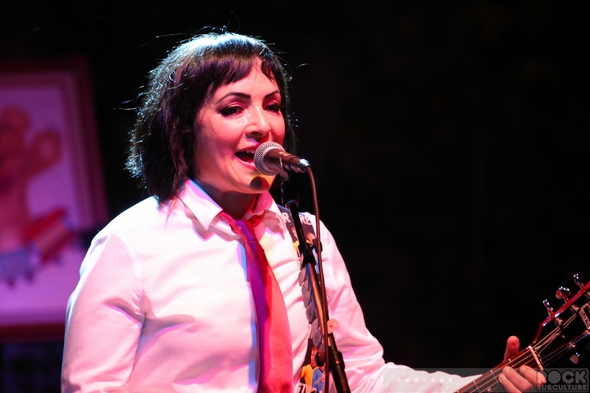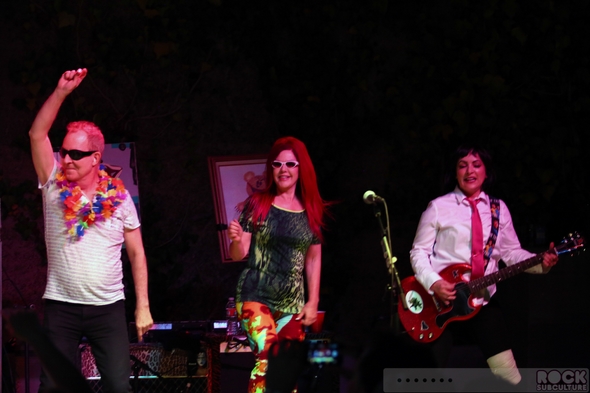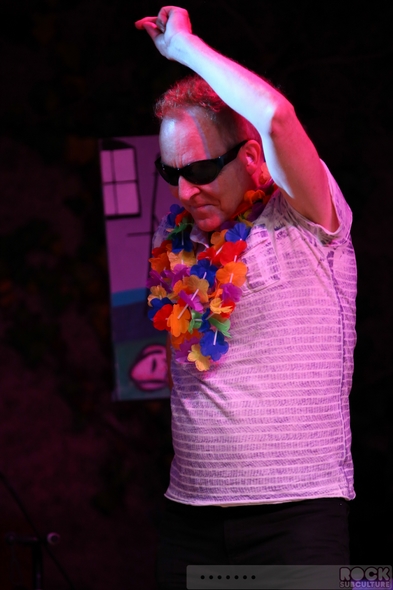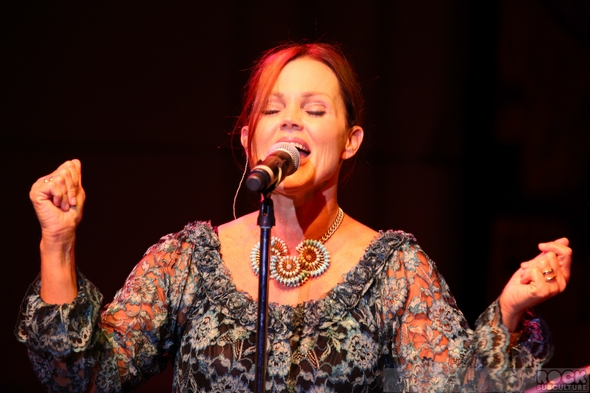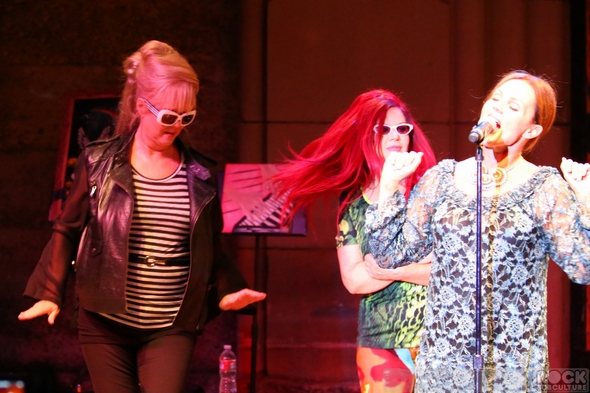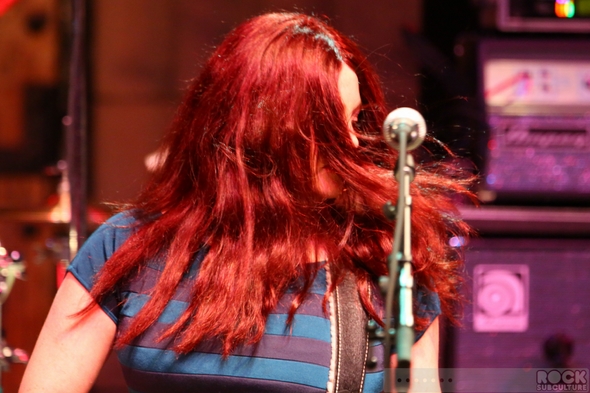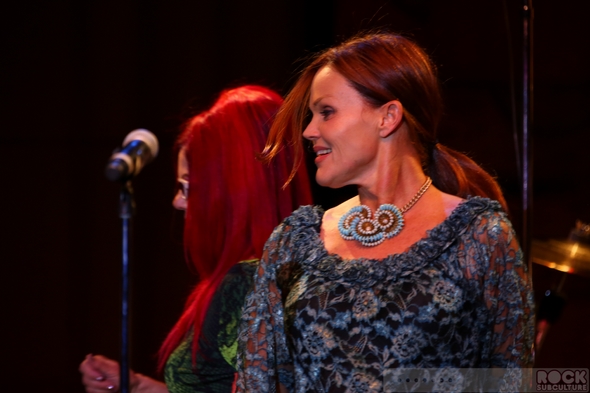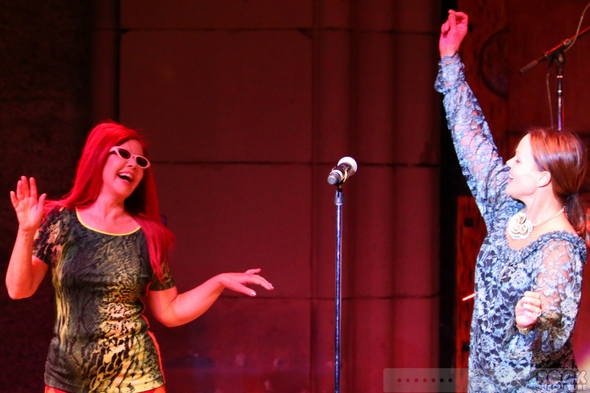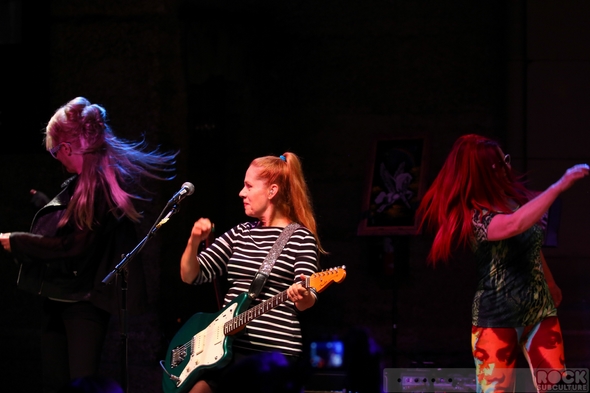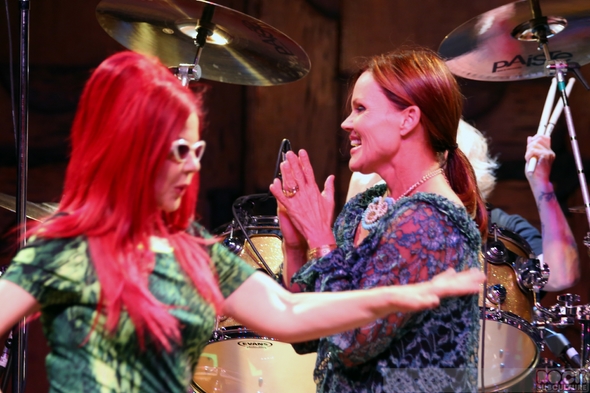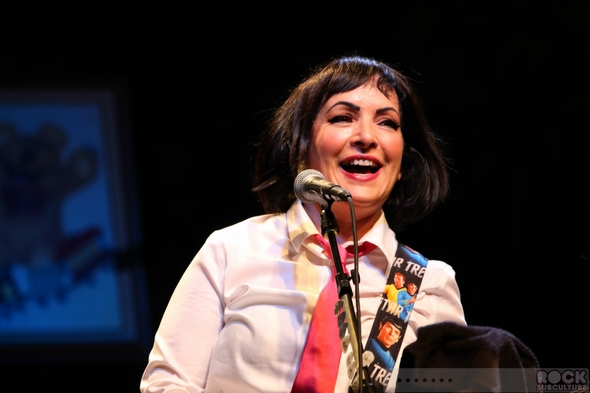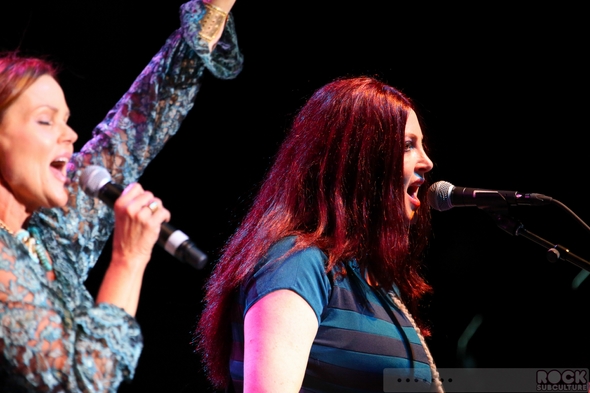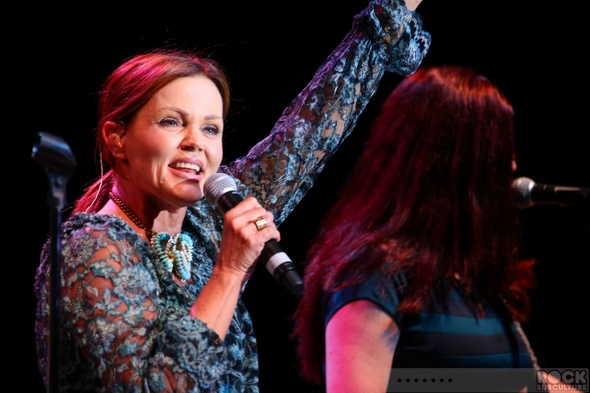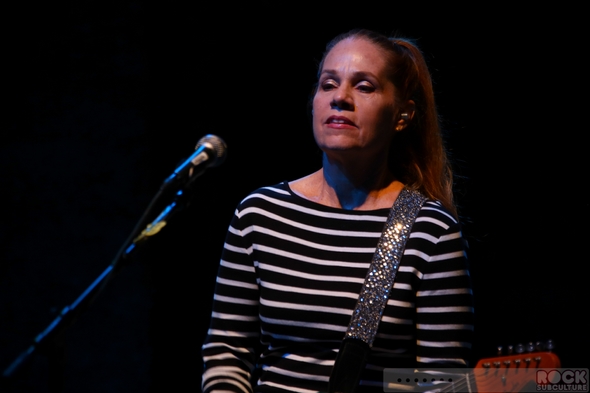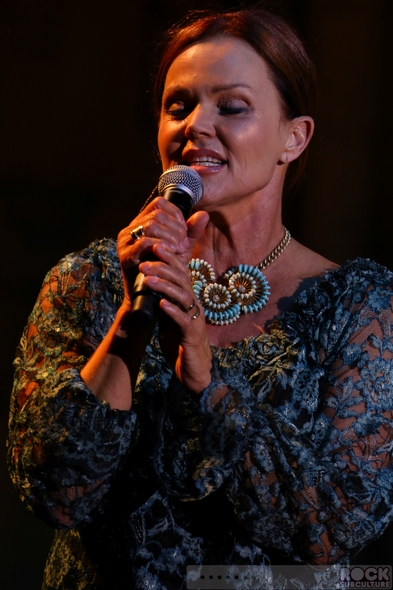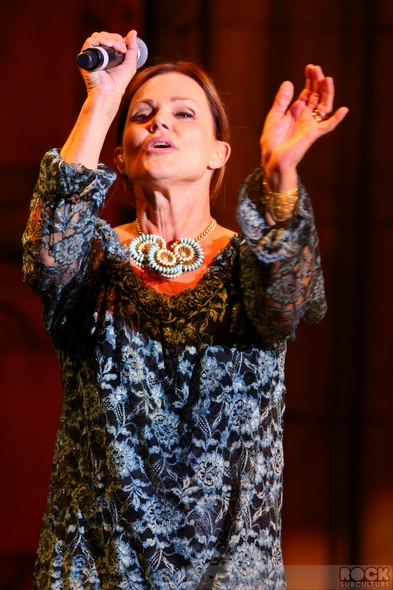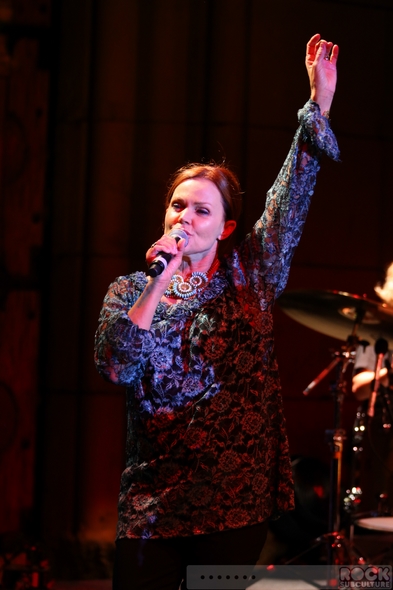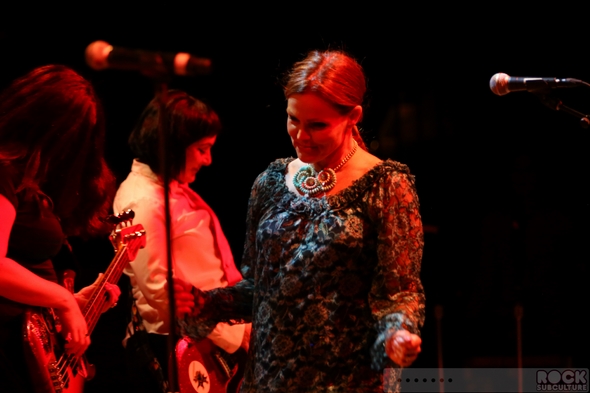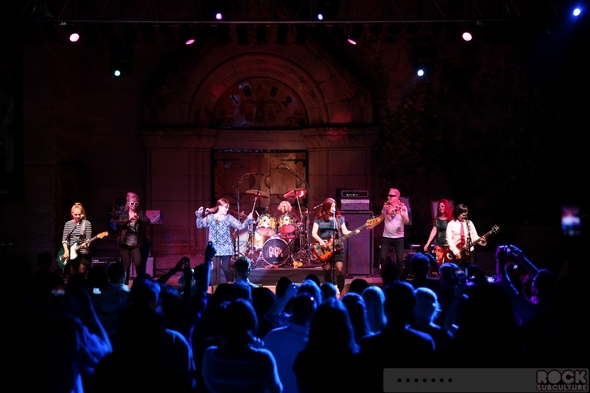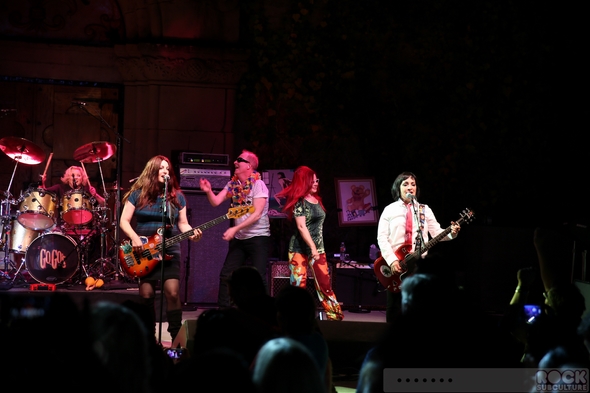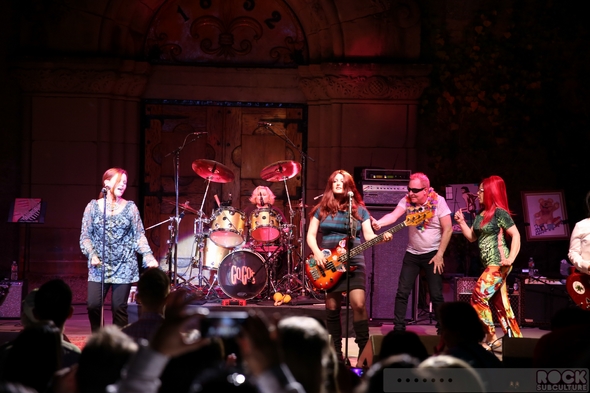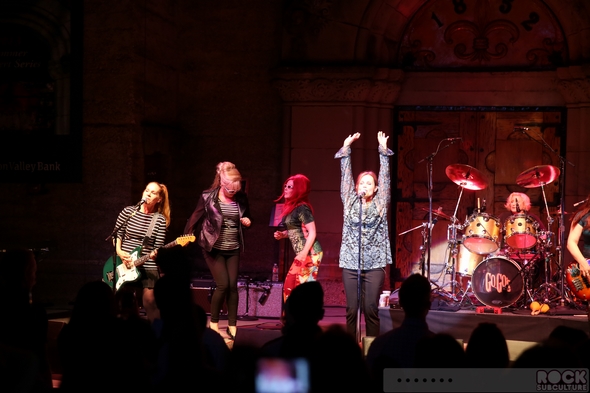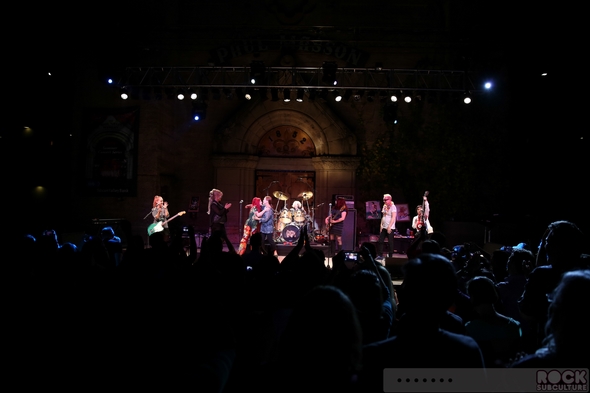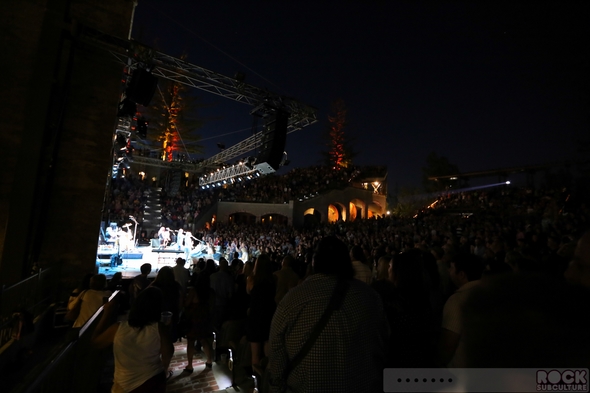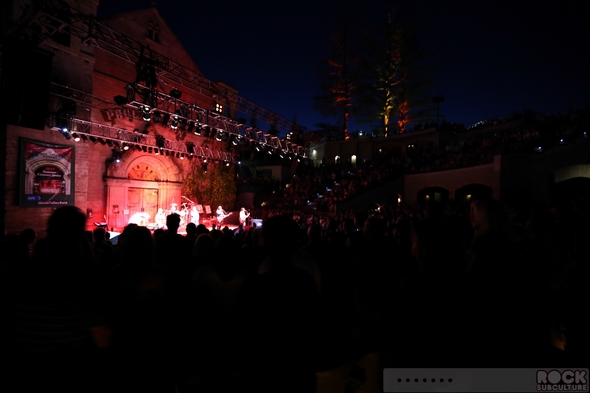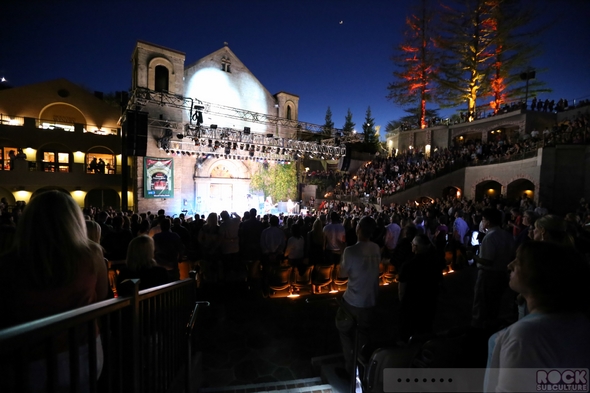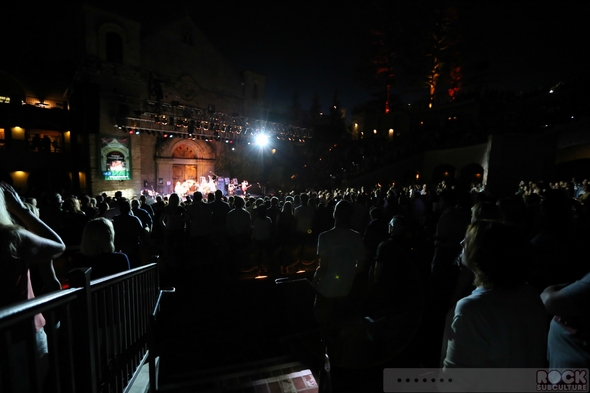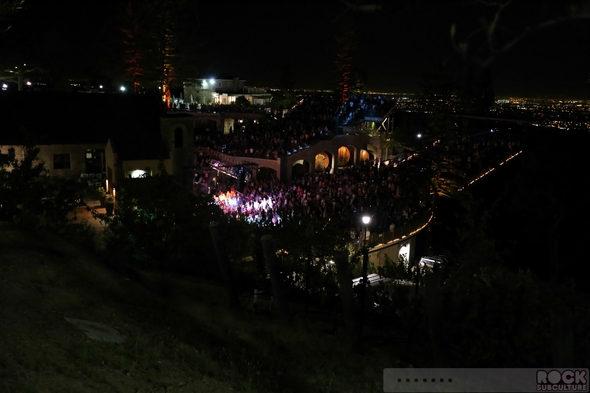 Jason DeBord