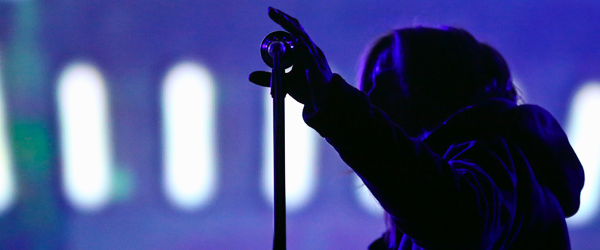 Day 5 of Caprices Festival in Crans-Montana, Switzerland… wow, what a night. I've loved Portishead since their first album, but never had an opportunity to see them live until last night. They completely and utterly exceeded all of my expectations – brilliant performance, every aspect of it. Brilliant, brilliant, brilliant. I also saw Baxter Dury, who opened for them on The Moon stage, and they made me a fan. Late into the night, I also got to see Model 500 featuring Juan Atkins, one of the originators of techno music. Caprices has put together such a stellar line-up of entertainment, and experiencing the entire show, day by day, with it's wide ranging collection of artists, provides a different atmosphere for music each night, and I would count last night as one of the highlights.
If you want a general overview of this special festival, check out my ongoing coverage as well as the official site as www.Caprices.ch.
Artists listed in order of appearance (first to last).
Baxter Dury

Who: Baxter Dury
Where: The Moon at Caprices Festival
When: March 12, 2013

Baxter Dury is an indie/rock/pop artist from the UK who has released three studio albums in the past decade or so, with new found success with 2012's Happy Soup.
I wasn't too familiar with their work before the show, but all the same really excited to see what they had to offer. Well, this is literally my first impression, which I can share with you via the magic of photography…
What a happy and nice guy!
Yes, that was my initial thought…
My second thought was that in terms of his quirky, cheeky personality, he was kind of like an usual genetically produced offspring of Austin Powers, Fred Schneider from the B-52s, and a younger Michael Caine.
At that point, I knew I was in for a treat…
Baxter shares front of stage with a vocalist on keyboards, with guitar and bass players flanking their drummer (apologies – could not find their names online at time of review).
First and foremost, their music and delivery of it was awesome. Song to song, just really catchy and enjoyable, some of it coming across like surf music, which makes little sense since they hail from the UK, but there is a happy sort of vibe running through it all.
Conversely, one of the songs sounded like The xx, but more high energy and a cracking band moving things along. There were also shades of some of the cheerier Pixies tracks, and the vocals kind of contributed to this fleeting thought as well, with female backing vocals sounding a bit like Kim Beal in the non-lyrical bits, and with the notion that his voice isn't the best and most dynamic (the same can be said of Black Francis), but this is not relevant as they make up for it with some fun and ingenuity.
They are kind of goofy… which we have in spades today, in a trendy way, but most of these employing it as a device don't get it… with Baxter Dury, it is a kind of sophisticated, self-aware goofiness.
The traditional rock music backing give it all a credibility and it all comes together in a cohesive way that works, and it is fun, happy music, and that first impression held true in a contagious way throughout the performance.
Below are some photos from Baxter Dury's set (click any image for higher resolution):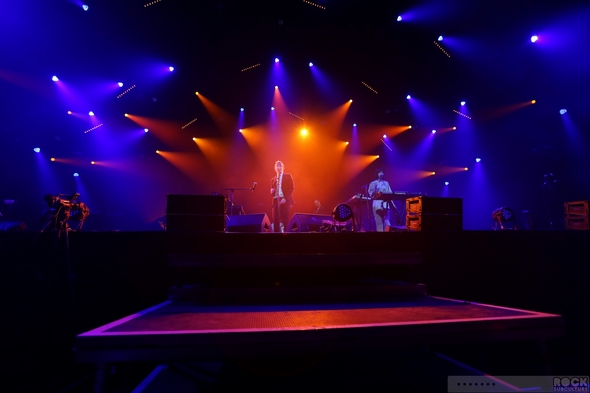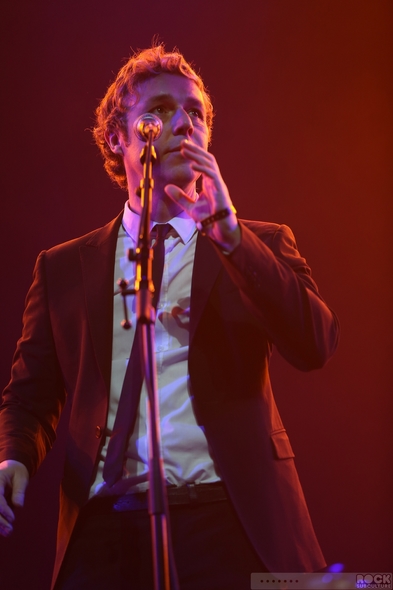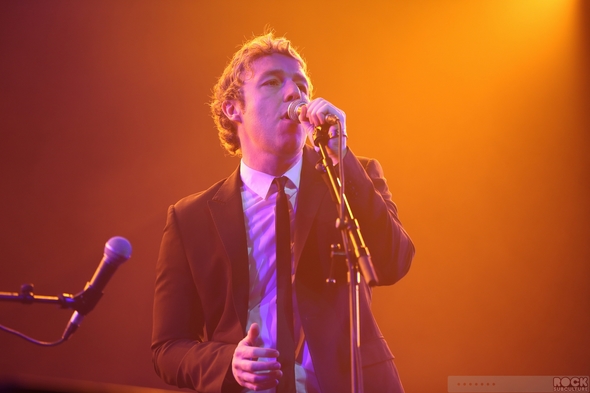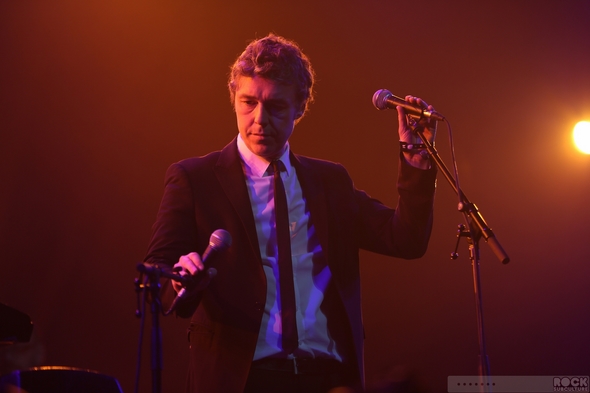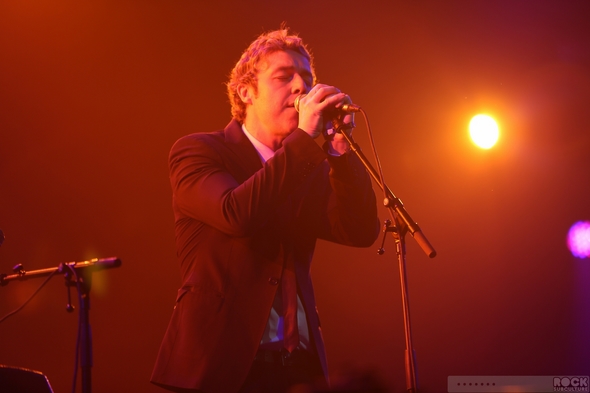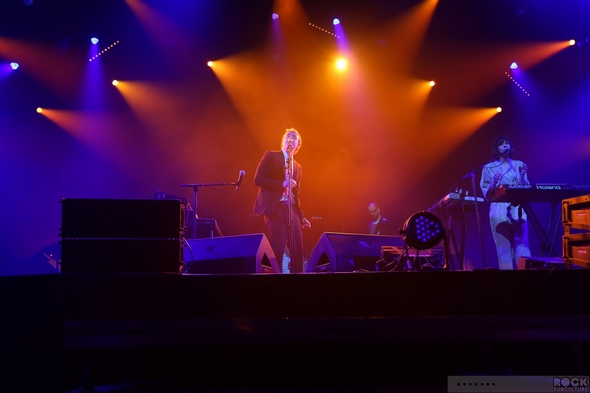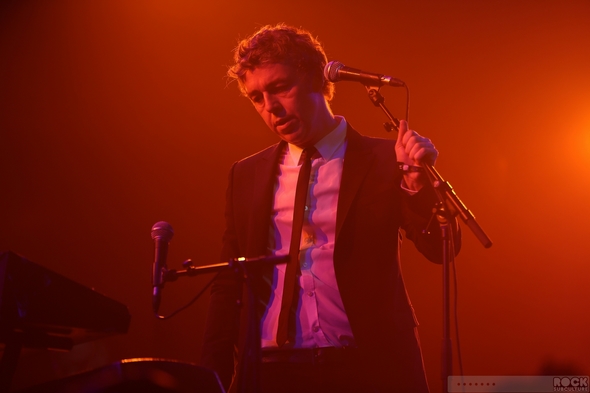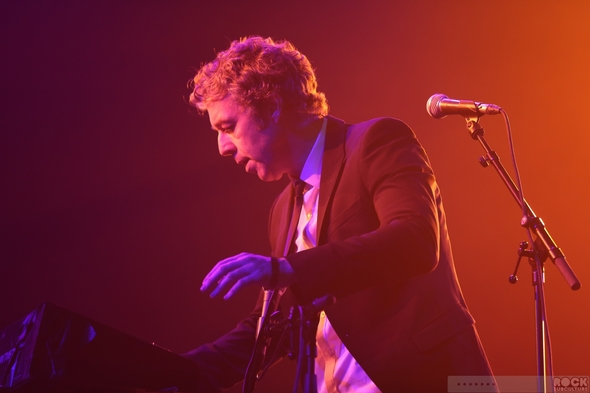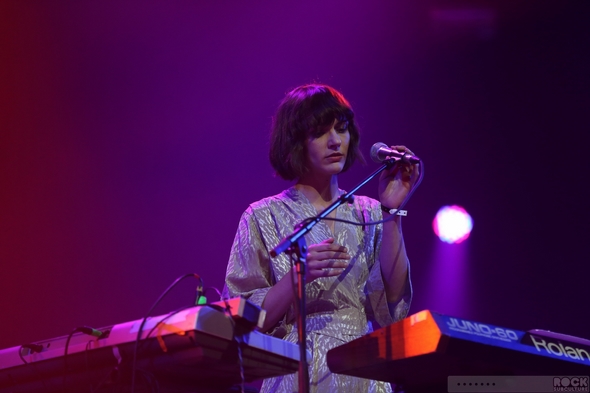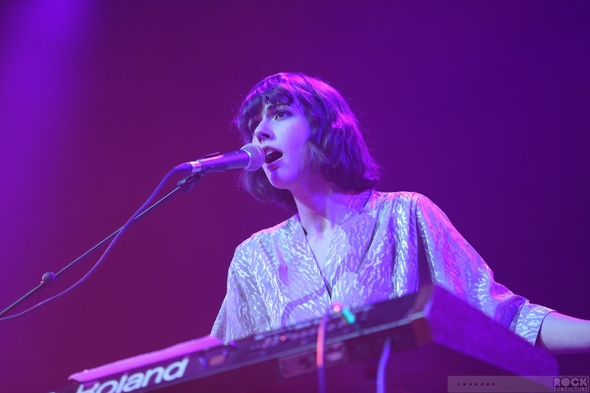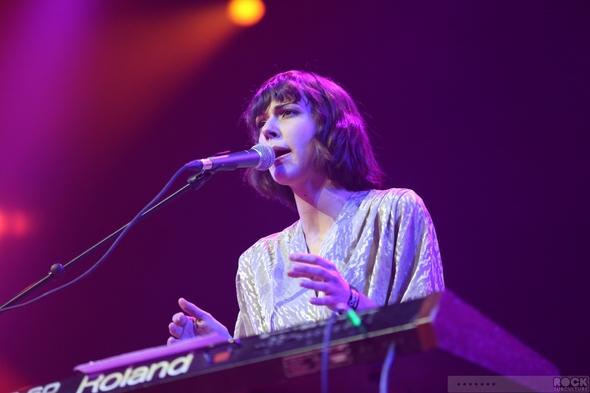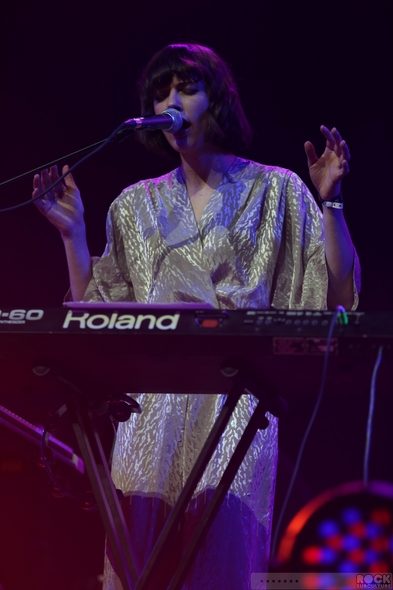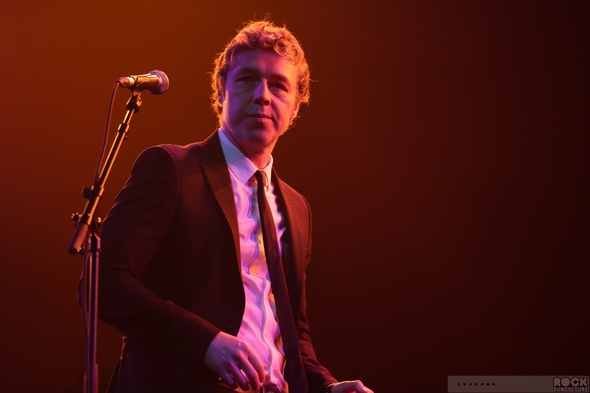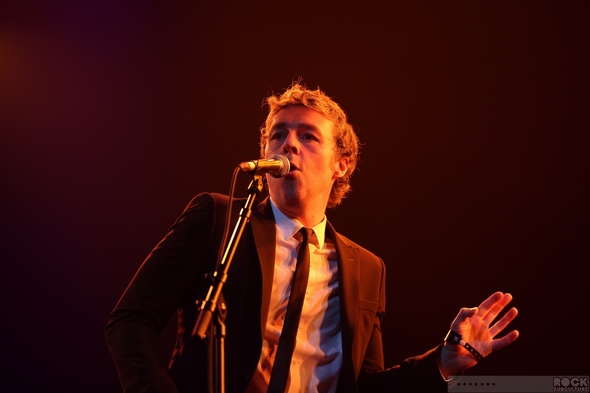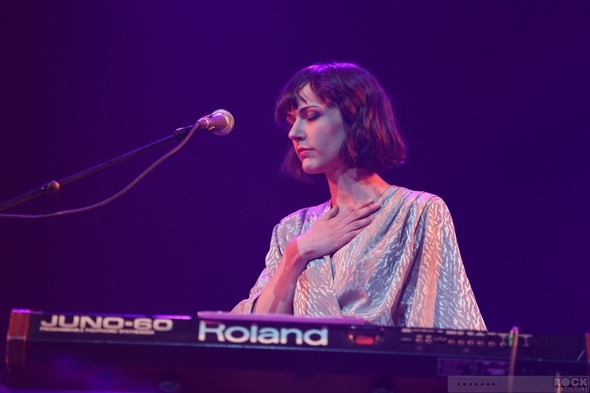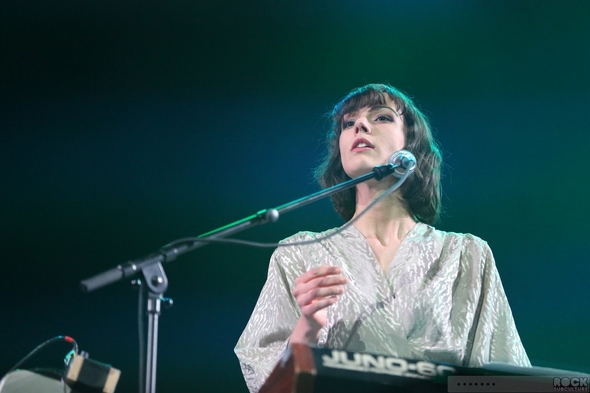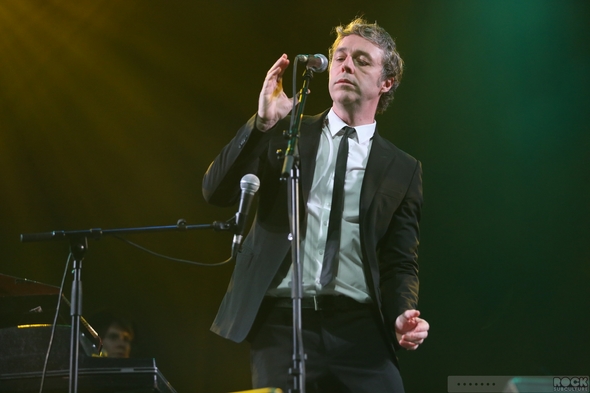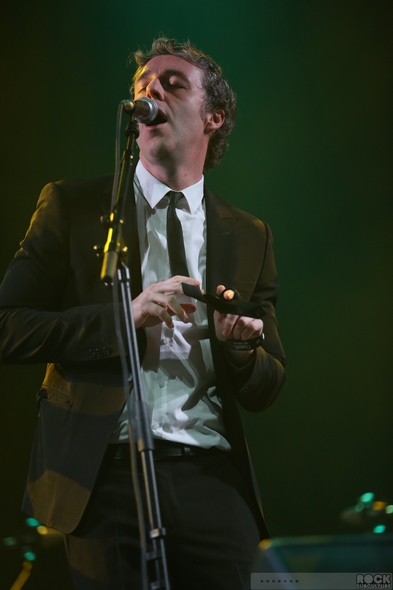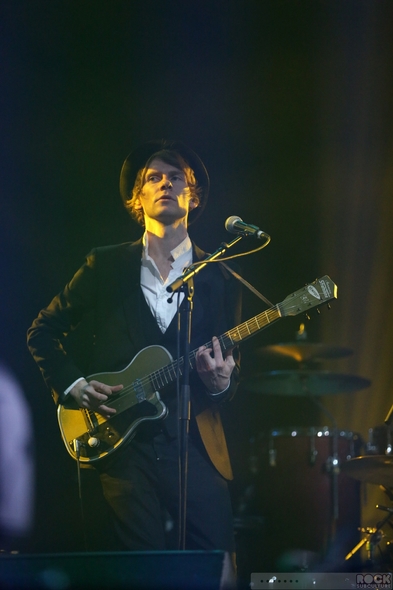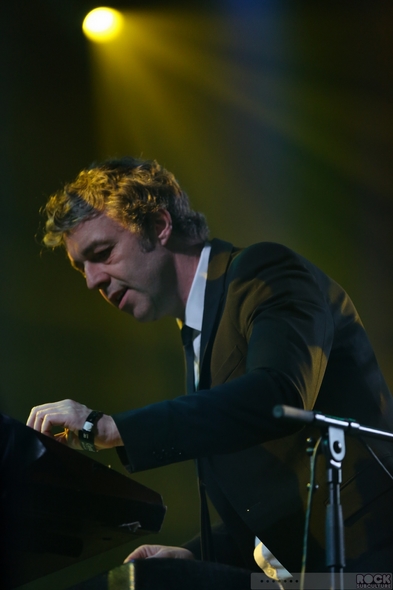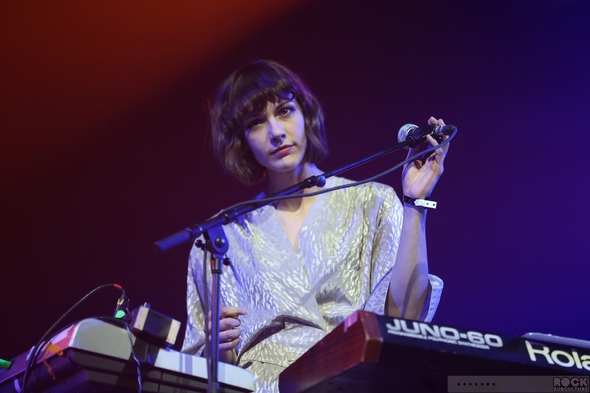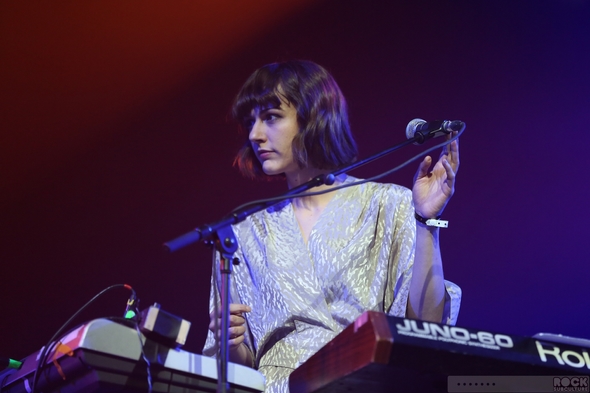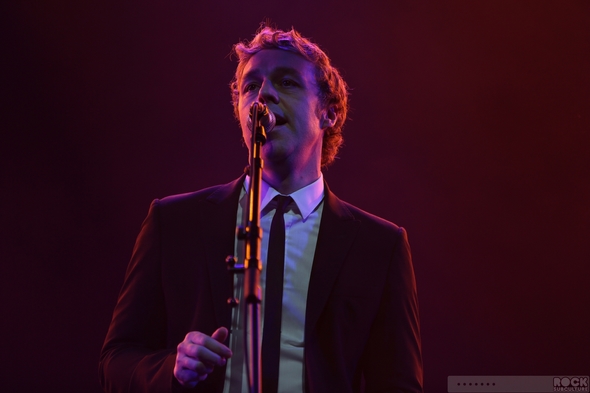 Portishead
Who: Portishead
Where: The Moon at Caprices Festival
When: March 12, 2013

Portishead is Beth Gibbons, Geoff Barrow, and Adrian Utley, and the electronic alternative rock band formed in the UK in 1991, though their first album, Dummy, was not released until 1994. The group received critical acclaim and commercial success from the outset, particularly with their first three singles, "Numb", "Sour Times", and "Glory Box". Even Rolling Stone ranked the debut album among their 500 Greatest Albums of All Time.
They pushed the experimental envelope further with their eponymous sophomore album, three years later, and were fairly inactive for sometime thereafter. It wasn't until 2008 with they released Third. They have been playing some live gigs since, but no further studio albums have materialized.
This show of theirs at Caprices Festival is one of those special gigs that I feel lucky to have been present at… in my opinion, it was just perfect in all the critical areas.
Clocking in at over an hour and a half, they covered a lot of material (including the expected hits, which I was happy about – they don't have Radiohead syndrome and refuse to play their "Creep" equivalents to snub the mainstream fans).
Opening the show, with the excellent moody lighting, I knew we were in for a stellar concert. They made awesome use of the large rear and two side stage adjacent screens with a variety of projected videos… enough to set the mood and evoke some thought and emotion, but not overpowering, distracting, or disjointed as we find at some shows with other artists.
I think the sort of decayed/distorted quality of the video suggests and feeds into the feelings of paranoia, isolation, fear, being trapped, and other similar emotions found in some of the songs themselves, so it really connects with those elements.
The band was absolutely spot on with their musicianship and performance, totally nailing it, and replicating the studio versions of the songs some of us have grooved into our brains like vinyl. It was just amazing seeing (and hearing) their incredible music brought to life on stage, sans the "assistance" relied open with other artists that have a somewhat complex sound to recreate, which included two drummers as well. Their live performance has gravitas, much like Garbage does on their tour. There is no bullshit – they are on stage to recreate their art.
With certain songs, the bass literally made the temporary wood flooring in The Moon rumble, almost as if it was designed that way when installed to give this added dimensionality to the music last night.
Another brilliant use of the video screens was the use of video recorded live on stage – such as the drumming – and fed through some kind of distortion filter and onto the screens… very cool effect.
Then there was Beth Gibbons… Amazing performance. There was a woman feeling and living her songs, her lyrics, and what is behind them. You could feel it in her voice in much the same way you could feel the wood flooring vibrate under the power of the bass from the show. With some songs, I swear she held her eyes closed tight for the duration.
Such passion from this band, and thankfully for us fans, the vast space of The Moon was fairly close to being filled up, so there were many, many people there to witness and enjoy the greatness that is Portishead. There is no one else like them and it was just a brilliant show.
Below are some photos from Portishead's set (click any image for higher resolution):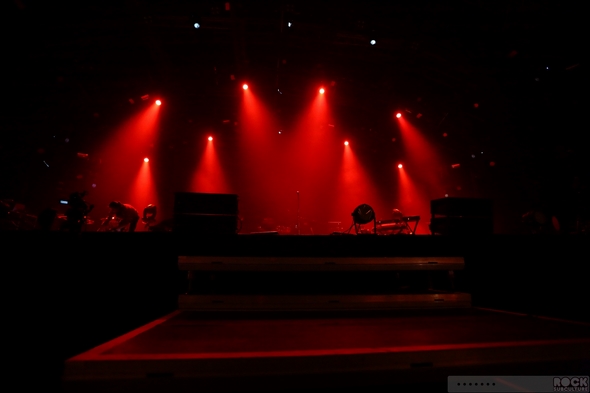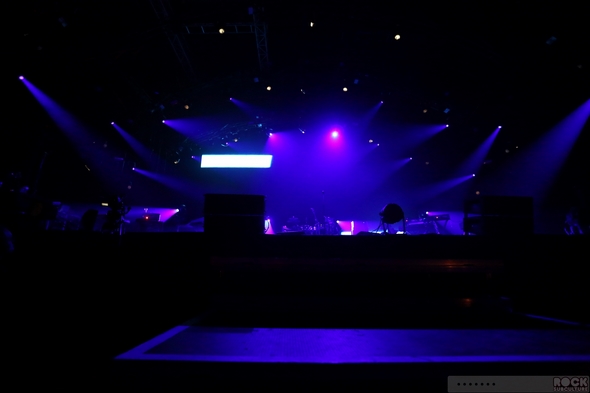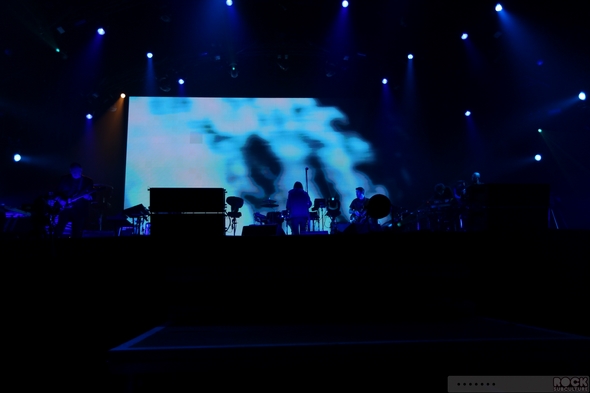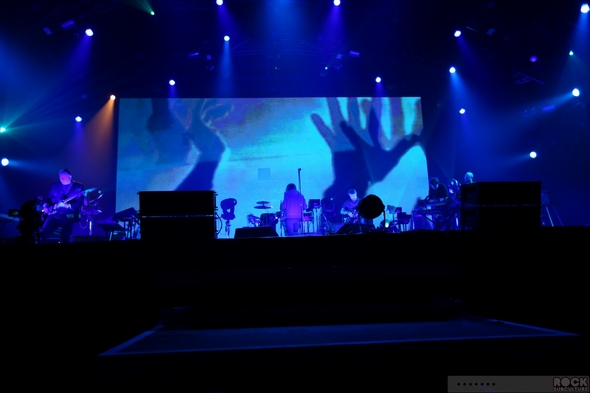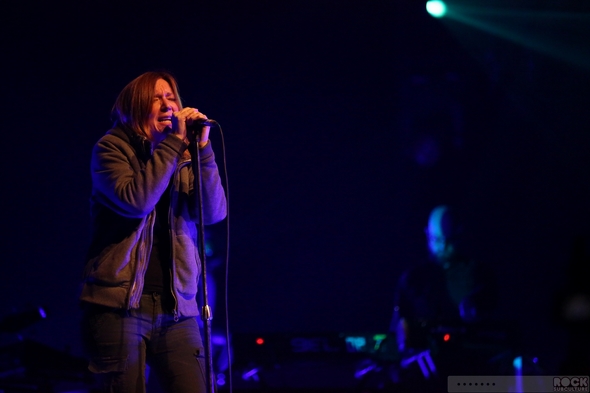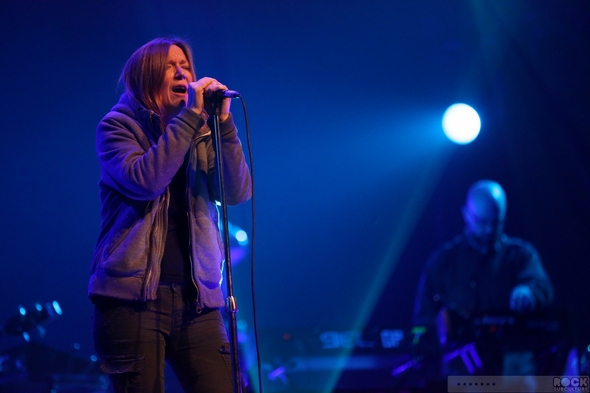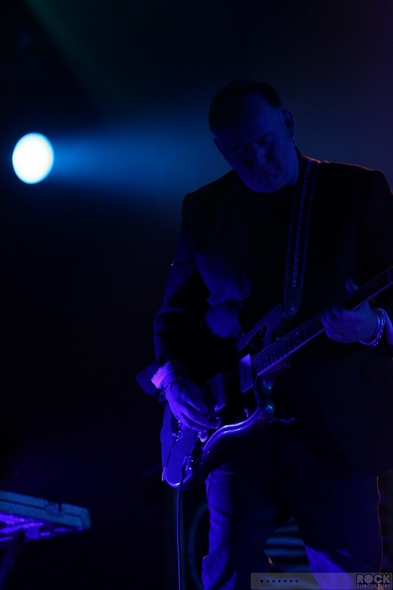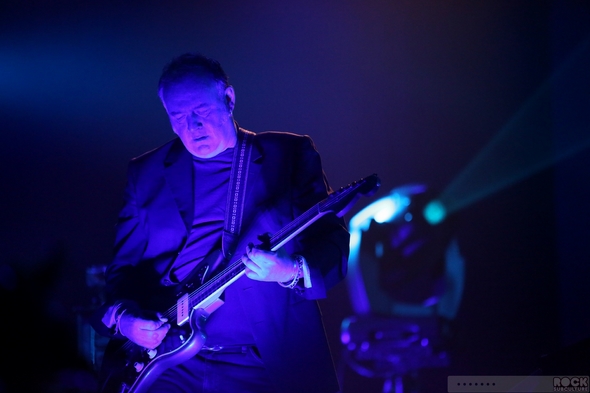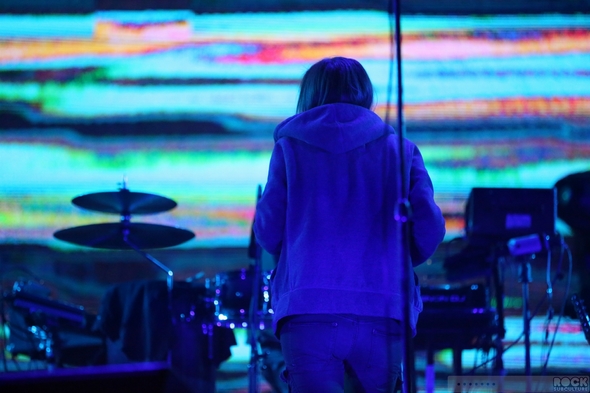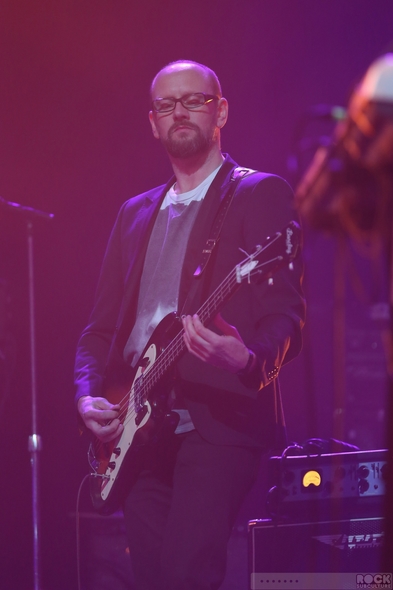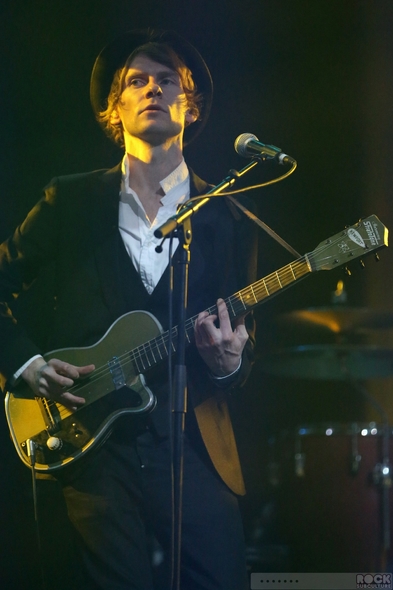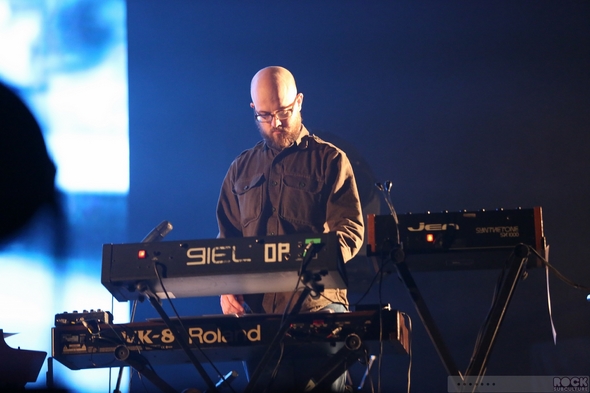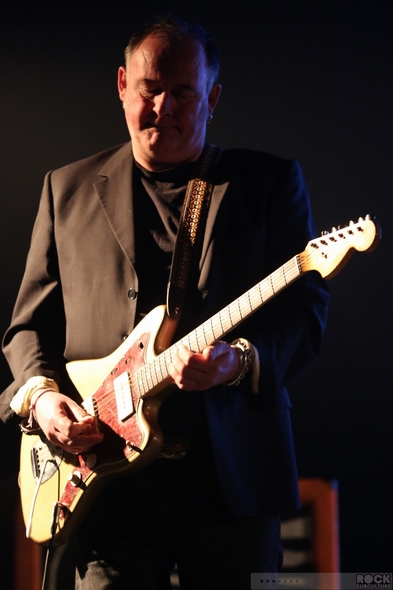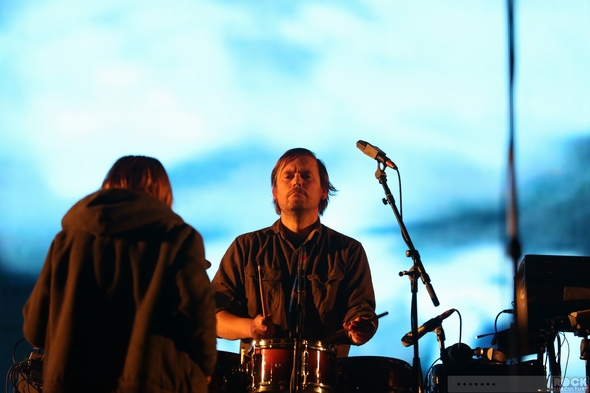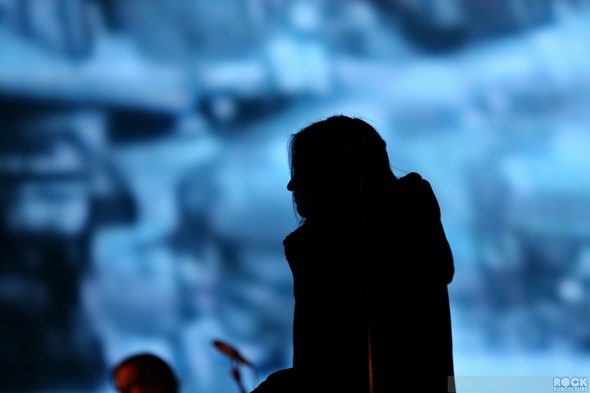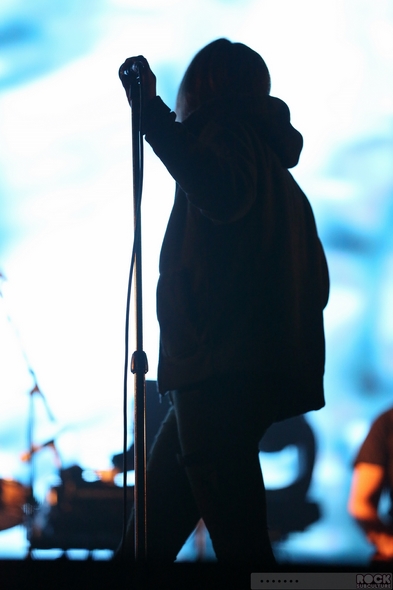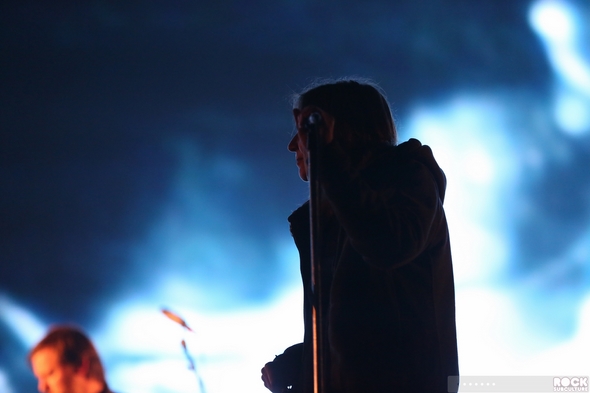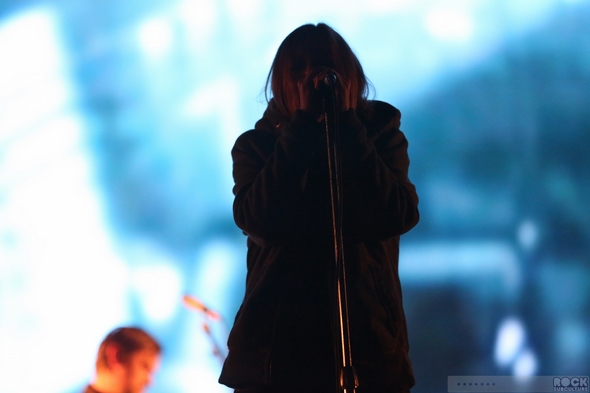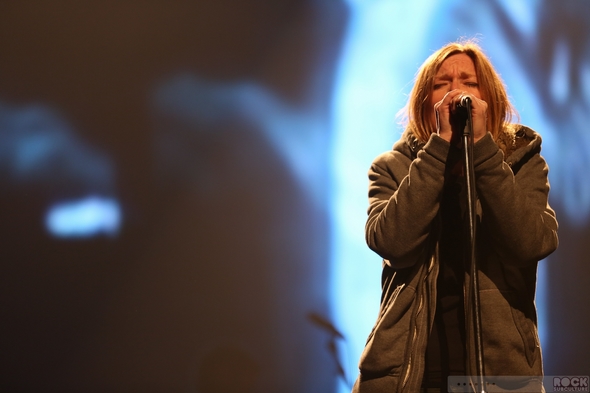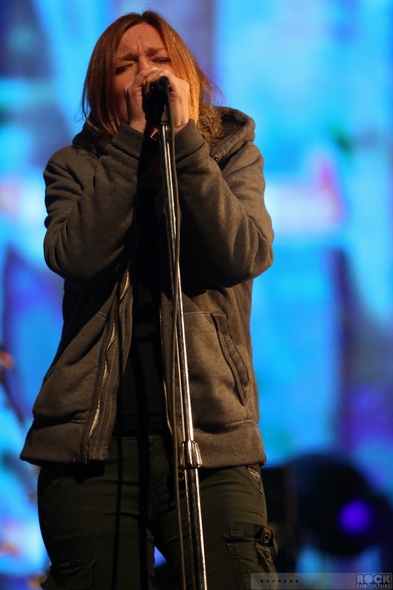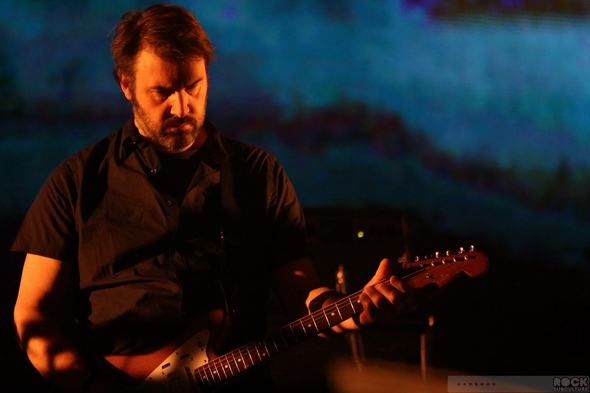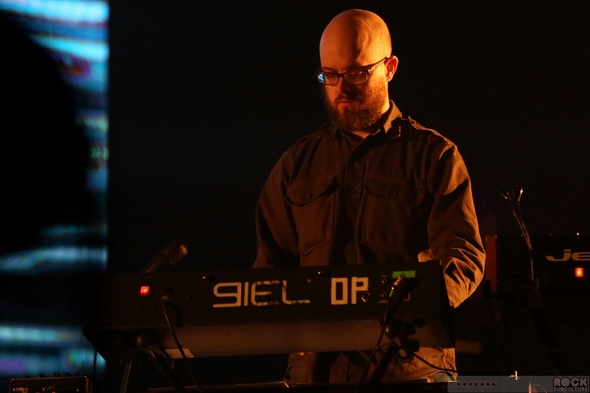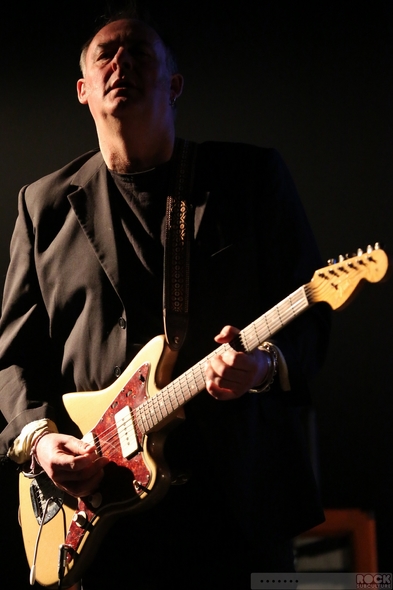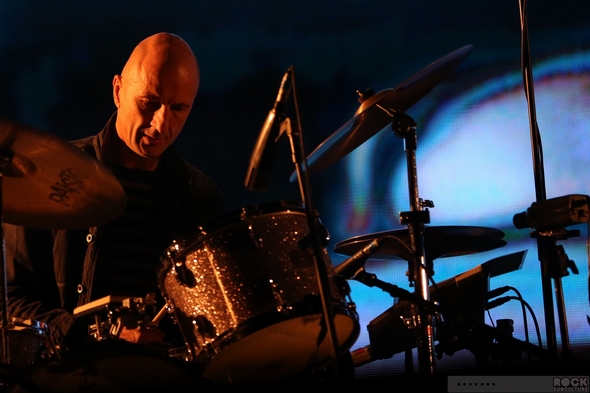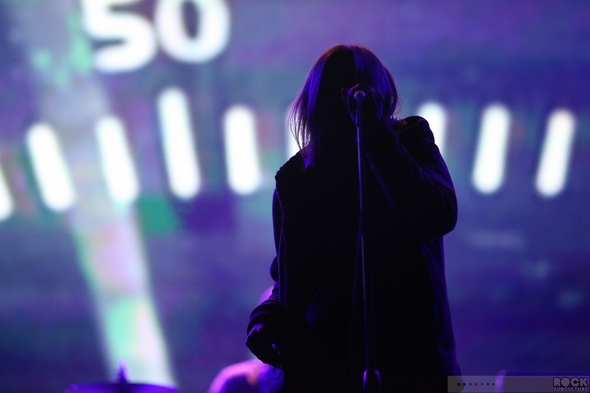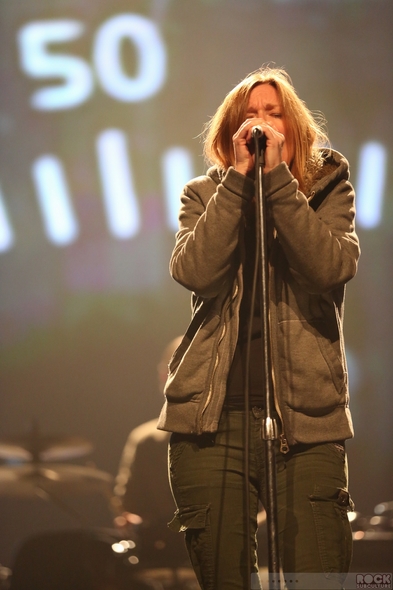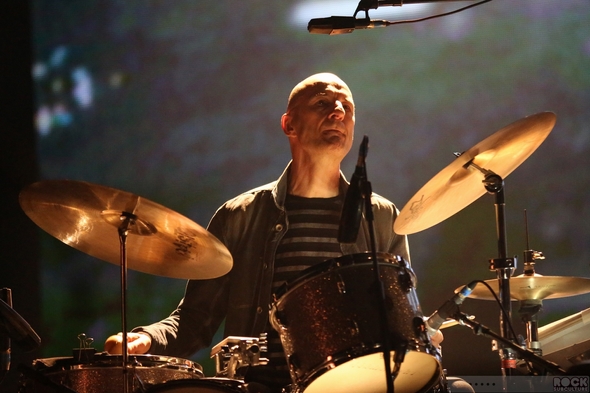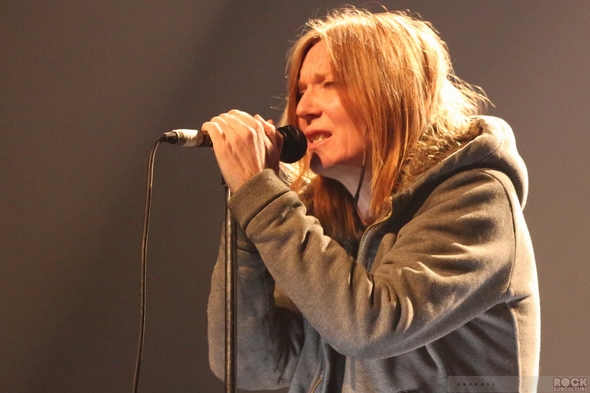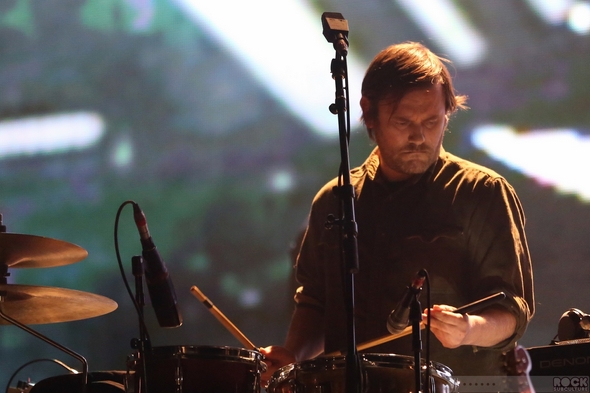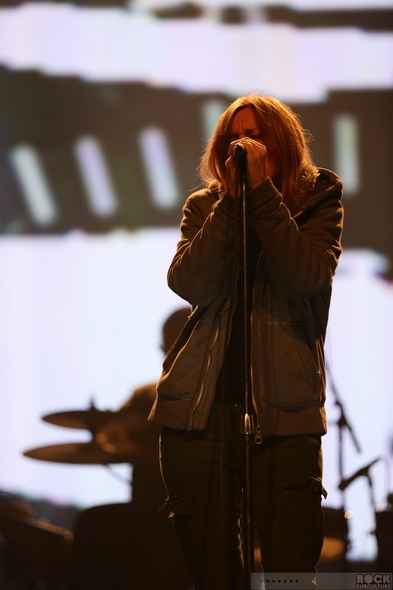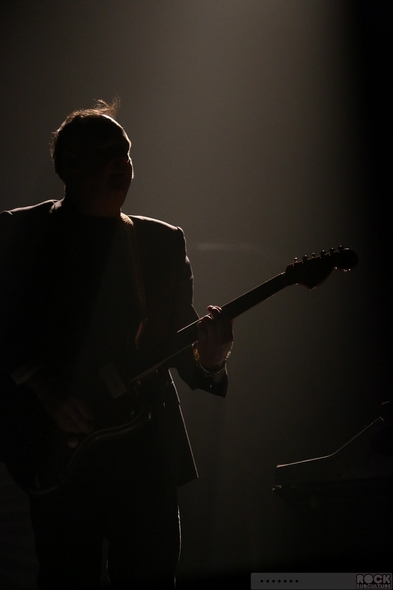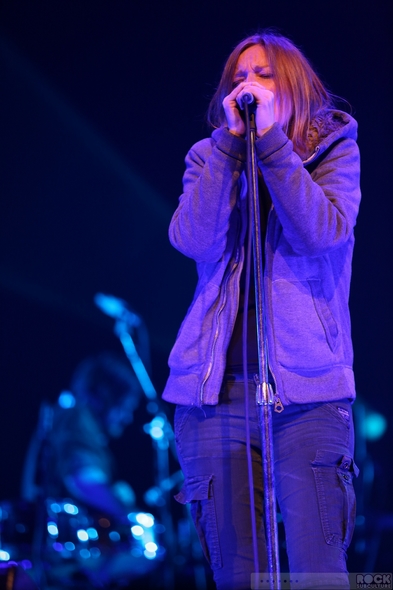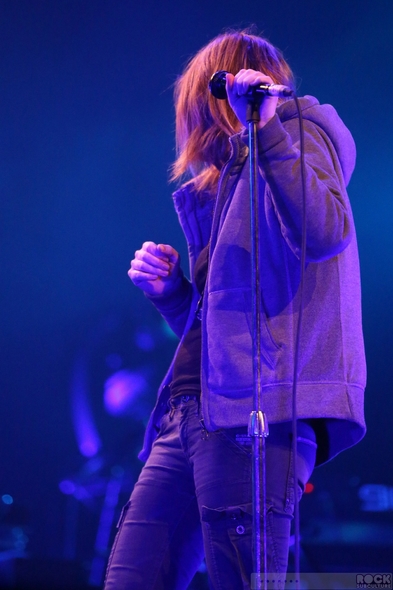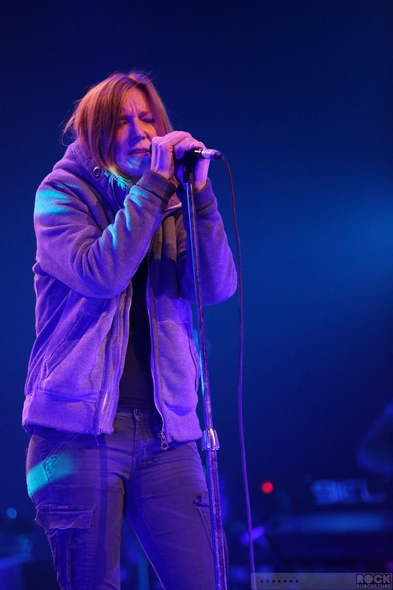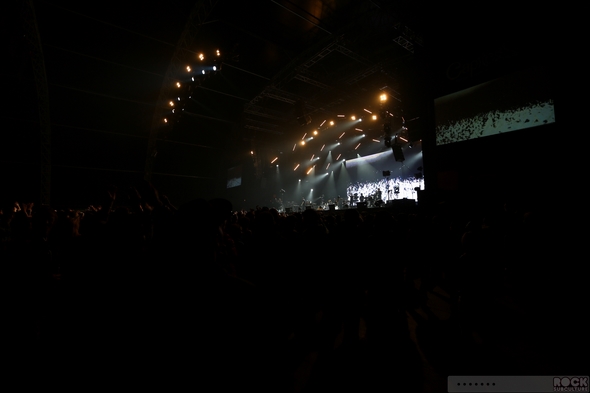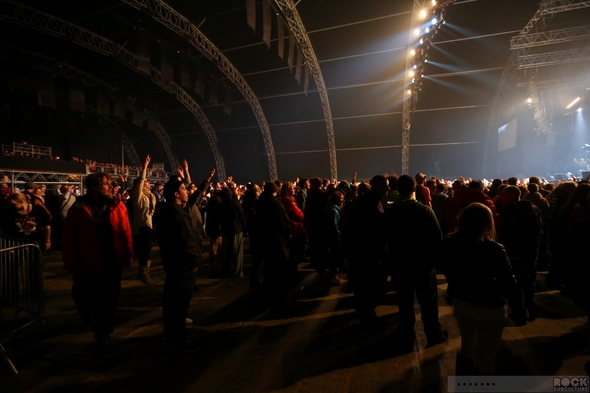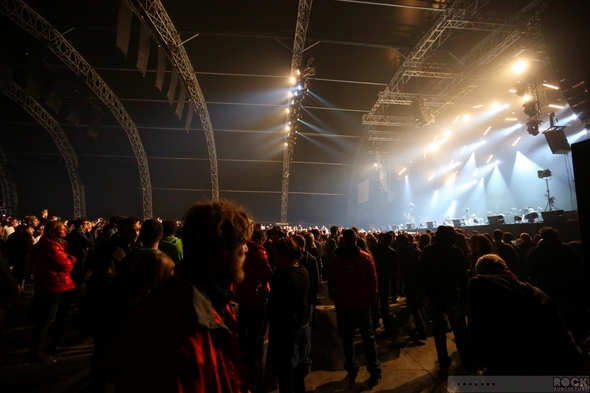 Model 500 (featuring Juan Atkins)

Who: Model 500 (featuring Juan Atkins)
Where: The Tube at Caprices Festival
When: March 12, 2013

Model 500 played at The Tube, the stage adjacent to The Moon at Caprices Festival. Model 500 is a pseudonym used by Juan Atkins, who is credited as one of the founders of techno music and is a real pioneer and innovator in electronic music.
The Detroit born artist shifted his interest in traditional instruments for synthesizers once he learned of electronic music in high school, and collaborated with two of his friends from school – Derrick May and Kevin Saunderson – eventually under the name of Deep Space Soundworks.
He has been recording as Model 500 since 1985, and currently is joined on stage with three members of Underground Resistance – Milton Baldwin (DJ Skurge), Mark Taylor, and (Mad) Mike Banks.
Last night they came on stage with a more upscale and design conscious set up than many electronic artists/DJs as well as looked the part, with the enhancement of cool imagery as backdrop playing stylish video clips as they performed under stunning lighting.
The audience seemed to love the show, and for me it was awesome to see an artist with this pedigree and long history in these genres perform live.
Below are some photos from Model 500's set (click any image for higher resolution):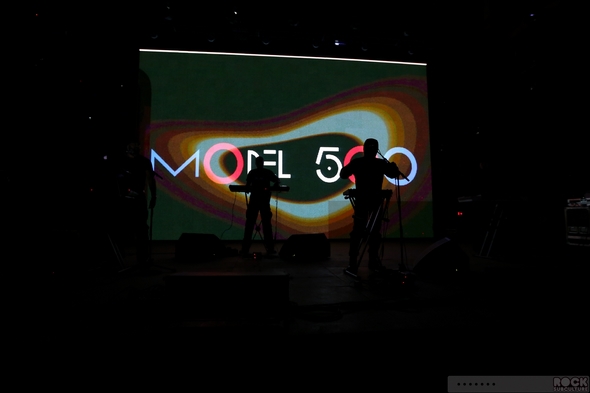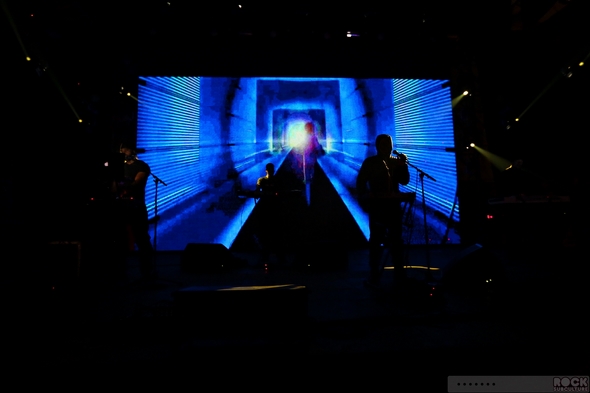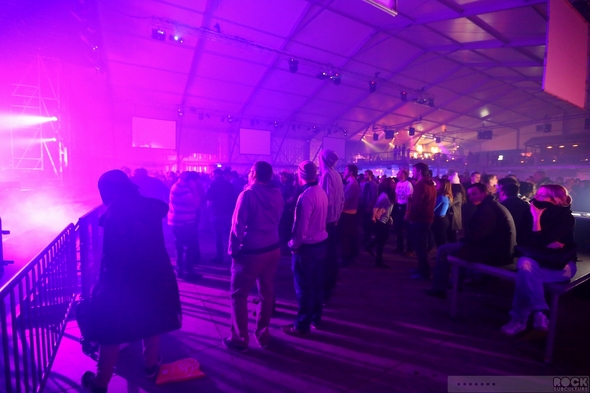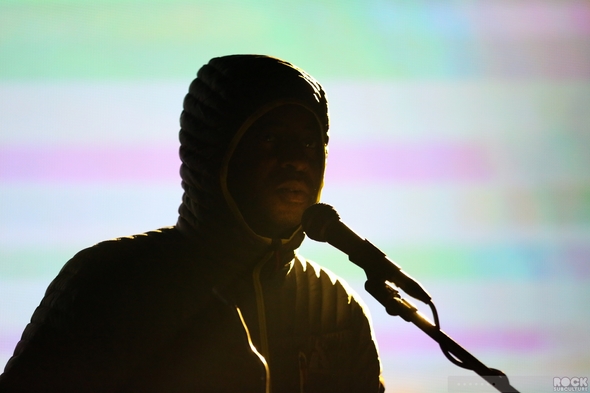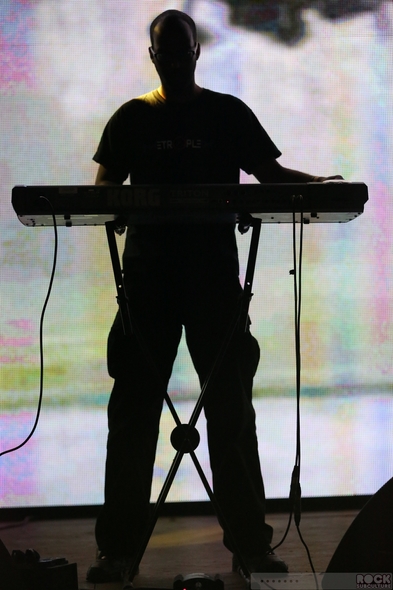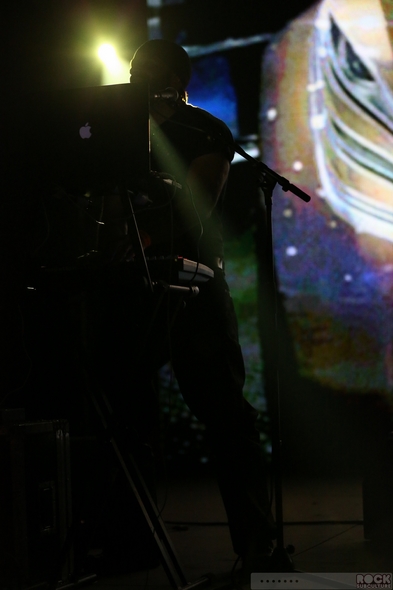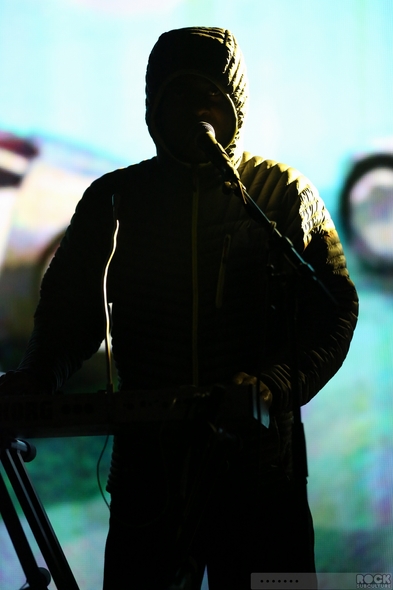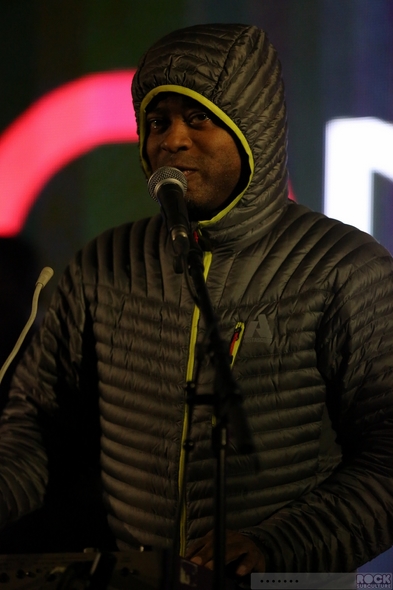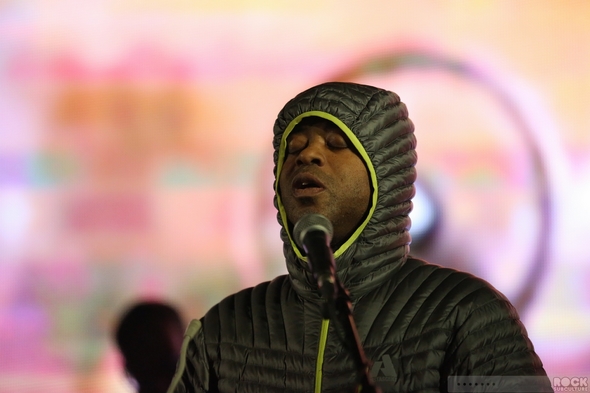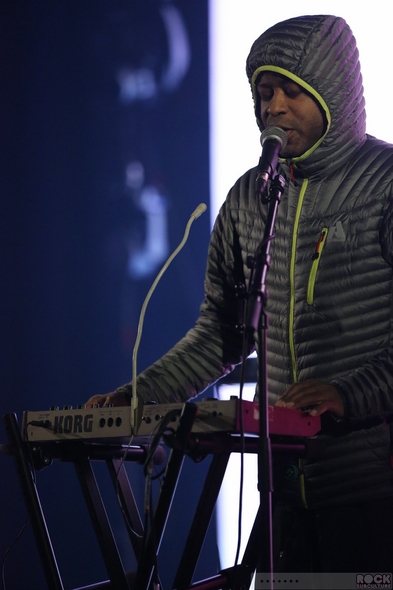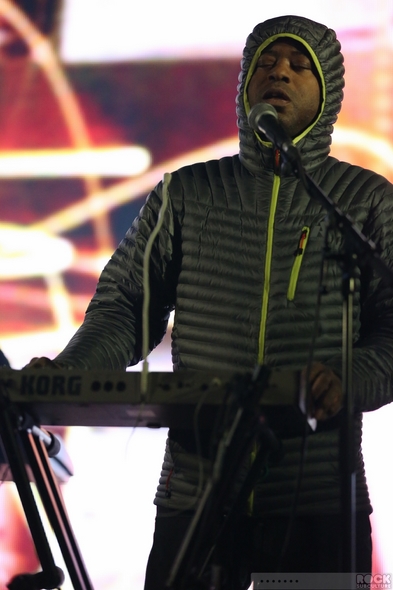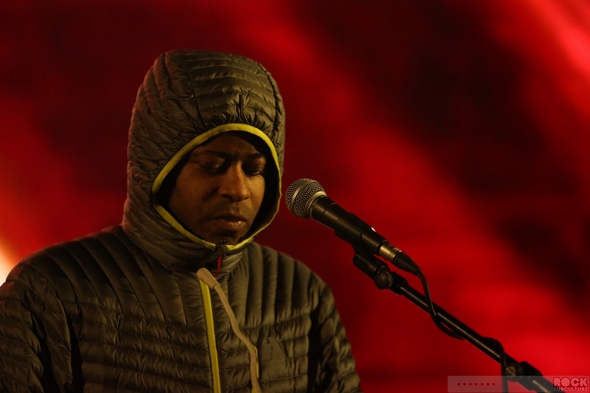 Additional – Around Caprices Festival
Below are a few additional photos not specific to any artist's set…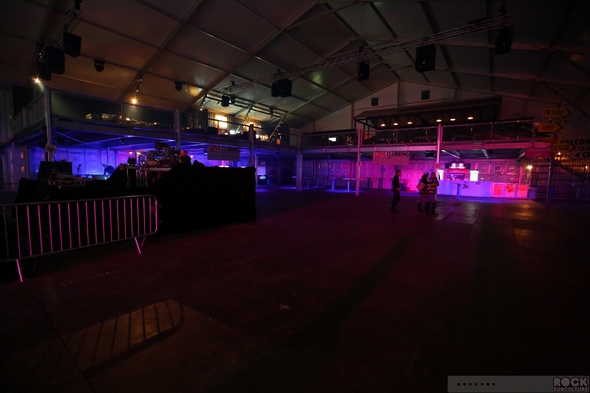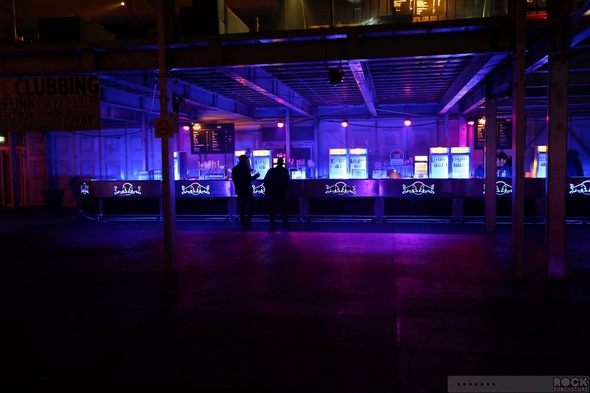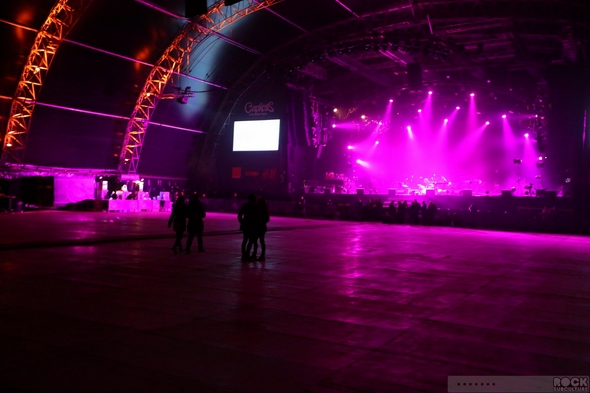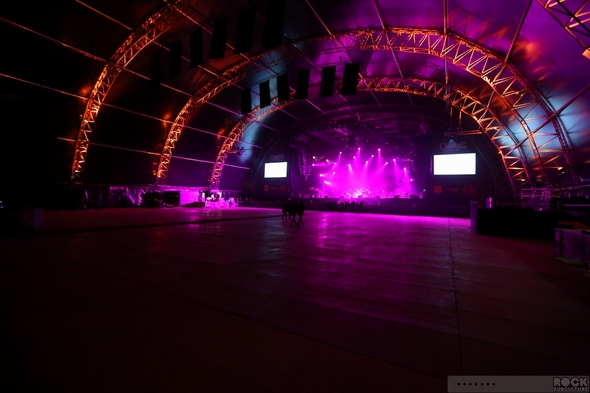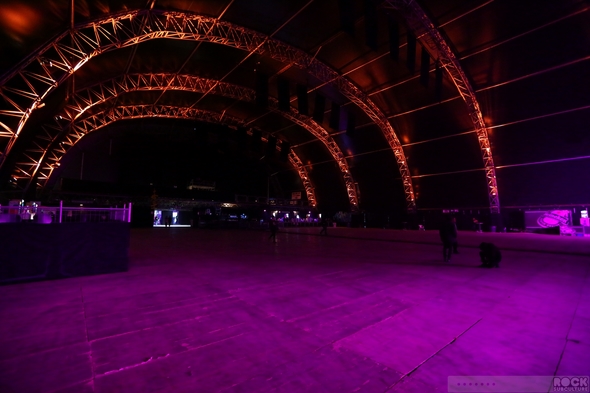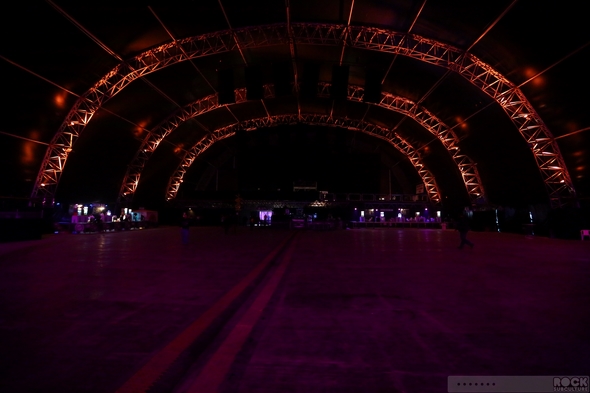 More coverage for Day 6 will be coming tomorrow…
All ongoing coverage of Caprices Festival will be found via the following link: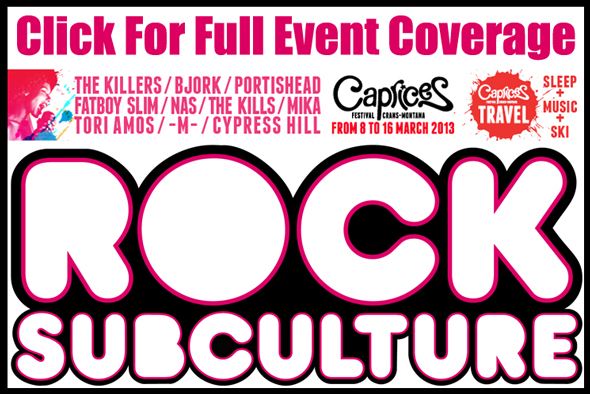 Jason DeBord