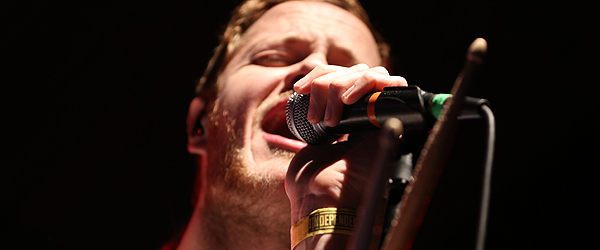 "Tonight we're doing something that means something…"  Imagine Dragons front man Dan Reynolds from the stage last night, commenting on the $10,000 raised for Children's Hospital & Research Center Oakland, in conjunction with Brad Brooks as supporting band, KFOG, and Another Planet Entertainment, as well as The Independent, who played host to the amazing concert put on by the Las Vegas-based alternative band.  Imagine Dragons, about to launch their first headlining concert series this Spring, put on an incredible performance to the sold out 500-capacity venue for this special one-off fundraiser.  In stark contrast to the band's explosive success over the past year, Dan and his group seem very humble and grounded; appreciative of their fans and career trajectory.  Having had an opportunity to see them twice in as many months, I can say that they are one of the most exciting bands to see play live today, and I suspect that by the end of this year, they will be playing much, much bigger venues to huge crowds, as word spreads that they are a must-see band with fantastic music.

Who: Imagine Dragons
Supporting: Brad Brooks
Venue: The Independent
Where: San Francisco, California
Promotors/Sponsors: KFOG 104.5 San Francisco and 97.7 San Jose and Another Planet Entertainment
Beneficiary: Children's Hospital & Research Center Oakland
When: January 5, 2013
Seating: General Admission Standing (also photo pass first three songs)
Imagine Dragons opened Night 2 of last month's "Not So Silent Night" series put on by Live 105 and Live Nation, and having seen the band perform live for the first time, my immediate thought at that time was, "who would ever want to follow this band's set?"  Of the thirteen bands that played over those two days, I would say that Imagine Dragons were hands down the most high energy and exciting band to perform, and made me an immediate fan.  It wasn't until last month that I picked up their debut album, Night Visions, and I ended up naming it as one of my choices for Top 10 Albums for 2012.
Last night, the evening opened with Tim Jeffries of KFOG presenting a representative from Children's Hospital Oakland with a check for $10,000, and he remarked that this concert sold out in 15 minutes when it originally went on sale, which seems to be the case with their dates for the full tour coming in the next few months.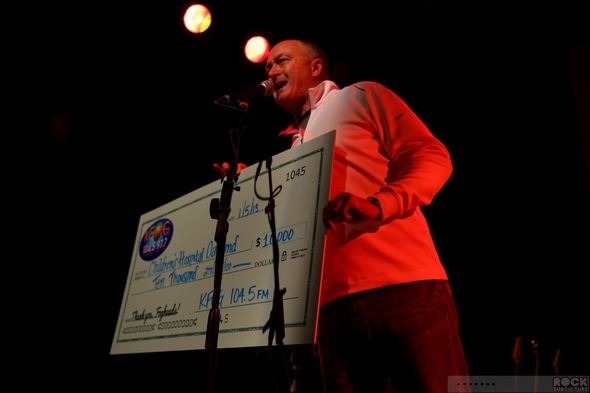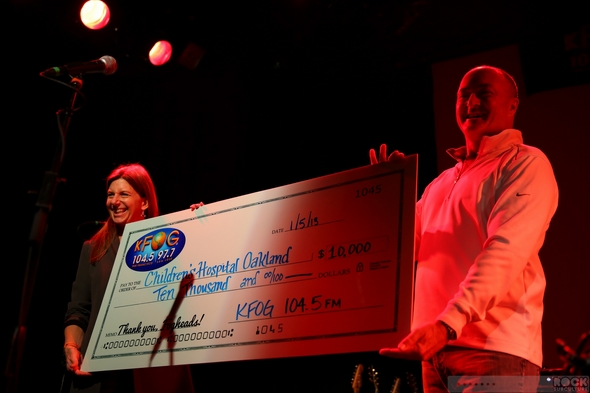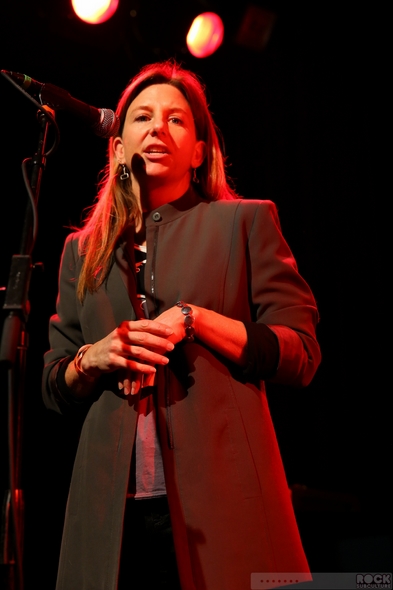 The Independent proved to be an excellent venue for this event – very small and intimate, with a low stage and impressive sound system, as well as really great staff.
Brad Brooks
Brad Brooks and his accompanying performers (Adam Rossi, Andrew Griffin, Michael Fiorentino, Erik Schramm, Subcommandante Nikita, Sean Daniel Burke, and Dylan Brock) kicked things off with a really catchy set of lo-fi, genre bending music.
The singer/songwriter's stage set up is not your typical rock and roll ensemble, with a guitarist far to one side of the stage, along with a keyboard player and a (sort of) drummer, while the other side of the stage is balanced out by two performers on strings.  Brad himself sometimes played guitar, other times put all the focus on his vocals.
iTunes has his 2012 album, Harmony of the Passing Light, pigeonholed as Country, and while there is an element of that, I don't know that I would classify him as such – to me his sound is at once a throwback to and reinvention of real 60s and 70s blues and rock as well as quite contemporary.  There is real artistry in what he does with all on stage; more of a less is more musical philosophy, rather than overpowering noise you might find with a lot of music today.  Each bit has a chance to stand out and breathe.
He did an awesome job engaging the audience, with songs like "Calling Everyone" off his latest album (which featured some audience sing along participation), as well as throwing in a Bee Gees cover ("To Love Somebody").
Really great and engaging stuff, and made me enough of a fan of his live set to get his latest album to check out more in depth (listening to it as I write this – very enjoyable).
Below are some photos of Brad Brooks and company performing on stage (click on any image for higher resolution version of the photo):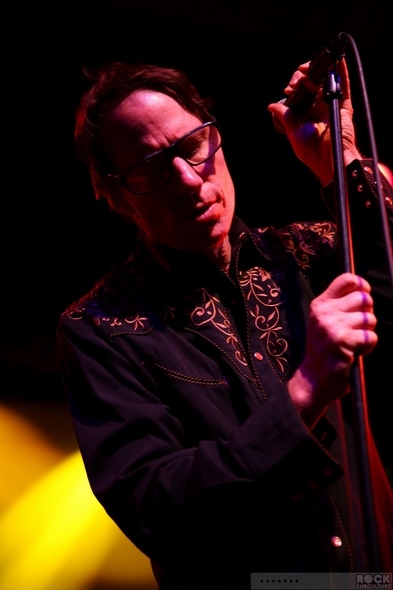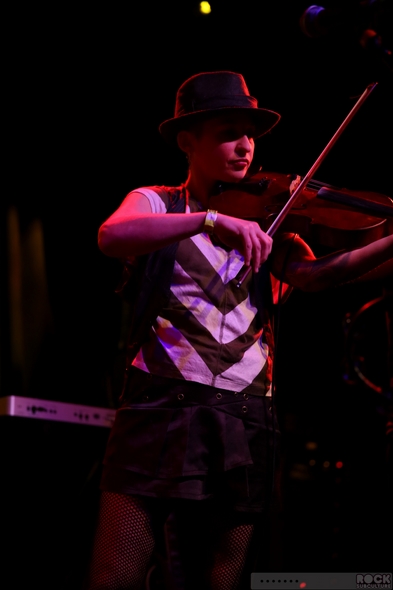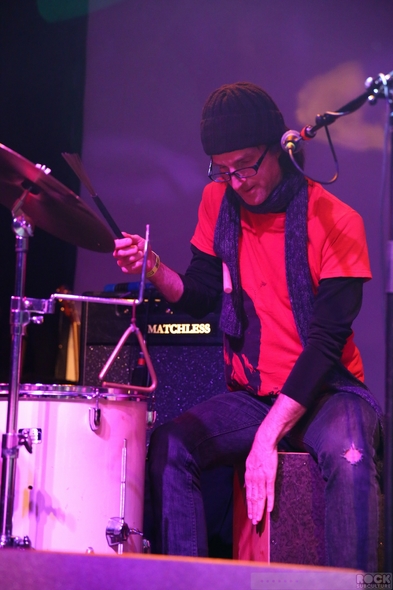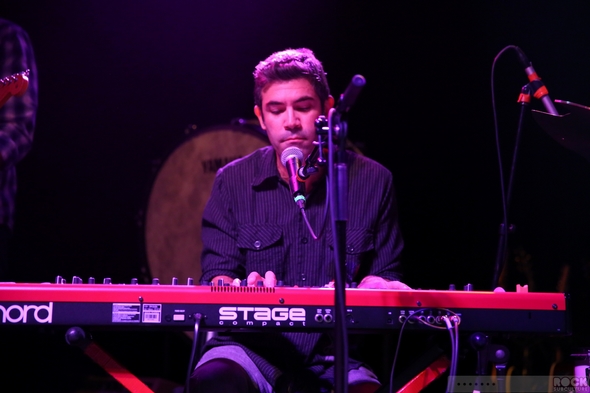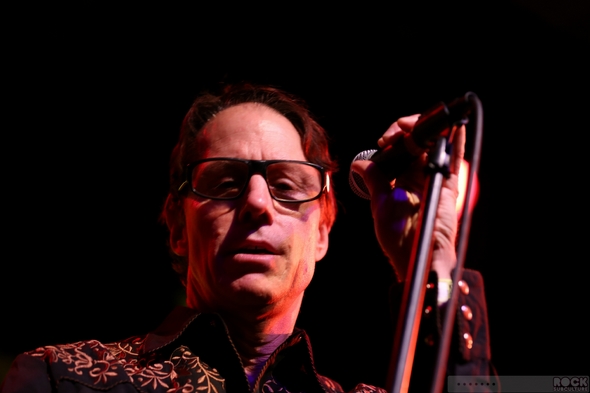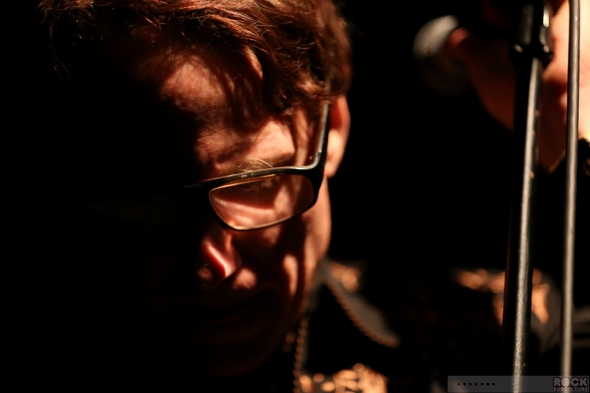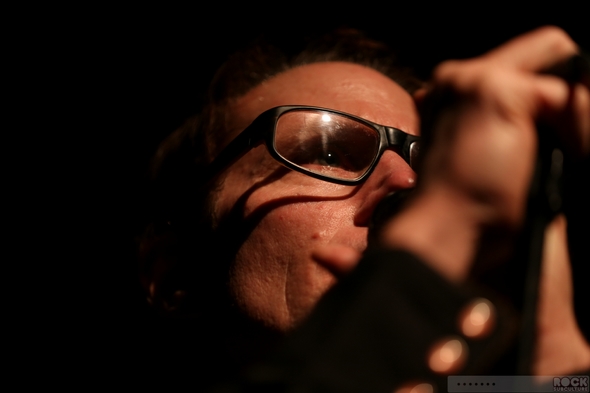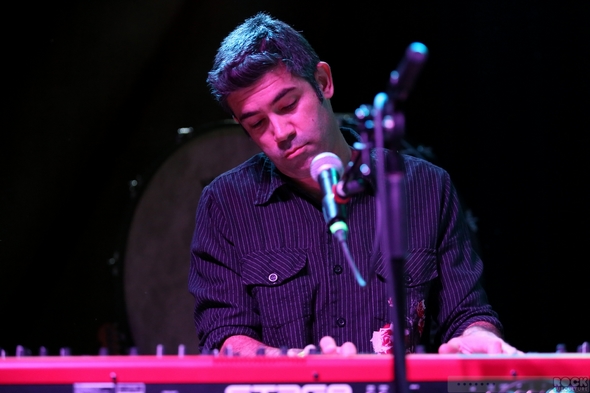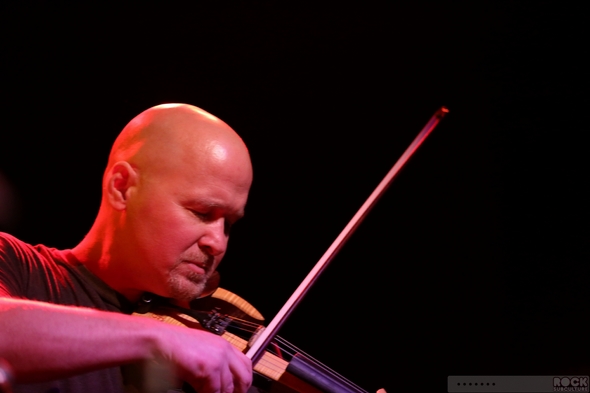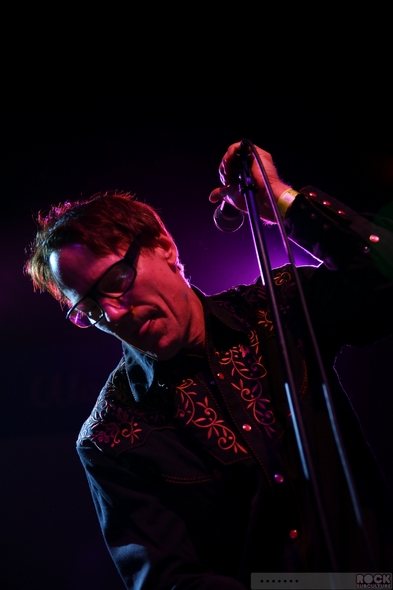 Imagine Dragons
Members:
Dan Reynolds (lead vocals, drums)
Ben McKee (bass guitar, vocals)
Wayne Sermon (guitar, vocals)
Dan Platzman (drums, vocals)
Set List:
Rocks
Round and Round
Radioactive
Tiptoe
Demons
On Top of the World
Cha-Ching (Till We Grow Older)
Hear Me
Thirty Lives
Amsterdam
Underdog
It's Time
Encore
The first noticeable contrast between the NSSN show in December and last night's show was the size of the stage, which was much, much smaller at The Independent.  Having seen front man Dan Reynolds make liberal use of the stage at the prior show, I wondered if at some point he was going to find himself with the audience last night.
For those that haven't had the privilege of seeing Imagine Dragons live, Dan's mic stand has a large vertical drum on one side and horizontal drum on the other, so not only does he sing, but at times pounds these drums to dramatically push the beat and provide a fuller sound with the band.  He gets so into his drumming, at times, that he's bouncing off the stage.
Their music is very beat-oriented, and his comes across very powerfully in their live shows.  At the NSSN show, at one point Dan was using drumsticks on guitarist Wayne Sermon, and last night he was drumming on himself with his hands during "It's Time"…  Dan is almost bursting with music on stage, and is a natural rock band front man.  He is so captivating as he sucks up all of the energy in the room and reflects it back, as people watch in anticipation of what will happen next.
The rest of the band all manages to keep up, performing flawlessly in a really tight set.  As a preview of their upcoming headlining tour, I didn't go away feeling I'd seen them and am done, but it only makes me want to see them again – they are a really spectacular live band.
I'm sure I'm not alone from those lucky enough to catch this show last night in finding the band endearing; at one point Dan confessing that he still gets nervous being on stage.  Since I was in the front row, right up against the low stage, there was even one moment where Dan appeared to be a bit choked up over the power of the moment.  It is really gratifying to me as a fan of music to see a band like this one, really living their dreams and yet still grounded and with the ability to have these special moments and take them in.
A lot of people feel that audience can be a major factor in concerts, and this was a fantastic audience.  I really got a sense from those around me that these are fans of the band who really want them to succeed, with that special element of vicariousness…  a few of the moments that I felt kind of illustrated this were when Dan's drumsticks haphazardly bounced across the stage and into the hands of fans in the front row – instead of keeping them as a piece of memorabilia or souvenir,  each time the fan would toss it back toward one of the drums.  It wasn't about taking from the band, but contributing to this live performance taking place on the stage.  The focus was on supporting this band to do what they do.  Such synergy between band and fans is pretty rare, but that's kind of what Imagine Dragons naturally brings about.  And that is why they will continue to find new and lasting success as more and more people are exposed to their music and live shows.  And because they seem so grounded and happy in what they are doing, I suspect that they will build on this and have real longevity.
Below are some photos of Imagine Dragons performing on stage (click on any image for higher resolution version of the photo):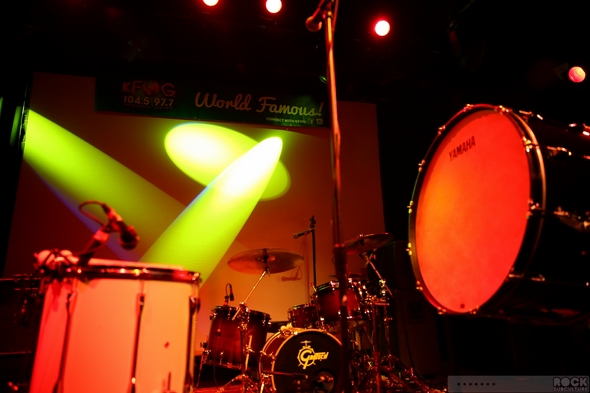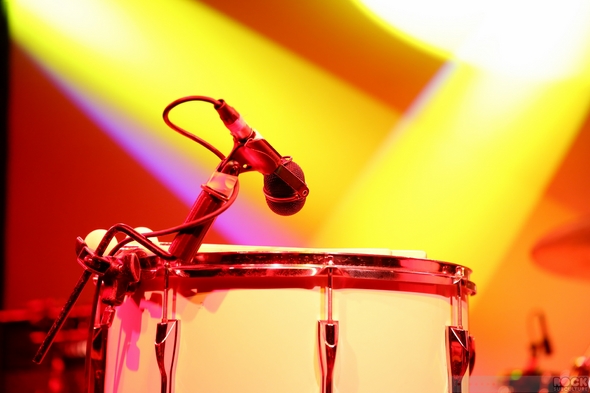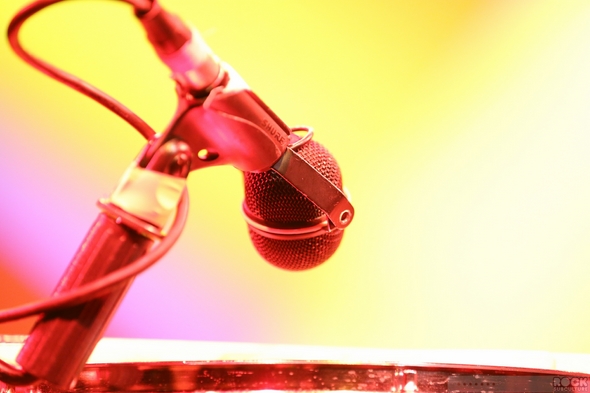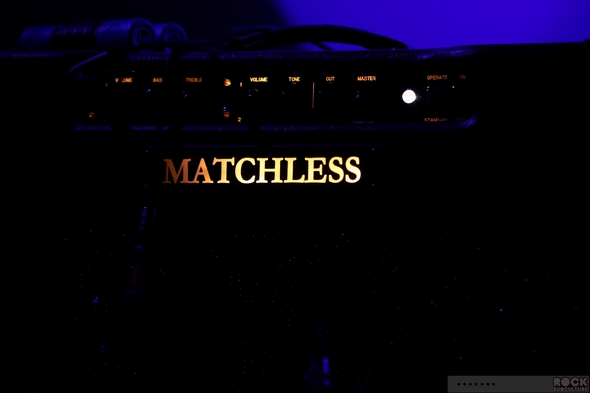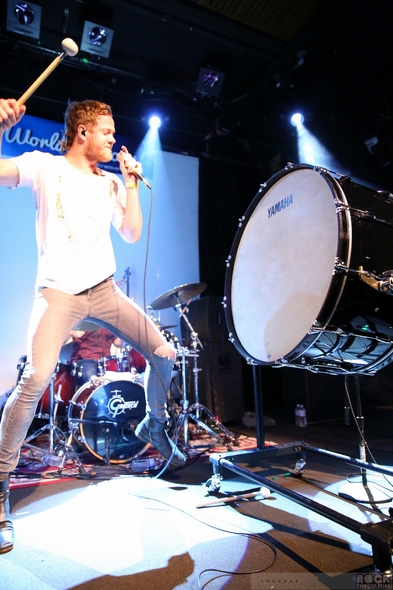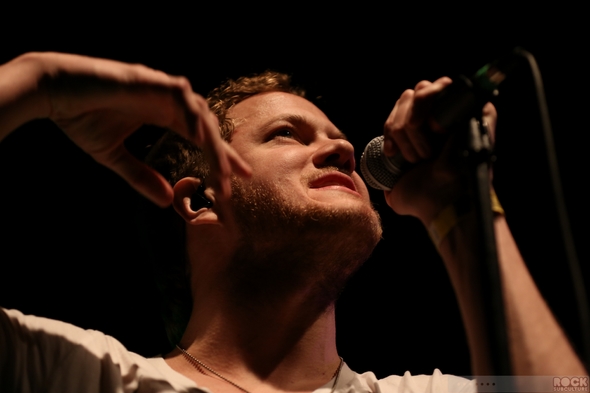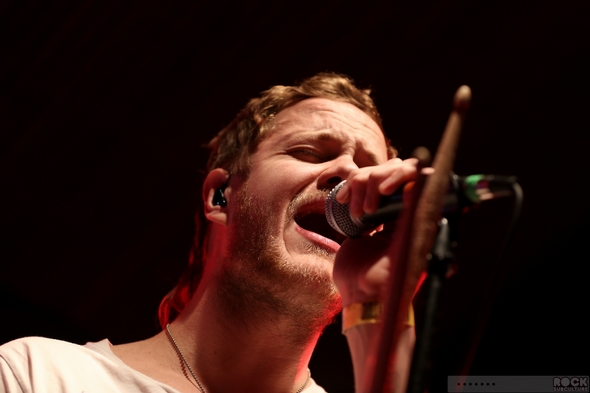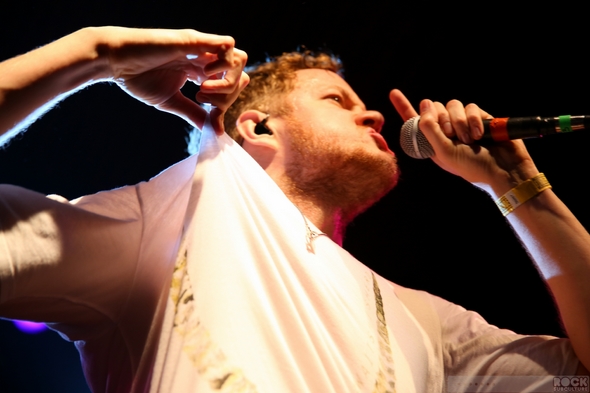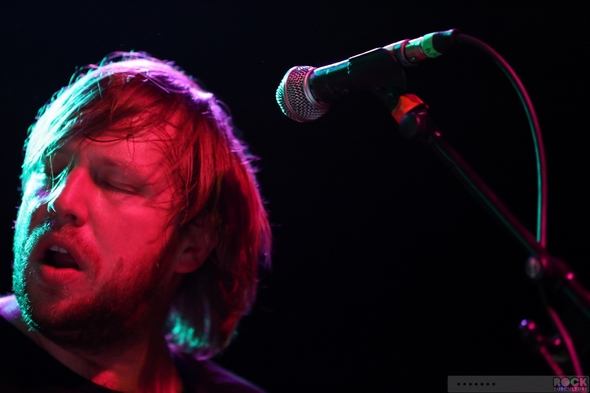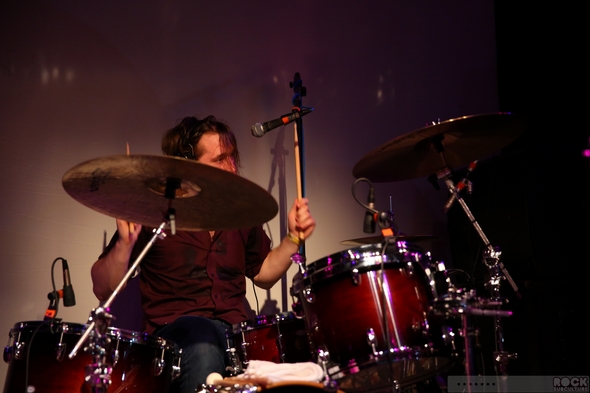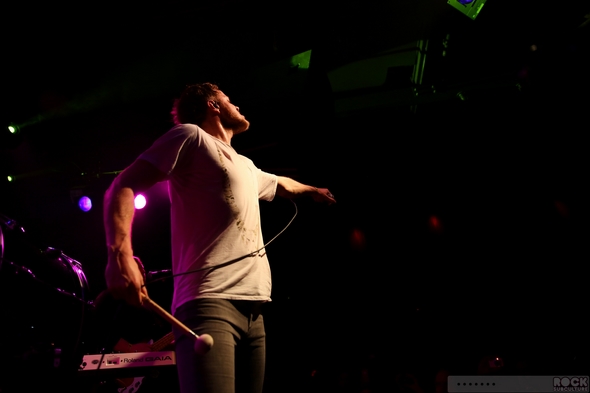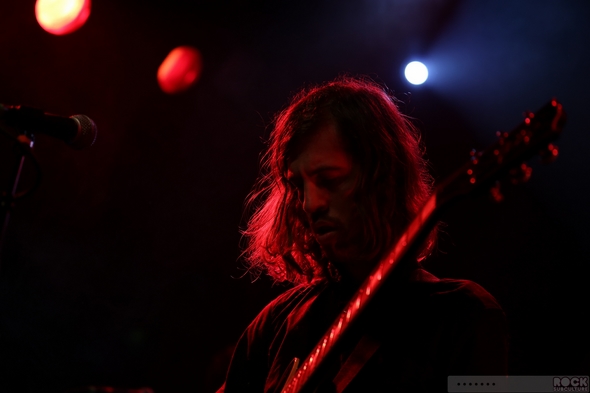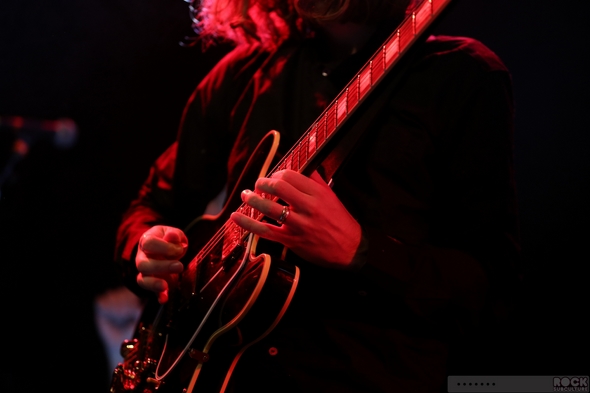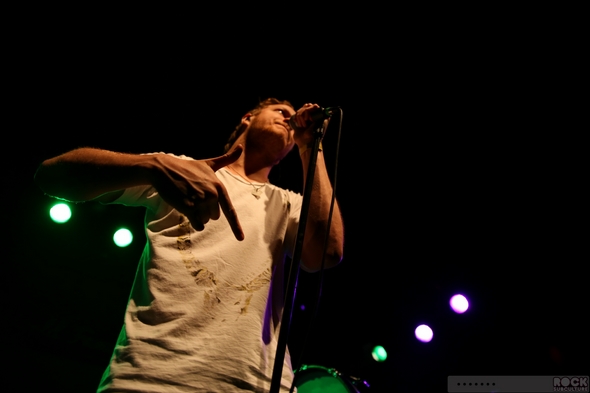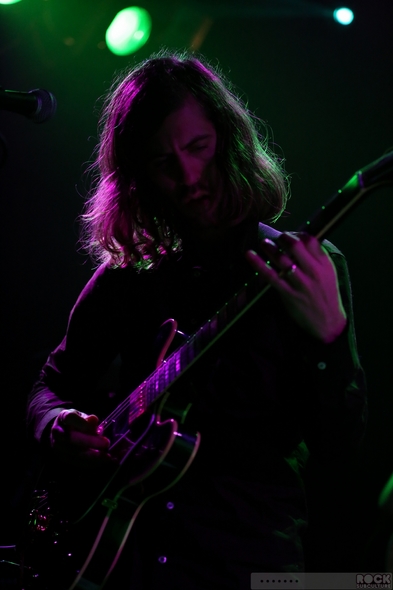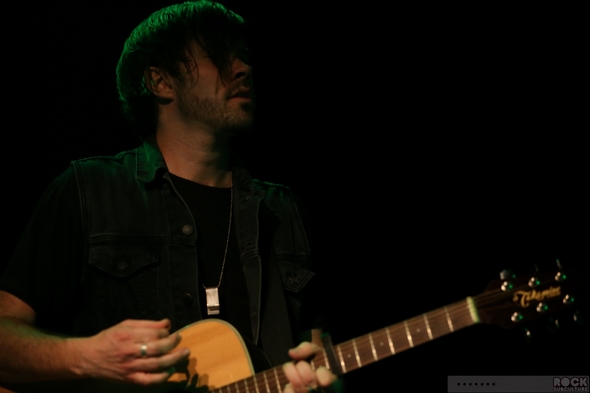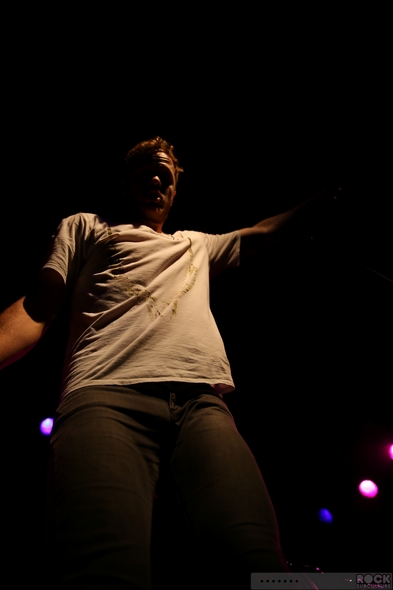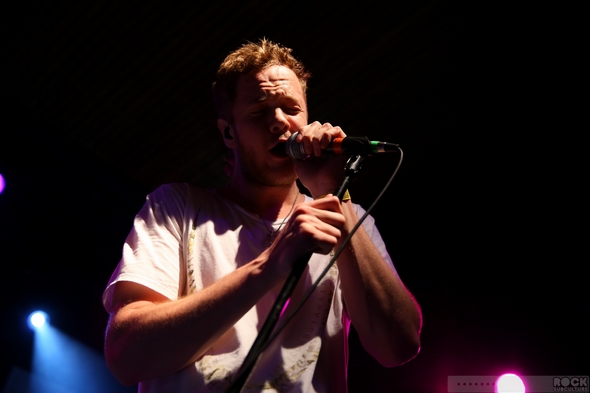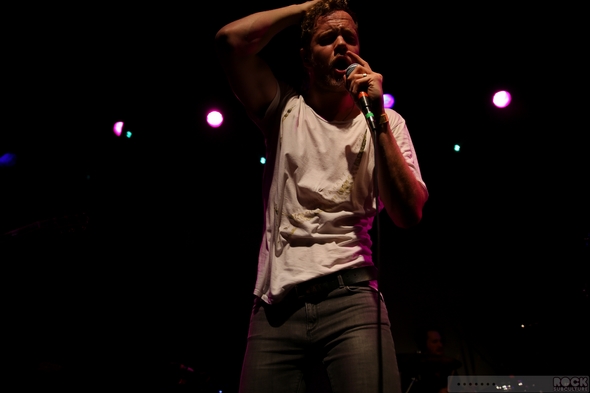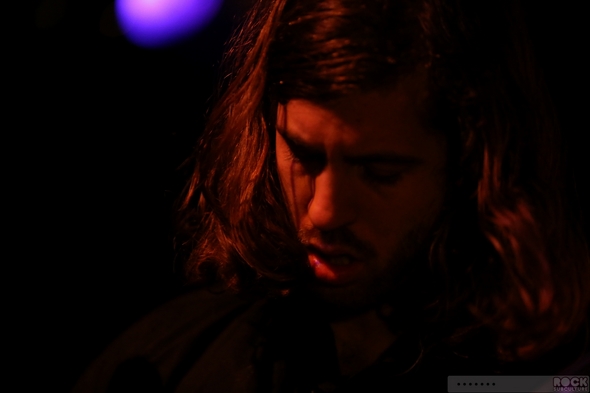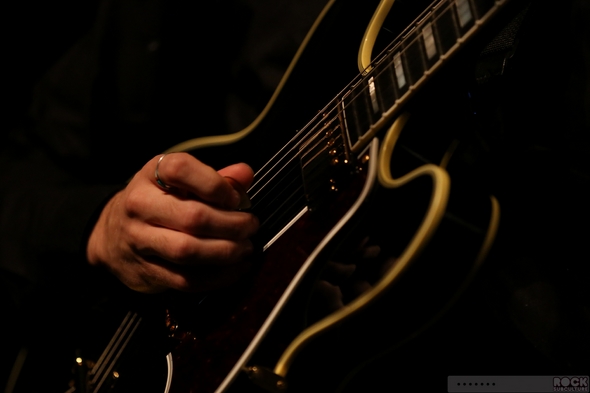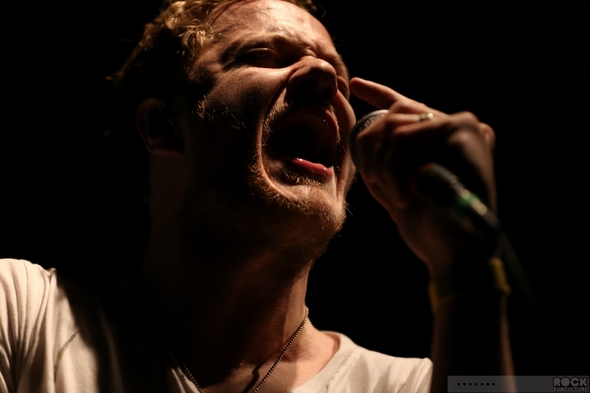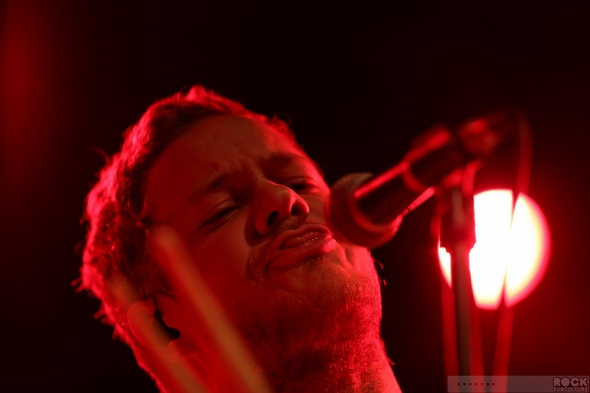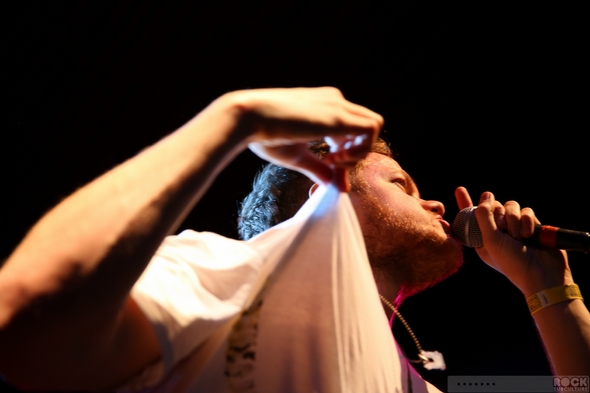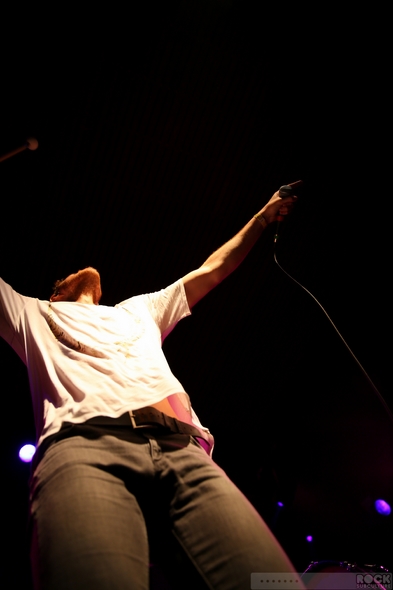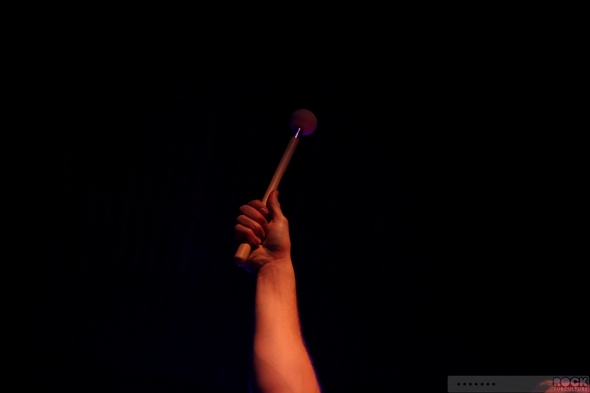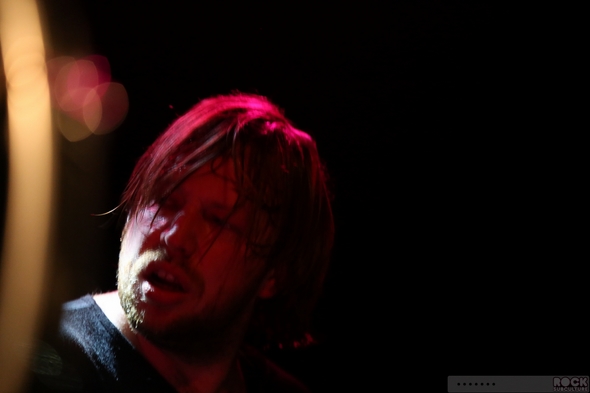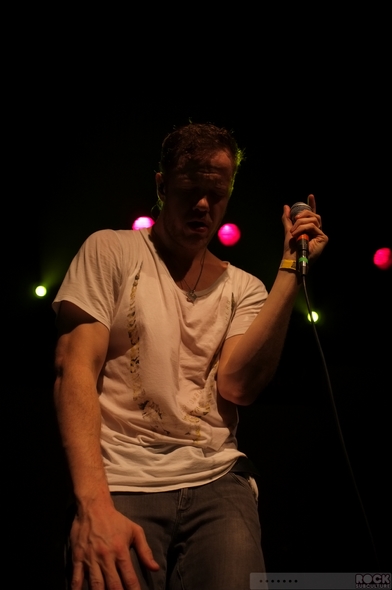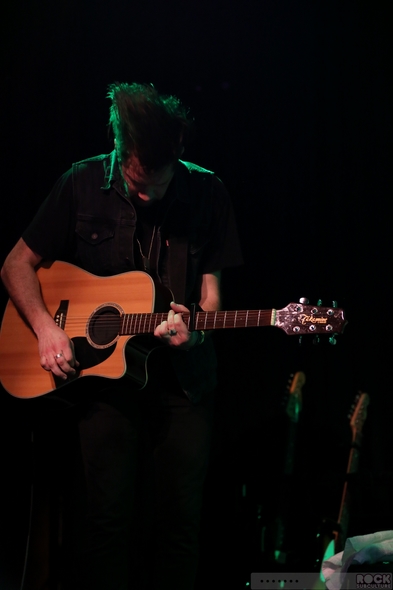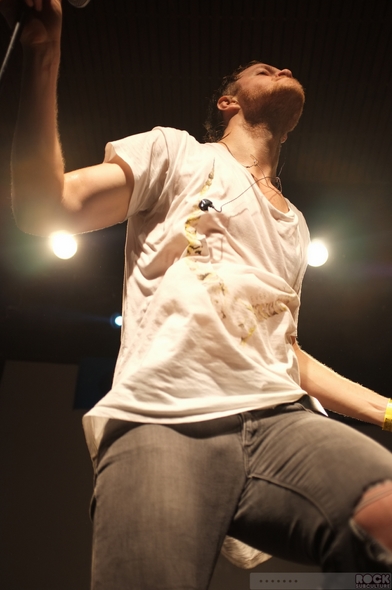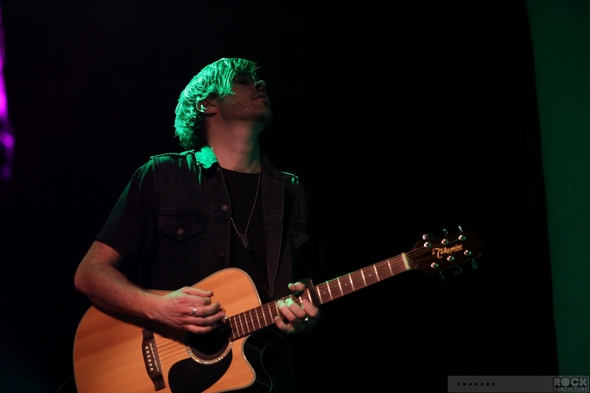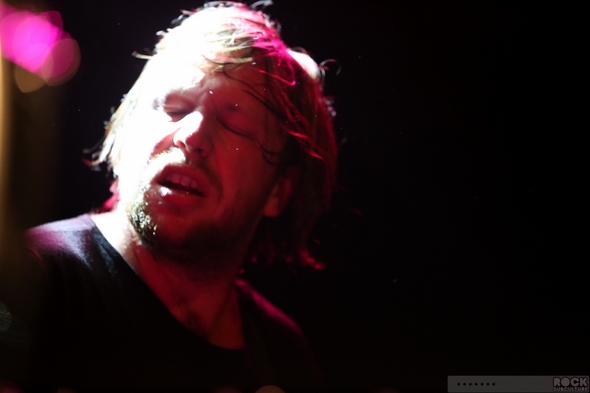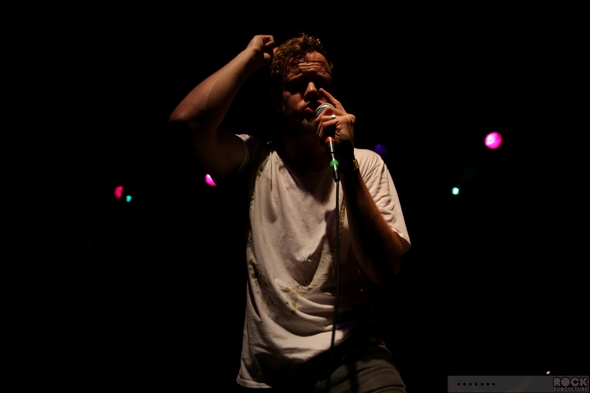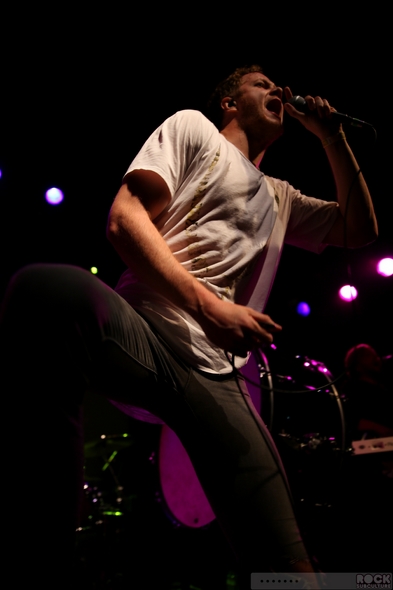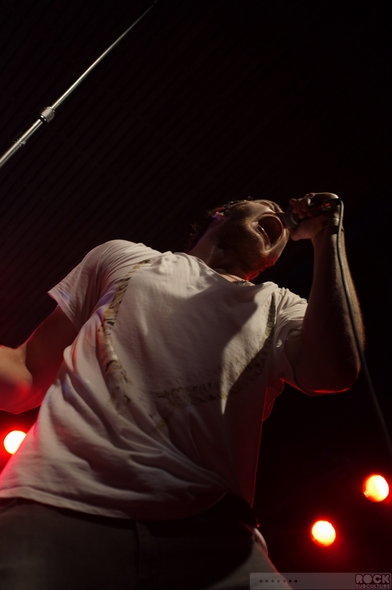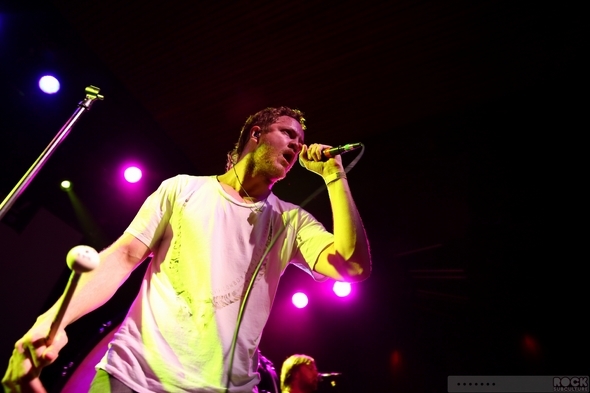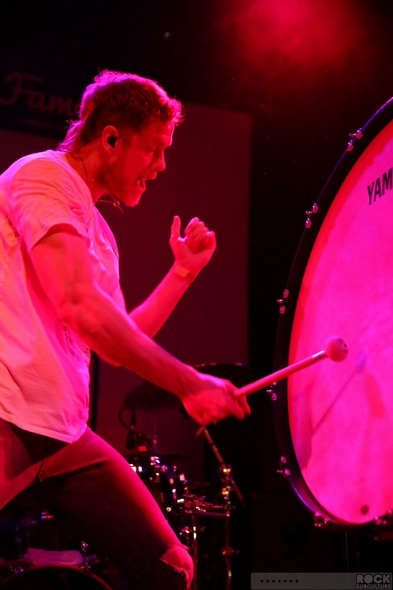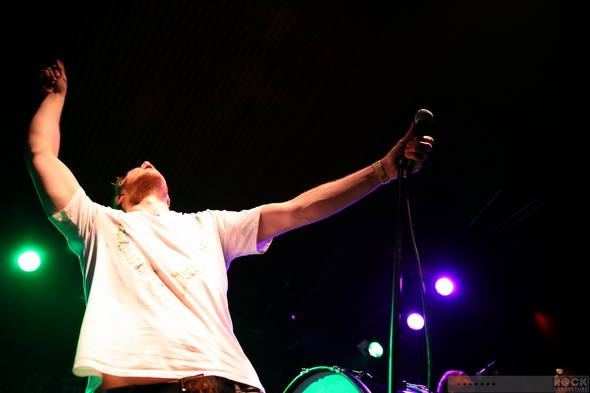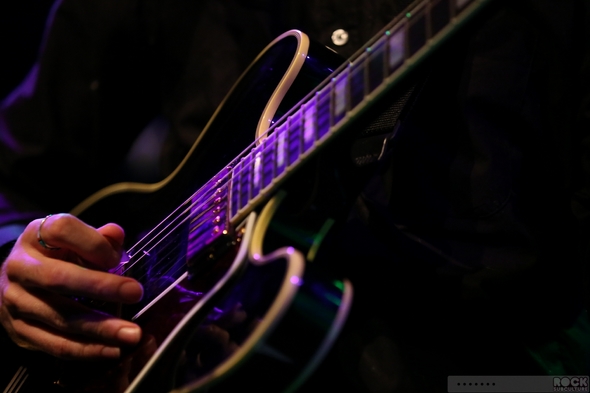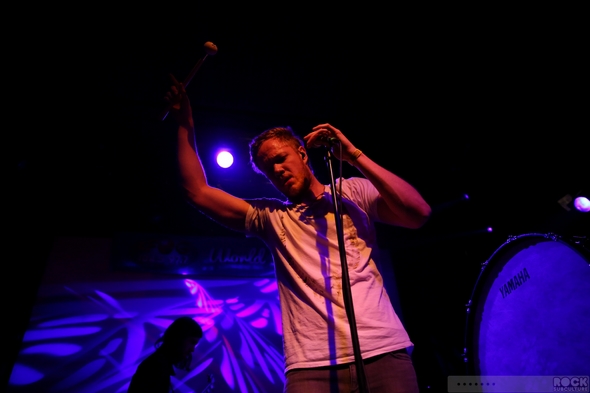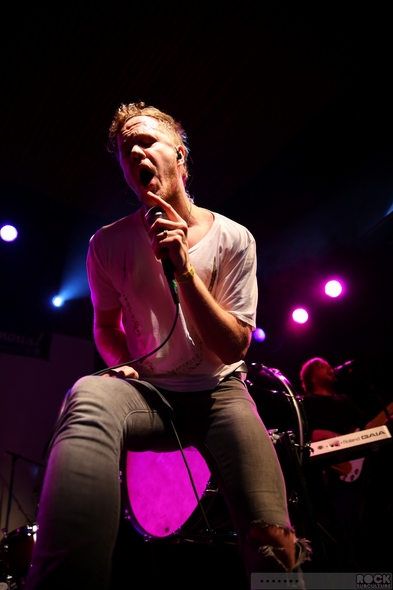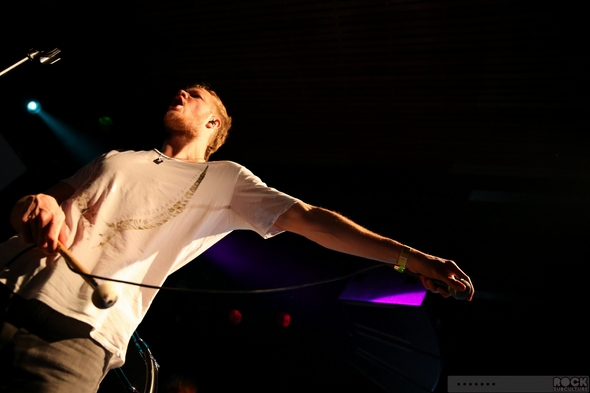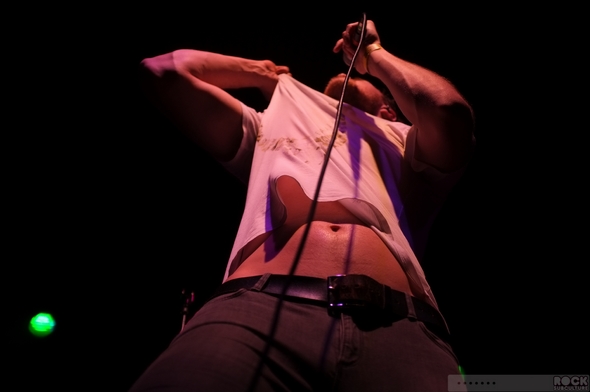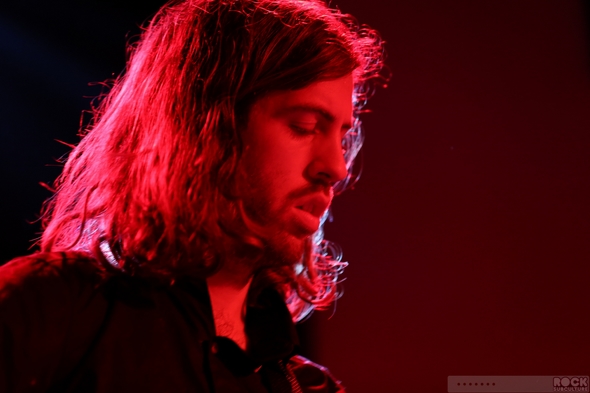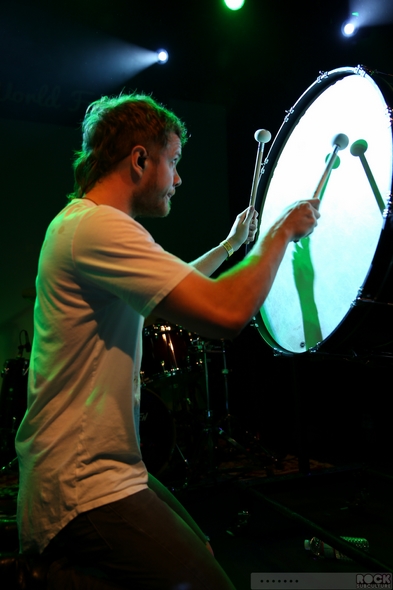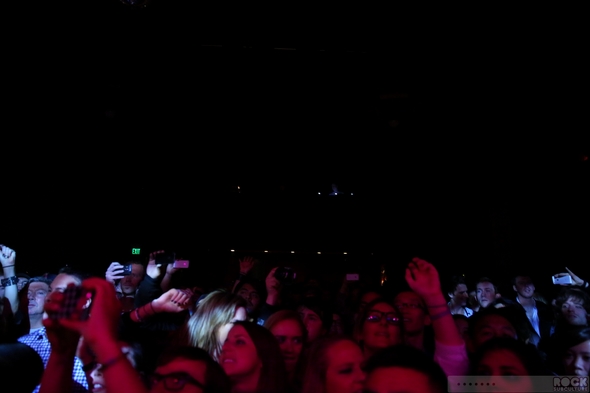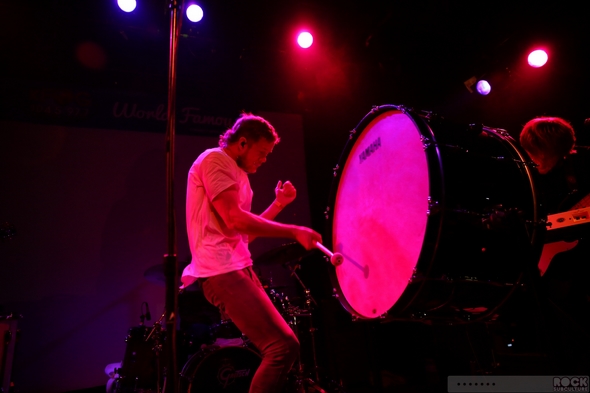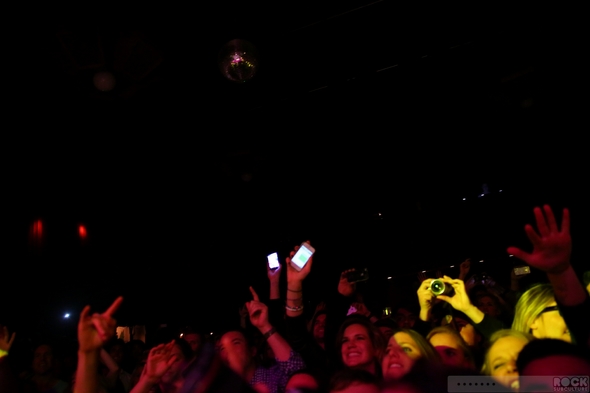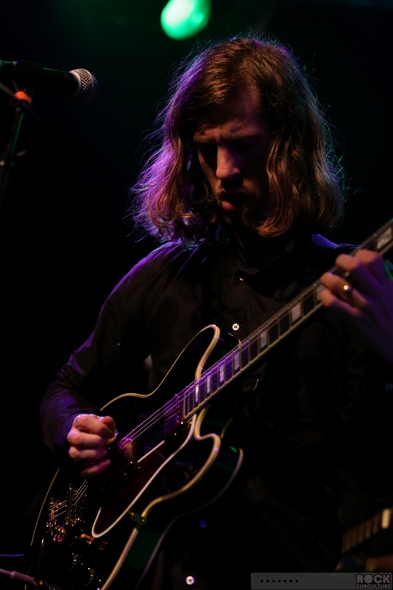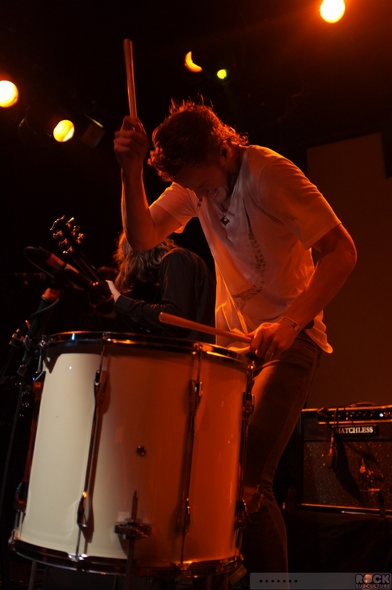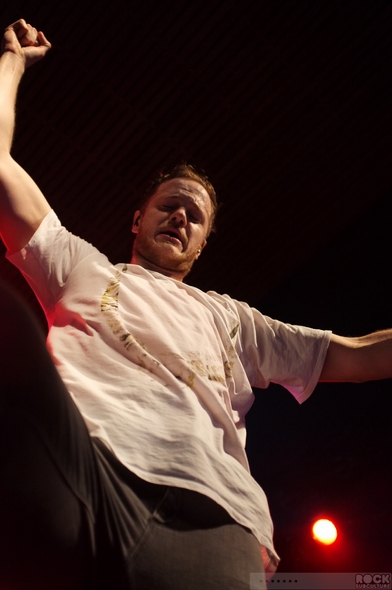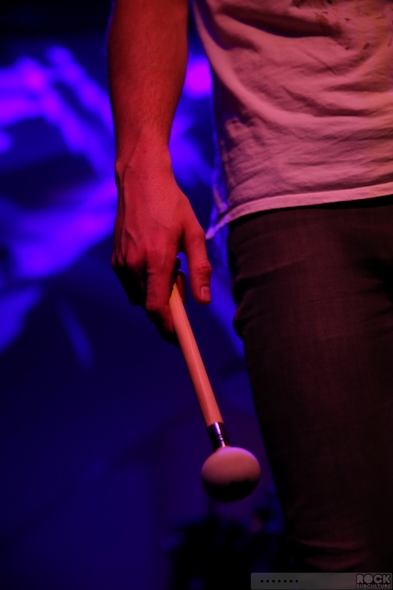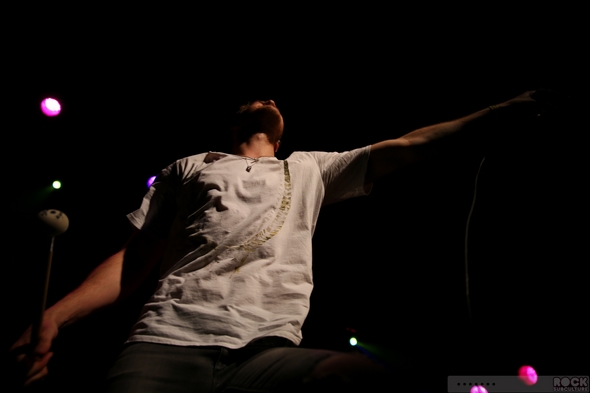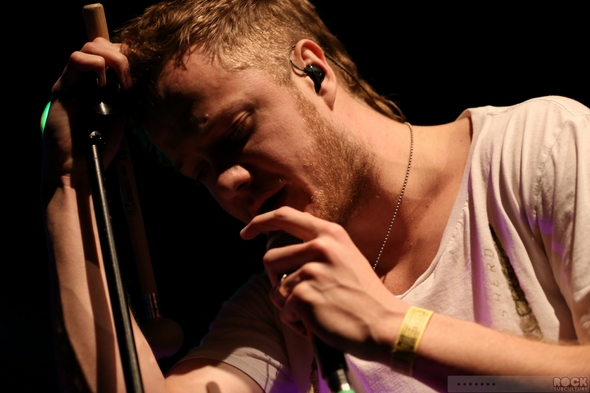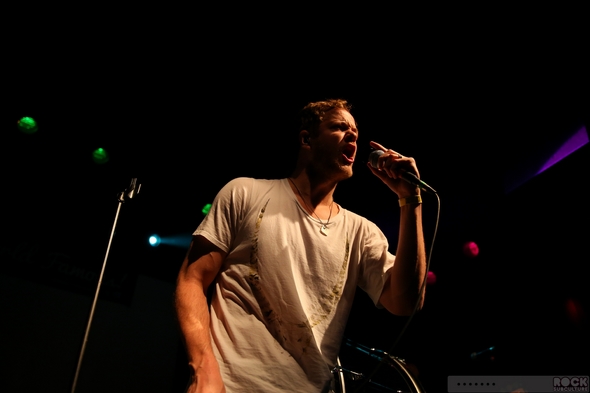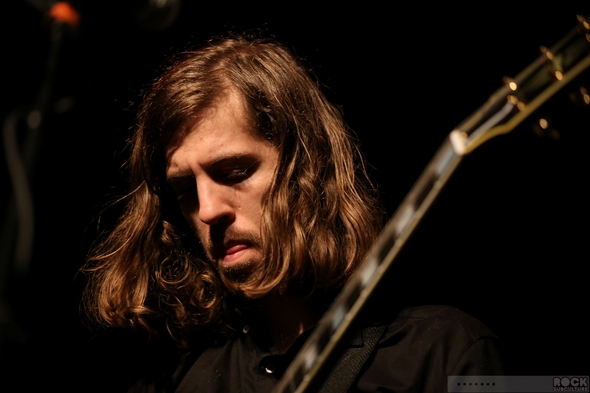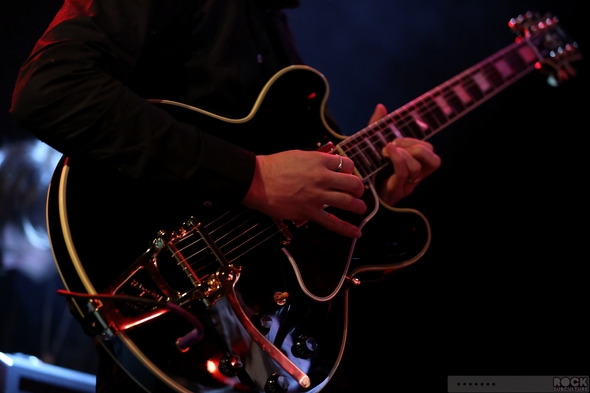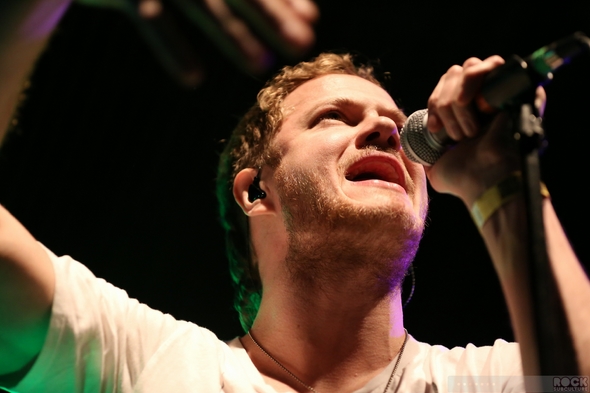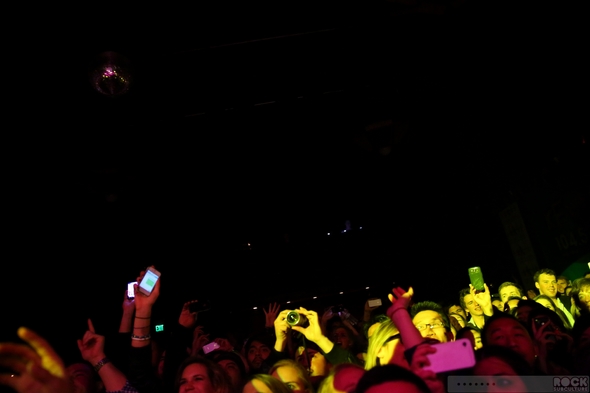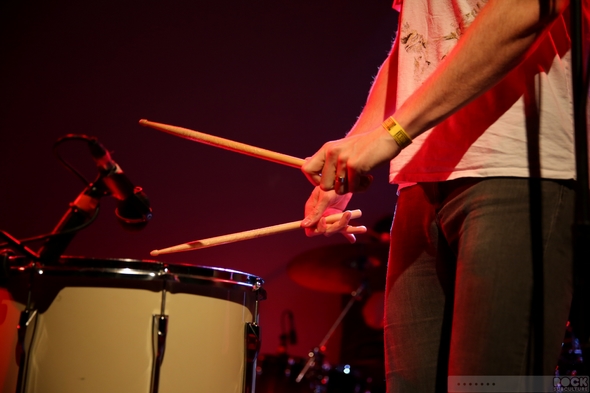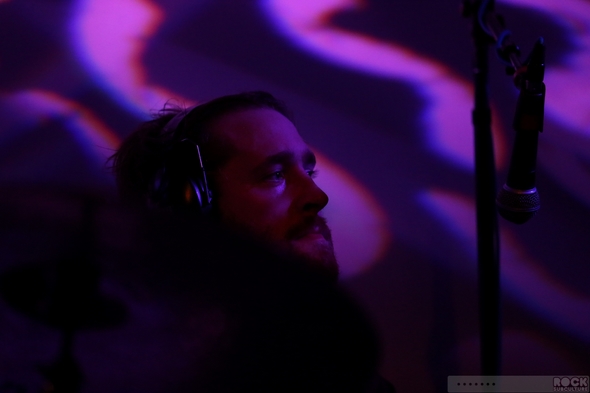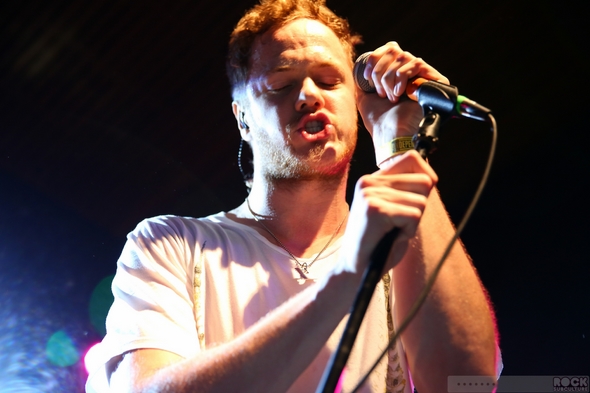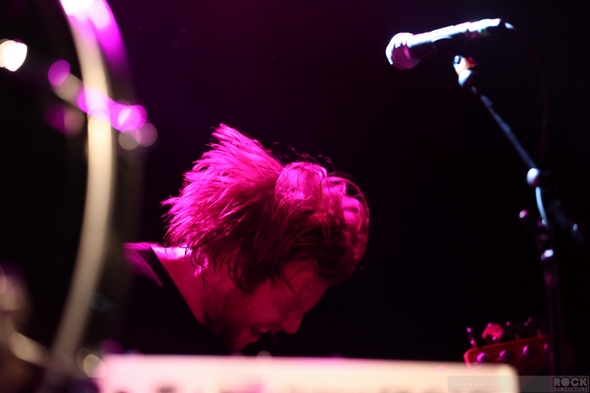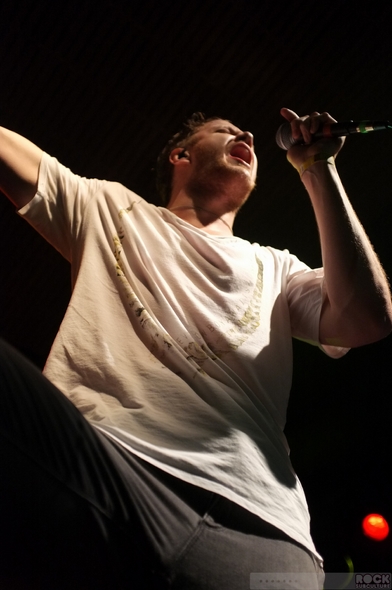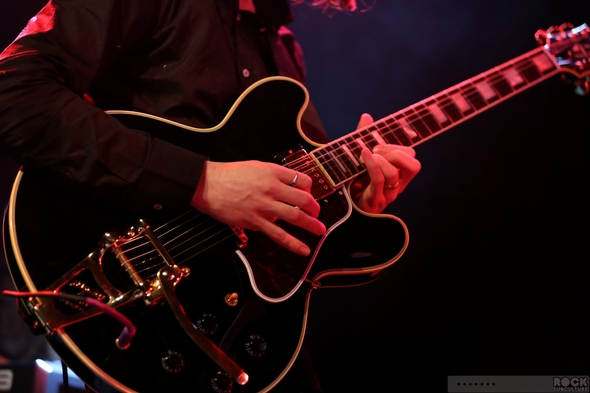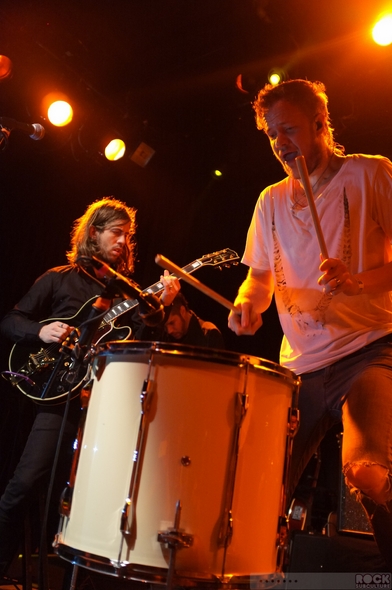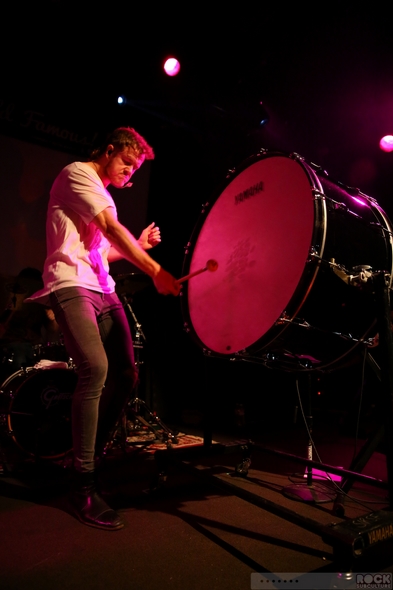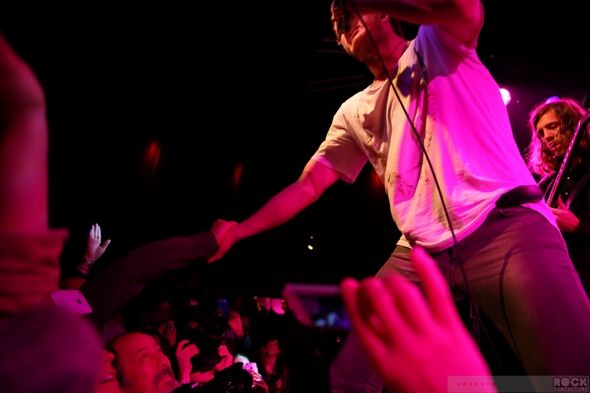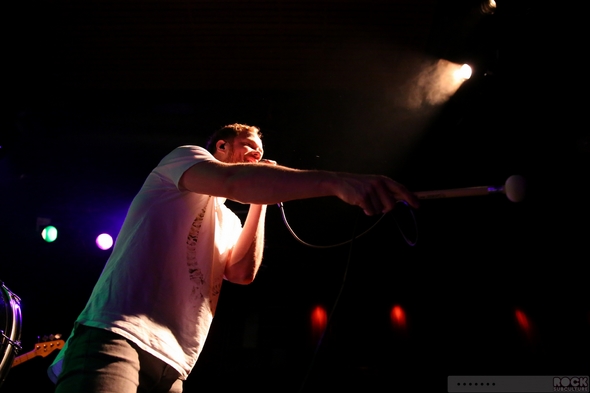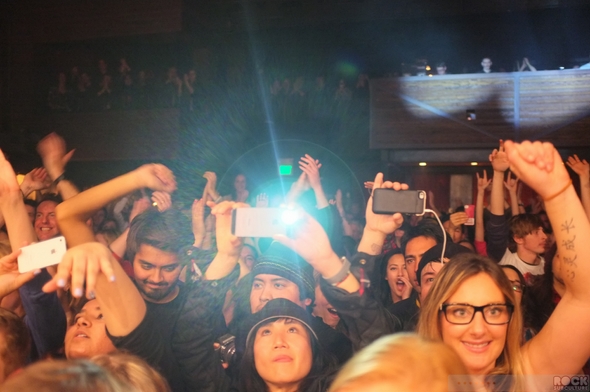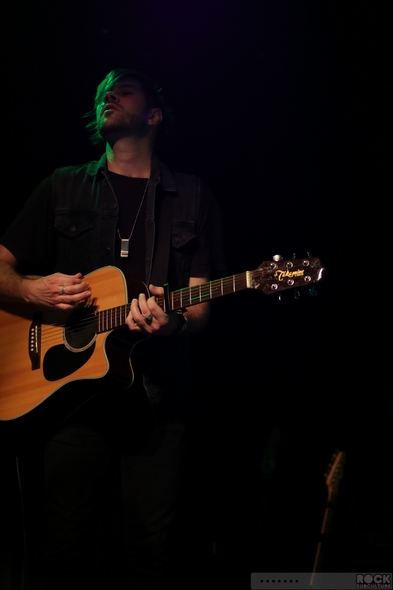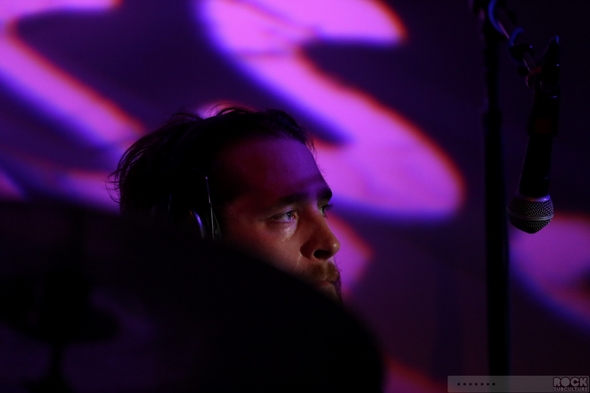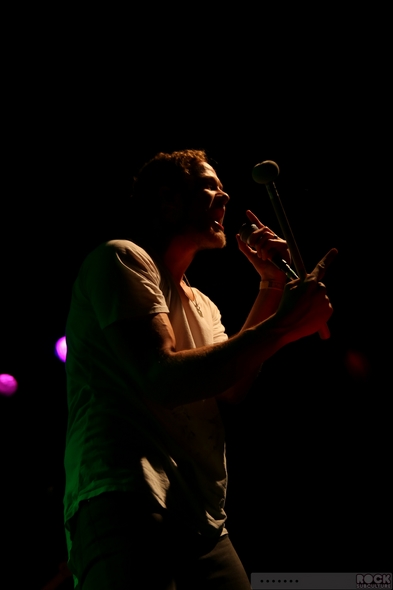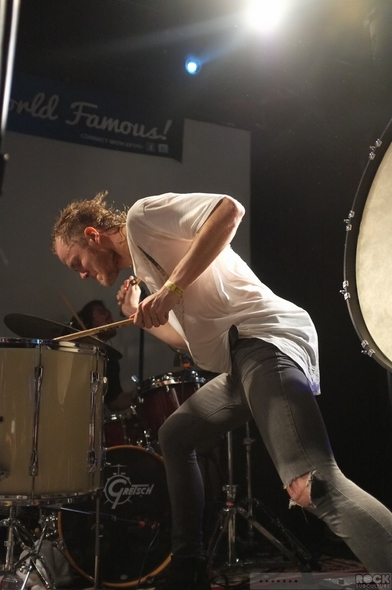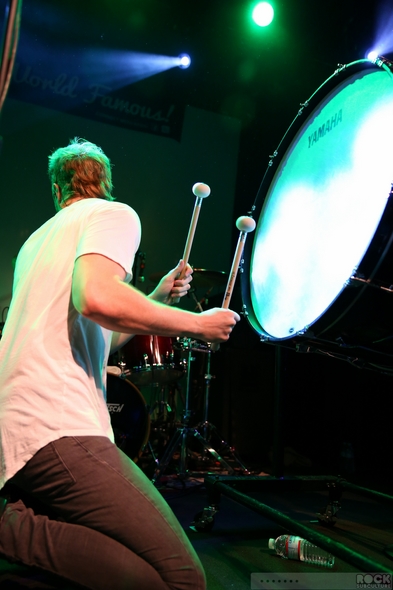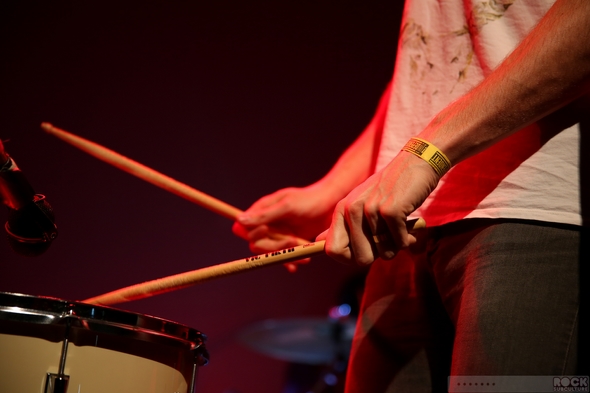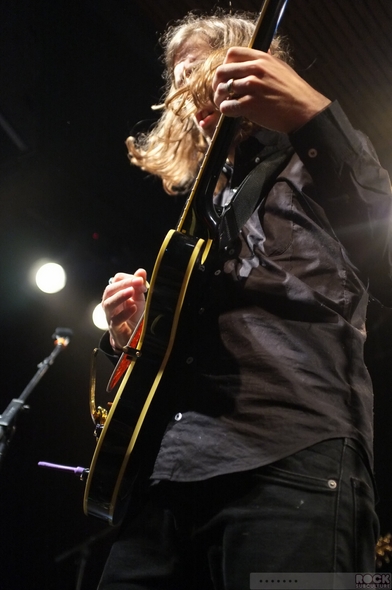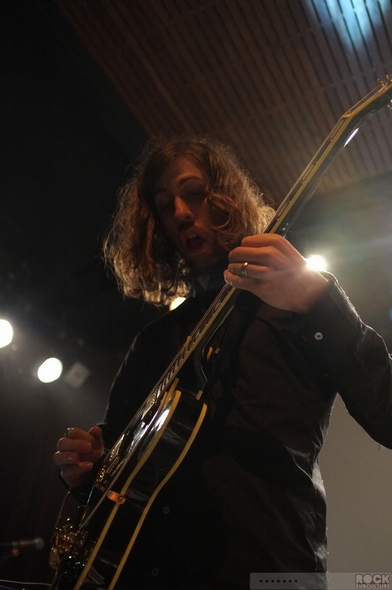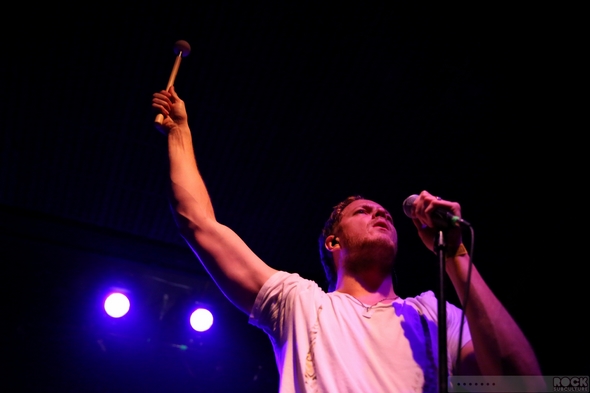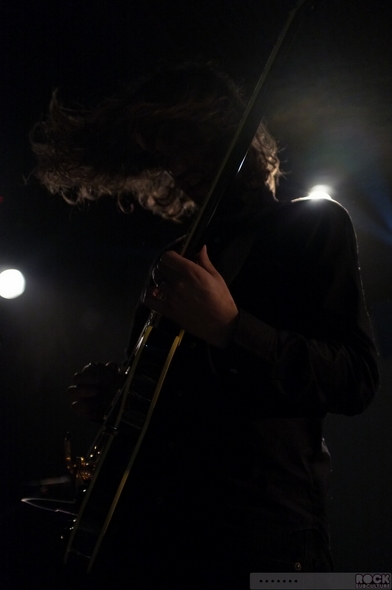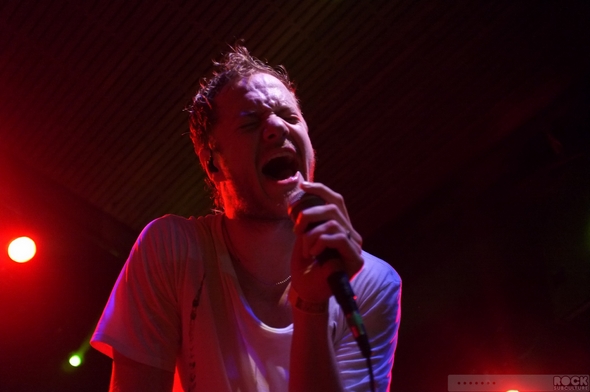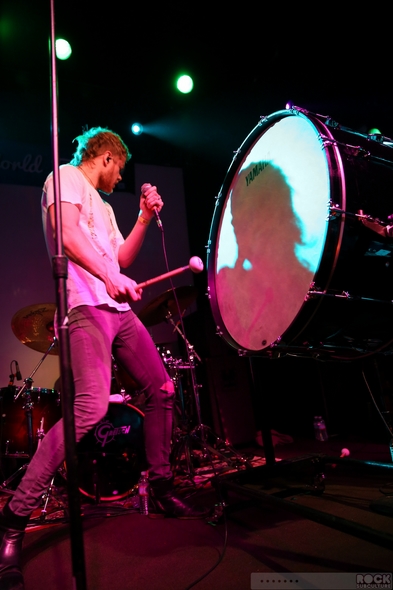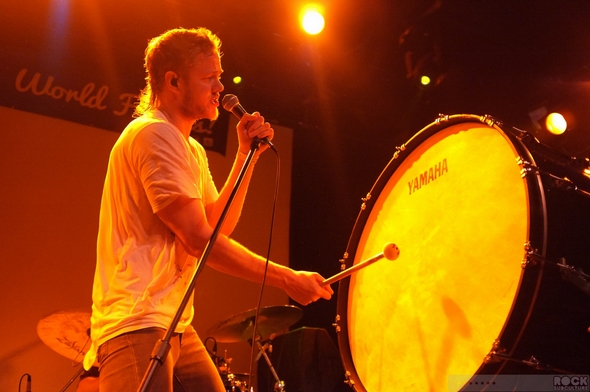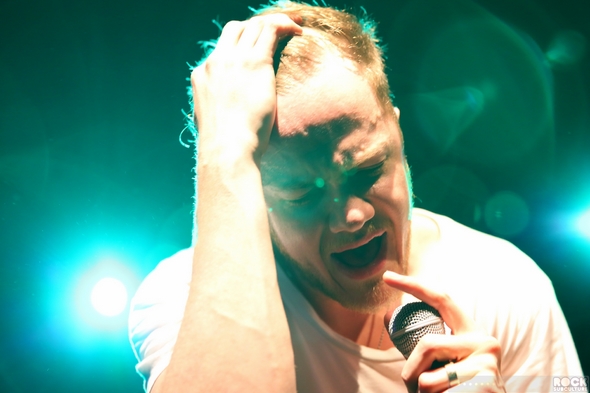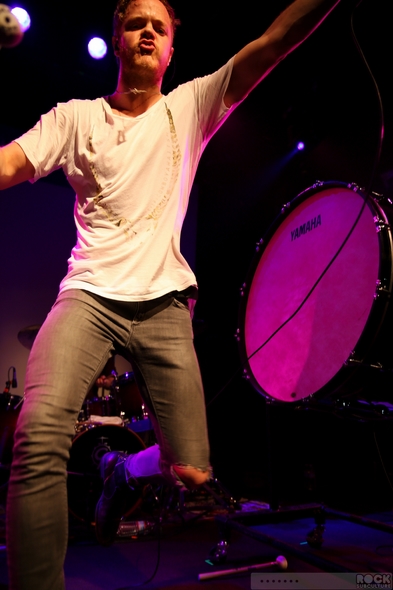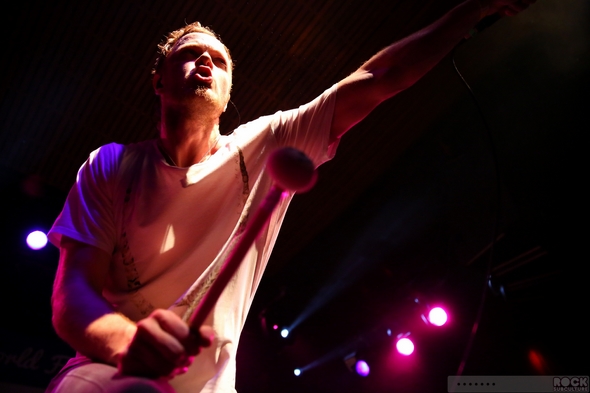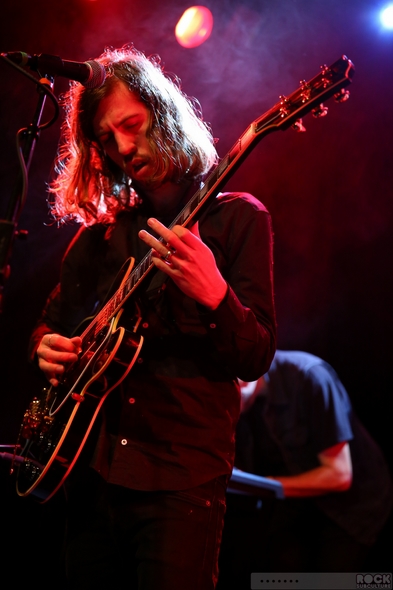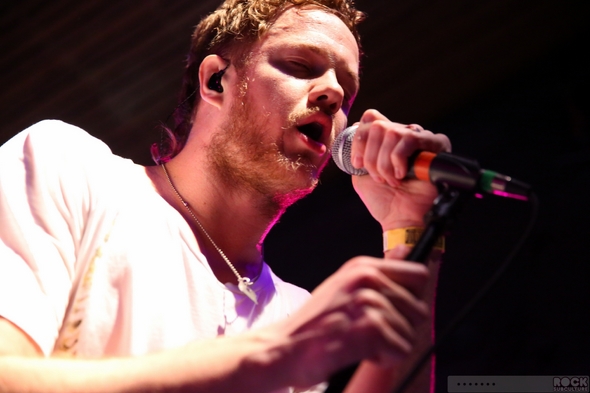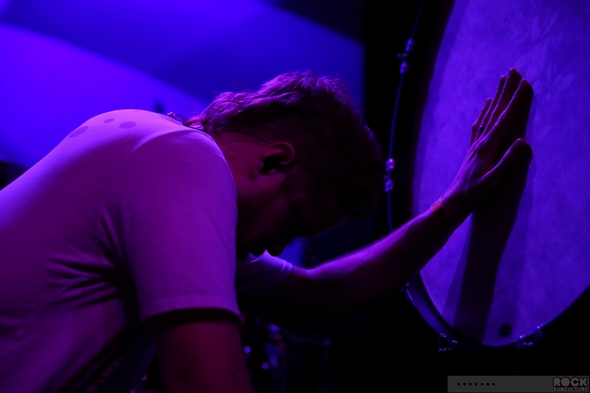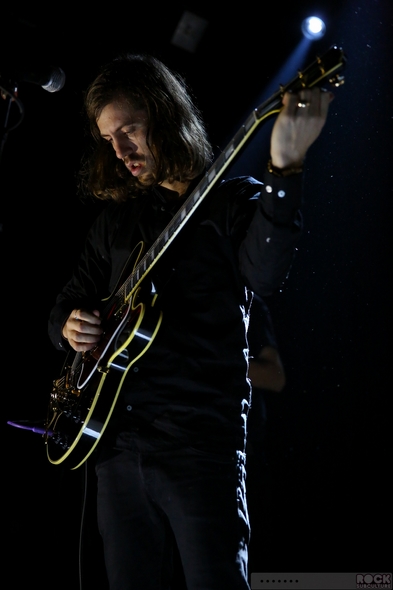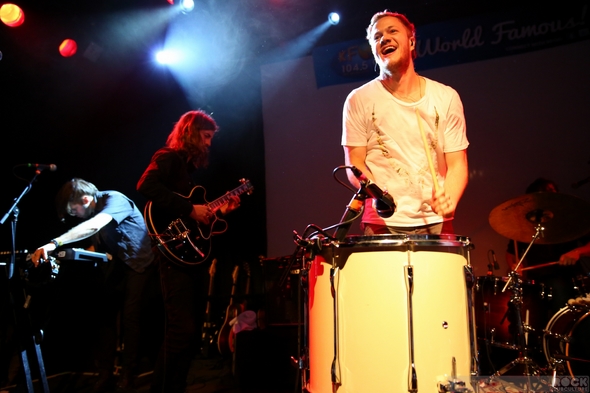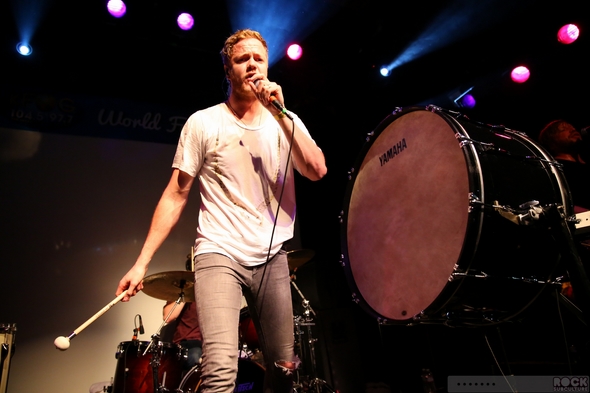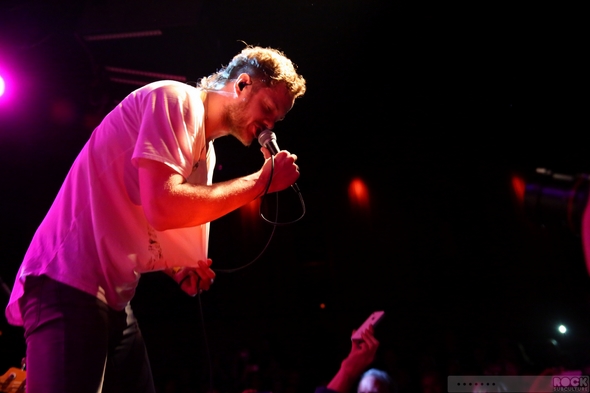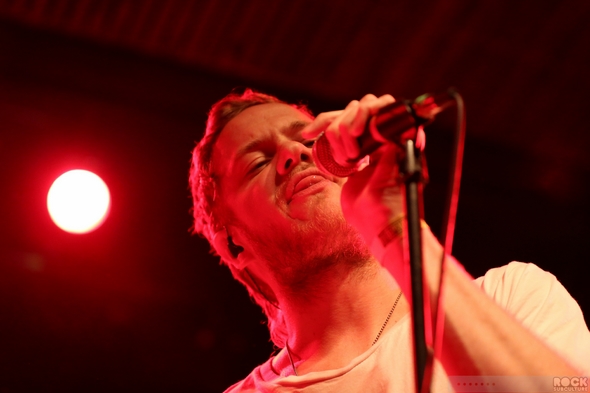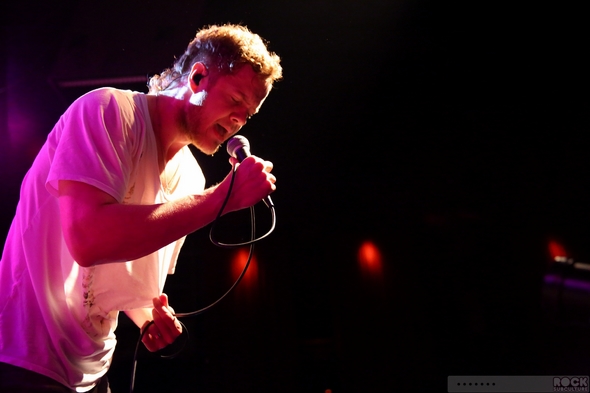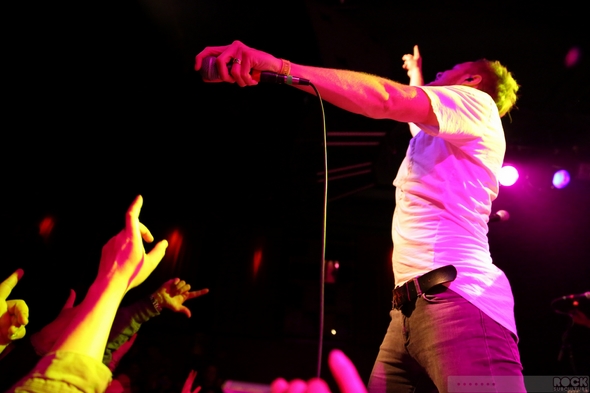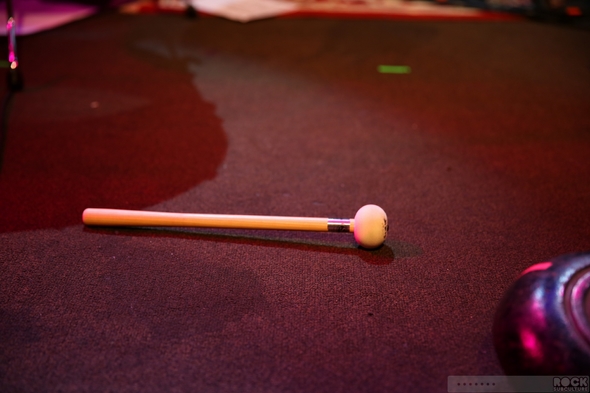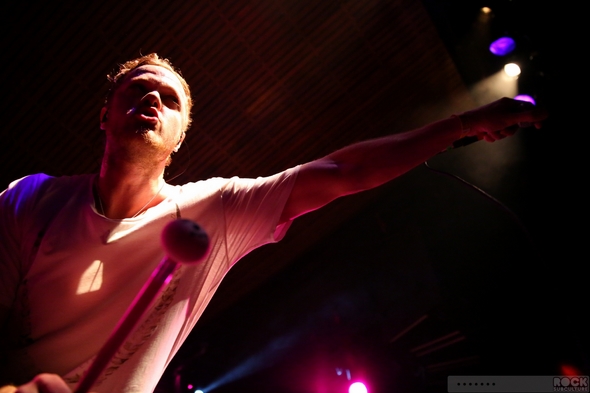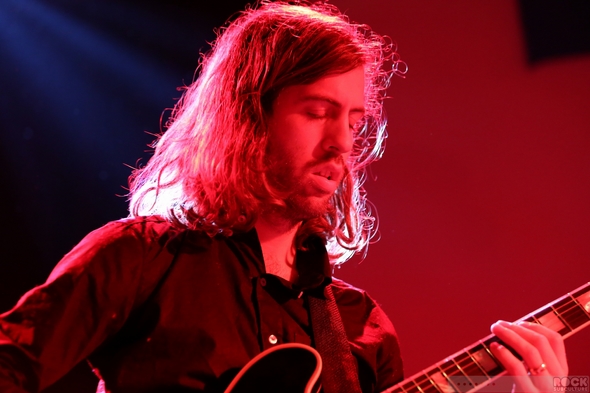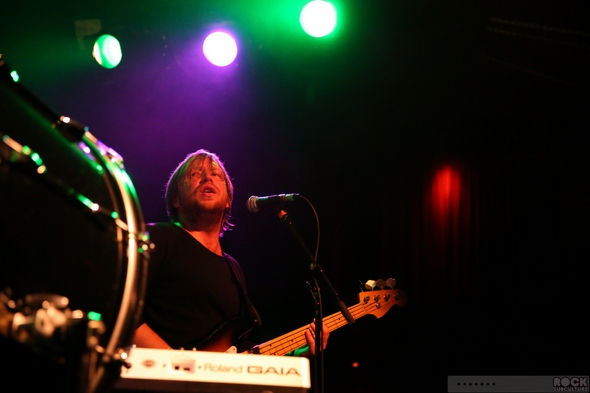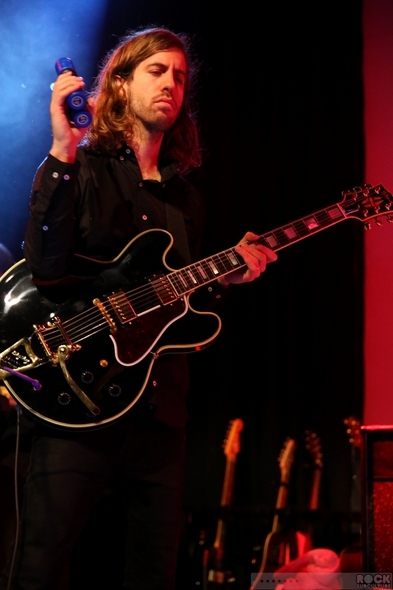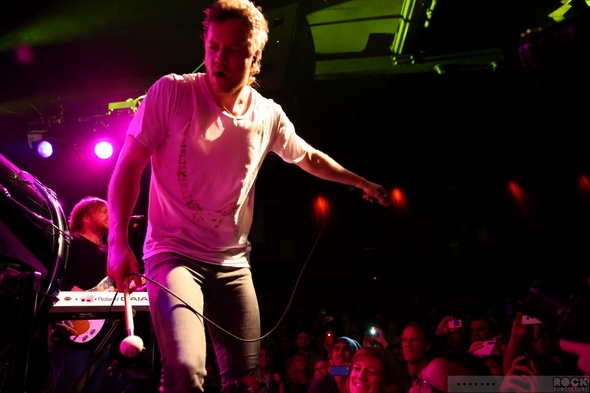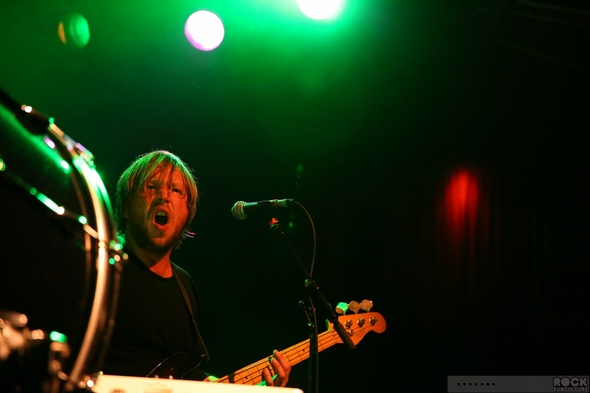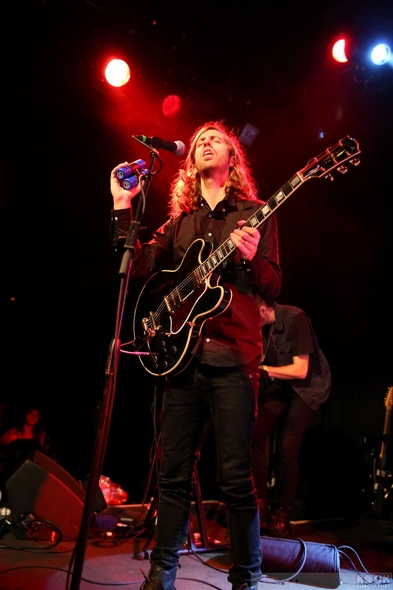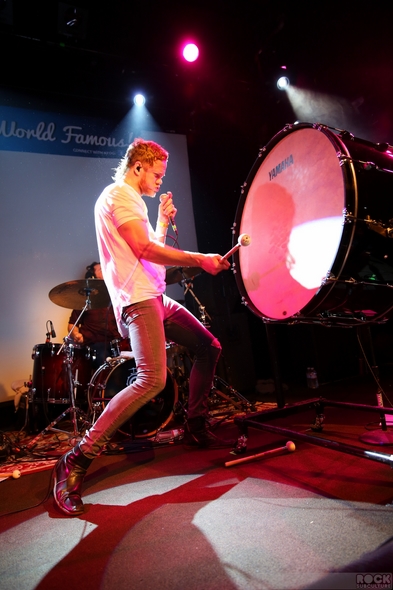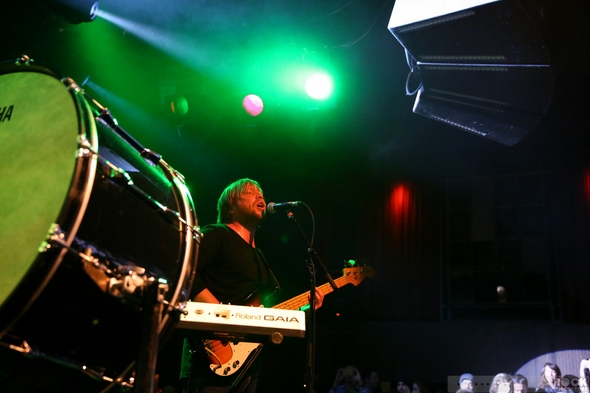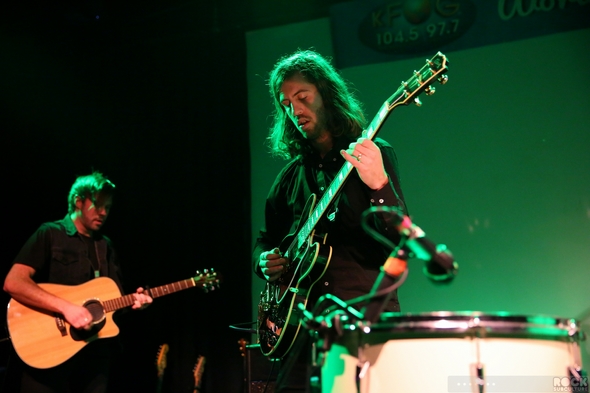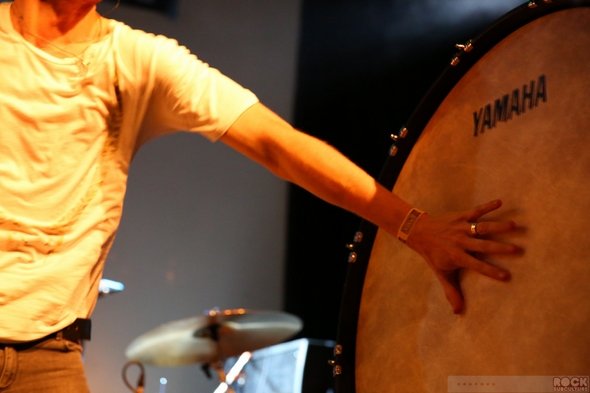 Jason DeBord