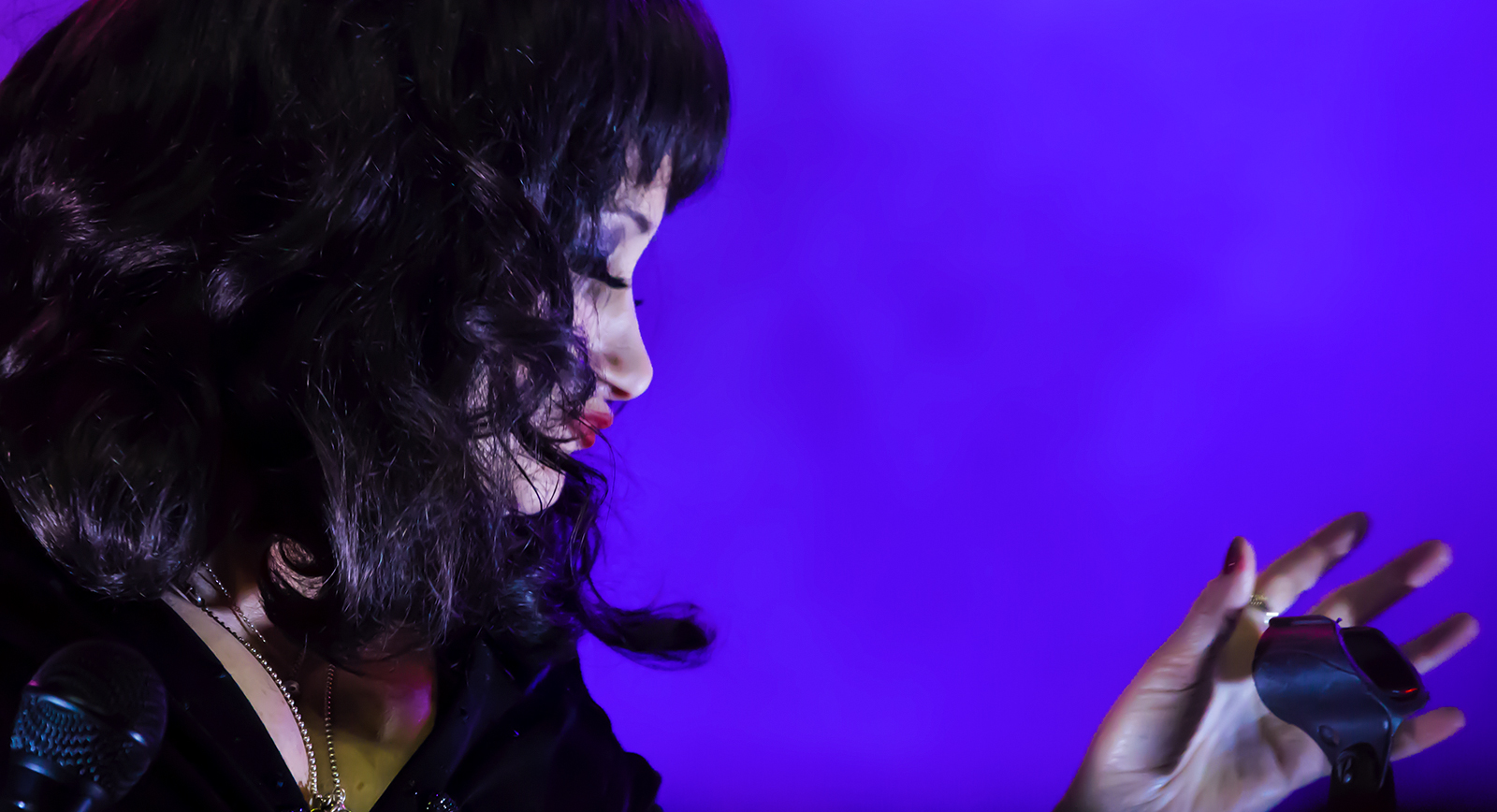 "I guess we just wanna reinforce our message of hope and new beginnings; because anything can happen, hopefully…"  Susan Ottaviano speaking on behalf of her and her bandmates and a full reunion of Book of Love as preface to "Happy Day", one of the bright and shiny songs off of their self-titled 1986 debut album.  Their music is in stark contrast to a lot of the self-perpetuating negativity permeating our culture today.  The band seemed to have more of an attitude about shaping the future by painting a picture of what they wanted it to be, rather than engaging in conflict.  Maybe they were onto something that might come around again someday?  Optimism is powerful.  And San Francisco turned out for a healthy dose of it Sunday night at a sold out show at the DNA Lounge… to be part of this special concert engagement in which all four members of Book of Love performed together, with not just the original hits but new music too, in celebration of their 30th anniversary last year.
Who: Book of Love
What: 30th Anniversary Tour
Supporting: Fever High
Venue: DNA Lounge
Where: San Francisco, California
Promoter: Omar Perez
When: February 19, 2017
Seating: (photo pass)

This show was highly anticipated; one of just two dates nationwide with the full band (the other being in Houston at Numbers the night prior).
One of the artists originally slated to support this show was Introflirt.  Tragically, both members of the band – Ben Runnels and Nicole Siegrist – perished in the Ghost Ship warehouse fire in Oakland back in December.  Susan from Book of Love said a few words about this during their set.
DJ Omar Perez kicked things off once the doors opened with a blazing DJ set that bridged the sets and kept the party going.
Fever High
Fever High is a young, Brooklyn-based duo Anna Nordeen and Reni Lane, with producer and collaborator Adam Schlesinger.
Though not an 80s-era band, their sound fit in well with Book of Love and they seemed to be a big hit with the crowd that filled the floor on both levels wall to wall.
Sire Records re-released their debut EP All Work last year with singles "Tantalized" and "All Work".
I was not familiar with them but their music was super catchy and they seemed to have a lot of fun on stage.
Below is a photo of their set list from the show: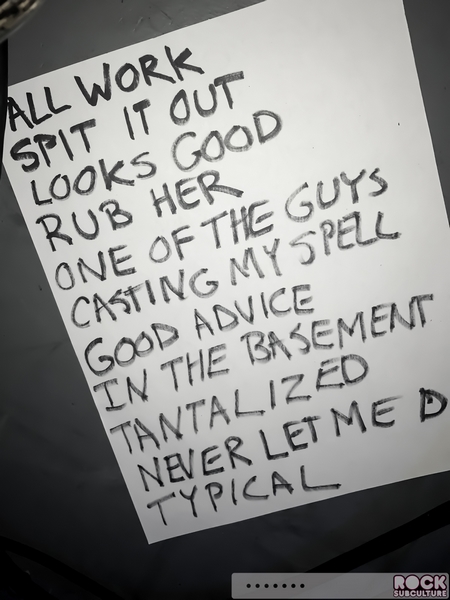 Below are some photos of Fever High performing on stage (click any image to open a virtual lightroom with higher resolution versions of each photo):
Book of Love
Members
Susan Ottaviano
Ted Ottaviano
Lauren Roselli Johnson
Jade Lee
Though I've seen Book of Love perform a couple of times in the last few years (here at the DNA Lounge in San Francisco in 2013 and at Thunder Valley in Lincoln in 2015), this was the first time I'd seen the band with all four members since their Candy Carol Tour in 1991 at the long defunct One Edge Up in Sacramento (I actually skipped my senior high school prom to see them).
The New Wave synthpop band from Philadelphia, which was formed more than 30 years ago, have in the past couple of years started working together and recording together again.
I had a chance to catch up with Ted Ottaviano a few weeks before this show, and you can listen to our conversation via my "Rock Talk" podcast here:  LINK
Famously, they toured with Depeche Mode in 1985 and 1986 as part of their Some Great Reward and Black Celebration tours, and had a number of huge hits of their own, including "Boy", "Pretty Boys and Pretty Girls", "I Touch Roses", and their (sort of) cover of Mike Oldfield's "Tubular Bells" from The Exorcist.
Their debut eponymous studio album was released in 1986, though it was not mastered on CD until November 1988.
I remember that I had bought my first CD player in early 1988 and my first introduction to Book of Love in this new format was the Sire Records sampler CD Just Say Yes Volume II: Just Say Yo.  It was a phenomenal CD series, and that particular one had "Tubular Bells/Pretty Boys and Pretty Girls [Regan's House Medley]".  People forget how poor the sound quality was on cassette tapes (and of course younger generations have never heard one played), and Book of Love had that clean, layered, perfectly arranged sound that was something new and fresh.
I can't stress enough how much that 14:26 long track completely blew my mind, and made me a lifelong Book of Love fan.  It was such an incredibly inventive and perfectly produced piece of pop music, that still sounds better than most of what is being made today, and still sounds contemporary.  I loved the intensity, the changes, the contrasts.  One of the best mixes of two pieces of pop music ever, and funny enough, matched by Depeche Mode's own "Behind The Wheel/Route 66 (Mega-Single Mix)" which was included on the same sampler.  Both were brilliant mixes of an original and inventive cover along with their respective original songs.
Their second studio album, produced by Flood, was released in June 1988, so I remember buying both the first and second together.  They were very prolific in that time, and followed-up a few years later with Candy Carol in 1991, which was the tour with which I saw them live in concert for the first time.
Their last original studio album was Lovebubble in 1993, and then no new music was recorded until their did their best of in 2001.  Of course, the entire music industry and landscape changed drastically in 1993, with Nirvana shifted the world toward raw guitar sounds, and the synthesizers that ushered in the 80s were suddenly something of the past.  The band split up to pursue different things.
In 2016, they released a new compilation album "MMXVI – Book of Love – The 30th Anniversary Collection", which includes remastered versions of their favorite songs, as well as two new tracks, "All Girl Band" and "Something Good".  My highest recommendation, even if you have the original albums already.
As they came out onto the stage on Sunday night, images of girl bands that inspired them were projected onto the giant screen behind the stage.
Of course, Susan took center stage on the mic for most of the show on vocals, with Ted, Lauren, and Jade positioned behind their respective keyboards.  But each had different opportunities to move to the center to contribute their own lead vocals (Ted on "With A Little Love" and Lauren on "Counting The Rosaries").
The additional keyboards and percussion from the four members created a fuller and sometimes more analog experience with their music coming to life on stage.
As a special treat, they closed out the encore with a rare live rendition of "Witchcraft", which was pretty awesome.
All in all it was a really special and celebratory show, and the place was filled with fans of all ages, so their music continues to be relevant and resonate with younger generations.
Below is a photo of the set list from the show:
Set List:
Modigliani (Lost in Your Eyes)
Melt My Heart
Still Angry
Happy Day
Alice Everyday
Counting the Rosaries
Lost Souls
All Girl Band
You Make Me Feel So Good
With a Little Love
Tubular Bells (With "Chatterbox (Pt. 1)" Intro)
Pretty Boys and Pretty Girls
Boy
Book of Love
Encore:
I Touch Roses
Lullaby
Witchcraft
Below are some photos of Book of Love performing on stage (click any image to open a virtual lightroom with higher resolution versions of each photo):
Jason DeBord