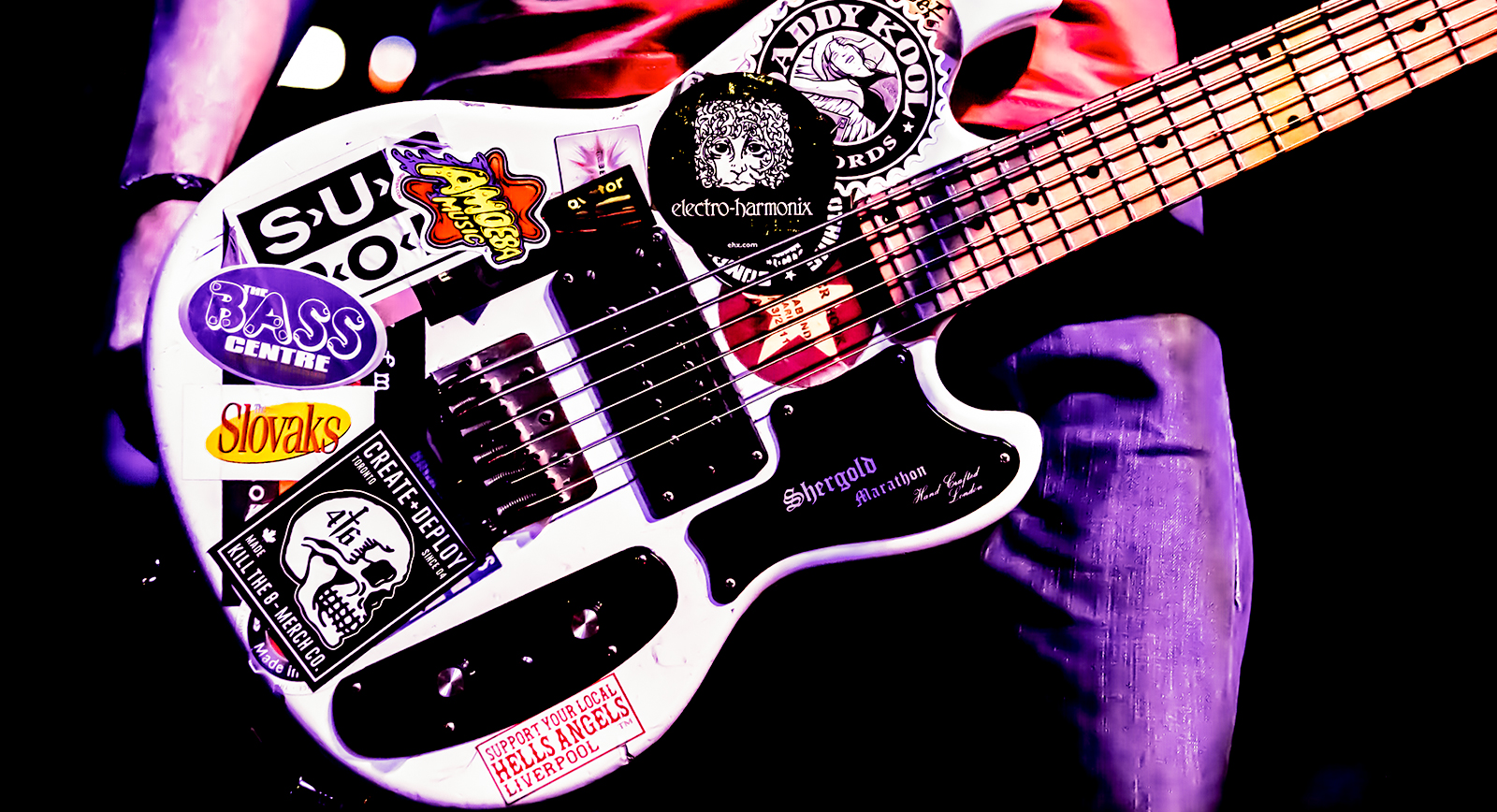 "The hangman looks round as he waits, the cord stretches tight, then it breaks…" Peter Hook & The Light opened their sold out concert at The Fillmore in San Francisco on Saturday night with the dark and prescient "In A Lonely Place".  Kind of an appropriate song to begin with for a few reasons…  of course, it is from New Order's Substance, which they played in it's entirety, in it's original track order (with three bonus songs on the front and one at the end).  But it was also a song that the original members of New Order wrote as Joy Division with front man Ian Curtis from that original band.  So it really doesn't sound anything like a New Order song at all; it is distinctly Joy Division (dark, analog, and sans any pop sensibility).  Having covered Peter Hook & The Light's previous "album" tours in the past few years, I expected them to come out and do the Joy Division set first and the New Order set second, but they flipped the script.  But that first song, is at once a Joy Division song and a New Order song… at the time a bridge from the past to the future.  They led out with New Order's Substance and closed the night performing the Joy Division compilation album of the same name.  So how was it?  Well, I saw the full original band perform in live in concert almost a quarter of a century ago.  In recent years, I've seen Peter Hook as Peter Hook & The Light several times.  I've also seen the rest of New Order (sans Peter Hook) touring separately several times as well.  I have to say that, hands down, this show was the best "New Order" performance I've ever experienced.  In my opinion, New Order's Substance – their most seminal work – this is the best it's ever been done live on stage.  It truly exceeded my own hopeful and lofty expectations.  At the center of it all is the fact that Peter Hook somehow continues to keep the "flame" of both Joy Division and New Order ignited and authentic to what it was and always will be to those who find power and meaning in the works of both bands. Brilliant show.
Who: Peter Hook & The Light
What: Performing Substance: The Albums of Joy Division & New Order
Venue: The Fillmore
Where: San Francisco, California
Promoter: Live Nation
When: Saturday, November 5th
Seating: (photo pass)

The Fillmore in San Francisco played host to the show on Saturday night.  I always try to arrive at least an hour early in the event there is not a photo pit set up for photography (so I can find a spot and not interfere with fans there to enjoy the show), but I got stuck in terrible traffic and it took me about four and a half hours to drive there (about double what it should have).  I drove past the entrance just minutes before doors opened, and there was a line stretching nearly a block, which is unusual for the venue.  A sold out show, there was a lot of buzz in the air.  Once I was inside, I asked those up front what time that they arrived to sit in line, and one woman from L.A. actually started the line at 9:00 AM!  This perfectly illustrates the dedication of Peter Hook fans and the meaning shows like this have for them.
The Fillmore is of course a fixture in rock and roll going back to the 60s and Bill Graham, so it's still something of a big deal to play a show there today.
With a capacity of about 1,150, the show had long been sold out and fans were packed in tight, but didn't seem to care, with all attention fixed on the stage throughout the show.  In past Fillmore shows, I've often found a crowd at the back just there to I guess say they were there, drinking and talking loudly over the performance.  Not so with Peter Hook & The Light.  Everyone was heavily into the show, and every song.  I even saw a bartender at the back of the room recording a snippet of song with his iPhone.  It was an event.
So what is all of this about, with Peter Hook & The Light touring and performing New Order and Joy Division material, and the rest of New Order doing the same (separately) as New Order?
A subject fans get touchy about… with many taking one "side" or the other.  Let me just preface this overview by saying that I believe each founding member of New Order is incredibly gifted and talented, and none of this music would exist without the contributions of each of them.  Regardless of their state of affairs today, the music is the music and its a massive contribution not just to rock and roll but pop culture at large.  Nothing can ever take away from that.
In any event, a few years ago, I did get Peter Hook's perspective on the state of the band today via an interview for my podcast, which you can listen to here:
There are a number of sources for views on the matter from the rest of New Order across the net…
In short, they parted ways (for a second time) in 2006…  New Order (sort of) reformed in 2011, with Bernard Sumner, Stephen Morris, Gillian Gilbert and Bad Lieutenant bassist Tom Chapman.  They did a show in London in December 2011 (I was there – see my review) and released a live album from that performance, Live at the London Troxy.
Since, they have been at odds quite publicly, with each doing their own respective tours.
In September of last year, New Order released their first studio album without Peter Hook, Music Complete.  One year ago, Peter Hook filed a lawsuit against the other three original members of New Order, which I understand is not yet resolved.
I have supported and followed both sets of artists, and I have covered the reformed version of New Order (i.e. without Peter Hook) playing their first gig in England after an absence of five years at The Troxy in London in December 2011 as well as at The Greek in Los Angeles in 2012, at The Cosmopolitan in Las Vegas in 2013, and at the Bill Graham Civic Auditorium in San Francisco in 2014.
As explained in past reviews, I have been a huge New Order fan going back to the early 80s (and count them as one of my all-time favorite bands).
For those unfamiliar with the band, they were formed by the surviving members of Joy Division after the 1980 suicide of their lead singer, Ian Curtis. Bernard Sumner took over vocals, Stephen Morris and Peter ("Hooky") Hook continued with bass an other instruments, and Gillian Gilbert joined the reformed band, which had a strong electronic pop change in direction from Joy Division's post punk sound, but while still retaining what was Joy Division at the same time.
New Order have an incredible catalog of work – for me, each album up through Technique were absolute masterpieces (though I love what followed, I felt that their work was at its pinnacle with Technique, though individual songs on subsequent albums I still count among my favorites). And in addition, "Blue Monday", I feel, is one of the best songs and most innovative songs released in the 80s. Experiencing it live should be on the bucket list of anyone who loves music from that era.  It can give you an adrenaline rush for days.
Peter Hook & The Light
Members
Peter Hook (vocals, bass, percussion)
Jack Bates (bass)
David Potts (guitar)
Paul Kehoe (drums)
Andy Poole (keyboards/synthesizer)
Peter Hook has taken a thoughtful approach to his live concert tours in the past three years.  Rather than just doing a random set of Joy Division and New Order songs, each year he performs full albums, and he has been doing them in sequential order.  So you can read about his tours up through this point in my past reviews:
So for years, I've been waiting in anticipation for Substance and Technique…  my two favorite albums overall.
What is Substance?  For New Order, it was a compilation album put out by Factory Records in the Summer of 1987, made up all 12-inch versions of their singles and the B-sides for those singles, as well as the (at the time) new song "True Faith".  Additionally, there were some differences, track by track, with some of the original songs; even some of the 12″ versions were newer, shorter versions.
Track listings and orders vary by release type (LP with two records across four sides, double compact disc, double cassette).
The set list from this show follows the LP order from "Ceremony" through "True Faith", with a prelude of "In a Lonely Place", "Procession", and "Cries and Whispers" from the B-sides, ending the New Order set with "1963" (the B-side to "True Faith").
1987 was quite a year in music; one of the best in my lifetime.  While the first half of the 80s might have had a larger impression on me, 1987 was the year I entered high school, so it was a very formative year for me personally.
1987 saw the release of New Order's Substance, as well as Depeche Mode's Music for the Masses and INXS' KICK – three albums that are all among my top ten favorite albums of all time.
Also released in 1987… The Cure's Kiss Me, Kiss Me, Kiss Me, The Smiths' Strangeways, Here We Come, U2's The Joshua Tree, The Sisters of Mercy's Floodland, Pet Shop Boys' Actually, Prince's Sign O the Times, Love and Rockets' Earth, Sun, Moon, Midnight Oil's Diesel and Dust, Siouxsie and the Banshees' Through The Looking Glass, Public Image Ltd.'s Happy?, Front 242's Official Version, Nitzer Ebb's That Total Age, Oingo Boingo's Boi-ngo, Dead or Alive's Mad, Bad, and Dangerous to Know, Erasure's The Circus, Guns N' Roses Appetite for Destruction, Sinead O'Connor's The Lion and the Cobra, R.E.M.'s Document, Echo & The Bunnymen's self-titled album, and dozens more…
Around this time in my life that New Order's Substance came out, when I was around 14 to 16 years old, I spent a lot of time painting and creating illustrations and I had just bought my first compact disc player and I would just play Substance over and over and over (not having to flip a cassette was a novel thing back then!) and I would create my own artwork sometimes through the night and until the sun started rising in the morning.  Substance was the substance that fueled my own creativity back then.
As a side note, legend has it that the genesis of New Order's Substance was so that Factory Records co-founder Tony Wilson could play the songs on the CD player in his Jaguar.
So those songs – each and every one of them – are permanently imprinted on my mind.  In short, it is a very special album to me.  The prospect of hearing the whole thing live today, in its entirety, has had me excited with anticipation for some time now.
Having published rave reviews of the other Peter Hook & The Light concerts that I have attended, I had really high expectations for this one.  I knew going in that he and his amazing band could pull it off.  Even still, it just demolished my imagining of how it would be to experience it.  It was really more like a religious experience for me; it was just overwhelming bliss.
Getting back to New Order and Joy Division…  I was never much of a Joy Division fan.  I respect the music, and I feel the music is very important as innovative works of art that inspired so much that followed (including New Order).  But the music never spoke to me; it never matched up with my mood or perspective.  It always sounded very dark and devoid of pop sensibilities.  So I've never felt in the mood to put on some Joy Division music.
Now I realize that of the two bands and their works, Joy Division is the "cool" one to like, because it is dark and edgy and counter culture.  I get it.  But I'm honest about what I like and what moves me.
For me, the most important thing about Joy Division is that it gave birth to New Order and their works.  Without Joy Division, there would be no New Order.
And at the foundation of New Order's music is that technology…  you don't find much if any of that in Joy Division.  Well, what is there sounds very different.
So it's like Joy Division is analog to New Order's digital.  But New Order is both, and I think some miss that.
Yes, New Order has those sequenced drum beats and synth sounds.  Though peppy and poppy, it is kind of inherently cold in how it is brought to life with electricity and programming, even though it's made to sound like pop.  Technology used to make happy music.  Kind of a contradiction.
Conversely, Joy Division is all traditional rock sounds… drums, bass, guitar…  but it's all used to make dark music.
So New Order is kind of a melding of the two…  happy (cold) digital technology given character and life with the analog instruments, with human flaws and emotions and character.
And that is part of why New Order's music speaks to me and Joy Division's does not… to me, Joy Division sounds like half of the equation… it's missing the pop and the contrast between digital and analog and pop and dark that makes New Order's music so complex and engaging.
As such, I never feel quite equipped to discuss the Joy Division sets on these Peter Hook & The Light shows, because I just don't connect with it in the same way, so it's not really my place to discuss it.
Getting back to the New Order live set at The Fillmore, this was the best I'd ever heard New Order music live, even compared with prior Peter Hook & The Light shows.  It was really just beyond words.
As much as I loved just taking it in, I was so interested in paying attention to how each song was specifically brought to life.
As an example, the songs with the heavily sequenced drums simply let those drum beat sequences play out from pre-recorded tracks.  In some cases, Paul Kehoe would play in conjunction with them, and in other cases he would leave the stage completely.
Some songs have very "Barney" vocals, and David Potts on guitar would do (fucking amazing!) lead and sometimes shared or backing vocals.  Sometimes he would leave the stage as well (reminding us how bass heavy many of the songs are, rendering guitar moot).  Hooky has such a unique sound, sometimes his bass sounds more like a guitar as well.
Like with past shows I've seen, Peter would frequently let his son Jack do the heavy lifting on bass.  He is a killer bass player.  If I was blindfolded, I would be certain I was listening to Peter Hook.  He has come along to be a very talented and gifted musician, following in his father's footsteps.  Pretty amazing and awesome.  And he's one of those artists who make it all look so effortless.
Given that New Order's music is very synth and keyboard-oriented, it's kind of remarkable all of those duties fall to one man, Andy Poole.  I was fortunate enough to be at a vantage point where I could see his hands at work, and while some of what we heard was pre-recorded, much more of it than I expected was not.  The guy is amazing!  And with such flourish.
Getting back to David… he's a phenomenal guitar player and killed it on every song, but man I love his vocals.  His tone and style just matched the songs and music so perfectly.  Hearing Pottsy at this show made me pull out those old Monaco albums for another spin (Peter Hook and David Potts together were the band Monaco, under which they released two albums).
Paul struck a fine balance in adding "life" to the sequenced drum beats as called for, and did an incredible job on drums where they took more emphasis, song to song.
In any event, watching them recreate each song on stage revealed how much effort must have gone into making critical decisions on how to keep the live versions faithful to the original recordings and the band New Order itself.  I can't imagine how they could have done anything better.  It was truly remarkable.
From a technical aspect, the only song that got a little lost along the way was "Shell Shock", which only made me appreciate that much more how flawless the rest of the renditions were (especially in light of the sheer number songs played in one night – two long albums, back to back!).
I would have to say that this was I think my second favorite concert in all of 2016 (the first being one of Prince's last performances, which would be impossible for anyone to compete with).
It was just amazing, but more, it really touched and moved me.  I obviously go to a lot of concerts and, as such, it's more and more difficult to find events that really strike me at my core and create an unforgettable experience.  This was one of those rare shows that I will never forget.  If I could do go on this tour to see it again and again, I would without hesitation.  For me, it was the perfect "New Order" experience.
As I stood there taking it in, it was cool to look around and see that I was not the only one in the room having such an experience.  Much gratitude to Peter Hook and his band for taking the time, effort, and artistry to create this very special tour.
Set I: New Order's Substance:
In a Lonely Place (New Order cover)
Procession (New Order cover)
Cries and Whispers (New Order cover)
Ceremony (New Order cover)
Everything's Gone Green (New Order cover)
Temptation (New Order cover)
Blue Monday (New Order cover)
Confusion (New Order cover)
Thieves Like Us (New Order cover)
The Perfect Kiss (New Order cover)
Sub-culture (New Order cover)
Shellshock (New Order cover)
State of the Nation (New Order cover)
Bizarre Love Triangle (New Order cover)
True Faith (New Order cover)
1963 (New Order cover)
Set II: Joy Division's Substance:
No Love Lost (Joy Division cover)
Shadowplay (Joy Division cover)
Twenty Four Hours (Joy Division cover)
Komakino (Joy Division cover)
These Days (Joy Division cover)
Warsaw (Joy Division cover)
Leaders of Men (Joy Division cover)
Digital (Joy Division cover)
Autosuggestion (Joy Division cover)
Transmission (Joy Division cover)
She's Lost Control (Joy Division cover)
Incubation (Joy Division cover)
Dead Souls (Joy Division cover)
Atmosphere (Joy Division cover)
Love Will Tear Us Apart (Joy Division cover)
Below are some photos of Peter Hook & The Light performing on stage; apologies to Andy Poole for lack of photos I had a bad angle from the pit (click any image to open a virtual lightroom with higher resolution versions of each photo):
Jason DeBord