"Wow, it's amazing to be back here at Humphrey's, or as we like to call it, 'free concert for boats!'  [pointing to the water]  You were the guy who wrote the review!  [mocking imitation] 'Didn't sound any good from my boat…'  Buy a fucking ticket!"  Roland Orzabal of Tears for Fears, bringing not just amazing music but laughs too, carrying on a funny faux dialogue in-between songs with an unseen concert reviewer from their last appearance at Humphrey's Concerts By The Bay in beautiful San Diego.  Alongside Curt Smith, the pair added to the casual atmosphere of the venue with their playful quips and anecdotes throughout the evening, making the entire affair feel somewhat like a private gig among friends.  But then there is that music… song after song that added significant color and style to the soundtrack of our lives, for many of us in attendance who found the band in our formative years.  Which isn't to say that they are exclusively "an 80's band", but that is the decade that they helped to craft and shape not just in music, but pop culture at large.  And many of those songs are as "alive" today as ever, with younger artists creating their own versions of some of the songs, as well as the music still giving life to new works in other mediums (like Donnie Darko).  Tears for Fears is one of my favorite bands to see live, because they always deliver with a top notch group of fellow musicians on stage and recreate those familiar songs in new and substantive ways.  They are still relevant, and they've still got "it".
Who: Tears for Fears
Supporting: Michael Wainwright
Venue: Humphrey's Concerts By The Bay
Where: San Diego, California
Promoter: Humphrey's Concerts By The Bay
When: October 9, 2016
Seating: Section B1, Row 1, Seat 109-110 (front row center with photo pass)

Humphrey's Concerts By The Bay is one of the coolest places to see live music in the entire state of California… small and intimate, outdoors, and adjacent to the ocean in San Diego.  I've been lucky enough to see a handful of shows here over the years, and they've all been quite special.
Humphrey's realizes it is a perfect "destination venue", so they offer special packages for the first few rows in the center section, wherein if you buy a pair of tickets, it also includes a suite at the resort as well as a nice pre-concert dinner.  My wife, Shelley, had never seen Tears for Fears live in concert before, and my friend and his wife are also big fans and had never seen them either, so we opted for the front row package and I was able to coordinate the timing of buying tickets on Ticketmaster to get front row center for all of us, so it was awesome to see the show from such a vantage point (and as is an unspoken tradition at the venue, people move up from their seats and up against the stage for the encore).
The weather was amazing and provided the perfect backdrop to an evening of music from one of the most important and innovative bands of my favorite music era.  Photos below courtesy of Shelley…
Michael Wainwright
Tears for Fears backing vocalist Michael Wainwright opened up the music for the night, along with two of the crew members for the tour featured on guitar and drums.  They put on an awesome set in their own right, and it was a nice preview of the amazing vocals Michael would have on display the entire evening – incredible range and control.
Below are some photos of Michael Wainwright performing on stage (click any image to open a virtual lightroom with higher resolution versions of each photo):
Tears for Fears
Members:
Roland Orzabal (vocals, guitar)
Curt Smith (vocals, bass)
Charlton Pettus (lead guitar)
Doug Petty (keyboards)
Jamie Wollam (drums)
Michael Wainwright (vocals)
Before Tears for Fears came on stage, the crowd was greeted by Lorde's haunting and dark cover of "Everybody Wants To Rule The World", and as those two familiar characters of Roland and Curt came out onto the stage, they transitioned into their decidedly happier and pop-oriented original version of their famous song.  The contrast between the two versions of the song reflects how much the times have changed over the past three decades…  though the lyrics seem as relevant as ever.  A timeless song, revealing the inter workings of human nature and society.  But in the 80s, we had optimism, whereas today, maybe not so much.
The founding members of Tears for Fears are Roland Orzabal and Curt Smith, both on vocals and then on guitar and bass respectively in these live shows.  With their original studio recordings, they are each featured on lead vocals on their biggest hits, and I think that it is fairly unique that a band can become known and successful with two different (alternating) vocalists. I really love both their voices, and each are so well chosen for the songs that they sing.  Their vocals are as great today as they were when originally recording their many hits.
The band was formed in England in 1981 (after the pair were involved in a few bands prior to that) and achieved a lot of success.
Interestingly, their first hit in the UK was "Mad World" from their album The Hurting circa 1983. This song would lead to a resurgence of interest later in their career…
The second album, Songs From the Big Chair, released in 1985, included arguably their biggest hits – "Shout", "Everybody Wants To Rule The World", and "Head Over Heels".  Amazing that the album is over 30 years old!  My wife was talking to a friend with a teenager who heard one of the songs recently and thought it was a new band.  At the heart of their music are expertly crafted songs, and the fact that they still sound contemporary speaks to the genius behind them.
Following the first two works, rather than repeating what they'd accomplished, to my ear their music has evolved and changed quite a bit over the years, with some of it sounding more like it was influenced by The Beatles rather than more contemporary works.  And particularly with a longer jamming-like session with the show at Humphrey's Sunday night, they seem to be fans of blues and jazz as well.  Real musicians.
As touched on above, the release of the film Donnie Darko in 2001 sparked a resurgent interest in Tears for Fears, as the song "Mad World" was re-imagined as a more somber song and performed by Michael Andrews, and became the signature song on the soundtrack and for the film overall. The original studio version of "Head Over Heels" was also featured in the film, and was utilized in a very clever and stylized way in the film, serving as another highlight for this movie set in the 80s. As my friends who follow me on my other site (the Original Prop Blog) well know, I actually used to own one of the "Frank" masks worn by James Duvall in the film (see my interview), so I am definitely a long-term fan of both Tears for Fears and the film, Donnie Darko (side note: that mask is currently owned by Kirk Hammet of Metallica).
I think what is interesting about the song, "Mad World", is that the re-imagining of the song in such a drastically different way – it was also an amazing song. And I think it is a testament to how incredibly rich the original song is, that it can transcend styles and mood and sound and still work. Some music just doesn't sound right or work at all when tweaked even a little, and this song was completely redone in a totally different way – while remaining faithful to the spirit of the original – and it is an amazing song in its own right. Though, if I had to pick, I would still choose the original (Tears for Fears) version hands down.
Performing with the band was Charlton Pettus (lead guitar), Doug Petty (keyboards), and Jamie Wollam (drums), with the stellar Michael Wainwright on backing vocals (in place of the incredible Carina Round, who I've seen in that position in other Tears for Fears concerts in recent years – maybe why they didn't do "Woman in Chains" in her absence for this show?).  The band was amazing, and I enjoyed watching each of them at work.  Jamie is incredible on drums, and Doug put out an amazing amount of sounds from the keyboards considering the source material and that he's just one guy.  Charlton was stellar on guitar.  And Michael Wainwright, I'm still amazed at his vocal gifts and range.
Early on in the show Sunday night, Roland made a joke that being it was the last show of this make-up tour (from previously postponed dates), they have the stamina of a 45-year old!  But it felt like a special one, and being part of that evening with the band.
Below is Curt's set list from this show: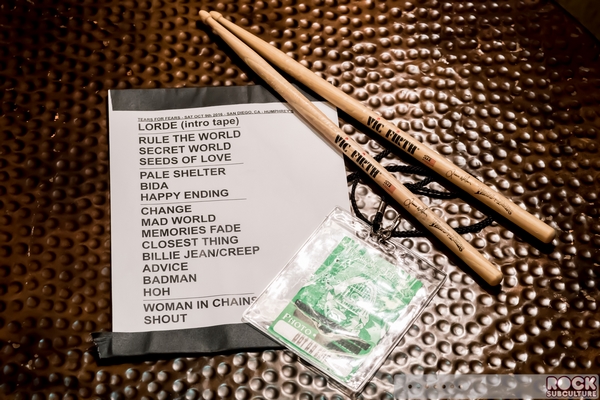 Set List:
Everybody Wants to Rule the World
Secret World
Sowing the Seeds of Love
Pale Shelter
Break It Down Again
Everybody Loves a Happy Ending
Change
Mad World
Memories Fade
Closest Thing to Heaven
Creep (Radiohead cover)
Advice for the Young at Heart
Badman's Song
Head Over Heels
Encore:
Mad World (partial; Michael Andrews and Gary Jules version)
Shout
Definitely a solid set.  One of the surprises for me was their cover of Radiohead's "Creep" (which was awesome – they don't even play it themselves anymore).  Roland lead into the song saying, "Sometimes we like to play songs by other artists… yes reviewer it's okay! Wherever you are! Yes, this is one of those songs…"
It was a pretty magical moment once they started "Creep", as the audience participated enough for that connection, but not so much to be annoying…  a delicate balance.
Though Curt lead the traditional rendition of "Mad World" part way through the show, he did a bit of the Donnie Darko version at the start of the encore.
The highlight for me of the entire show was that encore, "Shout".  One of the most classic of all New Wave 80's songs.  With the encore, the crowd rushed up against the stage, and my wife and I were dead center.  Part way through the song, Roland reached down to both of us with his microphone to sing along with the chorus.  Pretty epic stuff.
Tears for Fears are working on a new album with Warner Bros. Records that is due out in 2017, the first since 2004's Everybody Loves a Happy Ending.
Below are some photos of Tears for Fears performing on stage (click any image to open a virtual lightroom with higher resolution versions of each photo):
Jason DeBord