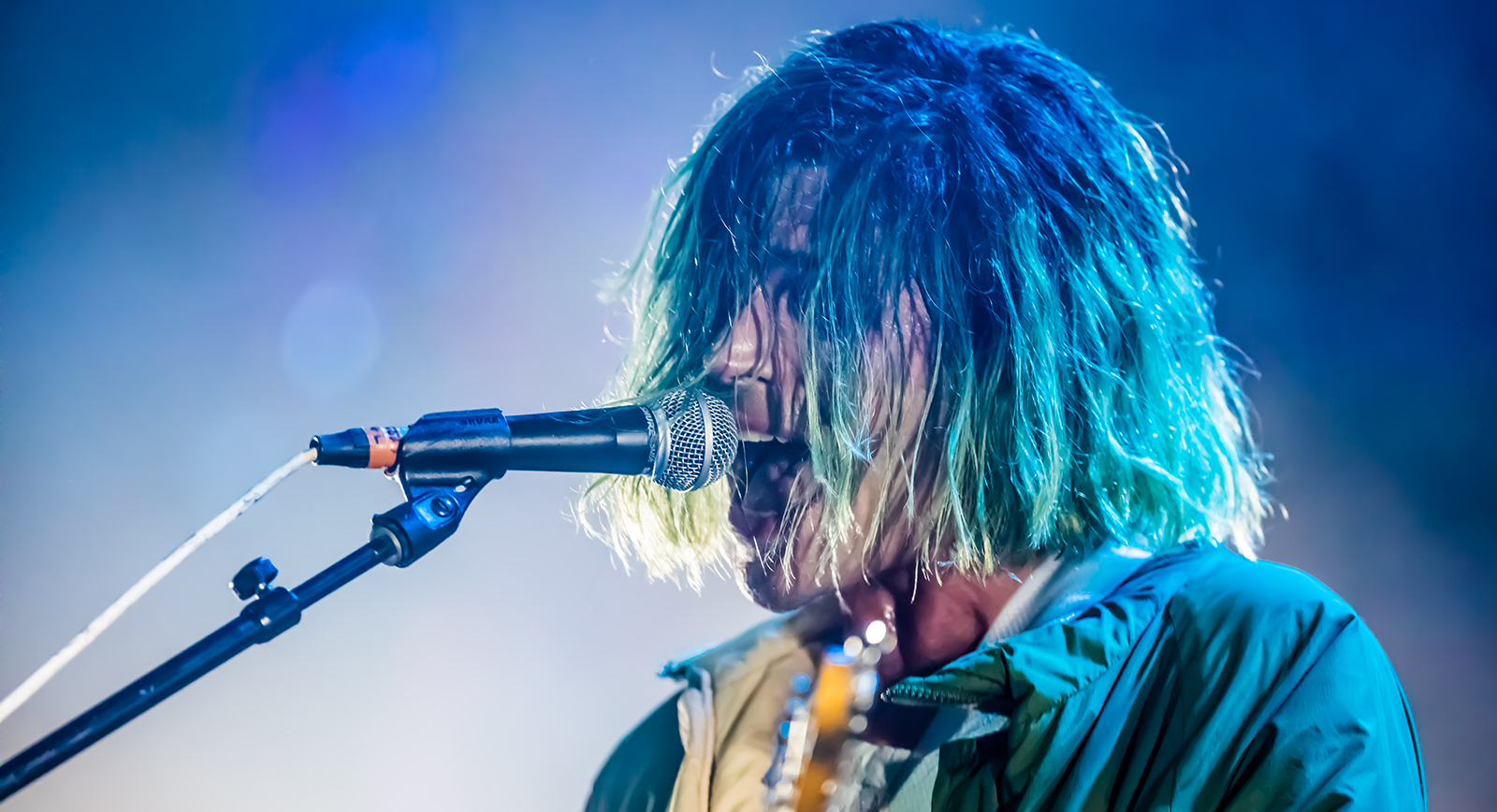 "Oakland, San Francisco, how the hell you doing tonight? We played here almost six years ago opening up for somebody… Who here was there? Was anybody there at the show? I'm just sayin', I do see a lot of people who have been with us all six years, and for all of you who have come to all these shows, all these years, thank you so much!" Andrew Wessen, guitarist of Grouplove, a band who always has their gratitude and appreciation on display. They played a scorcher at a packed Fox Theater on Friday night, supporting their third studio album, Big Mess. Just one date into their new U.S. tour running through the end of the year (followed by dates in Australia), they sounded and performed better than ever. One of my favorite live acts, they put on a high energy show that had the crowd bouncing throughout, embracing the excellent new songs as much as the favorites. Definitely a must see tour. The latest album, produced by Captain Cuts (Grouplove's Ryan Rabin) and Phil Ek is characterized by their signature sound and style, and may be their best yet. With their "Big Mess World Tour", one dollar for every ticket sold will be donated to the organization charity: water to help fund water projects like drilled wells, spring protections, and BioSand filters that help provide clean water to communities around the world.
Who: GROUPLOVE
Supporting: Muna
Supporting: Dilly Dally
Venue: Fox Theater
Where: Oakland, California
Promoter: Another Planet Entertainment
When: October 6, 2016
Seating: (photo pass)

Fox Theater continues to play host to many of the best shows of this size and scale, and as usual, the sound, lighting, and overall experience was top notch.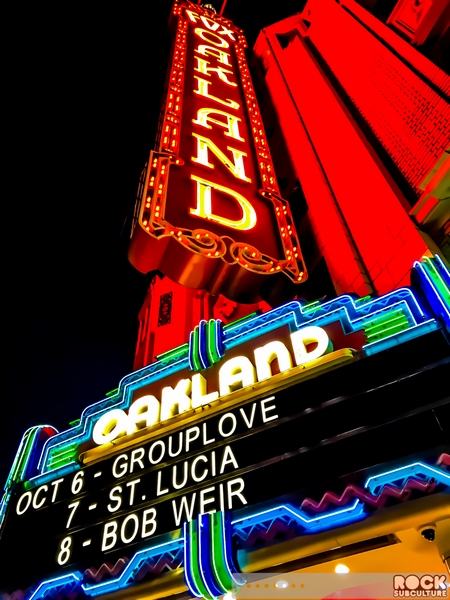 Dilly Dally
Members:
Katie Monks (vocals, guitar)
Liz Ball (guitar)
Jimmy Tony (bass)
Benjamin Reinhartz (drums)
Dilly Dally is a young band from Toronto with punk inspirations and aspirations. Singer Katie Monks' growling vocal delivery is the overriding feature of the group, and you can catch glimpses of what they are fans of in their own work.
They definitely clicked with some of the crowd of the same generation, though for me it didn't quite work as the anger/angst/attitude come across as more of a decision in a musical direction than heartfelt, but I'm of a completely polar demographic.
In doing a bit of research, well-regarded Stereogum gushes over them in their own piece opening with "Dilly Dally were scheduled to play dead last, and they were only supposed to do 20 minutes. They played for 35. If that's not punk as fuck, I don't know what is." I think that underscores a generational divide over what punk is, at it's essence. For me, watching a live band with a punk attitude always gave me a bit of a feeling of anxiety or discomfort, like watching Nirvana at the Cow Palace back in the day, and Kurt Cobain climbing some equipment and monitors to a great height at the end of a gig and jumping 15 to 20 feet into the drum kit below, and wondering if he broke his neck. Playing 15 minutes beyond a set time is not quite punk rock in my world, but there are different thresholds in play with millennials.
In any event, it was a solid set and I'm interested in seeing how this modern day brand of punk plays out to an audience that wasn't alive at the same time as Nirvana, let alone those artists and life events that inspired Kurt Cobain and crew. Music styles come and go and reinvent, so I'm curious to see what a new generation can do with one of the trickier genres.
Below are some photos of Dilly Dally performing on stage (click any image to open a virtual lightroom with higher resolution versions of each photo):
Muna
Members:
Katie Gavin (lead vocals, production)
Josette Maskin (lead guitar)
Naomi McPherson (production, rhythm guitar, synths)
This was my second time seeing Muna live – I saw them open for Of Monsters And Men in Reno earlier this year… They continue to be an engaging group with great songs and a powerful live energy. As mentioned in the past, on first listen, their music draws you in and has enough of a pop element to be catchy.
Currently, their debut work, The Loudspeaker EP, is all that they've put out, but it's a solid release and I expect a full studio album could be quite great. They list a lot of awesome bands as influences (Cocteau Twins, The Cure, The Cranberries…), and it comes through in their work and their live performances.
Below are some photos of Muna performing on stage (click any image to open a virtual lightroom with higher resolution versions of each photo):
GROUPLOVE
Members
Christian Zucconi (vocals, guitar)
Hannah Hooper (vocals, keyboards)
Andrew Wessen (vocals, guitar)
Ryan Rabin (drums)
Daniel Gleason (vocals, bass)
One big change with Grouplove since the last album and tour is that Sean Gadd has been replaced by Daniel Gleason on bass. This was announced on their website a few years ago, as Sean moved back to England to be closer to his family. On the topic of family, Hannah gave a nice shout out to her family in attendance at this Bay Area show (she is a native).
I've covered Grouplove concerts going back to a unique show at the Boulevard Pool at the Cosmopolitan in Las Vegas in 2012 and their appearance a few months later at Not So Silent Night at Oracle Arena in Oakland. I was also fortunate to catch a pair of their "Seesaw Tour" shows back to back in San Francisco in 2013, where they played a "Heavy" night (electric) at The Independent and then a "Light" (all-acoustic) show at The Chapel the next night.
Grouplove definitely have an interesting story about how they came together. Hannah and Christian met in New York, and Ryan and Andrew were friends in Los Angeles. They all met each other and Sean (from London) during a retreat in Crete. They became friends, and a year later pooled some money together to record at Ryan's studio in Los Angeles.
Their first album, Never Trust a Happy Song, found tremendous success with several songs on their debut, most notably "Colours", "Tongue Tied", and "Itchin' on a Photograph".
As I mentioned in past reviews, Grouplove is one of those rare bands that release a first album that is just a masterpiece. The band definitely has an artistic understanding of what makes catchy, engaging, music – the kinds of songs with which, after the first listen, you want to hear them again and again. Most bands are lucky to get one of these on an album, maybe two. Never Trust a Happy Song is, front to back, song after song, just magnificent. And while there is a consistent sound and style overall, it is not repetitive with what works. The is such a diversity in the work… this is a group of musicians with many ideas and they obviously want to work them out – not simply come up with one good song and throw together an album around it.
Maybe even more rare, that sophomore album, Spreading Rumours, was just as stellar. There have been a handful of other bands in the past decade that have had that amazing first album, only to follow it up with a disappointment. Not so with Grouplove.
So I was a bit nervous about this new third album released last month, Big Mess. Could lightning strike three times? With Grouplove, the answer is a resounding "yes". Not only is Big Mess on par, it might be their best album of the three. End to end, every song is incredible. And not only do they manage to retain their signature sound, but they build on it with an even more mature collection of songs. Definitely at the top end of my favorite albums of 2016.
They open strong with their lead single, "Welcome to Your Life", which is perhaps the most anthemic of the bunch. You can check out the official music video below:
With their live show Friday night, this was the song they played to close out their set (pre-encore). I half expected it to be the opener, but it worked beautifully at the end as the whole show build up to it. This is the "most Grouplove" of all of the tracks on Big Mess, and where the title of the song originates.
As their songs tend to go through changes (in tempo and style), so too do the tracks on Big Mess. "Do You Love Someone" has their infectious sing-a-long style chorus and building style, and then the album downshifts into "Standing in the Sun", the latter of which served the same purpose in the live show as well.
"Enlighten Me", which opened the encore, is a very different song for Grouplove, and I think shows a lot more range for what they are capable of creating. A more contemplative work with more traditional vocal delivery for Christian, I just absolutely love this gem. Of all the new songs, I think this one gives the biggest hint for the future of the band.
"Good Morning" was my favorite track on first listen of the new album – maybe their catchiest song yet, throwing down lyrics so fast your brain works hard to keep up. Such a fun and poppy song – just love it. They leveraged this one early on in the live show Friday to get the crowd bouncing and mesmerized.
"Spinning", like "Enlighten Me", shows a totally different side of the band. The pair really gets me excited about the talent and genius behind the band and their ability to create fun and pop-oriented songs as well as ones that can provide a different kaleidoscope of color to the soundtrack of our lives.
"Cannonball" is a totally different style of anything they've done before, but is more experimental in its construction, and actually features Andrew on lead vocals. Very cool, rocking song!
"Traumatized" is another different sort of song in the group, much more beachy and almost with a Pixies-like vibe. Anthemic, but in a totally different way than songs on past albums.
"Heart of Mine" takes the band in a softer direction too, and placement in the album provides an overall quiet-loud-quiet style that is found within some songs.
"Don't Stop Making It Happen" is also a bit different from past songs, again showing that the band is approaching new music by trying new things in terms of song structure as well as pacing and energy.
The album closes out with "Hollywood", which embracing the sometimes quieter and softer style of some of the songs throughout, so I think it makes a statement about where they are as a band and how they view themselves and their own music.
Love the new album. Check it out.
So the show at the Fox Theater opened with "I'm With You" from Spreading Rumours, which is a song they've opened with in the past, with Christian on a set of temporary keyboards playing center stage, mostly in the dark. It is a great opener, starting softly and building into an appropriately jumpy song.
I really loved their lighting set-up for this tour as it fits the erratic style of some of the songs and provided a lot of variety.
As mentioned above, I found "Good Morning" the most instantly catchy and infectious of the new songs on the new album on first listen, so it was the second song played in the set, followed by their classic "Itchin' on a Photograph".
The set moved back and forth from old to new quite seamlessly, and the audience (which skewed younger) was into all of it.
One thing I noticed when I was in the pit for photography was the inclusion of "Sabotage" on the setlist… could it be the Beastie Boys song? I knew from past shows that they tend to do a non-obvious cover in their shows, so I crossed my fingers. I was thrilled toward the end of the show when it proved to be true; not only did they play it, they killed it.
Below is the full set list from the show at the Fox Theater in Oakland…
Setlist:
I'm With You
Good Morning
Itchin' on a Photograph
Traumatized
Heart of Mine
Tongue Tied
Spinning
Let Me In
Love Someone
Cannonball
Shark Attack
Standing in The Sun
Borderlines and Aliens
Sabotage (Beastie Boys cover)
Welcome to Your Life
Encore:
Enlighten Me
Ways To Go
Colours
All in all, not only did Grouplove meet my lofty expectations for this show, they managed to exceed them…
They sold me as a band years ago at their appearance at Not So Silent Night… as I think I recounted in the past, I was backstage after doing photography for their set, and when they finished they emerged from the bright lights of the stage to the near complete darkness behind it. They didn't even notice me standing their as they made their way out, filled with joy from the show they just put on, and they were so thrilled they were even high fiving each other, still filled with bounce and jubilation from their own music. Authenticity. And finding a group of artists filled with genuine positivity and the ability to spread and share it in the day and age is a very rare thing. Love live Grouplove. We need them.
Below are some photos of Grouplove performing on stage (click any image to open a virtual lightroom with higher resolution versions of each photo):
Jason DeBord