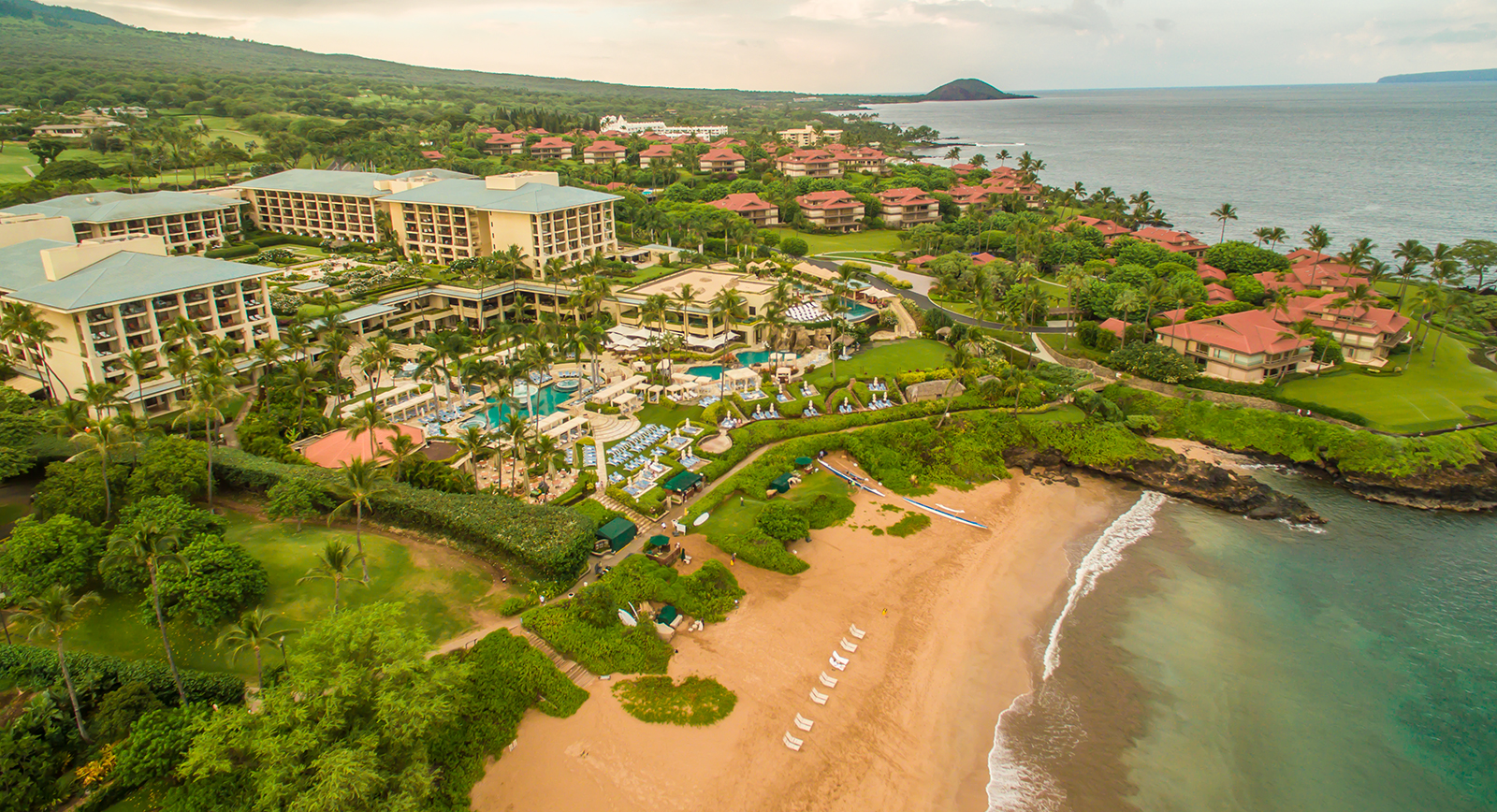 This is part of a continuing series of my impressions and experiences staying at various hotels and resorts while traveling to attend concerts worldwide. This stay was during my recent trip to Maui in September 2015.  This review is for the Four Seasons Resort Maui at Wailea in Wailea, Maui, Hawaii.
Property: Four Seasons Resort Maui at Wailea
Location: Wailea, Maui (Hawaii)
Address: 3900 Wailea Alanui, Wailea, Maui, HI 96753
Phone: (808) 874-8000
Website: www.fourseasons.com/maui
Room Type/Class: Partial Ocean View (Rooms 708)
Date: September 7 – September 10
TripAdvisor Page/Reviews: LINK
Booking Source: American Express Travel Fine Hotels & Resorts
Overall Rating: 5/5 [Note: Score is totally subjective based on price, location, and comparison to "like" properties within same area and price range]

This was the second stop at three properties with my (now) wife Shelley, as we got married during this trip!
With all of my travels in and out of the United States, the Four Seasons Maui remains my all-time favorite place to stay – it is simply spectacular and incomparable. It is a Four Seasons resort, with the expected level of service, comfort, and amenities.  In addition, it is on Maui (my favorite Hawaiian island) and beachfront to Wailea (my favorite beach). So if money or cost is no object, I give my highest recommendation for staying here – it will not disappoint.
As one would expect, the Four Seasons offers valet parking (as well as self parking), and the cost for valet is an additional $27/night.
With this trip, the Four Seasons were kind enough to accommodate an early check-in, which I greatly appreciate.  We actually got married on the beach later that afternoon, and even though our room wasn't yet ready, they provided a "resting room", which was a lifesaver.
Even if you do not stay at this property as a guest, I highly recommend a visit to one of several on site restaurants and exploring the grounds. It is a gorgeous hotel with amazing views and decor.
The room was spacious, with a couch and coffee table, a full desk, and a walk out lanai with a partial ocean view. The room also included an empty mini-fridge and electronic safe, was well as a coffee maker. The large bathroom featured a soaking tub, standing shower with glass doors, and double sinks.
As with past stays, and illustrative of the Four Seasons touch… there were often unexpected treats waiting on the coffee table when returning to the room. They just tend to give out little things like this, which makes for such an enjoyable experiences.
I would highly, highly recommend trying the full breakfast buffet, which is of course expensive (I don't remember the exact charge as my final bill shows with tip, but including 20%+ tip it was about $45). It is just spectacular, and I even included some photos in this review, which still do not do it justice. Even if you are staying at another resort, it is worth the trip to drive over to experience this breakfast buffet – it will be the best that you ever have.
The main pool for the resort is actually modestly-sized compared with some of the neighboring resorts, such as the Grand Wailea adjacent. But that is in some ways, from my perspective, a good thing, as it is a much more relaxed environment. There is also a child-designated pool, and up on another side of the property, a newer infinity pool with built in bar which is an awesome addition (as well as some spectacular cabanas, which cost extra).
One of the biggest draws to the property for me are the very comfortable and covered cabanas on the main level. Unlike other resorts which charge $40-$500+ a day for such an amenity, at the Four Seasons this is included in the cost of the room.
But my suggestion is to spend the first full day with a stay at the Four Seasons just having the buffet, and spending the day in one of the pool adjacent larger cabanas. There are also some isolated cabanas going up the hill with spectacular views, but they are not as spacious and comfortable as the ones around the main pool area (and many do face the ocean, but not being as elevated as the isolated ones, the views are not as good).
You will receive as much attention from staff as you would like when using the cabanas, which includes direct service of food and drinks off their menu.
There is also the restaurant adjacent to the pool area – Ferraro's – and making use of this is a nice way to break up the day and have a different vantage point. And, like with the DUO breakfast buffet, the food is just incredible. I have also included a few photos of two of my favorites – a chicken quesadilla and a turkey club with turkey bacon.
For me, Maui is about relaxing, and no other property better facilitates this than the Four Seasons.
The foundation for this, though, is the beach and ocean adjoining the rear of the property. It is my absolute favorite "relaxing" beach on Maui (with Black Rock adjoining the Sheraton being my other favorite, for "activities"). The sand is seriously like baby powder on your feet, and the ocean has gentle waves and is warm like bath water. It is just spectacular.
In any event, this is just a spectacular resort, and I wish everyone could experience it at least once, as the stay is definitely what you make of it, but holds opportunity for some really wonderful and unforgettable experiences.
Below are photos I took of the resort and the two different rooms (the first one assigned, and the second one switched to as described above):