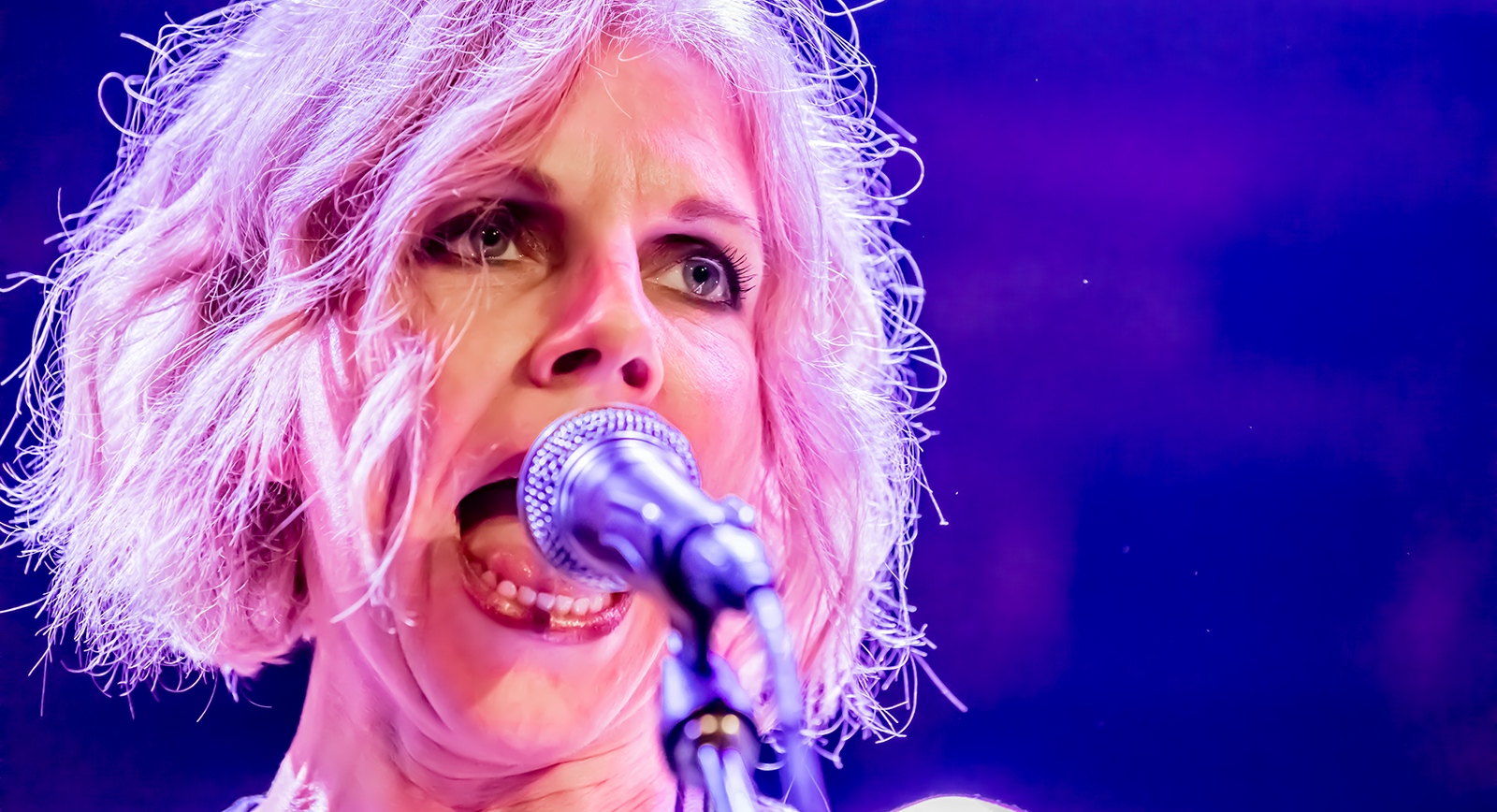 "Do I have my readers on my head?  How long has that been the case?  Is that from the first set? [shouts from crowd: "just the second!"]  That just leveled me, a little bit, to be honest…"  Tanya Donelly on stage with the recently reformed Belly, pulling her reading glasses off of the top of her head during their blazing show at Great American Music Hall in San Francisco on Friday night, which prompted bass player Gail Greenwood to playfully interject, "this is the only person I know who actually applied for an AARP card…  meanwhile the rest of us will cut that motherfucker up!"  Tanya, acknowledging her father up front and center in the crowd quipped in reply, "I'm an Irish girl… I like my discounts!"  A reflection of the funny and fun-loving vibe between the band (and family) on this quite special tour, with the "dream pop" alternative band back together some 20 years after their break up in the mid-90s.  Not only did they seem to be having more fun than anyone at the sold out show (which is saying a lot), but their performance was truly impeccable, bringing back so many of their great songs and playing them in a way that made them sound better than ever.  With Thomas and Chris Gorman also on stage on guitar and drums, the reunited band also played two new work-in-progress songs, which is a reflection of the status and future of the band, moving forward with new love for one another and what they created together, as well as building on what once was with what might be.  The future is bright for the quartet and their fans.
Who: Belly
What: An Evening With Belly
Venue: Great American Music Hall
Where: San Francisco, California
When: August 26, 2016
Seating: General Admission (in front of stage left of center mic; photo pass)

Somehow this was my first show at Great American Music Hall, and I came away impressed, as did the band, who remarked at the end of the show that it was "one of the best venues we've ever played".
In the Tenderloin neighborhood in San Francisco, it has a rich history going back to 1907, and some of the decor hearkens back to its French architecture.  It was renovated in 1972 and christened Great American Music Hall at that time.
The way it is set up for concerts is that there is a dining option which makes use of the special balcony seating on the second level, which outlines and overlooks the open, general admission standing area on the floor below.
This show sold out quickly as soon as tickets went on sale, and the 600-capacity venue was packed with fans of all ages.
It was "An Evening With…" format show without a supporting band, with doors opening at 8:00 pm for a 9:00 pm start time (it ended up slipping to about 9:30 pm).
I made arrangements for photography, but since there was no photo pit I arrived quite early so I could get up close without bothering the other concert goers.
I arrived at about 5:30 pm (with a three and a half hour drive leading up to that) and there were already four fans outside who started a line for the long wait ahead.
I go to a fair share of shows at venues of this size, and there are very few acts over the years that had such long lines prior to doors opening – a huge number of people showed up very early, which reflects the excitement and anticipation for this tour.
Belly
Members:
Tanya Donelly (vocals, guitar)
Gail Greenwood (bass)
Thomas Gorman (guitar)
Chris Gorman (drums)
Who are Belly?
Fronted by Tanya Donelly, she was part of Throwing Muses with step-sister Kristin Hersh from about 1981 to 1991.
In 1990, Tanya and Kim Deal  (bassist from the Pixies) formed The Breeders as a side project for each of them.
Belly were formed in 1991 by Tanya, with brothers Chris Gorman on drums and Tom Gorman on guitar, and Fred Abong on bass (he was replaced by Gail Greenwood after their first album).
I'd been a huge fan of Tanya Donelly for many years, first becoming aware of her for her work as Throwing Muses – I discovered them via Sire's CD Music Sampler series circa the late 80s.  As I've mentioned in past Throwing Muses concert reviews, they were included in those compilation albums Just Say Yes in 1987 and Just Say Yo in 1988.  Their music didn't fully grab me until I heard "Dizzy (Remix)" on the third album of that series in 1989 with Just Say Mao.  With that, I tracked down all of their past work and I was completely hooked.
"Dizzy" was just such a different kind of song…  sort of folksy (which I wasn't into at the time at all) but raw and awkward and crazy hooky and catchy.
So the first proper Throwing Muses album I bought was the one with the original version of "Dizzy" on it, Hunkpapa, which opens with "Devil's Roof", which is sort of a sister/companion song to "Dizzy" (for me anyway).
Throwing Muses reminded me a lot of Pixies, who I discovered years earlier. though while I generally loved everything Pixies, to be quite honest Throwing Muses were hit and miss with me initially.  Some songs I absolutely loved, and some just didn't click with me at all.
After spinning Hunkpapa, I picked up House Tornado, which came out the year before, and didn't really connect with any of it.
I was big into imports, and I purchased the UK-only eponymous debut album next, and that, I think, remains my all-time favorite album of theirs (it was later released as a two disc album in the U.S. called In A Doghouse, which also included the Chains Changed EP.
"Call Me", "Green", "Hate My Way"…  brilliant stuff!
Knowing years later that "Green" (maybe my all-time favorite Muses song) was the one song penned by Tanya Donelly at that time (the rest were written by Kristin Hersh) would probably explain my overall feelings about the full Throwing Muses catalog and the various spin off and solo efforts of Tanya and Kristin (in short, I think Tanya has a bit more of a pop-oriented sensibility and I gravitate more toward that, in general).
Throwing Muses put out some amazing songs across several albums, but Tanya Donelly left in 1991 after releasing The Real Ramona.  She went on to play with The Breeders on their first album, Pod, and then formed and fronted Belly; after the two Belly releases, she started putting out (phenomenal) material simply under her own name.
As much as I loved Tanya Donelly with Throwing Muses, I'm so glad she left at the time that she did because I absolutely love all of the material she released subsequently, outside of the Muses.
More, I really loved the Throwing Muses work that came out after she left, as well as what Kristin Hersh put out as solo work.  So really it was the best of both worlds, and a lot of music generated as a result (more than would have come out, I imagine, if they stayed together).  Both are quite prolific, so they've put out an amazing collection of music over the years.
Circa the 90's, I had only ever seen Throwing Muses live in concert one time (sans Tanya Donelly), in 1992 at The Warfield in San Francisco, and they weren't even the headliner – they were opening for Bob Mould's band at the time, Sugar (Bob Mould was in Hüsker Dü, and appeared on the Muses album at the time for the song "Dio").
So that show I attended was on November 14, 1992, and the full live album, The Curse, was recorded just two days later, so I've always loved it as it absolutely captures the sound and set list of that one show I attended quite perfectly.
In recent years, I've caught a couple of Kristin Hersh's shows, which you can read about here:
Yes, a lot of backstory about Throwing Muses, but it provides some context on my own viewpoint of Tanya's work (I'm a fan).  And this show at Great American Music Hall was finally my first opportunity to see her perform live, and with Belly no less.
So Belly was quite different from Throwing Muses (and The Breeders for that matter).  I think it was definitely more mainstream (in a good way) in it's sound, but still was counter to the type of music being played on the radio at the time.
Belly definitely received more recognition than either of Tanya's preceding bands, with two Grammy nominations in 1994 ("Best New Artist" and "Best Alternative Performance" for Star).  They even had a song featured on the soundtrack for the film blockbuster Twister (I was living in LA for grad school at the time and managing a video rental store and Twister was a huge, huge film at the time).
More interesting is that they broke through to the mainstream in a decade of music that was somewhat scattered in settling in one what the era was even about musically.
I've written in many past articles my overall disappointment in the 90s as a musical era – it was in large part a decade in which the masses had terrible tastes and short attention spans.  The 90s is probably my least favorite decade in music since rock and roll started, but what I did like in the 90s I tend to really love (this included Belly).
While Nirvana unwittingly slammed the door shut on the 80s and New Wave and synth-oriented music, it inadvertently sent the music industry into a tailspin.  There were other "grunge" artists that tried to replicate the success of Nirvana, none really understood that Nivana's music was built on a pop sensibility that was more like The Beatles than the dark and depressing dreck that came out from some of their peers in the early to mid 90s.  Nirvana was brilliant in creating their own sound that was incredibly unique, but it was the raw gifts of those involved and that reflection of many different eras and genres of music that influenced them.  But those pop elements I think were felt by most but not understood, because it didn't match up with the optics of the band and their personas.  But in my opinion, Nirvana were, at heart, a pop band.
Belly was one of the few "alternative" bands that made music during that first half of the 90s that had that pop foundation, which made the songs – regardless of lyrics and meaning – "feel good".
And that "pop" (for lack of a better descriptor) is what I heard and felt in a lot of the Throwing Muses work.  But it was when Tanya created with the other members of Belly and subsequently her solo efforts that I feel that her true voice and her own unique artistry really shined.  Belly was the first "pure" Tanya Donelly work (again, with the amazing contributions of her band mates) where that instinct for real powerful pop elements and hooky sounds really came alive, though were twisted with interesting changes and themes and subject matter.
So I was instantly a huge Belly fan… it was like this transformation of my favorite elements of Throwing Muses born again as something new and equally powerful, but in such different ways.
They made two stellar albums – Star (in 1993) and King (in 1995) and then it all came to an end.  Star was much more successful commercially, and from what I read, there were the typical reasons for bands to break-up in play, and that is what happened in 1996.
Of course, Tanya went on to have a successful solo career, and Gail played with other bands like L7.  Tom and Chris are commercial photographers.
With all of that, I never had the opportunity to see Belly live back in the day, so this was my first time seeing them live.  I sincerely could not have been more impressed.
The show was broken into two sets with an intermission in-between, starting at almost 9:30 and coming to an end at about 11:30, so it was a really impressive show with lots of songs performed.
The stage was fairly dark and generally lit from the sides and behind with a bit of fogging (you'll see in the photos further down), but it made for a cool atmosphere.
The band members each bring a lot of personality to the stage…
Tanya is very much like you might expect – sweet with a self-deprecating sense of humor and zero ego; a artist who opens herself up in a genuine way, self-perceived faults and all.
Tom is the quiet one of the bunch, but doesn't miss a beat and has his own quips here and there to add to the ongoing banter in-between songs.
Gail is a total goof, maybe having the most fun of all.  She was constantly engaging the audience to participate and had me laughing out loud quite a bit.  She liked to poke at the brothers as if they were her own brothers, especially Chris on drums, who was just as eager to push her buttons, at one point correcting her recollection on a song, to which she proclaimed (playfully), "I've been corrected by the asshole drummer".
From my vantage point Chris was blocked by Tanya much of the time (so apologies for the lack of photos), but I really enjoyed watching him on drums… he has a completely unique style that is unlike any other drummer I've ever seen.  He employs such concentration and intention with every single hit of a drum or cymbal.  It's really difficult to put into words, but it's as if each hit is critical with timing and is maybe the most important thing happening in the world at that very moment in time.  Like watching a professional baseball player at bat intent on hitting a home run, but it's like each hit on his drum kit is of equivalent meaning to him.  Really kind of astounding to watch.  And he can chew chewing gum at the exact same time.
So 20 years later… they appear as if they could not be happier, or having more fun.  Out of context, if you were unfamiliar with them, you'd think they were some new, emerging band in the upswing of a monumental new career.  Not some band who called it quits two decades ago.  There is such a freshness and enthusiasm with their live show.
That could all be true and they could fail at the actual playing of music, but that is not the case with Belly.  They were on point throughout and sounded fantastic.  Each song sounded like the studio version in terms of the technical aspects of recreating the songs live, but they sounded even fuller and better on stage.  Amazing.  And Tanya's vocals and delivery carry such power the show overall was just mesmerizing.  I attend a lot of shows so it takes quite a bit to get my attention to the point where I am just marveling at it all and caught up in the experience, filled with thrill and nostalgia, but this was one of those events.  I won't forget it.
They totally rocked the place, but with little bits of humor that kept me laughing…  At one point Tanya stood on Chris' slightly raised platform and jumped off, and in the banter that followed in-between songs, Gail made reference to David Lee Roth.
After the first set, my friend Nick gestured to Tanya as she was walking off the stage and asked if he could have her guitar pick, and she laughed, kind of embarrassed to admit that she had just the one guitar pick for the entire show.  Brilliance on a budget.
The fans were just ecstatic throughout the show (some who weren't even born the first time around back in the 90s were there as fans too).  Everyone seemed to know every lyric of every song, so a lot of fan service all around with the prompting for a few sing-alongs.
Truly an amazing night, and hopefully a sign of a new future for the band, bringing back those old gems along with the possibility for all-new music (like the two new songs mixed into the set on Friday night).
Set List…
Set One:
Seal My Fate
Slow Dog
White Belly
Now They'll Sleep
Punish [new song]
The Bees
Red
Gepetto
Judas My Heart
Full Moon, Empty Heart
Set Two:
Low Red Moon
Dusted
Puberty
Feed the Tree
Comet [new song]
Spaceman
Broken
Super-Connected
Stay
Encore:
Below are some photos of Belly performing on stage (click any image to open a virtual lightroom with higher resolution versions of each photo):
Jason DeBord