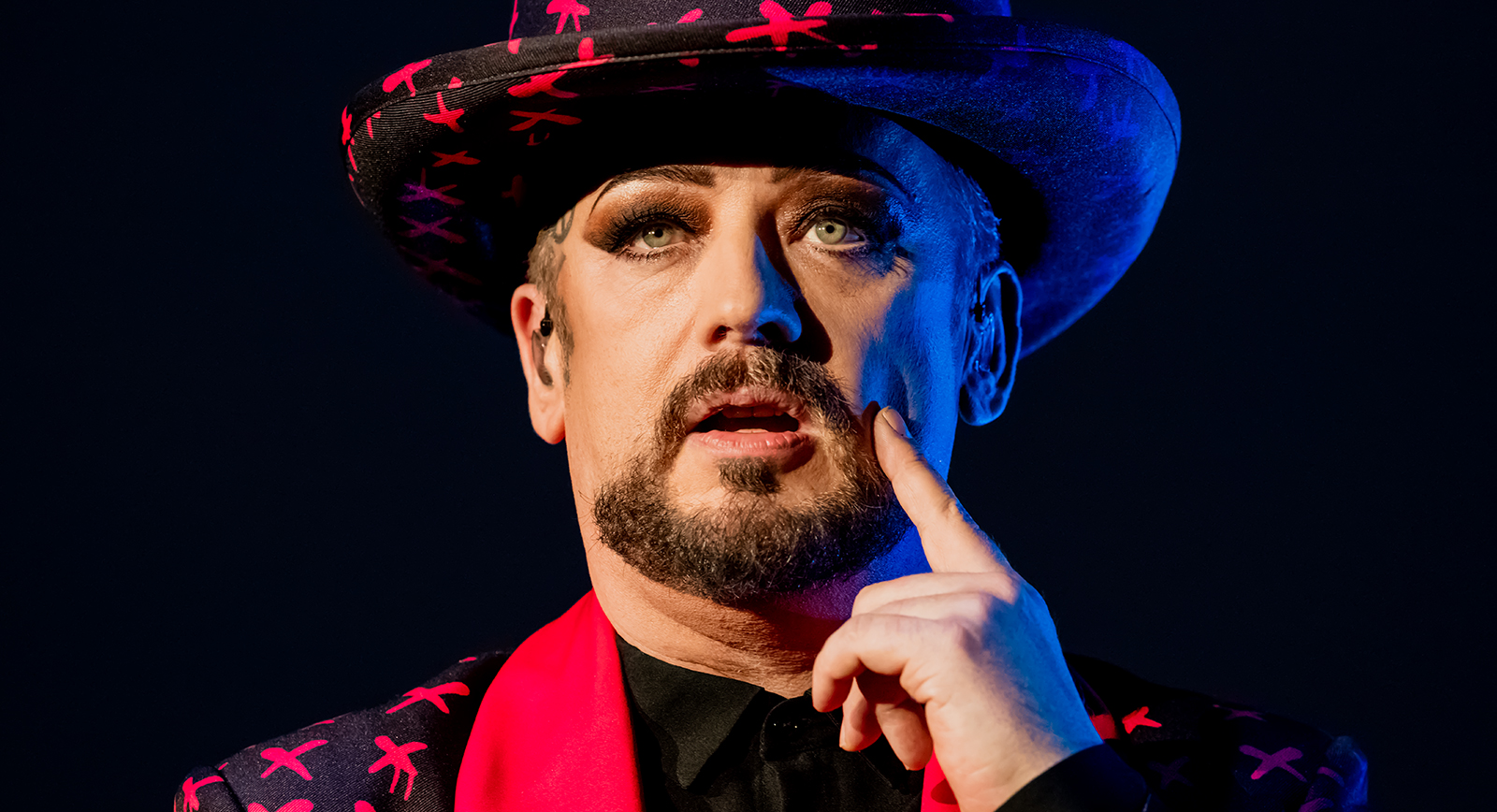 "So, basically Culture Club makes happy sad music.  If you're a Gemini, you don't need that explained.  If you're a Libra, I can't help you.  Hands up for the Geminis!  You've got to use two hands if you're a Gemini, because there's always two of you.  What's that saying?  'Roses are red, violets are blue, I'm schizophrenic, and so am I.'  That's the Gemini mantra.  So we do these happy sad songs.  Dancy rhythms, melancholy sounds, mixed together…"  Boy George explaining Culture Club in a way that only he could…  an interesting insight into the band and the man who proudly stood out in front of it (as well standing for many other things) throughout the first half of the 1980s.  All in preface to the song, "Move Away", which was the lead single to their fourth album, From Luxury To Heartache, an album title which nicely dovetails into what he was explaining, as well as illustrative of that early trajectory of the band in it's first life…  It all ended far too early when they broke up in 1986 following the release of that album and that lead single, which would be their final entry into the U.S. Top 40 charts.  The light that burns twice as bright last half the time and all that…  But life is a funny thing.  Fast forward thirty years (!), and there on that stage at Thunder Valley's Outdoor Amphitheater in front of thousands of jubilant fans on Friday night was Boy George and the original members of Culture Club – Roy Hay, Mikey Craig and Jon Moss – and I can't imagine them being any more happy or in sync with one another musically and with their live performance.  And, it would seem, the impossible journey each took to get them there made it all the more sublime.  Joyfully playing those now classic songs of happy sad music.  A potent chemical reaction of letting soul and reggae out to play with all manner of other music genres, bending and twisting and dancing with new wave, country, pop, funk, rock, R&B, and even church music, to create something altogether unique but unified in that wicked sort of Gemini manner…  The genius of Boy George, and his bravery in always being uniquely himself and forging new paths for others to follow.  Definitely one of the best tours of 2016, one of the most important New Wave bands (who helped push those loose boundaries within that broad musical movement), and a band fronted by one of the most interesting figures in pop culture in modern times.
Who: Culture Club
Supporting: Information Society
Supporting: Groves
Venue: Thunder Valley Outdoor Amphitheater at Thunder Valley Casino Resort
Where: Lincoln, California
Promoter: World One Presents
When: August 19, 2016
Seating: (photo pass)

This stop on Culture Club's U.S. tour was orchestrated by World One Presents, who added Information Society onto the bill to create an even more engaging and memorable show for those coming out to Thunder Valley Casino Resort in Lincoln, California.
It was definitely not the typical concert crowd of people going to a show just to say that they are going to a show… checking in on Facebook and then talking and drinking through the whole thing, relegating the artists as mere background music.  No.  The majority who turned out for this show were really into the show, stoked to finally see Culture Club (I'm sure most for the first time).  And as engaged as the audience was with Culture Club, in turn the band and Boy George were just as much into the crowd.  But more on that later…
I was also fortunate enough, shooting for World One Presents, to do some of the meet and greet photos, so I not only got to say hello to the band (surreal!), but have my photo taken with them as well (courtesy of my wife Shelley, who was also doing photography with me)…  hey, I'm a fan first and foremost…
As with some recent features, Shelley also did photography alongside me with this show, so you can note her shots with the pink border watermark while mine have the white border watermark:
Note: If images in each section don't appear to load correctly, please refresh the page (F5 on your keyboard) – works best with Google Chrome browser – sorry, it's just a lot of photos to load – thanks!
Groves
Members:
Stephen Salisbury (Vocals/Guitar)
Reid Guidry (Bass)
Will Smith (Drums)
Groves were formed in Groves, Texas and are supporting Culture Club on this U.S. leg of their tour.  The band cite The Beatles, Elvis Costello, Blink-182 and Phoenix as influences for their own indie rock sound.
Their debut album has yet to be released, but they have two new music videos out for "Ender" and "Swim".
Though a young band, their sound and style meshed nicely with the rest of the bill, and they were well received by the crowd.
Below are some photos of Groves performing on stage (click any image to open a virtual lightroom with higher resolution versions of each photo):
Information Society
Current Touring Members:
Paul Robb (founder – synth, various)
Kurt Harland (founder – vocals, electronic drums/effects)
James Cassidy (founder – synth, bass guitar, various)
Mike Wimer (percussion)
Zeke "Falcotronic" Prebluda (various)
As covered in past reviews of Information Society, the band has been performing for many years before their huge mainstream hit in 1988 with the song, "What's On Your Mind (Pure Energy)", off their eponymous album.  To this day, it is the song that they are most known and recognized for by the public at large.
The band was formed in Minneapolis, MN in 1982, and they were and still are true pioneers in electronic music.
Following their 1988 hit album, they continued to release new material with favorable results, though Robb and Cassidy left the band in 1993, with Harland continuing on through 1998, with no real activity at all until 2006, and new material again started to come out.
I really enjoy the fact that Information Society was so ahead of the curve on a number of pop culture and musical innovation fronts, that the mainstream is just recently starting to catch up with them.  During the 80s, electronic and synthesizer styles of music were viewed by many as faddish, and "geek" pop culture was something to be enjoyed quietly (secretly even), not celebrated.  They were also way out ahead of most with samples, which blew up quite some time after InSoc was developing that trend in their own work.
Obviously a lot has changed, with a series like The Big Bang Theory being the #1 comedy on television, the explosion of popularity with Comic Con in San Diego, the ubiquitous nature of the Internet and technology, and the like.  Information Society have been consistent in playing a part in cultivating the sub culture into something that has since widely been accepted as at the very least valid, if not cutting edge cool.  They were also way, way ahead of the game when it came to personal computing and the Internet.
I personally discovered them in '88 with that self titled album, and played it front to back over and over.  I was in high school at the time, and it served as one of my "soundtracks" when I was heavily into artwork, drawing, and painting sessions that often went all night long.  So I think I've got a lot of their music imprinted in my brain like the grooves in vinyl.
This year, they have put out a new studio album featuring all cover songs (some no one could have anticipated).  The new work is called Orders of Magnitude and highlights include covers of "Don't You Want Me" from The Human League and "Dominion" from Sisters of Mercy (the latter of which they performed Friday night at Thunder Valley).
With their last headlining show at Thunder Valley in 2015, it was an altogether different experience as it was indoors and in complete darkness apart from the stage lights.  With this show, being part of World One Presents' Summer Concert Series, it was outdoors with some daylight still available, on a much bigger stage, so an altogether different presentation.  Also, with Culture Club headlining this one, it was a shorter set than usual.
As with their shows in recent years, founding members Kurt Harland, Paul Robb, James Cassidy were up front with two "red shirt" members (a la doomed Star Trek crew members) at the back of the stage (Mike Wimer and Zeke "Falcotronic" Prebluda).
The original trio came out on stage with distinctive choices in terms of style, as can be seen in the photos below.
Kurt did his thing, pacing around and using up all of the free space on the stage, apart from when he was pounding on his electronics drums.  Paul was most focused, keeping things moving from his station.  James was the most "rock star like" of the trio, alternating between his keyboards/synth and his oversized bass-like guitar.
Below is this setlist from the show…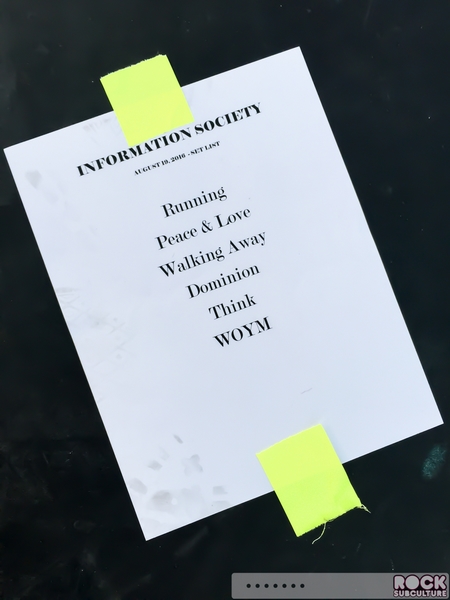 Setlist:
Running
Peace & Love, Inc.
Walking Away
Dominion (Sisters of Mercy cover)
Think
What's on Your Mind (Pure Energy)
As always, they are an awesome like show and this set definitely just left us wanting more.
Below are some photos of Information Society performing on stage (click any image to open a virtual lightroom with higher resolution versions of each photo):
Culture Club
Members:
Boy George (lead vocals)
Roy Hay (guitar and keyboards)
Mikey Craig (bass guitar)
Jon Moss (drums and percussion)
John Themis (touring guitar)
Apologies I don't have the full list of performers on stage (if anyone has this and can share with me, please do and I will update this article – all wonderful artists in their own right!).
I've mentioned in past articles that Culture Club put out one of the first cassette tapes I ever bought… Some reading this might not even know what a cassette tape even is!
I actually remember literally as if it were yesterday buying Colour By Numbers at Gemco or Gold Circle (think early 80s version of Target).  I remember the record department and talking my mom into buying it for me, at 10 years old (circa 1983).  I became aware of Culture Club via MTV and Casey Kasem's "American Top 40" radio station.  I would record the songs off the airwaves onto tape, but the idea of owning the whole album took me over.  That year I bought my first three albums…  the other two being Michael Jackson's Thriller and Duran Duran's Seven and the Ragged Tiger.  That is how it all started for me.  And why I do this website and take these photos and write about these artists… my way of giving a little back for all that they've given me.  But it's funny because at 10 years old I didn't really understand what Culture Club's music was about (or what Boy George was about for that matter), but I just loved the music.  It was all so happy and catchy.  I think the sad part of the happy sad music was lost on me until my teenage years.
Being young when Culture Club was in full swing back in the early 80s, this was my first time seeing them live, so it was a real thrill for me on a personal level.  I did attend (and review) Boy George's solo appearance at The Fillmore in San Francisco a few years ago, but this show was very different.  Both FANTASTIC, but totally different kinds of shows.  I think you'd have to see both to fully understand and appreciate.
As I covered in that review a few years ago, Boy George (born George Alan O'Dowd) was truly one of the most unique individuals of the early 80s, and that is saying quite a bit, as it was a time in which there was a lot going on in music, fashion, and politics.
Culture Club found significant critical and popular success with its first two albums, which served to fuse a lot of different musical styles including pop, reggae, soul, blues, and more…  and it was imported from England into the U.S. along with the broader New Wave movement, though it was kind of in a class all it's own, with a very unique style and sensibility.
Of course, all of it was famously intertwined with Boy George and his persona, which was given even more of a showcase with the explosion of popularity with music videos, thanks to MTV.  Part of the reason behind that second British invasion and the New Wave was simply because music videos were something that got going in the UK first, and MTV needed something to play…  obviously it had a massive impact on the direction of popular music world wide as a result.
Prior to the formation of Culture Club, Boy George performed with Bow Wow Wow (who were former members of Adam and the Ants and a creation of Malcolm McLaren), but he was not a member of that band.
Culture Club was formed in 1981 with Boy George on vocals, Roy Hay on guitar and keyboards, Mikey Craig on bass, and Jon Moss on drums and percussion.  This tour is amazing because all four principal members are right there on the stage, doing their thing.
They found the most success with their first two albums: 1982's Kissing to Be Clever and 1983's Colour by Numbers.
Kissing to Be Clever had massive hits with "Do You Really Want To Hurt Me?", though "Time (Clock of the Heart)" charted even higher in the U.S. at #2 (the former went to #14).  "I'll Tumble 4 Ya" subsequently cracked the U.S. Top 10 as well.
"I'll Tumble 4 Ya" is just pure Culture Club.  That reggae and island sound and instantly catchy chorus…  They knew who they were from the start.  That signature sound.
For me, "Do You Really Want To Hurt Me?"…  Hands down, their best song.  Hands down one of the best songs of the era.  It doesn't get much better than this.  It still gives me a chill down my spine to this day.
Just a year later, Colour by Numbers had the crazy hot single "Karma Chameleon" as well as "Church of the Poison Mind", "Victims", "Miss Me Blind", and "It's a Miracle".  If not for Michael Jackson's unstoppable Thriller, Culture Club's sophomore album would not have hit a wall at #2 on the charts for six weeks straight.
Looking back, "Karma Chameleon" is an even more perplexing song today.  Super catchy, and very Culture Club, but it sounds like Englishmen doing American Country.  The plucky guitar and harmonica really put out that folksy, country vibe.
"It's A Miracle" is more of a straight pop song with a slight island tweak.
"Church Of The Poison Mind" to me sounds a bit like less intense and happy Eurythmics – I absolutely LOVE the female vocals in this song – it really takes it to another level.
Never released as a single, "That's The Way (I'm Only Trying To Help You)" is absolutely one of my favorite Culture Club songs, and it's such a perfect companion piece to "Church Of The Poison Mind".  Beautiful and brilliant.  And those female vocals – oh my God!
"Miss Me Blind" to me is maybe their most New Wave song, with the funky guitar and infectious chorus and more traditional structure; it also does not have that strong reggae foundation nor some of the other Culture Club traits like the strong horns.
After early success, Culture Club fell apart for a variety of reasons, and the band came to an end circa 1986.
But the band have not written their last song…  they announced a new album – Tribes – on PledgeMusic, and though no release date has been scheduled, it will be released.
Of course, Culture Club is not all Boy George…  all four principal members made huge contributions to the music and sound, and all have quite interesting stories in their own right.  Guitarist Roy Hay was actually trained as a pianist as a child, and formed This Way Up after Culture Club split in the mid-80s.  He went on to write and produce for Sony Music and later started his own company Haywired Music.  He has also worked as a composer in film and television.
Jon Moss also learned on piano at an early age.  Interestingly, he tried out as a drummer with The Clash prior to founding Culture Club, and also toured with The Stranglers, and then The Damned as well as Adam & The Ants.  Following Culture Club, he has worked with a number of other bands.
Mickey Craig launched his own dance label, SLAMM records, and also has worked as an executive producer and as a DJ.
Boy George has had a successful solo career, and he continues to make incredible music.  So for those who are only interested in the early hits of Culture Club, you are truly missing out.  He has a fantastic voice and complex soul with a lot to say about the world.
While Culture Club is distinctly a New Wave band, those reggae roots could not be more apparent than if you turn out for one of these live shows.  There is definitely more of an island flavor with these live performances, which suits the band perfectly.  The sound and production was ace, and the entire affair just begs for a live Blu-Ray/DVD, both for those who cannot make it out to one of these concerts but also to memorialize what Culture Club sounds and performs like now, in their prime.
They came out onto the stage with "Church of the Poison Mind", which is my "co-favorite" Culture Club song (along with "Do You Really Want To Hurt Me?").  I'm usually lost into what I am doing with my photography at the start of a show, but I had to kind of put down the lens and take it all in for a moment…  that kid in me in awe of this band that made this awesome music that helped put me on this path with the soundtrack of my life that brings me all the way to where I am today.  There was real magic in the air from the start.
It was fascinating to see (and hear) the contributions of Roy, Mikey, and Jon with this show, having seen Boy George solo in the past.  It was just a different kind of energy and their is such chemistry with them all, and each is such a distinctly gifted artist in his own right.  As they performed, you could hone in on the instrument of each member and be carried along for their contribution to their fantastic music.
But there are more than just four musicians on stage for this tour…  also performing is a horn section, a second drummer, another guitarist, a keyboard player, and a trio of female vocalists, all filling out the Culture Club sound with a symphony of music.
In addition to all of the wonderful songs (as well as some interesting covers), Boy George is very engaging with the crowd.  He seems to be one of those performers that needs the fans there with him to give him energy and joy, which he projects back out into the audience.  He's not one of those that sings over the crowd, he projects into them, watches them, sees how their music makes people move and react…  he is fully engaged.  And he talks quite openly about whatever is on his mind or strikes him as they go along, song by song, through out the night…
These people are here are having the best time.  That lady over there just dancing; getting completely involved. I love you!  I don't know who you are, but I love you for that!  I don't know if you're a Gemini, but you and I have a great relationship.  I like people who just get involved you know?  Jump right in!  Put your face in the cake of life and go [funny sound and then laughter].  Thank you so much.  So we're going to go now to circa '77, a song originally written and recorded by a wonderful band called Bread from America.  We've given the reggae-jaggae version.  If you're sitting down that's okay…  you can do a little bit of damage in your seat.  You know what?  You can still move a lot in your seat.  I do it all the time on airplanes.  It's very good for your bum.  Trust me.  So don't hold back.  I'm going to dedicate this song to this lovely lady here…  it's a song called "Everything I Own".
I honestly believe that Boy George is having the most fun at these shows, out of the thousands in attendance.  He looks amazing.  He looks happy and radiant.  Spending a little time watching him and the rest of the band interact with fans for the meet and greet, he seems very fun and authentic and without ego.  The whole band appear to be having the time of their lives, and that translates into the live performance as well, I think.
All of the songs seem to have meaning to the band, as Boy George comments on each…
"Black Money": "Don't be afraid to be sentimental…  Remember: exhibitionism is next to Godliness..  It is in my house anyway…"
"Time (Clock of the Heart): "We're going to do a lovely song now from 'Kissing To Be Clever'.  This one was kind of put onto the album at the last minute and it's one of our favorites and it always goes down well over here in the Americas.  If you're with someone you love, grab them by the hand…  we definitely encourage outward displays of emotion."
"Like I Used To": "I'm guessing that you're a pretty romantic kind of crowd.  Especially after a nice glass of wine.  And maybe too long on the slot machines or crap tables.  The ladies are here!  So I'm going to dedicate this song to anyone who's a certified psycho lover.  The kind of person that's probably going to have a Culture Club song written about them. Is that you, baby?  I love the way you're owning it.  Jesus.  And you've got a chameleon on – well there you go; you're in business.  So, I'm going to give you some good news baby: you can get cured.  You can get cured.  Two things work.  Getting over it and celibacy."
"Different Man": "Sly Stone, King of Funk.  Let's just say, like me, Mr. Stone has been around the block a few times.  [laughs]  So this is song about recovery and redemption.  Now if there's anybody in the house that's in need of some redemption, put your hand up.  All I can offer you is musical redemption.  But I will say that one thing that I've learned is that you don't get older and wiser just because you stick around. [singing] 'You have to change, you have to change… [singing]  You have to become a different man, or a different woman.  And getting a new haircut isn't enough."
Interesting to me is that Boy George carries his own nostalgia for the 80s, just like I do…
So we're going to go back now to 1982…  where you first met us, and we first met you.  So they invented this wonderful thing called MTV.  And we were sent into people's living rooms all over America!  The likes of Culture Club, Cyndi Lauper, The Eurythmics, Thompson Twins, Madonna, the amazing Prince, Pat Benatar… [singing] "we are young"… [singing]  I love that…  Billy Idol, Duran Duran…  yes, Michael Craig?  Who have I forgotten?  [the band starts playing "Billy Jean"]  Oh yeah!  Michael Jackson!  I always think there's someone I've missed out – is there anyone I've missed out?  I think there's someone I left out…  [shouts from crowd] George Michael!  How could I forget George Michael?  Oh my God.  In fact, now… a lot of people confuse me for George Michael…  [laughing]  Okay, well anyway, I got so distracted there…  telling you stories.  I talk more than Adele.  I think it's a British thing – we just talk a lot, you know?  Anyway… and it's good to make friends with your audience.
A rare thing…  a band and their front man making friends with their audience.  But that's exactly what Culture Club did at Thunder Valley on Friday night.  A real celebration of this music that was born some thirty years ago… still alive; still relevant.  And it was really something to see the full band playing together, and "playing together".  Like being witness to something that more than likely could have not come together again.  These real pioneers in music, putting the music first and rediscovering maybe that joy and innocence that helped to bring it all to life all those years ago.
I obviously attend a lot of concerts and live music events, but this tour is really something special, and not something to be missed.
My concluding thought, circling back around to that Gemini thing, comes from Shelley.  Editing photos, she found that Boy George has two distinctly different looks, depending on which profile you are viewing – one seeming to be wiser and experienced and the other being more boyish and childlike.  A true Gemini.
A photo of the night's setlist…
Set List:
Church of the Poison Mind
It's a Miracle
I'll Tumble 4 Ya
Move Away
Everything I Own (Bread cover)
Black Money
Interlude
Time (Clock of the Heart)
Like I Used To
Different Man
Miss Me Blind
The Crying Game (Dave Berry cover)
Do You Really Want To Hurt Me?
Victims
More Than Silence
The War Song
Human Zoo
Encore:
Karma Chameleon
Get It On (T. Rex cover)
Below are some photos of Culture Club performing on stage (click any image to open a virtual lightroom with higher resolution versions of each photo); apologies as lighting and angles (tall stage) prevented us from getting many shots of the back of the stage and those artists:
Jason DeBord