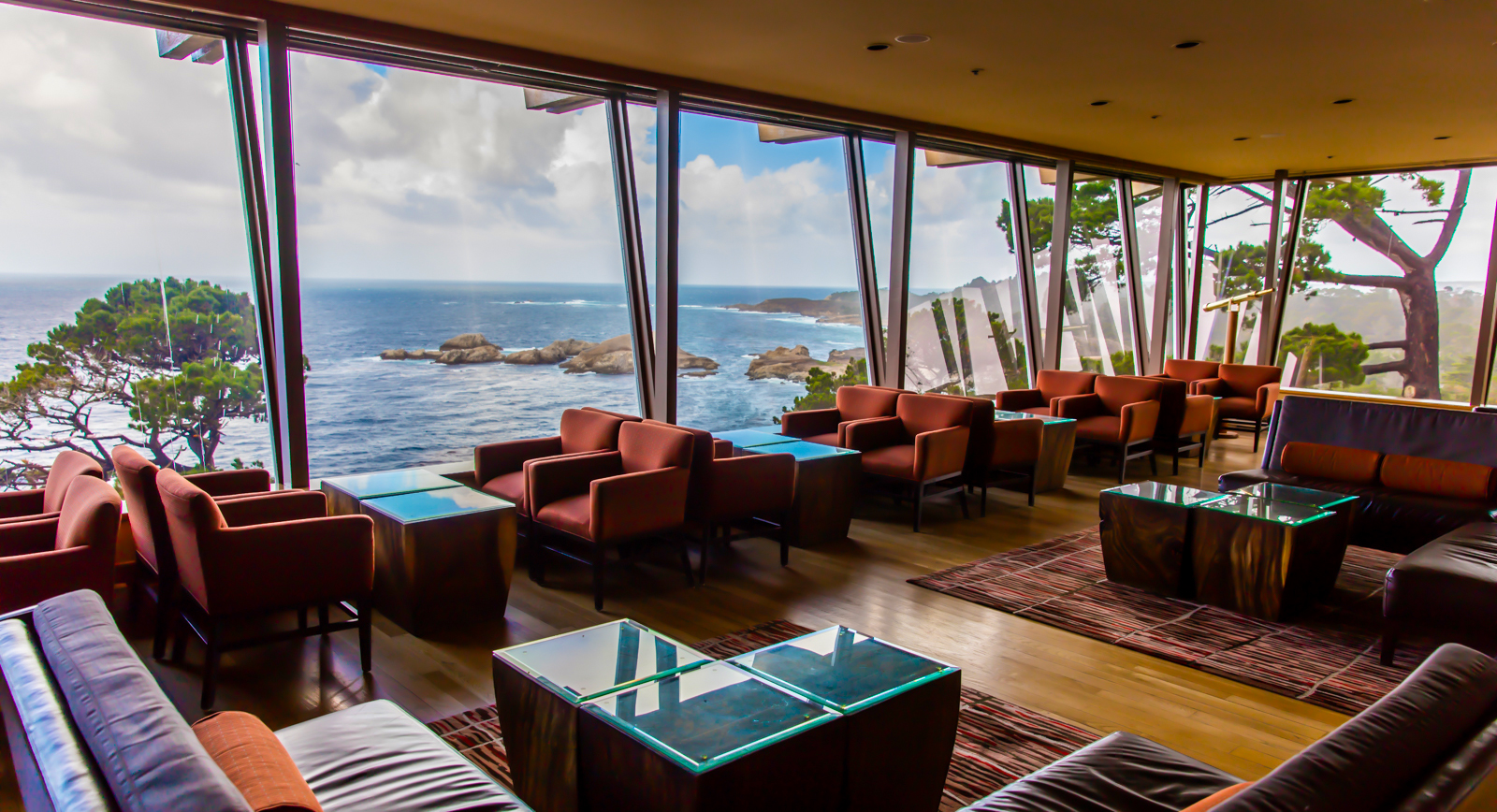 This is part of a continuing series of my impressions and experiences staying at various hotels and resorts. This stay was during my recent trip to the Carmel area in November 2015.  This review is for Hyatt Carmel Highlands, A Hyatt Residence Club.
Property: Hyatt Carmel Highlands, Overlooking Big Sur Coast & Highlands Inn, A Hyatt Residence Club
Location: Carmel, California
Address: 120 Highlands Drive, Carmel, CA 93923
Phone: (888) 882-1234
Website: www.highlandsinn.hyatt.com
Room Type/Class: Standard Room
Date: November 13 – November 15, 2015
TripAdvisor Page/Reviews: LINK
Booking Source:  I thought it was direct; now I have no idea
Overall Rating: 3/5 [Note: Score is totally subjective based on price, location, and comparison to "like" properties within same area and price range]
This booking was made at another Hyatt property (the Hyatt Regency Monterey Hotel and Spa), though apparently that wasn't officially a Hyatt booking…  more on that in a moment.  In any event, it was a discounted rate package for two nights in exchange for listening to a time share presentation.
I stayed at the "Highlands Inn" many, many times growing up, though it is now owned by Hyatt and includes time shares.
I have many fond memories of staying there around Thanksgiving and Christmas time in my youth, particularly just hanging out in the lodge area with it's expansive windows overlooking the gorgeous Carmel coastline.
The "rooms" there are more than the typical hotel room, but are more like multi-level townhouses, with dedicated fireplaces (that actually burn real wood!) and a massive jetted tub in the bathroom, as well as a full kitchen.  It feels like the kind of place you could hide away at for a week or more.
So fast forwarding a few decades, it is kind of a mixed bag today.  It got off to a bad foot hours before my wife and I arrived, as I called the hotel to let them know we would be arriving late, to ensure we wouldn't lose our reservation.
I called the local phone number provided on the website, and spent ten minutes navigating through the voice menus at the prompting of the robot voice phone attendant.  The not-ready-for-prime-time technology was frustrating, as it kept asking me for the same bits of information.  Finally, after recognizing my name, it transferred me to an actual human being.  Unfortunately, the human being (wherever he was located) didn't even have any idea where Carmel was…  once getting that settled, he asked the same questions as the robot attendant (making me wonder what the point of all of that was?)…  finally, he couldn't find my reservation in their system.
So I spent 30 minutes on the phone and got nowhere, and ultimately was transferred to someone at the front desk of the actual hotel I was driving to (which was what I attempted to do in the first place).  He said our reservation was made with a third party (even though we made it in the lobby of a sister Hyatt property), and assured us late check in would not be a problem.  Just doing this took about 45 minutes.
Upon arrival, we checked in with no problem, but the quaint and quiet lodge/lobby was not how I remembered it, as they rent it our to swing dancers who are not even staying at the property (this was my parent's experience staying there a few months prior to our visit as well).
We skipped that part on Night #1 then, and went to park in front of our room.  It seems that the swing dancers invading the lodge impacts parking for guests, as we had to drive around for about 10 minutes waiting for one of the non guests to leave to be able to park for the night.
As far as the room itself, it was pretty much as I remembered it (a great thing).  Firewood was waiting next to the fireplace, with the fireplace ready to go with just the light of a match.  More firewood is left out for guests in common areas that are not too far away, though the pail in our room had a broken handle, making it a little more challenging.
The room was very comfortable, and we had no complaints from that aspect of the stay.  The free wi-fi was very reliable, and it was easy to set up multiple devices.
We had breakfast on site both days and it was awesome – can't recommend it enough.  Excellent food and service.
On Day 2, we went to make use of the lodge, and that was problematic.  There was a giant moving van in front of the hotel, and as we walked up the main entrance, the moving men had to make a point to stop what there were doing to deliberately stare at my wife, making for an uncomfortable situation.
Once inside, we saw that they were pretty much removing everything in the main part of the lodge that wasn't nailed down, including all of the furniture.
We went to the concierge – who has line of sight of all of this activity – and asked what was going on.  Apparently, they were setting up the public lodge area for a wedding party later that night.  We asked the concierge if we would have access to the part of the lodge along the window, and she got very rude and snippy with us, and said she didn't know, that we'd have to ask the wedding coordinator?
So ultimately, one of the main guest benefits of the property – the nice lodge area overlooking the ocean – is constantly rented out to non-guests – swing dancers, weddings, etc.  A huge disappointment.
We shared these concerns at the start of our timeshare presentation – basically saying we'd never stay there again since the lodge is apparently not a reliable guest amenity and the other issues with the concierge, etc., and this was originally dismissed.  Long story short, the time share presentation (which was more of a quiz of personal questions rather than telling us anything about the property) was another aggravation in our brief stay.
Overall, I was disappointed trying to match up what was with what is today.  If you don't have any interest in spending time in the lodge area, then I would give it a higher recommendation.  There are certainly bright points, the main one being the room itself,  but other aspects of the stay didn't leave us feeling as warm and fuzzy as the wood burning fireplace.
Below are some photos taken during my stay: