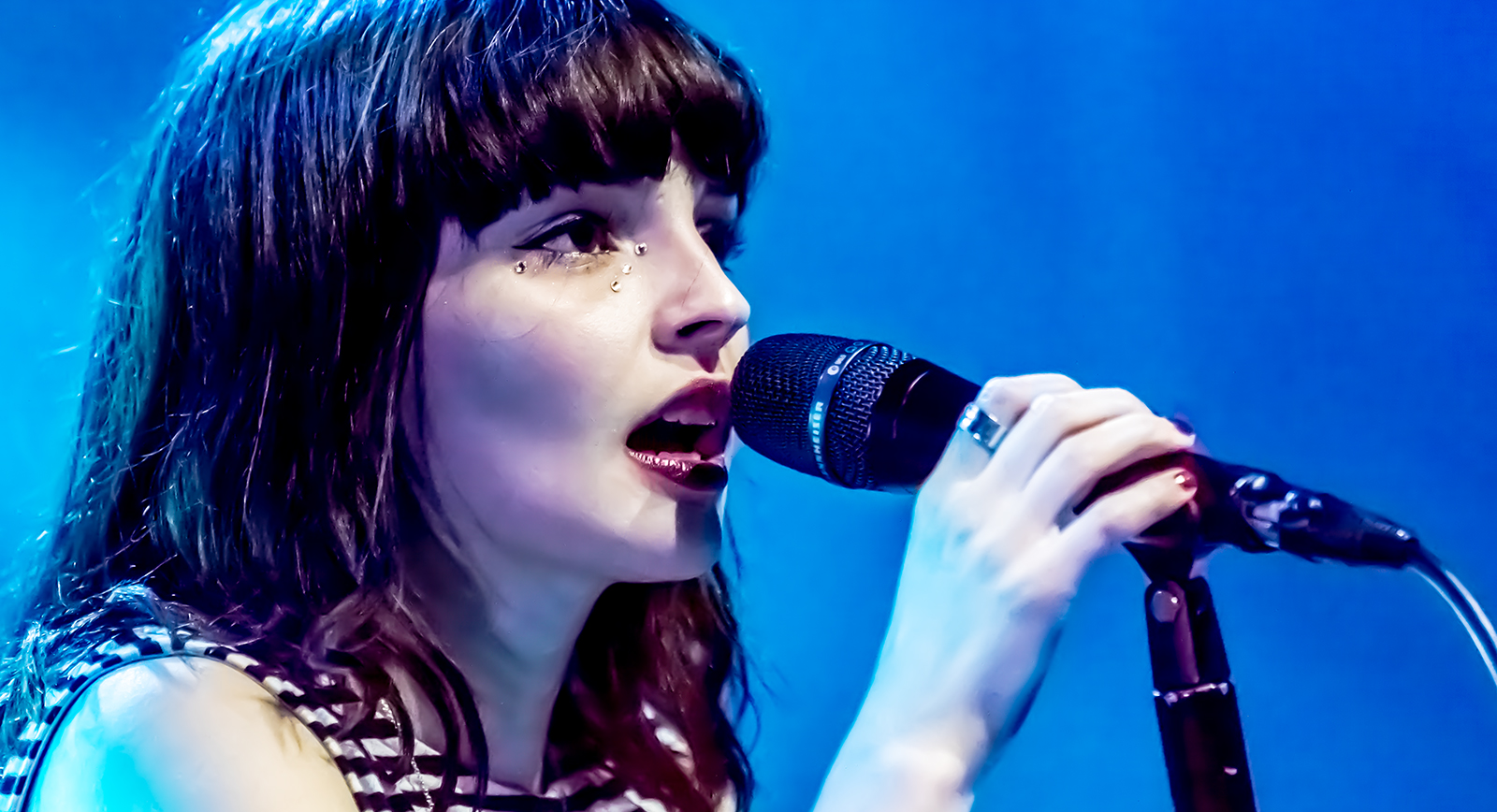 "It's been quite a while since we've played here…" Lauren Mayberry of CHVRCHES at the first of two back-to-back sold out shows at the Fox Theater in Oakland on Monday night.  With the incredible Wolf Alice supporting, it was a stellar evening of music from two bands in the midst of a huge upswing in both talent and popularity.  Late last year, both bands put out new albums, CHVRCHES with their Every Open Eye (their second) and Wolf Alice bowed their debut LP, My Love Is Cool.  I had opportunity to see Wolf Alice at all three of their Bay Area shows last year and CHVRCHES with their "Not So Silent Night" appearance in December, so it has been fascinating to see them evolve and grow with both their studio recordings and their live shows.  All in all, an evening that offered a look at the future of music… Wolf Alice with their alternative rock and roll and CHVRCHES with their synth pop.
Who: CHVRCHES
Supporting: Wolf Alice
Venue: Fox Theater
Where: Oakland, California
Promoter: Another Planet Entertainment
When: April 18, 2016
Seating: General Admission (with photo pass)
It's so impressive that CHVRCHES was able to sell out the Fox Theater not once but twice for these shows, and it stands as a testament to their success and fans.  This is the early part of a U.S. tour for CHVRCHES which include festival appearances (like the current Coachella event) as well as their own headlining shows and co-headlining shows with Death Cab for Cutie.
Wolf Alice
Members
Ellie Rowsell (vocals)
Joff Oddie (guitar)
Joel Amey (drums)
Theo Ellis (bass)
I've written quite a bit about Wolf Alice since early 2015… as mentioned, I reviewed all three of their Bay Area shows last year.
When I first saw them at Popscene at Rickshaw Stop in March (thank you, Aaron Axelsen!), I was fairly unfamiliar with them.  I delved into the music that they'd released up to that point and was astounded at the quality of their music – all of it was simply amazing.
They had another show at The Independent in May, and I could see the progression as a band…
The third time around at The Chapel in October found them wrapping up the U.S. leg of their tour at the time, and at that point they'd released their debut album, My Love Is Cool, which I named in my end of the year feature as The Best Album of 2015.  You can read my in-depth album review in my October concert review.
Wolf Alice was formed in London in 2010.  Prior to the release of their first studio album last June, the quartet had previously released two EPs – Blush and Creature Songs – in 2013 and 2014 respectively, as well as singles "Fluffy" and "Bros" (both releases in 2013).
I was able to track down the Blush and Creature Songs EPs and the "Bros" and "Fluffy" single releases on a site called 7digital.com (since much of it was not available in the U.S. on the obvious sites like iTunes and Amazon).
Wolf Alice is one of those rare, rare bands with which I just absolutely love all of their music.  Every song.  Single, EP, album… it's all brilliant.
Each member of the band is such an independent, fully formed artist in their own right, yet they come together with such synergy it's as if they were born to find each other to make this music.
Ellie Rowsell possesses a distinct and unique (understated) charisma and confidence and performs with a real ease, even putting together a wide variety of styles in sound, tone, and style.
Joff Oddie exudes a controlled intensity on guitar that adds real complexity to their songs and drives a lot of the changes throughout.
Joel Amey, to me, is kind of the "rock star" of the group, which suits his playing style on drums.  With the shortened set on the opening slot on these shows, we unfortunately didn't get to hear him perform "Swallowtail".
Theo Ellis is the sort of joyful and quirky persona on stage, and seems a bit more playful as they progress into their careers.
With each show, it I can hear little tweaks and changes to their songs, which is always cool and makes the whole show that much more engaging for the fans who have the songs etched into their memory like the grooves on a vinyl record.
Below is the set list from the Wolf Alice concert at the Fox Theater on April 18th:
Intro
Your Loves Whore
You're a Germ
Bros
90 Mile Beach
Lisbon
The Wonderwhy
Fluffy
Giant Peach
Blush
Moaning Lisa Smile
A shortened set, running about 10 songs to their last tour's 16.  Interesting to look at the choices for what was played versus what was cut ("Freazy", "Silk", "Storms", "Swallowtail", "She", and "Turn to Dust").  I was thrilled that they played non-album track, "Blush" (my wife's favorite song).
I was most interested to see how they would do playing the 2,800 capacity Fox compared with the 500 capacity of The Chapel and The Independent.
I'm such a huge fan of the band on a personal level, I found myself internally rooting for them… could the pull it off?  How will it translate?
They played through a majority of their (relatively) softer songs, and it was hard to tell how it was working in a crowd of mostly CHVRCHES fans…  When they got to "The Wonderwhy" with it's quieter stretches, I could then hear people near the bars talking, completely shut off from the music…
The turning point came next with "Fluffy".  Not only did it work with the larger venue and crowd… it worked even better.  For me, it was like another large leap forward with the band – they just absolutely killed it through the end of the set with the more rocking songs (bookending the beautiful "Blush").
I can't tell you how much I love this band.  Hopefully they will continue on the trajectory that they deserve.  They could potentially be Fleetwood Mac for a new generation.  I think the second LP will tell the story.
Below are some photos of Wolf Alice performing on stage (click any image to open into virtual lightbox and higher resolution):
Chvrches (CHVRCHΞS)
Members
Lauren Mayberry (lead vocals, synthesizers, samplers)
Iain Cook (synthesizers, guitar, bass, vocals)
Martin Doherty (synthesizers, samplers, vocals)
Chvrches is an electronic trio formed in Glasgow in 2011.
Both their debut EP, Recover, and their debut album, The Bones of What You Believe, came out in 2013.  Their follow-up studio album, Every Open Eye, was released last September.
They have steadily gained popularity since their inception, and seem to have no problem headlining sell out shows on their own as well as pulling in large crowds on the festival circuit.
Live on stage they sound much like they do on their studio recordings, and Lauren brings a ton of energy to the show for a band rooted in an electronic foundation.  Her voice is well-suited to the higher range, pop-oriented synthesizers and samples.  Their music is comprised of a different sort of optimism laced with darkness that kind of suits the times and a younger generation of music fans.
Contrary to a lot of electronic bands, in-between songs the ongoing candid dialogue from Lauren goes against tradition, with funny, quirky little comments to the crowd that make her even more endearing.  And that energy…  in conjunction with the high contrast flashing lights, she's one of the hardest to photograph artists in the business!
For such a new and young band, they really know how to put on a great show and push all the right buttons with their fans.
Below is the setlist for Chvrches at Fox Theater on April 18th…
Set List:
Never Ending Circles
We Sink
Keep You on My Side
Make Them Gold
Empty Threat
Tether
Playing Dead
Science/Visions
Gun
Bury It
High Enough To Carry You Over
Under the Tide
Recover
Leave a Trace
Clearest Blue
Encore:
Afterglow
The Mother We Share
Below are some photos of Chvrches performing on stage (click any image to open a virtual lightroom with higher resolution versions of each photo):
Jason DeBord