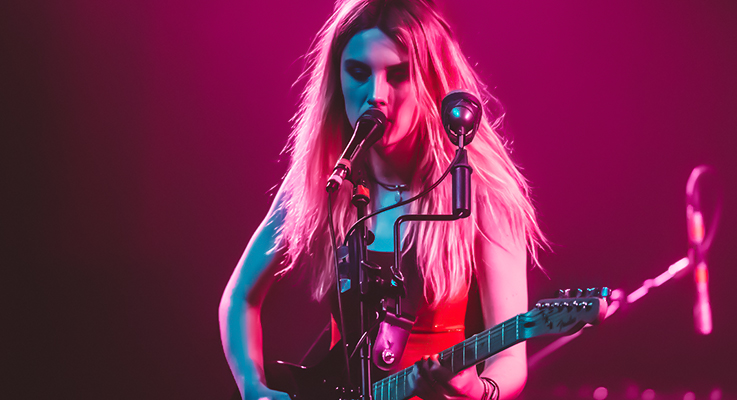 "I'd like to thank our two friends down here who have been down here all day; it was crazy for us to have any of you here in San Francisco all the way from London…"  Ellie Rowsell's gratitude expressed to the two Wolf Alice fans who came a long way to see the UK alternative four piece play in the U.S.  I'd just seen their show at Popscene in San Francisco only three months ago, and I could not wait to catch another one of their dynamic live concerts.  Having since had an opportunity to get schooled in their music released to date, I have found Wolf Alice to be one of the most exciting newer bands recording and performing today.  With their debut album – My Love Is Cool – due next month, I am confident that their music will propel them to greater success and larger stages.  They have a real set of gifts and talents with their songwriting and originality, and the contemporary yet timelessness of their music which features some touches and influences that span many disparate music genres and eras.  They are the real deal.

Who: Wolf Alice
Supporting: Gateway Drugs
Venue: The Independent
Where: San Francisco, California
Promoter: Another Planet Entertainment
When: May 14, 2015
Seating: General Admission (front left of center, then roaming with photo pass)
I wasn't too surprised to see Wolf Alice graduating from Popscene at Rickshaw Stop (see prior review) to The Independent, announced just a day or two after the show back in March.

As mentioned in the intro, they've already got fans willing to traverse an ocean for a different sort of Wolf Alice live experience, so I wasn't too surprised to see a line up outside of The Independent when I arrived more than an hour before doors.  Already, the band is cultivating that special, more dedicated sort of fan base; not just the casual fan.  I attribute it to their music, and there was a lot more excitement than usual about the pending show while waiting among other fans and friends to get inside and get things underway.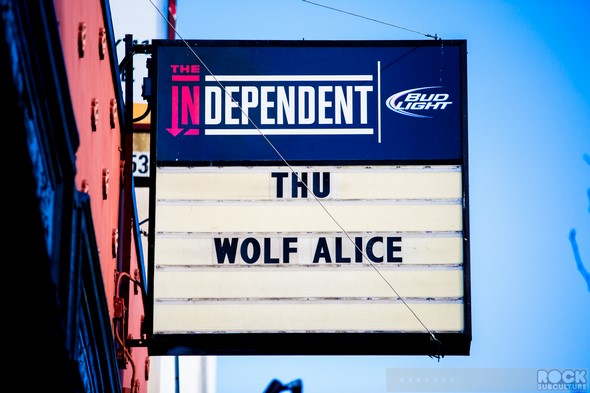 Gateway Drugs
Members
Liv Niles (lead vocals, bass, guitar)
Noa Niles (lead vocals, guitar, keys)
Gab Niles (lead vocals, drums, guitar, bass)
Blues Williams (vocals, bass, guitars)
L.A.-based rock band Gateway Drugs certainly have an interesting pedigree, with three of the quartet (Liv, Gab, and Noa Niles) being the children of Prescott Niles, bassist for The Knack.
I guess they are fairly democratic siblings, since vocals were traded off among them throughout their blazing set.
Up front and center was the drum kit, which made sense once things started, because the drumming (and drummer Gab) were kind of the stars of the show.  The style and intensity reminded me of Dave Grohl circa Nirvana.  I've never made that comparison with any drummer before, so it's not a throwaway comment.  But their music feels somewhat loosely assembled, with the drums providing some sonic glue and cohesion holding it all together, while remaining unpredictable.
They collectively have a lot of raw energy and lo-fi sound, which makes sense since they were selected to support The Jesus And Mary Chain on their recent tour.  Overall, they come across to me as a contemporary spin on some late 80s/early 90s favorites in harder alternative, like Sonic Youth.
It was an excellent performance and very interesting in that each song had taken on a life of it's own, with it's own identity and sound.  Cool band and I would love to check them out again.
Below are some photos of Gateway Drugs performing on stage (click any image to open a virtual lightroom with higher resolution photos):
Wolf Alice
Members
Ellie Rowsell (vocals)
Joff Oddie (guitar)
Joel Amey (drums)
Theo Ellis (bass)
Wolf Alice was formed in London in 2010, and the first studio album, My Love Is Cool, is coming June 22nd.   The quartet have released two EPs – Blush and Creature Songs – in 2013 and 2014 respectively, as well as singles "Fluffy" and "Bros" (both releases in 2013).
When I last saw Wolf Alice live at Popscene a few months ago, I was able to track down the Blush and Creature Songs EPs and the "Bros" and "Fluffy" single releases on a site called 7digital.com (since much of it was not available in the U.S. on the obvious sites like iTunes and Amazon).
So the playlist I created on my iPod with this set of Wolf Alice music – a dozen songs in all – has probably been my most played playlist so far this year.  I really can't emphasize enough how much I love their music.  I get the same excitement from listening to them as I did back in the 80s and 90s finding new artists.  They are something different; something special.
My four favorite songs of what has been released prior to the new album are…
"Moaning Lisa Smile", which I absolutely love.  As mentioned in my last review, it takes me back to some of the music I grew up with like Throwing Muses, Cocteau Twins, Lush, Veruca Salt, etc.  Great, catchy pop smacking up against some relatively harsh sonic walls and nice changes a la Nirvana.  This is the signature Wolf Alice song, that showcases their unique sound, creativity, and style.
"Storms" is another one, and a perfect pairing with "Moaning Lisa Smile".  The bass particularly drives this one, pushing it through to the slow down and speed up changes and chorus.
"Blush" is the one that shows a different, sweeter, slower, more contemplative side of the band, as well as an uplift in optimism.  They can take their time with a song, but still take you on a journey with some unexpected turns.  Real emotion with this band, with depth beyond their years.
"She" rounds out my favorites – again, with the changes – but some softness contrasting the sharp shriek and wild guitar.  Brilliant stuff.
Song to song, there is so much variety, with bits and pieces reminding me of other songs, or at least bits of songs from other artists, ranging from The Cranberries to Nirvana to the xx to The Beatles.
Now that the new album, My Love Is Cool, is nearly upon us, the full tracklisting is available on the iTunes pre-order, so it's interesting to see what is new and what is carried over from the EPs.
Below is the tracklisting for the new album:
"Turn To Dust"
"Bros" (Bros Single)
"Your Loves Whore"
"Moaning Lisa Smile" (Creature Songs EP)
"You're a Germ"
"Lisbon"
"Silk"
"Freazy"
"Giant Peach"
"Swallowtail"
"Soapy Water"
"Fluffy" (Fluffy Single)
"The Wonderwhy"
And from the releases to date, and not on My Love Is Cool:
"White Leather" (Fluffy Single)
"Every Cloud" (Bros Single)
"Blush" (Blush EP)
"She" (Blush EP)
"Nose Dive" (Blush EP)
"90 Mile Beach" (Blush EP)
"Storms" (Creature Songs EP)
"Heavenly Creatures (Creature Songs EP)
"We're Not the Same (Creature Songs EP)
So of the 13 tracks on the debut album, 10 of the songs are all-new, which is super exciting.
If you pre-order on iTunes, you get "Bros" and "Moaning Lisa Smile", as well as brand new song "Giant Peach", which is one of their more rocking songs.  It has a bit of a Joan Jett attitude going on.  Love it.
But…  I can't recommend enough buying their two single releases (featuring a pair of songs each) and two EP releases (with four songs a piece), as the music is amazing, and taken collectively encompasses 12 tracks, so it is like a full album of music on it's own.  Which is why I made mention of my four favorite Wolf Alice tracks to date – three of them won't appear on the new album (though all are played live on this tour…), so totally worth tracking down to add to your music collection.
Their songs are each very distinct, stand-alone works that are quite diverse, but with the band's unique signature.  Some fast, some slower; some rocking, some a bit more lo-fi.  But pop drives all of it on some level, making it all highly infectious.
Wolf Alice is one of those rare bands who instinctively weave those hooks and riffs and beats and catchy choruses throughout their songs.
I definitely rank them among artists who, in my opinion, are the best of new and emerging bands of the past few years, like Broods, Phantogram, MØ, MS MR, Meg Myers, Reignwolf, Charli XCX, Kitten, Kaneholler, Down and Outlaws, and a few others.
Ellie Rowsell certainly has that "it" factor as the frontwoman for the band, with a distinct and unique (understated) charisma, confidence in their work, and the ability to win any staring contest with fans in the crowd.  Her range and gifts with her vocals kind of catches you surprised, as well as the ease with which she delivers in a wide variety of styles, one as seemingly effortless as the next.
Joff Oddie on guitar has I think the most elaborate pedal and effects board I've ever seen – he's like a one man Guitar Center.  Not too flashy in his playing, he really knows how to get a vast variety of sounds from his guitar, and thus providing a foundation for all of the different styles and complex mixes of riffs, noise, and effects.
Joel Amey brings a lot of diverse sounds and style on drums, and while on some songs it is more minimalist, on others (like "We're Not the Same"), the drumming and beats are more fundamental to the song and right out front leading the way.
Similarly, some songs feature Theo Ellis' work on bass more prominently than others.  In a lot of bands, the bass is kind of lost, but he certainly has his moments and is always right there in the mix of it, in the same way the presence of the bass is always felt in bands like The Cure and Green Day.
I feel that they are at their best with those songs that go through real changes from rocking to softer moments to showcase that sublime voice.
With the show at The Independent, they had a bit more room to move around this time, and Joff had a moment towering over Joel on drums, while around the same time toward the end of the show, during the encore, Ellie performed from within the crowd standing in front of the stage, and even personally handed out set lists to fans.  They also managed their own merch booth after the show and met with fans for photo ops and autographs.
Below is a photo of the set list from the show: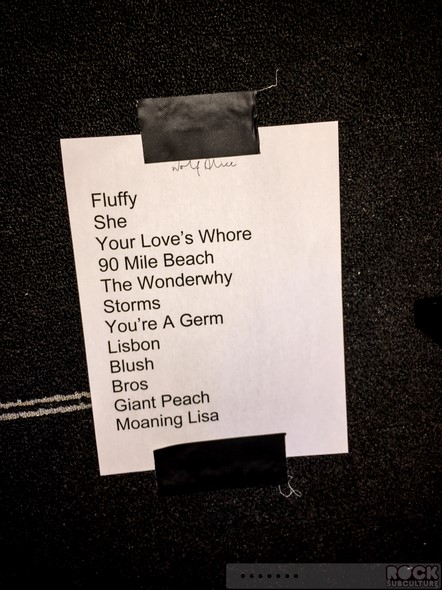 Below is the set list from the Wolf Alice concert at The Independent on May 14th, 2015:
Setlist:
Fluffy
She
Your Love's Whore
90 Mile Beach
Storms
You're A Germ
Lisbon
Blush
Bros
Giant Peach
Encore:
Below are some photos of Wolf Alice performing on stage (click any image to open into virtual lightbox and higher resolution):
Jason DeBord