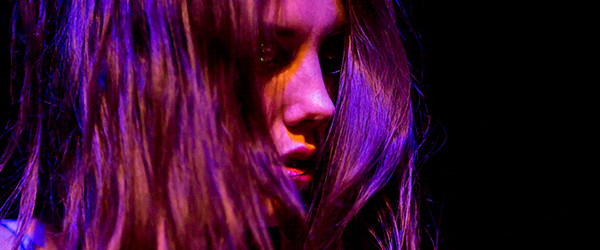 "We've got a couple more for you… party on, Friday night!"   Ellie Rowsell's preface leading into Wolf Alice's encore at the sold out show at Popscene at Rickshaw Stop on Friday night in San Francisco.  The alternative band from London put on a blazing show at a rare headlining stop in the U.S. on their way to SXSW.  A relatively newer band, their debut album, My Love Is Cool, is due in June, and already they seemed destined for much bigger venues.  I would be surprised to see them on a steep upward trajectory over 2015.  While the four members skew quite young, they exude maturity and confidence in their music, and as great as their EPs released thus far sound, their music seems fashioned to excel in a live setting even more than the studio recordings.  Even though they didn't move around too much on the stage during their set, their music moved the crowd and they are one of the most exciting bands to come along in recent years.  Definitely ones to watch, and to catch live if you get the opportunity.
Who: Wolf Alice
Supporting: The Moth ⅋ The Flame
Supporting: Taymir
Supporting: DJ Aaron Axelsen
Supporting: Omar
Venue: Rickshaw Stop
Where: San Francisco, California
Promoter: Popscene
When: March 13, 2015
Seating: General Admission (front row center; also photo pass)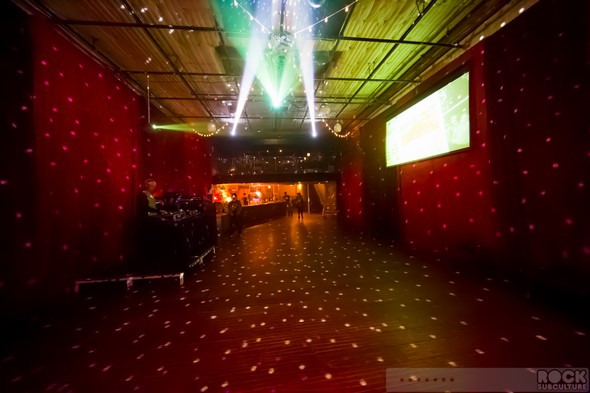 As always, Popscene's Aaron Axelsen from Live 105 certainly knows how to bring out the best emerging artists to Rickshaw Stop with these shows, and all three artists on the bill Friday night delivered.

Per tradition, the show starts a bit later with Popscene, with doors opening at 9PM to fantastic DJ sets by Aaron and DJ Omar.
Taymir
Members:
Bas Prins (vocals)
Quinten Meiresonne (bass and backing vocals)
Mikkie B Wessels (guitar and backing vocals)
Isaï Reiziger (drums)
Formed in The Hague, the band proclaims that their music is made in the style of "authentic pop songs in the 60's beat tradition, with the balls of the Arctic Monkeys and the edge of The Strokes".
Their debut single, "Aaaaah", was released in 2013, and their debut album, Phosphene, followed (though unfortunately it is not commercially available in the U.S. at the usual online music dealers like iTunes and Amazon).
I found their music to be immediately accessible and catchy, and they put on a great live set.
Below are some photos of Taymir performing on stage (click any image to open into virtual lightbox and higher resolution):
The Moth & The Flame (The Moth ⅋ The Flame or TMTF)
Members
Brandon Robbins (guitars, vocals)
Mark Garbett (keys, vocals)
Andrew Tolman (drums)
The band formed in Provo, Utah and are slated to release their second album sometime this year.  Though apparently they did release a self-titled debut on 11/11/11, but only "hard copies" (not online).
In late 2013, they released the Ampersand EP ('⅋' EP) and in the same year toured with both Imagine Dragons (Andrew is their former drummer) and The Naked and Famous.  As the only U.S. band playing Friday night, they are actually the only one of the three artist with material available on the U.S. territory version of iTunes (the aforementioned EP).
They put on a high energy show and I got really positive feedback about the band from others who turned out for the show after the concert.
Their set was really tight and the members seem to play well together – like a really seasoned band with a lot of experience touring.
Below are some photos of The Moth & The Flame performing on stage (click any image to open into virtual lightbox and higher resolution):
Wolf Alice
Members
Ellie Rowsell (vocals)
Joff Oddie (guitar)
Joel Amey (drums)
Theo Ellis (bass)
Wolf Alice was formed in London in 2010, and the first studio album, My Love Is Cool, is coming June 22nd.   The quartet have released two EPs – Blush and Creature Songs – in 2013 and 2014 respectively, as well as singles "Fluffy" and "Bros" (both in 2013).
Unfortunately, apart from some of the tracks the band itself generously gives away online, it is difficult for those of us in the U.S. to buy their EPs outright.   I was able to track down the Blush and Creature Songs EPs and the "Bros" and "Fluffy" single releases on a site called 7digital.com.
I've since had a chance to spend some time with their studio recordings, and they are amazing.
The first song of theirs that I've heard is "Moaning Lisa Smile", which I absolutely love.  It takes me back to some of the music I grew up with in the late 80s / early 90s like Throwing Muses, Cocteau Twins, Lush, Veruca Salt, etc.  Great, catchy tune pop tune smacking up against some relatively harsh sonic walls and nice changes a la Nirvana.
But their EPs aren't a grouping of sound-a-like tracks, but very distinct works that are quite diverse, but with the band's unique signature.  Some fast, some slower; some rocking, some a bit more lo-fi (more in the genre of what you hear from the xx).
They are one of those rare bands who instinctively weave those hooks and riffs and beats and catchy choruses throughout their songs.
So seeing them live and then delving back into their studio recordings, I would definitely rank them right among artists who, in my opinion, are the best new and emerging bands of the past few years (like Broods, Phantogram, MØ, MS MR, Meg Myers, Reignwolf, Charli XCX, Kitten, Kaneholler, Down and Outlaws, and a few others).
Ellie Rowsell certainly has that "it" factor as the frontwoman for the band, with a distinct and unique charisma, confidence in their work, and the ability to win any staring contest with fans in the crowd.  Her range and gifts with her vocals kind of catches you surprised, as well as the ease with which she delivers in a wide variety of styles, one as seemingly effortless as the next.
Joff Oddie on guitar has I think the most elaborate pedal and effects board I've ever seen – he's like a one man Guitar Center.  Not too flashy in his playing, he really knows how to get a vast variety of sounds from his guitar, and thus providing a foundation for all of the different styles and complex mixes of riffs, noise, and effects.
I was kind of in a bad spot to watch Joel Amey on drums, and while on some songs it was more minimalist, on others (like "We're Not the Same"), the drumming and beats are more fundamental to the song and right out front leading the way.
Similarly, some songs feature Theo Ellis' work on bass more prominently than others.
I feels that they are at their best with those songs that go through real changes from rocking to softer moments to showcase that sublime voice.
In any event, they put on a stellar show, and today it was announced that they will follow-up in the larger venue at The Independent on May 14th (I can guarantee now that it will absolutely sell out, and then their next stop in the Bay Area will likely be Fox Theater or Regency Ballroom).
Below is a photo of the set list from the show:
Below is the set list from the Wolf Alice concert at Popscene on Friday:
Setlist
Fluffy
Storms
Your Love's Whore
90 Mile Beach
She
The Wonderwhy
Bros
Blush
You're A Germ
Giant Peach
Encore
White Leather
Moaning Lisa Smile
Below are some photos of Wolf Alice performing on stage (click any image to open into virtual lightbox and higher resolution):